Sometimes a person acting out of conviction, pursuing a dream, represents the spirit of an entire generation. Vardan Kabra is one such person.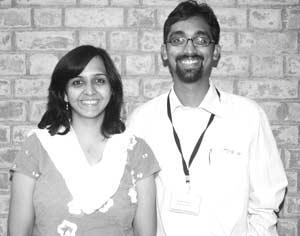 When Vardan turned down a pre-placement offer from P&G in March 2004, in order to set up a school, it made headlines across the nation. It was the irreverence of chucking the job coupled with the idealism of the project itself which captured the imagination.
Since 2004, OOPs (Opting Out of Placements) is a small but significant trend on the IIMA campus. In 2008, the figure reached double digits, with 11 students opting out in order to set up entrepreneurial ventures. Not all the projects are as idealistic as Vardan's but the very act of bowing out of the rat race is one of idealism -- the idea that MBAs are meant to do more than sell soaps or manage other people's money, and get paid handsomely for it.
Vardan and Ankita Kabra's story reminds every one of you out there who did opt for a placement -- there is more to life than the pursuit of yuppieness.
Excerpt
As a child Vardan aspired to join the army. But later he went the JEE way, and joined IIT Bombay where he did both his BTech and MTech. In his 3rd year at IIT, Vardan was the Overall Coordinator of Techfest -- the biggest technology festival in India. Around this time (1999-2000), three seniors at IIT started what was probably the first dotcom of India.
"I was quite envious of them -- and at that point I decided that I too would something on my own -- that to me was far more glamorous than a hi-fi job."
In fact right after IIT, Vardan tried to start something called a 'Detonation Spray Coating' unit (being a metallurgical & material science engineer). He could not go ahead with the project because of lack of capital and no clue about how to actually run a business. So he decided to do an MBA and joined IIMA.
"During the first year I did get into the rat race for a little while -- but soon I realized what I really wanted. The two month internship at P&G in Mumbai made me sure that a job is not for me. I am too lazy to work well under a boss", he adds with a grin.
In the second year, Vardan took LEM (Laboratory in Entrepreneurial Motivation taken by Sunil Handa). "It was a major factor in keeping the motivation going -- and more importantly for showing a direction as to how actually to go about doing things. External factors who tried to dissuade included my parents, relatives, some friends (not too many though as most knew me
quite well not to argue with me)."
In his second year at IIMA, Vardan visited Eklavya School in Ahmedabad and realised that he too wanted to start a school. It was time to start exploring options."We formed a team of 11 people with interest in entrepreneurship -- then we started working on various ideas. We formed sub-teams with interests in specific areas -- education being one of them. Then our team started working on schools. Four of us visited schools across India (Jaipur [Images], Ahmedabad, Baroda, Surat [Images], Mumbai, Delhi [Images]). The idea was to get some good points from all the places and understand what's missing."
The team disbanded after graduating with everyone taking up jobs except for one other person, who decided to get into a venture other than education. Vardan shifted to Surat, a city which lacks good schools but where there is growing demand for quality education. And paying capacity is not an issue.
However the first six months were a major low period. "I had no clue as to what I was doing and where I was heading..."
ALSO READ