July 09, 2008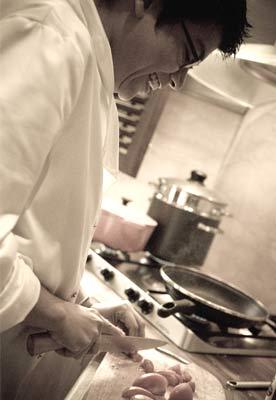 If you're big on Italian food, why do just pasta and pizza at lunch or dinner?
There's no reason why you shouldn't start your day by indulging yourself with an Italian breakfast.
In our continuing series of recipes taken from Italian Khana, an Italian cookbook for the Indian kitchen, Ritu Dalmia, celebrated chef and owner of Diva, one of Delhi's finest Italian restaurants, reveals her best tips and shows you how to cook an authentic Italian dish under 30 minutes.
Ritu will also answer reader queries, so scroll down to the bottom of the page to address your questions to her.
Read these features?
Is the iPhone for you?
Yoga: 5 poses using a gym ball
Beating inflation: 'Increase your monthly income'
Study abroad: There could be a scholarship for YOU!
You know you've had too much to drink when...
Section 80C, tax planning and investments
---

Today's Recipe: Frittata di Cipolle e gorgonzola (Italian-style cheese and onion omelet) They say an Italian mama will never let anything go waste. A frittata is a great way of using the leftovers from last night's dinner. It's usually eaten as part of antipasti or a light lunch, but there's nothing to stop you from making a hearty frittata for breakfast.
Frittata, like an omelet, is cooked on the stove in a skillet -- but finished under a grill. I particularly like the sharp taste of Gorgonzola cheese with the sweetness of onions. Again, feel free to substitute any other cheese that you might have handy. I promise it will still taste divine!
Ingredients
1 tbsp butter
20 ml olive oil
3 medium onions, sliced
8 eggs
75 ml milk
50 gm Gorgonzola cheese, crumbled
A handful of thyme leaves or parsley
2 medium potatoes, thinly sliced
Pepper
Method
In a large skillet heat the butter and olive oil over medium heat.

Add the onions and potatoes to the pan, lower the heat.

Cook the onions and potatoes for 10-15 minutes or until golden. Just ensure the onions do not turn brown, as they then turn bitter.

In a mixing bowl mix the eggs, milk, and pepper, whisk until frothy.

Pour the egg mixture over onions and potatoes and cover. Now the flame should be medium to low.

Cook the frittata for some time, until it is almost set; say 5 to 6 minutes.

Spread the crumbled Gorgonzola cheese over the frittata, cover for another 2 minutes.

To finish cooking, place the frittata under the grill for 2 minutes.

It will puff up slightly.

Allow the frittata to rest for 5 minutes.

Cut in wedges and serve.
Note: It can be eaten hot as well as at room temperature. Unlike an omelet it is not folded over; it is eaten the way it is. Also I have not suggested you add any salt as Gorgonzola is quite a salty cheese. Various toppings can be used: left over pasta, onions and cheese, vegetables, ham sausages.
Previous recipes
Excerpted from Italian Khana, India's first Italian cookbook for the Indian kitchen, with permission from the publishers, Random House India. Ritu will also answer reader queries, so please address your questions to her in the QnA box below.
Image: Ritu Dalmia | Photograph: Sephi Bergerson