July 08, 2008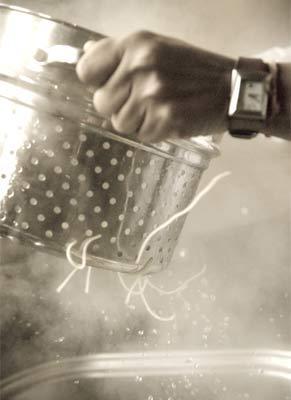 Who doesn't love Italian food -- delicious, buttery pastas and cheesy pizzas that invariably make your mouth water!
But what if you've had enough of eating it out? Would like to try your hand at whipping up some yummy Italian fare for yourself and your family at home?
In our continuing series of recipes taken from Italian Khana, an Italian cookbook for the Indian kitchen, Ritu Dalmia, celebrated chef and owner of Diva, one of Delhi's finest Italian restaurants, reveals her best tips and shows you how to cook an authentic Italian dish for dinner in 30 minutes or less.
Ritu will also answer reader queries, so scroll down to the bottom of the page to address your questions to her.
Read these features?
Beating inflation: 'Increase your monthly income'
'Self-belief is essential to be a good photographer'
Are you fighting fit or far from it?
An Indian summer for Armani
Jatin Kampani's amazing pix!
Health woes? Nadi Shastra can help
Section 80C, tax planning and investments
---
Today's Recipe: Carbonara Alle Zucchine (Zucchini Carbonara Pasta)
The best thing about this pasta is that it requires very few ingredients. The recipe is so easy to follow and still looks and tastes gorgeous.
Ingredients (Servings: 4)
400 grams penne rigate or spaghetti
400 grams zucchini cut into julienne (thin) strips
2 fresh onions, finely chopped
4 tbsp extra virgin olive oil
2 eggs
120 gm Parmesan cheese
Salt and black pepper to taste
Method
Bring three litres water to boil in a large pot, add salt.

In a saucepan heat the olive oil, add the chopped onions and cook for two minutes, add the zucchini, season with salt and pepper and continue to cook for five minutes (do not allow the vegetables to colour).

Remove the pan from the heat and set aside.

Break the eggs in a jug, add 70 grams of the Parmesan cheese, salt and pepper, and beat well to mix.

Boil the pasta and cook until al dente.

Drain the pasta, put it into the saute pan with the zucchini mixture, add the egg mixture, add 1 tbsp of pasta cooking water and toss for two minutes.

Put the pasta in a serving bowl, top with the rest of the Parmesan cheese and serve immediately.
Previous recipes: Speedy, simple tomato-basil pasta | Spaghetti aglio Olio e Peperoncino
Excerpted from Italian Khana, India's first Italian cookbook for the Indian kitchen, with permission from the publishers, Random House India. Ritu will also answer reader queries, so please address your questions to her in the QnA box below.
Photograph: Sephi Bergerson