Handbags are an important part of a woman's attire. Here are the few stylish handbags that matches every occasion and season.
1. The Work Bag:
Buy Red Stylish Shoulder Bags @ Rs.699 or Black Designer Butterfly Bag @ Rs.499
Add a zing to your overall personality at your work place by carrying this beige coloured handbag from the latest collection of Butterflies. Made from PU for durability, it has sufficient space to accommodate all your daily essentials in a systematic manner required when at work everyday.

2. Stylish Brunch or Lunch Bag:
Buy Elegant Design Red Handbag @ Rs.799 and Disney Wendley Wristlet @ Rs.149
Or Find here wide Range of Handbags Under Rs.799
Carry a bright day colour bag such as red or blue for brunch or lunch with friends & family. Team a maxi dress or a pretty kurta with this to look absolutely fabulous.

3. Weekend Outing Bag:
Buy Holiday JFK Canvas Bag @ Rs.399 or Elegant Nautical Ellis Resort Tote Bag @ Rs.199
Graphic Design Bag Mark Ashkenzi Poly Canvas Tote Bag
A sling cum hand bag is a perfect accompaniment with any possible outfit, be it denims or a dress or formals, especially when you flaunt this on weekends for a movie, dinner or get away.

4. Weekend Shopping Bag:
Buy Multicolor Tote Handbag Worth Rs. 199 Only
Buy Resort Pink Accurue Tote Handbag @ Rs.299
Find Here Wide Range Tote Handbags under Rs.599
When you going for grocery shopping or other general household material, choose a bag which can accommodate most of the things so that you don't have carry too many individual bags plus you avoid using plastic bags.
5. Travel Bag:
Buy Big Designer Travel Handbag @ Rs.799
Buy Stylish Travel Handbag @ Rs.499
Estoss Red Cloth Hobo Handbag @ Rs.499
Your Ideal travel bag should be the one which has many pockets that allows you to keep your belongings safe and organized & should be of a reasonably big size. Make sure your bag has two straps, as its easy to carry around due to distribution of weight.
6. Clutches for Indian or Western Wear: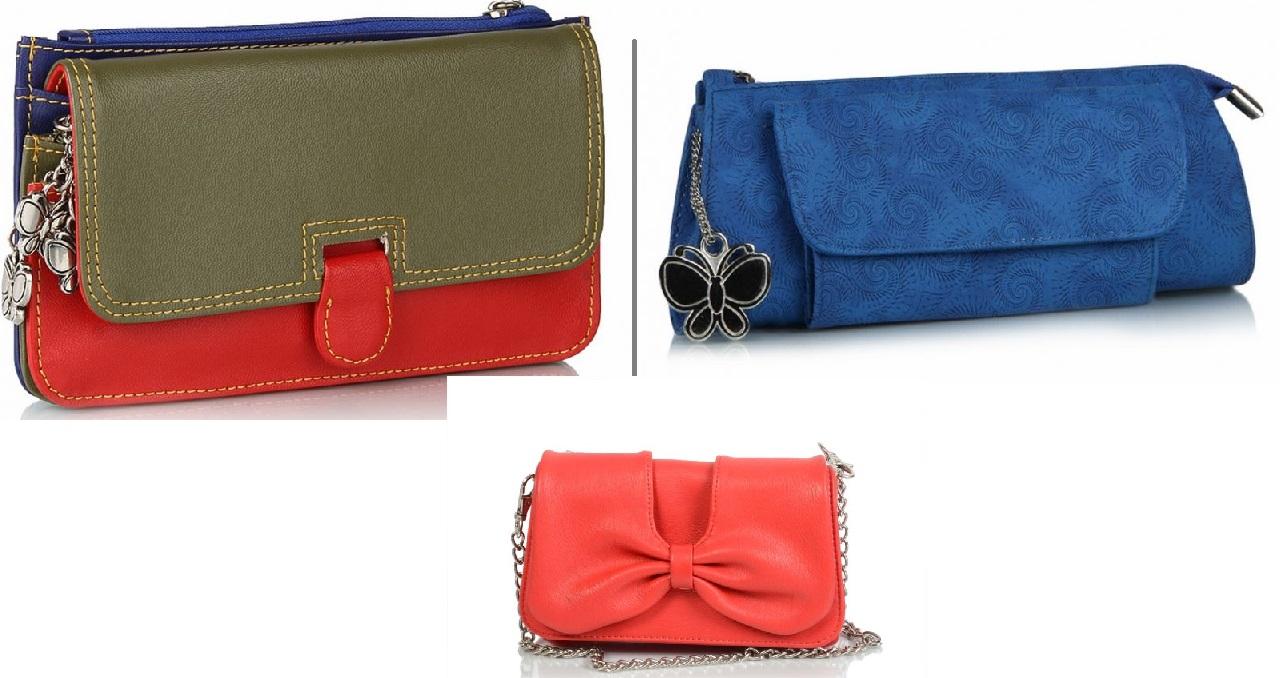 Buy Elegant Butterfly Designer Clutch Handbag or Butterfly 5 Chain Clutch @ Rs.699 or
Butterfly Embossed Design Clutch @ Rs.599
A clutch purse is a stylish accessory that completes as well as complements your dress code and makes you more confident as compared to going without a bag or even a clutch to functions & other events where a full fledged hand bag is not required.

7. Pick Pocket Bags:
Buy Beige Corduroy Sling Bag @ Rs.299
Buy Anekaant Whimsical Brown Canvas Sling Bag @ Rs.299
Red Sling Bag For Ladies @ Rs.399
This is one of the latest trends in bags wherein you often require to carry only your phone & some money or cards but you don't want to carry your entire bag.
8. College Teen Jholas:
Buy New Trendy South Africa Jhola Handbag
Find here Wide Range Jhola Handbags

Want to feel young again? The ladies can carry the teen jholas to feel young again & teen girls can carry it to college or classes to look stylish as well as carry a few books around.