Tanmaya Kumar Nanda in New York

New York is rapidly becoming the hottest stop for Hindi film stars.
Anil Kapoor should know best -- Taal did fabulous business in the overseas market. No wonder he was back in the Big Apple to promote his latest film as the male lead.
Its title says as much, too: Nayak - The Real Hero.
Fresh off the Craze 2001 show at the Nassau Coliseum, Kapoor spoke about the film and himself at a press conference organised at the Maurya restaurant in Queens to promote the film, which releases September 7.
Known for his media-savvy, Kapoor was on his best behaviour throughout the evening. Almost, that is. For towards the end, the normally unflappable man walked brusquely out of a television interview, muttering expletives under his breath.
It took considerable pleading and cajoling by the organisers to have him back for just another couple of minutes.
Before the brouhaha, however, he was at his diplomatic best, carefully explaining each answer in detail.

Nayak, a remake of the Tamil hit Mudhalvan (also directed by Shankar), has Kapoor in the lead after almost a year. His previous film, Pukar, was released last year.
Kapoor plays a television journalist who gets a shot at being chief minister for a day in the film.
"I watch a lot of talk shows, from Larry King, Prannoy Roy, Rajat Sharma, Karan Thapar, and I drew upon all of them to essay my role as a TV anchor who's grilling the chief minister."
For the most part, though, Kapoor has been playing what's known as 'character roles'.

Asked if he feared being typecast as second fiddle, Kapoor says, "I liked the characters. I felt they had more meat to them. I was offered the lead role in Biwi No 1, but I opted for the role of the friend, who, I think, made more of an impact."
The lead was eventually played by Salman Khan. Kapoor says that such second leads gave him the chance to grow as an actor. "Otherwise, I would become stagnant."
In a subtle aside at the Khan, Kapoor mentioned that he had been "pumping iron for six months" for Nayak.
"I have always been a skinny sort of guy. But for one scene where I am bare-bodied, I lifted weights and pumped iron," he laughs. "Why don't you tell me, after you've seen the film, if I can take off my shirt and match Salman Khan and Sunny Deol?"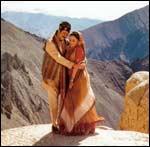 Kapoor, who has acted in a number of films made by South Indian directors claimed that he was drawn to regional originals because of their concept.
"If the film is a hit, it means that somewhere, the concept of the film is correct," he says. "What we do is make it slightly different for an international audience, without changing the concept."
ALSO READ:
Anil to star in Mudhalvan remake
Nayak is for a world-class audience
'I just happen to be a hero'
The music release
The music review