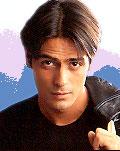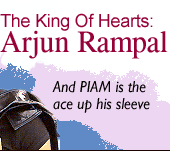 Model turned actor Arjun Rampal was supposed to debut with Moksha.

But that was not to be.

His debut film,

Pyaar Ishq Aur Mohabbat, releases Friday August 3.

The debutante took time off to speak with

Ronjita Das:
How did Pyaar Ishq Aur Mohabbat happen?
I've known Rajiv (Rai, the director) since my modelling days. I've worked with him on a music video called Dont marry.
When Rajiv returned from his stint abroad, I had begun work on Moksha. He was casting for his film, Pyaar Ishq Aur Mohabbat. I asked him if he had a role for me. He said he had. I was surprised.
Tell us about the film.
The title speaks for itself; it's all about love.
There are three strong characters: I play Gaurav -- a struggling model-cum-actor. A Casanova of sorts, he has his way with women and wants to make a quick buck.
Taj (Aftab Shivdasani) is rich and flamboyant.
Yash Agarwal (Sunil Shetty), is a business tycoon.
The connecting factor is Esha (Keerti Reddy). All three men are in love with her.

People watching the film will probably say, "Don't fall in love with Gaurav's character, fall in love with Taj's character, and never fall in love with Yash's character."
Her love life is pretty confusing.
It's a young film, packed with emotion, romance, laughter and thrills. It's fresh.
The film has been shot in sync sound, on locations in Scotland and Switzerland.
Models aren't considered to be the best actors...
It is very difficult to differentiate between modelling and acting because the medium of shooting is similar in terms of technology -- there is the camera, sets and lighting.
But the art is very different.
I started shooting for Moksha in 1997. When I saw the first rushes, I knew I looked like a model; not my character.

That's when I decided I had to choose between the two professions. I chose films. I haven't modelled since. That helped loosen up before the camera.
All newcomers are stiff... why single out models?
I guess the best way to learn is with a good director and good technicians. You just have to be in good hands.
So have you decided to take up films full time?
Yes. Modelling was great. I had a great time but I was getting bored. I realised I wouldn't be able to model much longer; I wanted change. I wasn't motivated any more.
I still am into the fashion scene, but I don't really miss it.

How did Kundan Shah's Dil Hai Tumhara come about?
Kundan had a character which was different. He and Ramesh Turani of Tips, asked me to see the script, which I did.
It meant a lot of work. But after four meetings, I agreed to do the role.
Tell us about the film.
It stars Rekha, Preity Zinta, Mahima Chaudhry and Jimmy Shergil. It is a love story with a lot of twists in the plot.
It's the story of a small-town family. Another family, which I am a part of, comes to town and things change drastically.
What role do you play?
I play a Harvard graduate with fixed ideas about how a business should run. He returns to India hoping to change the way his father (Alok Nath) conducts business.
It's a funny character. When he comes to India, the Indian values change his mindset.
He falls in love. I can't say with whom! And because of this, he evolves as a person.

Future projects?
Besides Dil Hai Tumhara, I have three films under production -- Deewanapan with Vashu Bhagnani (co-starring Diya Mirza and Vinod Khanna), Vipul Shah's All The Best (Amitabh Bachchan, Akshay Kumar, Sushmita Sen and Paresh Rawal), and an untitled film with Aishwarya Rai.
ALSO READ:
Want Arjun Rampal to be your chat buddy?
On the sets of Dil Hai Tumhara
The PIAM music review
The story in pictures

Do tell us what you think of this interview