'I just happen to be a hero!'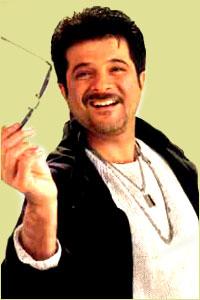 If there was one actor in the Hindi film industry who seemed to get better with age, it is Anil Kapoor.

The actor has been around for two decades, but his craft has seen him reach new heights with every new role he essays.

Just a few examples:

Viraasat, Taal, Biwi No 1, Pukar -- for which he won a National Award.

Now, Anil is back in

Nayak - The Real Hero. A remake of the Tamil hit, Mudhalvan, starring Arjun and Manisha Koirala, it has been directed by whiz director Shankar, and has Anil starring opposite Rani Mukherji.

As with all Shankar films Ė Gentleman, Jeans, to name a couple Ė this one, too is a big budget film.

It has been shot extensively -- Ladakh, Kargil, Karnataka, the interiors of Tamil Nadu, Maharashtra and Rajasthan, to cite some locations -- and exclusively within India.

At the music release of the film,

Ronjita Das caught up with Anil Kapoor. Excerpts of the conversation:
You seem to have gone in for an image change over the last few years.

You seem to have gone after roles you want, irrespective of whether or not itís the lead role. Is this a planned career move?
Yes, it is. Very much. I always go for the character, for the role.
I must like my films. Iím doing a small cameo in Kalpana Lajmiís Lajja, but I really like it. So I do a mix and match of roles.
And I have gained more from these films.
How did you get this role?
I read the script. Shankar thought I suited the role. I saw the Tamil version and fell for it.
Besides, itís a great honour to work with Shankar.
Tell us about your role.
I play a common man -- a television cameraman. He rises to become the chief reporter. And, ultimately, gets the opportunity become the chief minister of his state.

So what kind of an actor are you Ė an instinctive or method actor?
Every actor has his own way of working. I have my own. Some roles have me doing a lot of homework; some roles come to me instinctively.
I work differently with different directors, roles and scripts. It depends on these three factors.
Do you feel that some roles are not for you?
Yes, of course. There are a lot of roles which I feel I canít do Ė Iím not he right person for them.
I might be offered a lot of money and the best directors. But if I feel I cannot do it, I just canít!
But then again, sometimes, the director convinces me. I remember in Taal, I felt I was not the best choice for the role. I was to be a choreographer in the film.
And you know that where dancing is concerned, I have two left feet! I told Subhash Ghai that I was more comfortable doing the other part, but not that of a choreographer. But he was more confident of my doing the role than me.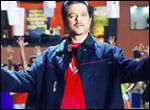 So he worked on the role and made it an allrounder -- like a conductor as well as a choreographer.
Ultimately, a film is the film-makerís medium.
Nayak also is basically Shankarís film. I just happen to be the hero of the film, fortunately.
Do you prefer a bound script?
Yes, of course. Nowadays, everyone is doing it. But I am very particular about getting a bound script.
Ultimately, itís not the star but the script that works. The content always works.
All the recent films that have become successful have only worked because of the content. The star adds to the value of the film.
As they say, the star is only sone par suhagaa. (the icing on the cake).
What do you think of the younger directors of today?
I think Ashutosh Gowariker has done a great job in Lagaan.
I was very fascinated by his work in the film. The same holds true for Karan (Johar) and Adi (Aditya Chopra).
Also, Satish Kaushik, though not very young, has been consistently successful with his films.
What in your opinion makes a film work?

People like films because of the songs. Take the recent hits, Lagaan, Mujhe Kucch Kehna Hai... These films would have clicked last year, too.
You should be able to excite the audience and make them feel that they have got their moneyís worth when they watch your film.
Itís all about entertainment, crowd participation. That is why watching a film on television is nothing compared to watching it in a closed theatre. That always holds true.
Coming back to Nayak, what's the first thing you would do if you really became the CM?
Iíd abolish the entertainment tax!
DON'T MISS!
The Shankar interview
Do tell us what you think of this interview