HOME | MOVIES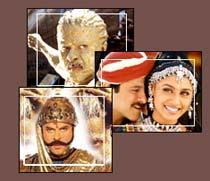 A M Rathnam is a producer whose motto is 'Big!'
Shankar is a director whose motto is 'Even Bigger!'
The combination comes together in the under-production Anil Kapoor-Rani Mukherji starrer Nayak -- a remake of Shankar's last Tamil release, the Arjun-Manisha Koirala superhit Mudhalvan. Shankar also co-produced the Tamil version. And Rathnam, who acquired the rights to dub and release it in Telugu, was an even bigger winner with the collections in Andhra Pradesh surpassing that in Tamil Nadu.
Shankar in his native TN has superceded even Mani Ratnam as a director and sells films on his name alone. For him, Nayak is a litmus test. It is his official Hindi debut, though he has had a hit with Hindustani, the dubbed version of his Kamal Haasan-starrer Indian, and a huge flop with the Prashanth-Aishwarya Rai comedy caper Jeans.
This is A M Rathnam's second foray into Hindi, after his debut Tejaswini.
Follows a sneak peek at the film and its making.
Text: Rajitha