It's that time of the year when nomination lists are compiled to give out film awards.
There seem to be more awards functions than categories for awards but nobody's complaining. Clearly, it's a case of the more the merrier.
Here is our contribution to the cause of awards:
THE BEST:
Howzzat: Ashutosh Gowariker and Aamir Khan combined the two national obsessions -- film and cricket -- to make Lagaan. Dhoti-clad villagers playing cricket with the Brits in the 19th century? Who'd have thought it would work in 2001?
Whozzat? Anil Sharma, the almost-forgotten director of substandard action flicks like Tehelka and Elan-e-Jung, delivered a blockbuster like Gadar – Ek Prem Katha. Repaired Sunny Deol's punctured career and gave Amisha Patel something to boast about.
Better Late Than Never: Saif Ali Khan comes up with three stunning performances in Love Ke Liye Kuch Bhi Karega, Dil Chahta Hai and Rehnaa Hai Terre Dil Mein -- and writes himself back into the script.
Most elegant actress: Karisma Kapoor in Shyam Benegal's Zubeidaa, carrying off a fussy period look as well as she does those strappy nothings.
Why don't we see more of her? Lillette Dubey as the Anglo coquette in Zubeidaa and the harried Punjabi mother of the bride in Mira Nair's Monsoon Wedding.
He did send shivers down the spine: Rahul Dev as the horrible looking pimp in Aashiq and the ferocious bodyguard in Asoka -- an actor with presence.
Here's Our Lucy: Juhi Chawla's sparkling comic performance in One Two Ka Four lifted that turkey up several rungs.
Two's a Riot: Sanjay Dutt and Govinda ran amok through David Dhawan's Jodi No 1, making a worn out plot work.
If there was an award for Best Body: Urmila Matondkar would get it for Pyaar Tune Kya Kiya.
Runner Up: Kareena Kapoor in Asoka and Kabhi Khushi Kabhie Gham.

At least her heart's in the right place: Raveena Tandon got a National Award amidst hype and gripe for Daman. The film was a disaster but at least she stopped pouting Oh baba and tried acting for a change.
Who's the guy in Kareena's arms?They did a good job of keeping Tusshar Kapoor (Jeetendra's son) under wraps till Mujhe Kucch Kehna Hai released.
Then Kareena Kapoor and the mushy story directed by Satish Kaushik took over. But he got that hit!
Let's welcome: Farhan Akhtar whose debut Dil Chahta Hai was appreciated and showed that Javed Akhtar and Honey Irani's genes gave the young man a feel for dialogue, emotion and humour.
Now he can come out of hiding: Akshaye Khanna repackaged and rediscovered in Dil Chahta Hai and back in the reckoning.
Don't blame the nautanki dancer: Madhuri Dixit was the best thing in Raj Kumar Santoshi's well meaning flop Lajja, as the fiery nautanki dancer. But three top actresses, two top actors and two item numbers couldn't make the film run.
Salman The Second: Arjun Rampal looked dishy in Moksha - The Salvation. In Deewaanapan, he went shirtless -- no wonder he is still in demand after three flops. Some competition for Hrithik Roshan in the biceps department.
Tabu tops: Crude and exploitative as Madhur Bhandarkar's Chandni Bar was, Tabu managed to pull in some crowds for this morbid tale of a bar dancer's life.
That's talent: Dushyant Wagh as a spastic was a revelation in Mahesh Manjrekar's otherwise boring Tera Mera Saath Rahen.
The Golden Lion Roars: Mira Nair's exuberant look at a Punjabi wedding has been winning international acclaim, but got a very mixed response in India.
Stormy Weather: Nandita Das lent dignity to the role of a raped and battered rural woman in Dr Jagmohan Mundhra's Bawandar, which attracted more controversy than viewers.
Starry Daze: Karan Johar's much-awaited, much-hyped Kabhi Khushi Kabhie Gham turned out a dolled-up Madras social of yore.
The young director has what it takes -- all he needs is a brilliant story.
All that glitters... is still gold: The seniors Amitabh Bachchan (Aks, Ek Rishtaa), Rekha (Zubeidaa, Lajja), Naseeruddin Shah (Monsoon Wedding), Dimple Kapadia (Dil Chahta Hai), can still teach the youngsters a thing or two about acting.
THE WORST:
Sorriest plagiarism attempt: Raj Kanwar's Farz -- if you can't get Lethal Weapon right, why even bother to steal?
Worst cases of miscasting: Manoj Bajpai as a prince in Zubeidaa, carrying himself like a tapori and Mita Vashist in Kuch Khatti Kuch Meethi as wicked stepmom, for which she outdid Manorama's grimacing and growling.
Can she act? Lisa Ray scattered her Lakme come-hither look throughout Kasoor, even notched up a modest hit for Vikram Bhatt. But she needs a crash course in acting.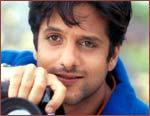 Can he act? Fardeen Khan can gather a fan-following of birdbrained teens, sell shirts, get arrested and become a martyr, but look at Pyaar Tune Kya Kiya, Love Ke Liye Kuch Bhi Karega and Hum Ho Gaye Aapke -- the dude can't act.
Haven't they heard of test tube babies? For sheer regressive storytelling, director duo Abbas-Mustan picked up Doosri Dulhan in which a man hires a hooker to bear a child for him since his wife can't.
The film, Chori Chori Chupke Chupke, was more in the news, however, for getting financier Bharat Shah into jail for hobnobbing with gangsters.
Wishful thinking: Dev Anand gave himself an Oscar for what must be the corniest film of all time -- Censor.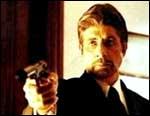 By now he should have got it right: Amitabh Bachchan was mightily impressed with the scripts of Ek Rishtaa - The Bond of Love and Aks. You'd think at 59, he'd have acquired a sharper script sense.
Sure, we are morons: Style met pretension and clashed with Manoj Bajpai's wheezing laugh in Rakesh Omprakash Mehra's Aks. The director petulantly complained the audiences did not understand his masterpiece.
Not for us: Subhash Ghai said his (forgettable) Yaadein was not for 10-rupee Bihari audiences. Maybe but who was it for then?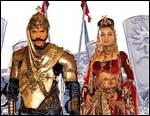 An election would have been cheaper: Shankar made Nayak, an expensive remake of his Tamil hit Mudhalvan, but the idea of a TV reporter cleaning up the state in a day was booed out of the theatres in the rest of the country.
It didn't add up: Ekta Kapoor consulted her numerologist before producing Kyokii Main Jhuth Nahin Boltaa with David Dhawan but the numbers did not add up to a hit.
What's the matter with him? Priyadarshan delivers big hits in Kerala but the same films bomb in Mumbai -- as Yeh Teraa Ghar Yeh Meraa Ghar proved.
Emperor Who? Santosh Sivan and Shah Rukh Khan combined forces to produce a biopic Asoka. Audiences looked for Ashoka with a microscope but didn't find him anywhere.
What's the gun for then? Sunny Deol yelled, raved, ranted, bashed up baddies in Indian and occasionally remembered that he had a gun in his front pocket. If only saving the country was so easy.
Talk less shoot more: If only Tanuja Chandra's films were as sensible as her interviews, we wouldn't have had to endure Yeh Zindagi Ka Safar.
Make home movies will ya? Kamal Haasan's double dose of hamming crashed at the box-office, though Abhay cost the earth to make.
What's the degree worth? If K Raghavendra Rao, BA, still makes antediluvian morality tales like Aamdani Atthanni Kharcha Rupaiya?