Indian bowlers have taken 146 wickets in 9 overseas Tests this year.
They are 1 wicket away from breaking the record set in 2006, notes Rajneesh Gupta.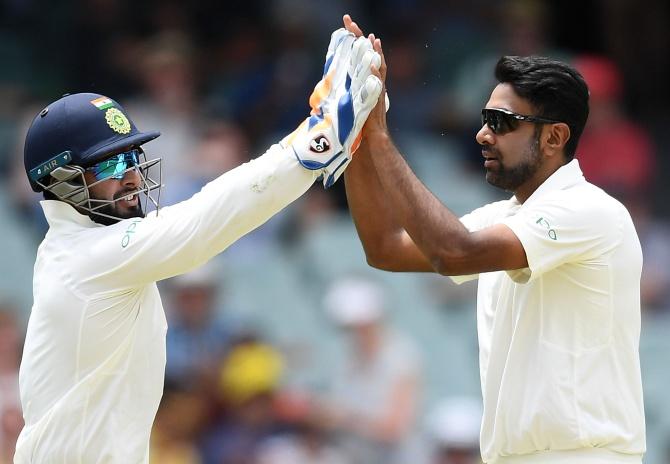 2 Number of times a side has lost its 9th wicket off the last ball of a day and 10th wicket off the first ball of the next day.
The only other such instance before India doing this on Friday was when the West Indies suffered this fate against England at Lord's in 2012.
2.17 Australia's run-rate (191/7 in 88 overs) -- Australia's worst at home in the last 20 years in their first innings.
The last time Australia had batted even slower than this while batting for the first time in a Test was against South Africa at Sydney in 1993-1994 when they scored at a rate of 2.06 runs per over (292 runs in 141 overs).
Incidentally, Australia had an identical run-rate of 2.17 against India also at Adelaide in 1991-1992.
146 Number of wickets Indian bowlers have taken in 9 overseas Tests this year (at an average of 27.12).
Only once have India taken more wickets in overseas Tests in a calendar year. In 2006, Indian bowlers took 147 wickets at an average of 38.45.
50 Number of wickets Ishant Sharma has taken against Australia in Tests. He became the ninth Indian to do so. Ishant is the slowest to reach this mark taking 23 Tests.
6 Number of consecutive innings in which Shaun Marsh has been dismissed in single digit scores.
The sequence: 7,7, 0, 3, 4 and 2. Only two Australian top-order batsmen -- George Bonnor (9) and Alec Bannerman (7) -- had a longer streak of single-digit scores while batting in the top five.
Ian Johnson -- like Marsh -- had a streak of six such scores.