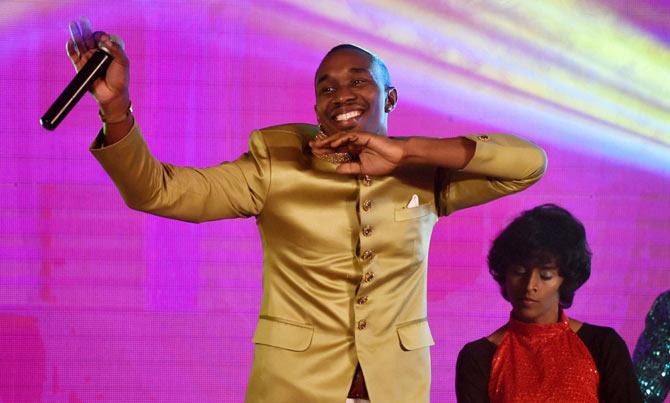 West Indies all-rounder Dwayne Bravo dances at the launch of his single, Chalo Chalo, in Chennai on Sunday. Photograph: PTI
Chennai Super Kings and West Indies cricketer Dwayne Bravo is a multifaceted personality.
When not destroying the opposition with his batting, bowling or on-field antics, he is known to entertain teammates and friends singing for hours.
Chalo Chalo, a single sung by the West Indies all-rounder, was released at an event in Chennai on Sunday.
After the very popular music video Whistlepodu, launched a few years ago, Chennai Super Kings has a new song they can call their own.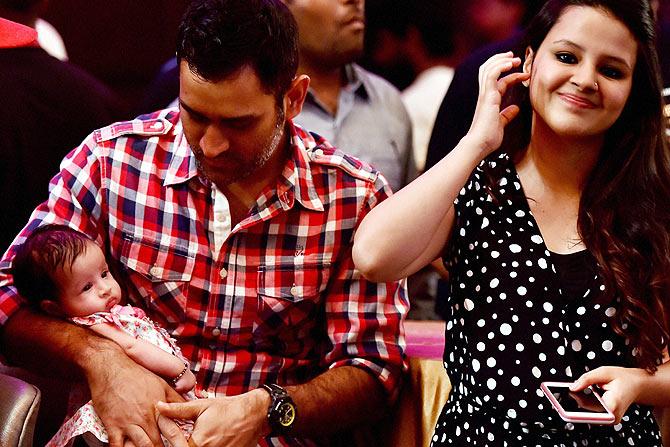 Mahendra Singh Dhoni with wife Sakshi and daughter Ziva at the launch of Dwayne Bravo's single on Sunday. Photograph: PTI
The song has a primarily Caribbean beat with an Indian touch. The Indian flavour to the single is lent by Trinidadian singer/songwriter Nisha B. The female vocalist sings for Carib band Karma.
Bravo's West Indies teammate Chris Gayle and Chennai Super Kings captain Mahendra Singh Dhoni, with wife Sakshi and baby daughter Ziva, were present at the launch.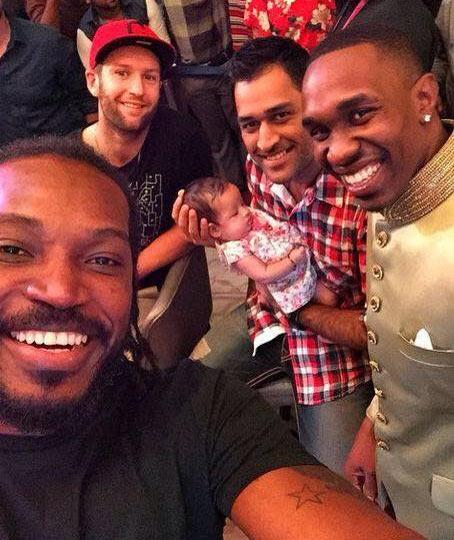 Chris Gayle takes a selfie with CSK players, including captain Mahendra Singh Dhoni and Dwayne Bravo. Photograph: CSK/Facebook
"On the field I am known as Dwayne Bravo, but outside I am DJ Bravo," said Bravo at the launch.
"At Bravo's 'Chalo Chalo' music launch! Hope to see similar celebrations tomorrow night! #whistlepodu," read a post on Chennai's Super Kings' Facebook page.
Bravo is quite the crooner, having released six singles earlier.
Here's hoping the song motivates the team to another Indian Premier League title.