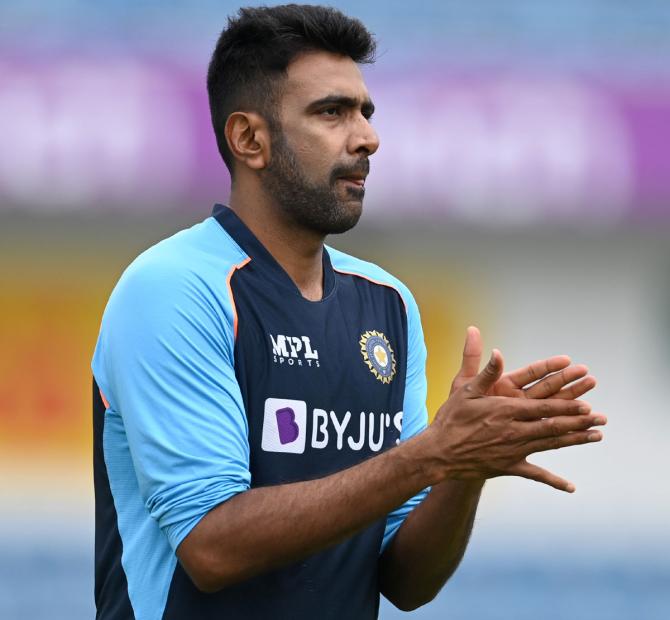 Senior spinner Ravichandran Ashwin was the big surprise in India's squad for the T20 World Cup to be held in the United Arab Emirates next month.
Ashwin, 34, last featured in a T20 International for India four years back, when he played against West Indies in Kingston in July 2017. He made it to the team after Washington Sundar was ruled out because of injury.
"Ashwin plays regularly in the IPL, where he has been doing very well. In a tournament like the World Cup, you need an off-spinner in your team. The pitches in UAE where half of the IPL will also be held, the wickets will be low and slow, and it will support the spinners. That is why it is important to have an off-spinner in your team."

"Washington Sundar has been ruled out with injury and Ashwin is an asset for the team. The way he has performed in the IPL, he has been picked for the T20 World Cup," chief selector Chetan Sharma said.
In another major decision, former captain Mahendra Singh Dhoni, who led India to the World T20 title in 2007, was named as the team mentor and will assist head coach Ravi Shastri at the T20 World Cup.
BCCI secretary Jay Shah said he took the decision to appoint Dhoni as the mentor after consulting with captain Virat Kohli and head coach Ravi Shastri.
"I spoke to Dhoni when I was in Dubai. He was okay with my decision and he agreed to be mentor of Team India for the T20 World Cup only. I discussed this with my colleagues, and they are all on the same page. I spoke to captain (Kohli), vice-captain (Rohit Sharma) as well as Ravi Shastri, they are all on the same page, that is why we came to this conclusion," Shah said.

Ravindra Jadeja, Rahul Chahar, Axar Patel and Varun Chakravarthy are the other four spinners in the 15-member squad with the pitches in the UAE expected to support the spinners, while the selectors opted for only three specialist fast bowler Jasprit Bumrah, Bhuvneshwar Kumar and Mohammed Shami with all-rounder Hardik Pandya expected to bowl his quota of four overs.
"Keeping in mind the wickets in UAE during the World Cup, when you can play only two fast bowlers there is no point in taking more pacers and make them sit them. You would rather pick some utility player whom you can call up anytime like the spinners or the all-rounders," said chief selector Sharma, a former India fast bowler.
"Hardik Pandya is absolutely fit and he will bowl his quota of overs in every match."

KL Rahul is expected to open the batting with Rohit Sharma, with Suryakumar Yadav and Virat Kohli forming a strong middle order. The young Ishan Kishan has been included as the back-up opener and also the second wicketkeeper along with Rishabh Pant.
Kishan, the first India batsman to score fifties on debut in both T20Is and ODIs, was one of the top performers for Mumbai Indians in the IPL last year -- scoring 516 runs at an impressive strike rate of 145 with four fifties.
He was part of the Shikhar Dhawan-led Indian team in Sri Lanka in July, where he scored a fifty in an ODI match.
Sharma said Kishan gives the team flexibility as he can open the batting when needed and is also a capable batsman in the middle order with his ability to attack the spinners.
"We have three openers -- Rohit Sharma, KL Rahul and Ishan Kishan, who can play as opener and can also fit into the middle order. So Kishan is giving us a lot of options, if needed he can open like he has done in ODIs (in Sri Lanka) when he got a fifty and he can also play in middle order because he is a good player of spin.

Ishan is a floater, he can open the innings. He bats regularly in the middle order in domestic cricket and he is brilliant against the spinners. Importantly, it is important to have a left-hander in your team, who are explosive, because he can take on the leg-spinners."
Captain Kohli opened the innings for India in their last T20 International, against England in Ahmedabad in March, smashing a brilliant 80 not out from 52 balls. He has also preferred to open the batting for Royal Challengers Bangalore in the IPL.
But chairman of selectors Sharma said it is upto Kohli himself on whether he wants to open for India in the T20 World Cup, while pointing out that they have already picked three openers, including Kishan.
"It is upto the team management if they want Kohli to open the batting, but as of now we have picked three openers.

Kohli is an asset for the team. When he bats in the middle order, the team plays around him. He has a brilliant record in T20s batting in the middle order. But as I said, it all depends on what the situation is that point of time."
Veteran opener Shikhar Dhawan, who led the Indian team during their limited overs tour of Sri Lanka in July, was left out.
"Shikhar Dhawan is a very important player for us, he was the captain in Sri Lanka. He is there in the loop. The need of the hour was that we look at other players and give Shikhar Dhawan some rest, otherwise he is an important and he will be back soon."
Leg-spinner Yuzvendra Chahal, who has been a regular part of the Indian team in limited overs cricket for the past few years has also been left out, while Kuldeep Yadav and Krunal Pandya also failed to make the cut.
On why leg-spinner Rahul Chahar was picked of Chahal, Sharma stated: "We had a discussion on Chahal and we selectors felt that we need a spinner who can bowl a bit quick. We have seen Rahul Chahar bowl recently and the speed that he bowls (spin), we need that kind of bowler, who can get some grip on those wickets (in the UAE) and also bowls at a good speed. That is why he got Chahar was picked."
Iyer, Shardul Thakur and Deepak Chahar are the three stand-by players.

India will open their T20 World Cup campaign against Pakistan on October 24 in Dubai.

Indian squad for T20 World Cup: Virat Kohli (captain), Rohit Sharma (vice-captain), KL Rahul, Suryakumar Yadav, Rishabh Pant (w/k), Ishan Kishan (w/k), Hardik Pandya, Ravindra Jadeja, Rahul Chahar, Ravichandran Ashwin, Axar Patel, Varun Chakravarthy, Jasprit Bumrah, Bhuvneshwar Kumar, Mohammed Shami.