It was a case of so close, yet so far!
Karnataka pacer R Vinay Kumar narrowly missed out on making it to India's World Cup-winning squad, as the selectors decided to venture with S Sreesanth, a gamble that eventually failed.
Since making his ODI debut last year in Zimbabwe, Vinay failed to enjoy the backing of the selectors and get a longer run in international cricket. But consistent performances in domestic cricket, followed by an impressive showing for debutants Kochi Tuskers Kerala in the fourth season of the IPL, have rejuvenated his international career.
The 27-year-old is now one of the most improved pacers, having added a lot of variety to his bowling. Varying his action and judiciously using the slower delivery, Vinay has even learnt to bowl with the slinging action with some success after being inspired by Sri Lankan speedster Lasith Malinga.
Having made it to the T20 and ODI squads in the West Indies, he is looking to make the opportunities count and seal a permanent berth in the Indian team.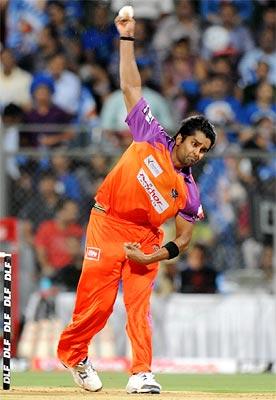 Vinay spoke with Senior Associate Editor Harish Kotian about his showing in the IPL, the joy of being selected for the West Indies tour, and how he started bowling like Malinga.
How was your experience playing for Kochi Tuskers Kerala, one of the new teams in this year's IPL?
It was a very good experience. When I was in Royal Challengers Bangalore I was one of the supporting bowlers, because they had Dale Steyn, Zaheer Khan, Praveen Kumar, Jacques Kallis and Anil Kumble. But when I came here [Kochi] I was the main bowler for the team; that helped me take decisions on the ground and become mature as a bowler.
Me, Sreesanth and R P Singh were the team's three main bowlers. So I took a lot of responsibility and that helped me grow as a bowler too.
- I'm confident of making a comeback: Pujara
Are you satisfied with your showing for Kochi, having taken 12 wickets in 13 matches. You bowled at the start and end of the innings, when batsmen were going for their shots?
Not really. Maybe, I could have done better. I think, bowling-wise, I did well; but if you look at the wickets column, maybe, I could have done better.
Pace is not your biggest strength. You rely more on accuracy. You have developed a lot of variations in your bowling. How important is it for a bowler to come up with new variations in modern day cricket?
Variation is a must for any bowler, especially in Twenty20 cricket. If you bowl two good balls, the third will definitely go for a big shot, like a boundary or a six. That's because the batsmen are looking to attack all the time. If you have variation, then you can force the batsmen into making a mistake and get them to throw away their wicket.
What different deliveries do you bowl? You seem to have added a lot of new ones to your bowling of late.
I mostly bowl my stock deliveries and mix them with a few slower ones. Lately, I have been trying to bowl like Lasith Malinga. It is more to distract the batsmen; it is not that it is a big wicket-taking weapon for me; it is just one-off, and only to put off the batsmen.
- Similarities abound in Chennai Super Kings, Man U
How did the idea of bowling with a sling action, like Lasith Malinga's come up? How much practice went into it?
I was talking to one of my Ranji Trophy coaches, K Jeshwant, on how to bowl in T20 cricket. He told me that I have to develop a new delivery and bowl with a different action. He said it could help me contain the runs and claim wickets too. Then we discussed the different types of action I could bowl with.
In the nets, I bowled with Malinga's action and it came out really well. Since the last one year I have been trying it in domestic cricket and after that I felt, maybe, I can try it.
Then, during the IPL, Kochi coach Geoff Lawson saw me bowling with that action in the nets and he was impressed. He gave me confidence that I could bowl that delivery in the match. I was worried that it could go for a wide or something wrong would happen, like it would look odd. But Lawson told me to try it out in the match. He said, at the most it will go for a wide or you may get hit for a six or a four, but if it comes out well, then it will get wickets for you.
It is difficult to bowl that delivery, but with a lot of practice you can get it right. I am very happy that after practicing for a year it has paid off. I even got Chris Gayle's wicket with that delivery.
There were some reports that you are considering switching over permanently to bowling with the Malinga action because it gives you extra pace. Is it true?
It is not true. It is just my variation ball and I may bowl that delivery just once in a match. I want to bowl with my action because I have been bowling like that since I was small and got so many wickets in domestic cricket. I do not want to switch to any other action.
How relieved are you to be back in the Indian ODI squad?
See, I was never out of the Indian squad. I was there for the Australian and New Zealand series. I only missed the World Cup. Now, after the World Cup, I am back in the Indian team. I am hoping to do well and repay the faith shown by the selectors.
You must be now hoping for a longer run in the Indian team this time, because previously you didn't get enough chances to prove your worth?
In the Indian team we have good competition in the fast bowling department. You can never wait to get a longer run; whatever chances you get you have to make the most of and do well.
At the same time, you cannot put extra pressure on yourself -- like if I don't do well in this match I might be dropped. You must just go out in the middle and enjoy yourself. That is what I will do when I get my chance; I will look to bowl well and enjoy myself.
You have some experience of having played in the West Indies before, in the T20 World Cup last year. The pitches in that region are mostly slow, without much bounce, not ideal for fast bowlers. How will you prepare for that challenge?
It is a little bit difficult. But, I guess, to my advantage, the wickets in the West Indies are similar to Indian wickets. So I have an idea of how to bowl. The margin of error is very less for bowlers, because the wickets are slow and batsmen are always looking to attack. But, as a bowler, if you bowl in the right areas and keep it simple, you will do well on any wicket.
Will you also try the Malinga delivery in the West Indies?
I'm not sure. If necessary, and things are going well, I may try, else I may not. It all depends on the situation. Let's see how it goes.
With the advent of Twenty20 cricket, batsmen have become more attacking and fearless. How do you plan against someone like Chris Gayle or a Virender Sehwag?
When you are playing against batsmen like them, you have to be mentally strong. They can hit the good balls too for boundaries, so you have to be patient. You must bowl in the right areas, because if you keep doing that, they may hit a ball or two, but there is also a good chance of getting their wicket.