Home > Cricket > Reuters > Report

Dravid wins player of the year award

Mark Meadows | September 08, 2004 10:42 IST
Last Updated: September 08, 2004 14:18 IST



India batsman Rahul Dravid was named world player of the year at the inaugural International Cricket Council (ICC) awards on Tuesday.

He was chosen by a 50-strong panel of former cricketing greats, national captains, umpires and referees.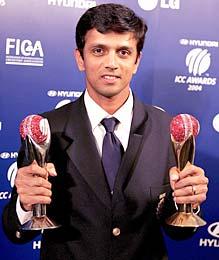 "It is quite unbelievable, I am really proud," said Dravid, who was also named Test player of the year. "I am so happy to be recognised by some really great people."
The Indian vice-captain, who recently turned his hand to wicketkeeping, received the Sir Garfield Sobers Trophy for being the best player in both forms of the game in the year to July 31 2004.
England all rounder Andrew Flintoff was chosen as one-day international cricketer of the year to top off a memorable week for the 26-year-old after his partner gave birth to a girl.
"If someone had said three years ago you would be getting one-day player of the year I wouldn't have believed them," said Flintoff, who beat off competition from Ricky Ponting, Sachin Tendulkar and Adam Gilchrist.
"It has been a special week. I am pinching myself."
Ponting was named captain of both World XIs and asked who would win if there was a game between the one-day XI chosen by the panel and his Australia side, he said: "Probably just the Aussies by a run or two."
The awards, held at London's Alexandra Palace, were organised to coincide with the ICC Champions Trophy which starts in England on Friday.
Indian left arm seamer Irfan Pathan was named best emerging player and Simon Taufel won the best umpire award.
The awards:
Player of the Year: Rahul Dravid (India)
Test Player of the Year: Rahul Dravid (India)
ODI Player of the Year: Andrew Flintoff (England)
Emerging Player of the Year: Irfan Pathan (India)
Umpire of the Year: Simon Taufel (Australia)
Spirit of Cricket: New Zealand
World Test XI: Matthew Hayden, Herschelle Gibbs, Ricky Ponting (captain), Rahul Dravid, Brian Lara, Jacques Kallis, Adam Gilchrist, Chaminda Vaas, Shane Warne, Jason Gillespie, Steve Harmison
World one-day XI: Adam Gilchrist, Sachin Tendulkar, Chris Gayle, Ricky Ponting (captain), Brian Lara, Virender Sehwag, Jacques Kallis, Andrew Flintoff, Shaun Pollock, Chaminda Vaas, Jason Gillespie.
© Copyright 2005 Reuters Limited. All rights reserved. Republication or redistribution of Reuters content, including by framing or similar means, is expressly prohibited without the prior written consent of Reuters. Reuters shall not be liable for any errors or delays in the content, or for any actions taken in reliance thereon.



What do you think about the story?








Read what others have to say:





Number of User Comments: 22








Sub: Congratulations !

We share in your joy and wish you all the very best.


Posted by Dr.Cajetan Coelho









Sub: congrats for the achievement,

he is the best player as far technique is concerned.he is the backbone, the wall, mr dependent of indian criket team.heartly congrats to him and ...


Posted by shreya









Sub: congrats DRAVID

Its very very happy news for every Indian.Congratulaion for Dravid.But he should carry on his form for 5 years or more and win matchs for ...


Posted by arijit bag









Sub: congratulations dravid

wonderful.splendid.great.shabaash, etc.etc. for a person who commands respect not only for his hardwork on the ground but for his humble manners off the field as ...


Posted by shyam









Sub: Reg:Non inclusion Of Sachin In the World Test squad.

It was not a right decision to not to include Sachin in the World Test X1 . He is as good or even better player ...


Posted by Sabin Jacob






Disclaimer