In cross-currency trades, the rupee recovered sharply against the pound sterling to finish at 93.13.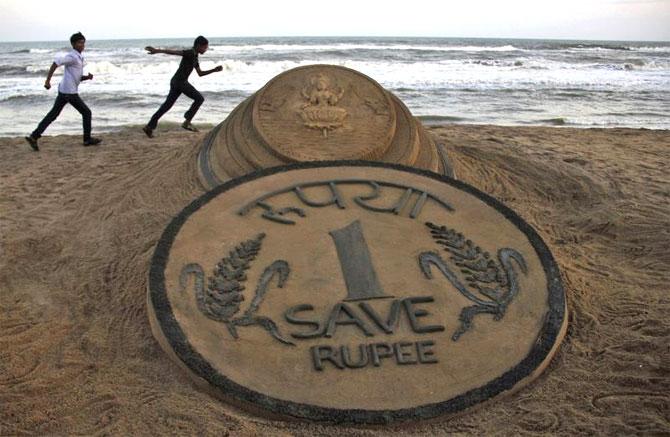 Spooked by Brexit impact, the rupee plunged as much as 71 paise to settle at a 4-month low of 67.96 against the dollar on fresh demand for the US currency as the latter rose overseas amid a sharp fall in equities.
The rupee opened sharply lower at 67.91 against Thursday's closing level of 67.25 at the Interbank Foreign Exchange (forex) market and went down further to 68.22 on initial heavy dollar demand from banks and importers.
But intervention of the Reserve Bank (RBI) coupled with rebound in equities meant the domestic unit recovered to 67.78 before ending at a 4-month low at 67.96, a loss of 71 paise, or 1.06 per cent -- its biggest single-day fall since August 24, 2015.
The rupee had last ended at around this level -- 68.42 -- was on February 29. The domestic currency hovered in a range of 67.78 and 68.22 during the day.
The dollar index was trading up 2.80 per cent against a basket of six currencies in the late afternoon trade.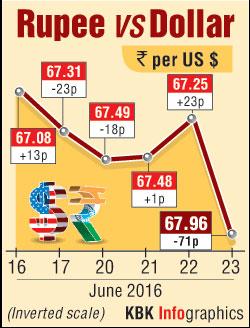 RBI fixed the reference rate for the dollar at 68.01 and euro at 75.10.
In cross-currency trades, the rupee recovered sharply against the pound sterling to finish at 93.13 from 100.20 yesterday and also rebounded against the euro to settle at 74.80 from 76.57.
The rupee fell against the Japanese yen to 66.26 per 100 yen from 63.61.
Pramit Brahmbhatt of Veracity Financial Services said, "The rupee tumbled to 68 with a massive loss on the back of Brexit even against the previous close of 67.25 in view of a fall in the equity market."
The British pound was pushed to its lowest since 1985 against the dollar in the global market today.
In the forward market, premium for dollars declined further due to sustained flow from exporters.
The benchmark 6-month premium for November fell to 178-180 paise from 179-180.5 paise yesterday and far forward May 2017 contract also eased to 371-373 pasie from 373-374.5 paise.
Meanwhile, the benchmark Sensex fell sharply by 604.51 points, or 2.24 per cent, to end at 26,397.71.
© Copyright 2022 PTI. All rights reserved. Republication or redistribution of PTI content, including by framing or similar means, is expressly prohibited without the prior written consent.