'Awareness should be raised; protocols and procedures, and reporting mechanisms must be put in place to protect both men and women in the workplace,' notes Jael Silliman.
Illustration: Uttam Ghosh/Rediff.com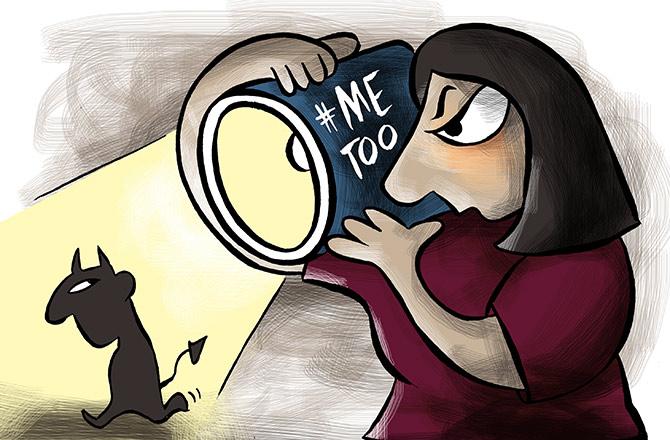 With the advent of #MeToo, sexual harassment and workplace assault, a form of violence against women, exploded in the public domain.
It has exposed just how rampant sexual harassment is and the invisible and debilitating impacts on survivors.
Like domestic violence survivors, '#MeToo' survivors have demonstrated that sexual harassment and assault cuts across class, professions ethnic and geographic lines -- and, to date, that perpetrators commit these crimes with impunity.
The '#MeToo' movement reminds me of the unfolding of the movement to name and stop domestic violence that was initiated in the early eighties in the USA.
It brought public attention to this hidden abuse located in the privacy of the home that remains the most dangerous place for women and girls.
As domestic violence was so widespread and global in dimension it resonated across the world.
Today, preventing violence against women has been defined far more broadly to cover many forms of violence.
There are national and international instruments in place to address domestic violence such as safe homes for victims as well as significant though not sufficient funds to address the issue.
Yet it persists as the culture of violence and misogyny is deep rooted.
'#MeToo' has unfolded largely through social media.
Visible and often powerful women have named abusers and called out perpetrators.
In India, too, powerful women have exposed powerful men of sexual harassment and assault, and in some instances their reports have toppled the abusers.
A few women have faced backlash, where the accused has filed criminal and defamation charges, and other women have been warned of retaliation.
Already men accused are being rehabilitated.
While professional women in India have been at the forefront of '#MeToo', issues of sexual harassment cut across society and workplaces.
Sexual abuse is rampant in factories where sexual harassment is normalised and poorly addressed.
This is despite the Sexual Harassment at the Workplace (Prevention, Prohibition and Redressal) Act (2013), where any company with over 10 people is required to have an internal complaints committee, an external chairman and workers representatives whose names are publicised in the factory.
The committee is obliged to meet monthly for workers to voice their concerns.
While this law is on the books, in many cases committees have never been established.
Within the informal sector it is widely known that sexual abuse is extensive with domestic workers being particularly vulnerable.
Much work needs to be done in this intimate/private working space.
'#MeToo' is critical for making sexual harassment visible and bringing perpetrators to book.
It is the right moment to ensure that the current laws are implemented and mechanisms put in place to address sexual harassment in the workplace as calling out harassers through social media has pitfalls.
For one, it often does not give the accused the right to explain or defend their action and furthermore, while there are degrees of sexual harassment, (none of them in anyway acceptable), all perpetrators are lumped together without necessary differentiation and nuance.
'#MeToo' has and can be used to accuse and topple perpetrators for political reasons and personal gain.
Women cannot only be seen as victims in the complex interplay between men and women.
There are already some disturbing responses to '#MeToo'.
In the globally riveting public accusation of Justice Kavanaugh by Christine Blasey Ford, Ms Ford courageously testified about the fear and violence she experienced as a young girl at his hands.
She was cast as a pawn of the Democrats, doing a 'hit job' at their bidding.
There was a clear political message -- if Justice Kavanaugh could be accused, then no man in America was safe! Republicans rejoiced in Kavanaugh's confirmation and the hearing rejuvenated their base.
Many women, too, waved off her accusations with 'Boys will be boys'.
Meanwhile, Ms Ford's life is in danger.
A recent Bloomberg article quoted a wealth advisor saying that in Wall Street, just hiring a woman is described as 'an unknown risk'.
'What if she took something he said the wrong way?'
This minimises the serious problem of sexual harassment at the workplace and ironically will cost women jobs, mentoring and promotions especially where there are not enough women in senior enough positions to play these roles.
'#MeToo' may make men more careful of their sexual innuendoes and off-colour jokes in the workplace for fear of reprisal.
Awareness should be raised; protocols and procedures, and reporting mechanisms must be put in place to protect both men and women in the workplace.
This is the first step but insufficient for when women have had the courage to report sexual abuse, especially relating to men in power, their complaints have been shrugged off or their silence ensured.
The loneliness and fear of the women pressing for change cannot be underestimated.
Male-dominated boards and complicit women (selected for being so) make it harder to pursue justice using company mechanisms, policies and procedures alone.
Women in senior positions of companies and support structures for whistle-blowers are also essential to create safe workspaces.
Safety in the workplace needs to be pursued for vulnerable and working class women.
The #MeToo movement has initiated the first step in a longer process.
Jael Silliman is an author, scholar, and women's right activist. She lives in New York City and Kolkata.