RJio's aggressive plans will lead to significant impact on listed companies in this space, says Devangshu Datta.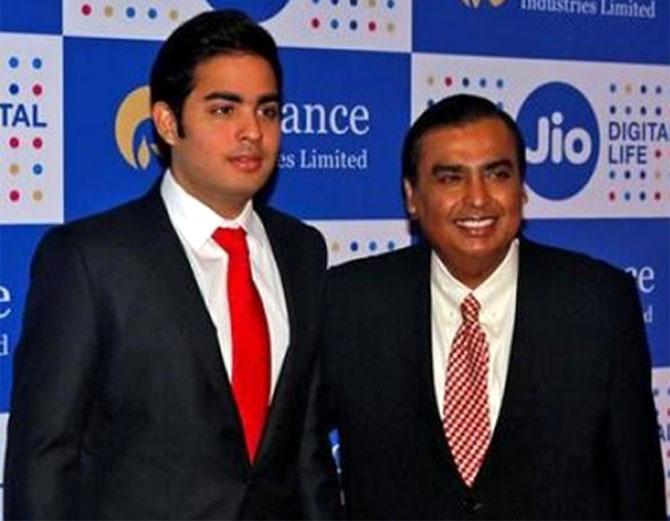 Reliance Industries (RIL) has been looking to enter the telecommunication service business for many years. The open commercial launch of services from Reliance Jio (RJio) finally took place after multiple vicissitudes.
The launch itself has been preceded by a lot of acrimony, with other established telecom operators throwing accusations at Jio, and even at the Telecom Regulatory Authority of India (Trai).
The terms Jio is offering can be summed up as follows. Jio offers 4G data much cheaper than any other service provider - it is giving data at 60-80 per cent discounts; it offers cheap bundled handsets; it offers free voice calls.
The voice-to-data revenue mix in the Indian market is roughly 75:25. (Data contributes 35 per cent of revenues in highly developed markets such as South Korea). The emphasis on free voice clearly changes the entire paradigm and affects the revenue mix.
Jio will use 4G voice over LTE (long-term evolution) technology to offer voice calls. Free voice, in theory, could kill the voice business for every operator (including Jio).
Jio's plans will also force every other operator to cut data rates by drastic amounts to stay competitive (or rather, every operator will have to offer much more data at current price points).
Jio will pay interconnect charges if its customers initiate voice calls to numbers from other service providers (and of course, it will receive revenue in the reverse situation).
This will mean huge cash outflows for Jio in the initial stages, until it receives enough calls to hit neutrality on this front. Jio has already invested massive sums amounting to roughly Rs 1.25 lakh crore and it will, in all probability, spend quite a bit more to buy more spectrum.
But, it could grab market share quickly, both via the price war it has initiated and also because it might provide genuinely better service.
If it has sufficiently deep pockets, it will end up turning the current market order upside down. If it does not have deep enough pockets, it would still drive other operators to the edge of bankruptcy before it hits the wall itself.
Attempting to calculate how long such a price war might last and who will end up winning is a hard, and ultimately futile exercise.
We can say one thing for sure: Revenue will reduce for every telecom operator while this price war carries on. Since most operators have a lot of debt on their balance sheets, that reduction might force a dramatic consolidation across the sector.
The panic that ensued in the stock market as Mukesh Ambani made the announcements is ample indication of how serious this could be for incumbent operators.
The gameplan to spend a lot and grab market share quickly involves a lot of assumptions.
Jio will have internal projections on how much customer acquisition will cost and how long it will take to hit revenue neutrality on the inter-connect front, etc.
Analysts who have looked at Jio's rate structure say it would make economic sense for anybody who currently spends more than Rs 500 a month (voice and data) to switch to Jio.
One hard-to-quantify variable, which could work in Jio's favour is deep, pervasive dissatisfaction with quality of service (QoS). At this instant, no operator can honestly claim to have a satisfied user-base.
Frequent call-drops and networks errors on the voice front have irritated customers at every price point, while slow data transfers have frustrated the relatively high-end users.
Jio should have a fast, uncluttered network right now since it doesn't have too many users. The QoS bar is set so low, Jio should be an improvement on most operator-experiences. Like it or not, other operators will have to spend to improve their QoS in order to retain customers.
Given telecom's externalities, the media and entertainment scenarios would also be disrupted if this play takes off. Higher data usage is heavily driven by consumption of video and TV content, by gaming, and by social media postings of self-made videos, etc.
Jio is obviously trying to push users into higher data consumption and once that does happen, the media and entertainment space will expand in unpredictable ways.
Consolidation and creative destruction in the telecom industry; a new paradigm for data consumption; and the death of voice revenues. It's hard to predict where all this might lead. Given the large number of listed companies in these spaces, the impact on stock portfolios will be significant.