Home > India > Sports > Olympics 2008 > Report


Discuss |
Email |
Print | Get latest news on your desktop

Chen wins early gold for China

August 09, 2008 10:43 IST
Last Updated: August 09, 2008 11:38 IST



Weightlifter Chen Xiexia set an Olympic record to win China's first gold medal of the Olympics [Images] in the women's 48kg class on Saturday, ensuring a sparkling start to the Games for the host.

Amid shouts of "Go China!" from the crowd, Chen snatched 95kg and lifted 117kg for the clean and jerk, clinching gold with a total of 212kg.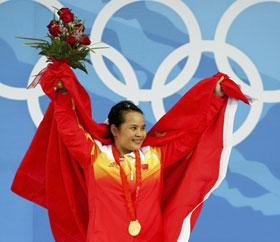 Chen was greeted by huge cheers from the crowd inside the weightlifting hall, marking her home advantage but also the enormous pressure she faced as one of the first medal contenders in this year's Games.
Turkey's Sibel Ozkan lifted a total of 199kg to win silver and Taiwanese lifter Chen Wei-Ling lifted 196kg to take bronze.
Chinese shooter Du Li had been a favorite to grab the first gold for her country in the 10m air rifle contest on Saturday morning, but failed to win a medal.
Email |
Print | Get latest news on your desktop