Home > India > Sports > Olympics 2008 > Report


Discuss |
Email |
Print | Get latest news on your desktop

Shooter Emmons wins first gold of Olympics

August 09, 2008 09:23 IST



Katerina Emmons of the Czech Republic claimed the first gold medal of the 29th Olympic Games on Saturday with a convincing victory in the women's 10m air rifle event.

Indian shooters started off on a disappointing note with Anjali Bhagwat and Avneet Kaur Sidhu failing to make the final.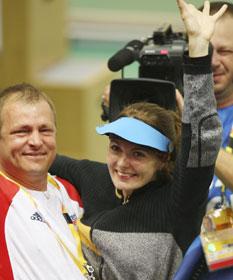 While Anjali ended 29th in qualifying, Avneet finished further down at 39th. Anjali shot a total of 393/400 and Avneet could manage 389/400.
Emmons, who met and married US shooter Matt Emmons after winning bronze at the 2004 Olympics [Images] in Athens, equalled a world record score of 400 in the qualification round and was near flawless in the final round to win the gold medal with a score of 503.5 -- a new Olympic record.
"She did a fantastic job. I'm so proud of her," Matt Emmons told Reuters afterwards.
Lioubov Galkina of Russia [Images] won the silver medal with a score of 502.1. She had also won silver in Athens. Snjezana Pejcic of Croatia took bronze with 500.9.
Du Li of China finished a disappointing fifth. She had won the gold medal in Athens and was the favourite at the Olympics at home.
Emmons hit the bullseye on all 40 of her qualifying round shots for a perfect 400 score and took a small, but vital, lead into the finals.
Du had also been perfect before getting 9 on her 34th shot in qualifying to finish with 399 points. She seemed dejected after that and struggled in the final round.
Emmons, who married her US shooter husband last year, was previously known as Katerina Kurkova. Emmons went into the front row of the crowd shortly after winning to embrace and kiss her husband.
Matt Emmons had missed out on a gold medal in Athens with an ill-timed lapse of concentration, when he fired at the wrong target on his last shot.
Email |
Print | Get latest news on your desktop