Home > Sports > Message Board


August 27, 2004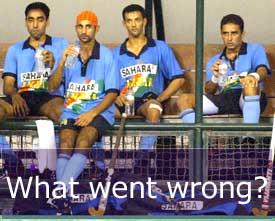 When the Indian hockey team left for Athens, the country was hopeful that it would return with a medal. Sadly, it finished seventh, as in Sydney years ago.
For the team's new chief coach, the German Gerhard Rach, his first major assignment was a task too hot to handle, as some players openly voiced their displeasure about the strategies he adopted. It resulted in the team turning out shoddy performances through the tournament before redeeming itself with a handsome victory over South Korea in its concluding match.
What do you think went wrong for the team? Was the German coach's strategy flawed, or was it the inability of the players to deliver?
Before the official post-mortems and blame games begin, here's a chance to have your say.
Previous Message Boards:


What do you think about the story?








Read what others have to say:





Number of User Comments: 184








Sub: whats wrong with hockey

1. too many egos clashing 2. k p s gill 3. too many changes in the team, no settled team 4. god/luck 5. there are ...


Posted by praveen









Sub: no strategy, no unity, no aggressive, no medal.

our team have more potential than others but what went wrong. our guys loose their control near the end of the match, without any strategy, ...


Posted by ARUNAGIRI









Sub: Hockey - Whats the problem

The problem with hockey is the same as it is with other sports in India. The only sport where India is considered a force is ...


Posted by Bala









Sub: Performance of Hockey team

It was again a demotivated team which delivered very poor performance against all hopes. Rather than blaming the coach and his strategy,it was the team ...


Posted by ved murti









Sub: Our national game.

Today when we provide so much to our players we expect them to perform. Hockey has been traditionally our game and yet we play like ...


Posted by Vikram






Disclaimer