September 30, 2011
The lust for land has not spared the Mahatma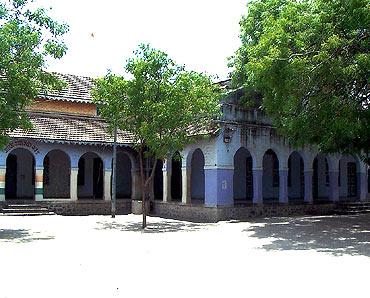 The Rashtriya Shala in Rajkot, Gujarat, has fallen prey to greed, the apathy of local politicians and the Gujarat government's indifference.
Modi, Yeddy's no show: BJP starts damage control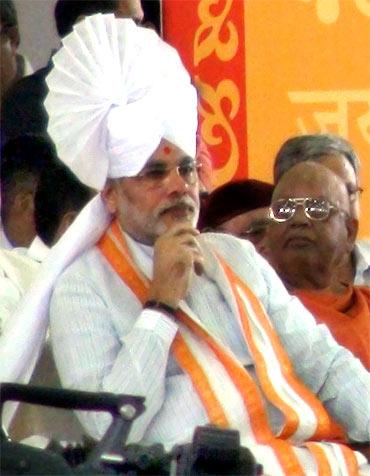 The Bharatiya Janata Party on Friday downplayed Gujarat Chief Minister Narendra Modi's absence from its national executive meeting in Delhi.
Gujarat: Anti-Modi officer Sanjeev Bhatt detained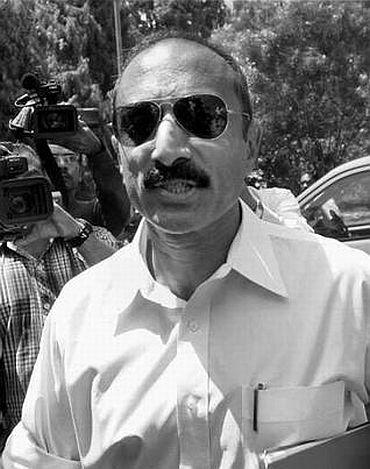 Suspended Indian Police Service officer Sanjeev Bhatt was on Friday detained in connection with a first information report filed against him by a police constable for allegedly threatening and making him sign a "false" affidavit about a high-level meeting called by Gujarat Chief Minister Narendra Modi on February 27, 2002.
IN PHOTOS: Telangana shutdown paralyses Hyderabad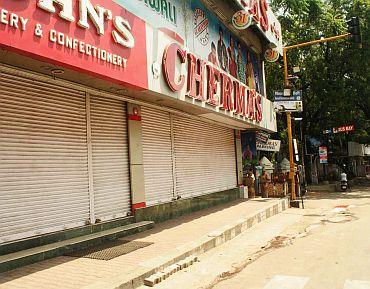 Normal life was badly affected as the day-long Hyderabad bandh called by the Telangana Political Joint Action Committee as part of the ongoing agitation for a separate state, began on Friday.
Chidambaram on 2G note: 'I have a very short memory'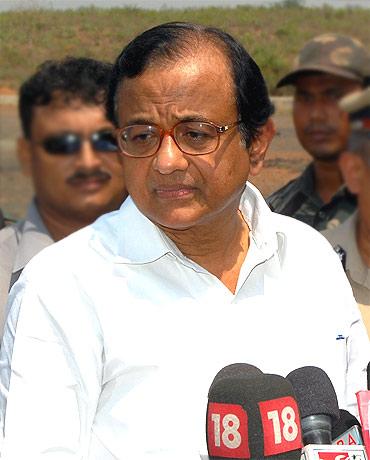 Home Minister P Chidambaram on Friday parried questions on the truce between him and Finance Minister Pranab Mukherjee on the controversial 2G note and whether he had offered to quit during the crisis.
Blast investigations: A series of blunders?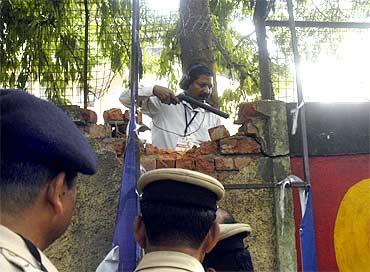 Vicky Nanjappa takes a look at the series of the blasts over the past one-and-a-half years, and observes investigators overlooked many a lead, and the task ahead for them, is a tough one indeed.
IN PHOTOS: The BEST nations for women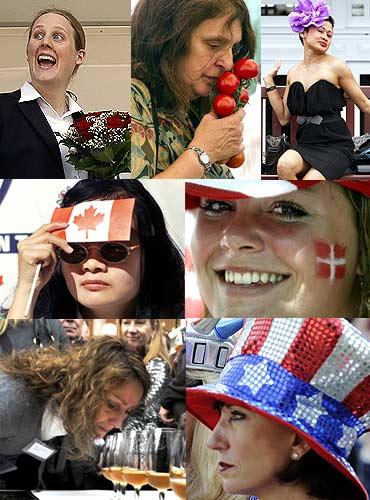 A woman is treated most respectfully in countries like Iceland and Sweden, according to a recent survey conducted by Newsweek.
The Spy who will be King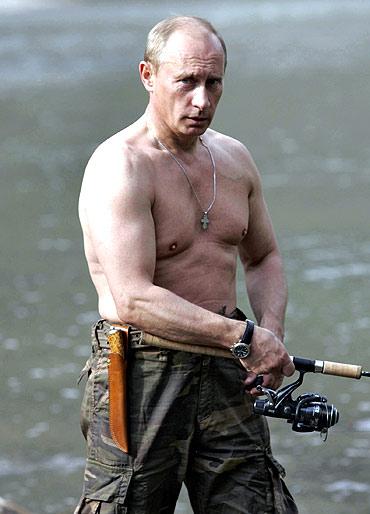 By 2024, Vladimir Putin would have been in power for 24 years -- coming close to Josef Stalin, who ruled the then USSR for 31 years.
IN PHOTOS: Mumbai celebrates Navratri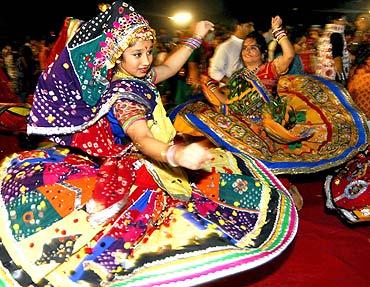 As India celebrates Navratri (nine nights in Sanskrit) with great pomp and splendour, we bring you glimpses of festivities in Mumbai.
Pakistan faces a very real threat: Hillary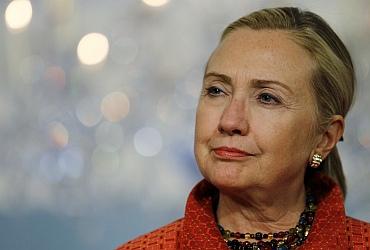 United States Secretary of State Hillary Clinton in major diplomatic mode, trying to save the US-Pakistan relationship; White House adopts same tack; meanwhile, the pro-Pakistan lobby is on an overdrive. reports.
In the 2G din, how many mourned this martyred soldier?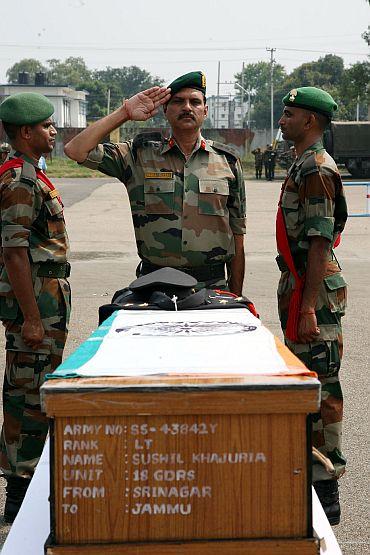 Twenty-six-year-old Lieutenant Sushil Khajuria was part of the team that was scrambled to take on terrorists who were trying to infiltrate the Indian territory from across the border.
In PHOTOS: Around the world in the last 24 hours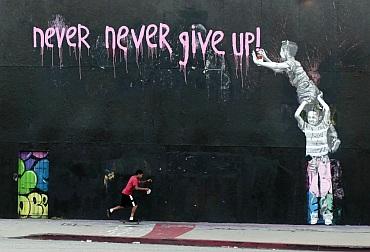 Presenting some of the best PHOTOGRAPHS from around the globe in the last 24 hours.
September 29, 2011
Why Pranab's statement doesn't end row over PC's 2G role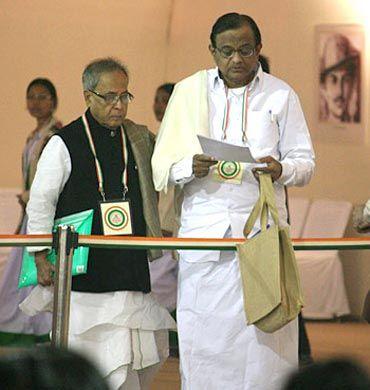 Finance Minister Pranab Mukherjee and Home Minister P Chidambaram's much-awaited statement before the media on the 11-page note of finance ministry on the 2G scam that indicts Chidambaram is a loss of face for Mukherjee, but it may prove a deceptive victory for Chidambaram at a later stage.
Finally, Pranab, PC make truce over 2G note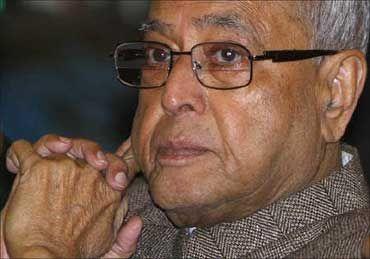 Pranab Mukherjee and P Chidambaram on Thursday sought to put an end to the raging controversy over the finance ministry note on 2G spectrum with the finance minister distancing himself from the statement that sought to blame the home minister.
In PHOTOS: Yet another suicide drama in Hyderabad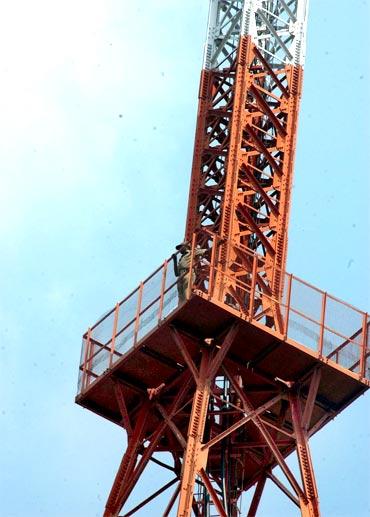 Suicide dramas in Hyderabad continue. A week after a youth from Telanagana hogged headlines for threatening to commit suicide if the demand for a separate the state was not met soon, a home guard created a similar stir in the city.
PIX: How Kerala govt plans to protect Lord's treasure!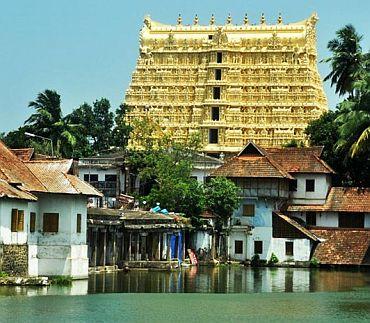 Kerala government has given approval to a five-tier security system for the Sree Padmanabhaswamy Temple which has crores of rupees of valuables locked up in its vaults.
Pix: Telangana protestors take fight to secretariat on Day 17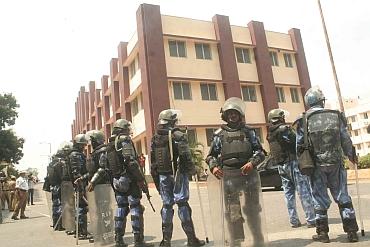 Telangana supporters on Thursday intensified their protests as part of the ongoing general strike that began on September 13. Mohammed Siddique reports
J&K: Jihadi infiltration on a low, claims army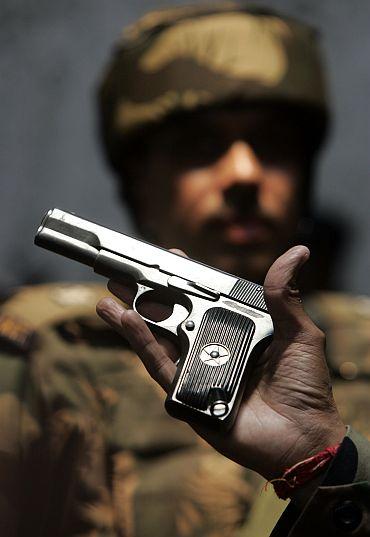 Though the numbers of infiltrators have come down considerably, security forces cannot afford to relax yet, finds out .
PHOTOS: Tiangong-1, China's first step to a space lab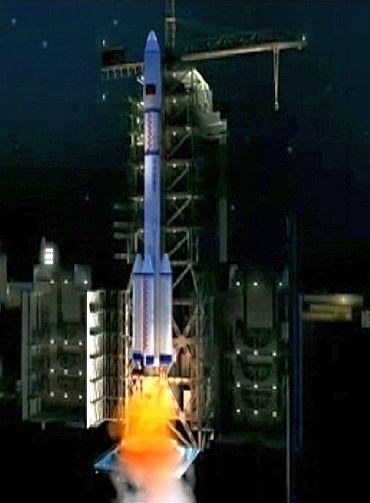 China is all geared up to launch into space on Thursday the first part of its maiden space lab Tiangong-1, which will form the test-bed for a larger 60-ton space station to be put in place by 2020.
Gilani's message to US: Can't do more in war on terror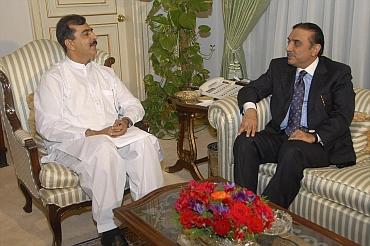 Pakistan's top civilian and military leadership held a nearly two-hour meeting ahead of a crucial conference of political parties convened by the government to forge national consensus on dealing with mounting tensions with the United States.
IN PICS: Floods affect 15 lakh people in Bihar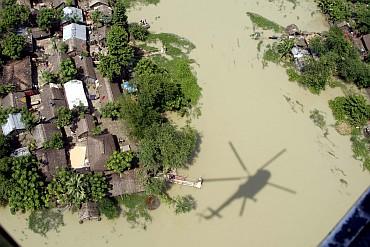 The flood situation in Bihar remained grim on Thursday, contrary to the State
Kishanganga Dam row: Did Pak unknowingly hand India a win?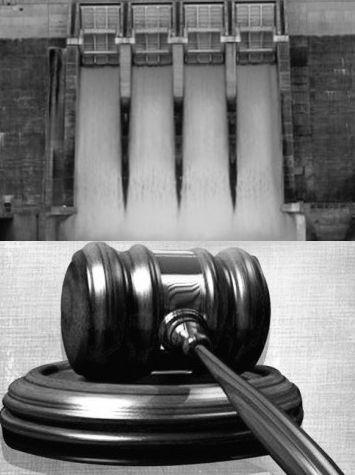 The man who represented Pakistan at the International Court of Arbitration to explain the country's case on the Kishanganga Dam is believed to have played into India's hands and wrongly projected Islamabad's loss as its gain.
In PHOTOS: Tragedy in the Horn of Africa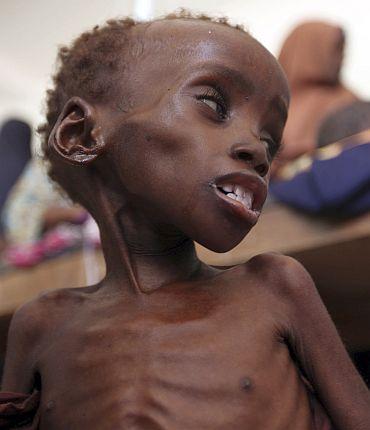 The drought in the Horn of Africa, which comprises Somalia, Eriteria, Djibouti and Ethiopia, is arguably the worst in recent history. More than 13 million people are in need of emergency assistance, as well as agriculture and livelihood interventions.
In PHOTOS: The WORST nations for women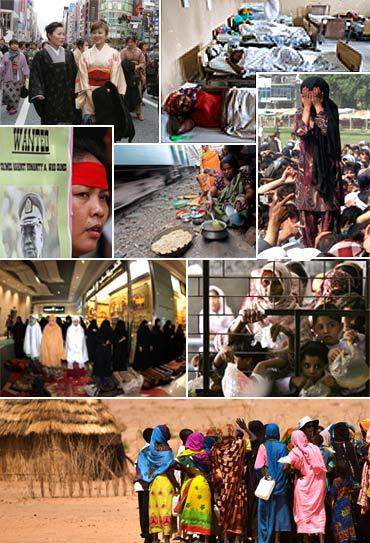 A woman is treated in the most wretched manner in countries like Chad and Afghanistan according to a recent survey conducted by Newsweek.
13/7 destroyed what poverty couldn't. Their dreams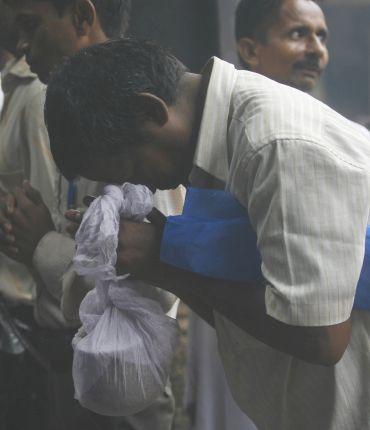 meets victims of the 13/7 triple blasts in Mumbai and tries to gauge the immeasurable damage that has been caused to their lives.
FBI arrests man for planning to blow up Pentagon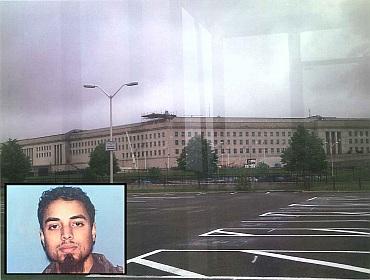 United States authorities have arrested a suspected follower of al Qaeda and charged him with plotting an attack on the Pentagon with an explosive laden remote controlled aircraft.
September 28, 2011
Cong retorts at BJP's 'absolute cacophony' over Chidambaram
Hitting back at the Bharatiya Janata Party, the Congress on Thursday dismissed as "absolute cacophony" its demand for Home Minister P Chidambaram's resignation, contending that the finance ministry note on the 2G issue cannot have any effect of guilt.
BJP hits back: 'The PM is living in denial'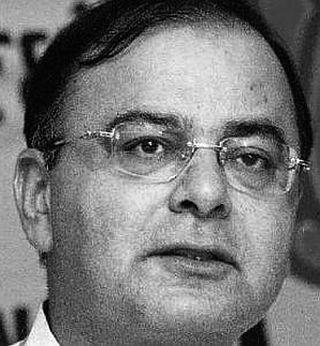 The Bharatiya Janata Party on Tuesday reacted strongly to Prime Minister Manmohan Singh's allegation that the Opposition was trying to detsbilise the government, saying he had "distanced himself from reality".
Christians most persecuted in the world now: Vatican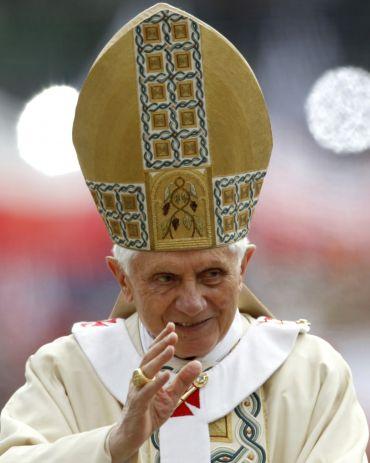 Warning that Christians currently suffer more persecution because of their faith than any other religious group, the Vatican on Tuesday told the United Nations that the denial of religious freedom threatened peace and security and precluded integral human development.
Pacemaker inventor Wilson Greatbatch dead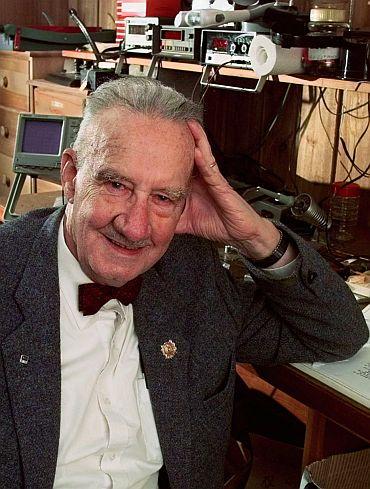 Greatbatch, whose invention is keeping millions of hearts beating in rhythm, passed away in Buffalo, New York. The cause of death has not been disclosed, the BBC reported.
PHOTOS: Sunken British ship with HUGE Indian treasure found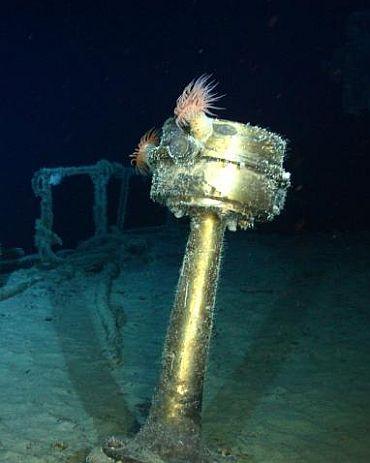 A British merchant ship, which set sail from Calcutta (Kolkata) in December 1940 but was sunk by a German U-boat before she could reach home with her cargo of 70 lakh ounces of silver (1 ounce = 28.3495231 gm) among other things, has been discovered.
PIX: Delhi building collapse toll rises, angry locals protest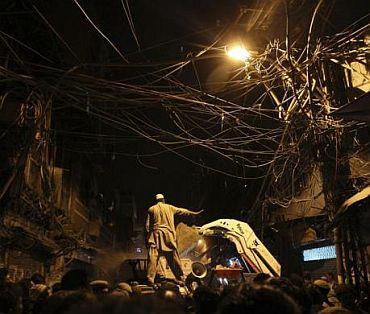 Two more persons, who were injured in Tuesday night's building collapse in Old Delhi, died on Wednesday, taking the toll to seven even as rescue operations continued at the spot of the tragedy for the second day.
PHOTOS: Spectacular views beyond our world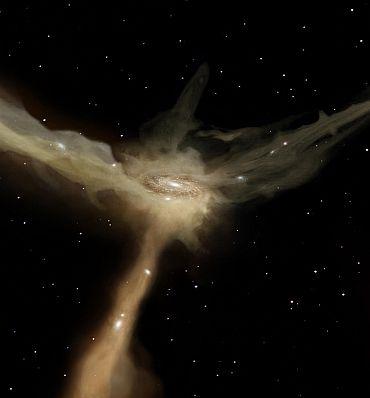 Rediff.com takes you on a scintillating voyage to the outer space
In PHOTOS: The VVIP guests of Tihar Jail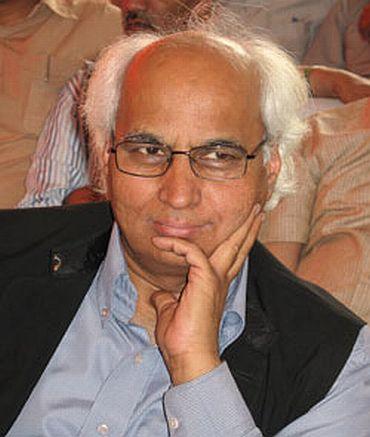 Rediff.com takes you through the high profile guests at the New Delhi's Tihar Jail
'Don't forget Lashkar, it's as dangerous as Haqqanis'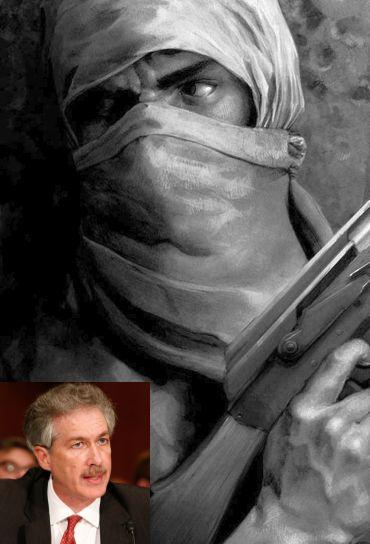 As much as the Haqqani network seems to have catapulted to being the flavour of the day in terms of Pakistan's Inter Services Intelligence-supported terrorist groups in South Asia, a senior State Department official declared that the other ISI-proxy, the Lashkar-e-Tayiba -- responsible for the 26/11 terror attacks in Mumbai -- is equally on even more dangerous.
'I still have two pieces of shrapnel in my body'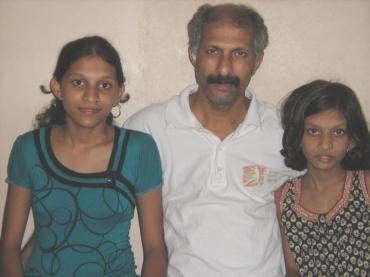 His watch has stopped at 6.47 pm, the exact moment a bomb had wreaked havoc in Dadar, Mumbai, and irreversibly changed his life on September 13, Shirish Kandalgaonkar tells Rediff.com's A Ganesh Nadar
September 27, 2011
Portugal high court terminates Abu Salem's extradition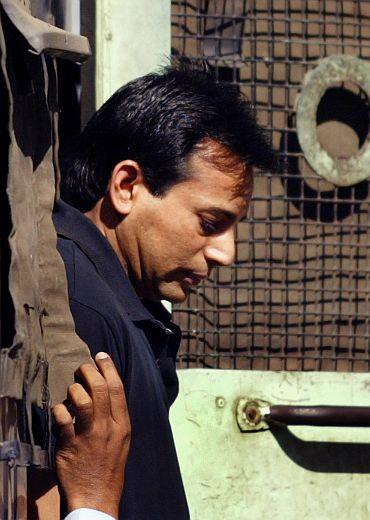 The Portugal high court has ordered revocation of the extradition of underworld don Abu Salem accusing Indian probe agencies of violating the conditions under which he was permitted to be taken to India in November 2005 to face trial in eight cases including 1993 Mumbai blasts.
Bullet 313: An IM front to mislead sleuths?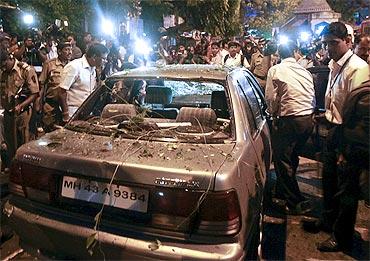 In the past one and half years, the nation has witnessed three attacks --Varanasi, 13/7 and the Delhi high court blasts. For quite sometime now, the investigators have been clueless about the attackers and now, leads are trickling in. Investigators are closing in on Bullet 313, a group within the Indian Mujahideen which could have carried these attacks. Vivky Nanjappa reports.
PIX: The 'very happy' meeting between Krishna, Hina Rabbani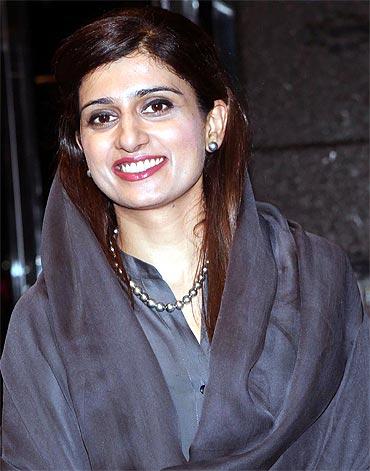 Expressing happiness over meeting his Pakistani counterpart Hina Rabbani Khar at a reception on Tuesday, External Affairs Minister S M Krishna said such social exchanges will go a long way in normalising relations with the neighbouring country.
What makes the Haqqani network so DANGEROUS?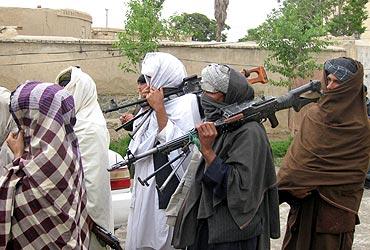 assesses the strengths, capabilities and leadership of the Haqqani network, one of the dreaded terror groups operating on both sides of the Durand Line
PIX: Meet the most powerful women in the world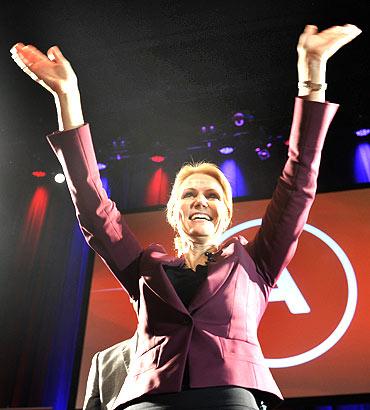 Let's take a look at some other women who continue to make waves in world politics.
'India and China to dominate this century'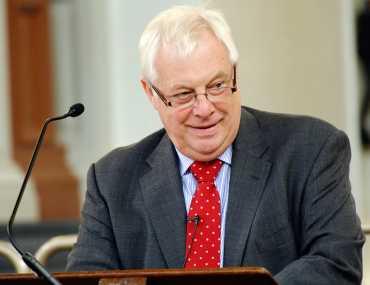 There has been a major shift in the global balance of economic power, creating a new global hierarchy dominated by the East, says Chris Patten, chancellor of Oxford University. reports.
13/7: Diamonds are forever, blast scars hopefully not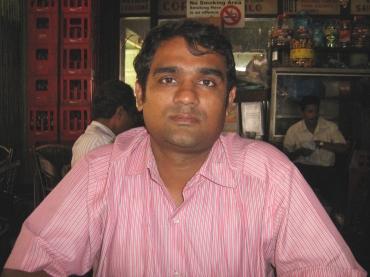 Two months after he was seriously injured in the blast at Mumbai's Opera House, Manish R Mehta is back at work. Life goes on, Manish tells Rediff.com's A Ganesh Nadar, because it has to, because there is no other choice.
September 26, 2011
I'm not alien to pain, Rahul tells Kashmir students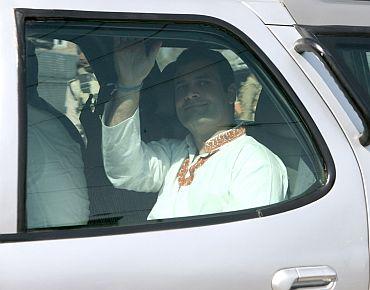 Congress general secretary Rahul Gandhi on Monday had an hour-long interaction with the students of Kashmir University during which he faced questions on issues like unemployment and harassment of Kashmiris outside the state.
My son is innocent, says mother of Rajiv 'assassin'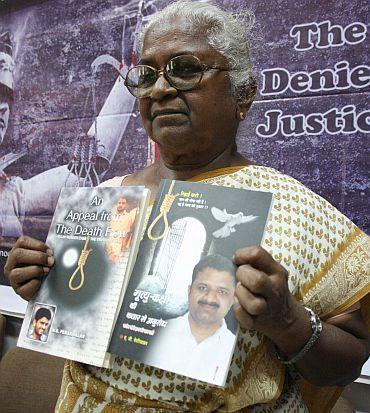 On a multi-city tour to promote the book 'An Appeal from the Death Row', a determined mother believes her son A G Perarivalan, the convicted 'author-on-a-death-row,' is an innocent man.
Nobel winner 'saviour of Kenyan forests' passes away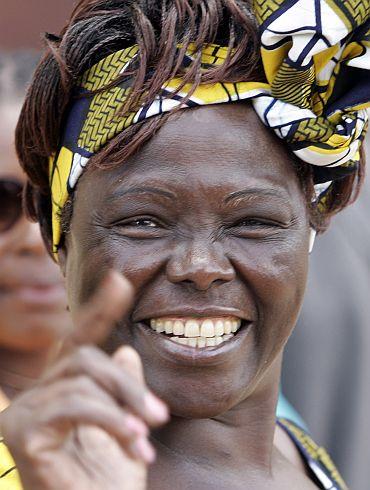 Wangari Maathai, the first African woman to win the Nobel Peace Prize for her campaigns to save Kenyan forests, died in a hospital in Nairobi late on Sunday after a long struggle with ovarian cancer.
'I have mortgaged everything I own for his freedom'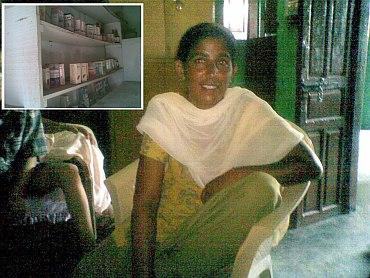 Sukhdev mortgaged his house and shop to raise Rs 1,80,000 demanded by the travel agent in return for a job in Iraq. Today, his family says he is clearing bomb-shells, working 16-18 hour shifts of forced labour. reports on the families of Sikh youths trapped in Iraq who have put everything at stake to bring their sons back.
In PICS: China's AMAZING space lab of the future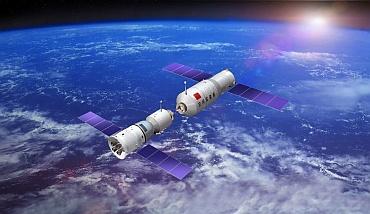 China may launch the country's first space laboratory module at the end of this week with hectic last minute preparations in full swing.
'Money has most vitiated the developed world's democracy model'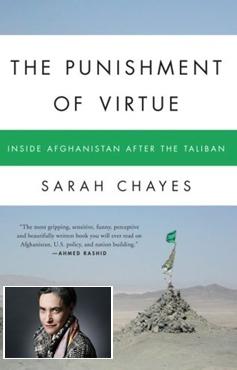 Gateway House interviews Sarah Chayes, Foreign Press Club and Sigma Delta Chi award-winning former reporter at National Public Radio, on the anti-corruption and democracy movements around the world as a response to governments turning into mafia syndicates.
Rewind: Best images in the last 48 hours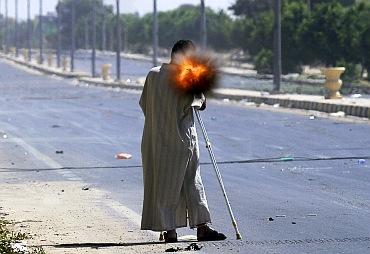 Presenting some of the most scintillating pictures from around the globe in the last 48 hours.
IN PICS: India test fires Prithvi-II ballistic missile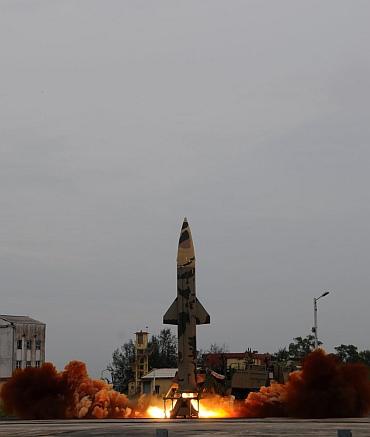 India on Monday successfully test-fired its nuclear capable 'Prithvi-II' ballistic missile, with a range of 350 kms, as pa rt of user trial by the armed forces from Chandipur off Orissa coast.
IN PHOTOS: It's an odd world out there!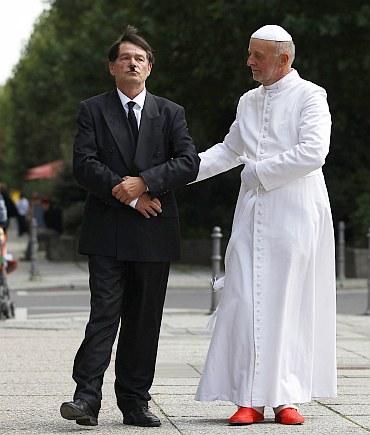 We bring you a collection of some of the odd moments from around the world in recent weeks.
September 25, 2011
US-Pak face-off worsens, Gilani asks Khar to cut short US visit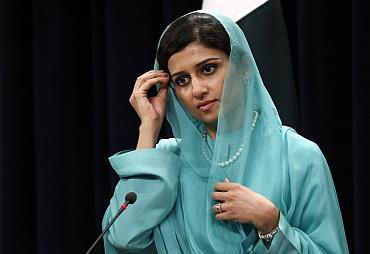 Prime Minister Yousuf Raza Gilani on Sunday asked Foreign Minister Hina Rabbani Khar to cut short a visit to the United States and return to Pakistan even as the army's top commanders held a special meeting against the backdrop of mounting tensions with the US over Inter-Services Intelligence's links with terror groups.
Manmohan Singh got spoiled in Congress company: Modi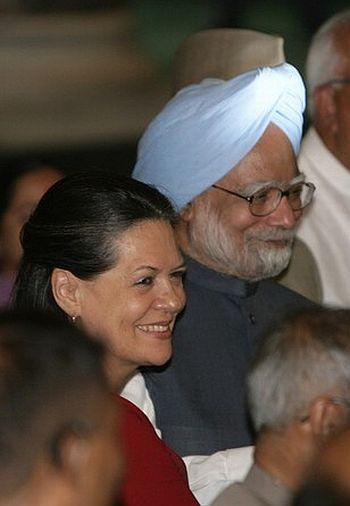 Gujarat Chief Minister Narendra Modi on Sunday said that Prime Minister Manmohan Singh had got "spoiled" in the company of the Congress.
Cong trying to run parallel govt through governor's office: Modi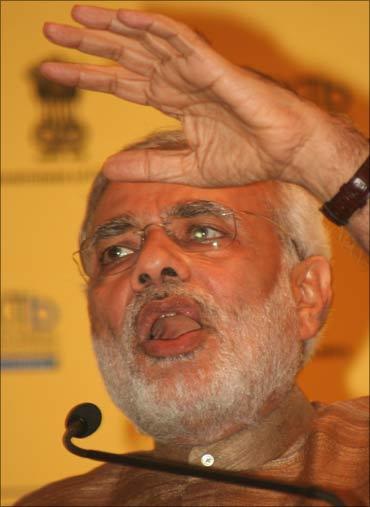 Gujarat Chief Minister Narendra Modi on Sunday accused the Congress of trying to run a parallel government through the governor's office, even as the state Bharatiya Janata Party passed a resolution seeking recall of Governor Dr Kamla.
Nepal plane crash: Eight TN builders' holiday turns tragic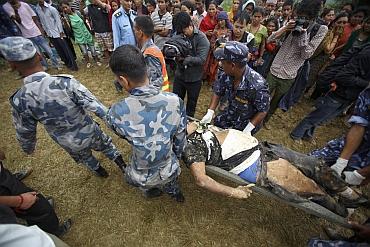 A mountain flight to view the Mount Everest at the conclusion of a business conference ended in a tragedy for a group of eight city-based builders when their plane crashed in Nepal on Sunday.
PIX: 36-hour rail blockade in Telangana ends, commuters relieved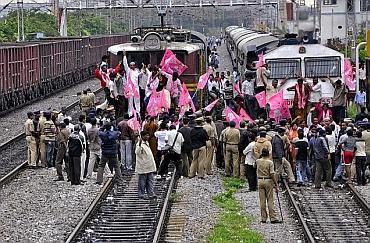 Normal life in Telangana region of Andhra Pradesh continued to remain affected for the second consecutive day on Suday due to the ongoing 36-hour 'rail roko' call given by the Telangana Joint Action Committee in support of their demand for separate statehood.
IMAGES: 10 Indians among 19 killed in Nepal plane crash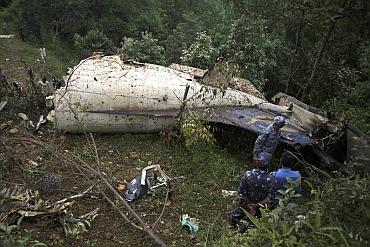 Ten Indians were among 19 people killed on Sunday when a small plane carrying them crashed and broke into pieces at Kotdanda hills near the Nepalese capital while returning from a sight-seeing trip around Mount Everest.
I will defend my ministers, says PM on Chidambaram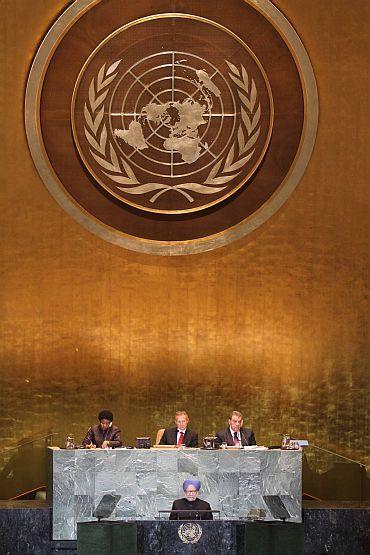 Prime Minister Manmohan Singh on Saturday rejected the Opposition demand for the resignation of Home Minister P Chidambaram over the 2G issue and made it clear he will defend all his Cabinet colleagues.
September 24, 2011
IMAGES: Putin set to return as Russian president in 2012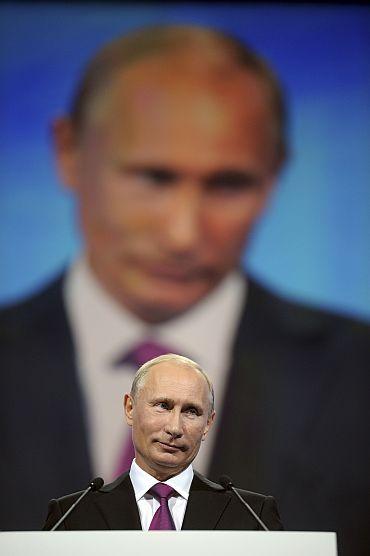 In a well choreographed job swap, Russian strongman Vladimir Putin is set to return as president for a third term in March 2012 after a key endorsement from incumbent Dmitry Medvedev who will run for premiership this year.
PHOTOS: PM calls for early expansion of UNSC
Prime Minister Manmohan Singh on Saturday made a powerful call for early reform and expansion of the United Nations Security Council "to reflect contemporary reality" and asked nations not to allow the global economic slowdown to trigger protectionism through various barriers.
PIX: Daunting task for govt as Telangana stir paralyses life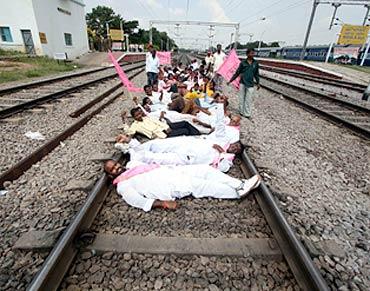 The activists seeking a separate Telangana state call it a final assault. They say that this time around they would not stop until their demands are met.
Irked by terror probe, RSS targeting Chidambaram: Digvijaya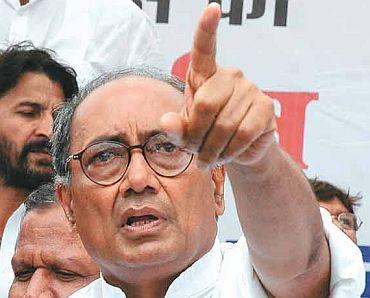 Senior Congress leader Digvijay Singh on Saturday strongly backed P Chidambram over the latest controversy surrounding the finance ministry note on 2G scam and accused the Rashtriya Swayamsevak Sangha of targeting the home minister as he acted against "Sanghi" terror.
India flight-tests 750 km-range Shourya missile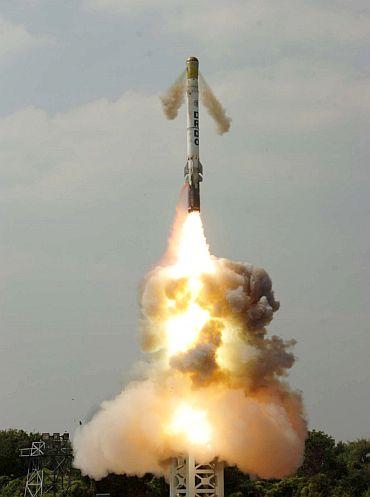 The surface-to-surface missile took off from an underground silo at the launch complex-3 in the ITR at about 1428 hours, defence sources said.
The sexy Shake It Saiyan from Rascals
The Desi Boyz and the sexy saiyan from Rascals
G8 reputation: India ahead of China, SA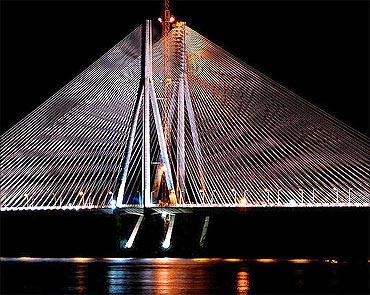 India finds itself ranked at the 27th place, much ahead of China but a little below its IBSA partner Brazil in a new survey that measures the reputation of 50 countries among people of the G8 nations.
'Palestine should have been recognised years ago'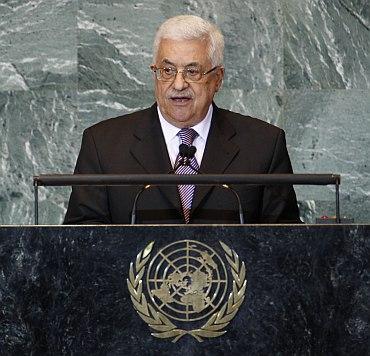 Defying the United States, Palestinian President Mahmoud Abbas formally requested that the United Nations recognise the Palestinian state.
September 23, 2011
Modi's nasty 'fast politics': Shifting the BJP rightwards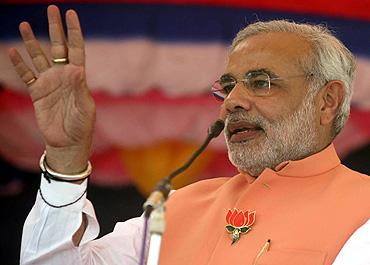 Modi's fast has failed to put even a paper-thin moderate or secular gloss on his image. But he has succeeded in shifting the BJP politically to the far right, decisively and firmly, says .
Govt mulls using FB, Twitter to know public views on decision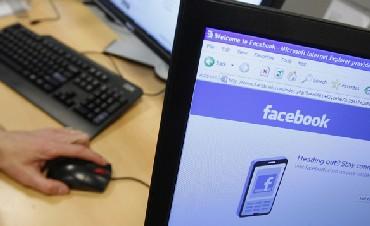 With social networking sites Facebook and Twitter getting popular among masses, the Centre is creating a framework for "Citizen Engagement" to use social media for eliciting public views, an official said on Friday.
PC would be in jail had there been Jan Lokpal: Hazare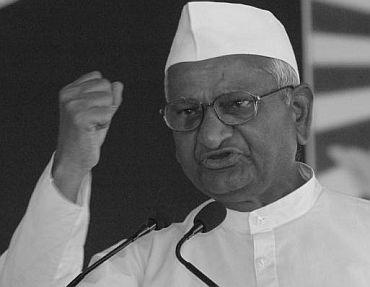 Amid the fresh controversy in the 2G spectrum case, anti-graft crusader Anna Hazare on Friday said Home Minister P Chidambaram would have been behind bars had the Jan Lokpal legislation been in existence.
'Defunct NASA satellite may crash over Indian Ocean'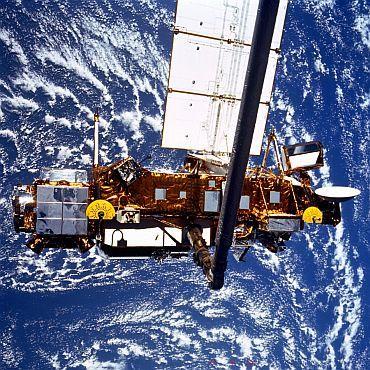 Russian space experts have forecast that the defunct six-tonne NASA satellite, what is set to crash on the Earth soon, is likely to fall in the Indian Ocean.
'PM can now convene a Cabinet meet abroad!'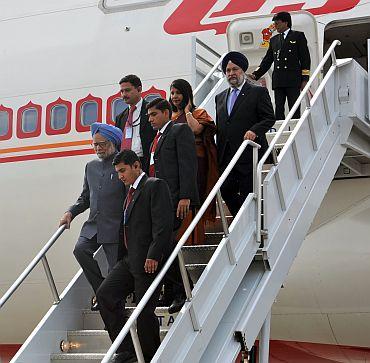 At least a dozen Union ministers, including Prime Minister Manmohan Singh and Finance Minister Pranab Mukherjee, are abroad and some more are slated to be off to attend international conferences in the coming days.
On trial, Tejas fighter jet bombs target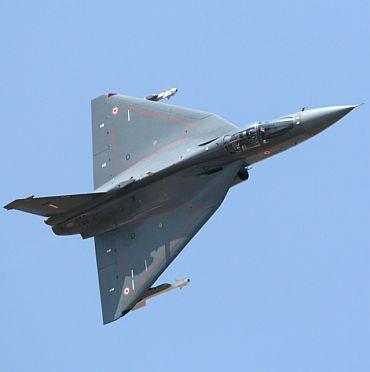 In a key step towards attaining final operational clearance from the Indian Air Force, the Light Combat Aircraft (LCA) Tejas is undergoing weapons trials, including firing air-to-air missiles to test its capability to bring down enemy planes.
PHOTOS: Views from the International Space Station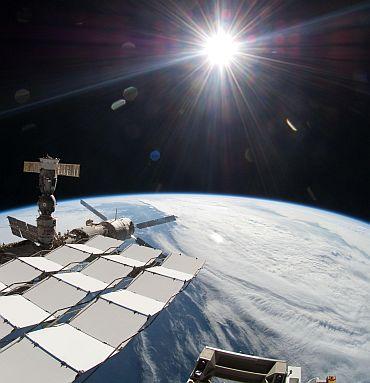 Rediff.com showcases some brilliant snaps taken from the International Space Station of our planet
PIX: PM in NYC; UN reforms, anti-terror pact on agenda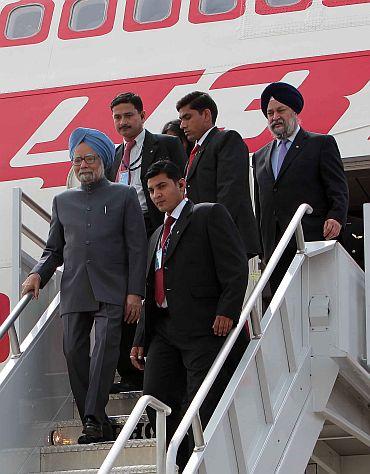 India will make a strong pitch for comprehensive reform of the United Nations Security Council to create an equitable system that is reflective of current realities when Prime Minister Manmohan Singh addresses the UN General Assembly on Saturday.
Losses mount as Andhra CM struggles to curb Telangana fire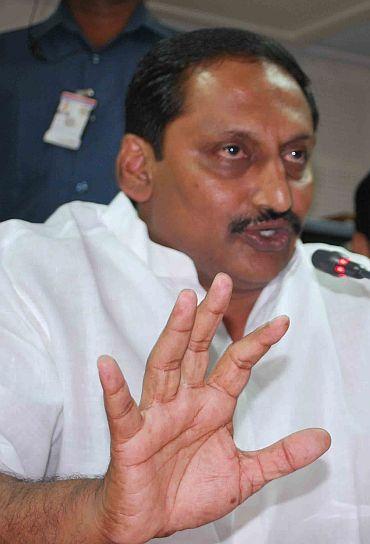 The battle for a separate Telangana state has turned worse with the Andhra Pradesh government making it clear that it will do everything under the sun to restore normalcy but not yield to protestors' demands under pressure.
WATCH: Doomed NASA satellite captured on video
An amateur astronomer has recorded images of the doomed National Aeronautics and Space Administration satellite as it tumbles back to earth and is expected to crash on or around September 24.
In PHOTOS: Unusual, strange moments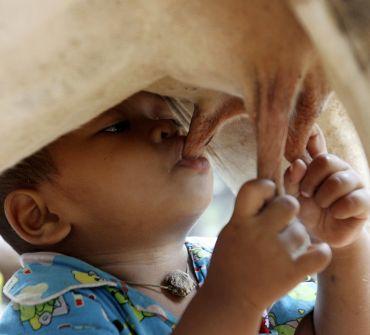 Rediff.com brings for you some strange and unusual photographs that you would not see everyday.
September 22, 2011
2G note fallout: Chorus for Chidambaram's resignation grows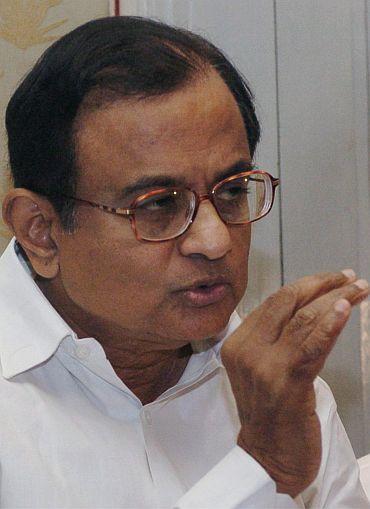 Referring to Finance Minister Pranab Mukherjee's letter to the Prime Minister in the 2G Spectrum case, the Bharatiya Janata Party on Thursday alleged that Home Minister P Chidambaram was involved in the scam and demanded that he should resign or else be sacked immediately.
DRAMATIC PIX: Youth threatens suicide over Telangana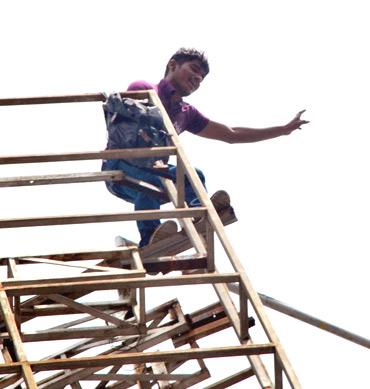 As Congress leaders from Telangana upped their ante on Thursday saying they would be forced to take a "tough decision" if the Centre failed to make a statement in favour of statehood for the region by September 30, a youth from Adliabad district was at the centre of the drama as he threatened to immolate himself and jump from a 100 metre high hoarding in Hyderabad on Thursday.
'CBI raids against me nothing but a witch hunt'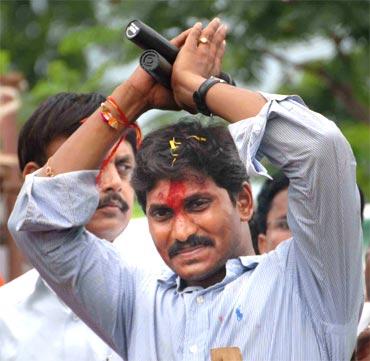 He came into political life with much fanfare but of late has been confronted by CBI raids and a slew of cases against him. Rediff.com's speaks to YSR Congress chief Jaganmohan Reddy.
India's diversity, and democracy, made Modi change his stripes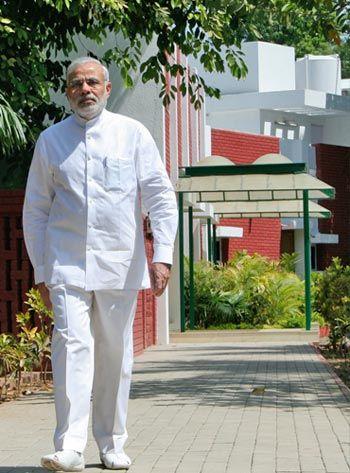 India's plurality often teaches politicians lessons that they might not otherwise learn, says .
Don't worry; I have full faith in you: PM tells PC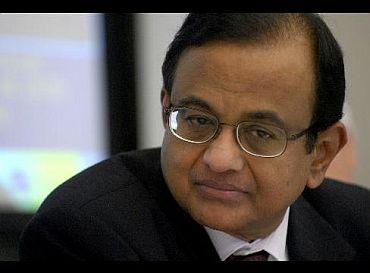 Union Home Minister P Chidambaram called Prime Minister Manmohan Singh and discussed with him the issue of a finance ministry note on allocation of 2G spectrum which appeared to raise questions on his role.
DMK on 2G note: 'Raja has been vindicated'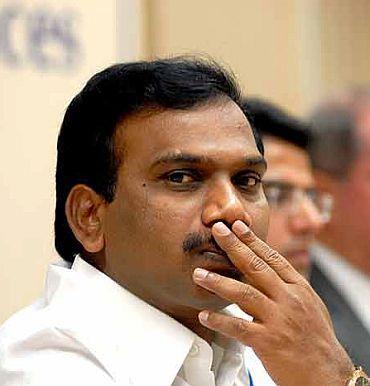 Against the backdrop of the finance ministry note on 2G spectrum pricing, Dravida Munnetra Kazhagam, a key United Progressive Alliance ally, on Thursday maintained that the stand taken by jailed former telecom minister A Raja on the issue has been 'vindicated'.
'Travel agents sold us for 500 dollars'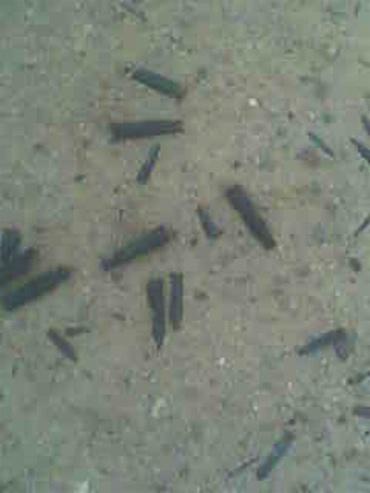 Imagine being forced to clear bombshells from a war-ravaged barren land in Iraq, working a 16-hour shift, with barely any food to survive. speaks to two young men from Punjab who managed to make their way back home from Iraq after wily travel agents in India practically sold them for 500 dollars.
Video: Pranab refuses to comment on controversial 2G note
Union Finance Minister Pranab Mukherjee on Wednesday refused to comment on a letter sent by his ministry to Prime Minister Manmohan Singh on the 2G spectrum scam, saying he cannot make any remark on the matter as it is "subjudice".
IN PIX: Meet the high-spenders at the UNGA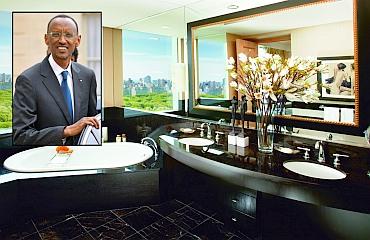 World leaders, including Rwandan President Paul Kagame, Argentina President Cristina Fernandez and Moroccan Foreign Minister Taieb Fassi Fihri, have been on a spending spree in New York ahead of this week's United Nations General Assembly.
September 21, 2011
In PHOTOS: Weirdest world records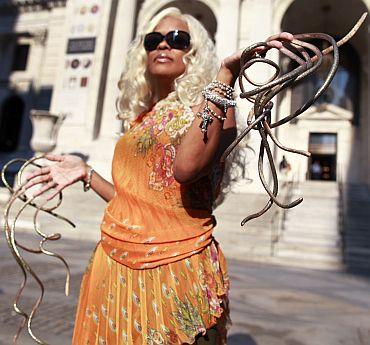 Rediff.com brings to you some of the weirdest records set around the world.
Mr Modi, justice has a way of coming around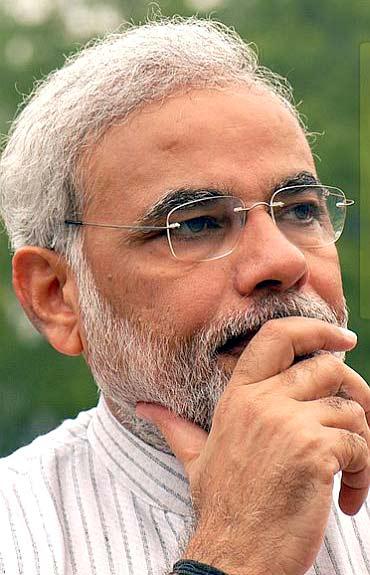 Justice will finally be served in one way or another, in one form or another, Najid Hussain warns Gujarat Chief Minister Narendra Modi.
Advani to start yatra from JP's birthplace in Bihar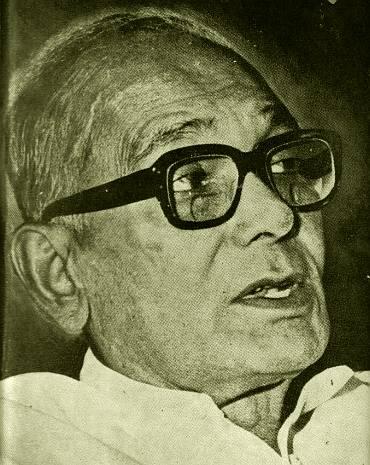 Senior Bharatiya Janata Party leader L K Advani is set to start his anti-corruption rathyatra from veteran socialist leader Jaiprakash Narayan's birthplace Sitabdiara in Saran district of Bihar on his birth anniversary October 11, according to party sources.
IN PIX: Countries that execute the most people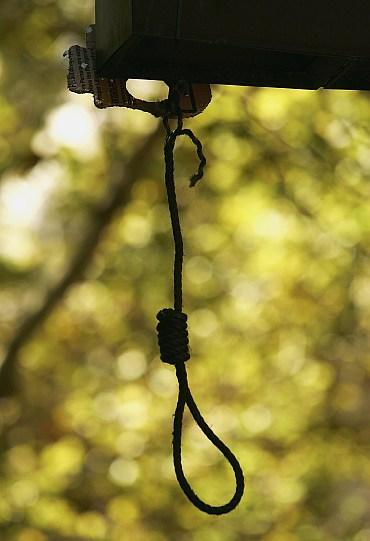 Rediff.com brings you a list of countries in chorological order, that still practice capital punishment.
BEWARE! Huge NASA satellite hurtling towards us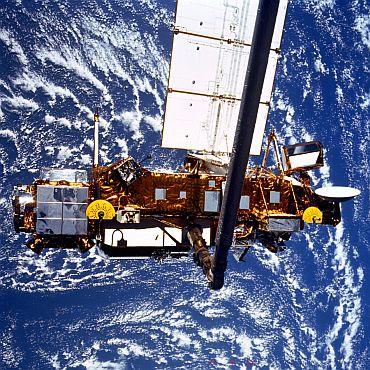 A six-and-a-half tonne defunct climate satellite that has been circling the Earth for the past 20 years will make a fiery death plunge this week, NASA officials have warned.
PIX: Sikkim quake toll 116, 400 tourists stranded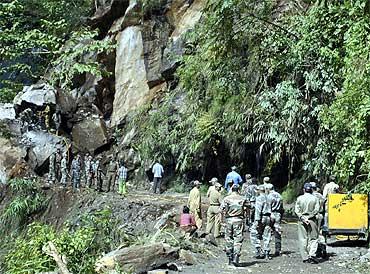 With 20 more bodies recovered in quake hit Sikkim on Tuesday night, the toll mounted to 73 on Wednesday amidst fears that the casualty figure could go up significantly as the rescue party were yet to reach 15 major villages.
I am not in the race for PM's post: Advani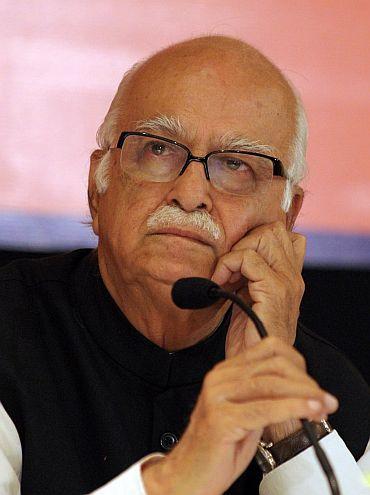 Indicating that he may not be in the race for becoming the party's Prime Ministerial candidate in the next elections, senior Bharatiya Janata Party leader L K Advani on Wednesday said that the Sangh Parivar, his party and fellow workers had given him "much more" than what the top post holds.
PHOTOS: Guns that our politicans carry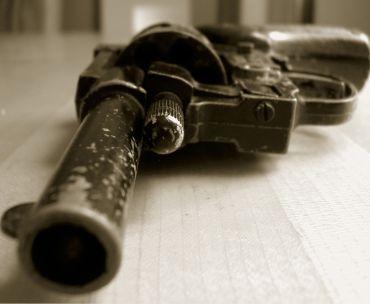 They are among the 750 MPs who have bought confiscated arms in the past 25 years, an RTI reply has revealed.
In PHOTOS: Around the world in the last 24 hours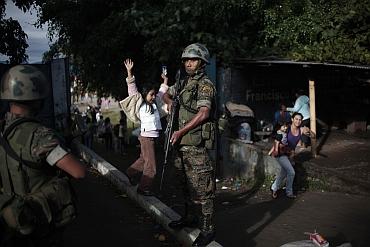 Here are some of the best images from across the globe in the last 24 hours.
September 20, 2011
PM steps on to the shifting sands at the UN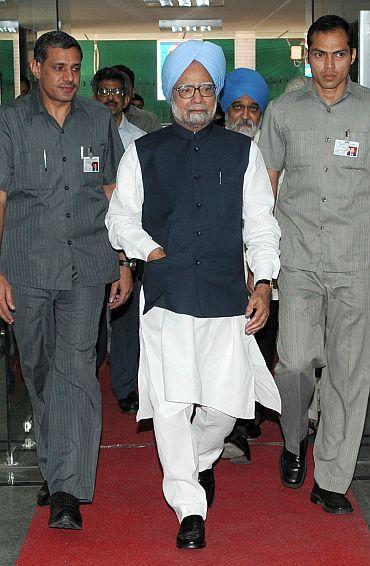 T P Srinivasan outlines the importance of Prime Minister Manmohan Singh's trip to New York for the United Nations General Assembly session
Raj has been a 'namak haram', retorts Uddhav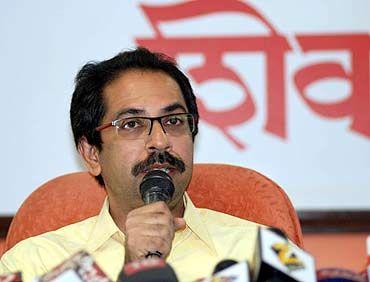 Estranged Thackeray cousins were locked in a nasty spat on Tuesday with Uddhav calling Raj disloyal after he took potshots at the Shiv Sena executive president.
Karachi Bloodbath: It is Mohajir Vs Pushtuns
The root cause of the law and order problem in Karachi is that both MQM and ANP have seemingly converted themselves into narrow ethnic-based entities that are using violence as a tool against each other, writes
Dr S N Prasad: A doyen among military historians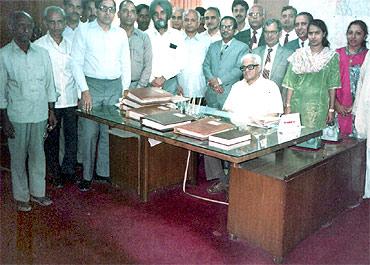 Colonel (Dr) Anil Athale remembers the contributions of military historian S N Prasad, who turned 90 recently.
Facebook banned in Pakistan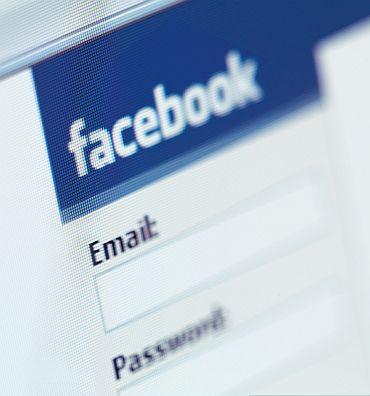 The Lahore High Court has directed Pakistani authorities to block access to all websites, including Facebook, that are involved in "spreading religious hatred" and to submit a compliance report by October 6.
PIX: 3,000 people rescued in Sikkim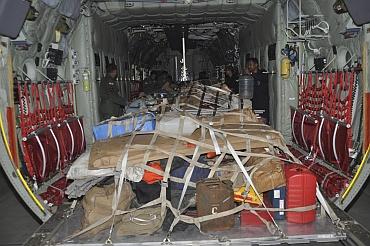 The worst-affected Mangan and Singhtam areas in quake-hit Sikkim are still out of bounds for rescue workers with massive landslides blocking key roads on Tuesday.
In PHOTOS: At Oktoberfest, world's largest beer party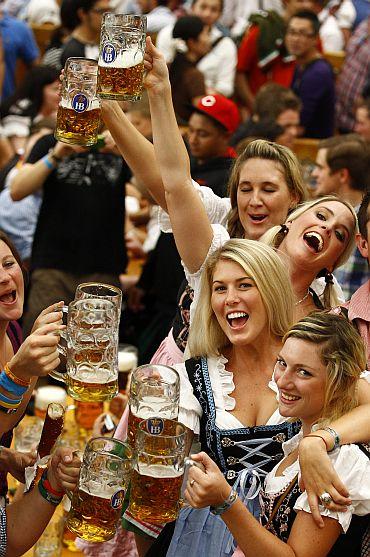 The 178th Oktoberfest, the largest beer festival in the world, is underway in the Bavarian capital, Munich.
IMAGES: NASA's new rocket that will change space travel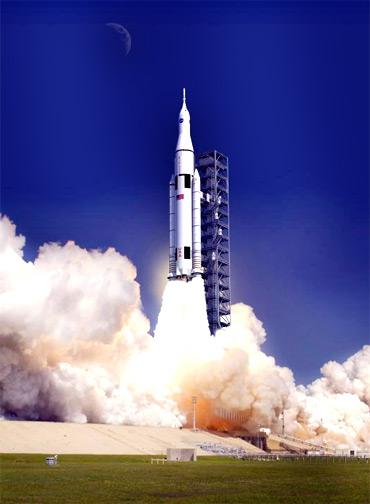 NASA has announced the design of a new Space Launch System that will take the agency's astronauts farther into space than ever before.
September 19, 2011
Fast over, but WILL continue my mission: Narendra Modi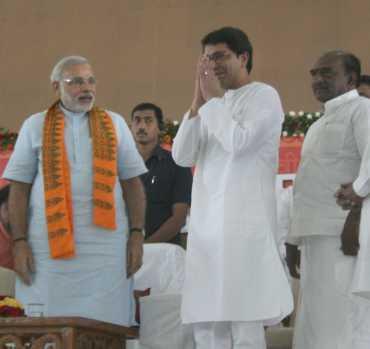 Attempting an image makeover, Narendra Modi on Monday wound up his three-day fast for communal harmony, claiming that his government made no distinction between minority and majority communities and skirted the issue of his being in the Bharatiya Janata Party's prime ministerial race.
Digvijaya targets Gadkari over son's wedding, income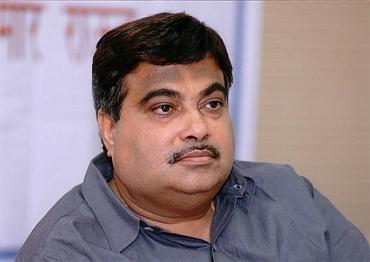 Congress General Secretary Digvijaya Singh on Monday said that the Bharatiya Janata Party President Nitin Gadkari should explain the growth in his assets and income over the years.
PICS: Many fear another quake, stay away from home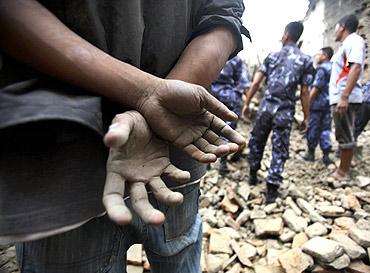 Braving cold and pouring rain, frightened residents spent the night outside their homes in the areas rocked by Sunday's quake in Sikkim and West Bengal.
'Modi's refusal of skull cap is an insult to Islam'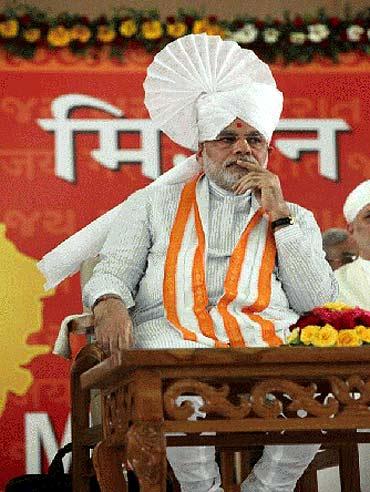 Gujarat Chief Minister Narendra Modi refused to put on a 'skull cap' offered by a Muslim cleric during his sadbhavana fast in Ahmedabad.
DON'T kill Hindus with poison of secularism: Thackeray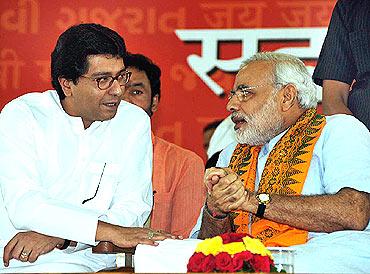 Maharashtra Navnirman Seva chief Raj Thackeray on Monday met Gujarat Chief Minister Narendra Modi, who is observing a 72-hour fast for 'peace and harmony' in the state.
Jethmalani now says Ahmed Patel paid cash for votes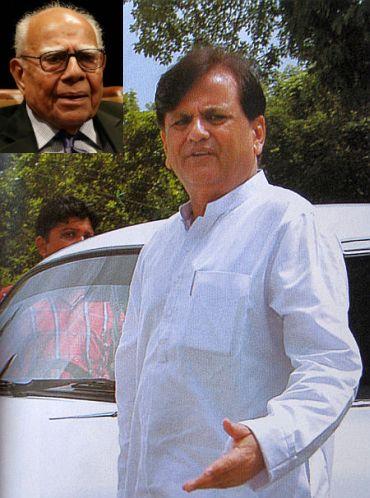 Arguing for the bail to former Samajwadi Party leader, the senior advocate named Patel, changing his earlier statement that the money could have come from BJP since L K Advani had said that his party had conducted a sting operation.
Narendra Modi's Sadbhavana fast nears end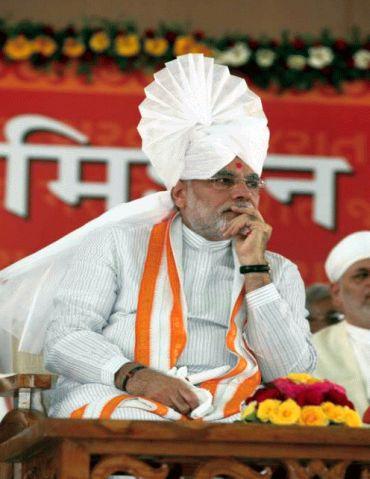 Among the most prominent BJP leaders, who are expected to arrive at the Gujarat University Convention Centre in Ahmedabad, include Leader of the Opposition in the Lok Sabha Sushma Swaraj, former BJP president Venkaiah Naidu, party MP and actor Hema Malini, national spokesperson Nirmala Sitaraman and Maharashtra Navnirman Seva (MNS) chief Raj Thackeray.
PIX: Quake toll 72, landslides hamper rescue work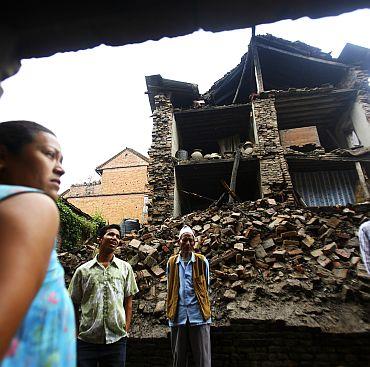 At least 52 people have been killed, including 39 in Sikkim, and hundreds injured in the powerful 6.8 magnitude quake that hit the Himalayan state, causing widespread damage to buildings and roads.
Play on Ganesha vs Third Reich ruffles feathers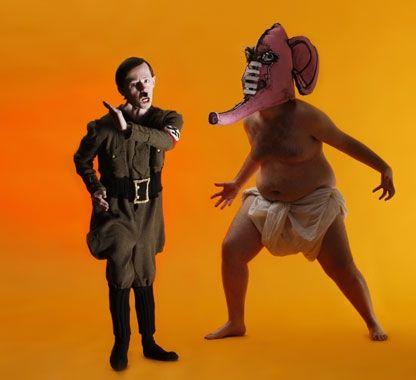 Acclaimed Hindu statesman Rajan Zed, in a statement on Monday, said that Lord Ganesh was meant to be worshipped in temples and home shrines and not to be made a laughing stock on theater stages.
3 factors that stand between Narendra Modi and PM post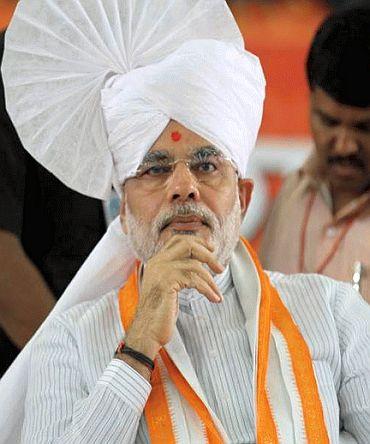 Whether it is health, water or women's empowerment, Modi is wildly popular in his state. But that's only in Gujarat, writes Aditi Phadnis.
IN PHOTOS: Kolkata all set for Durga Pujo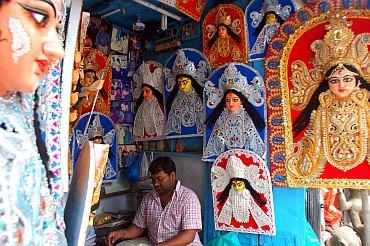 For the devotees of Maa Durga across the globe, the wait is almost over. But in Her 'home state' West Bengal, preparations for the most awaited 10 days of the year are progressing on a war footing.
Is ISI behind the attack on US embassy in Kabul?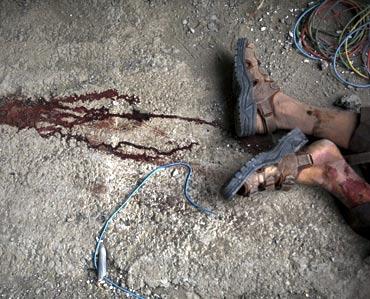 United States suspects that Pakistan's powerful spy agency Inter Services Intelligence could be behind the attack on its embassy in Kabul this week and is looking for direct evidence in this regard.
Calm in the Valley is the silence of the graves: Geelani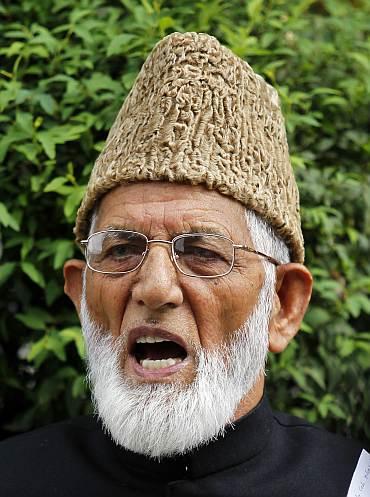 In this exclusive interview with rediff.com, Geelani outlines why he rejected Abdullah's move. Geelani terms the relative calm in the valley this year as 'the silence of the graves', saying that the sentiments of the Kashmiri people are being suppressed with force.
Pak SOLD nuke technology to China, Iran, N Korea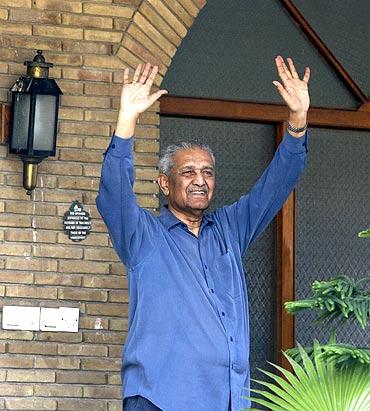 Pakistan spread nuclear weapon technology around the globe in exchange for cash, political influence and help with its own atomic bomb programme, suggest documents obtained by a United States news channel.
September 18, 2011
Pix: Sikkim quake, biggest in northeast in 20 years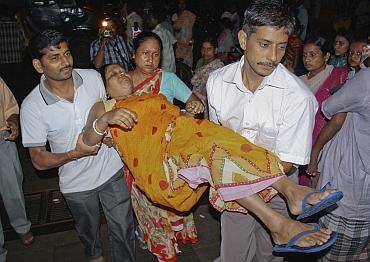 The northeastern region on Sunday experienced the biggest earthquake in 20 years.
IMAGES: 6.8 quake leaves Sikkim devastated, Nepal hit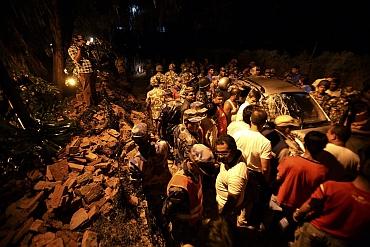 At least 11 people were killed -- six in India and five in Nepal -- after a powerful earthquake with a 6.8 magnitude rocked Sikkim and other parts in the northeast on Sunday leaving. In, India around fifty people have been injured and there has been extensive damage to property. The quake also jolted Bangladesh, sparking panic among the people, though there was no immediate report of any casualty.
Day 2 of Modi's fast: Sarabhai, riot victims detained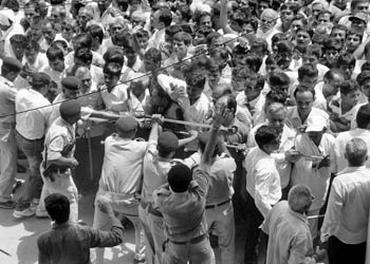 At least 25 persons, including activist Mallika Sarabhai, were detained as 2002 Gujarat riot victims were on Sunday barred from protesting against Chief Minister Narendra Modi on the second day of his fast for communal harmony.
'Muslims in Gujarat have accepted Modi's governance'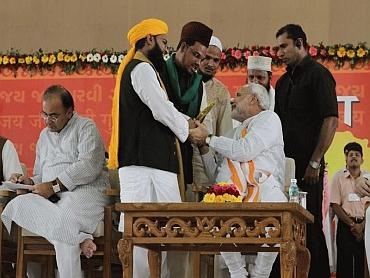 Muslims in Gujarat are progressing with the rest of the states and they have shown their acceptance of the government by coming out in huge numbers at the three-day 'Sadbhavna' fast launched by Chief Minister Narendra Modi, Bharatiya Janata Party spokesperson Shahnawaz Hussain said in Ahmedabad on Sunday.
Modi bribed my lawyers to derail 2002 riots PIL: Sarabhai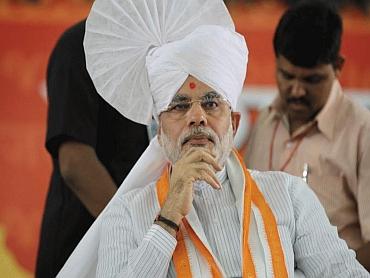 Noted danseuse Mallika Sarabhai on Sunday accused Gujarat Chief Minister Narendra Modi of using public funds to "bribe her lawyers" in an attempt to derail proceedings of the public interest litigation filed in the Supreme Court by her on the post-Godhra 2002 riots case.
IMAGES: Who's who of BJP at Modi's fast venue on Day 2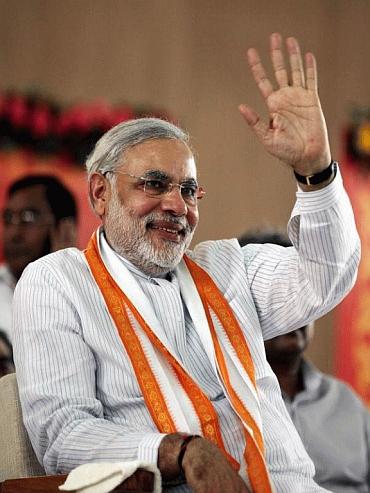 Gujarat Chief Minister Narendra Modi's fast for peace, unity and harmony, under 'Sadhbhavna Mission' entered the second day on Sunday with several Bharatiya Janata Party leaders descending at the fast venue.
September 17, 2011
Modi's peace mission: Still no answers for riot victims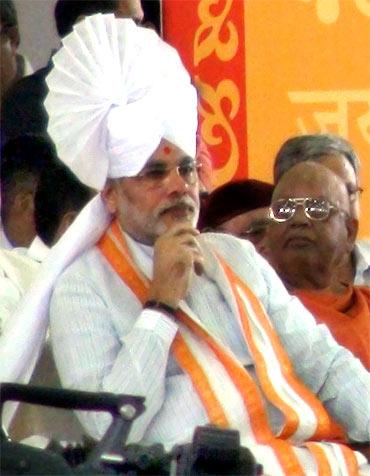 "I am praying that God lets me sacrifice myself for the sake of harmony," said Gujarat Chief Minister Narendra Modi at the Gujarat University Convention Centre hall in Ahmedabad.
'Even God will not forgive Gujarat government'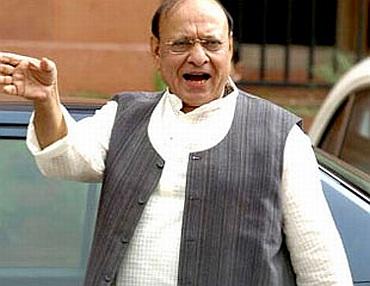 Senior Congress leader Shankersinh Vaghela on Saturday began his counter-fast against Gujarat Chief Minister Narendra Modi's three-day fast in Ahmedabad. Vaghela began his fast on Saturday morning to protest the BJP-led Gujarat government's policies and approach towards the common man. In the exclusive interview with Rediff.com's Krishna Shah, he takes on the Modi-led government in the state.
NOBODY understood our agony after the riots: Modi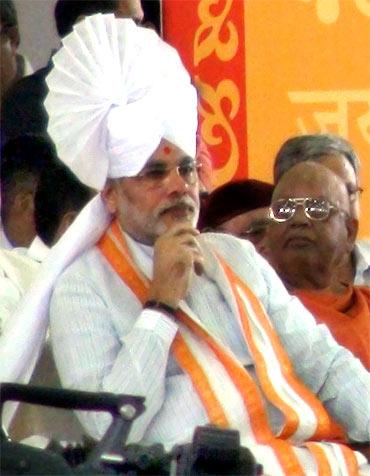 Gujarat Chief Minister Narendra Modi on Saturday began his three-day fast for "peace and communal harmony", saying the success of his endeavour would mean an end to vote-bank politics.
PICS: Advani, Jaitley at Modi's GRAND spectacle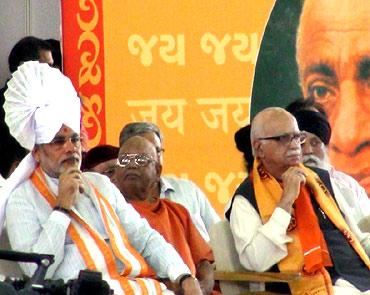 Praising Chief Minister Narendra Modi for Gujarat's development, Senior Bharatiya Janata Party leader L K Advani on Saturday said if the whole country adopted a policy of "zero tolerance" towards terrorism and corruption like him, India would rise to new heights at the global level.
READ: Narendra Modi's open letter to Gujarat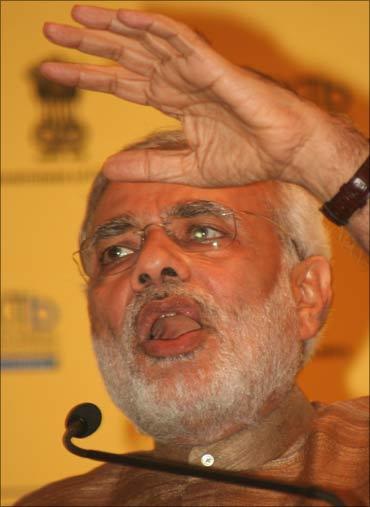 Gujarat Chief Minister Narendra Modi on Saturday started his three-day fast at the Gujarat University Convention Centre for "peace, harmony and unity in the state". He also wrote another open letter to the people of his state to explain the reasons behind his fast.
Modi fasts for 'peace' in Gujarat, JD-U stays away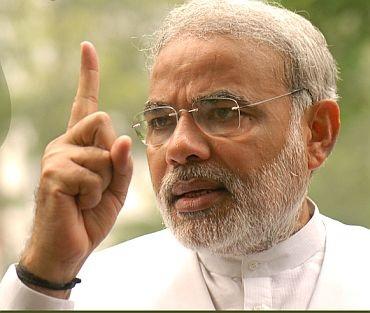 Gujarat Chief Minister Narendra Modi on Saturday started his three-day fast at the Gujarat University Convention Centre for "peace, harmony and unity in the state".
The Rascals and Ranbir's steamy kiss
The Rascals and Ranbir's steamy kiss
September 16, 2011
Could it be Modi v Rahul in 2014?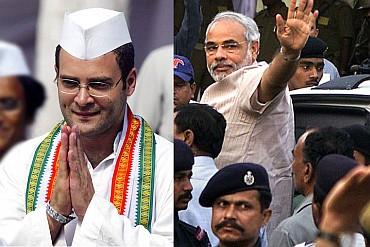 Given the prevailing state of flux in the polity, it is early days yet to predict a presidential polarisation of the Modi versus Rahul variety. But it cannot be ruled out, Neerja Chowdhury
We feel let down by Rahul Gandhi: Kiran Bedi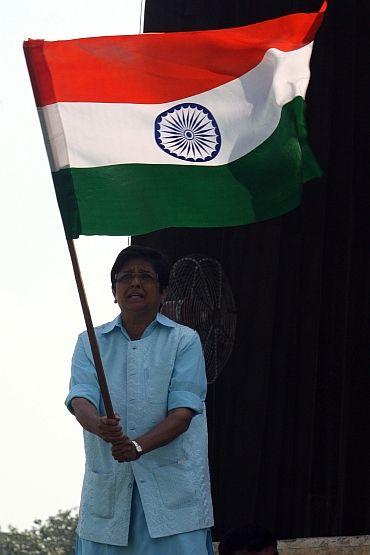 Activist Kiran Bedi on Friday said Team Anna members felt "let down" by Rahul Gandhi's lack of support for the anti-corruption movement as they thought that he would work with them to ensure that the Jan Lokpal Bill is passed in Parliament.
DRUG trade: Afghan, India, Pakistan major hubs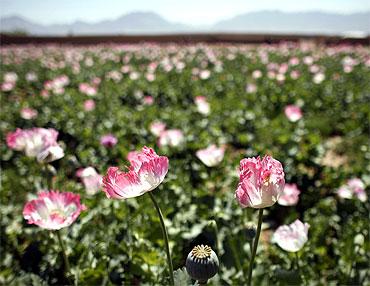 United States President Barack Obama has identified 22 countries, including India, Pakistan and Afghanistan as major drug transit or illegal drug producing countries.
Pakistan's border most DANGEROUS place in the world: US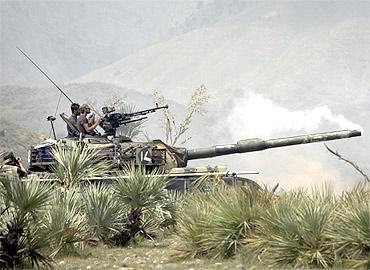 Pakistan's border region remains the most dangerous place in the world and the Federally Administered Tribal Areas remains the epicentre of the world's worst of global jihad, a top Pentagon official has said.
PICS: Meet Pakistan's very own Anna Hazare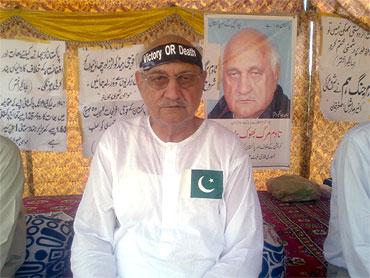 India and Pakistan both share the dubious distinction of suffering from the debilitating problem of corruption. This menace has not only crippled Pakistan's economy but also hampered all kinds of developmental activities in the country.
9/11: 'Around Swarna, I was in presence of possibly an angel'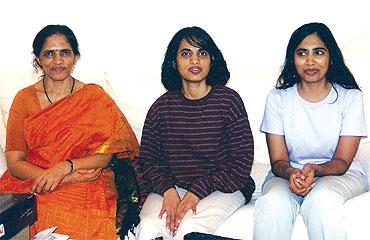 It's been 10 years since Swarna Chalasani breathed her last. But even today, the legacy of this 9/11 victim lives on. Students and abused women continue to benefit from her work. Arthur J Pais reports
Have we been unfair to Narendra Modi?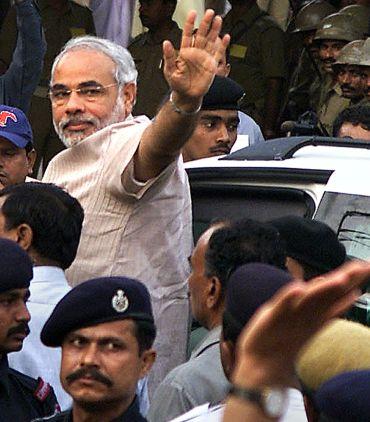 Calling Modi a Hindu Fuehrer doesn't make him one unless one can substantiate the claim. The law demands hardcore evidence shorn of the dramatic and fantastical nuances of journalistic scribblings. That is where the campaign against Modi comes up short, says
Why fasting is no big deal for Narendra Modi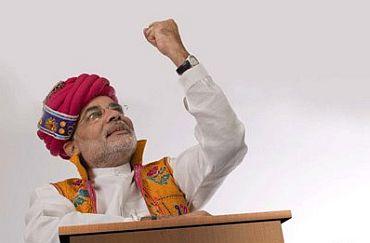 For Gujarat Chief Minister Narendra Modi, keeping away from food is no big deal. Since many years he has been fasting during the Navratri.
Cornered IM can still hit back with a vengeance
This was just one of the mails that was sent out by the Indian Mujahideen prior to the deadly blasts in Ahmedabad in 2008 which killed 56 people, injuring 200 others.
Advani's yatra plan is a farce: CPI-M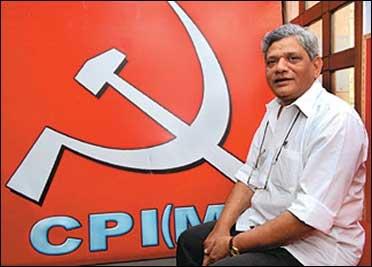 Terming Bharatiya Janata Party leader L K Advani's proposed 'rath yatra' as a "farce", the Communist Party of India-Marxist has said the country can ill-afford the sharpening of communal polarisation under the "veil" of fighting corruption.
Delhi HC blast: Did Kerala module fund it?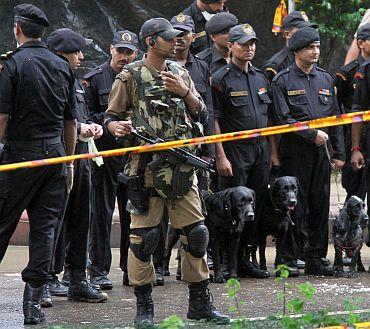 The National Investigating Agency has claimed that it has almost cracked the Delhi blasts case. It is now ascertained that it was an operation planned in the Kishtwar region of Jammu and Kashmir. But did the funding of the operation come from Kerala? analyses.
View: Modi needs to make amends to Gujarat riot victims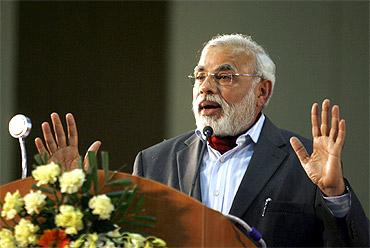 If Modi wants to pursue his prime ministerial aspirations, the only option available to him is to make public and sincere amends to the victims of Gujarat riots, says B Raman
Blasts, Kashmir, Naxalism on the PM's mind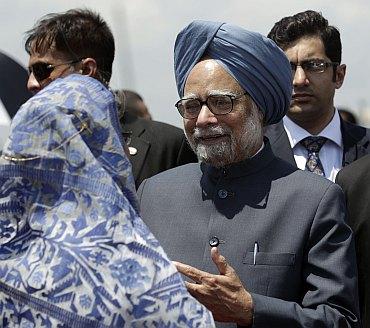 The recent blasts in Mumbai and Delhi are a "grave reminder" of the great challenge that terrorists posed to India's national security, Prime Minister Manmohan Singh said on Friday.
September 15, 2011
Delhi HC blast: 800 of India's finest on the case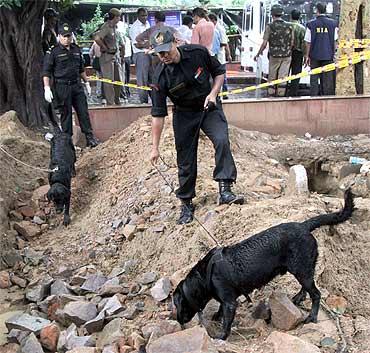 Of the several National Investigation Agency teams camping in different states in India, it was the team in Jammu
Modi's fast attracts BJP bigwigs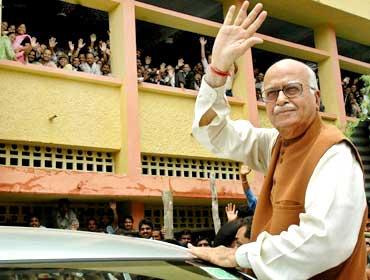 In an indication of the growing clout of Gujarat Chief Minister Narendra Modi in the Bharatiya Janata Party, senior party leaders, including L K Advani and Arun Jaitley, have decided to attend his three-day fast starting this Saturday for peace, unity and harmony in the state.
In PICS: The RUTHLESS world of modern-day pirates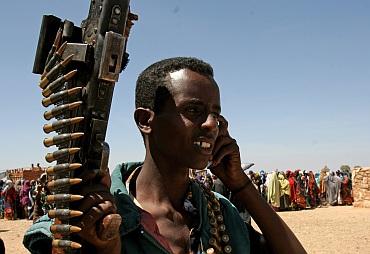 Over 260 pirate attacks were witnessed on world's seas in the first six months of the year, most of them by Somali pirates in the Arabian Sea, but the number of hijacks went down due to strong international naval patrolling on the Eastern coast of Africa.
'Delhi HC attack has Lashkar's hallmark'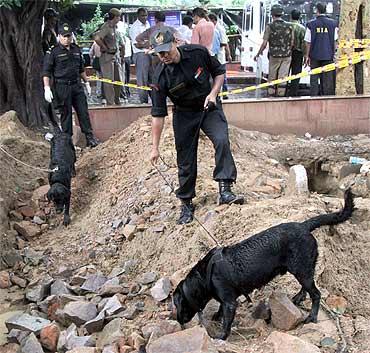 The recent attack on the Delhi high court exposes lacunae in India;s counterterrorism efforts, says Dr Sahibzada Amer Latif, a visiting fellow at the Center for Strategic and International Studies in the newly established Wadhwani Chair for United States-India policy studies.
India is the TARGET for 3 major terror groups: PC
Terming the two recent blasts in Mumbai and Delhi as a "blot" on the government's record, Home Minister P Chidambaram on Thursday said that many homegrown modules are active across the country and several of them have acquired the capacity to make bombs.
In Dhaka: With Messi and Manmohan, without Mamata
I am headed to Dhaka, Bangladesh, as part of Prime Minister Manmohan Singh's media delegation for his much-anticipated bilateral visit to the neighbouring nation.
Kejriwal: Too much conflict of power within the government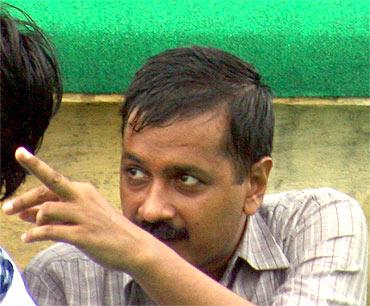 'It is so mired in internal conflicts that no one knows who is making decisions. Pranab Mukherjee? The prime minister? Or someone else?' Arvind Kejriwal breaks his silence on Team Hazare's negotiations with the government in an exclusive interview with Sheela Bhatt.
'Still hoping she will come back'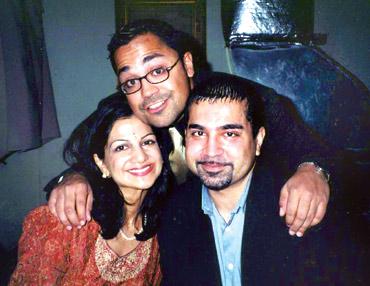 Dr Sneha Ann Philip's elder brother Ashwin Kochiyil Philip believes she is lost, not dead. He speaks to
'Terrorism in India is being conducted by Indians'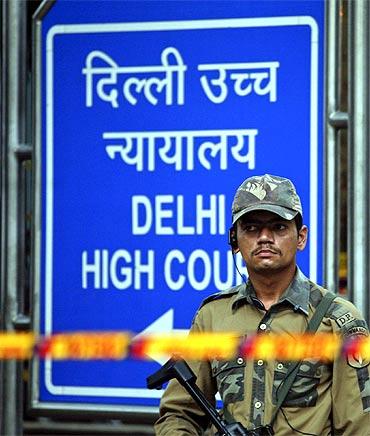 The United States and India need to stop being suspicions of each other's intentions and deepen intelligence sharing if they are to effectively combat terrorism, a leading South Asia expert and erstwhile Central Intelligence Agency analyst has told the US Congress.
Even death couldn't exonerate this 9/11 martyr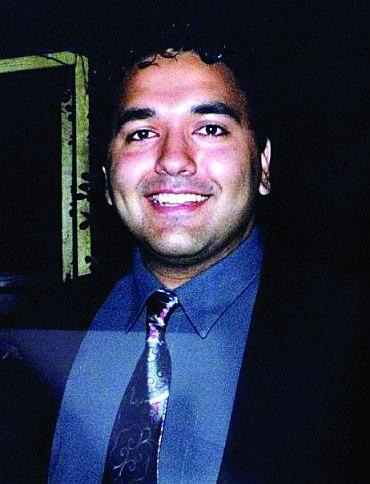 Misery and insult have accompanied the family of Salman Hamdani, who died while trying to rescue survivors during the 9/11 strikes. His mother Talat has spent the last 10 years fighting discrimination and misbelieves over 'Islamophobia' in the US. This should not happen anywhere, especially not in my son Salman's America, she tells India Abroad's .
Don't misconstrue SC order: Sanjiv Bhatt to Modi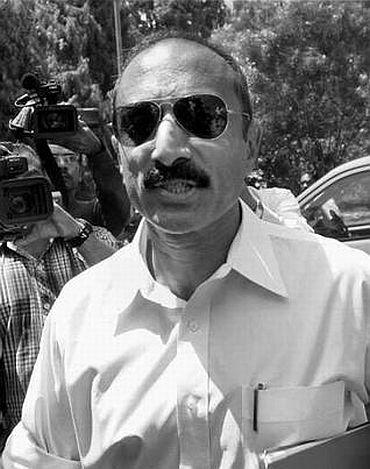 Suspended IPS officer Sanjiv Bhatt has written an open letter to Gujarat Chief Minister Narendra Modi, saying the Bharatiya Janata Party stalwart has "completely misconstrued" the order passed by the Supreme Court in the Gulberg Housing Society riot case of 2002.
Widening rift? DMK to go without Cong in local polls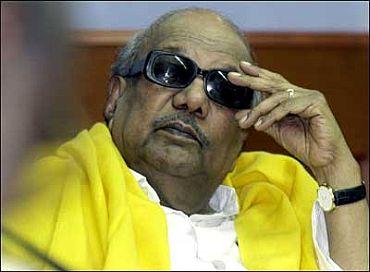 Dravida Munnetra Kazhagam, a key ally of Congress-led United Progressive Alliance, on Wednesday announced it would contest coming local body elections in Tamil Nadu on its own, saying alliances were required only for Lok Sabha and assembly polls.
September 14, 2011
Gujarat Cong under Vaghela all set to 'out-fast' Modi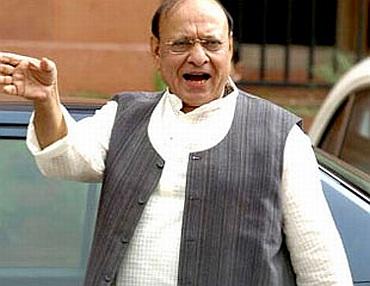 In a counter-move against Gujarat Chief Minister Narendra Modi's proposed fast, the state Congress, under the leadership of Shankarsinh Vaghela, has announced a parallel fast at the same time.
IN PICS: Aftermath of the Chennai train mishap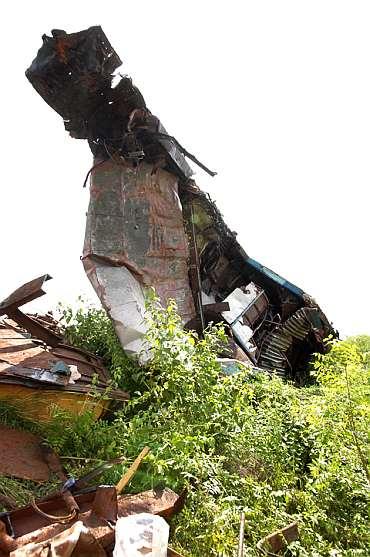 The toll in the train collision at Chitheri near Arakkonam last night has risen to 10 with the death of a woman on Thursday, police said.
IN PICS: 19-hour Taliban siege of Kabul ends, 14 dead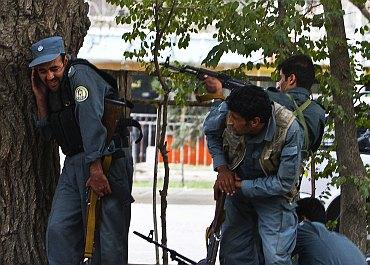 A coordinated Taliban assault on the Afghan capital was quelled on Wednesday after raging for 19 hours in a hail of rockets, grenades and suicide blasts that left 14 dead and six foreign troops wounded.
Raghu Rai on the Guru who changed his life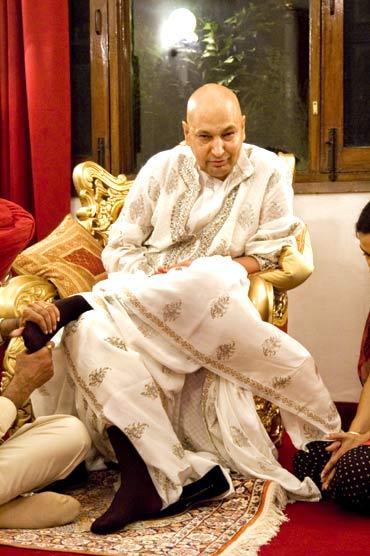 Holy men, gurus, mystics and saints have been a part of the Indian milieu for time immemorial. In our series on the India You Didn't Know, renowned photographer Raghu Rai writes about the Guru who transformed his life and the life of many others.
Advani's 'yatra' designed to derive political mileage: Hazare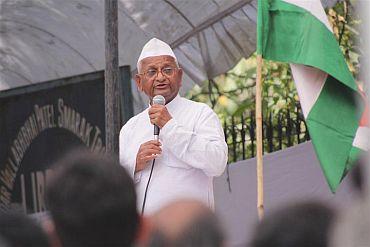 Anti-corruption crusader Anna Hazare on Wednesday ruled out his joining politics or his movement taking a political turn.
IN PICS: Orissa floods affect 14 lakh, maroon 1,200 villages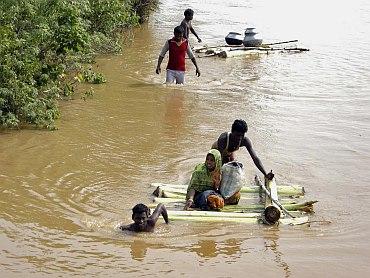 Fresh rains triggered by a low pressure compounded the plight of the marooned people in flood-hit parts of Orissa on Wednesday besides hampering relief operations.
Chennai train crash: 9 killed, human error suspected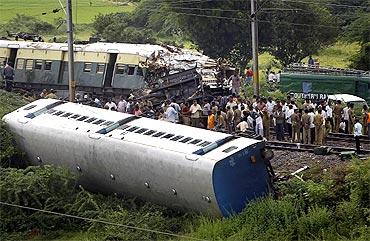 Human error may have led to the train accident on Tuesday night in which 9 persons were killed with Railway authorities on Wednesday saying the driver of the EMU train that rammed into the rear of a stationary passenger train jumped a few signals and ignored speed restrictions.
'Ground situation in Afghanistan far from reassuring'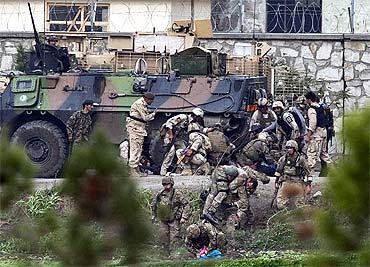 US troops after 10 years in Afghanistan are in the same position as the Soviet troops after eight years were in 1987 --victory increasingly elusive, says .
In India, it may be Rahul vs Modi in 2014: US Cong report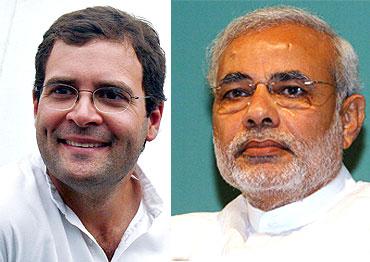 As the debate on potential prime ministerial contenders for the 2014 elections picks up in India, a United States Congressional report says it might just turn out to be a direct contest between controversial Gujarat Chief Minister Narendra Modi and Congress leader Rahul Gandhi.
IN PICS: Crorepati Sharad Pawar owns no car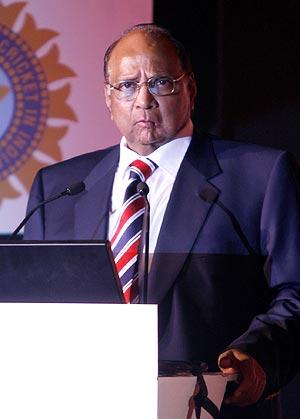 Union ministers recently declared their assets to the Prime Minister's Office which put it up on its web site for public knowledge. We compared these declarations to the ones that some ministers made when in 2009, and here's what we found.
9/11: '10 yrs on, my son can't come to term with his dad's loss'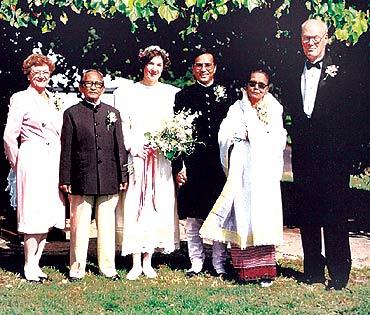 Jupiter Yambem met world leaders and business tycoons while working at the Windows on the World restaurant at the World Trade Centre, but he always remained connected to India. On the tenth anniversary of the 9/11 attacks, his wife remembers her husband and the painful journey after his loss. Arthur J Pais reports
By jailing Hazare govt looked undemocratic: US Cong report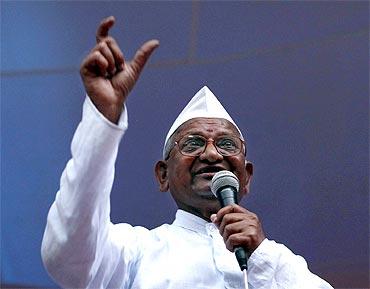 Several scams have seriously dented the image of the Congress-led United Progressive Alliance government and positioned the opposition Bharatiya Janata Party in better place for the 2014 elections, and by jailing Anna Hazare the government looked both "inept and undemocratic", a Congressional report on India has said.
PIX: Waiting for ULFA's most wanted men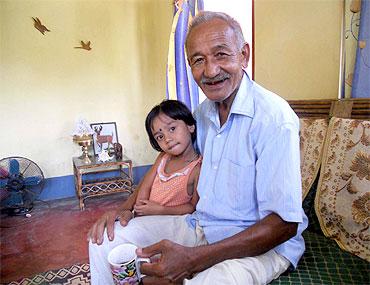 Family and friends of ULFA leaders Anup Chetia and Paresh Baruah await the return of their beloved son, brother and friend.
Gujarat best example of effective governance: US Cong report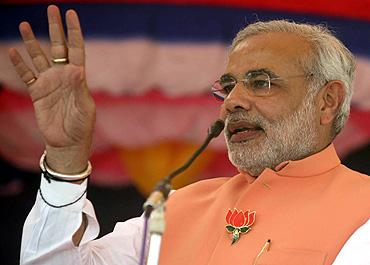 Identifying Gujarat as perhaps the best example of effective governance and impressive development in India, a Congressional report showered praise on the Chief Minister Narendra Modi and said that the state under him has become a key driver of national economic growth.
Why Pakistan can't AFFORD to tackle latest floods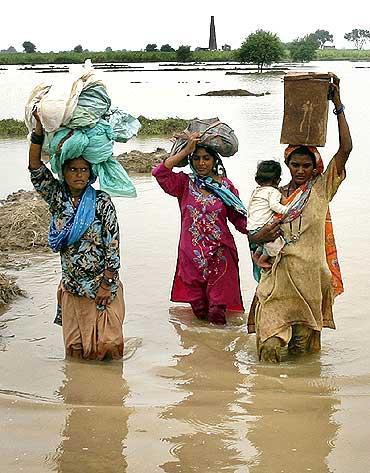 Pakistan had not recovered from the mega flood crisis of 2010 that a new flooding has hit southern parts of the country, claiming more than 200 lives while rendering thousands of people homeless, reports .
Chennai train crash: 9 killed, 72 hurt; rail traffic hit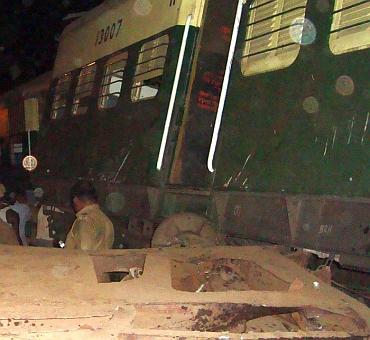 Nine persons were killed and 72 others injured when a speeding passenger train rammed into a stationary train here, leading to derailment of five coaches.
'20 days after 9/11 we concluded he was gone'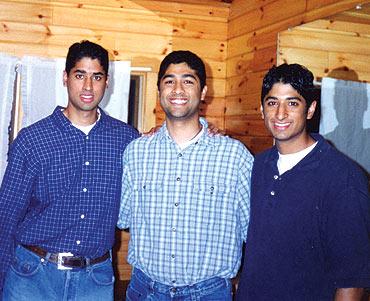 Neil G Shastri's family has found solace in founding a trust in his name. reports.
September 13, 2011
'20 days after 9/11 we concluded he was gone'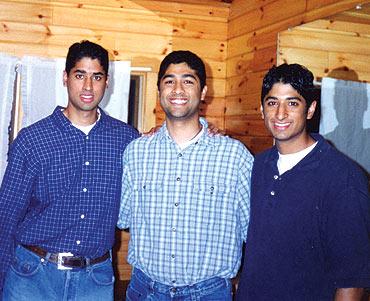 Neil G Shastri's family has found solace in founding a trust in his name. reports.
Trains collide near Chennai; 8 killed, 85 injured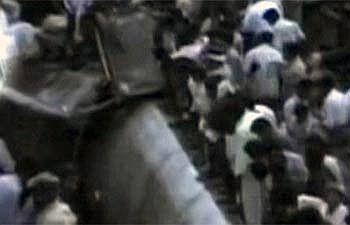 At least eight persons were killed on Tuesday night and 85 others injured when a passenger train from Chennai rammed into a stationary train near Arakkonam, derailing five coaches, about 75 km from Chennai, in the third major rail accident in two months.
HC blast: Hasty sketches embarrassing Delhi police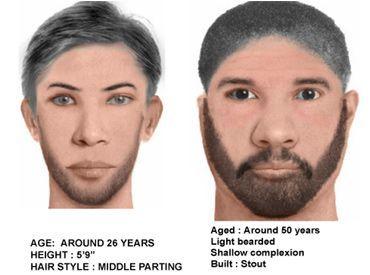 It looks like the Delhi police may have rushed into releasing sketches of the suspects of the Delhi high court blast.
'ISI helped Osama escape US dragnet in Tora Bora'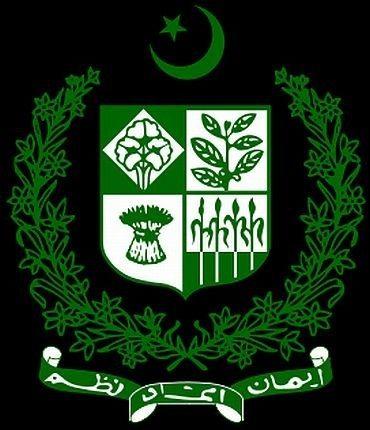 Pakistan's military-run Inter-Services Intelligence could have provided protection to slain al-Qaeda chief Osama bin Laden for a period of time, suggests the latest issue of The New Yorker magazine.
A 13/7 bomb blast survivor returns home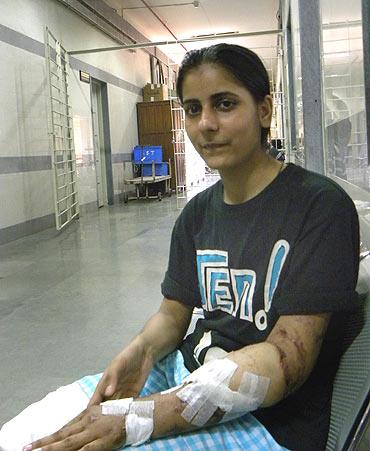 On July 13, Varsha Karia was injured in the bomb blast at Dadar Kabutarkhana. Since that evening, the King Edward Memorial Hospital has been her home. One month and 25 days later, she was finally discharged. Rediff.com's Abhishek Mande spent the last few hours at the hospital with her.
IN PICS: Strike for separate Telangana begins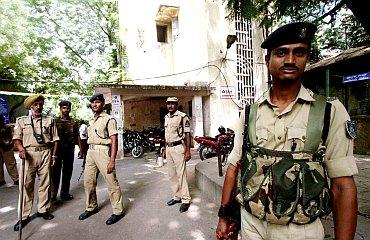 Telangana supporters including Andhra Pradesh government employees in the region on Thursday began an indefinite strike in support of the separate statehood, with rallies, road blockades and sit-ins organised to press or their demands.
Big question remains: Motive behind Delhi HC blast?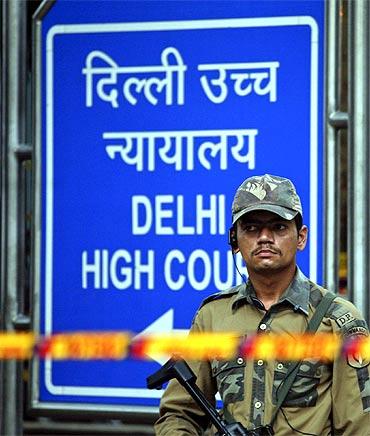 As investigators try to piece the Delhi high court blast jigsaw questions still remains unanswered: Who planted the explosive and the motive behind the blast? Those involved in the probe say everyone's a suspect -- the Indian Mujahideen, the Students Islamic Movement of India, the Harkat-ul-Jihadi -- and the role of each of this outfit is being probed.
Non-corrupt from BJP, Cong should form party: Anna Hazare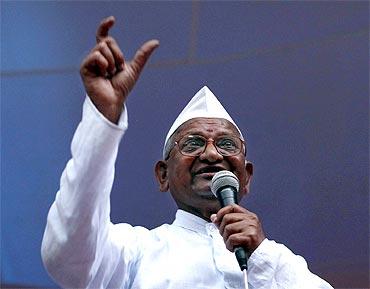 Social activist Anna Hazare speaks to CNN-IBN Editor-in-Chief Rajdeep Sardesai in his home town Ralegaon Siddhi. Hazare says he will re-start the movement if the standing committee doesn't agree to demands on the Jan-Lokpal bill.
Pix: Floods spell doom in Pakistan again, 5.3 mn affected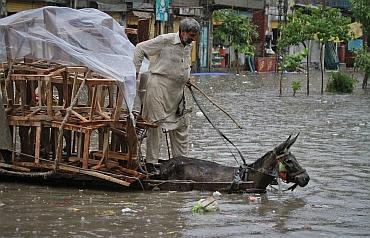 Floodwaters surged through many parts of Pakistan's southern Sindh province on Tuesday following unprecedented rains over the past 10 days, with the deluge claiming over 200 lives and affecting an estimated 5.3 million people.
Readers criticise Pak ad in WSJ; call it a joke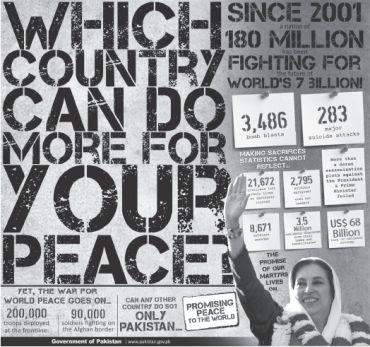 An advertisement by Pakistan in America's leading daily the Wall Street Journal on the 10th anniversary of the 9/11 attacks has not gone down well with readers in New York with some calling the ad a "joke".
Indira Gandhi bitter, Martin Luther King phoney: Jackie Kennedy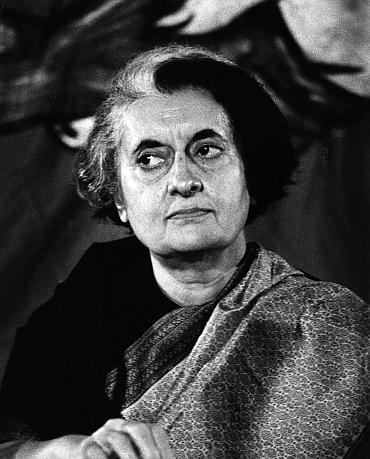 Former United States First Lady Jackie Kennedy described the late Indian prime minister Indira Gandhi as a "prune - bitter, kind of pushy, horrible woman," according to previously unreleased interviews.
Rewind: Best images in the last 48 hours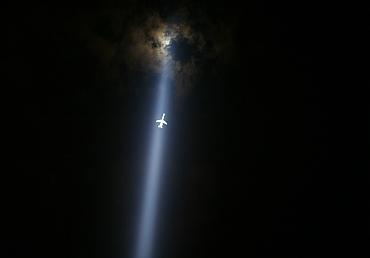 Presenting some of the most scintillating pictures from around the globe in the last 48 hours.
Mamata's folly may strain Indo-Bangla ties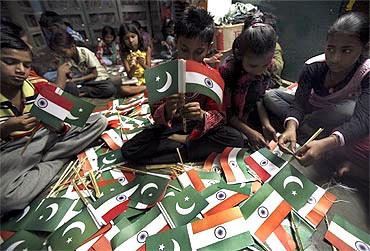 Mamata Banerjee is entitled to defend her people's interest but to boycott talks will trouble India's eastern neighbour for a long time, says B Z Khasru
September 12, 2011
IMAGES: One killed, 3 hurt in French nuke plant explosion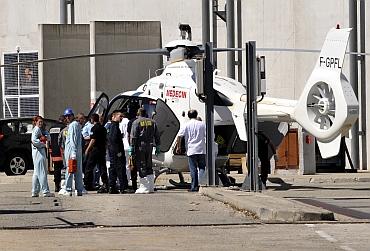 One person was killed and three others were injured in an explosion at a nuclear plant in Marcoule, southern France, on Monday.
'Modi has won a moral victory, but he cannot relax'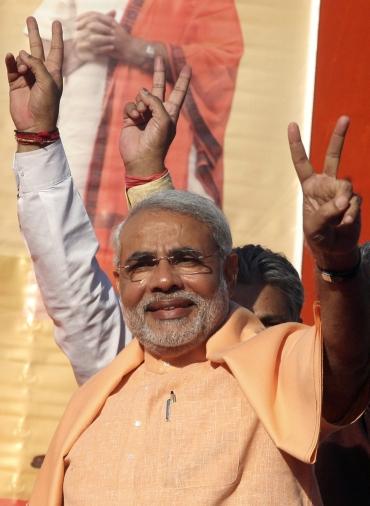 Sheela Bhatt analyses the Supreme Court directive to a trial court to hear a case against Gujarat Chief Minister Narendra Modi in the killing of former Congress MP Ehsan Jafri during the 2002 riots, its implications on Modi's future and politics in the state.
Guj riots: 'SC clean chit to Modi vindicates BJP stand'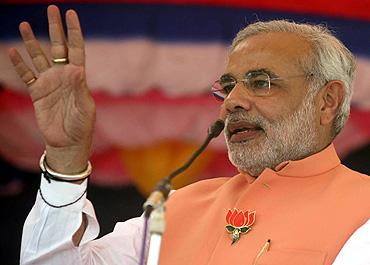 Welcoming the Supreme Court order in the Gulbarga society case, the Bharatiya Janata Party on Monday said it has vindicated the party's stand that there is no shred of evidence against Gujarat Chief Minister Narendra Modi in the case relating to the 2002 riots in the state.
'LeT could spin out of control'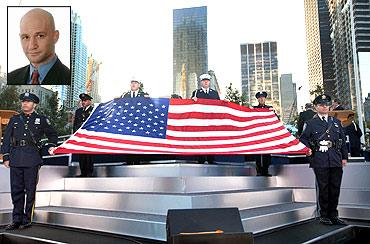 Over the years, the Lashkar-e-Tayiba poses a bigger threat than Al Qaeda in the Indian subcontinent, says Stephen Tankel, author of a new book on the Lashkar.
'Hate campaigners against Narendra Modi have lost'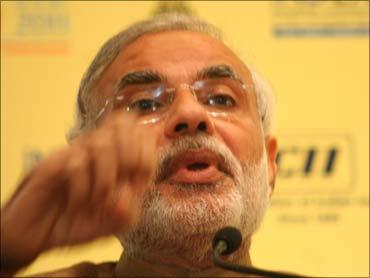 The Congress on Monday said it was wrong to say that the Supreme Court has given a clean chit to Narendra Modi in the Gulburg society riots case even as the Bharatiya Janata Party welcomed the order, saying hate campaigners against the Gujarat chief minister will not win.
WTC memorial: Remembering what is lost forever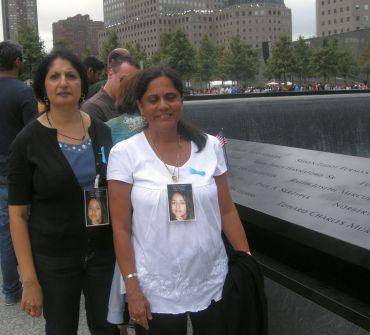 speaks to families of Indian Americans who lost their lives on September 11, 2001, terror attack on New York's World Trade Centre.
IMAGES: Tears and tributes at Ground Zero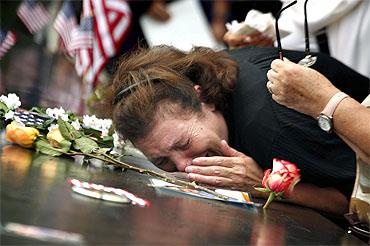 The United States marked the tenth anniversary of the 9/11 terror strike on a sombre note on Sunday. We bring you some poignant images from Ground Zero, the site where the mighty World Trade Centre twin towers had once stood proudly.
'We sometimes focus too much on demonising food'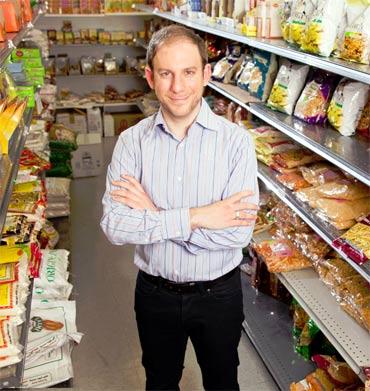 'Food is a moral lightning rod. It is intricately bound into our rituals, from the more formal ones such as weddings to our more everyday ones such as feeding a family member or giving food to the poor,' says Professor Harris Solomon.
Meet 'that man who was arrested for 9/11'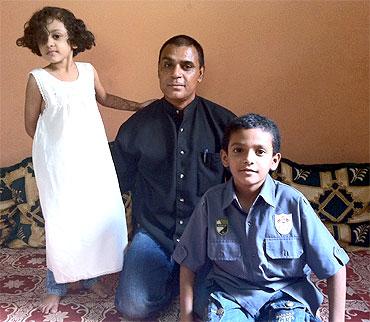 Mohammed Jaweed Azmath, who was wrongfully detained and tortured by US authorities after the 9/11 attacks, talks about his nightmarish ordeal to Vicky Nanjappa
SC breather for Modi in Gujarat riots case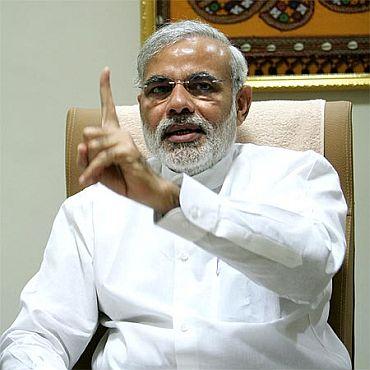 The much awaited verdict on Chief Minister Narendra Modi's alleged involvement in the 2002 Gujarat riots will be delivered by the Supreme Court on Monday.
September 11, 2011
'People avoid us because of the job we do'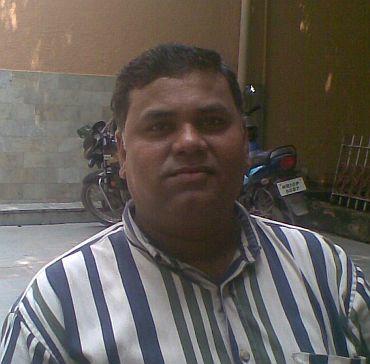 Rediff.com's Priyanka profiles Jeetin Chauhan, a stretcher-bearer at the Ram Manohar Lohia hospital's mortuary, where most of the bodies of the recent Delhi high court blast victims were kept initially.
PHOTOS: America pauses to remember 9/11 victims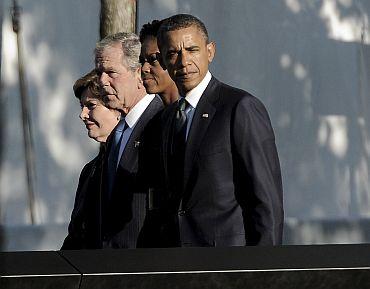 United States President Barack Obama and his wife Michelle along with former President George Bush and his wife Laura led the world in mourning the loss of nearly 3,000 people, who lost their lives exactly 10 years ago in the most fearful terror attack that changed the way we live.
IN PHOTOS: Ganpati's grand journey to immersion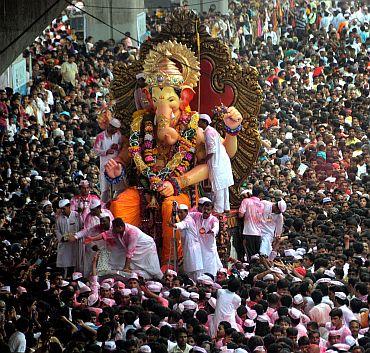 Amidst tight security, Mumbaikars today bid adieu to Lord Ganesh with great pomp, as the elephant-headed God left for his watery abode, bringing the 11-day festivity to an end.
Brutish Srinagar cops thrash journo unnecessarily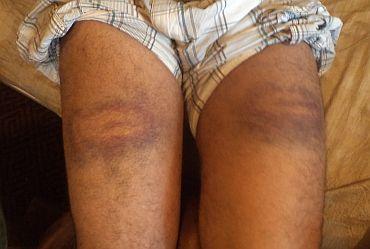 David Devadas, journalist, and author of In Search of a Future, the Story of Kashmir, was beaten by the police in Srinagar on last Monday. Devadas says that he is worried about his life after the incident.
PIX: Azhar's son injured in mishap; nephew dies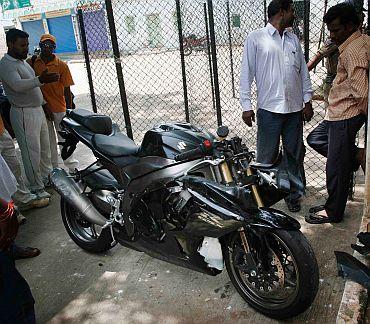 Former Indian cricket captain Mohammad Azharuddin's son Ayazuddin and his cousin sustained serious injuries when the motorbike they were riding skidded near Outer Ring Road in Hyderabad on Sunday morning.
September 10, 2011
From Kansas to Kalyan: Readers' PIX of Ganpati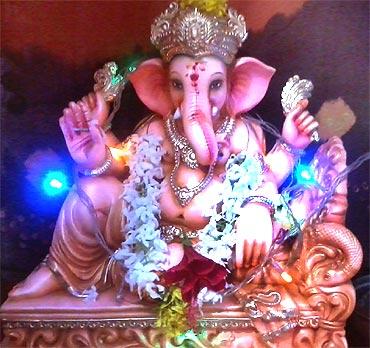 From Ambernath to Dubai: Readers' PIX of Ganpati
Modi's role in Gujarat riots: SC verdict on Monday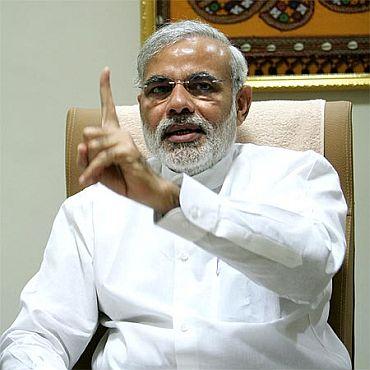 The much awaited verdict on Chief Minister Narendra Modi's alleged involvement in the 2002 Gujarat riots will be delivered by the Supreme Court on Monday.
READ: Taliban's message to US on 9/11 anniversary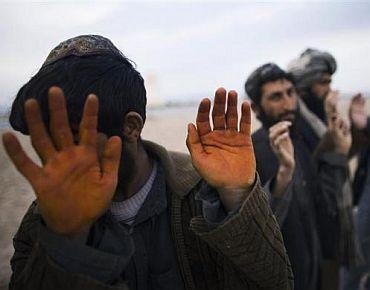 On the tenth anniversary of the 9/11 terror strike, the Afghan Taliban have requested the international community to urge the United States against the "illegal occupation" of Afghanistan for the War on Terror.
'India wants a Jan Lokpal bill, not a yatra'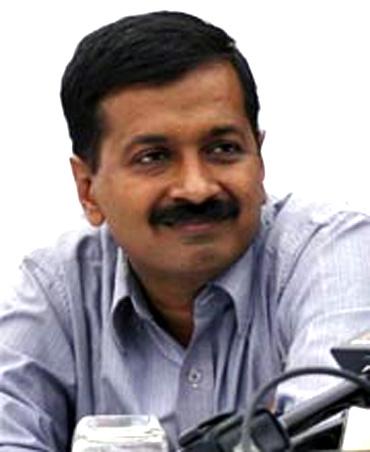 Activist Anna Hazare will soon write to Prime Minister Manmohan Singh, seeking his views on having an annual performance audit of the Members of Parliament.
Communal Violence Bill dangerous: BJP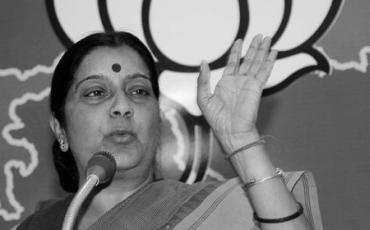 The proposed Communal Violence Bill on Saturday ran into trouble with the National Democratic Alliance-ruled states and Congress ally Trinamool Congress opposing it as "dangerous" legislation and arguing that it would hurt the federal structure of the country.
Need to upgrade intel gathering: PM at NIC meet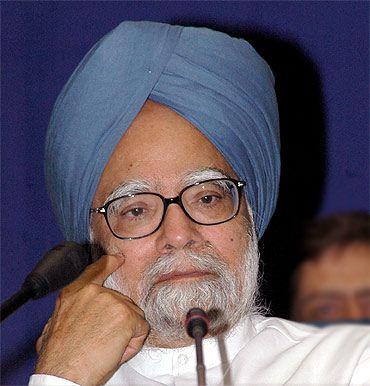 Addressing the 15th meeting of the National Integration Council in Delhi on Saturday, Prime Minister Manmohan Singh said that terrorism and Naxalism are the biggest problems that India faces. He stressed on the need to strengthen the country's intelligence gathering apparatus. The PM also stated the need to identify and address causes of radicalisation of youth, among other issues plaguing India. Here's the full text of Dr Singh's speech.
How Ramlila agitation has changed lives in Ralegan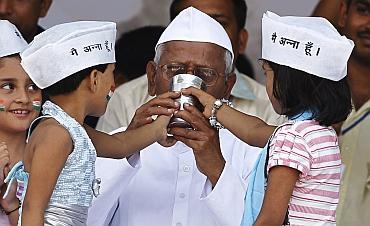 After his historic Ramlila Maidan fast last month, anti-corruption crusader Anna Hazare's address in his native village of Ralegan Siddhi has changed...
US safer because of Pak's cooperation: White House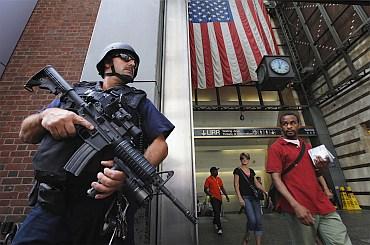 United States is safer today because of the cooperation it has received from Pakistan, a top White House official said, maintaining that Washington's relationship with Islamabad is important but complicated.
Untouchability on camera, Ra One's Dilruba
Untouchability on camera, Ra One's Dilruba
From Mumbai to USA: Readers' PIX of Ganpati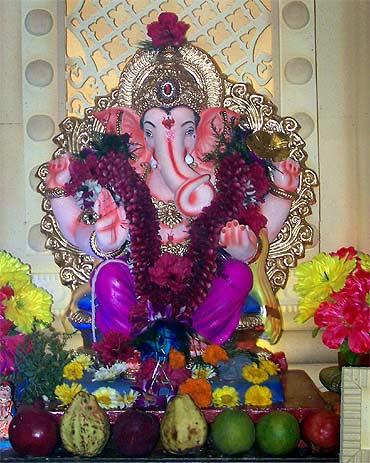 From Mumbai to USA: Readers' PIX of Ganpati
Lessons from ten years of the global war on terror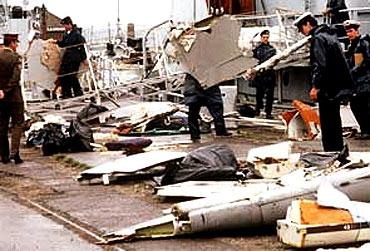 Colonel (Dr) Anil Athale (retd) on how the global war on terror has changed the geo-politics of the world and India's role in it.
September 09, 2011
'Terror became international priority after 9/11'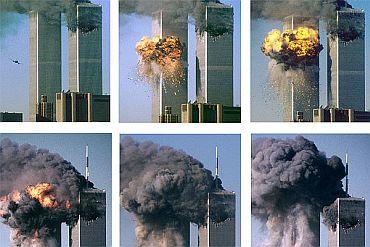 Post 9/11, when terrorism ceased to be a 'regional' issue and became an 'international' one, experts feel India went wrong in assuming that the United States and western forces would help wipe out terror within India.
A visit that failed to achieve its promise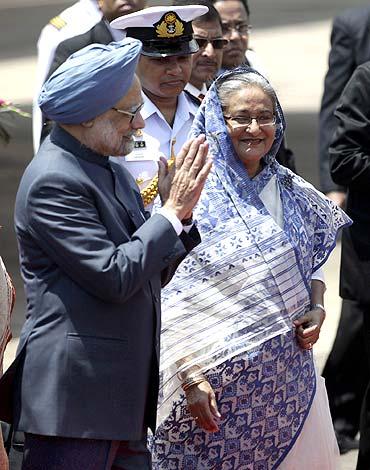 If India fails to swiftly capitalise on the propitious political circumstances in Bangladesh today, it will be damaging its credibility in the region even further, says
Delhi blast probe tangled in triple mail puzzle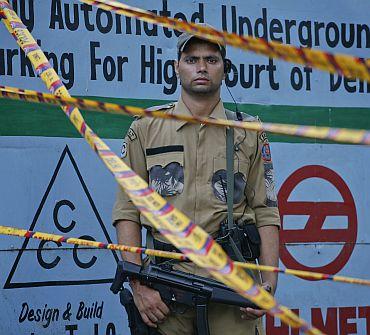 Three days after the Delhi high court blast, a third mail claiming responsibility has come to the fore. Seems to be a perfect ploy adopted by the terror groups to confuse the investigative agencies, reports .
Remembering the Lion of the Panjshir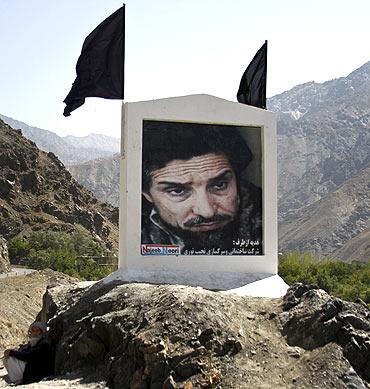 Ten years ago, two days before 9/11, Ahmad Shah Massoud, the brilliant Afghan military commander who was the nemesis of the Russians and the sole resistance against the Taliban, was killed by Al Qaeda bombers. How different would Afghanistan been had he lived? We will never know.
The government is at war with itself: BJP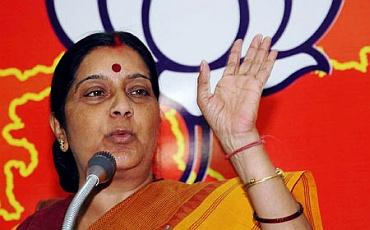 The opposition Bharatiya Janata Party on Friday alleged that the UPA II government is at war with itself on many issues.
10 years later, Al Qaeda still a DANGEROUS threat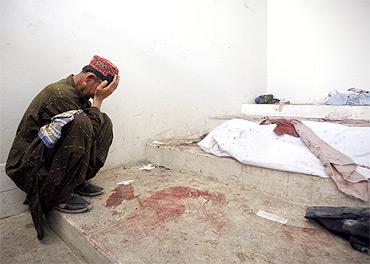 Long before Osama bin Laden was killed, Al Qaeda had adapted itself to survive and operate without him, says Amir Mir
PIX: After blast & quake, heavy rains hit Delhi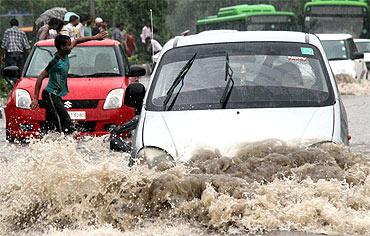 Heavy showers lashed Delhi on Friday, leaving many stranded as traffic went haywire due to water logging. A minor girl lost her life when the boundary wall of a municipal hospital collapsed due to the heavy rains. The rain gauges measured 91.1 mm of showers between 4 am and 12 noon, leading to chaos on roads as improper drainage and uprooted trees led to traffic disruption.
'India's police force is pathetic': Fareed Zakaria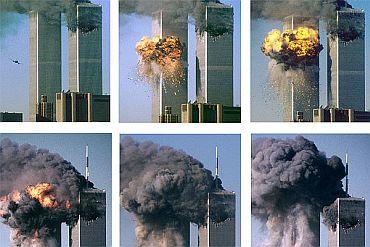 As yet another blast in Delhi High Court coincides with a decade of the 9/11 terror strike in the United States, in an exclusive interview with CNN-IBN's Deputy Editor Sagarika Ghose, Fareed Zakaria, Editor-at-Large, TIME Magazine talks about the lessons for India from American experience and the terror threat to the world.
Delhi blast probe: Are we groping in the dark?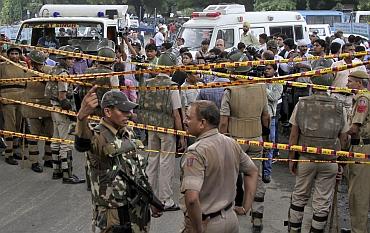 The terrorism situation on the ground is becoming more and more worrying. It is not just because the terrorists have become smarter than they were before. They have, of course, but that should not be the main cause of worry, says .
IN PICS: NYPD gears up for 9/11 anniversary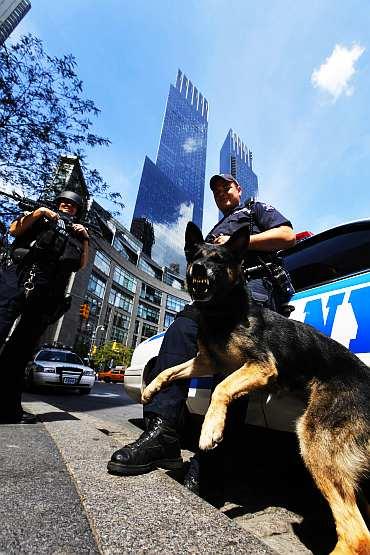 New York Mayor Michael Bloomberg on Friday said the new terror threat to the city ahead of the 9/11 anniversary is "credible but has not been corroborated". He asked people to remain vigilant as law enforcement officials further heightened security across the city.
Delhi blast: Toll 13; agencies probe J&K link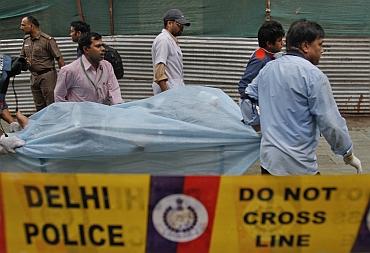 Investigators on Thursday detained five people, including a cyber cafe owner in Jammu and Kashmir, and questioned another hailing from Bihar as they looked for definite leads into the briefcase bomb blast outside Delhi high court on Wednesday.
From Gujarat to Australia: Readers' PIX of Ganpati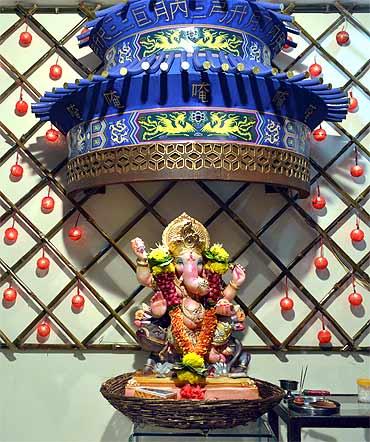 From Gujarat to Australia: Readers' PIX of Ganpati
IN PIX: Who is the richest minister of all?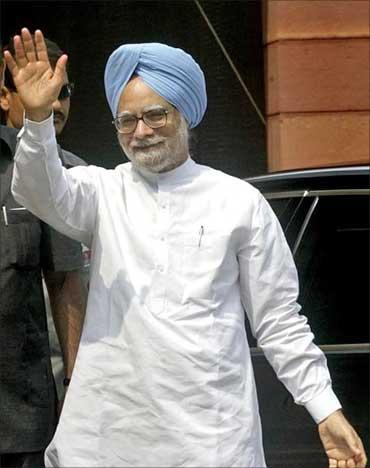 The government recently released the list of assets owned by Union ministers. We compared these declarations to the ones that were declared by some ministers when they contested the 2009 elections.
September 08, 2011
Shop owner becomes 12th victim of Delhi blast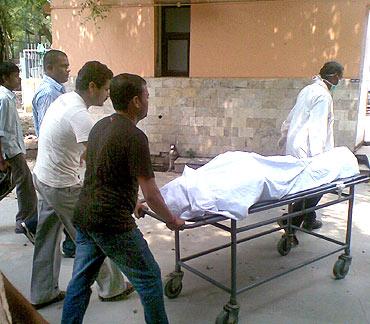 Forty-year-old Pramod Chaurasiya, owner of an electronics shop on Mubarakpur Road, became the 12th person to be killed in the blast outside the Delhi high court on Wednesday. He died early on Thursday at the Ram Manohar Lohia Hospital.
NIA, 6 anti-terror state wings probe Delhi blast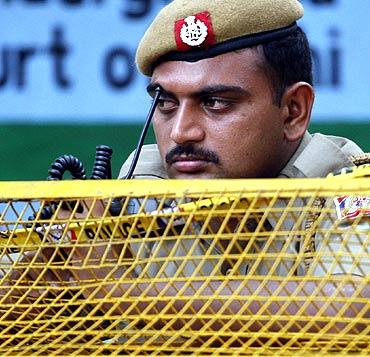 Sources in the special cell have said that police forces in multiple states have been asked to track the regrouping of the banned Students Islamic Movement of India. reports.
SCINTILLATING PIX: Nearest supernova in 40 years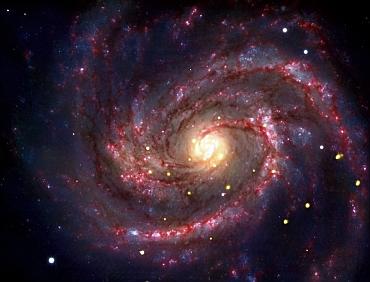 The nearest supernova of its type to be discovered for 40 years is predicted to be at its brightest and will be visible through a good pair of binoculars across Britain this week.
NIA declares Rs 5 lakh for Delhi blast leads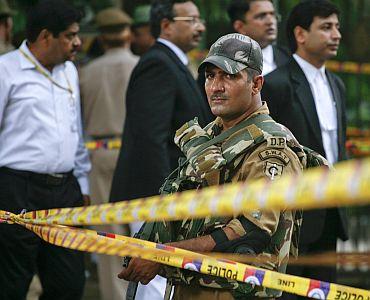 The National Investigation Agency on Thursday announced a reward of Rs 5 lakh for anyone providing clues about the Delhi high court blast even as investigators were quizzing a Patna- based man in the case.
Even I should be jailed for cash-for-vote: Advani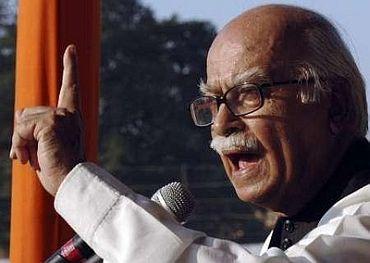 The Bharatiya Janata Party Thursday went on the offensive on the cash-for-vote scam with senior leader L K Advani hailing as "whistle-blowers" the two former party MPs jailed in the scam and declaring that if they are guilty then he too should be sent behind bars.
Sonia Gandhi returns to Delhi after surgery abroad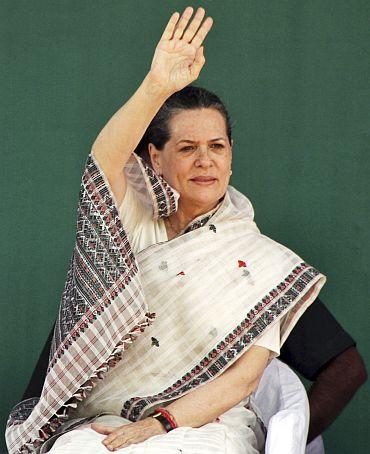 Congress president Sonia Gandhi returned to the capital early Thursday morning from abroad where she underwent surgery a month ago for an undisclosed ailment.
From Hyd to Hong Kong: Readers' PIX of Ganpati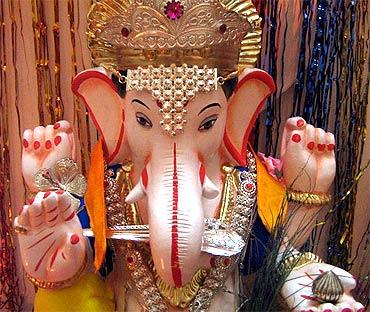 From Hyderabad to Hong Kong: Readers' PIX of Ganpati
IN PICS: 9/11 Memorial set to open on WTC site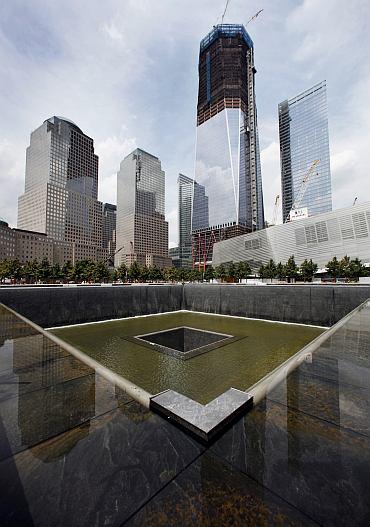 A decade after the Twin Towers were razed to the ground in the 9/11 attacks, an altered Ground Zero will be unveiled to the public, with waterfalls, reflecting pools and hundreds of trees at the site honouring the memory of the nearly 3000 victims of the terror strike.
September 07, 2011
IN PIX: Texas wildfires blaze 1,000 homes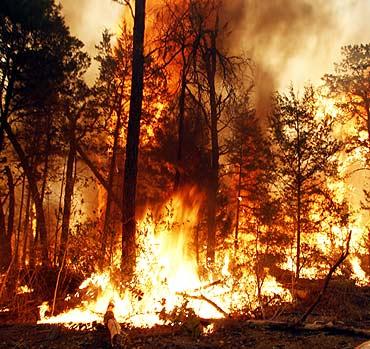 Massive wildfires have killed two persons and destroyed at least 1,000 homes in Central Texas as the United States firefighters battled some of the worst blazes in the state's history.
Delhi police sidelined, NIA to probe Delhi blast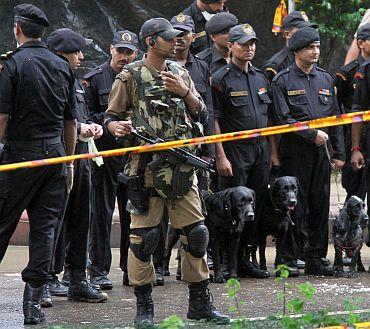 Seemingly unhappy with the Delhi police, the Union home ministry has handed over Wednesday's Delhi high court blast investigations to the National Investigation Agency. This is the first time an investigation of a terror attack has been given to the NIA on the very first day itself.
Blast aftermath: 'I still can't trace my father'
Soon after a powerful bomb hit the Delhi high court Wednesday morning, the injured were being admitted to nearby hospitals. A majority of those injured were brought to Ram Manohar Lohia Hospital and by the evening 51 injured patients were being treated there.
IN VIDEOS: The Delhi HC blast and its aftermath
Rediff.com presents several videos pertaining to the high intensity blast outside Delhi high court on Wednesday morning that killed 12 and injured more than 60.
'Shrapnel, potassium nitrate used in Delhi blast'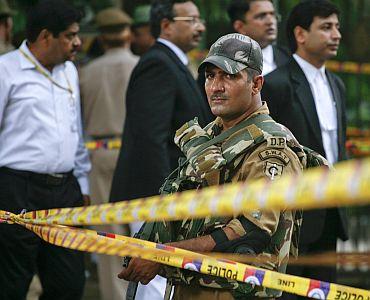 Prima facie investigations indicate that 'shrapnel' were used in the bomb that went off outside the Delhi high court on Wednesday morning, killing 11 people and injuring scores others.
PICS: Sketches of Delhi HC blast suspects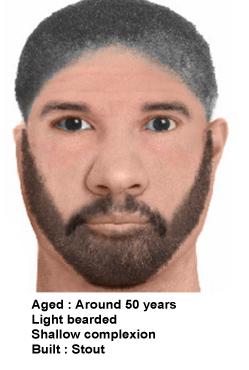 Nearly seven hours after the blast that claimed 11 lives, and injured more than 60 people, the Delhi police have released two sketches of the man responsible.
'I was fine, but the man next to me lost his legs'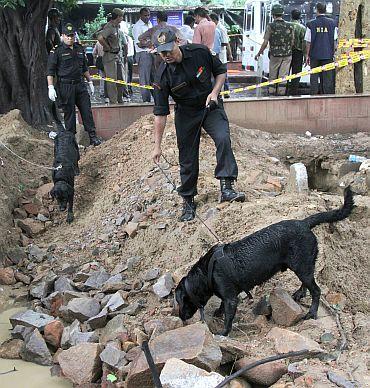 Rediff.com's reports from outside the Delhi high court where a high-intensity blast killed at least 11 people on Wednesday morning and injured scores others.
Concentrate on tackling terror: Gadkari tells PC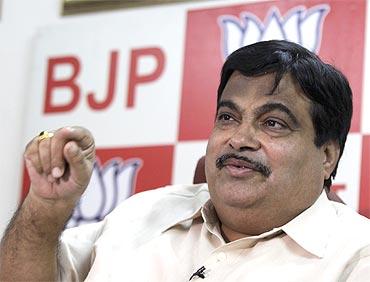 Expressing dismay over the blast in the heart of the "seat of power", Bharatiya Janata Party President Nitin Gadkari on Friday hit out at Home Minister P Chidambaram, asking him to stop attacking political opponents and instead concentrate on fighting terrorism.
In PHOTOS: Chaos, devastation at Delhi high court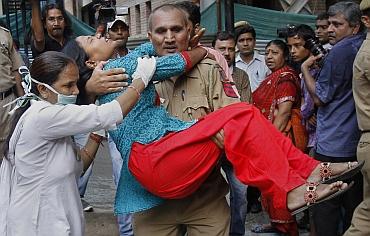 As terror struck outside the Delhi high court, a man who lost one of his legs was seen trying to get away from the site as limbs and pieces of flesh were strewn on the ground along with shards of glass.
IN PICS: A chronology of blasts in Delhi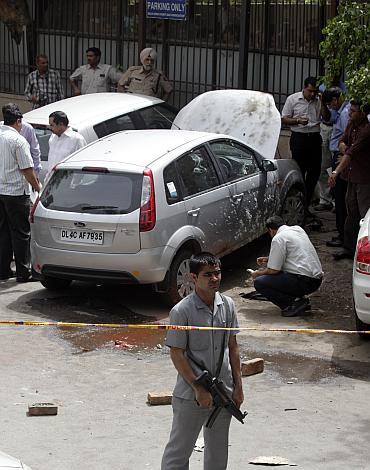 The medium-to-high intensity blast outside Delhi High Court on Wednesday left at least nine dead and more than 45 people injured. Following is the chronology of blasts that rocked the national capital since 1997.
In PHOTOS: Black Wednesday at Delhi high court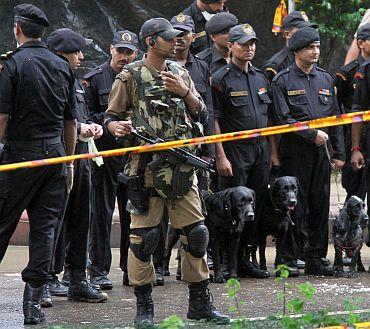 Terror struck Delhi when nine people were killed and at least 45 injured in a blast on Tuesday morning outside the high court premises jampacked with visitors waiting to get entry passes.
VIDEO: Blast rocks Delhi high court
WikiLeaks cables: Bollywood, Modi, cash politics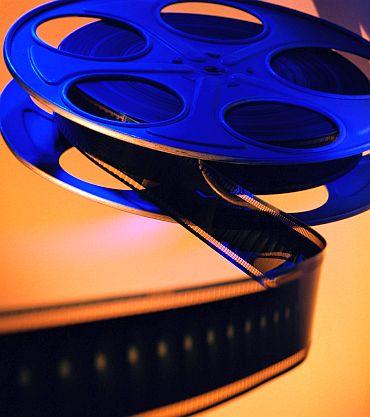 Rediff.com brings for you the FOURTH in the series of leaked Wiki cables, which point towards some startling revelations.
Read: Modi's letter to PM on Guj Lokayukta issue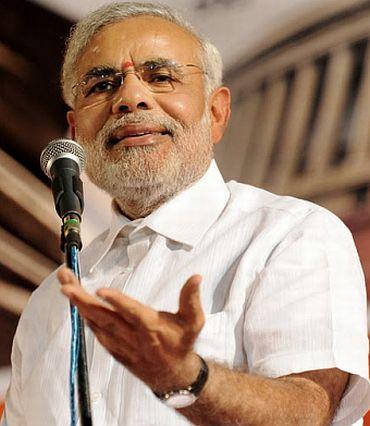 Gujarat Chief Minister Narendra Modi shot off a letter to Prime Minister Manmohan Singh, asking for the "immediate recall" of Governor Kamla Beniwal for bypassing the state government and appointing Justice (retired) R A Mehta as the Lokayukta. Here's the full text dated September 1, 2011.
From Goa to UK: Readers' PIX of Ganpati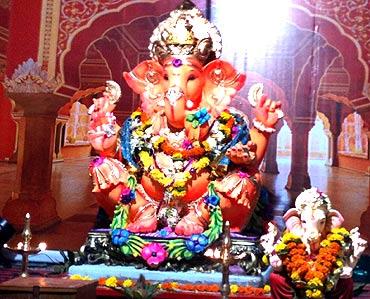 We had asked our readers to mail us photos of their Ganesha. We received many entries, some of which are being showcased here.
PHOTOS: VVIPs who were sent to Tihar Jail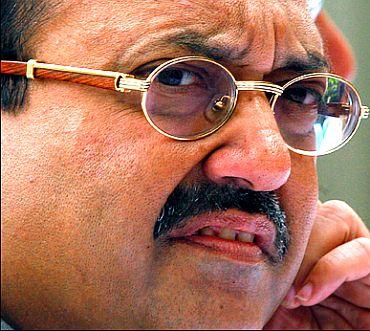 Rediff.com takes you through the high profile guests at the New Delhi's Tihar Jail
September 06, 2011
India, B'desh settle border rows, but thorns exist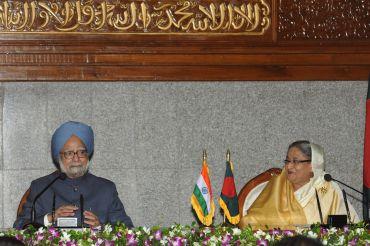 Rediff.com's Sanchari Bhattacharya, who is travelling with Prime Minister Manmohan Singh to Dhaka, reports on the outcome of Dr Singh's deliberations with his Bangladeshi counterpart Sheikh Hasina.
Cash-for-votes: Cops yet to ascertain money trail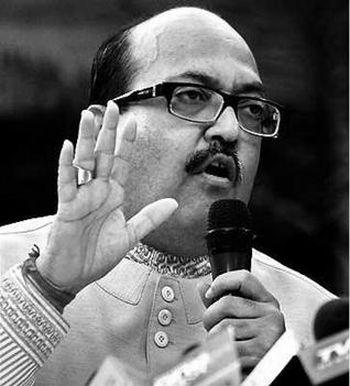 Rajya Sabha member of Parliament Amar Singh was on Tuesday sent to jail for his alleged role in the cash for vote scam. He has been charged under section 120 (B) of the Indian Penal Code (criminal conspiracy) and section 12 of the Prevention of Corruption Act.
Assange wants Maya to apologise; awaiting her jet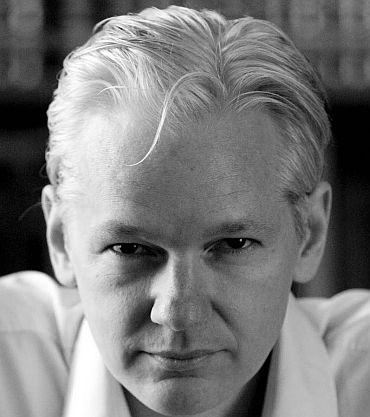 Hitting back at Mayawati who wants him to be put in a "mental asylum", WikiLeaks founder Julian Assange on Tuesday said that the Uttar Pradesh Chief Minister needed to take up her case with the United States if she has a problem with the contents of American diplomatic cables that painted her as an "egomaniac."
Will never join hands with the BJP, Cong: Jagan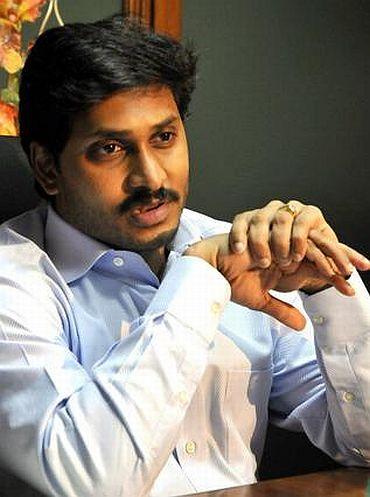 In an Exclusive interview to CNN-IBN's Editor-in-Chief Rajdeep Sardesai, he clears his stand on his relations with the Reddy brothers and political liaisons with the Bharatiya Janata Party.
Dhaka diaries: What Manmohan is up to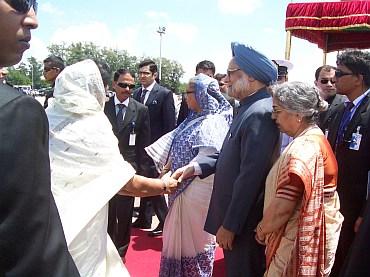 Rediff.com's , who is also travelling with the prime minister, reports from Dhaka.
CBI probes more angles in Jagan-Janardhana nexus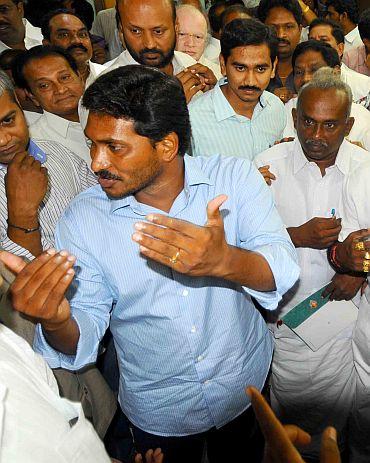 The nexus between former Karnataka Tourism Minister and mining baron G Janardhan Reddy and YSR Congress chief YS Jaganmohan Reddy is what the Central Bureau of Investigation will be looking for next. reports.
Send WikiLeaks' owner to mental asylum: Mayawati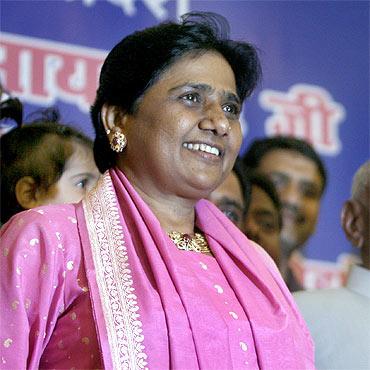 Training her guns at WikiLeaks for making an expose about her 'whims and fancies', Uttar Pradesh Chief Minister Mayawati on Tuesday termed it a conspiracy by the Opposition.
What to expect from Dr Singh's Bangladesh visit
Prime Minister Manmohan Singh on Monday left on a two-day visit to Bangladesh that is expected to put the bumpy bilateral ties in a new trajectory through signing of deals in a range of sectors including extradition of sentenced persons, connectivity, power, exchange of enclaves and border management.
PHOTOS: Remembering India's capitulation on Tibet
An article in The New York Times recently speculated that Beijing would try to legitimise its hand-selected (and therefore illegitimate) Panchen Lama, Gyaltsen Norbu, by sending him to study in the Labrang Monastery in Xiahe at the somewhat advanced age of 21.
From Vikhroli to Fiji: Readers' PIX of Ganpati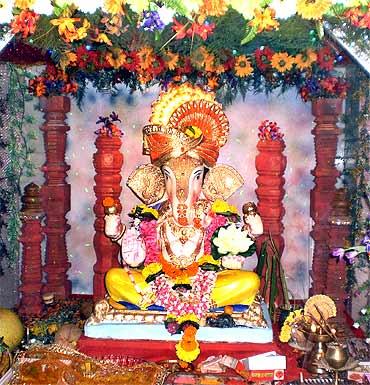 We had asked our readers to mail us photos of their Ganesha. We received many entries, some of which are being showcased here.
Reddys arrest: Will CBI be able to defend case?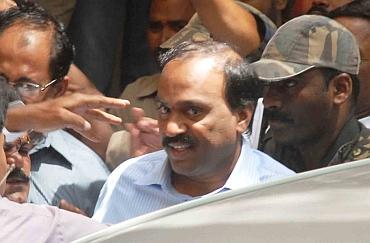 A favourite phrase of Indian politicians who wish to demonstrate that they are not using their political power to influence the judiciary and law enforcement authorities is: The law will take its own course.
WikiLeaks cables: Chidambaram, Nitish, Love Jihad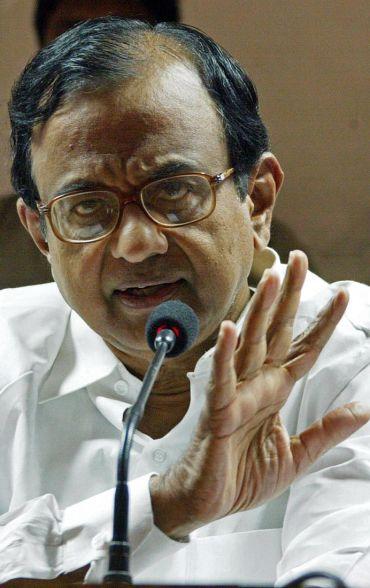 Rediff.com brings for you the third in the series of leaked Wiki cables, which point towards some startling revelations.
IN PIX: Popular Ganpati pandals in Pune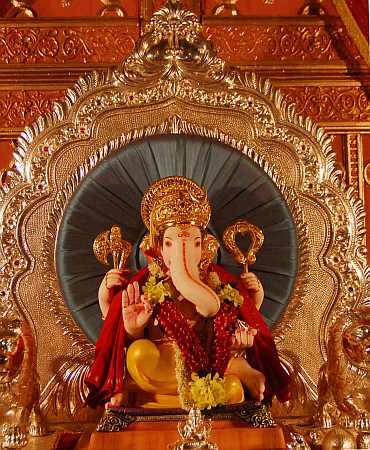 Rediff .com brings you the five most visited Ganesh mandals in Pune.
Dream for a new party dashed with Reddy's arrest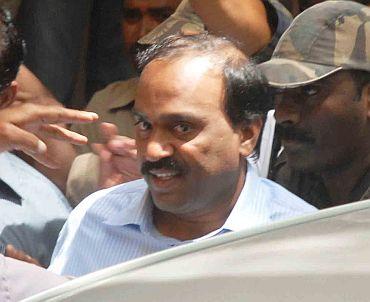 The dream run for Janardhan Reddy has come to an end with his arrest by the Central Bureau of Investigation on Monday. However, the big question that is being asked is were these raids a long shot at the rising prospects of Jagan Mohan Reddy, the son of the late Andhra Pradesh Chief Minister Dr Y Rajasekara Reddy? Reports
September 05, 2011
PM's Bangladesh visit: History will have to wait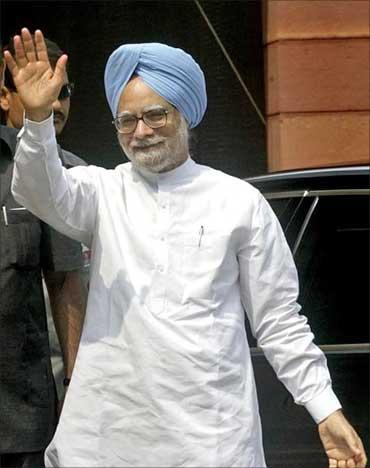 Prime Minister Manmohan Singh's forthcoming bilateral visit to Bangladesh has been prophesied as a "historical" one. But Mamata Banerjee's latest political stunt has ensured that for now, the creation of history may have to wait a bit, writes who is travelling with the PM to Bangladesh.
Arvind Kejriwal: The man the govt loves to hate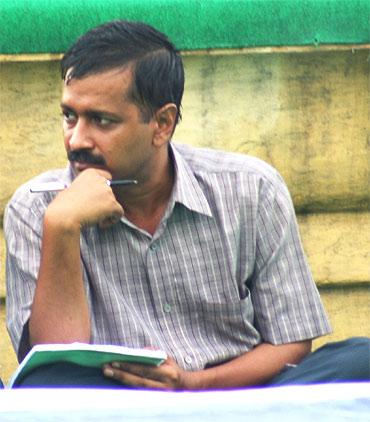 Sheela Bhatt profiles Arvind Kejriwal, a crucial member of Team Anna, who has emerged as one of the key players in the movement for a strong anti-corruption law.
CBI indulging in a witch-hunt: Jagan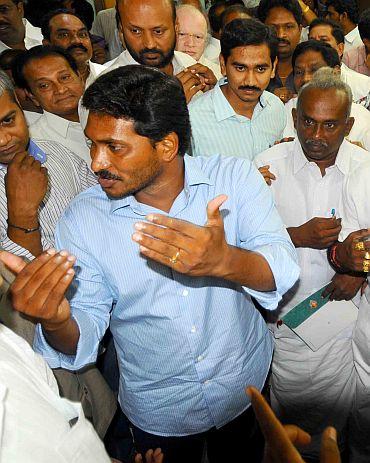 Hitting out at Congress and the Central Bureau of Investigation, Y S Jaganmohan Reddy who is facing probe for allegedly owning illegal assets today charged the party with indulging in a "witch-hunt" through the agency even as he showered praise on the Bharatiya Janata Party for raising the issue of "injustice" meted out to him.
Commute death penalty: Rajiv case investigator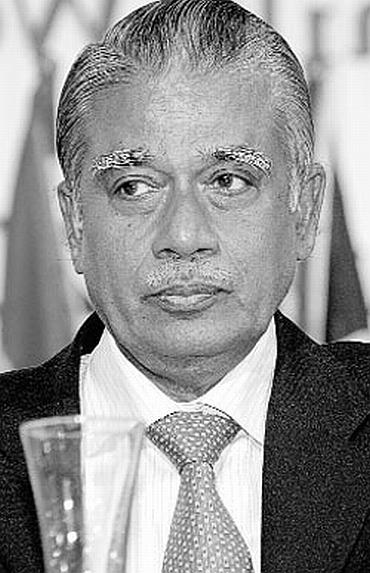 Amid a raging debate on the issue of clemency for killers of Rajiv Gandhi, the main investigator in the 20-year-old case D R Karthikeyan says that he will be happy if the death penalty of the three accused is commuted to life sentence.
4 reports that expose Reddys' misdeeds in Bellary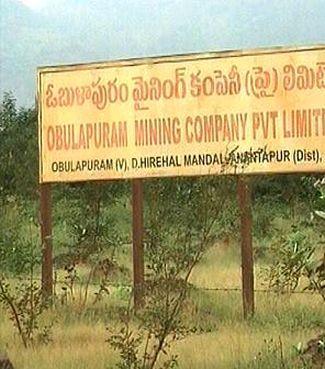 With the arrest of Bellary mining magnate Janardhan Reddy by the Central Bureau of Investigation, the focus has now shifted to the Obulapuram Mining Company, the lease for which was granted by the Andhra Pradesh government then led by Dr Y S Rajasekhara Reddy.
Reddy brothers' aide B Sriramulu speaks out
In this exclusive interview with , B Sriramulu says he has no intention of destabilising the Karnataka government.
Damaging consequences of WikiLeaks' latest cables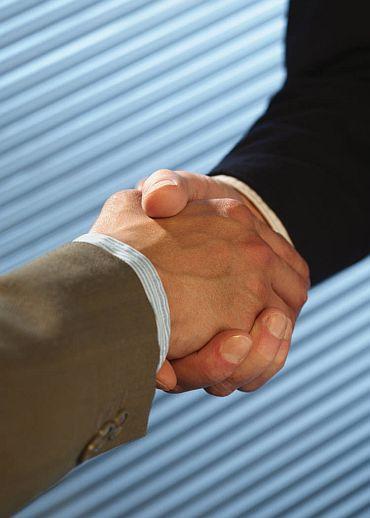 Besides creating political embarrassment, the leak of cables visibly containing informal State-to State coversations by WikiLeaks could see the drying-up of interactions at the foreign office and intelligence agencies levels, writes
From Zurich to Gangtok: Readers' PIX of Ganesha
We had asked our readers to mail us photos of their Ganesha. We received many entries, some of which are being showcased here.
Janardhan Reddy remanded to 14-day CBI custody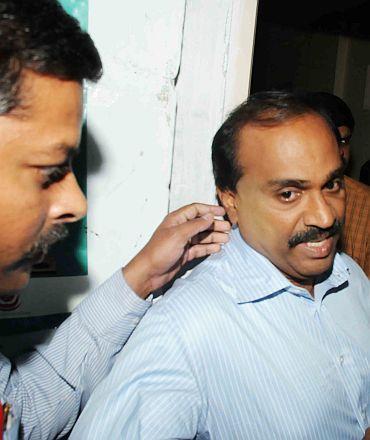 It's Monday morning blues for former Karnataka tourism minister and mining baron from Bellary G Janardhana Reddy. A 10-member Central Bureau of Investigation team conducted a raid at his residence and arrested Janardhana Reddy and his brother-in-law Srinivas Reddy.
September 04, 2011
How Mamata almost forced PM to cancel B'desh trip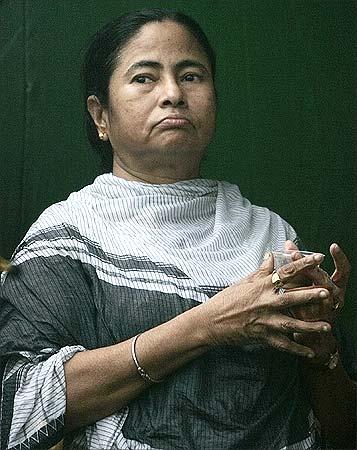 Mamata is furious over the central government not taking into account her reservations over sharing of Teesta waters with Bangladesh before finalising the international treaty. She wants an exact mention of 25 per cent cap on waters of Teesta that India will agree to give Bangladesh.
READ: WikiLeaks cables on PM, NSA and Kashmir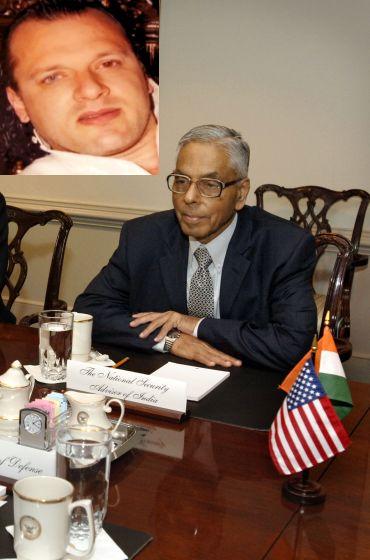 Rediff.com brings you for the second in the series of leaked Wiki cables, which point towards some startling revelations.
September 03, 2011
'Thanks to Anna, BJP may thrash Cong in LS polls'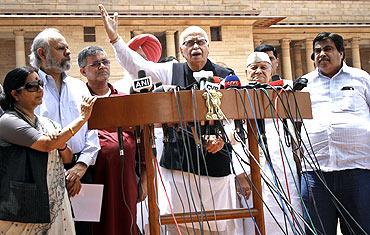 Veteran activist Anna Hazare's campaign for Jan Lokpal Bill and his crusade against corruption has given the beleaguered Opposition, particularly the Bharatiya Janata Party, a platform to contest the Lok Sabha polls.
IN PICS: Dr Singh's crorepati Cabinet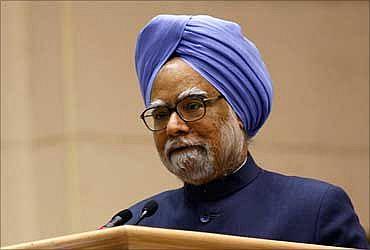 Prime Minister Manmohan Singh and his Cabinet of ministers on Saturday declared their assets.
September 02, 2011
From Thane to Seattle: Readers' PIX of Ganeshotsav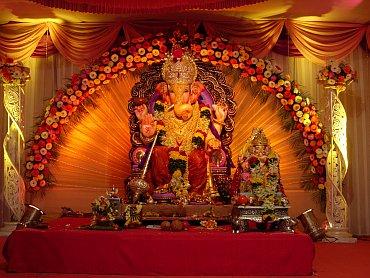 We had asked our readers to mail us photos of their Ganesha. We received many entries, some of which are being showcased here.
Analysis: Why Narendra Modi is on the defensive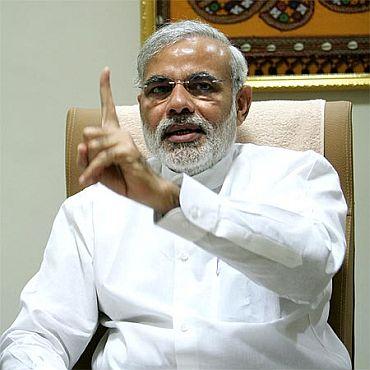 Modi has a real challenge if the allegations of corruption pick up momentum. Modi was struggling to improve his image with the minorities but now he will have to convince the majority that his deals were clean and he is above board, says .
Team Anna conspired against me: Agnivesh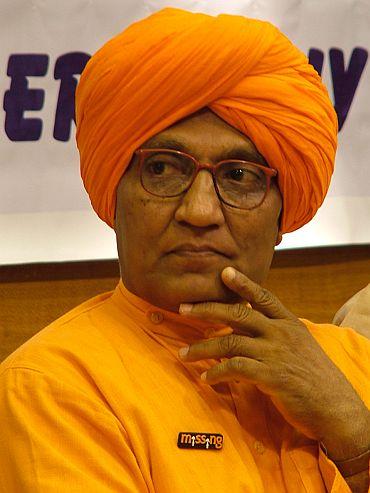 Activist Swami Agnivesh, a prominent associate of Anna Hazare, today accused certain members of Team Anna of "conspiring" against him and said because of this he decided to go his way.
'Need repeated shocks to rid India of corruption'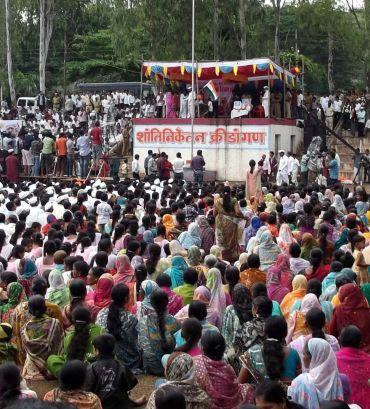 Anti-corruption crusader Anna Hazare on Friday lashed out at the United Progressive Alliance government for arresting him before his fast and asked people not to allow the torch of the second "battle of independence" to be extinguished as more "repeated shocks" only can ensure a corruption-free India.
Why PM's visit to Bangladesh will be historic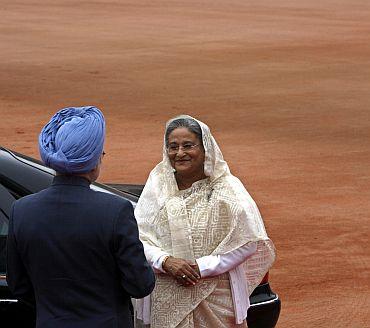 Prime Minister Manmohan Singh's visit to Bangladesh on September 6 and 7, his first to the eastern neighbour and the first by an Indian prime minister in 12 years, promises to take bilateral ties to the next level, reports
Post-Anna, awareness may grow about Parliament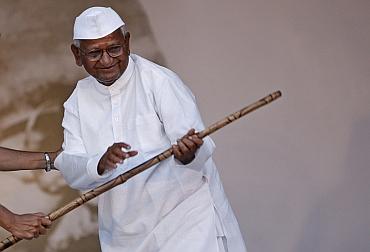 As the hype and hoopla around the Lokpal Bill settle down, it's possible that the aam aadmi may be keen to know how laws are formulated, opines Rajni Bakshi.
INSIDE STORY: How endosulfan poisoned Kasargod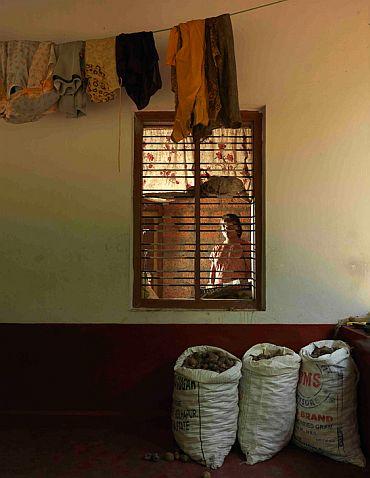 British photographer Peter Carton and Beatrice Lopez visit Kasargod district in north Kerala, whose residents have been plagued by the spraying of endosulfan pesticide. From families completely breaking down to pushing innocents into the dark well of irrecoverable diseases, the endosulfan menace has often been described as equally devastating as the Bhopal gas tragedy.
IN PHOTOS: The smashing La Tomatina festival!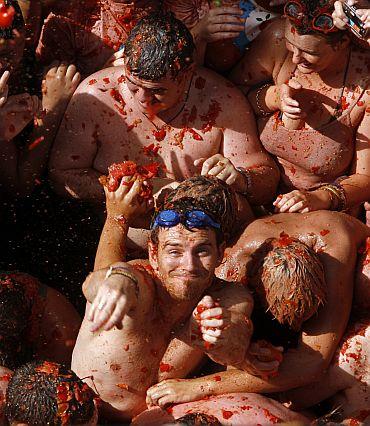 Rediff.com presents pictures of this year's La Tomatina festival which was celebrated on Wednesday.
PHOTOS of the month: August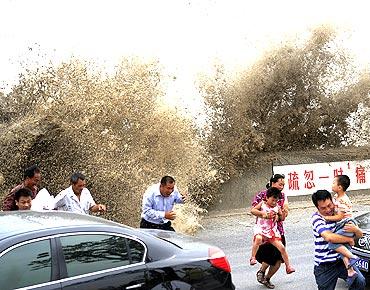 We bring you a presentation of some of the best photos from around the world in the month gone by.
India, China deny face-off on sea; US seeks talks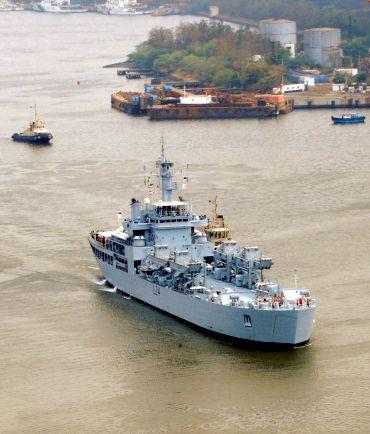 The United States has asked for a collaborative diplomatic process on resolving the disputes related to the South China Sea, amid reports of the Chinese Navy confronting an Indian Navy vessel off the coast of Vietnam in late July.
Cuttack to California: Readers' PIX of Lord Ganesh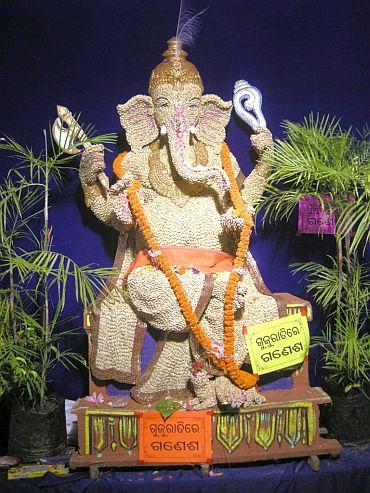 We had asked our readers to mail us photos of their Ganesha. We received many entries, some of which are being showcased here.
September 01, 2011
Anna campaign 'somewhat artificial': Irom Sharmila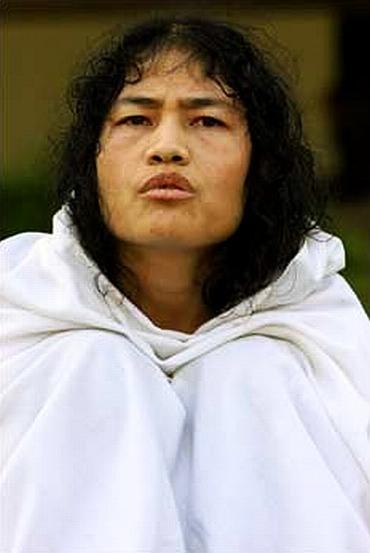 Irom Sharmila, who has been on fast close to 11 years to demand the repeal of the Armed Forces Special Powers Act(AFSPA) in Manipur, feels Anna Hazare's campaign against corruption is "somewhat artificial."
IN PICS: A 2,200 Kg laddu for this 52 ft Ganesha!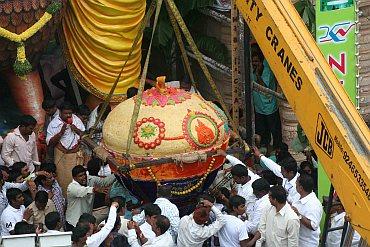 This huge 52-foot Ganesha idol was made by nearly 100 workers over 50 days, in Khairatabad town in Andhra Pradesh.
Zardari presses for Sino-Pak maritime cooperation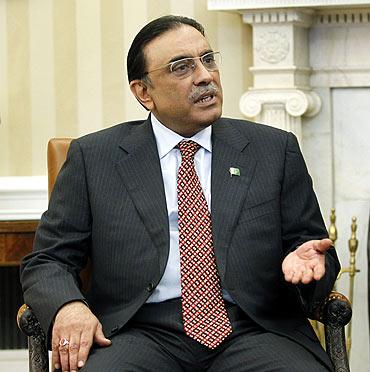 China having no reservation over the inclusion of heads of governments of POK and Gilgit-Baltistan in Zardari's delegation underlines once again that the Chinese no longer considers POK and GB as disputed territory, says .
How can Anna be the people's voice: Tharoor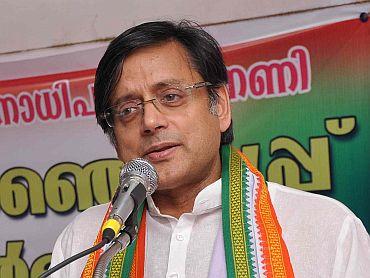 Firing a salvo at Anna Hazare, former Union Minister Shashi Tharoor has said how can a person "who never stood for elections" claim to be the voice of the people.
What kind of minister is Maken, asks Farooq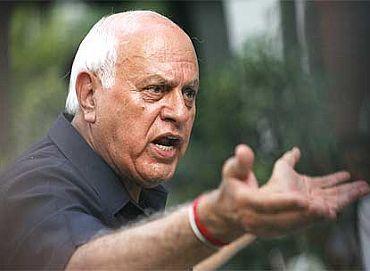 Union Minister Farooq Abdullah on Thursday took exception to Sports Minister Ajay Maken's remarks on Union Cabinet's "internal deliberations" on the National Sports Development Bill, accusing him of violating oath of secrecy.
Hazare gets hero's welcome at Ralegan Siddhi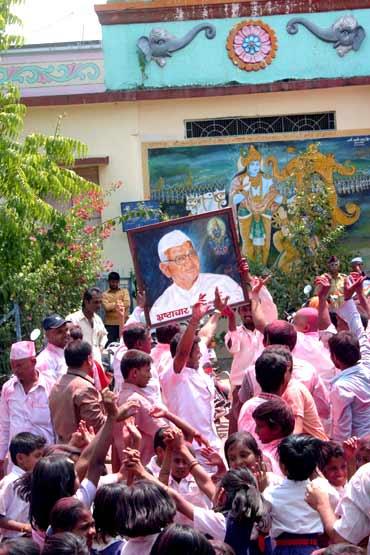 Anti-corruption crusader Anna Hazare was accorded a hero's welcome when he arrived at his village Ralegan Siddhi in Maharashtra's Ahmednagar district with supporters staying awake till late in the night to receive him.
Archives
August 2011
|
July 2011
|
June 2011
|
May 2011
|
April 2011
|
March 2011
|
February 2011
|
January 2011
|
December 2010
|
November 2010
|
October 2010
|
Sepetember 2010
|
August 2010
|
July 2010
|
Jun 2010
|
May 2010
|
April 2010
|
March 2010
|
February 2010