October 31, 2011
Army to confer Lt Col rank upon Bindra, Dhoni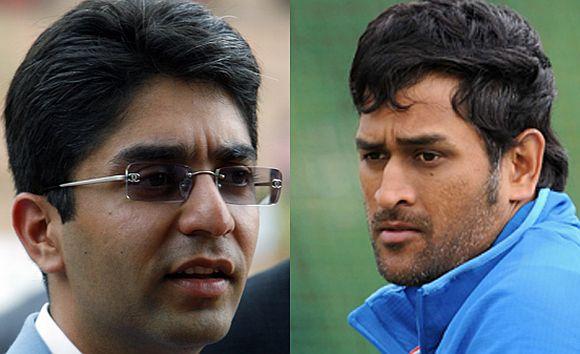 Indian cricket captain Mahendra Singh Dhoni and Olympic Gold Medallist Abhinav Bindra will don the olive green uniform of the Army on Tuesday along with a combat specialist Deepak Annaji Rao, who is being conferred with the honorary rank of major.
Anna Hazare set to break his silence, embark on tour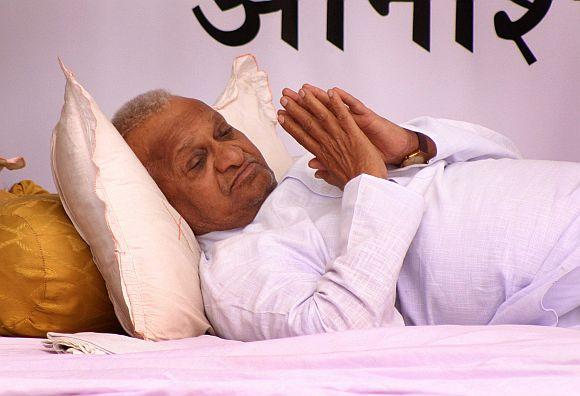 The 74-year-old activist on Monday said he wants to start on a tour of different states after ending his fast and hopes to "gather energy" from his supporters to get the Jan Lokpal bill passed and then to fight for electoral reforms, including 'Right to Reject' and 'Right to Recall'.
PC backs Omar's stand on partial removal of AFSPA from Valley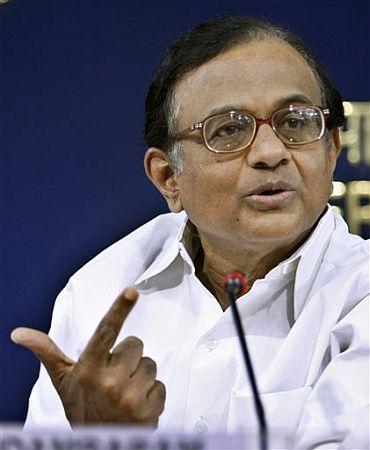 Union Home Minister P Chidambaram on Monday found nothing wrong with Jammu and Kashmir Chief Minister Omar Abdullah's move for partial removal of Armed Forces Special
Hall of shame! Italy PM on US human trafficking report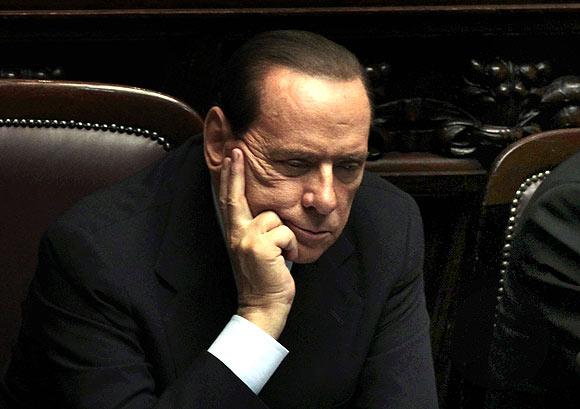 There is more embarrassment for Silvio Berlusconi, with a United States report on human trafficking naming the Italian prime minister as a result of his alleged sexual relationship with a Moroccan-born underage prostitute.
Ex-Jharkhand CM Madhu Koda beaten up by jailers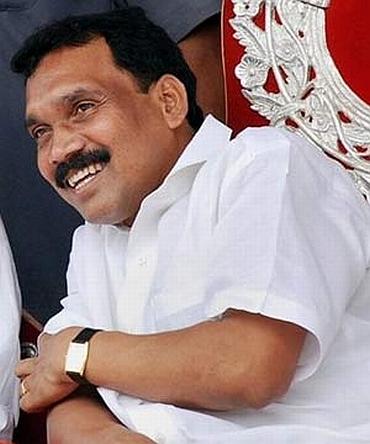 Former Jharkhand chief minister Madhu Koda, who is imprisoned in the Birsa Munda Central Jail, was allegedly beaten up on Monday by jail authorities after he went on hunger strike demanding better food in jail. He has been admitted to a hospital in Ranchi. Sources say that he could have fractured his hand.
Ambala explosives: Was Sajjan Kumar the target?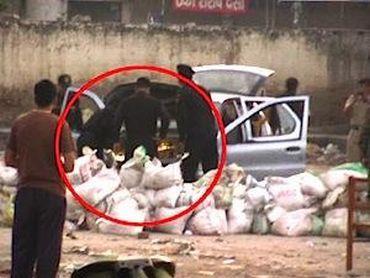 News has just trickled in that it was the Khalistan Tiger Force which was behind the Ambala haul of explosives meant for a deadly 'Diwali' blast at Delhi.
PHOTOS: The world's 7 billionth baby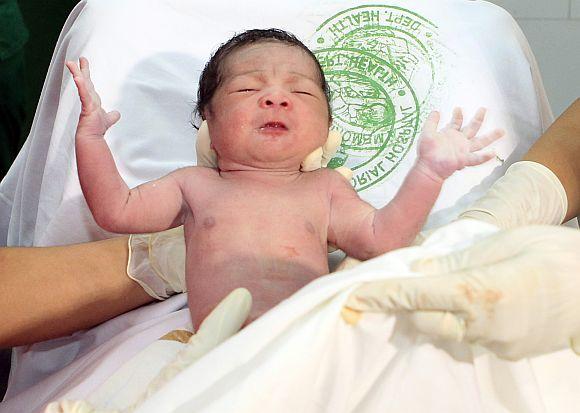 Even as 23-year-old Vinita and Ajay from Uttar Pradesh have been giving interviews after interviews after having brought to the world the seven billionth baby, another mother is being cheered miles away at a hospital in Philippines capital Manila for the same feat.
Why the Haqqani network continues to escape US terror tag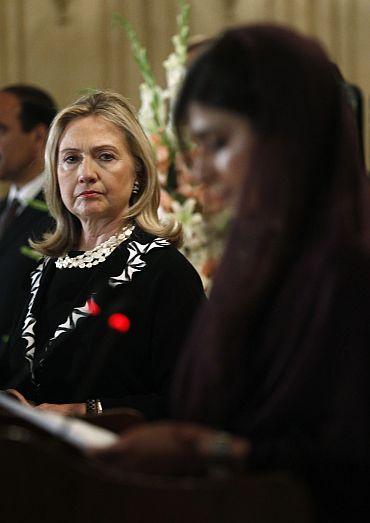 The US is keeping the doors open for negotiations with the terror group as the Afghan endgame plays out, says reporting from Islamabad.
Pakistan among TOP nations on a nuke shopping spree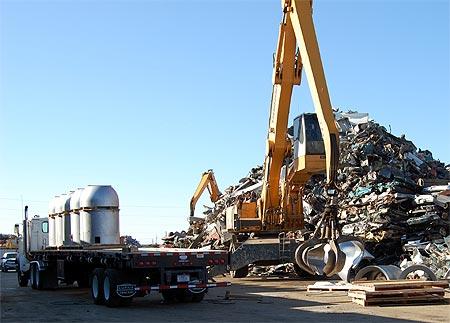 Pakistan is among several nations planning a spending spree on nuclear weapons, the others being the United States and Russia.
'US relying on ISI to reach out to the Haqqanis'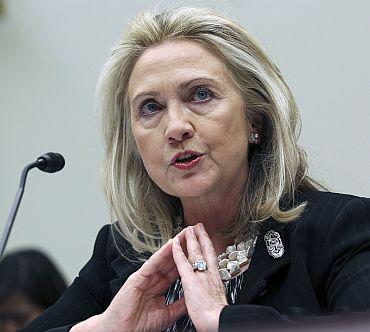 After accusing Pakistan's Inter Services Intelligence of supporting the Haqqani terror network, the Obama administration is now relying on the spy agency to help it organise and begin "reconciliation talks" aimed at ending the war in Afghanistan, a media report said in New York.
A SPLASH of colour for Hazare, Thackeray, Manmohan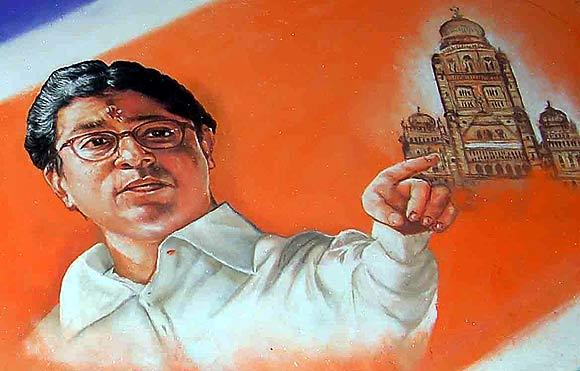 A Diwali rangoli exhibition by Samata Nagar, Ghatkopar, in suburban Mumbai, showcased some brilliant rangolis.
IN PHOTOS: Gorakhpur baby could be world's 7 billionth child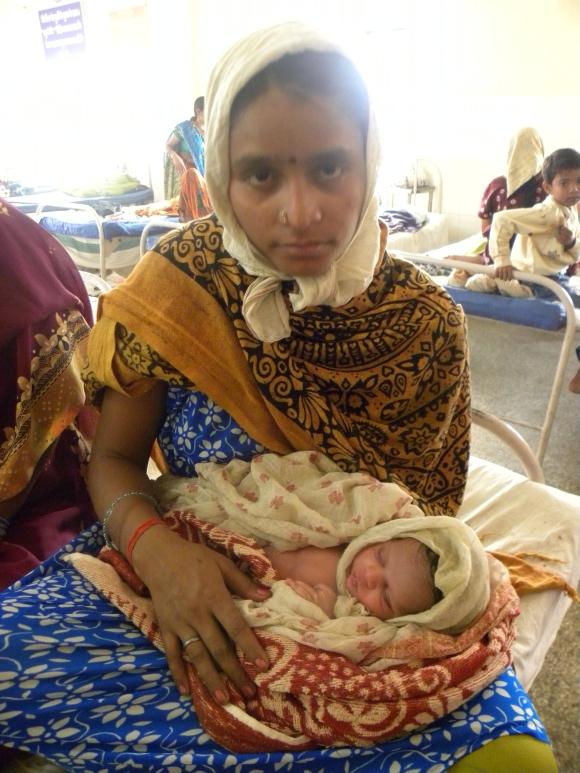 Babita, 20, became the proud mother of a baby girl at the district hospital in Gorakhpur, Uttar Pradesh, at 12.20 am on Monday. Her yet-to-be-named daughter has already created history -- she is the world's seven billionth baby.
For many Lankan refugees, Tamil Nadu is the home they know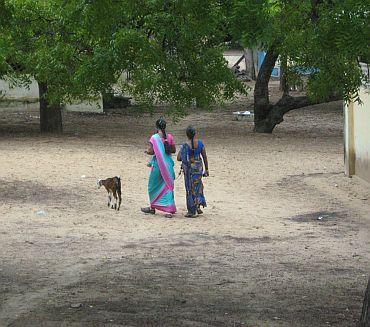 Rediff.com's visits a refugee camp for Lankan Tamils in Ramanathapuram and finds out why many are reluctant to return home after the war ended in the island country.
EXCLUSIVE! Jairam Ramesh lays out roadmap of rural growth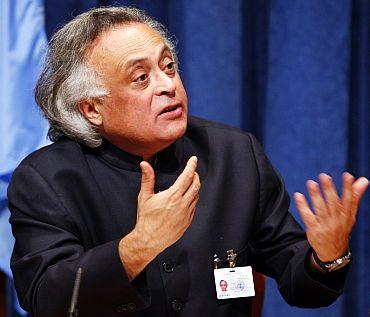 Union Rural Development Minister Jairam Ramesh lays out the roadmap for rural growth --- without mincing words.
In PHOTOS: It's an ODD world out there!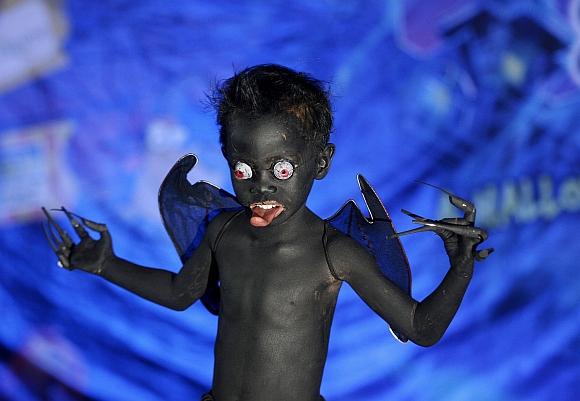 We bring you a collection of some of the odd moments from around the world in recent weeks.
India is NOT READY to face this terror threat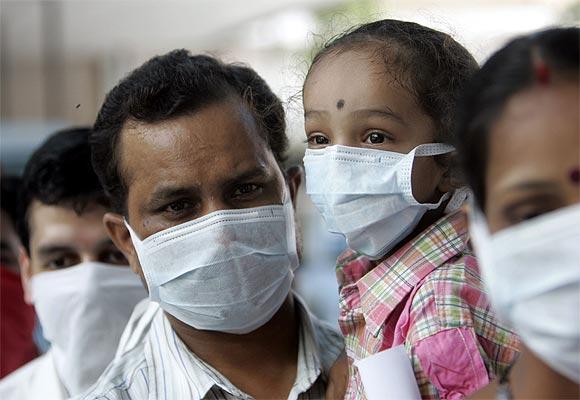 Lack of preparation, coupled with the pathetic state of health care, make India highly vulnerable to the threat of bio-terrorism, says Vicky Nanjappa
PHOTO feature: A World of 7 Billion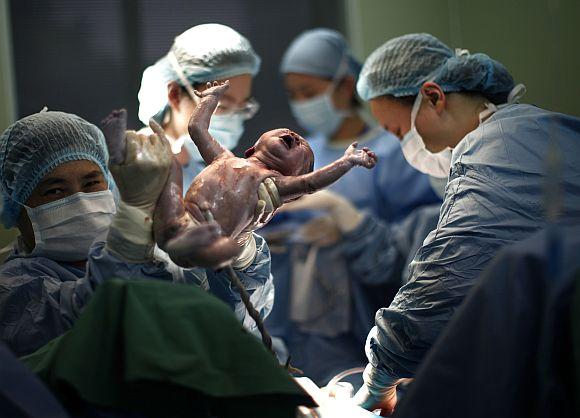 How we respond now will determine whether we have a healthy, sustainable and prosperous future or one that is marked by inequalities, environmental decline and economic setbacks
October 30, 2011
Assam blasts: 3 years on, tears still won't dry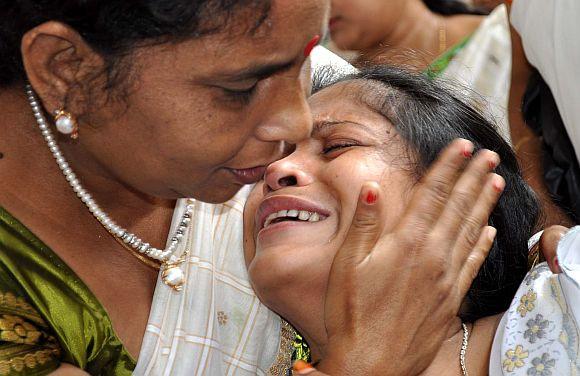 About 100 innocent people lost their lives and over 400 hundred were maimed for the rest of their lives in the serial blasts triggered by terrorists at three crowded places in Guwahati besides Kokrajhar, Barpeta Road and Bongaigaon in Assam.
In UPA II, every coalition partner had its own share: Maha CM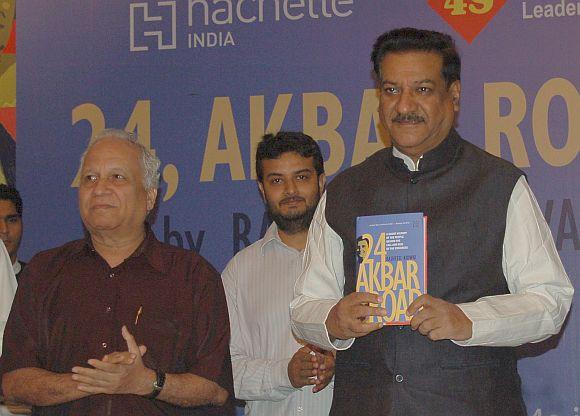 The Congress seems to be ruing what it does not have in UPA II: The support of the left parties, not particularly because they let the government govern till they withdrew support over the issue of signing a nuclear treaty with the US, but because they didn't demand their pound of flesh in the allocation of ministries by not joining the government.
When governors spoke their mind and PM took notes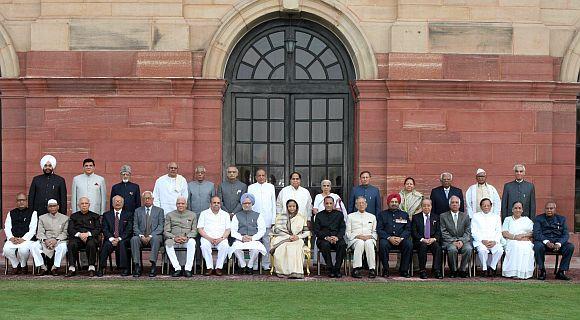 Governors of West Bengal, Karnataka and Andhra Pradesh created a flutter in Governors' Conference on Saturday by speaking out their mind on the present law and order, economic and fiscal situation in the country.
October 29, 2011
Is Digvijay YOUR spokesperson, BJP asks Sonia, Rahul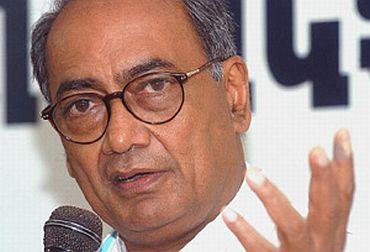 The Bharatiya Janata Party on Saturday slammed Digvijay Singh for attacking Sri Sri Ravishankar and asked Sonia Gandhi and Rahul Gandhi whether the Congress leader was their spokesperson.
'Post-Parliament attack, India deployed N-missiles on border'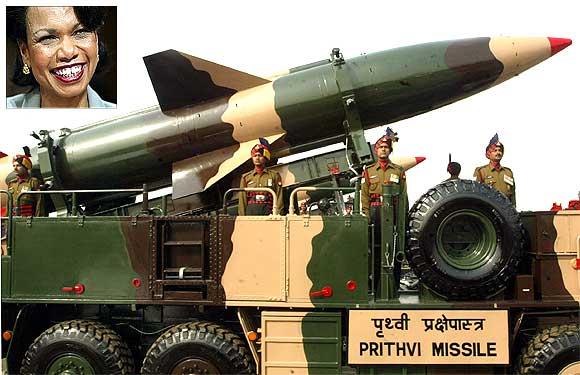 India had deployed nuclear-capable missiles on its western border and refused to budge under United States pressure to hold any talks with Pakistan after the 2001 attack on its Parliament by terrorists from across the border, says former top American diplomat Condoleezza Rice.
From rags to riches, F1 hangama!
From rags to riches, F1 hangama!
Govt making allies scapegoat of corruption: Advani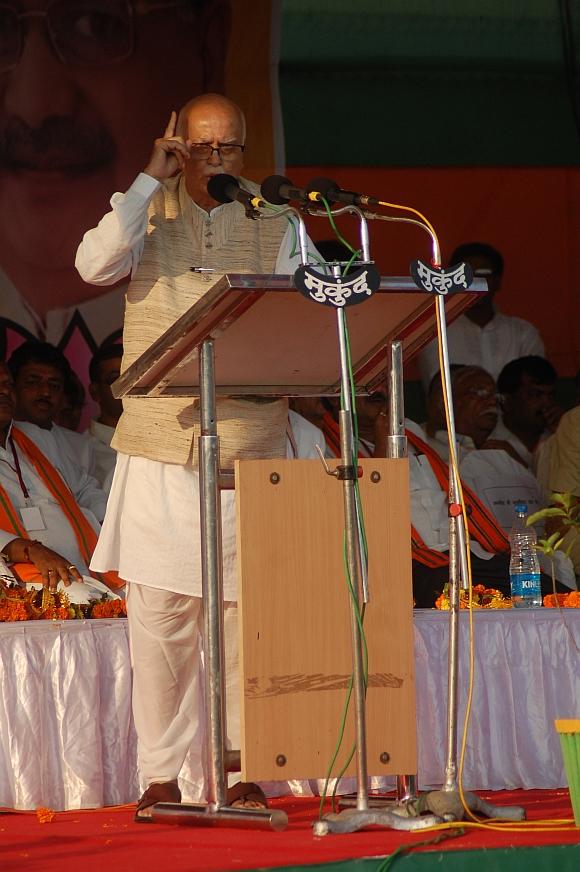 Bharatiya Janata Party leader L K Advani on Saturday accused the government of trying to make coalition partners a scapegoat of corruption for which the government as a whole is responsible. He also attacked Prime Minister Manmohan Singh over rising inflation and said that price rise is continuing unabated even though "we have supposedly an economic expert" at the helm of affairs.
Centre's attack against us will backfire: Team Anna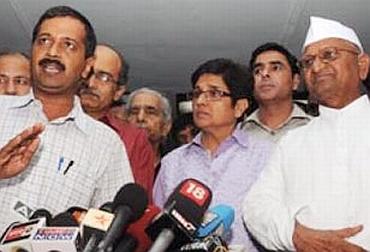 Amid clamour for its revamp over allegations of financial conduct by some key members, the core committee of Team Anna met in Ghaziabad on Saturday with Kiran Bedi asserting that there were no differences within the movement.
In PHOTOS: Statue of Liberty's grand 125th birthday bash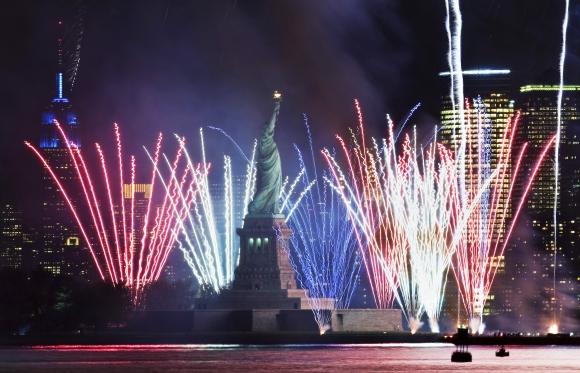 The 125th birth anniversary of the iconic Statue of Liberty was celebrated in New York with events including a gun salute, fireworks and naturalisation ceremony for 125 immigrants organised to commemorate the day.
India played major role in support for successful UNSC bid: Pak
Asserting that "friends were no longer friends of the country", Pakistan on Saturday said India had played a "major" role in supporting its successful bid to become a non-permanent member of the United Nations Security Council.
October 28, 2011
Metallica concert postponed due to 'technical snag'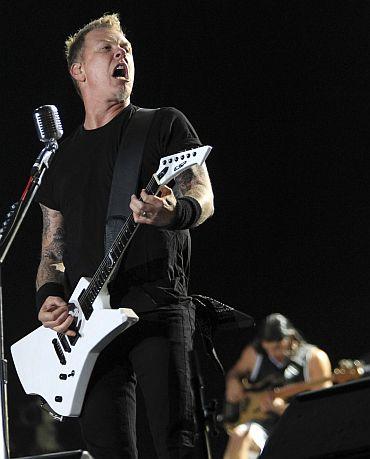 American heavy metal band Metallica's very first concert in India scheduled to be held on Friday has been postponed to Saturday evening due to technical snag.
REVEALED: Italy PM PAID pretty girls to attend his parties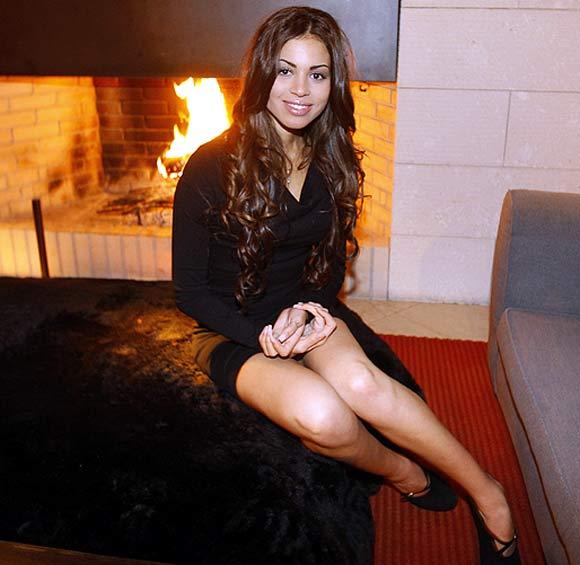 More trouble seems to be brewing for Silvio Berlusconi, with documents emerging that the embattled Italian prime minister paid nearly 2.5 million pounds in cash to dozens of women invited to his infamous 'bunga bunga' parties.
Anna Hazare must replace his team forthwith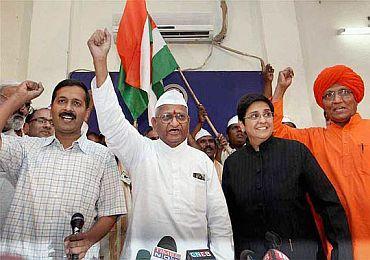 Anna Hazare's whole movement hinges on adherence to total transparency, and if he makes any compromise on this principle, all his following will evaporate, and his movement will collapse, says B S Raghavan
PIX: Fireworks at Marine drive light up night sky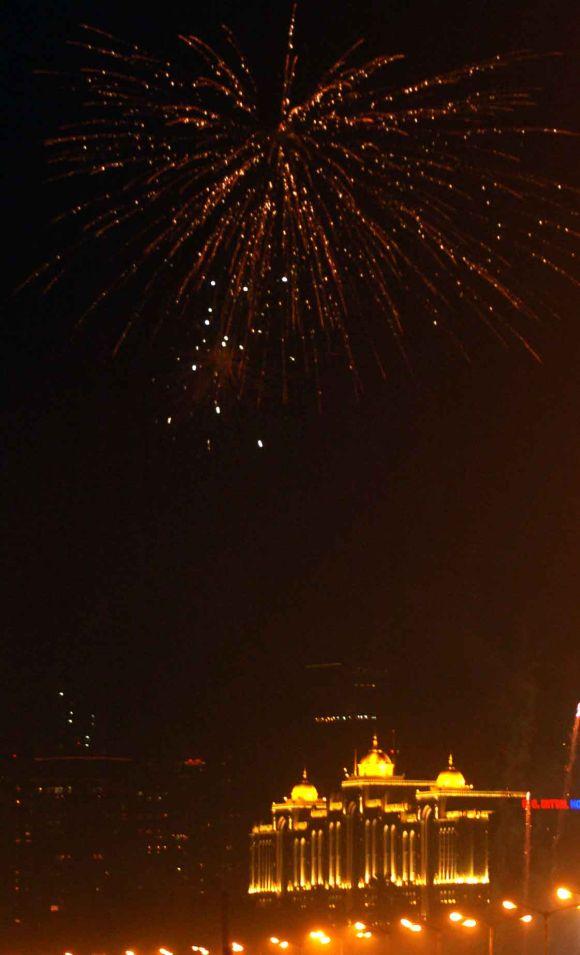 The skies of Mumbai were illuminated with spectacular fireworks as Mumbaikars celebrated Diwali.
'Pakistan feared India was going to war after 26/11'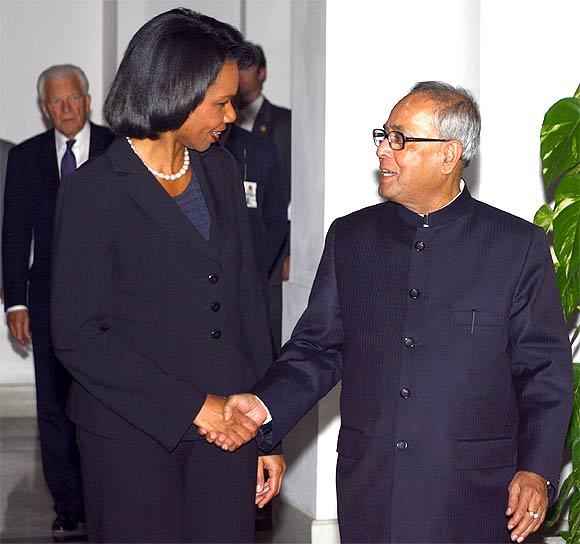 Tough talking by the then external affairs minister Pranab Mukherjee, following the 26/11 attacks, rattled Pakistan so much that it pressed the panic button and called everyone from Chinese to the Americans saying that India has decided to go to war.
'Failing relationship with US brings Pak, China closer'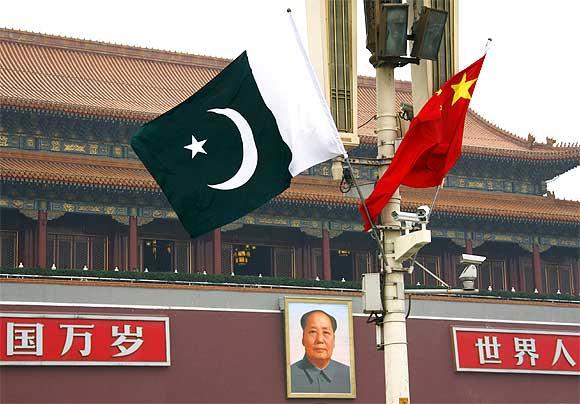 With deepening of India-United States relationship and deterioration in the ties between Washington and Islamabad, Pakistan is moving closer to China, a Congressional report has said.
PIX: Rains, delay fail to dampen Advani's chariot ride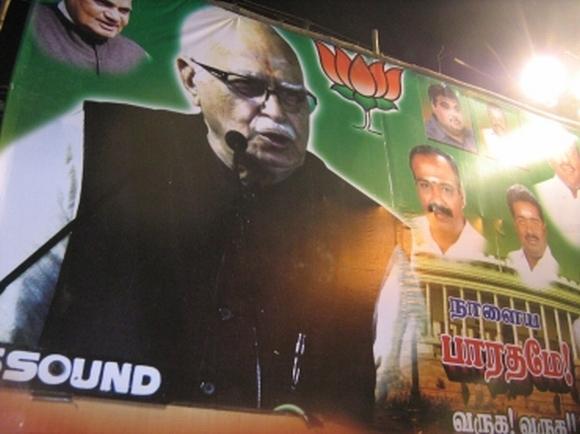 Staying awake and staying dry were among the major challenges faced by the crowd at BJP leader L K Advani's rally in Madurai, discovered A Ganesh Nadar
October 27, 2011
Has govt succeeded in putting Team Anna on the backfoot?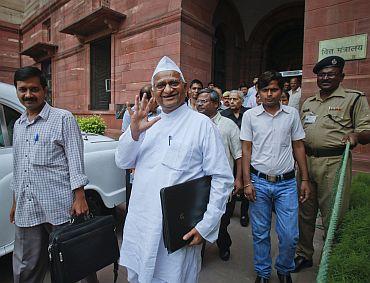 The war between Team Anna and the government over the Jan Lokpal Bill is getting uglier by the day, so much so that the real purpose of the movement -- that of introducing an effective Lokpal Bill -- has been sidelined, reports .
Stay away from the RSS, Digvijay warns Sri Sri Ravi Shankar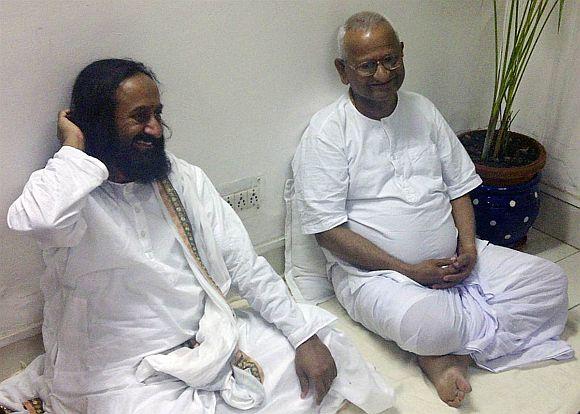 Controversy seems to travel wherever Congress leader Digvijay Singh goes. This time around, on a visit to Bengaluru to meet his grandson, Singh asserted that the Rashtriya Swayamsevak Sangh was trying to bring in spiritual guru Sri Sri Ravi Shankar in their campaign against the government.
BIG VIEW: Best PHOTOS of the last 24 hours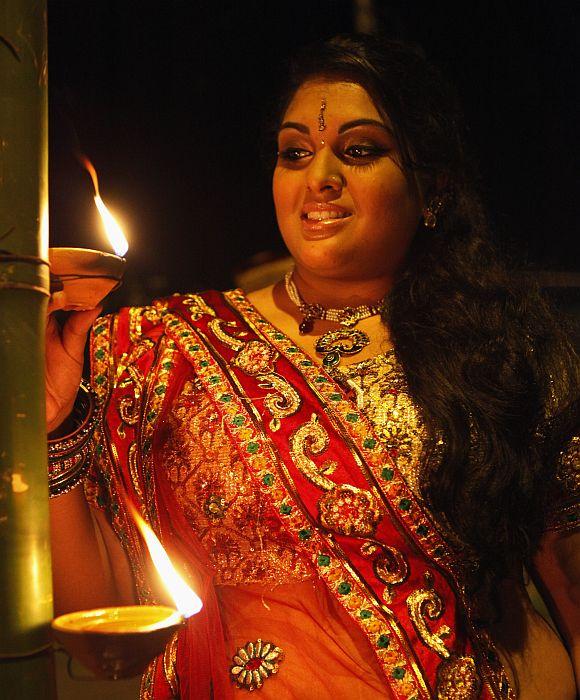 Here are some of the most breathtaking images from across the globe in the last 24 hours
Advani kicks tainted leaders off stage; K'taka BJP miffed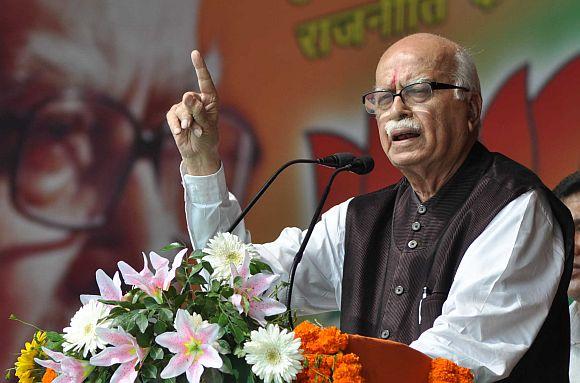 Ever since the Bharatiya Janata Party came to power in Karnataka, the ride has been anything but smooth for the party. Today, it is headed for another showdown as veteran leader L K Advani's rath yatra comes closer to the state.
US-Pak relations terrible, at lowest ebb: Musharraf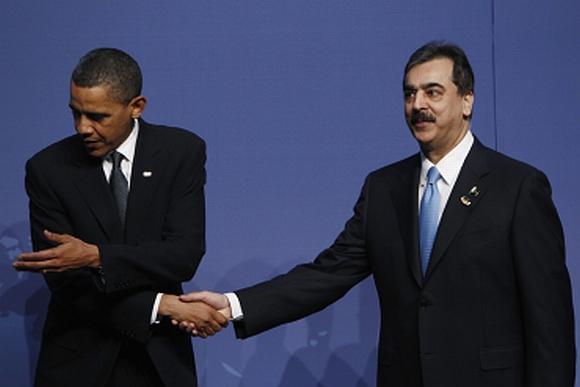 Former military ruler Pervez Musharraf has described the relationship between Pakistan and the United States as "terrible".
Village neighbouring Koodankulam joins protest against N-plant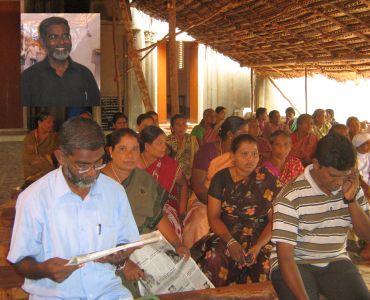 Villagers of Idinthakarai in Tamil Nadu are on a relay fast since the last one week protesting the construction of the nuclear power project in neighbouring Koodankulam. Rediff.com's spoke to the man heading the protest, S P Udaykumar.
Pak's handling of Indian chopper crisis a good news story: US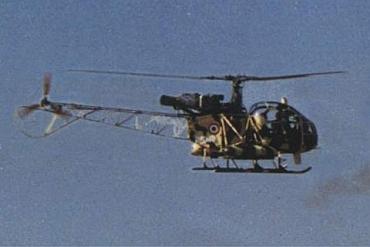 The handling of the incident of an Indian chopper inadvertently flying into Pakistani territory on Sunday by New Delhi and Islamabad is a "good news story" coming out of the region, the United States has said.
October 26, 2011
IN PHOTOS: A 'dark Diwali' for these jailed politicians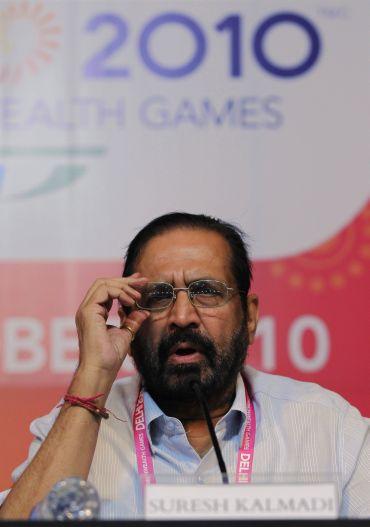 Rediff.com looks at some of the political honchos who will have a 'dark Diwali' behind bars this year.
October 25, 2011
Swamy files FIR against Sonia 'for targeting Hindus'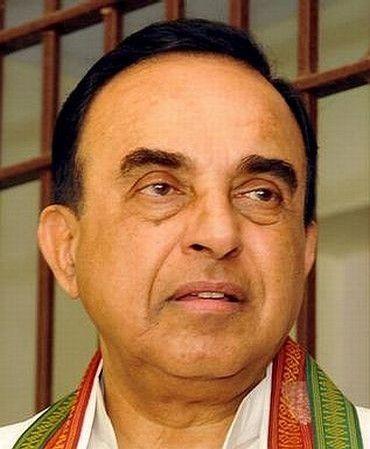 Janata Party chief Subramanian Swamy on Tuesday filed an FIR in New Delhi against United Progressive Alliance chairperson Sonia Gandhi and members of the National Advisory Council' (which is headed by Gandhi) 'for committing offences of propagating hate against the Hindu community by circulating for enacting as law a draft bill described as Prevention of Communal and Targeted Violence Bill, 2011.'
Punish us if we are wrong, but bring Lokpal Bill: Kejriwal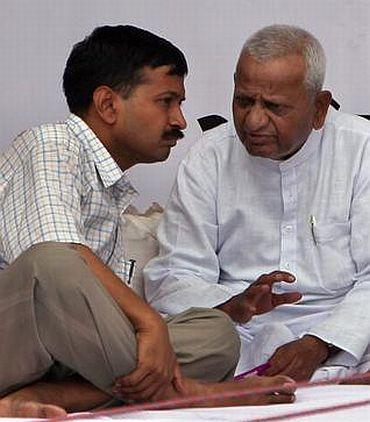 Facing allegations of financial misconduct, activist Arvind Kejriwal broke his silence on Tuesday daring the government to conduct a probe against him and other Team Anna members even as he questioned the motive behind the "smear campaign".
Exclusive! Nikki Haley speaks on US prez polls, India trip, more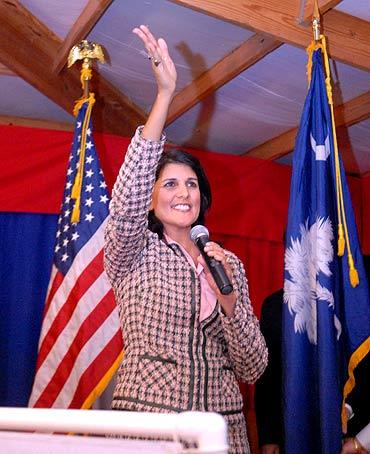 In an exclusive interview with rediff.com's Aziz Haniffa, Haley talked about why her plans to visit India have been shelved for the time being, reiterated her opposition to President Barack Obama's healthcare plan and addressed the continuing speculation about her being a potential vice-presidential candidate
In PHOTOS: Twin grenade blasts rock Srinagar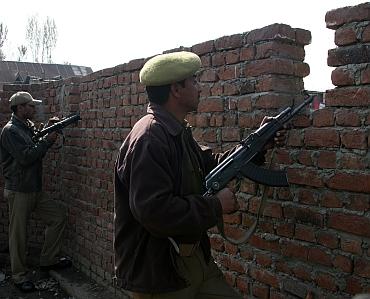 Militants on Tuesday carried out two grenade attacks on security force installations in the city in a span of about five minutes, injuring three Central Reserve Police Force personnel.
Muammar Gaddafi's LAST MOMENTS: What exactly happened?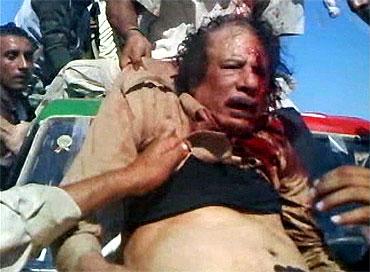 The chain of events that led to ousted Libyan leader Muammar Gaddafi's death continue to remain very much in dispute.
From behind bars, 26/11 mastermind hobnobs with LeT pals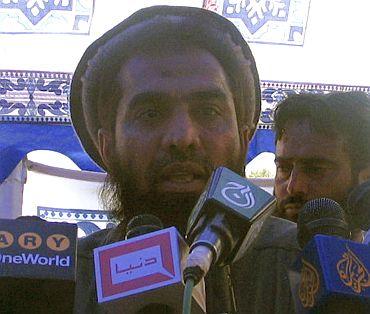 Lashkar-e-Tayiba commander Zakiur Rehman Lakhvi, the main accused in the 26/11 Mumbai terror attacks case, has been clandestinely communicating from prison with members of his group, according to intercepts by Western intelligence agencies.
Up in the air, this jet promises some spectacular ACTION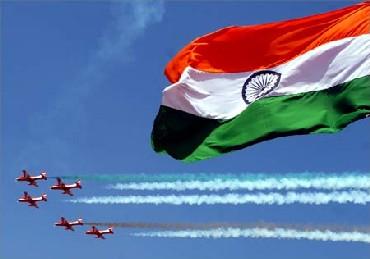 The Indian Air Force's vaunted aerobatics display team, the Surya Kiran Aerobatics Team, could soon be enthralling spectators with cutting-edge aircraft. The IAF has initiated the procurement of 21 additional Hawk aircraft, built by Hindustan Aeronautics Limited, Bangalore.
12 interesting FACTS you didn't know about US military
Did you know that the United States spends more on its military than rest of the top 15 nations with the highest military expenditure?
Tour diary: Amid all the violence, humour hasn't deserted Syria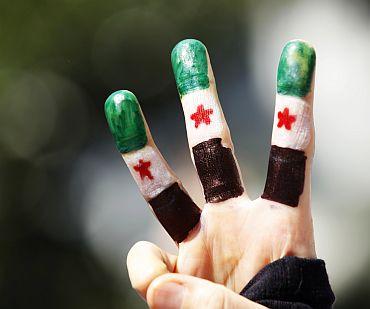 With Syria 'evolving' after the 'Arab Spring,' senior journalist takes stock of this ancient country as a member of a visiting Indian delegation. She realises that the ground reality in Syria is quite different from what has been portrayed; the fact that Syrians are wary of the 'US game plan' and that it's a country with a beautiful blend of modernity and deep-rooted traditions. Excerpts from her tour diary:
Uddhav dares Nirupam to bring Mumbai to halt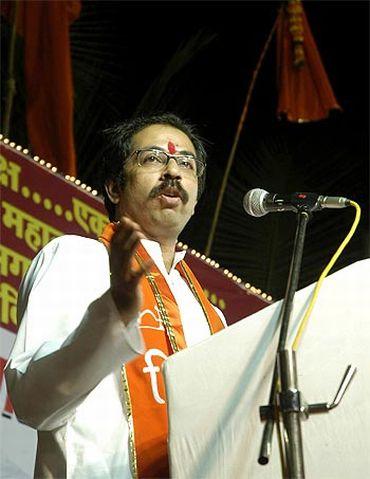 Criticising Congress Member of Parliament Sanjay Nirupam's statement concerning north Indians, Shiv Sena on Monday challenged him to bring Mumbai to a halt.
Iranian in Saudi envoy murder plot pleads not guilty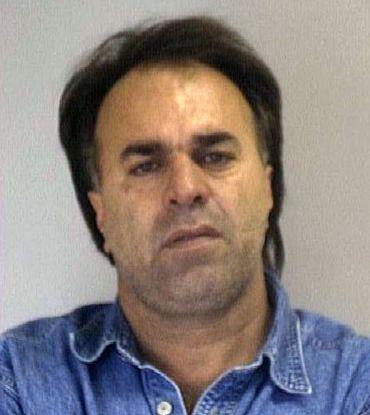 An Iranian-American accused of participating in a terror plot allegedly by elements in the Iranian government to assassinate the Saudi ambassador in Washington, has pleaded not guilty to the charges in New York on Monday.
My stand against Modi vindicated, says Bhatt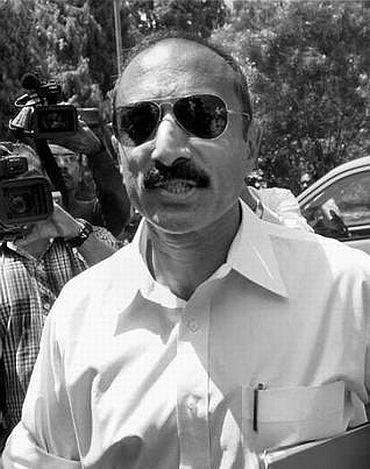 Suspended Indian Police Services officer Sanjiv Bhatt on Monday said his stand on the credibility of probe done by the special investigation team into the role of Gujarat Chief Minister Narendra Modi in 2002 riots has been vindicated by the reported findings of amicus curiae Raju Ramchandran.
October 24, 2011
Hazare defends Bedi, says 'gang of four' behind campaign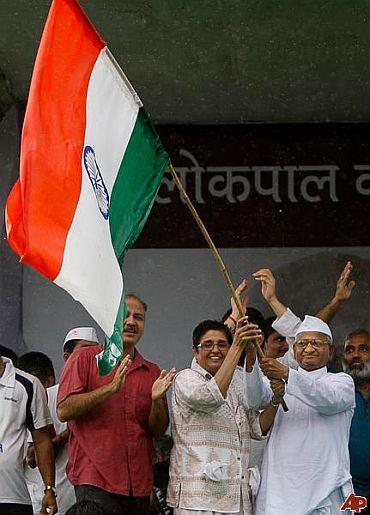 Veteran activist Anna Hazare on Monday night defended his key associate Kiran Bedi from the allegations of "air travel corruption", pointing fingers at a "gang of four" in the ruling party being behind the campaign against his team.
Hazare was upset over funds, didn't want hanky-panky: Agnivesh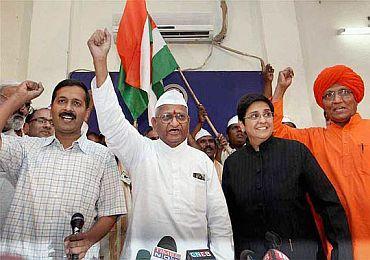 After raising questions about the way in which funds for activist Anna Hazare's agitation was managed, Swami Agnivesh on Monday claimed that the Gandhian was upset about the management of the accounts.
Why Advani needs to tread carefully in Bengaluru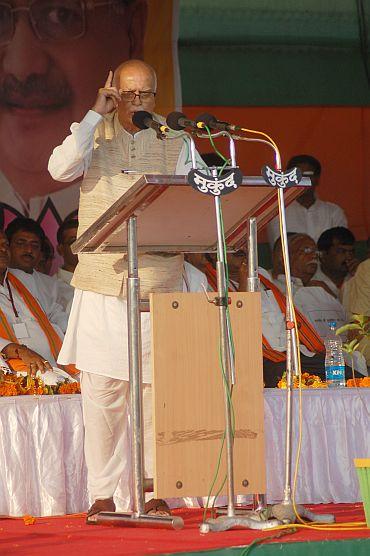 As Bharatiya Janata Party leader L K Advani's date with Bengaluru inches closer, the Karnataka opposition is up in arms questioning the rationale behind his yatra in the state.
NO BAIL for Kanimozhi, will spend Diwali in jail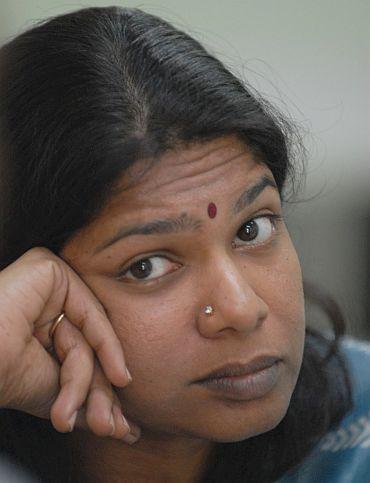 The special court hearing the 2G case on Monday reserved the bail order for the 17 accused in the case, including Dravida Munnettra Kazhagam Member of Parliament Kanimozhi, till November 3.
REWIND: The best PHOTOS in the last 24 hours
Here are some of the most breathtaking images from across the globe in the last 24 hours
India needs to assert itself in post-Gaddafi Libya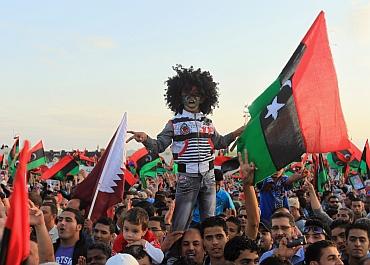 It's time New Delhi gives some clarity to its Libya policy so as to secure its energy and business interests in the north African nation, says Harsh V Pant
Pranab, PC both can't be at No 2 in govt: Advani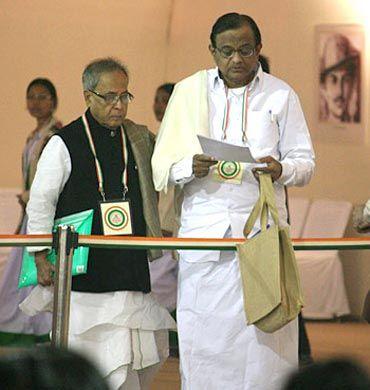 Bharatiya Janata Party leader LK Advani on Monday took a dig at the Congress saying though there was always a question mark over who was the number one in the government, now by creating a "pecking order" the government has now raised a question mark over who was the number two
Turkey earthquake: The trail of destruction in PHOTOS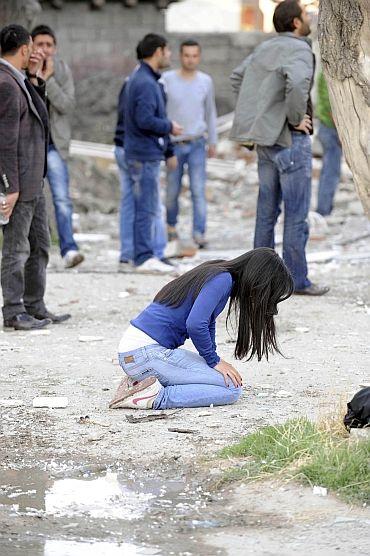 Rediff.com looks at the devastattion caused by the earthquake in Turkey
Salman Khurshid, the actor, to entertain PM, President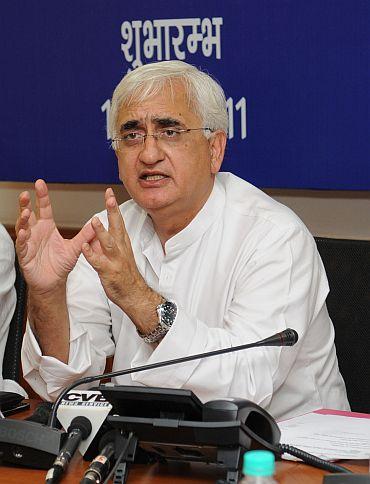 Union Law Minister Salman Khurshid will enact an English play and show his non-political shade as an actor by taking part in the drama titled Sons of Babur during the three-day conference of governors that starts on October 28 at Rashtrapati Bhavan.
Album: Stunning PHOTOS of the 9-year Iraq war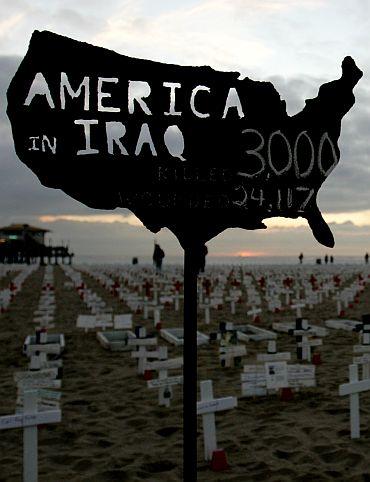 Rediff.com takes a look at some defining moments of the nine-year war in Iraq.
2G scam: Govt should listen to sane voice of FM, says Joshi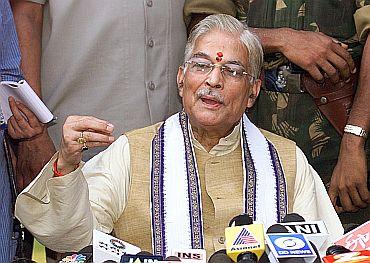 In an interview with CNN-IBN's National Bureau Chief Bhupendra Choubey, Public Accounts Committee Chairman Murali Manohar Joshi talks about the probe into the 2G spectrum scam and the government's flip flop on Comptroller and Auditor General report. Following is the transcript of the interview
Helicopter episode a great opportunity for India, Pakistan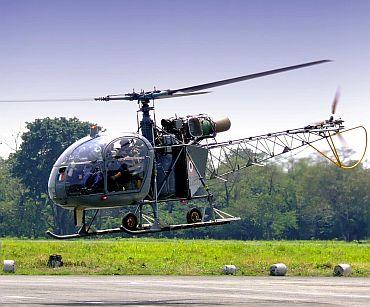 The handling of the October 23 incident involving an Indian Army helicopter straying into Pakistan air space should be used as a starting point for setting up a more substantial military-military relationship between the armies of the two countries as a distrust-reducing measure, writes
October 23, 2011
Hazare surrounded by politically ambitious people: Digvijay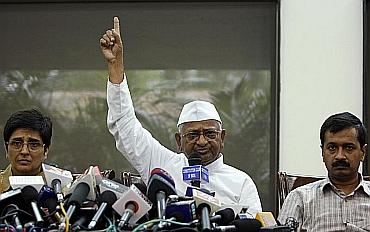 Claiming that a "straight-forward and simple" man like Anna Hazare was surrounded by politically ambitious people, senior Congress leader Digvijay Singh on Sunday launched an attack on Arvind Kejriwal and Kiran Bedi, saying they need to look inwards instead of just terming politicians as criminals.
In PHOTOS: Devastating 7.3 earthquake flattens east Turkey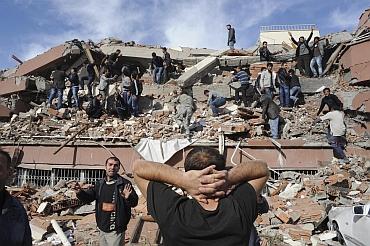 A 7.3 magnitude earthquake in eastern Turkey today has killed 500 to 1,000 people, the head of a seismological institute in Istanbul said.
Chidmabaram's role in 2G scam merits serious probe: Advani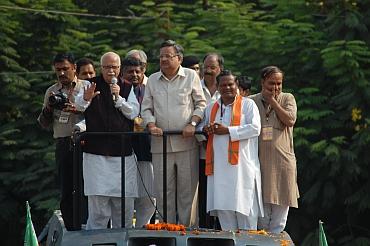 Senior Bharatiya Janata Party leader L K Advani on Sunday alleged elaborate attempts at a cover-up in 2G scam and demanded "serious investigation" to ascertain the role of the then finance minister P Chidambaram in spectrum allocations.
Pix: What's Bhutan's newly-wed royal couple up to in India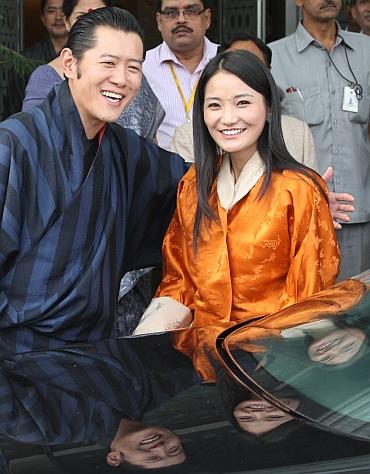 Bhutan King Jigme Khesar Namgyel Wangchuck and Queen Jetsun Pema Wangchuck arrived in New Delhi on a nine-day state visit, their first foreign trip after their marriage.
Team Anna vs Agnivesh war heats up over use of funds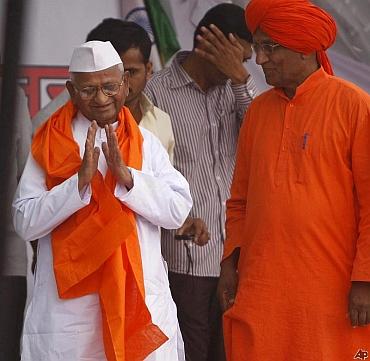 Questions were raised on Sunday about the use of funds donated by the public to Team Anna with Swami Agnivesh alleging that money was deposited in the trust run by Arvind Kejriwal from which the names of major team members were missing, a claim dismissed as made "out of anger".
In PHOTOS: Doomed satellite plunges to earth, its fate unknown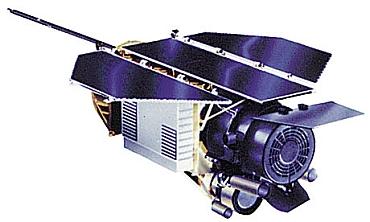 A bus-sized defunct German satellite on Sunday plunged to Earth after languishing in a dead orbit for more than a decade, but space officials have no idea yet about where it fell.
Pix: 34 killed, 100 hurt as bridge collapses in Darjeeling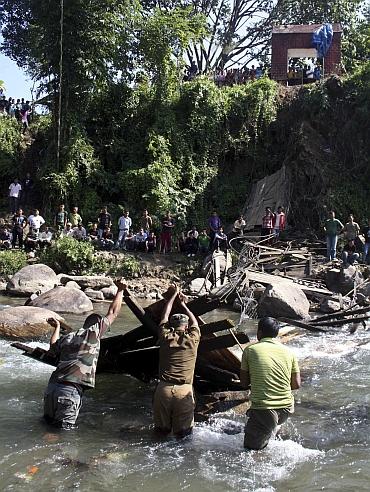 With eight more people on Sunday succumbing to injuries, the toll in the wooden footbridge collapse in West Bengal's Darjeeling district rose to 32. More than 100 people were injured in the mishap.
October 22, 2011
Does PM think only of the common man, not woman: Modi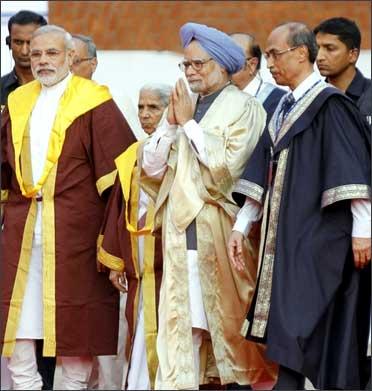 Gujarat Chief Minister Narendra Modi on Saturday attacked Prime Minister Manmohan Singh over the issue of inflation, accusing him of being "insensitive" to the plight of the common people.
Agnivesh hits back: Kejriwal siphoned off Rs 80 lakh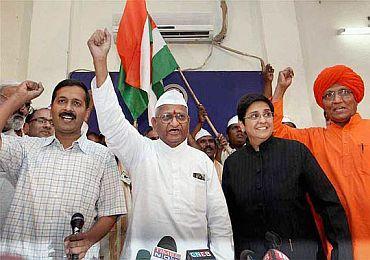 Activist Swami Agnivesh on Saturday alleged that Team Anna member Arvind Kejriwal has siphoned off over Rs 80 lakh, donated by people for Anna Hazare's agitation, by diverting it to a trust run by him.
Chidambaram HAS TO step down over 2G scam: BJP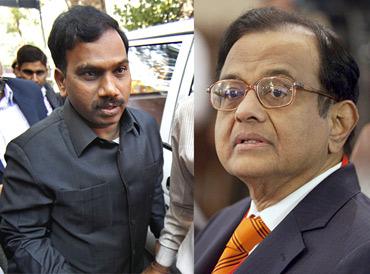 After a Delhi court framed harges against 17 persons in the 2G case, the Bharatiya Janata Party on Saturday demanded a probe by the Central Bureau of Investigation to ascertain the role of then finance minister P Chidambaram in the scam and insisted that he should either step down or be sacked to facilitate a fair investigation.
In PHOTOS: Flash floods hit Guwahati, one feared dead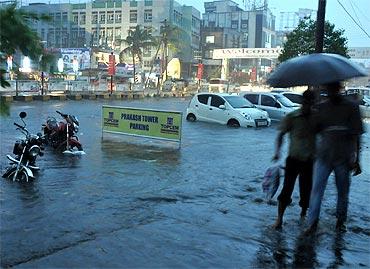 Flash floods that hit Assam's capital Guwahati on Friday evening have thrown life out of gear in the city and rubbished claims of the state administration of being prepared to handle such an eventuality.
Jaya whips Centre, tells it to stop being a step-mother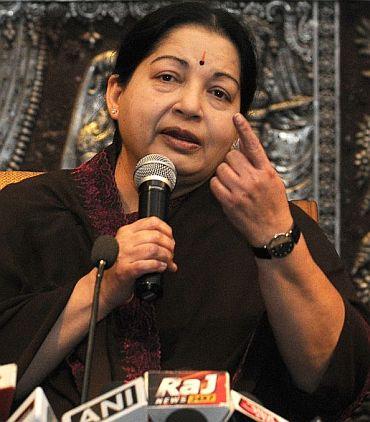 Tamil Nadu Chief Minister Jayalalithaa on Saturday attacked the United Progressive Alliance government for "reducing states to glorified municipal corporations" by turning a deaf ear to their reasonable demands and described central proposals like the Communal Violence bill as "fascist".
2G case: Raja, Kanimozhi, corporate honchos charged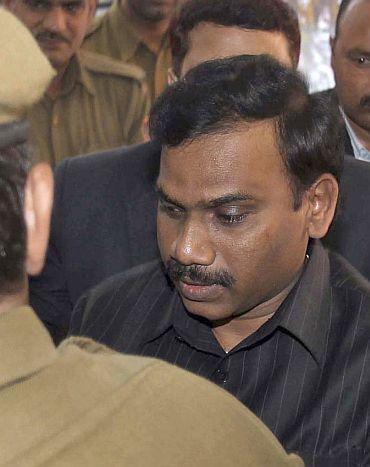 The 2G spectrum case on Saturday reached an important milestone with a Delhi court framing charges against all the 17 accused, including former Telecom Minister A Raja and Dravida Munnetra Kazhagam MP Kanimozhi and corporate honchos.
Saudi Crown Prince Sultan dies in the US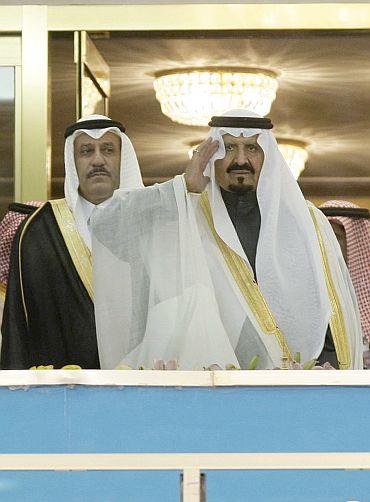 Crown Prince Sultan, who was around 86, had been in the United States for medical treatment since June. His death has thrown his brother Prince Nayef into line to succeed King Abdullah as leader of the key oil producer country.
Vidya gets dirty, Big Boss girls in swimwear
Vidya gets dirty, Big Boss girls in swimwear
October 21, 2011
Ramdev sings Anna's tune: DON'T vote for Congress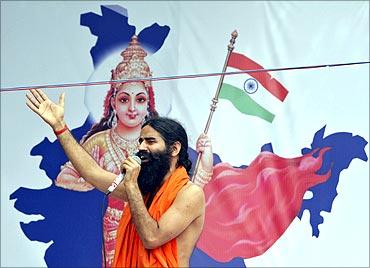 Yoga guru Ramdev on Friday asked the people to "teach Congress a lesson" by not voting for its candidates in the upcoming Uttar Pradesh assembly polls because of the party's "failure" in bringing back black money stashed away abroad.
VIDEO: Muammar Gaddafi's final moments
-year-old Gaddafi pleaded for mercy when rebels captured him while he was trying to flee from a drain where he was hiding in Sirte, the last major bastion of resistance two months after the regime fell in August.
Can the United States 'contain' Pakistan?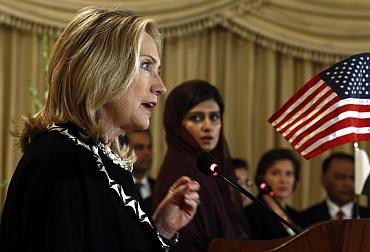 While the United States is unlikely to launch an attack on Pakistan, the US military build-up on the Pak-Afghanistan border is the opening salvo to unfurl a "containment strategy" toward Pakistan, says M K Bhadrakumar
Yeddyurappa is fooling the system: Justice Hegde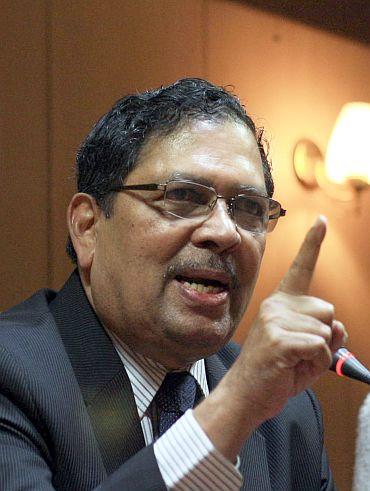 Justice Santhosh Hegde, who actually set the ball rolling, says he feels happy to see some outcome in the crusade against corruption.
IN PICS: Femme fatales who protected Gaddafi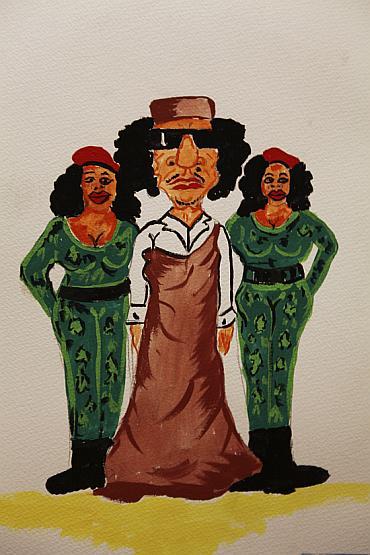 They were clearly not around when Gaddafi needed them the most on Thursday, but they were indeed a sight to behold in the Arab world: the all-women squad of bodyguards, dressed in blue and armed to the teeth, who surrounded the slain leader.
Pak can't keep SNAKES in backyard to attack neighbours: US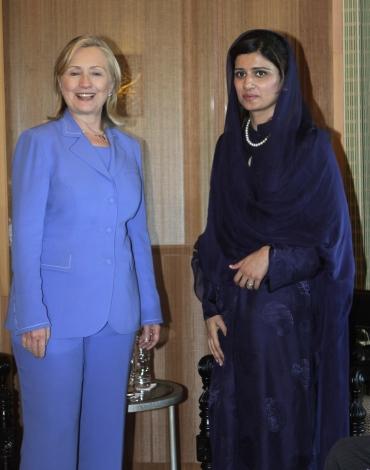 United States Secretary of State Hillary Clinton on Friday again pressed Pakistan to act against terrorist safe havens, pointing out that militant groups have for long operated with impunity in the country and should not be tolerated.
In PHOTOS: World's most notorious dictators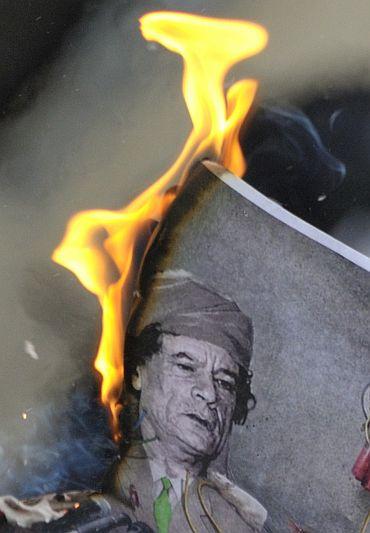 Rediff.com takes a look at some of the most brutal and oppressive tyrants on the planet
Mobile phones DO NOT cause cancer, says new study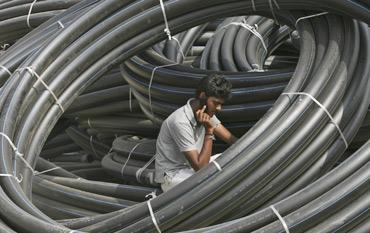 Cell phones don't cause cancer, says a new study, published in the British Medical Journal, thus putting an end to the debate over whether mobile devices harm people.
Manmohan Singh is the weakest Prime Minister: Advani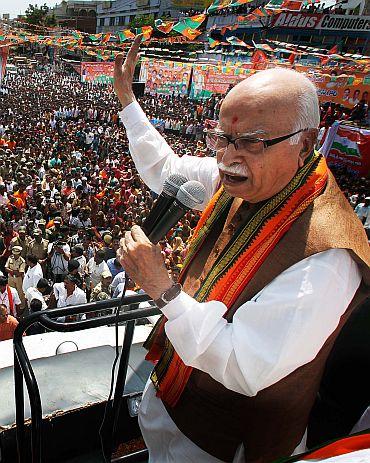 Hitting back at Prime Minister Manmohan Singh, Bharatiya Janata Party leader L K Advani on Friday insisted that he is the 'weakest PM' heading a government showing symptoms of "terminal decline" after suffering multi-organ failure.
No more double games, Clinton warns Pak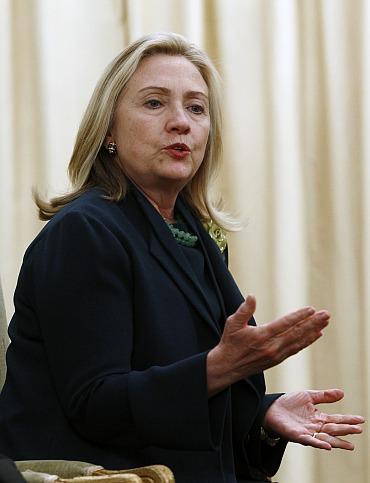 An unusually powerful United States delegation has arrived in Pakistan to deliver the warning that the United States would act unilaterally, if necessary, to attack extremist groups that use the country as a haven to kill Americans, according to a senior American official.
BIG VIEW: 26 stunning PHOTOS that tell a story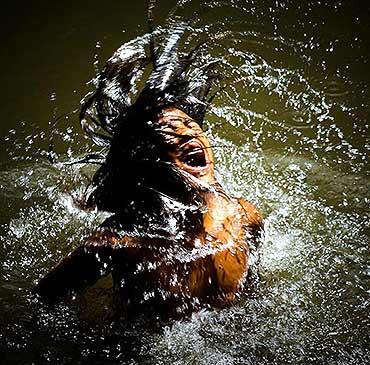 The biennial Delhi Photo Festival 2011, an initiative of the India Habitat Centre and the Nazar Foundation, has on display photographs that takes one across borders, and captures the moods of people in varied topographies under varied circumstances.
Dawood aide Mirchi to be deported to India in 2012?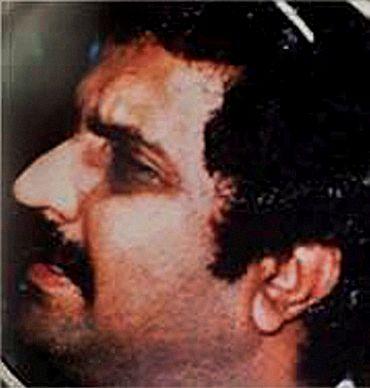 Iqbal Mirchi, drug lord and aide of underworld don Dawood Ibrahim, was released on bail in London on October 20. And India's chase of Mirchi continues 17 years after he fled the nation. However, not all hope is lost. There's a possibility of him being deported some time next year. Toral Varia reports
In PIX: When Gaddafi embarrassed India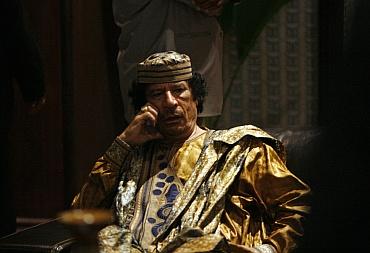 Libyan strongman Muammar Gaddafi, who was killed on Thursday, once caused a major diplomatic embarrassment to India when he supported the idea of an "independent state" for Kashmir and said that it should be a 'Baathist state' between India and Pakistan.
In PIX: Life and times of Colonel Muammar Gaddafi
Colonel Muammar Gaddafi, a dictator who ruled Libya for 42 years, was on Thursday shot and killed by rebels in his hometown of Sirte. The narcissistic leader backed terrorism and became United States public enemy number one.
October 20, 2011
Gaddafi's last words: Don't shoot, don't shoot!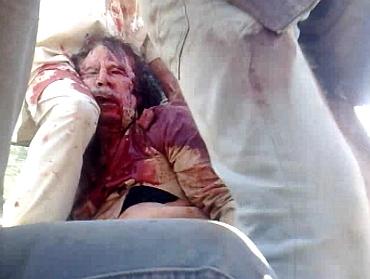 "Don't shoot, don't shoot" were the last words of slain Libyan dictator Muammar Gaddafi who was known for savage killing of dissidents during his reign of 42 years in the North African country.
Muammar Gaddafi: The 'mad dog' of Mideast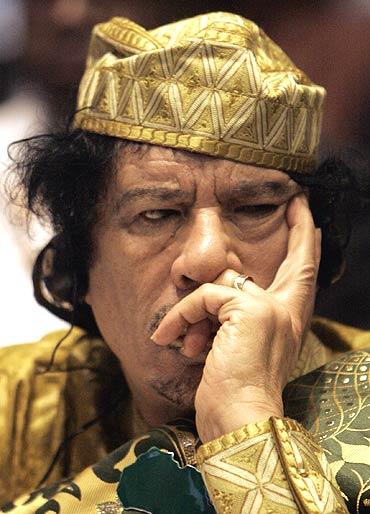 Born in a desert near Sirte in 1942, Muammar Gaddafi, the mercurial and eccentric strongman, was the longest-serving leader in both Africa and the Arab world, having ruled Libya since he toppled King Idris I in a coup at the age of 27.
Cong doing nothing to bring back black money, says Advani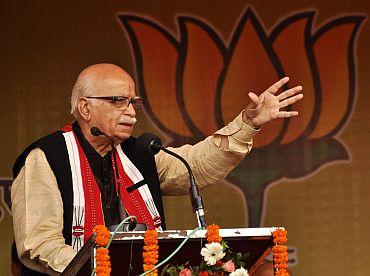 Senior Bharatiya Janata Party leader L K Advani on Thursday reiterated the demand for a white paper from the United Progressive Alliance government on the action it had taken so far the bring back the black money stashed away in foreign banks by India citizens.
IN PHOTOS: Gaddafi killed by rebels; Libya celebrates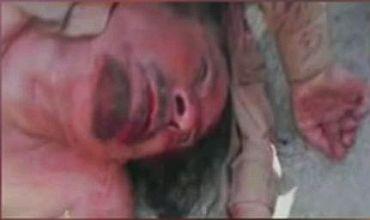 Ousted Libyan dictator Muammar Gaddafi, a maverick who had ruled the country with an iron hand for over four decades, was shot and killed by the rebels on Thursday in his hometown of Sirte after weeks of heavy fighting.
Scams tarnishing India's image abroad: Advani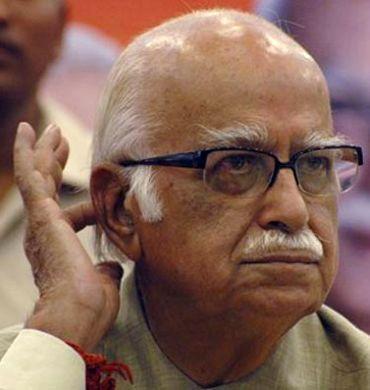 Scams dogging the United Progressive Alliance government are tarnishing India's image abroad, but the 'indecisiveness' of the ruling Congress party in taking steps against corruption has resulted in 'misrule and price rice', senior
ANALYSIS: Why Indo-Afghan deal makes Pakistan nervous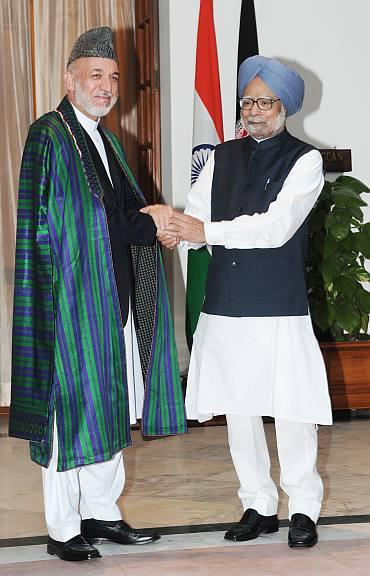 Will the Indo-Afghan strategic agreement project India's soft power and provide it strategic depth or is it a high-risk gamble that will come to haunt us in the future? Sheela Bhatt finds out
On VIDEO: David Headley's interrogation
US federal prosecutors have released interrogation tapes of admitted Pakistani-American terrorist David Headley, who helped plot the November 2008 Mumbai terror attacks, after a Chicago judge's order.
India is changing, but our success is not inevitable: Rahul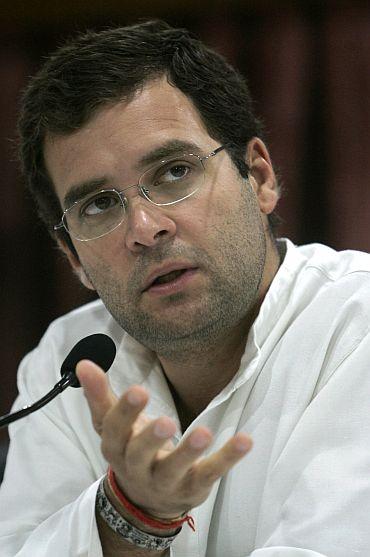 The opening speech Congress General Secretary Rahul Gandhi gave while chairing the Rajiv Gandhi Institute of Contemporary Studies' 20th anniversary lecture -- Globalisation, Justice and Rights, which was delivered by Professor Thomas Pogge of the Yale University.
PM on Team Anna, Telangana, Advani, corruption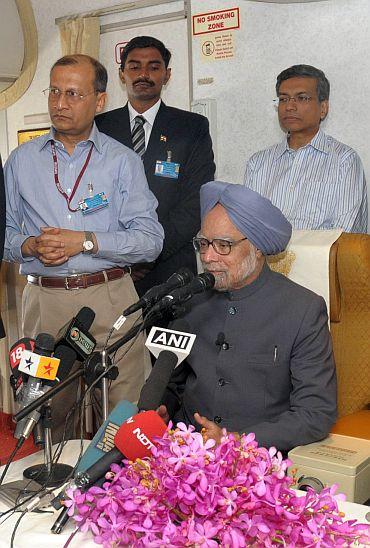 Prime Minister Manmohan Singh interacted with media persons on a wide range of topics on board his special aircraft while returning to New Delhi from South Africa after the IBSA summit. Excerpts from the interaction
Glitches, drama mark journey of assets case against Jaya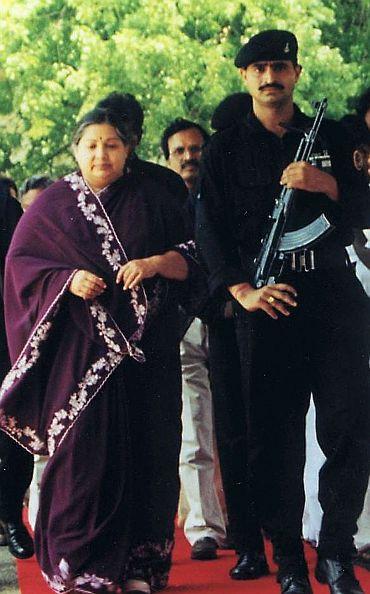 The special court in Bengaluru trying the disproportionate assets case against Tamil Nadu Chief Minister J Jayalalithaa has begun recording her statements.
No personal gain from inflated air travel bills: Kiran Bedi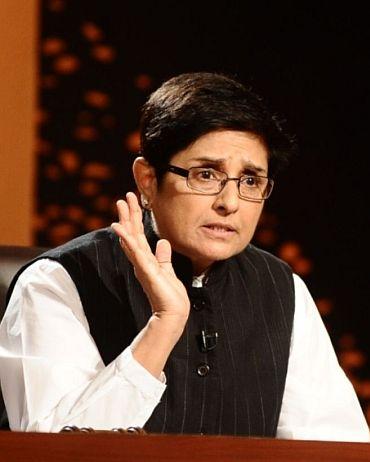 Already plagued by internal dissensions, Team Anna plunged into yet another controversy on Thursday with allegations against Kiran Bedi that she charged her hosts full fare on air tickets while availing discounts but the activist claimed there was 'no personal' gain.
Jaya arrives in Bengaluru court for day-long hearing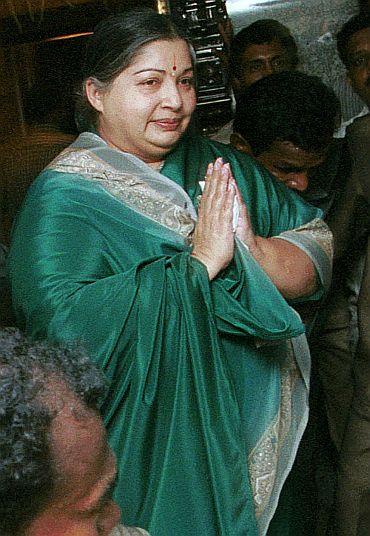 Tamil Nadu Chief Minister Jayalalithaa arrived in Bengaluru on Thursday morning to appear in a special court in connection with the disproportionate assets case against her.
Last 24 hours: Best PHOTOS from around the world
Presenting some of the most scintillating pictures from around the globe in the last 24 hours.
'Team Anna has started playing anti-Congress games'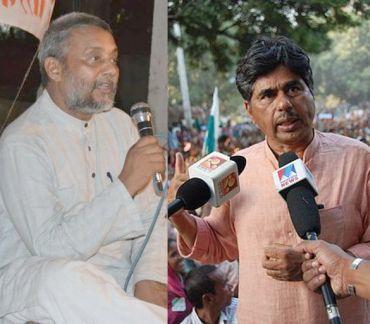 Rajendra Singh and P B Rajagopal, disgruntled members of Team Anna and former aides of activist Anna Hazare, tell Sahim Salim why they have walked out of the core committee
October 19, 2011
China's latest missive: Dalai Lama is backing TERRORISM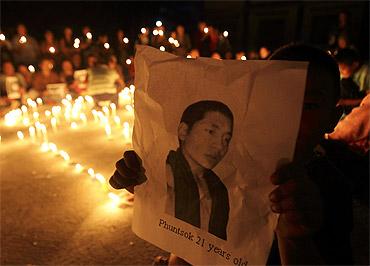 Slamming the Dalai Lama for conducting prayers for the Buddhist monks who had immolated themselves protesting Chinese rule in Tibet, China on Thursday said his support amounted to backing "terrorism in disguise".
Soon, a pill to ensure '150 healthy years' for everyone!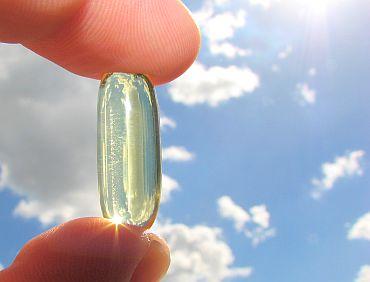 A wonder pill that can slow the ageing process is likely to become available within five years, raising the prospect of people eventually living to 150 and beyond, researchers say.
No more hospital stay; Yeddyurappa goes back to jail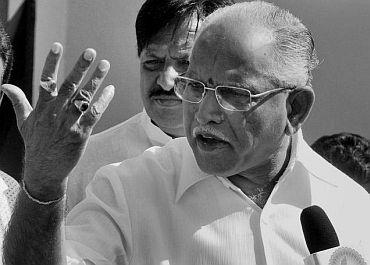 Former Karnataka chief minister B S Yeddyurappa, who was arrested in connection with a land scam case on Saturday and promptly hospitalised due to "chest pain", was finally discharged on Wednesday.
'US will have to think 10 times before N Waziristan offensive'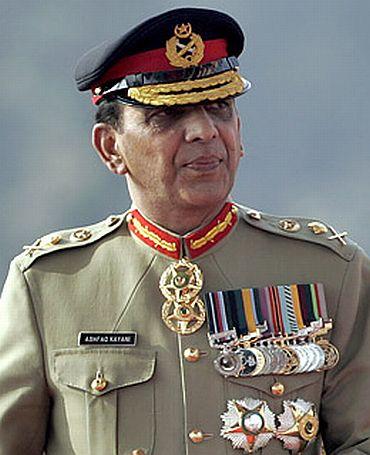 Pakistan Army Chief General Ashfaq Parvez Kayani has not ruled out the possibility of an American ground offensive in North Waziristan, but told parliamentarians at a briefing that Washington will have to think many times before launching such an attack.
Unsung and unheard, the Rashtriya Rifles plays a critical role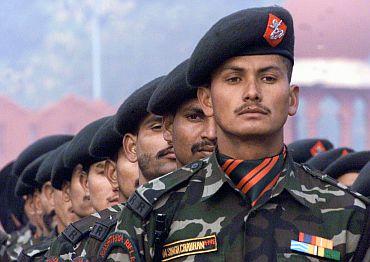 The Rashtriya Rifles' contribution to peace and stability in Jammu and Kashmir is immeasurable. The force has been able to create a situation conducive for civil governance.
Miles away from home, Kashmir's children chase their dreams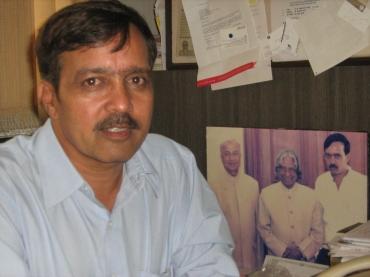 Kashmiris often feel alienated from the rest of the country, but that is not true for the children of a very special school in Pune, reports A Ganesh Nadar
PHOTOS: Latest weapons in the US armoury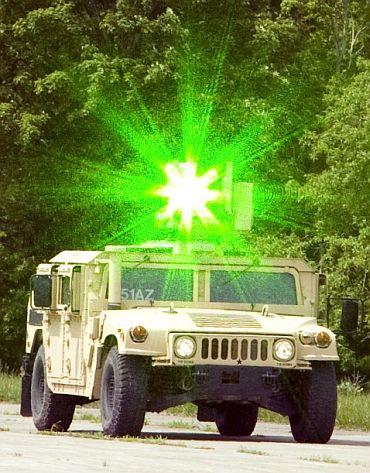 Some weapon systems that the United States has developed in the last one year.
Extraordinary Indians: He works in India's MOST troubled zones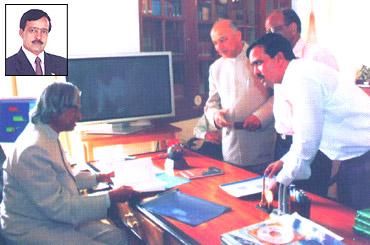 Seated in his simple office in the school that he built in Pune to teach students from Kashmir, Sanjay Nahar speaks of the inspiration behind his NGO 'Sarhad', the work he is so passionately involved in and the challenges before him.
NOT AGAIN! Doomed satellite may crash into Earth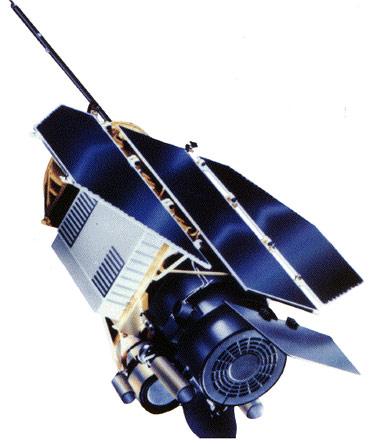 A 2.4-tonne defunct satellite is expected to make a fiery death plunge to Earth this week, but exactly when and where the doomed satellite will fall still remains a mystery, German space scientists have said.
October 18, 2011
Crowd at Team Anna's meet thinks Sonia can pass Jan Lokpal Bill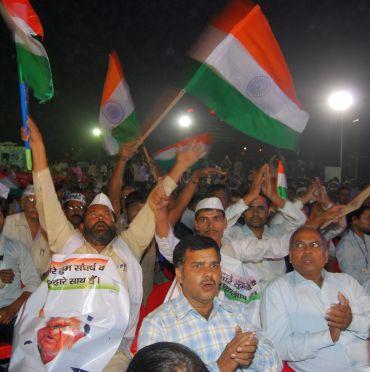 Team Anna proved to be a big hit in Lucknow where thousands converged on the banks of the Gomati river to cheer social activist Arvind Kejriwal and others who swore to not just unseat corrupt politicians but to bring grassroots changes in the system of governance.
'Ready to face not only slippers, but even bullets'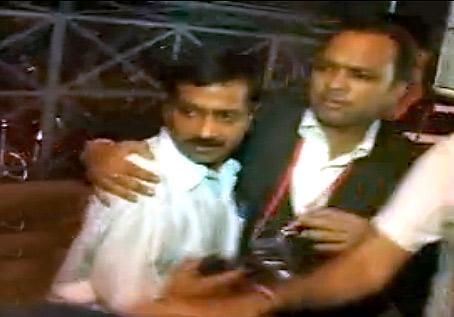 Team Anna member Arvind Kejriwal was on Tuesday attacked by a youth with a slipper while he was going to attend a programme in Lucknow as part of their anti-graft campaign, nearly a week after the assault on another colleague Prashant Bhushan.
Hazare's dig at Bhushan: Some people can just talk about Kashmir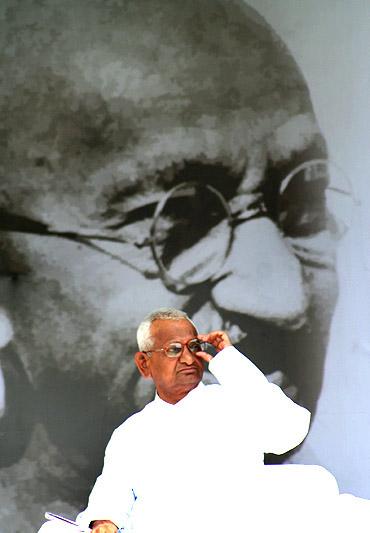 Indicating hardening of stand against Prashant Bhushan, Anna Hazare on Tuesday took an indirect dig at the lawyer-activist saying some people talk "incoherent" things about Kashmir though they cannot do anything on ground.
Upset with 'political' moves, 2 members quit Team Anna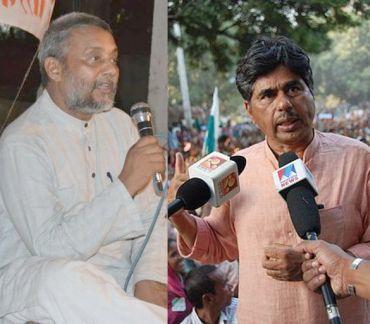 In fresh turmoil in Team Anna, two prominent activists P V Rajagopal and 'Waterman' Rajendra Singh on Tuesday quit its core committee objecting to the movement taking a "political turn" and claimed that it was mired in confusion.
'Small mistakes' embarrassing BJP: Advani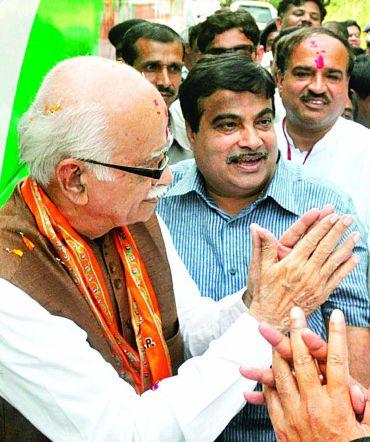 Under fire from the Congress over B S Yeddyurappa's arrest, Bharatiya Janata Party leader L K Advani on Tuesday admitted that 'small mistakes' were embarrassing the party leadership, which had cautioned the former Karnataka chief minister on the developments.
Miffed at Rahul's no show Anna Hazare's team to return home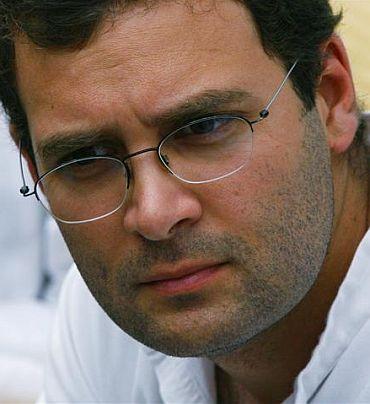 Upset over not getting an appointment with Rahul Gandhi, the sarpanch of Anna Hazare's village and his colleagues on Tuesday decided to return home saying that now even if they got an appointment the village will decide whether to meet the Congress leader or not.
We fight for truth, government plays politics: Kejriwal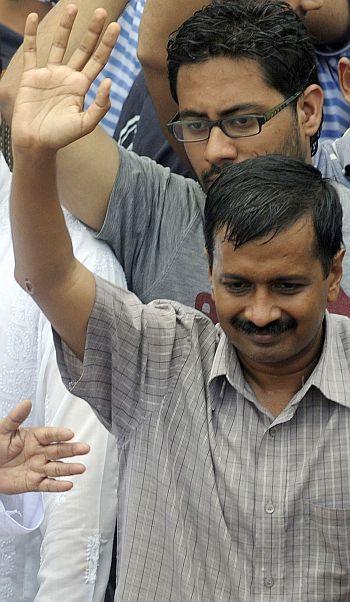 Slamming the central government over various scams, veteran social activist Anna Hazare's key aide Arvind Kejriwal has said that the Centre plays politics of power, corruption, and crime whereas they are fighting for truth, and honesty.
IN PIX: Israel, Hamas start prisoner exchange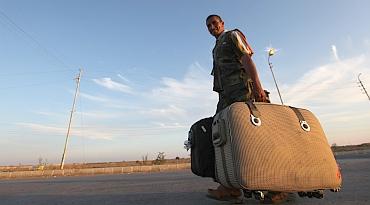 A prisoner exchange between Israel and Hamas began on Tuesday with the first of hundreds of Palestinian prisoners being released from jails as part of a landmark deal that will see captured soldier Gilad Shalit return home.
'Communication gap cause of protests at Koodankulam N-plant'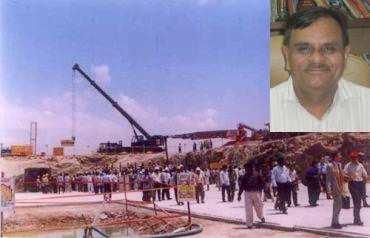 The Koodankulam Nuclear Power Project has been jinxed ever since it was thought of. It was first talked about in 1988 when the Soviet Union agreed to build a plant in India and also supply it fuel. The Soviet Union broke up soon after. Rediff.com's spoke with Swapnesh Kumar Malhotra.
Last 24 hours: Best PHOTOS from around the world
Presenting some of the most scintillating pictures from around the globe in the last 24 hours.
A warning system for devastating quakes, courtesy IIT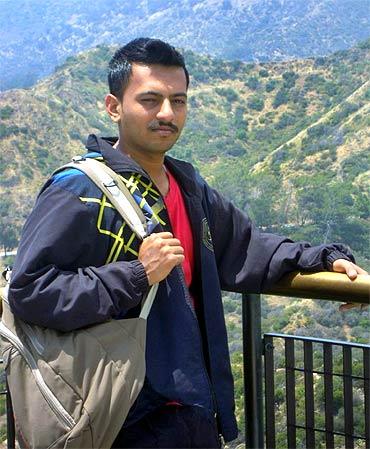 Two students of IIT Gandhinagar are working on an early warning system that will help minimise the damage of massive earthquakes, reports Prasanna D Zore
Hindutva terror: Justice still eludes riot victims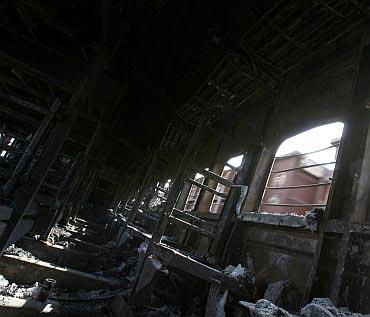 In the third and final part of the interview with rediff.com's , Subhash Gatade, author of Godse's Children -- Hindutva Terror In India, says that we should be wary of the majoritarian mindset which dominates what is known as civil society of our country.
October 17, 2011
Cong's condition to worsen if they don't learn from Hisar: Hazare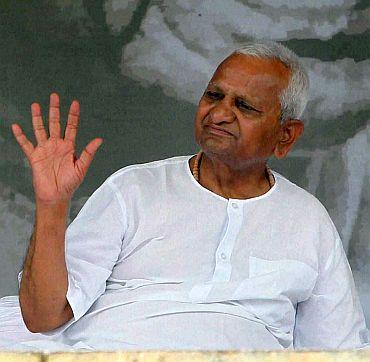 With the Congress pushed to a distant third in Hisar by-polls, Anna Hazare on Monday said the party should take cue from the result and ensure passage of Jan Lokpal Bill in winter session of Parliament or else he would personally campaign against it in upcoming Assembly elections.
'Modi is a common criminal, he should be treated like one'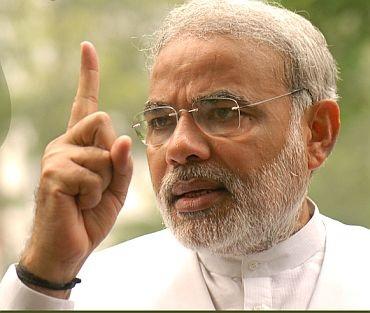 Suspended IPS officer Sanjiv Bhatt, who was released on bail on Monday, called Gujarat Chief Minister Narendra Modi "a common criminal" and said that he needed to be treated like one.
A behind the scenes look at Advani's rath yatra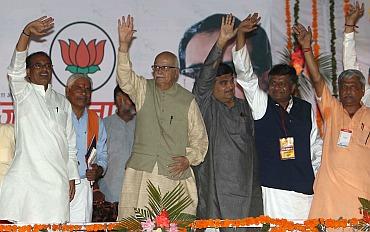 Beyond the public rallies and welcome sabhas, Bhartiya Janta Party's senior leader Lal Krishna Advani holds en-route to his sixth rath yatra which started on October 11, there is much preparation that goes on the backstage that misses the immediate attention, says .
Quetta a safe haven for Afghan Taliban: Report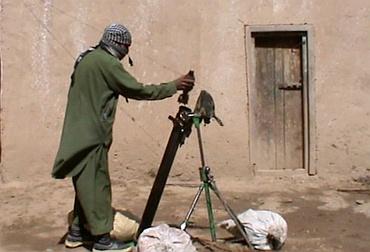 Afghan Taliban and their Pakistani sympathisers have turned the Kharotabad area in the
Manipuri team appeals to Hazare for help in lifting blockade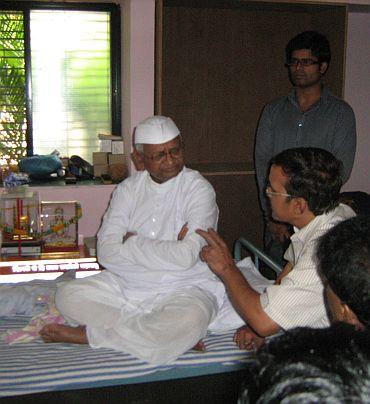 Following a Manipuri delegation's appeal Anna Hazare may involve himself in finding a solution to the state's problems, reports from Pune
Heavy US troop deployment near Pakistan border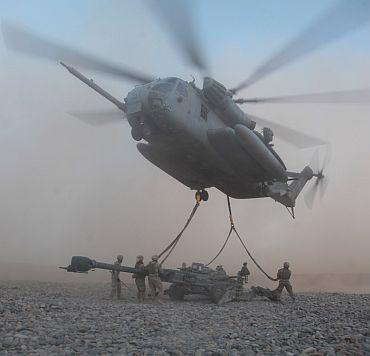 The United States has moved hundreds of new troops to the Afghan area bordering Pakistan's insurgent-infested North Waziristan tribal region along with heavy artillery, helicopter gunships and sealed movement on the border, local media reports in Islamabad said.
BJP combine wins Khadakwasla by-polls; NCP loses face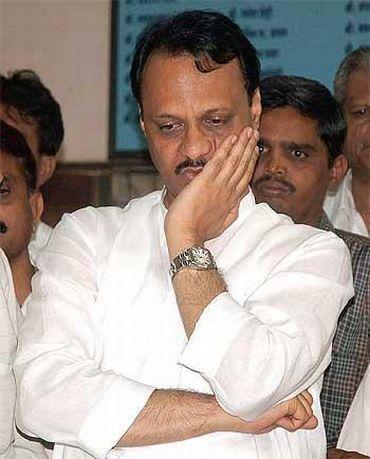 In a huge embarrassment to Maharashtra Deputy Chief Minister and Nationalist Congress Party leader Ajit Pawar, the United Progressive Alliance has lost the Khadakwasla assembly seat which had witnessed a by-election on October 13.
Bishnoi wins Hisar by-polls; Anna factor pulls down Cong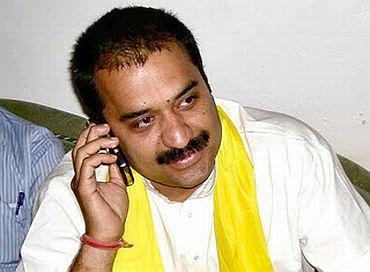 Haryana Janhit Congress-Bharatiya Janata Party alliance candidate Kuldeep Bishnoi won the Hisar by-poll by defeating nearest rival Ajay Chautala of Indian National Lok Dal by 23,617 votes.
Prisoner swap deal causes anguish in Israel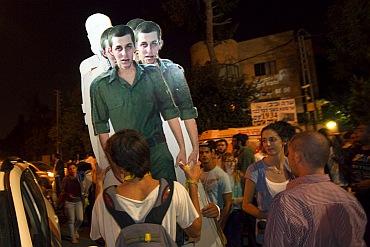 The relatives of Israelis killed in Palestinian attacks have reacted strongly against a prisoners swap deal with Hamas to win freedom for captive soldier Gilad Shalit, as the country's Supreme Court prepares to hear petitions on Monday, challenging the decision.
Last 24 hours: Best PHOTOS from around the world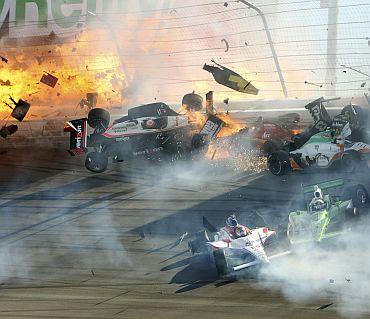 Presenting some of the most scintillating pictures from around the globe in the last 24 hours.
'Hindutva terror has had a long gestation period'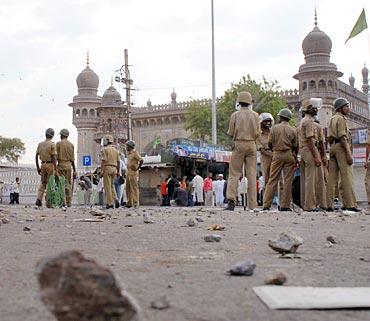 In the second part of the three-part interview with rediff.com's , Gatade says that only continuous vigil by people would ensure that the law of the land remains supreme.
BIG VIEW: Berlin's amazing festival of lights
Glimpses of one of the world's largest architectural lighting events
October 16, 2011
Prominent social activists join anti-AFSPA yatra from Srinagar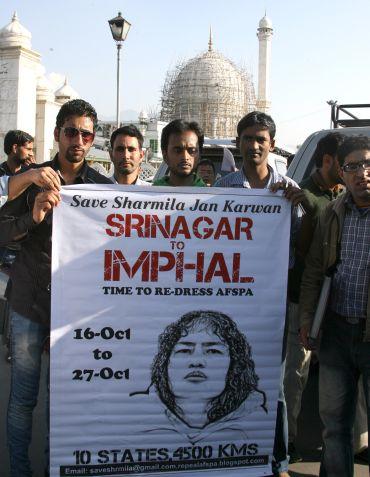 The anti-Armed Forces Special Powers Act (AFSPA) Srinagar-Imphal yatra took off from capital Srinagar on Sunday afternoon with prominent social activists in the lead.
Has K'taka ex-CM Yeddyurappa dashed BJPs south India dream?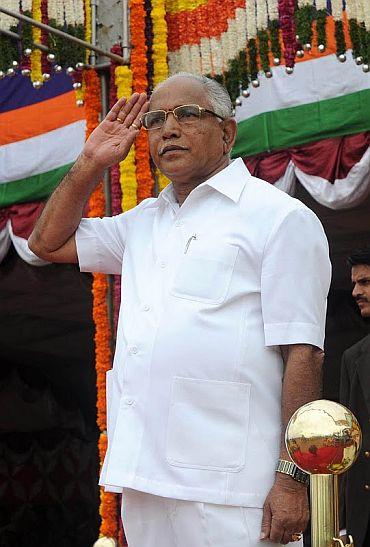 The arrest of former Karnataka Chief Minister, B S Yeddyurappa is an embarrassment and setback for the Bharatiya Janata Party, but the bigger issue is that the party's southern dream has been shattered, at least for now.
October 15, 2011
Operation Bhushan: Accused's family bears the brunt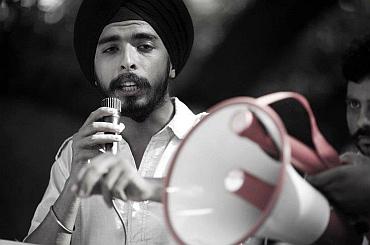 It has been a tough few days for families of the self-appointed moral brigade, which attacked Supreme Court lawyer and Team Anna member, Prashant Bhushan. reports.
If you want to beat us, you are welcome: Kejriwal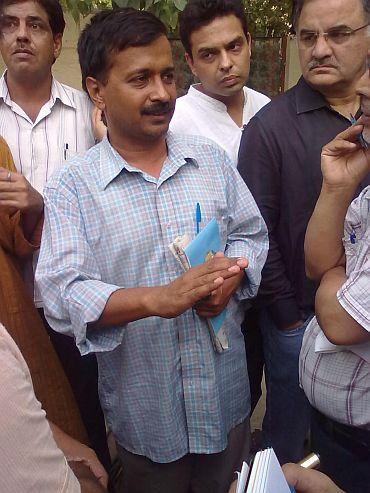 Asserting that violence can't be the solution to get rid of the rampant corruption prevailing in the country, veteran social activist Anna Hazare's key aide Arvind Kejriwal on Saturday said that he has been receiving messages about his office being attacked, and termed the whole episode to be a conspiracy against civil society activists.
Advani may join the race for PM's post if...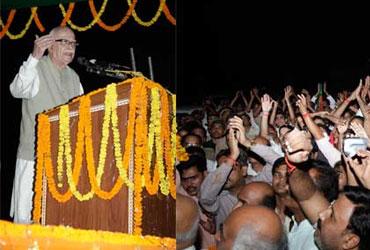 Keeping alive the issue of his prime ministerial ambitions, Bharatiya Janata Party leader L K Advani has said he would decide on it depending on his "health" and "capability" to contribute at the time of Lok Sabha polls.
Yeddyurappa ARRESTED, sent to judicial custody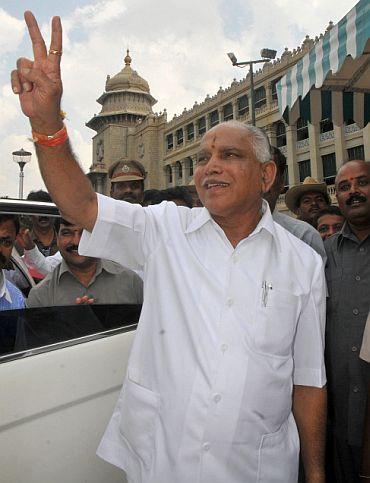 The Lokayukta court on Saturday issued an arrest warrant against former Karnataka chief minister B S Yeddyurappa. The court rejected his bail application in connection with a case of alleged irregularities in denotification of government land.
Why are Congress and Rahul mum on Omar's rule in Kashmir?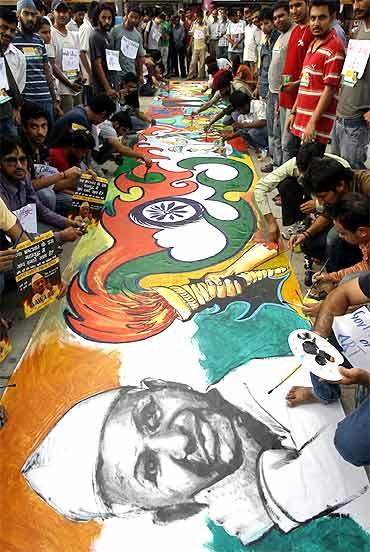 The people of Kashmir are strong enough to handle the National Conference. But what about the soul-searching Congress, asks Aditi Phadnis
US needs new allies in its hunt for terrorists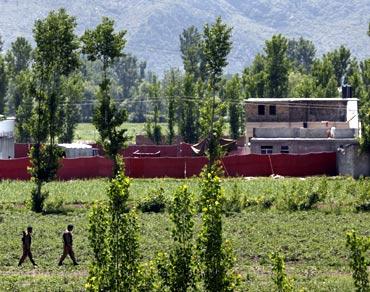 While continuing the drone strikes to keep the jihadi top guns running for cover, the US should also look for other Abbottabads strewn across Pakistan, says B Raman
Prashant Bhushan's bashing up and Ra One mania
Prashant Bhushan's bashing up and Ra One mania
October 14, 2011
Mayawati has squandered taxpayers' money on park: Digvijay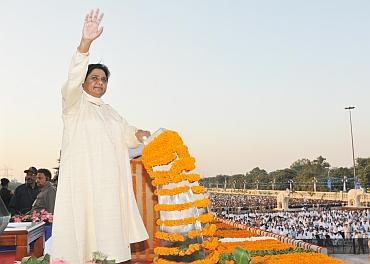 Hours after Mayawati inaugurated the Rs 685-crore memorial park in Noida, Congress General Secretary Digvijay Singh on Friday accused the Uttar Pradesh Chief Minister of squandering the hard earned money of the people of the country on the building of monuments, parks and her own statues.
Resign to force UPA govt to go: Yashwant tells NDA MPs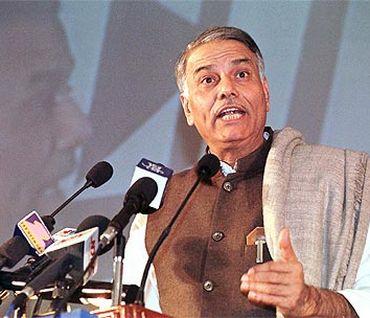 Declaring that the United Progressive Alliance government had lost the moral authority to continue, senior Bharatiya Janata Party leader Yashwant Singh said the only way the opposition could compel the government to quit was for the National Democratic Alliance MPs to resign en masse.
PIX: Mayawati's Rs 685-crore grand Dalit memorial in Noida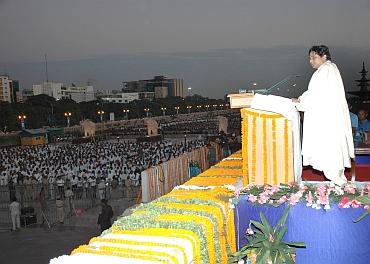 Under attack over the controversial Rs 685-crore Dalit memorial, Uttar Pradesh Chief Minister Mayawati on Friday hit out at Congress saying it had no right to criticise when it has raised so many memorials for the Nehru-Gandhi family across the Yamuna bank in Delhi.
I have built memorial for Dalit icons neglected by Cong: Mayawati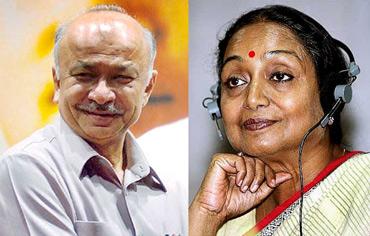 Accusing the Congress of playing gimmick after gimmick to woo dalits, Bahuijan Samaj Party supremo and Uttar Pradesh chief minister Mayawati on Friday predicted that the next game of the party would be to install a Dalit as the country's prime minister.
Activists nationwide unite to battle UPA's nuclear dreams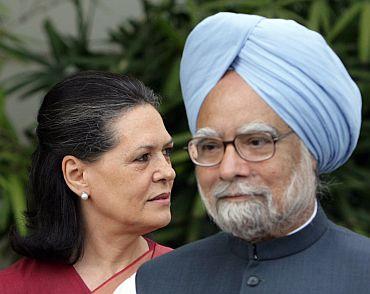 Activists, experts and scientists across the country have come together to challenge Prime Minister Manmohan Singh's dream project to double the nuclear energy-based power generation in the country, reports .
Hazare puts off anti-Cong yatra till end of winter session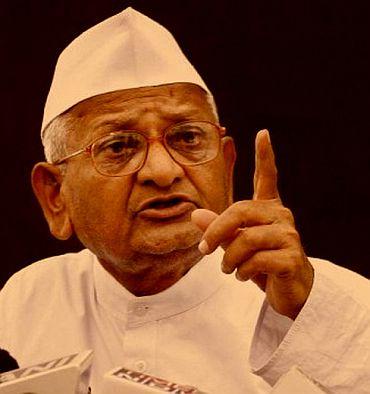 Anna Hazare has put off his planned yatra against the Congress demanding a strong Lokpal Bill and will now wait till the end of the winter session of
Ambala explosive seizure: Is the ISI reviving the K-2 project?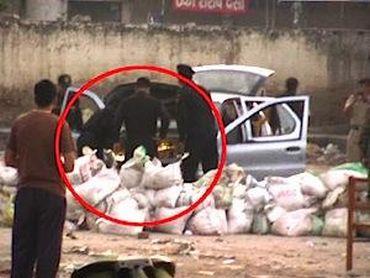 Investigators have said that the recovery of explosives from a vehicle in Ambala indicates that the Babbar Khalsa International is trying to make a comeback. But the organisation has had a longstanding relationship with Pakistan's Inter-Services Intelligence, says .
Bhushan paid price for his Kashmir comments: Thackeray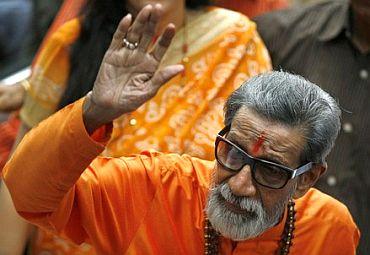 Shiv Sena chief Bal Thackeray on Friday virtually defended the attack on Team Anna member and lawyer Prashant Bhushan for his remarks on Kashmir advocating a plebiscite, saying he had paid the price for advocating Pakistan's cause.
The decade-old Babbar Khalsa-ISI love story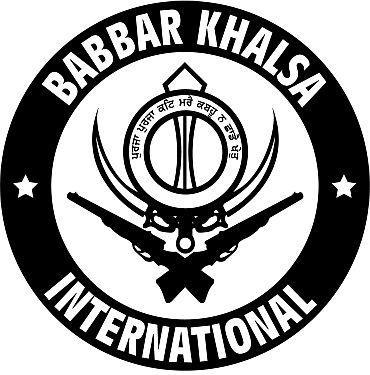 traces the origins of the bond between the Babbar Khalsa and Pakistan's Inter-Services Intelligence
'Maharashtra has enough force to tackle Naxal menace'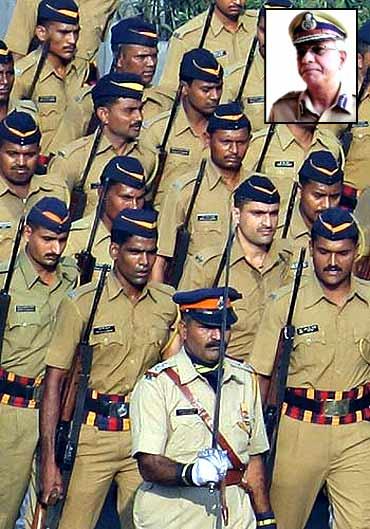 Indian Police Service officer of 1976 batch, K Subramaniam, recently took charge as the chief of Maharashtra police. He spoke with rediff.com's Toral Varia on his priorities and future course of action.
Hazare distances from Prashant Bhushan on Kashmir remark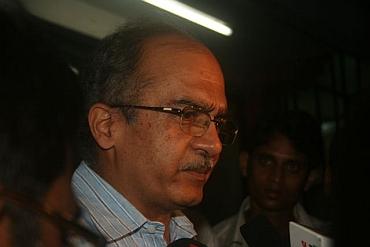 Social activist Anna Hazare on Friday distanced himself from senior lawyer and activist Prashant Bhushan on the issue of plebiscite in Jammu and Kashmir, saying it was not the team's stand and the lawyer-activist was airing his personal views.
Running after L K Advani is no easy task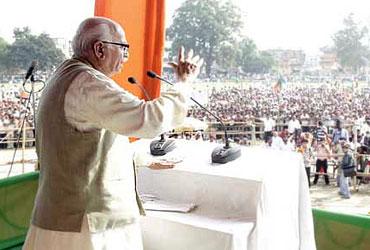 Keeping up with the 83-year-old BJP veteran and his yatra across India is a bit of a mad rush, says Priyanka
'Call it Hindutva terror, not Hindu terror'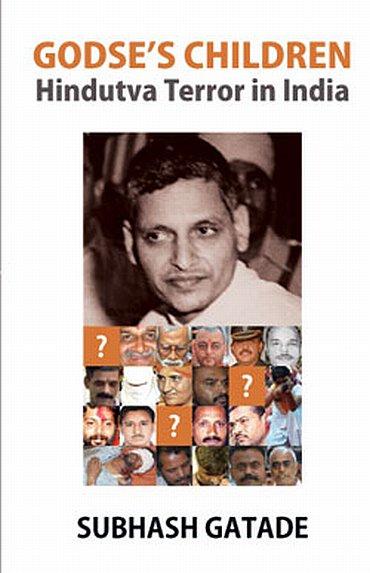 In this three-part interview with rediff.com, Gatade discusses why many cases remain unsolved and adds that the job of the investigating agency has been highly unsatisfactory.
I am a romantic, says Bhutan's newly-wed king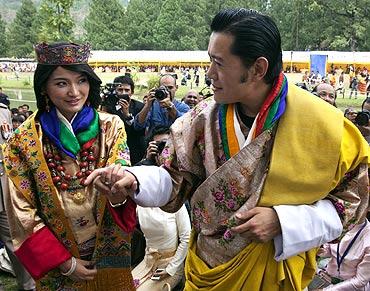 It was indeed a fairytale wedding. On Thursday, Bhutan's charming king Jigme Khesar Namgyal Wangchuck tied the knot with a commoner Jetsun Pema, making it one of the most talked about royal weddings in south Asia. Neeraj Chowdhury recalls her rendezvous with the monarch last year where he spoke his heart out about his plans after marriage, his beloved Bhutan, his love for India and more.
October 13, 2011
'Call it Hindutva terror, not Hindu terror'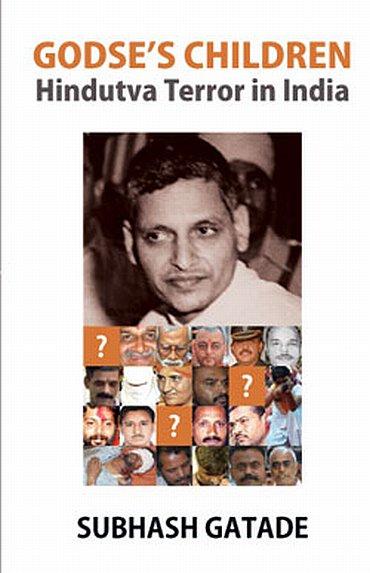 In this three-part interview with rediff.com, Gatade discusses why many cases remain unsolved and adds that the job of the investigating agency has been highly unsatisfactory.
Digvijay should have his glasses changed: Anna Hazare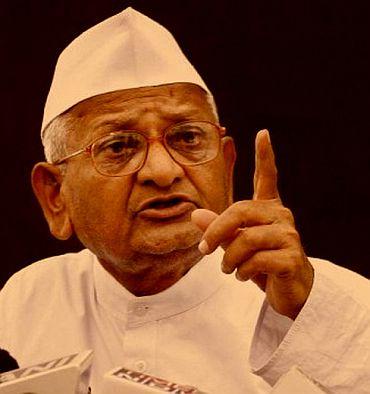 Anna Hazare has hit back at Congress leader Digvijay Singh saying the charge of Rashtriya Swayamsevak Sangh support to his anti-corruption campaign was an attempt to defame him and ruled out joining politics or becoming a Presidential candidate.
Yatra not meant for repackaging me: Advani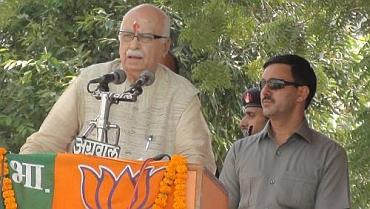 Amid speculation over Bharatiya Janata Party's prime ministerial candidate, L K Advani on Thursday said that his yatra was not aimed at "repackaging" himself.
Ambala explosive seizure: Lashkar-Babbar Khalsa nexus at play?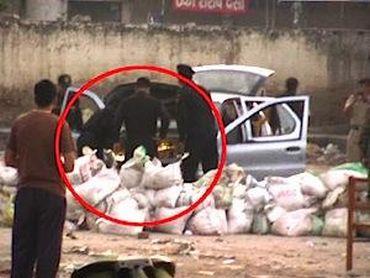 The seizure of a car laden with explosives at Ambala on Wednesday evening has had Intelligence agencies and the police department on its toes.
Iran's space monkey won't make it into space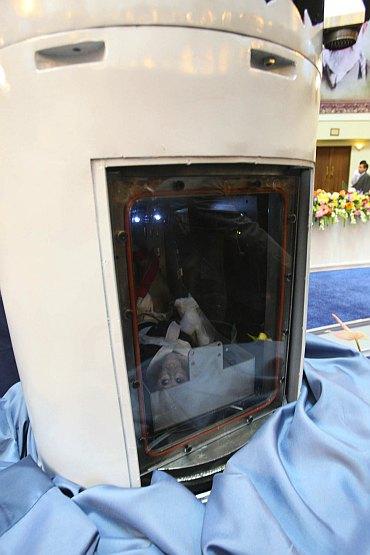 Iran has acknowledged that its attempt to send a live monkey into space has turned out to be a failure.
PICS: Angelina Jolie visits Libya to help aid agencies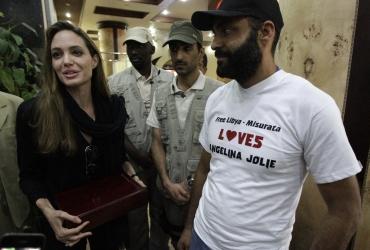 Hollywood superstar Angelina Jolie has flown down to Libya to help aid agencies bring in supplies to the country.
IMAGES: Bhutan's prince charming gets hitched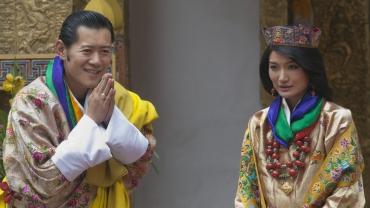 Bhutan's much-publicised royal wedding that will see King Jigme Khesar Namgyel Wangchuck tying the nuptial knot with his childhood sweetheart Jetsun Pema began on Thursday morning amid chanting of hymns by Buddhist monks in the historical city of Punakha.
Once he chose weapons, today he just wants peace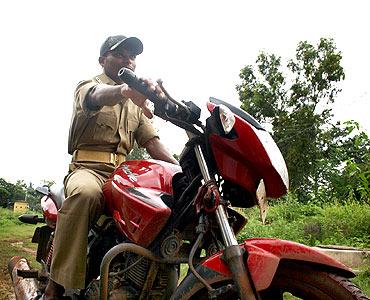 As a Naxal area commander in the violence-hit Keonjhar district in Odisha, Udam Sundhi once aimed to overthrow the Indian government. Today, as a home guard, he tries to preserve law and order in the very same area he once terrorised. Rediff.com's Toral Varia and Photographer Reuben N V bring you the fascinating story of this former Left-wing ultra.
In PHOTOS: PSLV, India's trusted satellite launcher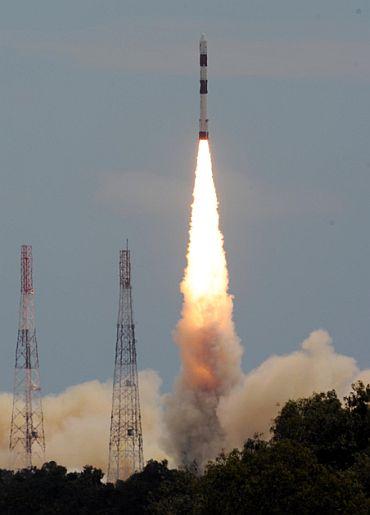 The placing of four satellites into orbit on October 12, 2011 is yet another milestone in the glorious career of Indian Space Research Organisation's trusted Polar Satellite Launch Vehicle.
Why Hazare's Hisar ploy is deliberately misunderstood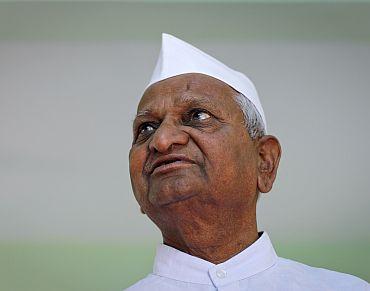 We don't know what kind of a beast the Lokpal Bill would turn out to be. Nor, for that matter, what shape it would take when processed by Parliament. It could well be constitutional, perhaps even draconian. It could even be useful to curb the widespread corruption that runs deep. The anti-corruption law is into the future. Whatever it turns out to be, we need to thank Anna Hazare for it.
What's the use of PM's honesty, asks Advani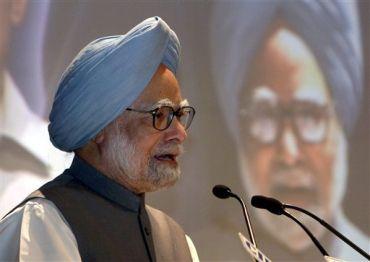 As Bharatiya Janata Party leader L K Advanis 'yatra' reached the UP-Bihar border, he launched a sharp attack on Prime Minister Manmohan Singh alleging he is presiding over the "worst and most corrupt government of independent India".
October 12, 2011
'Kashmir interlocutors wasted one year, achieved nothing'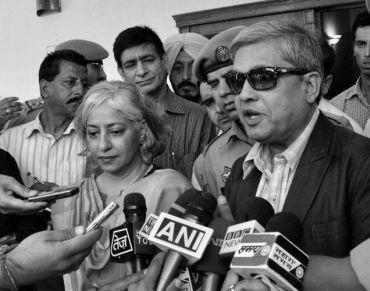 Separatists and mainstream Peoples Democratic Party have been dismissive of the report submitted by Kashmir interlocutors to Union Home Minister P Chidambaram Wednesday.
Sene's 'Operation Prashant Bhusan' planned days earlier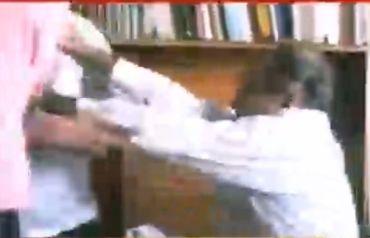 Supreme Court lawyer and Team Anna member Prashant Bhushan was attacked on Wednesday evening for his remarks on Kashmir. Police have identified two right-wing groups behind the incident.
India has enough safeguards to keep away sham US colleges: Sibal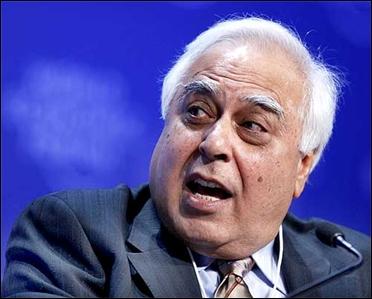 Kapil Sibal, minister of human resources and development, said that US institutions that wish to come to India should be accredited institutions and should have been in the business for 20 years. reports.
Digvijay sends another letter to Hazare, raises RSS issue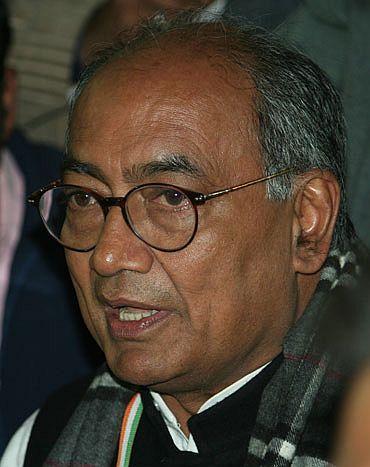 Shooting off another letter to Anna Hazare on the eve of Hisar bypoll, Digvijay Singh, who is leading Congress' counter-attack, on Wednesday, raised the issue of
If true, Khurshid's comments are disturbing: SC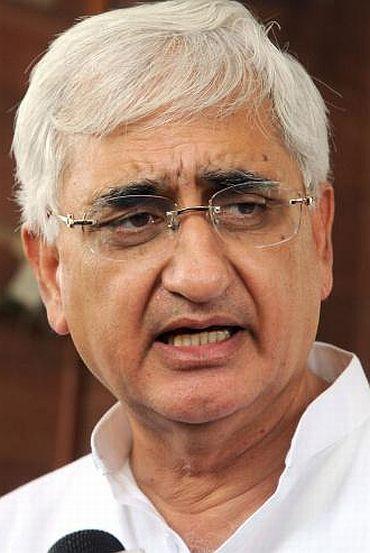 The Supreme Court on Wednesday took exception to Union Law Minister Salman Khurshid's reported statement that putting businessmen behind bars will hamper investments in the country, saying if true it is "disturbing".
Shivani Bhatnagar case: Ex-Haryana top cop RK Sharma acquitted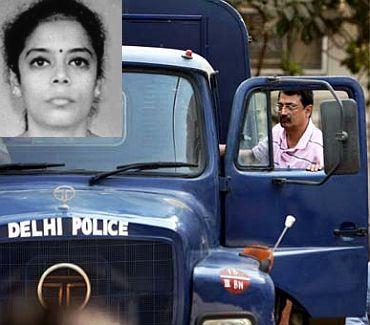 The Delhi High Court on Wednesday on appeals by former senior police officer R K Sharma and three others challenging their conviction and life sentence for having killed journalist Shivani Bhatnagar over a decade ago.
The way UPA govt is running, elections could happen soon: Advani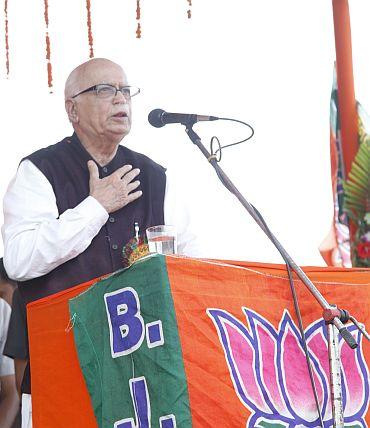 Senior Bharatiya Janata Party leader L K Advani on Wednesday said there was all possibility of the National Democratic Allaince getting a chance to form the next government at the Centre, but remained non-committal on whether he was still in the race for prime ministership.
PSLV-C18 successfully sends 4 satellites to orbit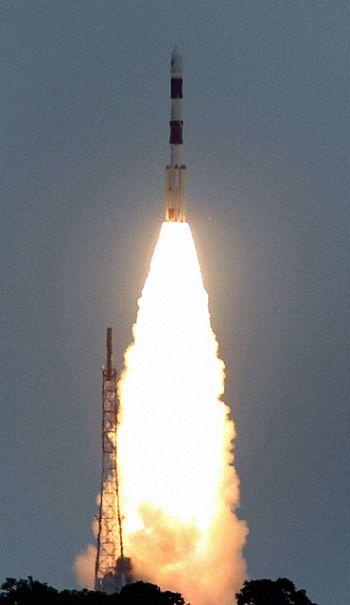 India's Polar Satellite Launch Vehicle on Wednesday successfully sent into orbit four satellites, including the Indo-French tropical weather satellite Megha-Tropiques.
Can China and Pakistan launch a Kargil-like foray?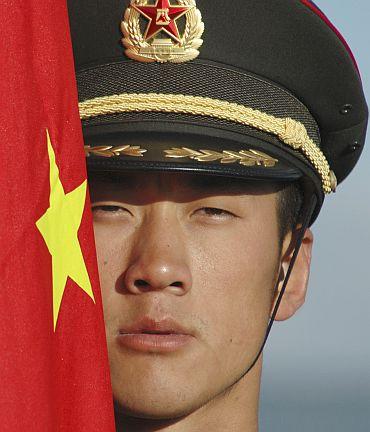 Army chief General V K Singh has spoken recently of Chinese troops in Pakistan occupied Kashmir. The impending American withdrawal from Afghanistan and the US-Pakistan divorce has the potential to destabilise the region. China may become more assertive in South Asia, feels Colonel Anil Athale (retd).
AMAZING PHOTOS! Gaddafi's last bastion set to fall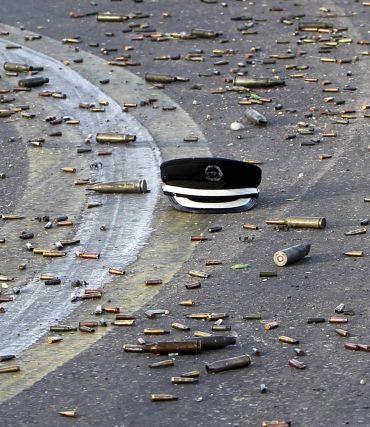 Rediff.com presents some amazing images of the battle for Sirte.
View: Rajiv Gandhi's killers deserve to die. Hang them!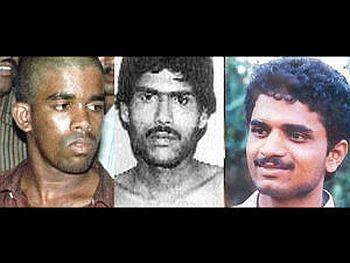 India is already perceived to be a soft State by terrorists. Let us not confirm that fact, fumes A Ganesh Nadar
Telangana stir: Cases booked against KCR; rail roko postponed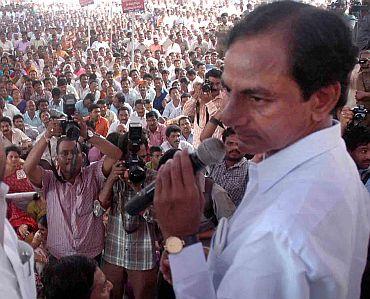 Even as the top leadership of the Congress party in New Delhi was busy in confabulations to find a way out of the mess in Telangana region of Andhra Pradesh, its state government seems to be inching for a confrontation with the agitators.
October 11, 2011
Govt committed to a strong Lokpal, PM writes to Hazare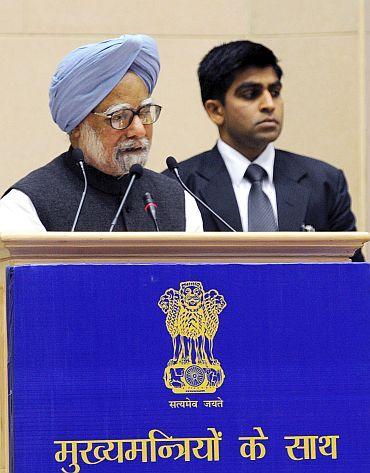 Declaring government's commitment to a strong Lokpal, Prime Minister Manmohan Singh on Tuesday said Anna Hazare's demand for 'right to reject' provision in electoral law needs political consensus.
INSIDE STORY: What unfolded during Lokpal meetings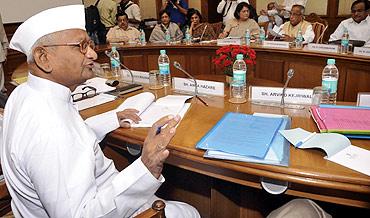 Yet another instance of the sharp divisions between Union ministers and Team Anna members came to surface when they discussed structure and powers of the proposed Lokpal during their meetings.
Why are you soft on BJP, Digvijay asks Hazare
With Team Anna campaigning against his party in Hisar bypoll, Congress leader Digvijay Singh on Tuesday questioned Anna Hazare on why he was not attacking the Bharatiya Janata Party and cautioned him against "lofty promises" by that party of making him a presidential candidate.
'We will fight tooth and nail to keep Andhra Pradesh united'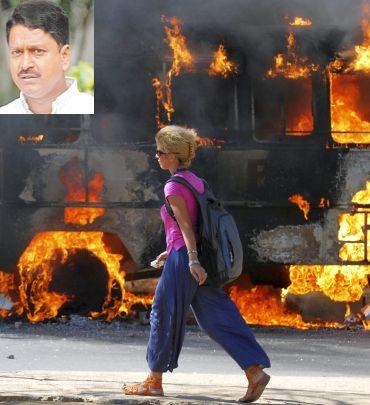 In an interview with rediff.com's , Keshav explains his stand on the issue and says that the best way to solve the problem is to educate the people of Telangana about the benefits they would have if they remained in Andhra Pradesh.
READ: Narendra Modi's open letter on Advani's yatra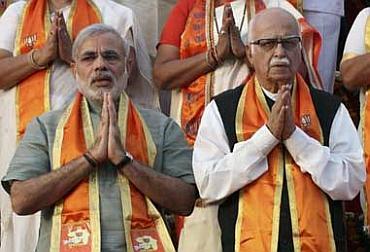 Here's the full text of an open letter penned by Gujarat Chief Minister Narendra Modi supporting Bharatiya Janata Party patriarch L K Advani's 38-day Jan Chetna Yatra, which commenced on Tuesday.
Kashmir is NOT an integral part of India: Pakistan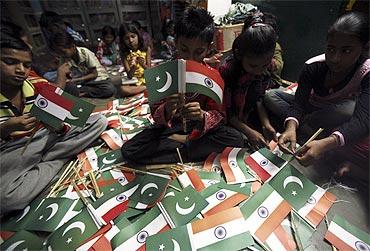 In provocative comments, Pakistan on Tuesday claimed that Jammu and Kashmir has never been an "integral part" of India and sought a United Nations-led plebiscite to determine the will of the Kashmiri people, evoking an angry rebuttal by India which termed the remarks as "unwarranted".
IMAGES: This oasis of peace may soon be wiped out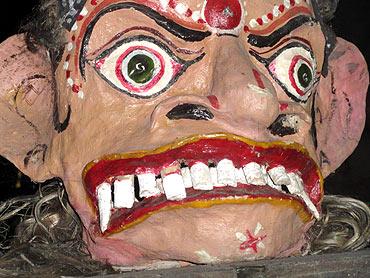 In a serene river island, K Anurag spends some time amidst the spiritual bliss of ancient monasteries
Why Delhi blast probe is at a dead end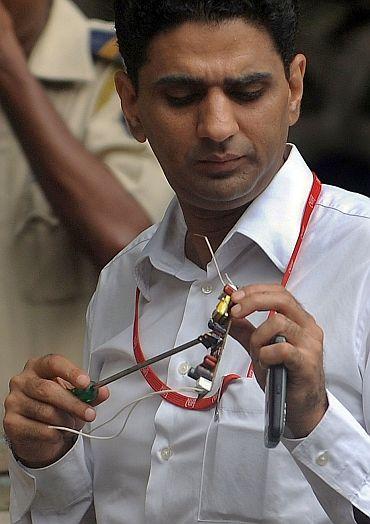 Rediff.com's finds out why over a month after the blast near the Delhi High Court, investigators have not yet been able to pinpoint the terror outfit that carried out the operation.
Why Maoist cadres in Odisha are laying down their arms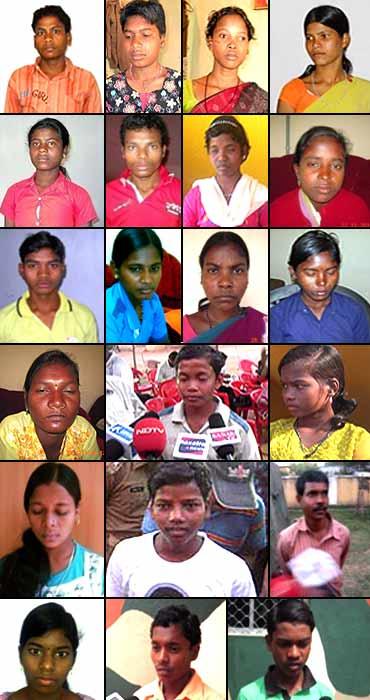 Toral Varia and photographer Reuben Verghese, who travelled to the Naxal-infested Keonjhar district of Orissa, return with tales of discrimination, disillusionment and daring escapes
Govt's failure responsible for spread of Naxalism: Jairam Ramesh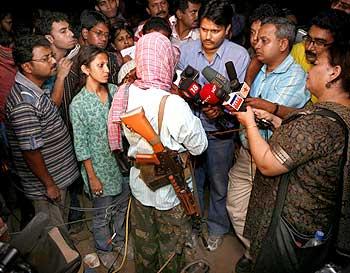 Speaking at the Sardar Patel memorial lecture organised by Prasar Bharati, Union Minister Jairam Ramesh said India's left-wing extremism can be solved only if India's polity can rise above partisan political considerations and set aside old Centre versus state arguments to work concertedly to restore people's faith in the administration.
Advani sets off on 7600 km Jan Chetna Yatra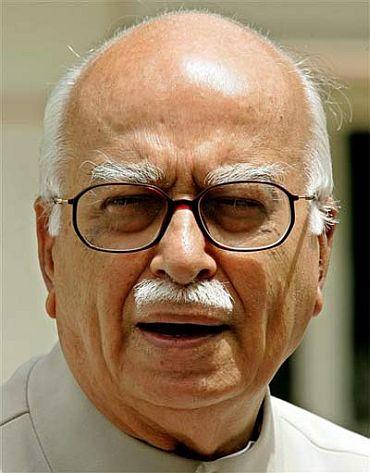 Senior Bharatiya Janata Party leader L K Advani on Tuesday began his 38-day Jan Chetna Yatra from Sitabdiara in Bihar to take on the United Progressive Alliance government on the corruption issue and press for return of black money stashed away abroad.
I acted like a robot, was brainwashed: Kasab tells SC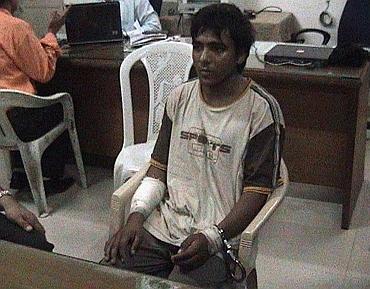 Pakistani terrorist Ajmal Kasab facing death penalty for the 2008 Mumbai terror attack claimed in the Supreme Court he was brainwashed like a "robot" into committing the heinous crime in the name of "God" and that he does not deserve capital punishment owing to his young age.
Aruna's dig at Hazare: 'None should overrule Parliament'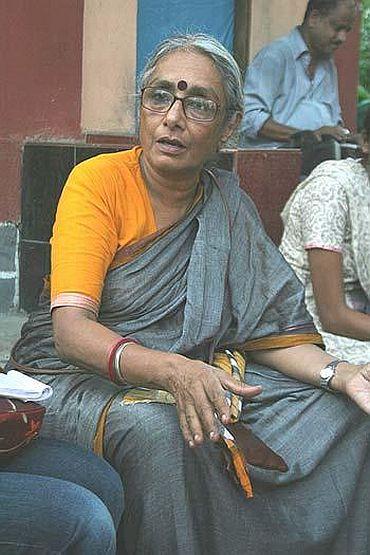 In an apparent dig at Anna Hazare's campaign for Jan Lokpal Bill, National Advisory Council member Aruna Roy on Monday said one has the right to dissent in a democracy but not to overrule the functioning of Parliament and its multifarious structures.
Has Chidambaram been pushed to the wall in 2G case?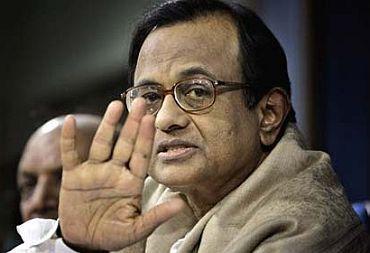 The Supreme Court on Monday reserved its order on the plea of Janata Party chief Subramanian Swamy and lawyer Prashant Bhushan's request to probe the alleged role of Home Minister P Chidambaram in the 2G scam. The plea of Swamy was countered by senior advocates of government and the Central Bureau of Investigation, both before a bench of justices GS Singhvi and AK Ganguly.
October 10, 2011
Tapes of Lokpal meetings reveal Team Anna-govt clashes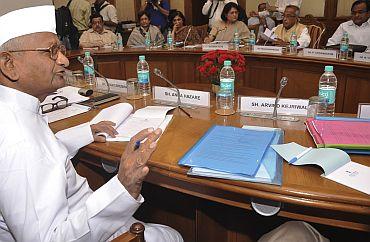 Government on Monday released audio tapes of proceedings of the joint drafting committee meetings on Lokpal Bill that brings out sharp differences that had always marked the relationship between Team Anna and Union ministers on issues like inclusion of prime minister and the judiciary under its ambit.
Modi rubbishes reports of rift; hails Advani's yatra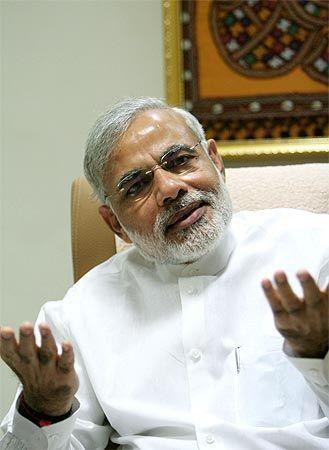 Setting at rest speculation over a rift with senior Bharatiya Janata Party leader L K Advani, Gujarat Chief Minister Narendra Modi on Monday said all such reports were "extremely unfortunate and condemnable" and praised his forthcoming yatra against corruption and black money.
SC reserves order on Chidambaram in 2G case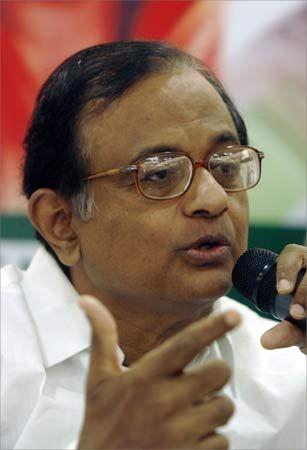 The Supreme Court on Monday reserved its order on the plea for a probe into the alleged role of Home Minister P Chidambaram in the 2G scam after a spirited defence of him from government and the Central Bureau of Investigation, both of which maintained that no case has been made out against him.
Not doing vote bank politics, but politics for people: Team Anna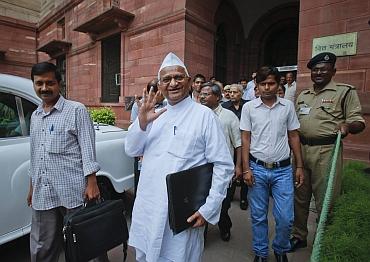 Hitting back at Digvijay Singh, Team Anna on Monday asserted that their movement had nothing to do with any political party even as the Congress leader fired another salvo, saying Anna Hazare was being "led up the garden path" by people opposed to weaker sections.
PIX: ANOTHER suicide drama for Telangana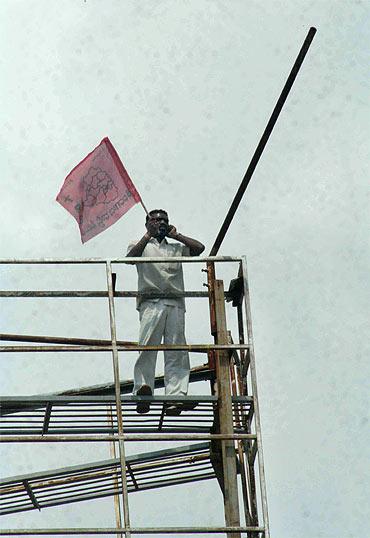 Vishnu, an activist of the Telangana Rashtra Samiti, on Monday threatened to commit suicide, demanding the creation of a separate state.
RSS chief vows to fight corruption, skirts Hindutva talks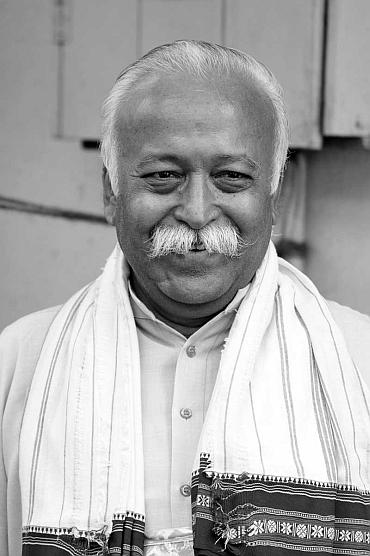 Rashtriya Swayamsewak Sangh chief Mohan Bhagwat took everyone by surprise when he opened a seven-day national convention of the organisation in Gorakhpur with all focus on corruption. Interestingly, he steered clear of the traditional Hindutva-related issues.
'The people of Telangana will rise and seek self-rule'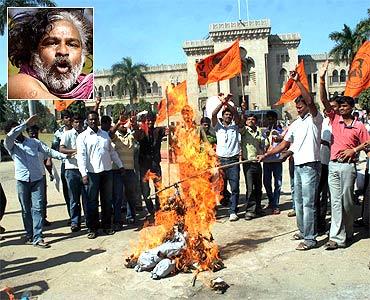 In an interview with rediff.com's Vicky Nanjappa, Gaddar says that the Centre's delaying tactics proved that it was not serious about resolving the Telangana row.
Supreme Court stays Ajmal Kasab's death sentence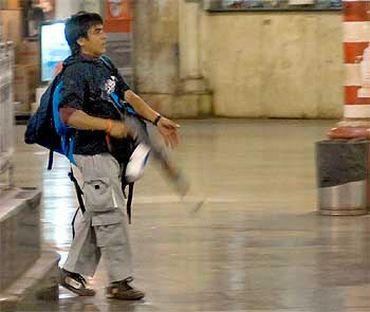 The Supreme Court on Monday stayed the execution of Pakistani terrorist Ajmal Amir Kasab.
Anna Hazare's anti-Congress stance incorrect: Justice Hegde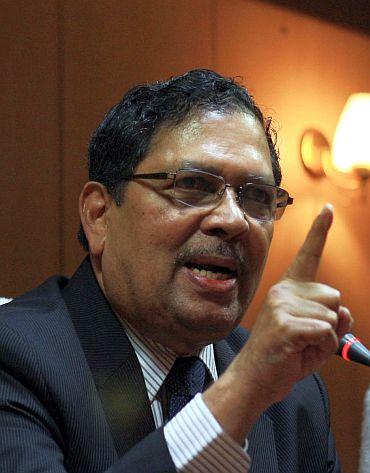 Speaking to PTI in Bengaluru, the former Supreme Court judge said every political party has "good and honest people" and targeting an outfit as a whole is not correct. He said he is opposed to such an idea (campaigning against a party).
Is Advani out of the race for PM's post? Not yet!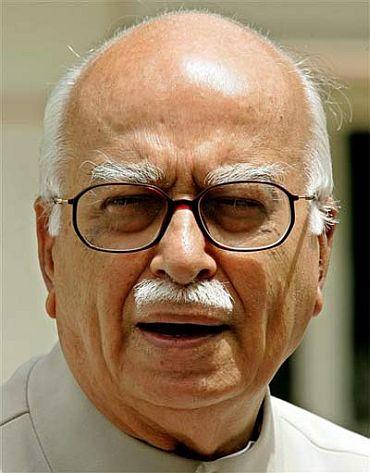 Senior leader L K Advani on Monday kept alive the suspense over his intentions of becoming the Bharatiya Janata Party's prime ministerial candidate in the next elections, saying a decision will be taken by the party when the time comes.
'We are not ready to call Hyderabad a Union Territory'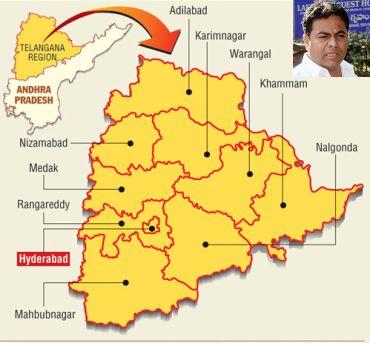 In an interview to rediff.com's , K T Rama Rao speaks about the ongoing agitation and on possibility of shaking hands with the Congress once Telangana is formed.
'Force is today the ultimate sanction in international society'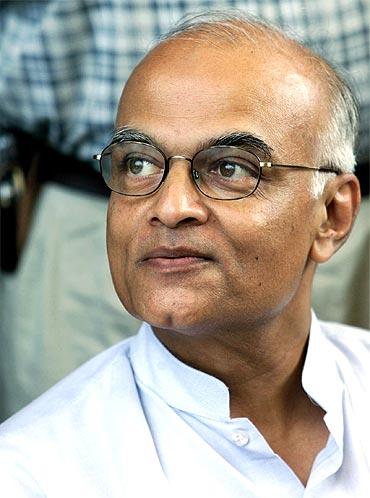 Speaking at the Cariappa memorial lecture on 'The role of militaries in international relations', National Security Advisor Shiv Shankar Menon said that force was an inescapable factor in international relations, whether through its actual use or in the threat of its use.
REWIND: The best PHOTOS in the last 48 hours
Here are some of the most breathtaking images from across the globe in the last 48 hours
RTI activist asked to pay Rs 450 for Jan Lokpal bill tapes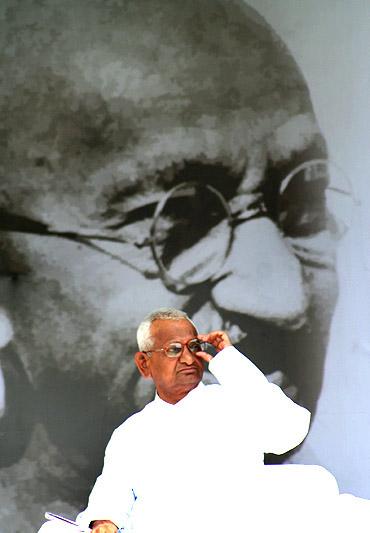 Social activist and close aide of Anna Hazare, Prashant Bhushan, said that the move would help their cause and will let people know the truth.
On TEST in December: 5000 km-range Agni-5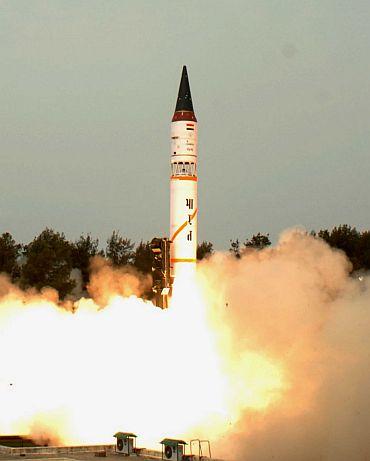 After three successful ballistic missile tests during the last fortnight, the Defence Research and Development Organisation is finalising preparations for the big one.
October 09, 2011
If PM is so helpless, he should go on pilgrimage: Gadkari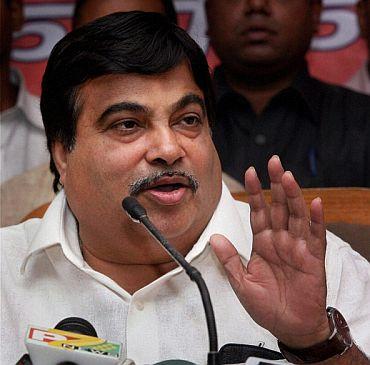 Prime Minister Manmohan Singh should go on a pilgrimage if he was helpless in checking corruption, Bharatiya Janata Party president Nitin Gadkari said on Sunday.
London's Big Ben is leaning!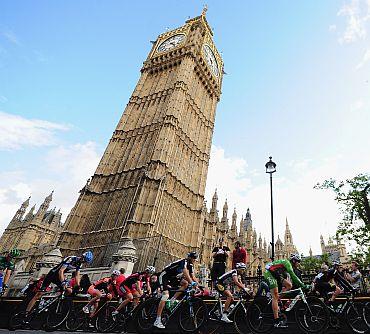 The Big Ben, the clock tower of the Palace of Westminster in London, is leaning and its tilt is now visible to the naked eye, engineers have claimed.
Hazare, like every citizen, is above Parliament: Kejriwal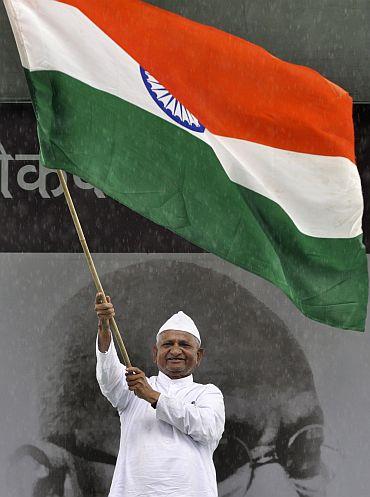 Team Anna member Arvind Kejriwal has said that Anna Hazare is above Parliament and he has the right to do so as a citizen.
October 08, 2011
Will BJP and Gadkari thwart Modi's bid for PM post?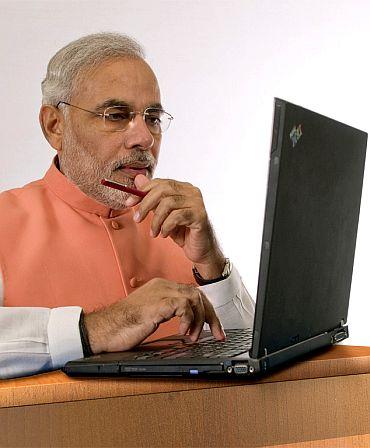 Gujarat Chief Minister Narendra Modi's reported ambition to become the Bharatiya Janata Party's prime ministerial candidate in 2014 may remain unfulfilled.
'If you defeat the Congress, it will be a victory for Anna'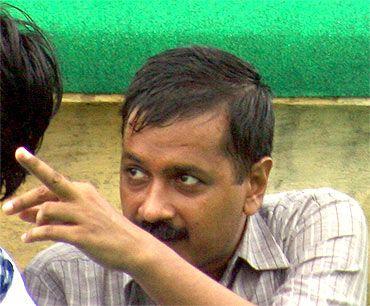 Team Anna on Saturday launched a blistering attack on the Congress ahead of the October 13 Lok Sabha by-poll in Hisar, Haryana, asking voters to inflict a "historic" defeat on the party for not getting the Jan Lokpal Bill passed.
NO solution to Telangana crisis, government in a fix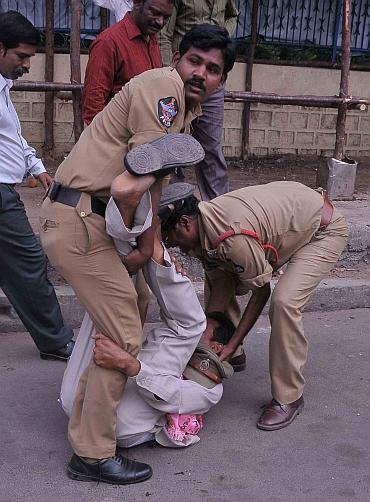 On Saturday, Telangana was the buzzword in New Delhi with Andhra Pradesh Chief Minister Kiran Kumar Reddy and Governor ESL Narasimhan flocking to the capital. But after a series of meetings held with Prime Minister Manmohan Singh, Finance Minister Pranab Mukherjee and Home Minister P Chidamabram, a conclusive decision still eludes the issue.
Telangana crisis: Option of President's rule being looked at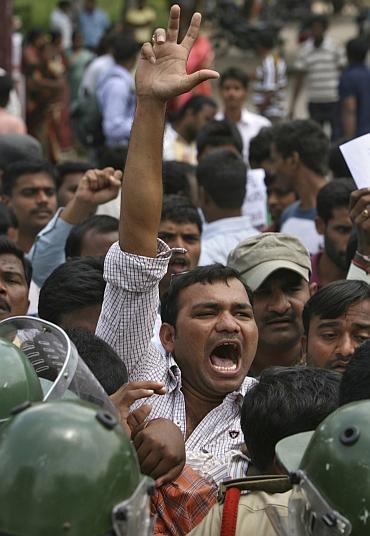 With the situation in Telangana going out of control, the Centre is left with only two options -- impose President's rule or appoint a new chief minister from Telangana region to replace Kiran Kumar Reddy. Vicky Nanjappa reports
Akshay, John dare to bare!
Catch up on the hottest videos of the week.
Congress revival: Challenges before Sonia Gandhi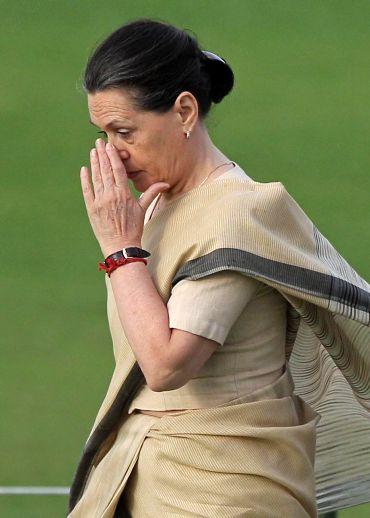 Given the challenges that confront the Congress today, Sonia Gandhi will have to fashion a new base for the party around a new political axis, and new themes, which catch the attention of its potential constituents, writes
October 07, 2011
IMAGES: Meet the winners of Nobel Peace Prize 2011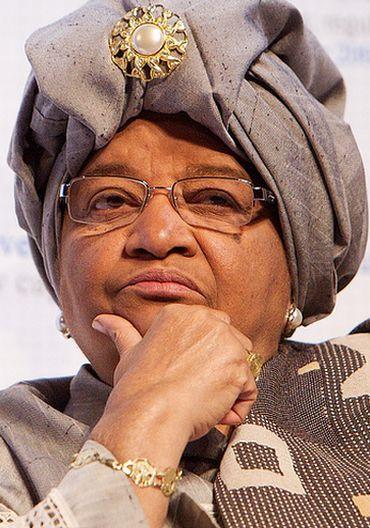 It's a historical day indeed! The Norwegian Nobel Committee on Friday announced that the Nobel Peace Prize 2011 would be equally divided by three influential women: Liberia President Ellen Johnson Sirleaf, Liberian activist Leymah Gbowee and Yemeni politician and activist Tawakul Karman.
Modi completes 10th anniversary; Gujarat approves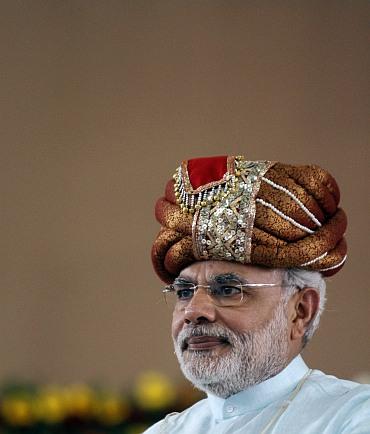 Residents of Vadnagar, the native village of Gujarat Chief Minister Narendra Modi, on Friday congratulated him as he completed a decade in office.
Afghanistan: A PHOTOGRAPHER returns 10 years later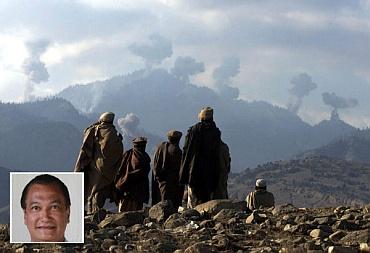 They say there is no place to hide for a photojournalist in Afghanistan. Though seen as a chance of a lifetime, few dare venture in the war-torn country. One such journalist who saw war first hand is Reuters' Eric De Castro, who was a part of a three-member team that went to Afghanistan, following the 9/11 attacks.
In PHOTOS: Around the world in the last 24 hours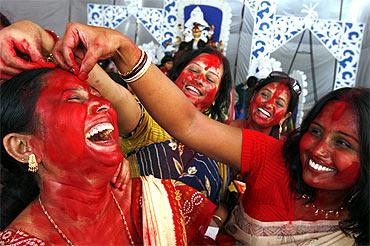 Here are some of the most breathtaking images from across the globe in the last 24 hours
Afghanistan war: A decade in PHOTOS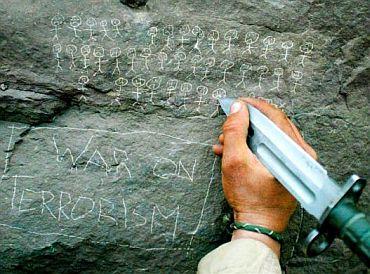 Let's see some glimpses of the Afghan war over the decade in PHOTOS.
Advani's rath yatra: 38 days, 46 places, 14 flights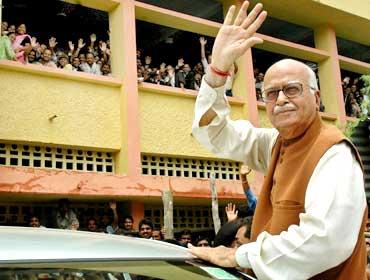 The name rath yatra may give you the impression that L K Advani is going to undertake an all-land march. Until you learn about the list of flights the Bharatiya Janata Party veteran would use as part of his nation-wide trip against corruption starting next week.
Pakistan still considers India its mortal enemy: Obama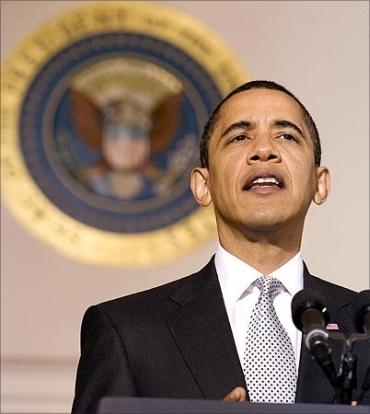 United States President Barack Obama on Thursday evaded a question about whether he would be willing to cut off all assistance to Pakistan in the wake of allegations by recently retired chairman of the Joint Chiefs of Staff Admiral Mike Mullen that the Haqqani network is a veritable arm of Pakistan's Inter Services Intelligence.
Will anti-Modi cop Sanjeev Bhatt get bail today?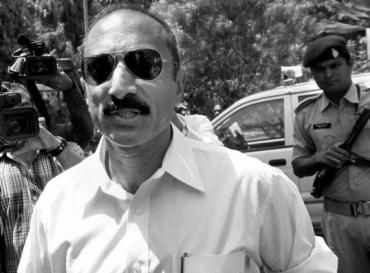 In a setback to the Gujarat government, a local court on Wednesday rejected its application opposing bail to arrested Indian Police Service officer Sanjeev Bhatt and began hearing his bail plea even as his remand application is pending in another court.
PHOTOS: It's an odd, crazy world out there!
We bring you a collection of some of the odd moments from around the world in recent days.
Do not pick a fight with me: Bal Thackeray warns Hazare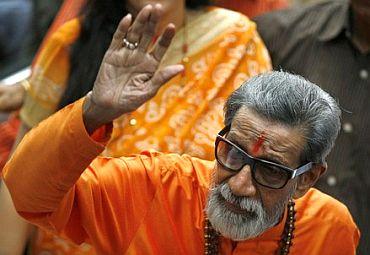 Shiv Sena leader Bal Thackeray was locked in a war of words on Friday with social activist Anna Hazare who was warned not to indulge in 'enmity' and pick up a fight after the Gandhian mocked Shiv Sena chief's old age.
Activists set to cut Telangana off from India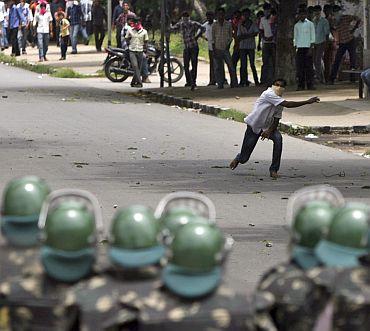 With the stir reaching Day 25 without a solution and amounting to a loss of over Rs 14,000 crore, there seems to be no end to the Telangana agitation, reports .
'PLA wanted to join hands with Maoists and JK terrorists'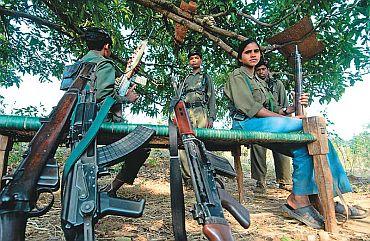 The outlawed People's Liberation Army intends to form a 'Strong United Front' against Indian government along with Maoists and JK-based terror outfits, the Delhi police on Friday claimed after arresting two "high-ranking" militants of the Manipur-based organisation.
October 06, 2011
IN PICS: GRAND Dussehra celebrations in Mysore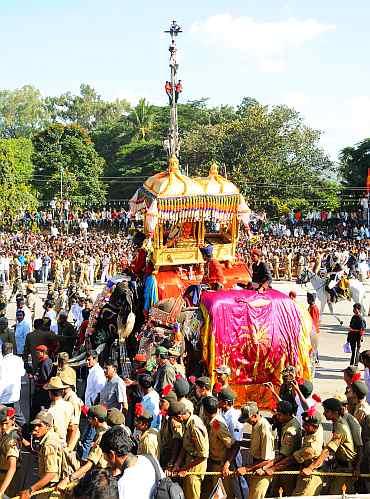 Thousands descended upon the heritage city of Mysore, 120 kilometres away from Bengaluru on Thursday, to witness the grand finale of the Dussehra celebrations.
October 05, 2011
Goa CM Kamat involved in illegal mining? Oppn thinks so!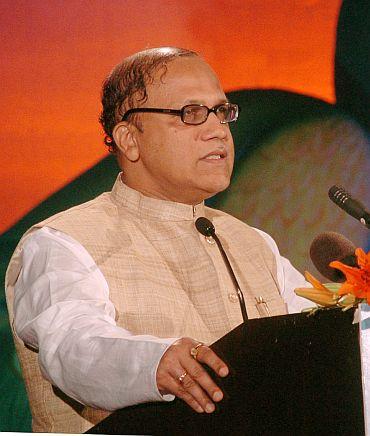 Goa Leader of Opposition Manohar Parrikar on Wednesday told the state legislative assembly that it can be 'inferred' that Chief Minister Digambar Kamat might have been involved in illegal mining activities.
IMAGES: Hazare and Hanuman add zing to Durga Puja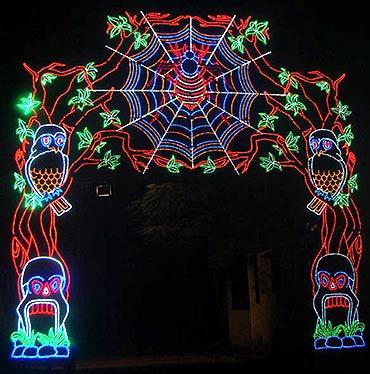 The dizzying inflation has failed to dampen the spirit of the Durga Puja festivities in Assam. In capital Guwahati, puja organisers have outdone themselves and their efforts are visible in the opulent and colourful puja pandals across the city.
One can't deny that Cong is thick-skinned, says Hazare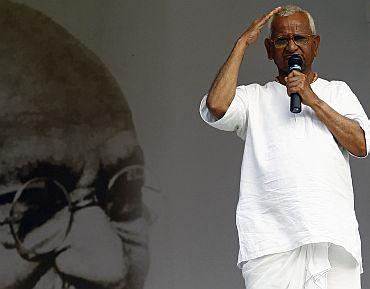 Anti-corruption crusader Anna Hazare feels there is no 'ideological confusion' in his anti-Congress posture and the appeal to elect 'good people' from all parties.
Telangana agitation heading for disaster?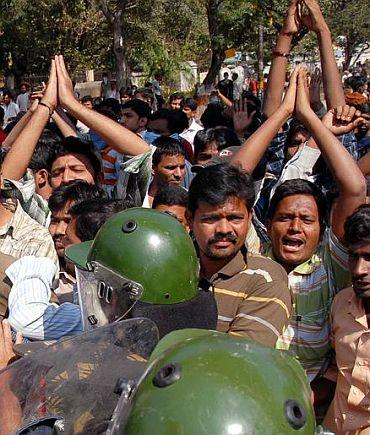 The Andhra Pradesh Intelligence Bureau states that there are specific inputs that a section of the students are planning large-scale violence and there is a level of frustration that has crept in.
Karzai calls Pak its twin brother and India a great friend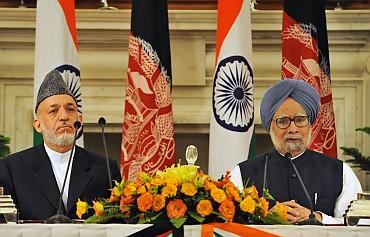 Pakistan is a "twin brother" and India a "great friend", Afghan President Hamid Karzai said on Wednesday in an obvious attempt to reassure Pakistan that the strategic partnership agreement signed on Tuesday in Delhi was not targeted against it.
Anti-Modi cop Sanjeev Bhatt to stay in jail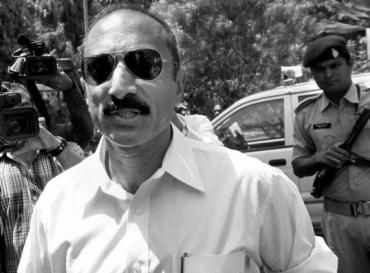 In a setback to the Gujarat government, a local court on Wednesday rejected its application opposing bail to arrested Indian Police Service officer Sanjeev Bhatt and began hearing his bail plea even as his remand application is pending in another court.
IN PHOTOS: The most AMAZING Durga Pujos of Kolkata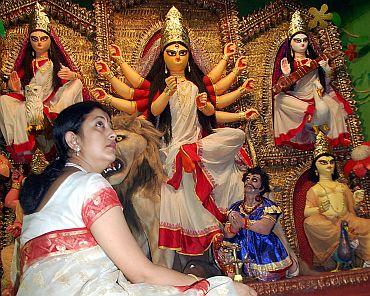 Rediff.com's Dipak Chakroborty sends some fantastic images of one of the grandest, most thought-provoking and 'out of the box' Durga Pujo celebrations in Kolkata. Joy Maa Durga!
Taj Mahal may COLLAPSE in five years!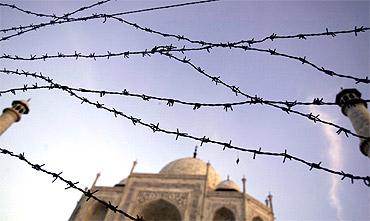 The Taj Mahal will collapse within five years unless urgent action is taken to fix its rotting foundations, campaigners have warned.
In PHOTOS: Around the world in the last 24 hours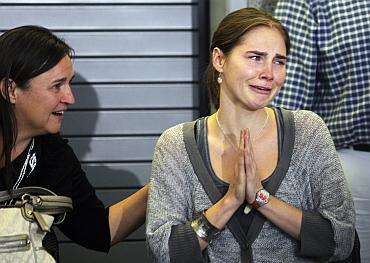 Here are some of the breathtaking images from across the globe in the last 24 hours.
No reason for Pak to worry about Indo-Afghan partnership: US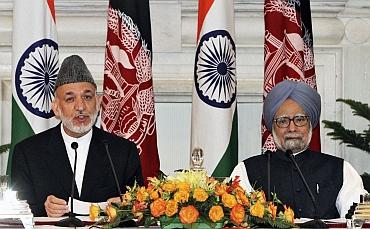 Welcoming the strategic partnership agreement between India and Afghanistan, the United States on Wednesday asserted that there was no reason for uneasiness or apprehension by Pakistan's leadership on this.
October 04, 2011
Forget votes if no Lokpal Bill, Anna tells Congress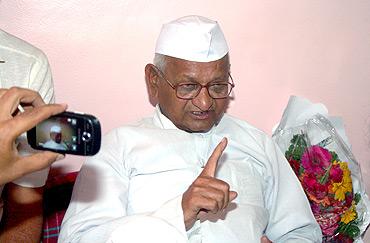 After having shaken up the United Progressive Alliance government through his fast at the Ramlila Grounds, Anna Hazare has now decided to focus on the Congress party as his enemy number 1.
India-Afghanistan ink strategic parternership pact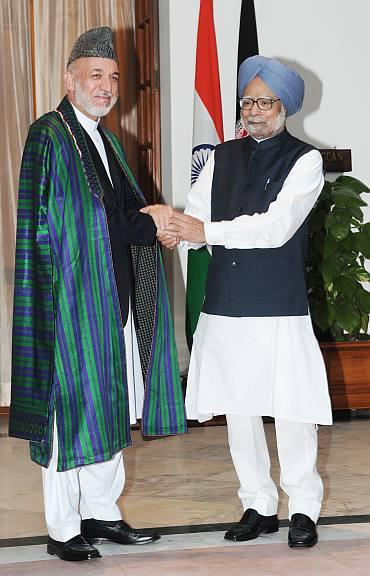 Giving incremental fillip to their cooperation in strategic areas including trade and security, India and Afghanistan on Tuesday inked a partnership pact amid assertions that the agreement was not "directed against any other State or group of States".
Telangana crisis: It all rests on a 'yes' or 'no'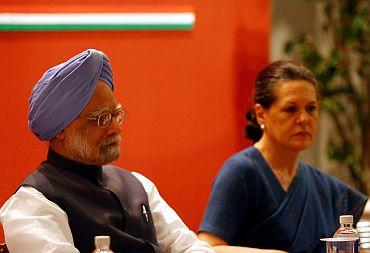 The UPA II government's next move rests on a 'yes' or 'no' to Telangana by the Congress core committee, which meets in Hyderabad on Friday to take a political decision on the issue that has created a crisis in Andhra Pradesh since the past three weeks.
Rahul Gandhi takes the Delhi Metro, hires cab to rally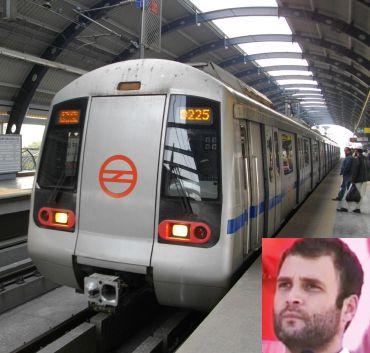 Congress leader Rahul Gandhi on Tuesday surprised many when he travelled in a Metro train and then a radio taxi to reach the venue of the rally in Rohini in north Delhi, where he was scheduled to speak to Youth Congress activists at the Japanese Park for a 'potential candidates meet'.
Raj warns auto union chief, renews assault on north Indians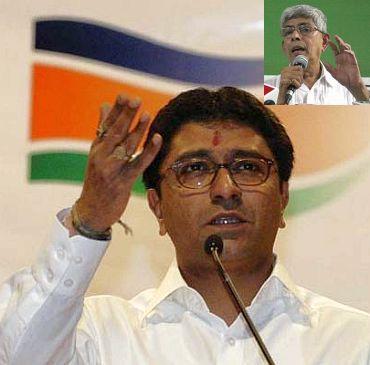 Singling out trade unionist Sharad Rao whose Mumbai Auto-rickshawmen's Union has threatened to go on indefinite strike next month, Maharashtra Navnirman Sena chief Raj Thackeray on Tuesday said his party would step in to counter the inconvenience caused to commuters due to their "arrogant" behaviour.
'If Raja is culpable, so is Chidambaram'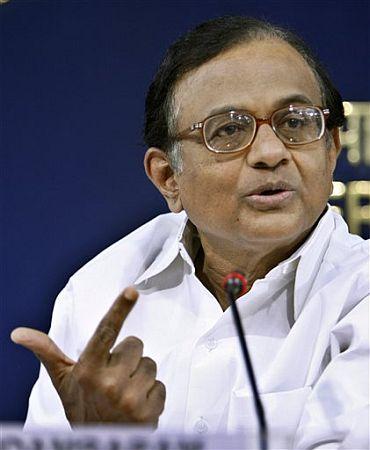 Janata Party President Subramanian Swamy on Tuesday alleged that Union Home Minister P Chidambaram was equally guilty as former telecom minister Andimuthu Raja in the 2G spectrum allocation scam since all decisions were taken by the two together.
PHOTOS: Pranab Mukherjee's Durga Puja at ancestral home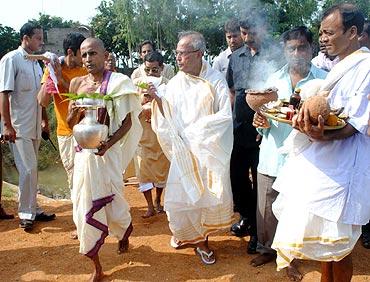 Away from the political chaos in New Delhi, Union Finance Minister Pranab Mukherjee is celebrating the Durga Puja at his ancestral home in Miriti village of West Bengal's Birbhum district.
PM's assurance falls on deaf ears, Telangana stir intensifies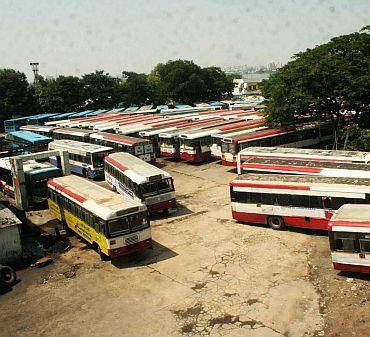 Unwilling to accept Prime Minister Manmohan Singh's assurances, activists battling for a separate Telangana state have intensified their protests.
Pakistan supports Dawood Ibrahim's businesses: IB
Along with several illegitimate businesses that Dawood Ibrahim operates, he also runs some legitimate ones that the Pakistan government is well aware of. This can happen only with the complete support of the establishment say Intelligence Bureau officials. reports.
US student Amanda Knox acquitted of murdering British roommate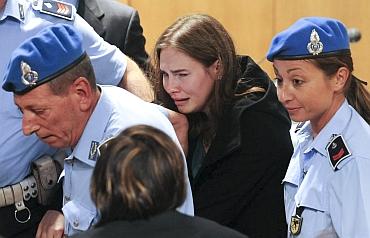 American student Amanda Knox has been freed from an Italian prison after winning an appeal against her conviction for the murder of British student Meredith Kercher in 2007.
IN PICS: The WEIRDEST Nobel Prizes ever!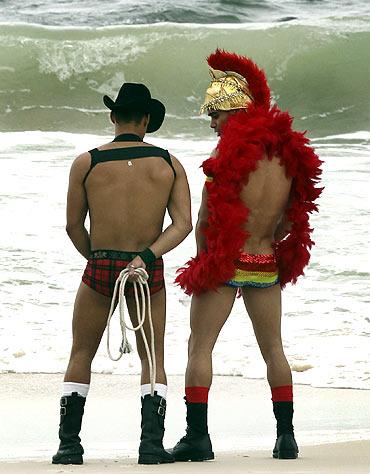 The winners of the 2011 Ig Nobel Prize were announced and awarded recently.
From Ralegan Siddhi, Hazare's war cry against Congress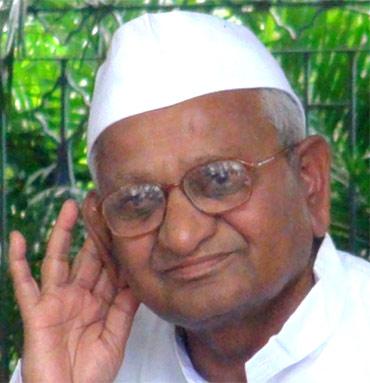 In a move that is bound to add to the woes of the Congress, activist Anna Hazare on Tuesday announced his decision to begin a national tour after Dusshera.
B'lore: AOL hosts thousands from across the globe for Navratri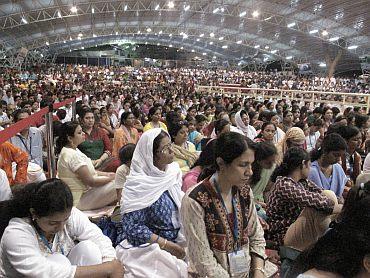 The Art of Living Ashram in Bangalore is witness to a wealth of a different kind, as it hosts thousands of people from across 65 countries as meditation, silence, pujas and satsang mark the nine auspicious nights of Navratri.
Karzai visit: Why New Delhi needs to watch out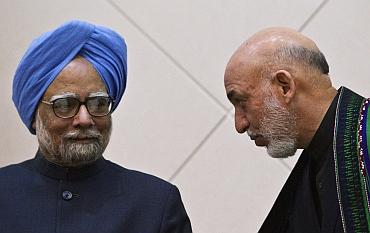 As Afghanistan President Hamid Karzai begins his two-day visit to India on Tuesday, policymakers face the challenge to get the Afghan plot straight, says former diplomat M K Bhadrakumar
Myanmar shelves Kachin dam project, irks China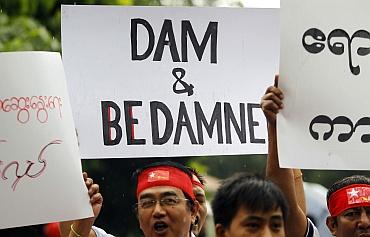 The Myanmar government's announcement on September 30, 2011, about the suspension of its plans to build a massive dam on the Irrawaddy River in the Northern Kachin State, seems to have annoyed China, writes B Raman.
PHOTOS of the month: September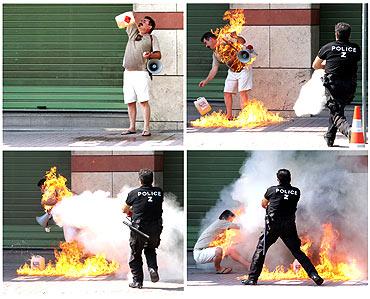 We bring you a presentation of some of the best photos from around the world in the month gone by
October 03, 2011
EXCLUSIVE! July 2011 Mumbai bombers identified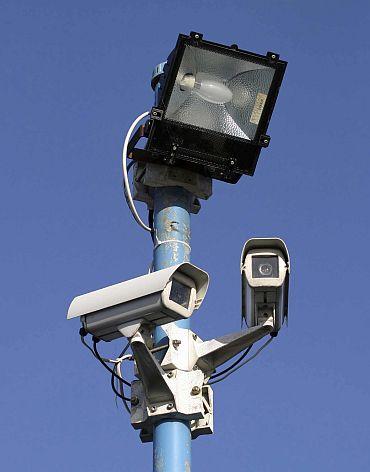 Months after the triple bombings rocked Mumbai on July 13 this year, most counter-terrorism experts were willing to shove the 13/7 investigations under the rug as 'yet another case with a dead end.' However, rediff.com's finds that the Anti-Terrorism Squad has successfully managed to join the dots by decoding the CCTV footage. Here are the EXCLUSIVE details.
NC worker's death: Uproar in J&K assembly; Omar clarifies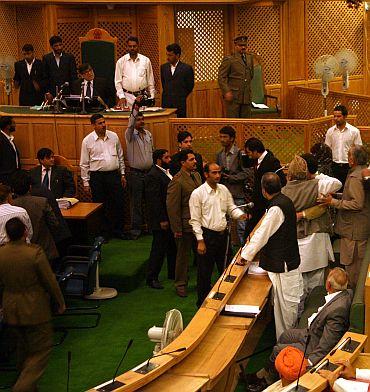 Pandemonium hit the Jammu and Kashmir state assembly on Monday again as the speaker disallowed an adjournment motion moved by the opposition Peoples Democratic Party seeking a discussion on the alleged custodial death of a ruling National Conference worker in Srinagar last week.
Pix: Monday manic in Mumbai as autorickshaws keep off roads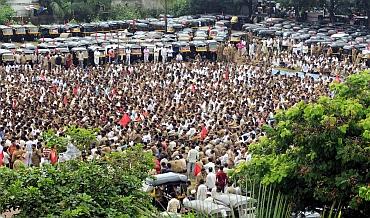 A section of auto ickshaws in the metropolis kept off roads to demand a fare hike causing inconvenience to office goers in the morning rush hour.
Government in a mess of Congress' own making: Advani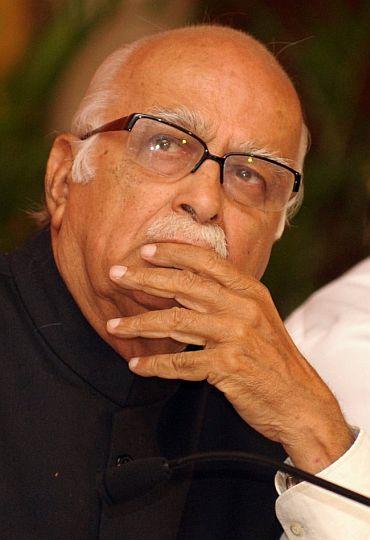 Bharatiya Janata Party patriarch Lal Krishna Advani on Monday said that the United Progressive Alliance government was in an unenviable mess 'of the Congress' own making'.
People of India, Pakistan not enemies: Fatima Bhutto
Noted Pakistani writer ,journalist and grand daughter of former Pakistani President Zulfikar Ali Bhutto, Fatima Murtaza Bhutto has said that the people of Pakistan and India are not enemies and there is no enmity between the common people of both the countries. She spoke with rediff.com's on the sidelines of the Kovalam literary festival, which she inaugurated on Saturday.
PM steps in, promises solution to Telangana soon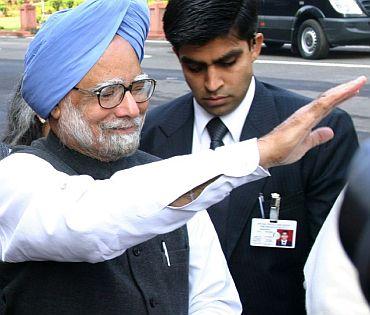 Stepping in to defuse the Telangana crisis, Prime Minister Manmohan Singh on Monday said he understands the separate statehood demand and gave an assurance that the Centre will make all efforts to find a solution to the contentious issue soon.
3 Indian Americans among scientists honoured by Obama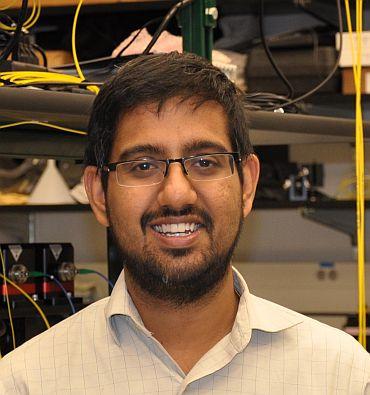 Three Indian Americans -- Dr Kartik A Srinivasan, Sumita Pennathur and Hari Shroff -- were among 94 researchers who were named by United States President Barack Obama as recipients of the Presidential Early Career Awards for Scientists and Engineers, the highest honour bestowed by the US government on science and engineering professionals in the early stages of their independent research careers.
NCP plans to shed 'only for Maratha community' tag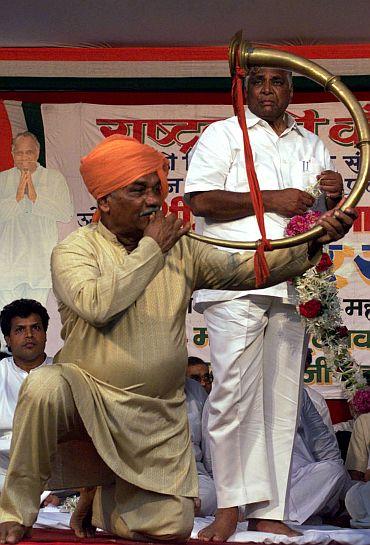 Clearly, the analog clock, which is part of its election symbol, is ticking. The Nationalist Congress Party may be a ruling partner of the Congress in Maharashtra, but that does not mean the 1999-founded outfit will always be restrained in its moves to spread its sphere of influence across its native state.
While Kejriwal meditates, his fans put I-T dept in quandary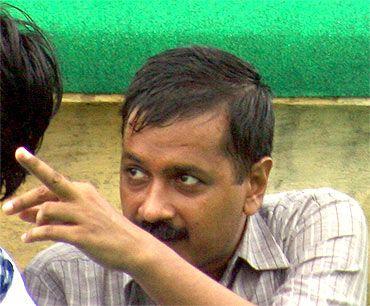 While Team Anna spokesperson Arvind Kejriwal is attending a meditation course at Sohna in Haryana, income tax department officials are losing their peace of mind over more worldly affairs involving their former colleague.
Disillusioned, Naxals give up violence in Odisha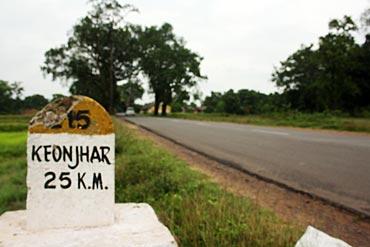 and photographer Reuben Verghese report on an emerging trend in the red bastions of Odisha's Keonjhar district: The rebels return home.
Best IMAGES of the week that was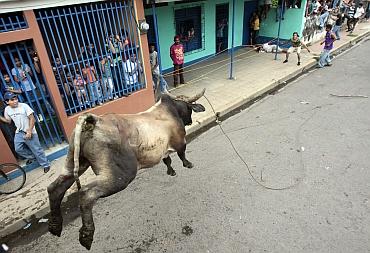 Here are some of the most scintillating images from across the globe in the last seven days.
'Frankenstein' of terror in Af-Pak financed by US: Khar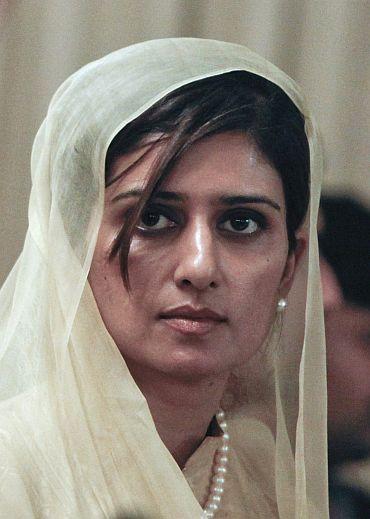 Foreign Minister Hina Rabbani Khar on Sunday fought back allegations that Pakistan had not done enough against extremists, reminding that the "Frankenstein" of terrorism in the Afghanistan-Pakistan region was financed by the United States but her country had been left alone to sort out the mess.
MUST SEE: Ordinary Indians, extraordinary images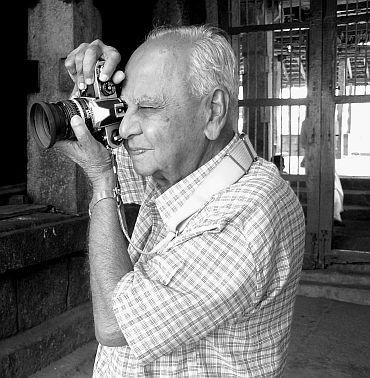 Sadly, Padma Shri T S Satyan (1923-2009), one of the most eminent and earliest photojournalists in the country, doesn't find an entry in Wikipedia. But his never-seen-before compositions, powered by his supreme aesthetic sense, etch into the hearts of his many fans across the globe.
October 02, 2011
PHOTOS: Sonia Gandhi's first appearance post-surgery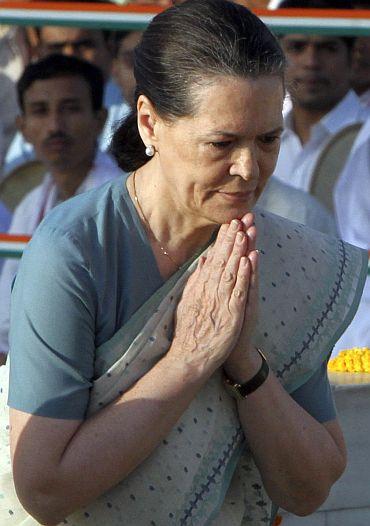 After undergoing surgery for an undisclosed aliment over a month ago, Sonia Gandhi on Sunday made her first public appearance when she attended a prayer meeting at Raj Ghat on the occasion of Mahatma Gandhi's 142nd birth anniversary.
Since April 2006, MPs wrote 84 letters to PMO on 2G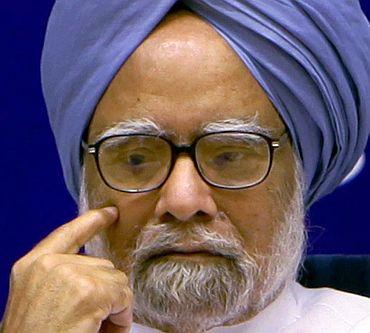 The Prime Minister's Office has received over 80 letters from former and sitting Members of Parliament regarding their concerns and suggestions on the telecom sector, including 2G licences distributed in 2008.
Pak PM Gilani claims 'victory' in stand-off with US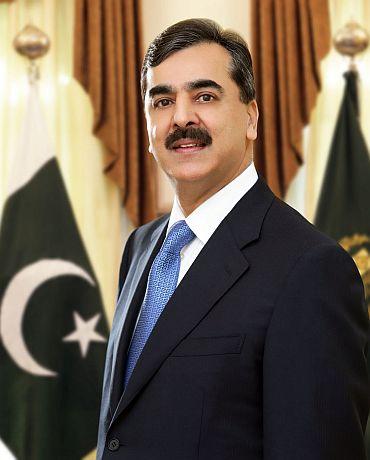 Pakistan Prime Minister Yousuf Raza Gilani has claimed "victory" in the recent stand-off with the United States, saying he has received a message from Washington that America needs Pakistan's support to win the war on terror.
October 01, 2011
STUNNING PIX: China goes all out for National Day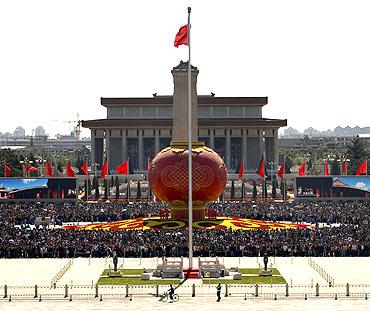 Chinese leaders on Saturday descended at Tiananmen Square in Beijing and paid tribute to martyrs, as the country marked its 62nd national day, with Premier Wen Jiabao pledging to address the nation's biggest issues, including rising inflation and corruption.
2G: Kani opposes CBI plea of invoking fresh charge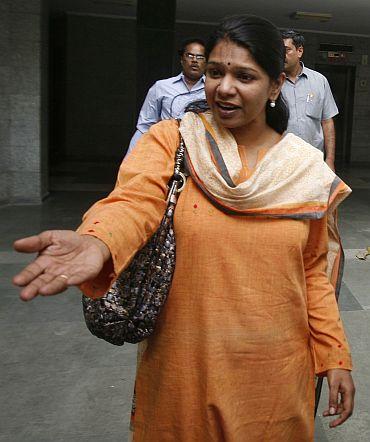 Dravida Munnetra Kazhagam member of parliament Kanimozhi and Kalaignar TV
We have to learn from the mistakes of Congress: BJP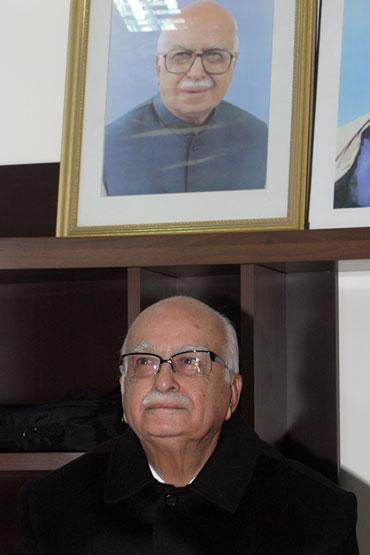 Senior Bharatiya Janata Party leader L K Advani on Saturday asked partymen to gear up for early polls, contenting that the United Progressive Alliance government is on a "suicidal path" and nothing could be said about its future.
VIDEO: Mamata Banerjee inaugurates Durga Puja
Ranbir's love for kissing, Big Boss 5 enters!
Ranbir's love for kissing and Big Boss 5!
Withdrawal of troops from Afghanistan still on track: Obama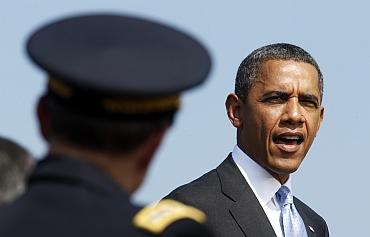 The United States still intends to withdraw some 33,000 troops from Afghanistan by next year, US President Barack Obama told US Congress.
Archives
September 2011
|
August 2011
|
July 2011
|
June 2011
|
May 2011
|
April 2011
|
March 2011
|
February 2011
|
January 2011
|
December 2010
|
November 2010
|
October 2010
|
Sepetember 2010
|
August 2010
|
July 2010
|
Jun 2010
|
May 2010
|
April 2010
|
March 2010
|
February 2010