May 31, 2012
Bikram Singh has his task cut out as new army chief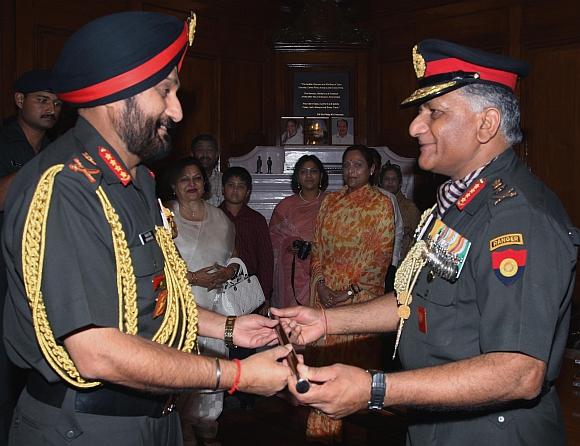 Gen Bikram Singh, a veteran infantry officer, on Thursday took over as the 25th Chief of the Indian Army succeeding Gen V K Singh whose 26-month tenure was mired in controversies.
The LATEST twist in Pak-US bittersweet saga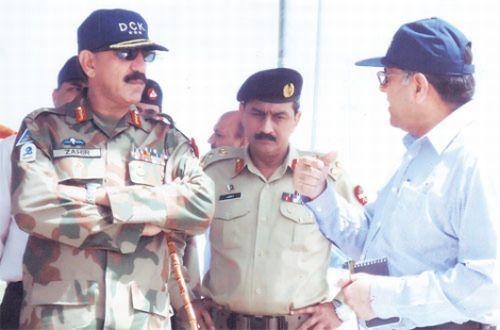 After the Shakil Afridi episode, both sides are back to where they were, with ties strained and reconciliatory efforts coming to a standstill, says
Bihar: Thousands appear for Super 30 exam ignoring bandh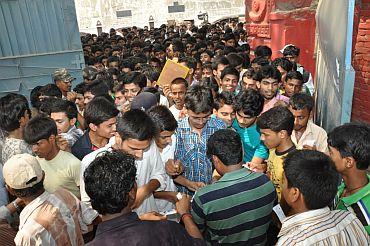 Craze for Bihar's Super 30, an innovative free coaching centre for IIT joint entrance examination, is such that thousands of students drawn from different parts of Bihar ignored 'Bharat bandh' and appeared for its entrance test in Patna on Thursday.
IN PHOTOGRAPHS: Bharat Bandh!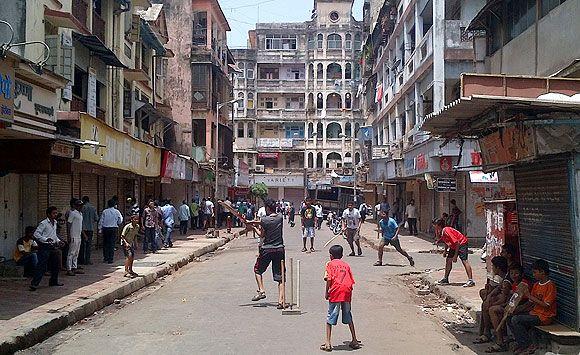 Photographs of how Bharat observed the Bandh, from across the country.
The silent, deadly KILLER of 60 lakh people!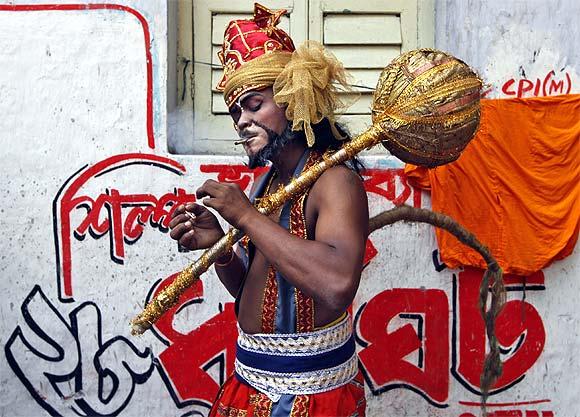 Governments across the world are slowly gearing up to find lasting solutions to curb the menace of tobacco, says
FAQ: The CBI's case AGAINST Jagan Mohan Reddy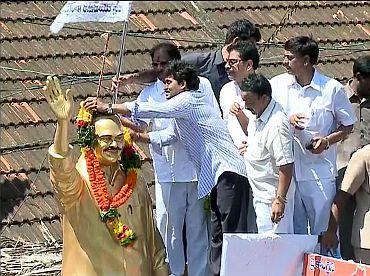 As the CBI tightens the net around Jagan Mohan Reddy over a corruption case, and the YSR Congress chief claims that he is a target of political vendetta, Rediff.com's reviews the probe agency's case against the powerful Andhra leader
BJP has let down people; party's mood not upbeat: Advani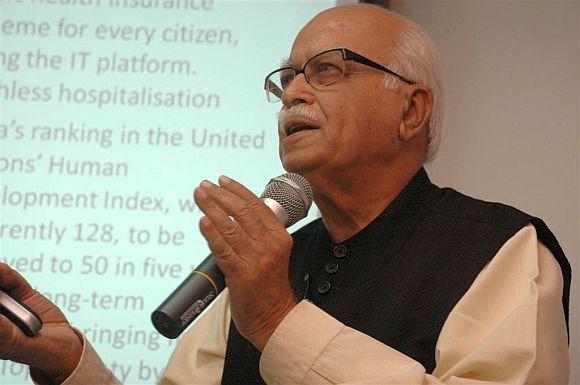 Bharatiya Janata Party leader L K Advani on Thursday admitted that people were "disappointed" with the party and appeared to be hitting out at party chief Nitin Gadkari as he said the campaign against corruption had been hurt due to induction of an ousted Bahujan Samaj Party leader facing graft charges.
Bharat Bandh: 'How easy it is to fool Indians'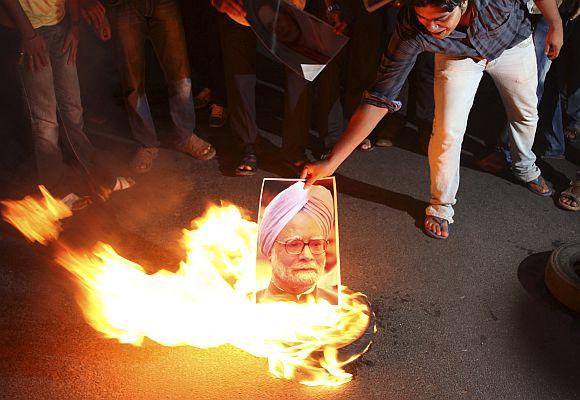 Even as the Opposition is going hammer and tongs to enforce the nationwide strike call against the petrol price hike on Thursday, the common man seems to be backing off from joining the protest.
Right and Left unite for Bharat Bandh TODAY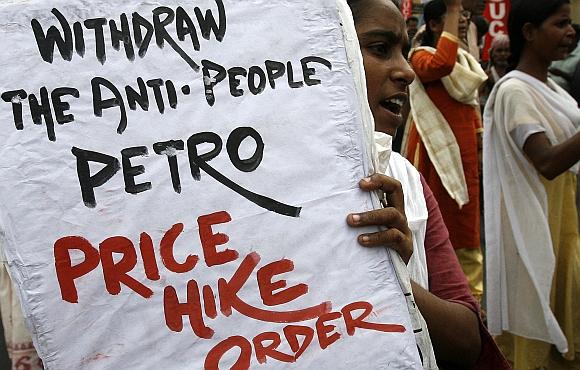 The unprecedented hike in petrol prices has helped the Left and the Right to make common cause on Thursday for a nationwide protest, described by the Bharatiya Janata Party and its allies as Bharat Bandh and by Left as All India Protest Day.
India's MOST controversial Army chief takes last salute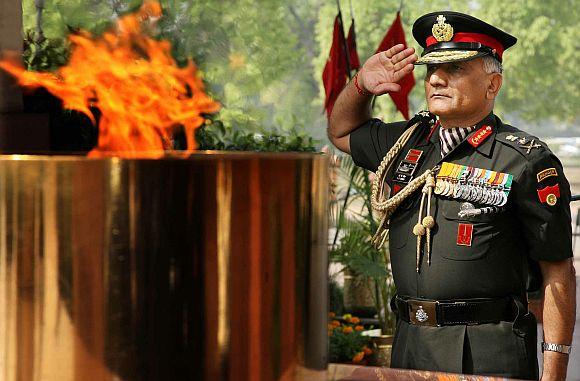 General V K Singh, who took over the reins of the Indian Army 26 months ago with the image of an anti-corruption crusader, will retire as the army chief on Thursday, bringing to an end a controversial tenure that was marred by rows over his age and fissures among the military brass.
May 30, 2012
Autos, trains, buses, cabs won't ply tomorrow: Shiv Sena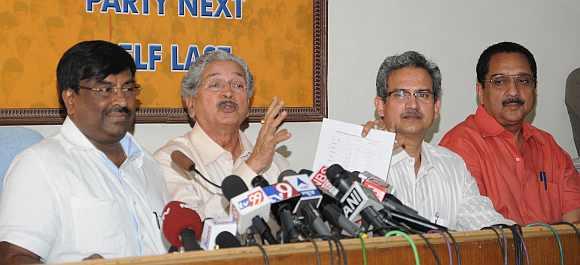 Though the city's systems are willing to go to work as usual, participating political parties will try their best to ensure a '100 per cent successful' closure on Thursday. reports
PIX: Sympathy wave for Jagan's mom as she hits the road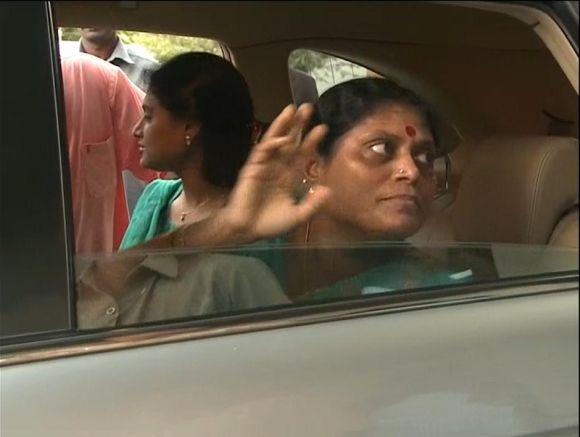 As expected it was a wave of sympathy which arrested Kadapa MP Jaganmohan Reddy's mother Vijayamma managed to garner as she kick-started her election campaign for the June bypolls in Andhra Pradesh.
Controversies erupt; remember me as soldier: Army chief
A day prior to his retirement, Army Chief Gen V K Singh on Tuesday sought to downplay the controversies surrounding him, saying there is "no misunderstanding" between him and the defence ministry. He also said Defence Minister A K Antony was "very clear headed" in supporting the armed forces.
PIX: 7 jawans injured in militant attack in Srinagar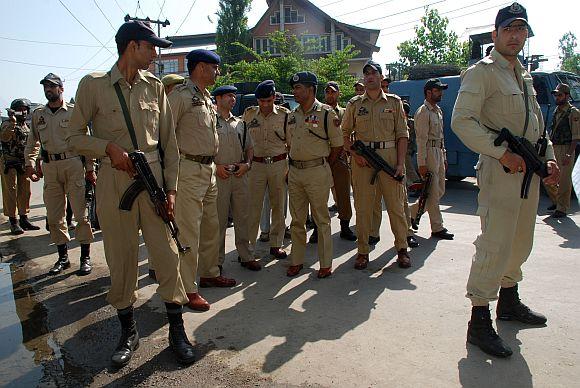 A well planned hit and run strike by the militants has injured seven paramilitary troopers, two of them critically, in summer capital Srinagar.
PIX: India has BIG PLANS for the Friendship Express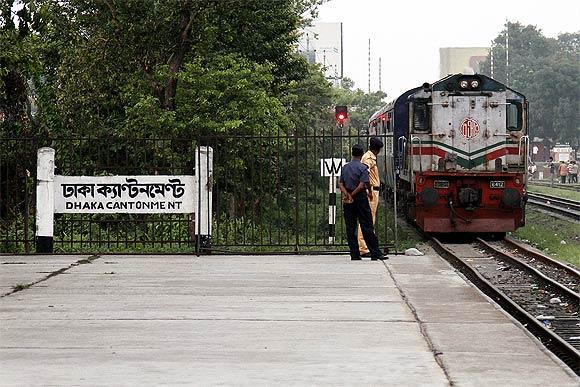 Four years after its inauguration, both India and Bangladesh are dreaming big as the Maitree Express chugs into the future, reports
Race for US prez: Romney clinches Republican nomination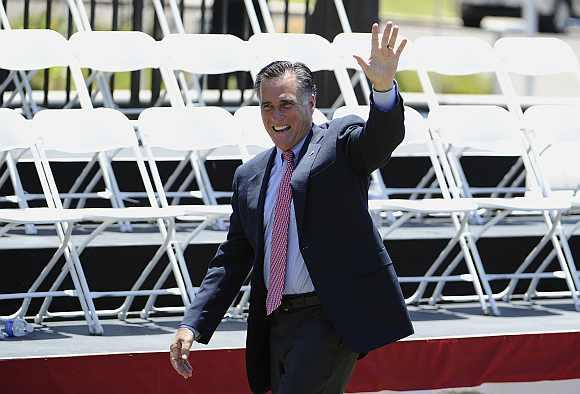 Mitt Romney, the former governor of Massachusetts, on Wednesday clinched the nomination of the Republican Party to challenge the incumbent United States President Barack Obama in the November presidential elections.
Between wars: How troops battle STRESS in Afghanistan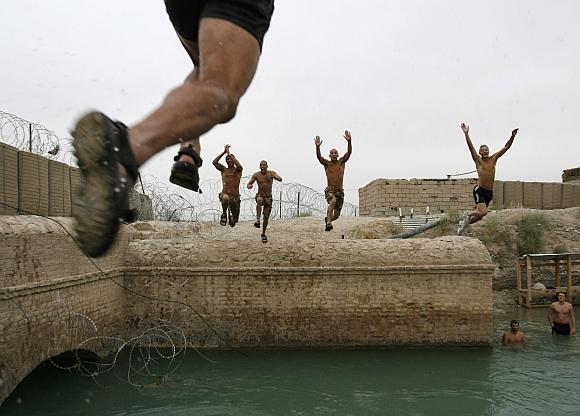 Ever wondered what battle-hardened soldiers do when they are not skirmishing in far-off Afghanistan? If you thought they just sit around bonfires and tell war stories, the pictures on the following pages are bound to surprise you
FLASHBACK: The chequered stint of Army Chief Gen Singh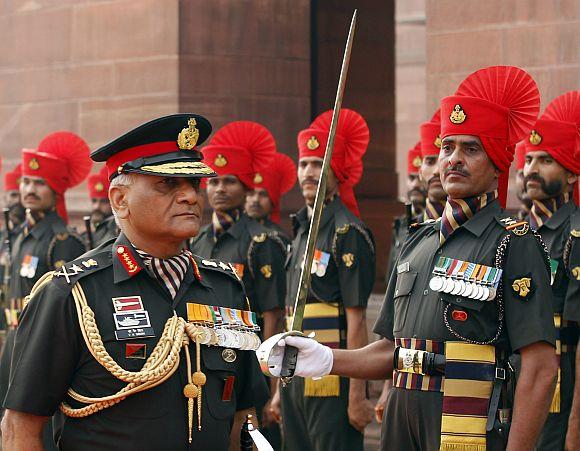 Army Chief General V K Singh's phenomenal record and leadership qualities could not prevent a number of controversies that marked his over two years' stint as the Army Chief. Rediff.com takes a look.
Audio: Will quit if found guilty in coal scam, says PM
Rejecting Team Anna's allegations of corruption against him, Prime Minister Manmohan Singh on Tuesday declared he will quit public life if the charges on coal block allotments are proved.
May 29, 2012
'My Green Card is at home, where is yours?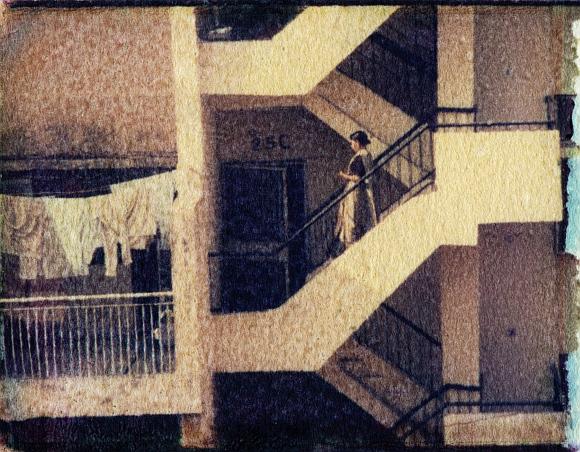 Leena Jayaswal, an associate professor at American University in Washington, DC, last week made her artistic debut at an exhibition titled Motherland at the Gandhi Memorial Center in Washington DC this month. reports
Musings of a first-time Indian voter in America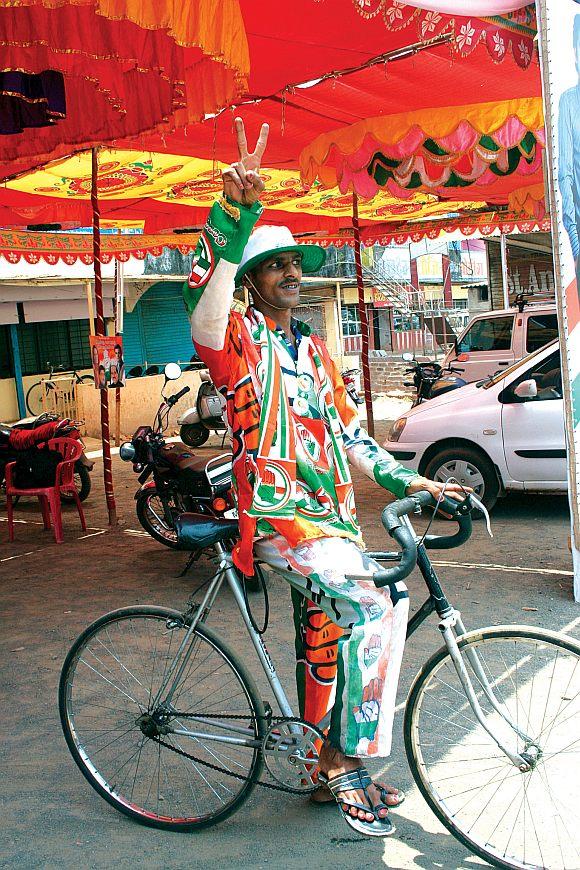 compares the masala Indian election circus to America's more staid presidential race
I'll quit public life if Team Anna's charges true: PM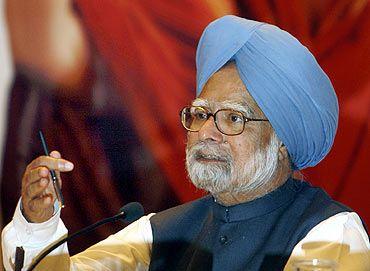 Rejecting Team Anna's allegations of corruption against him, Prime Minister Manmohan Singh on Tuesday declared he will quit public life if the charges on coal block allotments are proved.
Kashmiri Pandits return home for Khir Bhawani mela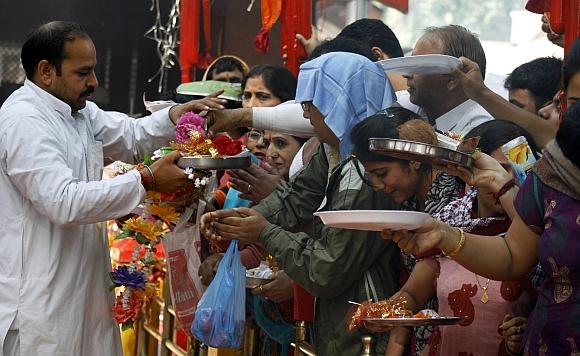 Thousands of Pandits arrived in Kashmir Valley on Tuesday to keep their date with their holy annual festival at Khir Bhawani temple at Tullamulla, 26 kilometre from Srinagar in north Kashmir Ganderbal district.
Army chief was BIASED, vindictive: Sukna scam convict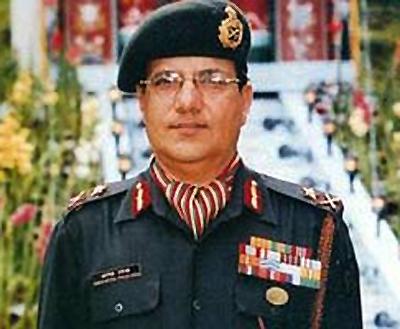 In an interview with , Lieutenant General Prakash claimed that the Army chief had ensured that he was punished in spite of being not guilty.
Traumatised victims recall nightmare on Expressway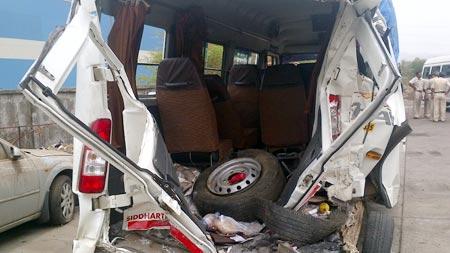 A freak accident along the Mumbai-Pune Expressway claimed 27 lives in the early hours of May 28. Rediff.com's assesses the damage.
BJP, Sena, RPI tell Mumbaikars to observe bandh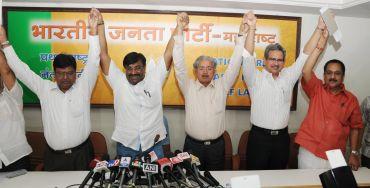 Bharatiya Janata Party, Shiv Sena and Republican Party of India on Tuesday appealed to people of Maharashtra to observe bandh on May 31 to demand complete rollback of the steep petrol hike of Rs 7.50 per litre.
Nawaz Sharif on why India DID NOT attack Pakistan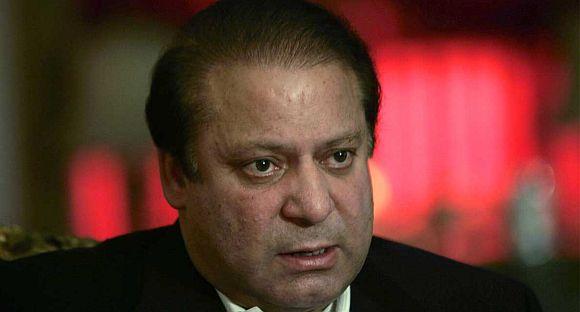 Pakistan's nuclear arsenal deterred India from carrying out any attacks and made the country's defence impregnable, former premier Nawaz Sharif has claimed.
Lashkar's Saeed warns Pak against Sarabjit's release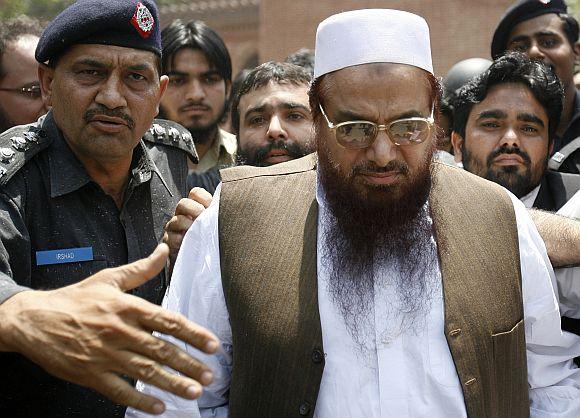 The Lashkar-e-Tayiba terrorist warned the Pakistan government not to release Sarabjit Singh because he was sent on a mission to conduct bomb blasts, reports .
Will Pakistan ever hand over Hafiz Saeed? BAH!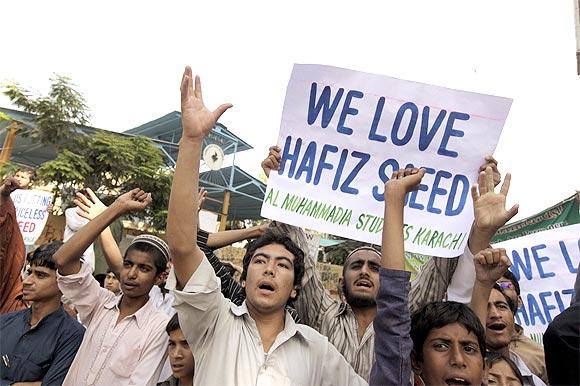 Indian officials know that the more they seek Saeed's detention, the more Pakistan will try to protect him, says
Jagan, Qaidi Number 6093, skips dinner and breakfast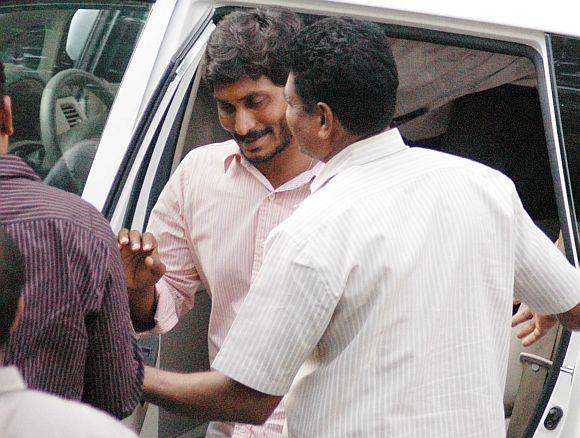 YSR Congress president and Lok Sabha member Y S Jaganmohan Reddy, now famous as Qaidi No 6093, spent his first night in the Chanchalguda central jail restlessly.
'The Indian media has been a spectacular failure'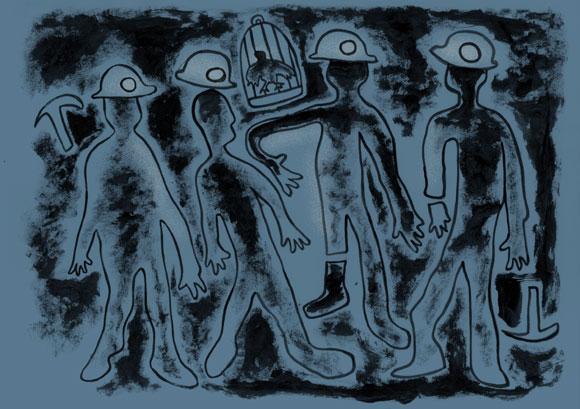 Eighty per cent of Indians earn less than Rs 10,000, and the more you talk to this segment, the more you realise what a spectacular failure the Indian media has been in understanding, reflecting and empathising with this 'other India,' says award-winning journalist, Rediff.com's .
Will Gen V K Singh's tainted tenure haunt his successor?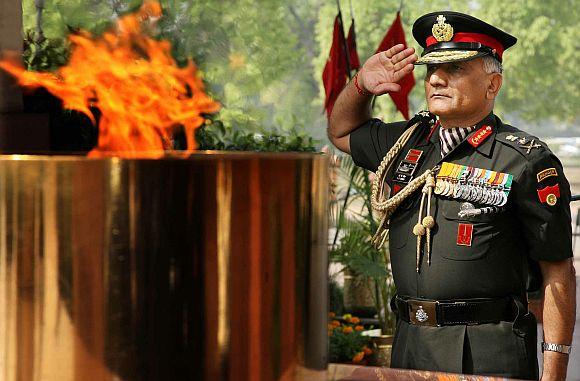 Where did outgoing army chief V K Singh go wrong, analyses .
'B' for Bofors, 'N' for Nobody?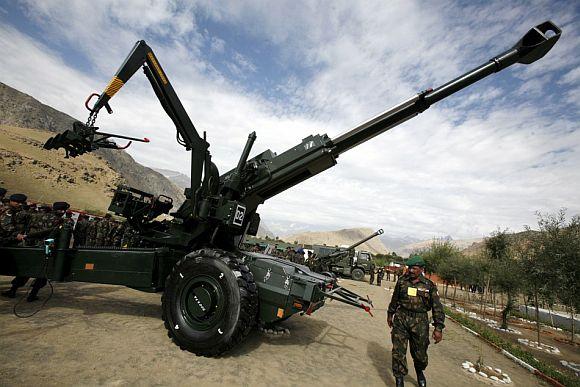 The Bofors affair wasn't a scam at all. It was a sting mounted by the mysterious 'N' of the Ardbo diaries, writes
Why India NEEDS to build on its naval advantage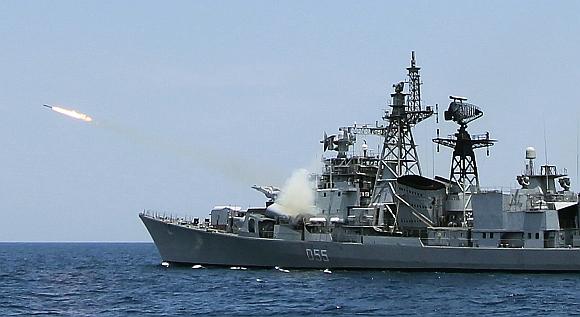 Concerns about maritime security have brought the unlikely troika of China, India and the United States together and India has much to gain from this trilateral dialogue, writes
'Made in China' syndrome plagues US, India militaries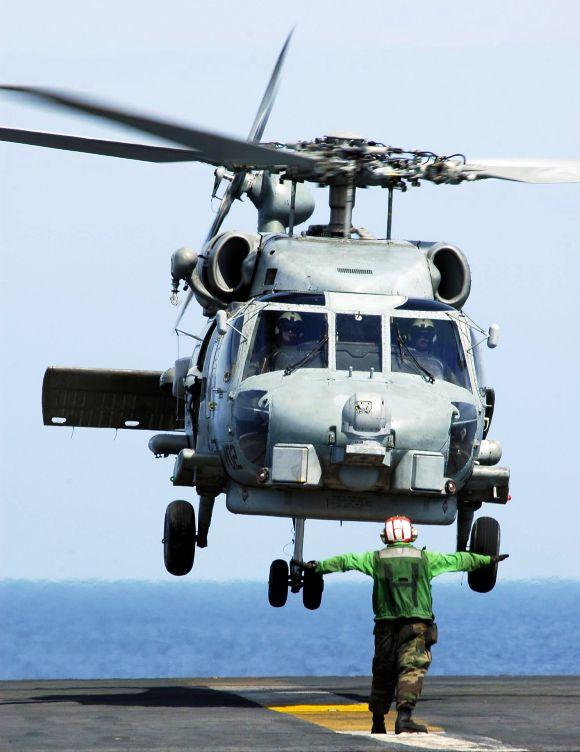 Over a million Chinese counterfeit electronics parts are being used in American military hardware, a key Senate Committee has warned, raising the possibilities that some of these fake parts may have been used in military jets which have been sold to India.
May 28, 2012
PIX: Ghastly accident on Mumbai-Pune Expressway kills 27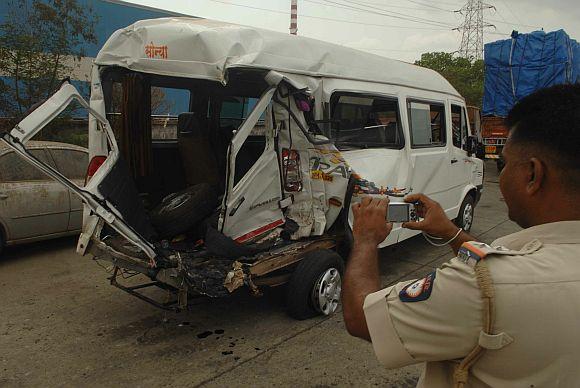 Twenty-seven members of a marriage party, including four children, were killed and 26 others injured when a speeding tempo rammed in a stationary bus at Khalapur on the Mumbai-Pune Expressway.
Jagan has hoodwinked people; he can't seek sympathy: CBI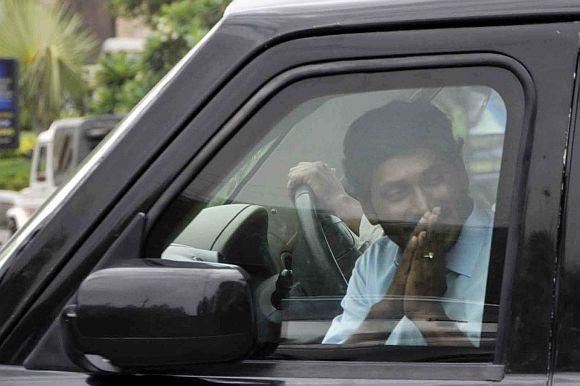 The Central Bureau of Investigation on Monday sought 14-day custody of Kadapa MP Jagan Mohan Reddy, saying it needed to further question him in the disproportionate assets case.
'People will see how arrogant, overambitious Jagan is'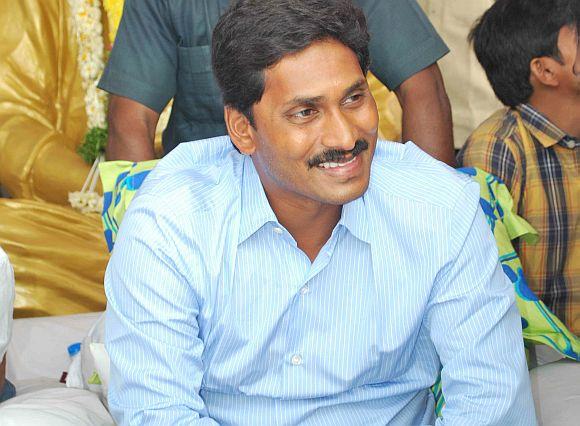 In an interview with rediff.com's , senior Andhra Pradesh Congress leader Madhu Yaskhi, who has been battling for the cause of Telangana, speaks in great detail about how Jagan's arrest could affect his political fortunes in the time to come.
In PHOTOS: India reels under KILLER heat wave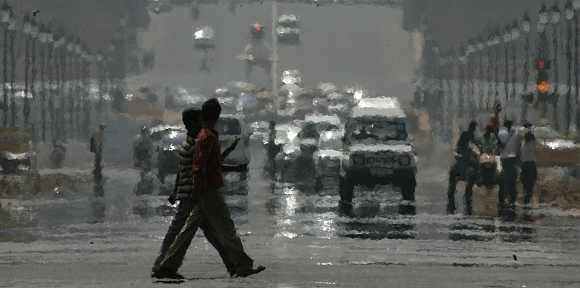 Parts of north and east India continued to be in the grip of the heat wave with maximum temperatures going above 44 degrees Celsius in some states.
India could have a new PM soon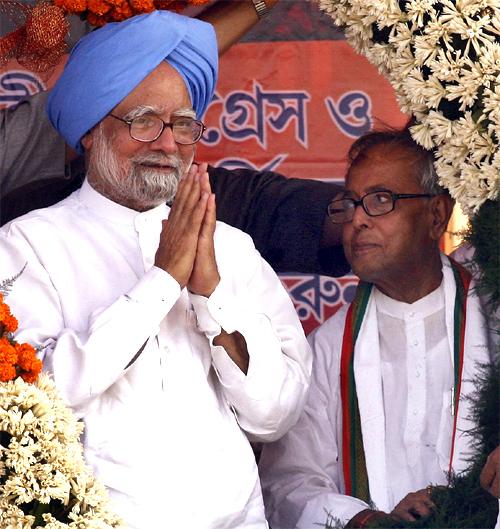 Dr Manmohan Singh for President. The Congress cosies up to Mulayam Singh. Jaya Prada tries to cosy up to the BJP. All this, and more, in Dilli Gupshup....
From battle to ballot: Egypt's graffiti revolution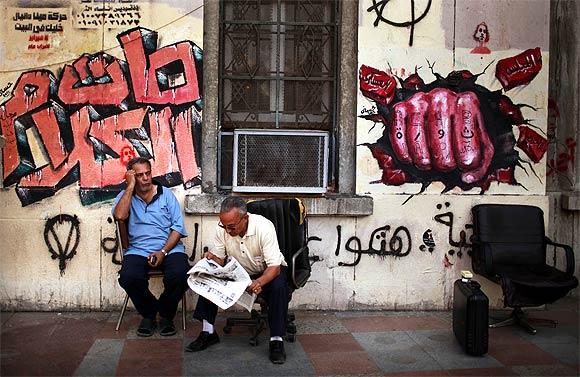 Rediff.com brings you Egypt's graffiti revolution, where clearly the pictures speak louder than words.
THREE of the TOP 5 most wanted terrorists are in Pak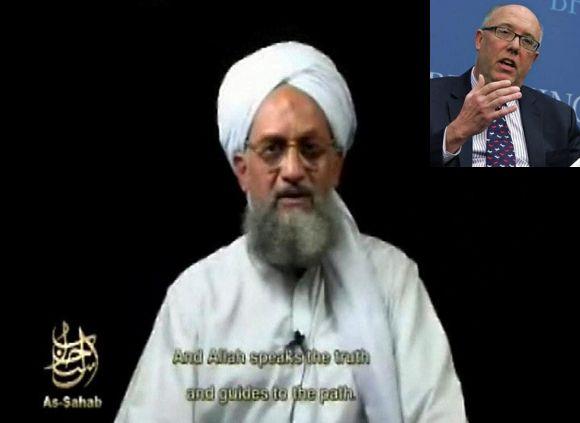 Security expert Bruce Riedel says that from the evidence at hand so far it is clear that the jihadist infrastructure in Pakistan is closely tied to the country's spy agency Inter-Services Intelligence. reports
IN PICS: Behind the bamboo curtain called Myanmar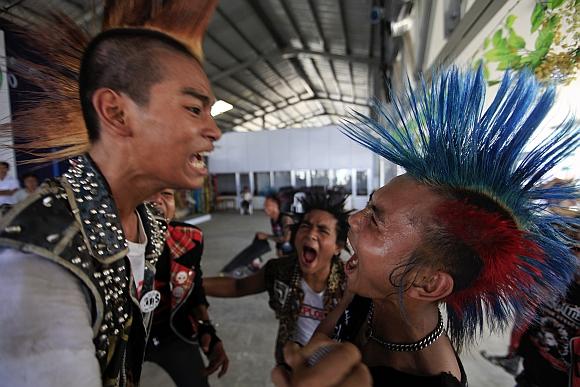 Young men attend a punk show during the water festival at a music bar in Yangon. Myanmar celebrates the New Year Water Festival of Thingyan during the month of Tagu, which usually falls around mid-April
May 27, 2012
PM's maiden Myanmar visit to focus on energy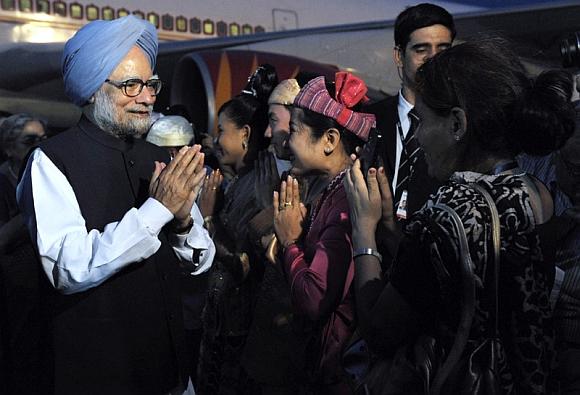 Seeking to elevate India's ties with resource-rich Myanmar, Prime Minister Manmohan Singh arrived in Myanmar on Sunday on a historic visit during which the two sides will chart out a roadmap and take initiatives to bolster relations in several areas, including energy, trade and connectivity.
Herculean task ahead for Jagan Mohan Reddy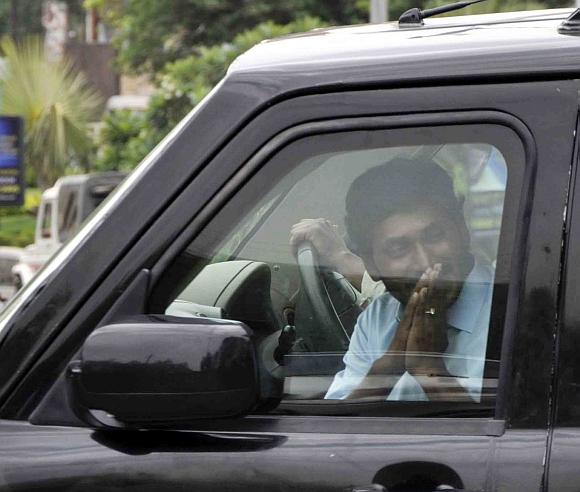 The big question that everyone is asking is the timing of YSR Congress chief Jagan Mohan Reddy's arrest. While there are many theories attached to it, the fact remains that Jagan's road ahead is tough, since the cases against him appear to be never-ending. reports.
Jagan's mother to campaign for party in AP by-polls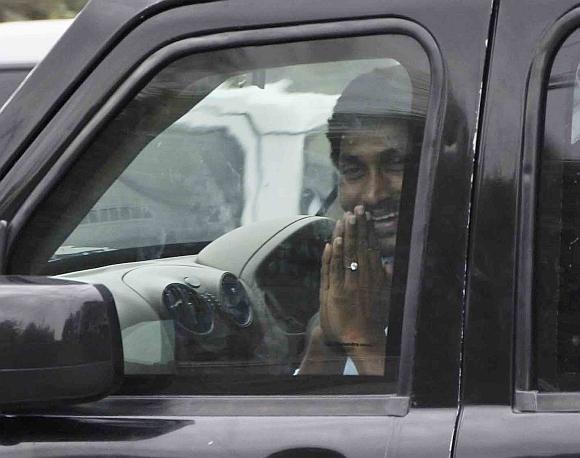 YSR Congress chief Jagan Mohan Reddy's arrest comes ahead of an extremely crucial by-poll in Andhra Pradesh, but the party is still confident of a win in the by-polls, and say that his mother would now lead them. reports.
IN PICS: CBI arrests Jagan Mohan Reddy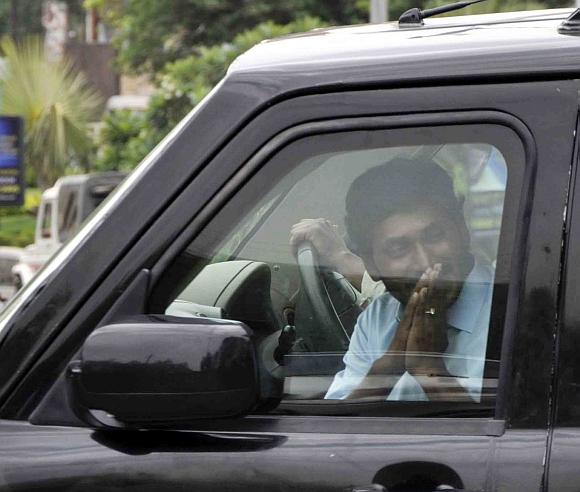 After being questioned for three consecutive days, YSR Congress leader, Jagan Mohan Reddy was taken into custody by the Central Bureau of Investigation on Sunday evening.
Modi's comparison to Hitler's chief NOT acceptable: BJP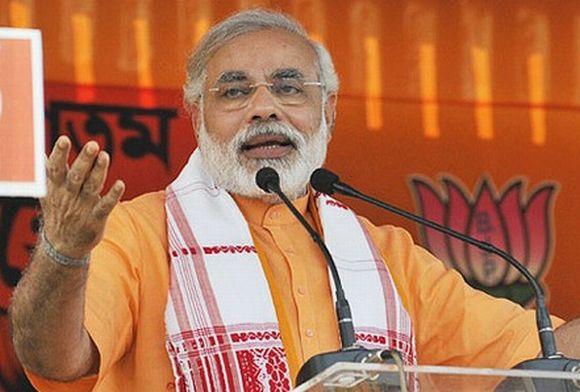 Angered by Congress charge that Gujarat Chief Minister Narendra Modi is comparable to Goebbels, the Bharatiya Janata Party on Sunday hit back saying this "malicious and deeply condemnable" statement shows the Emergency mindset of the ruling party and is not acceptable.
Why BJP has not emerged as national alternative to Cong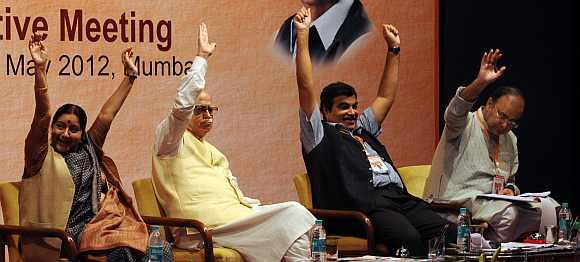 The Bharatiya Janata Party has become less of a party with a difference and more an aggregate of leaders with their own individual ambitions and agendas, says
May 26, 2012
Army didn't leak confidential letter to PM: Gen V K Singh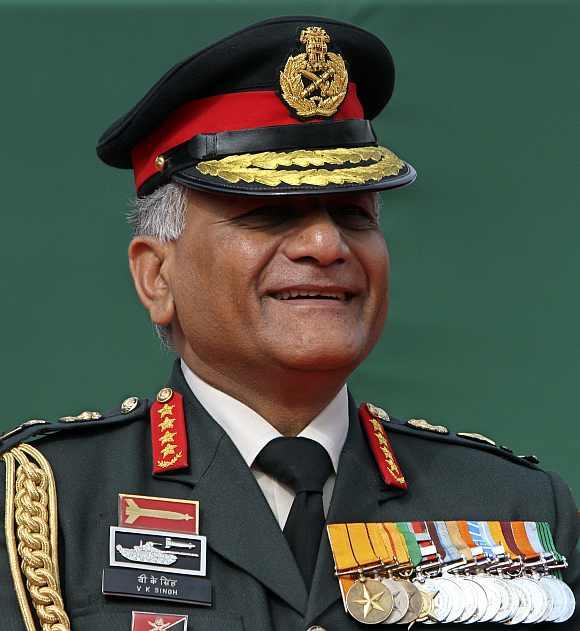 In an exclusive Interview with CNN-IBN, Army Chief General V K Singh clears his stand on the fresh controversy regarding the show cause notice to Lt Gen Dalbir Suhag and the related succession issue.
Hitler's minister's soul INSIDE Narendra Modi: Congress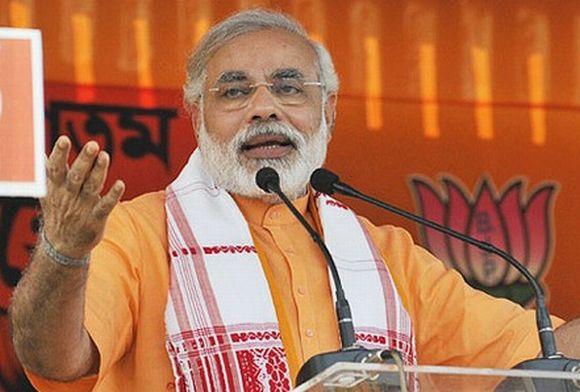 Hitting back at Narendra Modi for his criticism of the United Progressive Alliance, the Congress on Saturday said the soul of Hitler's propaganda minister Joseph Goebbels seemed to have entered the "frustrated" Gujarat chief minister and accused him of crossing the laxman rekha.
PIX: Bollywood attends Karan Johar's Birthday Bash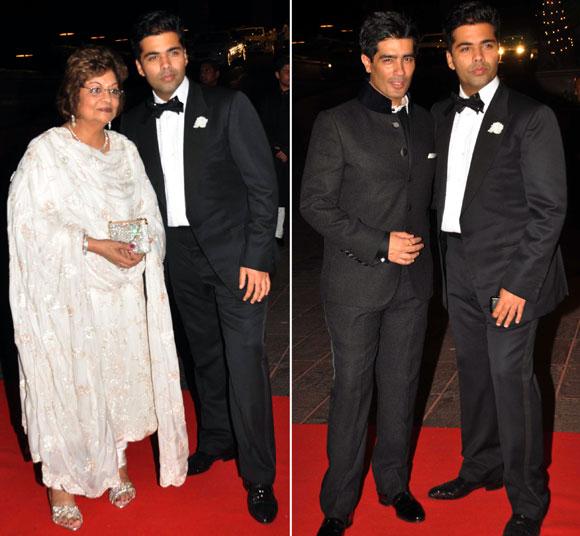 Here's a look at the glam guest list.
Jagan on CBI case: 'Sonia is taking this TOO personally'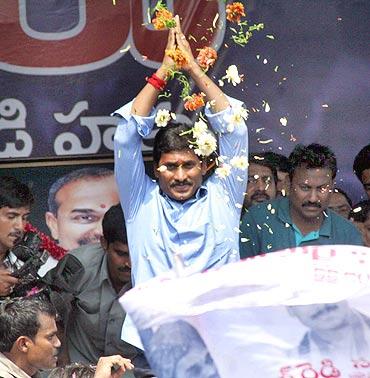 On Saturday morning, before the second round of his interrogation by the Central Bureau of Investigation in connection with a disproportionate assets case, Jagan spoke to on why he thinks this is a conspiracy hatched by the Congress and the Telugu Desam to eliminate his political party.
Gadkari, Modi new heroes; Yeddy a human bomb: Thackeray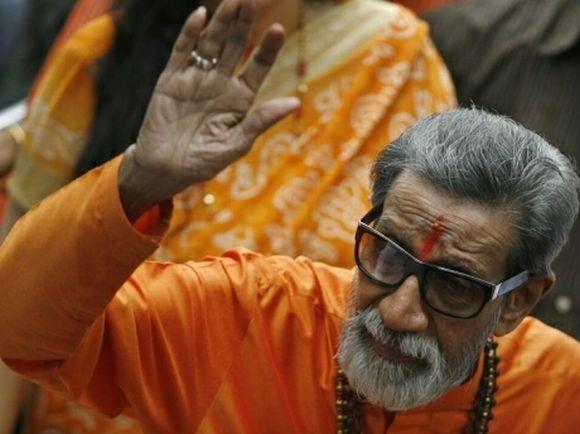 The national executive meeting of the Bharatiya Janata Party, held in Mumbai, has made it amply clear that no important decisions can be taken in the party by sidelining Narendra Modi, Shiv Sena supremo Bal Thackeray said on Saturday.
ULFA SHUTS DOWN Assam before Sonia Gandhi's visit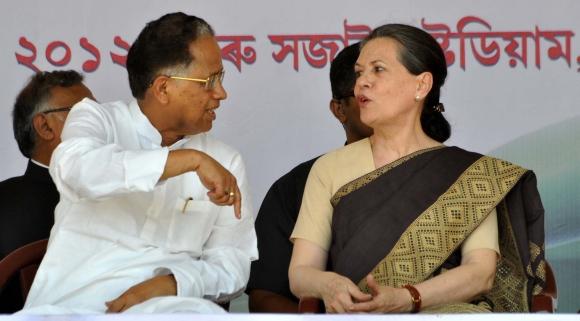 Congress president and United Progressive Alliance chairperson Sonia Gandhi on Saturday appealed to insurgent groups to give up violence and come forward for talks to help accelerate the current pace of socio-economic development in Assam.
Mumbai on Modi: 'Dekho, dekho bharat kaa sher aaya'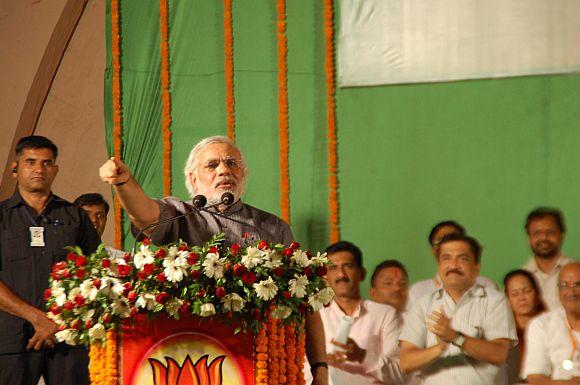 India's former deputy prime minister and loh purush Lal Krishna Advani was hardly missed as the gathering latched on to every rhetoric that came from Gujarat Chief Minister Narendra Modi.
May 25, 2012
PM hapless, UPA regime most corrupt, inefficient: Advani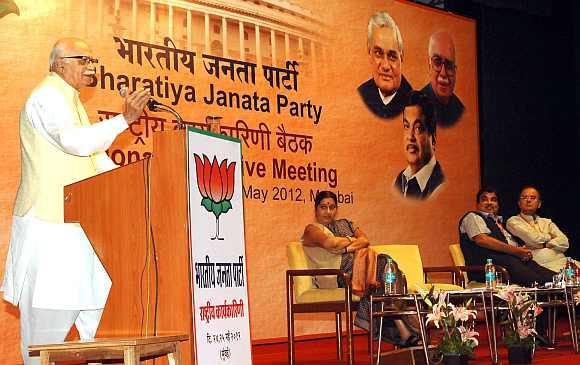 Dubbing Prime Minister Manmohan Singh as the most hapless Prime Minister India has ever seen, senior Bharatiya Janata Party leader L K Advani on Friday slammed the United Progressive Alliance government as the most ineffective, corrupt and indifferent dispensation since Independence.
Thackeray to Congress: 'Sasti daaru mehenga tel'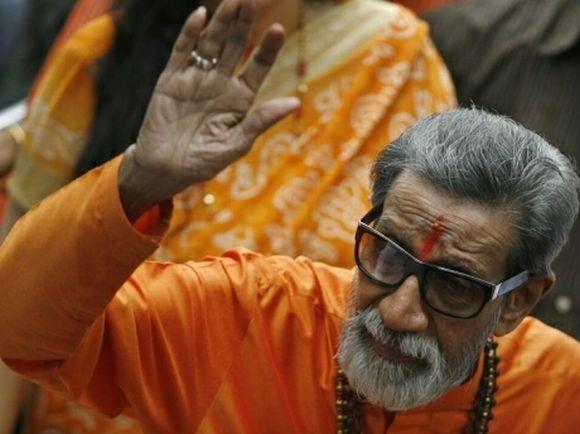 Coming down heavily on the Congress-led UPA government for increasing petrol prices, Shiv Sena supremo Bal Thackeray on Friday claimed that liquor is now cheaper than petrol.
Unjust to try Dr Afridi under draconian law: Legal experts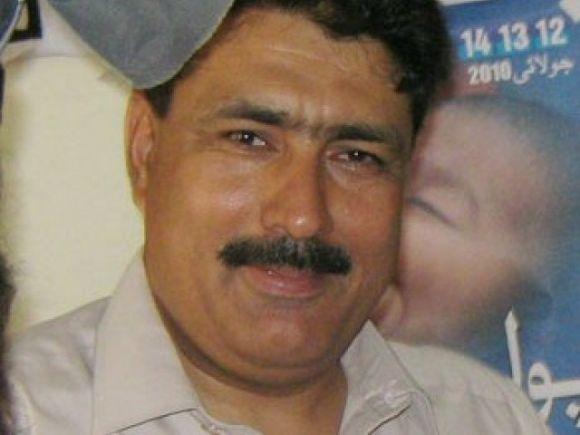 Legal experts in Pakistan say that Dr Shakil Afridi was tried under the Frontier Crimes Regulation, a law of the tribal areas, while he committed the crime in Abbottabad, which is outside its jurisdiction. reports from Islamabad
IN PIX: Leaders, issues and infighting at BJP meet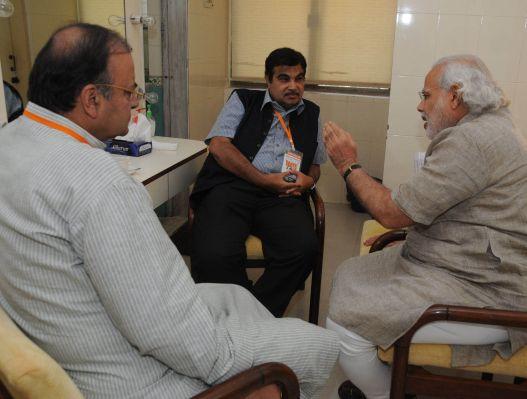 The Bharatiya Janata Party's two-day national executive meet has had its share of twists and turns and has hogged the limelight in the national media. We being you some glimpses of the party meet.
Cloud over Gadkari's second term as BJP president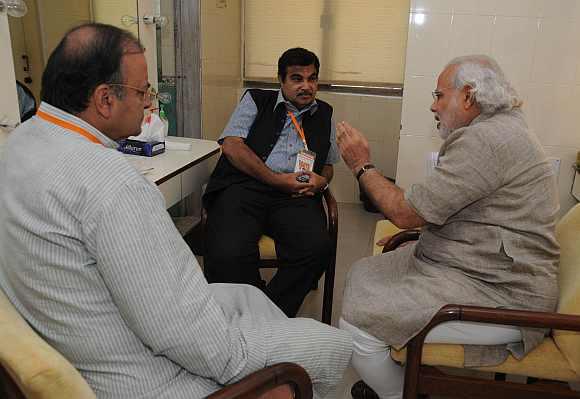 Senior BJP leaders said that the amendment of Article 21 of its constitution to enable an incumbent president a second term in office was not done keeping Nitin Gadkari in mind. reports
Modi and Sanjay Joshi were never meant to be friends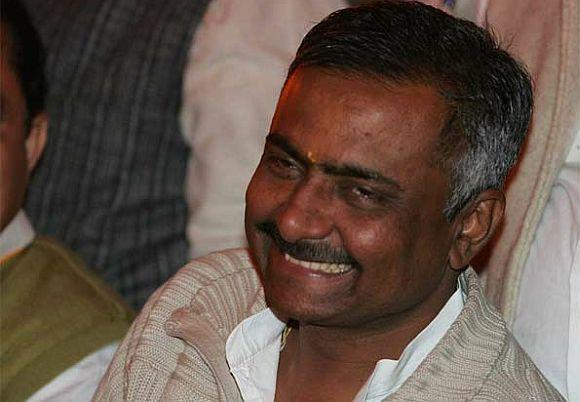 chronicles the decade-long feud between Gujarat Chief Minister Narendra Modi and Sanjay Joshi.
REVEALED: The Friday on which Jesus was crucified!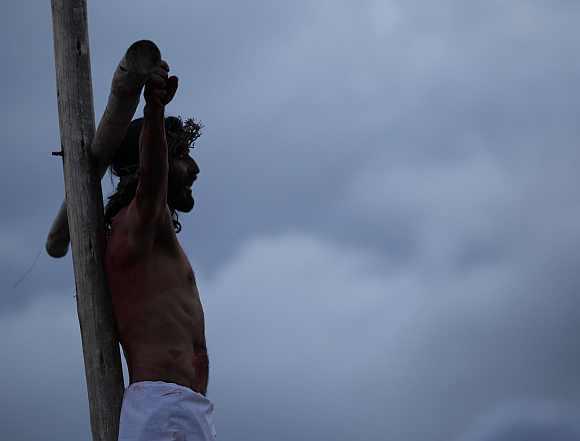 A study on earthquake activity at the Dead Sea has revealed the exact date of Jesus' crucifixion, which has been debated for years.
CBI grills Jagan for 7 hours, YSR Cong chalks out Plan B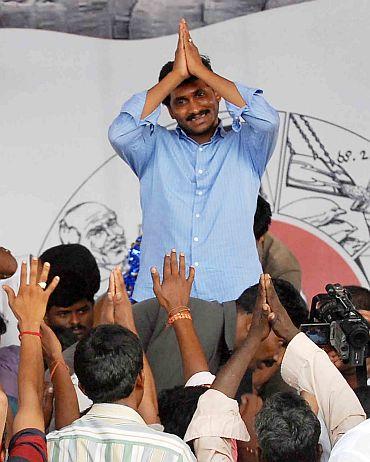 YSR Congress chief Jagan Mohan Reddy on Friday walked free after being questioned by the Central Bureau of Investigation for about seven hours in the illegal assets case.
The tiny nation that is taking on China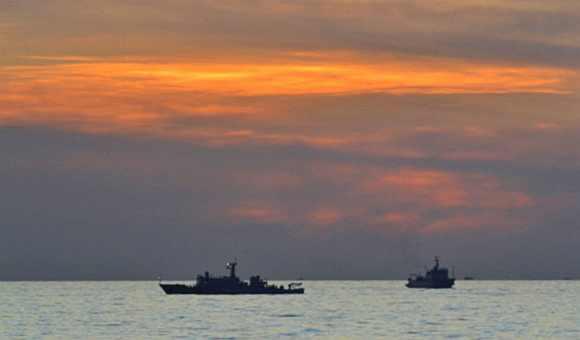 China's aggressive posturing over maritime boundaries has caused East Asian countries to look at other powers for support.
In PHOTOS: The bold and beautiful at Kolkata's SlutWalk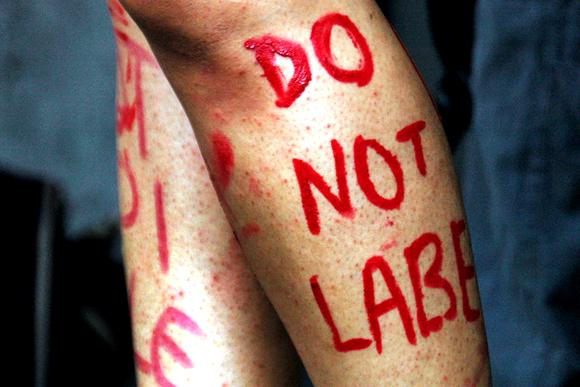 With a group of youngsters coming forward to hold a 'SlutWalk' rally today, Kolkata joined the global movement of protest marches against sexual harassment.
May 24, 2012
Why BJP is the loser in the Modi-Gadkari war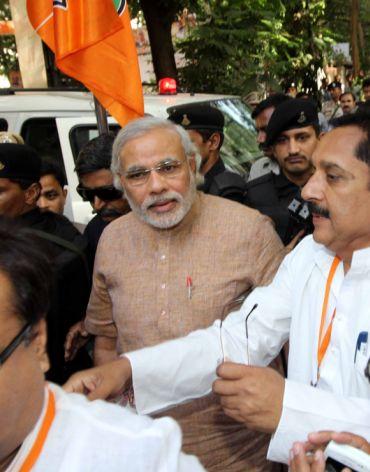 Narendra Modi may have won his battle with Nitin Gadkari in forcing Sanjay Joshi to quit the BJP national executive. But the BJP's political force has been diminished as personalities overtook issues, says .
Politicians of my age should retire, says Digvijay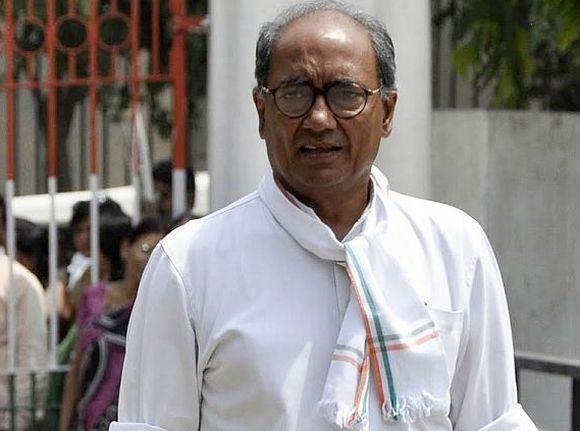 Congress General Secretary Digvijay Singh has said that time has come for politicians of his age to retire from the field.
BJP leadership faces uncomfortable questions on Modi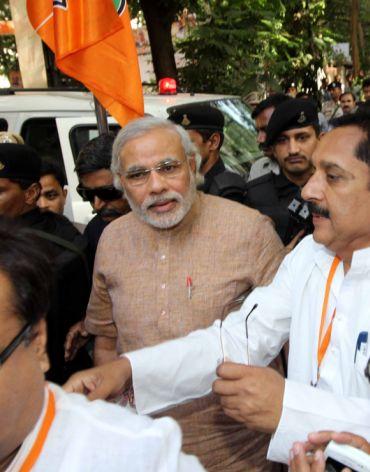 Bharatiya Janata Party President Nitin Gadkari's stress on unity and discipline in the party gave fodder to the media to shoot uncomfortable questions, including whether Gujarat Chief Minister Narendra Modi was the target, during the briefing of the party national executive on Thursday.
Modi vs Joshi tussle looms over BJP's national meet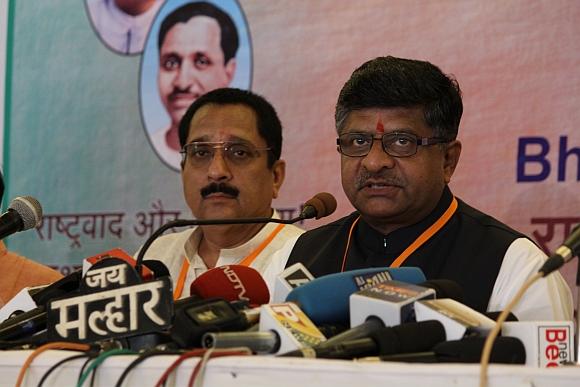 Though Bharatiya Janata Party general secretary and spokesperson Ravi Shankar Prasad labelled it as a 'non-issue', the resignation of Gujarat Chief Minister Narendra Modi-baiter Sanjay Joshi from the national executive and BJP president Nitin Gadkari's announcement on Thursday morning that Modi will attend the two-day meet hogged all the limelight, even as Prasad spent three-fourths of the press conference convincing the media that there was no infighting in the party
How Shakeel Afridi nailed Osama bin Laden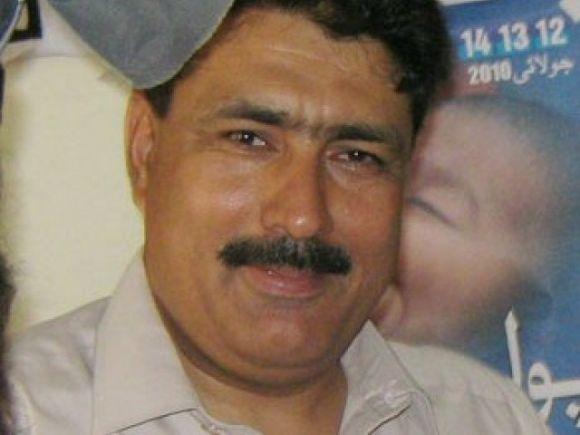 reports how a physician became a CIA mole and helped locate the most wanted man in the world.
I'm not a perfect president, says Obama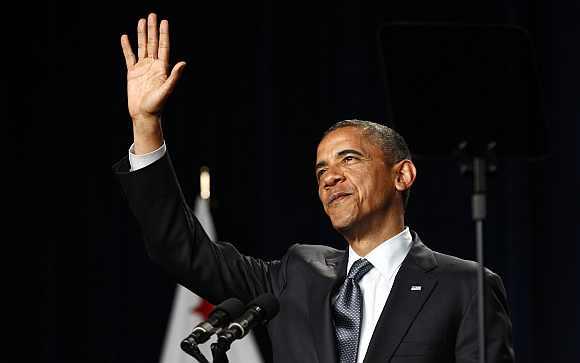 Conceding that he would never be a perfect president, Barack Obama has told Americans that he is the man who keeps all his promises, citing his decisions to bring back United States troops from Iraq as well as Afghanistan.
Here's PROOF: Pakistan's nuclear work on fast track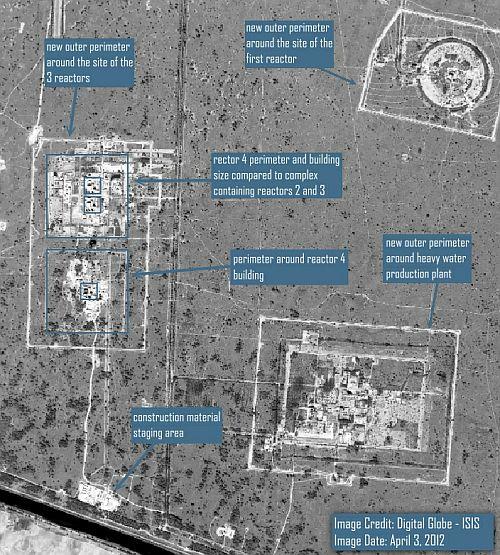 Pakistan's nuclear weapons programme is considered to be among the fastest growing in the world by Stockholm-based International Peace Research Institute, with the estimates of Islamabad possessing 90-110 nuclear warheads.
CBI to GRILL Jagan on Friday, Hyderabad tense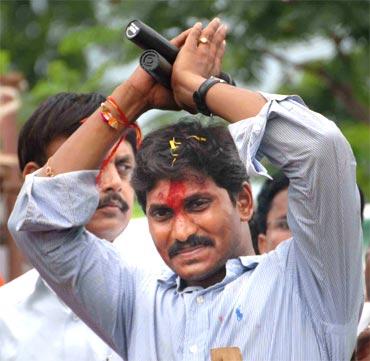 An arrest in this case is imminent, but it may not take place immediately, says
Petrol price hike: NDA calls BANDH on May 31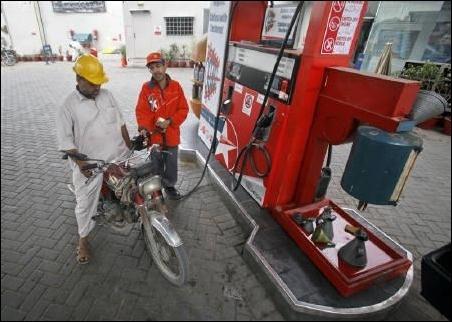 Opposing the steep hike in petrol prices and spiralling prices of commodities, National Democratic Alliance has called for a nation-wide bandh on May 31.
Obama says US is THE world leader. Do you think so too?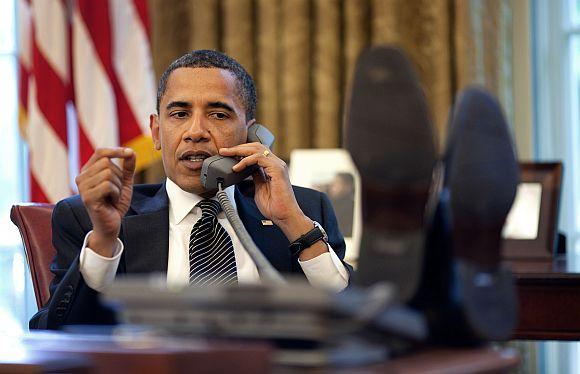 The US is leading the world once more and people across the globe admire America the most as they have developed a "new confidence" in its leadership, President Barack Obama has said.
Will Modi and Yeddy's absence affect today's BJP meet?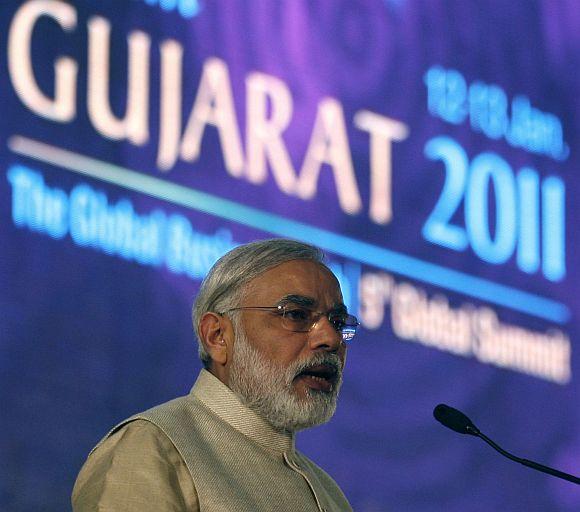 The absence of Gujarat Chief Minister Narendra Modi and former Karnataka Chief Minister B S Yeddyurappa could cast a cloud over the Bharatiya Janata Party National Executive beginning in Mumbai on Thursday which is all set to pave the way for a second term to party chief Nitin Gadkari.
In PHOTOS: The sweaty, intolerable Indian summer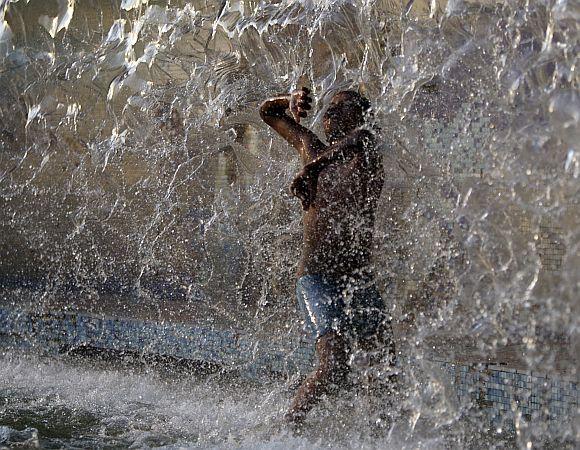 The heat wave across parts of India, most notably in the northern parts of the country, is taking its toll.
'Jailing Dr Afridi is proof of Pak being at war with US'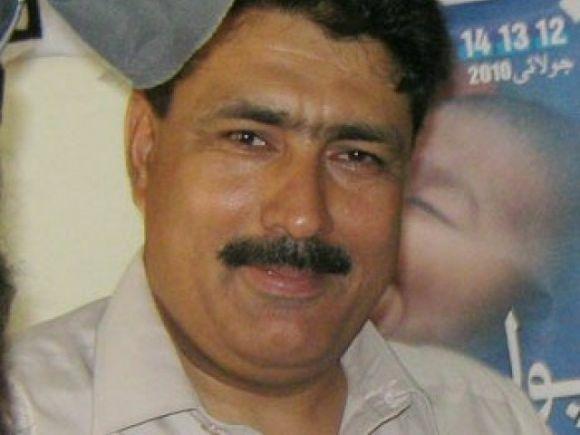 Shocked over Pakistan sentencing a doctor, who helped the CIA to find Al Qaeda chief Osama bin Laden, two top American Senators have asked the authorities in Islamabad to pardon and release him immediately.
Public fury of fuel price hike: 'Is it petrol or gold?'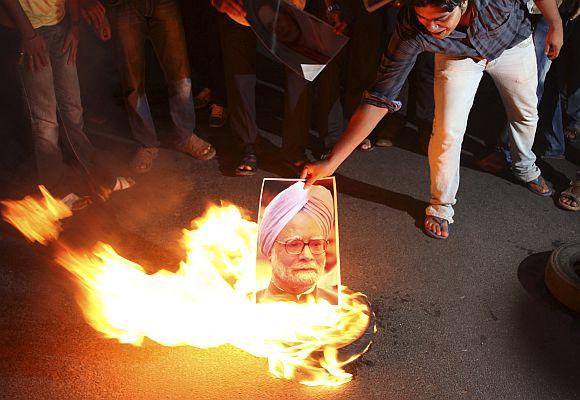 As the government announced a Rs 7.50 per litre hike in petrol price from midnight, anger was written on the faces of many people.
May 23, 2012
Pak doctor who helped trace Osama jailed for 33 years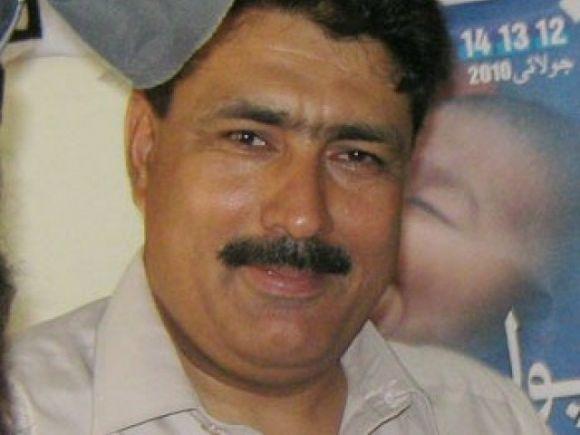 Dr Shakil Afridi, the Pakistani surgeon who helped the US Central Intelligence Agency find Al Qaeda chief Osama bin Laden, has been sentenced to 33 years in prison for 'treason'.
Talwars killed Aarushi and lover Hemraj: CBI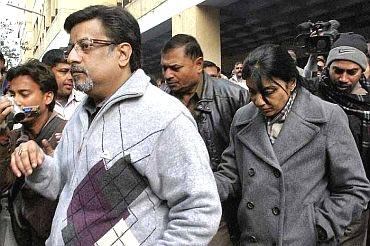 The Central Bureau of Investigation on Wednesday told a special court in Ghaziabad that Rajesh and Nupur Talwar killed their daughter Aarushi and domestic help Hemraj in a fit of rage after finding them in a compromising position, a claim strongly refuted by the dentist couple.
After Mubarak reign, Egypt votes in historic prez election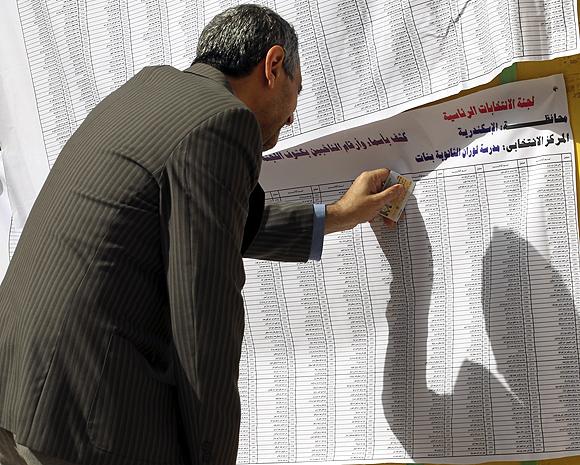 Egypt, which came under dictatorship 60 years ago, on Wednesday, will vote to choose their president in the first-ever competitive elections to be held.
There's a conspiracy to arrest me: Jagan writes to PM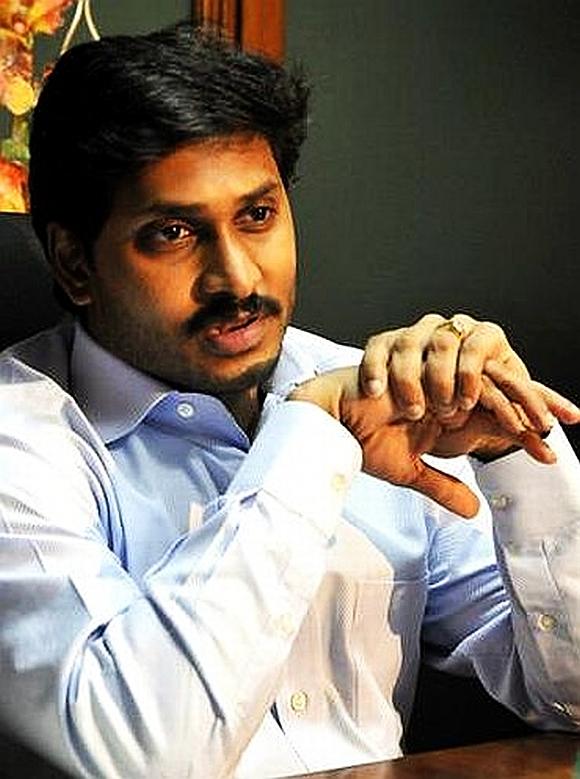 Even as the Andhra Pradesh high court ordered the Central Bureau of Investigation to defreeze the bank accounts of beleaguered Kadapa Member of Parliament Y S Jagan Mohan Reddy, he has written a letter to the Prime Minister Dr Manmohan Singh to save him from a Congress-Telugu Desam Party-CBI 'conspiracy' to nail him for alleged irregularities.
India, Pak walk the extra mile; to ink new visa accord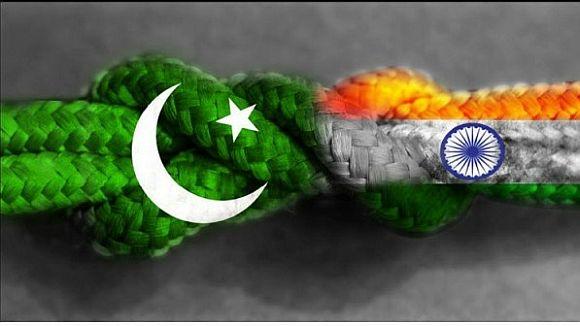 Continuing with the confidence building measures, India and Pakistan are set to ink a new visa agreement. reports from Islamabad
PIX: Explosives recovered at Guwahati railway station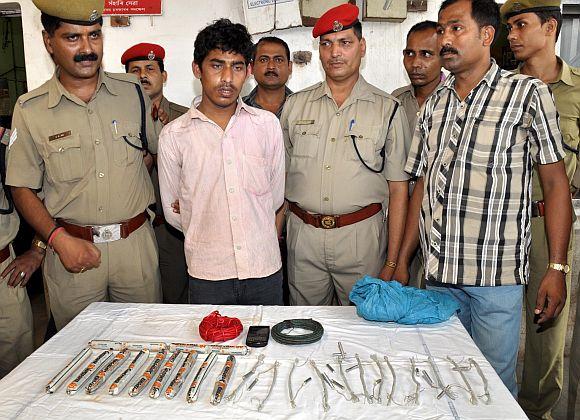 The Government Railway Police personnel on Wednesday recovered a huge quantity of high power explosives from a person travelling in a general coach of Delhi-bound North East Express at the Guwahati railway station.
Why are Jayalalithaa and Patnaik rooting for Sangma?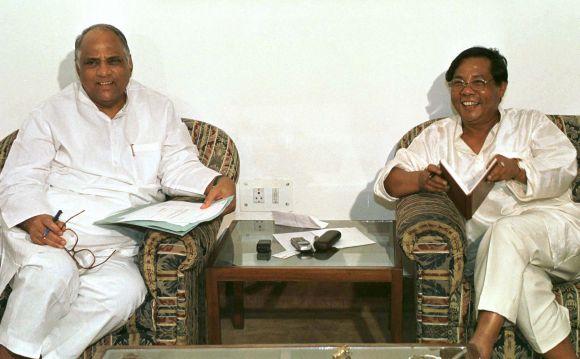 Political parties may be backing P A Sangma to mount pressure on the Congress high command to pick Pranab Mukherjee for the top post, says Neeraja Chowdhury
The army is NOT hated in Kashmir: Gen V K Singh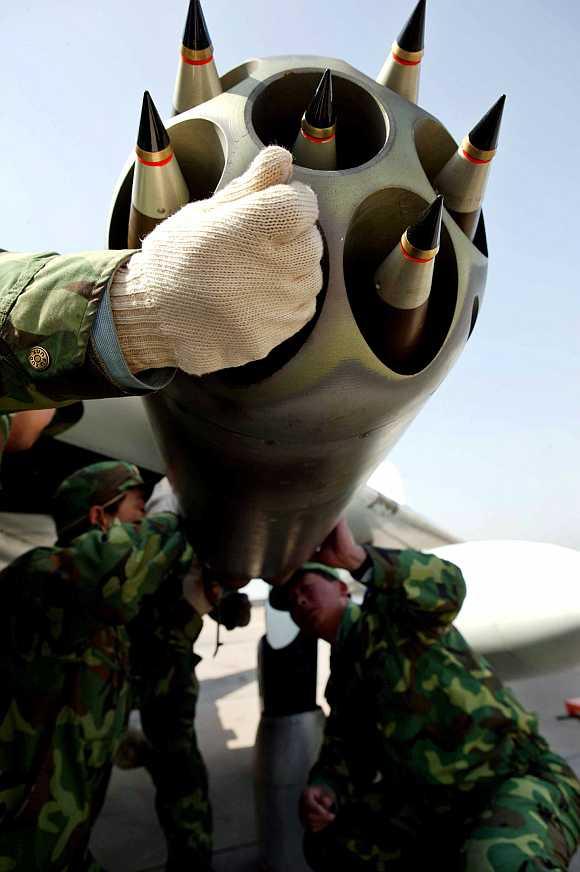 General V K Singh, the Chief of the Army Staff, discusses the Adarsh land scam, AFSPA, China, Pakistan and more... in this exclusive interview with Kalyani Shankar.
'India is like a ship whose captain has lost direction'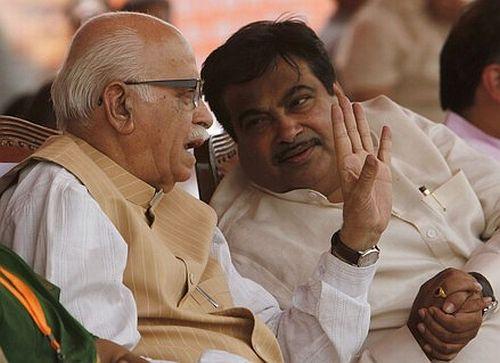 Ahead of the Bharatiya Janata Party's national executive meeting in Mumbai, party president Nitin Gadkari, in an interview with Sanjay Jog, says the Manmohan Singh government has failed to provide relief to the people, who are reeling under corruption and high inflation.
AWESOME PHOTOS: The beauty of the starry sky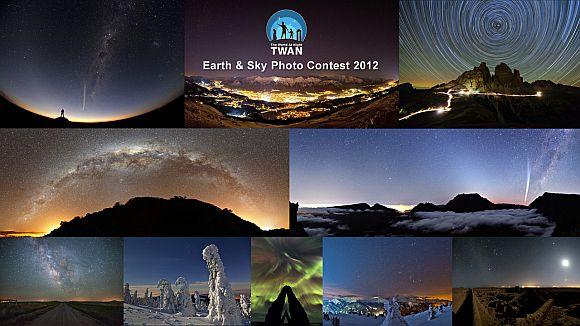 The Earth and Sky Photo Contest, organised recently by The World at Night foundation, Global Astronomy Month, and the National Optical Astronomy Observatory, received numerous entries that illustrated how important and amazing the starry sky is, how it affects our lives.
An emotional climax to Dharun Ravi's trial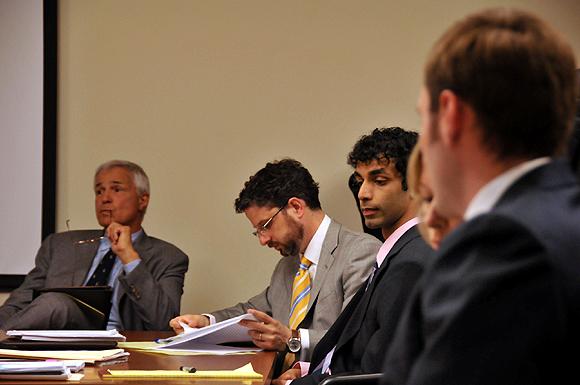 Rediff.com's Rajendran P was present at the Middlesex court in New Jersey as the parents of Dharun Ravi, convicted for webcam spying of his roommate Tyler Clementi, who committed suicide, and the latter's parents, took the stand before the judge sentenced Ravi to 30 days in prison.
May 22, 2012
BJP: What'll be flavour of UPA dinner without allies?
As United Progressive Alliance completes three years in office, opposition Bharatiya Janata Party on Tuesday claimed the government may fall anytime as coalition partners were unhappy and were not even ready to break bread together.
Video: 25 dead, 40 hurt in Andhra train collision
At least 25 persons were killed and around 40 injured when Bengaluru-bound Hampi Express collided with a stationary goods train at Penneconda station of Andhra Pradesh's Anantapur district early on Tuesday morning.
'Dharun has too much burden for the rest of his life'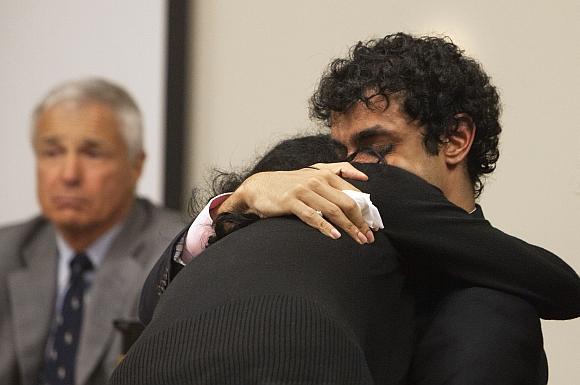 It was an emotional day at the Middlesex court on Monday as the parents of Dharun Ravi, convicted on webcam spying of his roommate Tyler Clementi, who committed suicide, and the latter's parents, took the stand before the judge sentenced Ravi to 30 days in prison. reports
Why Pakistani Hindus are desperate to enter India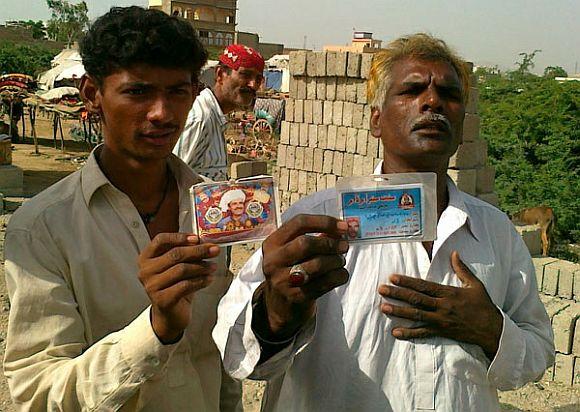 Things have just gone from bad to worse for the Hindu community in Pakistan's Balochistan region. So adverse is the scenario that around 100 more Hindu families from the region have applied to the Indian High Commission seeking asylum, reports
In PHOTOS: A scintillating garden of glass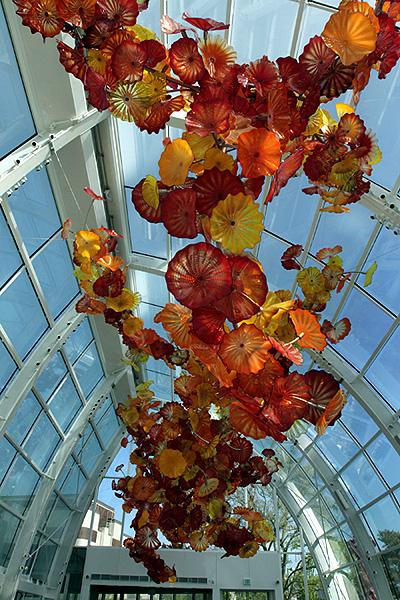 A museum dedicated to renowned glass artist Dale Chihuly opened on Monday at the foot of Seattle's iconic Space Needle.
UPA @ 3: Sonia should be PM, make Pranab the president
On the third anniversary of UPA 2 the government lacks energy. Sonia Gandhi can no longer afford to continue with the fiction that someone else can do the job and should take over from Prime Minister Manmohan Singh.
There was a coterie at work against me: Gen V K Singh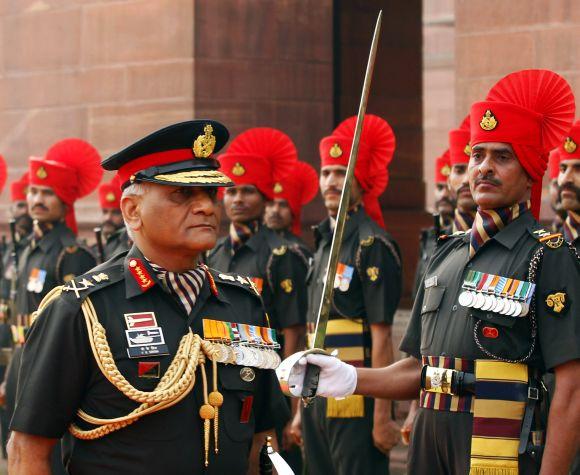 Army Chief General V K Singh speaks to Kalyani Shankar about the age row, the Tatra issue, the letter leak, and his future plans in this two-part freewheeling interview, which was partly broadcast on All India Radio.
UPA @ 3: The people are fed up... want PM to go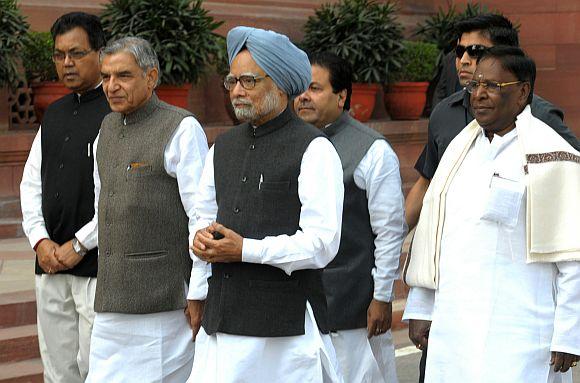 A survey carried out by television channel CNN-IBN has revealed that an overwhelming number of voters believe that the government has lost the faith of the public.
Aarushi case: Talwars have a rough day in court today
A Ghaziabad court will on Tuesday take up the framing of charges against dentist couple Nupur Talwar and Rajesh Talwar in the case relating to the murder of their teenaged daughter Aarushi and domestic help Hemraj after the accused pleaded lack of preparation for arguments.
May 21, 2012
Is Cong trying to bypass Mamata in race to Prez poll?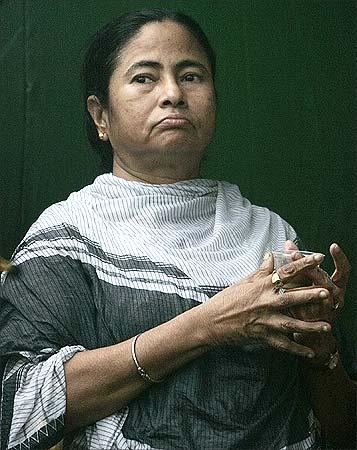 Congress leaders say that part of their calculations and preparations for the Presidential poll have focused on getting the numbers without Mamata, reports .
Webcam case: Dharun Ravi gets 30-day jail term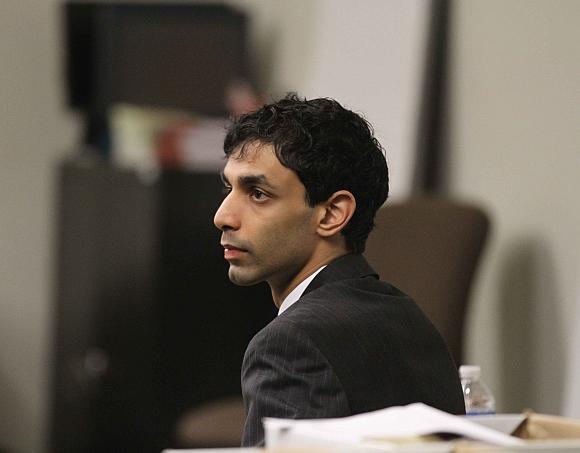 Indian student Dharun Ravi was on Monday sentenced to 30 days in jail by a New Jersey judge on hate crime charges for using a webcam to spy on a homosexual roommate who later committed suicide.
In PIX: WB honours its legends with Banga Vibhushan award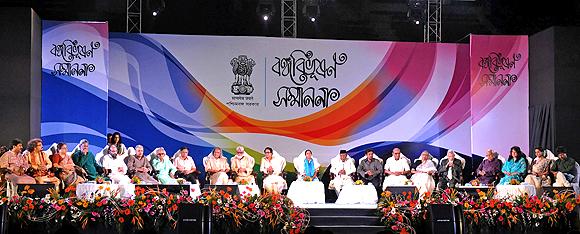 Chief Minister Mamata Banerjee on Sunday presented the Banga Vibhushan awards to 13 luminaries from various fields.
'White Paper on black money like bikini, hides essentials'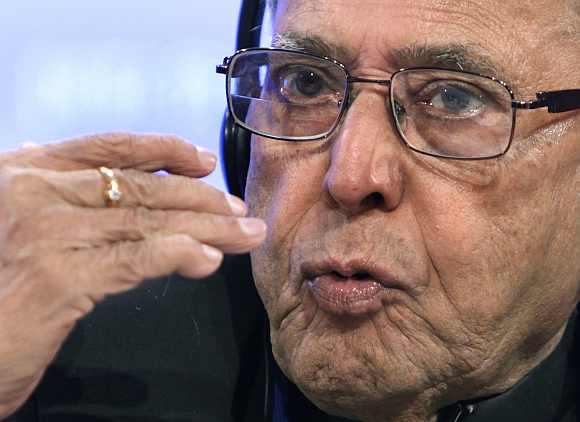 Describing the government's White Paper on black money as "disappointing" and a "non-paper", the Bharatiya Janata Party said on Monday it is "like a bikini" as it hides the essentials and reveals only the less significant details.
'Chandrashekhar blamed press for Rajiv Gandhi's death'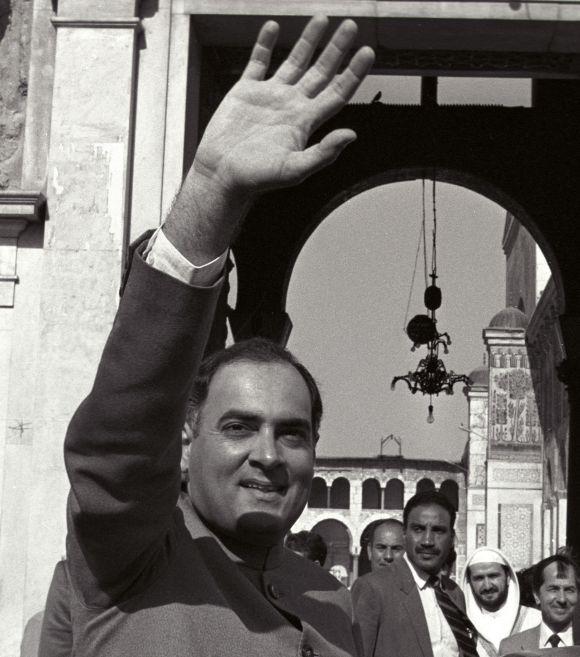 was working as the principal information officer of the government of India on the fateful night of May 21, 1991 when Rajiv Gandhi was assassinated in Sriperumbudur. Rao was entrusted with the crucial task of announcing the news of Gandhi's death to the entire world in the absence of then prime minister Chandrashekhar from New Delhi. Rao recollects the happenings of that tense night.
'They don't like women who are flamboyant about sexuality'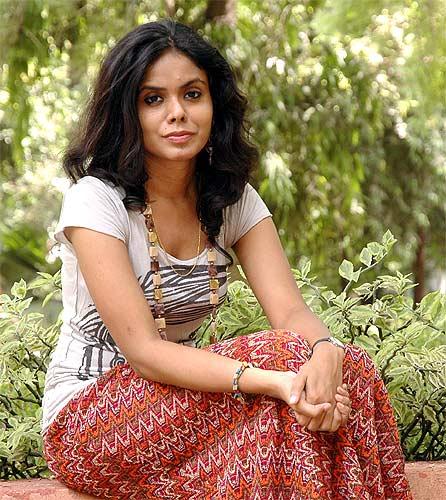 'Even the stories of Sita or Draupadi, I look at them in a different manner. I wanted to reclaim them as women.' Meena Kandasamy, the young firebrand poet, discusses poetry, social injustice, men and society with Shobha Warrier.
I will fight for my husband's honour: Vinita Kamte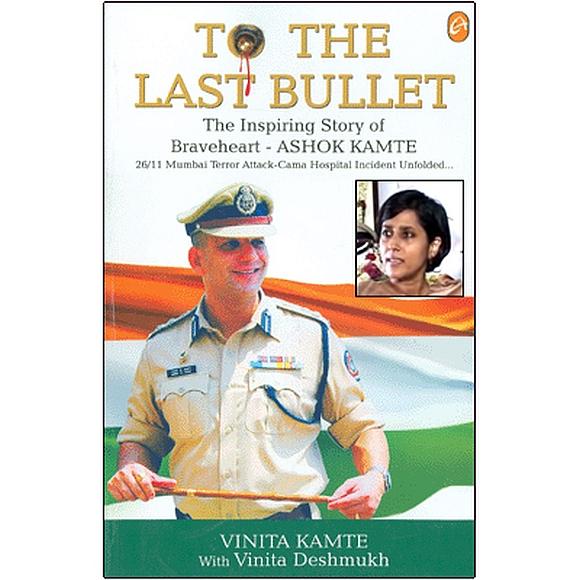 For Vinita Kamte, wife of the late Additional Commissioner of police Ashok Kamte who was gunned down during the 26/11 Mumbai attack, the battle has been a long one. Rediff.com's talks to Vinita, who in her book 'To the Last Bullet', has pieced together information about the sequence of events that preceded her husband's death at the hands of the Lashkar-e-Tayiba terrorists
I am ALWAYS outspoken, that's my minus point: Mamata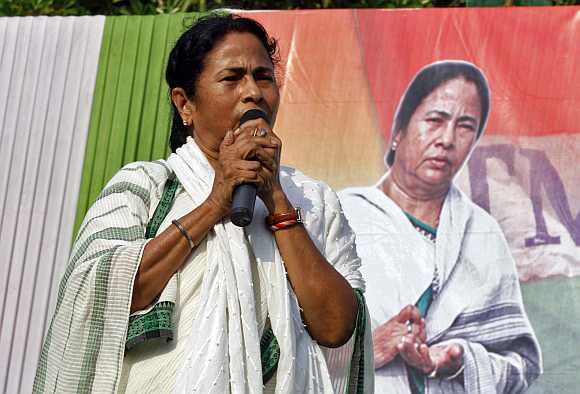 In an interview with CNN-IBN, West Bengal Chief Minister Mamata Banerjee seemed reluctant to embrace Finance Minister Pranab Mukherjee as her party's choice for the post of the President of India.
Get out NOW: Afghan Taliban tells NATO States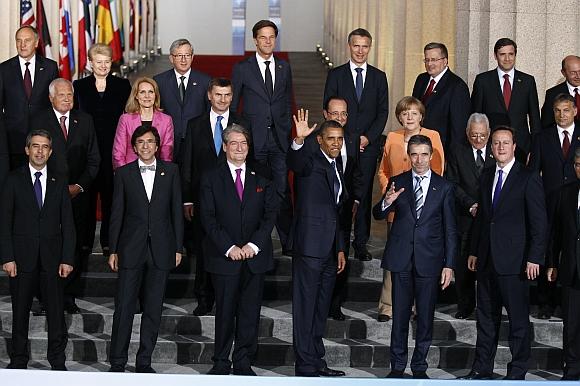 As Nato leaders assemble in Chicago to discuss Afghanistan, the Taliban have issued a 14-point agenda to its leaders, with a succinct message: Get out now, reports
DON'T MISS: Rare 'Ring of Fire' wows skygazers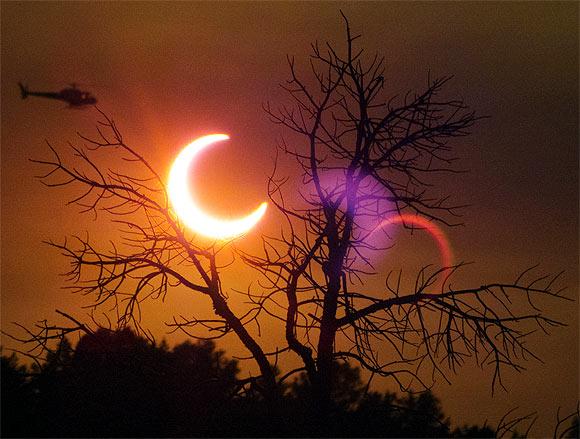 A helicopter passes in front of the solar eclipse over Payson, Arizona, May 20, 2012. The sun and moon aligned over the earth in a rare astronomical event on Sunday.
Narendra Modi most popular national leader: Survey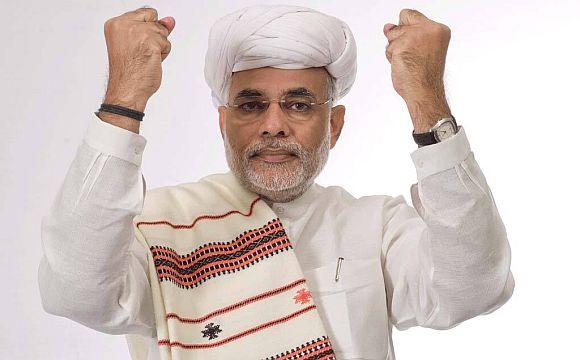 A survey has suggested that the Congress-led United Progressive Alliance is losing its sheen.
Do you know when Queen Elizabeth learnt driving?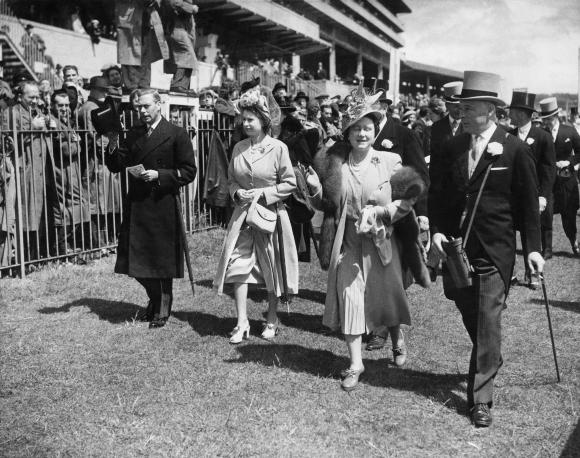 The Diamond Jubilee of Queen Elizabeth II is the international celebration throughout 2012 marking the 60th anniversary of the accession of Queen Elizabeth II to the thrones of seven countries upon the death of her father, King George VI, on February 6, 1952.
The soft war against the Naxals in Chhattisgarh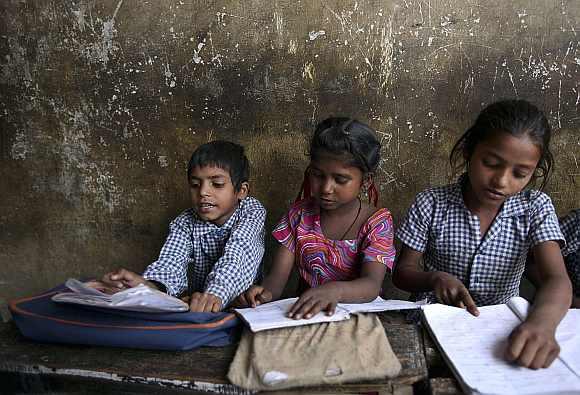 The Chhattisgarh government has unleashed a "soft" tactic in its war against the Naxals - residential schools for poor children. travels to Dantewada, Bastar and Sukma to see for himself
In PHOTOS: First Oz cat cafe, 'super cool bra' and more!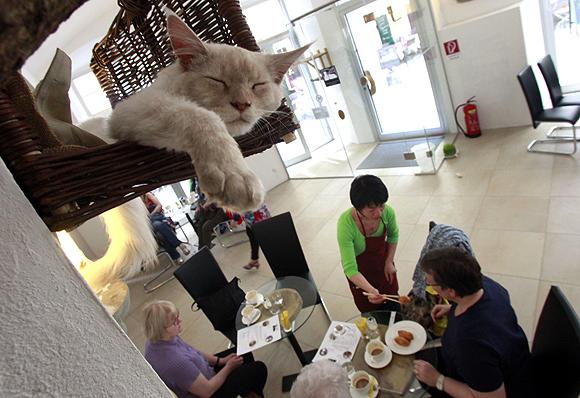 First Oz cat cafe, 'super cool bra' and more
May 20, 2012
Mamata's red rage for change and progress faces skepticism
City of Joy singing blues as Didi celebrates one year in office at Writers' Building. reports
Manmohan Singh best person for the PM job: Khurshid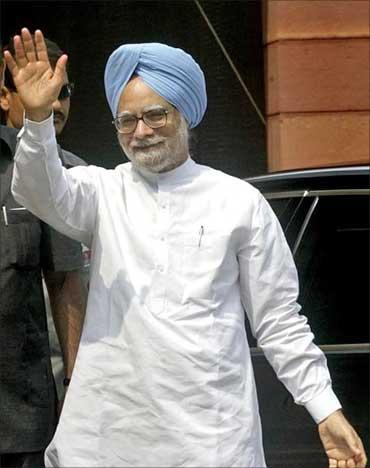 Rubbishing all criticism of Manmohan Singh being a weak Prime Minister, Union Law Minister Salman Khurshid said he is the best person for the job and has provided "thoughtful, philosophical" leadership in uncertain times.
May 19, 2012
SRK deserves to be a Member of Parliament: Thackeray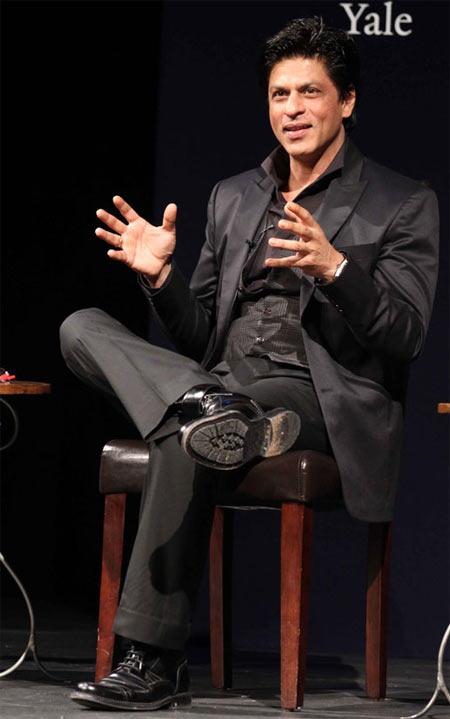 Targeting Shah Rukh Khan over the Wankhede incident, Shiv Sena chief Bal Thackeray on Saturday said the actor did not seem to mind the treatment meted out to him by airport authorities in the United States, but was ready to get into a fracas in Mumbai because "he has the Congress's protection".
Yeddy to skip national BJP meet, says won't join Cong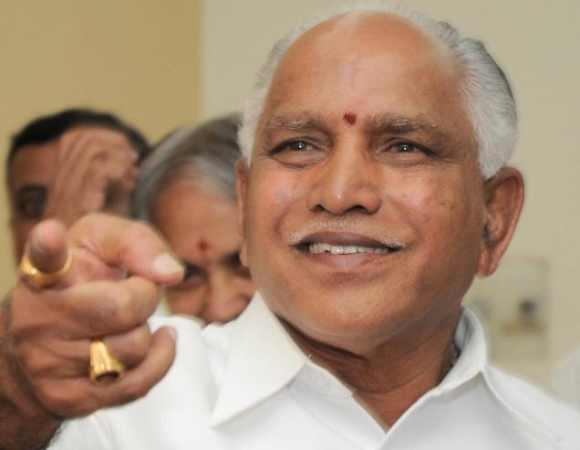 Former Karnataka chief minister B S Yeddyurappa said on Saturday that he will not participate in the national executive meet of the Bharatiya Janata Party scheduled to be held in Mumbai on May 24 and 25.
PHOTOS: Bus with Ajmer pilgrims catches fire, 16 dead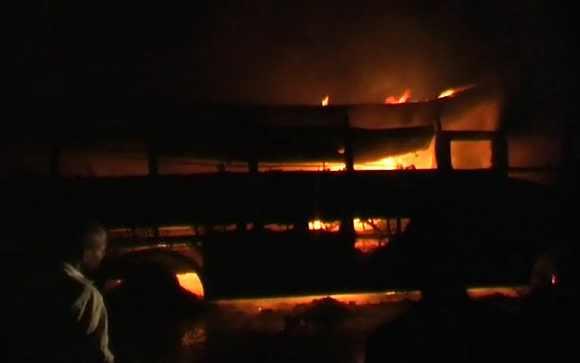 They had set from their homes in the remotest corners of Eastern Uttar Pradesh for a pilgrimage to the famous Ajmer dargah, but barely a few hours later many of them met their gruesome end as the bus in which they were travelling, caught fire after a collision with a truck loaded with sand in Bahraich, about 130 km from Lucknow on Friday evening.
WATCH: Top videos of the week
WATCH:
May 18, 2012
Unpopular kings give sour taste to Queen's jubilee lunch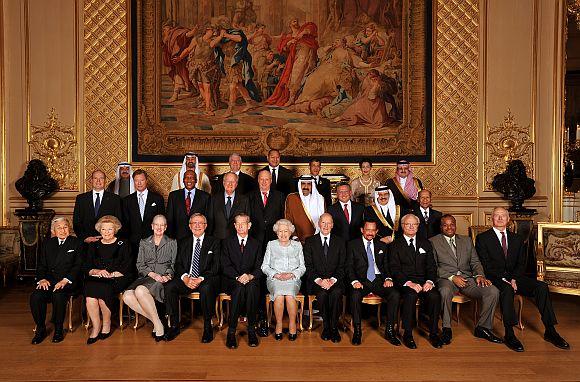 A celebratory lunch at Windsor to mark the Diamond Jubilee of Queen Elizabeth's reign has been marred by a row over the guest list, with campaigners criticising the invitation to monarchs from countries like Bahrain and Swaziland with allegedly poor governance record.
Naxals are fighters not terrorists: Om Puri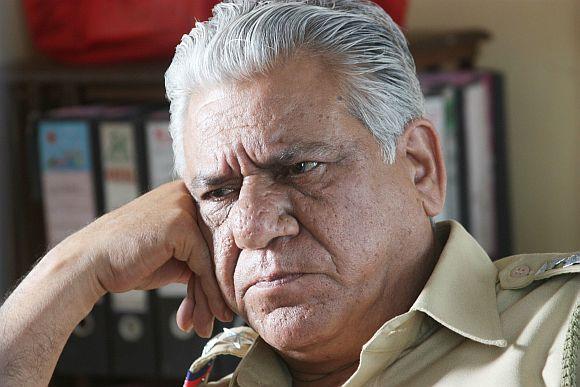 Veteran Bollywood actor Om Puri, who drew flak for his controversial comments against parliamentarians, landed himself in another row by calling Naxals "fighters not terrorists".
Don't ban SRK: Lalu, Mamata; keep it cool: Farooq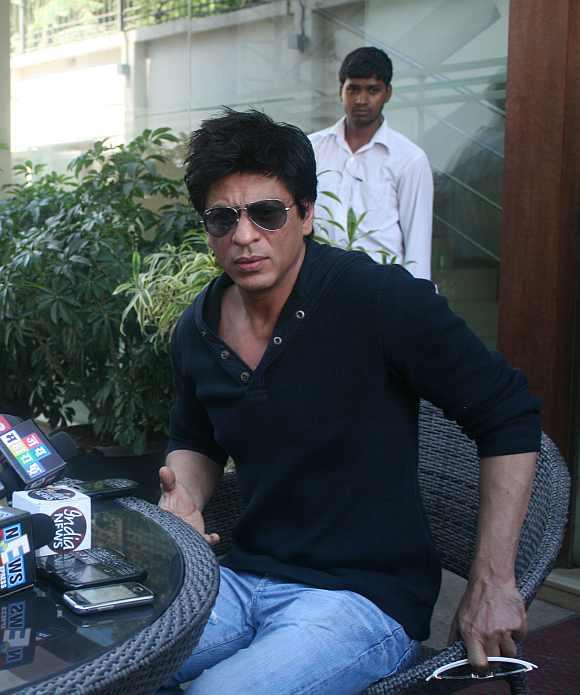 With the Indian Premier League hit by controversies, Rashtriya Janata Dal chief Lalu Prasad Yadav on Friday demanded that the tournament should be closed down.
On 5th anniversary, Mecca Masjid blast is a forgotten case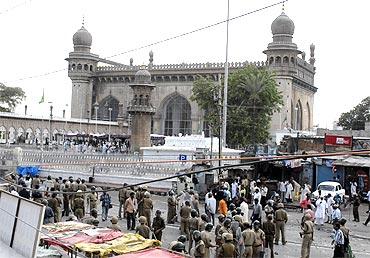 May 18 marks five years since the blast at Hyderabad's Mecca Masjid. However, there has been no breakthrough in case with the investigation going on at a snail's pace. Lateef Mohammad Khan, convenor of the Civil Liberties Monitoring Committee, which has been fighting the case of the Muslim youth who were falsely implicated in the blast, says that the police is trying to pin the blame on two sects of the community while shielding the real culprits. reports.
Kashmir appalled by 400 baby deaths in state hospital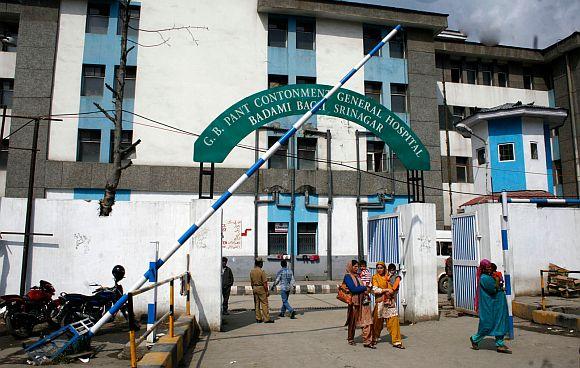 The deaths of over 400 children in the past five months in Kashmir Valley's only paediatric hospital -- the G B Panth hospital in Srinagar -- have triggered a social, political and administrative commotion, reports .
Former army and ISI chiefs embroiled in allegation war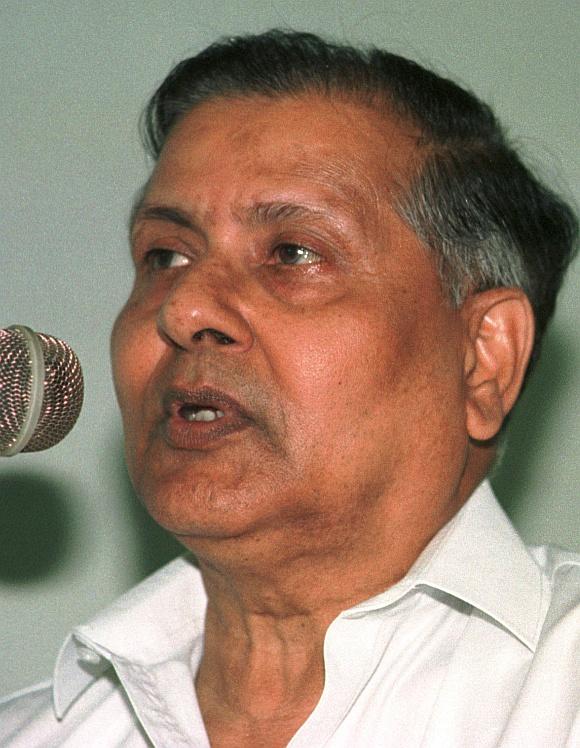 The ongoing war of words between a former Pakistani chief of army staff general and a former ISI chief, trading allegations and counter allegations in the supreme court and blaming each other for payment of millions of rupees among anti-Pakistan People's Party politicians to influence the results of the 1990 general elections, has abundantly made it clear how Pakistan's powerful military and intelligence establishment has been manipulating domestic politics for decades now.
'Afghan withdrawal will not mean central role for Pak'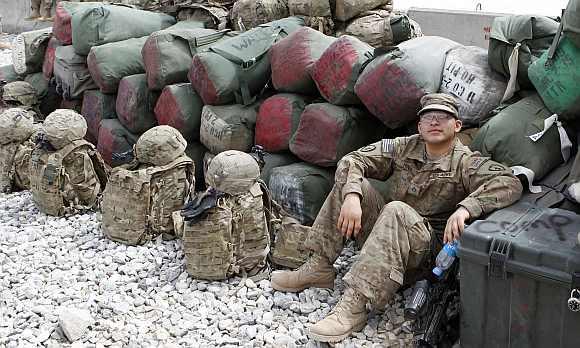 India has been discomfited by signs that the United States and its allies are preparing to leave Afghanistan.
India among 10 nations on doomsday asteroid target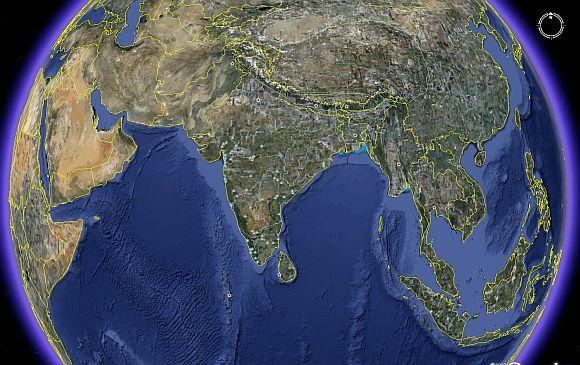 Observations from NASA's Wide-field Infrared Survey Explorer have led to the best assessment yet of our solar system's population of potentially hazardous asteroids. The results reveal new information about their total numbers, origins and the possible dangers they may pose.
IN PICTURES: Mumbai that is and could be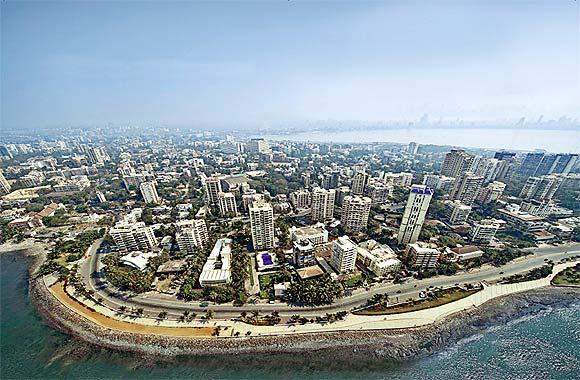 In a recent exhibition in Mumbai's National Gallery of Modern Art, architect PK Das put forth several ideas on how the problem of shrinking public spaces in Mumbai can be resolved. takes a look
India tops in rate of maternal deaths WORLDWIDE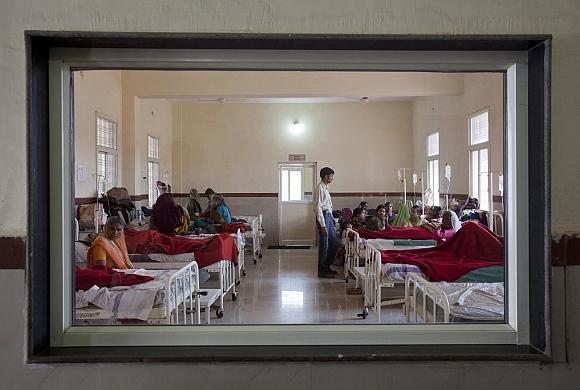 India and Nigeria together accounted for a third of the deaths of pregnant women globally in 2010, latest UN figures said, even as maternal deaths declined by nearly half in the past two decades due to improvement in health systems and increased female education.
May 17, 2012
'Pak is in the throes of a huge domestic crisis'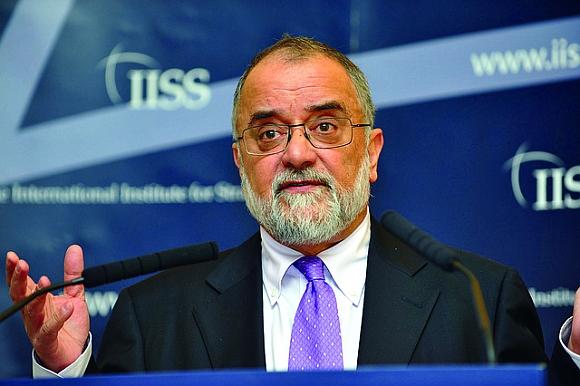 Pakistani journalist, scholar and author Ahmed Rashid has virtually taken on an advisory role to the Obama administration on Pakistan. He has been arguing that the United States should not unilaterally re-set its relationship with Islamabad -- which is in the doldrums -- unless that country completely eschews supporting and funding terrorist groups that attack the US, India and Aghanistan. reports.
'Desis tend to vote Democratic right now'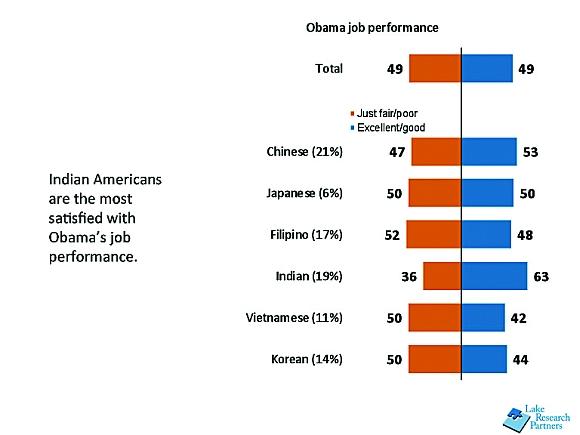 The first-ever poll of Asian-American voters finds support for President Obama, but also room for outreach. reports in this two-part series.
Why India's futuristic fighter won't fly till 2019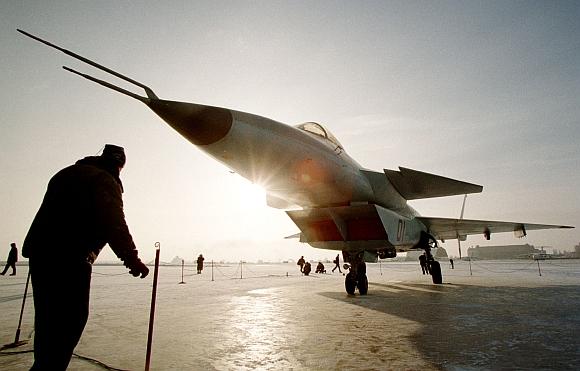 Seven years before its scheduled completion, the Ministry of Defence (MoD) has already announced a two-year delay in the Fifth Generation Fighter Aircraft (FGFA) India and Russia are to jointly develop, says
'There's NO need of NCTC if laws are implemented'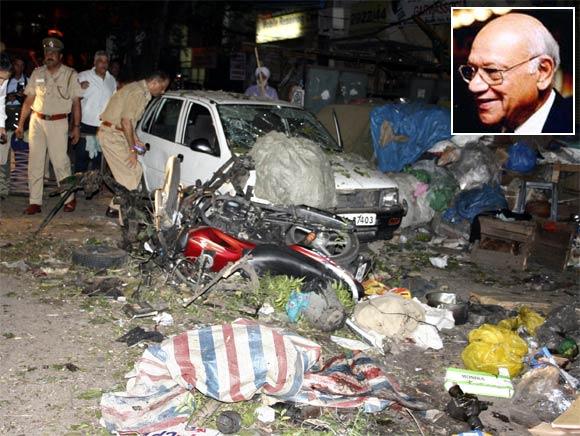 Julio Ribeiro, the Mumbai police chief who sprang to superstardom after leading the Punjab Police during the Khalistan insurgency, has experience with both state-level and counterterrorism policing. And he is doubtful whether the National Counter-Terrorism Centre is really needed.
BEWARE: By 2030 even 2 earths WON'T suffice!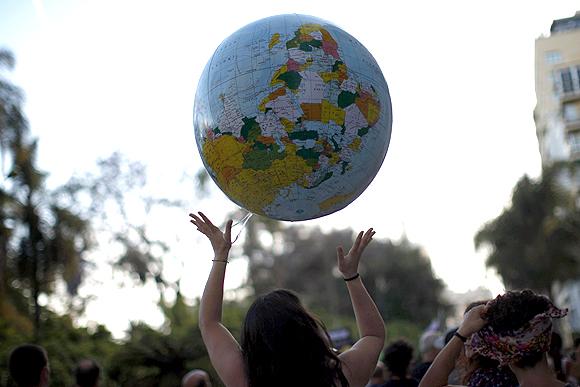 Mankind is draining the earth's resources so quickly that the globe would be bled dry before the end of the century at this rate, a new report has revealed.
'Politicians are not intolerant. We can accept criticism'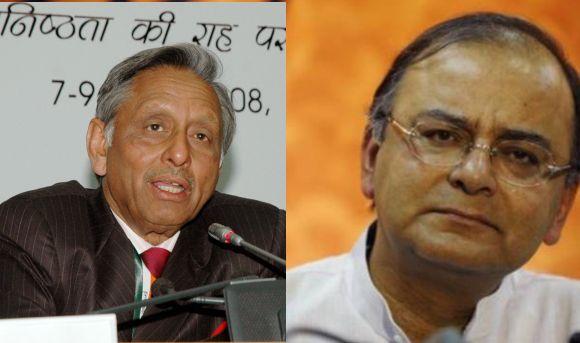 India is increasingly becoming a 'democracy of sound bytes' because of 'undue' coverage given by the media to disruptions in Parliament and not to serious debates. This was the general sense expressed by politicians across the board who nudged the media -- both electronic and print -- to cover less the noise in Parliament and give more weightage and coverage to serious issues that are raised in the House.
When Michelle wanted divorce & Obama became suicidal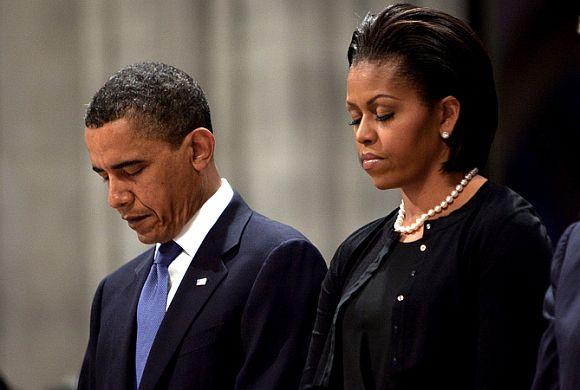 Michelle Obama contemplated divorcing Barack Obama in 2000 after he ignored her advice not to run for a House seat in Chicago, making him so "depressed" that friends feared he might commit suicide, says a new book.
May 16, 2012
'India must cut Iran oil imports substantially'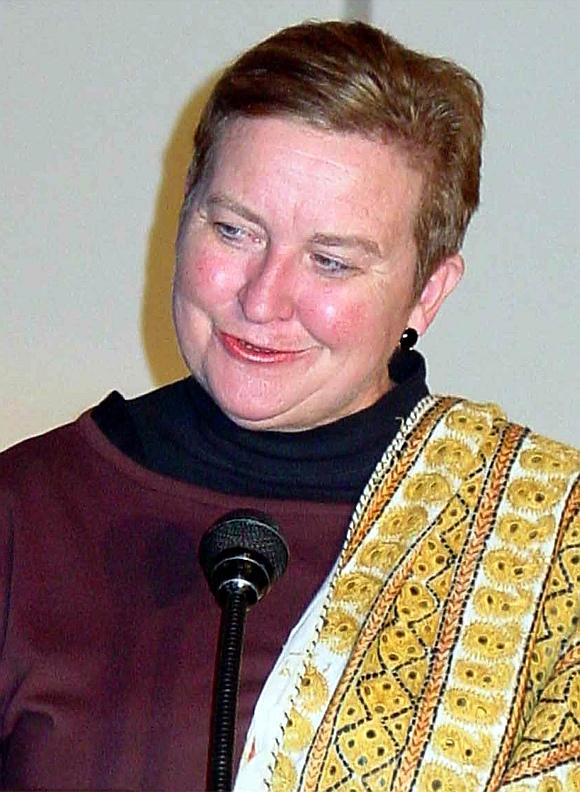 In her first interview to CNN-IBN's Suhasini Haider after taking over as the US Ambassador to India in April 2012, Nancy J Powell, compared India's 'lower'oil cuts unfavourably to Japan that has already received an American sanction waiver after it cut oil imports by a whopping 80 per cent in April. India has announced a 34 per cent cut so far.
Mayawati's parks, elephants and a Rs 40,000-crore scam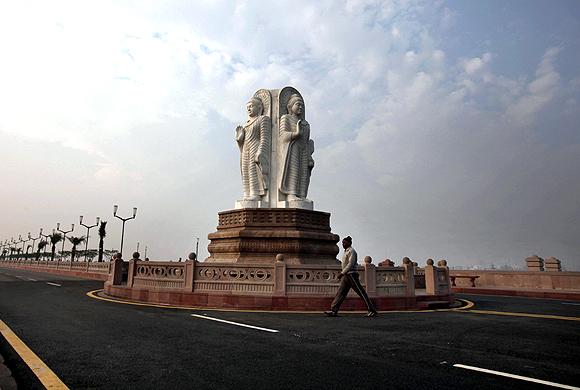 Bahujan Samaj Party president Mayawati's fad for building memorials and parks with umpteen statues of Dalit icons and elephants, the party symbol, has a dark side too. Clearly, there appears to be a huge scam behind every dream project of the former Uttar Pradesh chief minister.
Desis favour Obama for US President: Poll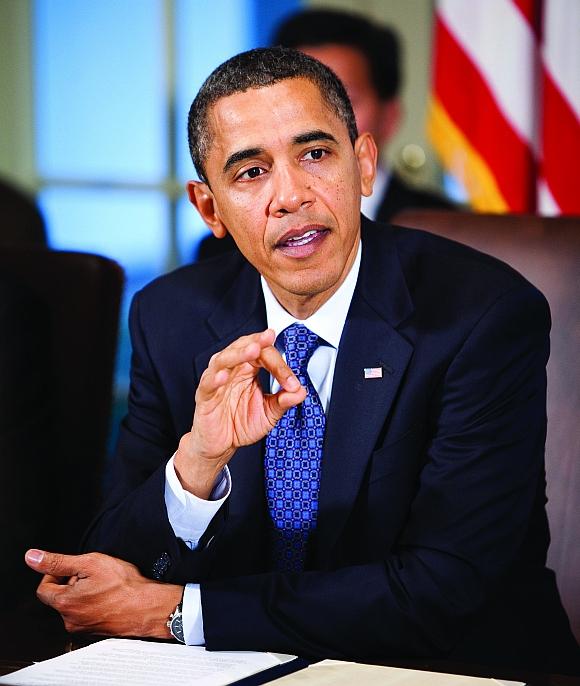 The first-ever poll of Asian-American voters finds support for President Obama, but also room for outreach. reports in this two-part series.
Jaya govt launches ad blitzkrieg as it turns one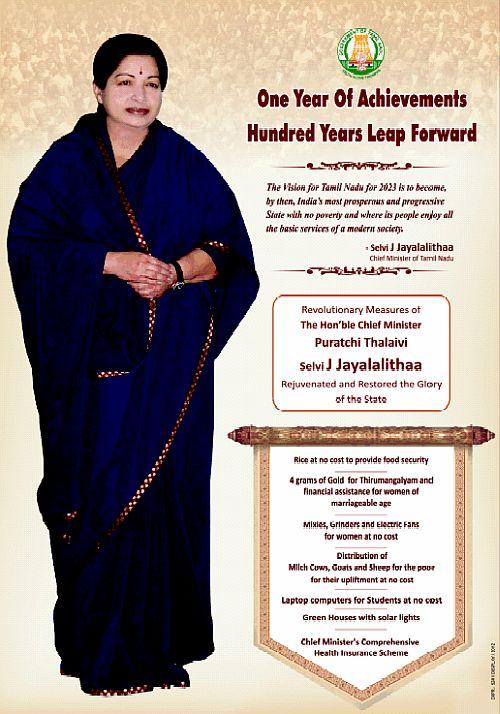 The extensive floral arrangements on the floor of the Tamil Nadu Assembly said it all. The Jayalalithaa government in the state had turned one and it was time to celebrate.
Pranab not informed about MPs photo-op, misses it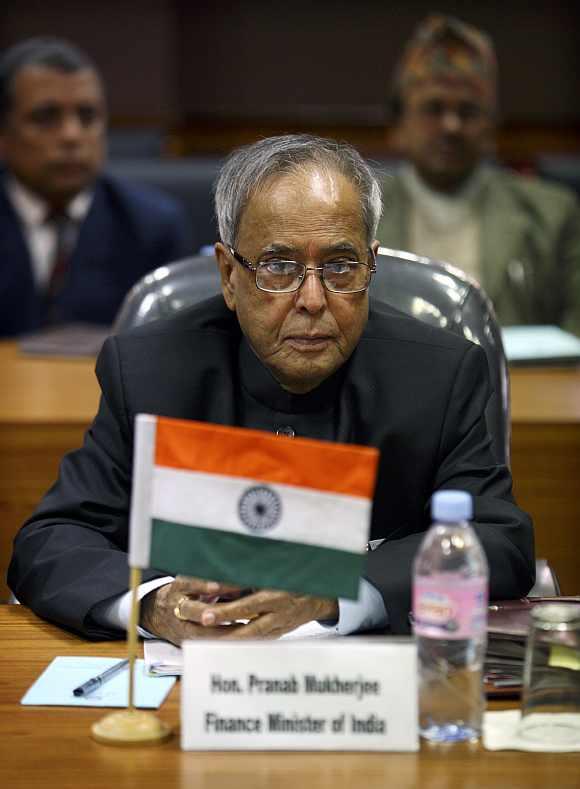 Finance Minister Pranab Mukherjee was conspicuous by his absence at a joint group photograph of members of both the Houses on Wednesday to commemorate 60th anniversary of Parliament as he was not informed.
Terror outfits are lapping up the World Wide Web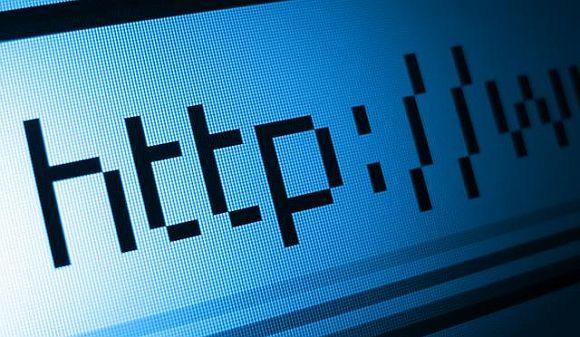 The Mumbai attack perpetrated by Pakistan-based Lashkar-e-Tayiba was an example of how terror outfits use latest available IT tools for their decisive motives, a top US commander has said, highlighting the role of cyber space in such events.
Saeed serves legal notices on journos; seeks Rs 10 crore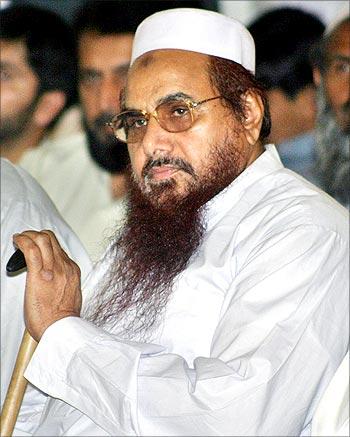 The Lashkar-e-Tayiba founder Hafiz Mohammad Saeed has served legal notices on two Pakistani journalists for allegedly concocting a report about his secret meeting with United States Ambassador Cameron Munter, seeking Rs 10 crore as damages.
No place to go, Myanmarese seek refugee status in India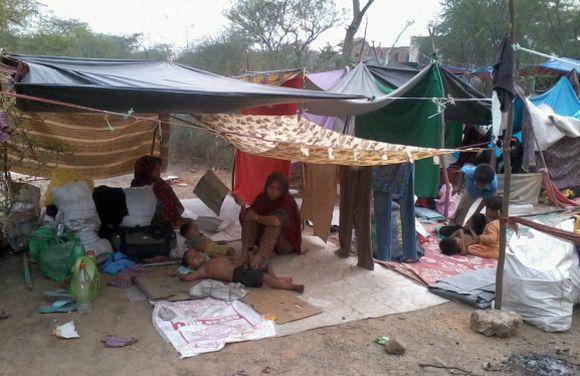 Living in tattered tents in Delhi, Myanmarese refugees from the Rohingyas community have been demanding refugee status in India, as they seek jobs and education for their children. reports
HC refuses to stop Sachin from taking oath in Rajya Sabha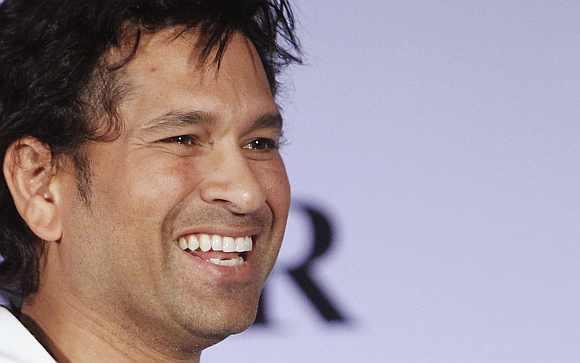 The Delhi high court on Wednesday refused to restrain cricketer Sachin Tendulkar from taking oath as a Rajya Sabha member on a public interest litigation seeking quashing of his nomination to the Upper House.
Brahmin for President, anyone?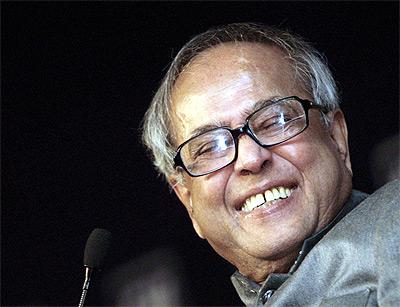 The Congress is on a search spree these days. To choose the next President. And, a new spokesperson for the party. All this, and more, in this week's Dilli Gupshup.
MUST READ: Sarkozy's lavish ex-presidential perks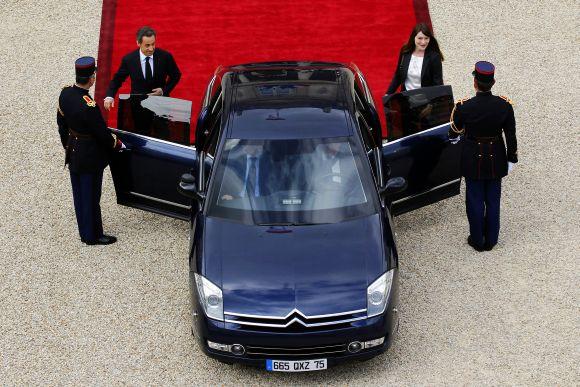 France's outgoing President Nicolas Sarkozy and outgoing First Lady Carla Bruni-Sarkozy leave the Elysee Palace at the end of a handover ceremony in Paris on Tuesday
Licence to chill: UK 'babus' take OLYMPIC break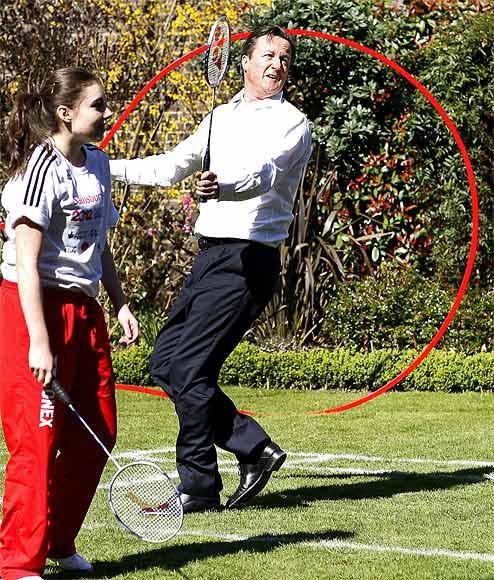 While the whole world is waiting for the London Olympics -- the biggest sporting extravaganza on the planet -- civil servants in Britain may be awaiting the Games a tad more eagerly than others.
World's most powerful man is worth only Rs 43.3 crore!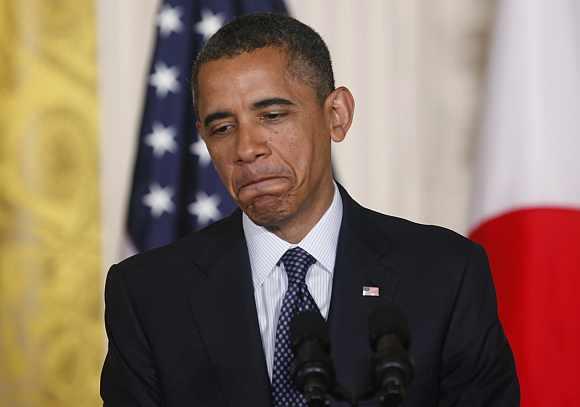 United States President Barack Obama's estimated assets for the last year are valued at $8 million (Rs 43.3 crore), his latest annual financial disclosure forms show and he has up to $1 million (Rs 5.4 crore) in the JP Morgan Chase, the bank which is under the Federal Bureau of Investigation scanner.
US slaps sanctions against Chhota Shakeel, Tiger Memon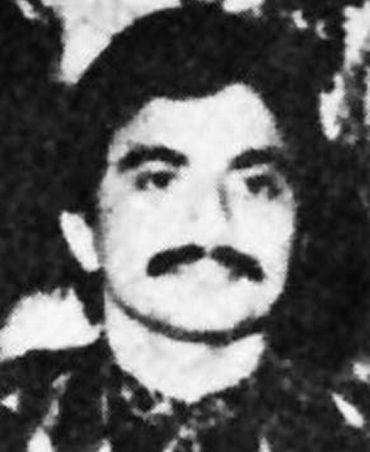 The United States on Tuesday slapped sanctions against underworld don Dawood Ibrahim's two top aides -- Chhota Shakeel and Tiger Memon -- for their role in drug trafficking in the region.
In PHOTOS: Meet France's new power couple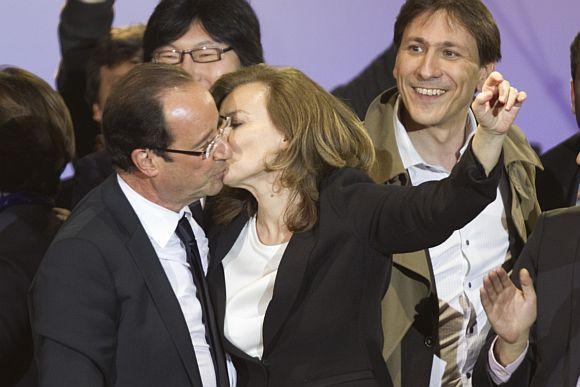 Interesting bits of trivia about France's new power couple.
In PHOTOS: Mexico's simmering volcano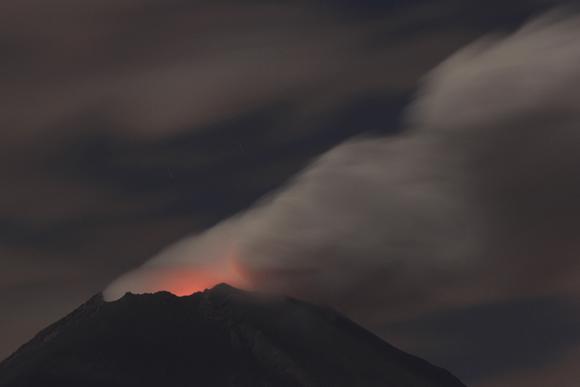 Rediff.com brings you a few scintillating pictures of the Popocatepetl.
May 15, 2012
EXPLAINED: Controversy over Chidambaram, Aircel-Maxis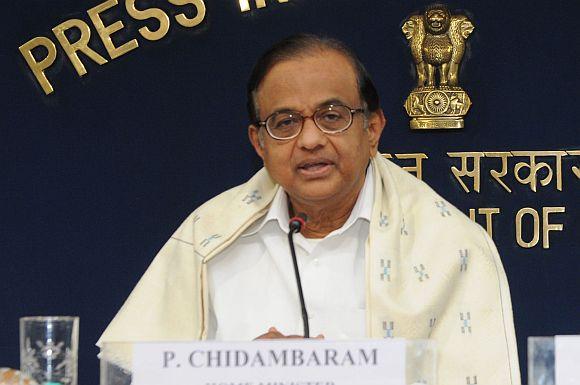 Is P Chidambaram in serious trouble? What is the alleged Aircel-Maxis scam? Does Chidambaram and his son have an alleged role in it? With the help of investigative reporter J Gopikrishnan, we shed some light on the controversial issue.
PIX: Indian Americans rally in support of Dharun Ravi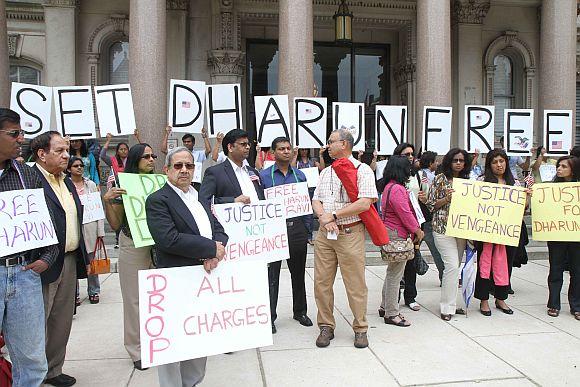 More than 500 rally in Trenton, New Jersey, in favour of no prison time for ex-Rutgers student Dharun Ravi convicted of a hate crime, reports .
WATCH: A Raja gets BAIL in 2G spectrum scam case
On the apprehension of the CBI that if granted bail Raja may influence witnesses and tamper with evidence, the court said it addressed them by imposing conditions and restrictions on the accused.
IMAGES: Rekha takes oath as Rajya Sabha MP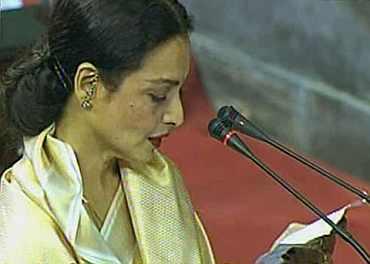 Cine superstar Rekha took oath as a member of the Rajya Sabha on Tuesday, becoming yet another personality from the tinsel town to enter the portals of Parliament.
World's 25 most powerful landscape PHOTOS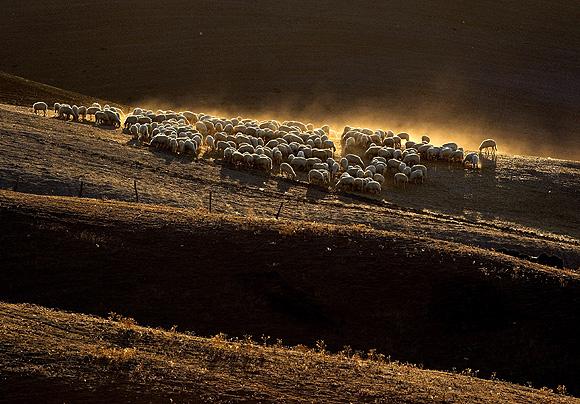 Rediff.com showcases some of the most vibrant landscape snaps from around the world
Pakistan has to STOP playing games with terror groups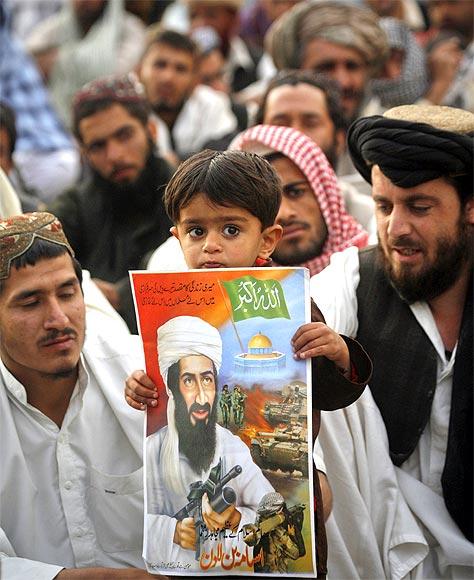 Unless Pakistan's military leaders awaken to the dangers that lie ahead from the Islamist extremist threat, it may eventually overwhelm the Pakistani state, warns
What Indian politicians FEAR the most!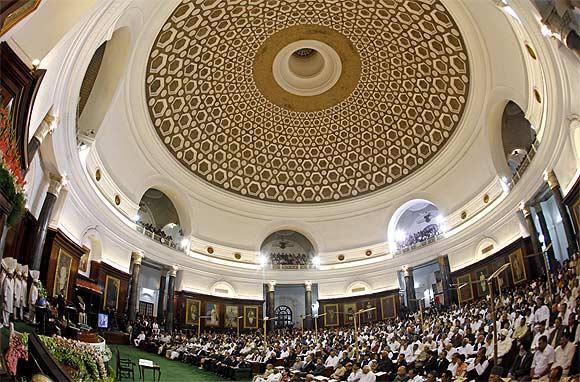 India's modern-day politicians across parties seem unable to handle even the mildest hint of ridicule
Bobby Jindal, the next American vice-president?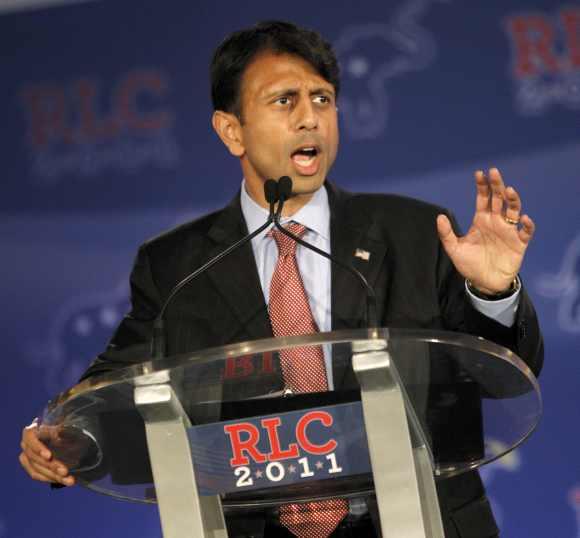 Indian American Louisiana Governor Bobby Jindal has a good chance of being selected as vice-presidential running mate of Mitt Romney, the presumptive Republican presidential nominee, a media report has said.
T N Seshan: The man who would never back down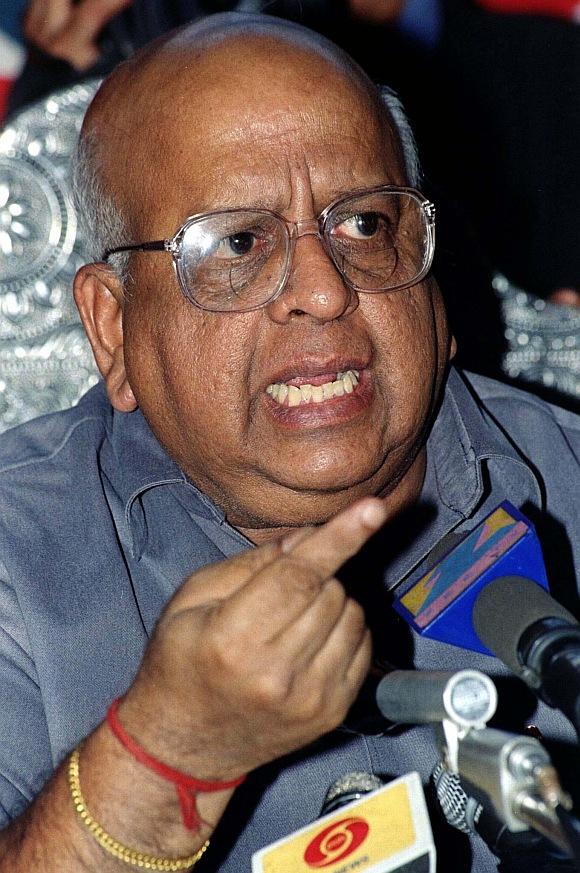 Ignoring threats and entrenched interests, the admired and controversial T N Seshan helped clean up India's elections. meets the changemaker in retirement
MUST READ FACTS: Aircraft carrier INS Viraat turns 25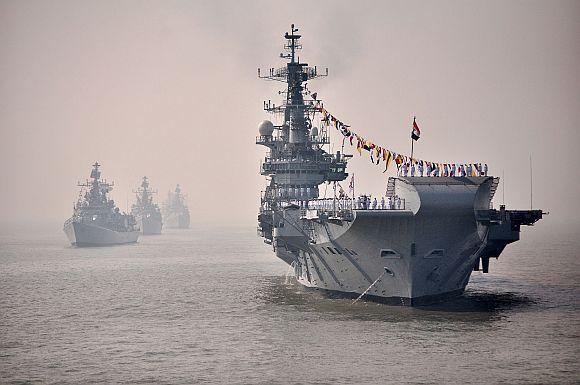 The sole aircraft carrier of the country, INS Viraat has completed 25 years of its active service with the Indian Navy. We bring you some facts about the aircraft carrier
IN PICS: The 10 WORST aviation disasters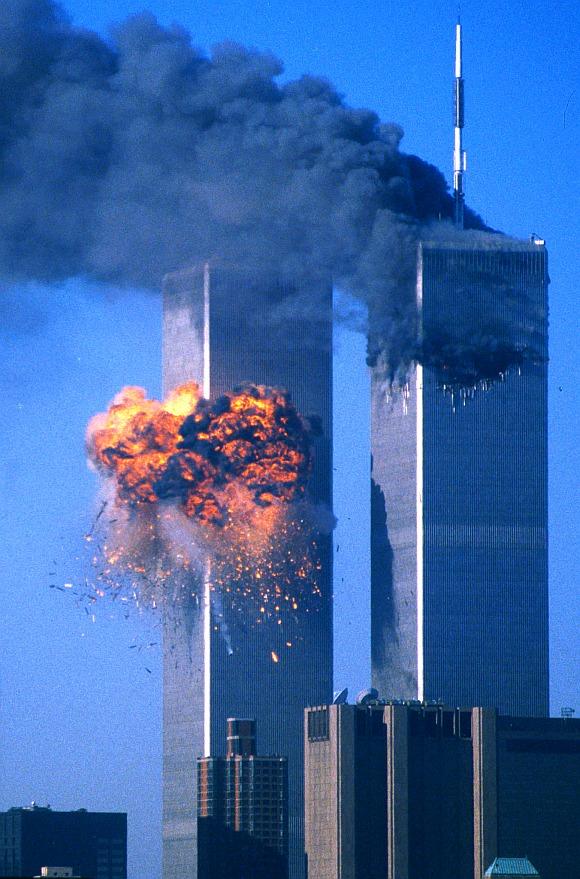 From deadly terror strikes to inclement weather -- the reasons behind air crashes could be many, as massive disasters thousands of feet above the ground still continues to be a murky reality.
Maya's jumbo troubles: Statues expose Rs 60-crore scam!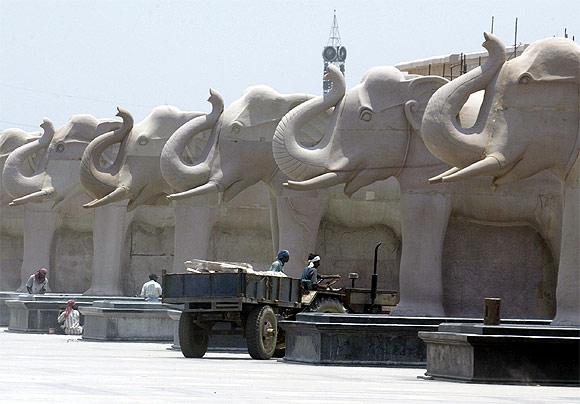 The Lucknow police have begun a probe into an alleged financial fraud in the elephants statues installed by the Bahujam Samaj Party government in Lucknow and Noida.
Top 20 photos that will make you go WOW!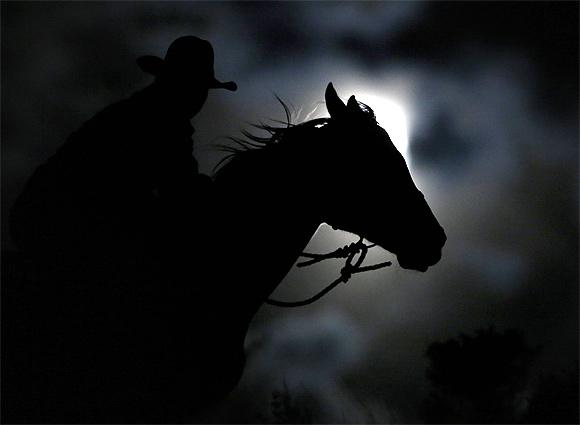 We bring you some of the best photographs from across the world.
May 14, 2012
BEHIND THE VEIL: Afghan's new-age girls!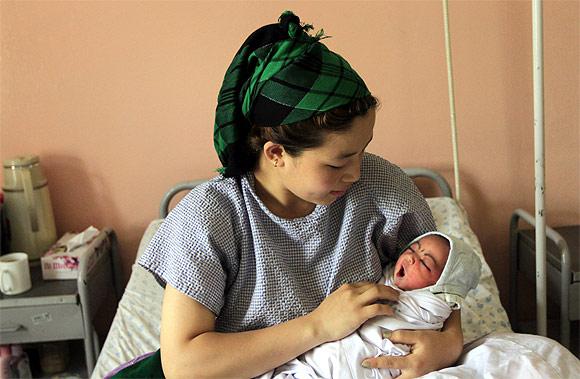 Rediff.com takes a sneak peek into the lives of the Afghan girls as the battle for gender quality gathers steam.
Are we surrendering our minds?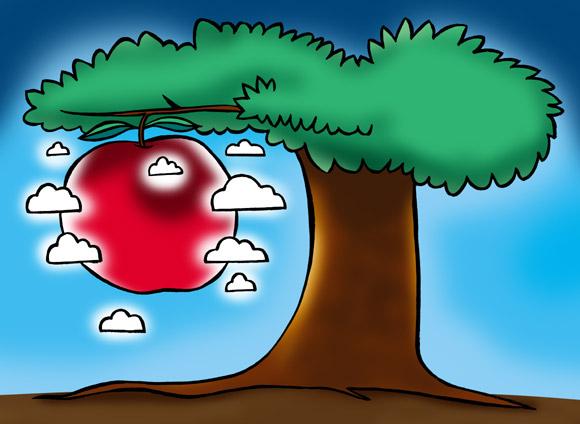 Are we submerging our individual abilities, memories and consciousness to a larger anonymous cloud over which we have no control? Is this a surrender of our mind to an omniscient, omnipotent Viswa Chaitanya, a Universal Consciousness that the great scientists or rishis dreamed of?
Video: Nepal plane crash leaves 15 dead
Thirteen Indian pilgrims were among 15 people killed when a small private plane crashed in northern Nepal on Monday after hitting a hilltop while attempting to land at the high-altitude Jomsom airport.
Parliament@60: Uninspiring political theatre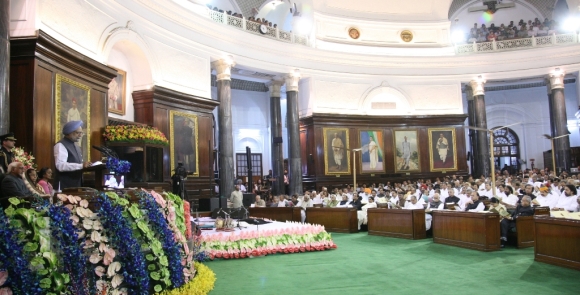 followed the celebration of 60 years of Parliament from the Central Hall's balcony. 'It was undoubtedly a privilege to participate in the historic function to mark the 60th anniversary of Parliament,' she says, 'but in the end there were no new ideals, ideas or hope added to democracy's great history.'
All political cartoons off NCERT schoolbooks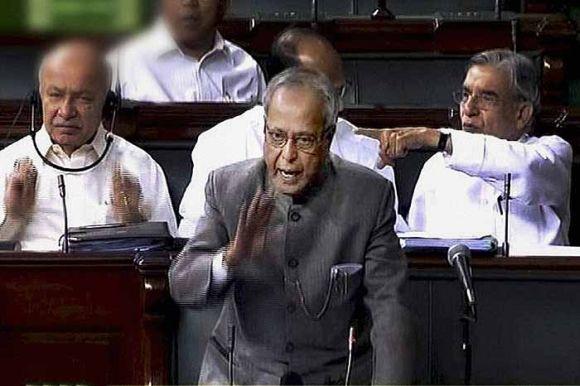 The issue of controversial cartoons in textbooks generated heat in the Lok Sabha with members demanding immediate action in the matter saying the sketch has hurt sentiments of a section of the society.
Why Rahul Gandhi must be SACKED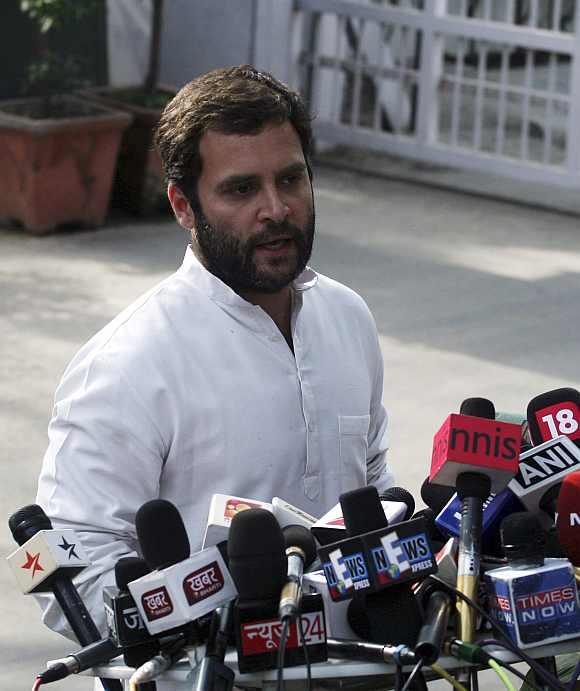 Clearly, Rahul Gandhi has shown himself unable to pick the right people, and unable to pick the right issues, opines Mihir S Sharma
Why is Yeddyurappa cozying up to Sonia?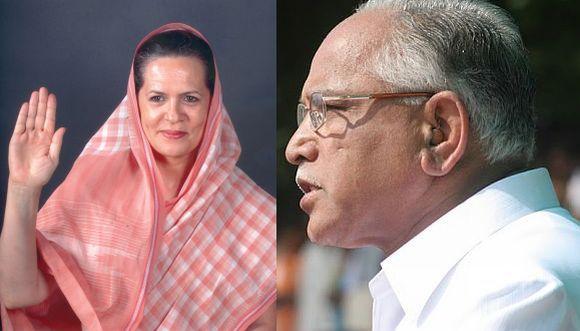 It is speculated that Yeddyurappa may float a regional party and then enter into an alliance with the Congress. But with so many charges of corruption against him, will the Congress be ready to even touch him at the moment?
Turnaround in Naxal situation to take 3-4 yrs: Raman Singh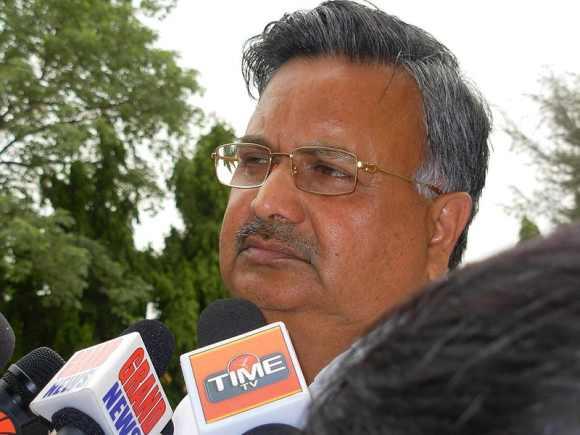 Chief Minister Raman Singh tells Devjyot Ghoshal that the pressure created by the state's security apparatus in the last few years has created a situation where the development agenda can now take centre stage. But the actual turnaround in the situation will only come in the next three-four years.
IN PICS: Countries that LEGALISED gay marriages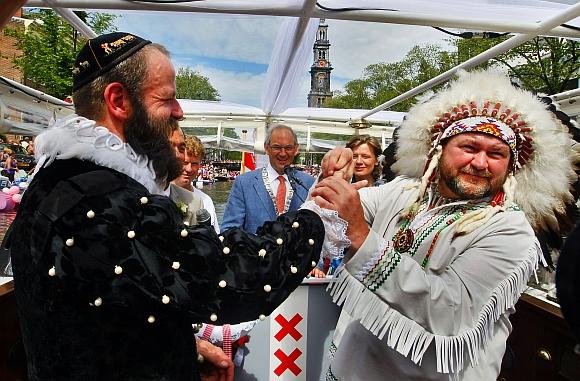 While a majority of Indians still struggle with the idea of same-sex relationships, some countries have had laws legalising lesbian, gay, bisexual and transgender marriages for more than 10 years.
May 13, 2012
In PHOTOS: Parliament celebrates 60th birthday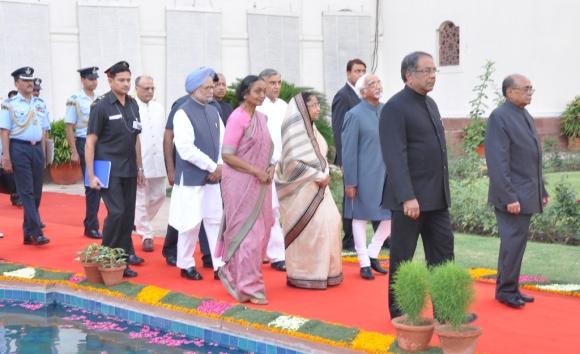 Parliament on Sunday resolved to uphold and maintain its dignity, sanctity and supremacy to make it an effective instrument of change and strengthen the democratic values and principles.
Dalai Lama fears 'Chinese poison plot' to kill him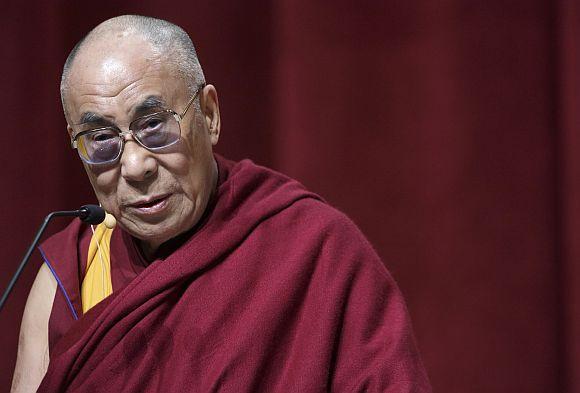 The Dalai Lama has revealed he fears that Chinese agents have trained Tibetan women for a mission to kill him.
May 12, 2012
There's something about Pranab Mukherjee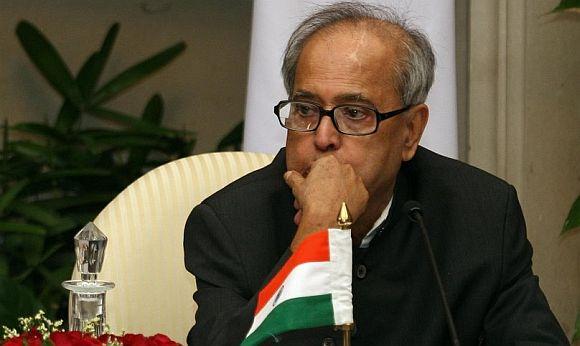 When was the last time you saw the majority of the non-Congress political parties rooting for a Congressman as President? So why is the Congress hesitating to name him for the post? analyses the party's dilemma
In PICS: Anish Kapoor's 'awkward' Olympic tower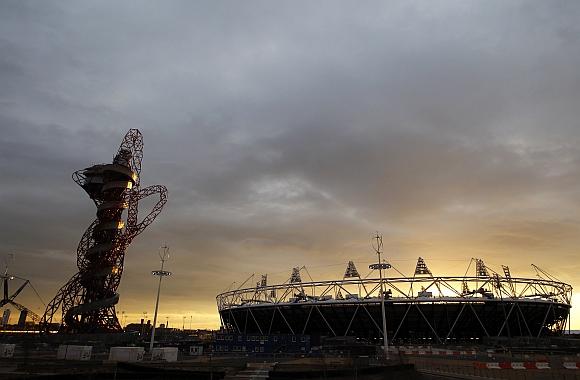 British Indian artist Anish Kapoor on Saturday unveiled Britain's tallest sculpture, a twisted tangle of steel sponsored by ArcelorMittal, next to the Olympic Stadium that he called 'awkward but beautiful'.
VOTE for the next President of India
We had asked our readers earlier this week to cast their vote on who they would like to see enter the Rashtrapati Bhavan in July when its current occupant Pratibha Patil vacates. Following the overwhelming feedback from our readers, we are extending the voting period.
EXCLUSIVE: India's oldest MPs on Parliament's 60 years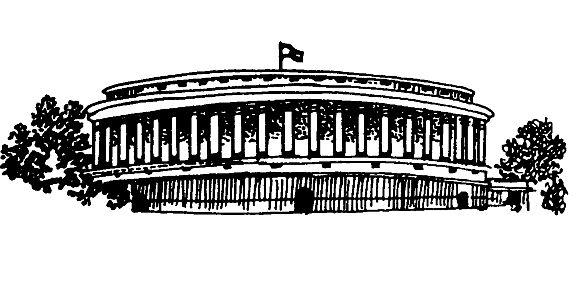 Rediff.com's caught up with two of the oldest living parliamentarians in India, who reflected on the 60-year journey of the country's supreme legislative body
SIT clean chit to Modi despite variations in its 2 reports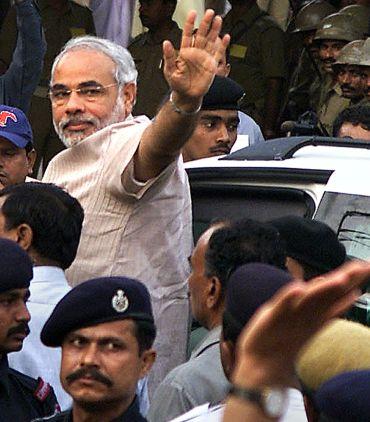 There are many differences between the preliminary inquiry reports of the Special Investigation Team and its final investigation report, which gave a clean chit to Gujarat Chief Minister Narendra Modi in the 2002 riots case.
Rs 2,681 crore aid cut likely on every US death in Pak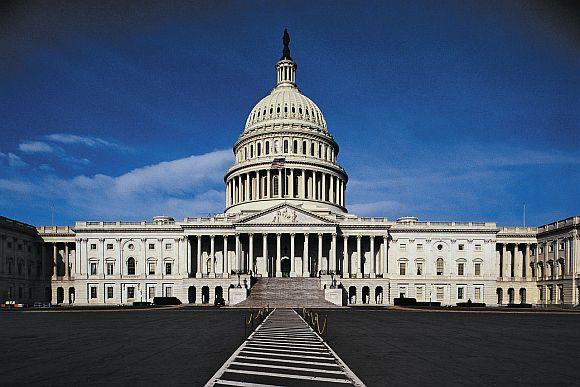 Alleging that Pakistan has for decades leveraged radical terrorist groups to carry out attacks in India and Afghanistan, a US lawmaker has introduced a bill that proposes to deduct $50 million (Rs 2,681 crore) from the US aid to Islamabad every time an American is killed "as a result of actions of ISI."
Malaika sizzles, Salman is back as Tiger!
Malaika sizzles, Salman the tiger!
May 11, 2012
25 yrs after Bofors, army buys howitzers for 3000 cr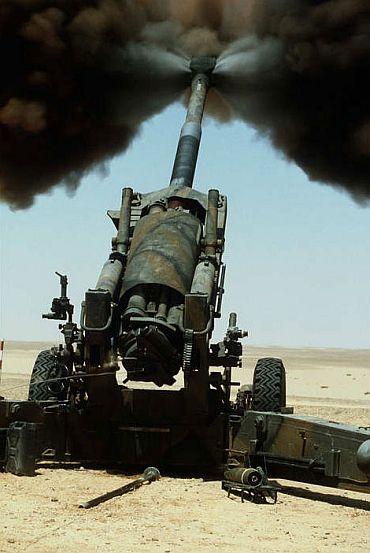 Speeding up the military modernisation process, the defence ministry on Friday cleared procurement projects worth over Rs 7,000 crore including the long-pending acquisition of 145 Ultra Light Howitzers from the United States under a Rs 3,000-crore deal.
SIT report ENDORSES Modi's stance in Gulburg case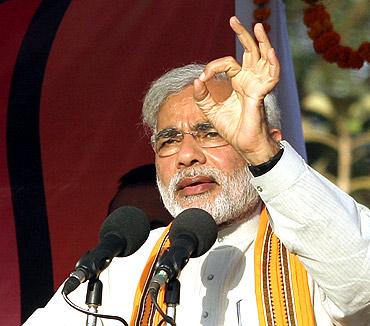 The Supreme Court appointed Special Investigation Team has endorsed the 'action and reaction' theory of Gujarat Chief Minister Narendra Modi in the Gulburg society massacre case, saying that firing by former Member of Parliament Ehsaan Jaffery led to the killing of 69 people in 2002.
People feel that for our MPs the nation comes last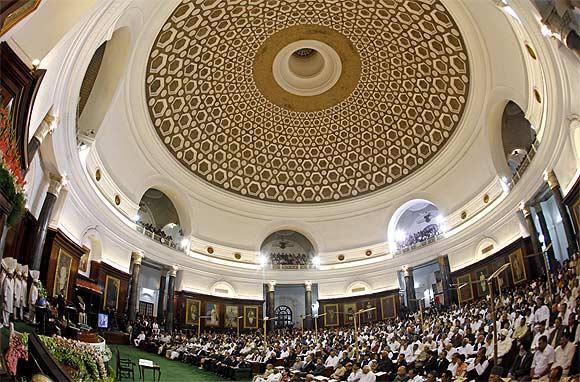 People feel the new breed of politicians in all parties are selfish, power hungry, greedy, dishonest hypocrites and power merchants for whom the nation comes last, says , former secretary general, Lok Sabha.
In PHOTOS: Meet Prince Charles, the weatherman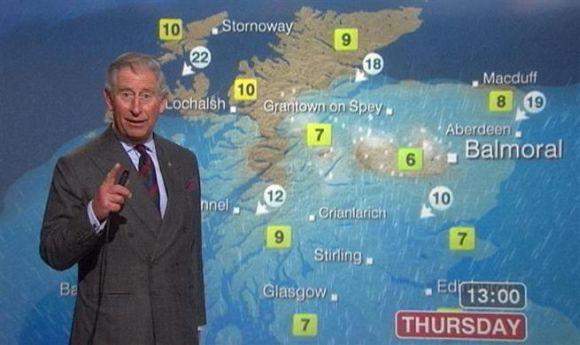 Prince Charles and his wife Camilla, the Duchess of Cornwall made quite many headlines when they turned up at the BBC headquarters in Glasgow, United Kingdom, and tried their hand at weather presenting.
Will SC order against Yeddyurappa quell K'taka BJP crisis?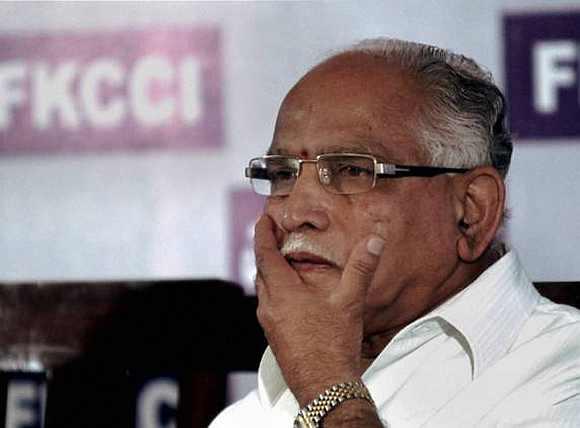 In a setback to BS Yeddyurappa, the Supreme Court ordered a CBI probe against him for nepotism, illegal land acquisition and favouring top mining companies. BJP insiders say that the order is expected to put the rebellious former Karnataka CM on the back foot. reports
Botched IB terror alert is a LOUD call for NCTC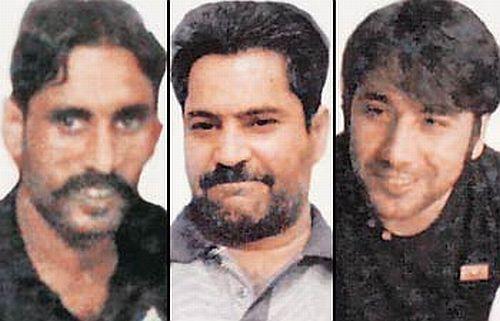 The botched terror alert by the Intelligence Bureau has once again put the spotlight on the need for a National Counter Terrorism Centre, which could act as a pool of information. reports
When Hillary met the Karate kid in Kolkata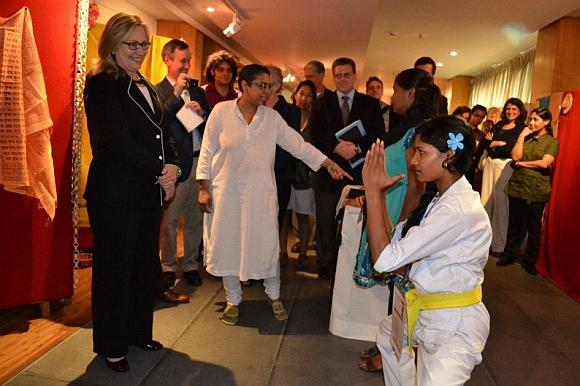 While terming her trip to Kolkata as remarkable, United States Secretary of State Hillary Clinton reminisced about the time when a 10-year-old girl who lives in a red light area in Bihar demonstrated her karate skills
Best and worst places in the world to be a mother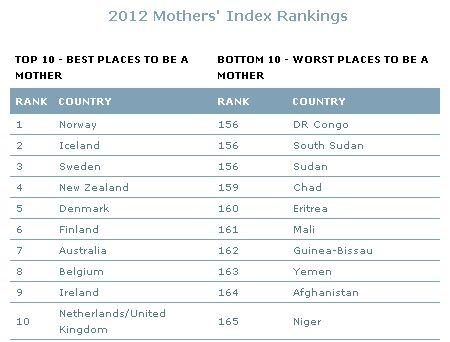 In its thirteenth annual 'State of the World's Mothers report', Save the Children an independent organisation that works for children has compared 171 million children globally from 165 countries to find out the best and worst places to be a mother.
Pakistan's stubbornness costing US Rs 2019 crore a month!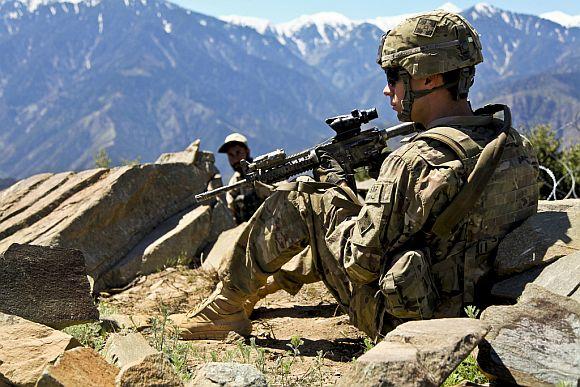 Following the closure of a crucial ground line of communication by Pakistan in retaliation to the death of its 24 soldiers in a NATO cross border fire, the use of Northern Distribution Network is costing US an additional $38 million per month, a US Senator has said.
May 10, 2012
Secret meet with Saeed led to US envoy to Pak quitting?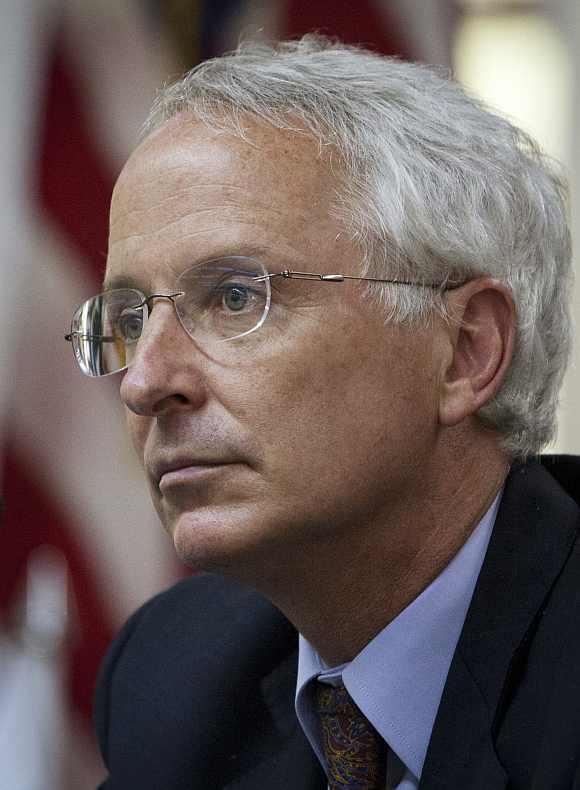 As Hafiz Saeed openly made fun of Washington over announcing a bounty on a man who moved freely across Pakistan, Munter, who is known for his conciliatory approach, decided to pacify the JuD chief in a one-on-one meeting in Islamabad which was kept secret and which is still not being confirmed officially by either side, reports from Islamabad
I and my family have no stake in Aircel or Maxis: PC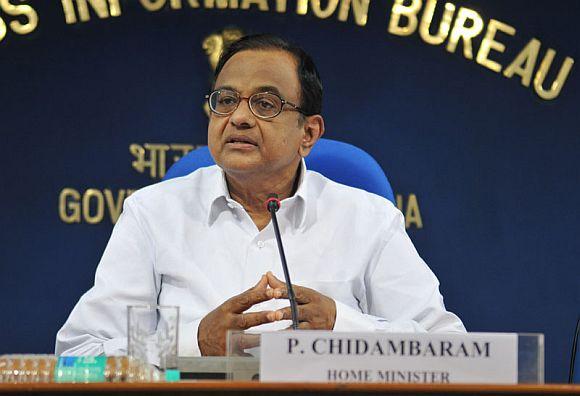 The Opposition on Thursday targeted P Chidambaram in the Lok Sabha over the Aircel-Maxis deal, dubbing it as a "big scam" allegedly involving his son, but the home minister dismissed the charges as "wild and reckless".
In PHOTOS: Blasts rock Syrian capital, over 40 killed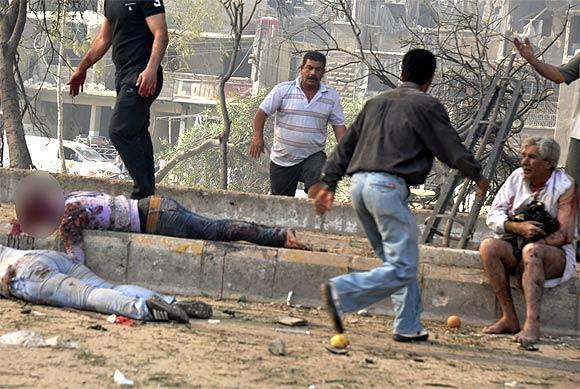 Two explosions rocked Damascus on Thursday morning during rush hour, killing dozens of people and injuring hundreds. The government said that the blasts had been orchestrated by "terrorists" though no group has claimed responsibility for the attack so far.
PICS: NASA's satellite clicks UNSEEN events on earth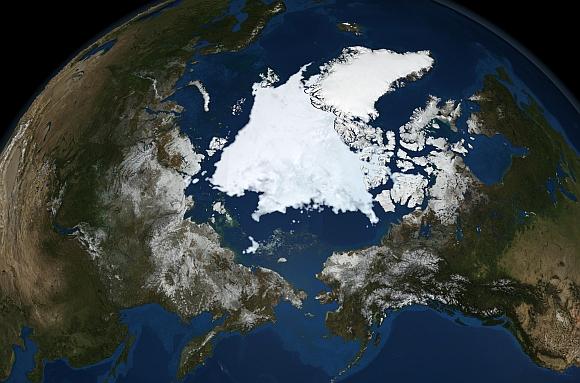 Aqua, Latin for water, is a NASA Earth Science satellite mission named for the large amount of information that the mission is collecting about the Earth's water cycle, including evaporation from the oceans, water vapor in the atmosphere, clouds, precipitation, soil moisture, sea ice, land ice, and snow cover on the land and ice.
Same-sex marriage: Obama's thumbs-up sparks debate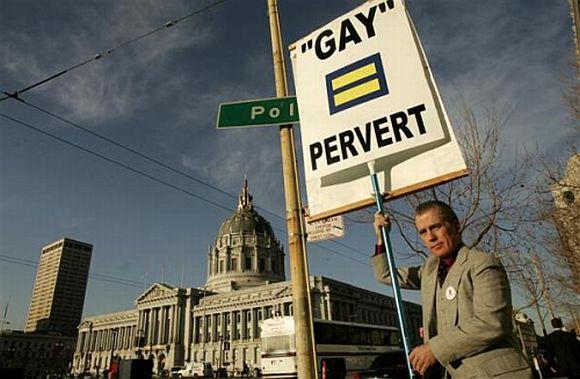 Obama's statement prompted potential Republican challenger Mitt Romney to say that he continues to believe that "marriage is a relationship between a man and a woman" and that Obama had "changed his view" on the issue.
The 'Evil Genius' behind Al Qaeda's underwear bombs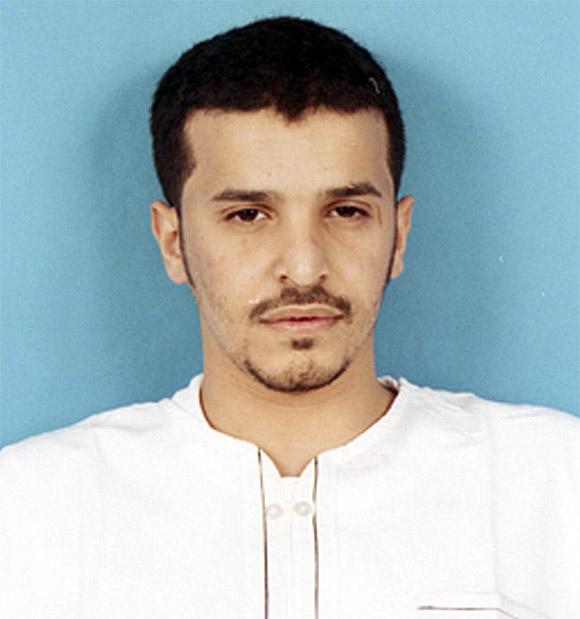 Running a clandestine bomb factory in remote area in Yemen, a nondescript Saudi has emerged as the most potent threat to the United States, making three bids in past three years to spread mayhem in the world's most powerful nation.
India's air tragedy: Politicians in fatal crashes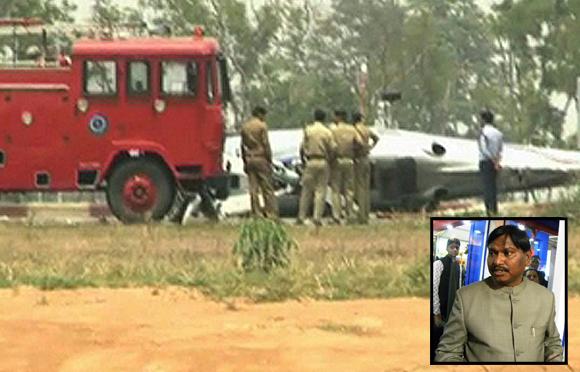 Jharkhand Chief Minister Arjun Munda had a close shave on Wednesday when his chopper crash-landed at the Ranchi airport. Though Munda is said to have sustained minor injuries and was lucky to escape there are many politicians who over the years have met untimely deaths in chopper and airplane crashes. Rediff.com takes a look at some of these most tragic air mishaps.
LeT hunts for new jihadis in Indian prisons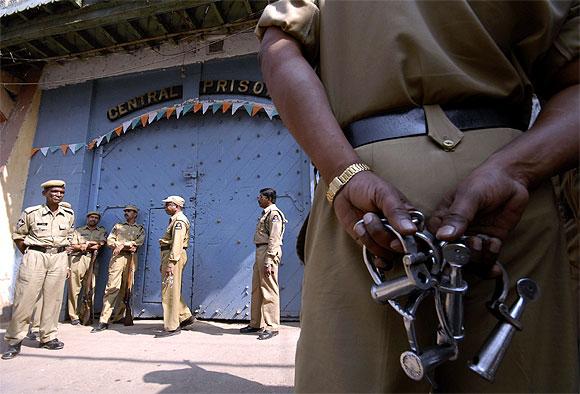 The arrest of alleged terrorist Abdul Rehman has raised some crucial questions about the actual level of security and monitoring in Indian prisons
Obama 1st US president to endorse same sex marriage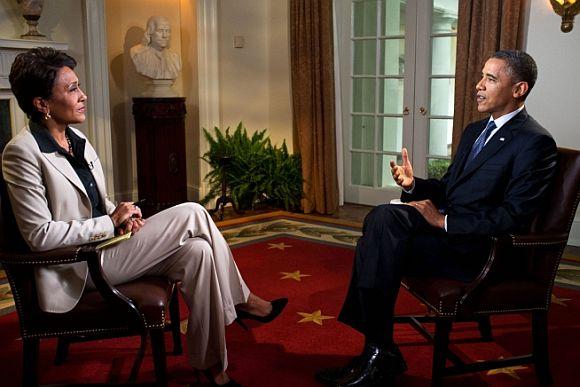 US President Barack Obama has publicly endorsed same sex marriage, putting an end to days of speculation about his "evolving views" on the issue.
The case of Pakistan's tactical nuclear weapons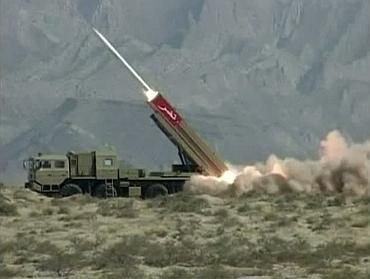 With India's growing conventional capabilities and more pro-active military plans, Pakistan's military authorities have begun to emphasise the utility of tactical nuclear weapons, says .
May 09, 2012
My battle with bad Pakistan won me some good friends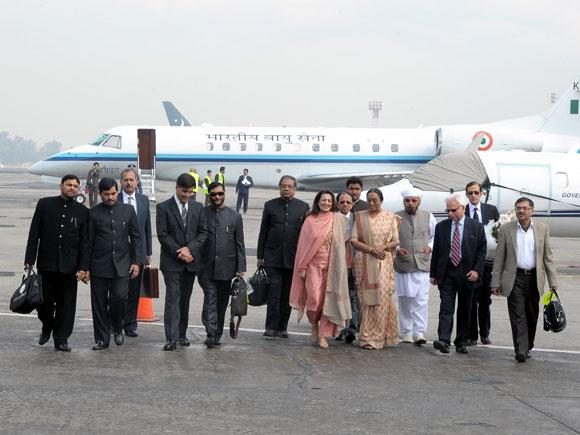 The number of people in Karachi, Lahore and Islamabad daring to stand up before the hate, anti-India junta and the ISI is quite small. They need to be saluted and supported, says after a recent visit to Pakistan.
IN PHOTOS: Govt employees' strike in J&K turns ugly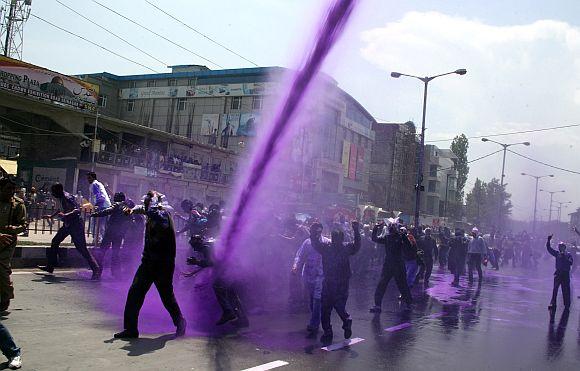 Jammu and Kashmir police on Wednesday detained scores of employees to foil their plan to 'gherao' the civil secretariat to press their demands which includes raising their retirement age from 58 to 60.
'Nuclear power plants pose unmanageable risks'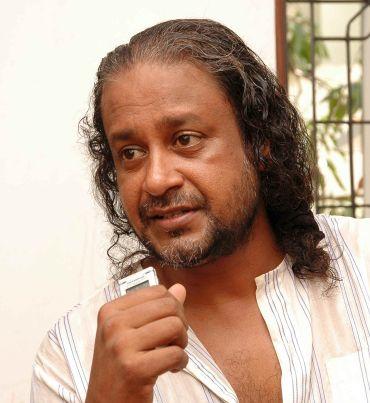 When dealing with risky technology, it is most important to take people into confidence and tell them what the real risks are, says environment justice activist Nityanand Jayaraman.
CBI freezing Jagan's funds ups AP's political heat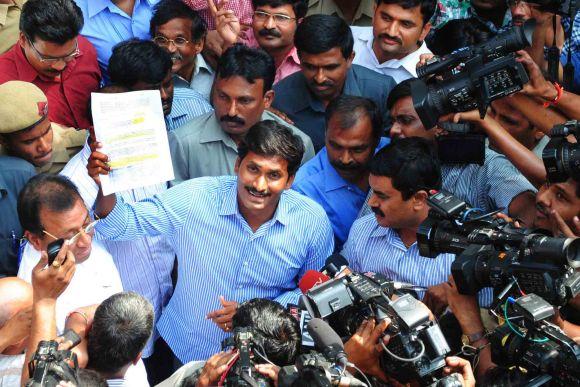 As CBI beefs up its efforts to corner Jagan Mohan Reddy and the Kadapa MP dubbing the movie as part of larger strategy of Congress-TDP, the political game in Andhra Pradesh has picked up pace now. Who checkmates who will be as interesting to watch as who follows the rules of the game and who breaks them, writes
Why Odisha negotiates with the Maoists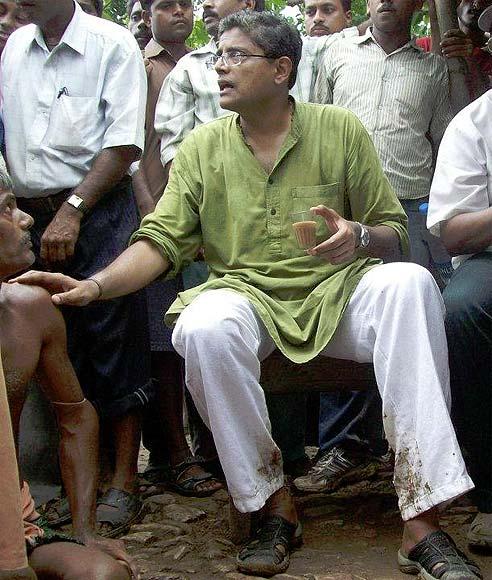 Orissa MP Jay Panda defends his state's anti-Maoist record.
IN PICS: PROTESTS set tone for Putin's new term as Prez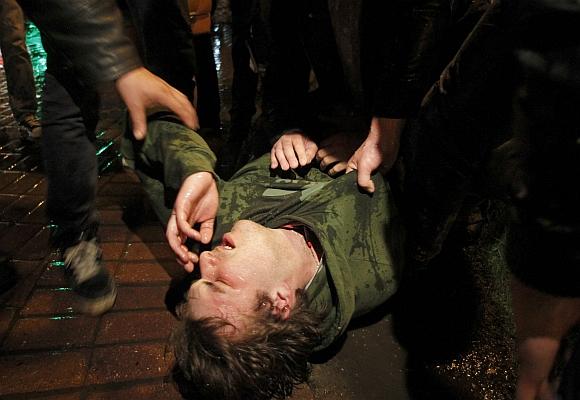 Vladimir Putin took the oath as Russia's president on Monday with a ringing appeal for unity at the start of a six-year term in which he faces growing dissent, economic problems and bitter political rivalries.
PHOTOS: A nun films the pope, pole dancing class and more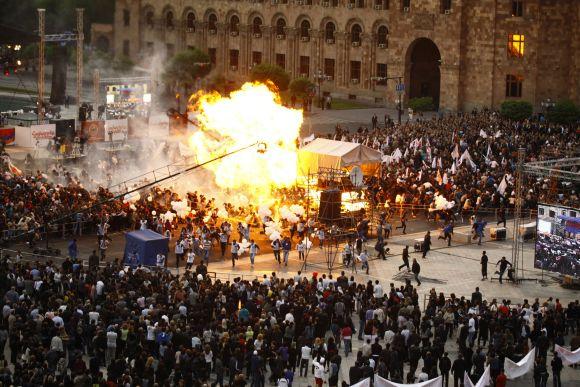 We bring you some of the best photographs from across the globe.
May 08, 2012
Extraordinary Indian: A postman who saves lives!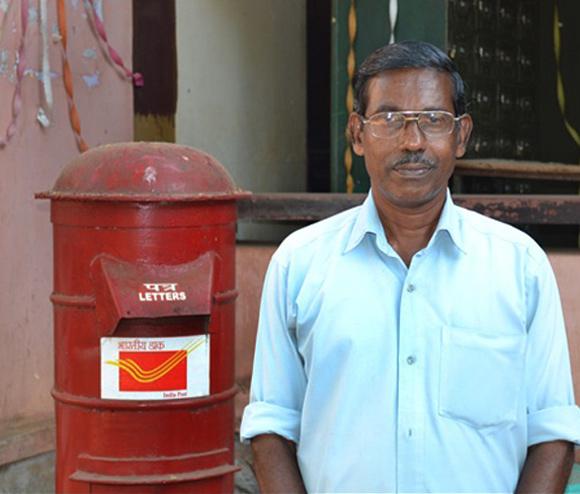 S Babu has been extending a healing hand to cancer victims and families who have lost their only earning member to cancer.
Lord Ram had sent Sita home, BJP must dump Modi: Cong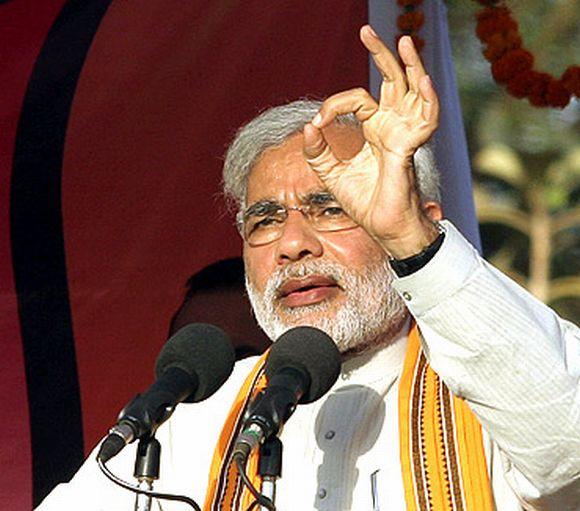 With his role in post-Godhara riots again coming into question, Congress on Tuesday asked Bharatiya Janata Party to dump the Guajrat chief minister like Lord Rama had sent Sita out of his home to clear the doubts of the people.
In India, Hillary drops the Zawahiri bomb on Pakistan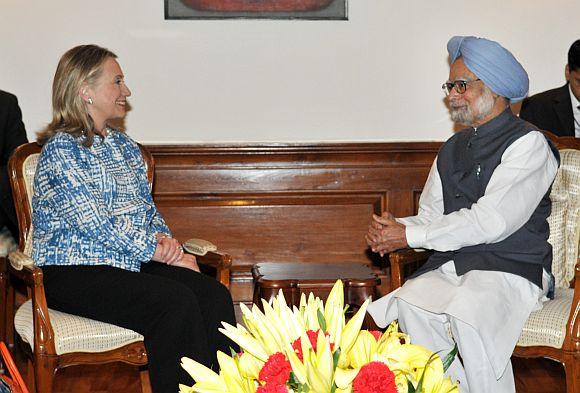 US Secretary of State Hillary Clinton's remarks that Washington is intent upon going after those who are trying to keep Al Qaeda operational and inspirational is a veiled threat to Islamabad, writes .
Hafiz Saeed 'principal architect' of 26/11: Hillary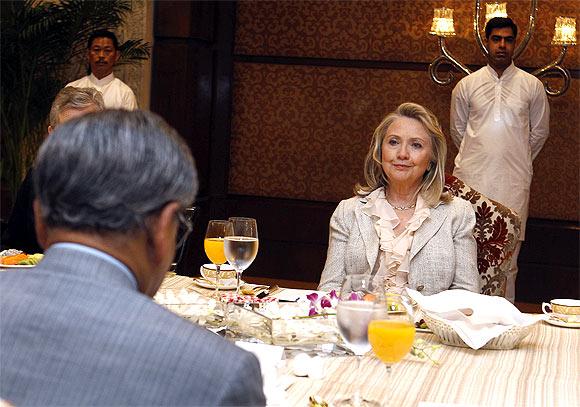 United States Secretary of State Hillary Clinton on Tuesday pressed Pakistan to do more to ensure its territory is not used as "launching pad" by terror groups for attacks and also said that Hafiz Saeed was "one of the "principal architects" of the 2008 Mumbai carnage.
PIX: 'Glass dune fields on Mars may be hotspots for life'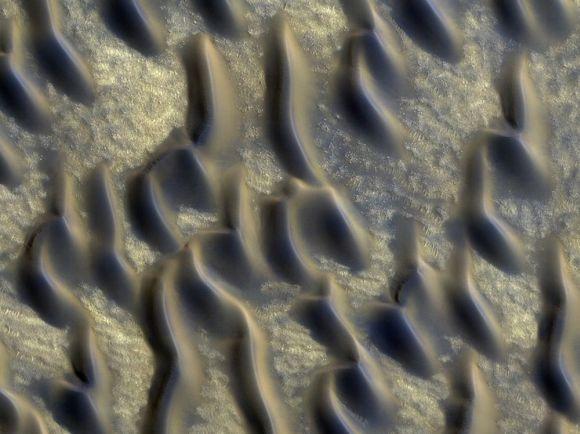 The newly discovered glass dune fields on Mars may be hotspots for life, as they are likely to have formed from interactions between magma and ice, or water, scientists have claimed.
RARE PHOTOS: A 100-year-old glimpse of British India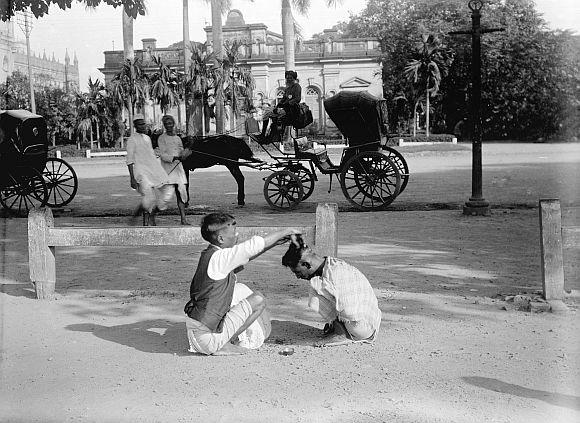 Highlights from the imagery include celebrations for the visit of King George V and Queen Mary to Calcutta in 1912 -- the only visit by a British monarch to India as Emperor of the subcontinent -- with the city's buildings lit up at night in tribute.
May 07, 2012
PHOTOS: Amid protests, Putin returns as Russia's president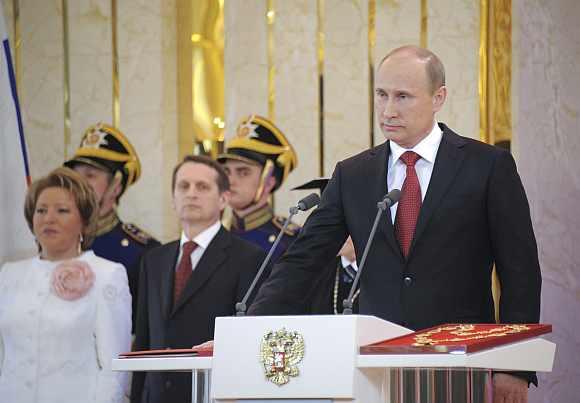 Vladimir Putin on Monday vowed to protect people's rights and freedoms in his new six-year tenure as Russian President, as he was sworn in for a record third term after winning polls marred by rigging allegations.
Guess who Sonia wants as President!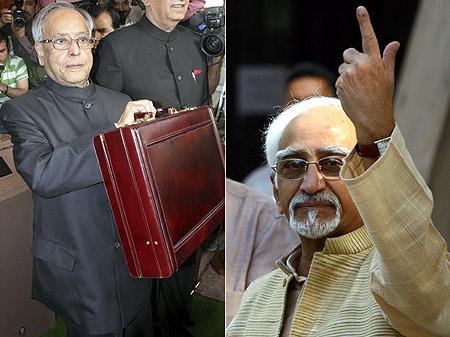 It's been yet another difficult week for the Congress. From the Rashtrapati race to a reshuffle of ministers to the reshuffle of governors, India's oldest party has been walking the political tightrope. Catch up on the latest political gossip in Dilli Gupshup...
IN PHOTOS: How 'SUPER MOON' enthralled the world!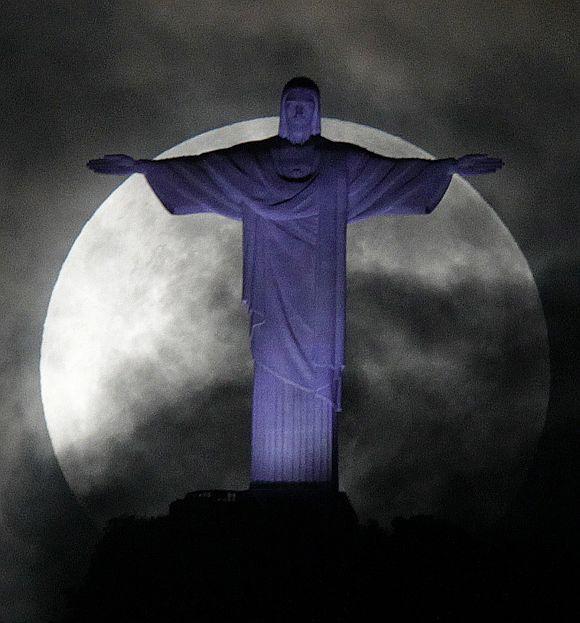 We present a set of pictures from around the world to show how the amazing 'super moon' enthralled the world last night.
PHOTOS: Socialist Hollande is new French president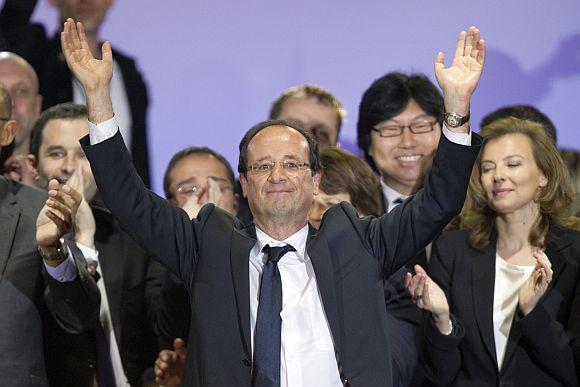 "Europe is watching us. I'm sure that in many European countries there is relief and hope at the idea that austerity does not have to be our only fate," the president-elect said in a victory speech in his constituency of Tulle in central France.
IN PICS: Behind the bamboo curtain called Myanmar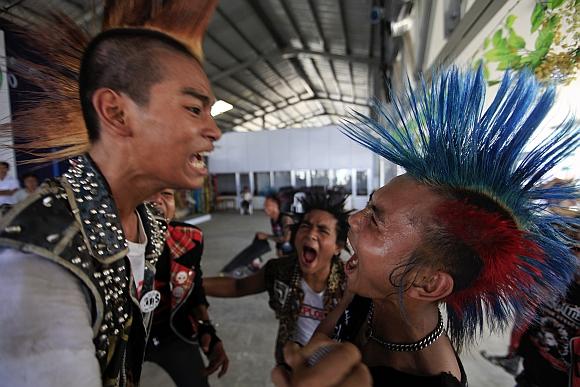 Young men attend a punk show during the water festival at a music bar in Yangon. Myanmar celebrates the New Year Water Festival of Thingyan during the month of Tagu, which usually falls around mid-April
May 05, 2012
The CMs who came in support of NCTC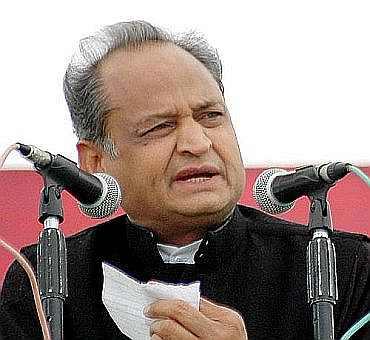 The chief ministers of the non-Congress-ruled states continued to oppose to proposal, while most Congress CM gave it a thumbs up. Here's what a few chief ministers said in support of the NCTC.
WATCH: Top videos of the week
WATCH: Top videos of the week
How CMs blasted 'autocratic' Centre's NCTC move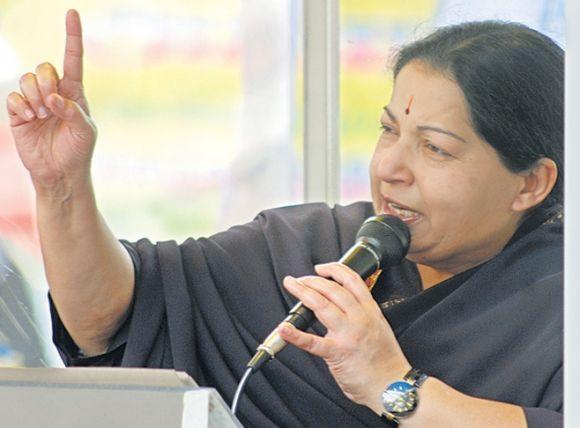 We take a look at the reactions coming from various chief ministers over Centre's proposed move to establish the National Counter-Terrorism Centre, who gathered to discuss it in New Delhi on Saturday.
PHOTOS: Watch SUPERMOON this Sunday!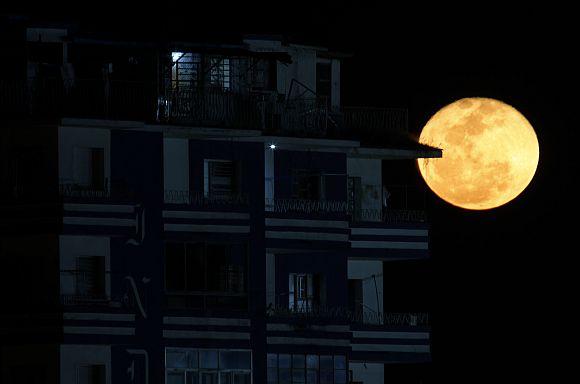 The moon will be closest to the earth on Sunday than it will be on any other night in 2012 and will appear significantly larger. The phenomenon, called supermoon, this year coincides with `Buddha Purnima'.
NCTC not a Centre vs states battle, says PM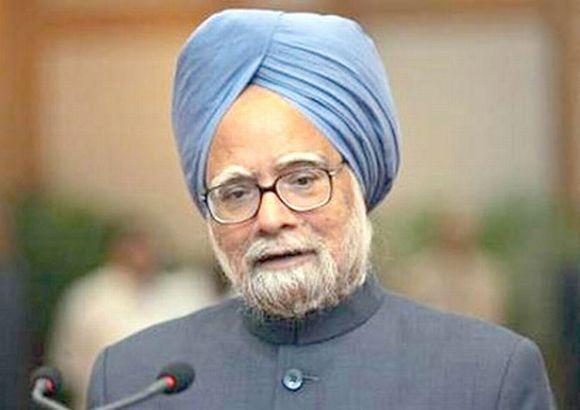 Defending the National Counter Terrorism Centre, Prime Minister Manmohan Singh on Saturday said that the issue of the establishment of the NCTC is not a state versus Centre issue.
Srinagar civic body seeks PMC's help to modernise city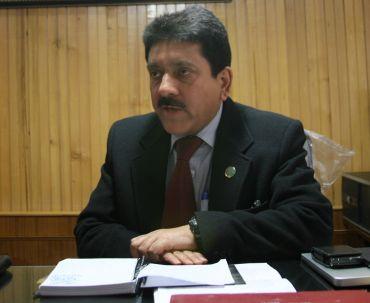 Srinagar Municipal Corporation has on anvil plans to refurbish the corporation in a big way and is planning to use the experiences of Pune Municipal Corporation in this regard.
May 04, 2012
Mullaperiyar dam SAFE, no need for new one: SC panel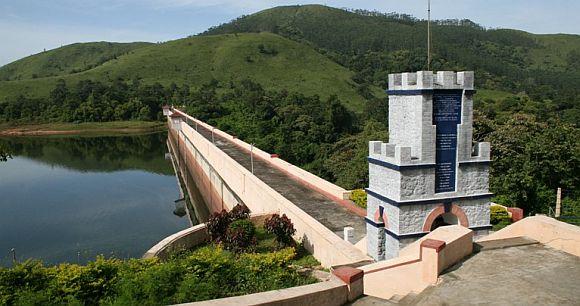 The Supreme Court-appointed Empowered Committee on the Mullaperiyar Dam, over which Tamil Nadu and Kerala are at loggerheads, has concluded that the 119-year-old structure is "safe" and asked the Kerala Government to reconsider its proposal to build a new dam.
Gujarat didn't bow before Nehru, who is Sonia: Modi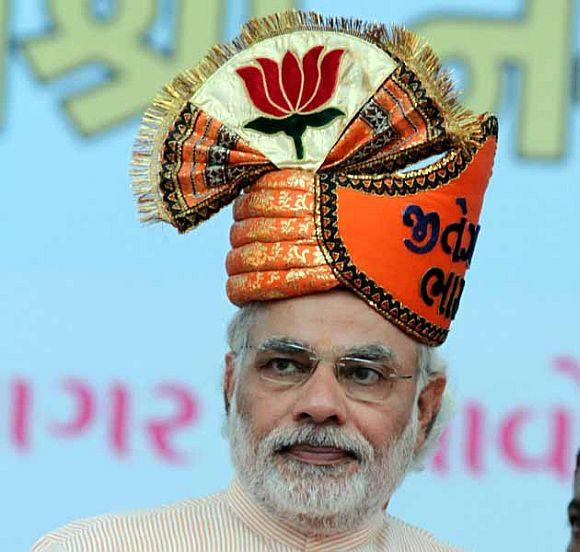 Gujarat Chief Minister Narendra Modi on Friday took a swipe at Sonia Gandhi, saying that his state had not bowed down even before Jawaharlal Nehru, let alone the present Congress president.
CMs expected to train guns on each other at NCTC meet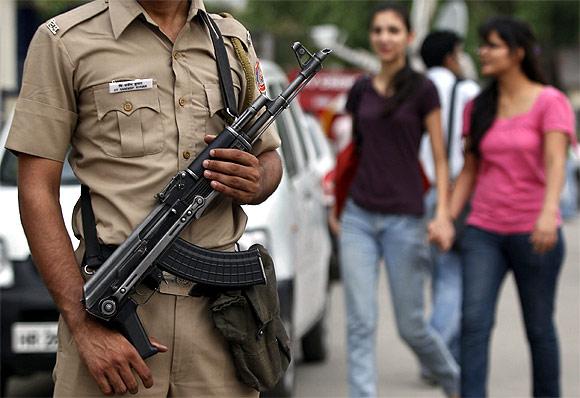 The Centre will try its best to get a nod from chief ministers to set up the controversial anti-terror hub National Counter Terrorism Centre at Saturday's crucial meeting which is expected to witness fiery scenes.
Sukma collector reaches home; CM says no secret deal
Freed by Naxals after 12 days in captivity, Collector Alex Paul Menon on Friday reached his home in Sukma.
IN PICS: The MOST expensive paintings in the world!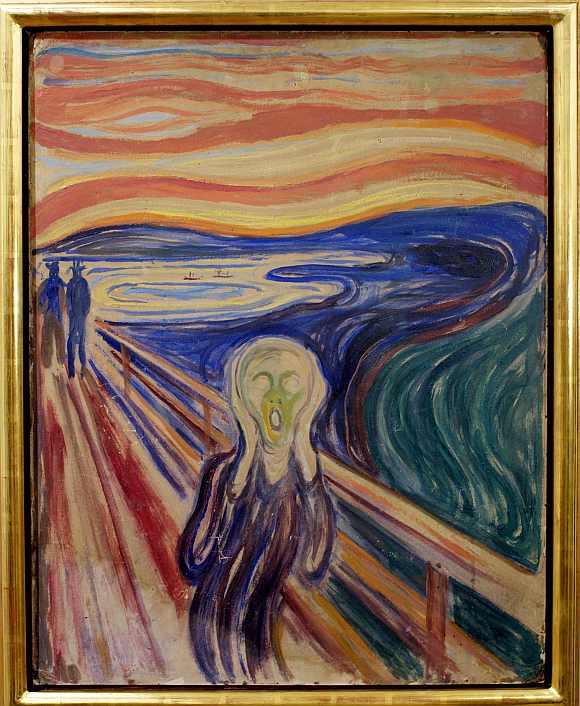 Edvard Munch's iconic painting 'The Scream', considered one of the most recognisable in art world, was sold for over $119 million (Rs 630 crore), creating a new record for the highest price ever paid for a work of art at any auction.
YOUR PICK: Vote for India's next President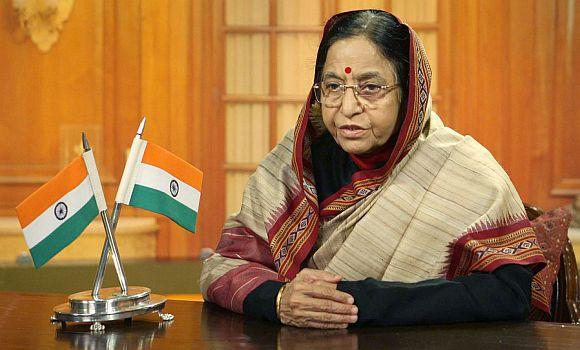 Who would you like to see as India's next President? Vote and let us know.
Diehard dissidents: People who took on China's iron fist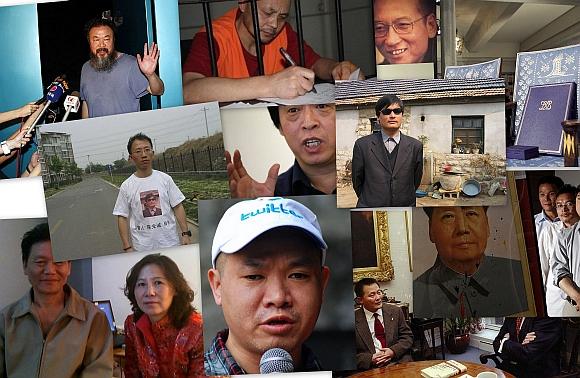 Those who dare to slam hard on the foundations of the great wall of communism are treated with no mercy in the land of Chairman Mao.
PHOTOS: IAF rookie pilots to train on Swiss aircraft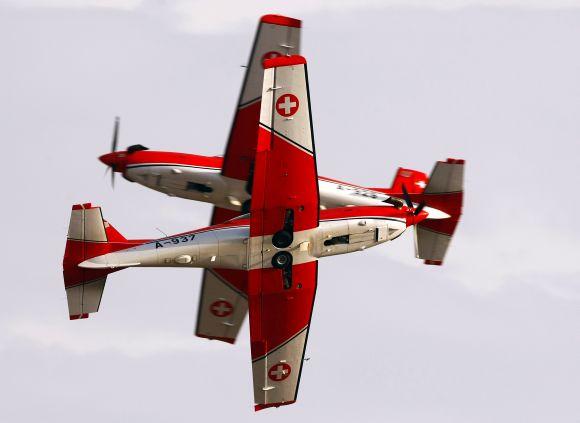 The Union defence ministry is pressing ahead with the Rs 1,800 crore purchase of seventy-five PC-7 Mark II basic trainer aircraft from Pilatus Aircraft Ltd of Switzerland.
May 03, 2012
Kiyani on Siachen peace: 'It takes two hands to clap'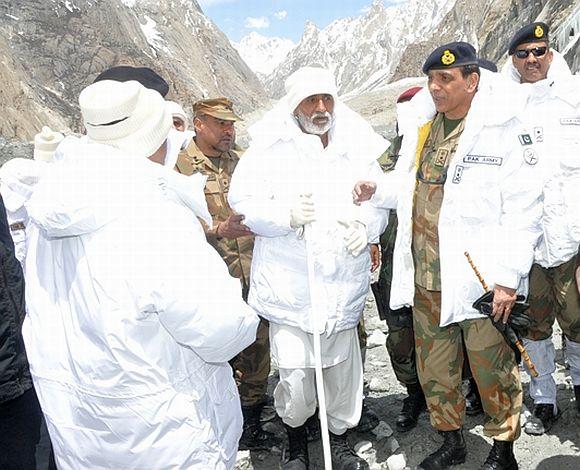 Pakistan's powerful army chief Gen Ashfaq Parvez Kayani has contended that India had hardened its position on the Siachen issue, especially compared to the situation in 1989, when the two sides were "close to a resolution".
'Abductions are evidence of Naxal hypocrisy'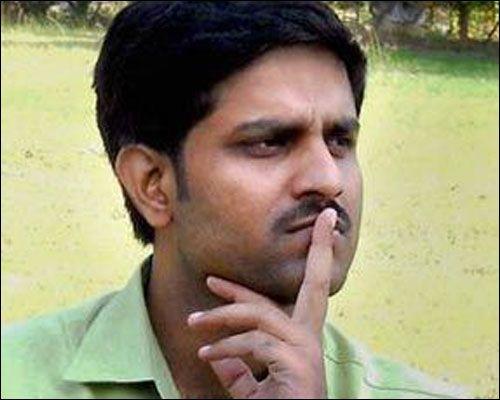 On February 16 last year, while serving as the collector of Malkangiri district of Odisha, R Vineel Krishna was abducted by Naxals. He was released nine days later. The IAS officer recounts his experience
'Christian' Jagan's visit to Tirupati temple sparks row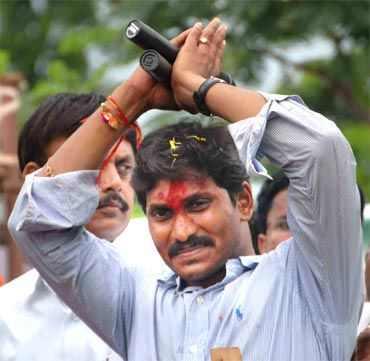 Kadapa member of Parliament Y S Jaganmohan Reddy's visit to Lord Tirupati Venkateswara temple is embroiled into a controversy following allegations of rival Telugu Desam Party and Congress leaders that he did not give a mandatory declaration to the authorities despite being a non-Hindu.
A Q Khan wants to contest elections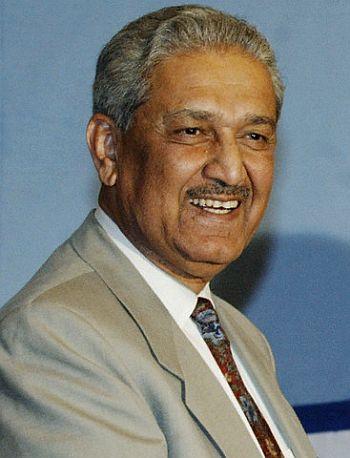 Disgraced Pakistani nuclear scientist A Q Khan has expressed his willingness to contest elections while suggesting the formation of a government of technocrats because politicians have failed to deliver good governance.
PM to mirror Zardari, likely to visit Pak on pilgrimage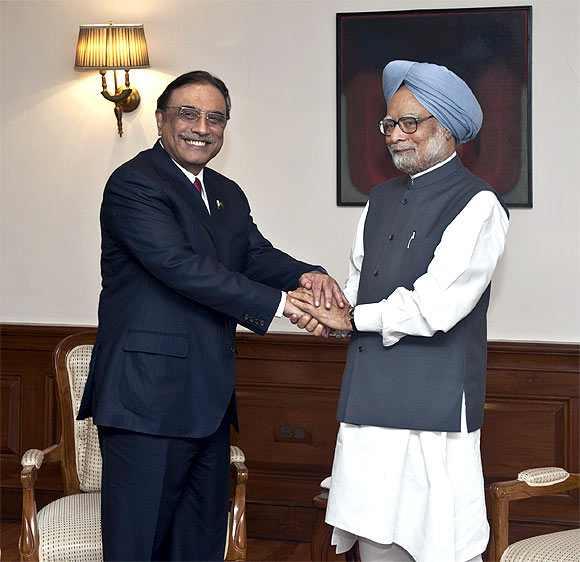 Prime Minister Manmohan Singh is likely to visit religious places in Pakistan, a move that could be of political significance for the two countries. Officials are considering a visit by Dr Singh to Pakistan in November, mirroring Pakistan President Asif Ali Zardari's Ajmer Sharif pilgrimage.
I thank Chhattisgarh govt: Sukma collector after release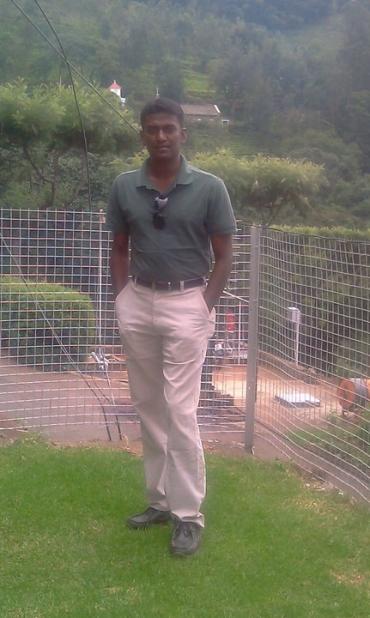 After 12 days in captivity, Sukma Collector Alex Paul Menon was on Thursday released unharmed by Maoists bringing to an end the hostage crisis in Chattisgarh marked by some anxious moments just before he stepped out of the rebel stronghold.
MUST SEE! World's MOST expensive painting -- The Scream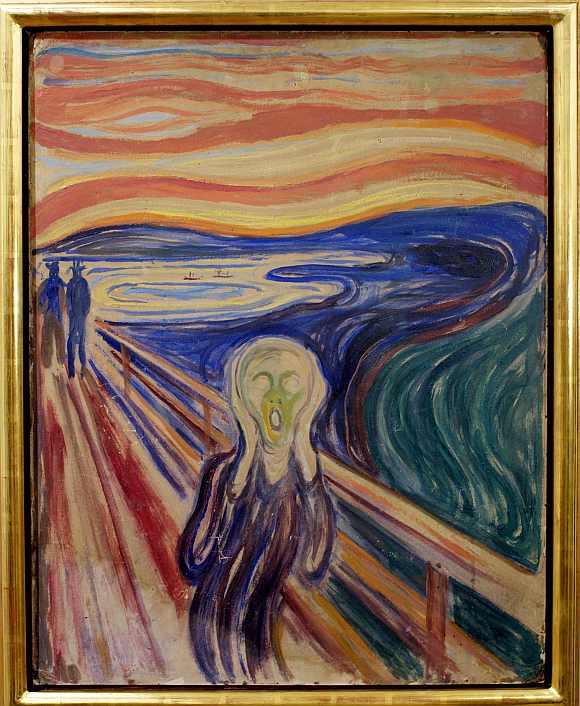 Edvard Munch's iconic painting 'The Scream', considered one of the most recognisable in art world, was sold for over USD 119 million, creating a new record for the highest price ever paid for a work of art at any auction.
Spectacular PHOTOS of the Month: April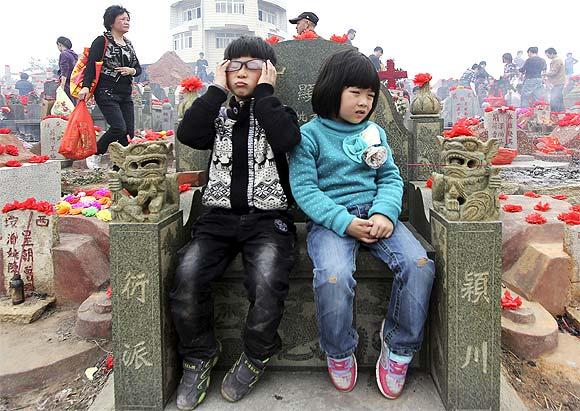 We bring you a presentation of some of the best photos from around the world in the month gone by
In PHOTOS: Inside the Most Dangerous Nation on Earth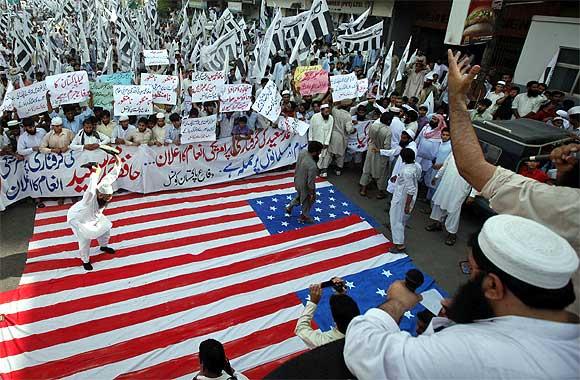 Pakistan has had the dubious distinction of being the 'most dangerous nation' on earth for some time now. The country has been the hapless target of numerous terror strikes, it is often bombarded by drones sent by its 'ally' United States and lives in constant fear of a bloody coup by the powerful military.
Exclusive: Pak Taliban take their jihad to a new frontier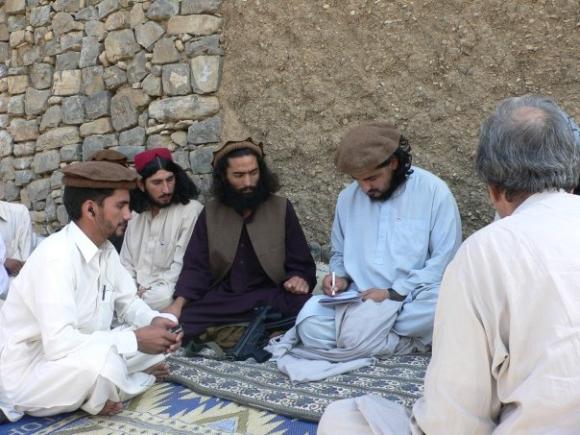 The Tehrik-e-Taliban Pakistan has decided that the outfit will now focus on jihad inside Afghanistan, reports
MUST READ: How not to deal with Naxalite terror!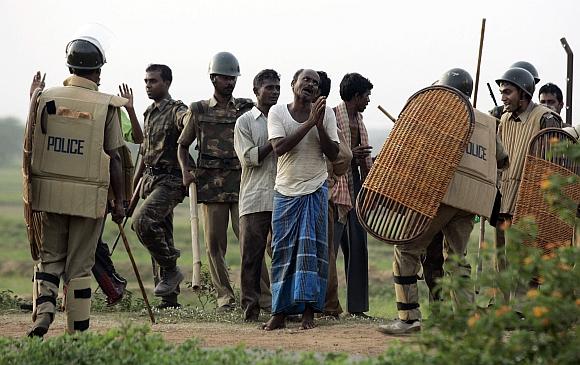 'In over three decades of terrorist violence, India does not have many instances of hostages being rescued by special forces. Our special forces are competent enough to do it, but the administration lacks the guts to use them,' says Colonel Anil A Athale (retd).
May 02, 2012
Story of a kidnapping that woke the West to J&K issue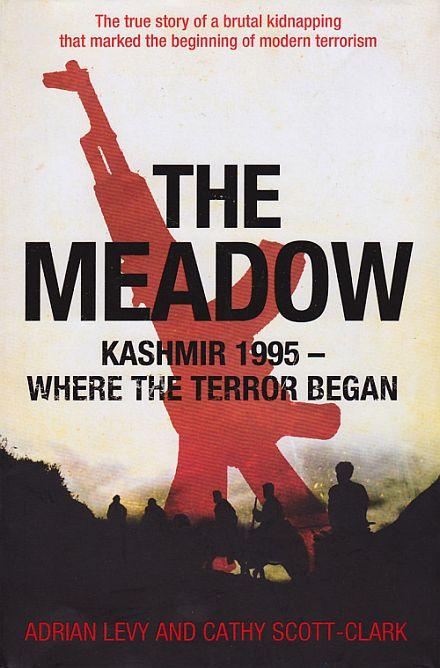 interviews award-winning author Adrian Levy about his book The Meadow, which is a 'shocking story of a brutal kidnapping in Kashmir which marked the beginning of modern-day terrorism
Aarushi case: Court feels Nupur may flee, denies her bail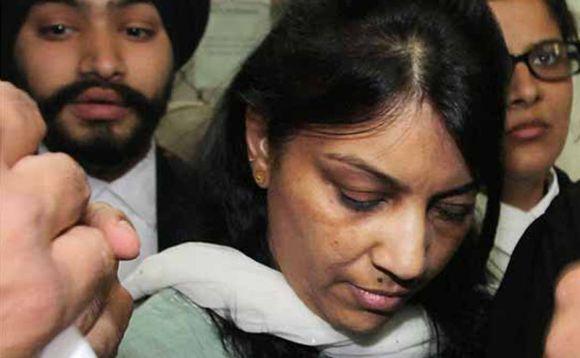 Dentist Nupur Talwar was on Wednesday denied bail in the sensational 2008 double murder of her daughter Aarushi and domestic help Hemraj by a special CBI court, which felt she may create hindrance in trial and flee from justice if granted relief.
Forgetting Osama bin Laden won't be that EASY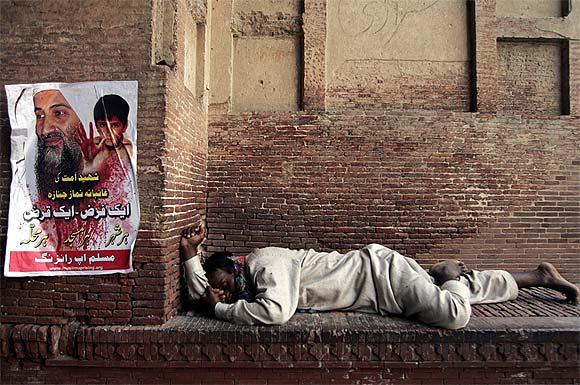 Though Pakistani authorities tried their best to close the chapter of Osama bin Laden in a brisk manner, they couldn't do so, says
PHOTOS: Suu Kyi sworn in to Myanmar parliament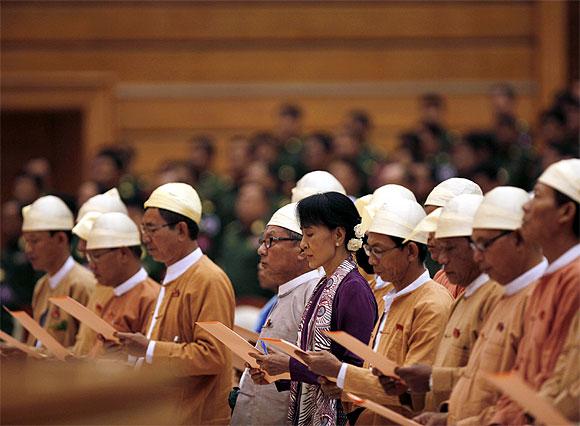 The leader of Myanmar's National League for Democracy Aung San Suu Kyi was sworn in to Myanmar's parliament on Wednesday. Suu Kyi's has been an advocate of democracy in Myanmar and was elected as a parliamentarian.
Now, MPs can build railway stations where they want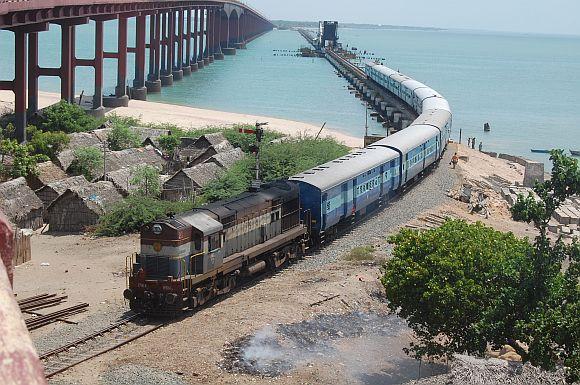 According to a privilege extended to lawmakers by the Ministry of Statistics and Programme Implementation, MPs can now sponsor the construction of the railway stations from his/her annual budget of Rs 5 crore and etch his name for perpetuity on a steel or metal plaque.
Baba Ramdev is a mental case: Lalu Prasad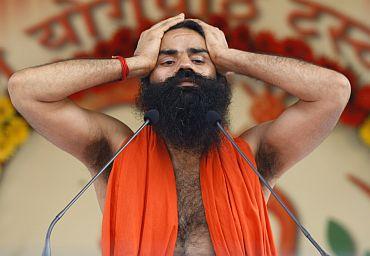 After Anna Hazare and his team, it is now the turn of yoga guru Ramdev to kick up a controversy by attacking MPs calling them "dacoits and murderers".
IMAGES: Explosions rock Kabul after Obama leaves, 6 dead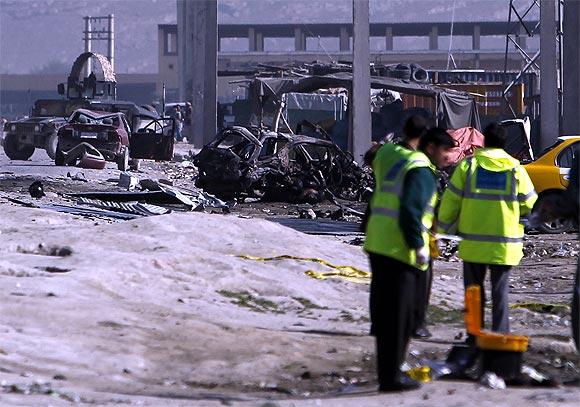 At least six people were as explosions and gunfire rattled a major foreign guesthouse complex in killed in Kabul on Wednesday morning. The attacks came hours after United States President Barack Obama left the Afghanistan capital after a surprise overnight visit.
Stay alert! Al Qaeda may still strike back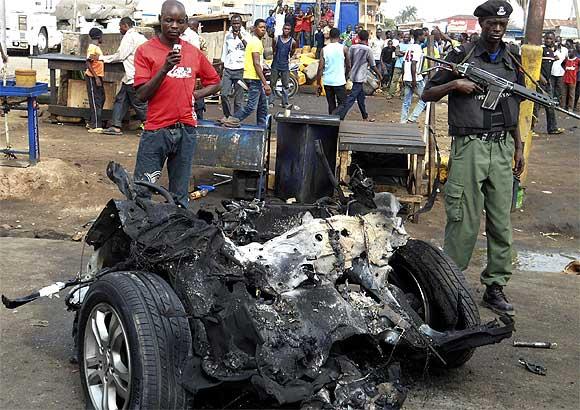 If a new leader emerges who is able to rally Al Qaeda cadres around and motivate them to act, we may still face new acts of mass casualty terrorism, warns
Bofors is an OLD story retold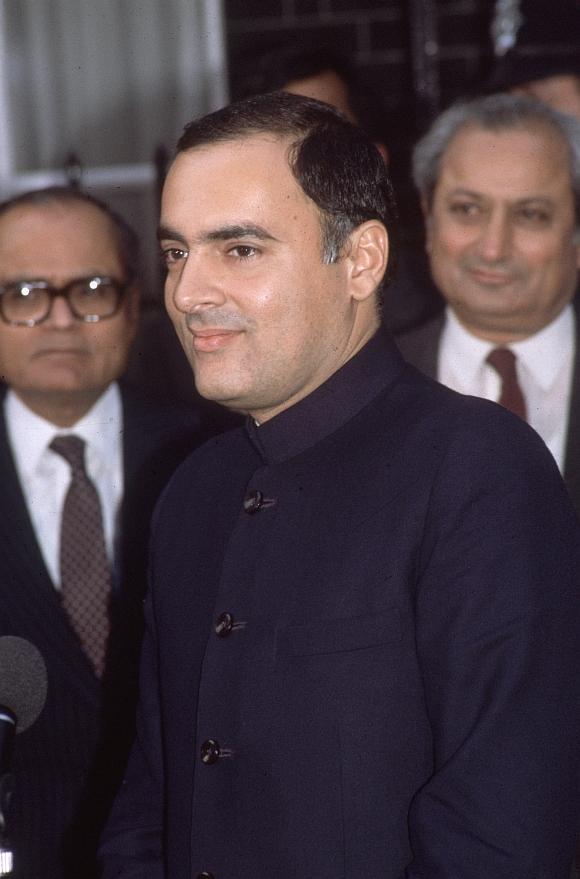 Nothing that Sten Lindstrom says now is new, says
What the Muslim world thinks of Al Qaeda TODAY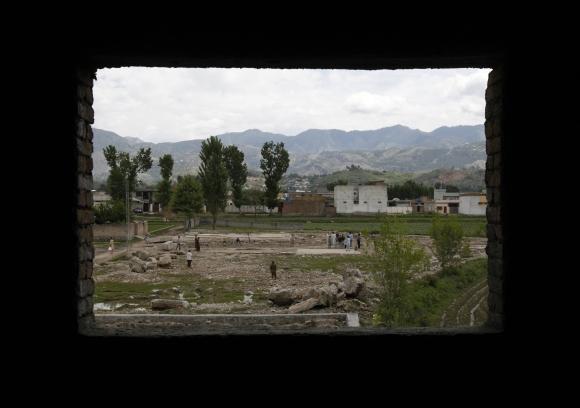 A year after Osama bin Laden was killed by United States Special Forces in Pakistan, his terrorist outfit Al Qaeda has little support in the Muslim world, a poll has said.
In PHOTOS: Abbottabad, a year after the Osama raid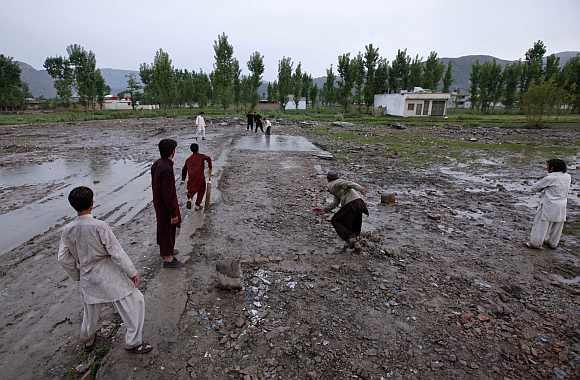 Residents of Bilal town in the Pakistani garrison city of Abbottabad where Osama Bin Laden was killed last year have asked the government to build a "statue of peace" or a beautiful monument at the site of his compound to remind the world that there is no place for such a terrorist mastermind. On the first anniversary of the death of the Al Qaeda chief on Wednesday, security forces have been put on high alert across Pakistan to counter any possible terrorist attacks.
Goal to defeat Al Qaeda within reach, says Obama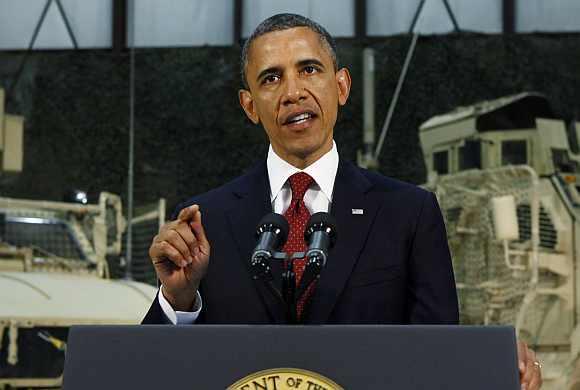 United States President Barack Obama on Wednesday said America had "turned the tide of war" in Afghanistan in the last three years, asserting that his goal to defeat the Al Qaeda and deny it a chance to rebuild was now "within reach".
Obama in Kabul on Osama's death anniversary, inks pact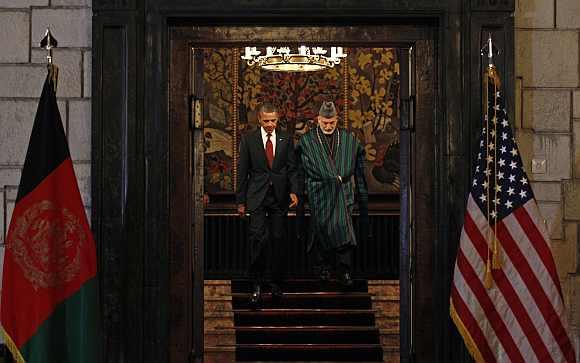 Making his way into Afghanistan unannounced, United States President Barack Obama signed a landmark strategic partnership agreement strengthening post-war ties with Kabul after 2014 when American combat forces return home.
Qaeda's plan to ATTACK Europe found inside porn movie!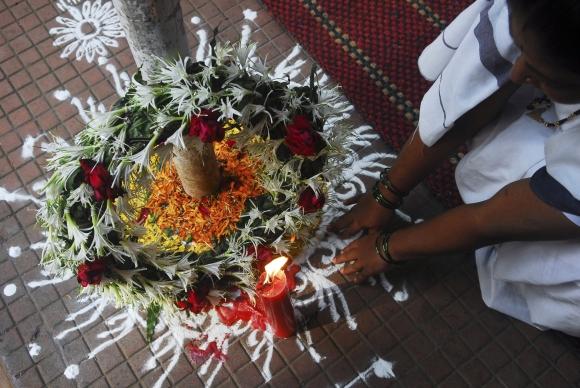 Al Qaeda was plotting to carry out audacious terror attacks in Europe similar to the 26/11 Mumbai strikes, a "treasure trove" of documents embedded inside a porn movie seized from a terrorist returning from Pakistan has revealed.
MUST READ: The MOST nail-biting moments of Osama raid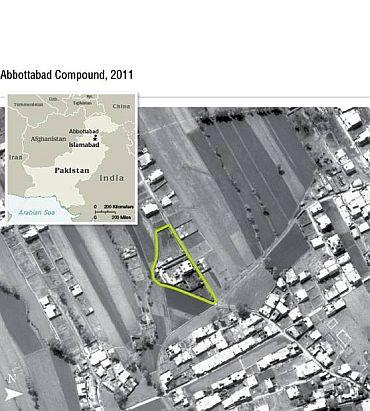 The most nail biting moment in the Abbottabad raid that killed former Al Qaeda chief Osama bin Laden came when the helicopters carrying the Navy Seals left Afghan airspace to enter Pakistan's territory, United States Defence Secretary Leon Panetta has said.
May 01, 2012
PM is honest but run by remote control: Hazare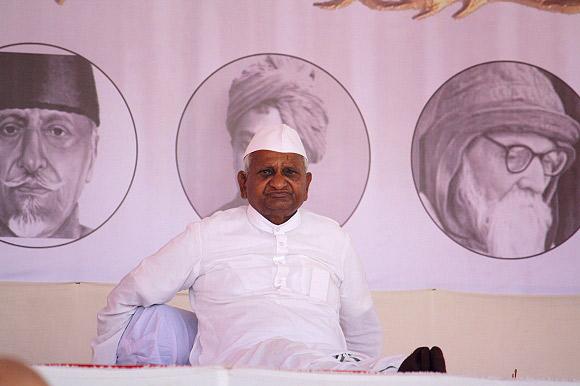 Activist Anna Hazare on Tuesday described Prime Minister Manmohan Singh as an honest man, but one who was unable to freely take decisions as he was being "remote controlled".
PIX: Freedom Tower is New York's TALLEST building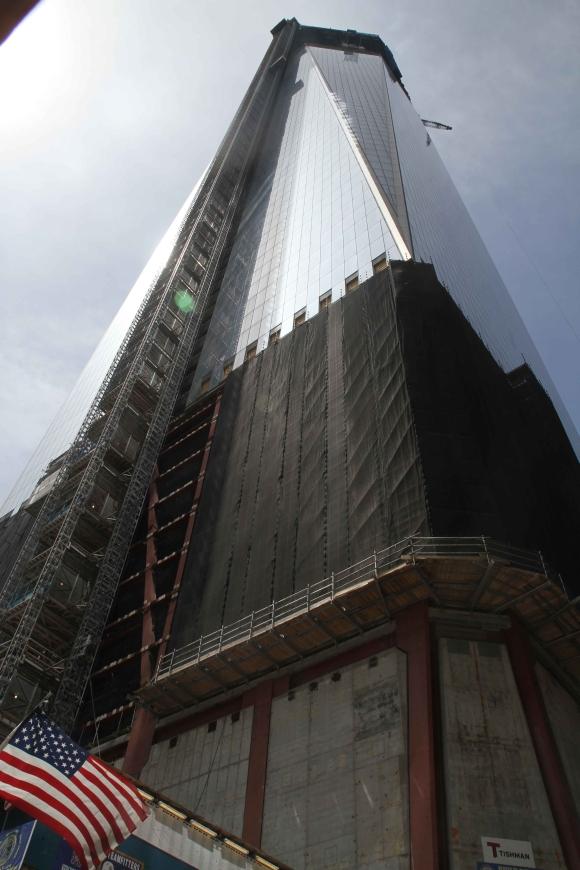 One World Trade Centre, the monolith being built to replace the twin towers destroyed in the 9/11 terror attacks, has become New York's tallest building, overtaking the Empire State Building.
In PHOTOS: Rescue efforts on after Assam boat mishap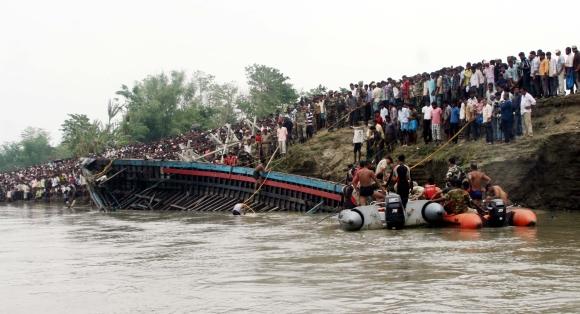 Rescuers are continuing the search for nearly 230 passengers of the ill-fated motor-boat that capsized in Brahmaputra River in Assam's Dhubri district on Monday evening.
I am NOT a politician. I am a sportsman: Sachin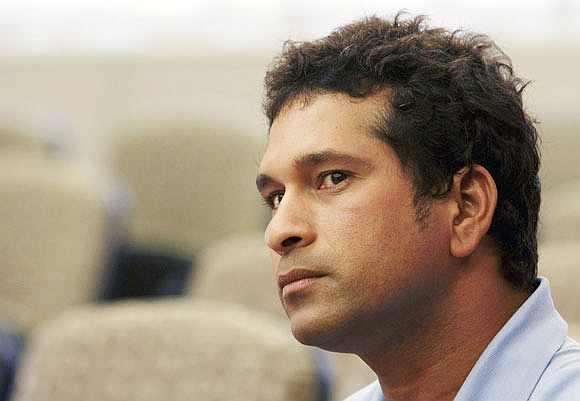 Speaking on his nomination to the Rajya Sabha for the first time, cricketer Sachin Tendulkar on Tuesday termed it as a "great honour".
Archives
April 2012
|
March 2012
|
February 2012
|
January 2012
|
December 2011
|
November 2011
|
October 2011
|
September 2011
|
August 2011
|
July 2011
|
June 2011
|
May 2011
|
April 2011
|
March 2011
|
February 2011
|
January 2011
|
December 2010
|
November 2010
|
October 2010
|
Sepetember 2010
|
August 2010
|
July 2010
|
Jun 2010
|
May 2010
|
April 2010
|
March 2010
|
February 2010