March 31, 2012
PICS: On day out, Akhilesh Yadav at his charming best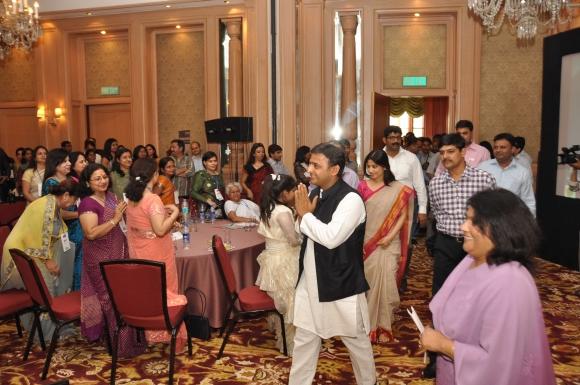 Akhilesh Yadav's first day out as the new chief minister of Uttar Pradesh virtually made him feel like a Bollywood star. But during his two-and-a-half hour long stay at the venue of the 'Hindustan Times Woman of the Year' show in Lucknow on Saturday evening, the country's youngest chief minister didn't bother putting up an act.
In PHOTOS: For Earth Hour, major cities go DARK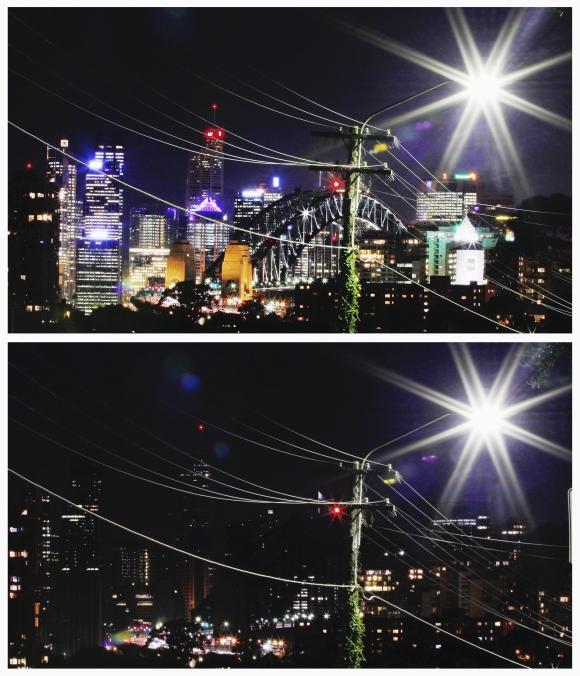 Earth Hour, when everyone around the world is asked to turn off lights for an hour from 8.30 pm local time, is meant as a show of support for tougher action to confront climate change.
Charge-sheet REVEALS how Jagan, YSR defrauded govt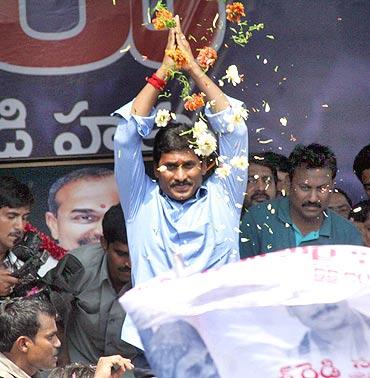 The charge-sheet filed by the Central Bureau of Investigation against YSR Congress chief Jagan Mohan Reddy on Saturday contains some explosive revelations. The charge-sheet stated that Jagan prevailed upon his father -- late Andhra Pradesh chief minister Dr Y S Rajasekhara Reddy -- to commit offences and defraud the government to commit a criminal conspiracy.
Police kept eyes CLOSED during 1984 anti-Sikh riots: CBI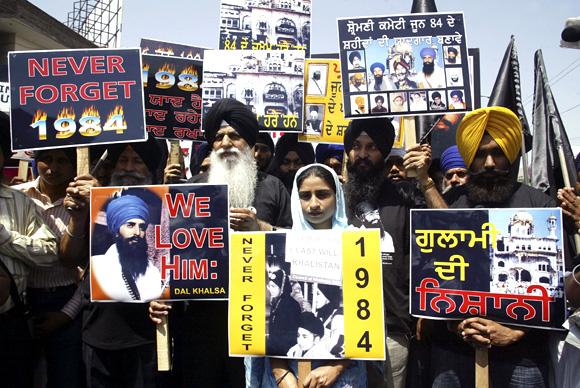 The Central Bureau of Investigation on Saturday told a court that the Delhi police, acting in a pre-planned manner during the 1984 anti-Sikh riots, kept its "eyes closed" to the violence.
Tatra truck scam second BIGGEST after Bofors: BJP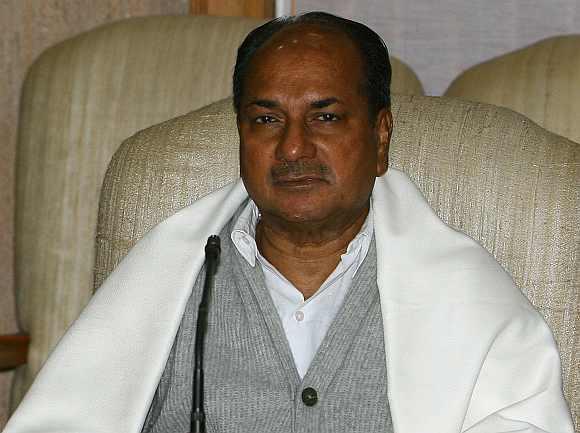 The Bharatiya Janata Party on Saturday said the Tatra scam was the second biggest after the Bofors scam and demanded immediate resignation of Defence Minister A K Antony for allegedly patronising corruption. "This (Tatra) is the second biggest scam after the Bofors scam and it has exposed the fact that the weapons of our soldiers are not up to standard," BJP national spokesperson Prakash Javdekar told a press conference.
Army chief names Tejinder Singh in bribery complaint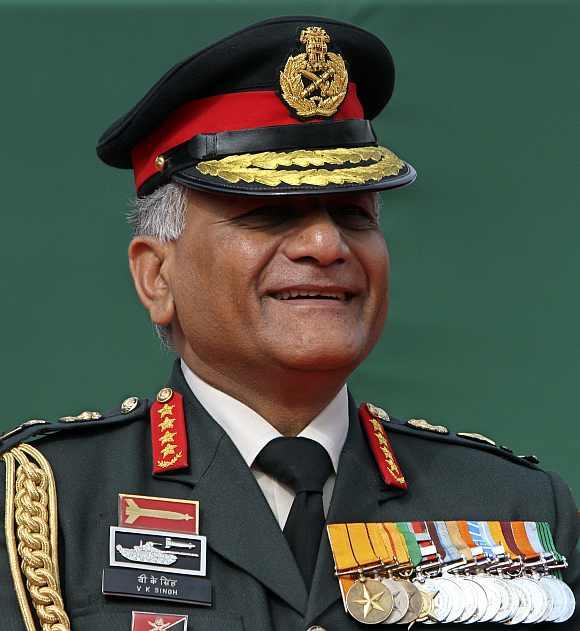 Army chief Gen V K Singh has named retired Lt Gen Tejinder Singh in his complaint to the Central Bureau of Investigation on the alleged Rs 14 crore bribe offered to him to clear tranche of nearly 600 Tatra trucks. CBI sources said Singh has assured them of providing more material about the alleged bribe offer very soon.
In PHOTOS: Deadly triple blasts rock south Thailand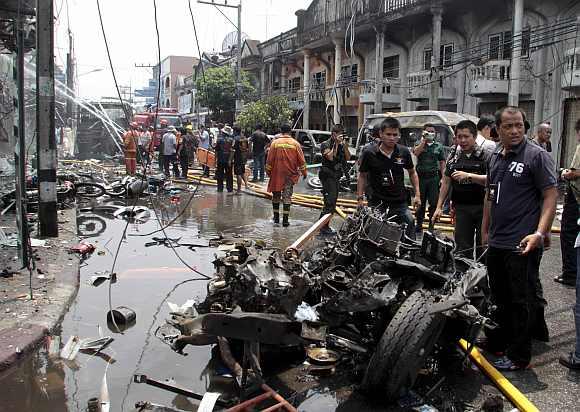 At least eight people have been killed and 68 injured in three explosions that rocked the southern Thai province of Yala on Saturday, officials said.
Want entire power from Koodankulam for TN: Jaya tells PM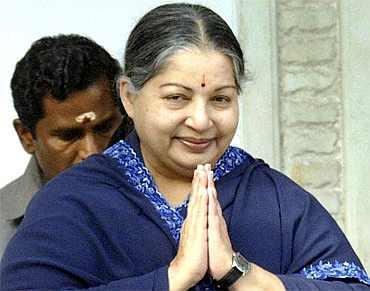 After giving a green signal to the Koodankulam nuclear power plant, Tamil Nadu Chief Minister Jayalalithaa on Saturday demanded that the entire 2000 MW power to be generated by its two units be given to the state in view of the "severe power shortage."
Jayalalithaa revokes estranged aide Sasikala's expulsion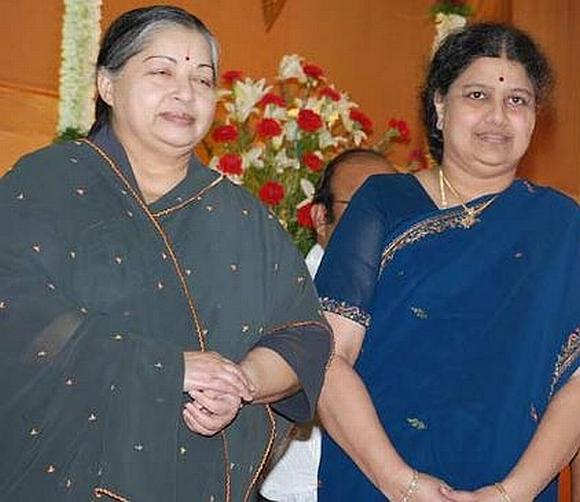 Tamil Nadu Chief Minister and All India Anna Dravida Munnetra Kazhagam chief Jayalalithaa on Saturday revoked the expulsion of close aide Sasikala. She had been sacked from the party in December for 'trying to dominate the AIADMK'.
Sachin's 100th ton party; Mallika's sexy Laila
Sachin's 100th ton party; Mallika's sexy Laila
'India has turned out to be a terribly soft state'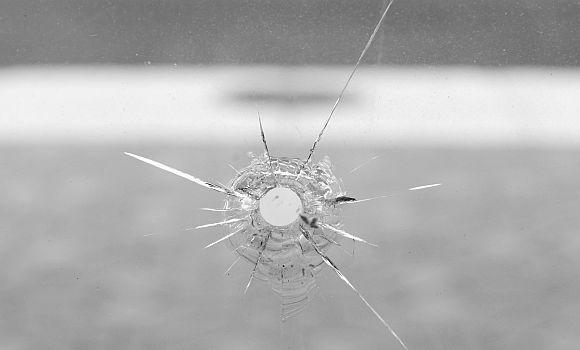 Final part of the lecture given by Mumbai-born security expert at the National Defence University's Programme on Irregular Warfare and Special Operations Studies on the grave threat posed by the Lashkar-e-Tayiba to the world.
Why Taliban will NEVER talk peace with Pakistan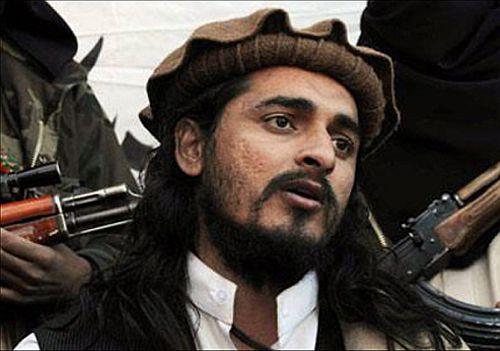 Taliban chief Hakimullah Mehsud's shift to the hardline Salafi ideology has derailed the peace process with Pakistan, rediff.com's reports
Hackers to shut down Internet on Saturday?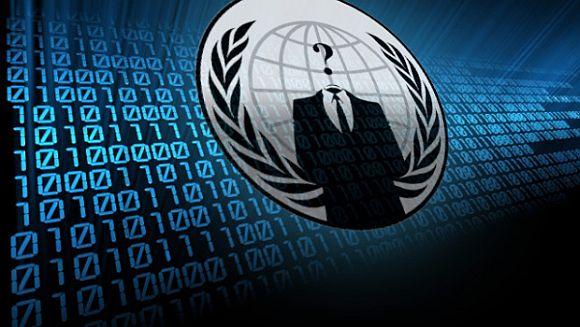 "Operation Global Blackout 2012 looks to shut down the internet for a whole day on Saturday by disabling its core DNS servers, making websites inaccessible," Noble said in New Delhi.
March 30, 2012
PHOTOS: Communal riots leaves Andhra town scarred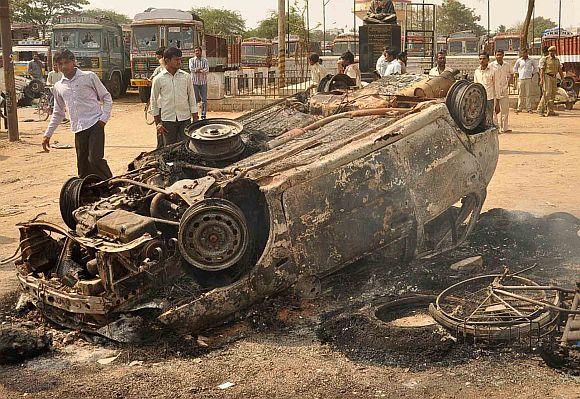 Grim details of the communal violence in Sangareddy town of Medak district in Andhra Pradesh were slowly emerging as the people of the town were yet to recover from the shocking incidents which started unfolding on Thursday night.
Telangana statehood: Parties urge youths against suicide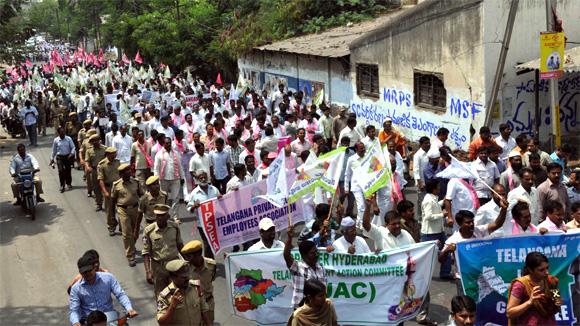 The Telangana Joint Action Committee and the Telangana Rashtra Samiti organised a massive rally in Hyderabad making a fervent appeal to the people of the region not to resort to suicides. reports.
Now Modi govt gets it from CAG for Rs 16,707 cr scam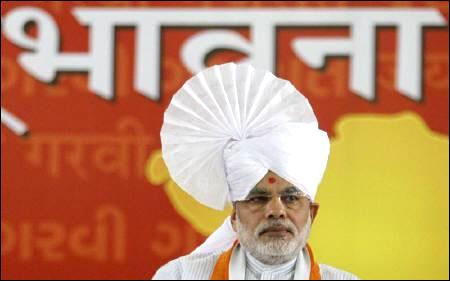 The Comptroller and Auditor General's reports on the scams under the watch of the UPA government at the Centre are being celebrated by the BJP, but when the auditor indicts the government of its blue-eyed boy in Gujarat, the party is strangely silent. reports from Gandhinagar
No winner in defence row, nation is only loser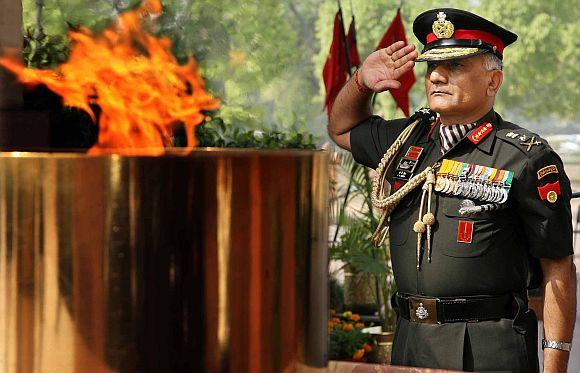 Citizens must remember that the job of the armed forces is to 'protect' democracy, NOT practice it. Neither is it the primary job of the Army chief or the defence minister to eradicate corruption. Their primary or the only job is to ensure that the armed forces of the republic are adequately armed and equipped to face the likely enemy and emerge victorious. Everything else is secondary and only in the nature of aim plus, says Colonel (Dr) Anil Athale
WON'T ALLOW new dam in Karnataka: Jayalalithaa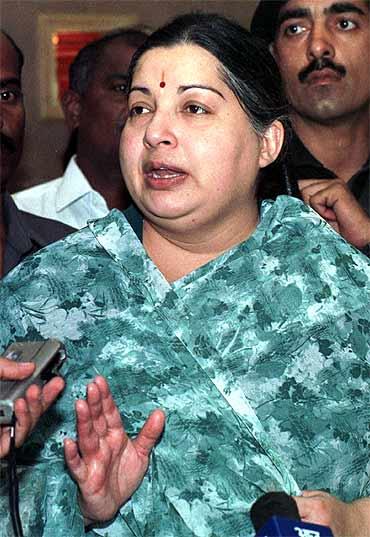 With the Cauvery water sharing row escalating, the Tamil Nadu government on Friday made it clear that it would not allow construction of a new dam by Karnataka at Mekedhatu across the river under "any circumstances."
'Indo-Pak N-exchange possible if Pak backs terror'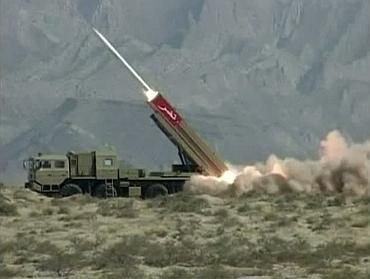 Observing that India and Pakistan have a complex history characterised by "animosity, mistrust, and conflict", a top Pentagon official has warned that there is a potential of a nuclear exchange between them if Islamabad continues to support terror groups against the neighbouring country.
CBI to grill NRI businessman over Tatra-Army deal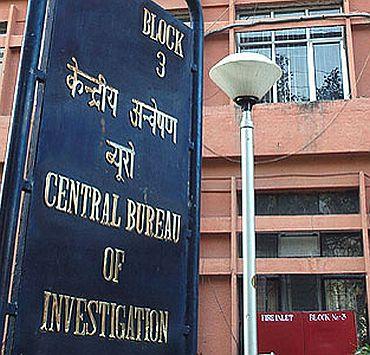 The Central Bureau of Investigation has called NRI businessman Ravi Rishi, owner of the United Kingdom-based Vectra Group, for questioning in connection with alleged irregularities in the supply of all-terrain Tatra trucks through state-owned Bharat Earth Movers Limited to the army.
Dilli Gupshup: Why everyone's scared of the Army Chief!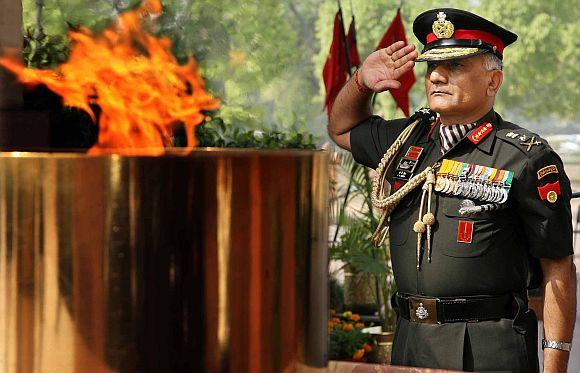 Revealed -- the similarity between General VK Singh and Arjun Singh. Will Sharad Pawar and Ajit Singh rebel against the UPA? What's the BJP's great dilemma? All this and more in this week's Dilli Gupshup.
IN PICS: Supernova turned massive star 'inside out'!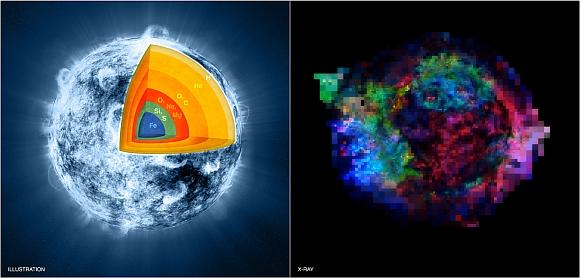 A new X-ray study of the remnants of an exploded star suggests that the supernova that disrupted the massive star may have turned it inside out in the process.
People may soon STOP paying taxes, warns Kejriwal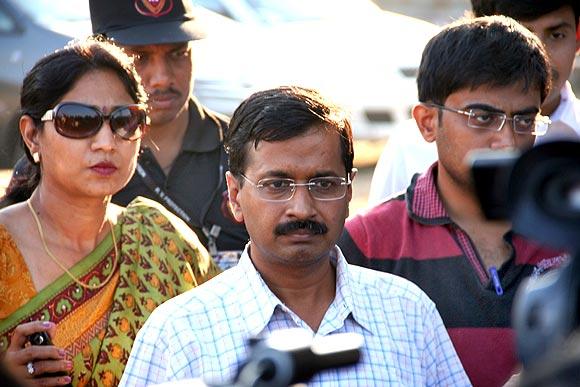 In order to offer a solution to people distressed due to continuous apathy from the administration, Team Anna member Arvind Kejriwal has warned that citizens might soon refrain from payment of their taxes.
IN PICS: Wife reveals Osama's SECRET life in Pakistan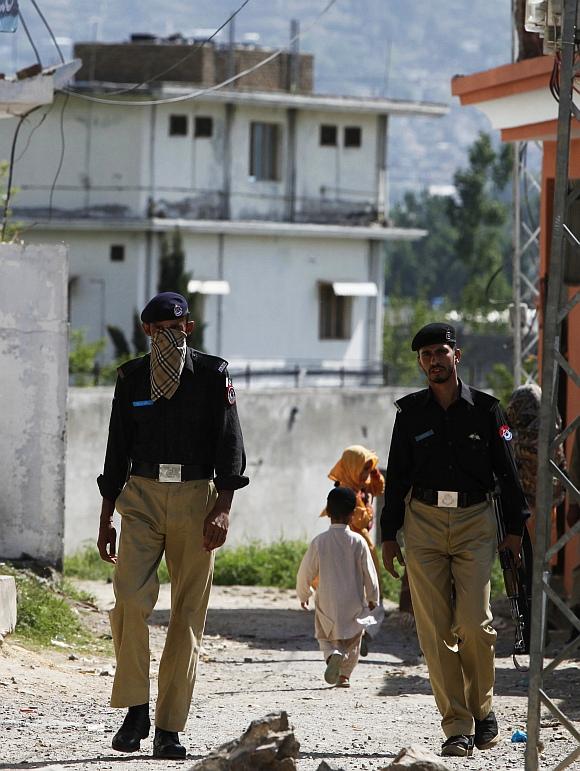 In one of the most detailed accounts of Osama bin Laden's life on the run, his youngest wife has told Pakistani investigators that the Al Qaeda leader lived in five safe houses as he travelled across Pakistan with his family for nine years following the 9/11 attacks.
Rahul Gandhi: Congress's prince un-charming?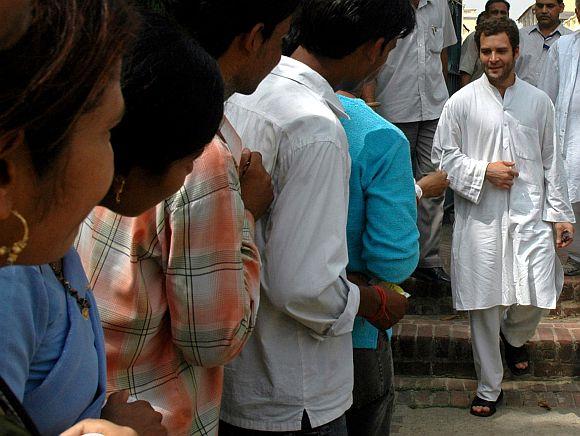 What did Rahul Gandhi do wrong in Uttar Pradesh and what does he need to do now to stop the slide? tries to find out.
Today, LeT is more than just a terrorist group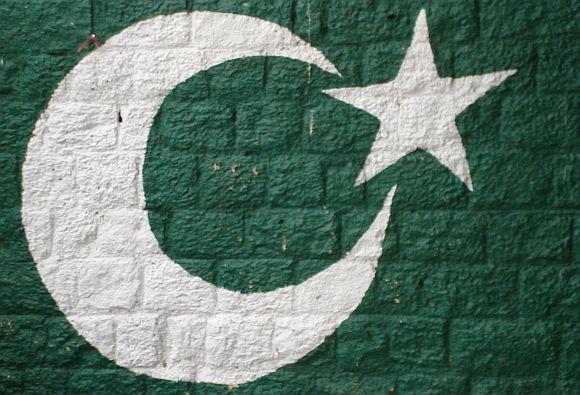 Third part of the lecture given by Mumbai-born security expert at the National Defence University's Programme on Irregular Warfare and Special Operations Studies on the grave threat posed by the Lashkar-e-Tayiba to the world.
Pakistan turning into a haven for Al Qaeda's white jehadis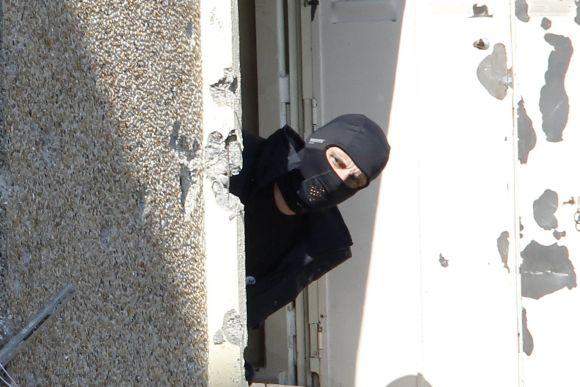 A study has pointed out that the Al Qaeda seeks to employ white men with Western nationalities to successfully strike in the heart of the West. reports from Islamabad
PHOTOS: A flowery delight at Srinagar tulip garden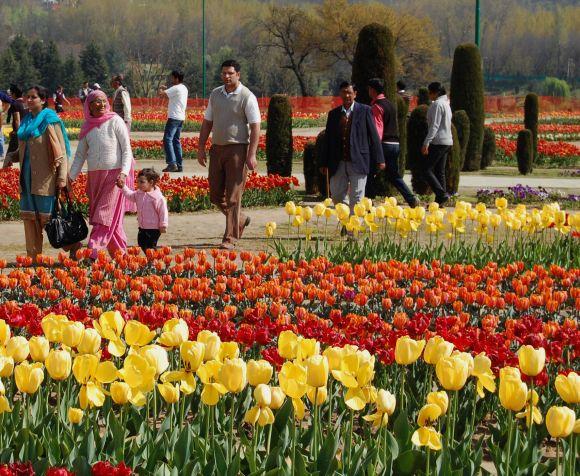 Kashmir's tulip garden was thrown open to public on Thursday by Jammu and Kashmir Chief Minister Omar Abdullah.
Grim tales of life in exile from Majnu ka Tila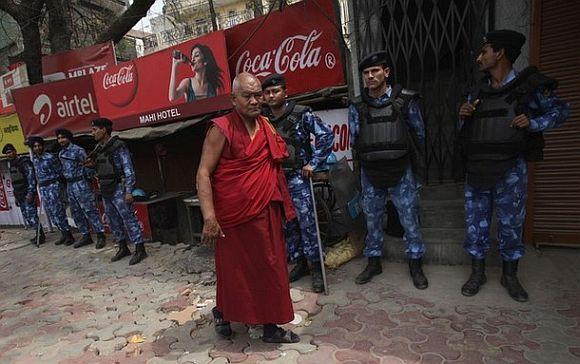 Rediff.com's travelled to the Tibetan camp in Majnu ka Tila, which has virtually been sealed off to prevent Tibetans from coming in the way of the visiting Chinese President Hu Jintao.
March 29, 2012
India, China light up relations amidst Tibetan grief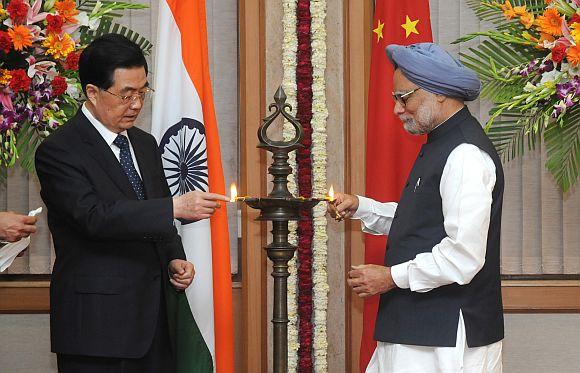 Chinese President Hu Jintao and Prime Minister Manmohan Singh lit an oil lamp to mark the launch of the "Year of India-China Friendship and Cooperation" on Thursday after the two leaders met and discussed the state of their country's bilateral relations.
Leak anti-national; will take STRONG action: Antony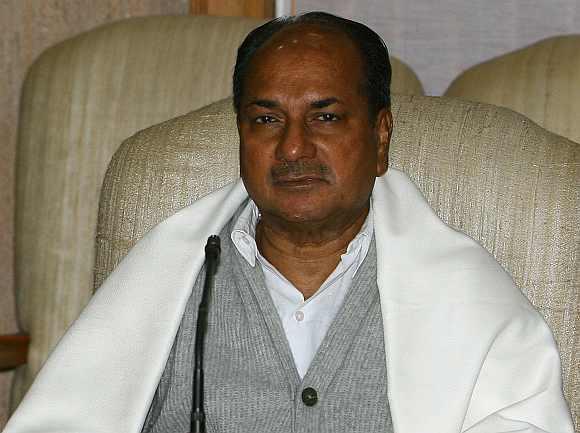 Terming the recent leak of Army Chief General VK Singh's March 12 letter to Prime Minister Manmohan Singh as "anti-national," Defence Minister A K Antony on Thursday said he and the defence ministry would take the strongest possible action against those responsible for the leak under Indian law.
WATCH! Army Chief Gen V K Singh's latest salvo
Army Chief General V K Singh's tryst with controversies seems nowhere close to coming to a halt. Be it the age row, letter 'leaks' or offer of bribe, the maverick general is literally shaking the entire nation on a regular basis.
Deal with source of leakage 'RUTHLESSLY': Gen Singh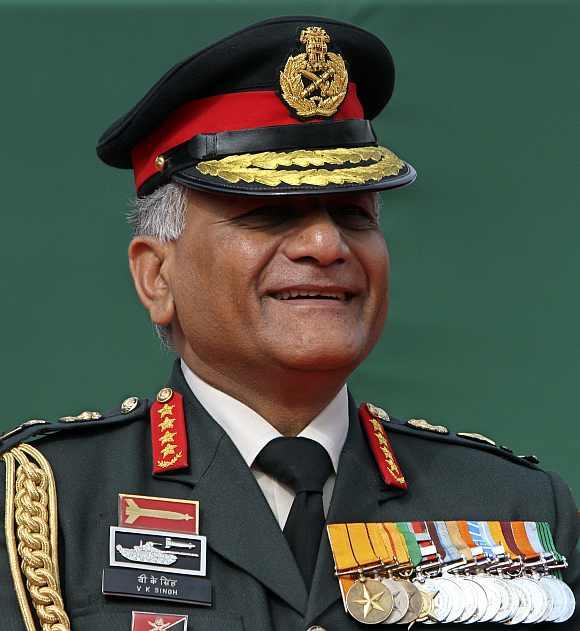 Facing demands for his dismissal, Army Chief Gen V K Singh on Thursday said the leak of his letter to the prime minister presenting a grim picture of the force's defence preparedness should be treated as "high treason" and the source of leakage dealt with "ruthlessly."
Army should STOP media battles, focus on BIGGER issues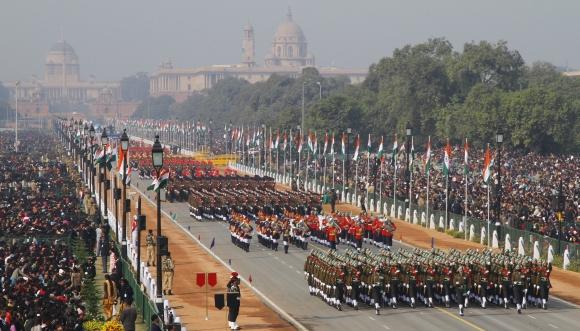 Tension between India's civilian and military leadership has steadily increased over the past few months and now appears to be at the highest it has been in decades. In his latest fusillade, the chief of army staff, General V K Singh, has said that he was offered a Rs 14 crore bribe by a retired army officer in order to clear the purchase of a set of armoured vehicles.
Inside look into AFGHANISTAN: Of bullets and beauty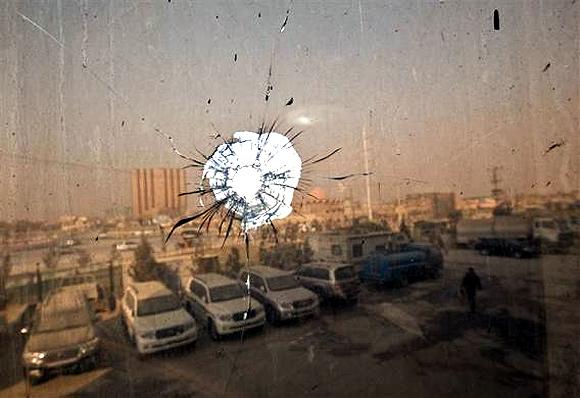 Inside look into AFGHANISTAN: Of bullets and beauty
Why fears of jihadi nuclear bomb still looms large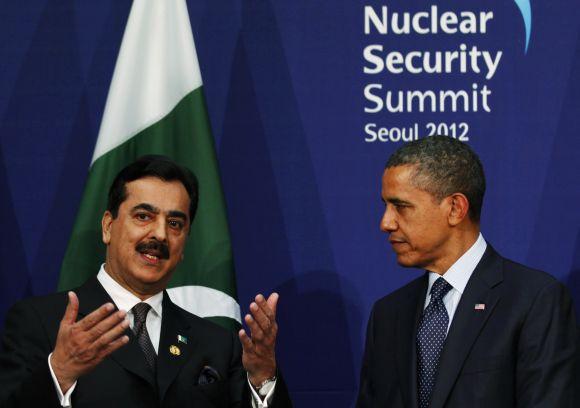 The death of bin Laden on May 2 last year has not removed or diluted the threat of jihadi terrorist organisations acquiring a nuclear capability, argues .
Dangerous Lashkar-e-Tayiba has LARGER ambitions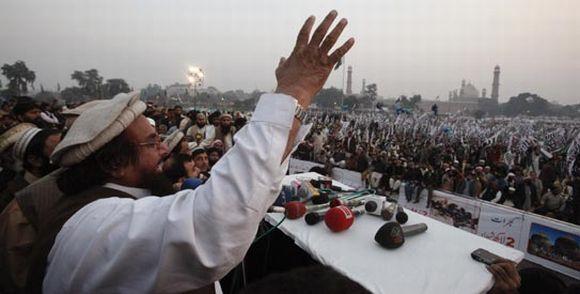 Second part of the lecture given by Mumbai-born security expert at the National Defence University's Programme on Irregular Warfare and Special Operations Studies on the grave threat posed by the Lashkar-e-Tayiba to the world.
March 28, 2012
Army's flailing health is no BIG secret; THEY always knew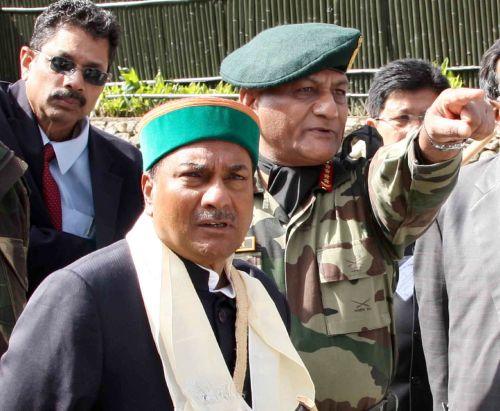 The UPA government has been caught unawares once again. The latest salvo from Army Chief V K Singh, this time targetting the Prime Minister's Office, has left it groping in the dark for options. Rediff.com's analyses.
PIX: Descendents of a Mughal emperor live in penury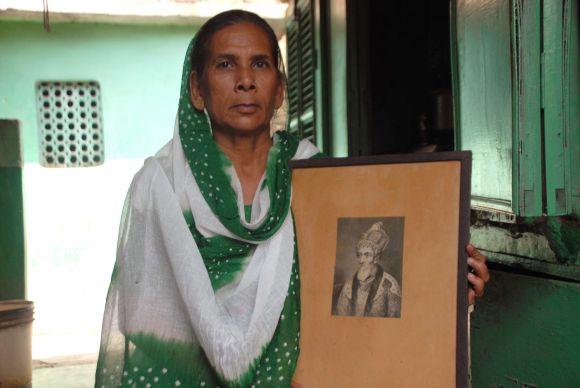 The story of middle-aged Sultana Begum is heart-wrenching. Her husband Mirza Bedar Bakht, the great grandson of last Mughal Emperor Bahadur Shah Zafar, died in penury.
How the Koodankulam stir ended with a whimper
Rediff.com's visits Idinthakarai, the site of hunger strikes opposing the controversial Koodankulam Nuclear Power Plant at Tirunelveli district in Tamil Nadu, and tells us how the high-voltage agitation met a rather tame end.
Why the government may be forced to sack Gen Singh
Is the leak of Army Chief General V K Singh's letter the last straw that faces the government to take action? explains the factors at play.
Hafiz Saeed hoodwinks police, sneaks into Islamabad rally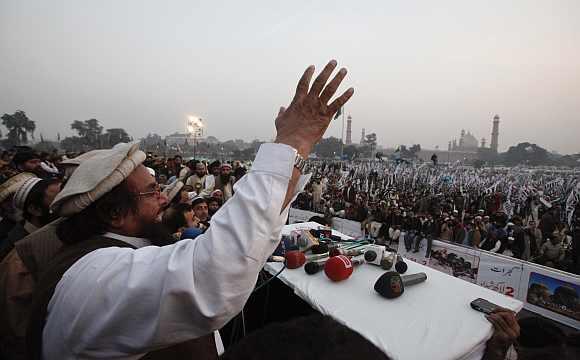 Outlawed Jamaat-ud-Dawah chief Hafiz Mohammad Saeed and Ahl-e-Sunnat Wal Jamaat leader Ahmed Ludhianvi played a cat-and-mouse game for almost six hours with the police and paramilitary forces who were trying to prevent them from entering the Pakistani capital.
Blasts cases: Has the IM outwitted the cops?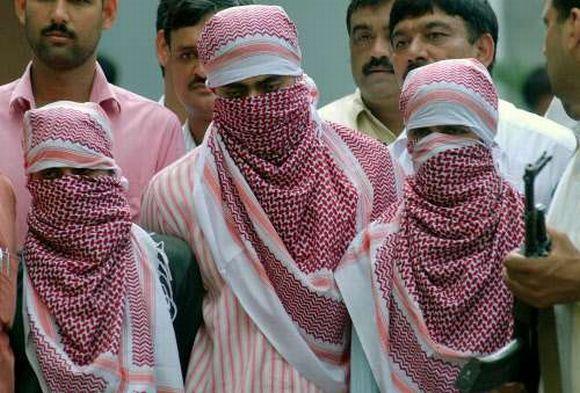 Police from every state have a different version to the working of the Indian Mujahideen, and we have seen arrests galore. On one hand, the police claim that they have cracked a particular case after a couple of arrests, but the matter never seems to reach the logical end when the battle for conviction is fought before the court. reports.
PHOTOS: Grand farewell for Tonga's King George Tupou V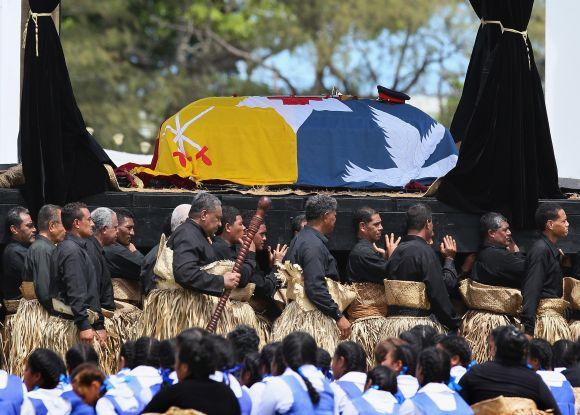 Thousands gathered to bid farewell to Tonga's King George Tupou V, who died on of an undisclosed illness on March 18. It is, however, known that the king had undergone a kidney transplant last year.
BrahMos supersonic cruise missile test fired successfully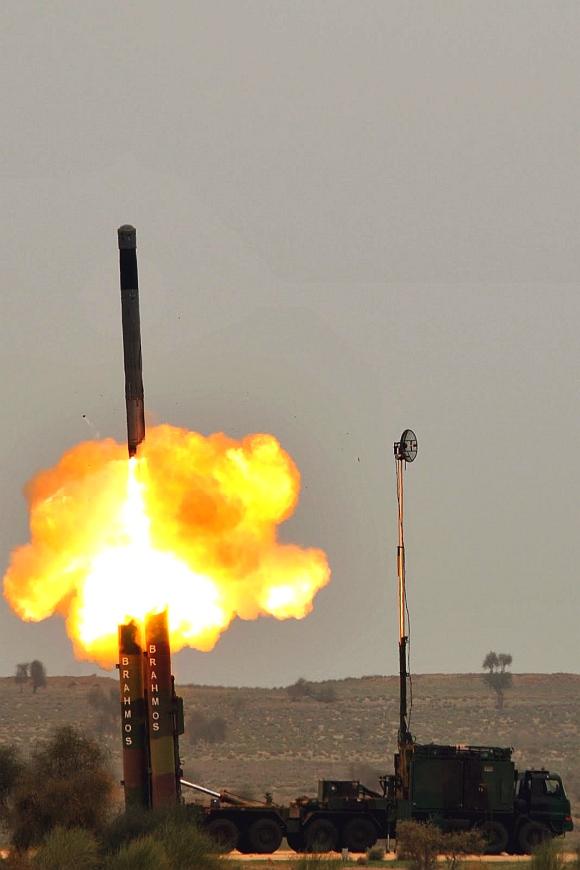 India on Wednesday successfully test fired Brahmos supersonic cruise missile as part of a user trial by the Army from the test range at Chandipur off Odisha coast.
97 per cent of India's air defence is OBSOLETE: Gen Singh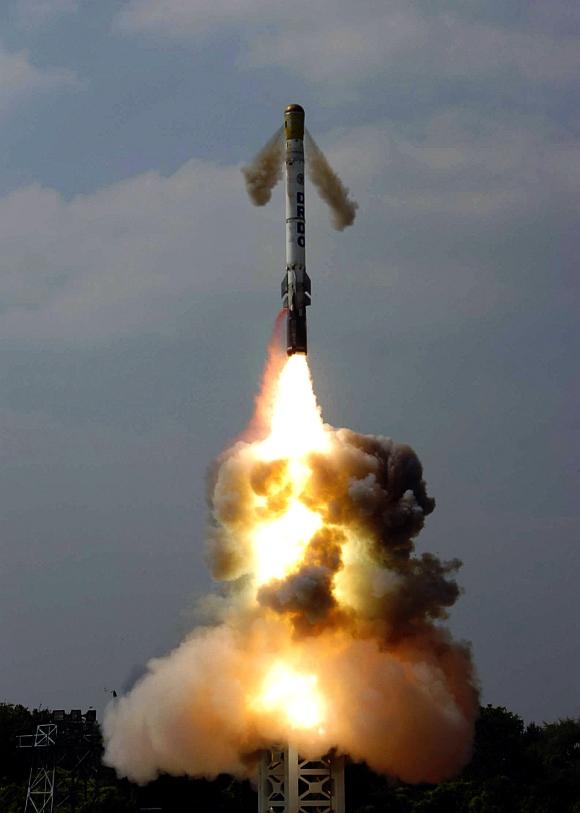 In a letter dated March 12, Army Chief General V K Singh has warned Prime Minister Manmohan Singh that the country's security is at risk.
Punjab: Bandh supporting Beant killer hits normal life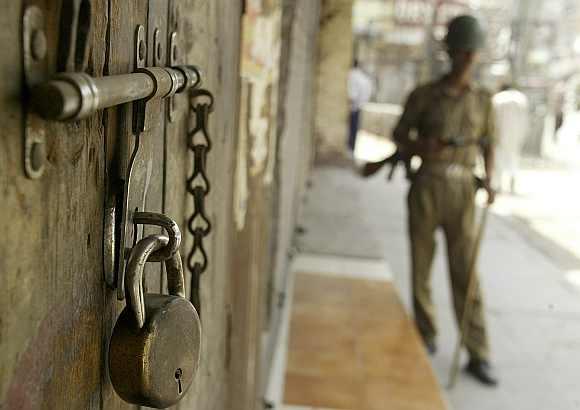 A day-long bandh called by radical Sikh outfits to protest the proposed execution of Balwant Singh Rajoana, convicted in the Beant Singh killing case, disrupted normal life in parts of Punjab on Wednesday.
China's Hu Jintao, Tibet and the Law of Karma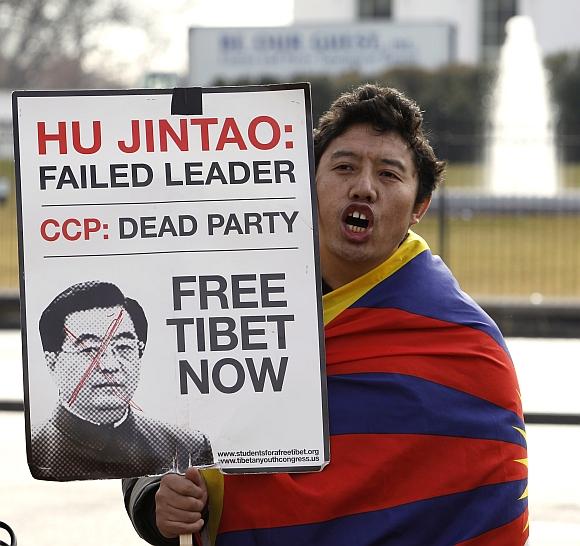 When the time will come to prepare your 'balance sheet' as China's core leader, it will be counted as your personal failure, you, the party's Tibet expert, longtime Tibet watcher writes to Hu Jintao
China executed the MOST people last year: Amnesty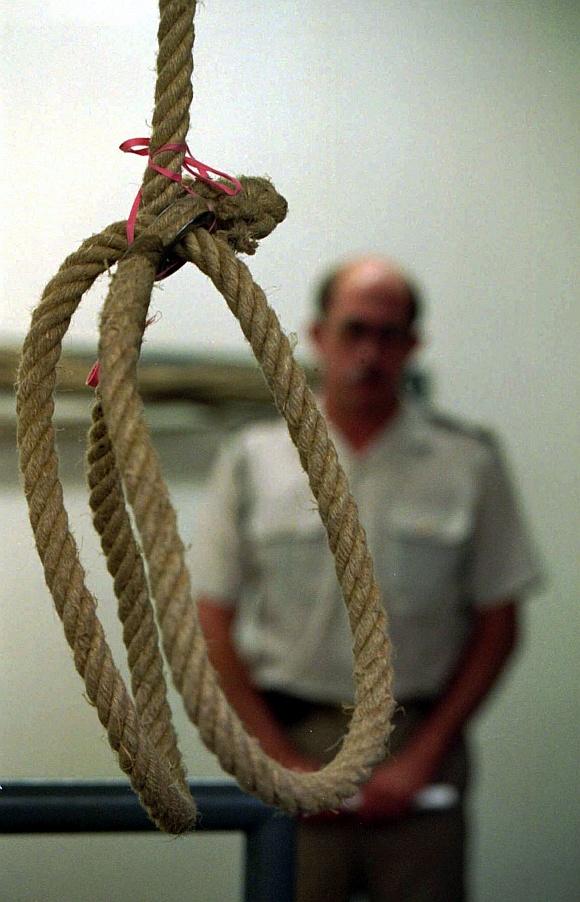 China has earned the dubious distinction of accounting for more executions than the rest of the world put together in 2011, global anti-death penalty group Amensty International has said.
INSIDE KOREA'S DMZ: The most dangerous place on earth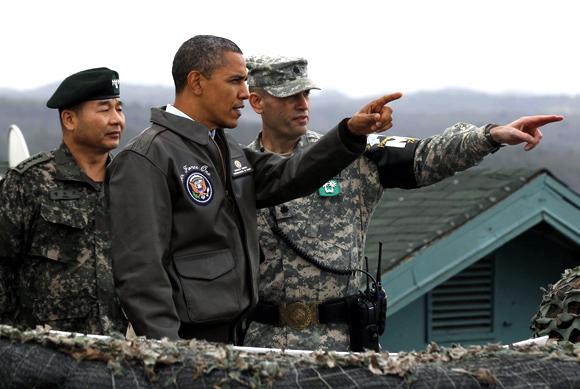 We take a look at life on the DMZ where there's no sign of tension easing, where the Cold War still persists.
Why we need to upgrade our defences to face China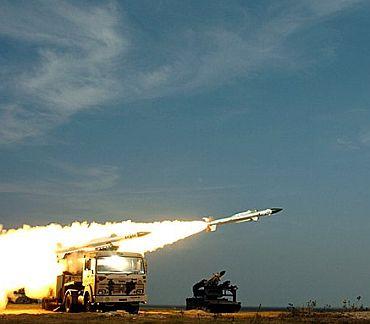 An open letter to Defence Minister A K Antony on the threat from China and the need for upgradation of our defence research and production by Colonel (retd) Anil Athale.
March 27, 2012
Need solid outcome to visit Pakistan: PM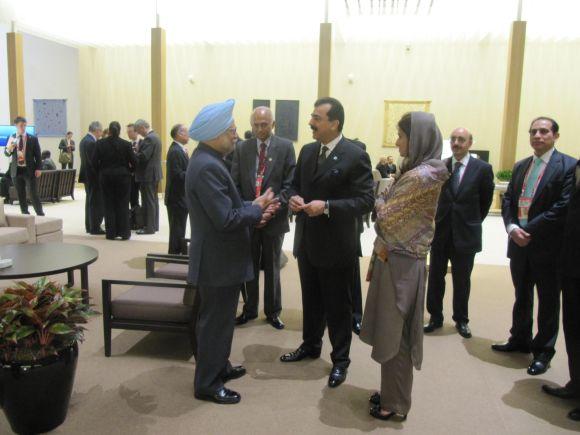 Gilani wants power from Punjab and fought hard to get India MFN status. listens in on Air India One
EXCLUSIVE! I am not army chief's chum: Lt Gen Singh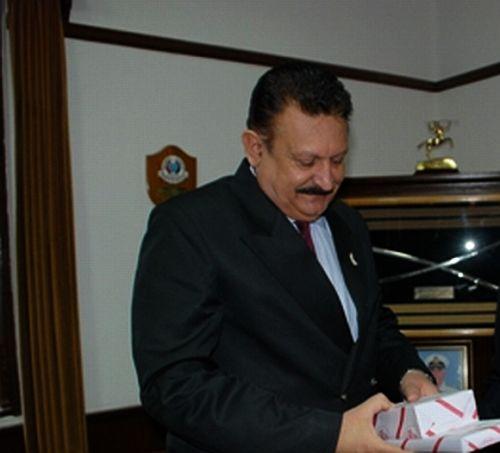 Rediff.com's Sheela Bhatt caught up with Lieutenant General Tejinder Singh (retd), who has been accused of allegedly offering army chief General V K Singh a bribe of Rs 14 crore in September 2010 for an arms deal.
The menace that is Lashkar-e-Tayiba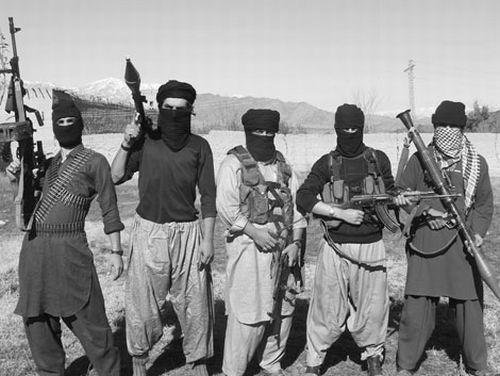 Though the international community first began taking notice of the terrorist group Lashkar-e-Tayiba after its spectacular coordinated bombing and shooting attacks in Mumbai, India, in November 2008, the group was established in 1987 at a time when Pakistan was in the throes of Islamic ferment.
IN PIX: Naxal target CRPF bus; 12 jawans killed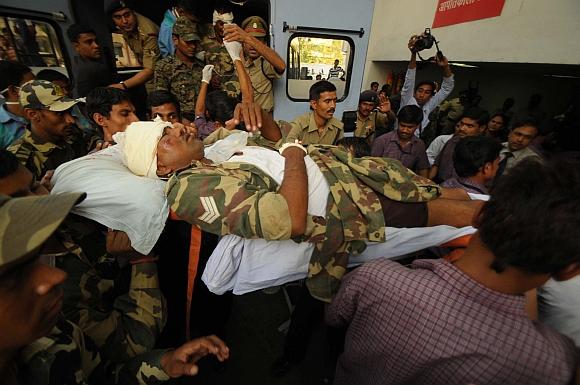 In a major Naxal attack, 12 Central Reserve Police Force personnel were on Tuesday killed and 28 others injured when the ultras triggered a landmine blast in Gadchiroli district of Maharashtra.
Team Anna members want to be POWER BROKERS: Diggy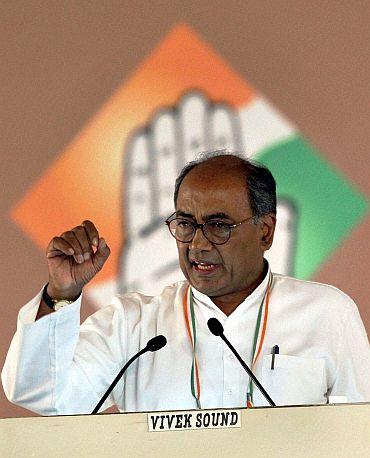 In the backdrop of Team Anna's barbs at Members of Parliament, Congress leader Digvijay Singh on Tuesday accused its members of trying to become "power brokers".
I asked army chief to act, he didn't: Antony on bribe row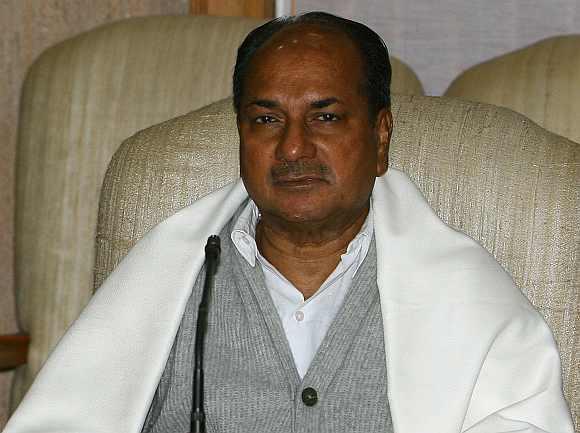 With the army chief's allegation of bribe offer kicking up a storm, Defence Minister A K Antony on Tuesday said he had asked General V K Singh to take action but he did not want to pursue the matter for unknown reasons.
Team Anna HITS BACK at MPs: Bitter truth bound to hurt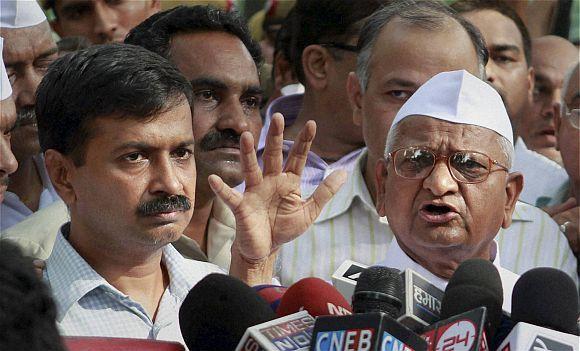 Raising its pitch against Members of Parliament, Team Anna on Tuesday asked lawmakers whether the "good MPs" will support 162 of those with a criminal background or demand the cleansing of Parliament.
Why everyone's talking about Lt Gen Tejinder Singh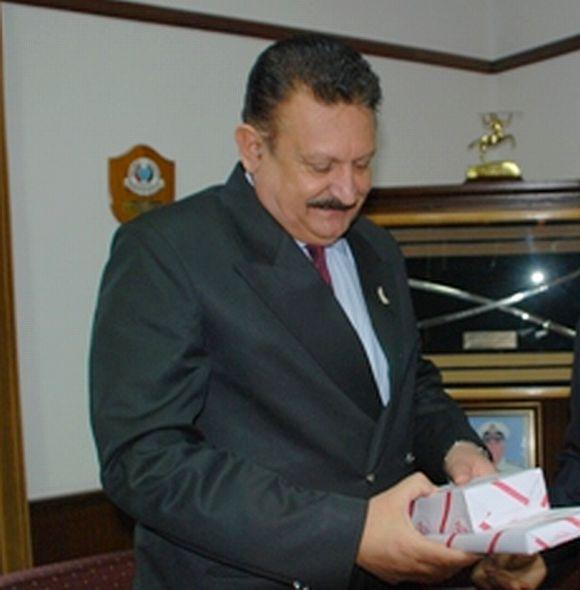 Lt Gen (retd) Tejinder Singh's name is suddenly in the media limelight, but for extremely controversial reasons.
In PHOTOS: PM, Gilani get chatty at Seoul nuclear summit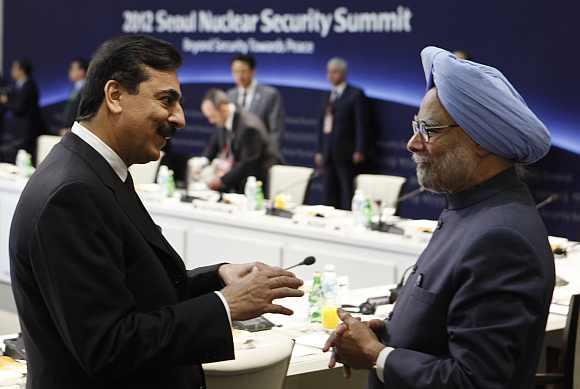 Prime Minister Manmohan Singh and his Pakistani counterpart Yousuf Raza Gilani on Tuesday exchanged pleasantries, their second informal chat in two days at the Nuclear Security Summit in Seoul.
Bribery row: Why is Army chief speaking up NOW?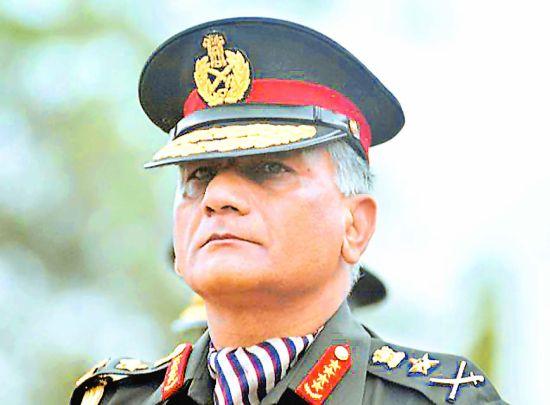 There have been serious acts of omission by the COAS as well as by the defence minister and these amount to a serious case of dereliction of duty, says
When Bush came, they polished their shoes with the US flag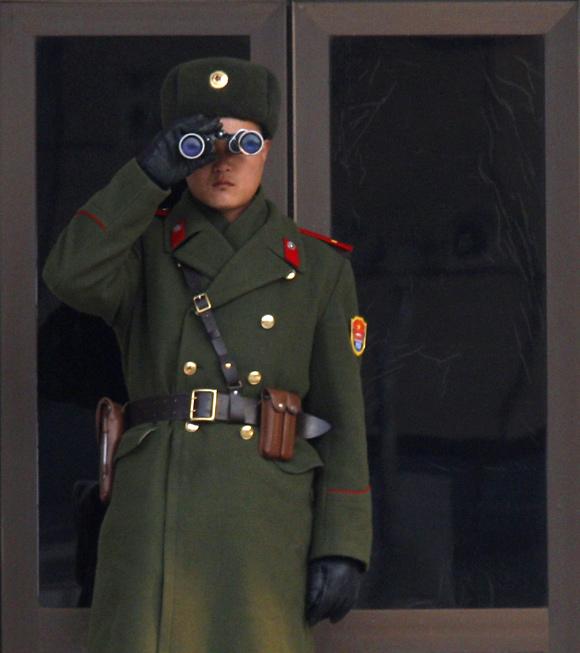 Unlike Wagah, where India and Pakistan mount an elaborate daily drama of military ritual watched by tourists on both sides, the Demilitarized Zone, which separates North and South Korea is barren and desolate, a terrain bristling with hostility, discovers .
'Focus on ramming through nuclear power is misplaced'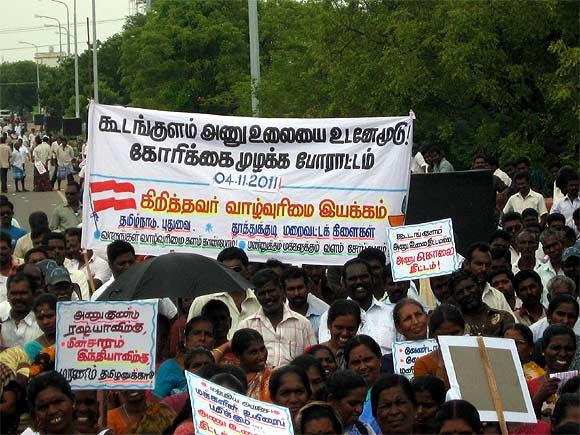 Instead of trying to bulldoze through the stalled project, the establishment's energies could be more efficiently deployed in targeting other sectoral problems, says
China SPENT Rs 8 lakh crore on its military last year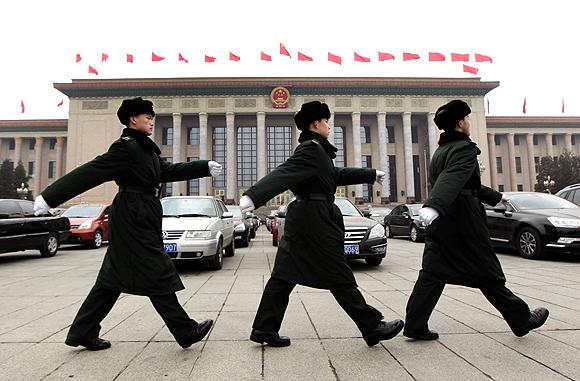 India is confronted with a rapidly rising China and all its attendant consequences, says Harsh V Pant
Bhopal gas tragedy: Remembering what was left behind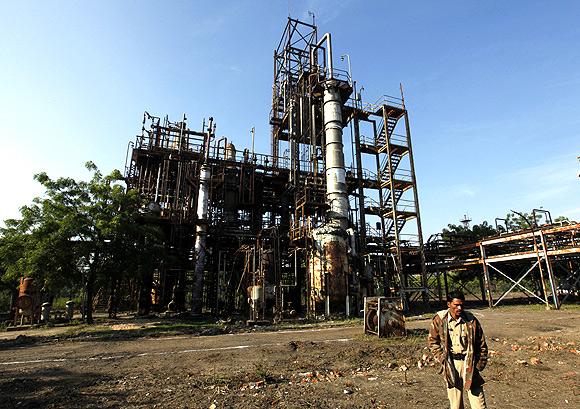 A bus-borne museum will take the experiences of Bhopal gas victims round the country, says Rrishi Raote
The most STUNNING photographs of the week gone by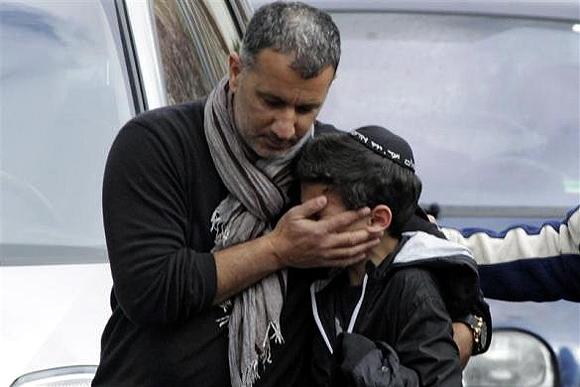 We present some of the most stunning pictures from around the globe in the week gone by.
March 26, 2012
Muslim clerics, academia call for release of Ahmad Kazmi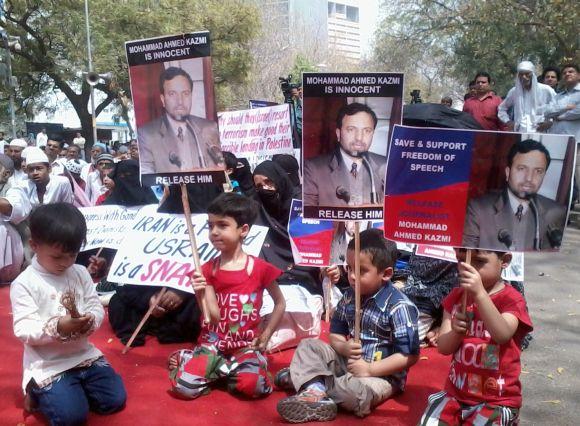 Members of the Muslim community who participated in the protest said that Kazmi's arrest was a clear indication that the Muslim community was being directly targeted in the name of fighting terrorism. reports
I am ready to face charges: Kejriwal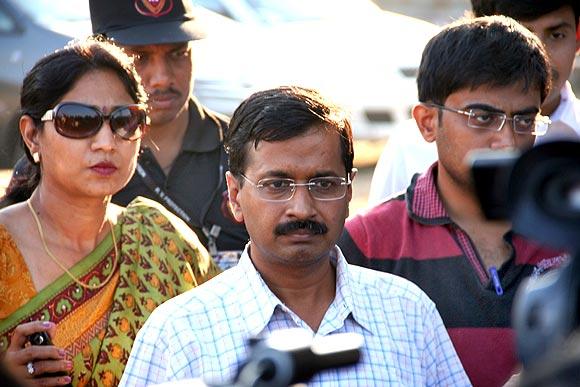 As Parliament demands action against Team Anna for defamatory remarks against the Parliamentarians on Sunday's rally at the Jantar Mantar in New Delhi, Team Anna member Arvind Kejriwal in an Exclusive Interview to CNN-IBN's Editor-in-Chief Rajdeep Sardesai defends his remarks.
PHOTOS: She chose the ramp to raise Tibet's voice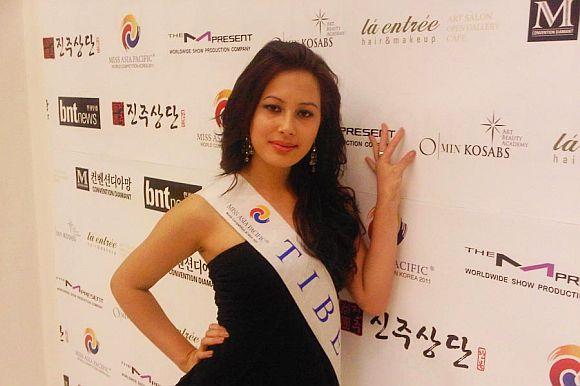 Struggling to gain entry to the top global beauty pageants due to objections from China, Miss Tibet 2011 Tenzin Yangkyi has said the best way for her to highlight the Tibetan question in the international arena is through participation in such contests.
Army chief on bribe offer: Didn't understand what was said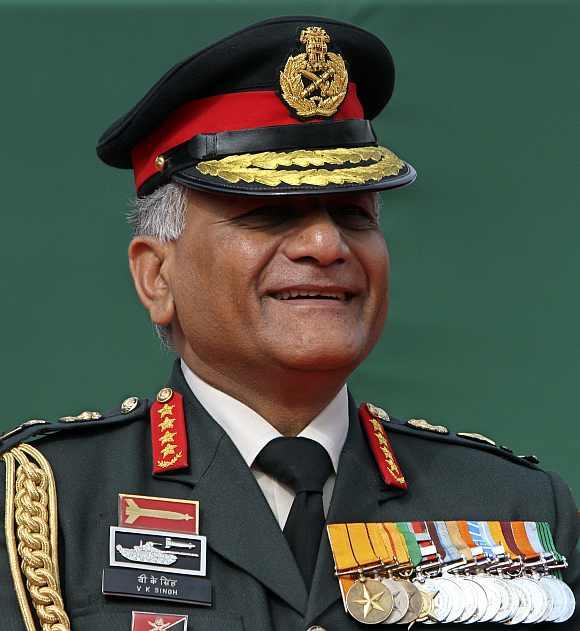 Defence Minister A K Antony has ordered a Central Bureau of Investigation probe into Indian Army chief General V K Singh's allegation that he was offered a bribe Rs 14 crore to sanction the purchase of a consignment of sub-standard vehicles.
Living next to a crazy dictator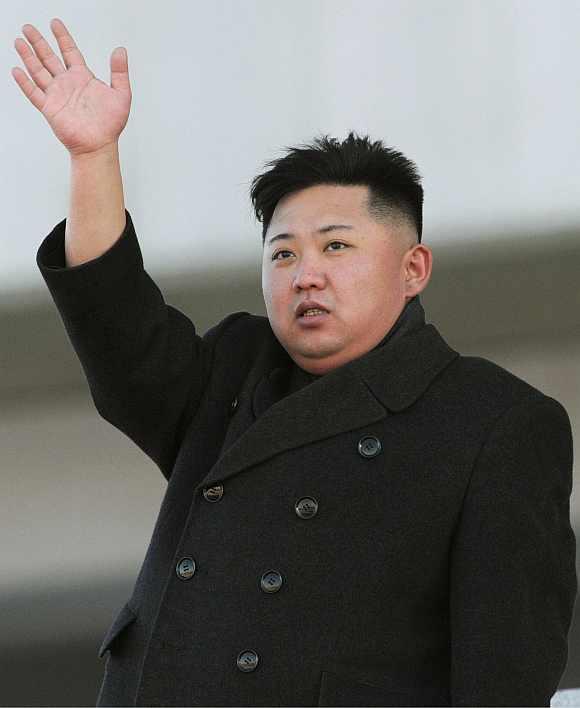 In Seoul, discovers, fears about North Korea and its bizarre ways are never far away.
Make Narendra Modi the minister of communal harmony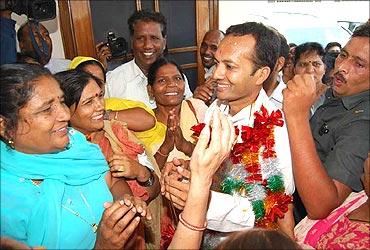 Matching talent with jobs should not be a problem in Indian politics. In fact, Prime Minister Manmohan Singh is spoilt for choice, says Sunanda K Datta-Ray
IMAGES: 20 weirdest world records you didn't know about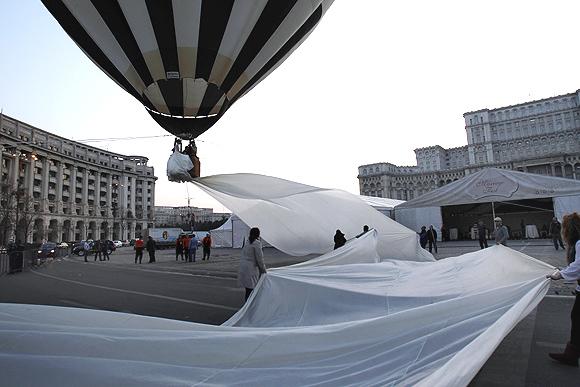 IMAGES: 20 weirdest world records you didn't know about
Why the world must worry about Pak's nuclear arsenal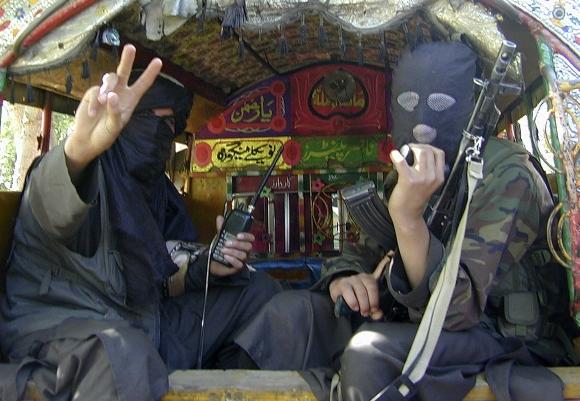 The second Nuclear Security Summit opens in Seoul on Monday. Will it confront the dangers posed by Pakistan's unsecured nuclear programme, asks , currently in the South Korean capital.
March 25, 2012
Anna demands firm measures to protect whistleblowers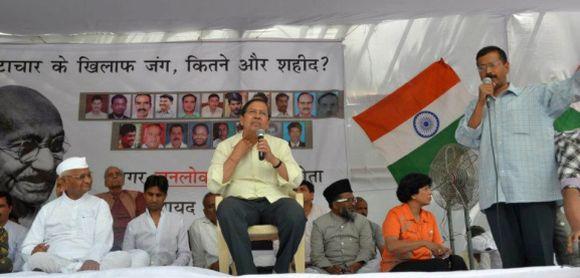 A strong Lokpal Bill should include steps to protect the lives of those fighting corruption, says Team Anna. reports
President Patil's foreign trips cost record Rs 205 cr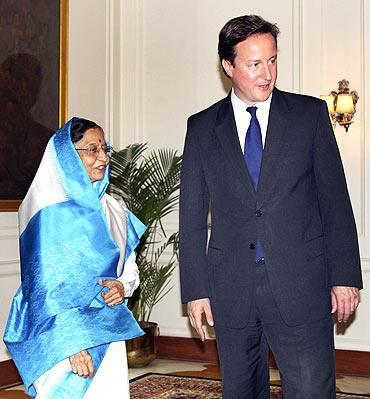 President Pratibha Patil's wanderlust has cost the public exchequer a whopping Rs 205 crore on her foreign visits, surpassing the record of all her predecessors.
Passions run high at Anna Hazare's protest site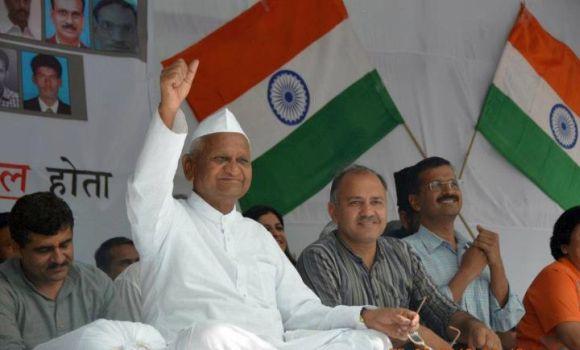 Tricolours, Anna caps, patriotic songs -- a day-long protest by Anna Hazare at Jantar Mantar on Sunday demanding justice for whistleblowers, who were killed, fighting corruption, had all its usual ingredients.
India, S Korea to expand political, security, trade ties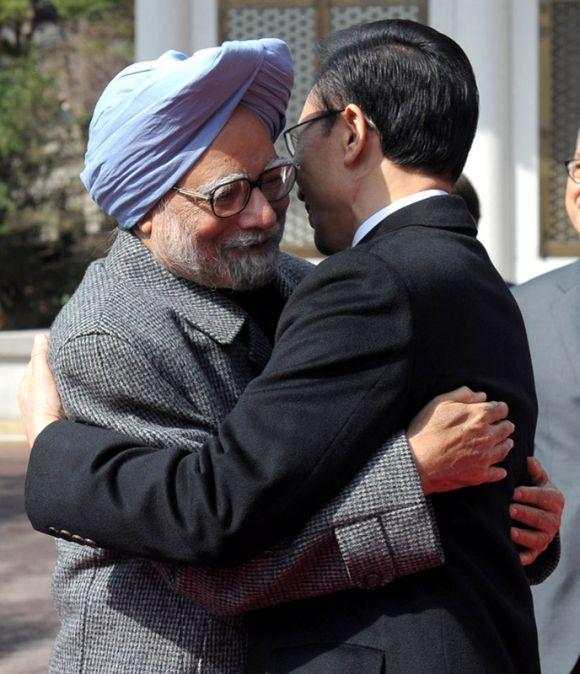 India and South Korea on Sunday agreed to expand their political and security ties besides upgrading the already booming business cooperation to achieve an ambitious trade target of USD 40 billion (Rs 2,08,000 cr) by 2015, doubling the figure.
March 24, 2012
'After Sachin's 100, issues like poverty are over'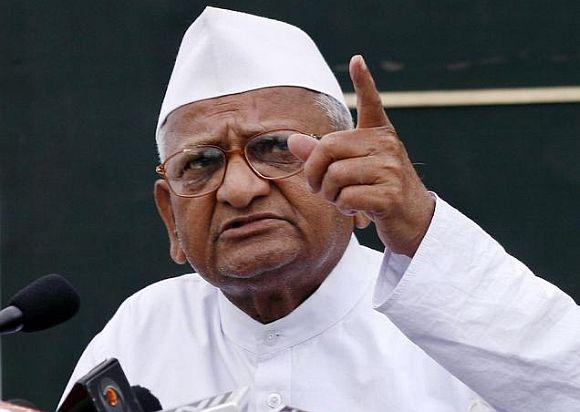 Press Council Chairman Justice Markandey Katju on Saturday said anti-corruption activist Anna Hazare lacks the scientific ideas that are needed to solve the problem of graft.
Joshi a symbol of crusade against corruption: BJP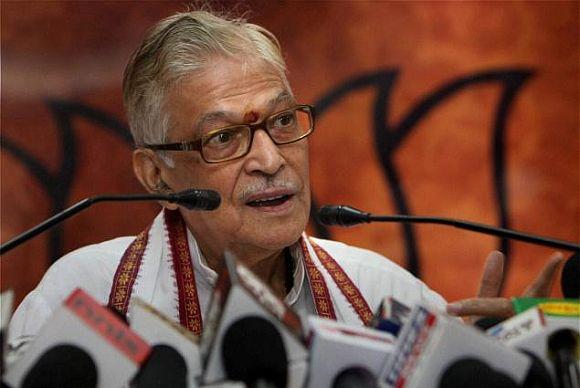 The Bharatiya Janata Party on Saturday came to the defence of senior party leader Murli Manohar Joshi, whom NRI businessman Anshuman Mishra has accused of meeting the officials of companies involved in the 2G scam, saying the charges levelled against him are "false" and "baseless".
Nations like China CANNOT be contained: PM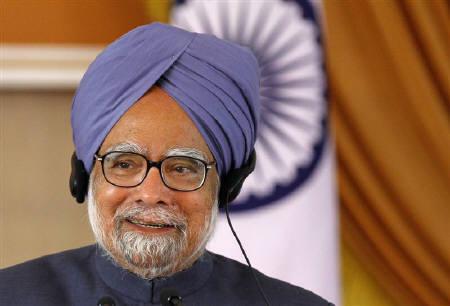 Observing that large and dynamic countries like China cannot be contained, Prime Minister Manmohan Singh has said India aims to have cooperative ties with both Washington and Beijing.
'Balwa close to BJP leaders, Swaraj invited by Modi'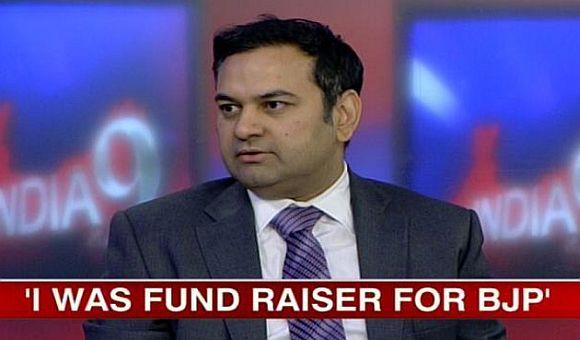 Continuing his explosive tirade against the Bharatiya Janata Party, NRI businessman Anshuman Mishra on Saturday made several allegations about top leaders of the saffron party, during an interview with STAR News.
Voting against Lanka: PM writes to Rajapaksa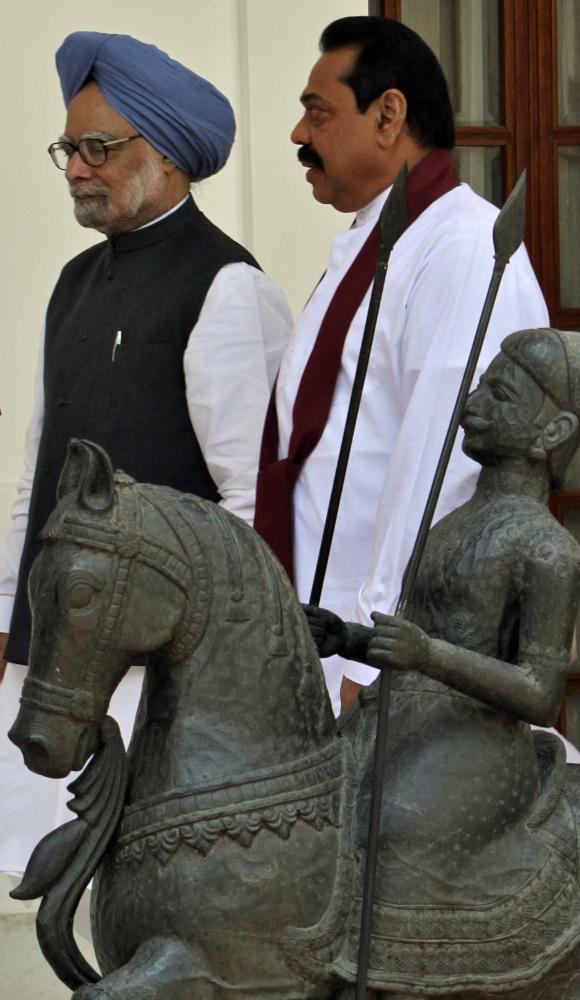 Seeking to mollify Sri Lanka after the vote against it in United Nations Human Rights Council, Prime Minister Manmohan Singh on Saturday wrote to President Mahinda Rajapaksa, telling him that India made all efforts and succeeded in introducing an "element of balance" in the United States-sponsored resolution.
PIX: IAF rescues injured passengers of J&K bus mishap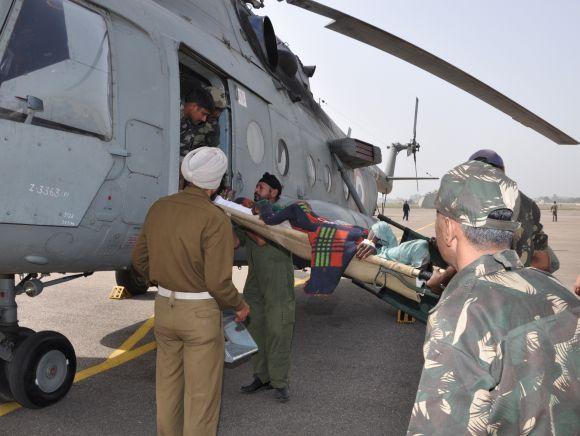 The Indian Air Force on Saturday showed an impressive gesture by air lifting 10 critical passengers from Chandrakot area to Jammu, after a mini bus fell 500 feet in deep gorge near Batot on Jammu-Srinagar national highway.
US Sikhs come out in protest against Rajoana verdict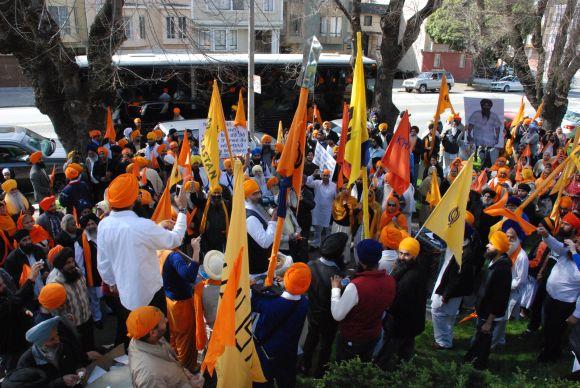 Hundreds of Sikhs, including a large number of women and university students participated in a protest on Friday outside the Indian Consulate in San Francisco, California, to show support to Bhai Balwant Singh Rajoana who was sentenced to capital punishment in the case of murder of former Punjab chief minister Beant Singh in 1995.
Why Al Qaeda's popularity is soaring in the West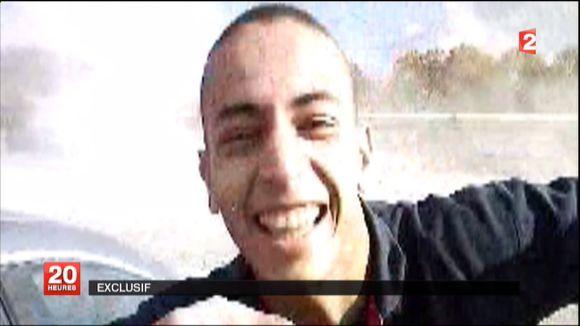 Despite the fact that Al Qaeda's top brass has been ruthlessly eliminated in US-operated drone strikes and ground operations in Pakistan, including its very chief Osama bin Ladin, the group has strengthened itself at both ideological and financial grounds, reports .
March 23, 2012
'Murli Manohar Joshi is a hypocrite; he met 2G accused'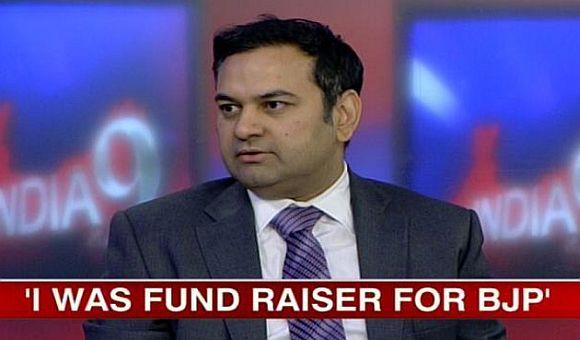 Controversial businessman Anshuman Mishra, who recently withdrew his nomination for the Rajya Sabha elections from Jharkhand owing to the controversy with the Bharatiya Janata Party, on Friday made sensational claims about PAC Chairman and senior BJP leader Dr Murli Manohar Joshi
Dilli Gupshup: Manmohan Singh's music sense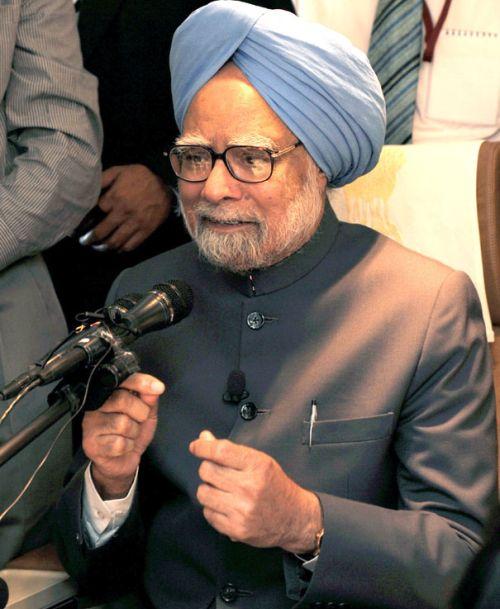 Prime Minister Manmohan Singh's music sense... Starlet Nupur Mehta's proud parents... Ghulam Nabi Azad is disillusioned... Congress's coup attempt... Anand Sharma, the already chief minister... All this and more in this week's Dilli Gupshup.
India is a LOSER, says Sri Lankan media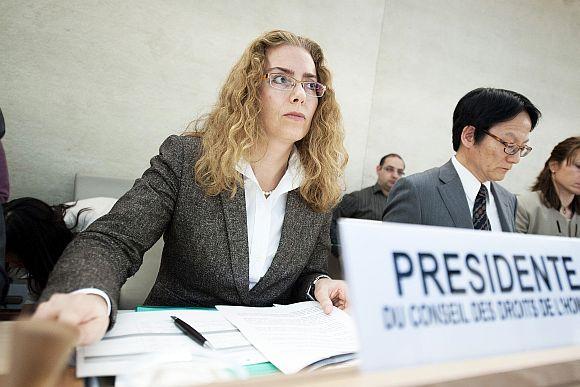 The Lankan media claimed that New Delhi had failed to carry other South Asian nations with it on the issue.
Mulayam gives son 6 months to turn UP around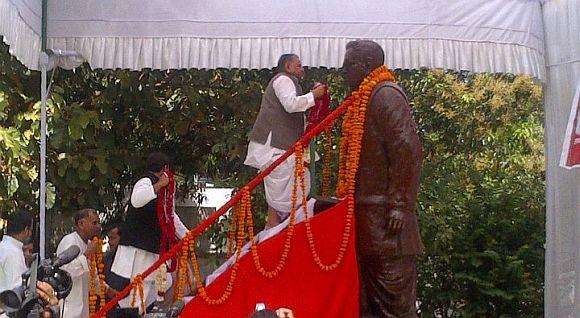 "Changes should be visible in six months and the manifesto should be implemented within a year as there is no guarantee when Lok Sabha elections are announced after that," Mulayam said, addressing party leaders and workers at a function to mark the 102nd anniversary of Dr Ram Manohar Lohia in Lucknow.
Yeddyurappa awaits Delhi's diktat; CM rules out his exit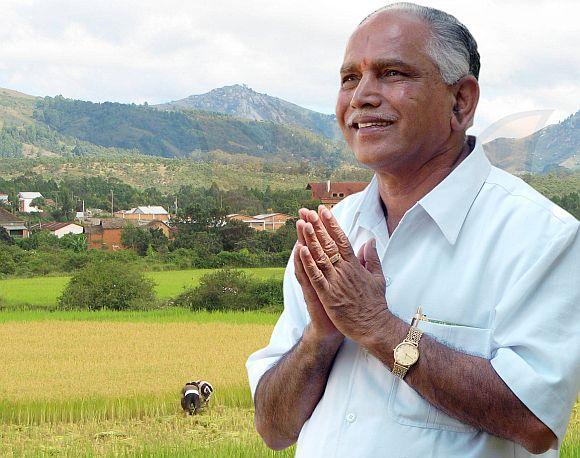 After making a strident campaign for his comeback, B S Yeddyurappa on Friday said he would accept the decision of the central BJP leadership on utilising his services "in whatever capacity" as Karnataka Chief Minister D V Sadananda Gowda continued to insist there would be no change of guard.
Gujarat porn scandal: BJP MLAs get clean chit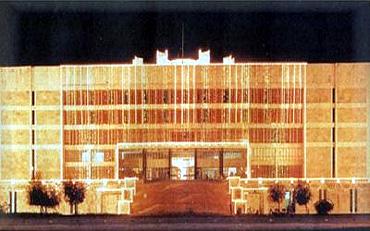 Two Bharatiya Janata Party Members of Legislative Assembly, accused of watching obscene pictures on an iPAD in the Gujarat assembly, have been given a clean chit by the Forensic Science Laboratory in Gandhinagar.
CVC cracks down on CORRUPTION in private sector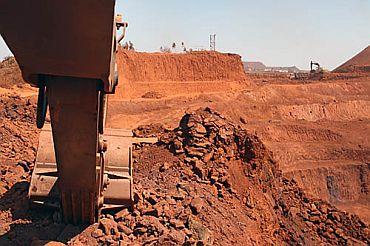 The Central Vigilance Commission has come out with a stunning report on the "public-private partnership" model of the nexus between corporates, politicians and bureaucrats to perpetrate large-scale corruption.
Panel BLASTS govt over Sachar report on Muslims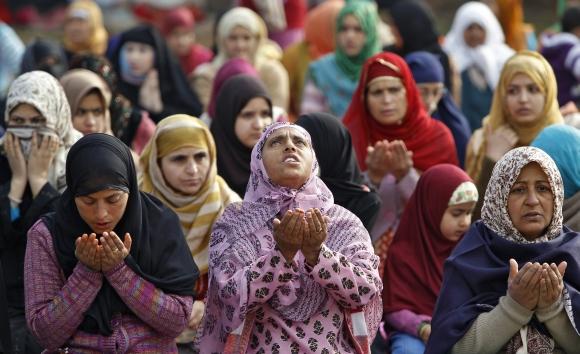 A Parliamentary Standing Committee has pulled up the government for mere lip service to the recommendations of the Justice Rajinder Sachar Committee it had itself constituted in 2005 to study the status of Muslims in India.
DMK has NOTHING to do with India's vote against SL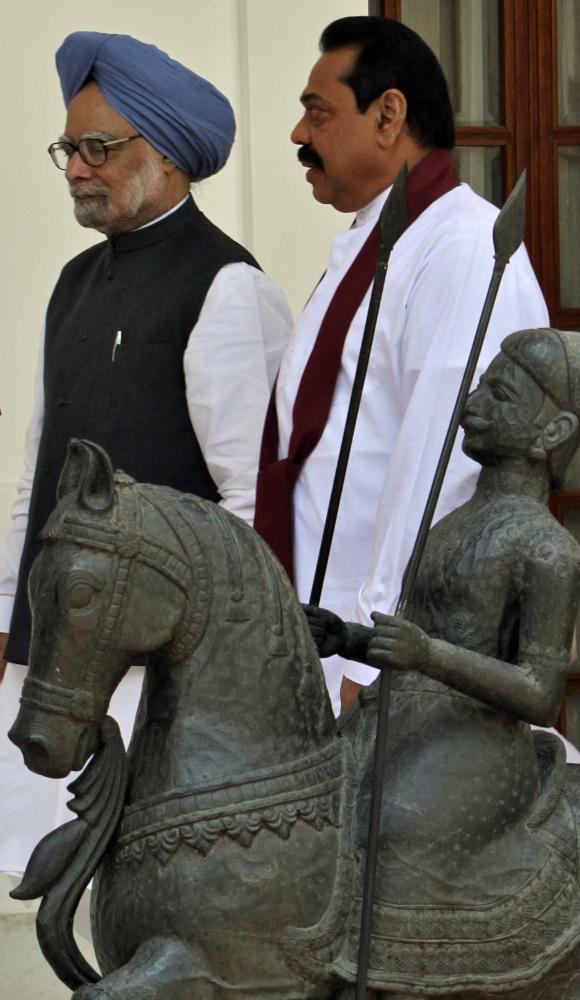 Three years ago, Delhi had backed Colombo against the United States. What has changed now? finds out
'Railways is not the property of a person or party'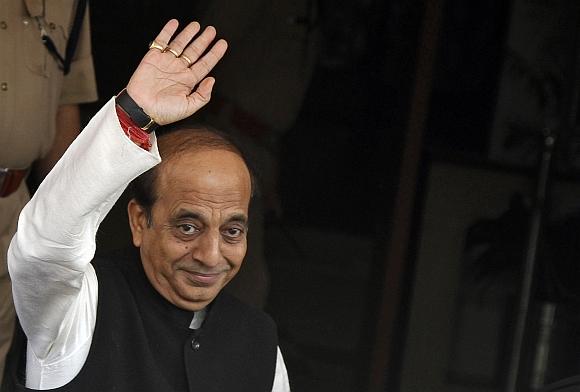 If a minister does not have the freedom of expression, it is anything but democracy. It is a sad day for the very foundations of Indian democracy, former railway minister Dinesh Trivedi tells
March 22, 2012
I will continue as Karnataka CM: Sadananda Gowda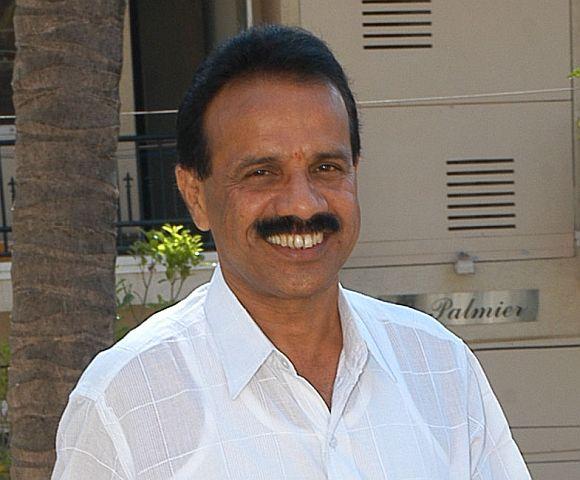 Denying reports of his resignation, Karnataka Chief Minister Sadananda Gowda has said the question of a leadership change does not arise in Karnataka.
EXCLUSIVE VIDEO! India, US armies go head to head
This is a short trailer showing some of the events of the military exercise.
Bihar@100: It's time to revive the heart of India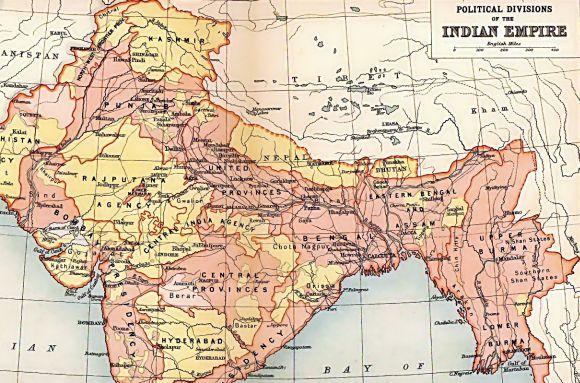 As Bihar celebrates its centenary, hopes the state can conserve, restore and manage its natural resources and desist from imitating a cannibalistic and toxic model of development
Pix: Ragpicker finds Rs 8.5L gold only to return it!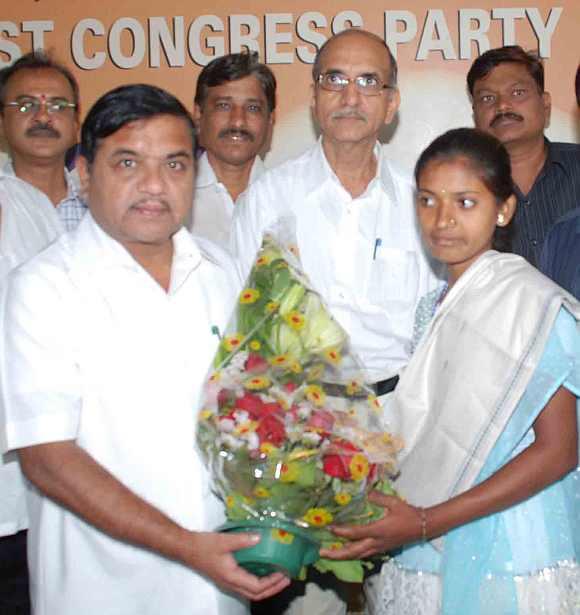 A 17-year-old ragpicker from Dombivli handed over gold jewellery worth Rs 8.5 lakh to the police, which was mistakenly thrown in a bin.
Need to beat Pak army-ISI-separatist nexus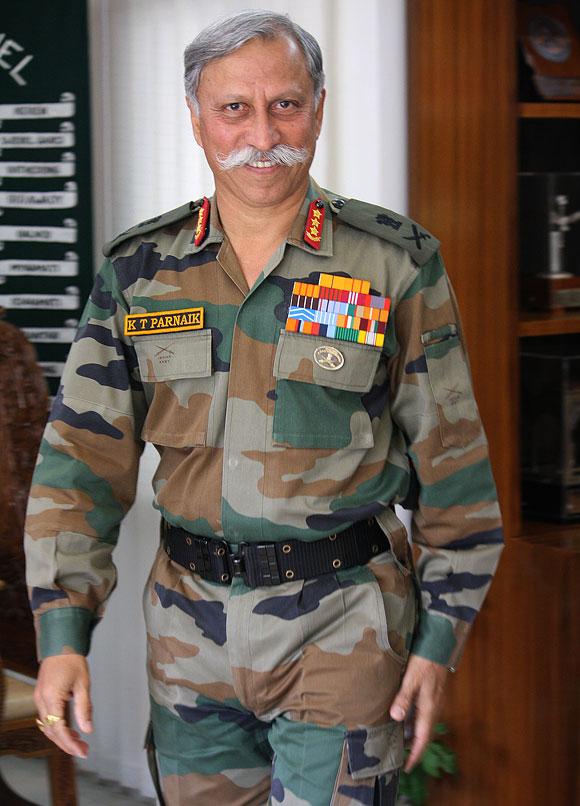 Lieutenant General K T Parnaik, the third highest ranking officer in the Indian Army, is responsible for guarding 1,896 kilometres of India's border with Pakistan and China. He spoke to Rediff.com in an exclusive and fascinating interview.
In PHOTOS: Mumbai having yet another BAD AIR DAY!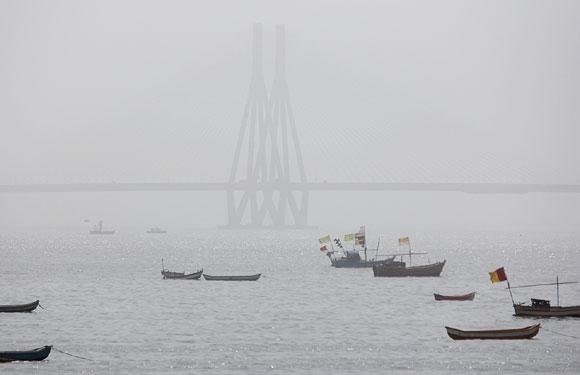 On Thursday morning blanket of dust enveloping Mumbai wore a thinner look as compared to Wednesday and is expected to clear off in a day or two.
I'm Osama for govt: Koodankulam activist Udayakumar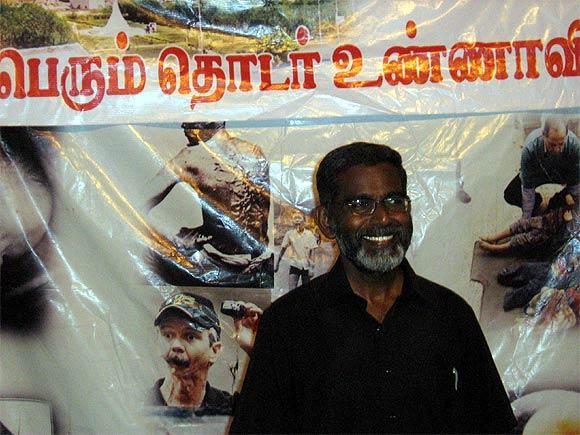 , who is fasting along with his associate M Pushparaya, gives us a first-person account from Idinthakarai, Ground Zero of the protests against the nuclear power plant in Tamil Nadu.
In message to India, China tests new fighters near border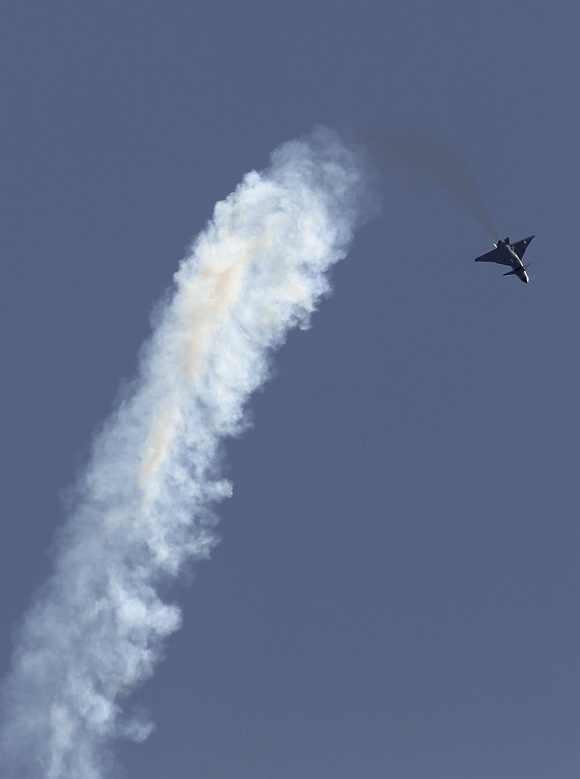 China has conducted a massive military exercise in the high altitude Qinghai-Tibet Plateau, close to the disputed borders with India, during which it has for the first time tested the multi-role J-10 fighter jets.
IN PICS: Obama's Guinness to smiling pig heads, more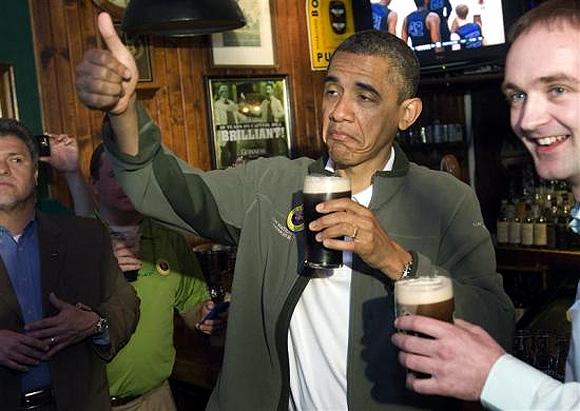 Presenting some of the best PHOTOGRAPHS from around the globe in the last 24 hours.
Inside the world of sex, secrets and steroids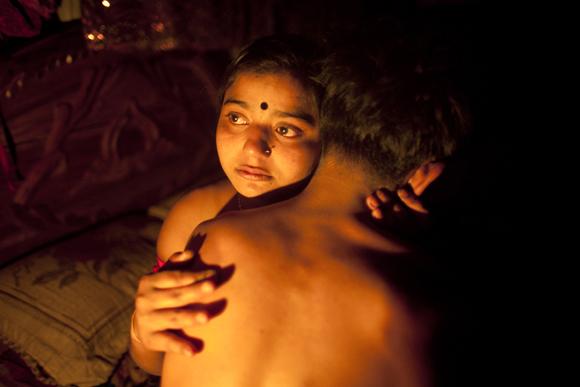 Reuters journalist Andrew Biraj scratched the underbelly of flesh trade in Kandapara slum and came back shocked.
Should India vote for war crime motion on Sri Lanka?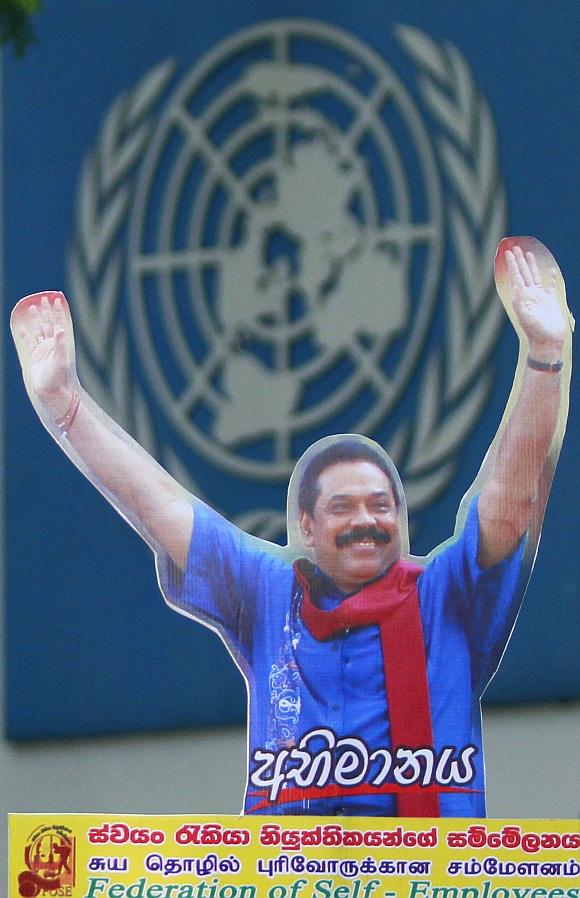 This is a question that is being debated not only in the UN Human Rights Council meeting at Geneva or Sri Lanka, but in India as well. This came about, typically the way Parliament responds to issues these days, after members from Tamil Nadu stalled the crucial pre-budget parliamentary session, says Colonel R Hariharan
March 21, 2012
Shyam Saran: An India allying with none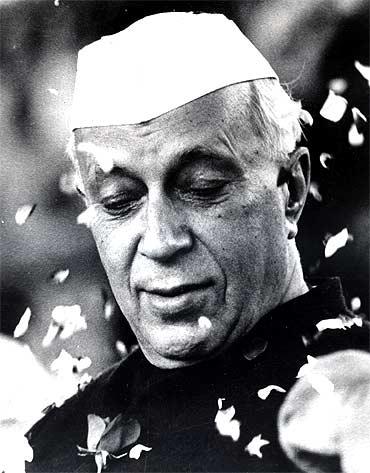 The country should not banish 'non-alignment' from its foreign-policy dictionary, says
EXPLAINED: Why Mumbai and Gujarat are covered in dust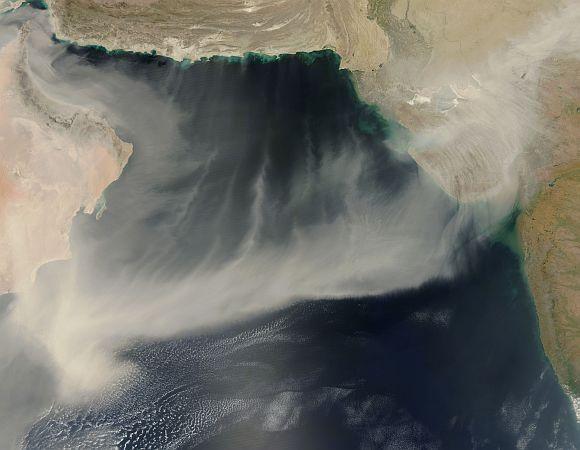 People in Mumbai and Gujarat on Wednesday woke up to a dusty morning, which has now been attributed to a giant dust plume that stretched across the Arabian Sea from the coast of Oman to India.
Porngate now rocks BJP in Gujarat?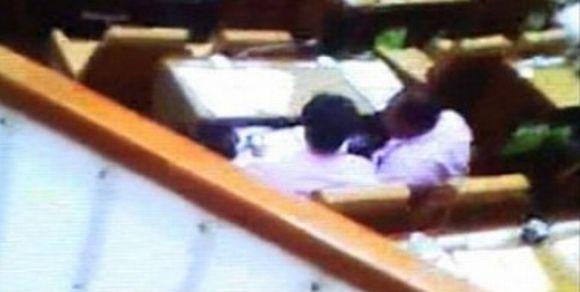 After the Karnataka porngate, a similar scandal has hit the Bharatiya Janata Party in Gujarat assembly where two of its MLAs have come under the scanner for allegedly watching obscene pictures, prompting the speaker to seize their tablets and order a probe.
'Jinnah supporters and 80+ leaders must leave BJP'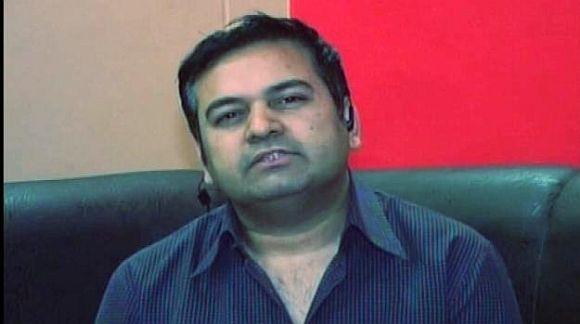 Anshuman Mishra, the Independent candidate for Rajya Sabha from Jharkhand who is in the thick of a controversy for getting the support from Bharatiya Janata Party MLAs, has left the saffron party in a spot of bother.
BJP, an emerging force in fight for Telangana?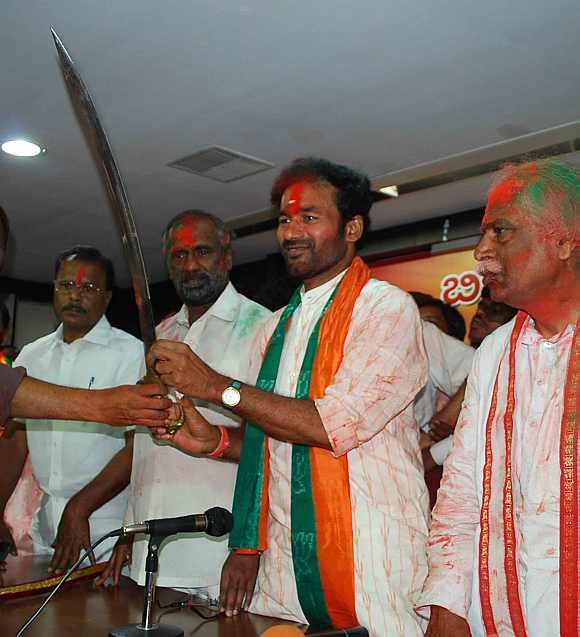 Riding on strong the Telangana sentiment, Telangana Rashtra Samithi has swept the Andhra Pradesh by-polls. But what does its defeat to the BJP in the Mahabubnagar mean? analyses
PHOTOS: 7.4 quake destroys hundreds of homes in Mexico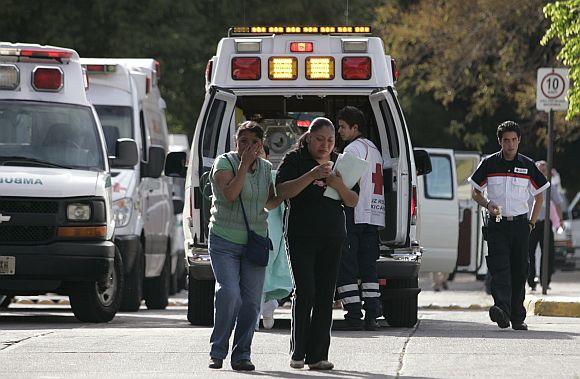 A powerful earthquake measuring 7.4 on the Richter scale set buildings swaying in southern Mexico on Wednesday.
PIX: Great white whale shocks surfers at Rio beach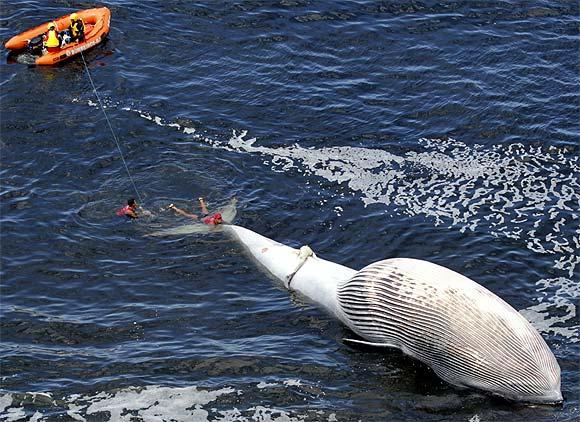 Lifeguards and rescue workers tow a dead Bryde's whale near Sao Conrado beach in Rio de Janeiro on Tuesday.
PHOTOS: France shooting suspect holed up in building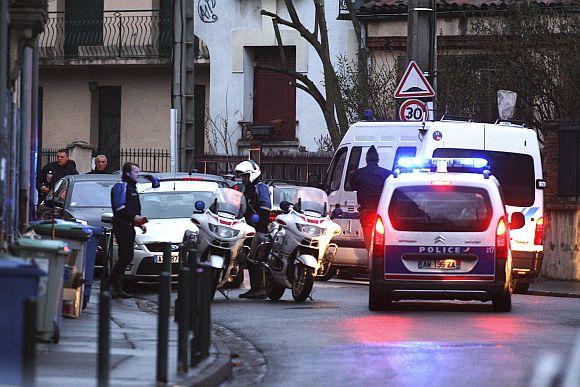 Heavily-armed French police in bullet-proof vests and helmets have cordoned off a residential area where reportedly a French national of North African origin who declared that he was a member of the Al Qaeda network is holed up.
Govt schools breed Maoists, says Sri Sri; under fire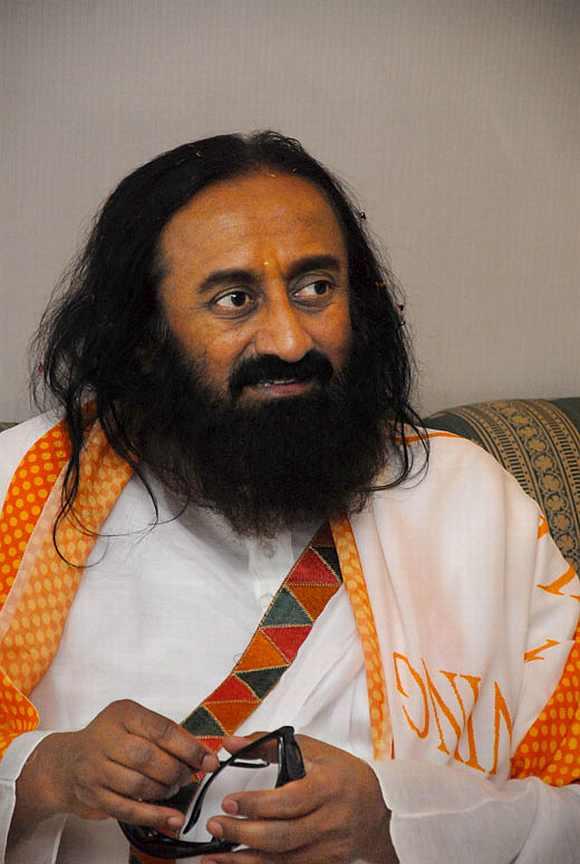 Cutting across party lines, lawmakers on Wednesday criticised spiritual leader Sri Sri Ravi Shankar for saying that state-run schools are turning into breeding grounds for Maoists.
Gay sex is NOT an offence: Centre tells SC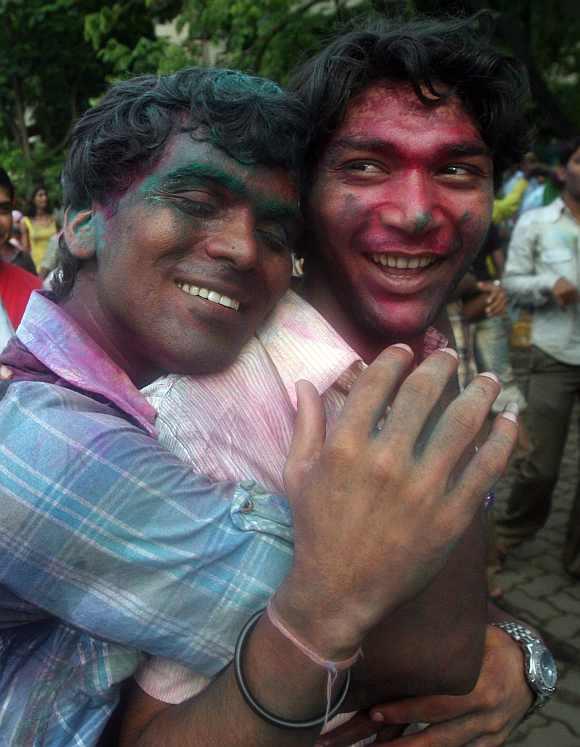 The government on Wednesday clarified its stand on homosexuality before the Supreme Court, saying it is in favour of decriminalisation of gay sex and the Delhi high court verdict is acceptable to it.
Obama-Cameron 'bromance' NAUSEATING, says UK oppn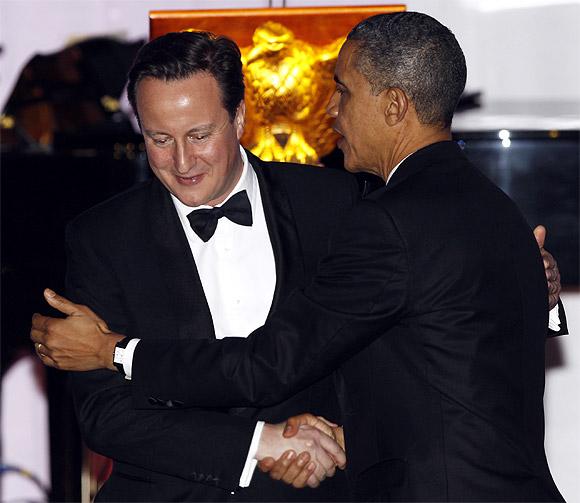 British Prime Minister David Cameron has revealed that United States President Barack Obama 'tucked him up in bed' while he was on board Air Force One during his recent trip to America.
India asked to cut back on Iranian oil to avert sanctions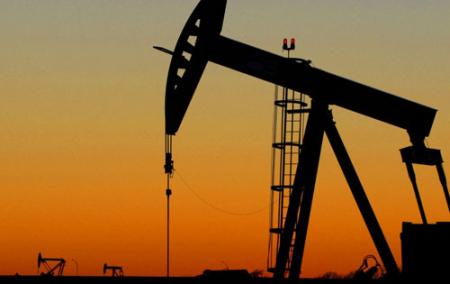 Virtually putting India and 11 others countries on notice, the United States has asked them to significantly reduce by June 28 the purchase of Iranian oil to avoid sanctions, as it announced a list of nations that will be exempted from the curbs.
Russian court DISMISSES plea against Bhagavad Gita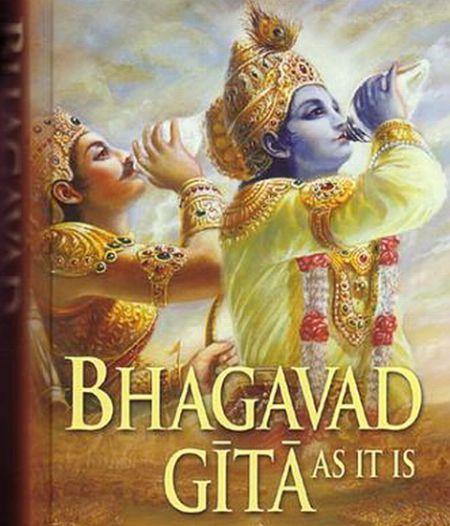 A Russian court on Wednesday dismissed a petition seeking a ban on the translated version of Bhagavad Gita for being "extremist", bringing cheers to followers across the world.
Mitt Romney wins primary in Obama's home state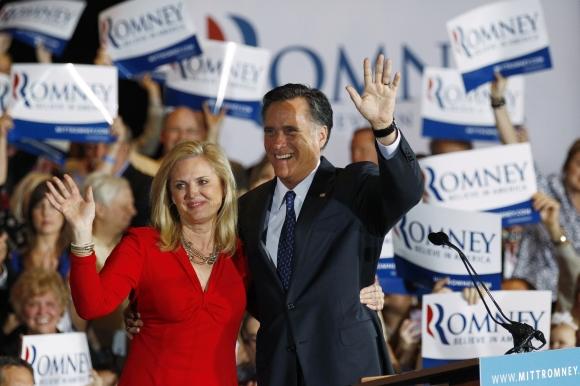 Republican hopeful Mitt Romney has secured a commanding win in the Illinois presidential primary, taking him a step closer to bagging the party's nomination to challenge incumbent Barack Obama in the November presidential elections. With about one-fifth of the votes counted, Romney, the former governor of Massachusetts, had garnered 54 per cent of the total votes polled, with his nearest rival Rick Santorum, the former Senator from Pennsylvania.
Dreaming of a clean Delhi, ragpicker to contest polls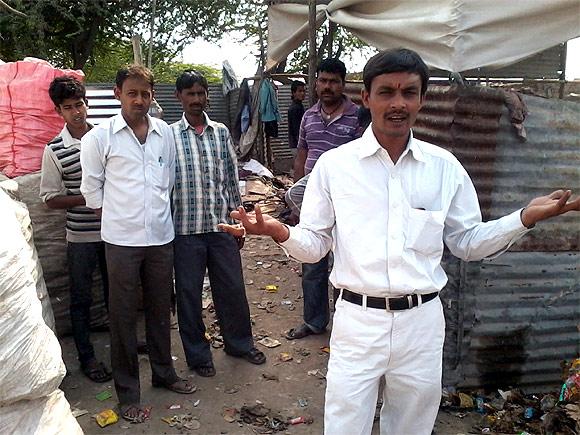 From roaming the streets of Delhi as an unemployed and hungry youth to taking a shot at being party of the city's administration, Jai Prakash Chaudhery has come a long way, finds
Why nuclear power is not the dream that failed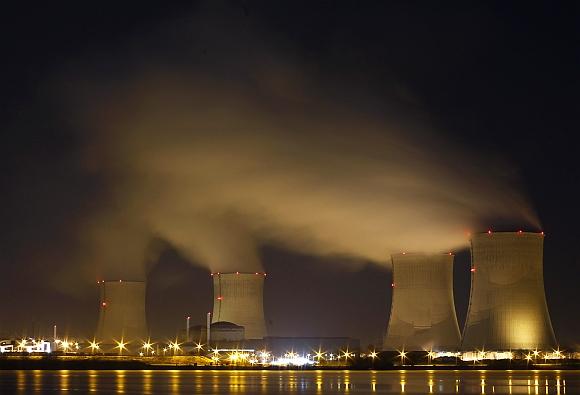 The rising prices of fossil fuels and the unreliability of alternative sources like solar and wind power means that the charms of nuclear power may still returns, thanks to improvements in safety and technology, says .
Is Kashmiri really dead? Al Qaeda says YES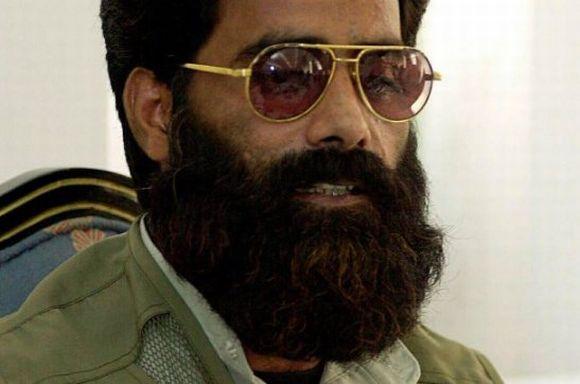 Is the mystery over Ilyas Kashmiri's death finally solved? Days after the Pakistani media reported that the HuJI chief was spotted in North Waziristan the Al Qaeda in a rare statement has declared him a martyr.
PIX: Piety, reverence and grandeur - Inside Vatican City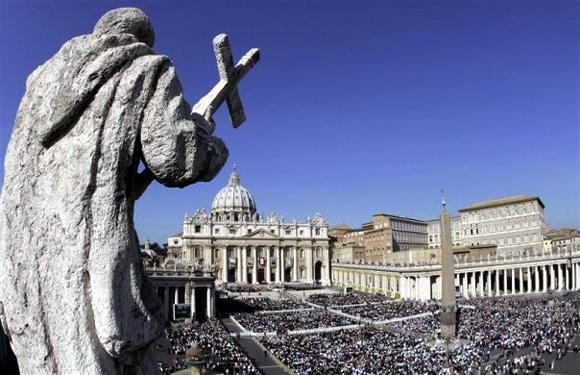 PIX: Piety, reverence and grandeur - Inside Vatican City
Bumbling Indian do-gooders CAN'T resolve Tibet row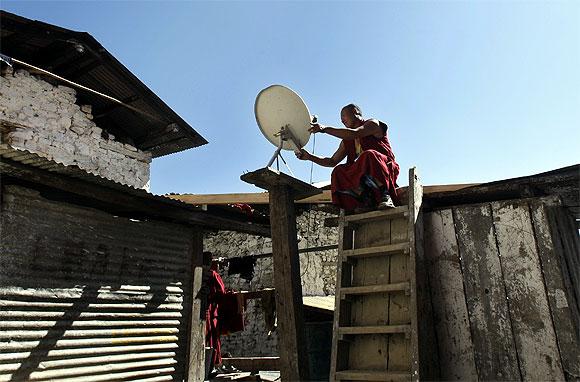 The notion that New Delhi can talk Beijing into engaging the hated 'Dalai clique' is entirely fanciful, says Ajai Shukla
BUZZ in Parliament shifts to BJP's tussle within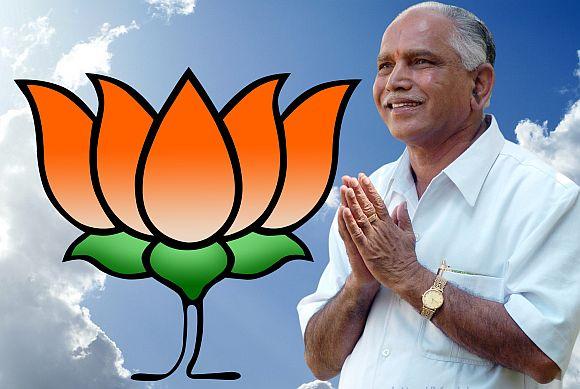 Even as Mukul Roy took the oath of office as railway minister in the presence of a sombre-looking Prime Minister and Congress president Sonia Gandhi, whose body language showed the discomfort of the Congress with its ally Trinamool Congress which has given them a run around, the United Progressive Alliance managers were sighing with relief on Tuesday, says .
March 20, 2012
PHOTOS: Windstorm throws life in Kashmir out of gear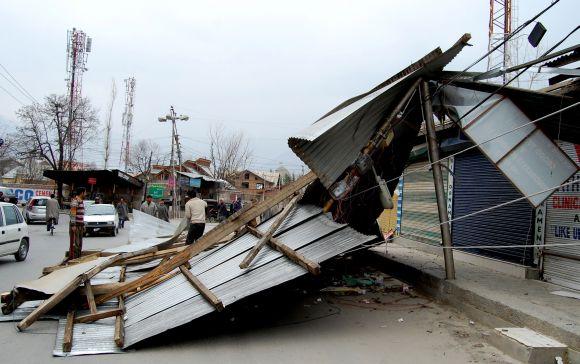 High velocity winds sweeping the Kashmir Valley since Monday evening caused widespread property damages triggering panic among the residents.
Gay sex: SC slams Centre's 'casual' approach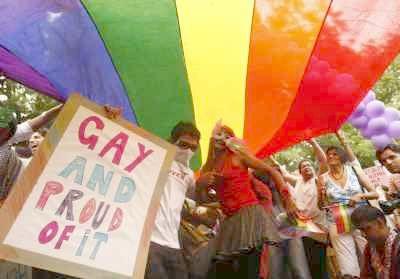 Pulling up the Centre for its "casual" approach on the important issue of decriminalisation of homosexuality, the Supreme Court on Tuesday said it needs to be condemned. After going through various affidavits of the government, a bench of justices G S Singhvi and S J Mukhopadhyay said the Centre has taken this case very casually.
PICS: Houseboat owners stage floating protest in Srinagar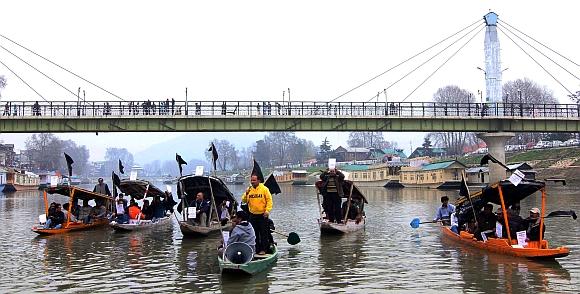 Houseboat owners in summer capital Srinagar on Monday staged a floating protest in river Jhelum against the government decision disallowing repair of the damaged houseboats parked at the Dal Lake, the Nagin Lake and the Jhelum River. Mukhtar Ahmed reports
ISI funding insurgency in North East, says ex-ISI chief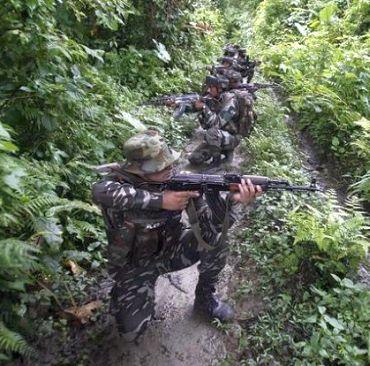 Bangladesh is a hot destination for the ISI in its attempt to wage a full-fledged battle against India, reports .
Army modernisation slow; but Navy, IAF push ahead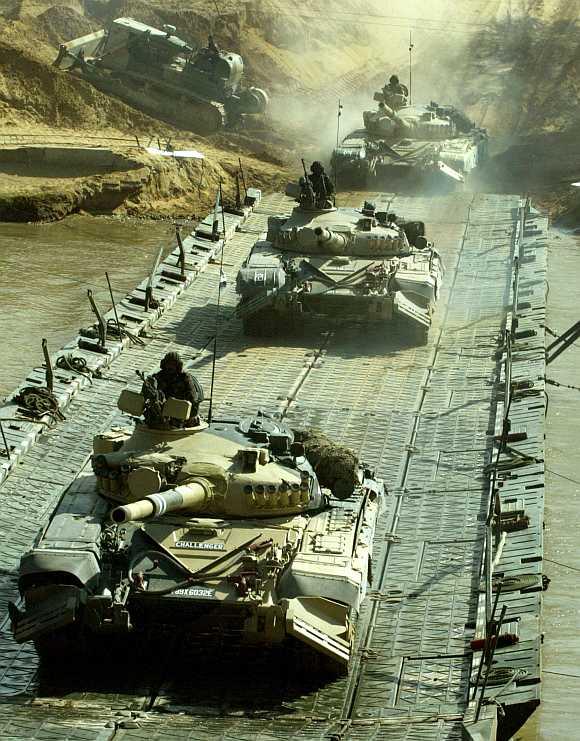 After cost inflation, this year's allocation will buy significantly less than last year's, says
Will not leave UPA; but don't humiliate us: Mamata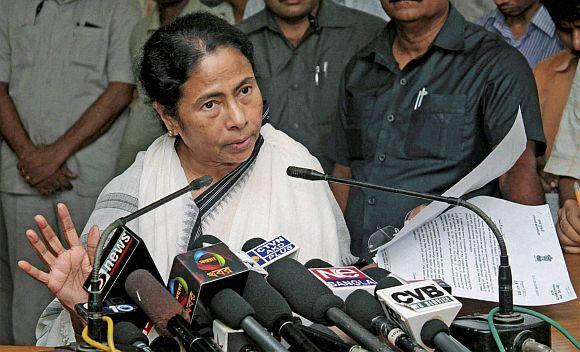 In an exclusive interview with CNN-IBN Editor in Chief Rajdeep Sardesai, Mamta Banerjee about the recent row over former Railway minister Dinesh Trivedi and the strained relationship with the Congress.
India emerges as the world's LARGEST arms importer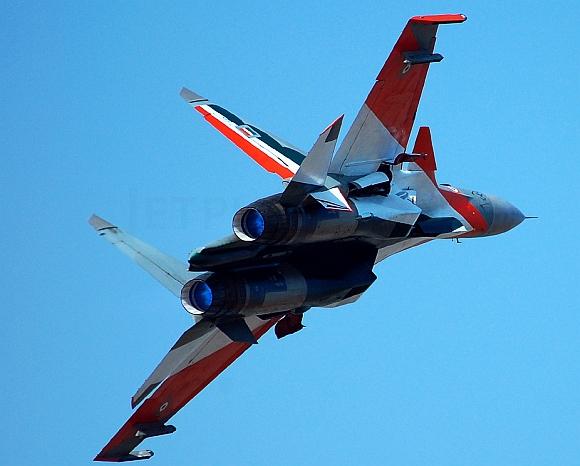 Modernising its armed forces along the borders with China and Pakistan, India has emerged as the world's largest importer of arms, a global think tank report said on Monday.
March 19, 2012
NCTC saga: The Congress suddenly finds itself at sea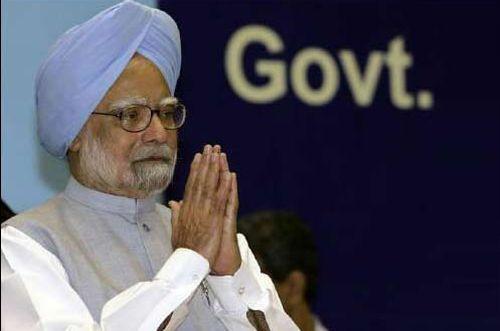 The NCTC imbroglio is symptomatic of a whole host of issues that will come up in the future, which impinge on the federal structure of our polity, writes
MIT grad, IIM professor... and UP's new face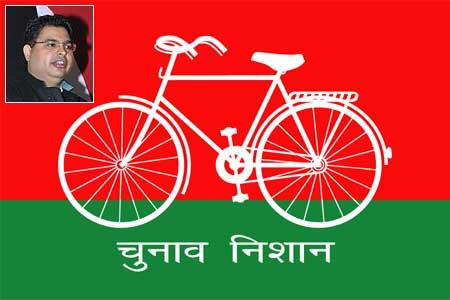 India needs well-educated and competent politicians, says Abhishek Mishra, who resigned from his job as a professor at IIM-Ahmedabad to join the Samajwadi Party. Now appointed UP's minister of state for protocol, he tells why he has great hopes for the future.
Gadkari ignores Advani, Sushma; Ahluwalia denied RS seat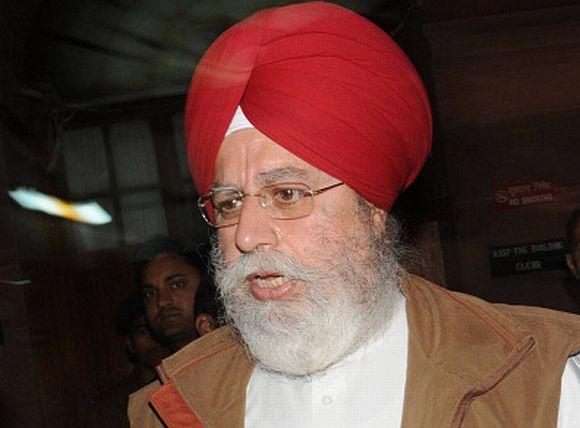 The re-nomination of Ahluwalia, Rajya Sabha MP from Jharkhand whose term expires on April 2, was never in doubt. The BJP leadership, however, made it clear to him on Monday that alliance partner Jharkhand Mukti Morcha leader Shibu Soren was unwilling to share the Rajya Sabha seat.
Exclusive: Salute that soldier at the LoC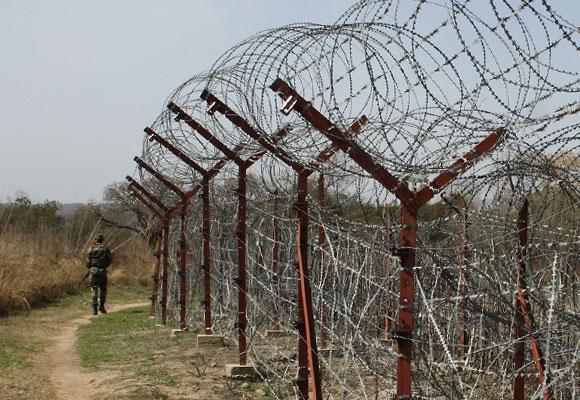 At the Line of Control, young Indian soldiers -- in their 20s and 30s -- defend one of the world's most volatile borders. Battling harsh weather, tough terrain and a hostile enemy -- as old as the Indian nation itself -- these soldiers face a war every day to hold the peace. Let us salute them for that.
Coalition making difficult decisions more difficult: PM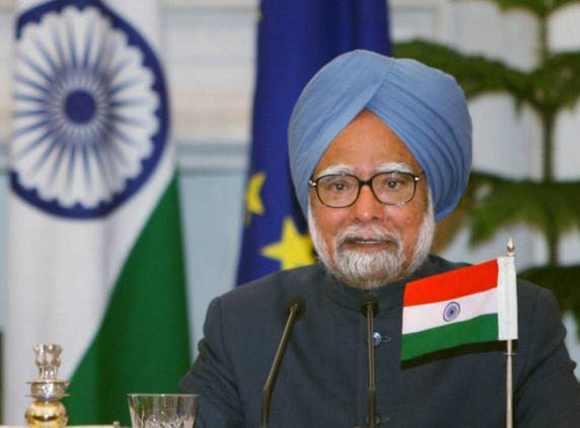 Prime Minister Manmohan Singh today said difficult decisions were getting "more difficult" because of coalition compulsions. Replying to debate on the Motion of Thanks to the President's Address, he spoke about the opposition to the NCTC and responded to the demands by Tamil parties for supporting UN resolution against Sri Lanka. Here's the full text of his address.
Now BJP succumbs to coalition PRESSURE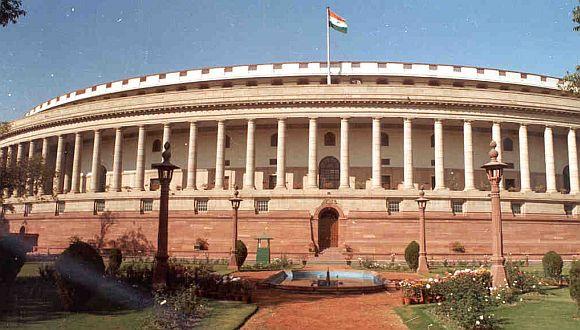 Faced with pressures from its allies the Janata Dal-United and the Jharkhand Mukti Morcha, the Bharatiya Janata Party has relented and given up its demand of fielding its full share of candidates for Rajya Sabha from Bihar and Jharkhand, and also denied a ticket to its Deputy Leader in the Upper House S S Ahluwalia for another term.
NCTC worse than POTA, TADA: Mamata tells PM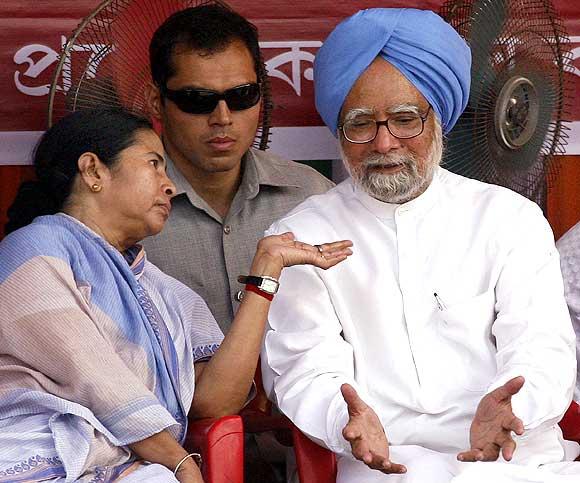 Dubbing the National Centre for Counter Terrorism as worse than the Prevention Of Terrorism Act and the Terrorist and Disruptive Activities (Prevention) Act, Trinamool Congress chief Mamata Banerjee on Monday met Prime Minister Manmohan Singh to convey her reservations over the counter-terrorism provision.
It's not SP's duty to save falling UPA govt: Mulayam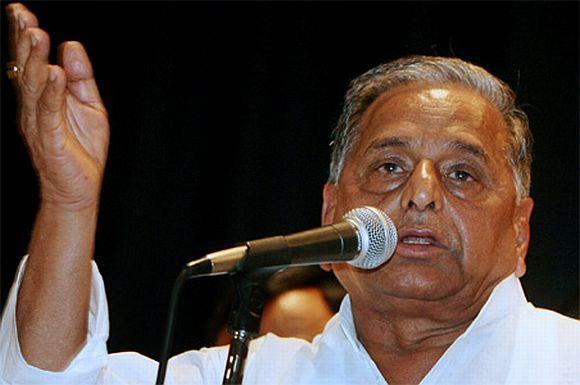 Samajwadi Party supremo Mulayam Singh Yadav on Monday ruled out the possibility of joining the United Progressive Alliance government at the Centre.
How Karnataka politics plays out in resorts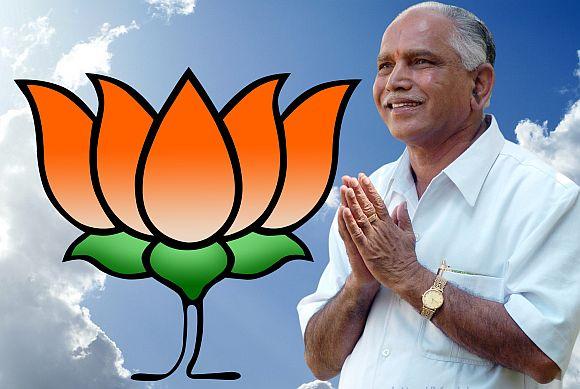 It appears today that Karnataka legislators have spent more time in resorts than at the Karnataka legislative assembly or even their respective constituencies
We need to STOP Pakistan's cyber warfare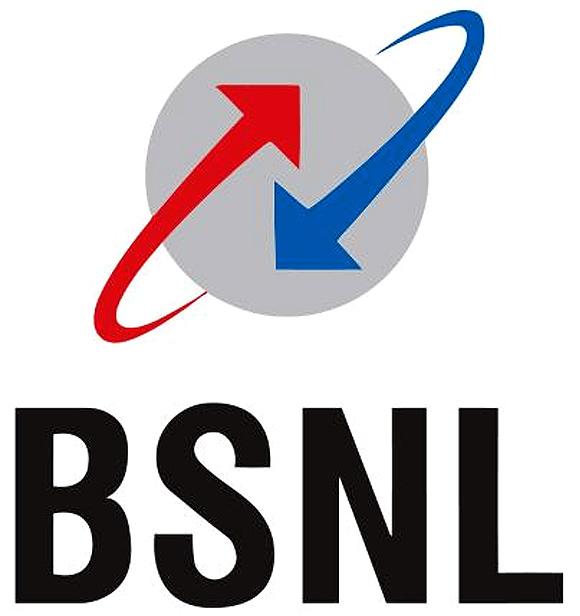 Given the extent of damage a cyber attack can unleash, accessing and then damaging a key website has the potential to destabilise an entire nation, warns
No action against Trivedi, says Trinamool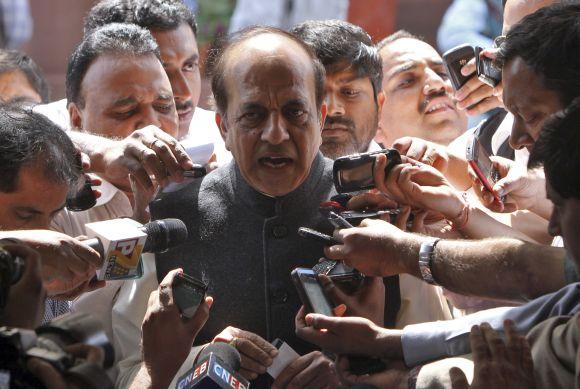 Trinamool Congress on Monday ruled out any action against Dinesh Trivedi, who resigned as railway minister, saying that he has been asked to attend the parliamentary party meeting which party chief Mamata Banerjee is expected to attend.
Akhilesh Yadav's campus capers and doomed infatuation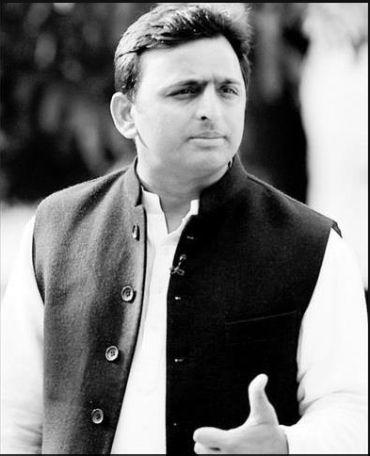 The little-known but insightful story of Uttar Pradesh's youngest chief minister, Akhilesh Singh Yadav or Tipu. By his father's biographer . The last of a two-part series.
MUST SEE: Indian leaders on TIME magazine covers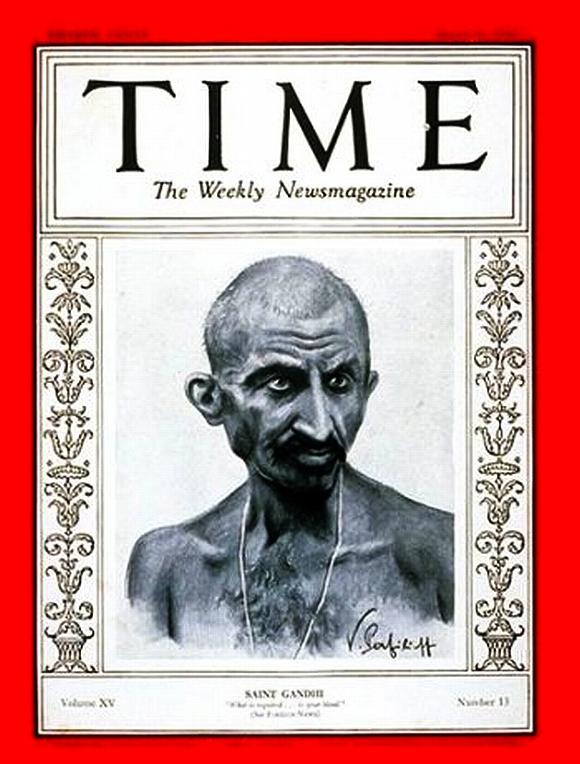 Rediff.com brings you some Indian politicians, who have been on the cover of Time magazine.
In PHOTOS: Guns and games in BATTLEFIELD Afghanistan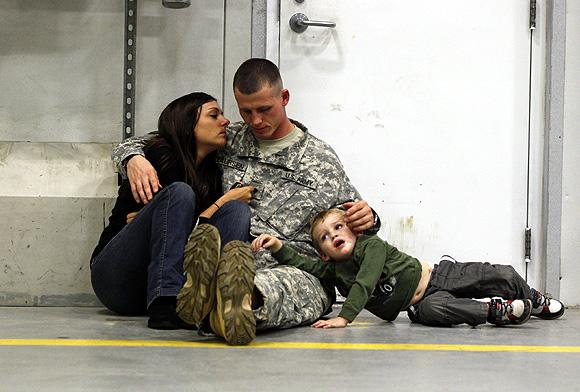 Rediff.com gives you a sneak peak into the life of the American soldiers battling in Afghanistan as efforts are made in Washington to end its longest foreign war.
Why India's strategic focus must shift from Pak to China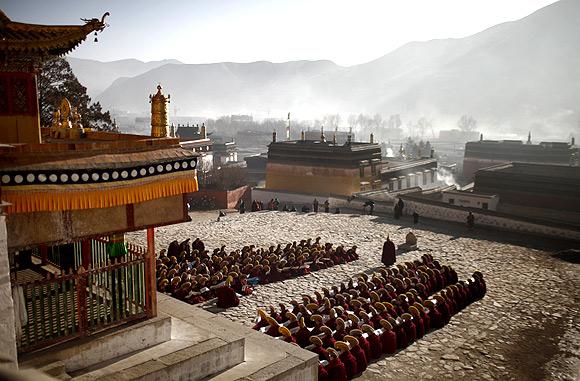 China may be grappling with internal problems but that has not stopped it from looking after its strategic interests and projecting its military might. India would do well to get over its Pakistan-obsession and turn its attention to its bigger and more powerful neighbour in the east, says .
March 17, 2012
Freedom is not a tea party, it is a WAR: Rushdie
Two months after being forced to skip the Jaipur Literary Festival, controversial author Salman Rushdie on Saturday hit out the Congress, suggesting that his presence there was blocked because of "useless electoral calculations". Participating in the India Today Conclave, he said India "deserves to be led by better leaders".
Articles on Modi an INJUSTICE to Gujarat, India: Congress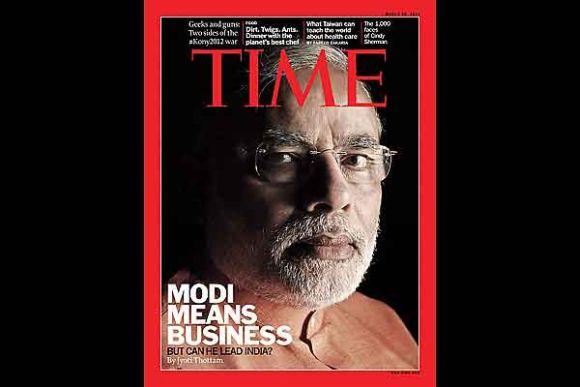 The Gujarat unit of the Congress on Saturday said that the Time magazine as well as the Brookings Institution's recent articles on Chief Minister Narendra Modi, which praised him for the state's development, were "biased, partial" and "highlight wrong facts about Gujarat".
Happy to feature on Time cover: Narendra Modi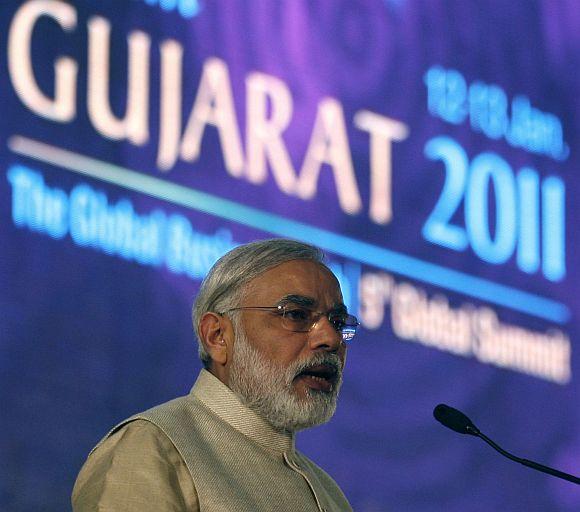 Gujarat Chief Minister Narendra Modi has expressed happiness about featuring on the cover page of the latest issue of Time magazine that will hit the stands very soon.
Narendra Modi a firm, no-nonsense leader: Time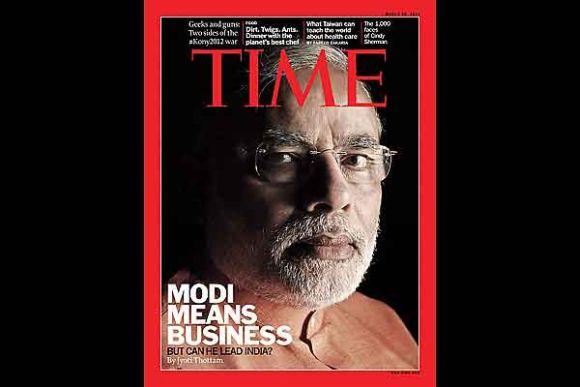 Modi, who figured on the cover page of the latest issues of the Asia edition of the prestigious magazine which hit the stands on Friday, could put up a challenge to Gandhi in particular after the recently held Uttar Pradesh assembly elections, where Congress fared poorly.
'O people of Pakistan! Time to revolt against govt, army'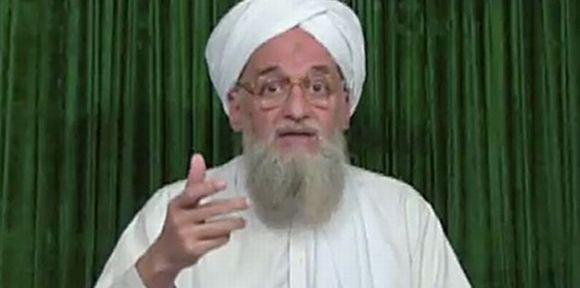 Al Qaeda chief Ayman al-Zawahiri has asked Pakistanis to revolt against their government and military by staging uprisings on the pattern of 'Arab Spring' and labelled the nation's army as "slaves of America".
TC wants Trivedi out of LS as well; he wants it in writing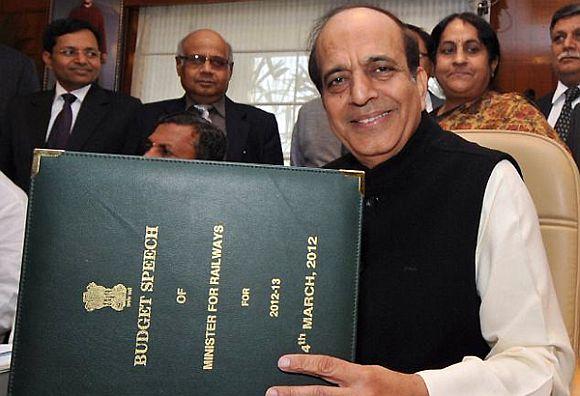 Railway Minister Dinesh Trivedi's problems appeared to have compounded on Saturday with members of his party, the Trinamool Congress asking him to vacate his parliamentary seat.
Will inform you about Lankan VIPs' visits: PM to Jaya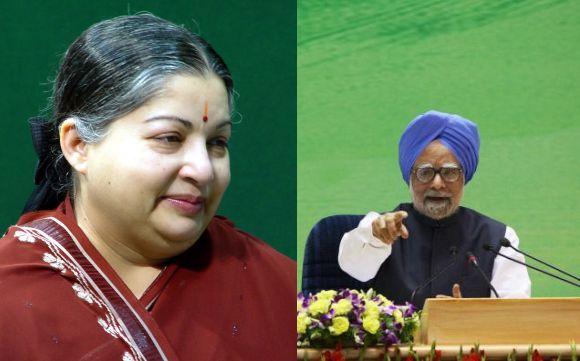 "I am asking our authorities to bear your views in mind when they handle such visits in future and to share such information as they may have about such visits with the government of Tamil Nadu beforehand," Dr Singh said in a letter to Jayalalithaa.
Videos: Ishaqzaade; Agent Vinod's Topless beauty
Videos: Ishaqzaade; Agent Vinod's Topless beauty
PHOTOS: US soldier behind Afghan massacre identified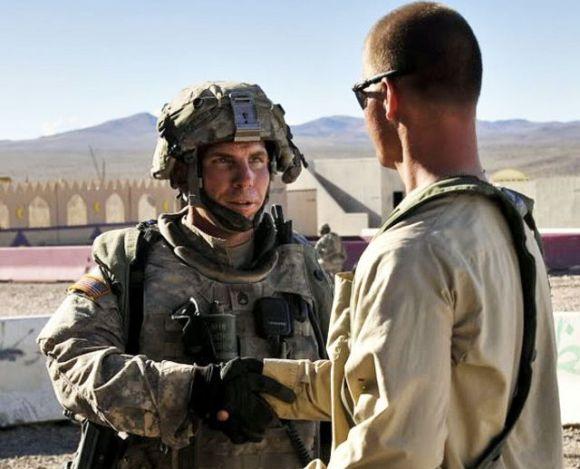 The American soldier who went on a shooting spree, killing 16 Afghan civilians, including nine children in Kandahar villages has been identified as Staff Sgt Robert Bales.
March 16, 2012
Dharun Ravi found guilty of hate crime, privacy invasion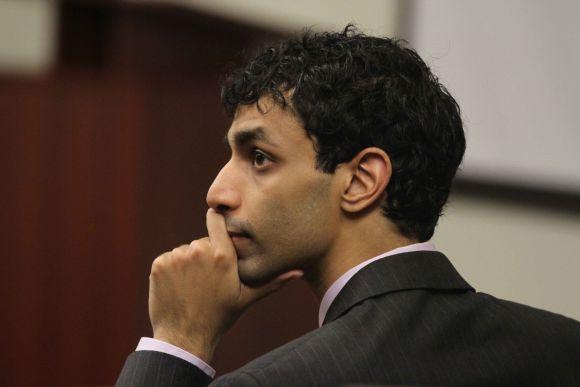 India-born former Rutgers student Dharun Ravi was on Friday found guilty by a United States court of hate crime and invasion of privacy for spying on his roommate's gay sexual encounter with another man in 2010.
Modi: Damned if he does, damned if he doesn't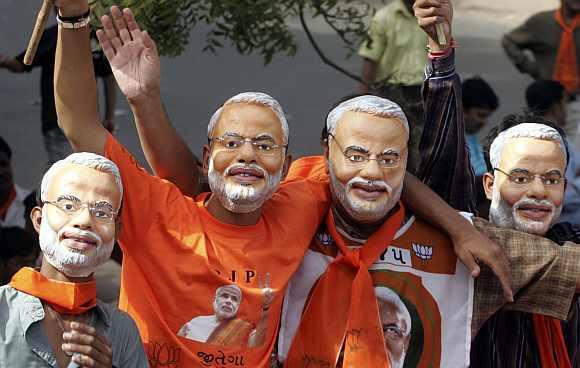 Narendra Modi's opponents must respect the legal system; otherwise they risk damaging the very cause they protect, says .
So what if TMC quits UPA? We will support it: SP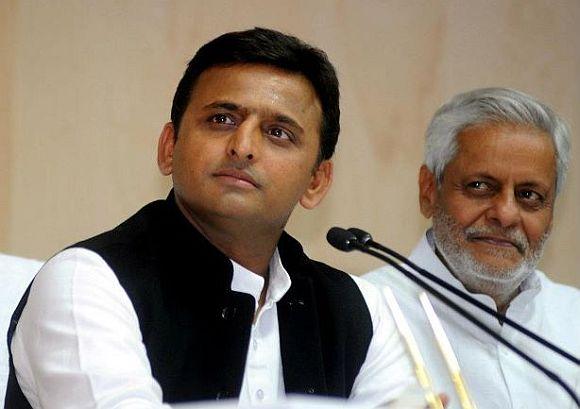 With the Trinamool Congress turning on the heat on the issue of rail fare hike, the Samajwadi Party on Friday offered solace to the Congress, saying its outside support to the coalition will continue.
In PHOTOS: World's tallest man STOPS growing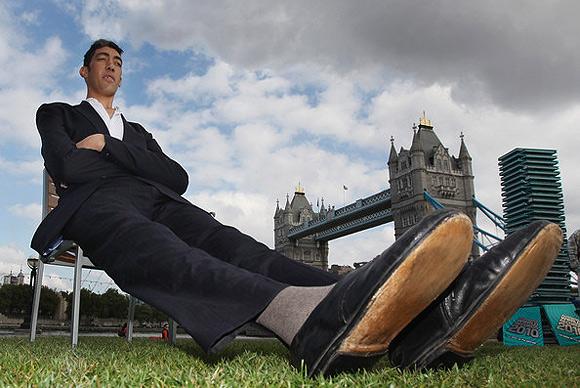 Sultan Kosen, the world's tallest man, has finally stopped growing, after he was treated at a US hospital to control the production of growth hormone.
Government keen on early enactment of DTC Bill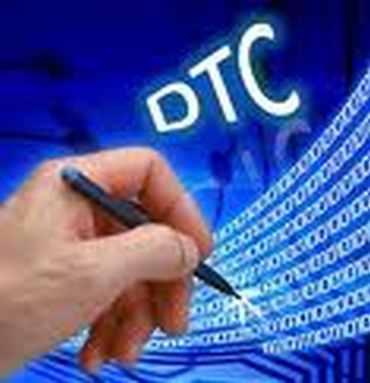 Union Finance Minister Pranab Mukherjee on Friday expressed firm commitment to enact the Direct Taxes Code (DTC) Bill at the earliest, after expeditious examination of the report of the Parliamentary Standing Committee.
The govt has to bring Lokpal or GO, warns Anna Hazare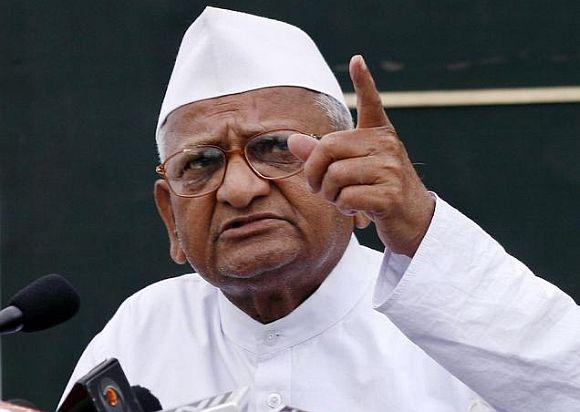 Threatening to launch a "big protest" for a strong Lokpal bill, social activist Anna Hazare on Friday said that the government will have to go if it does not bring a strong anti-corruption law.
Pak panel contradicts US probe in Osama raid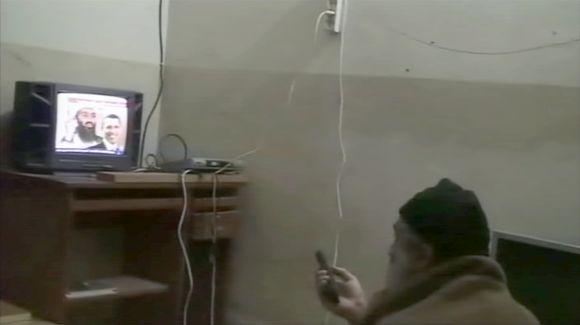 The findings of the Abbottabad commission report reportedly contradict the findings of the report given by United States authorities on the May 2 raid.
Jury deliberations in Dharun Ravi trial reach 3rd day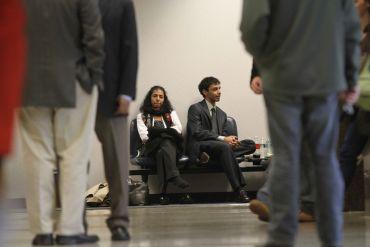 Jurors deciding the fate of India-born Rutgers student Dharun Ravi accused of spying on his gay roommate, who later committed suicide, finished the second day of their deliberations without reaching a verdict.
Battered baby Falak dies after battling odds for 2 months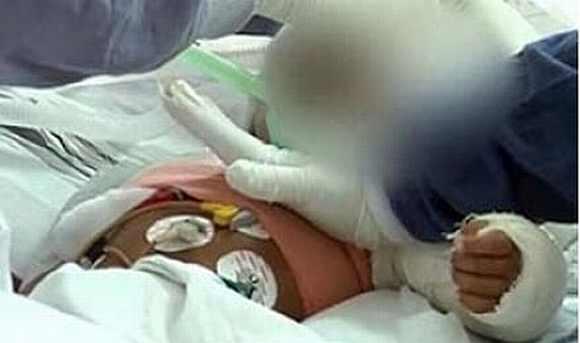 Losing her two-month-long grim battle for survival, two-year-old battered baby girl Falak, whose harrowing ordeal had shocked the country, died in New Delhi on Thursday night following a cardiac arrest.
March 15, 2012
In PHOTOS: Akhilesh takes oath, SP members go berserk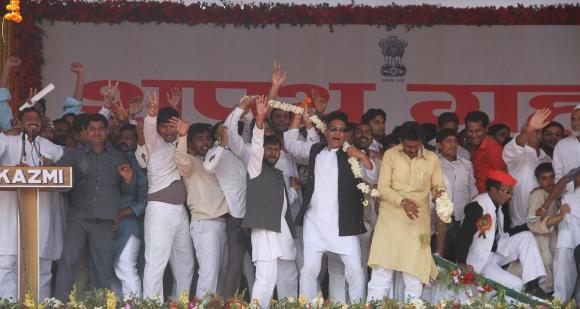 Minutes after Akhilesh Yadav was sworn in as the 33rd chief minister of Uttar Pradesh in Lucknow on Thursday, Samajwadi Party workers went berserk with excitement.
No more goonda raj? Law and order Akhilesh's top priority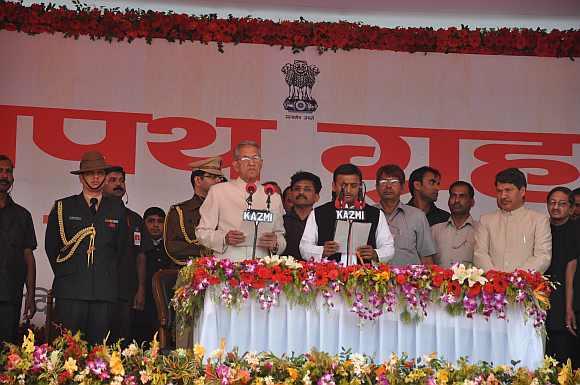 Uttar Pradesh Chief Minister Akhilesh Yadav on Thursday said law and order will be a priority of the new government which will implement the promises made in the election manifesto of his party.
'India MUST remain vigilant of China's evil designs'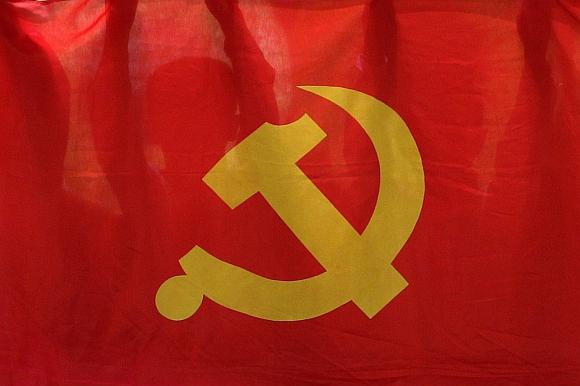 Former Army chief General V P Malik has observed that India must step up its vigil along the Chinese border in Arunachal Pradesh as its eastern neighbour might try to "forcefully occupy" Indian territories. "India should remain vigilant from the evil designs of China which may forcibly occupy some of the territories in north-west and in Arunachal Pradesh," he said.
UP's laptop brigade: Akhilesh, Rahul and Varun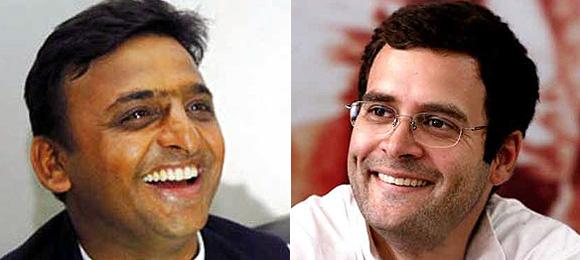 Catch up on the latest capital gossip in this week's Dilli Gupshup.
When Mamata spoke, and we wished she HADN'T!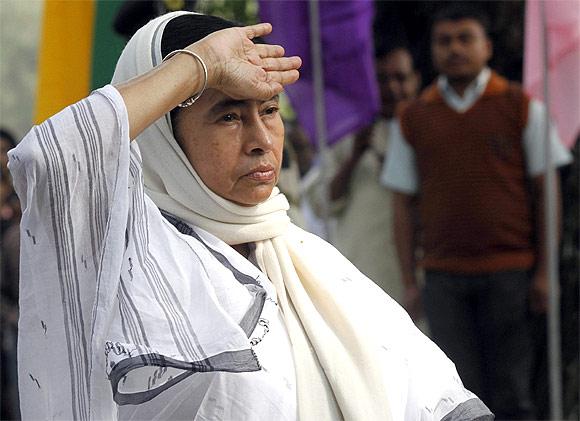 Rediff.com takes a look at the many, many times Didi's (in)famously volatile and unpredictable ways have left us speechless!
Maya-jaal! Ex-UP CM went from 11 cr to 111 cr in 8 years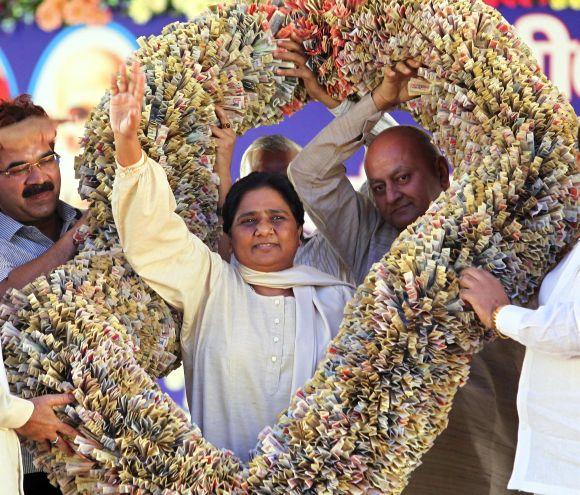 From Rs 11.35 crore in 2004 to Rs 87.27 crore in 2010 and now Rs 111.64 crore -- this is by and large the story of former Uttar Pradesh chief minister Mayawati. Her affidavit which was filed before the Lok Sabha on Tuesday shows a phenomenal rise in her assets; and for the 58 months that she ruled as the chief minister her assets went up by nearly Rs 59 crore, reports .
The real reason why Mamata sacked Trivedi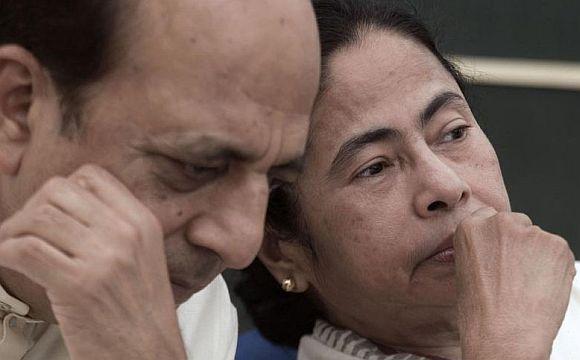 Trivedi played a smart one, but not a very intelligent one, on Mamata, but she is likely to have the last laugh on the issue, reports
In PHOTOS: The world's first cloned pashmina goat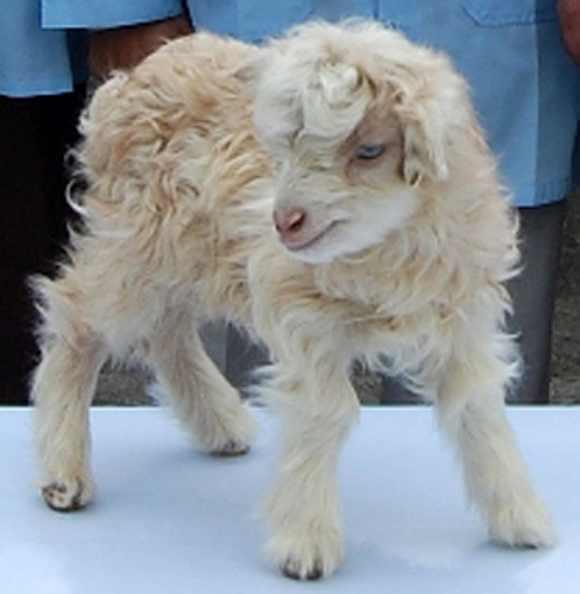 Scientists at the Kashmir Agriculture University have produced the world's first cloned pashmina goat.
China's Rambo-style radical communist SACKED!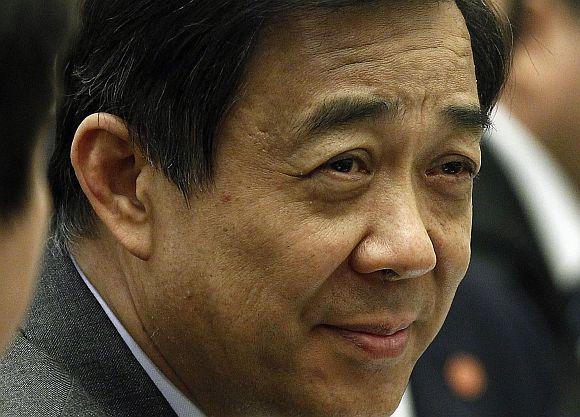 Bo, who was replaced by Vice Premier and Politburo member Zhang Dejiang, was known in China for his populist Maoists revival campaign and had been seen as one of the leading contenders to join party's powerful nine-member Politburo standing committee, which virtually governs the country.
Don't behave like petulant children, Pranab tells Oppn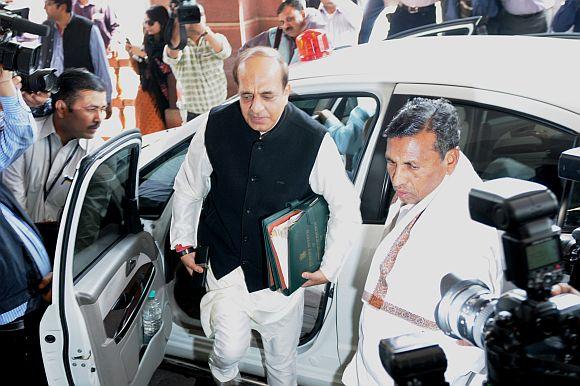 Railway Minister Dinesh Trivedi has not resigned, Finance Minister Pranab Mukherjee told the Lok Sabha on Thursday
Pak is as tired of terrorism as we are: Sri Sri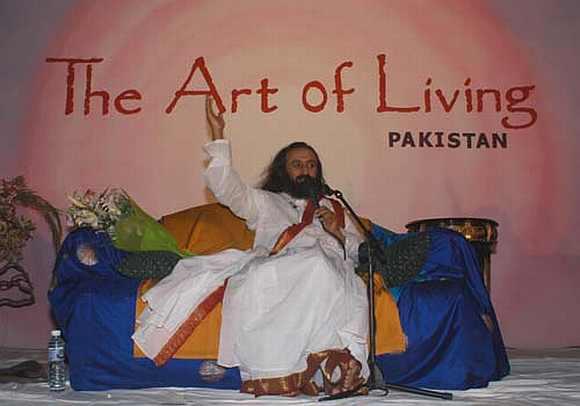 The purpose of Sri Sri Ravi Shankar's recent visit to Pakistan was to ensure people-to-people contact between the two countries, says the spiritual leader. listens in
As Gujaratis, we should hang our heads in shame!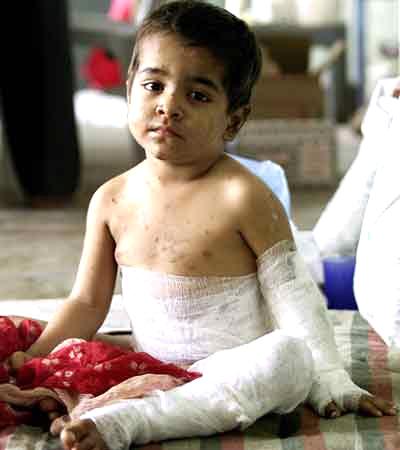 Our twisted minds may have justified the cruelty and inhumanity that Gujarat was witness to in 2002. A decade later, do we feel the need to reconsider our support for what we thought was 'right' back then, asks .
Public hearing on 2008 Bihar flood finally begins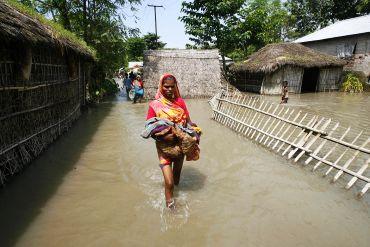 Three-and-a-half years since Bihar was ravaged by floods after a breach in the eastern embankment of the Kosi river, a one-man commission set up to probe the cause of it finally began public hearing in Patna, officials said on Thursday.
Did Dharun Ravi commit a hate crime? Jury to decide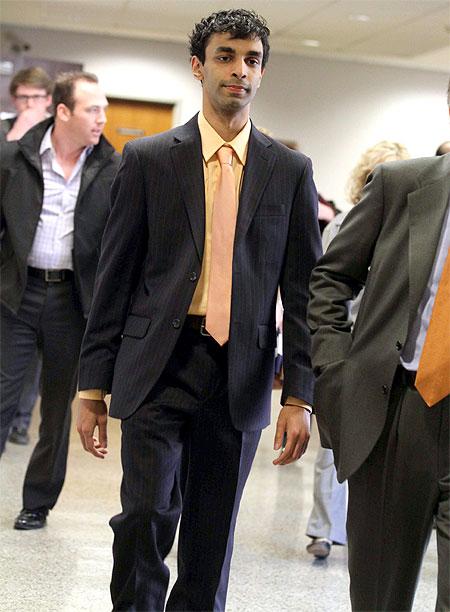 The ongoing trial of 20-year-old student Dharun Ravi, charged of a hate crime, has attracted immense media attention. reports from the court room
Delhi sticky bomb plot hatched in 2011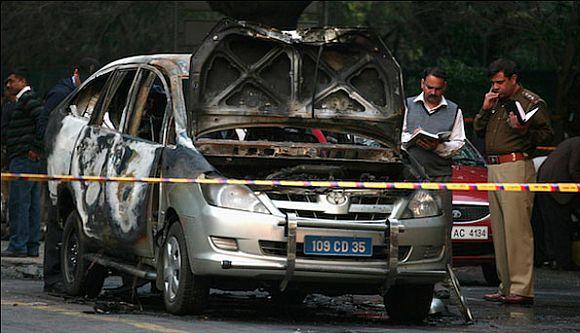 The conspiracy to bomb the Israeli diplomat's car in New Delhi was hatched in early 2011 when two Iranian nationals came to India to conduct recce of the embassy besides monitoring the entry and exit timing of diplomats, official sources said in New Delhi on Thursday.
'The Railway minister has not resigned'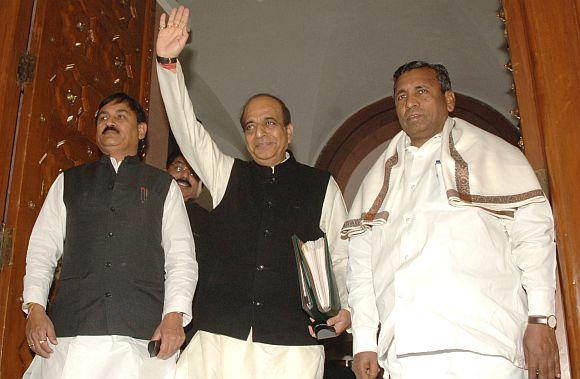 As Railway Minister Dinesh Trivedi held on defiantly saying it was his duty to get the Railway Budget passed, Parliament was on Thursday rocked over the issue of Trinamool Congress' demand for his removal which government said was under "active consideration".
Mission to end Pakistan-Lashkar ties: A FAILURE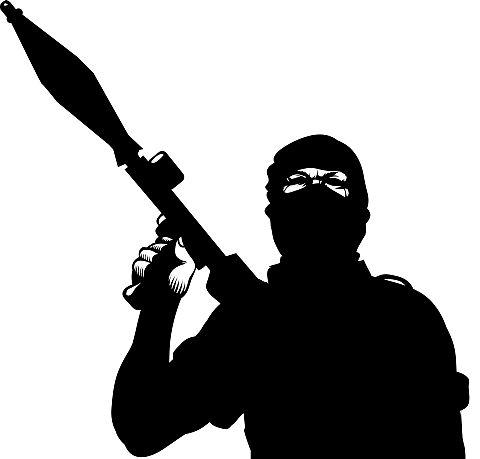 "There has been increasing international pressure on Pakistan to break off this intimate relationship between the ISI and LeT, but it has thus far come to naught," Ashley Tellis, who is senior associate, South Asia Programme with the Carnegie Endowment for Peace, said in his latest policy outlook The Menace That Is Lashkar-e-Tayiba.
In PHOTOS: Deadly Gaza air strikes, Syria unrest and more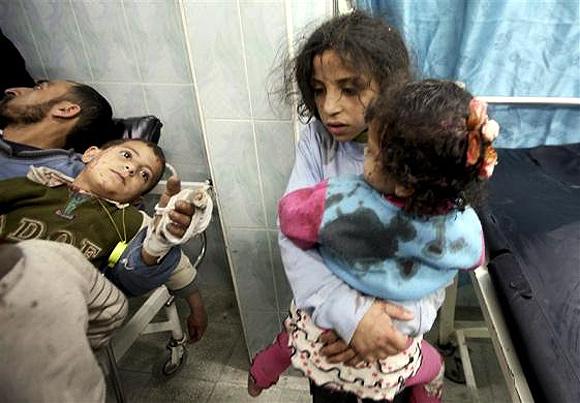 In PHOTOS: Deadly Gaza air strikes, Syria unrest and more
March 14, 2012
Mamata tells PM to sack Trivedi, Cong agrees to demand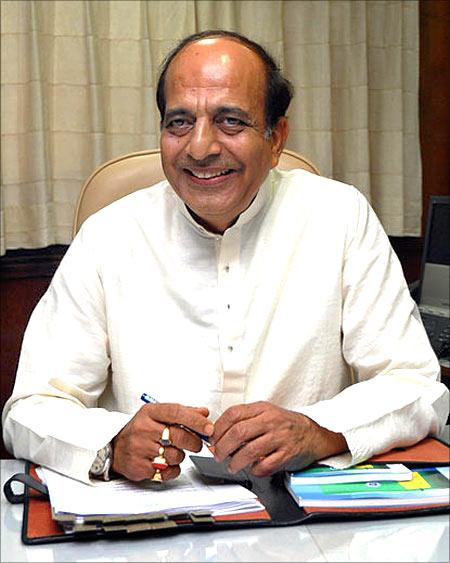 On a day of dramatic developments, The Trinamool Congress on Wednesday night sought the removal of its senior-most nominee in the Union Cabinet, Railway Minister Dinesh Trivedi, hours after he proposed a hike in railway passenger fares, plunging the UPA government in an unusual political crisis.
U'khand truce: Cabinet rank for Rawat, Harak to be Dy CM?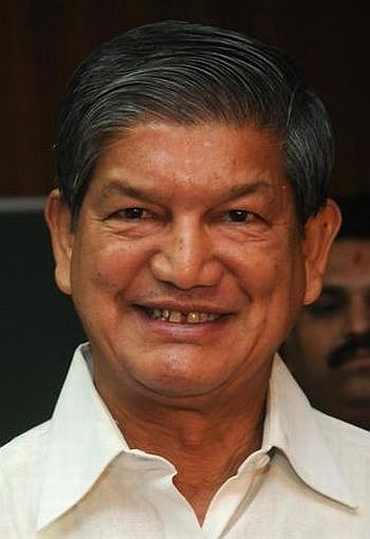 The political crisis for the Congress in Uttarakhand appears to have blown over on Wednesday with Union minister and rebel leader Harish Rawat falling in line amid speculation that a compromise deal has been worked out by the party leadership.
Rushdie will attend 'India Today' meet, Imran WON'T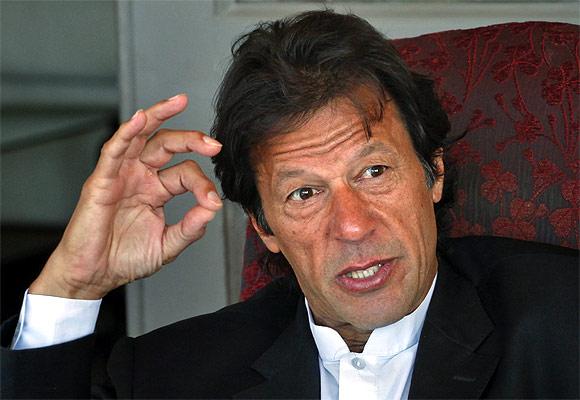 Pakistan's cricketer-turned-politician Imran Khan on Wednesday pulled out of the upcoming India Today Conclave in New Delhi, citing the presence of controversial author Salman Rushdie at the same event.
Uttarakhand: Why Bahuguna and Rawat are feuding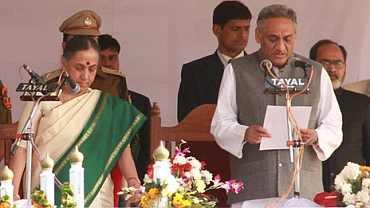 The feud in the Uttarakhand Congress is far from over. Rediff.com gives you a low down on how the Congress victory in Uttarakhand turned sour and what to expect next.
BEST MOMENTS: Charming Prince Harry on his first solo tour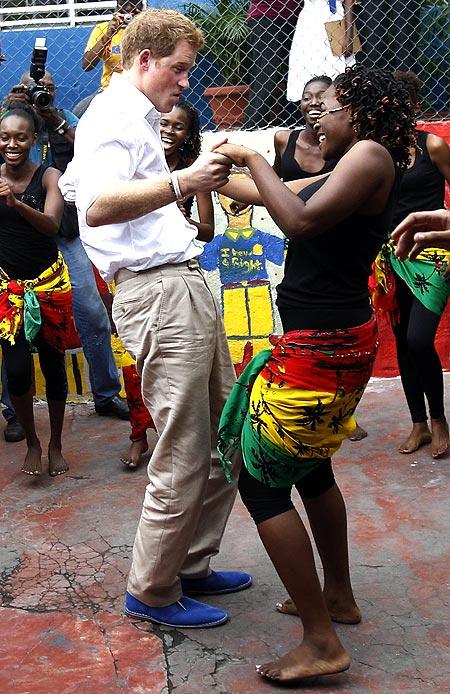 Prince Harry has described his Diamond Jubilee tour of the Commonwealth nations of Belize, Jamaica and the Bahamas as "an emotional trip".
At 84, Badal sworn in as Punjab CM for 5th time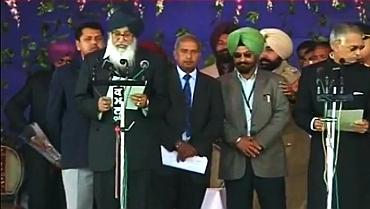 Eighty five-year-old Shiromani Alkali Dal leader Parkash Singh Badal on Wednesday created two records in one go by becoming the chief minister of Punjab for the fifth time and the first in the reorganised state's history to return to power for the second successive tenure heading the SAD-Bharatiya Janata Party alliance ministry.
In PHOTOS: Deputy Army chief jumps off a plane!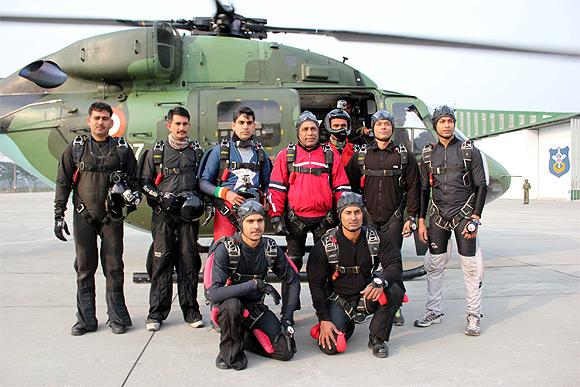 Deputy Chief of the Army Staff Lieutenant General Ramesh Halgali recently surprised students and Army personnel alike when he chose to perform a skydive, while visiting the Army Adventure Skydiving Camp.
PIX: Online age brings down a 244-year-old ICON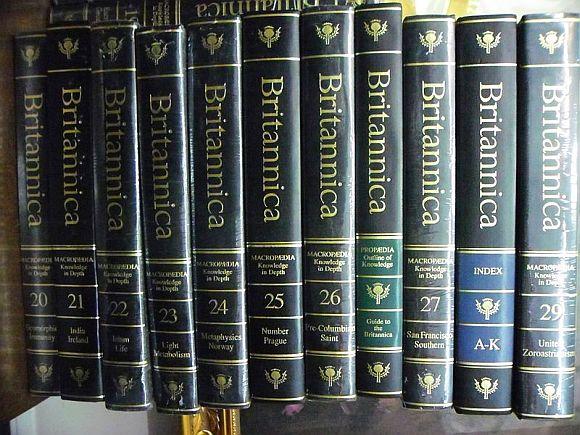 The convenient gadget age of iPads and Kindles have probably shot down its bulkiest ancestor. The Encyclopedia Britannica, which has been in continuous print since it was first published in Edinburgh, Scotland in 1768, said on Tuesday that it will continue only with digital versions currently available online, and discontinue with its print editions.
PIX: Obama, Cameron bond over basketball, hot dog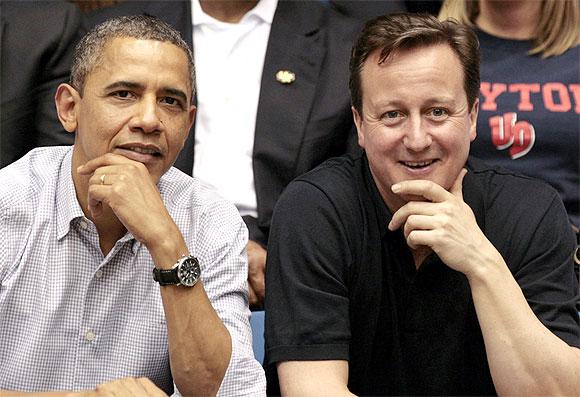 United States President Barack Obama and British Prime Minister David Cameron on Tuesday enjoyed a game of the National Collegiate Athletic Association Division I Men's Basketball Tournament between Mississippi Valley State and Western Kentucky at the University of Dayton in Arena, Ohio.
Rise of regional leaders may be a good omen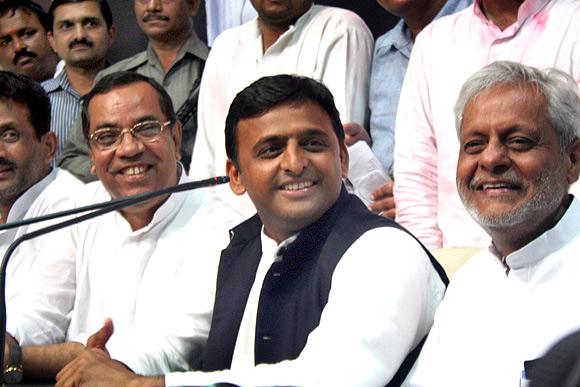 There is no reason to assume that a collection of powerful regional leaders will be bereft of vision and responsibility, says Subir Roy
Mayawati's wealth jumps to Rs 111 cr in 2 years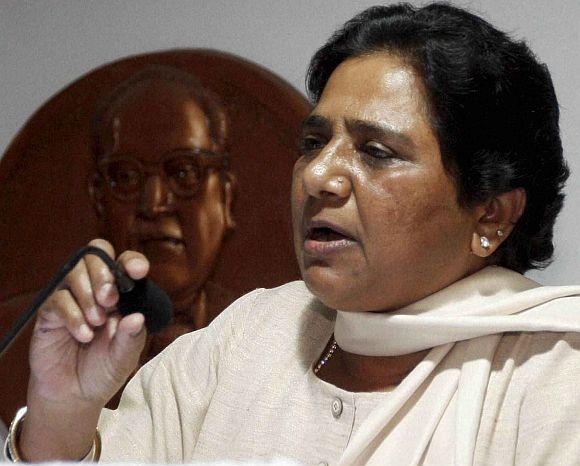 Bahujan Samaj Party supremo Mayawati may have lost the assembly elections in Uttar Pradesh but the defeated chief minister's wealth as declared has jumped to Rs 111 crore, a 25 per cent increase in the last two years.
Santorum scores crucial wins in Missi, 'Bama primaries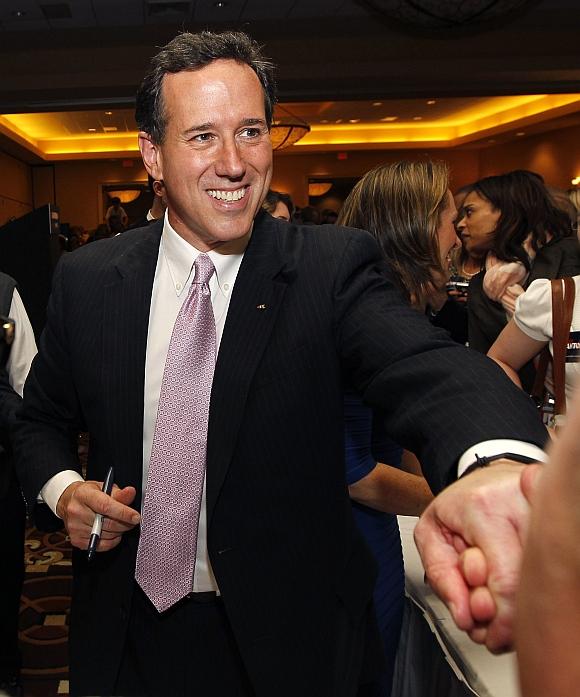 Republican presidential hopeful Rick Santorum on Wednesday took home Alabama and Missisippi in another crucial round of primaries to pick Barack Obama's contender, dealing a blow to front-runner Mitt Romney's hopes of making a mark in southern America's Conservative bastions.
US: Summations begin in trial of student in webcam case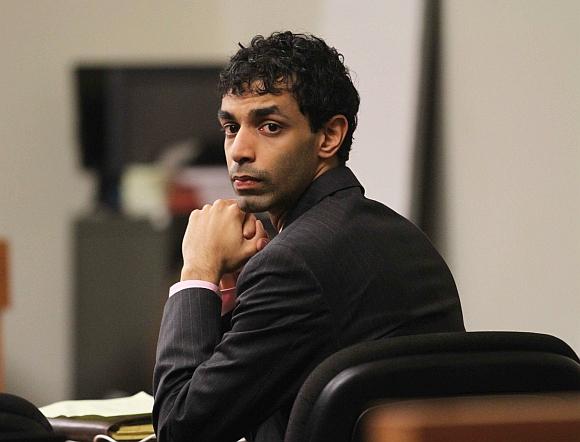 Dharun Ravi, the 20-year-old former Rutgers University student accused of using a webcam to record his roommate's sexual encounters, was a 'kid who had an experience that he wasn't ready for', his lead attorney Steven Altman told the jury in a New Brunswick, NJ courtroom on Tuesday. reports
PHOTOS: Indian, US troops set Thar desert on fire!
Armed forces of India and United States on Tuesday executed a joint cordon and search drill to neutralise suspected insurgents, in a specially-constructed training area at the ranges in an abandoned village as part of the ongoing Yudh Abhyas 2012 exercise.
March 13, 2012
Sri Sri in Pak: I'm ready to hold talks with Taliban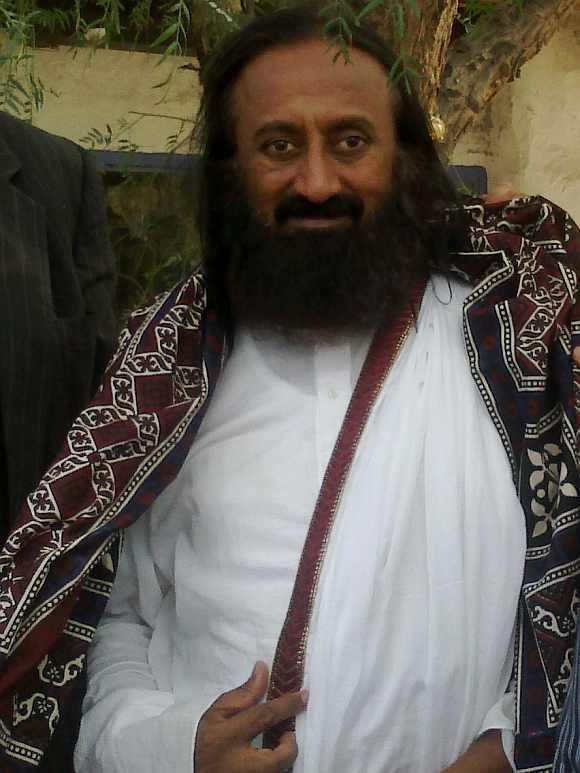 Indian spiritual guru Sri Sri Ravi Shankar on Tuesday offered to hold talks with the Taliban to usher in peace in the region, saying it would help foster understanding among people with divergent views.
Vijay Bahuguna sworn in as Uttarakhand CM, Rawat revolts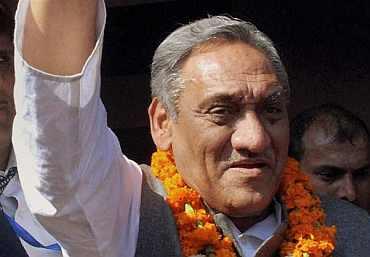 Congress member of Parliament Vijay Bahuguna was on Tuesday sworn in as the chief minister of Uttarakhand after the Congress overruled a revolt by another MP Harish Rawat, who is said to have offered to resign from the Union government.
Criminal MLAs: 'Our parties have become thick-skinned'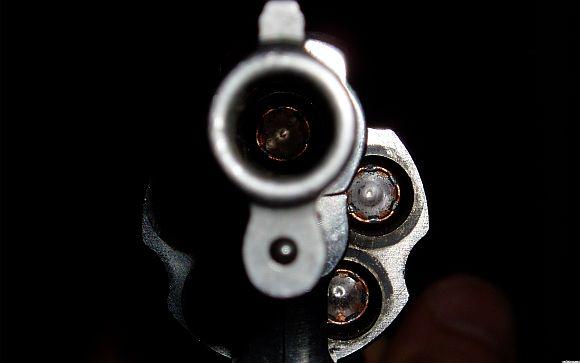 A recent report put out by the Association for Democratic Reforms and National Election Watch revealed that 47 per cent of the newly-elected Uttar Pradesh assembly has candidates with criminal cases pending against them.
'60 pc Britons' think Everest is UK's highest peak!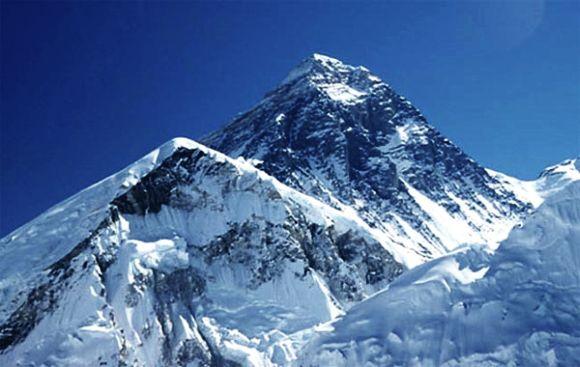 You may call it a curious case of clueless Brits! Nearly six in 10 adults in Britain think that the country's highest peak is Ben Nevis, Snowdon -- or even Mount Everest.
Manipur: A victory with a warning!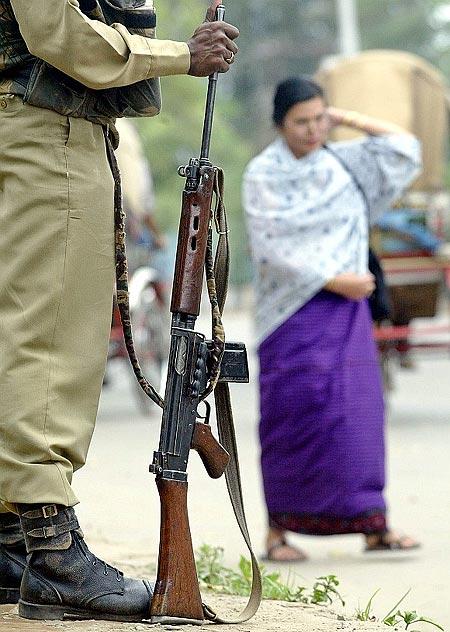 Mamata Banerjee's Trinamool Congress, never before a force to reckon with in Manipur, has won seven seats, overtaking established political forces like the Manipur People's Party. If Chief Minister Ibobi Singh is not successful in tackling the woes of the hard-working Manipuris, the state may abandon the Congress, says .
Indian student in US webcam spying case not to testify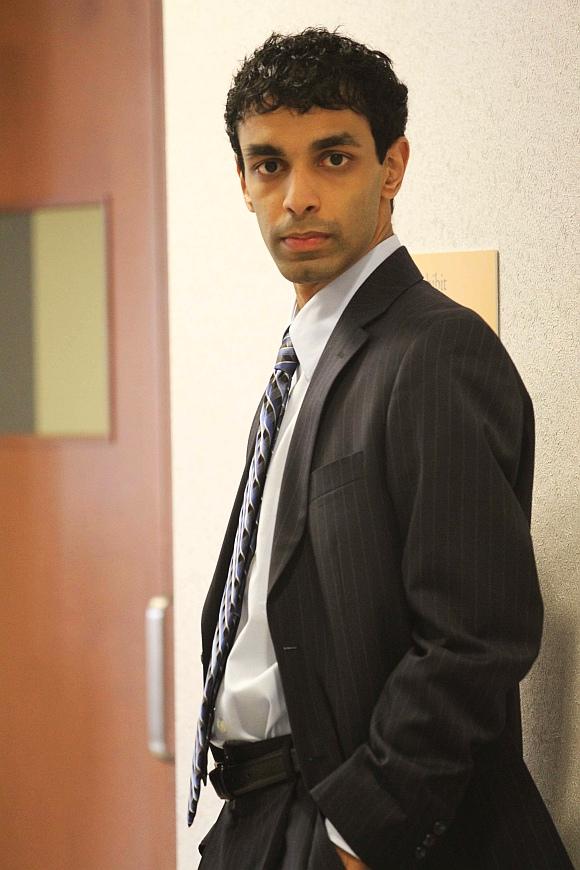 Speculation over former Rutgers University student Dharun Ravi taking the stand to defend himself vanished quickly on Monday morning as he said, at the urging of his defence team, that he will not testify and the defence rested its case after calling its final witness, a police detective who had also been questioned on Friday.
Hope I would've made the same call on Laden: Bill Clinton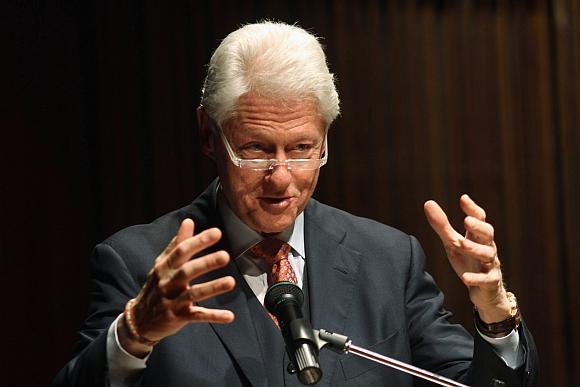 To bolster United States President Barack Obama's image ahead of Presidential election, the Obama Campaign has come up with a video featuring former President Bill Clinton praising Obama's handling of the raid on Osama bin Laden's compound last year.
Why BJP may emerge as single largest party in LS polls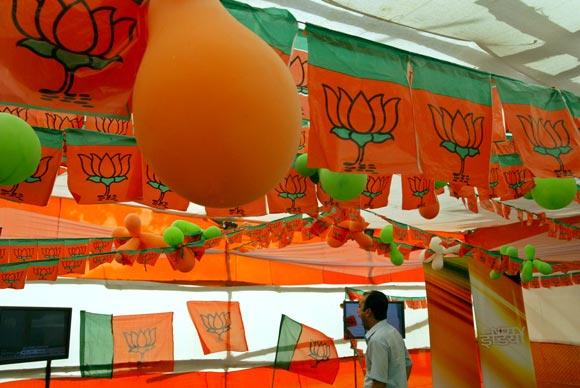 But will the party be ready for power at that time, asks
Beautiful moments captured by Rediff Readers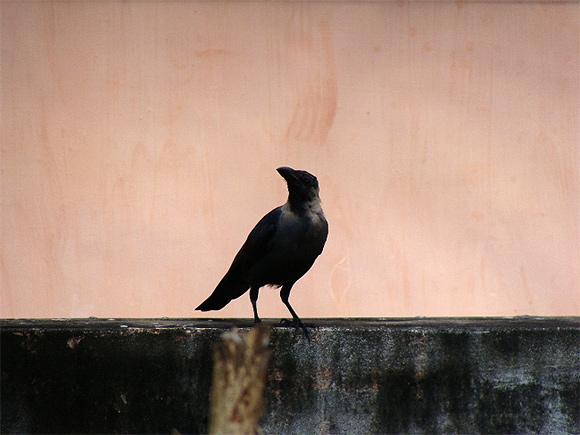 Beautiful moments captured by Rediff Readers
What worked for Akhilesh, didn't work for Rahul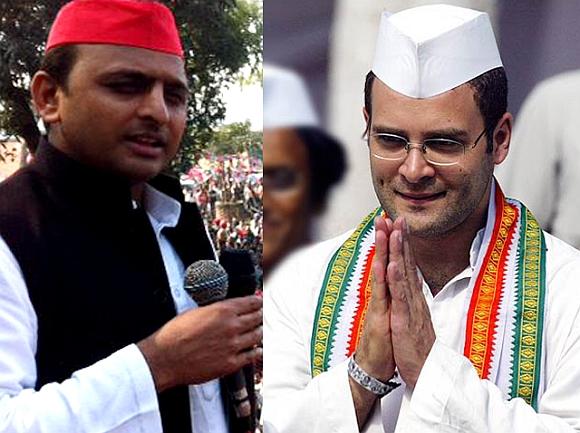 No sooner than the campaign for the recently concluded 2007 state assembly elections started in Uttar Pradesh, two sons rose up from rival camps -- Rahul Gandhi, referred widely by both friends and foes as Congress 'yuvaraj' and Samajwadi Party pointsman Akhilesh Yadav, who was now awaiting his coronation as the state's youngest ever chief minister. reports.
March 12, 2012
God NOT in 99 names or 1,000 idols: Sri Sri in Pak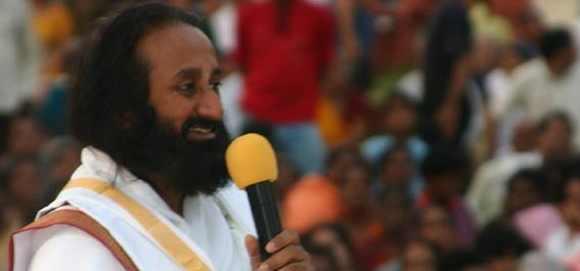 "Love, peace, tolerance" is what Pakistani students shouted for when asked by visiting spiritual leader Sri Sri Ravi Shankar what he should speak about. Ravi Shankar regaled the audience at the famous Forman Christian College in Lahore as he spoke about love, religion and answered number of questions.
Rise of third front will be good news, says Akhilesh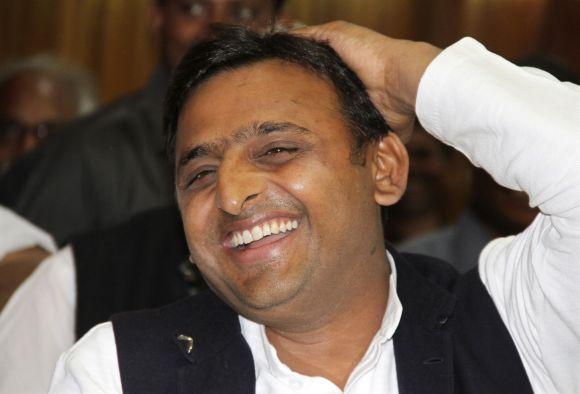 Uttar Pradesh Chief Minister designate Akhilesh Yadav on Monday termed the probable rise of a third front in Parliament to be a healthy development.
AMAZING VIEWS: Himalayas, Ganga, more from space!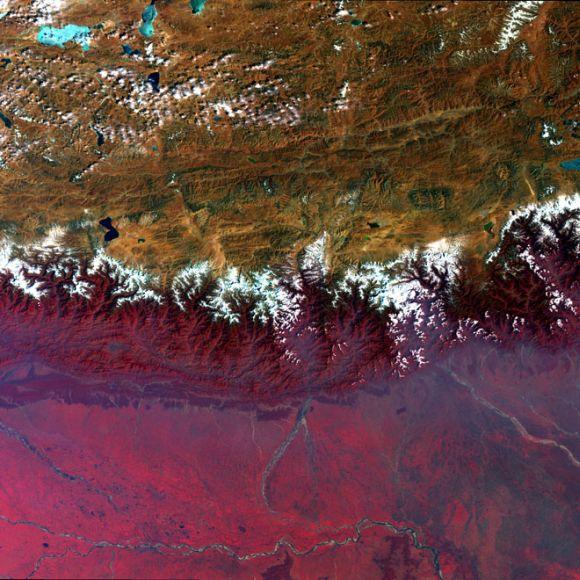 Rediff.com presents some of the amazing pictures captured by Envisat over the years, as it completes a decade in space.
Afghan war poll adds to Obama's headache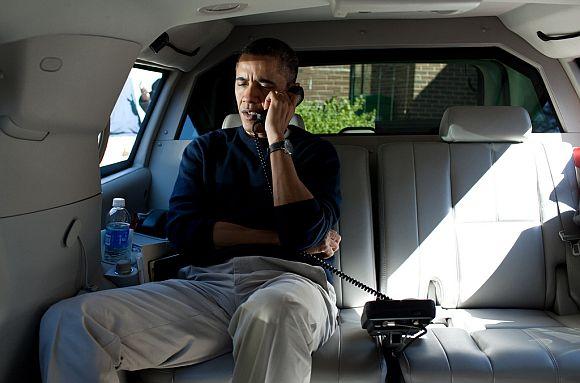 Sixty per cent Americans say that the war in Afghanistan has not been not worth fighting and just 30 per cent believe that the Afghan public supports the US mission in their country -- marking the sour state of attitudes on the war even before the shooting rampage allegedly by a US soldier this weekend.
Pressure is part of parliamentary life: PM
As the government prepares to face the opposition in Parliament, Prime Minister Manmohan Singh on Monday exuded confidence that the United Progressive Alliance has "all the numbers" that are needed to tackle issues.
In PHOTOS: World's first aircraft carrier on last voyage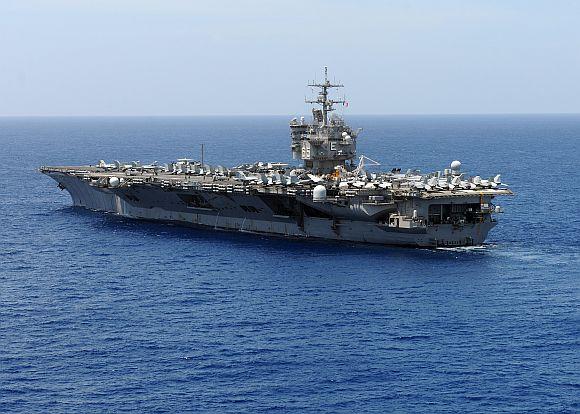 The ship with more than 4,000 crew members has been a part of history over the past 50 years. It was involved in several wars and played a prominent role in the Cuban missile crisis. It also served as a spotter ship for John Glenn's historic orbit of Earth.
After Mexico, India second largest source of migrants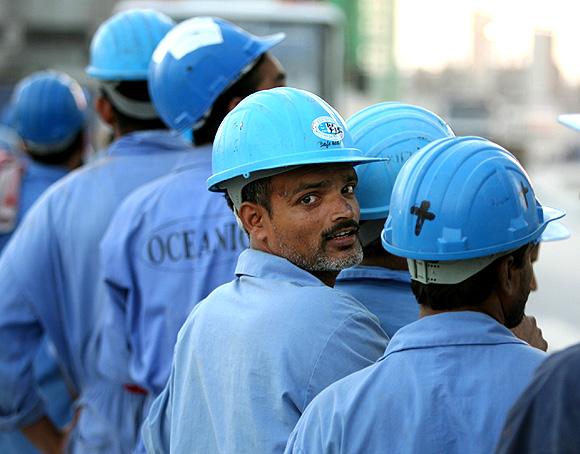 India is the second largest source of global migrants after Mexico and is the ninth top destination for all migrants, a news report said.
Is Ilyas Kashmiri really dead? Mystery deepens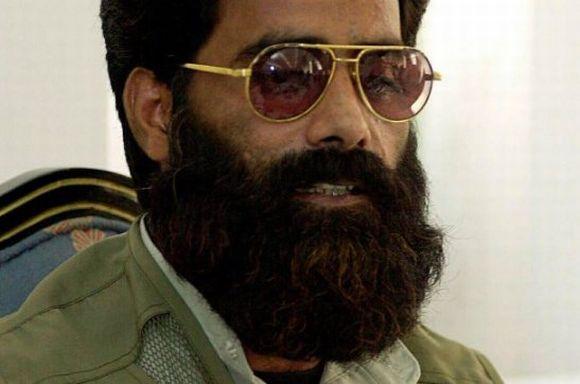 The unsolved mystery about the June 3, 2011 killing of Al Qaeda linked Pakistani jehadi leader and the chief of the pro-Kashmir Harkatul Jehadul Islami, Commander Ilyas Kashmiri, in a United States drone attack in South Waziristan Agency, has been deepened further amid Pakistani media reports that he was spotted in North Waziristan recently, reports
March 11, 2012
I don't want to be Karnataka CM, says Yeddyurappa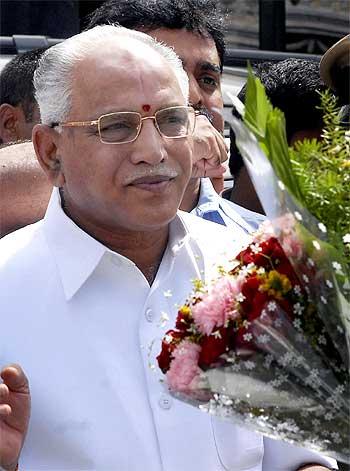 In Hubli on a mission of show of strength, former Karnataka chief minister B S Yeddyurappa on Sunday made it clear that he would not ask the Bharatiya Janata Party high command for chief ministership and that he would not campaign for the March 18 Udupi-Chikmagalur Lok Sabha bypoll in the wake of the attack on him by chief minister D V Sadananda Gowda.
Pix: With prayers Japan marks quake-tsunami anniversary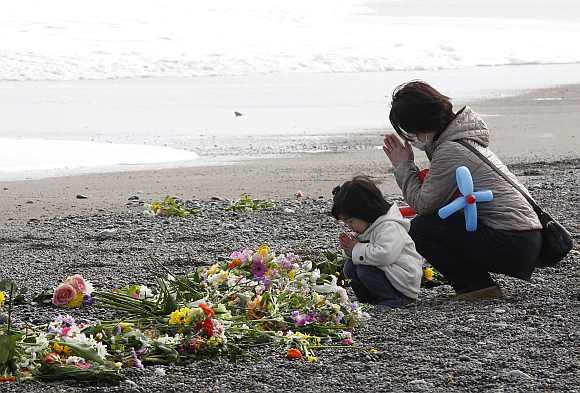 With a moment of silence, prayers and a vow to rebuild the nation, Japan on Sunday marked the first anniversary of the massive earthquake and tsunami that killed nearly 19,000 people and triggered the world's worst nuclear crisis since 1986.
Mamata to skip swearing-in ceremonies of Punjab, UP CMs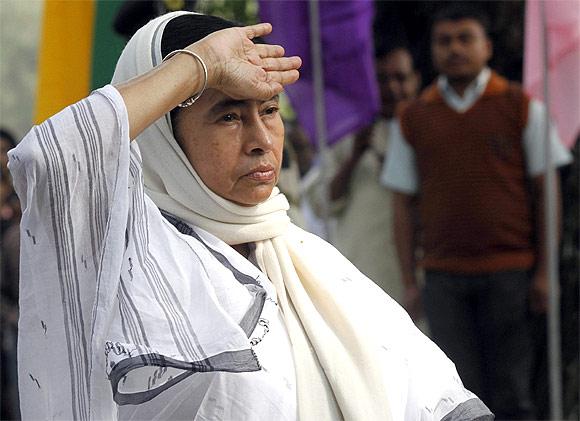 West Bengal Chief Minister Mamata Banerjee will not attend the swearing-in ceremonies of Parkash Singh Badal as Punjab chief minister in Chandigarh and that of Akhilesh Yadav as UP chief minister, said sources.
March 10, 2012
'Guj riot report should be given to guv, not Modi'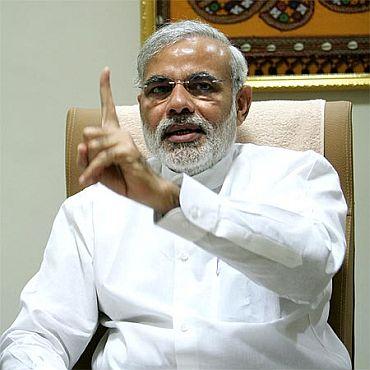 Suspended Indian Police Service officer Sanjiv Bhatt has said that the Nanavati Commission, which is enquiring into the 2002 Gujarat riots, should submit its second report to the governor of Gujarat, and not Chief Minister Narendra Modi.
ISI's future boss could have STOPPED 26/11, but didn't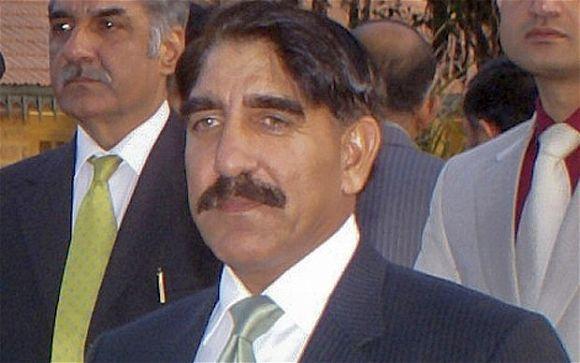 Zahir-ul-Islam's appointment as the chief of the intelligence agency was the outcome of a consensus between the political and military leadership of Pakistan, says
Thrown at the deep end, Akhilesh will HAVE to survive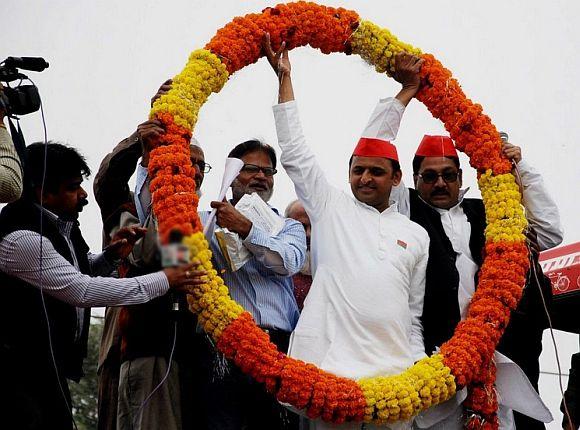 Akhilesh Yadav is acutely conscious of the fact that he has to take along the senior leaders in the party even as he tries to infuse the new blood, new technology and new ways into the state government, says
With rifts settled, Akhilesh stakes claim to form new govt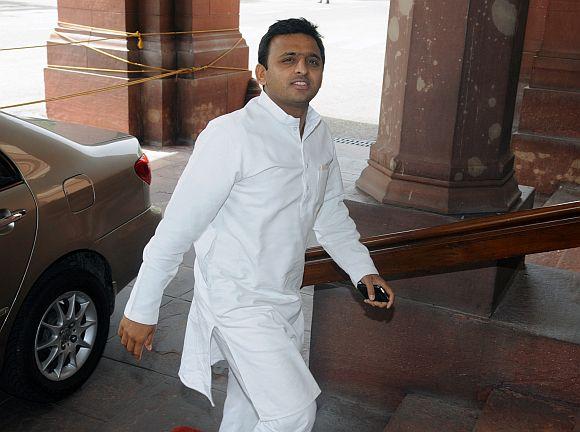 After tiding over the teething troubles over his succession followed by his formal anointment by emerging as the unanimous choice of Samajwadi Party MLAs, Akhilesh Yadav's next destination on Saturday was Raj Bhawan, where he staked claim to form the next Uttar Pradesh government.
Akhilesh as CM makes sense, but challenges galore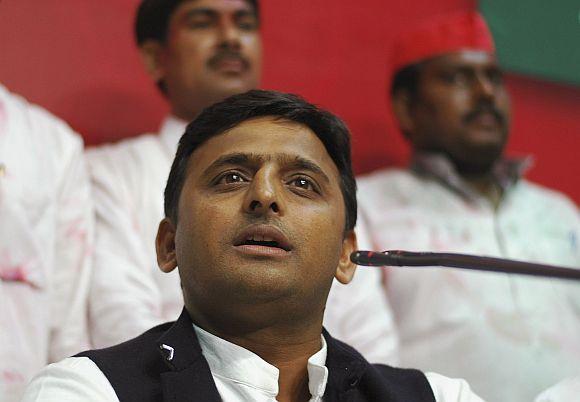 Akhilesh Yadav, the youngest chief minister of Uttar Pradesh, represents the change the state needs today. But he will have to handle difficult and complex challenges to consolidate the Samajwadi Party's gains, writes rediff.com's .
New ISI chief Zahir-ul-Islam's trifling link with SRK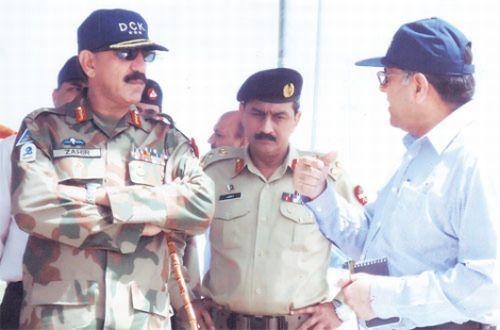 Pakistan's new Inter-Services Intelligence chief, Lt Gen Zahir-ul-Islam, is the nephew of Indian National Army hero Shah Nawaz Khan and through him, shares a tenuous link with Bollywood star Shahrukh Khan.
Akhilesh Yadav is UP's next CM; swearing-in on March 15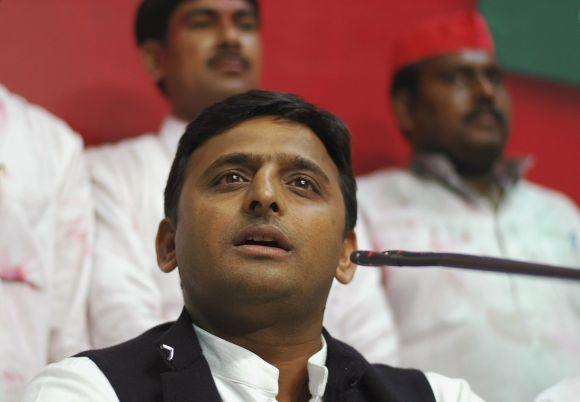 At 38, Akhilesh is the youngest chief minister of India's most populous state.
Friends vouch for Ravi, say he had no anti-gay views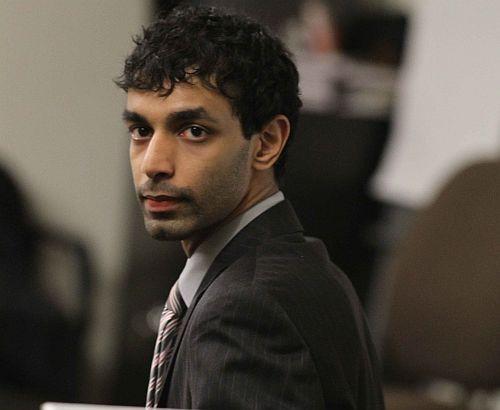 Friday happened to be the first day for the defence in the sensational trial in which Ravi, 20, the former Rutgers University student is charged with invasion of privacy, bias against gays (hate crime) and 13 other counts.
Akhilesh all set to become UP's youngest CM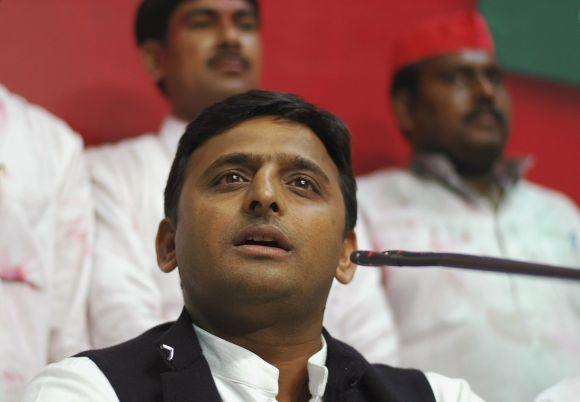 It may still not be official, yet it is now absolutely clear that Akhilesh Yadav will be the next chief minister of Uttar Pradesh.
March 09, 2012
'India favours a balanced resolution to Syrian crisis'
India's permanent representative to the United Nations Hardeep Singh Puri explains New Delhi's stand on Syria to .
Akhilesh's honest 'sorry' worked well with UP voters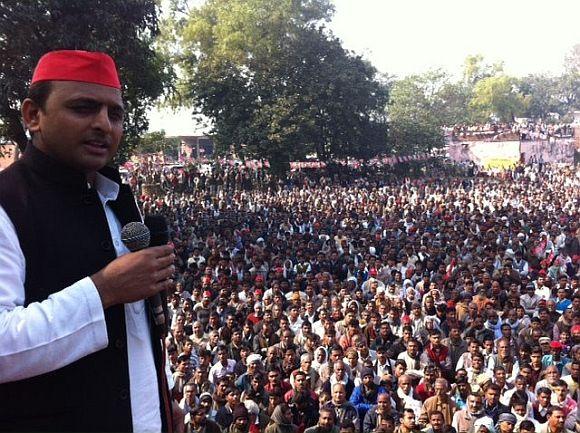 With some gestures and promises, to an average electorate, Akhilesh Yadav appeared to be harmonising socialism with the changed economic realities of post-liberalisation India, even though he is yet to be counted as a visionary, notes .
Special: 10-step quick-fix for Rahul Gandhi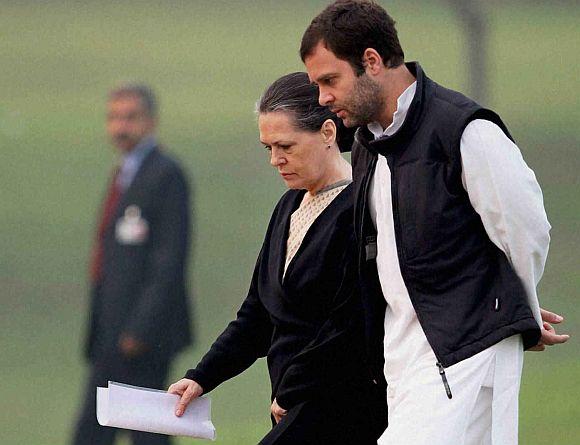 Experts chart the way forward for Rahul Gandhi after the Congress party's humiliating defeat in Uttar Pradesh.
10 Janpath could have been my home, not Sonia's: Advani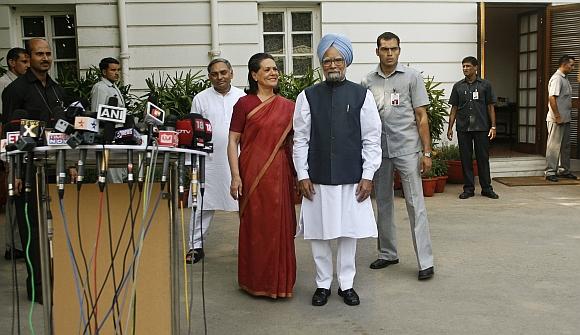 Pointing out that 10 Janpath, Congress President Sonia Gandhi's residence, is the most important address and not 7 Race Course Road, the prime minister's residence, Bharatiya Janata Party veteran leader Lal Krishna Advani hyas said it may well have become his residence, had he agreed to late Rajiv Gandhi's proposal way back in 1991.
Iran's Quds Force responsible for Delhi car bomb attack?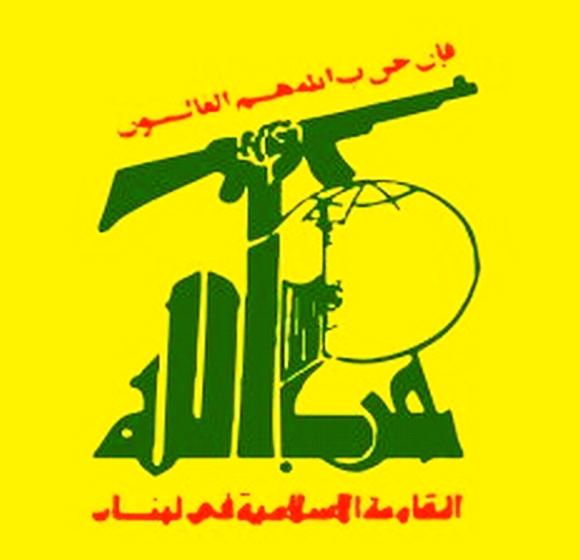 Nearly a month after the bomb attack on an Israeli embassy vehicle, the Delhi police claim they had made some progress. reports
China's 1st aircraft carrier to be deployed in August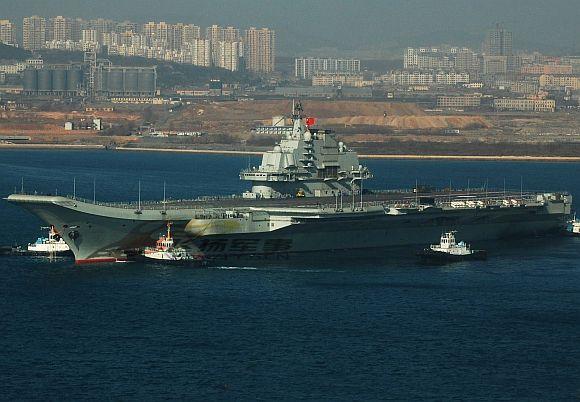 China's first aircraft carrier is likely to be commissioned on August 1 and deployed in the disputed South China Sea, boosting its blue water aspirations.
Did MP mining mafia claim young IPS officer's life?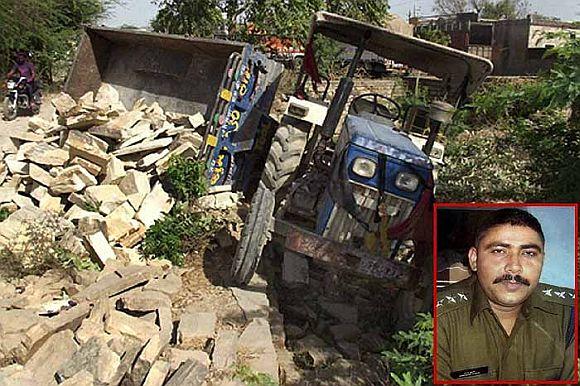 The father of the young IPS officer mowed down by a suspected member of the mining mafia in Madhya Pradesh on Friday alleged there was a well-planned conspiracy against his son who did not receive cooperation of local police and authorities.
Toxic Holi kills 13-yr-old in Mumbai; 215 in hospital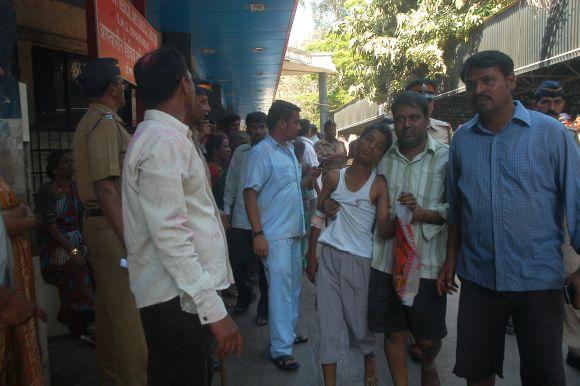 A 13-year-old boy died due to Holi colour poisoning while undergoing treatment at a hospital in suburban Ghatkopar in Mumbai, civic officials said on Friday.
In PHOTOS: Rang De, India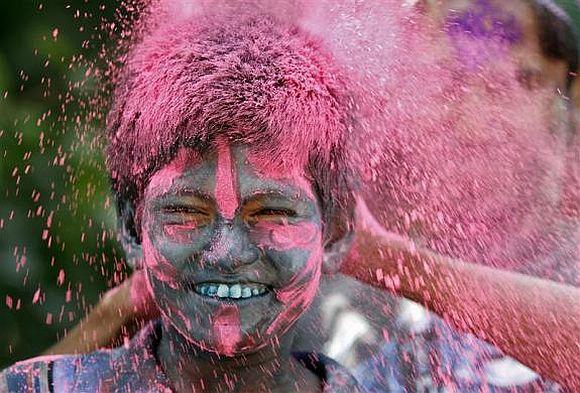 A collection of photos of Holi celebrations from across India
PIX: Amid gloom of terror, Syrians flee their country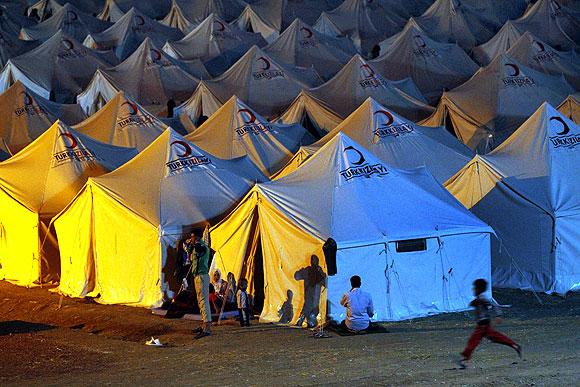 Rediff.com presents some pictures capturing the terrified lives of Syrian refugees as they struggle to make a new beginning.
India UNLIKELY to be a superpower, says study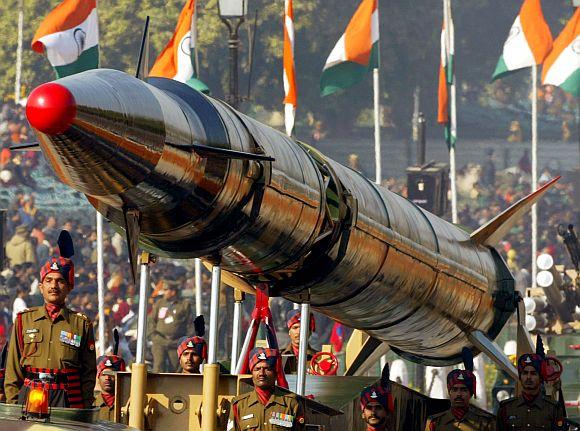 Despite "impressive" achievements in various sectors in recent years, India is unlikely to be a superpower and in fact, should not aspire to become one, a study by the prestigious London School of Economics has concluded.
March 08, 2012
PIX: 170 hospitalised in Mumbai after colour poisoning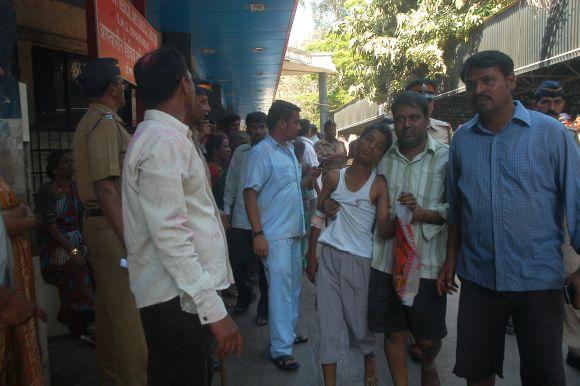 Holi celebrations in Mumbai were marred on Thursday when over 170 people, mostly children, suffered colour poisoning and many were hospitalised following allergic reaction in Dharavi area.
IN PHOTOS: Massive solar storm hits Earth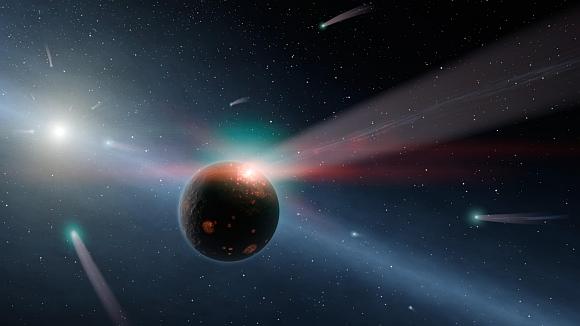 A monster solar storm of charged particles that erupted two days ago on Thursday hit the Earth, which could disrupt power grids, satellite navigation and flights.
Dharun Ravi trial: 'I knew Clementi was gay'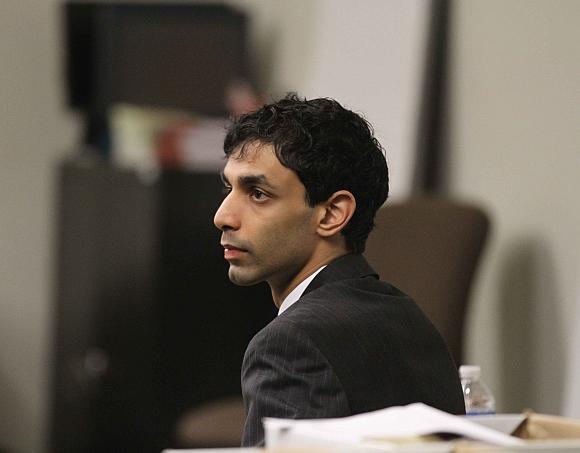 reports from the New Brunswick, New Jersey court room.
HOLI HAI!! Colourful images from across the world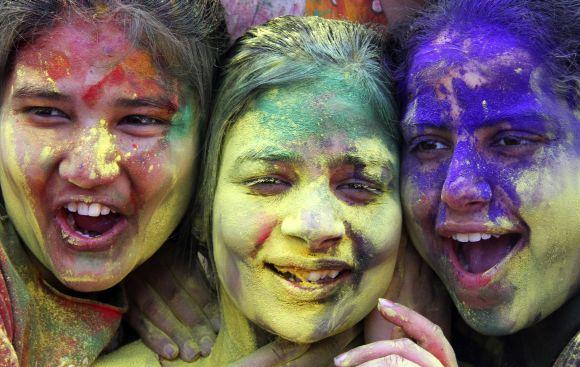 Rediff.com presents a bunch of colourful images from across the world, and wishes each one of you a very HAPPY HOLI!!
March 07, 2012
Where has Priyanka's magic gone?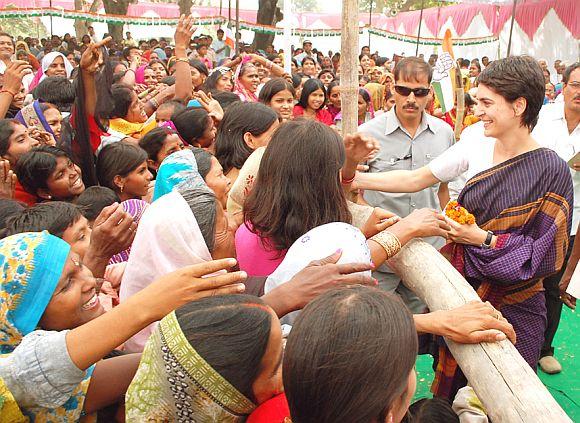 The magic that was Priyanka... The Mamata-Mulayam clash... Is Digvijay Singh in trouble? Catch up on the latest gossip in this week's Dilli Gupshup.
Four reasons why Rahul Gandhi's show flopped in UP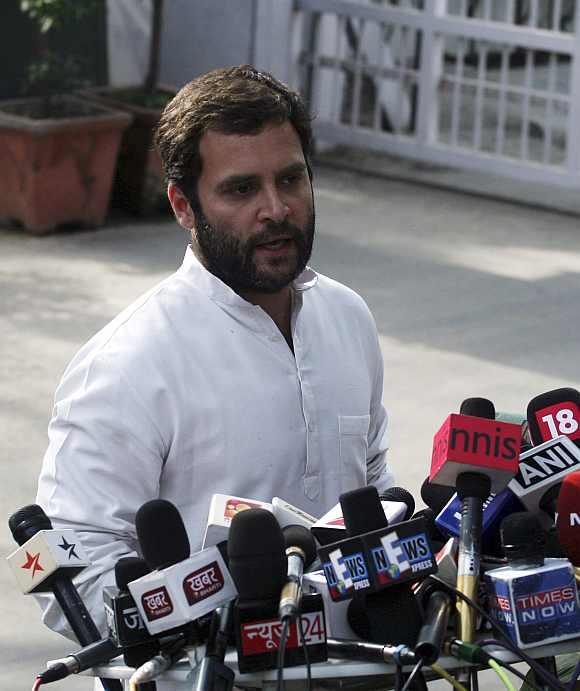 Rahul Gandhi always left crowds happy. Talking to people he addressed after his rallies, always left the impression that people were impressed by him. But then, what went wrong?
Congress's problem is that it has too many leaders: Sonia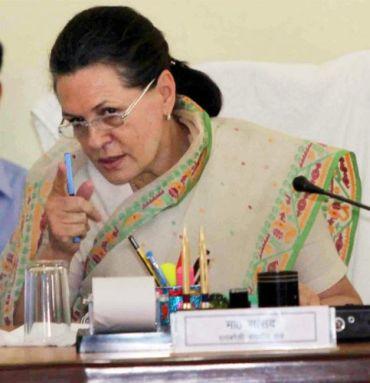 Congress President Sonia Gandhi on Wednesday ruled out any "damage" to the United Progressive Alliance government in the wake of electoral outcomes in which, she said, wrong choice of candidates and weak organisation in Uttar Pradesh played a role in the party's dismal performance.
Maya blames Cong, BJP for loss of Muslim votes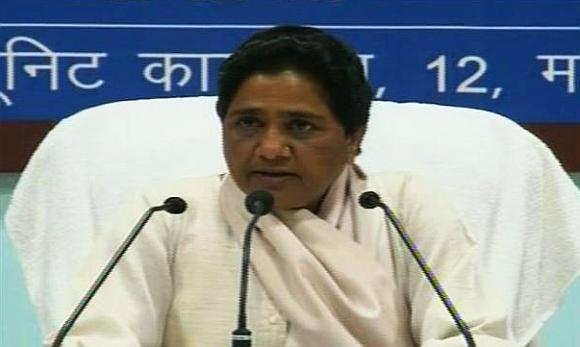 Accusing the Congress and the Bharatiya Janata Party of raising the minority sub-quota issue mid-way during the Uttar Pradesh polls for their political gains, Bahujan Samaj Party supremo Mayawati on Wednesday said this helped in large-scale transfer of Muslim votes to Samajwadi Party.
How Behenji lost the plot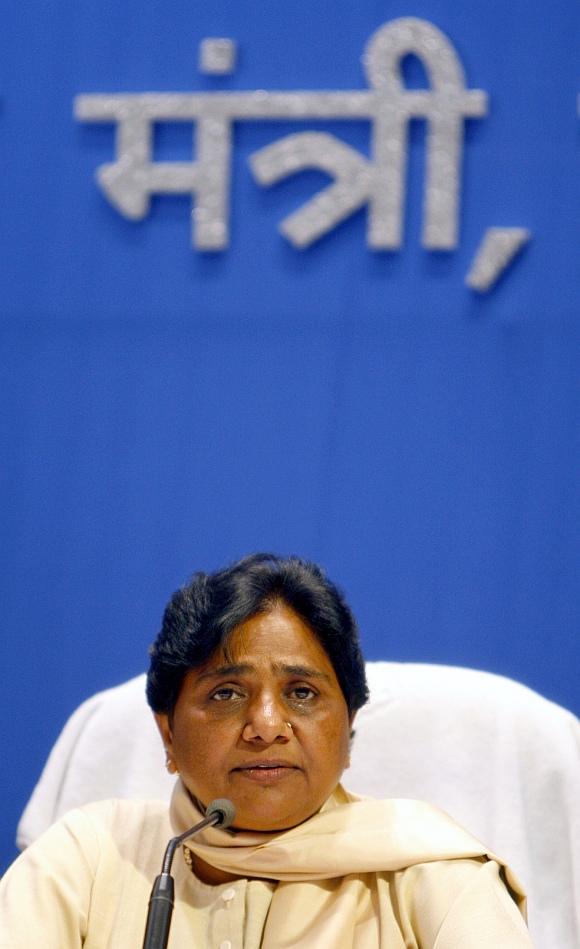 Well before the counting of votes commenced at 8 am on March 6, Mayawati moved out of 4 Kalidas Marg, the UP chief minister's official residence, which she had converted into an inaccessible and impregnable fortress.
UP polls: Who did the Muslim voters choose?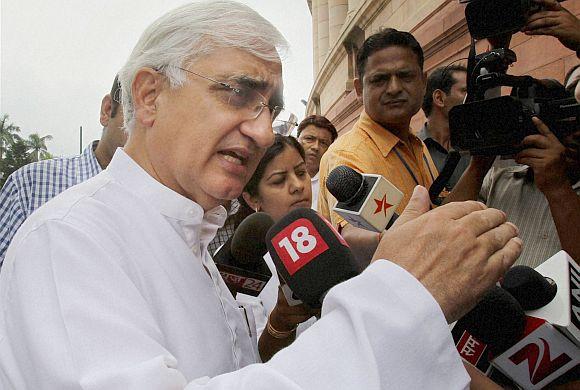 The Muslim voters of Uttar Pradesh were not swayed by the Congress's promises of "quota within quota".
Akhilesh and Rahul: Mr Earnest vs Mr Gimmick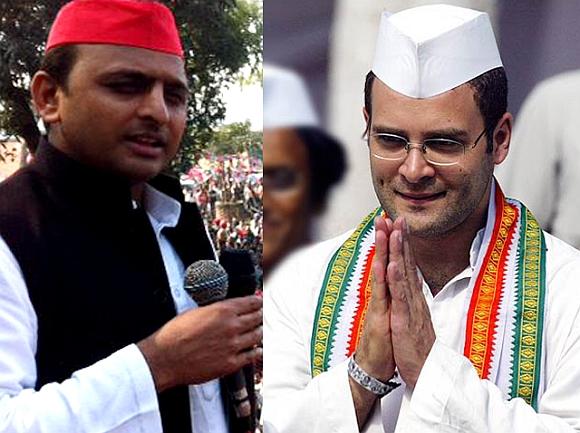 The most significant aspect of the elections to the Uttar Pradesh Legislative Assembly the results for which were announced on March 6, was not even the rout of the Congress Party, but the humiliation suffered by Sonia Gandhi, Rahul Gandhi and Priyanka Gandhi in what has been described as their pocket boroughs of Rae Bareli and Amethi, says
After poll drubbing, Congress has only THREE options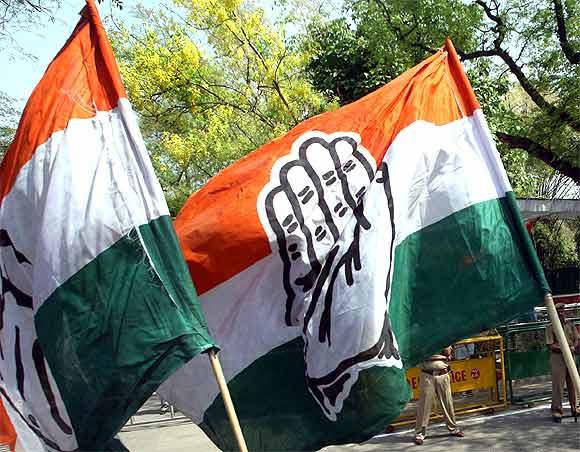 The next 10 days will tell you whether the United Progressive Alliance and its leading constituent, the Congress, have learnt the right lessons from their poor performance in the assembly elections held in Uttar Pradesh, Punjab and Goa.
Election 2012: These men are back with a BANG!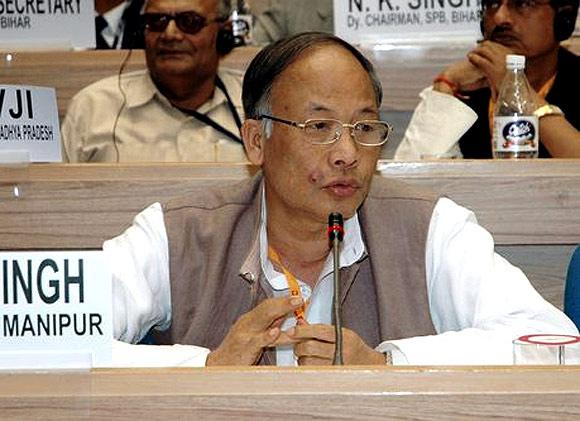 Rediff.com brings you some insights into the lives of the four men who are all ready for an encore performance in the chief minister's post
UP: Akhilesh's plan WORKED, Rahul's FAILED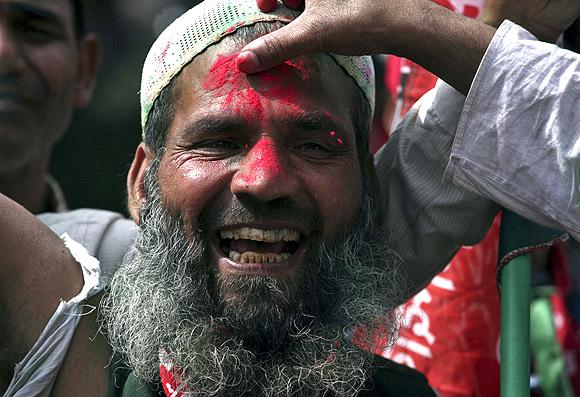 Samajwadi party may gently want to ease Akhilesh into the role of the CM, rather than rock the boat so soon after such an impressive victory, says
Some hail while others mock the leadership of Rahul Gandhi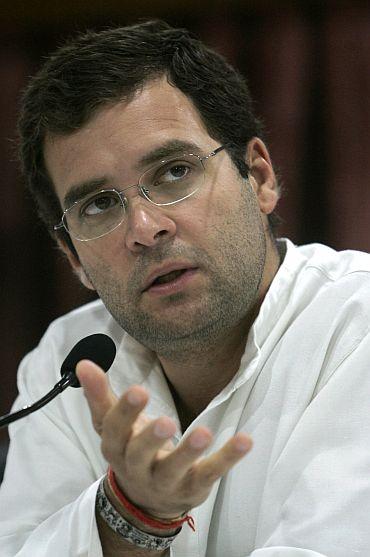 Opinion was divided on the success or otherwise of Rahul Gandhi's hard campaign in Uttar Pradesh during which he toured 207 constituencies.
March 06, 2012
IMAGES: Once blue, Lucknow turns green and red!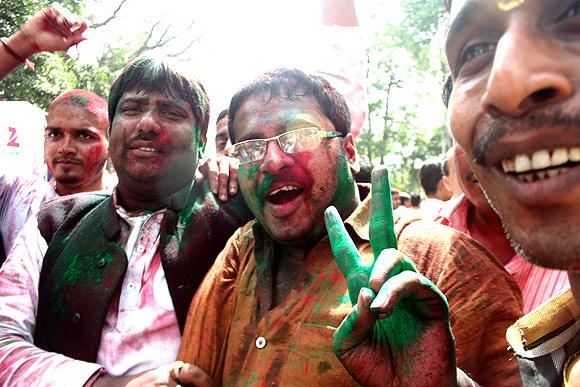 Mulayam Singh Yadav's Samajwadi Party on Tuesday swept to power in Uttar Pradesh with a spectacular win.
IN VIDEOS: SP's jubilance, lesson for Rahul, more
Rediff.com presents a collection of videos that capture the mood of the verdict day.
Special: Five-state election verdict coverage
Comprehensive coverage of the counting of votes in the five states of Uttar Pradesh, Uttarakhand, Goa, Manipur and Punjab
UP biggest failure, admits 'loyal Cong sepoy' Digvijay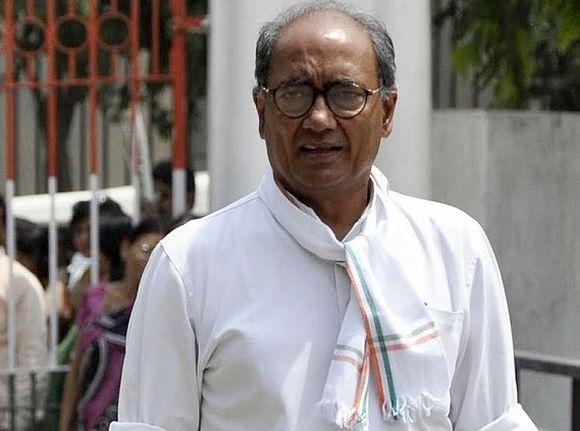 Congress general secretary Digvijay Singh on Tuesday owned "full responsibility" for the party's flop show in Uttar Pradesh assembly elections but skirted questions about resigning from the post over the issue.
'Man next door' Parrikar set to return as Goa CM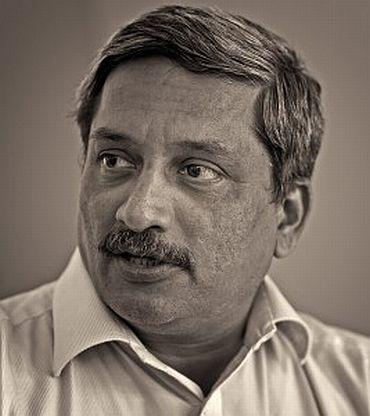 Technocrat-turned-politician, Manohar Parrikar, set to become Goa chief minister for the third time, is known for his clean image, blunt talk and development initiatives.
'I'm not dead': The story of Mulayam's sweet revenge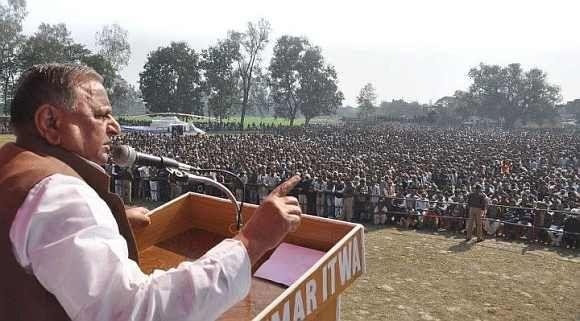 It was sweet revenge for Mulayam Singh Yadav on Tuesday five years after Mayawati famously said "why kill a dead man" after the Samajwadi supremo was ousted by her in a crushing defeat.
'Congress leaders destroyed what Rahul Gandhi built'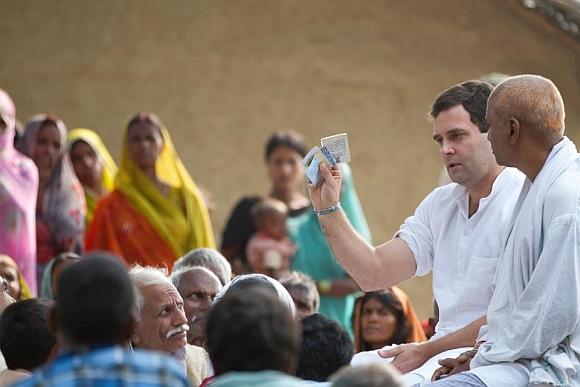 Professor Badri Narayan Tiwari, social historian and anthropologist at Allahabad's G B Pant Social Science Institute, is clearly not surprised by the UP electoral results. He tells A Ganesh Nadar why.
'Akhilesh must be chief minister'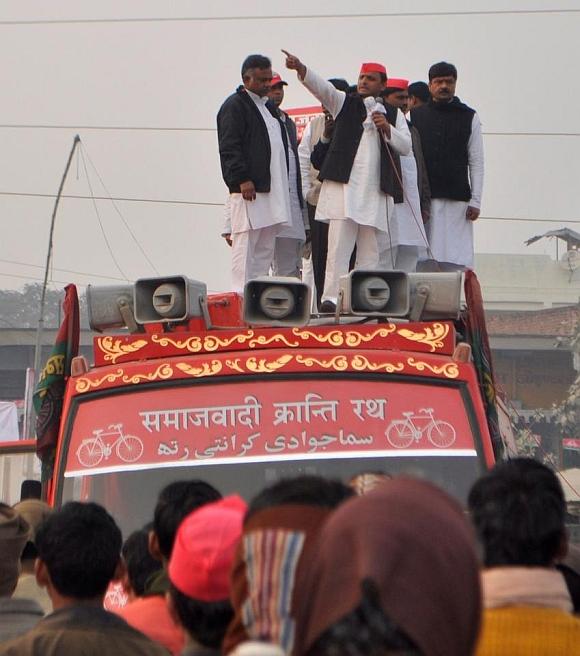 'If the older generation of SP leaders come back to power, it will ruin the opportunity. They will misgovern, they will be stale. UP and the SP's destiny is inter-linked right now,' Professor Rajesh Misra, head of the sociology department at Lucknow University, tells .
Don't miss Akhilesh Yadav's interview to Rediff.com!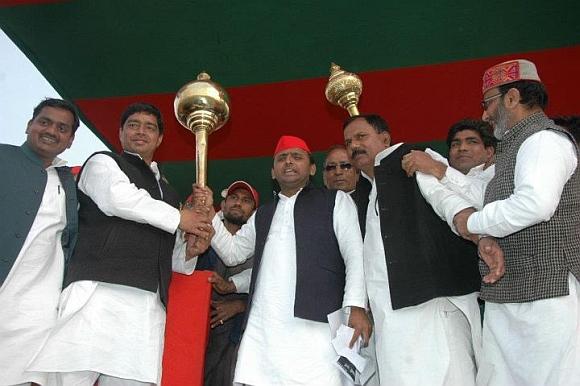 Two weeks before the Samajwadi Party's awesome victory in the UP assembly election, Akhilesh Yadav spelled out his priorities in an exclusive interview to Rediff.com
Five-State Verdict: The WINNERS and LOSERS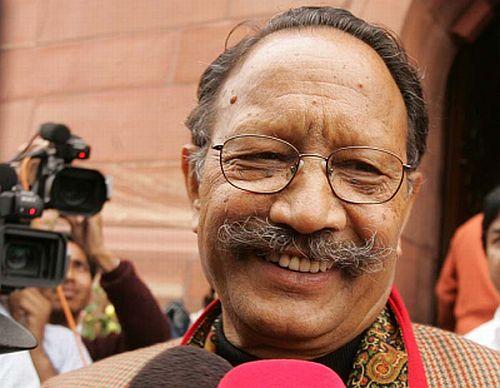 The assembly election results on Tuesday sprang up several surprises in traditional party pocket-boroughs while little-known candidates registered windfalls in many others.
I have learnt a very good lesson: Rahul
Congress General Secretary Rahul Gandhi, who was the face of Congress campaign in Assembly polls in Uttar Pradesh, on Tuesday owned responsibility for the party's dismal performance which he termed as a "very good lesson" for him.
VIDEO: SP's headquarter EXPLODES in a riot of colours
Rediff.com's sends a first-person account from Lucknow
Why Rahul's Uttar Pradesh dream was VOTED OUT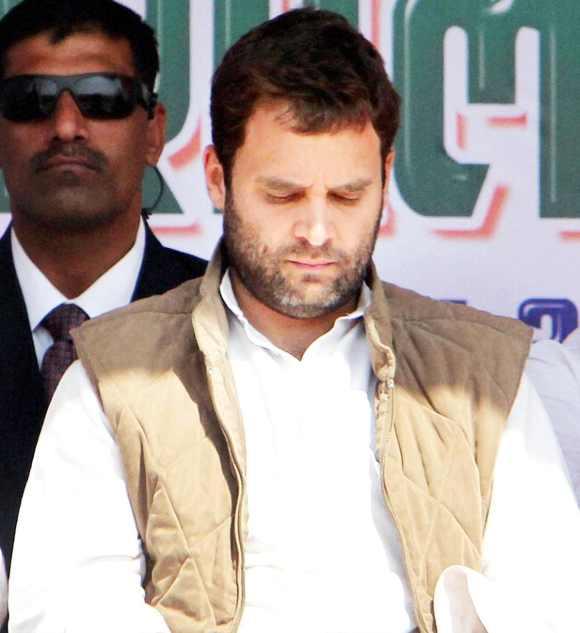 It was a series of mistakes that appeared to have cost the Congress dear in Uttar Pradesh despite Rahul Gandhi's herculean effort to lead the battle from the front.
Congress performance in assembly polls 'dismal': Swaraj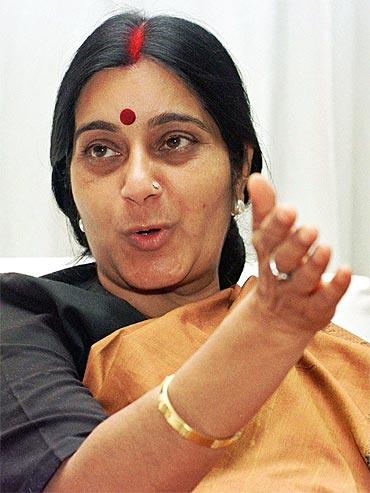 Terming the "dismal performance" of Congress in the assembly polls as the "second consecutive defeat" of Rahul Gandhi, Leader of the Opposition in Lok Sabha Sushma Swaraj on Tuesday said the Congress had made the elections a prestige issue.
MUST READ: Ten trends of UP elections 2012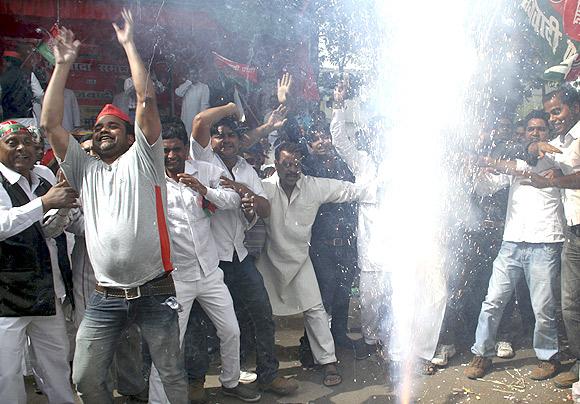 The Kumbhkarna has woken up and the prime minister can now rest easy. presents the ten new trends set by the Uttar Pradesh elections
What you must know about the election 'hawa'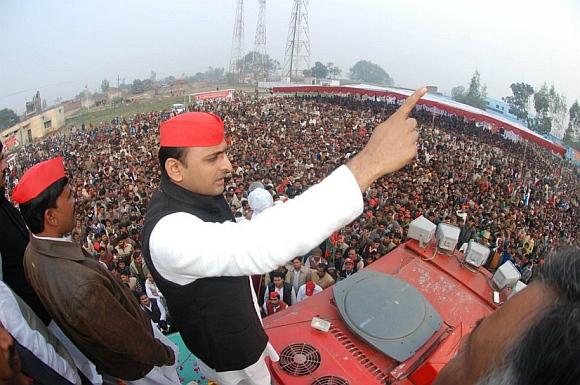 'Hawa' is the public discourse that transforms electoral issues and caste calculus into the hard numbers on the EVM machine, says . The hawa plays a critical role in influencing the fluctuating voter, the fence sitter, who is often the small caste group not mobilised by any political party, or the small but significant number of voters within caste blocks who doesn't vote with the community.
Exclusive: Congress alleges business hand in Rahul debacle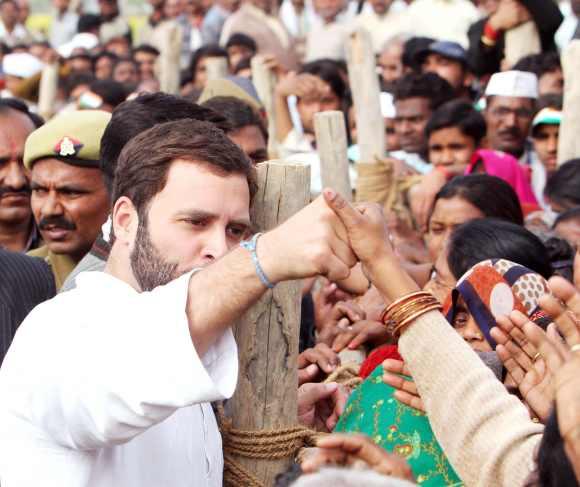 Two powerful businessmen ganged up against the Congress. Starling revelations from a source close to Rahul Gandhi. listens in. Exclusive to Rediff.com
Politicians try to play it cool ahead of poll results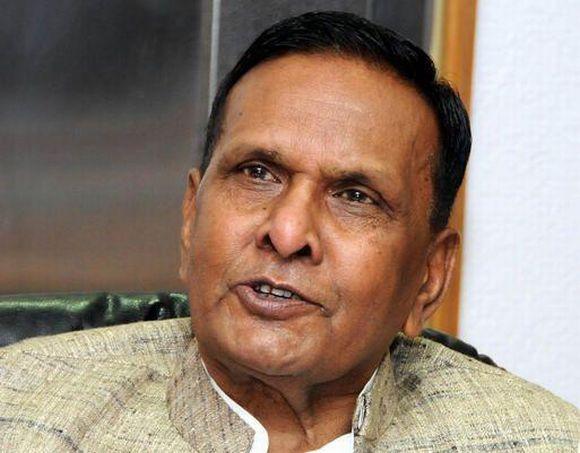 They might have butterflies in their stomach, a dry mouth and sweaty palms. However, on camera, they exuded confidence and the air of business as usual. This was the palpable mood of politicians across parties a day before the result of the most crucial set of elections since 2009 was to be declared.
Who will rule Uttar Pradesh? India will know TODAY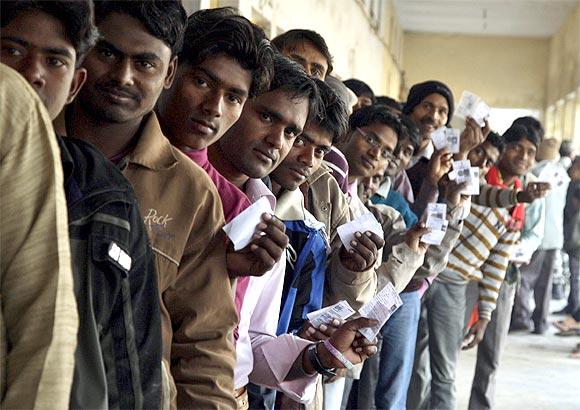 Tuesday will not only determine the political fate of India's most populous state, Uttar Pradesh, but will also mark the success or failure of several political bigwigs who led the campaign of their respective political outfits.
Obama for diplomacy on Iran; but reserves all options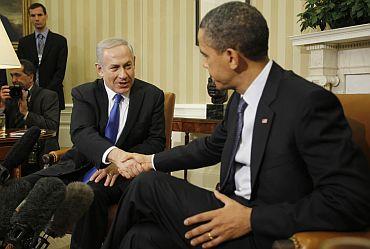 United States President Barack Obama on Monday said he "reserved all options" to prevent Iran from acquiring nuclear weapons, but believes there is still time for diplomatic options on the issue.
Russian opposition rallies against Putin's victory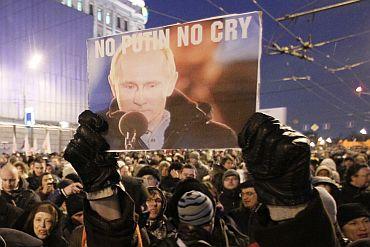 Hundreds of opponents of Russian president-elect Vladimir Putin on Monday gathered at Pushkin Square in downtown Moscow to attend a rally, denouncing his victory at the presidential polls as illegitimate.
March 05, 2012
An extraordinary message of love, hope to Japan
Decades later, Tara Trust, an NGO from Goa, taking inspiration from the story of Sadako Sasaki, has launched The 1000 Crane Project, where it attempts to get underprivileged kids from Goa and other cities of India to paint 1,000 T-shirts depicting cranes.
'Diggy Raja, make Rahul's poll expenses public'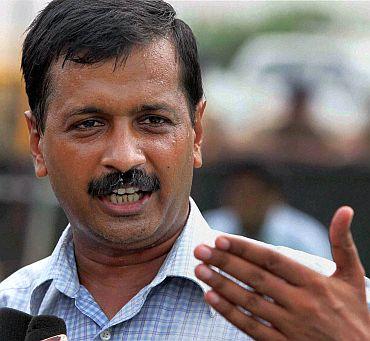 Team Anna on Monday asked the Congress to make public expenses incurred for hiring choppers for the just-concluded assembly elections to five states, particularly for party chief Sonia Gandhi and her son Rahul. Anna Hazare and his close aide Arvind Kejriwal demanded that the expenses should be made public.
'Reality may be better for Cong in UP than poll survey'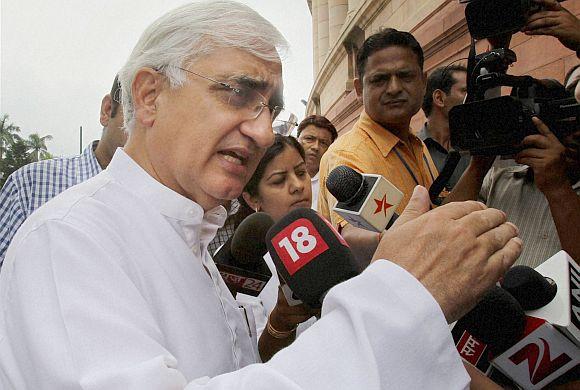 With most exit polls nudging Congress to the fourth place in Uttar Pradesh, senior party leader Salman Khurshid on Monday said though the picture does not meet the expectation, the reality may be better than what is being predicted.
UP poll result: Every party has a DIFFERENT take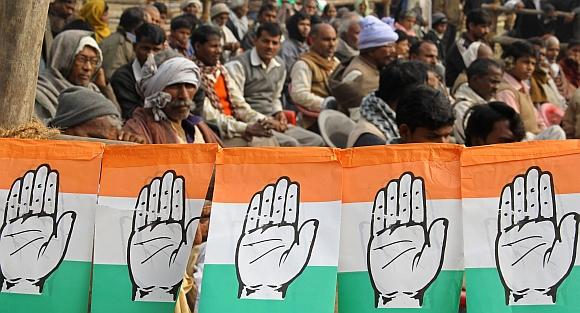 The Congress on Monday claimed that it will play a crucial role in the formation of the next government in Uttar Pradesh and dismissed as personal views Union Minister Beni Prasad Verma's suggestions for a tie-up with the Bahujan Samaj Party.
'UP results will decide UPA's stability'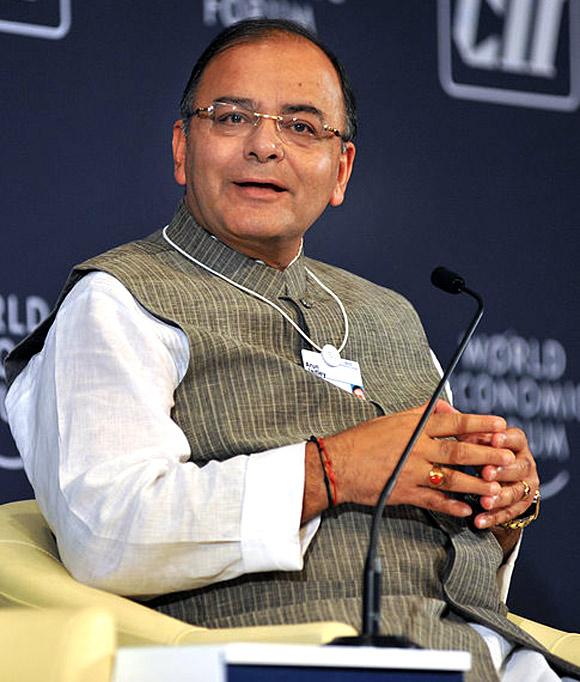 Arun Jaitley, leader of the Opposition in the Rajya Sabha and the Bharatiya Janata Party's strategist, is getting ready to take on the United Progressive Alliance in the coming Budget session of Parliament. Jaitley's legal background and his envious reach in New Delhi's media is a potent combination helping his party to push its political agenda. He spoke exclusively to Sheela Bhatt on the Uttar Pradesh election.
'Are Muslims going to dictate terms in UP?'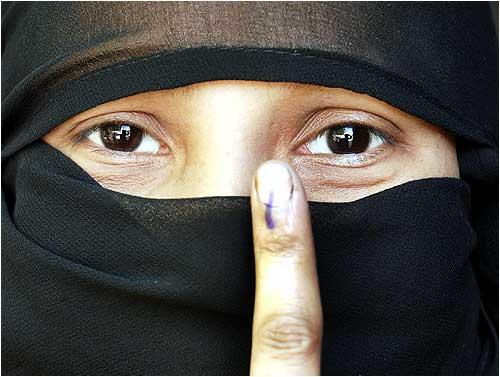 Bhartiya Janata Party will not support either Bahujan Samaj Party or Samajwadi Party, says veteran BJP leader Lalji Tandon in an interview to .
PHOTOS: Riot of colours as UP relives Radha-Krishna tale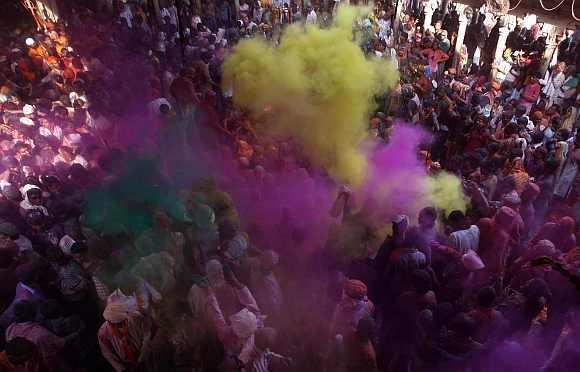 In a Holi tradition unique to Nandgaon and Barsana villages, men sing provocative songs to gain the attention of women, who then "beat" them with bamboo sticks called "lathis". Holi, also known as the Festival of Colours, heralds the beginning of spring and is celebrated all over India.
Over 80 pc students in Indian schools are humiliated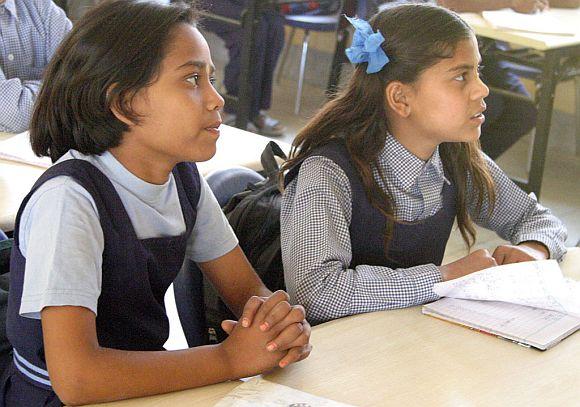 Over 80 per cent of students in schools across the country are humiliated by teachers who tell them that they are not capable of learning, a study conducted by national child rights body has said.
'India should aim to be powerful and set new standards'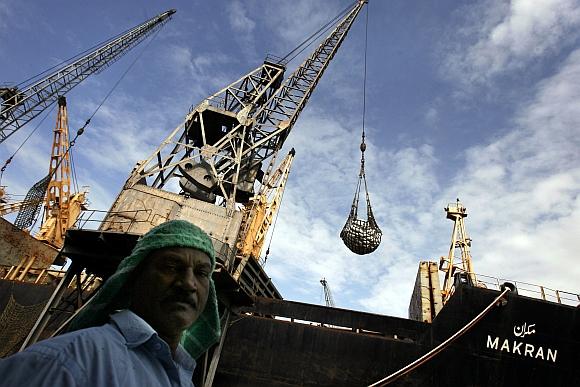 'The purposes of our document are three-fold: To lay out the opportunities that India enjoys in the international sphere; to identify the challenges it is likely to confront; and to define the broad approach that India should adopt as it works to enhance its strategic autonomy in global circumstances that are likely to remain volatile and uncertain for some time to come.'
PHOTOS: America's SUPERWEAPON of the future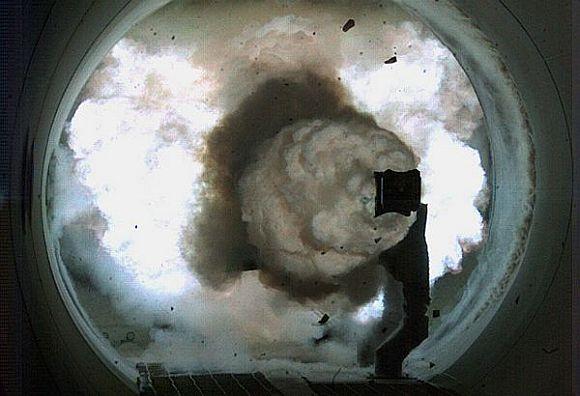 The US Navy is one step closer to developing a futuristic supersonic weapon capable of firing missiles between 80 and 160 km at seven times the speed of sound.
UP: Governor, not Maya or Mulayam likely to call the shots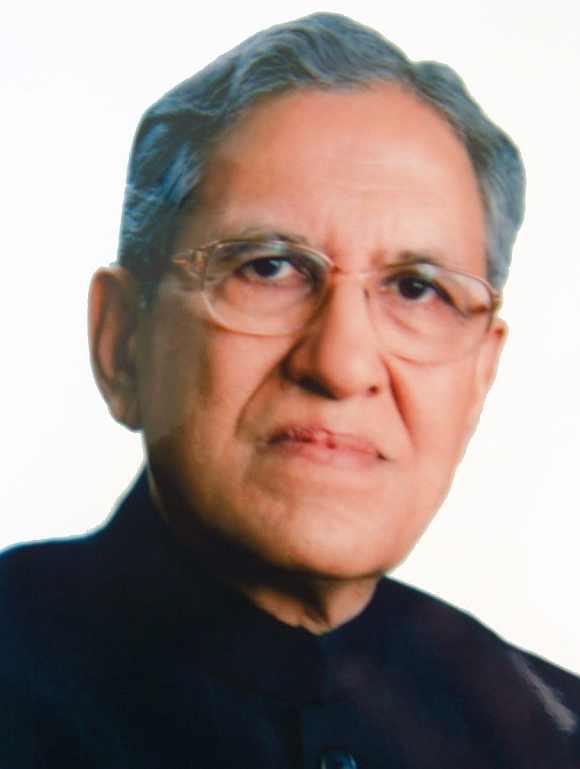 Exit polls predict that the BSP and SP will not get enough votes to form a government in Uttar Pradesh, hinting at the possibility that either party may turn to the Congress or BJP for support. reports from Luknow.
IN PHOTOGRAPHS: Inside an unseen IRAN!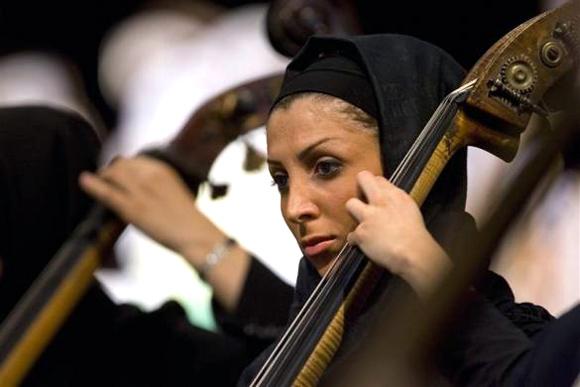 Rediff.com presents some pictures of modern-day Iran where normalcy has found its legitimate space amid supposed fanaticism.
'If riots are to happen, they'll happen in Modi's Gujarat'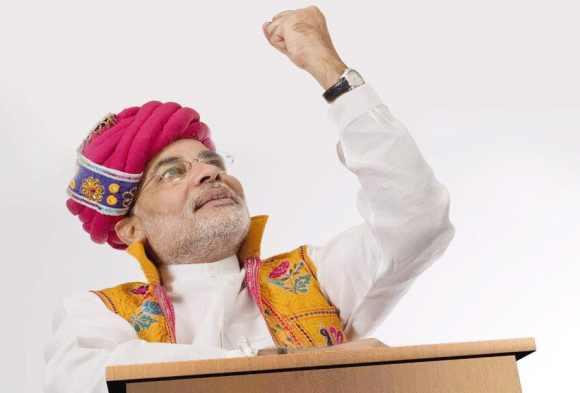 It's been 10 years since the Godhra carnage and Narendra Modi is still around and divisive. Why, precisely, should the world think that the man who presided over India's worst governance failure in decades is somehow a role model for efficiency, asks .
PIX: Putin sweeps polls; wins 3rd term as president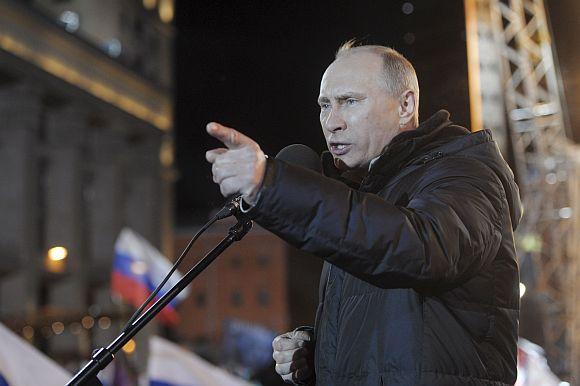 Russian Prime Minister Vladimir Putin has secured a record third term in the Kremlin after recording a landslide victory over his four rivals at presidential polls amid allegations of rigging and fraud.
March 04, 2012
'We want Gandhi's Gujarat, not Modi's Gujarat'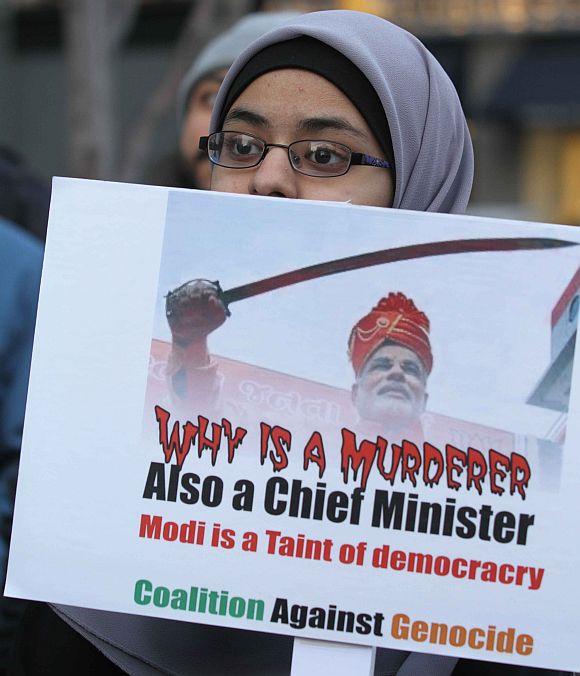 Hundreds of people on Sunday joined the rallies and candle light vigils held in several cities, including New York, Washington, Chicago, Boston, and Tamarac, Florida to mark the 10th anniversary of the Gujarat riots and to pay homage to the victims.
EXCLUSIVE: 'This was one of the toughest elections for us'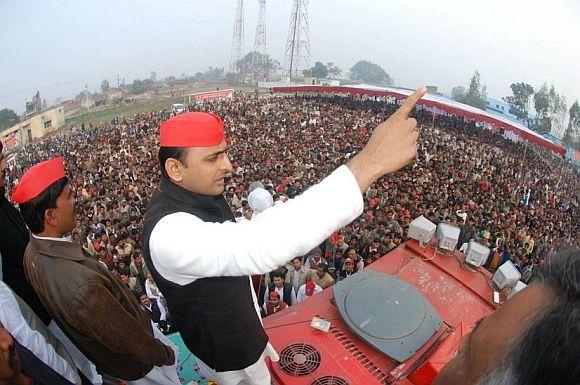 Having completed a grueling election campaign across Uttar Pradesh, Akhilesh Yadav is now back in Lucknow eagerly awaiting the verdict of the people. In an exclusive interview with rediff.com's , he shares his strategy and outlines the factors that went in favour of his party in this election
March 03, 2012
Muslim outfit objects to shooting of Osama film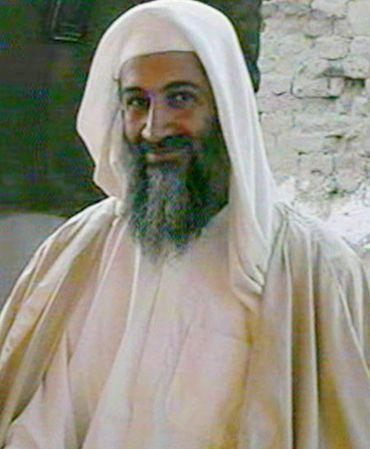 After the Vishwa Hindu Parishad, a Muslim outfit on Saturday protested the shooting of Kathryn Bigelow's film on Osama bin Laden in Chandigarh. The movie is based on the killing of the Al Qaeda leader in Abbottabad (Pakistan). The outfit alleged that shooting of the film will disturb the peaceful atmosphere between the communities in a secular country.
NCTC backdoor ploy by UPA to grab power: Modi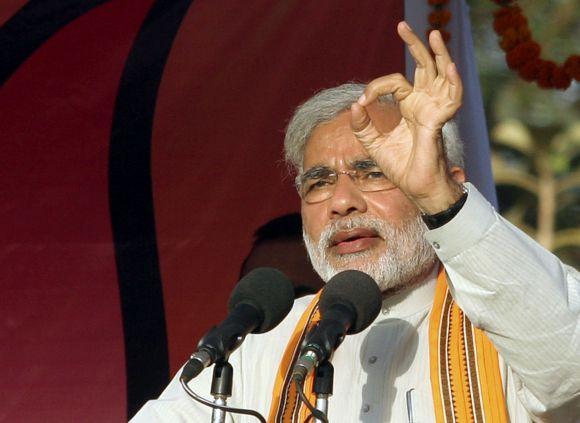 Gujarat Chief Minister Narendra Modi on Saturday said that the proposed National Counter Terrorism Centre was nothing but a ploy to take away states' powers by the United Progressive Alliance. Accusing the Centre of weakening the federal system, Modi questioned the need for a NCTC instead of anti-terror laws such as the Prevention Of Terrorism Act. Through this proposed body, the Centre wanted to use the Intelligence Bureau in states' domain, he said.
Rahul NOT attached with any particular state: Cong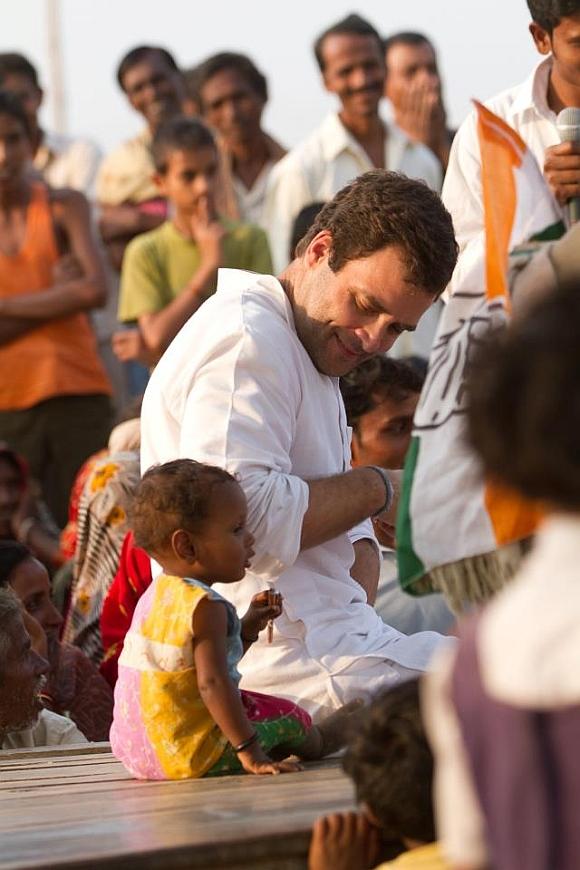 Rahul Gandhi is not to be blamed if the Congress does not perform well in the Uttar Pradesh assembly elections, whose results will be out on Tuesday, party leaders said on Saturday. "A leader creates an atmosphere. To convert that atmosphere into votes and seats is the responsibility of candidates and the organisation," All India Congress Committee general secretary in-charge for Uttar Pradesh Digvijay Singh said.
'Cong to fare badly in UP, win in U'khand, Manipur'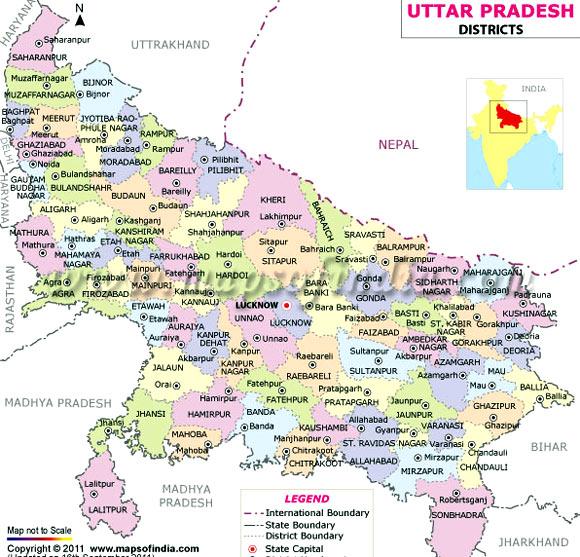 A post-poll survey conducted by CNN-IBN, The Week and CSDS in Uttar Pradesh, Punjab, Uttarakhand and Manipur has revealed some interesting results. The Samajwadi Party will win 34 per cent of the total vote share of the UP polls, according to the survey.
Hung assembly in UP, SP to be BIG winner: Exit poll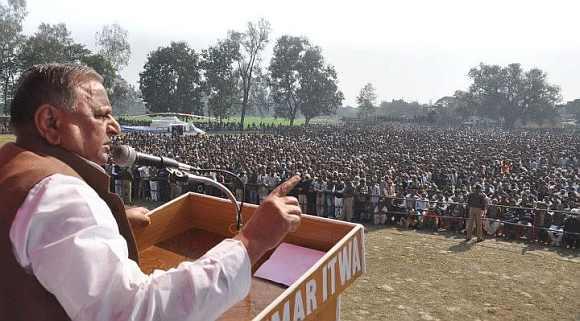 Samajwadi Party will emerge as the single largest party in Uttar Pradesh, according to a joint exit poll conducted by Star News and Nielson.
In PHOTOS: Deadly tornadoes tear across US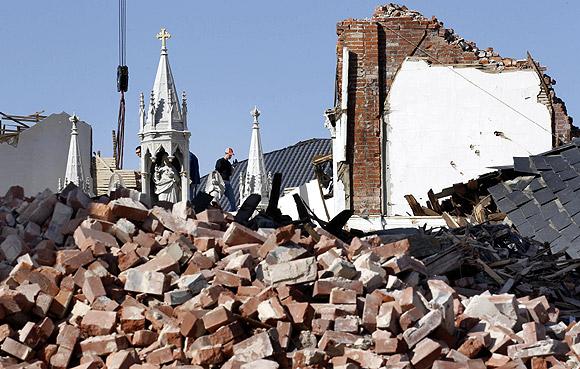 Six dozen tornadoes ripped through the central American states of Indiana, Kentucky and Ohio, killing at least 27 people and wiping out whole communities.
After Friday's clash, B'luru media demands lawyers' arrest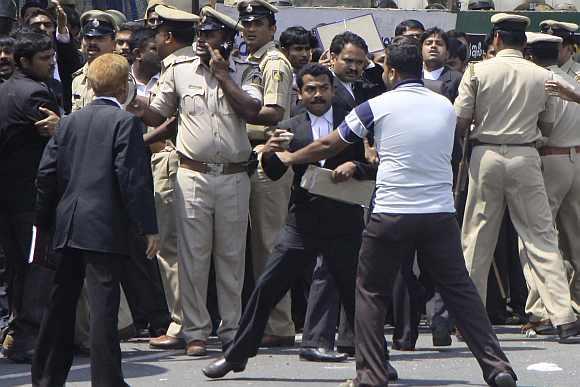 Rejecting the judicial probe into the attack on journalists, private television news channels on Saturday sought immediate arrest of the lawyers involved in assaulting mediapersons and policemen in court premises in Bengaluru. "We don't accept judicial probe into the incident. This is nothing but an eyewash. The government is trying to evade from its responsibilities.
Explained: Why states SHOULD NOT oppose NCTC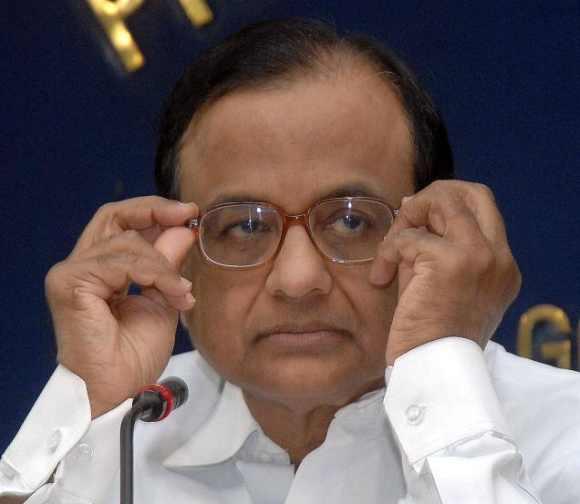 State governments must think again before opposing Home Minister P Chidambaram on the Nation Counter-Terrorism Centre, says Aditi Phadnis
Gulbarg massacre: This is where my father died
Gulbarg massacre: This is where my father died
Allegations have wrecked my career: Kripashankar Singh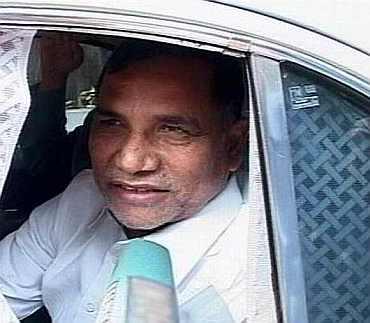 Beleaguered Mumbai Congress leader Kripashankar Singh, facing charges of amassing illegal wealth, on Saturday said he had done nothing wrong and will fight "as per law."
61 pc voter turnout in LAST phase of UP polls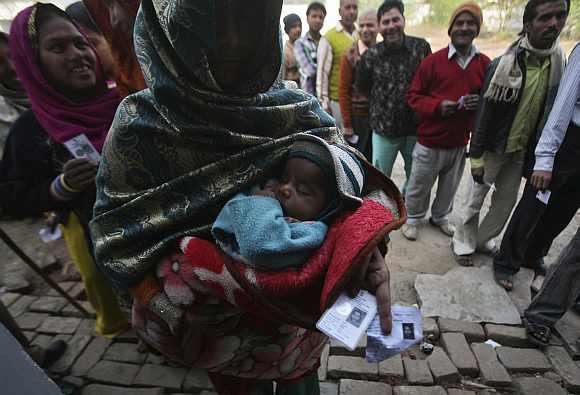 Polling for the final and seventh phase of Uttar Pradesh assembly elections covering 60 seats spread over 10 districts would be held tomorrow that would decide the fate of 962 candidates including Samajwadi Party's Muslim face Mohammad Azam Khan.
March 02, 2012
Outgoing ISI chief Lt Gen Pasha fighting a lost battle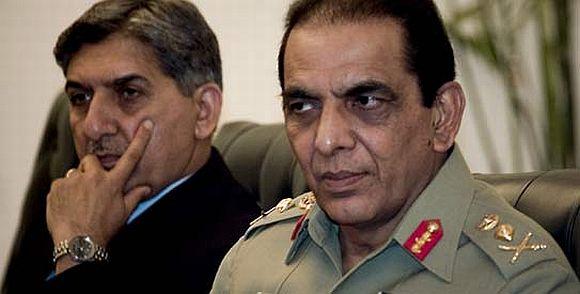 The ISI's overwhelming involvement in national politics has weakened the mainstream political parties, given a boost to horse-trading and arrested the growth of the political culture in the country. reports from Islamabad.
IN PICS: Bodos storm Guwahati; demand separate state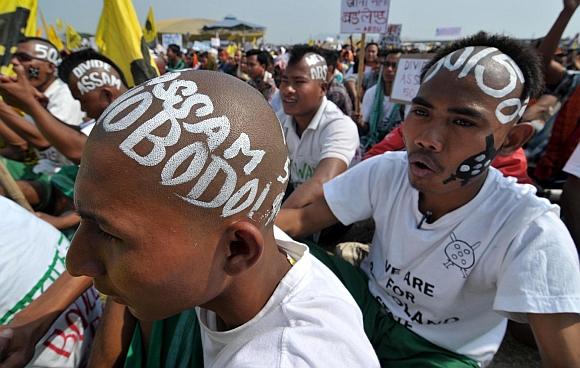 Even as the United Progressive Alliance government in the Centre is finding it hard to find an amicable solution to the raging Telangana statehood movement in the South, the Bodo tribe community in Northeast has revived its long-standing demand for a separate state to be carved out of the state of Assam. reports.
US anti-LeT team operates in India, 4 other nations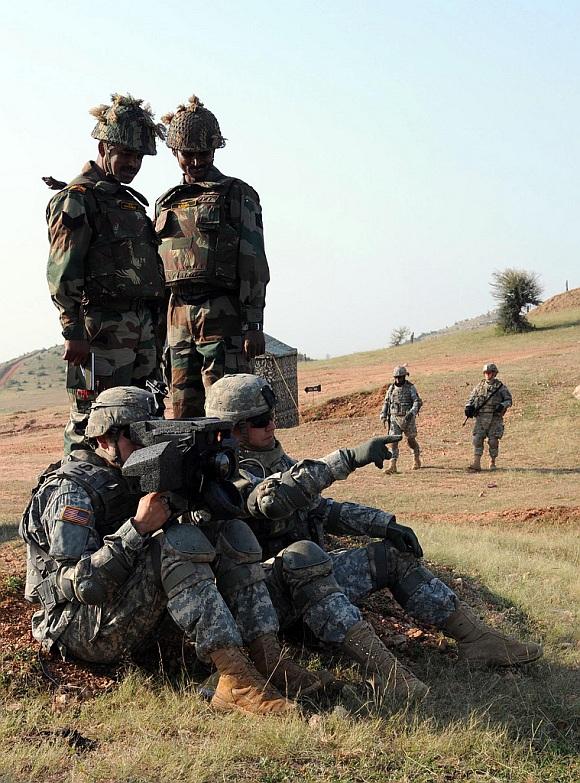 United States Special forces teams are currently stationed in five South Asian countries including India as part of the counter-terrorism co-operation with these nations, a top Pentagon commander has disclosed.
VHP activists DISRUPT shooting of film on Osama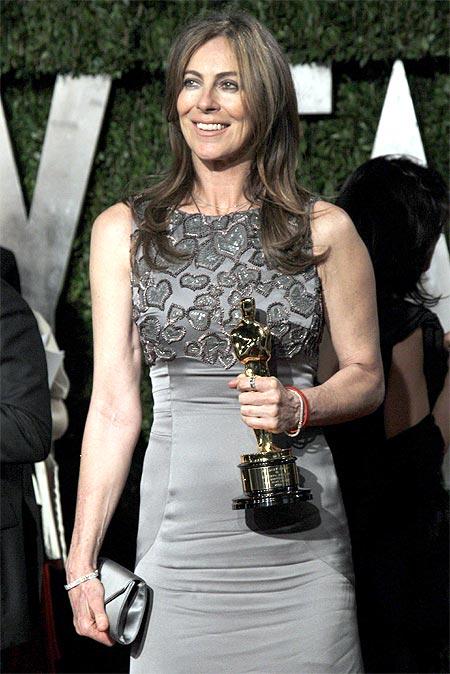 The shooting of Kathryn Bigelow's film on Osama bin Laden in Chandigarh to depict the killing of the al Qaeda leader in Abbottabad was stalled on Friday by Vishwa Hindu Parishad activists, who objected to the hoisting of Pakistani flags.
The man who wants to bring Sharia law to India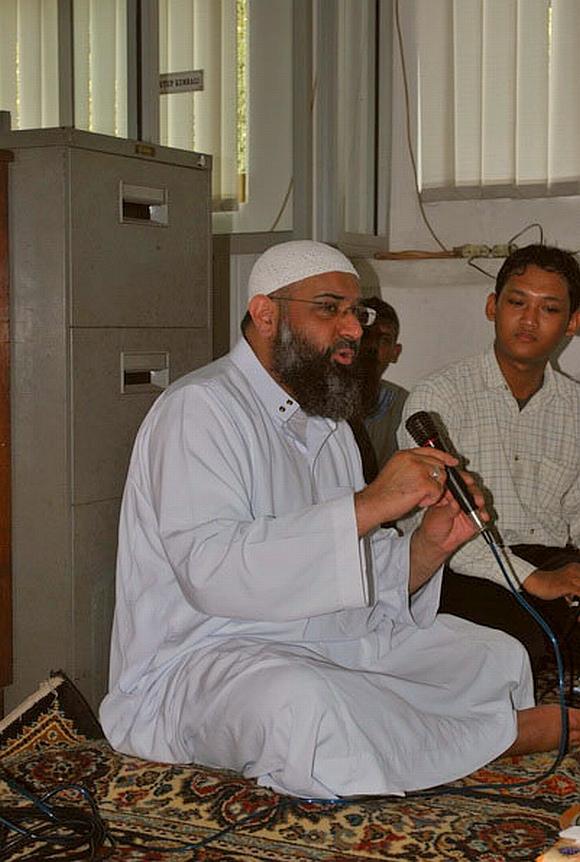 Self-proclaimed 'judge' of the United Kingdom Sharia court Shiekh Anjem Chaudary, who has sought for the implementation of the Sharia law in India had stated that he would hold a rally in New Delhi on March 3. profiles the man.
The man behind Kripashankar Singh's fall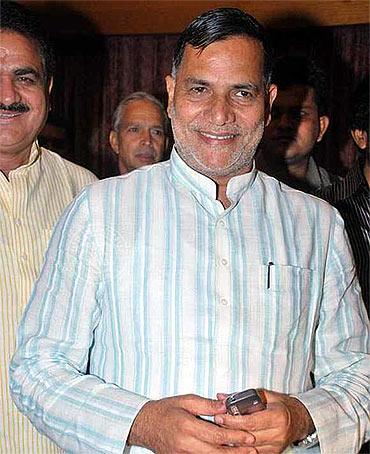 Sanjay Tiwari has become the bane of powerful Congress leader Kripashankar Singh's existence. Tiwari, who hails from a humble slum in Mumbai, has alleged that Singh has amassed huge wealth disproportionate to his known sources of income. After obtaining information by filing several RTI applications, Tiwari filed a PIL against him in the Bombay high court.
IMAGES: B'luru lawyers attack scribes, cops lathicharge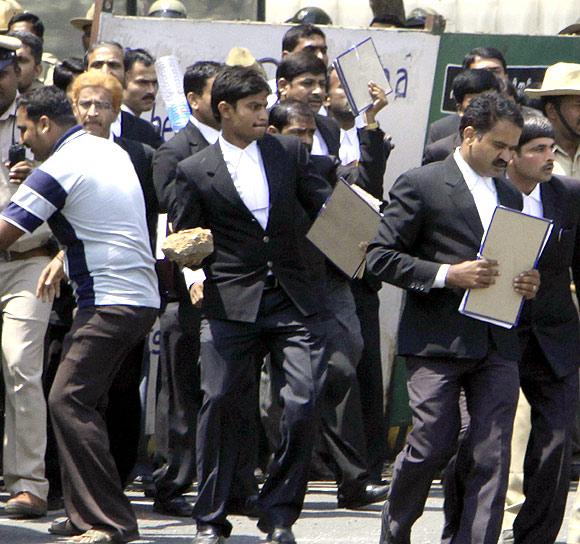 The police on Friday burst teargas shells and used batons to quell violent crowds of advocates, who pelted stones and attacked media persons and the police in the city civil court premises, leaving several of them injured including a deputy commissioner of police.
Antony's office 'bugged'? Defence ministry says NO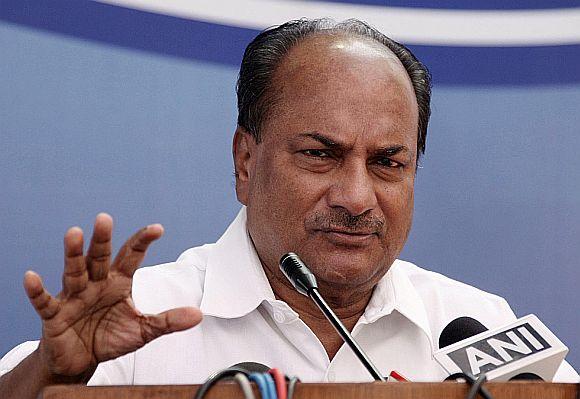 In a sensational case, defence ministry authorities have detected alleged bugging of the office room of Defence Minister A K Antony and Intelligence Bureau (IB) has been asked to probe the matter.
CBI finding it hard to keep Reddys' riches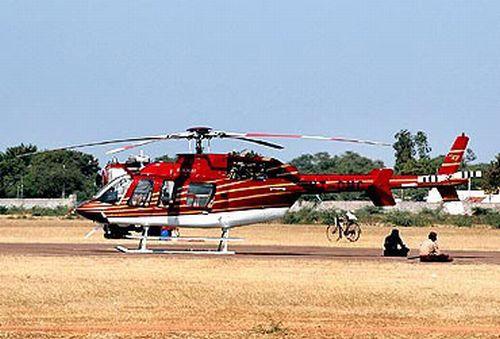 Mainitaining the seized assets of mining baron Gali Janardhan Reddy is proving to be expensive for the CBI
In PIX: Hunting insurgents in Mizoram's jungles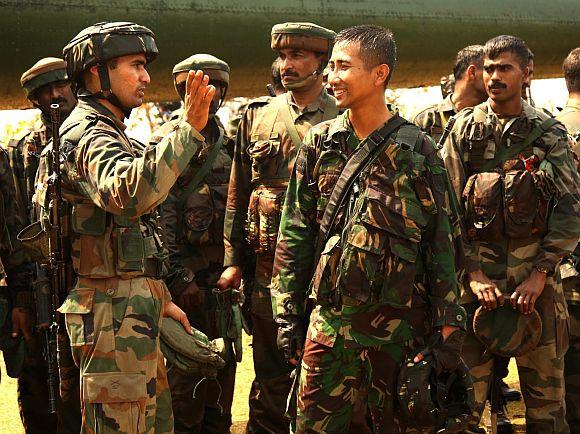 Training together to counter the scourge of insurgency in various contemporary scenarios including jungle warfare, Chakravyuh, the three-day outdoor validation exercise, tested the week-long training, imparted at various counter insurgency modules and at the plethora of firing ranges in the guerrilla warfare school.
Stakes are high for the OTHER 'prince' of UP polls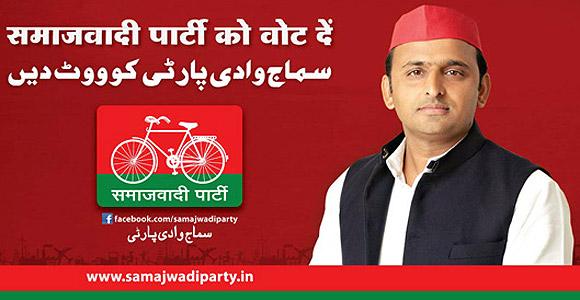 Akhilesh Yadav has put his heart and soul into campaigning and has been working with indefatigable energy for more than a year, says Aditi Phadnis
Nikki Haley is a star in India, says Nirupama Rao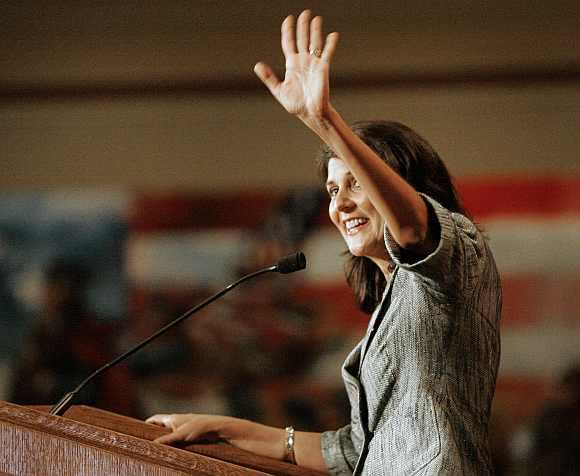 Indian Americans are committed and they are great when it comes to medicine, engineering, business or anything else that they touch, South Carolina Governor Nikki Haley told reporters in the state capital Columbia on Wednesday after a meeting with visiting Indian Ambassador Nirupama Rao.
REVEALED! The truth behind Osama's ISI connection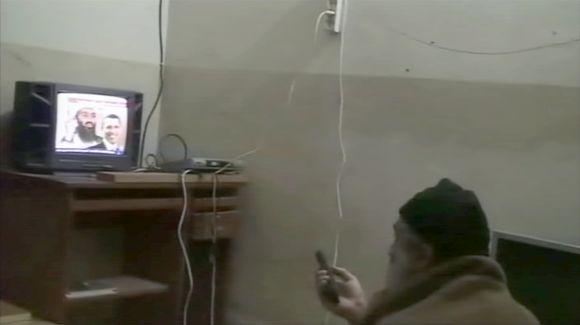 The May 2 raid was conducted only after the Americans got hold of credible and actionable intelligence about the identity of the high value target from a senior ISI official, ultimately killing the world's most wanted terrorist, reports
Geelani recommended LeT operative's name for Pak visa?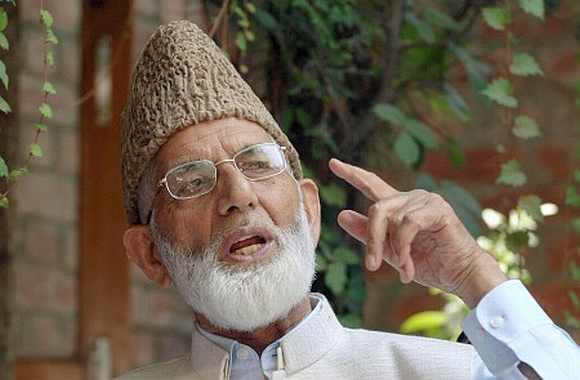 The Delhi police are expected to question Hurriyat Chairman Syed Ali Shah Geelani over alleged links with Lashkar-e-Tayyiba.
Russia's erotic museum, deadly US twister and more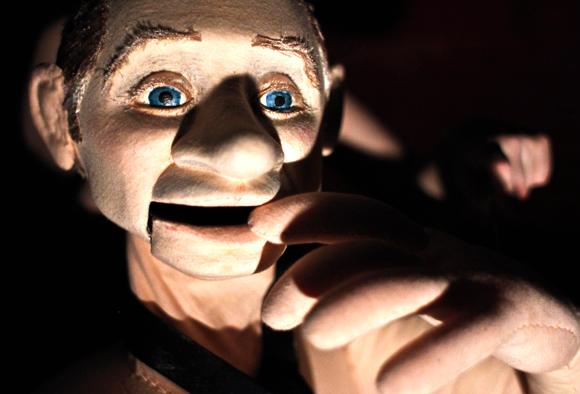 We present some of the most unusual photographs from across the globe shot in recent times.
The Chinese army is not unpredictable like Pakistan army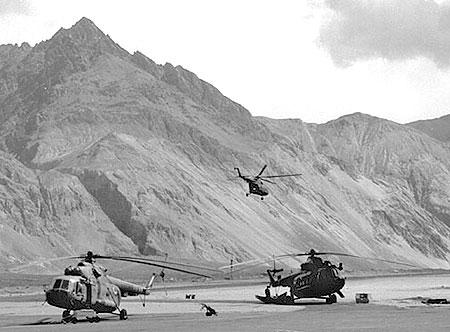 62 will not be allowed to happen again. Take the word of an old war veteran for it, says Colonel John Taylor (retd), even as there is talk that China may strike at India this year and try to grab some territory.
Indian Army gears up for MASSIVE war game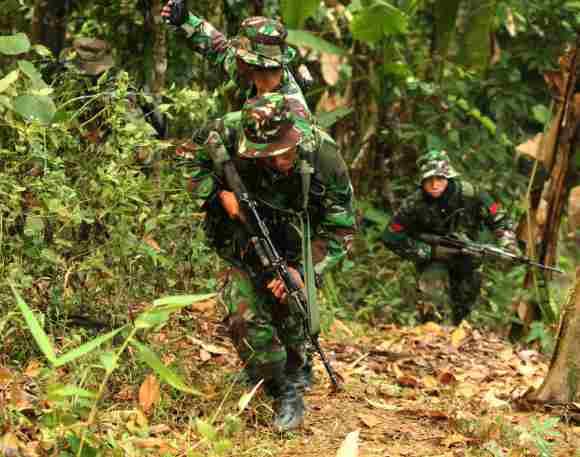 As the summer approaches, the Indian Army is getting ready for its third massive exercise designed to test and validate some of the new concepts envisaged in the transformation process it has begun implementing in the past 18 months. These combined with joint-exercises with the US and Indonesian armies should keep out soldiers battle-hardened and in tune with modern war concepts, says .
March 01, 2012
Why Narendra Modi scares the usual suspects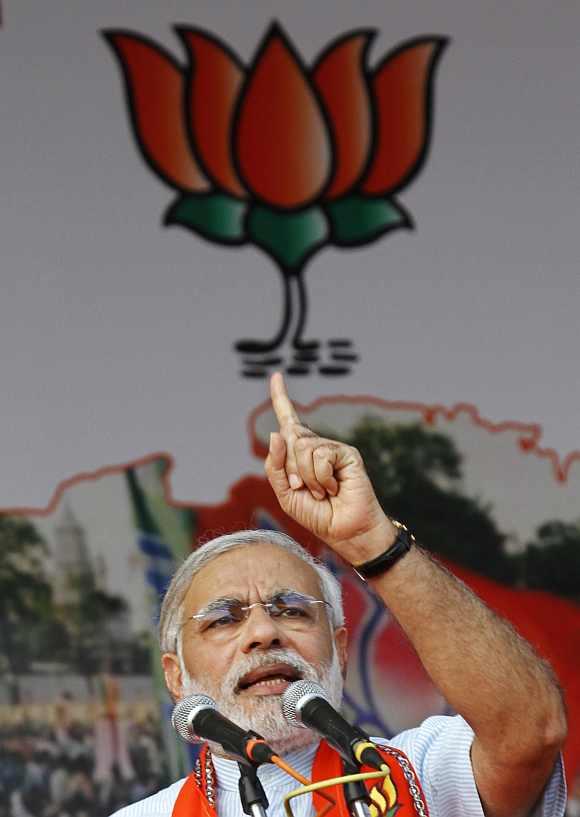 on why Narendra Modi is a threat to the establishment because he overturns many of the convenient myths they propagate
Curtains drawn on all campaigning for UP poll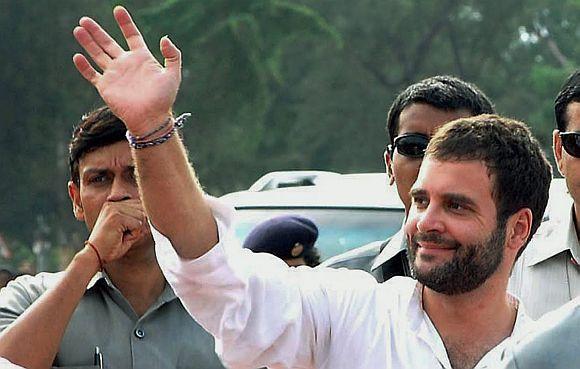 Campaigning for the Uttar Pradesh state assembly elections came to a close on Thursday evening, with top leaders of different political outfits unleashing their horses in the 10 districts running along the Uttarakhand and Nepal border, where the seventh and final round of polling will take place on Saturday. in Lucknow.
Why no action taken against owner of sunken ship, asks HC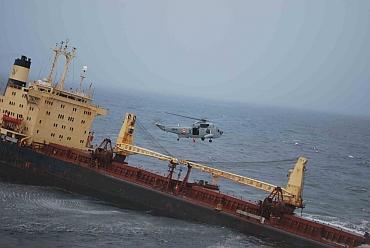 Observing that prima facie the Director General Shipping acted outside the jurisdiction while imposing ban on the ships insured by a Romanian firm, Bombay high court on Thursday asked why no action was taken against the owner of M V Rak, which sank off Mumbai last year.
Porngate: News channels grilled first; Cong cries foul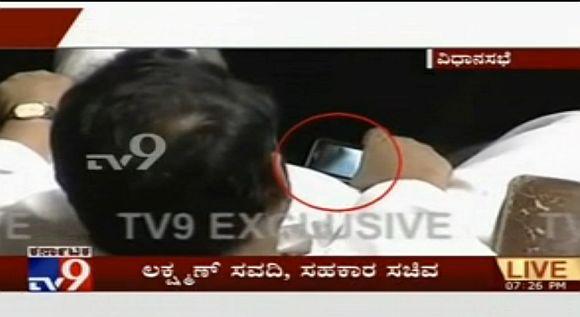 The Legislature committee probing the porngate episode on Thursday decided to summon three members of Legislative Assembly who had to quit as ministers following the scandal, even as its decision to first question the television channels which aired the footage has sparked a controversy.
How many gay people in India? SC wants to know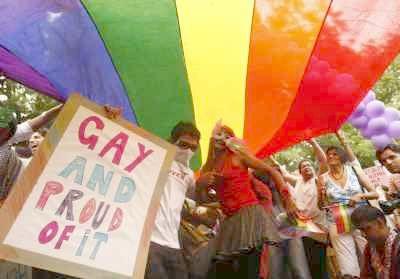 Expressing displeasure for not furnishing details of the homosexual population in India , the Supreme Court on Thursday asked for all relevant records from the Centre about LGBT (lesbian, gay, bisexual and transgender) people, including their number and the number of HIV-infected among them.
'China strategic challenge; US difficult partner'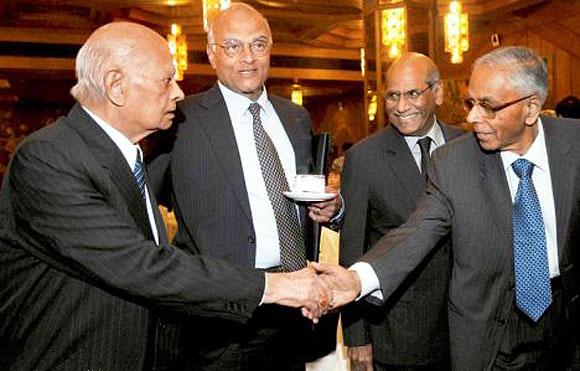 A recent event in Delhi witnessed an interesting debate among strategic gurus about whether India could still stick to the policy of non-alignment. listen in.
Rs 800-crore national agency will track tweets, emails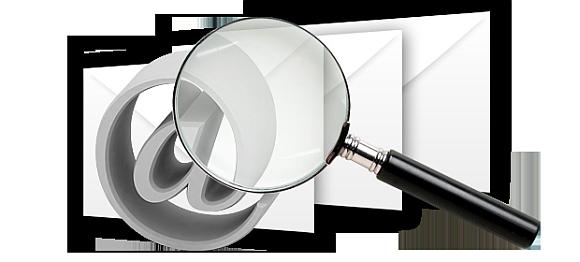 Communicating on cyberspace continues to be the most preferred form for any terrorist organisation. Messages continue to flow through emails and also on social networking sites and more often than not these messages go unnoticed as they are encrypted. reports.
PHOTOS: Japan's AMAZING recovery a year after tsunami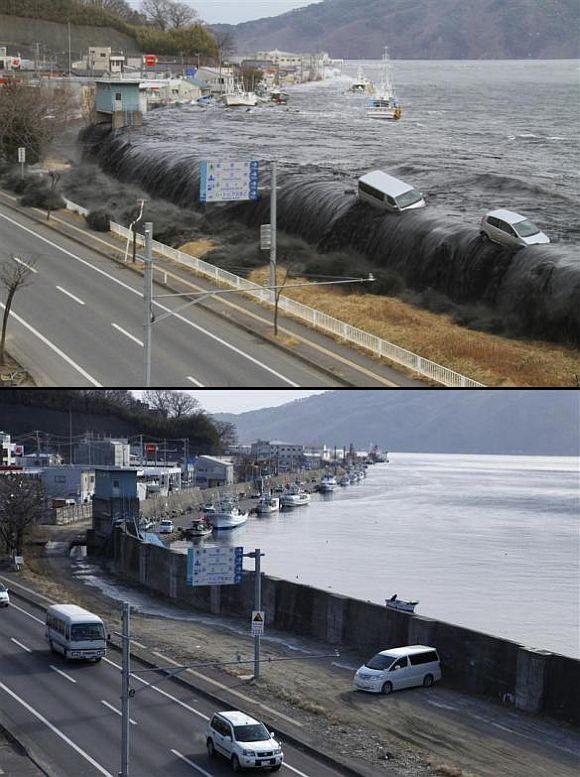 Glimpses of the transformation of tsunami-hit Japan
Zardari, a good partner in war against terrorism: US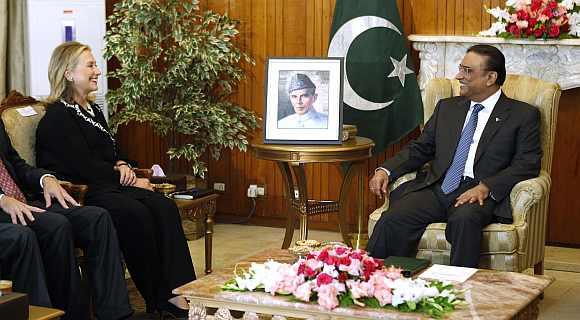 United States Secretary of State Hillary Clinton has said that Pakistani President Asif Ali Zardari is a good partner in war against terrorism, even as Pakistan military or the Inter-Services Intelligence, according to her, have maintained relationship with terrorist groups for decades.
Talks later, let Pakistanis sort out Pakistan first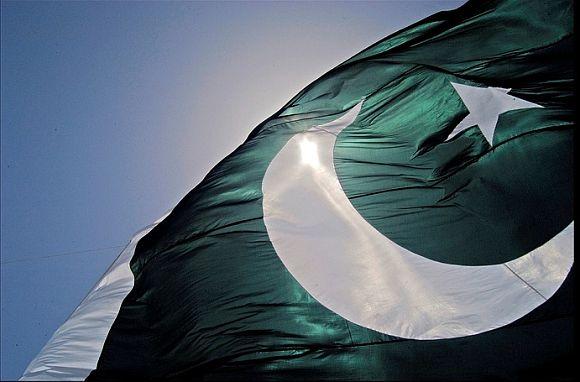 In dealing with Pakistan, India's first step should be to stop treating it exclusively as a Muslim nation, writes
MUST READ! How India can steal China's thunder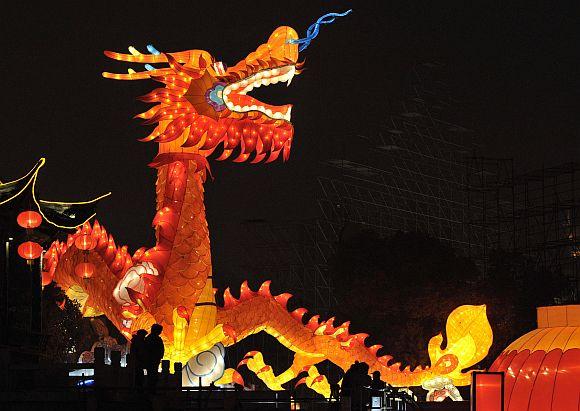 One of the chapters in the document titled 'Asian Theatre' has quite elaborate comments on China, and opines that India's China strategy has to strike a careful balance between cooperation and competition, economic and political interests, bilateral and regional contexts. Rediff.com publishes verbatim a part of the chapter 'Asian Theatre'.
Koodankulam: Enough TRUTH in PM's 'foreign fund' remark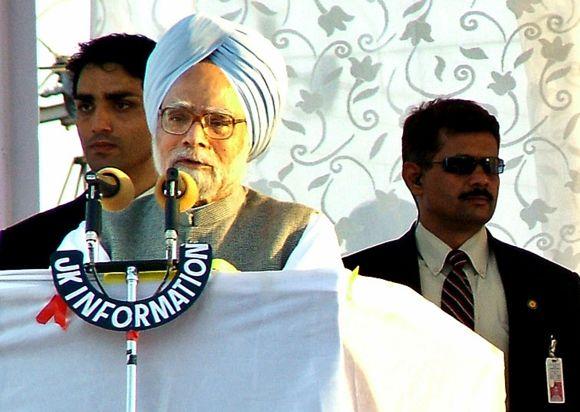 The government should step in to prevent major infrastructure projects, including nuclear power reactors, from becoming a casualty of non-government protests.
Egg massage to gum art: Weird PIX from around the world!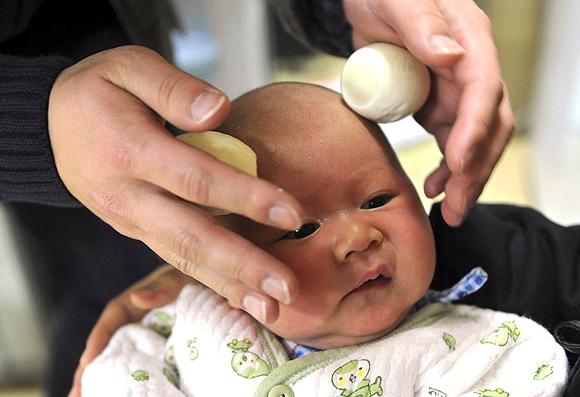 Egg massage to gum art: Weird PIX from around the world!
In 1,500-yr-old Bible, Jesus predicts coming of Prophet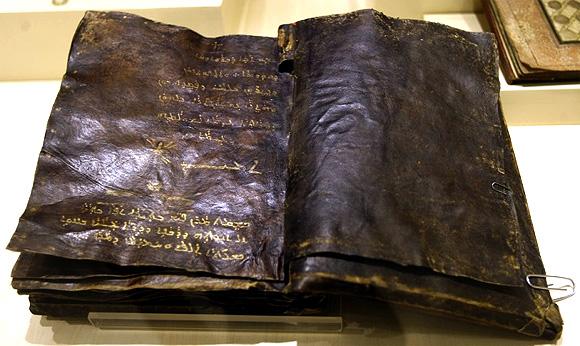 A recently re-discovered secret Bible in which Jesus is believed to predict the coming of the Prophet Muhammad to earth has sparked serious interest from the Vatican.
Brahmaputra dries up Arunachal! China responsible?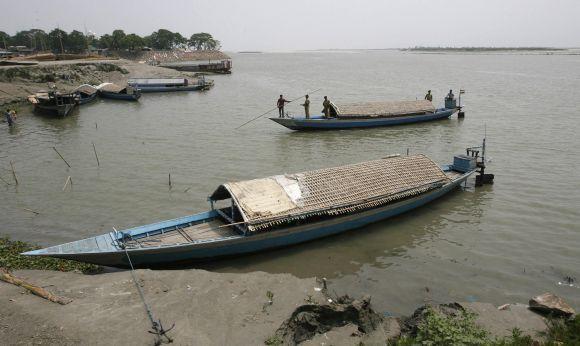 The Siang (Brahmaputra) river originating from Tibet was suddenly found to have almost dried up at a town in Arunachal Pradesh, a state government spokesman said on Wednesday night.
Archives
February 2012
|
January 2012
|
December 2011
|
November 2011
|
October 2011
|
September 2011
|
August 2011
|
July 2011
|
June 2011
|
May 2011
|
April 2011
|
March 2011
|
February 2011
|
January 2011
|
December 2010
|
November 2010
|
October 2010
|
Sepetember 2010
|
August 2010
|
July 2010
|
Jun 2010
|
May 2010
|
April 2010
|
March 2010
|
February 2010