June 30, 2012
I was ready to make Sonia the PM in 2004: Kalam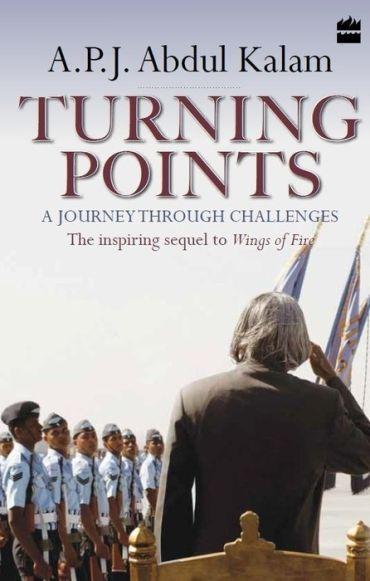 APJ Abdul Kalam was ready to swear in Sonia Gandhi as the prime minister after the 2004 polls when he was the President, despite pressure from various political leaders, before Manmohan Singh was nominated to head the United Progressive Alliance government.
'Essential to visit riot-hit Guj?' Vajpayee asked Kalam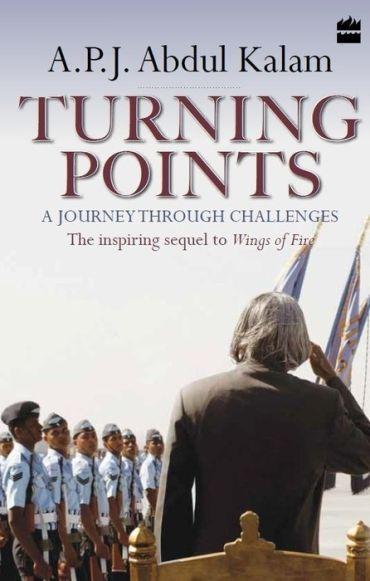 In the aftermath of the 2002 riots in Gujarat, the then Prime Minister Atal Bihari Vajpayee appeared to be not keen on President APJ Abdul Kalam's official visit to the state, according to a book.
UPA trying to SILENCE opinion on Sonia, Rahul: RSS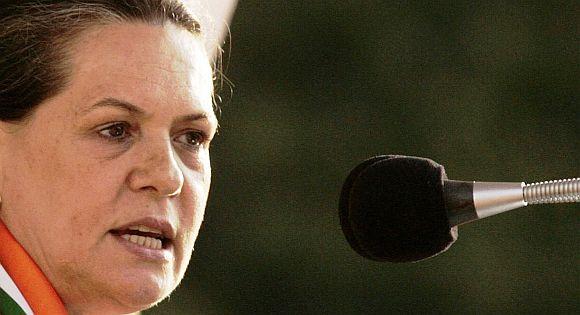 The Rashtriya Swayamsevak Sangh has alleged that the United Progressive Alliance government is out to gag people's free opinion on the net, especially those regarding Congress president Sonia Gandhi and her son Rahul, through requests to sites like Google to remove content and by seeking users' data and account details.
THAT EASY! Students hijack US drone in mid-air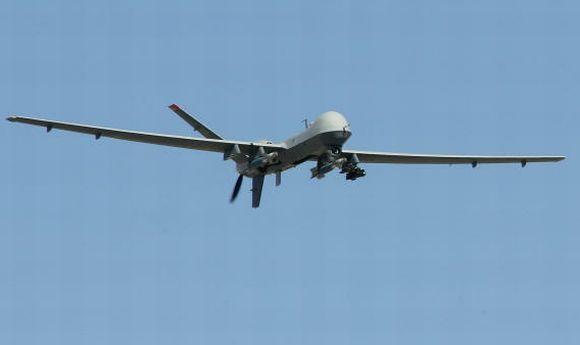 Using a technique called 'spoofing' where a signal from hackers imitates the one sent to the drone's on-board GPS, the Researchers managed to take control of a small but powerful drone in mid-air.
Preet Bharara is India Abroad Person of the Year 2011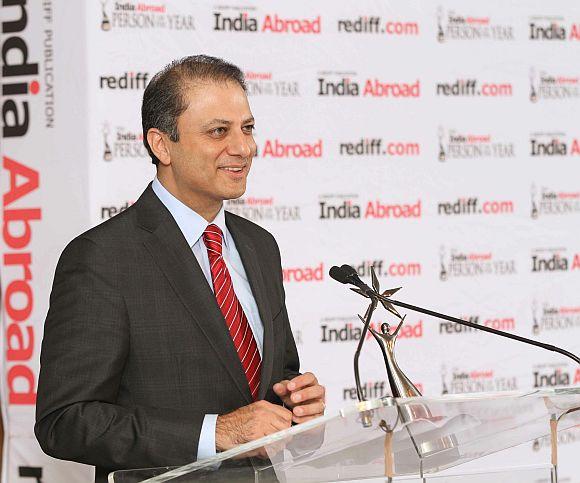 The India Abroad Person of the Year 2011 Awards in New York celebrates incredible Indian- American achievements.
Esha weds, Sunny Sizzles in Jism 2
Esha weds, Sunny Sizzles in Jism 2
Gujarat riots: Verdict in Naroda Patiya massacre deferred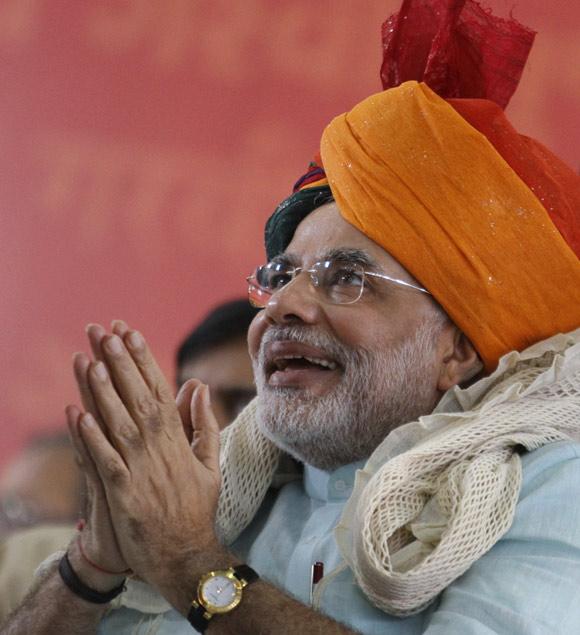 Special Judge Jyotsna Yagnik, who had earlier given a tentative date of June 30 for delivering the much-awaited judgment put off the verdict by two months without assigning any reason.
June 29, 2012
IN PHOTOS: Shutdown paralyses life in Srinagar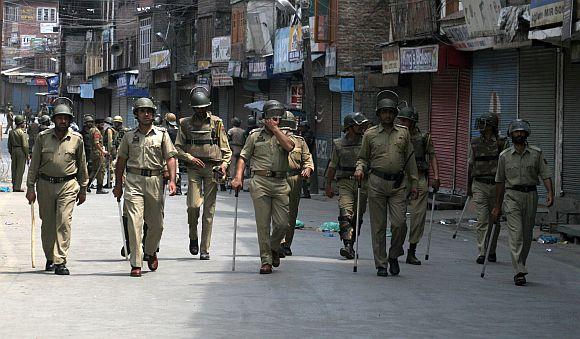 Authorities imposed restrictions in major parts of the summer capital Srinagar Friday to foil a march to the gutted shrine of Peer Dastager Sahib at Khanyar.
Abu-Hafiz handled 26/11 from Pak control room: PC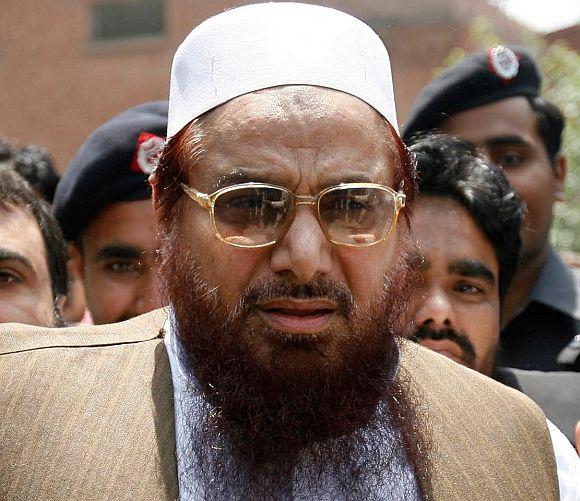 India believes that Lashkar-e-Tayiba founder Hafiz Saeed was with 26/11 key handler Abu Jundal in the control room set up in Pakistan with some kind of 'state support', Home Minister P Chidambaram said on New Delhi.
Kejriwal TAKES ON Modi for protecting ministers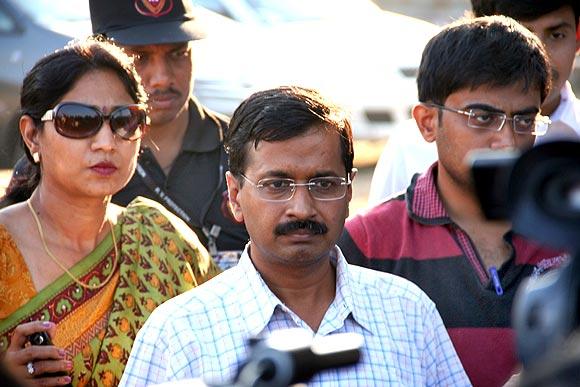 Gujarat Chief Minister Narendra Modi was protecting his cabinet colleagues by not allowing prosecution against them, Team Anna member Arvind Kejriwal said in Ahmedabad on Friday.
I love Sangma, he is a bright man: Pranab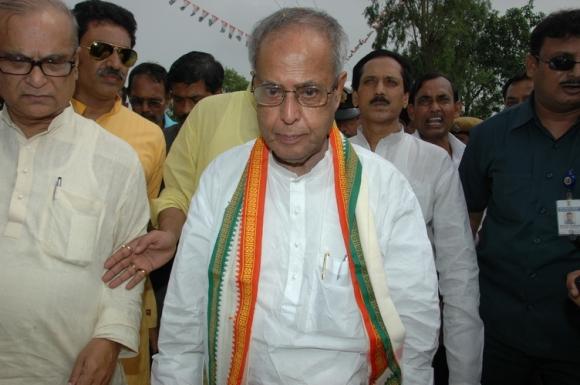 In an interview to CNN-IBN, veteran Congress leader Pranab Mukherjee talks about being chosen as the United Progressive Alliance's candidate for the President's post, his equation with party president Sonia Gandhi and why he will not participate in a debate against rival P A Sangma
Centre assures all help to flood-hit Assam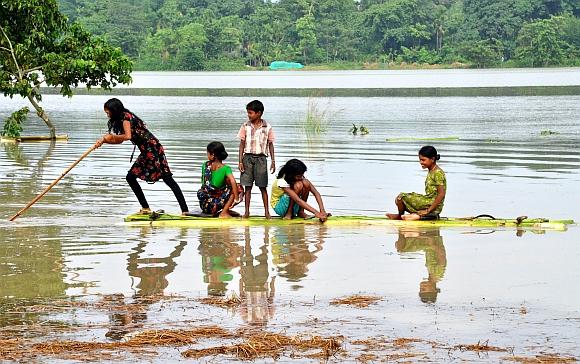 The Centre on Friday assured all help to flood-ravaged Assam in dealing with the crisis situation in the state where over 8.5 lakh people have been rendered homeless and 22 lives lost so far.
Why terrorism cannot be linked to the Gujarat riots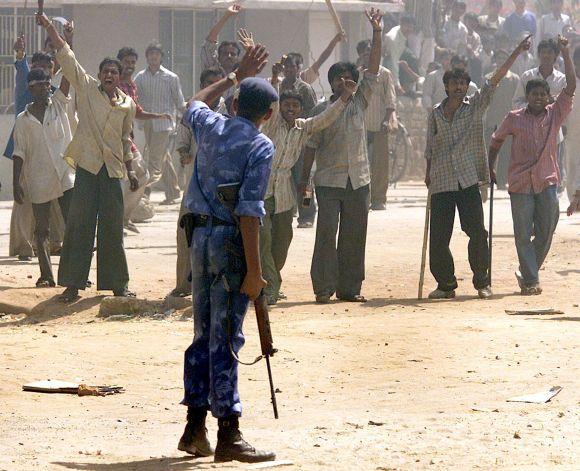 When we seek a justification for dastardly terrorist acts where none exists, we weaken our resolve and embolden the terrorists, imbuing them with a false sense of righteousness. This is the biggest fallacy of our anti-terror drive, says .
Every LeT member undergoes maritime training: Jundal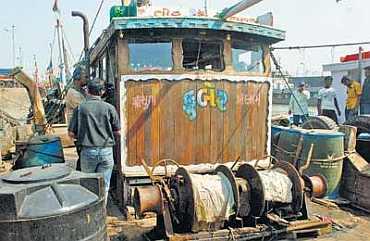 Indian investigators doubt that the entire maritime wing of the Lashkar-e-Tayiba is handled by the elite Musa Company -- the special services group of the Pakistan Army, reports .
PHOTOS: INS Vikramaditya sets the pace in sea trials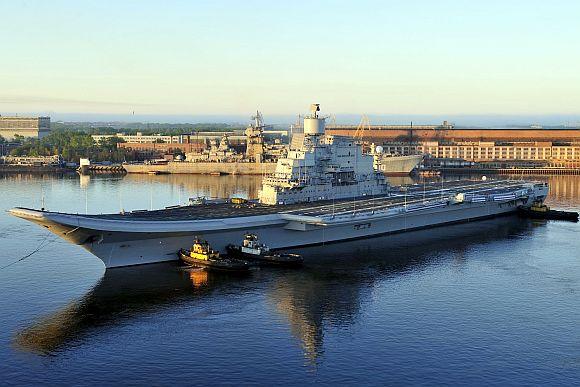 INS Vikramaditya, formerly the Admiral Gorshkov aircraft carrier, is undergoing sea trials before delivery to the Indian Navy.
'No water shortage in Delhi, only discriminatory supply'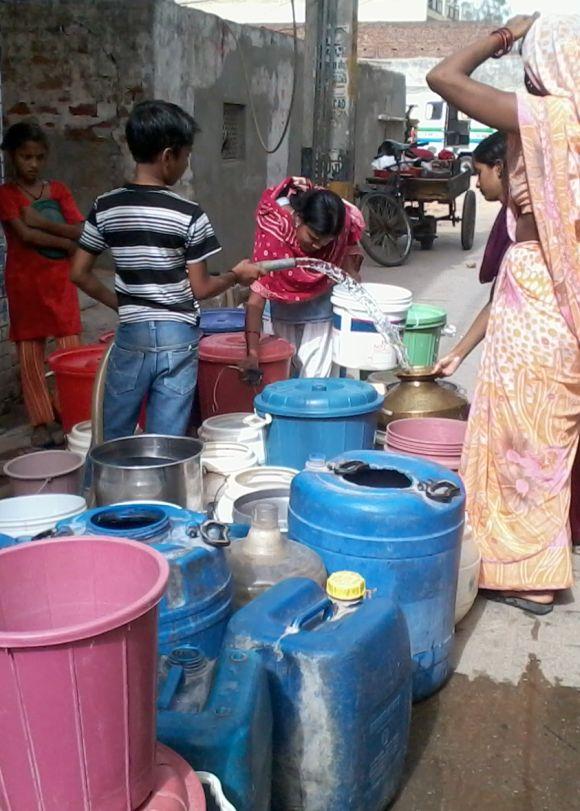 An audit report of the Delhi Jal Board states that failure in timely construction of underground reservoirs and booster pumping stations has resulted in an unequal distribution of water, reports .
When Chidambaram was caught napping!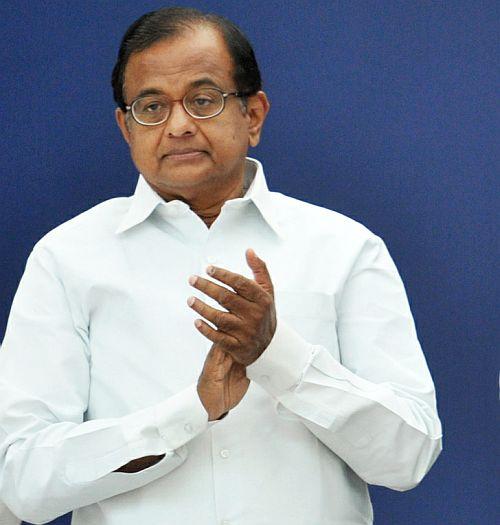 Chidambaram caught napping. The tug of war for Pranab's seat in Lok Sabha. Kapil Sibal is very afraid these days. All this, and more, in this edition of Dilli Gupshup
PHOTOS: The treacherous road to Lord Shiva's abode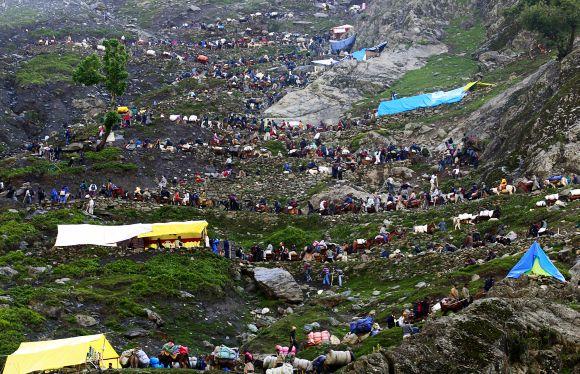 Rediff.com presents some scintillating photographs of the ongoing Lord Amarnath yatra.
June 28, 2012
PHOTOS: Mill workers' protest HALTS Mumbai suburbs!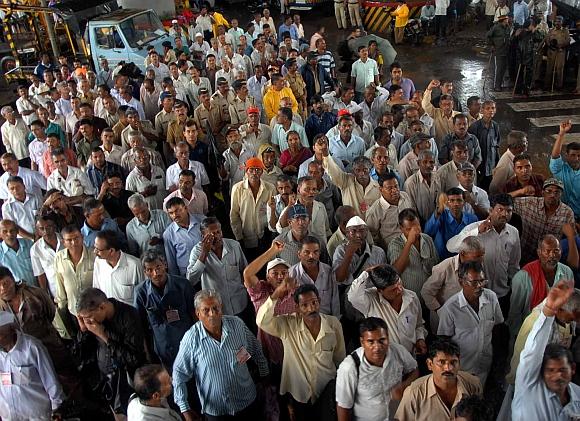 Around 5,000 mill workers, on a completely drenched Thursday morning brought Mumbai to a halt for more than three hours as they blocked the main arterial road that connects downtown Mumbai to the suburbs. reports.
When was he nabbed? Kasab's reaction over Jundal arrest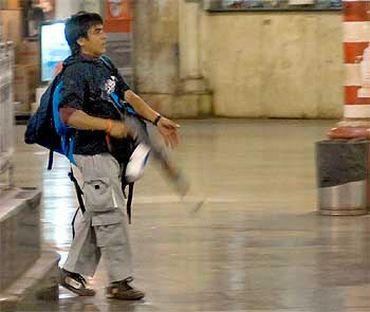 Ajmal Kasab, the lone surviving Pakistani perpetrator of 26/11 Mumbai terror attacks, received the news of arrest of his Hindi teacher and Lashkar-e-Tayiba operative Abu Jundal with shock.
Pranab embarks on new journey away from active politics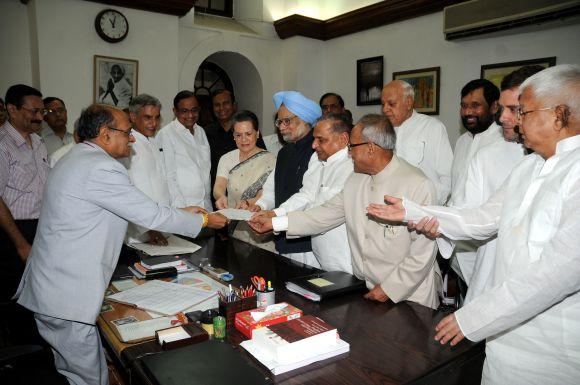 A quintessential Congressman, Pranab Mukherjee embarked on a new journey dropping off his political affiliations as he filed the nomination for the Presidential election on Thursday capping his 45-year long inning in active politics.
Mumbai rains: Readers share their PHOTOS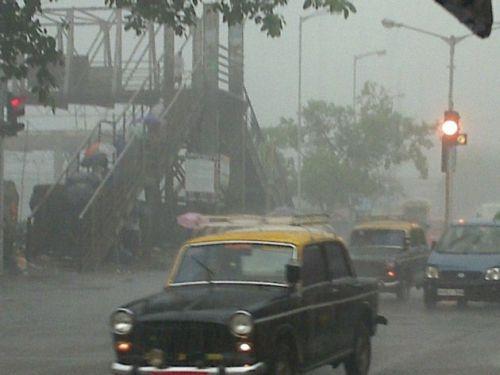 Share your interesting monsoon snapshots with us on Zarabol! They could be from anywhere across India
MUST READ: Pakistan's impending defeat in Afghanistan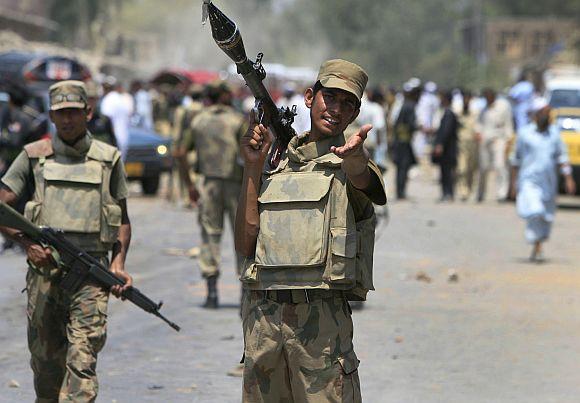 Irrespective of how the coming security transition in Afghanistan pans out, one country is on a surprising course to a major strategic defeat: Pakistan. analyses.
Most Pakistanis feel India greater threat than Taliban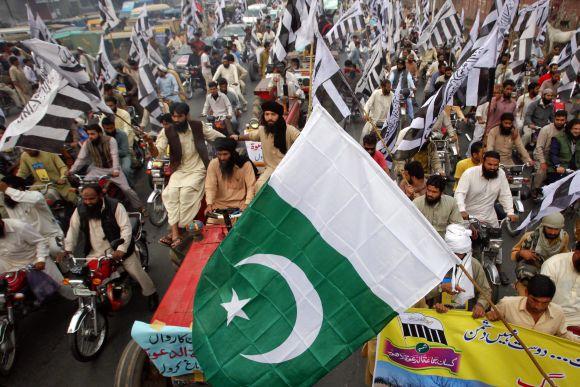 Nearly three-fifths of the people of Pakistan believe that India poses a greater threat to their country than those from the Taliban and Al Qaeda, a latest survey results released on Wednesday said.
REPLAY: Tracking the 26/11 handler Abu Jindal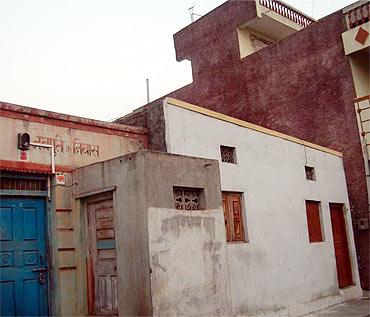 Who's the real Abu Jindal aka Zabiuddin Ansari? This is one of the most disturbing questions that the residents of Beed and Gevrai towns, in the dusty cotton bowl of Beed district in Maharashtra, are trying to come to terms with ever since news broke out that intelligence agencies have identified one of the handlers from Pakistan, who spoke to the 26/11 terrorists at the Chabad House, as Syed Zabiuddin Syed Zakiuddin aka Abu Jindal.
June 27, 2012
PIX: Revered relics of gutted Srinagar shrine displayed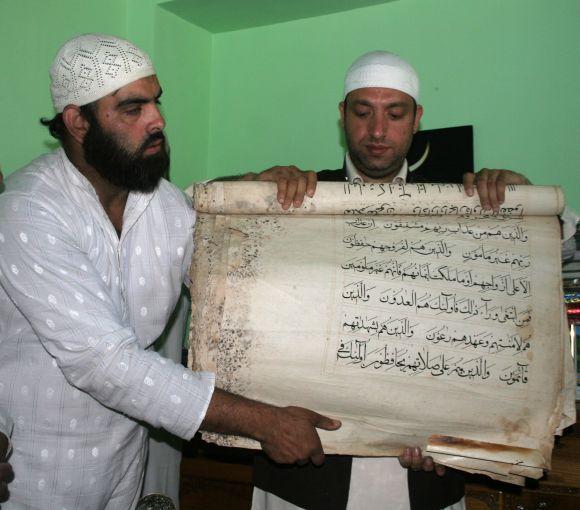 The relics of various Muslim saints retrieved from the gutted revered shrine of Dastageer Sahib in Srinagar were displayed before the media on Wednesday afternoon, thereby putting at rest fears about their fate.
Abu Jundal too talkative for the interrogators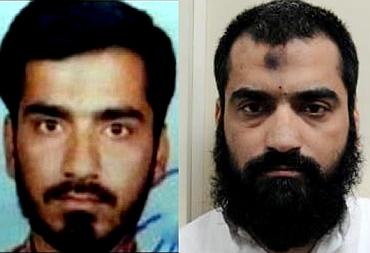 Apart from being a top ranking terrorist in the Lashkar-e-Tayiba circles, Abu Jundal is giving investigators a tough time with the speed at which he talks. Investigators say that he speaks so fast and continuously that they are finding it difficult to grasp what he says.
PICS: Landslide kills 3 in Assam; flood scene worsens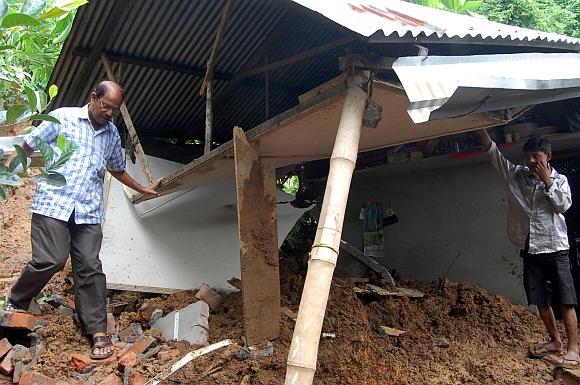 Three persons were killed when their house gave away under the pressure of a landslide in Dhirenpara area of Guwahati city on Tuesday night after a heavy downpour. The police said that one woman and two children were killed when their house was damaged because of the landslide in Dhirenpara Pahartila.
Stage set for Pranab vs Sangma showdown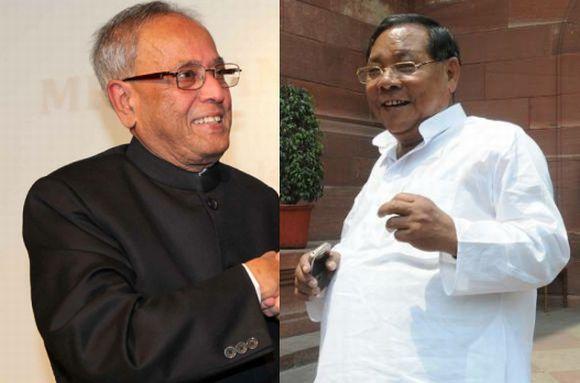 Pranab Mukherjee and P A Sangma will file their nominations on Thursday, setting off the presidential race between the United Progressive Alliance and the Bharatiya Janata Party-backed opposition candidate in which the ruling alliance is set for a runaway victory.
Why Jundal, Hamza are the most-used terror aliases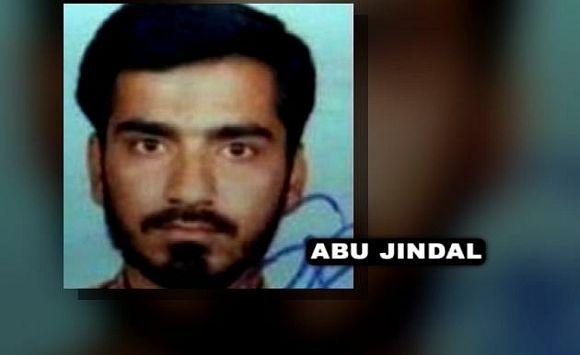 One of the biggest headaches that investigators have concerning a terror suspect is getting his name right.
Is anybody out there? The MOST famous UFO sightings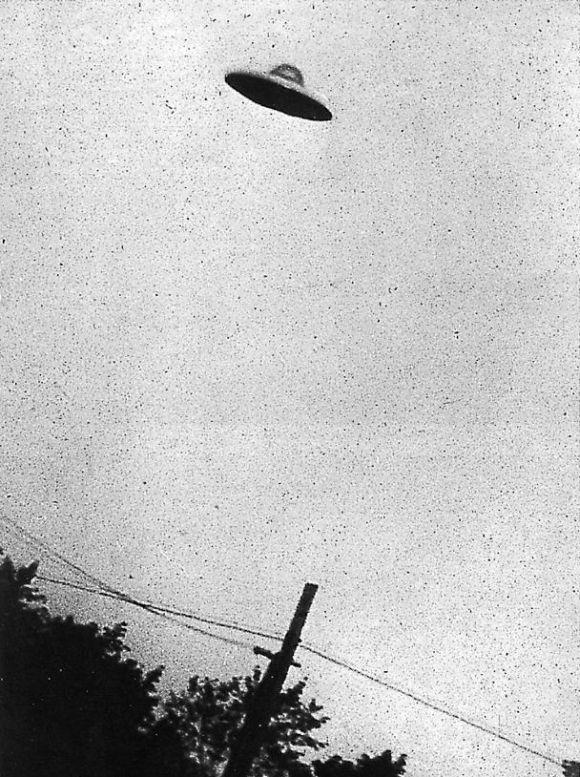 Although several reports of alleged alien abductions to those intriguing flying objects have been dismissed from time to time, UFO believers have not yet received a convincing answer to the undying question: Is anybody out there? We present a collection of 20 famous UFO sightings across the world, as reported in the Stylist.
Inside the 26/11 control room in Karachi with Jundal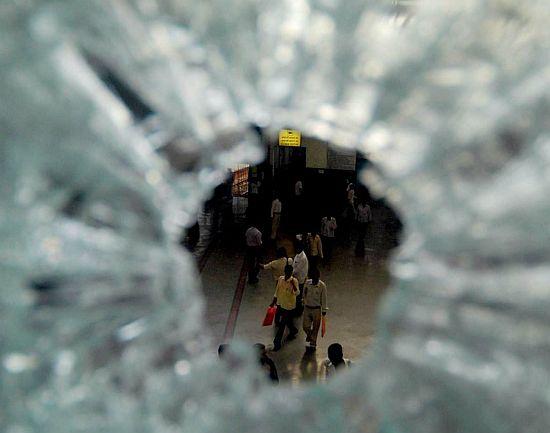 Zabiuddin Ansari alias Abu Jundal has been spilling the beans about how the entire 26/11 operation was executed from Karachi with the blessings of Lashkar-e-Tayiba founder Hafiz Mohammad Saeed. Rediff.com's gives details of his ongoing interrogation
What REALLY happened the day Mantralaya burnt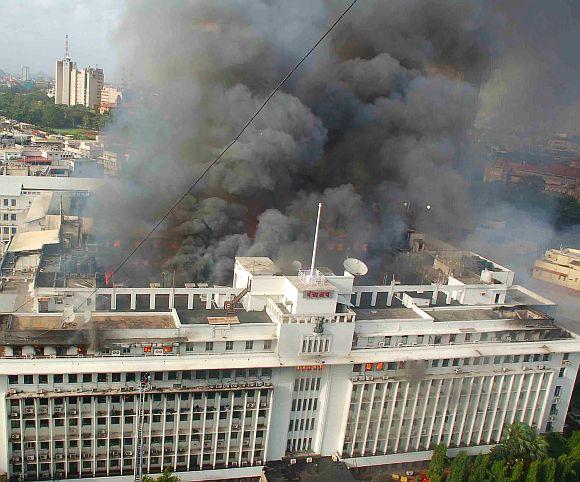 The Mantralaya inferno and how it played out, from inside the building, on the street, and in the blame game afterwards, elaborates .
BJP leadership bows down to Modi, says Zadaphia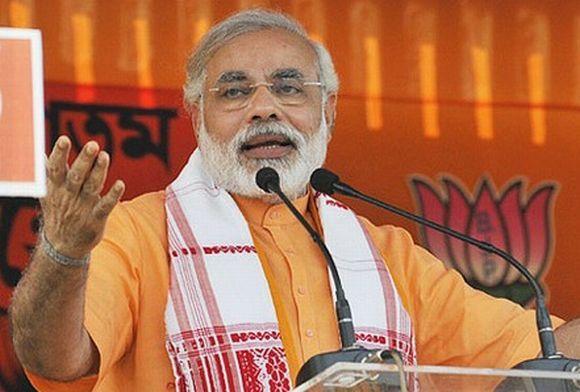 Govardhan Zadaphia, MahaGujarat Janta Party chief and former home minister in the Narendra Modi government, tells Gyan Varma the Rashtriya Swayamsevak Sangh unit in Gujarat does not want to help Chief Minister Narendra Modi in the upcoming assembly elections.
June 26, 2012
20 years on, Pakistan to free Sarabjit Singh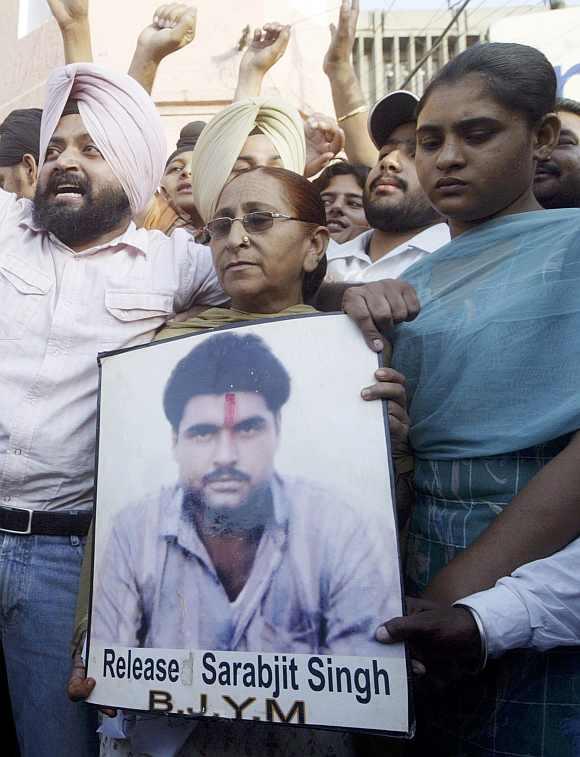 After being on the death row for 20 years over bombing charges, Indian national Sarabjit Singh is being released with Pakistan President Asif Ali Zardari on Tuesday commuting his death sentence.
Pranab quits finance ministry, to embark on 'new journey'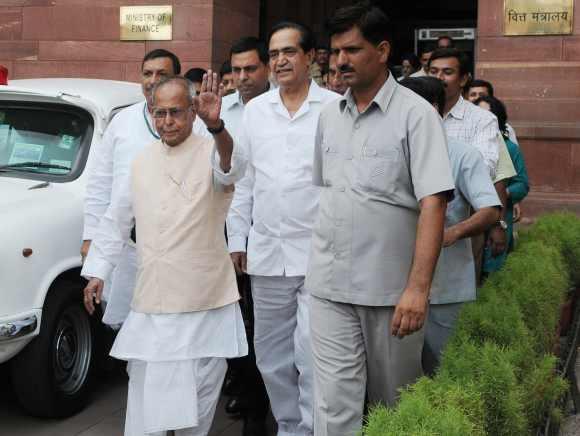 Set to file nomination papers for the Presidential poll, a sentimental Pranab Mukherjee on Tuesday resigned as finance minister to "embark on a new journey", leaving behind his four-decade stint as a political activist.
PICS: Assam flood situation worsens, toll mounts to 11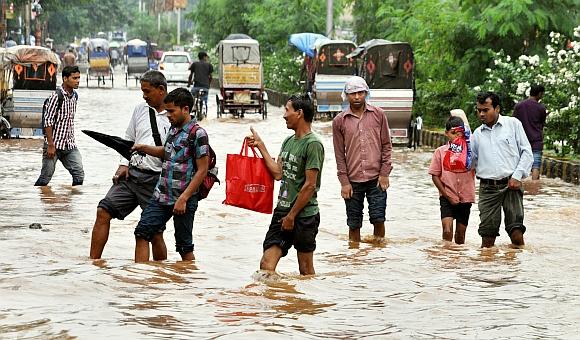 Flood situation in Assam on Tuesday turned grim with most of the rivers breaching embankments and inundating new areas all over Brahmaputra Valley. Road links have been snapped in many places, while the death toll due to the current wave of flood has mounted to 11 with one more casualty in Dibrugarh district.
INSIDE STORY: Guj riots helped in the making of Jundal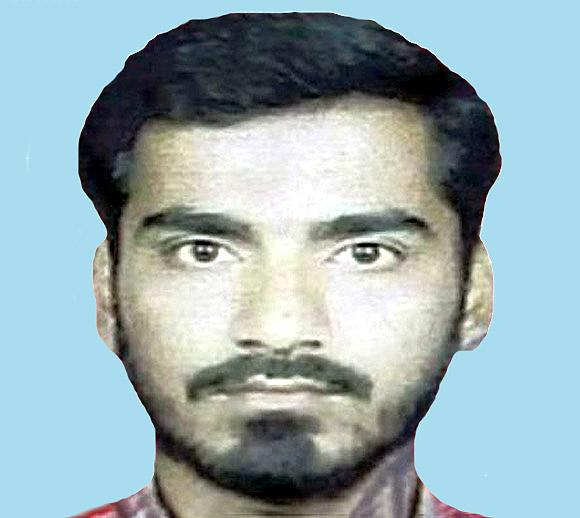 How did Syed Zabiuddin Ansari from Beed, son of an insurance agent and an aspiring electrician, become dreaded terrorist Abu Jundal?
IN PIX: Strike paralyses life in Kashmir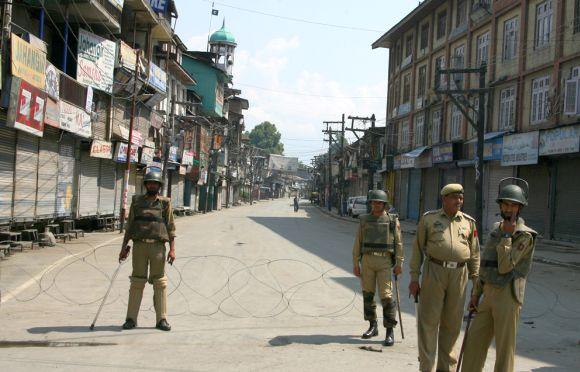 Life across Kashmir Valley was paralysed in view of a protest shutdown and security restrictions following anger and tension triggered by the gutting of the revered shrine of Peer Dastageer Sahib on Monday.
IN PICS: The wheels of BURDEN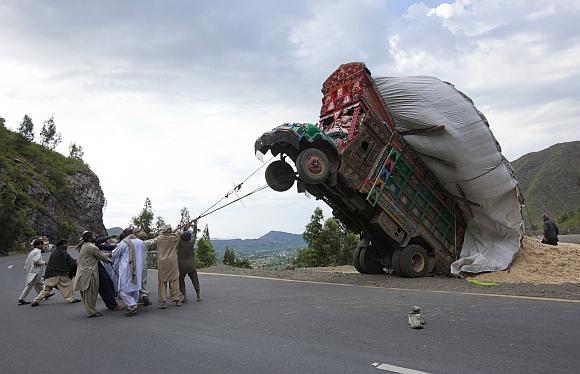 Ever wondered who keeps the cities ticking in between the polished skyscrapers and oils the gears for the powers that be? Well, the average citizens, who develope their own means of ensuring progress, any which way.
Why CPI-M's support to Pranab is a grave ERROR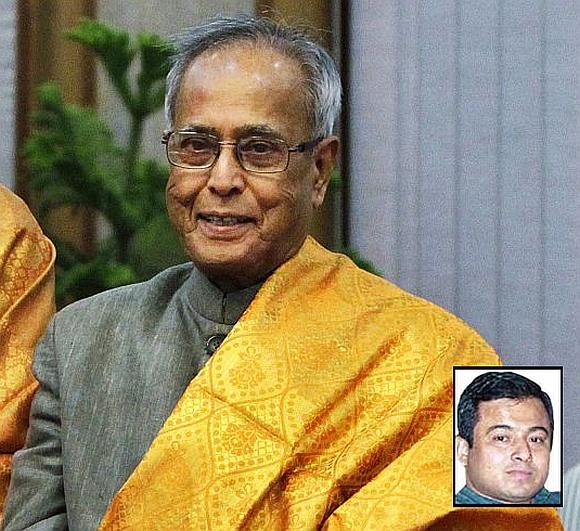 Protesting the 'erroneous' stand, , former convenor of the research unit of CPI-M, decided to send his resignation letter to the CPI-M leadership, and was later expelled from the party. We present the letter, where he elaborates his stand, which was first published in Pragati, on July 22.
Why BJP should not bother about the Muslim vote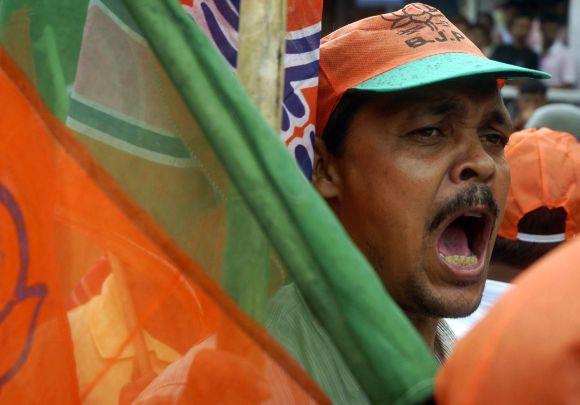 Muslims have never voted for the BJP in any parliamentary election. Even when Atal Bihari Vajpayee was projected as the prime minister, Muslims opposed the BJP. So, presenting a liberal face for the sake of blunting the Muslim opposition is not such a great idea, says .
June 25, 2012
PICS: The day Rs 1,000 notes came floating in Guwahati!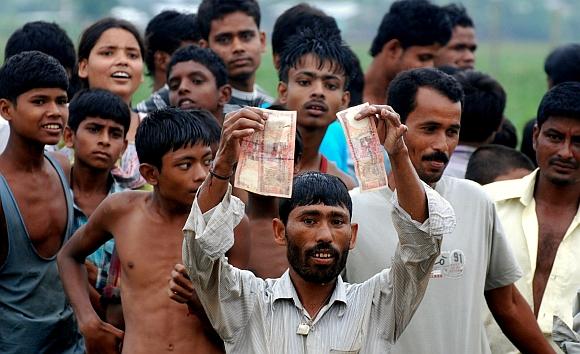 What unfolded in a wetland within the periphery of Guwahati city on Monday was unprecedented -- a large number of people dived into the water body in a mad rush to get hold of currency notes floating in it. Anurag Kashyap reports.
Adarsh scam: Sushil Kumar Shinde blames Deshmukh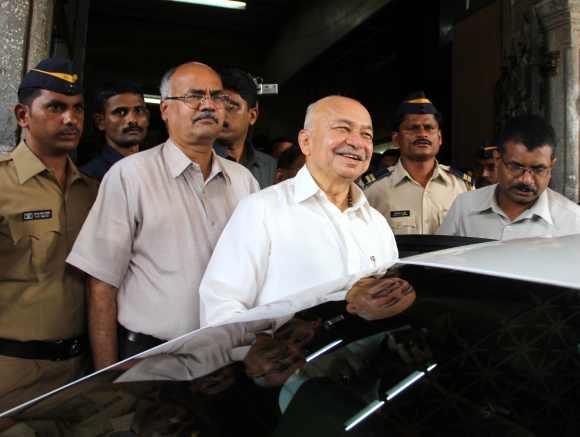 Seeking to wash his hands off the Adarsh scam, Union Minister of Power Sushil Kumar Shinde on Monday told a judicial panel the decision to allot government land and grant of additional Floor Space Index to the housing society was taken during the tenure of Vilasrao Deshmukh as the chief minister of Maharashtra.
We will miss you, PM tells emotional Pranab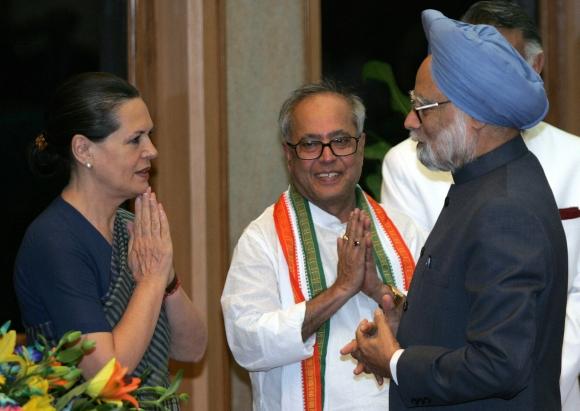 The Congress on Monday bid a warm farewell to Finance Minister Pranab Mukherjee, poised to become the country's President, with Prime Minister Manmohan Singh saying that the veteran leader will be missed.
In PHOTOS: 200-year-old Dastageer Sahib shrine gutted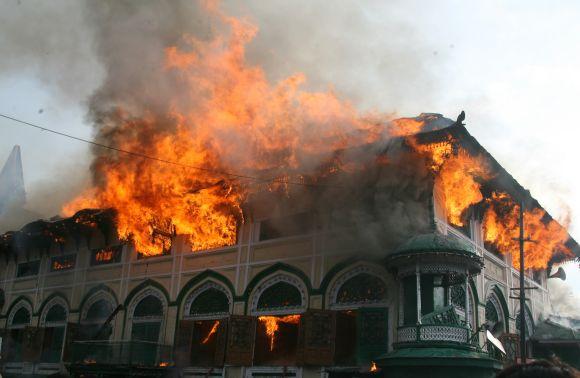 The two-century-old shrine located in the Khanyar locality of Srinagar was an epitome of Kashmir architecture laden with ornate Khatamband ceilings and elaborate carvings with grand chandeliers adorning the main prayer hall.
'Report on J&K contrary to India's stand on the state'
Dismissing the interlocutors report on the state of Jammu and Kashmir and questioning the credentials of the interlocutors, National Convener of Jammu Kashmir Study Center, a Jammu-based research group, Arun Kumar, says that the report only captures the perception of the country.
Abu Hamza, Lashkar's dreaded terror guide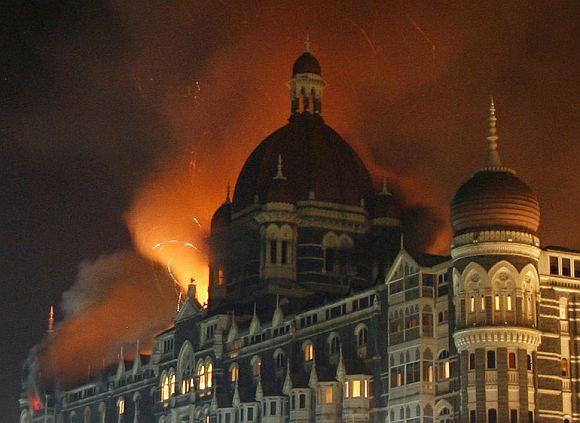 From a low level operative to one of the most dreaded Lashkar-e-Tayiba operatives. That is Abu Hamza, the man who is today finally in the custody of the Delhi Police.
MUST SEE: Rohit Shekhar's childhood with 'dad' ND Tiwari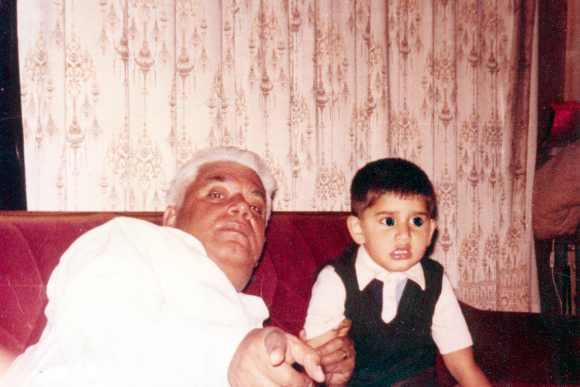 In an interview with , Rohit Shekhar who is fighting a paternity case against veteran Congress leader N D Tiwari, to prove that he is his biological father, speaks about his 'bizarre' childhood and his long legal battle.
Pakistan govt to get rid of PM-hunter Chief Justice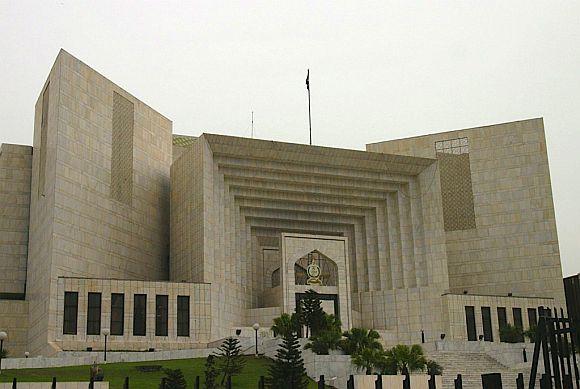 The on-going tussle between the executive and the judiciary in Pakistan is expected to take a new twist with the Pakistan government proposing to amend the constituion and simplify the procedure to oust Chief Justice Iftikhar Mohammad Chaudhry. reports
PICS: Egypt experiments with democracy, Russia's bride fest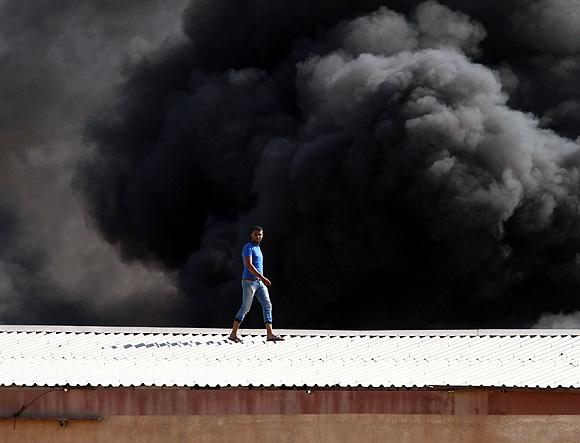 MUST SEE: The last 48 hours in pictures
June 24, 2012
PIX: Amarnath Yatra begins; security tight, weather grim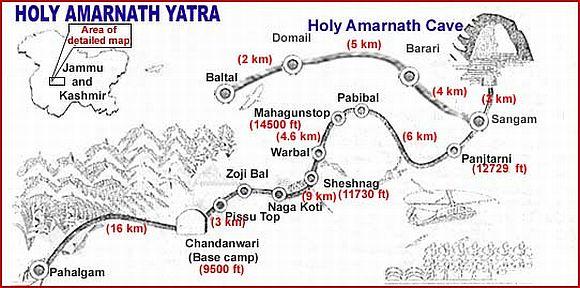 The annual pilgrimage to the Himalayan cave shrine of Amarnath took off on Sunday as the first batch of pilgrims set off from winter capital Jammu in the morning.
June 23, 2012
Modi, Joshi slam Centre's 'diluted' Kashmir policy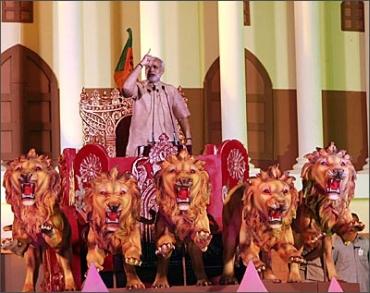 Gujarat Chief Minister Narendra Modi on Saturday alleged that "Congress government" at the Centre was trying to dilute the Indian position on Jammu and Kashmir.
PIX: Gutted Mantralaya tries to regain lost glory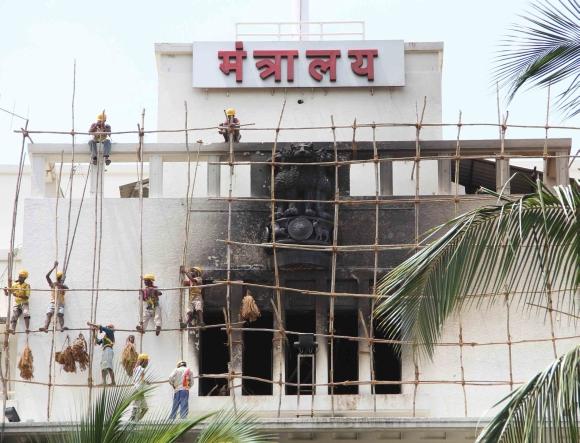 Two days after a devastating fire swept Maharashtra's secretariat Mantralaya, Chief Minister Prithviraj Chavan on Saturday said all files of the Urban Development Department will be reconstructed within a month's time.
In PHOTOS: Bengal cheers for 'village boy' Pranab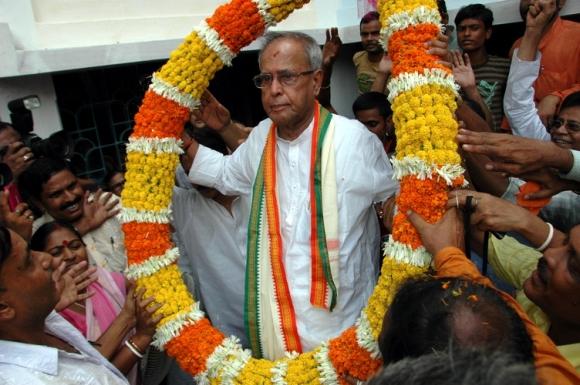 Pranab Mukherjee, who seems headed towards the Rashtrapati Bhavan, on Saturday turned nostalgic at his ancestral house in Bengal's Birbhum district.
Mamata EMBARESSED Dr Singh, Congress: Digvijay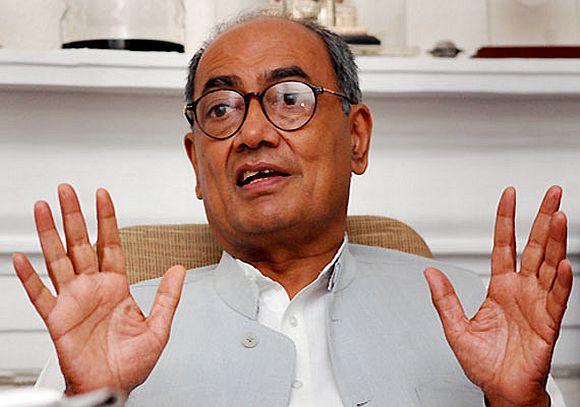 Notwithstanding the snub from the party, Congress leader Digvijay Singh on Saturday said he stands by "every word" he has said about Trinamool Congress chief Mamata Banerjee.
PIX: Sunita Williams readies for trip to space in July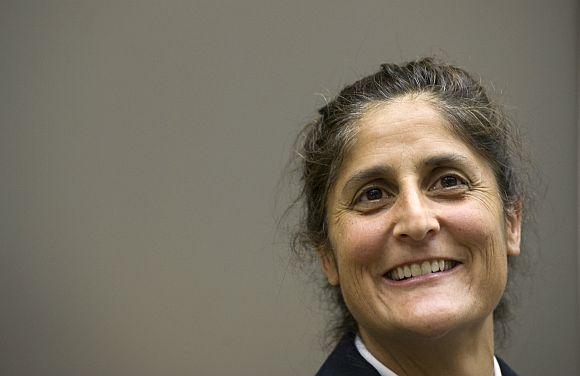 Indian-American Sunita Williams, a record-setting astronaut who lived and worked aboard the International Space Station for six months in 2006, is headed to the space once again in July.
Prez poll: Pranab again seeks support of all parties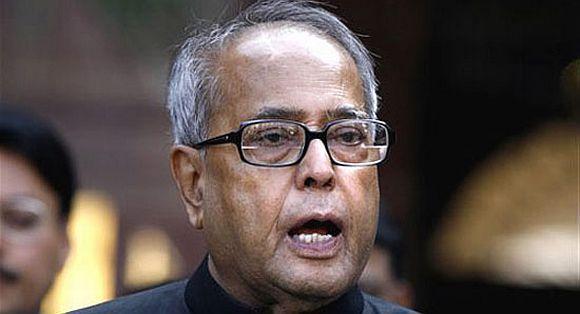 Apparently referring to ally Trinamool Congress, United Progressive Alliance Presidential candidate Pranab Mukherjee on Saturday once again appealed to those who have not yet decided on supporting him to do so.
Don't miss the weekend videos!
Don't miss the weekend videos!From fire in Mumbai's Mantralaya to leggy lasses of Bollywood.
June 22, 2012
What do MPs cook so much in their kitchens?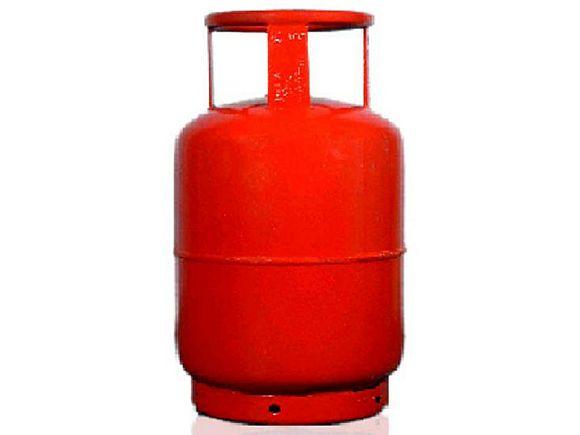 Too much subsidised cooking gas is being consumed by country's VVIPs, according to the transparency portal launched on Friday by state-owned oil firms.
CM Chavan's diktat: Lock key papers in steel trunks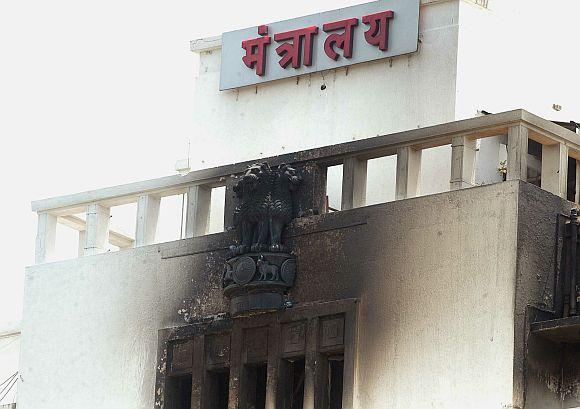 Following Thursday's fire at Mantralaya, the state secretariat, reconstruction of documents in damaged files was the government's top priority, Maharashtra Chief Minister Prithviraj Chavan said in Mumbai on Friday.
Prez poll: Game changer was Mulayam's betrayal of Kalam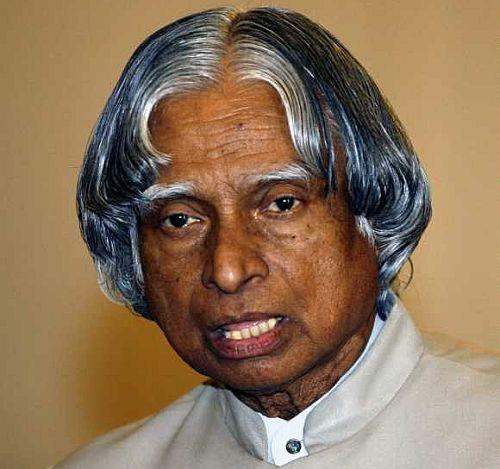 As the race for the President reaches it non-exciting climax, it is clear that no political constituent is winning with dignity, says .
PHOTOS: Kamakhya temple door shuts for mega fest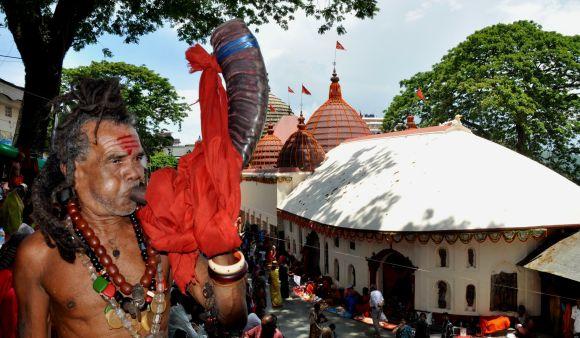 Seventy-two closed circuit cameras, over 300 volunteers of the National Cadet Corps and Scouts and Guides in addition to police and paramilitary personnel speaks volumes about the elaborate security arrangements that have been put in place in and around the temple -- seat of the Shakti cult -- for the safety of lakhs of devotees and pilgrims.
Sunita Williams heads back to space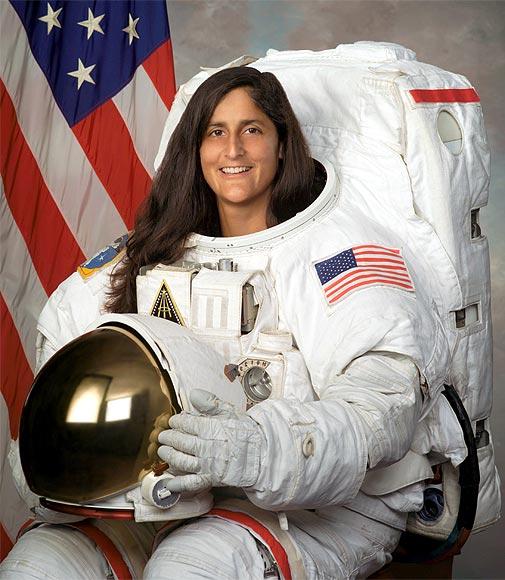 The astronaut, who will take over as the commander of the International Space Station, says she is not nervous but 'psyched'. Suman Guha Mozumder reports
In PHOTOS: UK rolls out red carpet for Myanmar's Suu Kyi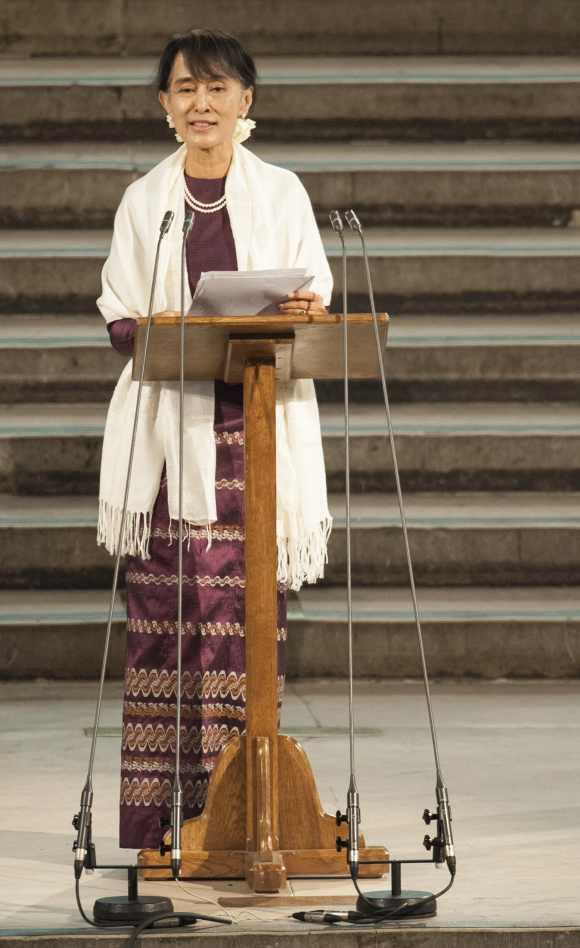 Myanmar democracy champion Aung San Suu Kyi became the first non-head of state to address both houses of Britain's parliament on Thursday in a rare honour she used to ask for help in bringing democracy to the former British colony.
Raja Parvez Ashraf is Pakistan's 25th PM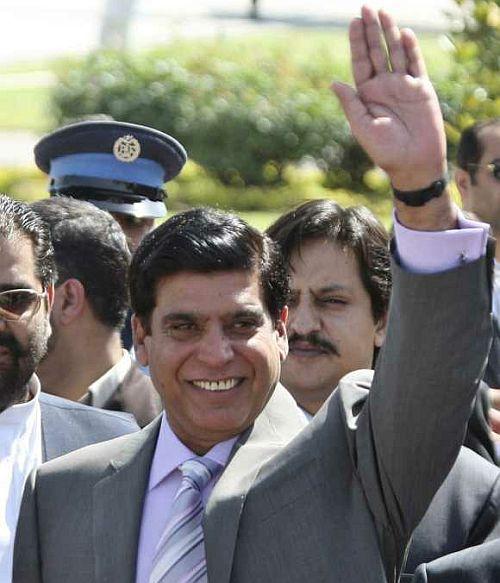 The ruling Pakistan People's Party on Friday named former IT Minister Raja Parvez Ashraf as it candidate for the post of prime minister hours before a special session of Parliament convened to elect a new premier.
Prez poll won't be as smooth as Cong claims, warns Sangma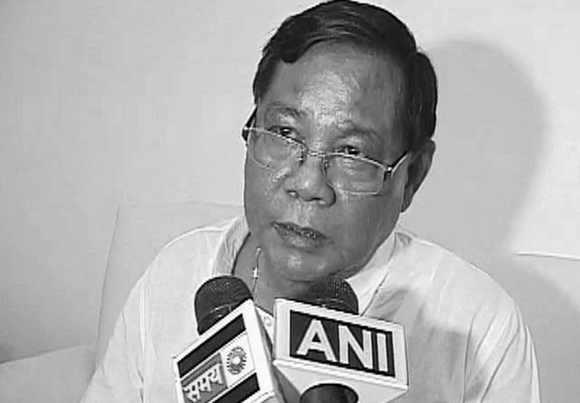 "I'm not worried about numbers. The conscience vote will be in my favour," said Presidential candidate P A Sangma in an interview to CNN-IBN's editor-in-chief Rajdeep Sardesai.
Maoists latest weapon: Deadly children squads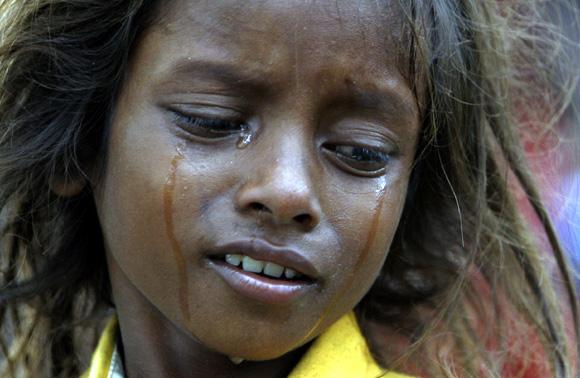 The Maoists are recruiting and indoctrinating children and had constituted children's squads and associations as part of mass mobilisation, a United Nations report said.
Obama's claim on drone strikes threatens to boomerang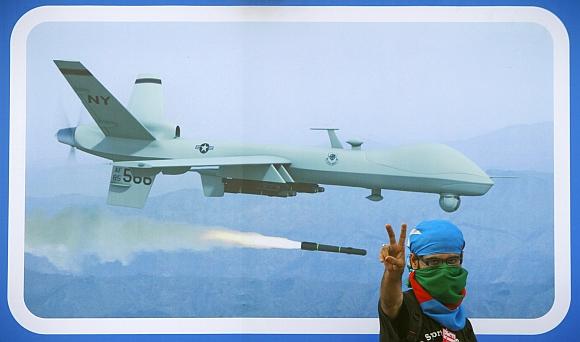 After having boasted that Obama personally orders the drone strikes, the government is now refusing even to confirm whether any documents on the subject exist, says .
'I am running the Prez elections to prove I am ALIVE!'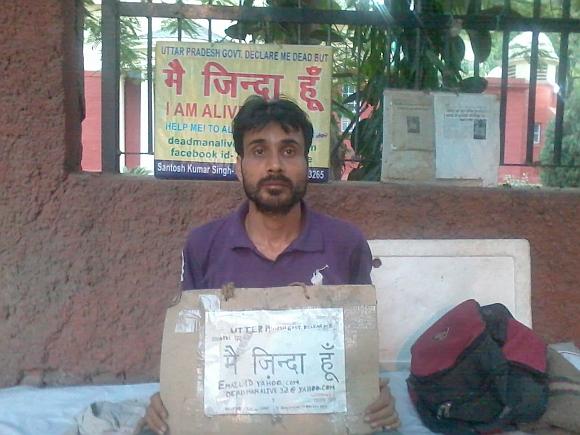 What would you do if you have been declared dead in government records and your ancestral property worth a few crores has been confiscated by your closest relatives?
Mantralaya fire doused; cooling operation to continue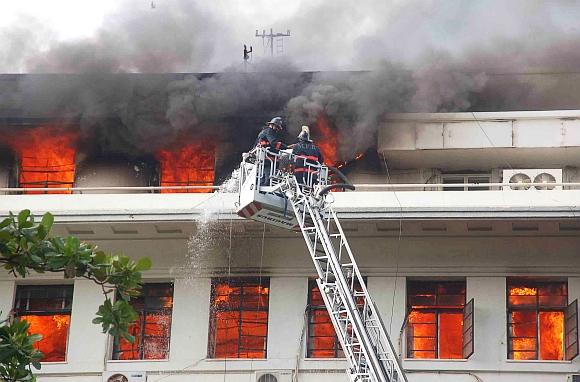 Over 12 hours after its broke out, the massive fire which engulfed Mantralaya (the state Secretariat building) was doused early on Friday morning.
June 21, 2012
Mantralaya fire: Maha CM orders probe, structural audit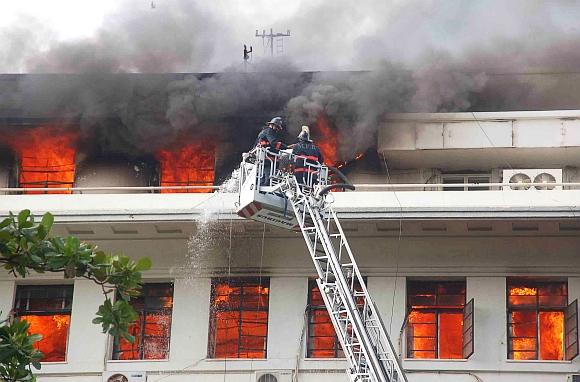 Efforts on seeking information about structural audit of the Mantralaya building, where a massive blaze gutted several offices on Thursday, will take place on Friday morning, Maharashtra Chief Minister Prithviraj Chavan said. The Crime Branch will probe the fire.
Mantralaya fire: 2 dead, 16 injured; CM's office gutted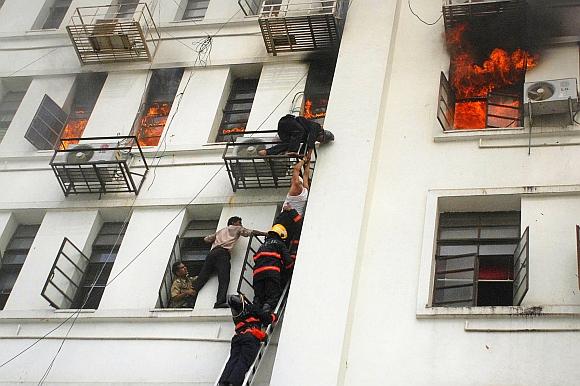 A devastating fire in the Maharashtra government secretariat, including offices of the chief minister and the deputy chief minister, on Thursday left two persons dead and 16 injured and destroyed large number of files, raising questions on whether any sabotage was the cause.
Pix: New Yorkers transform Times Square into yoga village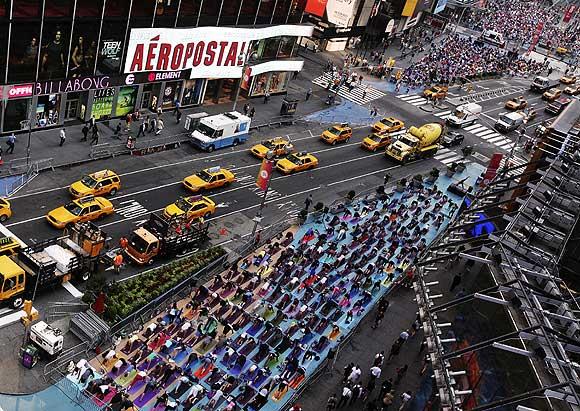 Thousands of New Yorkers converged at the popular and crowded Times Square in New York in the sweltering heat to celebrate the summer solstice, the longest day of the year, by rolling out their yoga mats and performing the ancient Indian art for over 12 hours.
PHOTOS: Major fire at Mantralaya in Mumbai
A major fire broke out at the fourth floor of the Mantralaya building which houses the state secretariat in south Mumbai on Thursday afternoon, fire brigade sources said.
BJP backs Sangma for Prez after division in NDA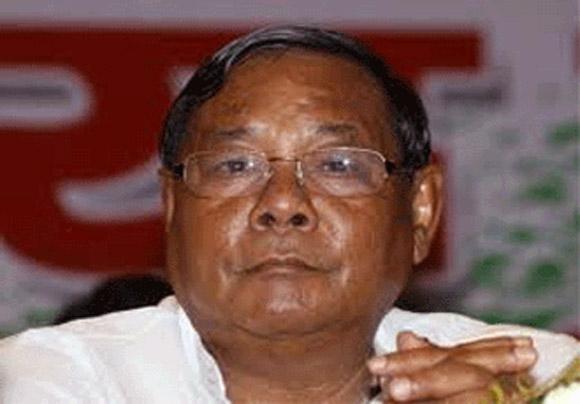 Reconciling with division within the National Democratic Alliance over Presidential poll, Bharatiya Janata Party on Thursday announced its support to P A Sangma to pit him against United Progressive Alliance candidate Pranab Mukherjee.
Shahabuddin: From custodian of mausoleum to PM's seat
Little known Makhdoom Shahabuddin, Pakistan Peoples Party's nominee for the prime minister, is a strong loyalist of the Bhutto family and hails from a revered spiritual family in south Punjab.
INSIDE STORY: Why Jagan will back Pranab for Prez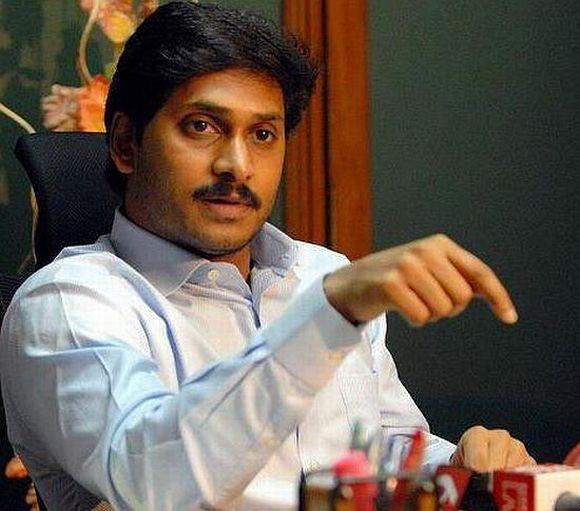 Although sources in Jaganmohan Reddy's party say that a patch-up between the YSR Congress and the Congress in highly unlikely, they would still prefer Pranab for President as the UPA is better than the BJP-led NDA, reports .
India, China agree to step up defence dialogue in Rio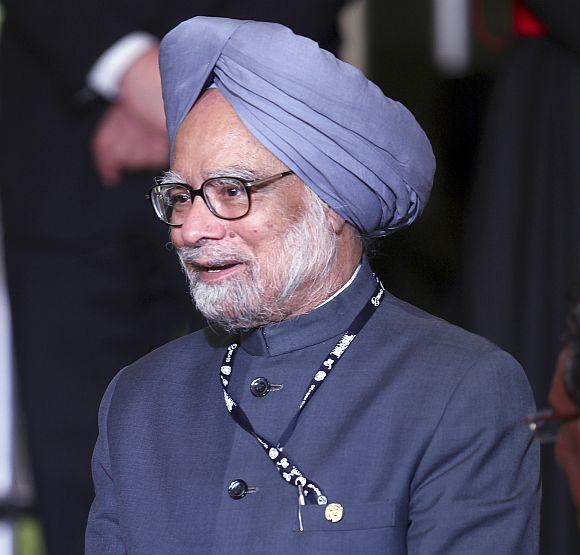 India and China on Thursday agreed to step up their defence and security dialogue and work to take steps to ensure that the two countries achieve a $100 billion (about Rs 5,60,000 cr) trade target by 2015.
IN PHOTOS: The world's failed nations

The Foreign Policy magazine has released its annual 'Failed States Index'. The average score on the 2012 index, prepared in collaboration between the Foreign Policy and Fund For Peace, has remained more or less steady from year to year.
Is India ignoring chances for long-term advantage?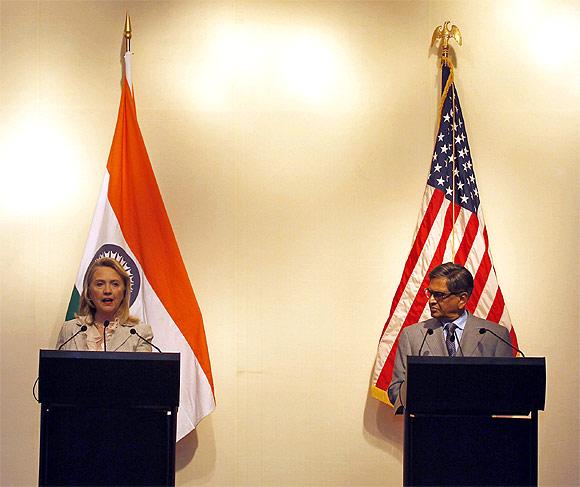 In foreign affairs, reform and the Kashmir valley, is New Delhi is ignoring chances for long-term advantage? Asks
IN PHOTOS: Saturn's rings get an AMAZING bead!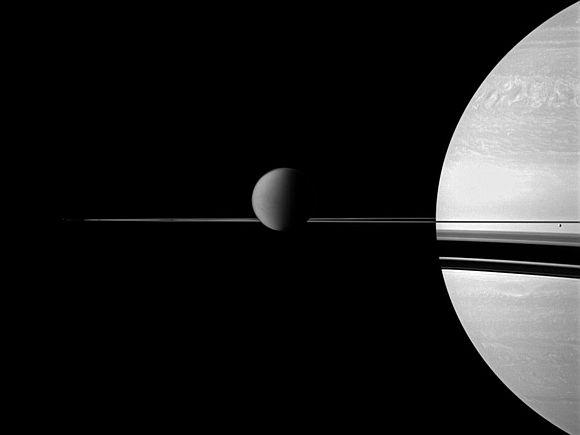 Titan, Saturn's largest moon, appears to be strung like a bead on the planet's rings, which cast shadows onto the southern hemisphere of the gas giant in a new image from Cassini spacecraft.
June 20, 2012
PM post controversy: Why Modi is sitting pretty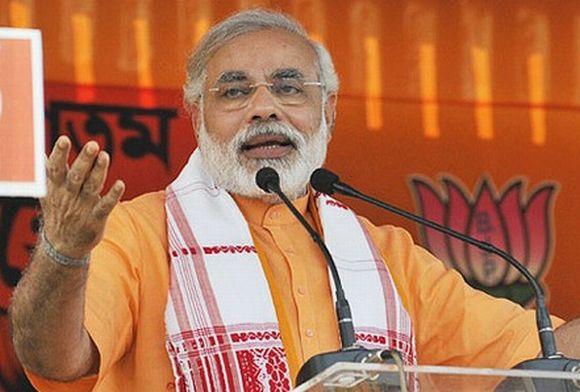 Narendra Modi's supporters are not worried over the bitter divide in the NDA on the presidential poll. They also feel that Nitish Kumar is posturing over the prime ministerial post prematurely. The spin that they are giving over the various statements on the issue is that the 'RSS is batting for Modi'. explains
'Impossible for BJP to get majority, Modi to become PM'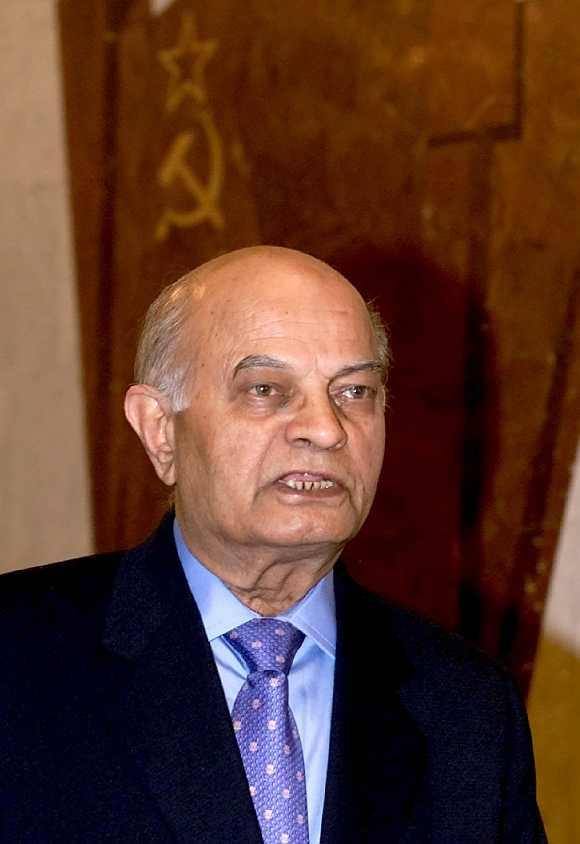 In an interview with CNN-IBN's National Editor Bhupendra Choubey, former National Security Advisor and principal secretary to former Prime Minister Atal Bihari Vajpyee, Brajesh Mishra talks about the recent crisis in National Democratic Alliance surrounding Gujarat Chuef Minister Narendra Modi and his Bihar counterpart Nitish Kumar.
PIX: Oxford honours 'star shining in the east' Suu Kyi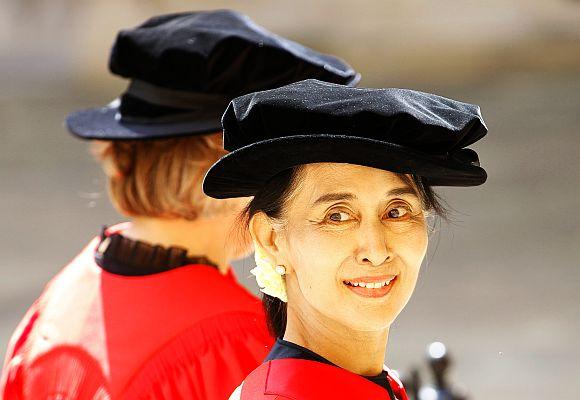 Paying fulsome tributes, the University of Oxford on Wednesday honoured Myanmar's democracy icon Aung San Suu Kyi by presenting her with an honorary doctorate in Civil Law in a traditional ceremony telecast live.
For 100 mn pounds, a moon voyage on a spy shuttle!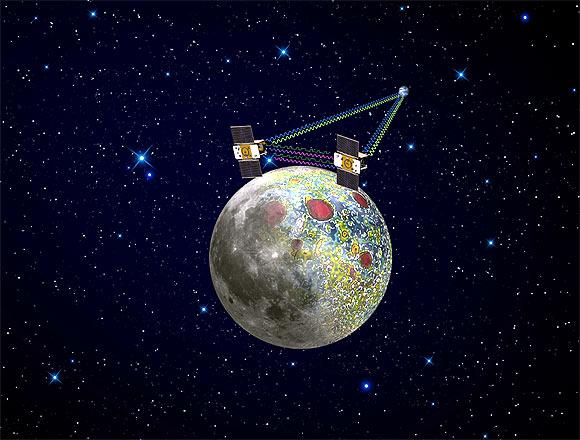 Wish to visit the moon? Just fork out 100 million pounds!
Modi vs JD-U: Now, RSS wants PM with Hindu ideology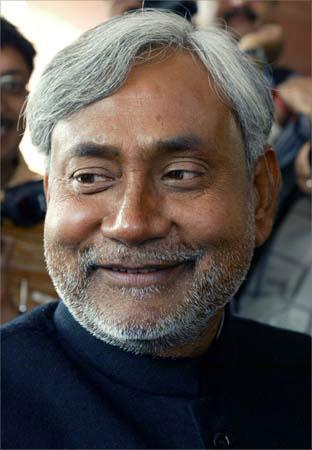 The feud between the Bharatiya Janata Party and the Janata Dal United, over whether Gujarat Chief Minister Narendra Modi could be the prime ministerial candidate for the 2014 Lok Sabha polls, worsened on Wednesday.
MUST SEE: The MOST thrilling real-life stunts!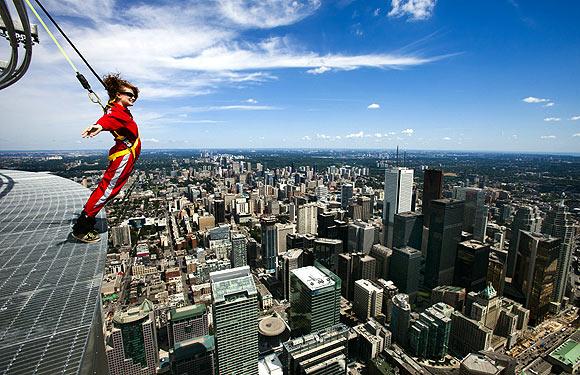 Rediff.com brings you images of some men who take on the toughest and craziest challenges to keep the adrenaline pumping!
Pranab: From 'unelectable' to supreme troubleshooter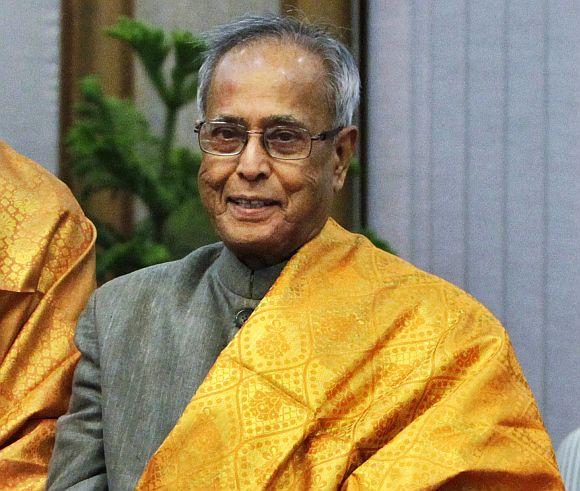 Despite a middling career in politics, Pranab Mukherjee has endured because of his reputation as a political troubleshooter par excellence.
The mining scam that ROCKED Karnataka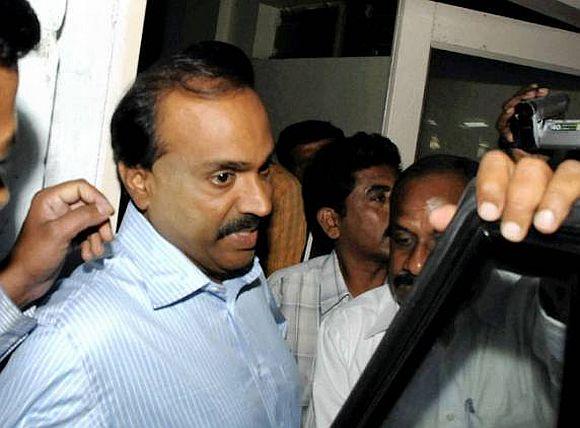 In the second part of this two-part series, we take a close look at this poison, which spread across small mining towns of Karnataka, unchecked and unbridled, before it was brought to a grinding halt last year
REWIND: Best PHOTOS in the last 48 hours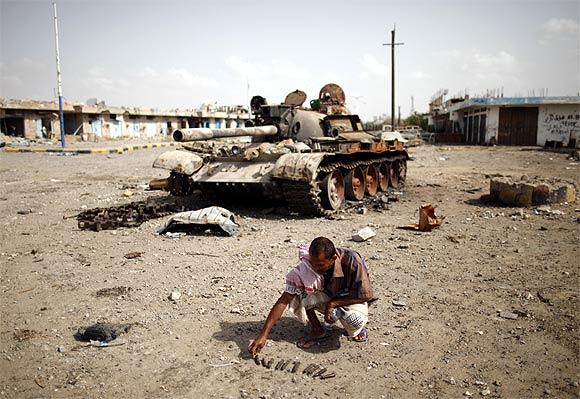 Presenting some of the best photographs from around the world in the last 48 hours
In PHOTOS: The world gets smaller, we get FATTER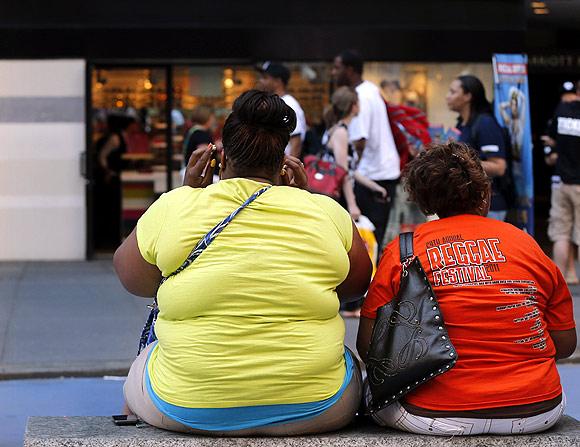 Increasing levels of fatness around the world could have the same impact on global resources as adding an extra billion people to the planet, say researchers.
June 19, 2012
Gilani, the man who DEFIED Pak military, judiciary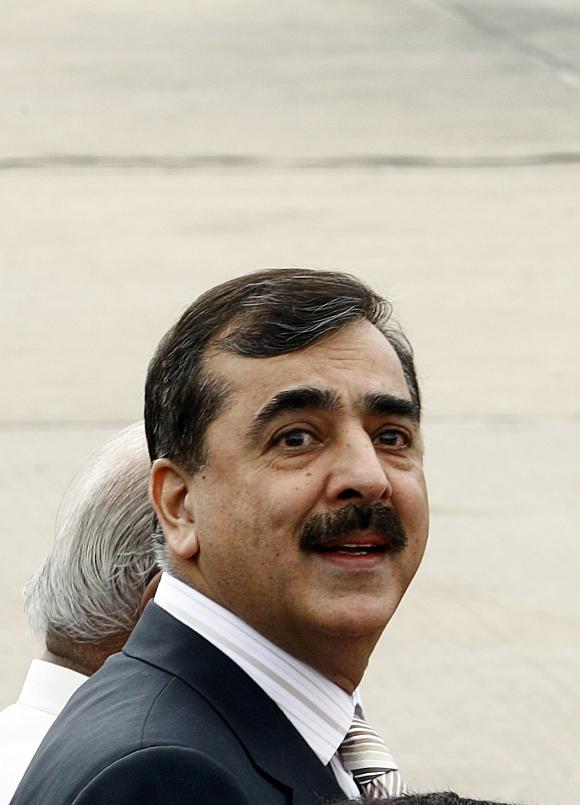 Engaged in a continued tug-of-war for supremacy with the military on one side, and an assertive judiciary on the other, Yousuf Raza Gilani's four years at Pakistan's helm was indeed a tumultuous period for him and the country which also saw frosty ties with India.
Cong mollycoddles Mamata, says she didn't cross limit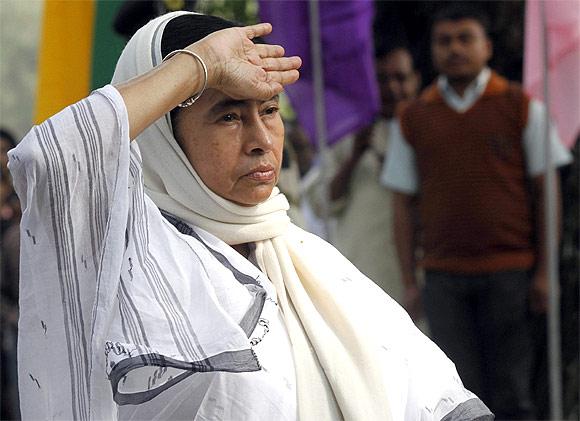 Seeking to keep Mamata Banerjee in good humour ahead of Presidential poll, the Congress on Tuesday said she had not crossed the limit by suggesting Prime Minister Manmohan Singh's name for the President's post and played down the threat by the Trinamool Congress to pull out from government.
Pakistani chief justice turns the tables on Zardari govt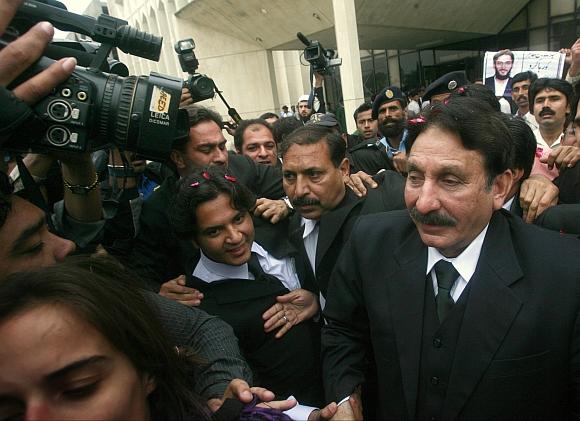 The ruling by Pakistan Chief Justice Iftikhar Mohammad Chaudhry to disqualify Yousaf Raza Gilani as prime minister has sent the Asif Ali Zardari-led Pakistan People's Party government into a deep political crisis. reports from Islamabad
Gilani stands DISQUALIFIED; new PM expected on Wednesday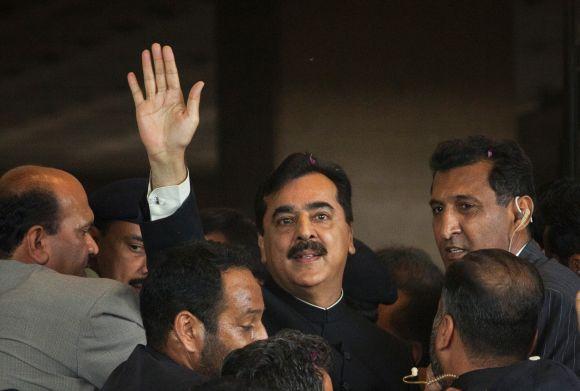 Pakistan Supreme Court on Tuesday declared Prime Minister Yousuf Raza Gilani ineligible to hold the office and said he stood disqualified since April 26 when he was convicted and sentenced for contempt.
'Mummy porn' book beats Harry Potter's record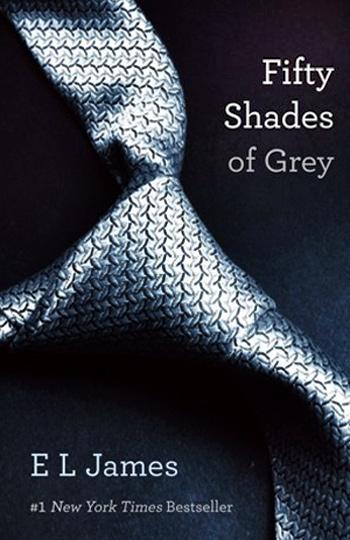 An erotic book dubbed as 'mummy porn' has beaten the J K Rowling authored Harry Potter's record in the United Kingdom's book sales chart, becoming the fastest selling paperback of all time in just one week.
Narendra Modi as PM? NOT if Nitish has his way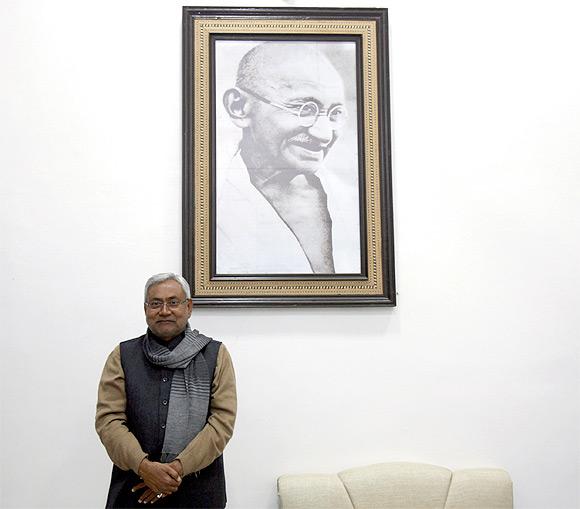 Bihar Chief Minister Nitish Kumar has again targeted Gujarat Chief Minister Narendra, albeit indirectly so, by urging the National Democratic Alliance to declare its prime ministerial candidate for the 2014 Lok Sabha polls.
Kalam's new book all set to be another BESTSELLER!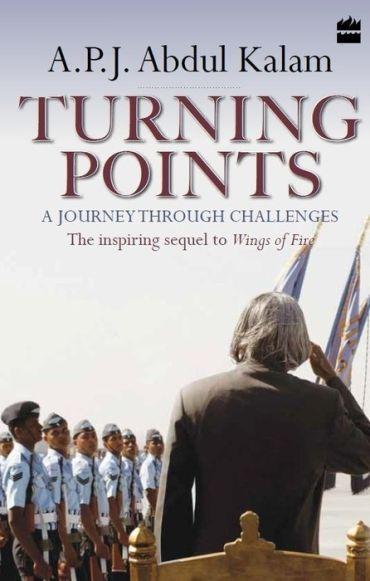 The print order for former President A P J Abdul Kalam's yet to be released book 'Turning Points -- A Journey Through Challenges', a sequel to his earlier work, 'Wings of Fire', is being stepped up to 50,000 copies from 30,000 earlier.
Sonia's masterstroke for Pranab babu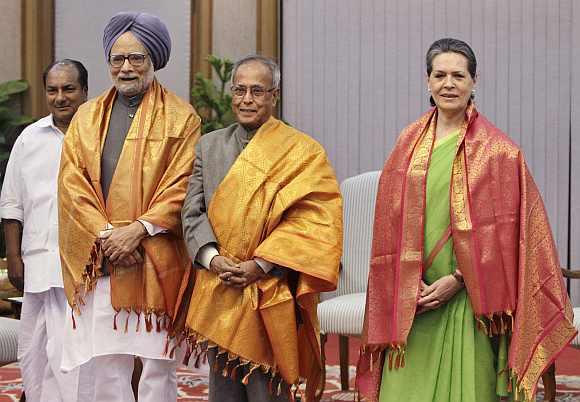 Master archer Sonia. Lobbying for the vice-president. A taste of MSY. All this, and more, in Dilli Gupshup....
The DESPICABLE illegal mining HORROR of India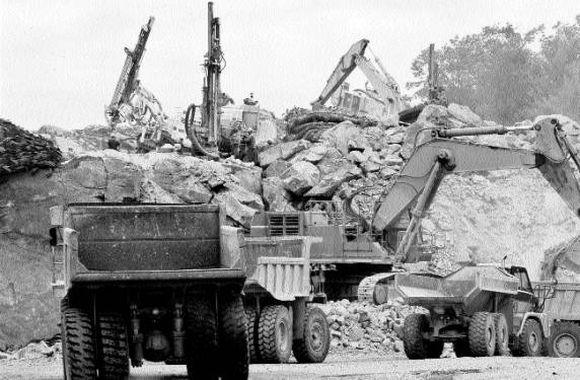 Illegal mining has been a hot debating point for the past couple of years. In Karnataka especially, the scam is of such magnitude that many powerful persons have had their heads on the chopping block and in the months to come there will be many more to follow. In this two-part series, we take a close look at this dirty scam, which spreads across various parts of the country, especially at Goa and also Rajasthan
I do NOT regret going to the Supreme Court: Gen V K Singh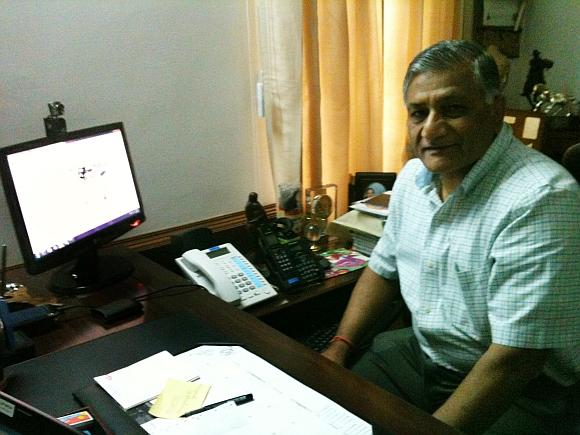 The controversies that dogged the fag end of his career didn't take away from his distinguished military service, nor did they detract from the fact that former Army Chief General V K Singh's Singh's actions were motivated by the national interest. In the following transcript, the former general fields questions about his actions, his future plans, and much more
Britain's LOVELY Duchess goes camping for charity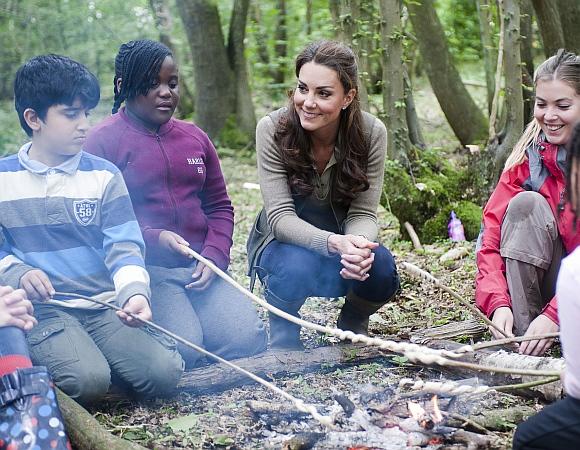 Kate Middleton, the Duchess of Cambridge, didn't mind getting her hands -- or boots -- dirty when she joined schoolchildren on a camping trip on Monday.
June 18, 2012
Mamata's ministers say mentally ready to quit UPA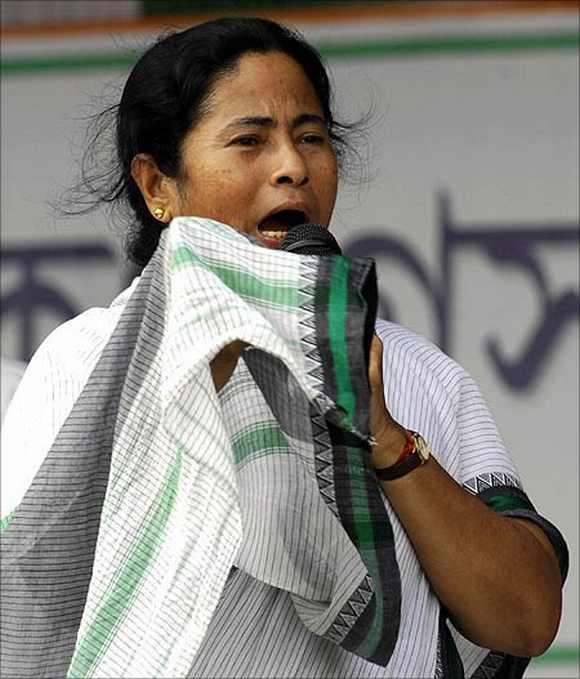 A combative Trinamool Congress sent a terse message to the Congress on Monday night saying it was "mentally prepared to quit" the United Progressive Alliance government and should not be given any "indirect threat".
Cong snubs Digvijaya after he calls Mamata 'immature'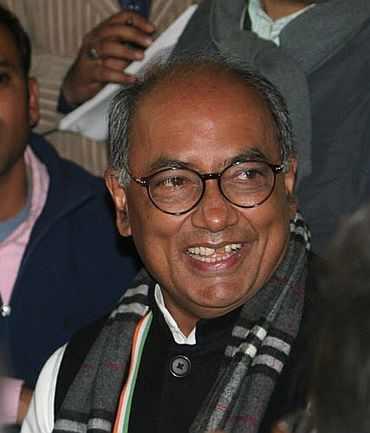 In a clear snub to All India Congress Committee General Secretary Digvijaya Singh for his remarks against Trinamool Congress chief Mamata Banerjee, the Congress on Monday said that he was "not officially authorised" to speak to the media.
'India must not ignore Taliban's positive feelers'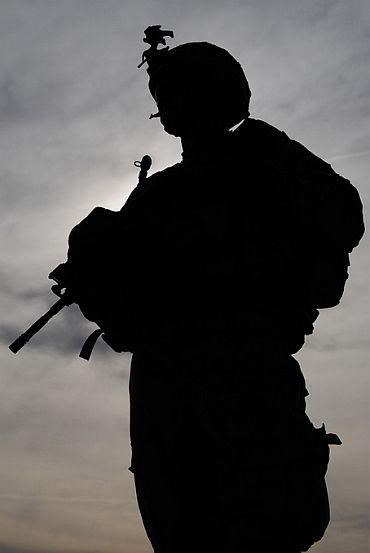 The Taliban has chosen to interpret the lack of open Indian enthusiasm on the US idea of Indian military training role in Afghanistan as Indian rejection of the US feelers, says .
We DON'T want to get out of UPA: Trinamool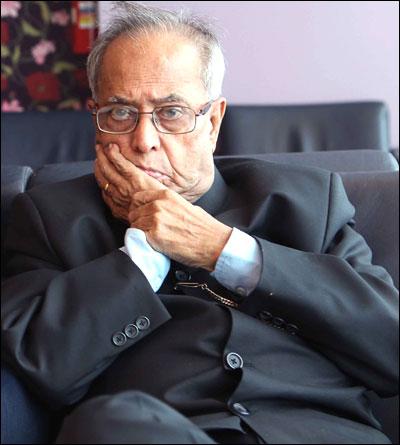 Amid the growing strain between the Congress Party and its ally the Trinamool Congress over the choice of Pranab Mukherjee as the United Progressive Alliance's presidential candidate, the latter has said it would quit the ruling alliance only if asked to do so.
Mr PM, it is time to bite the BULLET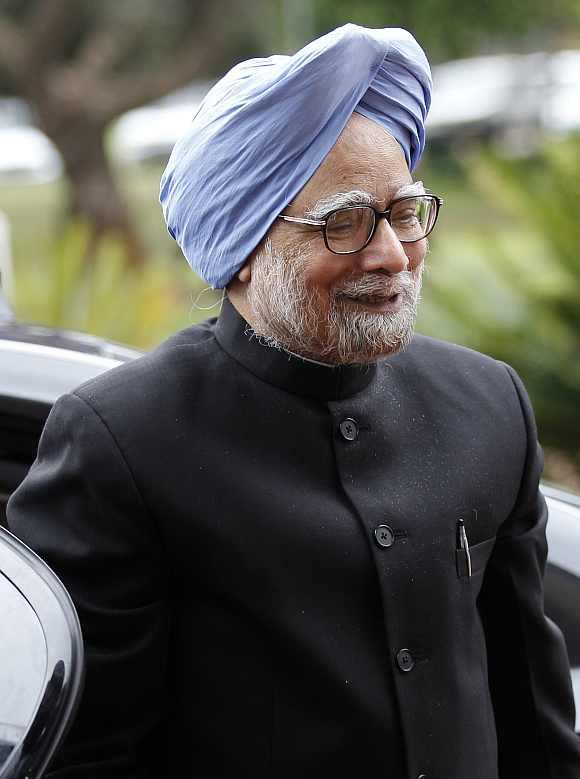 The United Progressive Alliance government has by now acquired the notoriety of snatching defeat from the jaws of victory. Not only has it been shy of taking decisions to defuse the various economic and political crises that have affected its governance, it has also let go of many opportunities to bounce back from a setback.
Why new CEC's actions will be watched very closely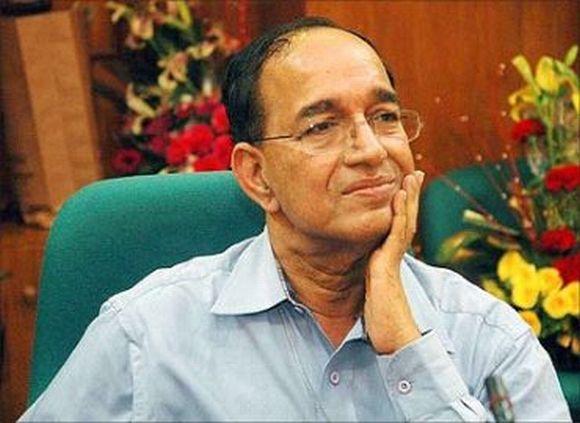 profiles V S Sampath, India's newly-appointed Chief Election Commissioner.
There is chronic famine in India, says Binayak Sen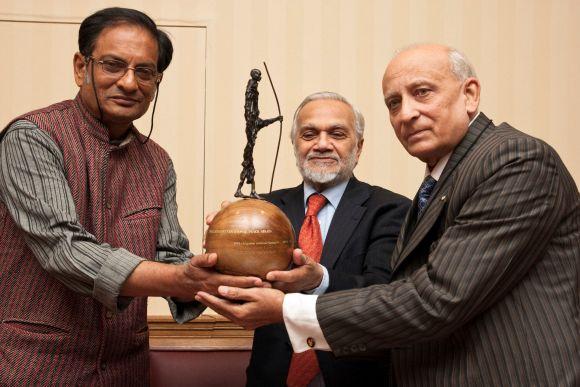 Dr Sen, 62, who is currently facing charges of sedition in India, came to England, with his wife Illina, to receive the Gandhi Foundation International Peace Award 2011. caught up with him in London during his trip.
Taking US-India defence links to the next level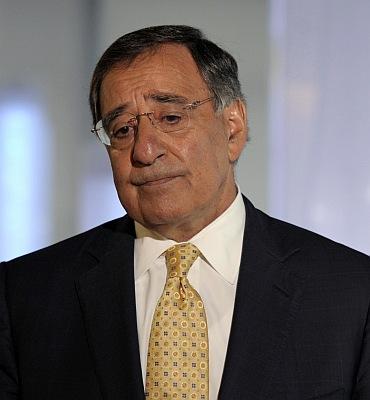 India needs a helping hand and the country best placed to provide it, in every way, military, political and economic, is the US, says .
June 17, 2012
Electing the President: What's the big deal?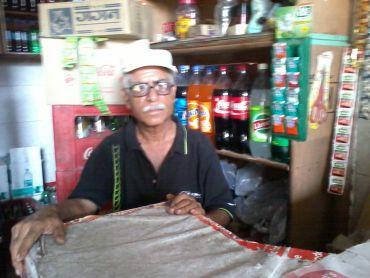 The run-up to the presidential election in India may be hot news in the media, but on the streets of New Delhi, rediff.com's is met with ignorance, apathy and plain disinterest, as she tries to find the layman's views on the subject.
Differences in NDA, decision on Prez poll deferred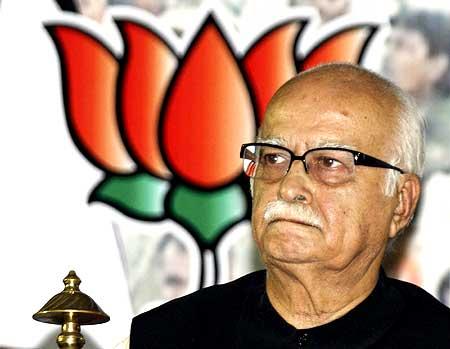 Strong reservations from key ally Janata Dal-United over pitting a candidate against United Progressive Alliance nominee Pranab Mukherjee on Sunday forced the National Democratic Alliance to defer its decision on the Presidential election.
June 16, 2012
Prez polls: Ram Jethmalani to enter race against Pranab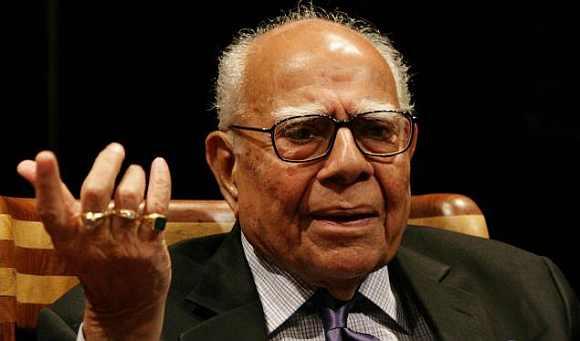 Eminent lawyer and Bharatiya Janata Party leader Ram Jethmalani on Saturday launched himself in the race to the Rashtrapati Bhavan.
In PHOTOS: China's first woman astronaut soars into space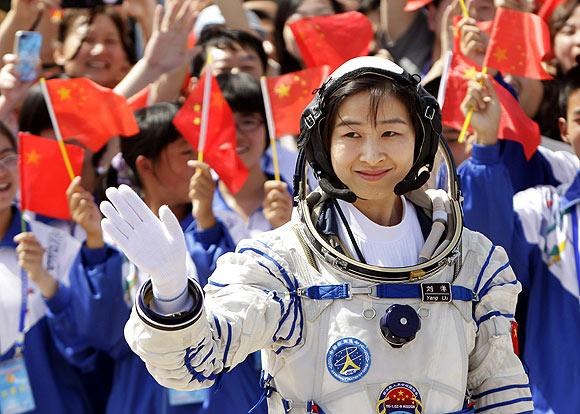 China on Saturday fired its longest and heaviest rocket, successfully sending its first woman astronaut along with two male colleagues into space to conduct the maiden manned docking of its space lab being built to rival Russia's Mir International Space Station.
Mamata debuts on Facebook, pitches for Kalam as President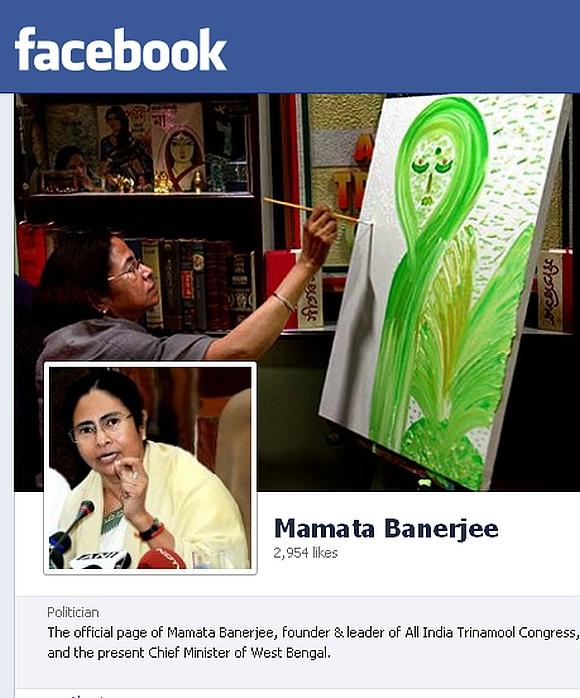 Taking up the campaign for APJ Abdul Kalam online, Trinamool Congress chief Mamata Banerjee on Saturday said her choice of the Presidential candidate was the choice of millions of Indians.
Why Congress MUST re-think its gameplan in AP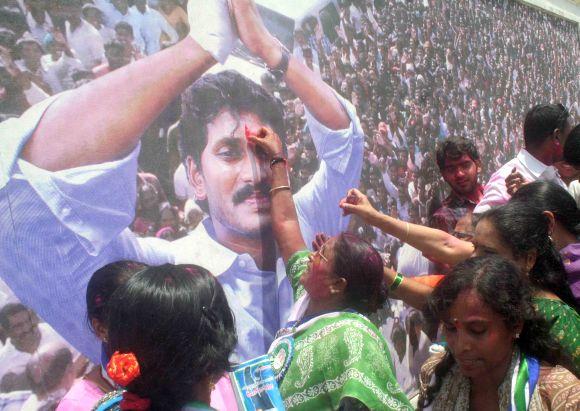 With the YSR Congress delivering a crushing blow to the Congress in the Andhra Pradesh by-polls, the latter will have to do some quick re-thinking to prevent itself from being booted out of the state, says
Maybe Mamata and Mulayam did everyone a FAVOUR...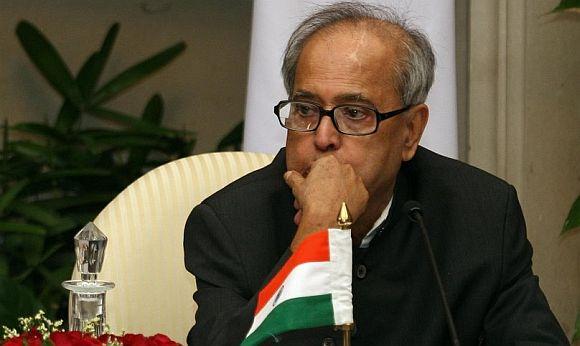 The media's obsessive coverage of the presidential election lost sight of a few pertinent points thrown up in the chaos and confusion, says
Pranab Mukherjee is NOT an ungenerous man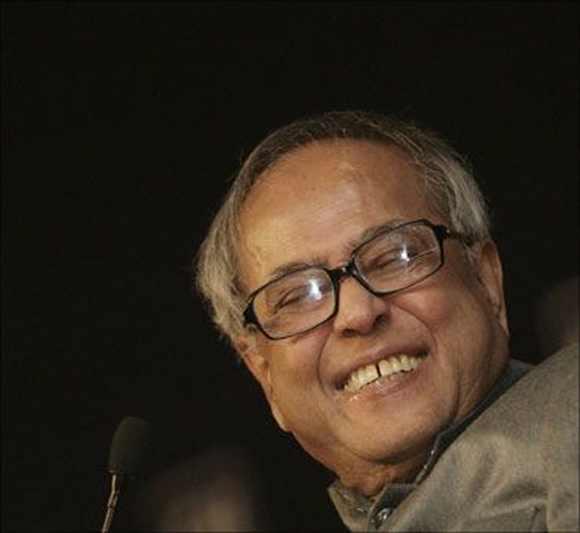 Pranab Mukherjee, the United Progressive Alliance's presidential candidate, has friends across the political spectrum, in the Left as well as the Bharatiya Janata Party, says
Watch: The BEST videos of the week
Watch: The BEST videos of the week
HISTORIC: A walk across Niagara Falls on tightrope!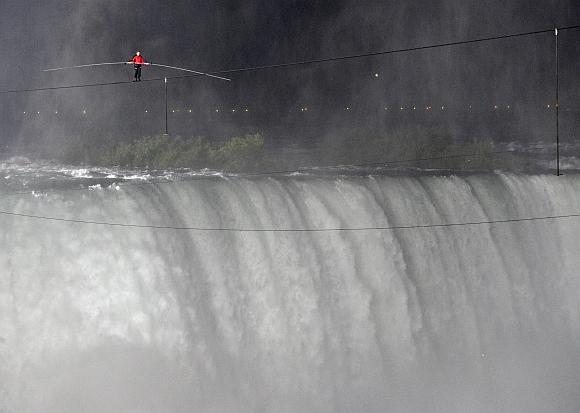 Nick Wallenda, a 33-year-old aerialist, has become the first person to successfully cross over Niagara Falls over a tightrope, in an amazing display of acrobatics. He also became the first person in more than a century to cross over on a high wire.
Cong, TDP try to decipher meaning of by-poll debacle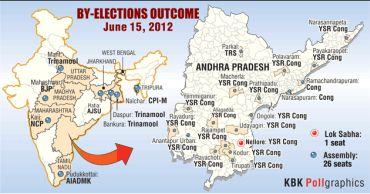 Stunned by the defeat in the by-elections at the hands of the YSR Congress in Andhra Pradesh, both the ruling Congress and the main opposition Telugu Desam Party were trying to come to terms with the reality and decipher its meanings.
June 15, 2012
Question mark over Trinamool's continuance in UPA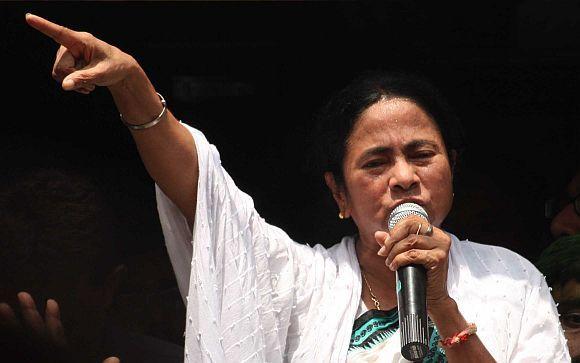 Trinamool Congress strategy of opposing the United Progressive Alliance candidate has raised question mark over its continuance in the Congress-led coalition.
LIVE CHAT: So who will be the next President?
Political observer Dilliwala will talk about why this Presidential elections are all important and just who will get the job in the end.
WARNING! Maoist-NE terror groups' cocktail is disastrous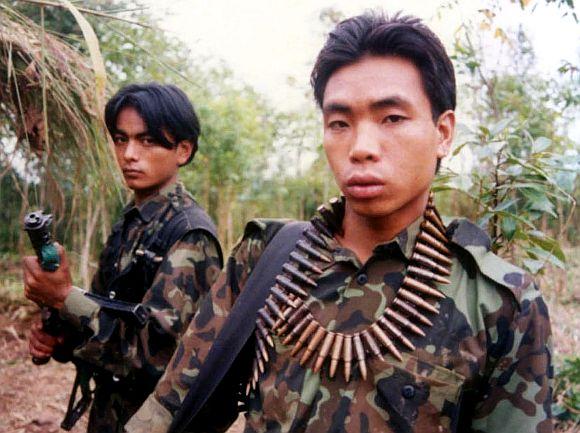 Maoist activities in Assam are likely to receive the support of the so-called anti-talks faction of the ULFA and if not nipped in the bud will spread to other states of the Northeast with support from other insurgent groups and international powers, warns Col Anil Bhat (Retd).
Time to reintroduce sanity into presidential poll process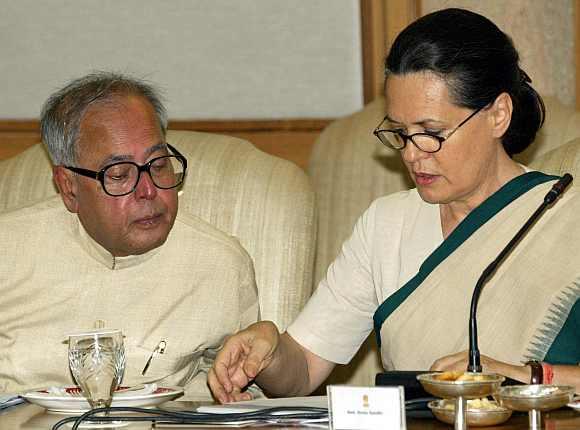 The presidential poll process is in a rollercoaster ride. If it is not arrested, there is a danger of it affecting governance, says .
REWIND: Best PHOTOS in the last 48 hours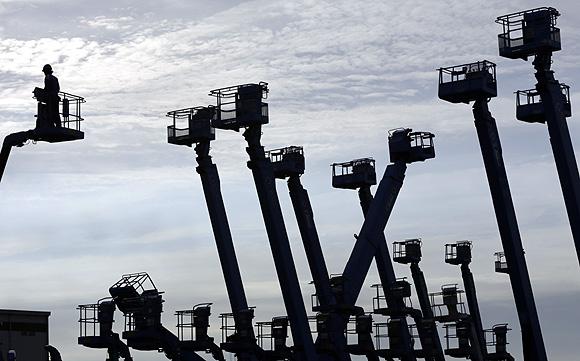 Presenting some of the best photographs from around the world in the last 48 hours.
Jagan DECIMATES Congress, TDP in Andhra by-polls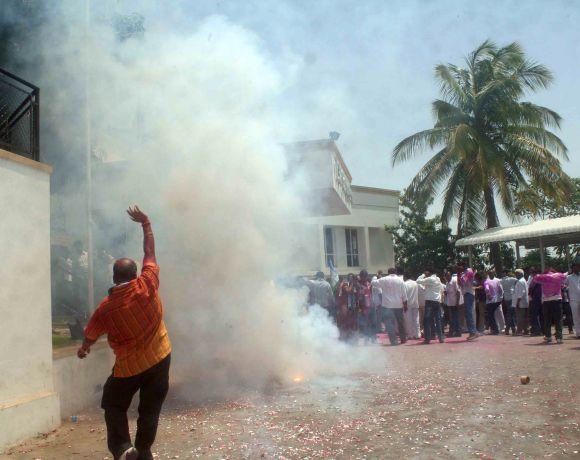 YS Jaganmohan Reddy's YSR Congress party is appearing to be all set to emerge as a formidable political force breaching the Congress fortress of Andhra Pradesh.
June 14, 2012
U-turn? Yet to take final call on Prez, says SP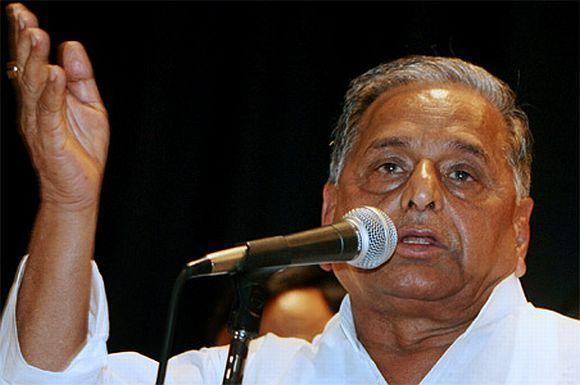 Even as Trinamool Congress on Thursday insisted that A P J Abdul Kalam was its first choice as well as that of Samajwadi Party for President, sources said Mulayam Singh Yadav will take a final view only after consulting his senior party colleagues.
I am NOT afraid, I won't give in: Mamata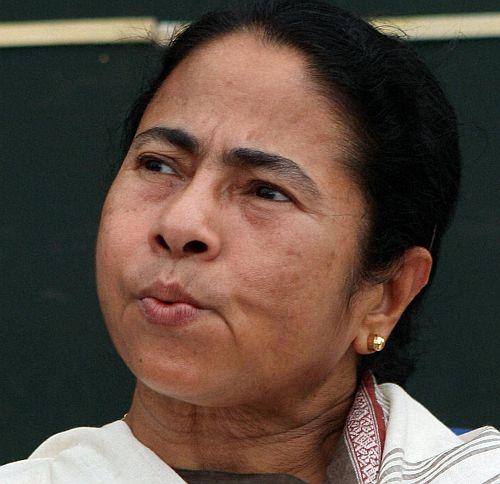 Trinamool Congress supremo and West Bengal Chief Minister Mamta Banerjee on Thursday made it clear that she is determined to back A P J Abdul Kalam as the candidate for the President's post.
PM's lack of leadership makes UPA a sinking ship: BJP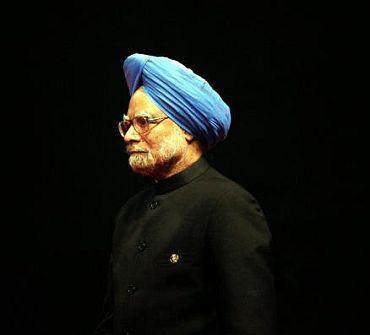 Bharatiya Janata Party on Thursday took potshots at Prime Minister Manmohan Singh, alleging his "lack" of leadership had made the United Progressive Alliance government a "sinking ship" and prompted even allies like Trinamool Congress to declare that he should be moved to the President's post.
Cong gets desperate, Pranab turns to Left for support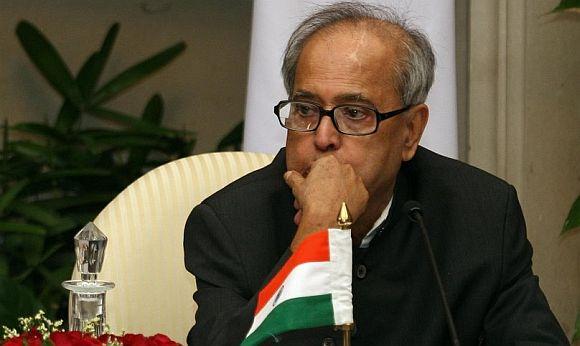 Amidst the flurry of political activities in Delhi over selection of the Presidential nominee, Union Finance Minister Pranab Mukherjee, whose name has been reported to be Congress' first choice as candidate, on Thursday telephoned former West Bengal chief minister Buddhadeb Bhattacharjee.
'We don't know if 26/11 strike had inside support'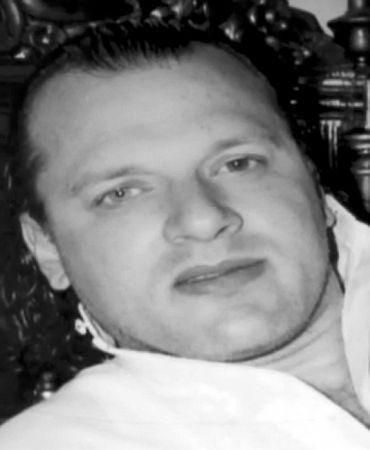 In an interview to Rediff.com's , Stephen Tankel, who is currently in India to study home grown terror, talks about Headley, co-accused Tawwahur Rana and LeT founder Hafiz Saeed.
Mamata-Mulayam's three messages to Sonia Gandhi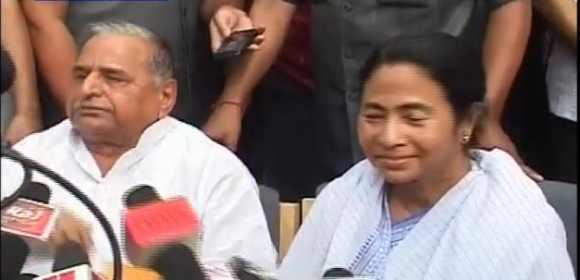 Whichever way the presidential polls go it will be seen as a loss of face for the Congress, writes senior analyst
In PHOTOS: Lethal 'Kamakazi' drone that fits in a backpack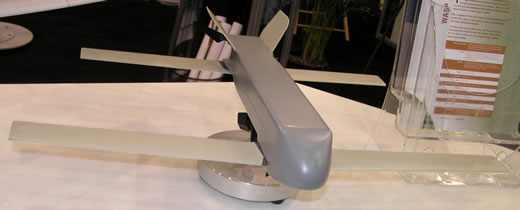 United States forces are poised to deploy pint-sized drones, small enough to fit into soldier's rucksack, but packed with tiny explosive warheads enough to blast targets with pinpoint accuracy.
Meet the cop who has KILLED Mumbai's nightlife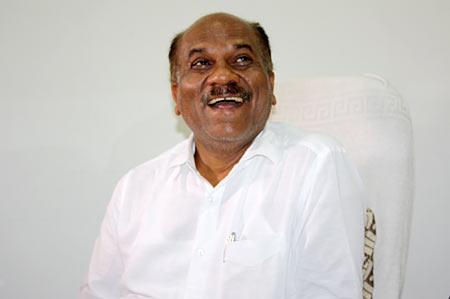 Returning to his office at Mumbai's Police Commissionerate after a morning full of court hearings, Special Services Branch's Assistant Commissioner of Police Vasant Dhoble is resigned to answering a barrage of questions from reporters.
Massive explosion at Vizag steel plant kills 16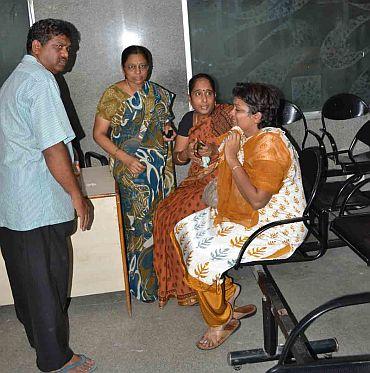 At least 16 people were killed and 11 others were injured when a massive explosion rocked the Visakhapatanam Steel Plant on Wednesday night.
June 13, 2012
India, US forging a new, mature phase of ties: Clinton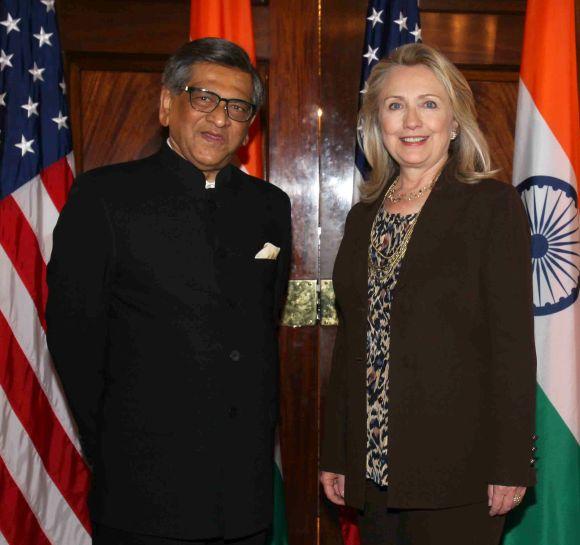 Focusing on five key areas including security cooperation and trade, United States Secretary of State Hillary Clinton on Wednesday said India and the United States are moving to forge a new and more mature phase of ties, as the 3rd Indo-US strategic dialogue kicked off in Washington, DC.
'India must walk the extra mile to boost ties with US'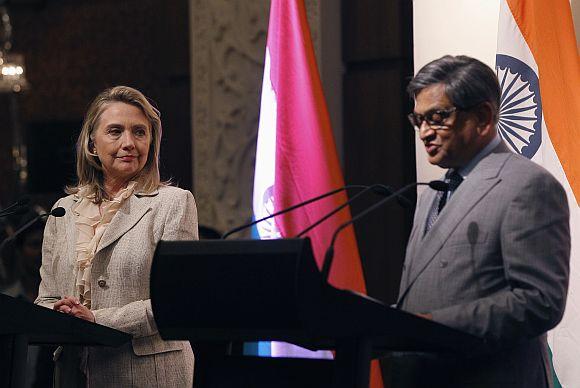 American and Indian leaders will hold their third round of strategic dialogue talks in Washington, D.C., this week amidst growing concern that the US-India relationship is failing to live up to what US policymakers expected from it seven years ago, when the civil nuclear deal was first unveiled, writes .
Digvijaya compares Modi to Ravan, tells him to shun 'ego'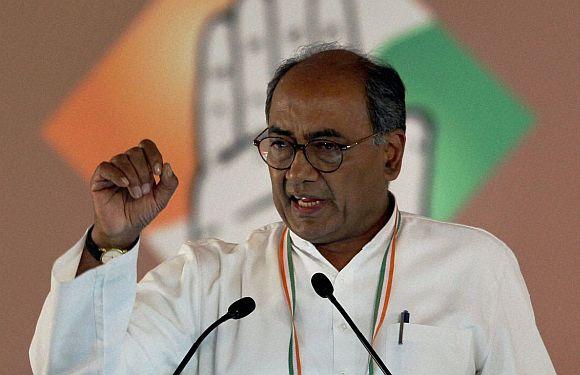 After sympathising with Sanjay Joshi following his "forced" exit from the Bharatiya Janata Party, senior Congress leader Digvijay Singh has compared Gujarat Chief Minister Narendra Modi to demon king Ravan, asking him to shun vanity.
The man who brought the mining mafia to its KNEES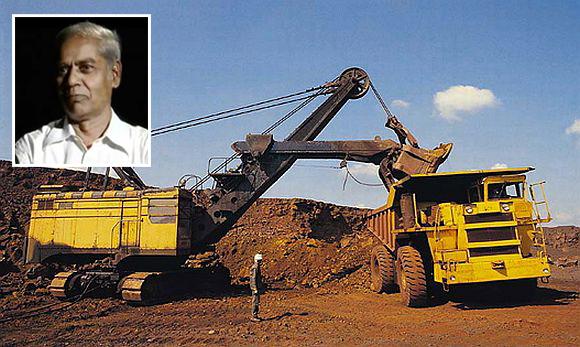 Bringing down the powerful mining lobby in Karnataka that looted the state while abusing power openly was no ordinary task. It was the various reports and the petitions filed before the Supreme Court by S R Hiremath which finally brought the ones involved in the multi million crore mining scam to justice.
In PHOTOS: Great Wall of China is now LONGER!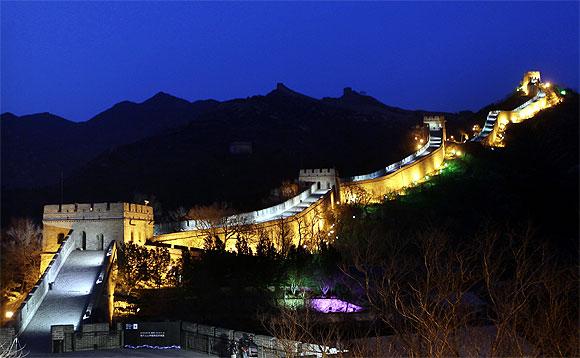 Over 2,200 years after it was built, China's Great Wall continues to be a mystery, as new studies reveal that it could be almost 2.4 times longer than originally measured.
Your guide to politics over the presidential election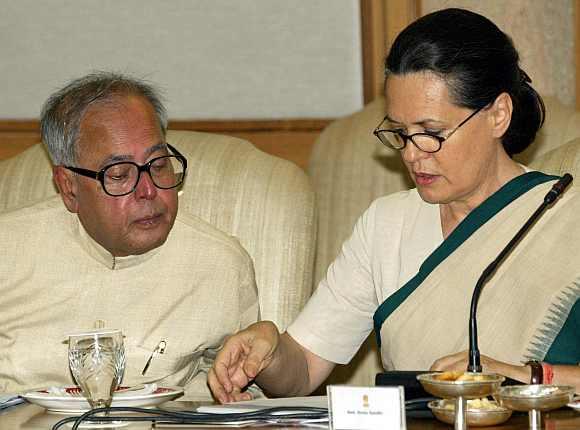 With zero growth facing Indian industry and the strong possibility of a bleak financial future ahead, the Congress's managers have to show that Sonia Gandhi's authority and charm are not on the wane. Which is why the election of the 13th President becomes crucial, says
Make Dr Singh the President; Priyanka, the PM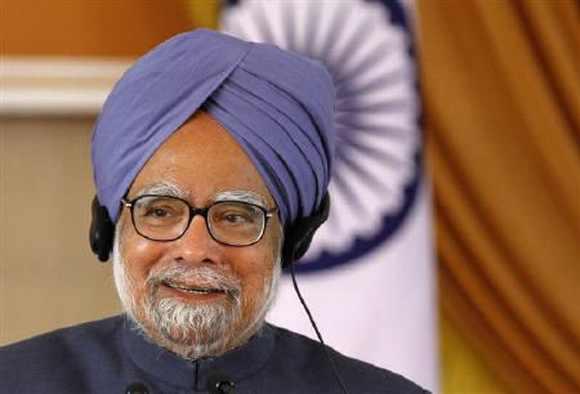 In an open letter to Congress chief Sonia Gandhi senior analyst says that the credibility of the Manmohan Singh government is withering and what the nation needs is a psychological turnaround.
IN PHOTOS: The Syrian catastrophe continues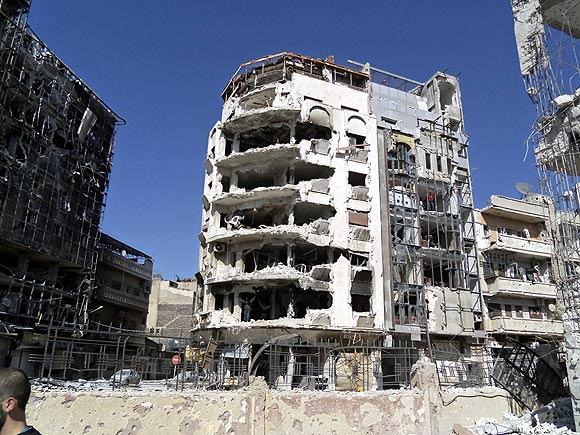 Rediff.com brings forth some photographs of the latest violence in war-torn Syria.
MUST READ: Why wars for water are unavoidable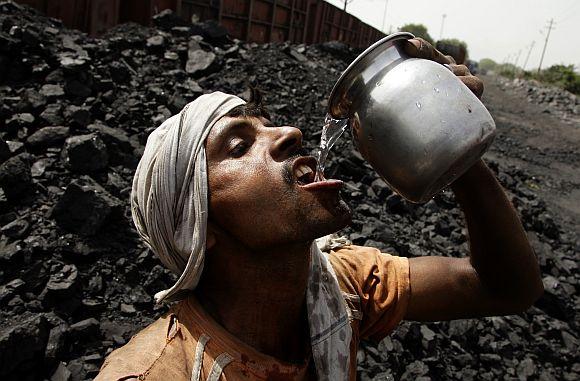 Global deforestation, destruction of wetlands, dumping of pesticides and fertilizer into waterways, and global warming are all taking a terrible toll on the Earth's fragile water system, writes
June 12, 2012
Pranab, Sangma or Ansari: Race to Prez post heats up
The Congress wants to show that it is Sonia Gandhi who will nominate the presidential candidate, to discard the impression that the party chief has been given a fait accompli if she does not want the Congress candidate to lose, says
'There is match-fixing against Jagan in Andhra Pradesh'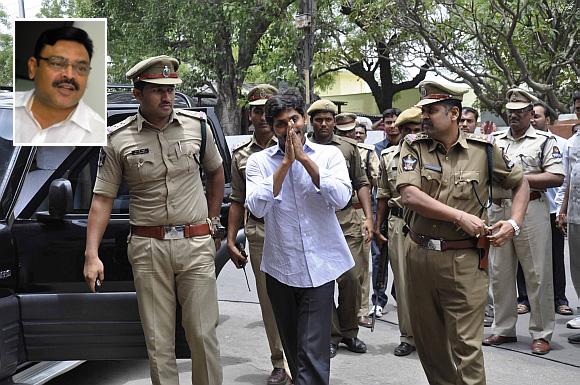 Arrest is nothing but a witch-hunt to counter the YSR Congress chief's popularity, said his close aide and party spokesperson Ambati Rambabu in an interview with rediff.com's .
Around the World: Gay and PROUD of it!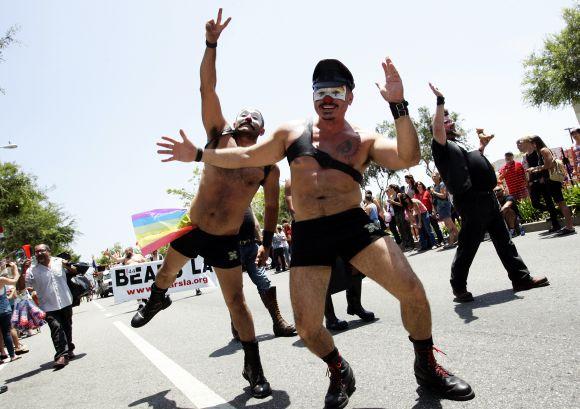 Rediff.com presents pictures of an assortment of pride festivals clicked across the world.
In PHOTOS: THIRSTY Delhi fights for more water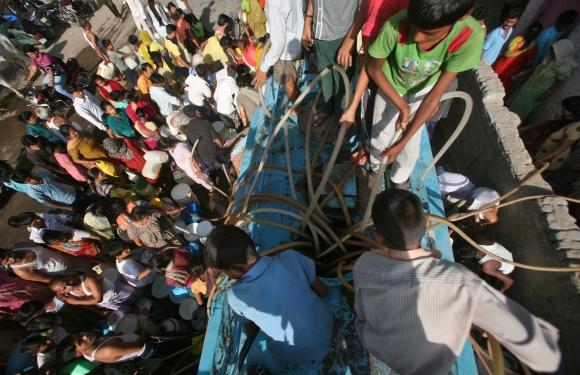 The severe water crisis in Delhi is likely to continue as city government's efforts to get additional water from neighbouring Haryana to ease the worsening situation did not fructify.
VIEWPOINT: Religious sentiments overtaking rationality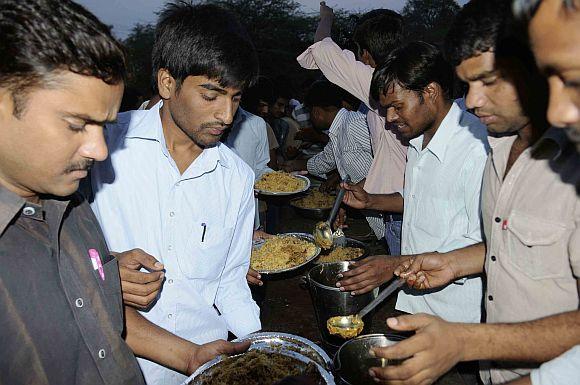 Devangshu Datta analyses three recent unrelated incidents in India to emphasise on the growing trend of religious sentiments trumping rationality
Naidu: 'Today everyone thinks Telugus are corrupt'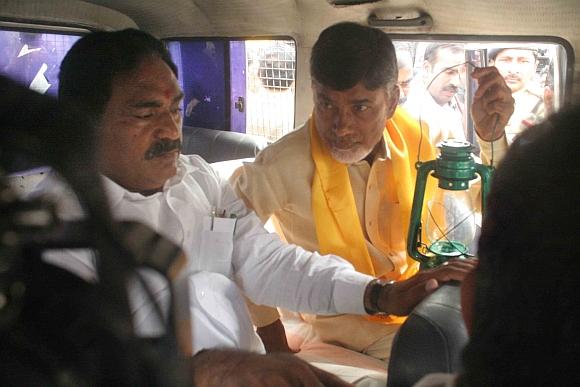 Chandrababu Naidu tells that Jagan should have been sent to jail a long time ago.
'Advani, MM Joshi trying to scuttle Modi's Delhi plan'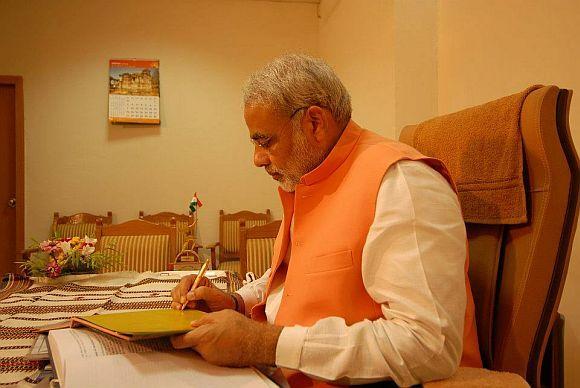 A growing dominance of Narendra Modi within the Bharatiya Janata Party and his popularity outside the party have forced the BJP's new-generation leadership to rally behind the Gujarat chief minister. In fact, the top brass is mulling over the possibility of giving him the charge of the 'campaign and selection committee' for next year's Lok Sabha election.
June 11, 2012
Politicians have become narrow-minded, says Gadkari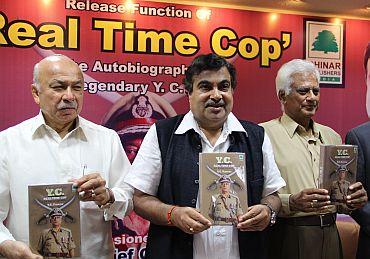 Observing that the opposition of the day needs to go beyond criticism of the government, Bharatiya Janata Party president Nitin Gadkari on Monday lamented the political class has become "narrow minded" and the field of politics was "full of compromises, compulsions and limitations".
Pranab awaits Mamata's NOC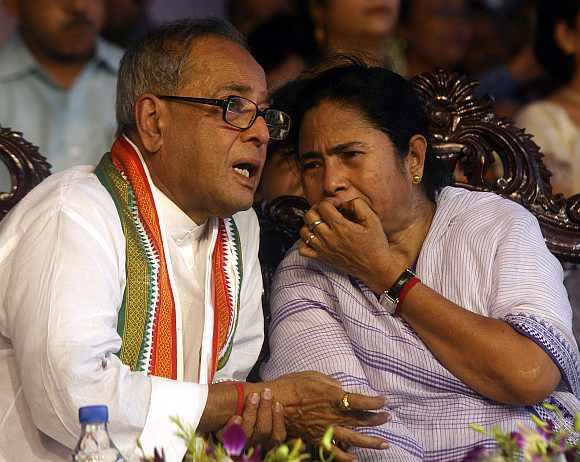 Why Krishna is miffed. The Congress's power politics. The BJP's politics over Modi. All this, and more, in Dilli Gupshup....
Tatra case: BEML chief suspended, says will come out clean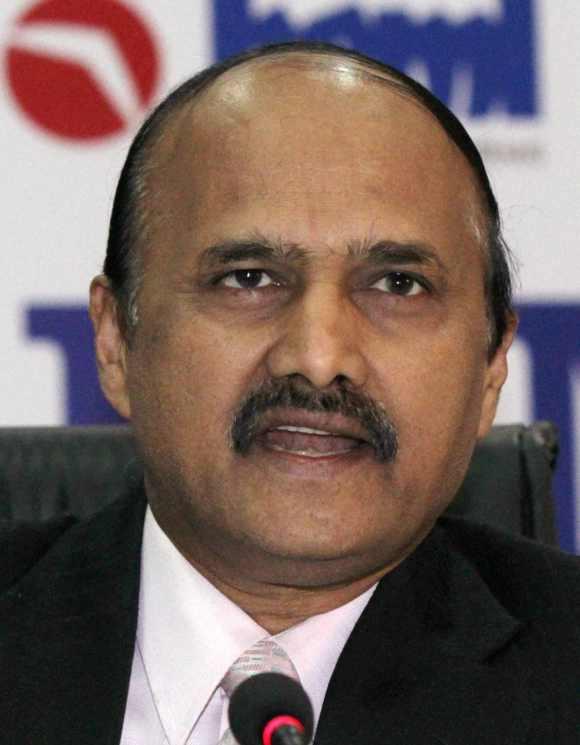 BEML Chief V R S Natarajan was on Monday suspended by the defence ministry in connection with the Tatra case on a Central Bureau of Investigation recommendation after former army chief General V K Singh levelled allegations that he was offered Rs 14 crore bribe to clear a deal for 600 trucks.
Why India can't afford to annoy China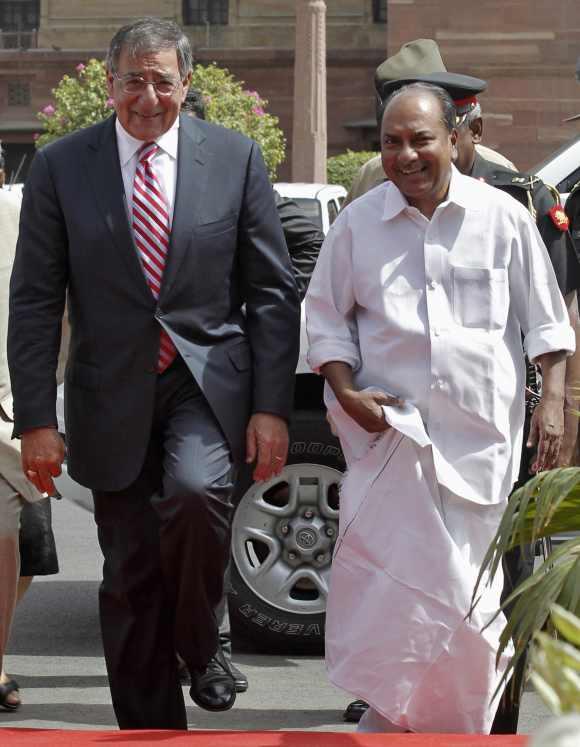 United States Defence Secretary Leon Panetta overtures are welcome, but not at China's expense.
Is the US' killing-by-drone campaign useful?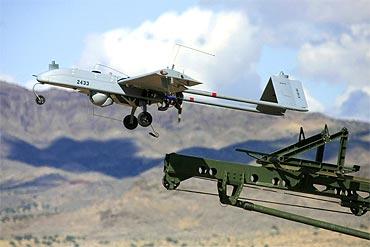 Visiting United States Defence Secretary Leon Panetta on Wednesday, strongly backed America's drone campaign, which flies unmanned aerial vehicles, or drones, from Afghanistan into Pakistan's tribal areas to launch missile attacks on terrorists who feature on a detailed hit list, says
INSIDE STORY: How Modi bullies BJP central leadership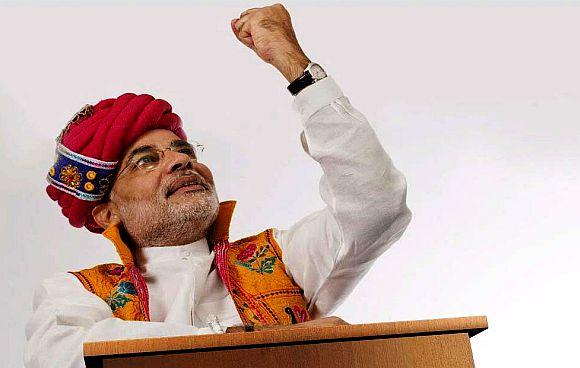 The national executive of the Bharatiya Janata Party met in Mumbai on May 24 and 25.It was not just any old meeting of the executive.
June 10, 2012
Modi is a political 'terrorist': Gujarat Cong chief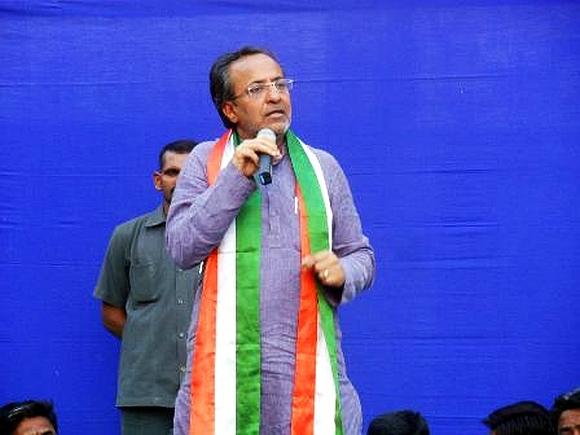 Gujarat Pradesh Congress Committee president Arjun Modhwadia on Sunday called state Chief Minister Narendra Modi a political "terrorist".
Kiran Bedi compares PM to Dhritarashtra, Cong hits back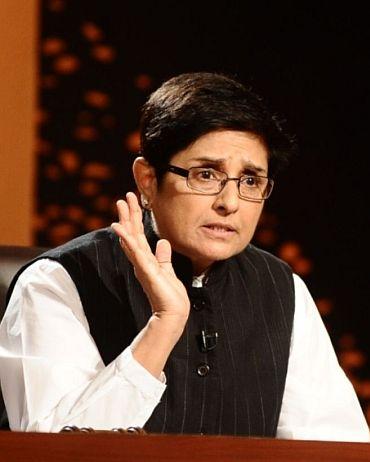 Team Anna member Kiran Bedi on Sunday likened Prime Minister Manmohan Singh to the blind king Dhritarashtra of the epic Mahabharata to attack him on the issue of corruption, prompting Government to slam the group for turning their fight into a "personal campaign".
The Congress ship is sinking: Narendra Modi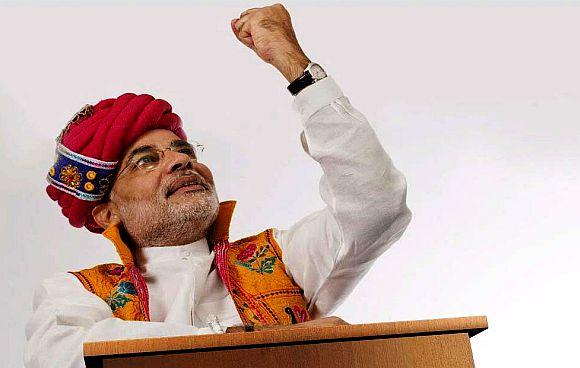 Gujarat Chief Minister Narendra Modi on Sunday sternly criticised the United Progressive Alliance government at the Centre, saying it has disappointed people of the country with a series of scams coming to light and by ignoring burning issues such as price hike.
June 09, 2012
In PHOTOS: 'Hacktivists' plan an ATTACK on govt websites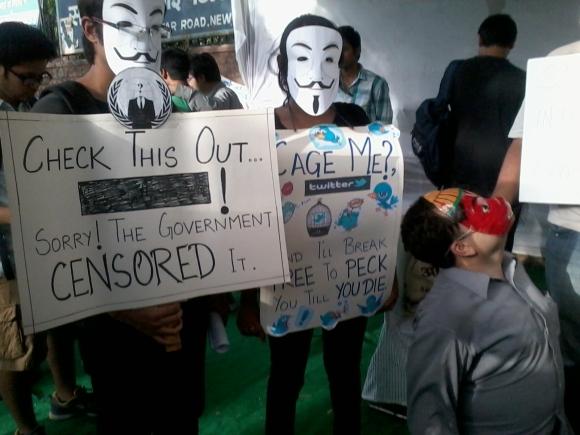 Despite lackluster protests, Anonymous 'hacktivists' are determined to fight against internet curbs by targeting government websites.
I have NOTHING to say to Digvijay Singh: Ramdev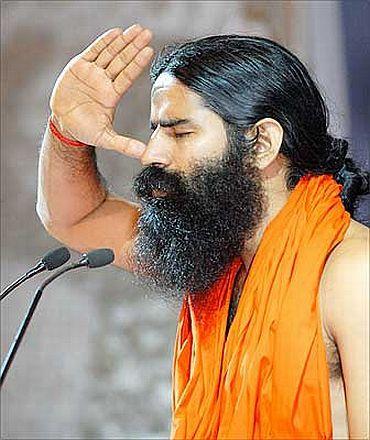 Yoga guru Ramdev on Saturday threatened to launch a mass agitation from August 9 unless the United Progressive Alliance government took effective steps for the establishment of a strong Lokpal and in bringing back black money stashed abroad.
Swallow the BITTER pill, Pawar tells UPA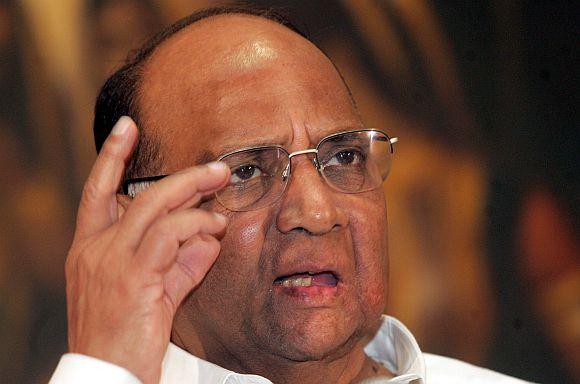 In an exclusive interview with IBNLokmat, Union Agriculture Minister and Nationalist Congress Party president Sharad Pawar has blamed the United Progressive Alliance for the spiralling prices of food items.
Hazare surrounded by anti-national elements, says PMO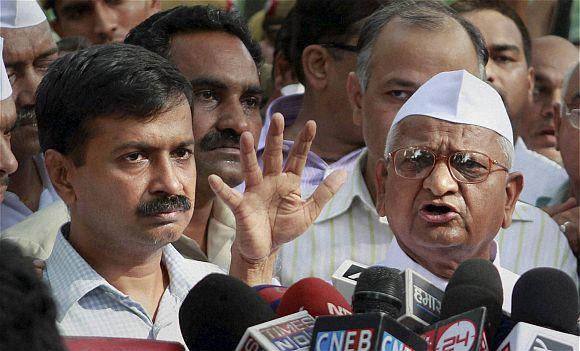 Launching a vitriolic attack on Team Anna, Union Minister V Narayanasamy on Saturday charged that Anna Hazare was surrounded by "anti-national elements" and those supported by "foreign forces". "Anna is a simple man, but he is surrounded by anti-national elements and people who have been supported by foreign forces," the minister of state in PMO told the media at Chennai airport.
MP Sachin turns down government bungalow in Delhi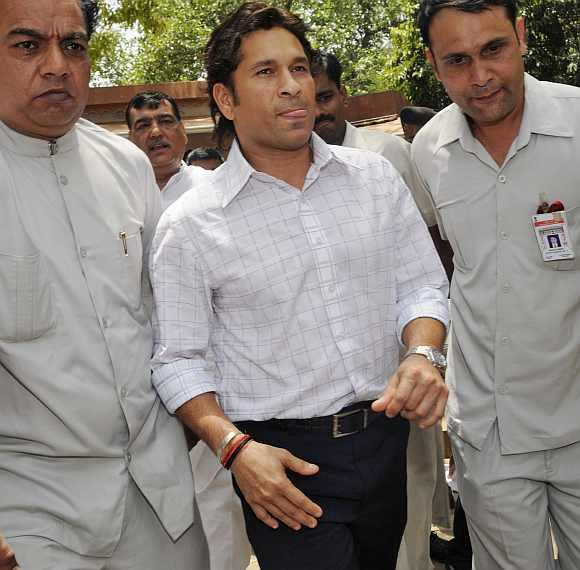 Cricketer Sachin Tendulkar has refused to accept the government bungalow he is entitled to as Rajya Sabha member, saying such a stay would be a waste of taxpayer's money.
No one can become president on his wish: Pranab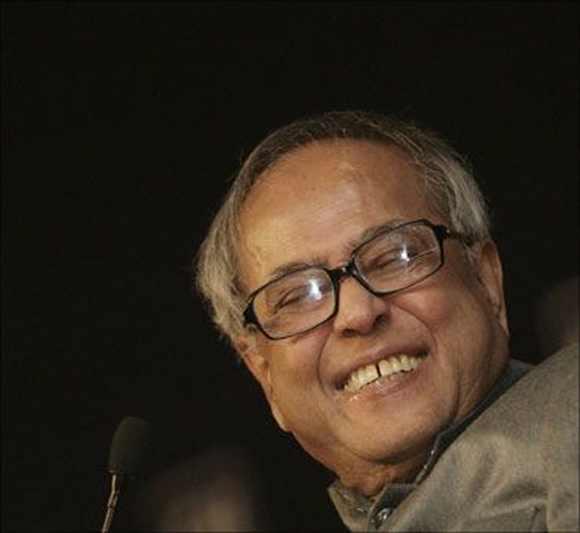 With his candidature for the President's post gaining momentum, Pranab Mukherjee on Saturday said no one can become president "on his own wish" and the Congress would decide on the issue.
Watch: The Venus spectacle; Sunny's lingerie sale
Watch: The Venus spectac#8804 Sunny's lingerie sale
Pranab as Prez poses big problems for PM, Sonia and co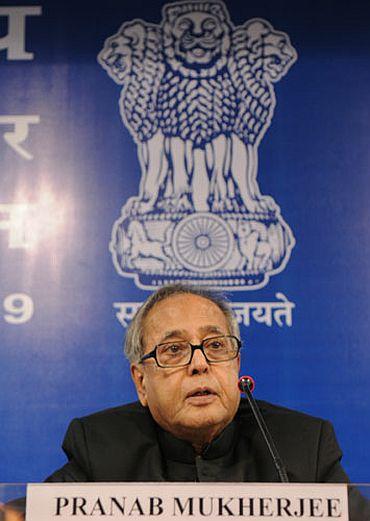 The Congress is working on "evolving a general consensus" for naming the candidate for the next president of India with sources in the party confirming that Pranab Mukherjee appears to be the only name doing the rounds.
June 08, 2012
IIT-Kanpur defies Sibal; will have own exam from 2013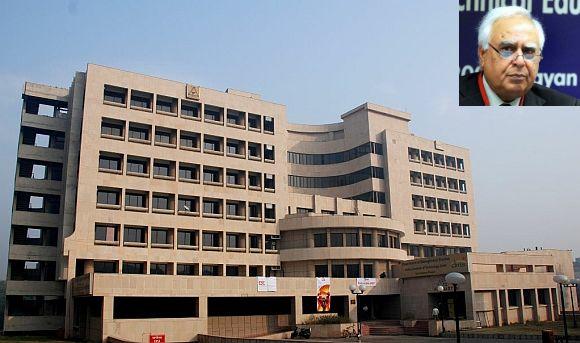 In what is seen as a flat rebuff to Union Human Resource Development Minister Kapil Sibal's proposal to bring about major changes in the Indian Institute of Technology Joint Entrance Examination, IIT-Kanpur on Friday decided to hold its independent entrance test from the next session.
I spend 18 hours on toilets alone: Jairam Ramesh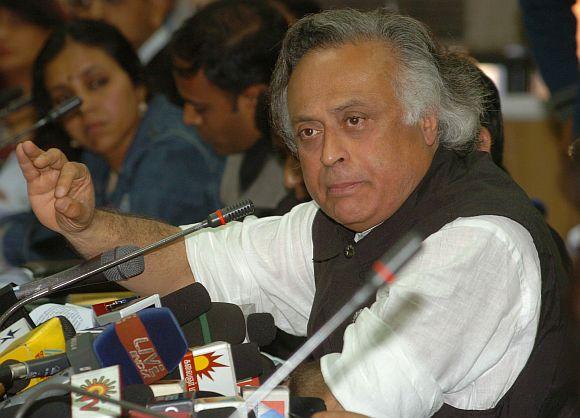 "I believe the biggest issues in front of us are malnutrition and toilets, these are the two faces of one coin... I have MNREGA, PMGSY, drinking water etc under me but I spend maximum time on toilet only," said Ramesh, who holds the portfolios of Rural Development and Drinking Water and Sanitation, in what apparently was his take on the toilet controversy for which the plan panel has drawn flak.
Narendra Modi stands tall as Parivar bows before him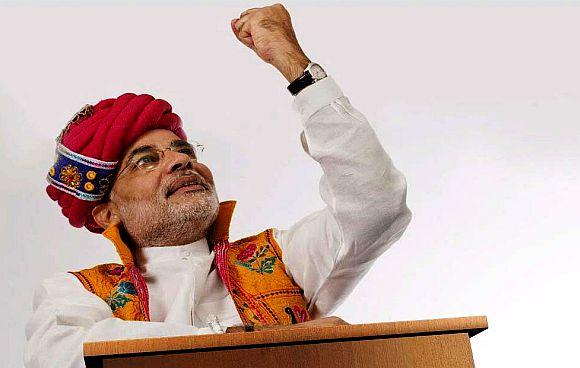 By successfully orchestrating the ouster of rival Sanjay Joshi from the Bharatiya Janata Party, Gujarat Chief Minister Narendra Modi has confirmed that the Sangh Parivar has fallen in line with his style of functioning and larger-than-the-organisation persona. reports
PIX: Navy's Rs 12,650-cr Russian-made aircraft carrier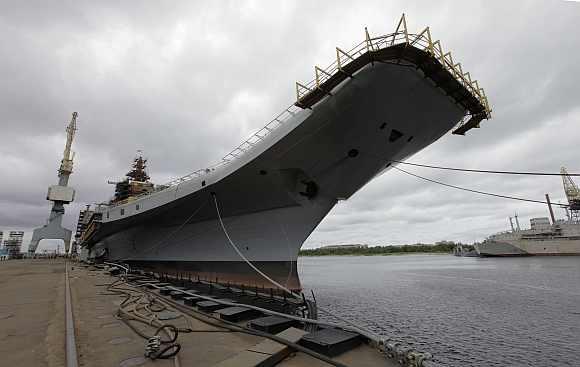 Ahead of its expected delivery by yearend, Indian Navy's Russian built aircraft carrier Vikramaditya on Friday commenced sea trials in the White Sea.
CBI makes Rs 135 cr link between BCCI chief and Jagan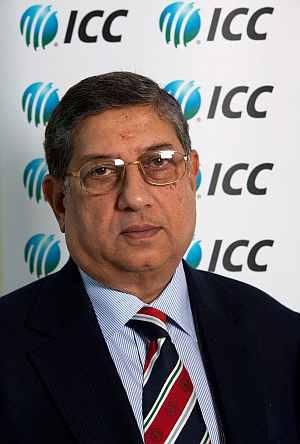 Investments reportedly worth a whopping Rs 135 crore may be the link between BCCI chief N Srinivasan and YSR Congress chief Jagan Reddy, says
Don't miss the signs: Pranab eyes Rashtrapati Bhavan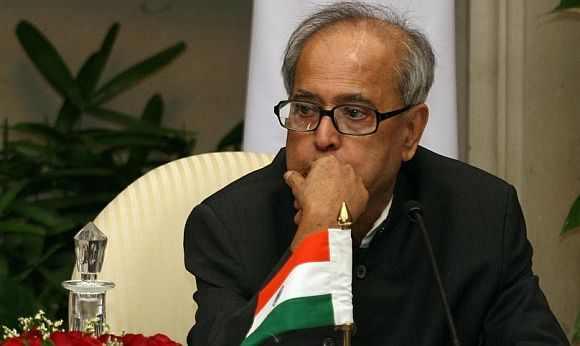 Pranab Mukherjee's initials are PM. But everyone in the finance ministry is convinced he's the one moving to Rashtrapati Bhavan in the next few weeks.
EXCLUSIVE! More Centre-states dialogue needed: President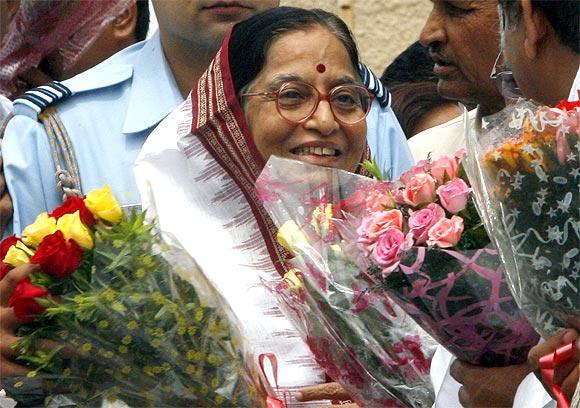 Weeks before stepping down from as President of India, Pratibha Patil, the first woman to become Head of State, tells that she would like to be remembered as the President who worked for the welfare of the people
The earth is heading towards a point of NO RETURN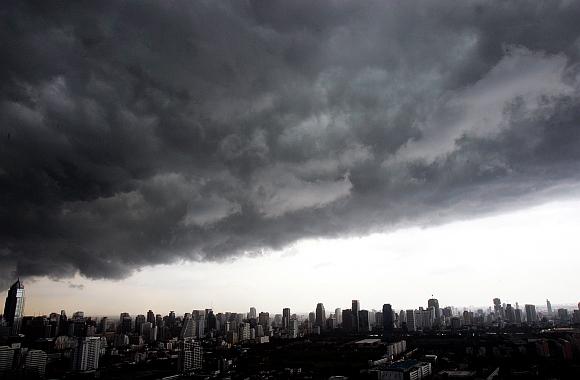 Rising populations are driving the earth towards a catastrophic breakdown where species we depend on would die out, an international team of scientists has claimed, blaming the crisis on over use of water, forests and land for agriculture.
Awesome PHOTOS of the WEEK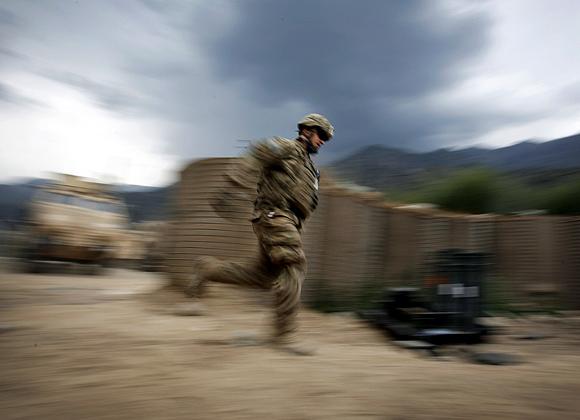 A compilation of some of the best photos from around the world this week
OFF BEAT: Greek slap, dead boy awaking, Gates Porche...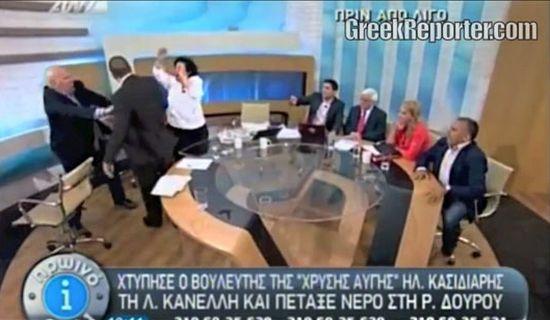 Rediff.com brings for you a collection of off-beat stories in the past 24 hours that often fail to make it in the print media.
June 07, 2012
Drop Chidambaram NOW: BJP, Jaya tell PM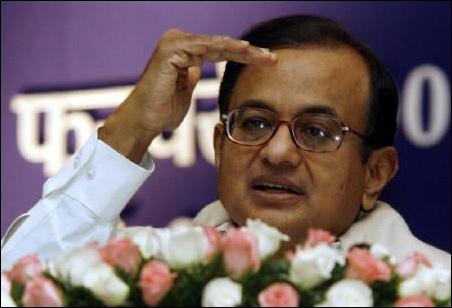 Tamil Nadu Chief Minister J Jayalalithaa on Thursday demanded the resignation of Home Minister P Chidambaram or his removal -- in the wake of the Madras high court rejecting his plea over an election petition -- and said his continuation would be a "blot on democracy".
Why NIA has FAILED to crack the blast cases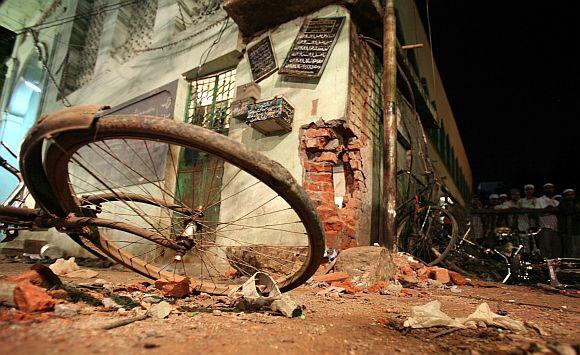 In what can be only be called an utter embarrassment for the National Investigating Agency, two accused in the Malegaon and Mecca Masjid blasts were granted bail by the courts in a span of five days, due to failure on the agency's part to file a chargesheet in the stipulated period of 90 days, as mandated by the Code of Criminal Procedure. analyses the failure
India's 1000+ military helicopter shopping list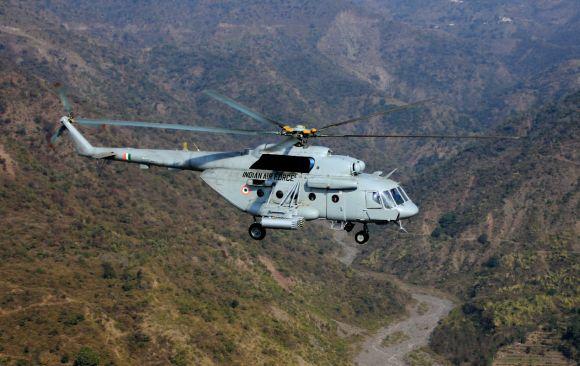 Indian defence services are poised to induct well over 1,000 rotary wing aircraft in the coming decade, the majority of them developed and built in the country.
FOUND: A black hole in space 3 times the size of the sun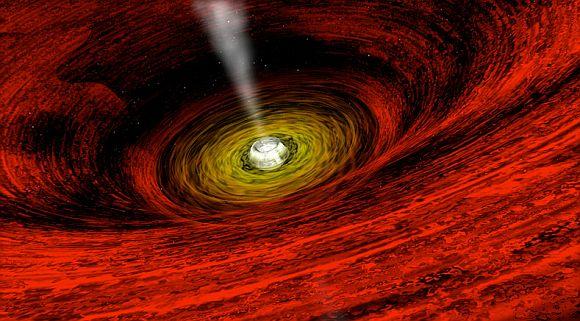 Astronomers have found what they say is a huge black hole several million times the size of the sun that is hurtling through space near a galaxy four billion light years away.
Dimple rides the cycle to easy win in Kannauj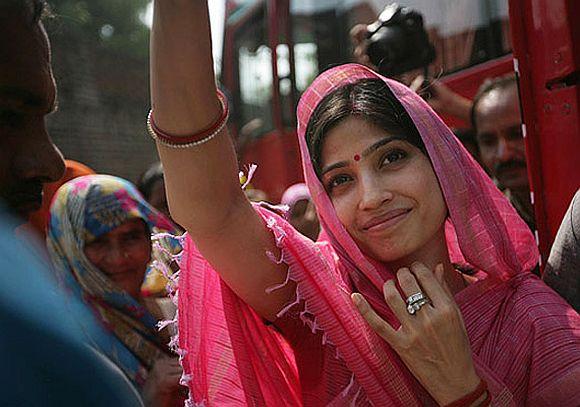 With the Congress having announced is decision not to field anyone for the forthcoming Kannauj Lok Sabha bye-election, the Bahujan Samaj Party following course and a reluctant Bhartiya Janata Party still struggling to step into the fray, the seat is clearly available for Samajwadi Party's Dimple Yadav on a platter.
FIGHT the election petition, Madras HC tells Chidambaram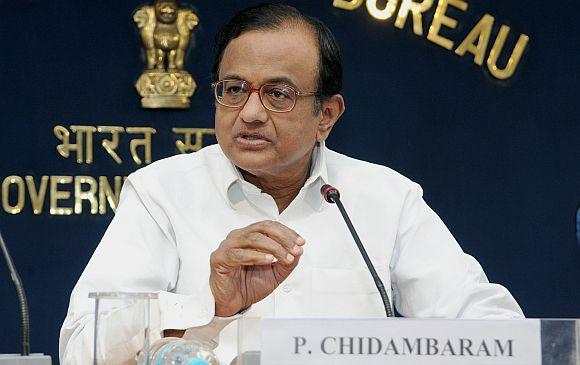 The Madras High Court will on Thursday decide the political fortunes of Union Home Minister P Chidambaram when it delivers its verdict on the plea filed by All India Anna Dravida Munnetra Kazhagam leader R S Raja Kannappan challenging the former's election from the Sivaganga constituency in the May 2009 Lok Sabha elections.
June 06, 2012
Sri Sri Ravi Shankar's words of wisdom for kids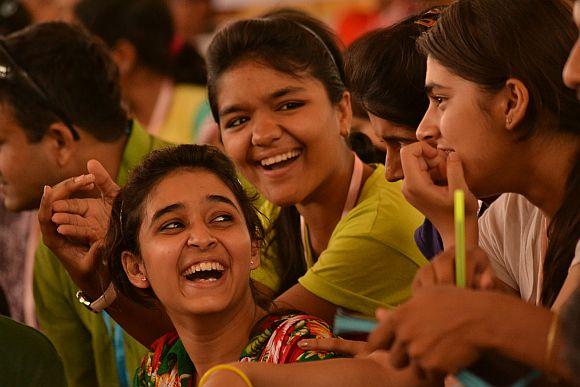 Meditation is the key that would help in tackling various challenges that come our way --that's the message that a recently-organised session by the Art of Living Foundation titled 'colours of joy' sought to deliver to around 1,200 children from around the country.
Is China a bigger threat to India than Pak?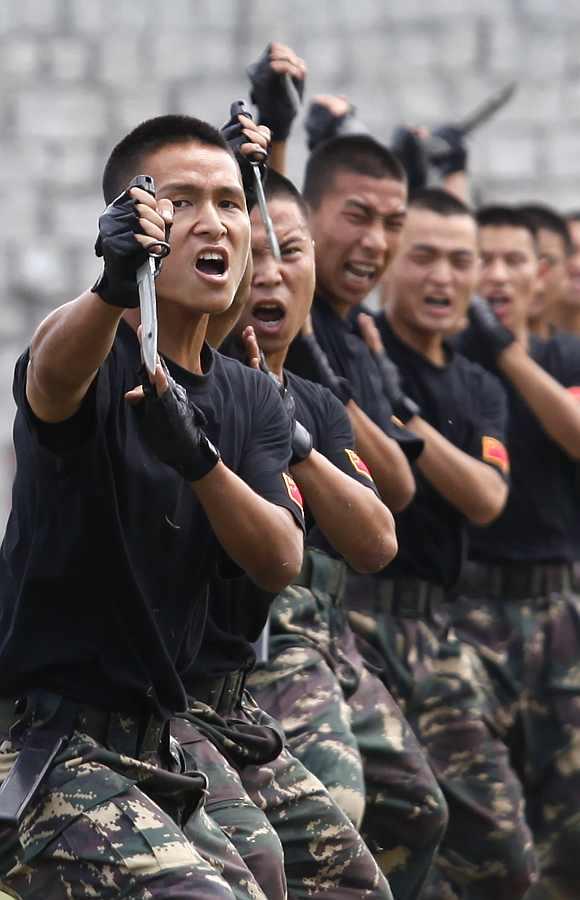 The debate has been between a group of classical thinkers and a new generation of thinkers who perceive themselves to be forward-looking and visionary, writes
Pak will spend Rs 913 BILLION on defence this year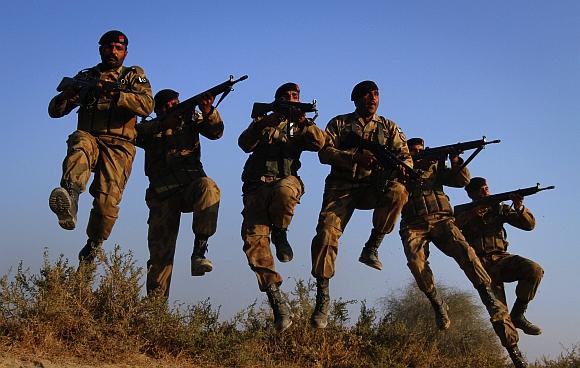 Pakistan's actual spending on defence during fiscal 2012-13 may be as high as Rs 913 billion, almost double the official allocation of Rs 545 billion.
In PHOTOS: Salaam Mumbai!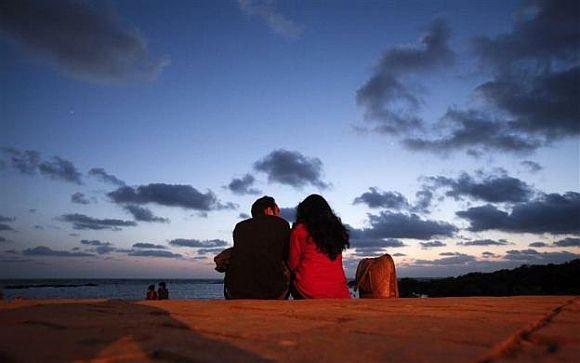 Mumbai... the financial capital of India, the city of dreams and aspirations, the city that never sleeps... The list of reasons to be here are endless.
Narendra Modi sets BJP's house on fire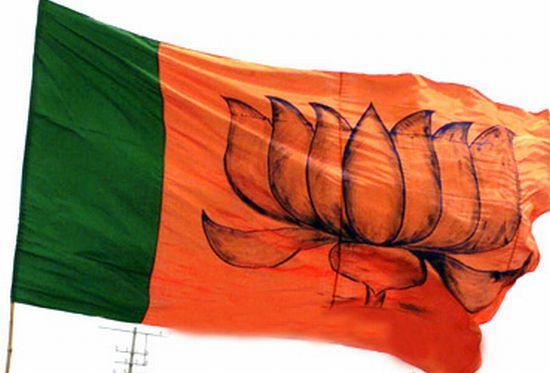 The Bharatiya Janata Party is pulling in different directions on the kind of role Gujarat Chief Minister Narendra Modi should play in the future, even before the issue has come up for discussion in the party fora. analyses
Will Panetta's India visit salvage Javelin missile deal?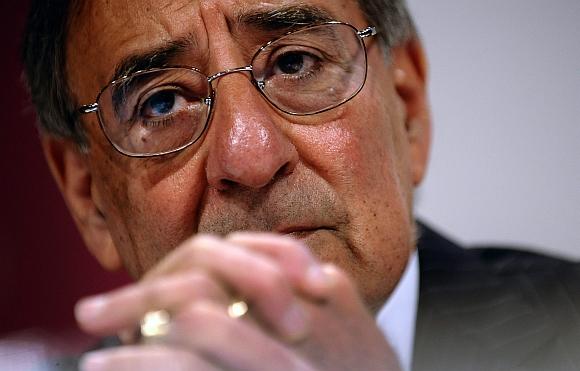 A dangerous flashpoint in United States-India relations faces visiting US Secretary of Defence, Leon Panetta, who faces tough questions from Indian officials on Tuesday, writes
Stunning pics: Venus transit leaves beauty spot on sun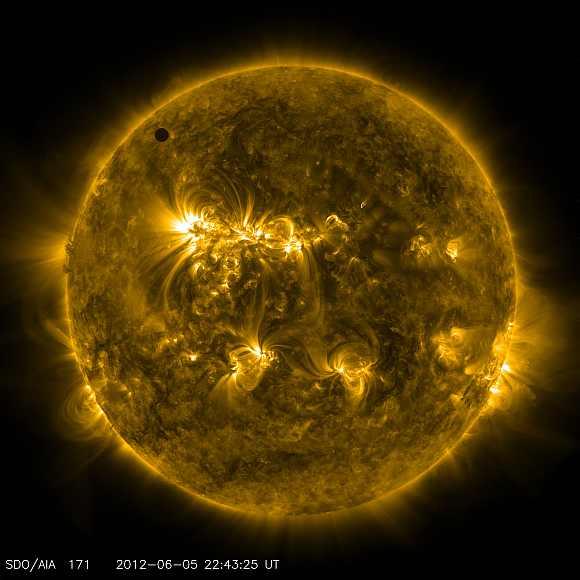 On Wednesday, planet Venus put on a rare show for sky gazers by moving across the face of the sun, producing a silhouette that no one alive today will likely see again. The next one won't be for another 105 years.
June 05, 2012
Look who's backing up Baba Ramdev's agenda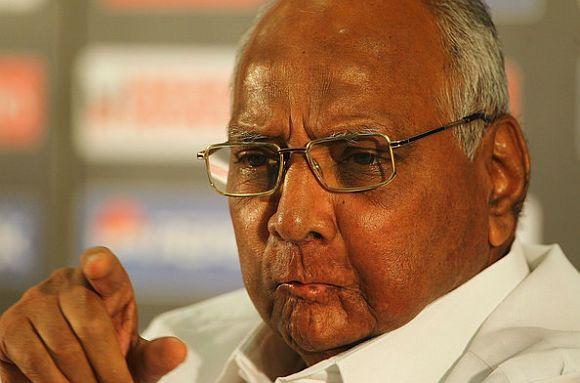 Welcoming Baba Ramdev's campaign against black money, Nationalist Congress Party chief Sharad Pawar on Tuesday night said that the yoga guru's suggestions to tackle the menace were "pragmatic".
Why Tibetans grow wary of Obama's ambivalence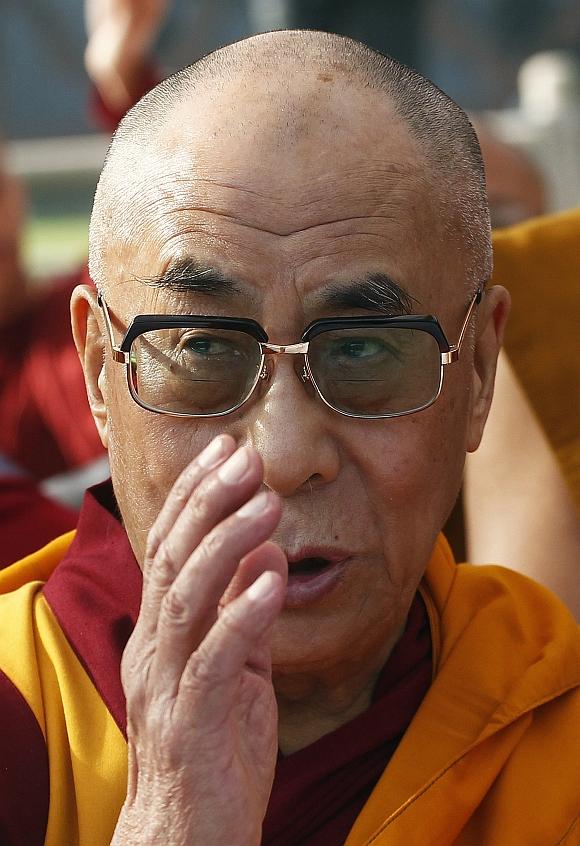 Tibetans, both in the occupied Tibetan areas of China and in the diaspora, are increasingly frustrated by what they perceive as the ambivalent attitude of United States President Barack Obama on the continued unrest in the Tibetan areas of China, and the violations of the human rights of the Tibetans by Beijing, says
Queen Elizabeth's Jubilee bash: Fireworks, rock 'n roll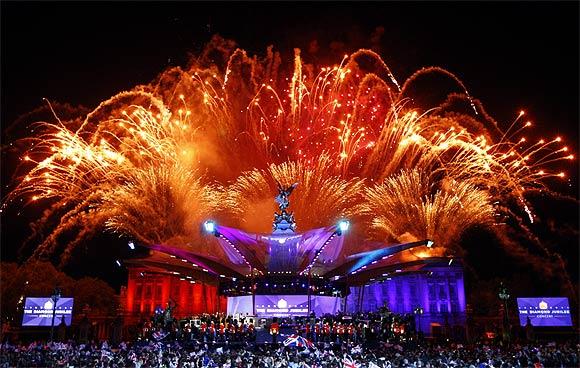 The celebration of the 60-year reign of Queen Elizabeth II rocked Britain, quite literally. Here's a look
Pix: Pak test fires 700 km-nuke missile that can hit India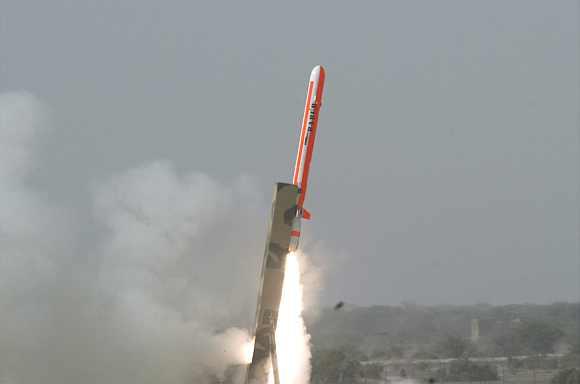 Pakistan on Tuesday successfully test fired the nuclear-capable Hatf-VII cruise missile with a range of 700 km, the latest in a series of tests of missiles that can hit targets deep within India.
India hands over Dawood's local addresses to Pakistan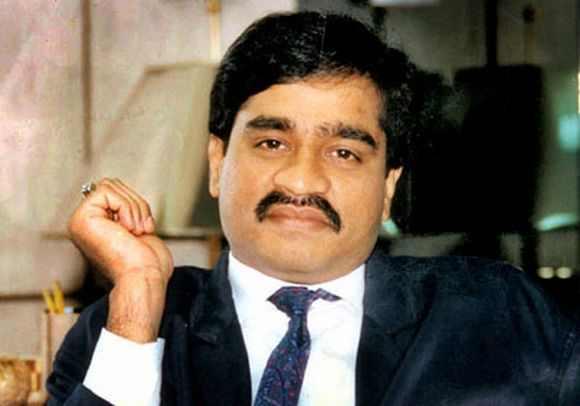 During the May 24-25 talks, Home Secretary RK Singh handed over to Pakistan a list of four precise coordinates with addresses of the fugitive don's residences in Islamabad and Karachi, reports
With Cong help 'Bhabhi' Dimple to contest LS by-polls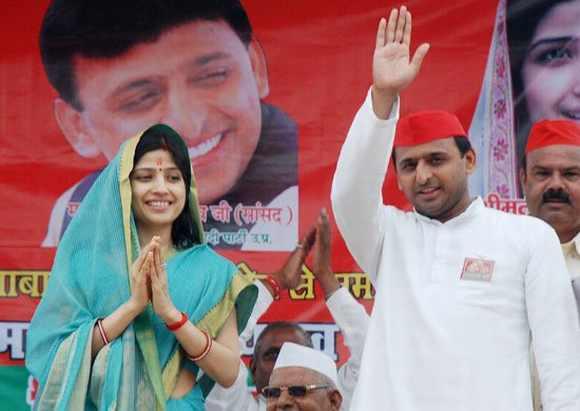 Reflecting the growing bonhomie between the two parties, Congress has decided not to field any candidate against Uttar Pradesh Chief minister Akhilesh Yadav's wife Dimple Yadav, the Samajwadi Party candidate in the Kannauj Lok Sabha by-election.
How democracy is ousting political Islam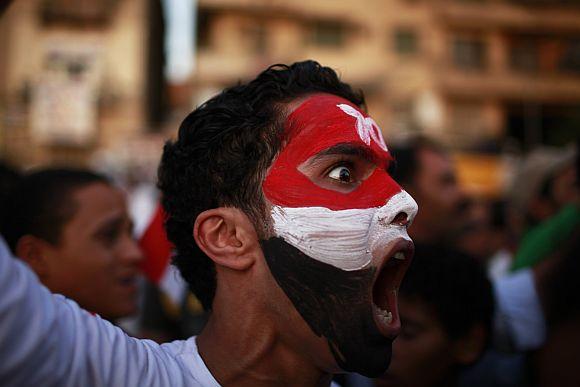 Post-Mubarak Egypt holds the answers to how democracy will evolve in the Muslim world, writes
In PHOTOS: 20 most shocking aircraft disasters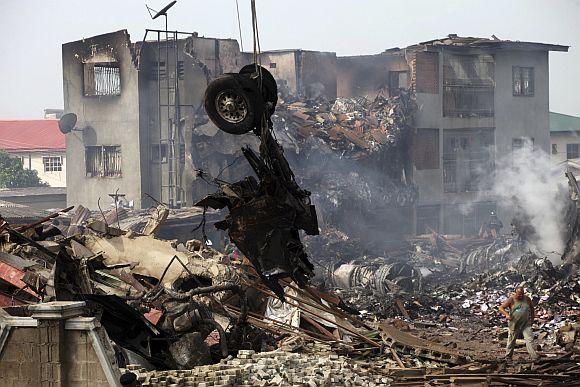 Rediff.com takes a look at some of the disastrous air crashes.
June 04, 2012
PM hits out at 'disparate and desperate' Team Anna, Ramdev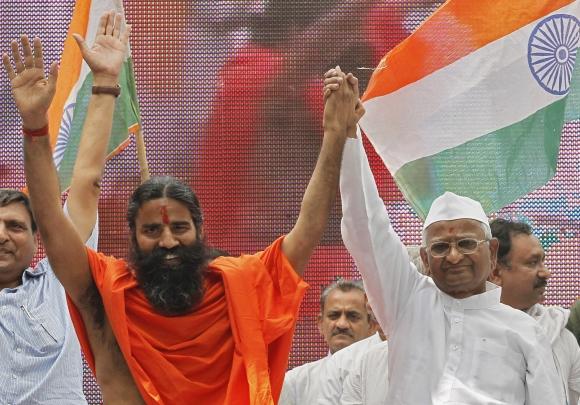 Prime Minister Manmohan Singh on Monday rejected the charges of Team Anna that the government had "swindled unbelievable amounts" of money and hit out at yoga guru Ramdev for claiming that "astronomical" sums of black money can be brought back from other countries in one stroke.
'Modi can be mascot who will bring BJP to power'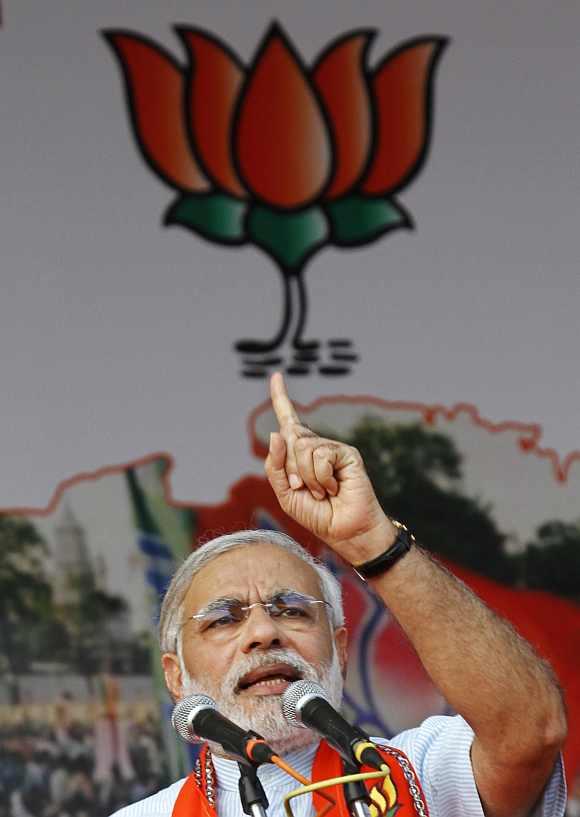 In contrast to Rashtriya Swayamsevak Sangh Hindi mouthpiece Panchjanya that crticised Narendra Modi's style of working, its English magazine Organiser projected the Gujarat chief minister as "the most popular leader in the country today" who can be a mascot like former prime minister Atal Bihari Vajpayee and ride the party to power at the Centre.
Did not write Satanic Verses for the Mullahs: Rushdie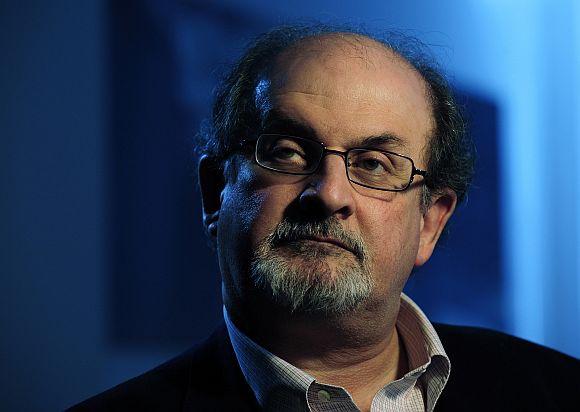 Over two decades after 'Satanic Verses' sparked a never-ending controversy and provoked a 'fatwa' for his head, author Salman Rushdie has only one thing to say to his detractors: 'I did not write it for the mullahs'.
Allegations against PM part of a conspiracy: Sonia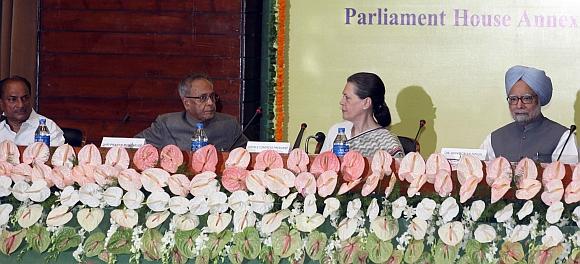 A combative Congress President Sonia Gandhi on Monday made a scathing attack on the opposition and civil society for levelling "baseless" allegations against the prime minister and the party, saying it was part of a conspiracy and told partymen to fight back.
Naming, shaming MPs needed: Kejriwal on Ramdev 'protocol'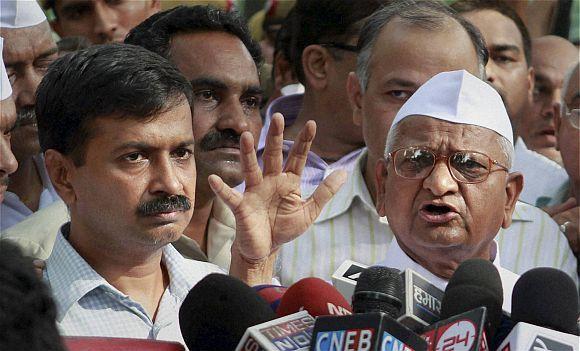 Differences continued to remain between Team Anna and Ramdev with activist Arvind Kejriwal on Monday contradicting the yoga guru's claims that a protocol had been set not to take names of politicians or make personal attacks during speeches at the venue.
PIX: Queen Elizabeth's 1,000-ship grand Thames pageant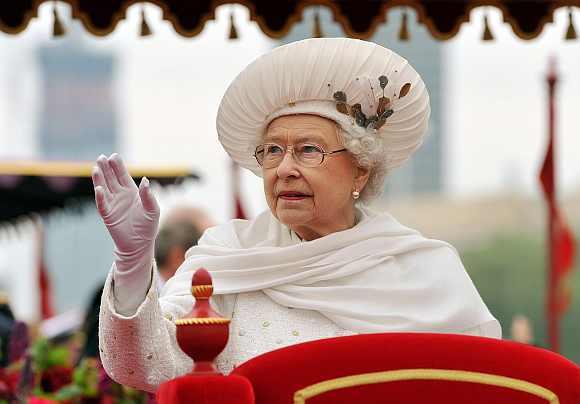 Queen Elizabeth II today provided a temporary lift to Britain's economic gloom by leading a unique spectacle of a 1000-strong flotilla to celebrate 60 years of her reign but heavy rains played spoilsport to the finale of the diamond jubilee pageant.
VIDEO: Cricket comes first, says Rajya Sabha MP Sachin
Sachin Tendulkar took oath as a Rajya Sabha member of Parliament on Monday in the chambers of chairperson and Vice President Hamid Ansari.
Arrest only a temporary setback for daring Jagan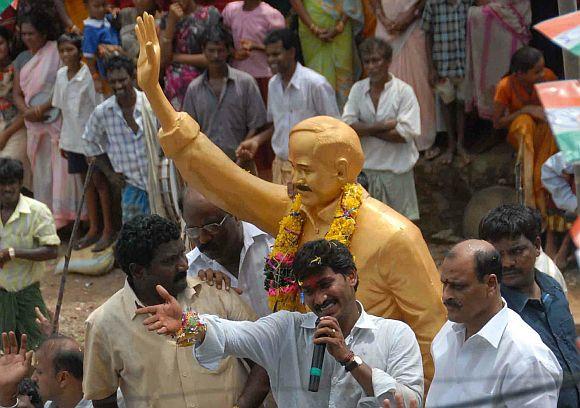 His arrest has interrupted the political journey. But given Jaganmohan Reddy's ambitions and strengths in politics and business this setback is likely to be only temporary
In PHOTOS: The view from Afghanistan's bunkers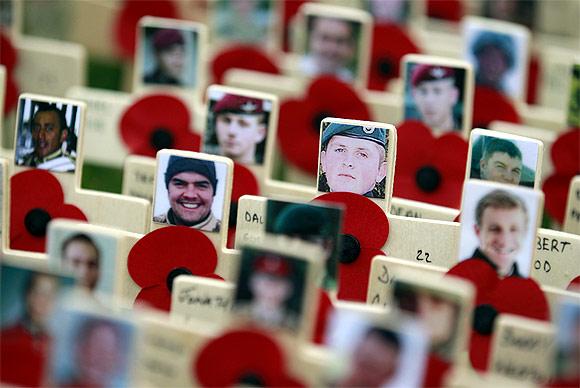 It is a war that has changed the geo-political realities of several nations - and left a trail of death, destruction and doubts in its wake.
PIX: Nigeria air tragedy death toll reaches 193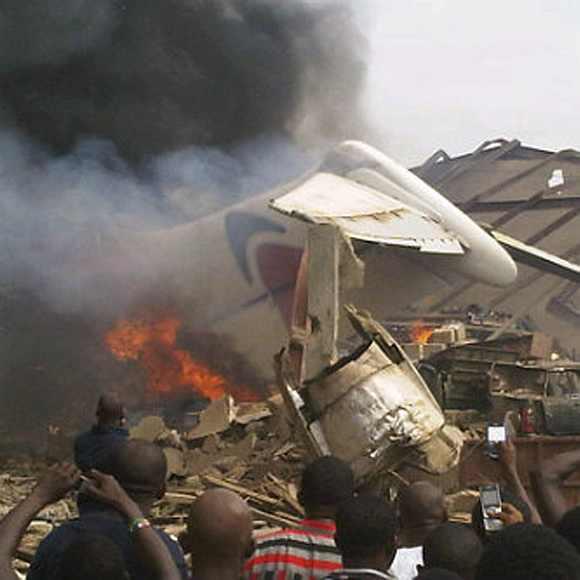 Over 153 people were feared dead when a passenger plane tragically crashed into a residential building shortly after takeoff in Nigeria's commercial capital of Lagos on Sunday.
June 03, 2012
The BIGGEST hurdle in resolving Siachen row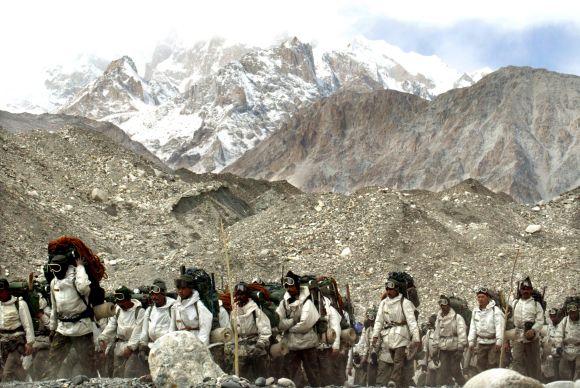 Ahead of its key talks with India on the Siachen issue, Pakistan has claimed that the biggest hurdle in resolving the military standoff on the world's highest battlefield are the armies of the two countries.
Ramdev TAKES ON Kejriwal over comments against PM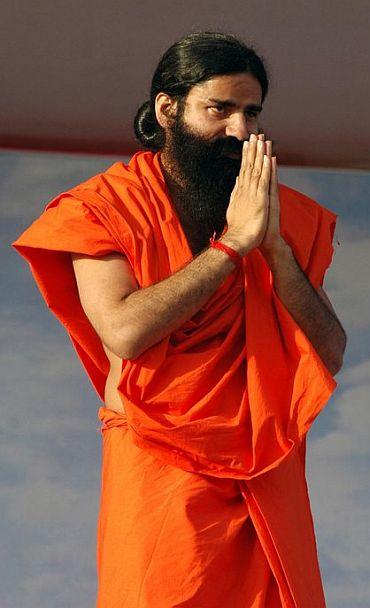 Virtually snubbing Arvind Kejriwal, yoga guru Ramdev on Sunday disapproved of the Team Anna member's comments against Prime Minister Manmohan Singh and other politicians during his fast along with Anna Hazare, saying he was against personal criticism.
There is NO rift between Ramdev, Team Anna: Hazare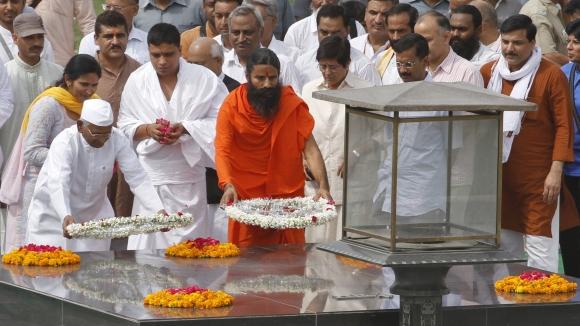 Attacking the United Progressive Alliance government and threatening a fight to the finish by August on the black money issue, Anna Hazare and yoga guru Ramdev on Sunday sat on a day-long fast to protest against corruption.
We all know Manmohan Singh is honest: Ramdev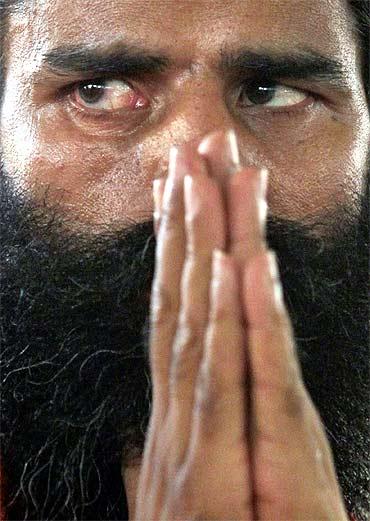 Terming Prime Minister Manmohan Singh as an "honest person", yoga guru Ramdev on Sunday asked him to make his Cabinet "corruption free."
June 02, 2012
Why only Modi? BJP has many PM candidates: RSS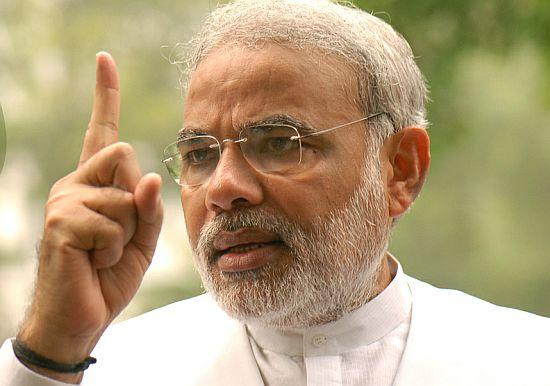 In yet another instance of growing feud within Bharatiya Janata Party and the Sangh Parivar, an article in a Rashtriya Swayamsevak Sangh mouthpiece has criticised Gujarat Chief Minister Narendra Modi for his style of functioning and also indicated that the party has several other prime ministerial candidates.
Aamir defamed, demoralised us; must say sorry: IMA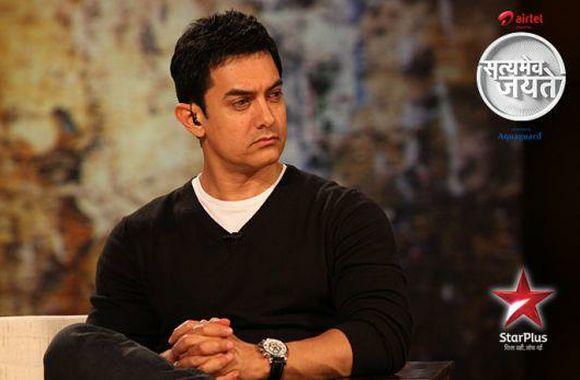 The Indian Medical Association on Saturday demanded an immediate apology from actor Aamir Khan accusing him of having defamed the medical profession in the May 27 episode of his TV show Satyamev Jayate and warned him of legal action if he did not do so.
Hosni Mubarak: The journey from palace to prison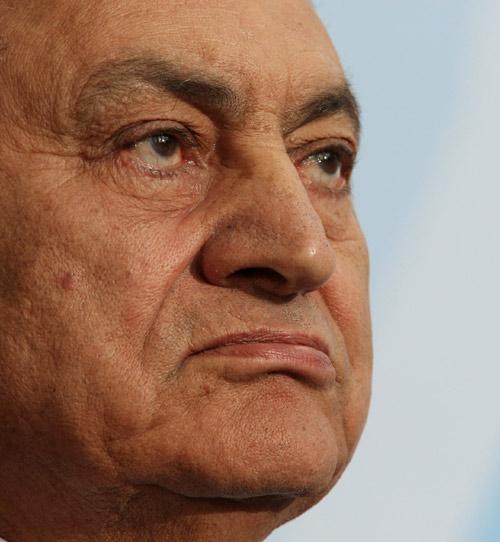 From being one of the world's longest-serving Presidents, Egypt's war hero Muhammad Hosni Sayyid Mubarak has now been condemned to spend the twilight of his life in prison.
In PHOTOS: When PM, Mamata came face to face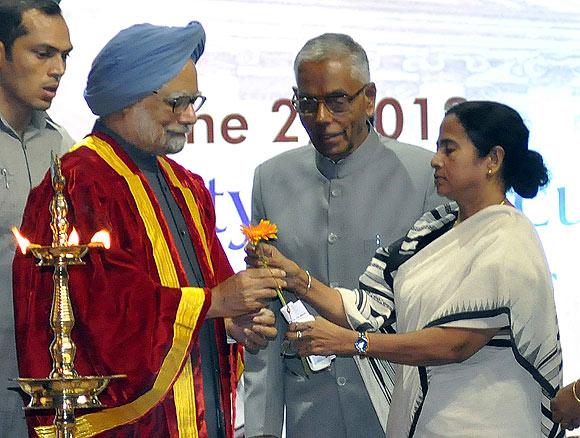 After giving the dinner hosted by Dr Manmohan Singh on the occasion of the third anniversary of the United Progressive Alliance-II in New Delhi a skip and strongly protesting against the petrol hike, West Bengal Chief Minister shared the stage with the prime minister at a function in Kolkata.
In PHOTOS: Hosni Mubarak gets life term, Egypt celebrates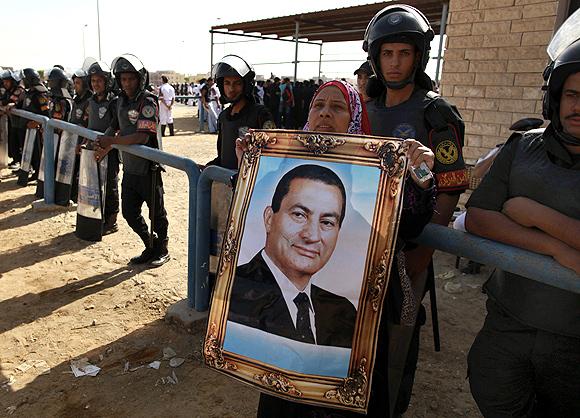 Ousted Egyptian President Hosni Mubarak was on Saturday sentenced to life in prison after a court in Cairo found him guilty of complicity in the killing of protesters during a popular uprising against his 30-year rule last year.
A happy SRK and Ash out with Beti B
A happy SRK and Ash out with Beti B
June 01, 2012
CBI probe into charges against PM laughable: Team Anna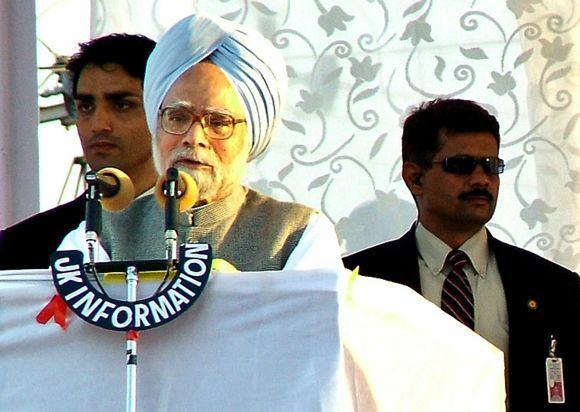 Team Anna on Friday dismissed as "pretence" the Central Bureau of Investigation probe into the irregularities in the coal block allocation and alleged such a probe is meant to give a "clean chit" to Prime Minister Mahmohan Singh.
Will Jagan's sister take over YSR Cong's mantle?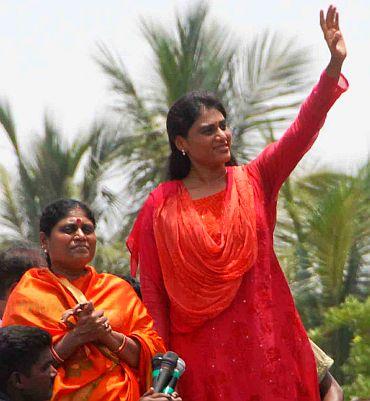 With YSR Congress leader Jaganmohan Reddy in jail for alleged acts of financial frauds, it was his mother Vijayamma who took on the mantle of running the party in his absence.
We want Afridi cut in pieces: Pak Taliban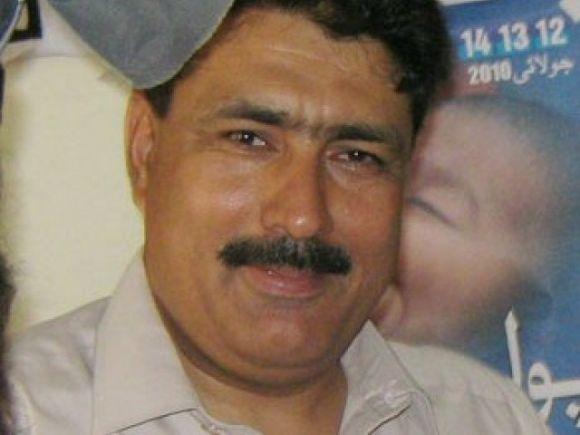 While the United States has already shown dissatisfaction over Pakistan's claims that Dr Shakil Afridi, the Pakistani physician who helped the Central Intelligence Agency track down and kill Al Qaeda chief Osama bin Laden, had relation with militants, the Pakistan Taliban have not only rejected the reports of any links with him, but has also said that the imprisoned doctor is 'wajib-ul-qatal' (one that deserve death penalty), as he helped the US to kill bin Laden
The Englishman who spied for India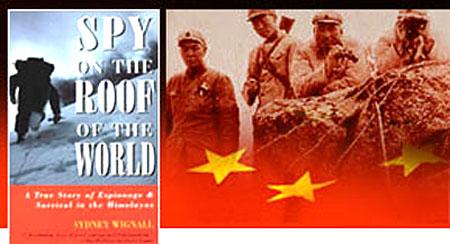 Sidney Wignall, a British mountaineer who spied on China for India in the 1950s, passed unnoticed into the ages this week.
In hush-hush, army inked a more controversial purchase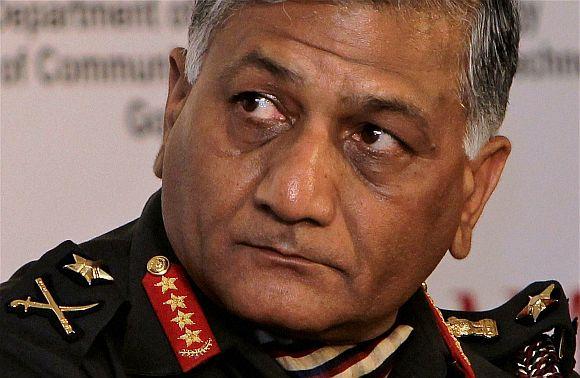 Former army chief General V K Singh had some time back claimed that he had scuttled a Bharat Earth Movers Limited bid to sell overpriced Tatra vehicles to the Indian Army. But in February 2012, the army quietly signed a contract with BEML for an even larger and more controversial purchase: a $275-million (about Rs 1,500 crore) contract for 204 armoured recovery vehicles.
Why General V K Singh should join politics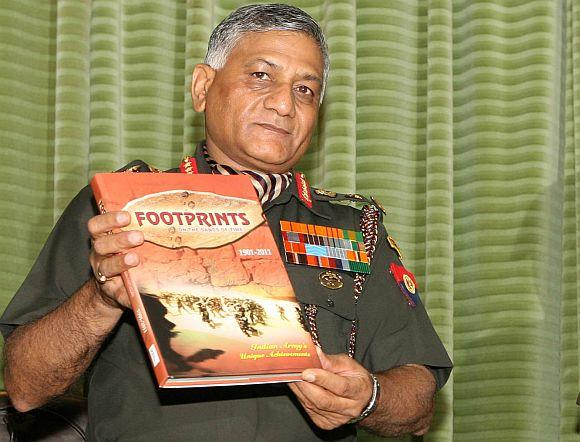 It is time Gen V K Singh forgets about his academic pursuits and joins politics to provide much needed leadership to the country starving for it. The political scene, both on the ruling and opposition side has never been so dismal in last 60 years. There is a terrible dearth of leaders of stature and capability, says Colonel (retd) Anil Athale.
Fifth year in a row, a desi kid wins US spelling bee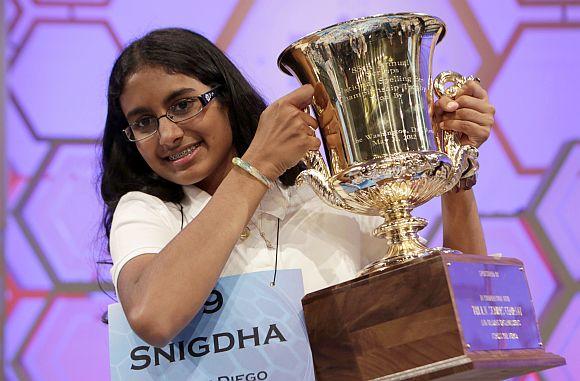 Nandipati, an eighth-grader at Francis Parker School in San Diego who was making her second Spelling Bee appearance in her final year of eligibility, clinched victory by correctly spelling the French derived word, 'guetapens' (which means ambush, snare or trap).
BIG VIEW: Awesome PHOTOS of May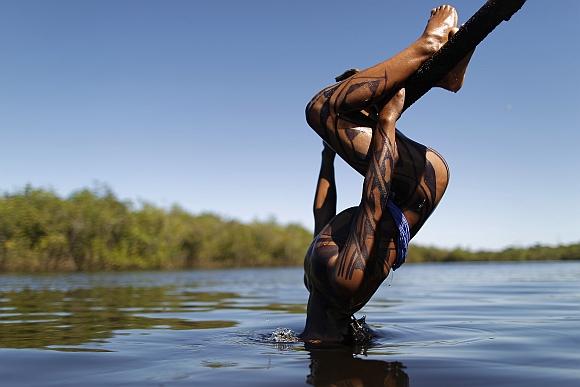 We bring you a presentation of some of the best photos from around the world in the month gone by
Bihar: Ranvir Sena chief shot dead; Bhojpur tense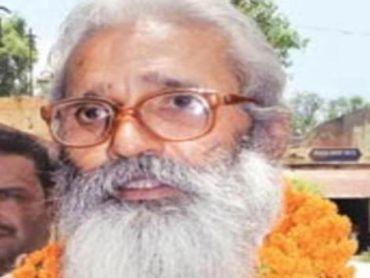 Brahmeshwar Singh, the chief of Bihar's outlawed private militia of landlords Ranvir Sena, was shot dead on Friday by six unidentified gunmen who pumped several bullets into him while he was taking an early morning walk.
George Bush returns to the White House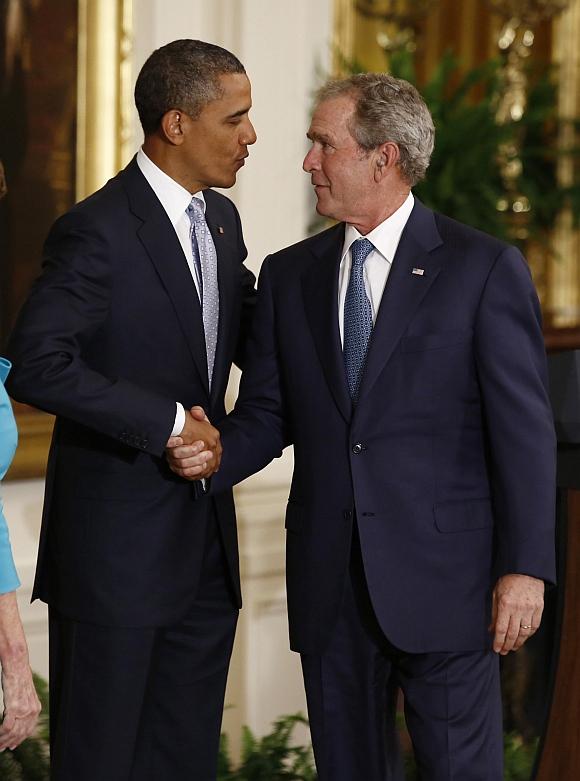 Former United States President George Bush returned to his former home, where he shared space with his successor Barack Obama, as his portrait and that of former First Lady Laura Bush was unveiled at the White House on Thursday.
What India thought about the Bharat bandh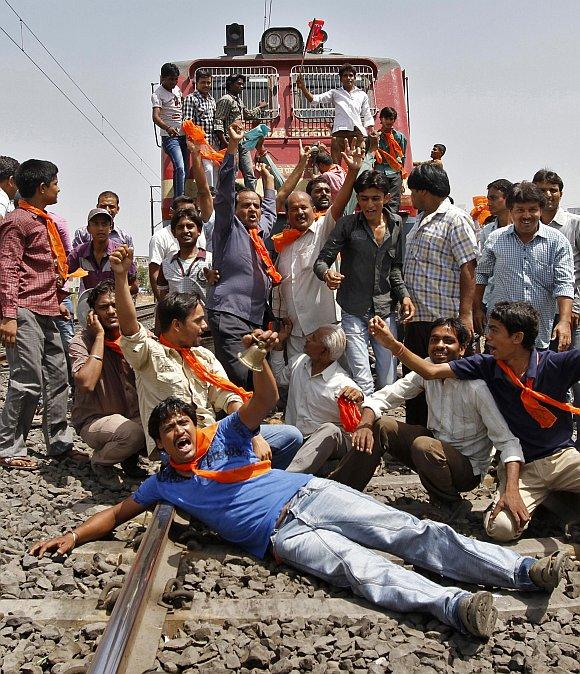 Even as the Opposition went hammer and tongs to enforce the nationwide strike call against the petrol price hike on Thursday, the common man seemed to be backing off from joining the protest.
Archives
May 2012
|
April 2012
|
March 2012
|
February 2012
|
January 2012
|
December 2011
|
November 2011
|
October 2011
|
September 2011
|
August 2011
|
July 2011
|
June 2011
|
May 2011
|
April 2011
|
March 2011
|
February 2011
|
January 2011
|
December 2010
|
November 2010
|
October 2010
|
Sepetember 2010
|
August 2010
|
July 2010
|
Jun 2010
|
May 2010
|
April 2010
|
March 2010
|
February 2010