January 31, 2012
Give us 5 years of UP rule: Rahul to voters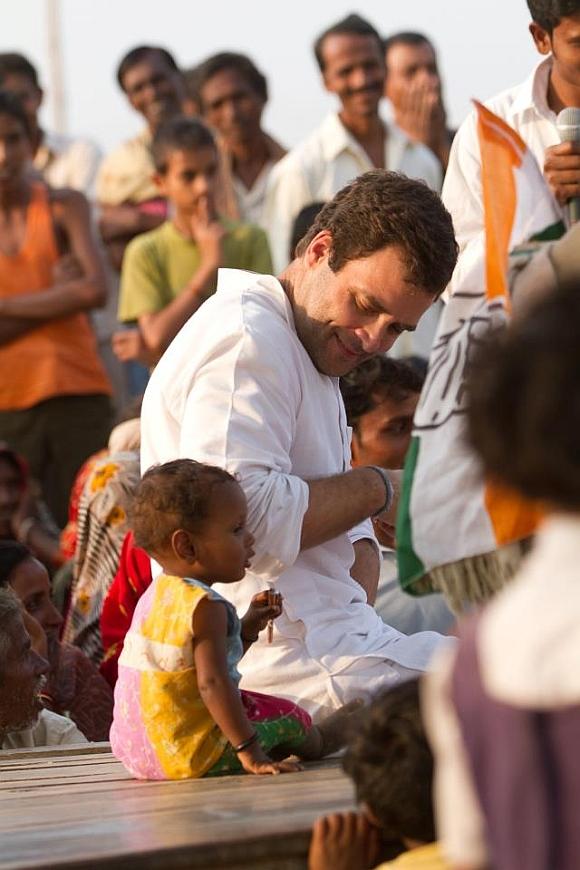 Bahujan Samaj Party supremo Mayawati and Samajwadi Party president Mulayam Singh remained Congress star campaigner Rahul Gandhi's main target, as he went on a full-throated campaign in different constituencies falling under the first phase of the five-phased Uttar Pradesh state assembly elections. Sharat Pradhan reports.
Rafale clinches India's Rs 52,000 cr fighter jet deal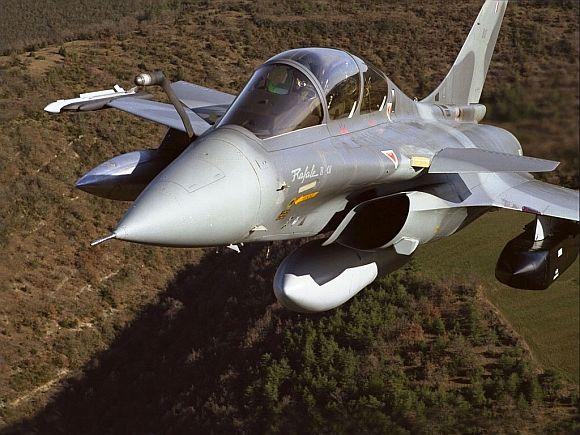 Overcoming tough competition from Eurofighter Typhoon, French aviation company Dassault's Rafale fighter jet has won Indian Air Force's mammoth deal for 126 Medium Multi-Role Combat Aircraft worth Rs 52,000 crore.
ISRO war hots up! Antrix-Devas report to be released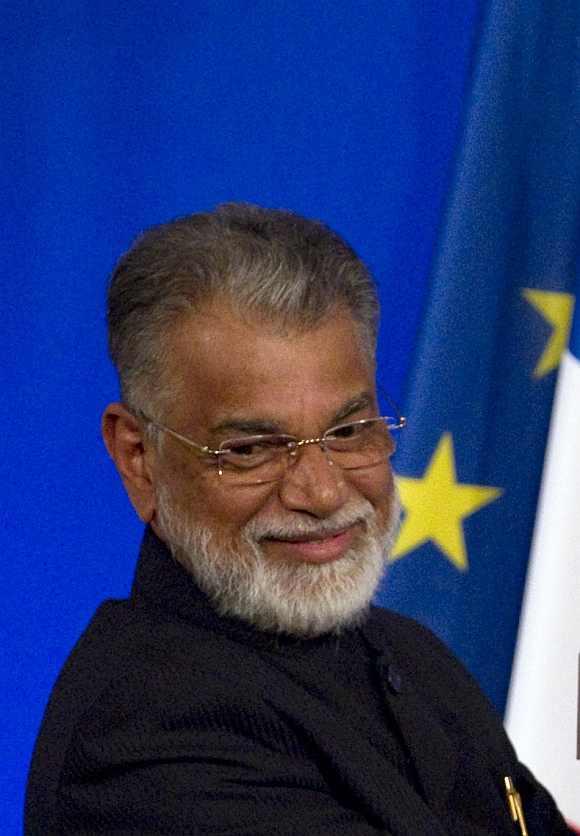 Seeking to fend of attacks on his credentials in the Indian Space Research Organisation row, the space body's chief K Radhakrishnan on Tuesday said probe reports on Antrix-Devas deal that led to punitive action against his predecessor G Madhavan Nair and three fellow space scientists will be released after getting due clearance.
UP voters 'wiser' than those in south India: Cong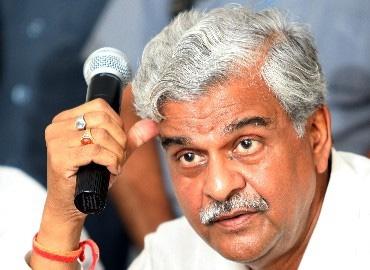 The Samajwadi Party and the Bharatiya Janata Party's formula to woo voters with laptops and tablet computers might work in some south Indian states but would not be of any help in Uttar Pradesh where the electorate is "much wiser", senior Congress leader Sriprakash Jaiswal has said. Exuding confidence that the issue of development would be the main issue in the UP elections, Jaiswal said there is a growing realisation that non-Congress governments have "hindered" growth.
SC verdict another VICTORY for Subramanian Swamy?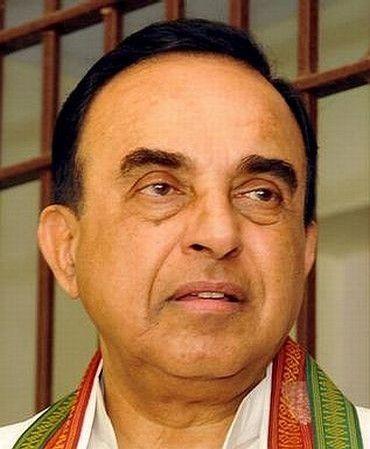 Janata Party president Subramanian Swamy on Tuesday welcomed the Supreme Court verdict on the issue of granting of sanction for prosecution of public servants, saying it has "simplified the issue" in graft cases lodged under the Prevention of Corruption Act. Terming the ruling as a "victory for the Constitution and the war against corruption", Swamy said it has also "empowered all of us who are fighting against corruption."
Marry, but no children: The brutal Naxal world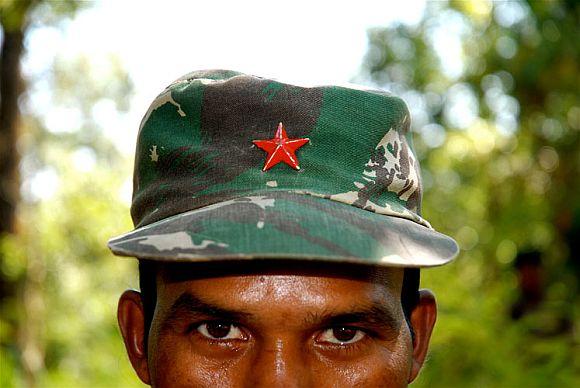 Naxals in Chhattisgarh are allowed to get married but they are forced by their senior leaders in undergoing vasectomy surgical procedure to prevent them from having children.
Radia tapes tampered: Centre tells Supreme Court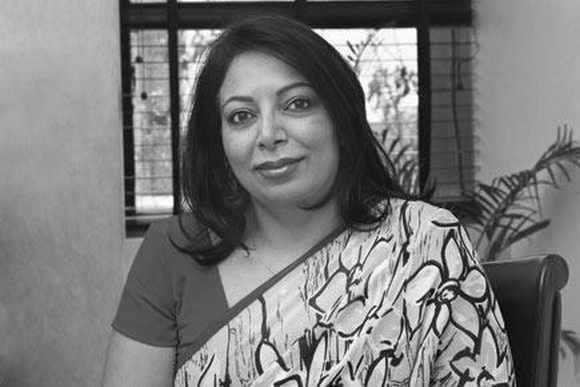 The government on Tuesday claimed before the Supreme Court that the Radia tapes broadcast by media organisations were tampered with and the government agencies were not responsible for its leakage.
US drones regularly target terrorists in Pakistan: Obama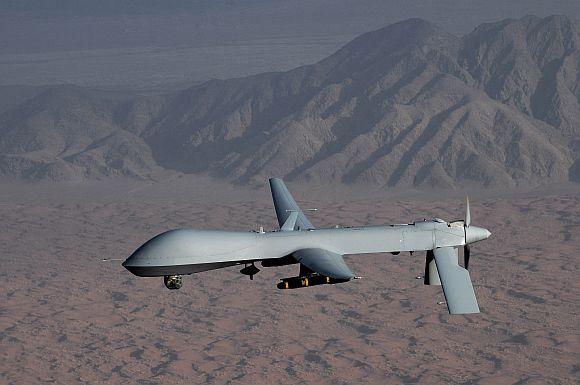 American drones regularly target terrorists in the Federally Administered Tribal Areas of Pakistan, President Barack Obama on Tuesday said in a first such acknowledgment by the top US leadership on its highly successful but secretive programme.
Kasab NOT granted a fair trial, his lawyer tells SC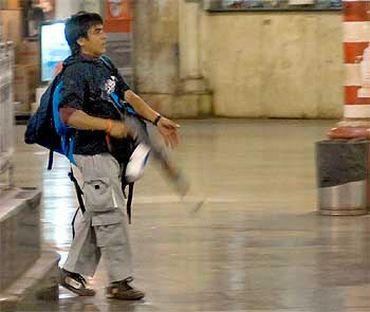 The sole convict in the 26/11 Mumbai terror attack case, Mohammad Ajmal Amir Kasab, on Tuesday contended before the Supreme Court that he was not given a free and fair trial in the case. Senior advocate Raju Ramachandran, who has been appointed as amicus curiae by the apex court to defend Kasab, told a bench headed by Justice Aftab Alam that he was not a part of the larger conspiracy for waging war against the nation.
'India, China, Pak can show world a way to N-disarmament'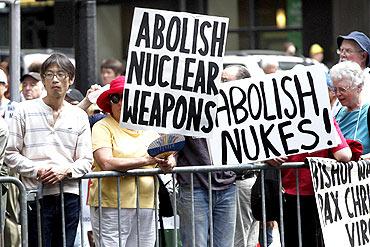 Urging India, China, and Pakistan for a universal nuclear disarmament agreement, Mani Shankar Aiyar said that many countries were realising how useless the weapons are; they are extremely expensive, they are dangerous and probably will never be used. reports.
India counters China by 'necklace of diamonds'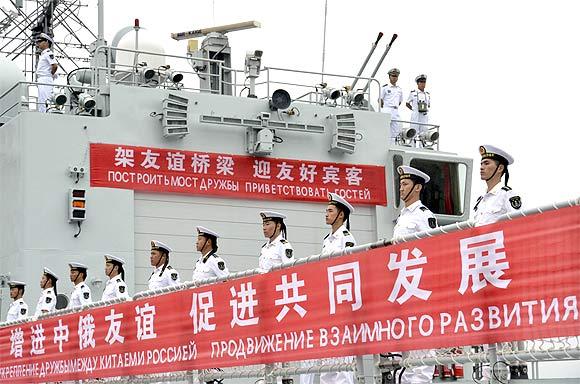 India's answer to China's 'string of pearls' in Asia, particularly South Asia, is its own 'necklace of diamonds', reports Aziz Haniffa
It was all about 'family' in Punjab polls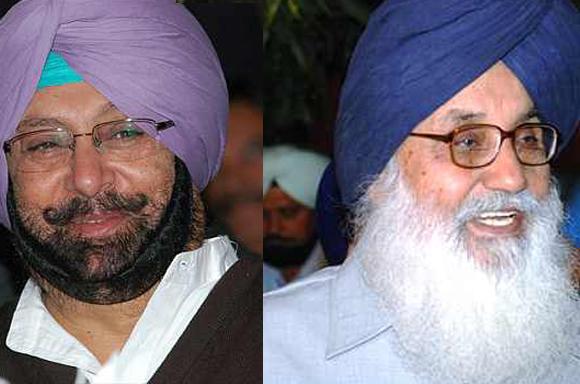 The 2012 assembly poll was seen essentially as a battle between the two leading families of Punjab -- the Badals versus the 'Captain' Amarinder Singh -- and their durbars, their contending styles, the rebels they had to reckon with, their grip over the ground realities. reports.
Readers share their BEST PHOTOS... You can too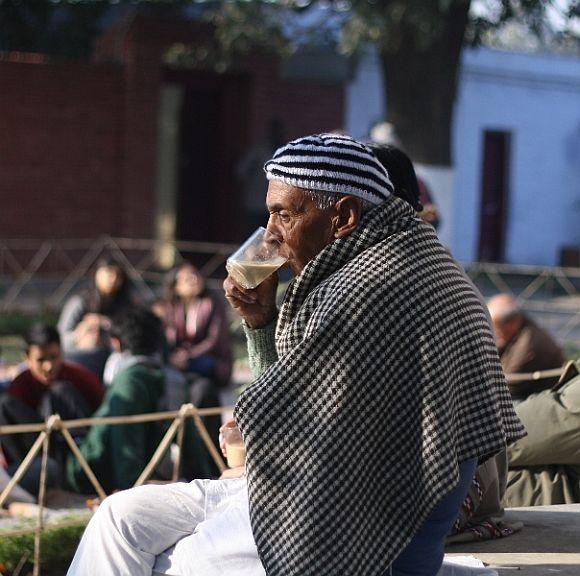 We had asked our readers to share with us their photography skills. We received an overwhelming number of responses, some of which are being showcased here.
Scientists at war: ISRO 'scandal' right under PMO's nose?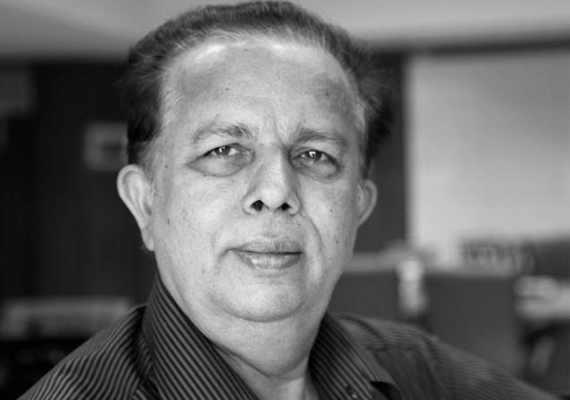 The punitive action on January 13 against four scientists of the Indian Space Research Organisation in connection with the Antrix-Devas deal leaves many questions unanswered. It does however make it apparent that there have been lacunae in the functioning of one of India's premier scientific institutions, its commercial arm, and the overseeing body.
Spectacular PHOTOS of the Month: January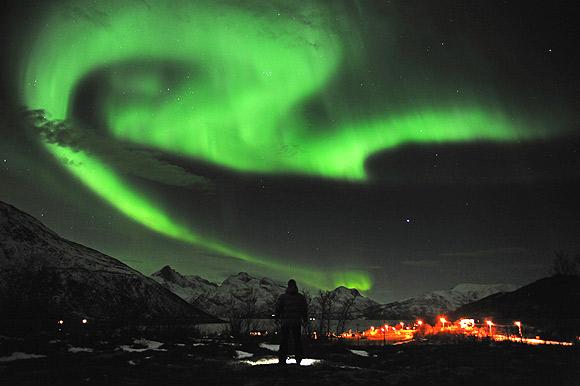 A collection of the best photos from around the world in January
January 30, 2012
'Corruption, unfortunately, is at the editor level'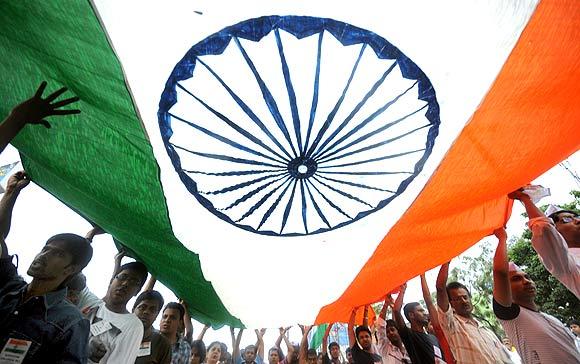 'They have been compromised, have taken favours, have other interests and are the people who have betrayed the profession,' legendary editor Vinod Mehta tells Sheela Bhatt.
Adnan murder: 'They are never going to live happily'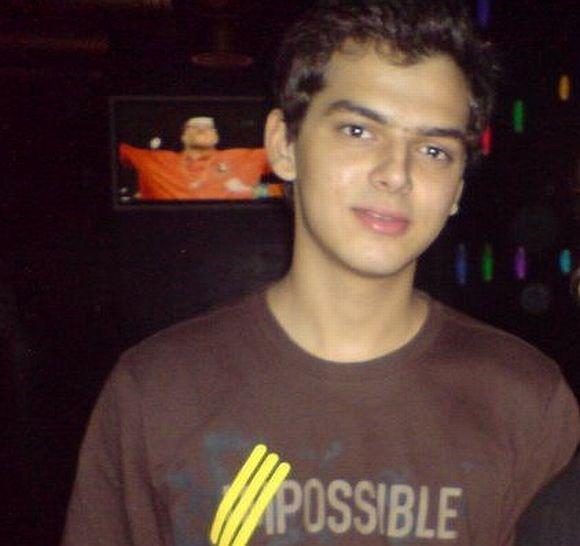 A Mumbai sessions court on Monday acquitted all four young boys accused of kidnapping and murdering their friend Adnand Patrawala in August, 2007. Rediff.com's reports.
77 pc turnout in Punjab polls; 1 dead amid stray violence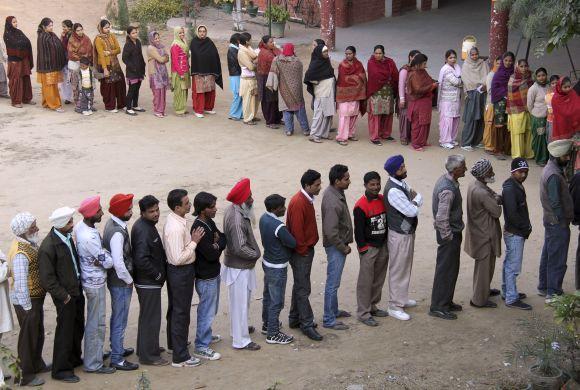 Amid sporadic violence that left a 16-year-old boy dead and around 10 injured, nearly 77 per cent of 1.76 crore voters on Monday exercised their franchise under tight security to elect 117 members to the Punjab assembly.
Wonder how Satanic Verses got Booker prize: Katju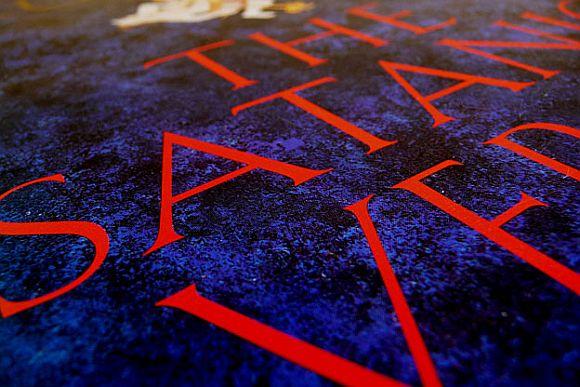 Attacking Salman Rushdie, Press Council of India Chairman Markandey Katju on Monday said that the "sensationalism" depicted by his book Satanic Verses has deeply hurt Muslim sensitivities and that an individual's freedom of speech has to harmonised with the public interest.
UP expert Nazarwala: Maya tally in double digits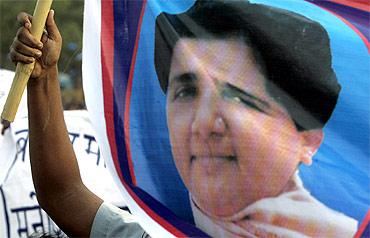 Five years ago, made history when he predicted on Rediff.com that Mayawati would be victorious in the Uttar Pradesh assembly election, winning over 184 seats. With UP heading into a critical assembly election, returns to Rediff.com and writes of a mandate squandered at the altar of megalomania and vanity.
Pak should abandon war on terror: JuD chief Saeed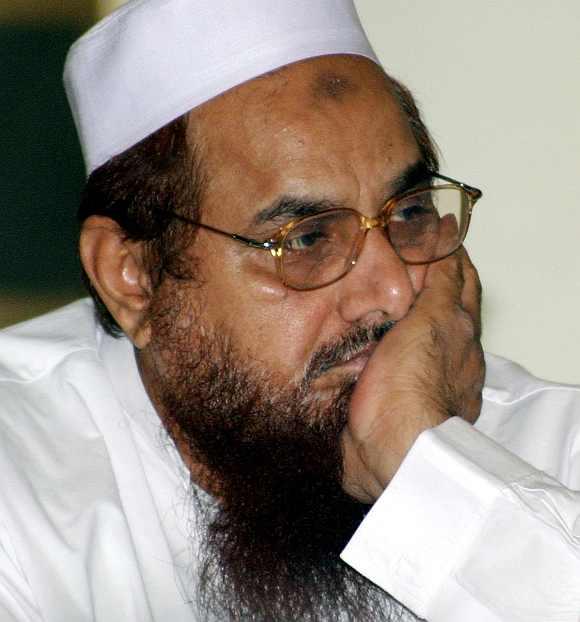 Jamaat-ud-Dawah chief Hafiz Mohammad Saeed, blamed for the Mumbai terror attacks, has demanded that the Pakistan government should announce a date for parting ways with the United States and abandoning its war on terrorism.
Former ISRO chief hits back at govt, seeks apology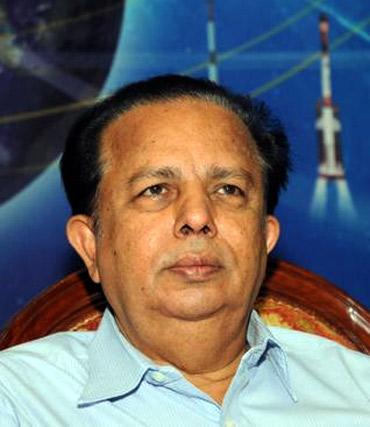 Battling the action against him and three other top scientists in the controversial Antrix-Devas deal, former Indian Space Research Organisation chief G Madhavan Nair on Monday demanded that the order barring them from government posts should not only be revoked but an apology should be tendered by those responsible for it. "They owe an apology not to me but to the whole country. Somebody has taken the law into their hands and they have to apologise," said Nair.
Congress WILL form next government in UP: Digvijay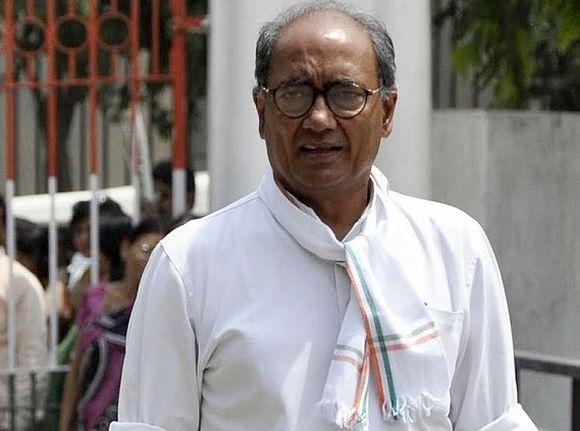 Congress general secretary Digvijay Singh on Monday said that the Congress and Samajwadi Party are the main contenders in Uttar Pradesh assembly polls, as the ruling "BSP (Bahujan Samaj Party) is involved in corruption, while BJP (Bharatiya Janata Party) is nowhere in the picture."
Why Kushwaha MATTERS for the BJP in Uttar Pradesh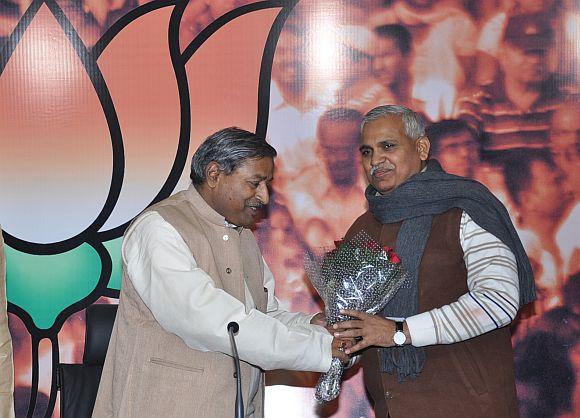 Notwithstanding the controversy over his joining the party, the Bharatiya Janata Party feels that tainted former Bahujan Samaj Party leader Babu Singh Kushwaha's support to it could bolster its prospects in the elections in Uttar Pradesh.
PIX: Valley in deep freeze, Kargil records season's lowest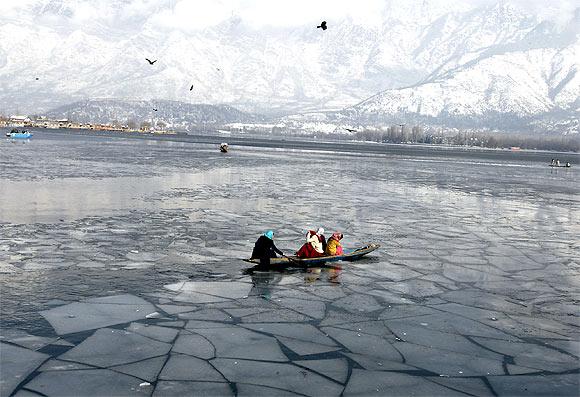 Witnessing one of the harshest winter in decades, the Kashmir Valley experienced an extremely chilly night with a drastic fall in the night temperature even as the remote town of Kargil recorded the lowest temperature of the season at minus 25 degrees.
PHOTOS: March of young Gandhis creates world record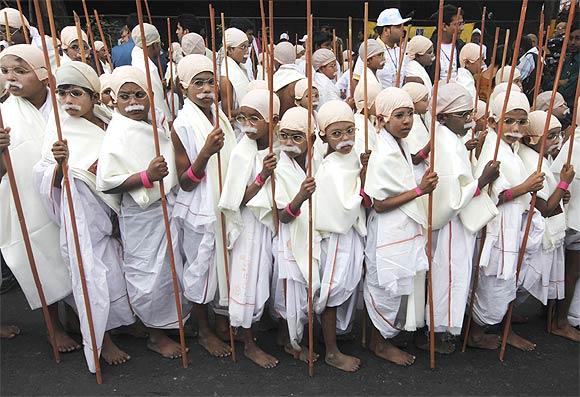 Children dressed as Mahatma Gandhi took part in a peace march in Kolkata on Sunday, on the eve of the 64th death anniversary of the Father of The Nation.
'India does not DESERVE to be in the UNSC'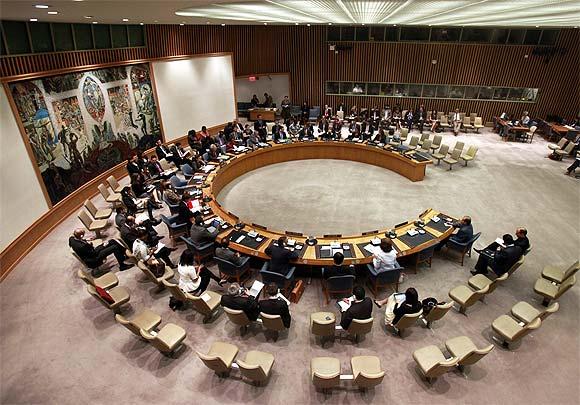 India can never become a great power unless it assumes hard power status, says national security hawk Bharat Karnad
Janardhan Reddy in trouble; CBI heads for Virgin Island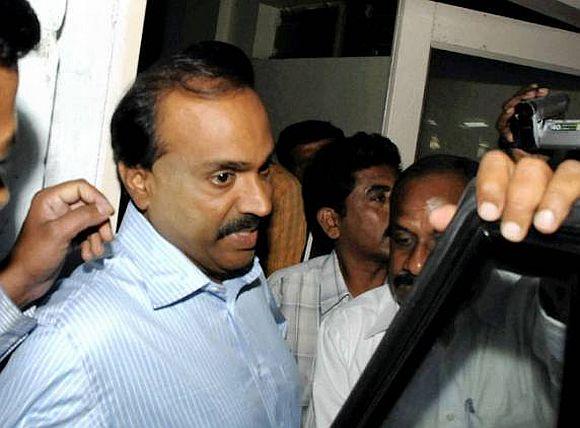 The noose around the neck of mining baron and former Karnataka minister Gali Janardhan Reddy appears to be getting tighter with the Central Bureau of Investigation now deciding to probe the foreign funds that he has reportedly parked in tax havens abroad.
Top 10 PHOTOS of the Day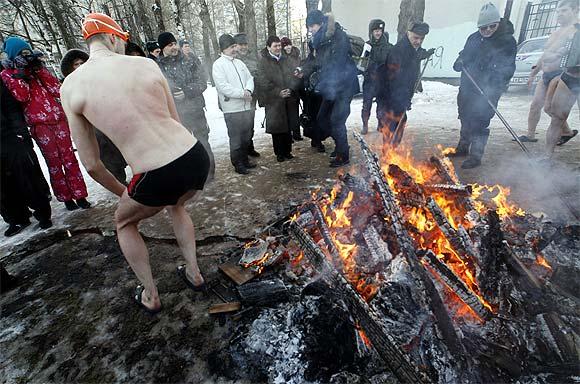 Top 10 PHOTOS of the Day
Memogate turns ugly for ISI; embarrasses Ijaz as well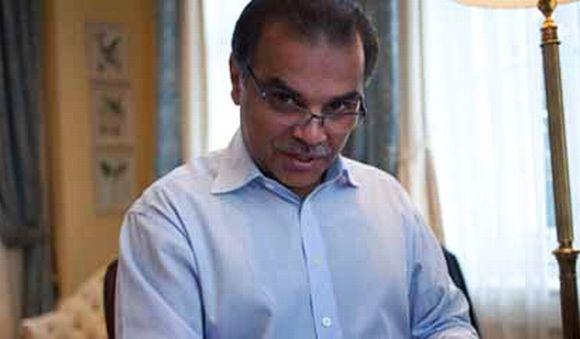 The Memogate scandal in Pakistan has taken a turn for the worse, with the central character in the controversy Manzoor Ijaz's refusal to appear before the judicial commission investigating the issue. reports from Islamabad.
Relations with Pak should be India's top priority: Aiyar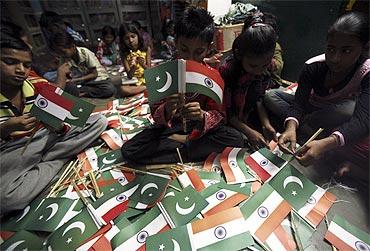 Scoffing at former minister Mani Shankar Aiyar's suggestion of close India-Pakistan cooperation on combating terror, Lalit Mansingh, former ambassador to the United States, argued that India needs to discuss with countries like China and Pakistan from a position of strength. reports.
Punjab polls: The BIG names in the fray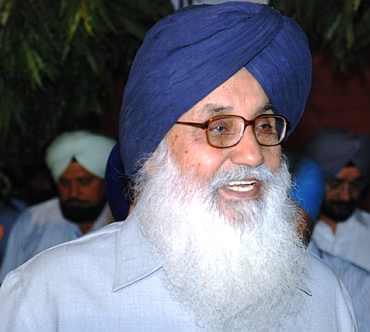 One of the big names facing off in Punjab's single-phase election on Monday is Chief Minister Parkash Singh Badal.
Stunning PHOTOS: It's a jungle out there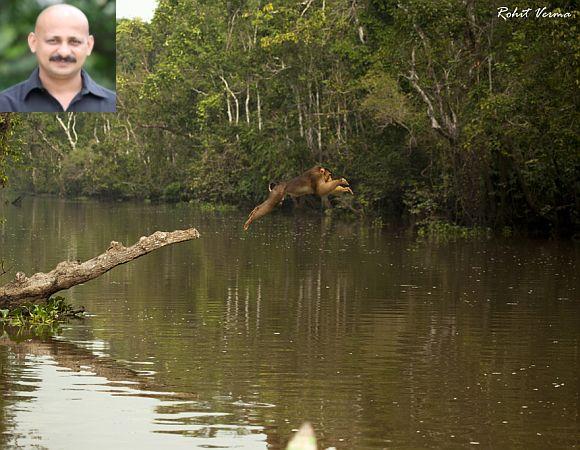 A collection of some of the best works of wildlife photographer Rohit Verma
Tight security in place as Punjab, Uttarakhand go to polls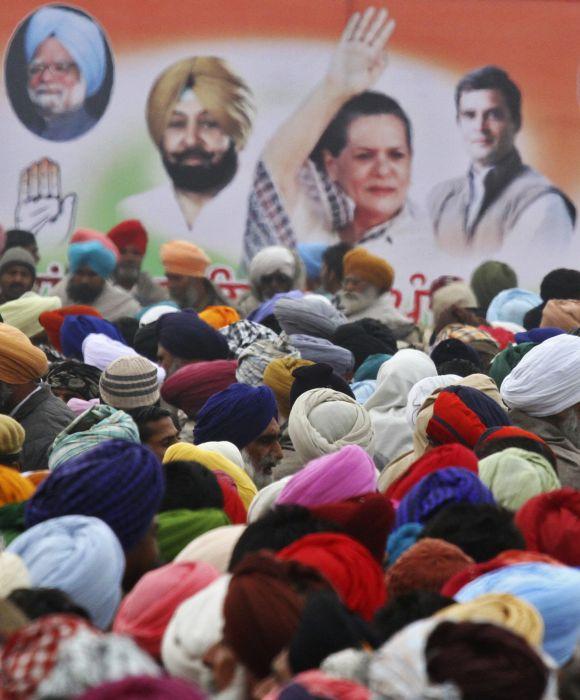 Around 1.76 crore voters will seal the fate of 1,078 candidates, including the two chief ministerial aspirants Parkash Singh Badal of ruling Shiromani Akali Dal-Bharatiya Janata Party and Amarinder Singh of opposition Congress, in fray for 117 assembly seats in Punjab where polling will take place on Monday amidst tight security.
January 29, 2012
PHOTOS: R-Day celebrations end with Beating Retreat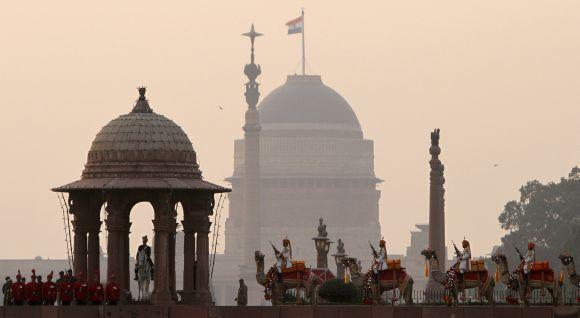 A 'jugalbandi' of tabla and shehnai along with military bands rendering 'Vandemataram' mesmerised the audience at Beating Retreat ceremony on Sunday, bringing the curtains down on Republic Day celebrations.
Ravi Shankar Prasad dares Rahul to become prime minister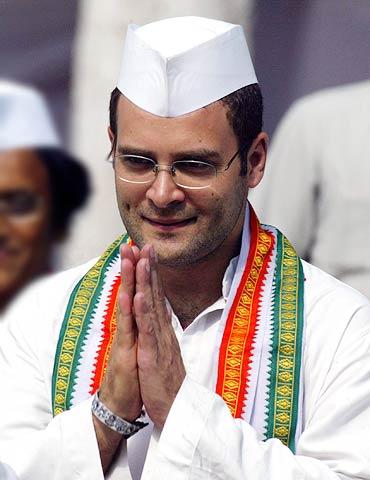 Bharatiya Janata Party spokesman Ravi Shankar Prasad on Sunday dared Congress General Secretary Rahul Gandhi to become prime minister.
January 28, 2012
SP, BSP have 'grossly' neglected Muslims: Rahul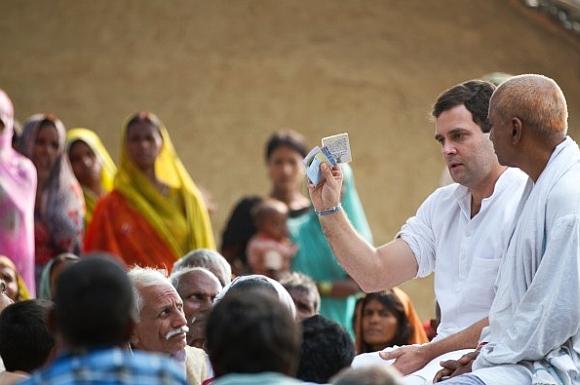 Congress' star campaigner Rahul Gandhi on Saturday pointedly blamed both Samajwadi Party president Mulayam Singh Yadav and Bahujan Samaj Party supremo Mayawati for "gross neglect" of Muslims in Uttar Pradesh. Sharat Pradhan reports.
UP has them all: Criminals, Crorepatis, Tax evaders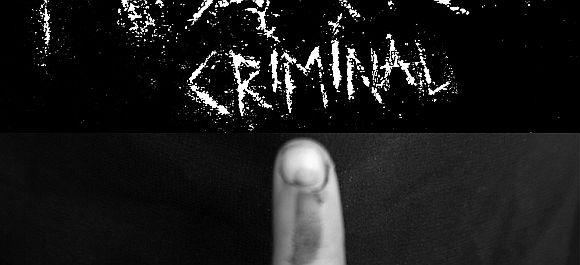 When Uttar Pradesh goes to polls in the first phase of elections on February 8, there will be at least 109 candidates with criminal records contesting.
Dera Sacha Sauda: The key to power in Punjab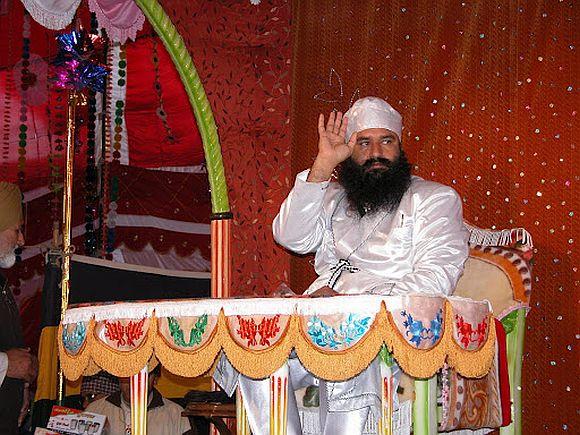 Campaigning for the Punjab assembly elections came to an end on Saturday evening and major political parties -- the Shiromani Akali Dal, the Bharatiya Janata Party and the Congress -- are keeping their fingers crossed.
Don't miss two biggies: Talaash and Agent Vinod
Don't miss two biggies: Talaash and Agent Vinod
January 27, 2012
Why we need to 'de-militarise' Republic Day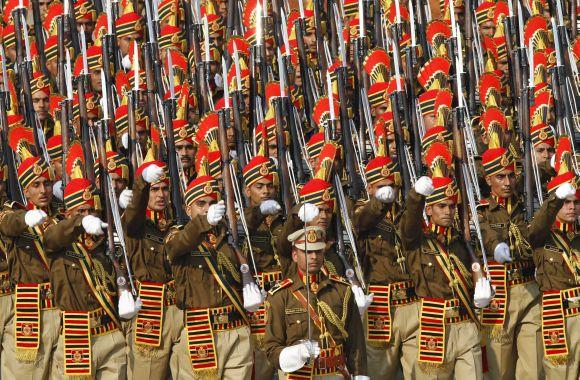 When we celebrate Republic Day, and not Armed Forces Day, there needs to be more of fun and colour, and less of khaki, argues Anil Chowdhury
'Meri Awaz Suno'... Gupshup from the Dilli Darbar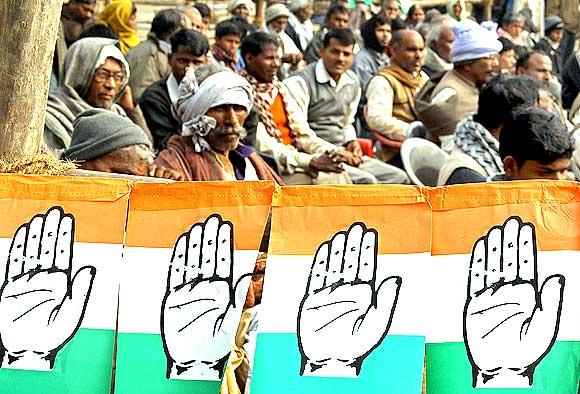 Wanted: Hindi-speaking spokesman for the Congress; a former minister is all set with his 23rd book; polling staff feign fever to slink out of poll duties in the bitter cold; pilot-turned railway minister caught in a tug-of-war... Political gushup from the Dilli Darbar.
Cong faux pas! Modi, a master organiser, says ad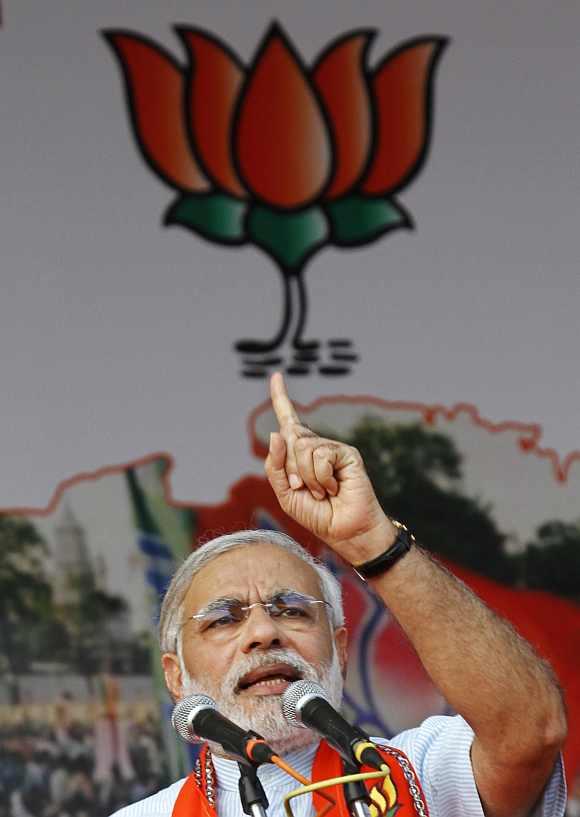 In a possibly embarrassing gaffe, the main opposition Congress has praised Gujarat Chief Minister Narendra Modi in an advertisement in this election year.
BJP's UP agenda: Ram Mandir YES, Muslim quota NO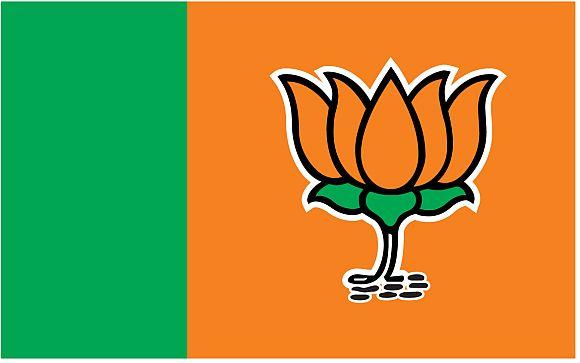 Promising sops for every section of society in its manifesto for Uttar Pradesh assembly polls, the Bharatiya Janata Party on Friday opposed 4.5 per cent reservation to minorities from the 27 per cent quota of backward classes even as it said it was committed to the construction of a Ram Temple at Ayodhya.
UP: 1.5 lakh voters will BOYCOTT polls this time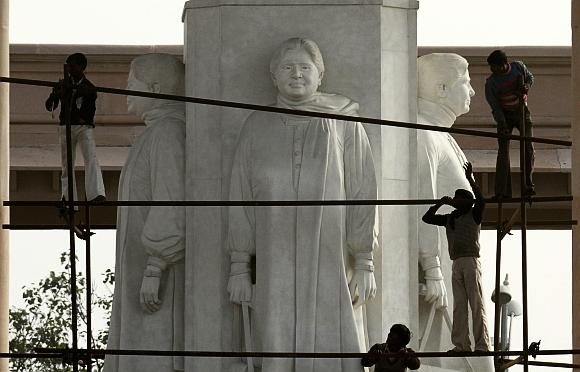 In the name of development, Chief Minister Mayawati can only boast of statues of herself or Dalit icons across Uttar Pradesh, but the common man in the state who is yet to savour the pleasure of having basic civic amenities, will most naturally think for whom he or she should vote for, or may even opt for a total Bahujan Samaj Party poll boycott.
'Elections are not very expensive in India'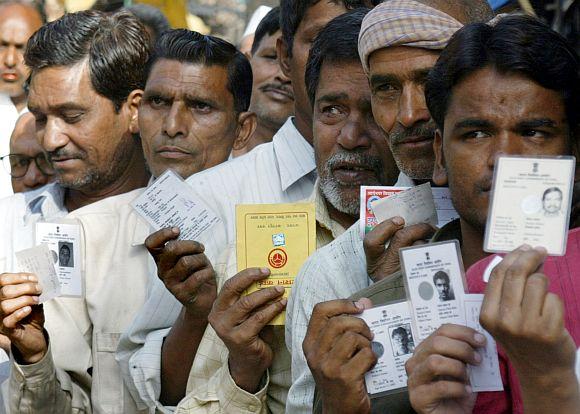 Uttar Pradesh Chief Electoral Officer Umesh Sinha tells Sheela Bhatt that although the Election Commission has ensured a peaceful environment ahead of the assembly election, misuse of money power continues to be a concern.
'We like Priyanka Gandhi more than Rahul'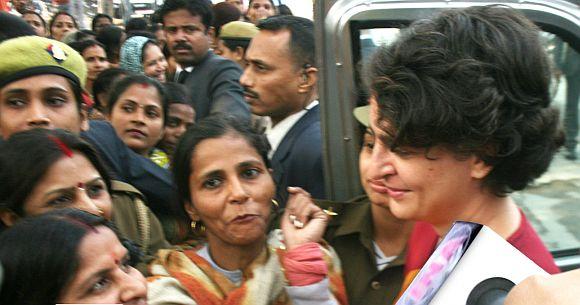 Locals in Congress party's pocket borough Rae Bareli, including Congress members, may be fond of Sonia Gandhi and son Rahul but feel it is Priyanka Vadra who has the mettle and charisma of her late grandmother Indira Gandhi and is more capable of bringing about a sea change in the country's politics.
PHOTOS: IAF's CONDORS resume rescue ops in Kishtwar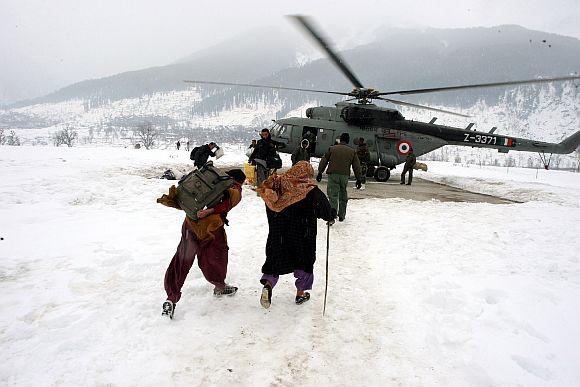 The Indian Air Force on Friday resumed its rescue operations to airlift as many as 190 people trapped in snow-hit Kishtwar district of Jammu and Kashmir.
Vote for change is the theme in Manipur's assembly polls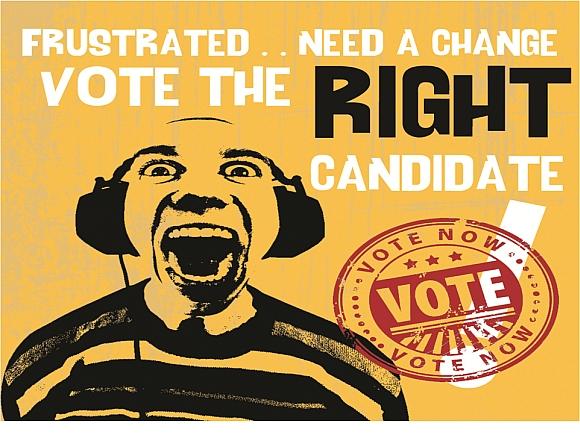 Manipur's 10th assembly elections have brought about some interesting features in the state. While strict guidelines on poll-related expenses by the Election Commission have resulted in drastic changes in election-related processes in the state, the reactions of various groups this time have been a mix of the familiar and new, says from Imphal.
I had to leave India to be safe: Amitava Kumar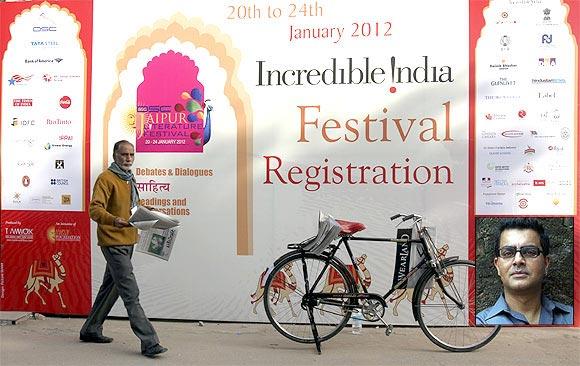 Writer Amitava Kumar speaks to Aseem Chhabra about life after he read from The Satanic Verses at the Jaipur Literary Festival.
Missed out on Republic Day celebrations? CLICK HERE!
A round-up of Republic Day celebrations across India
Yaseen Bhatkal aka Zarar aka Dr Imran... the hunt goes on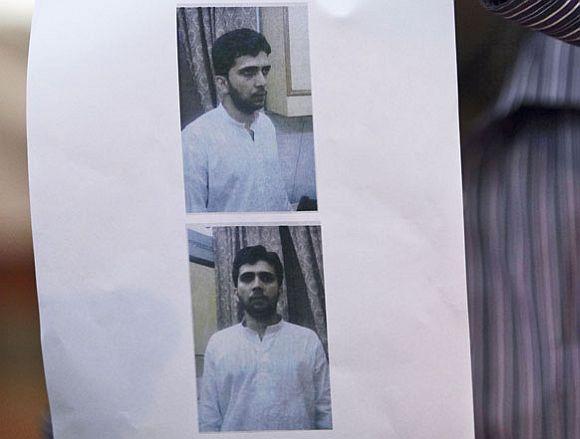 A largely behind-the-scene operative, Yaseen Bhatkal is today on the watch list of the Interpol with a red corner alert issued against him.
10 Amazing PHOTOS of the DAY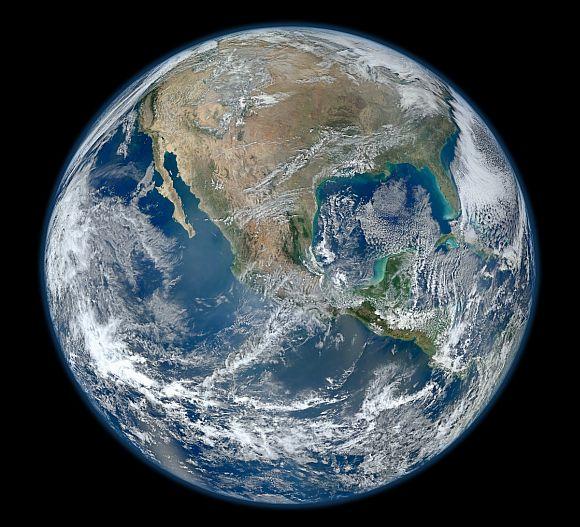 A collection of some of the best photographs from around the world in the last 24 hours
January 26, 2012
Kerala Governor M O H Farook passes away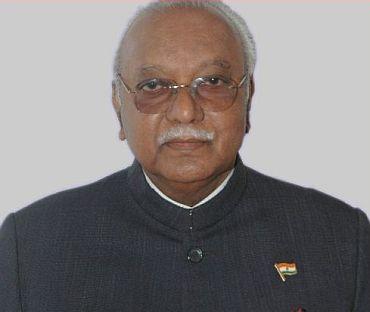 Kerala Governor M O H Farook passed away at a hospital in Chennai on Thursday night at the age of 74 following a brief illness.
Gram sabhas above Parl; need to empower them: Hazare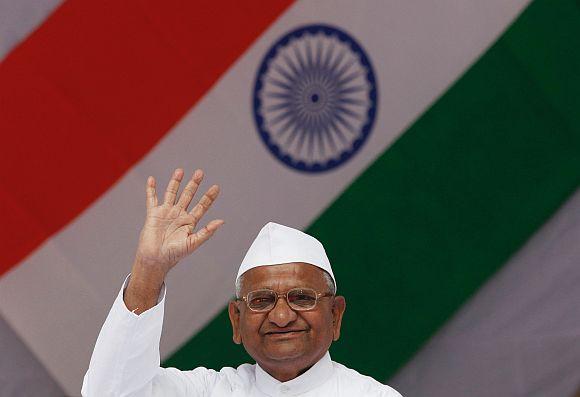 Decrying the failure of Rajya Sabha to pass the Lokpal bill, Anna Hazare on Thursday made a curious suggestion to bring a law to empower gram sabhas that will be above Parliament.
In PHOTOS: India celebrates 63rd Republic Day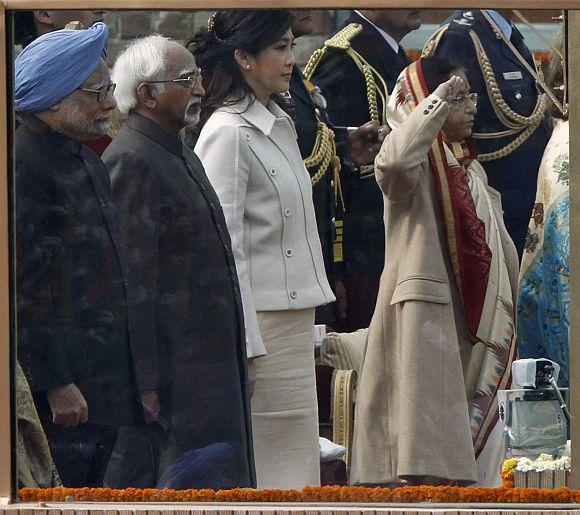 An impressive display of armour and unmanned aerial vehicles recently added to India's military prowess was on full display at the 63rd Republic Day parade on Thursday that also showcased the country's rich heritage.
Kashmiris celebrate R-Day, but without mobiles, Internet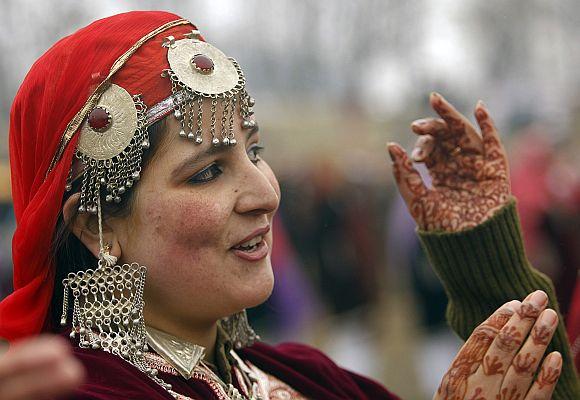 Mobile phones across Kashmir Valley on Thursday fell silent from 9 am till noon as service providers switched off the links following instructions from the security agencies as part of precautionary measures on Republic Day.
PHOTOS: Northeast ignores threats, celebrates R-Day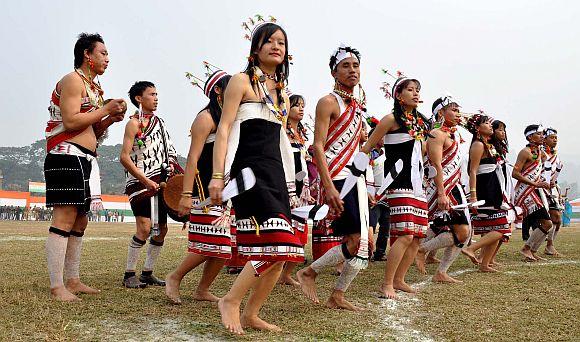 The call for boycotting Republic Day celebrations given by insurgent outfits failed to dampen the spirit of the occasion all over northeast India.
SC judge hearing Mulayam's case to retire on Friday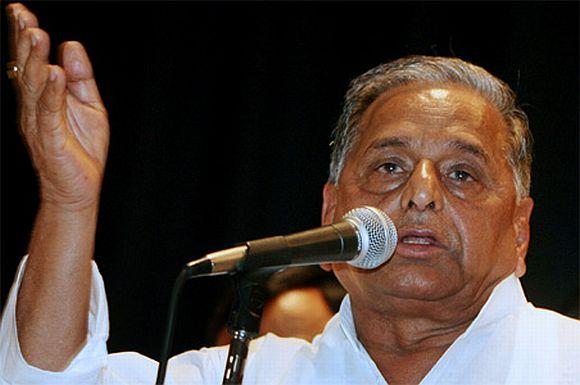 Supreme Court judge Justice Cyriac Joseph retires on January 27. But before he does, he would have to give his verdict on the high-profile corruption case against Samajwadi Party chief Mulayam Singh Yadav and his family members.
In PHOTOS: A splash of Indian culture at Rajpath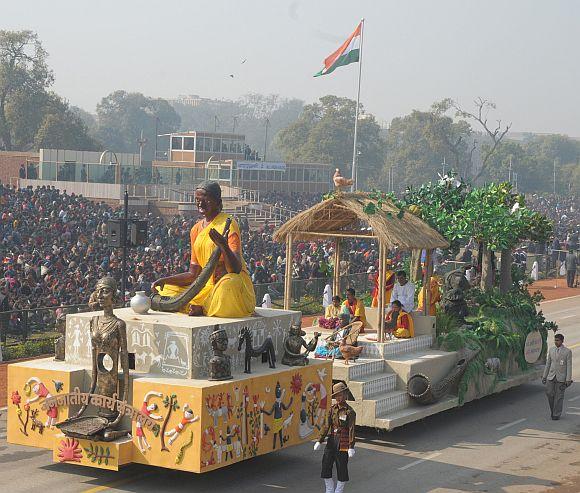 The glory of the living abode of one of the greatest poets of the 20th century Rabindranath Tagore, women's empowerment and the century-long journey of 'Punjab Mail' are among a range of themes that enthralled the audience at the Republic Day parade in New Delhi on Thursday.
R-Day Debutants: Fl Lt Sneha, Agni-4, Prahaar, C-130J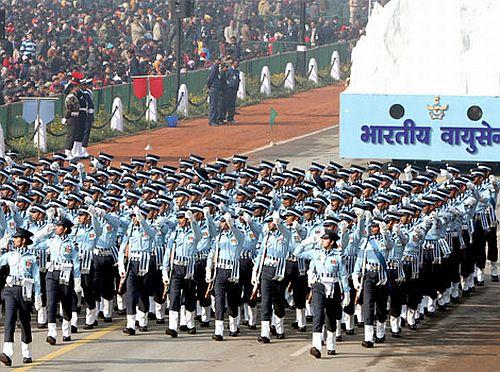 A woman leading an Air Force contingent, a deadly missile covering 3,000km, a newly-developed UAV and recently acquired Super Hercules aircraft were among the firsts at the Republic Day parade in New Delhi on Thursday when the country showcased its military might and cultural diversity.
January 25, 2012
PIX: Bus driver runs amok in Pune; 9 killed, 27 injured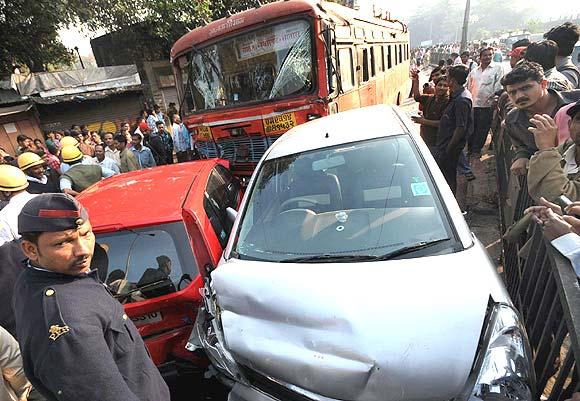 A rogue bus driver went berserk on the crowded streets of the city on Wednesday morning, smashing all vehicles coming in its way and leaving nine persons dead and 27 others injured.
Pix: Egypt's Tahrir Square, a year after revolution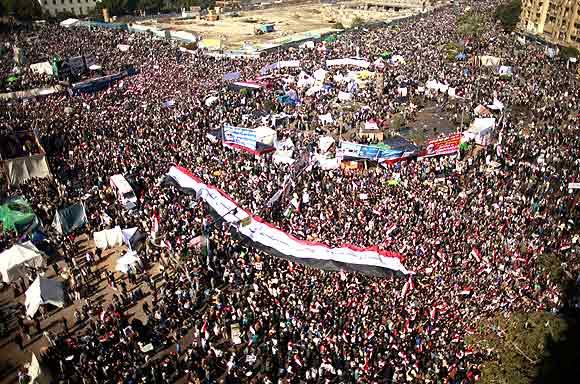 Egyptians gathered in Cairo at the iconic Tahrir Square to mark the completion of their revolution that begin a year ago leading to the ousted of President Hosni Mubarak's 30-year-old regime.
The man with UP's most challenging task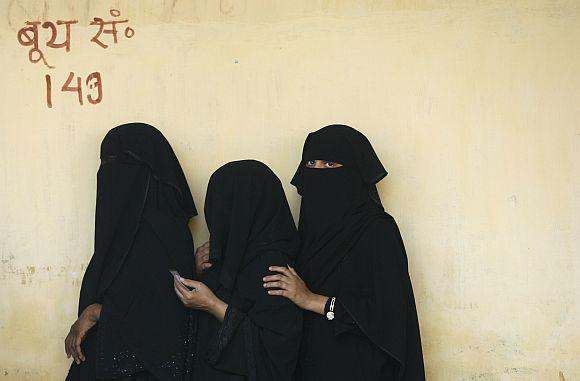 'Holding elections in UP is a challenging task. If UP had been a country, it would have been the sixth largest country in the world! This is the scale at which we hold the elections,' says Umesh Sinha, the chief electoral officer, Uttar Pradesh.
Who'd have known? Mamata's 5 years younger!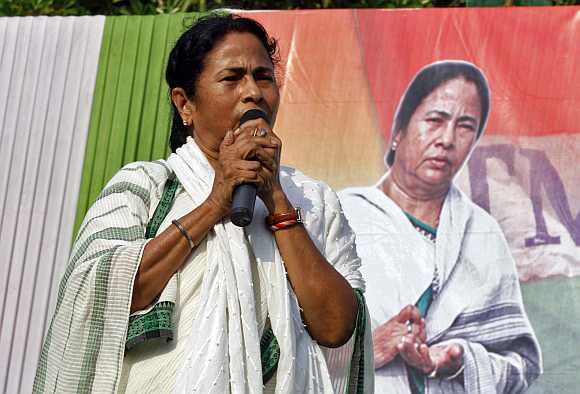 West Bengal Chief Minister Mamata Banerjee is younger than her official age. How! The devil lay in a fake certificate, procured by her father, which put five more years to her age to help her appear in the school leaving examination.
Padma awards announced, no word on Bharat Ratna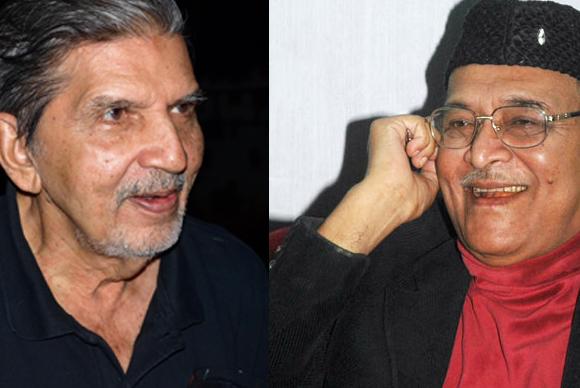 President Pratibha Patil has approved the conferment of Padma Awards 2012. This year the president has approved 109 awards including one duo case (counted as one) and 14 in the category of foreigners/non-resident Indians/ Persons of India Origin/ posthumous. These comprise five Padma Vibhushan, 27 Padma Bhushan and 77 Padma Shri Awards. There are 19 ladies among the awardees.
13/7 blasts: Has the ATS REALLY cracked the case?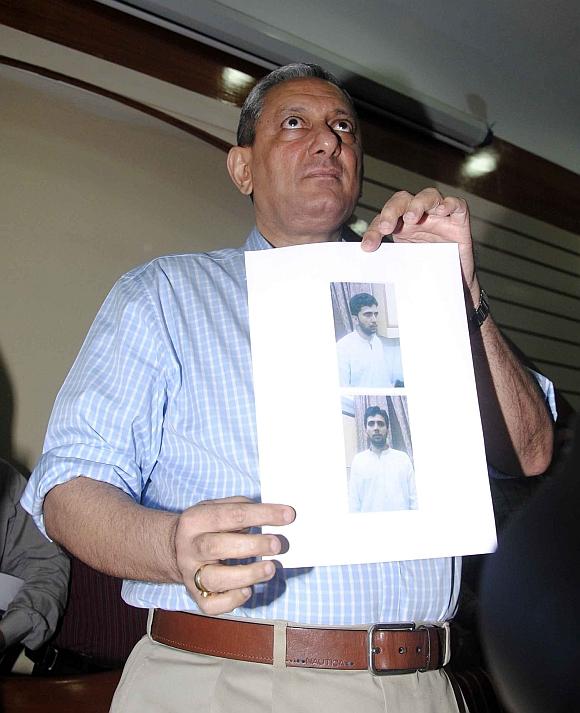 There may be a lot of confusion over the arrest of Naqqi Ahmed Washi Ahmed Shaikh in connection with the 13/7 Mumbai blasts, and it would be a while before this issue has some clarity. However, the biggest setback in all this is for the Intelligence Bureau, because this man was an informer for them. reports.
Jay Leno sued over Golden Temple crack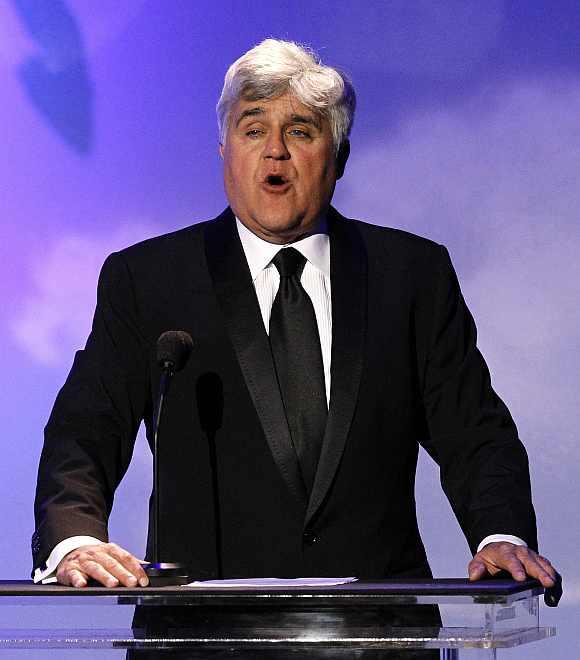 United States talk show host Jay Leno has been sued by an Indian-American in California for his "racist" comments on the Golden Temple and ridiculing the entire Sikh community by portraying the holy shrine as a vacation home.
PIX: India all set to flex military muscle at R-Day parade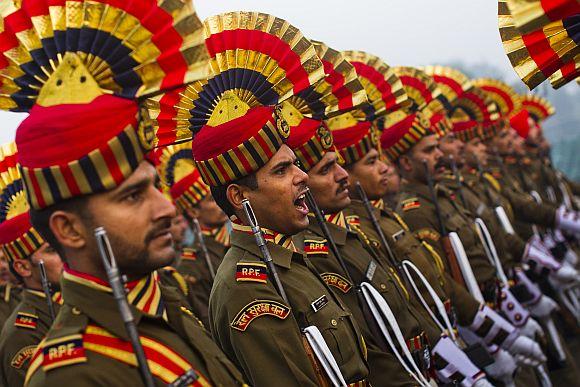 Rediff.com presents some pictures of the preparations for the mega celebrations of January 26th!
US indispensable; Taliban momentum broken: Obama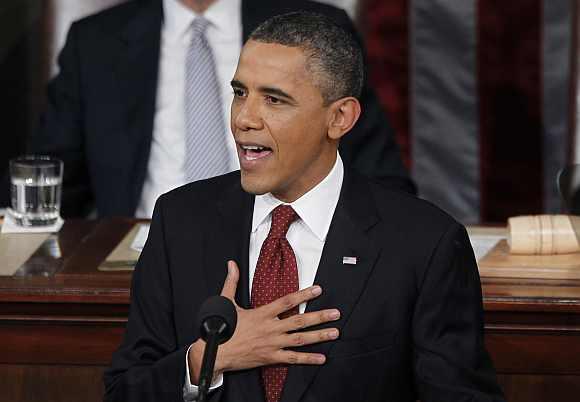 America remains the one indispensable nation in the world affairs and those who talk that its power is towards decline do not know what they are talking about, United States President Barack Obama said.
ODD PHOTOS: Wrestling camels, guitar-shaped coffin, more...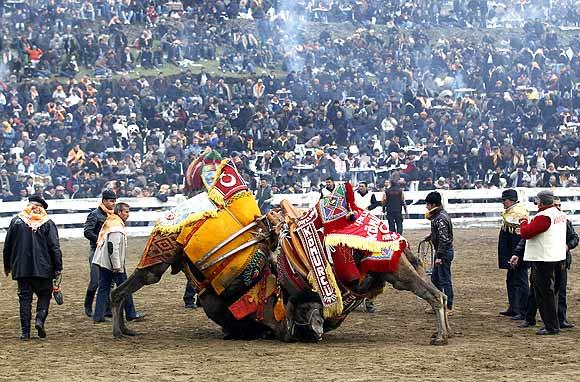 Odd photos wrestling camels guitar shaped coffin more
Slap only option when tolerance for graft runs out: Hazare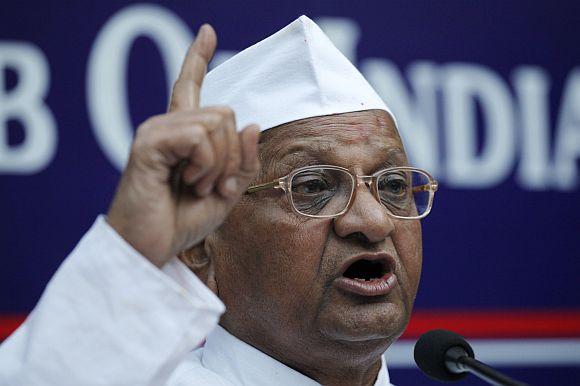 In remarks that could stoke a fresh controversy, Gandhian Anna Hazare on Tuesday night said a person is left with no option other than going for a slap when his power of tolerance of corruption runs out.
January 24, 2012
'Religious gangsters won't stop me from coming to India'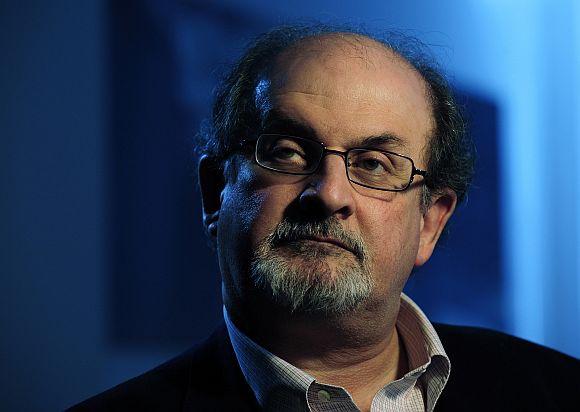 Furious over the cancellation of his video address to Jaipur Literature Festival, Salman Rushdie on Tuesday slammed the central and Rajasthan governments, saying the buck stops with it for the "awful" situation and questioned the commitment of Congress over the issue.
JLF Diary: And just like that, Rushdie was banished again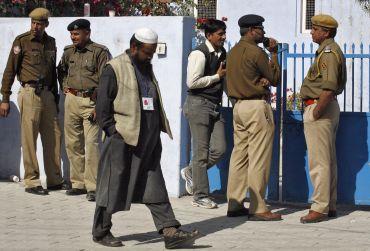 In his diary of the concluding day of a rather over-eventful Jaipur Literature Festival 2012, rediff.com's Abhishek Mande tries to communicate the plethora of emotions, ranging from rebellious to disbelief, that coloured the prestigious, and increasingly significant, five-day literary meet.
India's counter-terrorism policy is mired in weakness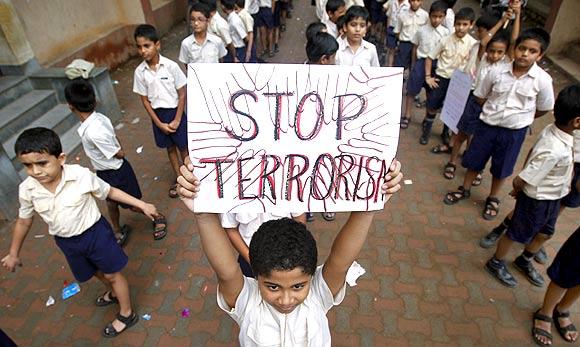 The government must seriously consider enlarging the scope of its counter-terrorism policy to covertly eliminate the leaders of terrorist organisations abroad who are sponsoring terrorism in India, says Brigadier Gurmeet Kanwal (retd).
VIDEOS: How the Rushdie drama unfolded at JLF
The session was supposed to be the jewel in the crown of the Jaipur Literature Festival 2012 -- Salman Rushdie was to address the festival through a video link after weeks of anticipation and controversy. However, as time passed the possibility of the session happening itself came under serious doubt.
'Rushdie drama exposes Cong's communal vote bank politics'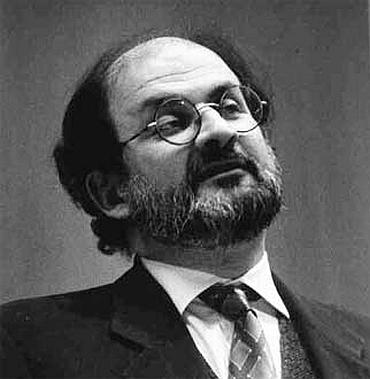 Against the backdrop of the cancellation of video address by controversial writer Salman Rushdie at the Jaipur Literature Festival, the Bharatiya Janata Party on Tuesday said the entire episode had exposed the "worst communal vote-bank politics" of Congress.
Salman Rushdie's video chat CANCELLED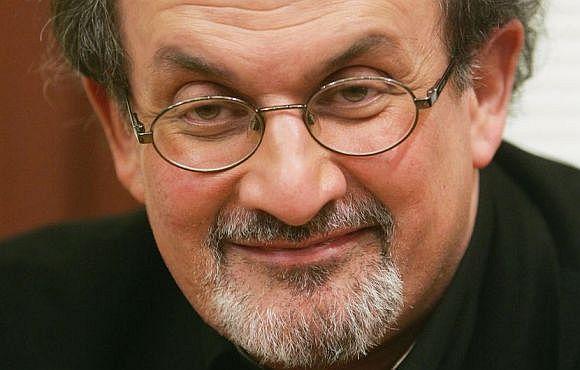 Ending the suspense, Jaipur Literature Festival organisers on Tuesday cancelled the video session with controversial author Salman Rushdie after the owners of the venue refused to hold the event citing security concerns.
1855 ultras lay down arms in Assam before Chidambaram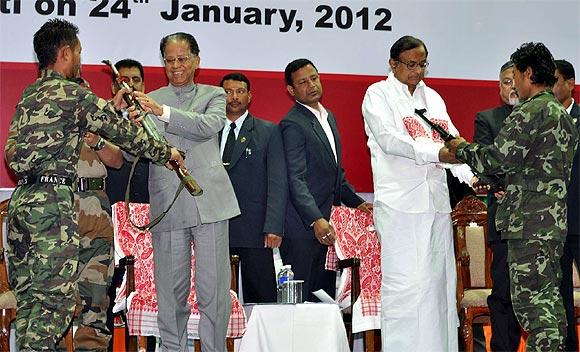 Congratulating Assam Chief Minister Tarun Gogoi for the massive surrender, Union Home Minister P Chidambaram assured those who surrendered that they would be treated with honour and dignity. reports.
Birth row: US court summons President Obama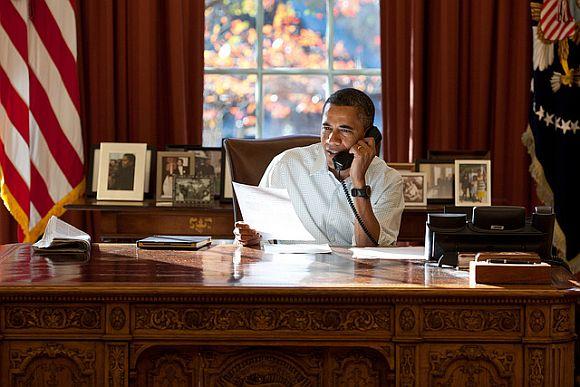 US President Barack Obama has been ordered to appear in court on Thursday to answer claims he is not a natural born citizen, and therefore cannot be US president.
India mum on repealing widely discredited AFSPA: HRW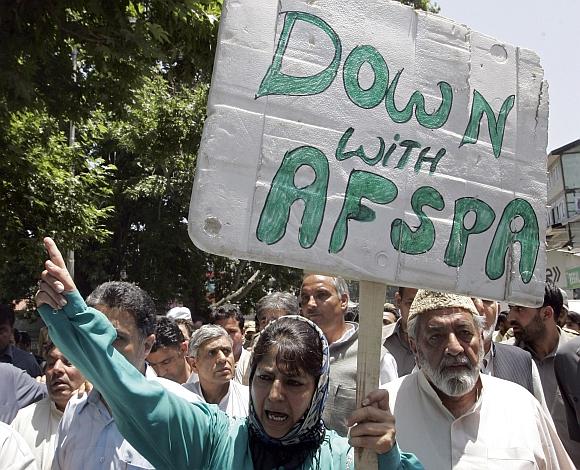 India's human rights record in 2011 got a thumbs down from a global rights group which has criticised the government for its inaction in repealing the controversial armed forces act and for remaining silent on the "gravest abuses" in countries like Syria.
Finally, Rushdie gets the nod for video chat at Lit Fest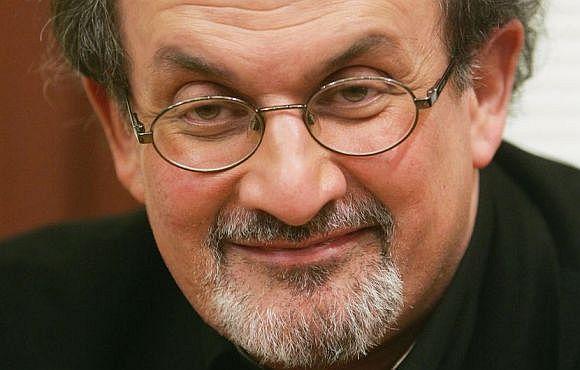 Ending the suspense, Jaipur Literature Festival organisers on Tuesday said that the video session with controversial author Salman Rushdie will take place as planned after Rajasthan government gave the go ahead.
R-Day special: The children who know no fear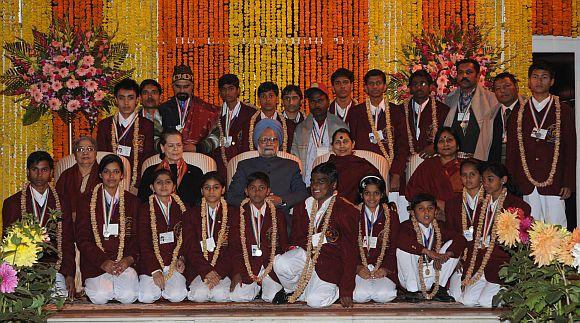 They may be just children but their bravery surpasses ages.
'It is likely to be a BSP-BJP government in UP'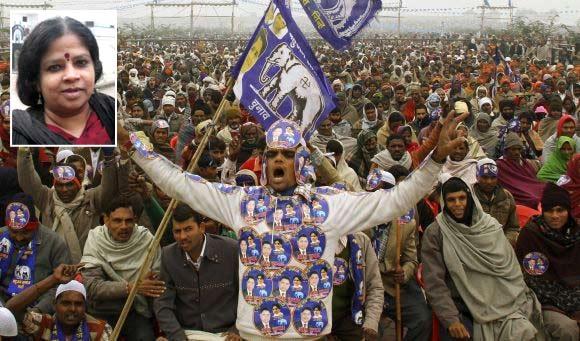 launches a special series where well-informed Uttar Pradesh residents discuss the psyche of voters, the personalities of its leaders and the socio-cultural lives of the people of the election-bound state.
Dossier: The terror tale of Indian Mujahideen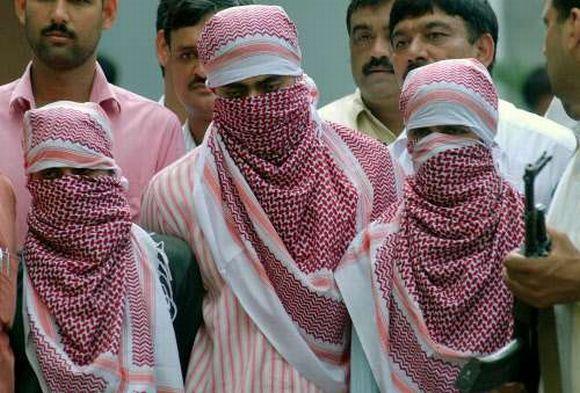 Vicky Nanjappa analyses the latest dossier on the Indian Mujahideen which chalks out the exact manner in which the notorious home-grown terror outfit is operating.
'Rajasthan govt received inputs of SIMI threat to Rushdie'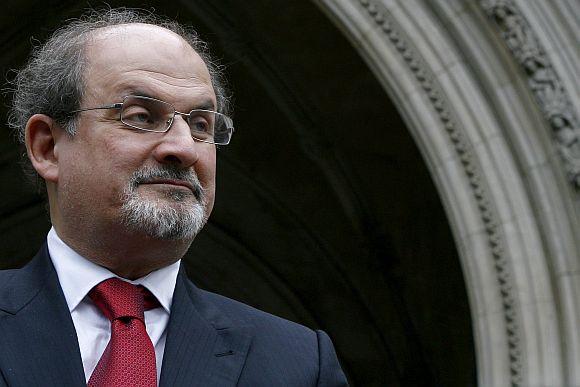 Dismissing Salman Rushdie's charge that the state police had invented a 'plot' to keep him away from the Jaipur Literature Festival, the Rajasthan government on Monday night said it had received intelligence inputs that the banned Students Islamic Movement of India was planning to target him during the festival.
Why Swaraj, Modi refused to campaign in Punjab, U'khand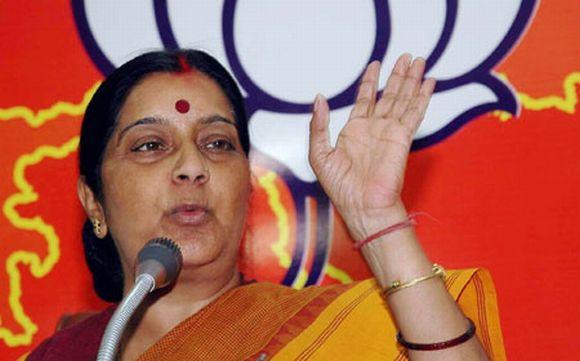 Senior BJP leaders Sushma Swaraj and Narendra Modi are sulking because they have a grouse against party president Nitin Gadkari, reports .
January 23, 2012
JLF Day 4 Diary: Rushdie drama refuses to die down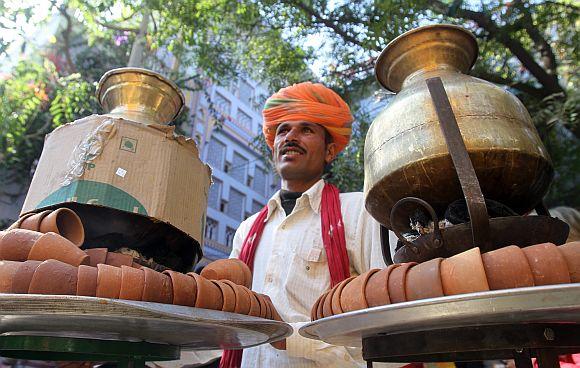 The agony of waiting for Salman Rushdie, words of wisdom from Ben Okri and Amish Tripathi and a rather strange interaction with a Muslim activist who refuses to name the author he's protesting against. That was the second last day of the Jaipur Literature Festival, reports .
13/7 blasts case: Did ATS prematurely claim breakthrough?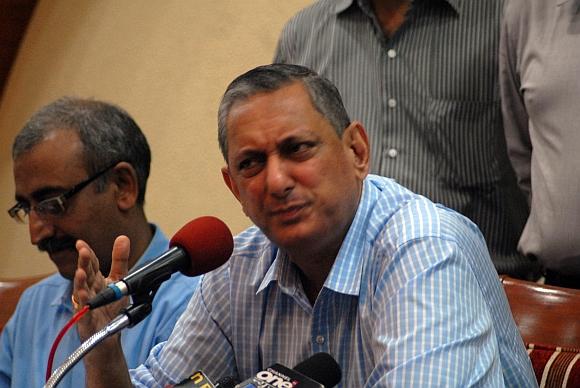 As Maharashtra Anti-Terrorism Squad chief Rakesh Maria claimed a breakthrough in the 13/7 Mumbai blasts case on Monday he seems to have ruffled quite a few feathers. Though he junked out reports of a tiff with the special cell of the Delhi police in carrying out the probe, insiders say the arrests of the two Darbhanga operatives were an attempt by the ATS to gain an upper hand in the investigation.
Day 3: Live Oprah at Jaipur, Rushdie ghost haunts fest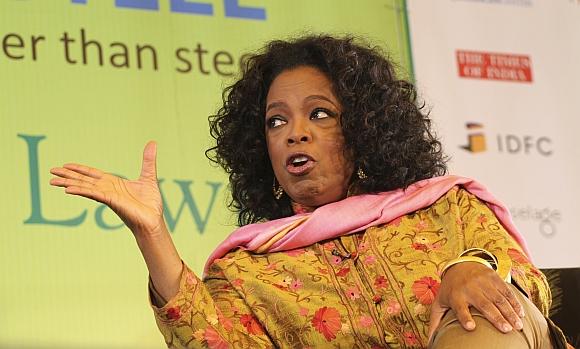 As the four authors who read out from The Satanic Verses have been asked to leave Jaipur, yet another speaker steps across the line. Rediff.com's Abhishek Mande takes you through the day in pictures and videos.
13/7 Mumbai blasts case breakthrough, two arrested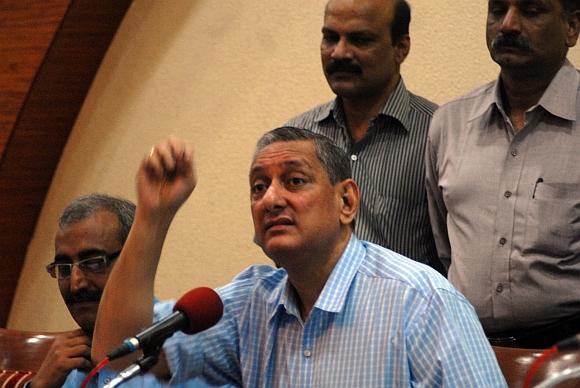 The Maharashtra Anti-Terrorism Squad on Monday claimed to have made a major breakthrough in the July 13 triple blasts in Mumbai last year that claimed 27 lives, with the arrest of two of the accused hailing from Bihar.
IN PICS: Bal Thackeray turns 86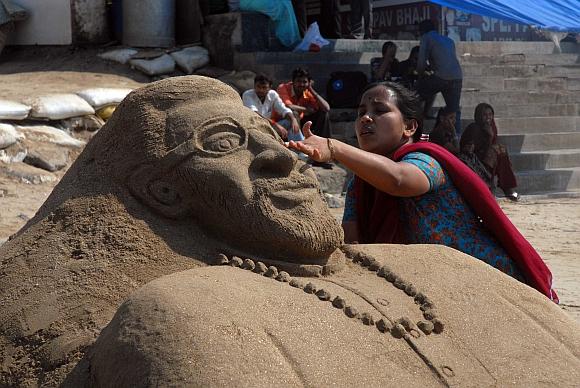 Shiv Sena chief Bal Thackeray turned 86 on Monday. The Sena chief's birthday was celebrated with enthusiasm with thousands of activists across the state visiting his residence Matoshri in suburban Bandra.
Sorry Mr Rushdie, you can't video chat either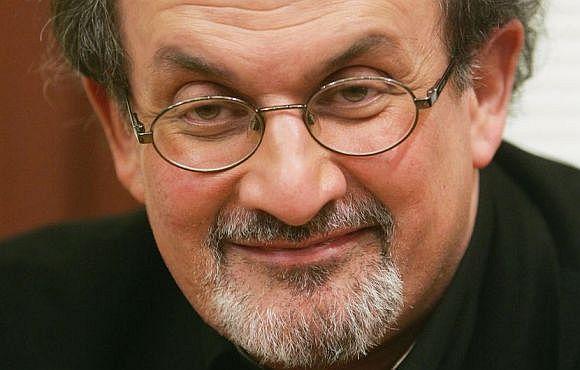 The development came a day after the India-born author accused the Rajasthan police of lying about a plot to eliminate him to keep him away from the festival, a charge dismissed by the state government which said Intelligence Bureau had given the inputs and it was not concocted.
Russia hands over nuke attack sub to India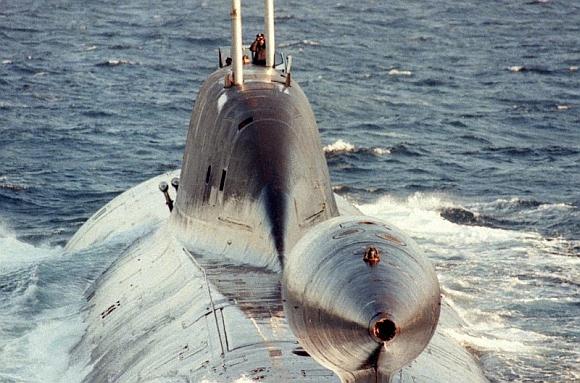 Russia's Nerpa nuclear-powered attack submarine was handed over to the Indian Navy at a ceremony in the far eastern port of Primorye, making India the sixth operator of such subs in the world.
Death at Gadkari's home: What happened to Yogita, 7?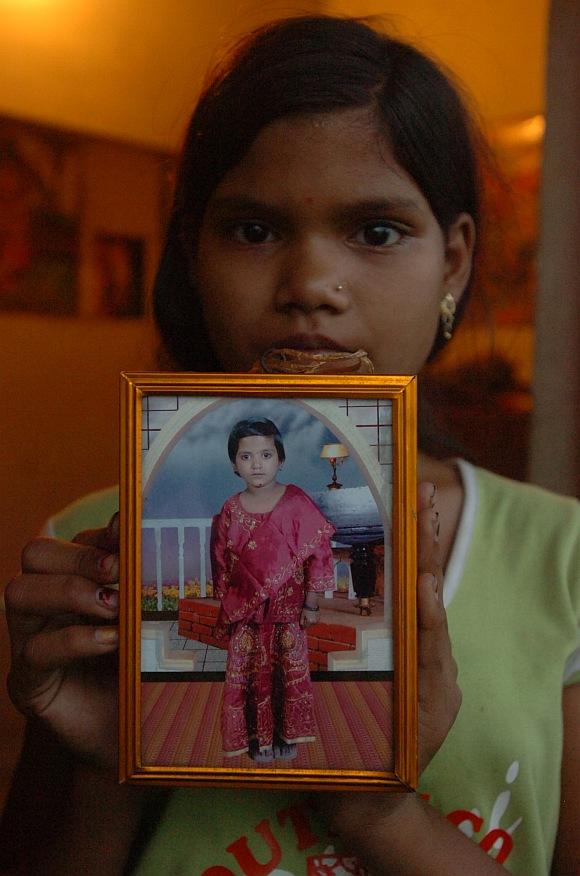 More than two years ago, 7-year-old Yogita Thakre was found dead in a car in the compound where BJP politician Nitin Gadkari lived in Nagpur. Toral Varia Deshpande travels to the city to uncover the mystery surrounding the child's death, a case whose investigation was severely criticised by the court recently.
India is like the greatest show on earth: Oprah Winfrey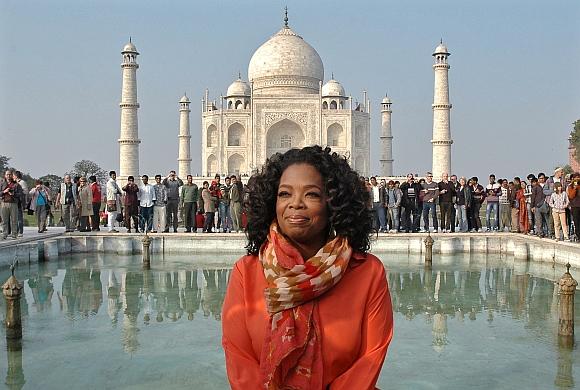 Oprah Winfrey in an Exclusive Interview with CNN-IBN's Suhasini Haider says she is impressed by Salman Rushdie.
PHOTOS: IAF rescues 2,000 people in snow-slammed Kashmir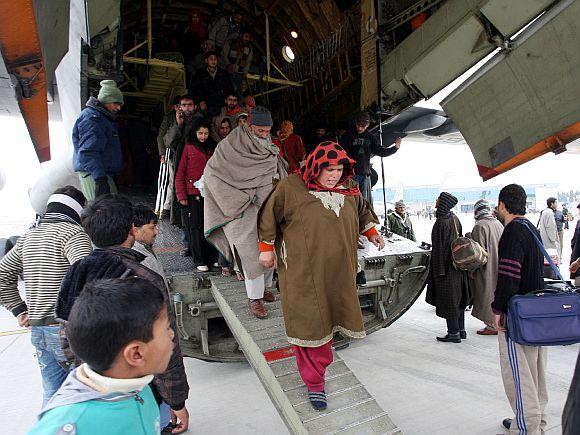 On Saturday, January 21, the Indian Air Force rescued 2,100 people marooned in snow-bound Jammu and Kashmir. Rediff.com finds out how the IAF managed one of the biggest evacuations in recent times.
In PHOTOS: China celebrates the Year of the Dragon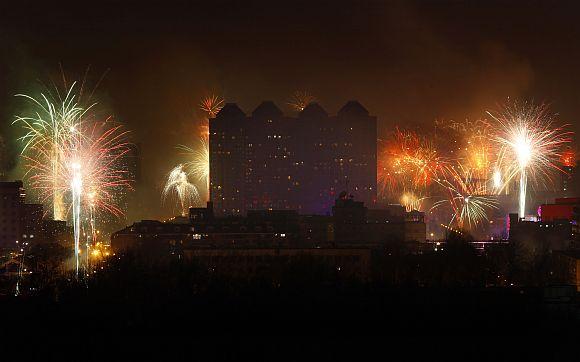 China's 1.34 billion people on Monday welcomed the Year of the Dragon with President Hu Jintao joining the celebration by visiting urban and rural areas in the capital to greet the countrymen on the Lunar New Year.
PHOTOS: North India freezes in cold wave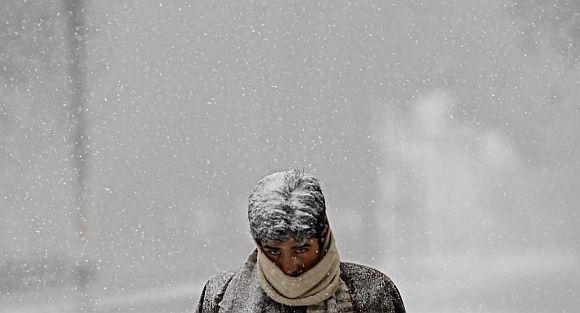 There has been no let off in the cold wave in northern India.
Jay Leno's remark on Golden Temple 'unfortunate': India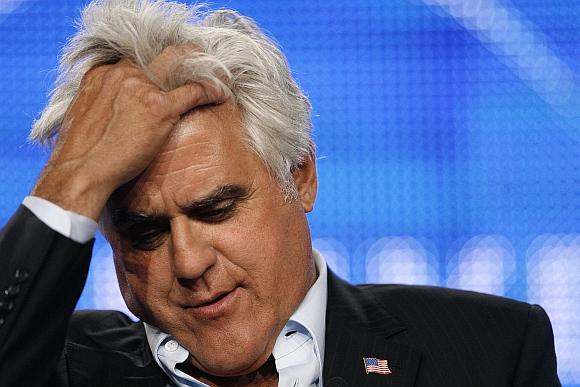 India has strongly "objected" to the remark on the Golden Temple by popular American television host Jay Leno, terming it "quite unfortunate".
WARNING: Global temperatures are shooting UP

The global average surface temperature in 2011 was the ninth warmest since 1880, according to NASA scientists. The finding continues a trend in which nine of the 10 warmest years in the modern meteorological record have occurred since the year 2000.
Playback: BEST PHOTOS of the week gone by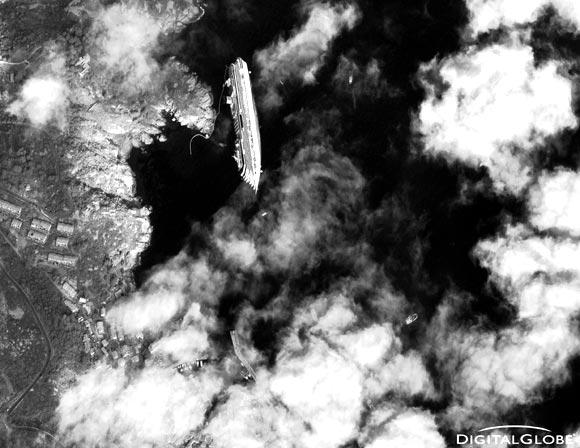 A collection of some of the best photographs from around the world last week
PHOTOS: IAF's BEST ready to thrill on Republic Day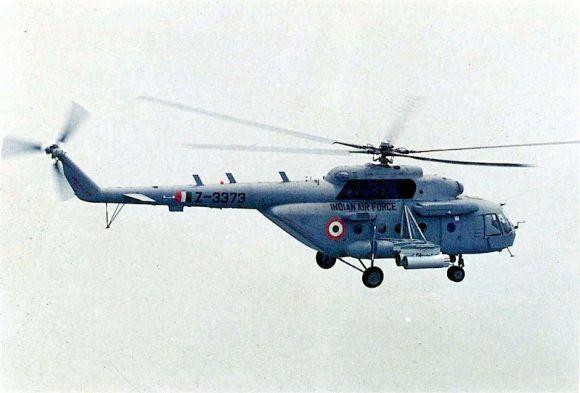 The IAF's 32 aircraft will make an impressive flypast over the Republic Day parade venue in New Delhi.
Political crisis averted in Pakistan, but for how long?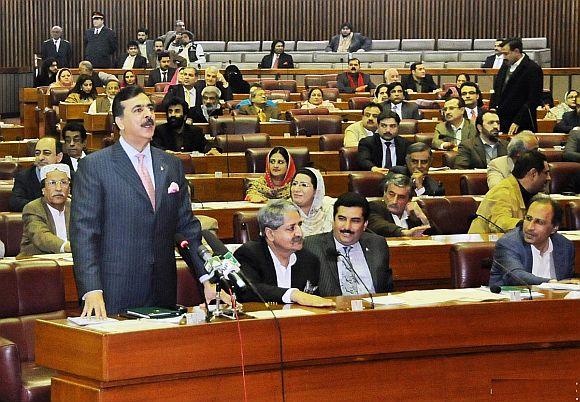 With the Supreme Court of Pakistan determined to take up the issue of presidential immunity on February 1, the country may have to yet again brace itself for a rocky month ahead, reports Amir Mir.
January 22, 2012
Didn't break law by reading from Satanic Verses: Kunzru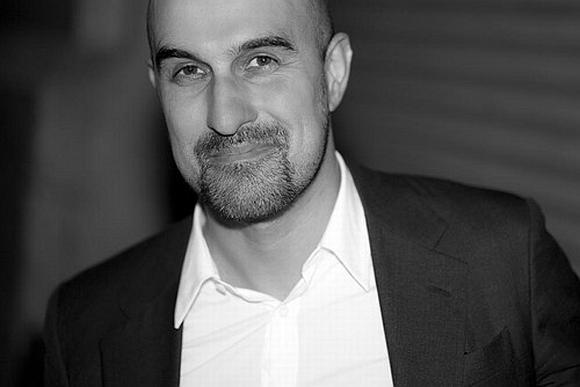 Days after his reading from The Satanic Verses created a furore and resulted in a police case, author Hari Kunzru on Sunday said he did not believe he had broken the law by reading from a downloaded segment of the book and had no intentions to hurt the feelings of anybody.
Modi has good potential to be PM, BJP chief: Gadkari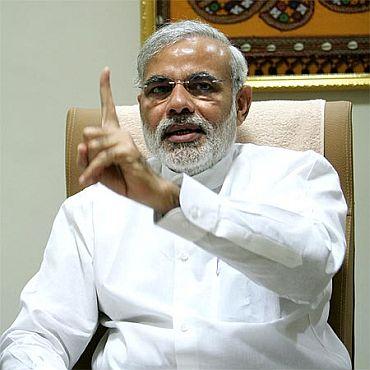 Ruling out himself as his party's prime ministerial candidate, Bharatiya Janata Party president Nitin Gadkari on Sunday favoured Gujarat Chief Minister Narendra Modi for the top job and promised to back his candidature as party chief.
Show some courage to withdraw weak Lokpal: Hazare to PM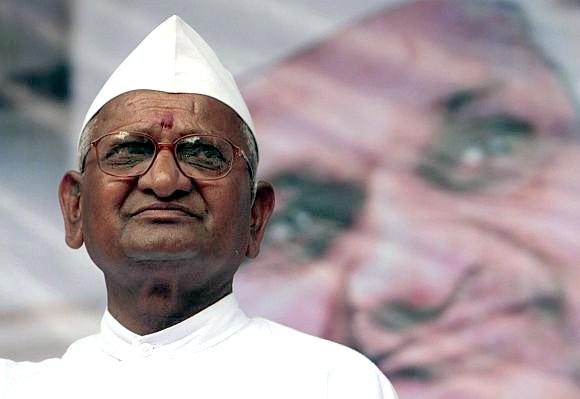 In a bid to project a non-partisan face, Anna Hazare and his team on Sunday shot off a series of letters to leaders, including Prime Minister Manmohan Singh, Rahul Gandhi and Bharatiya Janata Party President Nitin Gadkari, trying to put them on the mat on the Lokpal issue ahead of Assembly polls in five states.
UPA's approach on Centre-state ties authoritarian: Advani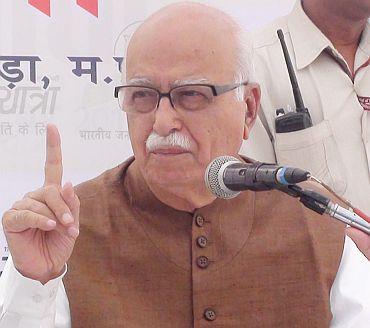 Slamming the United Progressive Alliance government for its "authoritarian" approach towards states, Bharatiya Janata Party veteran L K Advani on Sunday said all those who believe in strong Centre-state relations should come together on it even as he praised Tamil Nadu Chief Minister J Jayalalithaa for highlighting the issue.
Oprah @ JLF: You love her, hate her, but can't not care!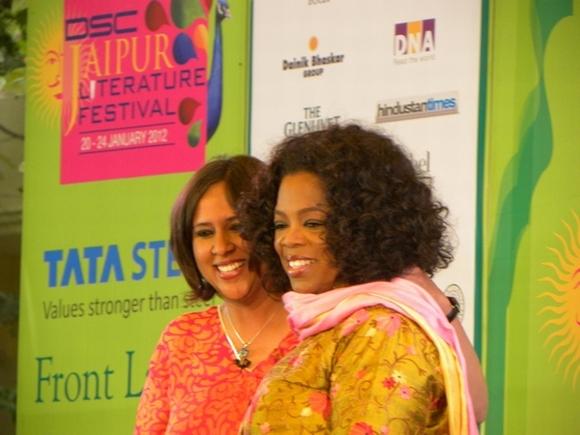 Clad in a mustard salwaar-kameez and sporting golden bangles, the queen of chat shows Oprah Winfrey was the headline draw at the Jaipur Literature Festival on Sunday.
Rajasthan police invented plot to keep me away: Rushdie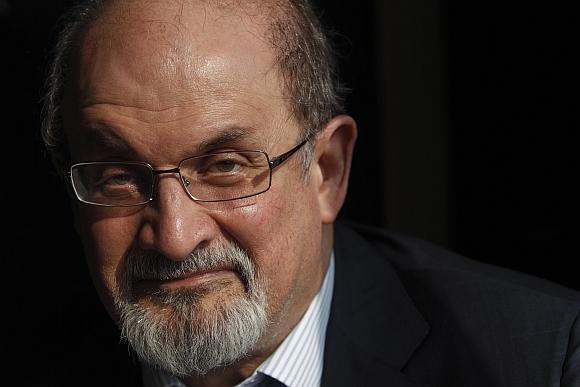 Two days after he scrapped his plans to attend the Jaipur Literature Festival citing threats to his life, an "angry" Salman Rushdie on Sunday charged that he was lied to by the Rajasthan police, who "invented" a plot to keep him away from the event.
January 21, 2012
150 killed, Indians injured in Nigerian terror attacks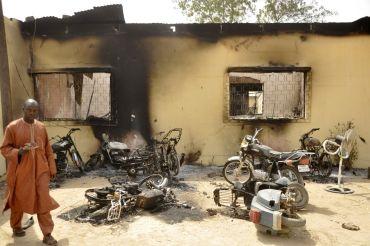 A series of coordinated bomb and gun attacks by a radical Islamist sect targeting police stations and the headquarters of Nigeria's secret police in northern city of Kano on Saturday killed nearly 150 people and injured several others, including Indians.
JLF Day 2 Diary: 'Glad Rushdie didn't make it to the fest'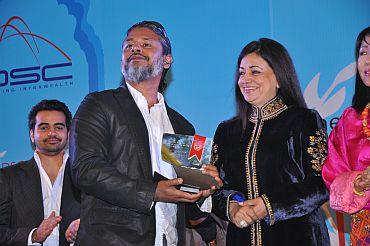 Rediff.com's Abhishek Mande, who is attending the Jaipur Literature Festival, brings forth all the details of a 'rather slow' Day 2 of the festival.
Hazare's movement lacked ideological tethering: Aruna Roy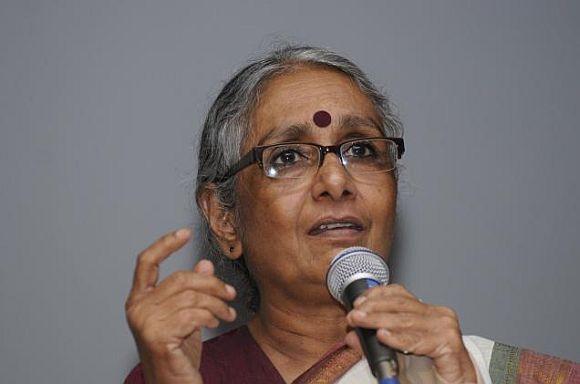 Anna Hazare's anti-corruption movement might have aroused high sentiment in India but social activist Aruna Roy believes it lacked the ideological tethering that is required to hold mass campaigns together and was essentially driven by the mass media.
TO THE RESCUE! IAF airlifts 1,100 stranded people in J&K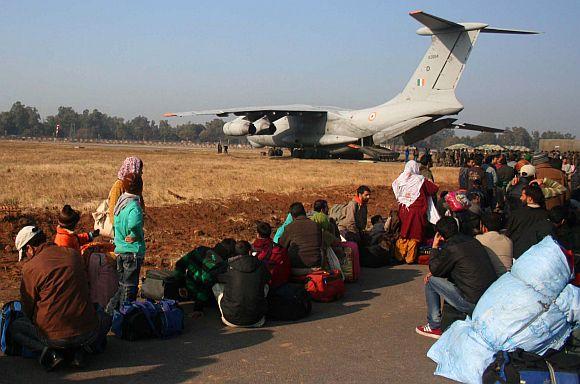 The Indian Air Force on Saturday ferried 1,100 stranded passengers between the twin capitals of Jammu and Kashmir in one of the biggest peace time operations, reports
High demand for tricolour in insurgency-hit Northeast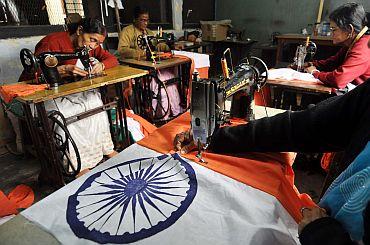 Even though the insurgent groups in the Northeast make an all out efforts every year to stymie celebrations of the two most important days for nation-- Independence Day and Republic Day -- they have failed to rob the sheen of the Indian national tricolour that has remained close to the heart of the people of this troubled region.
Punjab has fallen behind under Badal govt, says PM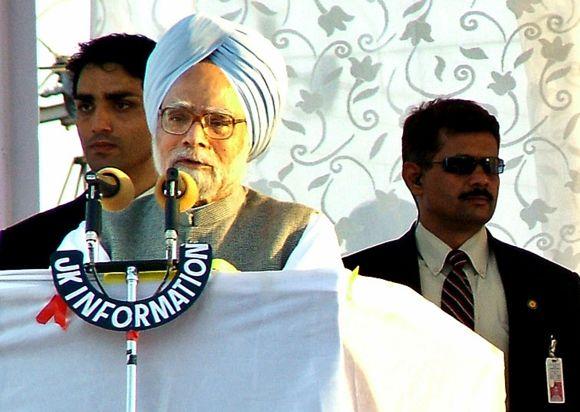 Prime Minister Manmohan Singh on Saturday launched a scathing attack on the Parkash Singh Badal-led Shiromoni Akali Dal-Bharatiya Janata Party government in Punjab, saying the state which was once a frontrunner in all spheres had now fallen behind.
Rushdie Cong's 'tasty dish' for Muslims in UP polls: Uma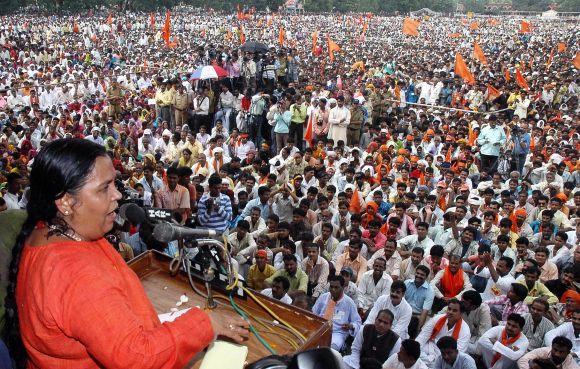 Amid the controversy over Salman Rushdie's India visit, Bharatiya Janata Party leader Uma Bharti on Saturday said that the Congress will be looking to exploit the issue to the hilt to win over Muslims voters in Uttar Pradesh.
UP elections 2012: Which way will the tide turn?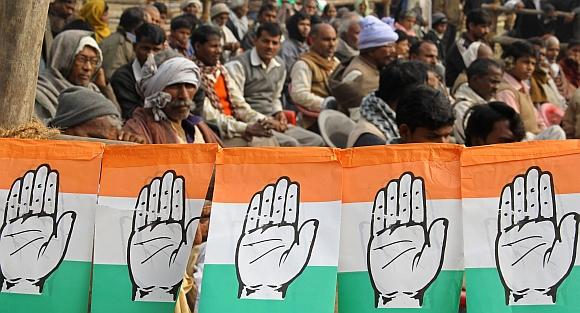 The election drums are beating in Uttar Pradesh as the various political parties work to seduce the voters. Travelling through the populous state, one is struck, as always, by the wisdom of the voters who see through one and all, and yet know they have to cast their vote as democratic and discerning citizens of India. Seema Mustafa reports.
Video: EROTIC promo of Chetan Bhagat's new book
Video: EROTIC promo of Chetan Bhagat's new book
January 20, 2012
Glimpses from day 1 at Jaipur Lit Fest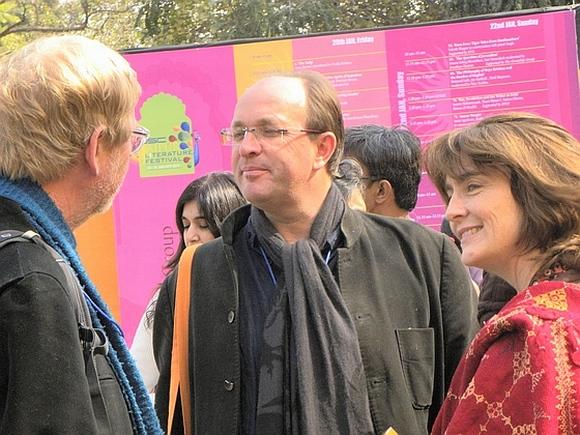 It has been a helluva Day One at the Jaipur Literature Festival. In perhaps what has been one of the most stellar line-up of the festival, rediff.com saw some of the greatest names in literature and journalism walk the grounds of Diggi Palace, the venue of the festival. Abhishek Mande reports.
IN PICS: JK seeks IAF to rescue stranded passengers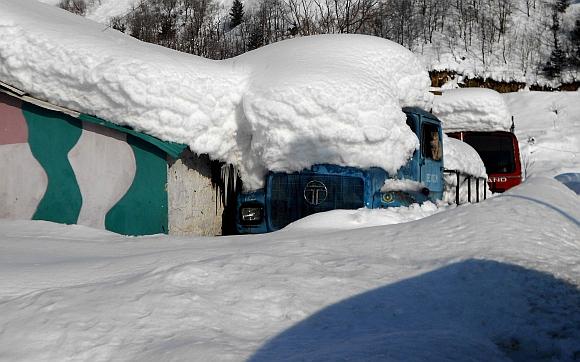 The Jammu and Kashmir government has decided to utilise the services of the Air Force to lift hundreds of stranded passengers as the Jammu-Srinagar national highway continued to remain closed for the passenger traffic for past nearly 10 days.
Riots, curfews have vanished in Gujarat: Modi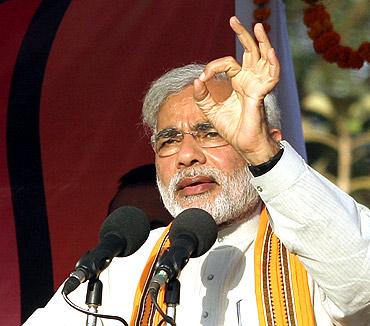 Hitting out at Prime Minister Manmohan Singh for his "late realisation" of the malnutrition problem in the country, Gujarat Chief Minister Narendra Modi said that instead of "merely making comments on the issue", the PM should provide a solution for it. "Last week, the prime minister expressed agony and pain over the issue of malnutrition in the country and said that it was a shame for the country. But actually, it is shameful," he said.
Will Muslims protest if Rushdie came here? NO!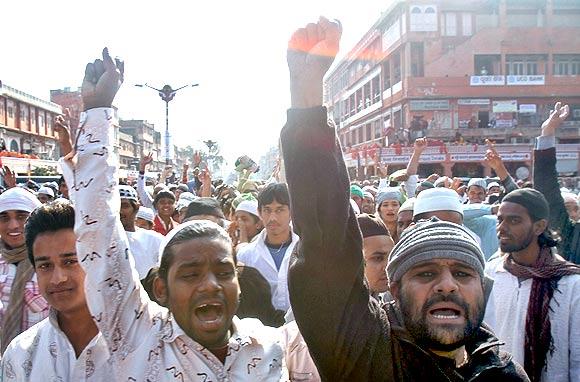 Continuous projection of Rushdie-like issues, as vital to Muslims, comes in the way of development as their priority requirement, says Saeed Naqvi
Gupshup from the Dilli Darbar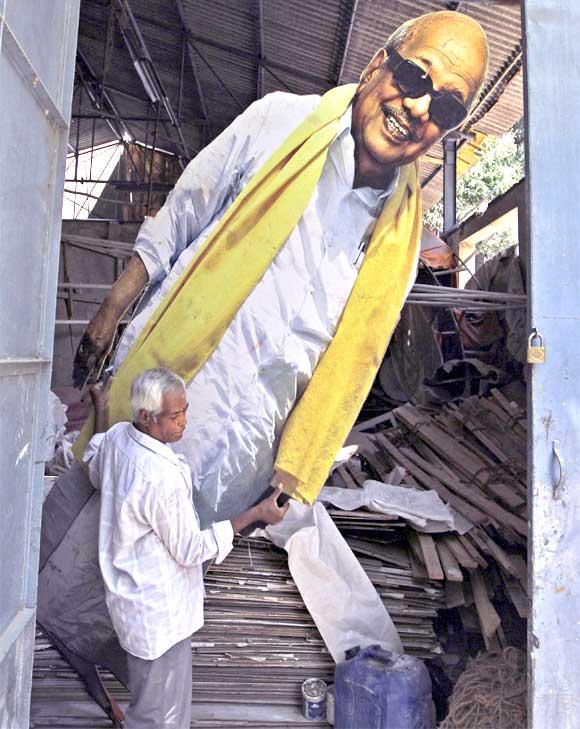 General Rahul into battle... did Markandey Katju stage a 'walkout'... the DMK dress code braves the North Indian winter... and ahem! yet another 'son rise' in Lucknow... chai and gupshup from the Dilli Darbar.
In PHOTOS: Money is USELESS in this exotic fair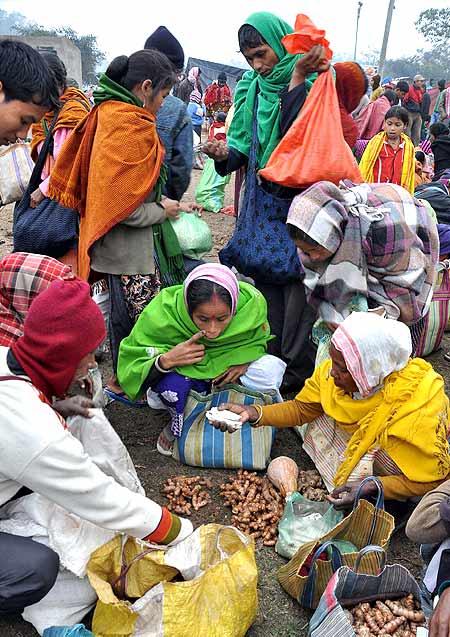 If you want to buy something at this exotic fair in Assam, the currency notes you are carrying will not be good enough.
India can't hope to replace Pakistan in US Afghan strategy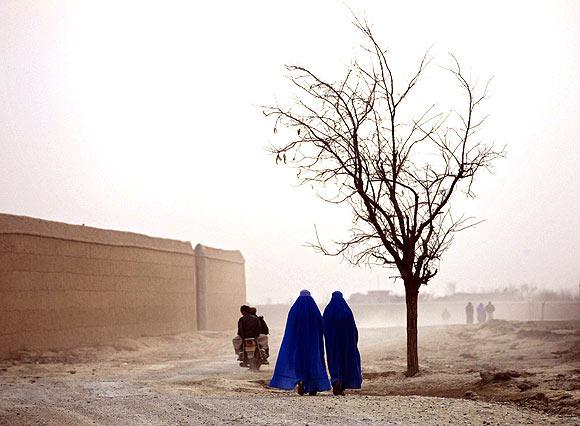 Pakistan will not cooperate with the US in Afghanistan unless and until the latter accepts its central role in the search for a settlement and accommodates its 'legitimate interests'. This is the crux of the matter, says .
'Rushdie a criminal from a religious point of view'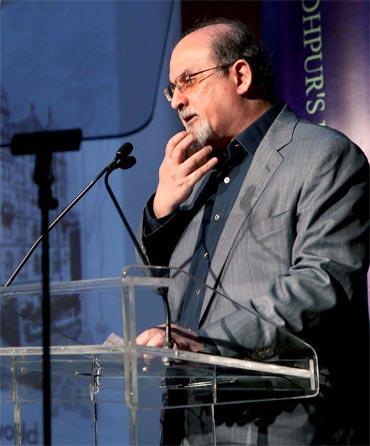 Muslim groups on Friday welcomed the cancellation of controversial author Salman Rushdie's visit to the Jaipur Literary festival and said their protest no longer stands.
Who has STOPPED Rushdie from visiting India, asks Digvijay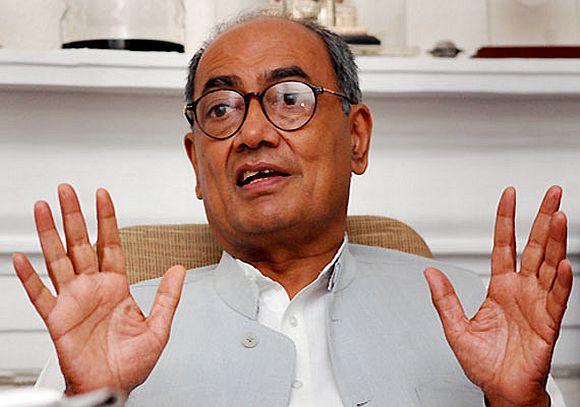 Congress leader Digvijay Singh on Friday said author Salman Rushdie's move to call off his India visit was his "personal decision" and the government had nothing to do with it. "Calling off the visit is Rushdie's personal decision and the government has nothing to do with it," Digvijay told reporters.
Punjab: Congress, BJP, SAD field MLAs with criminal charges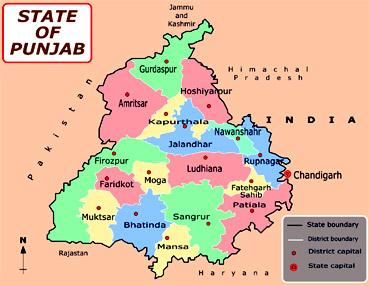 Five legislators, who are contesting the forthcoming assembly polls, have serious criminal cases like murder, attempt to murder, kidnapping, robbery etc pending against them. This information has been revealed by the Punjab Election Watch which, along with the Association for Democratic Reforms, has assessed the financial and other details of the members of legislative assembly seeking re-election in Punjab.
Help Naxals, respect Lakshman Rekha: Ramesh to churches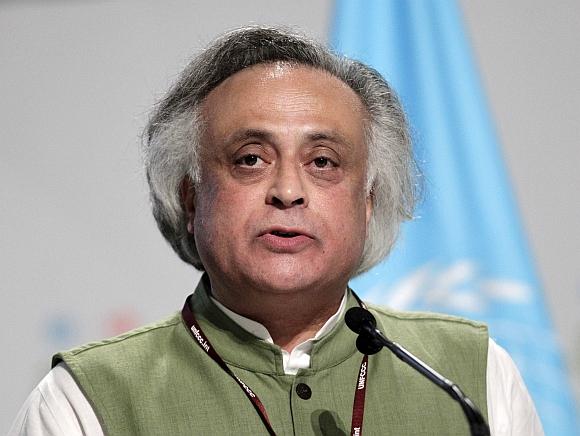 Union Rural Development Minister Jairam Ramesh on Friday made a strong pitch for roping in organisations like those run by Catholic Church to bring development in Maoist-hit areas but asked them to respect the 'Lakshman Rekha' and not engage in "religious mobilisation".
'BJP's only legacy has been 7 CMs in the past 7 years'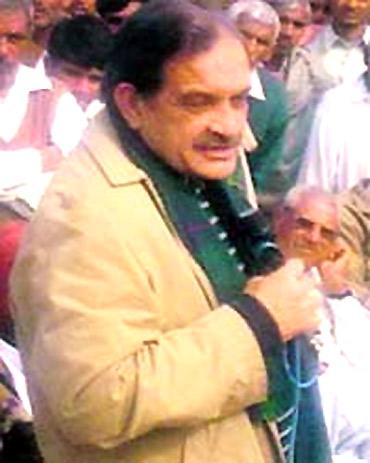 Congress will definitely win in Uttarakhand and replace the "corrupt" Bharatiya Janata Party government in the forthcoming polls, says All India Congress Committee in-charge of the state Chaudhry Birendra Singh in an interview
I am sorry and sad over Gen Singh's age issue: Antony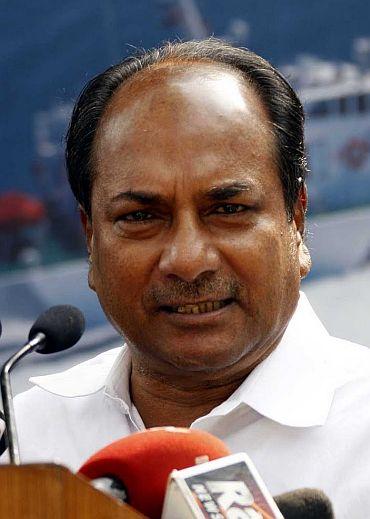 Breaking his silence on the age controversy surrounding Army chief Gen V K Singh, Defence Minister A K Antony on Friday said he was "sorry and sad" over it and left it to the Supreme Court to decide the matter.
Job not finished yet: Obama on Afghanistan endeavour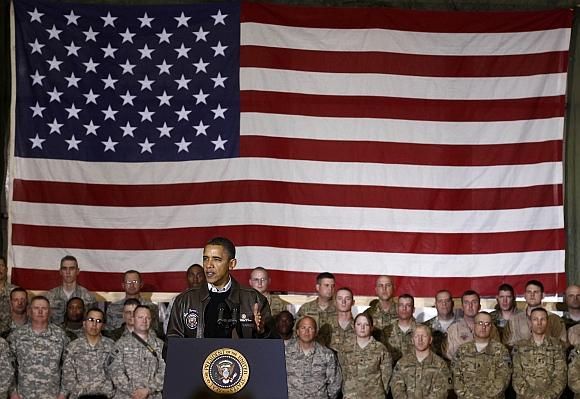 Noting that the American counter-terrorism strategy against Al Qaeda has been "extremely successful", United States President Barack Obama has said India and Pakistan have an interest in ensuring Afghanistan is "not engulfed in constant strife".
He feeds the hungry, now wants to house the homeless. But...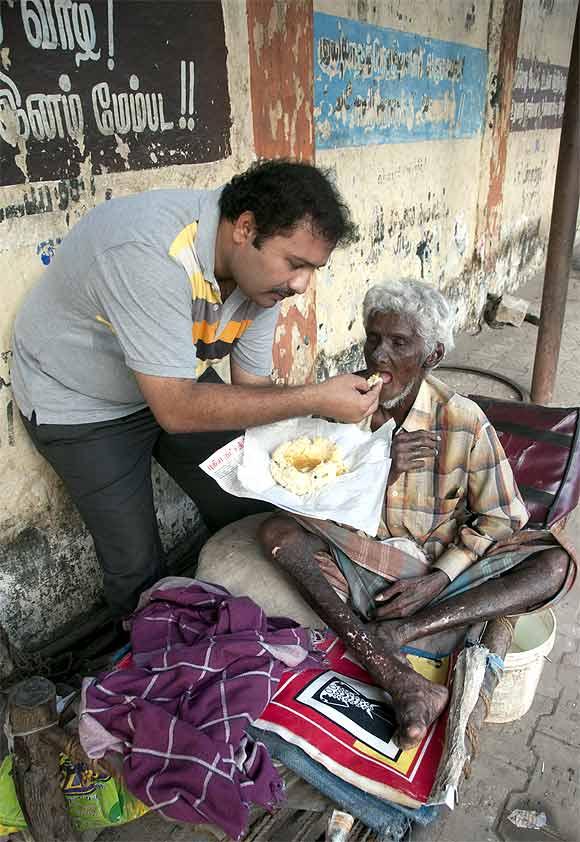 For nine years, Narayanan Krishnan has served millions of meals to the mentally ill in Madurai. And he now dreams of providing a shelter to them. However, due to lack of funds the project has hit a roadblock. Ganesh Nadar reports
No intention of taking action against Kayani: Pak govt
The Pakistan government has no intention of taking any action against Army Chief Gen Ashfaq Parvez Kayani, the country's top law officer informed the Supreme Court on Friday against the backdrop of a standoff between the civil administration and the military.
Punjab's battle royale: 'Maharani' campaigns on war footing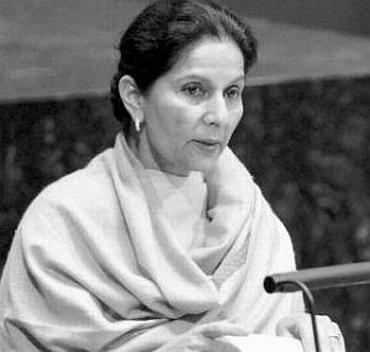 The leading ladies of Patiala royal family are sparing no efforts these days in gleaning voters' support for their men, who are in the fray from this crucial parliamentary segment in Punjab. The 117-constituency strong state assembly goes to polls on January 30.
Yoko Ono's tribute to Indian women: Straight from the art!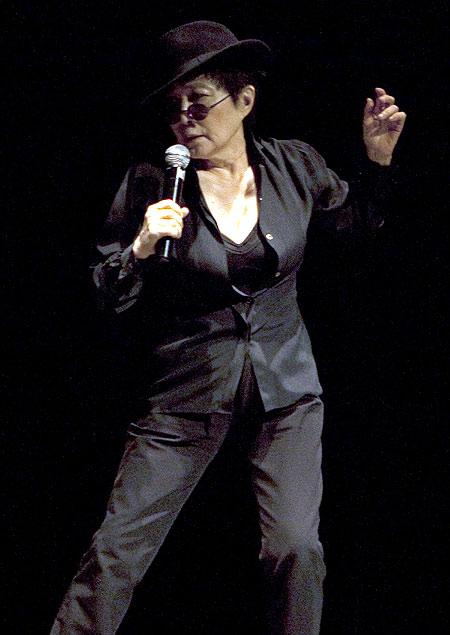 Yoko Ono was described by her husband -- the Beatles icon John Lennon -- as 'the world's most famous unknown artist'.
'Blasphemer Rushdie will be welcomed with shoes in India'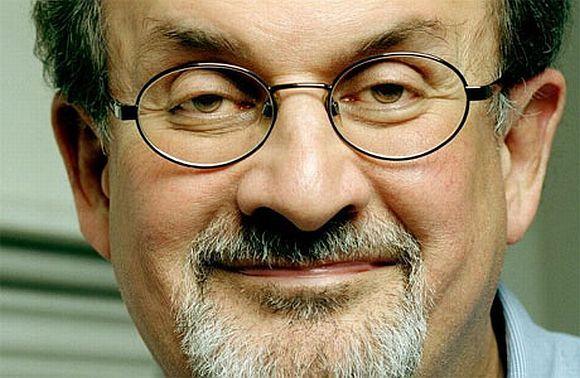 In an interview with rediff.com's , the president of All India Muslim Majlis-e Mushawarat says people will denounce Rushdie and hurl shoes at him if they find him. The blasphemer should be ready for such a reception, he adds.
PM Singh a pal with whom I share bonds of trust: Obama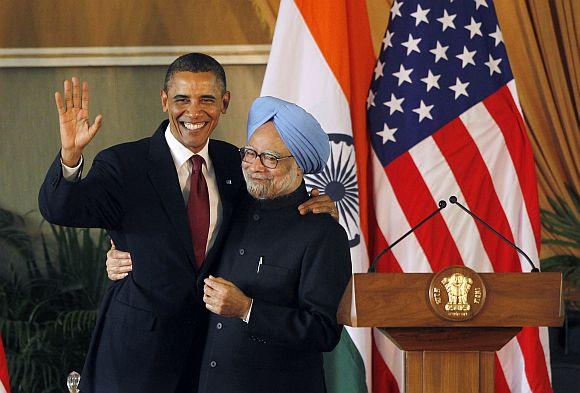 Countering allegations that he is "aloof", United States President Barack Obama counted Prime Minister Manmohan Singh and German Chancellor Angela Merkel among leaders with whom he has forged "friendships and bonds of trust".
IN PICS: INDIA SHIVERS!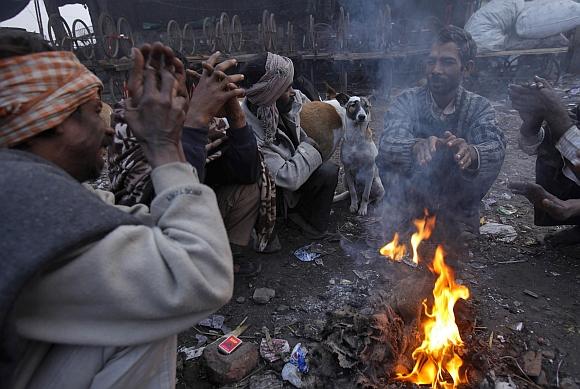 Men sit next to a dog around a fire to warm themselves on a cold winter morning in the old quarters of Delhi.
We swam through 1 degree cold water: Shipwreck survivors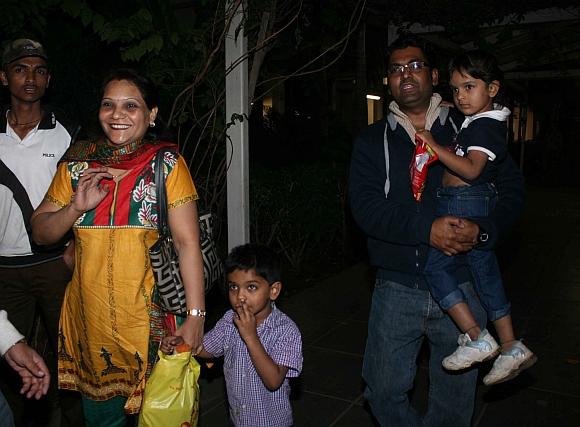 It was perhaps the longest wait ever for the Indian crew members on board tragedy-struck Italian cruise ship Costa Concordia, to meet their family after having a near death experience. Toral Varia Deshpande reports.
Exclusive: 'Mayawati only believes in minting money'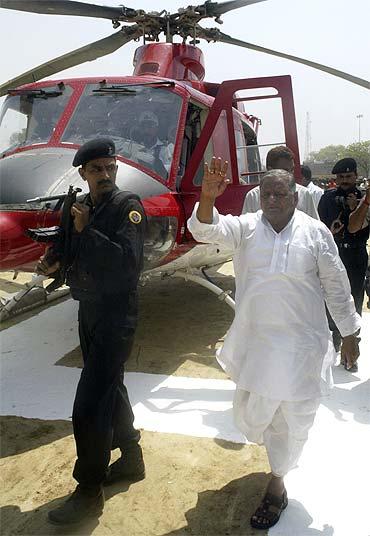 As his old adversary Mayawati confronts the anti-incumbency factor in the Uttar Pradesh assembly election, Mulayam Singh Yadav expects a fresh lease of political life as the chief minister of Uttar Pradesh. An exclusive interview!
January 19, 2012
Connecting women with 'tech spirituality'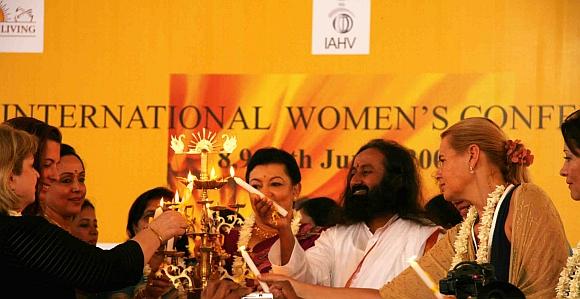 Come February 2012, Bengaluru will play host to women leaders from 108 countries, who will gather for the 5th International Women's Conference. Titled 'Women and Technology', the three-day conference is being held at The Art of Living International Centre.
Pak PM discusses Nobel Peace Prize with Indian MPs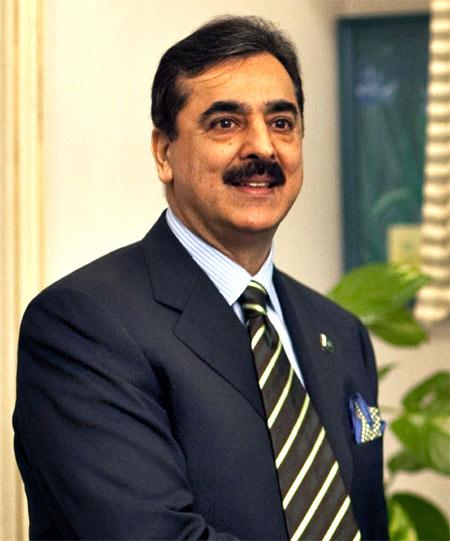 During a meeting with a visiting Indian parliamentary delegation on Wednesday evening, the lawmakers, including former ministers Mani Shankar Aiyar and Yashwant Sinha, noted that Prime Minister Manmohan Singh had "rightly said that Yusuf Raza Gilani was a man of peace".
Team Anna to kick start campaign from Haridwar on Jan 21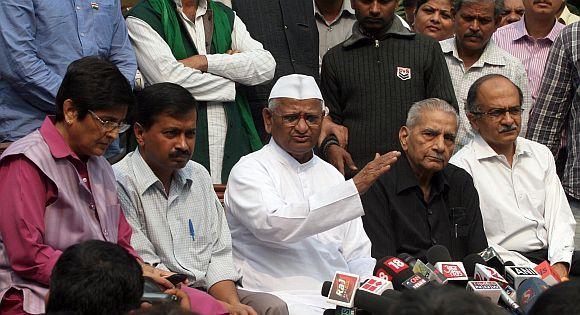 Team Anna will start its campaign in five election-bound states from Uttarakhand from January 21.
The final moments of Costa Concordia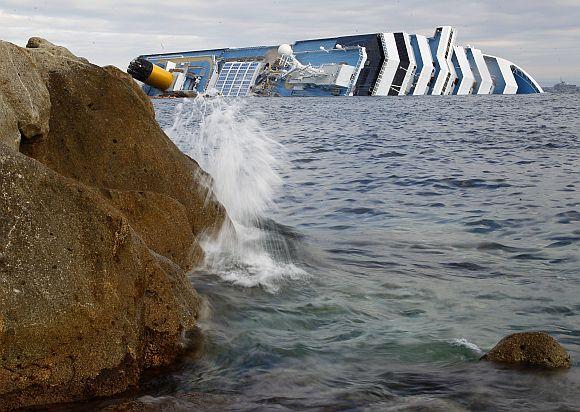 The luxury liner, Costa Concordia, was carrying more than 4,200 people, many of whom were having dinner at the restaurant when it hit a reef or rock near the Tuscan Island of Giglio
Is Karnataka the most dangerous state for Christians?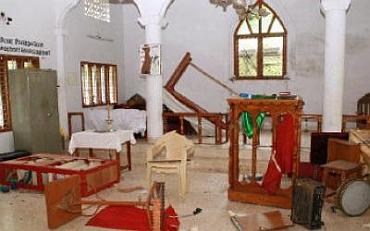 A nationwide report points out that in 2011, 172 incidents have been reported from across the country in which churches and Christians have been attacked. Karnataka tops the list with 47 incidents followed by Odisha with 25 incidents. Vicky Nanjappa reports.
Manzoor Ijaz a 'liar', allege US experts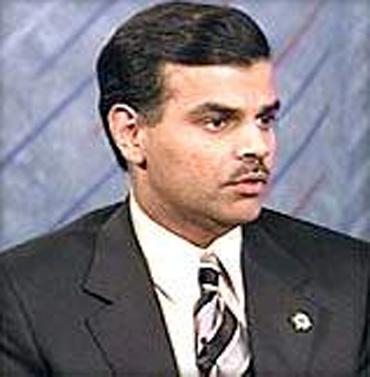 Mansoor Ijaz, the man who has triggered off a political crisis in Pakistan, is a 'dubious character,' who is sowing 'seeds of dissension,' South Asia experts in the US tell Aziz Haniffa in Washington, DC.
Rushdie goes SILENT about controversial visit to India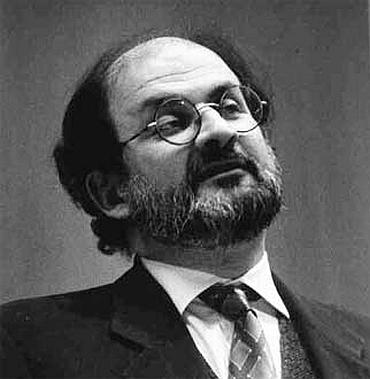 Even as uncertainty looms over Salman Rushdie's appearance at the Jaipur Literature Festival, the India-born author himself is not giving any hints about his plans to visit India and has maintained a stoic silence on Twitter. The Midnight's Children author has logged on to the microblogging site Twitter regularly and commented on various issues, occasionally tweeting several times a day.
A day in a UP village: Why the polls don't matter here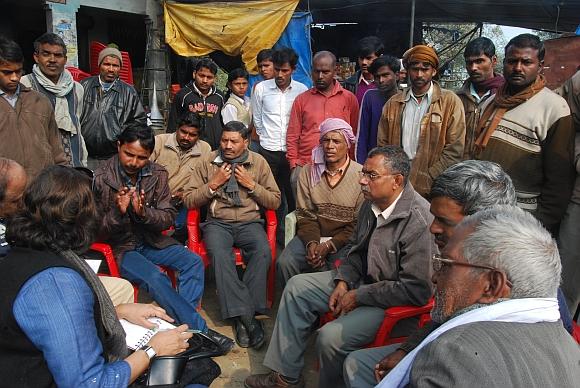 On a chilly January morning, Rediff.com's Sheela Bhatt and Sharat Pradhan traveled off National Highway 24 to probe rustic Indian minds on corruption, weeks ahead of the election in Uttar Pradesh.
PICS: This item costs TEN TIMES more than gold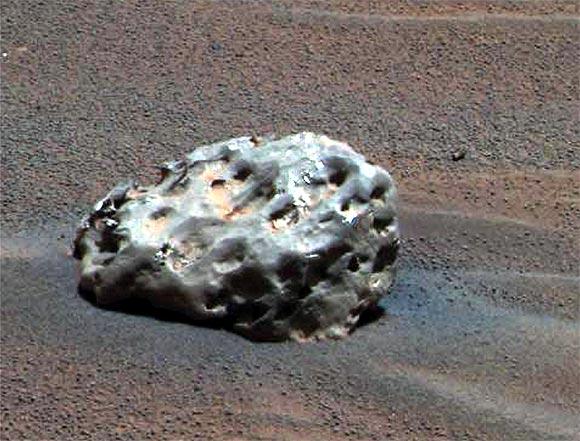 Scientists have claimed that chunks of a meteorite which fell in Morocco last July were from Mars -- a rare event which happened for the first time in 50 years. It is the fifth time that such Martian meteorite fall has been reported, an event which has occurred every 50 years. The first was in 1815 in France, second in 1865 in India, followed by Egypt in 1911 and Nigeria in 1962. The latest fall of the fragments of the Martian meteorite took place near Foumzgit in Morocco.
What to expect from 2012 Manipur assembly polls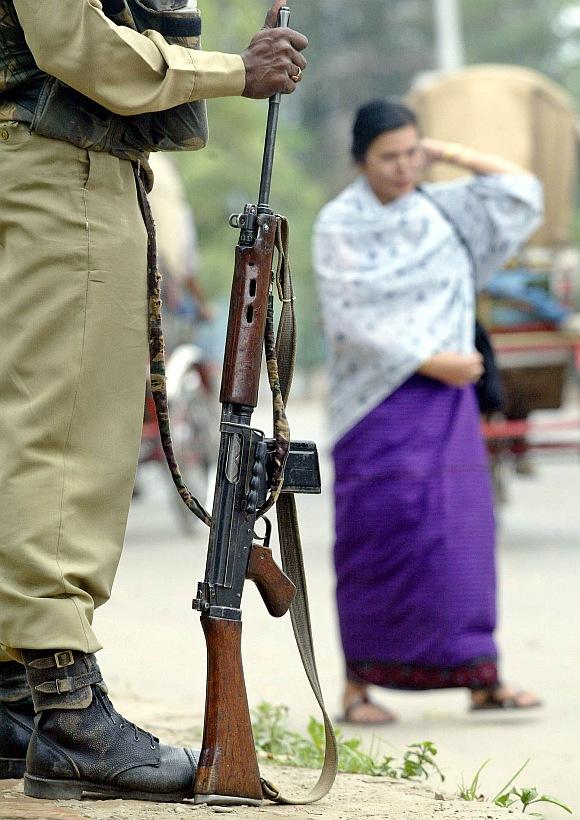 Around 279 candidates are pitted against each other to fill the 60-seat assembly in the backdrop of concerns over the smooth conduct of polling in the state. Manipur's journey to its 10th assembly elections is turning out to be a crowded exercise, says Chitra Ahanthem, out columnist from Manipur.
'Rushdie wouldn't want being hunted around the world'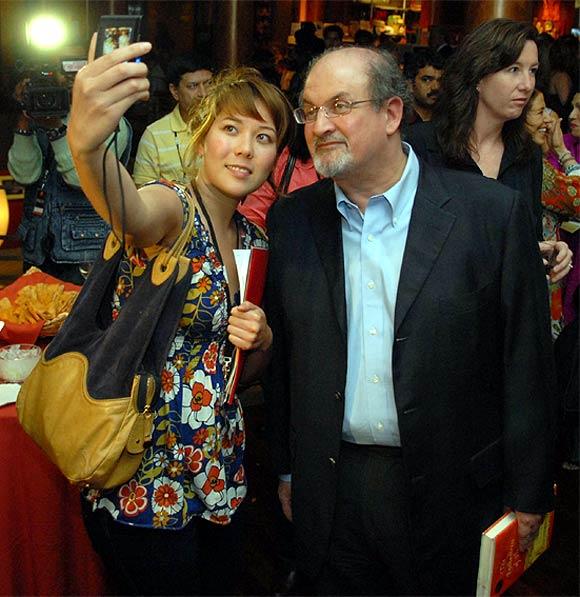 'Everybody of a certain age wanted to write like Rushdie and so did I but I wouldn't want being hunted around the world. I am sure even Rushdie wouldn't want that life, says Pakistani Writer Mohammed Hanif.
January 18, 2012
IN PICS: Srinagar Jammu highway opens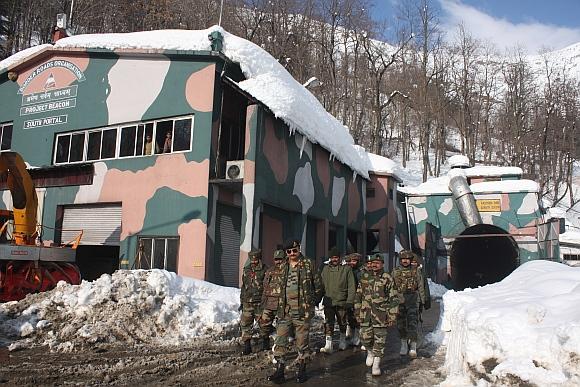 The 300-km Srinagar Jammu national highway, the lone road linking Kashmir valley to rest of the country was thrown open for one way traffic on Wednesday evening, thanks to the round-the-clock efforts put in by the border roads organisation to make the road traffic worthy.
Japanese take home WWII heroes from Guwahati war cemetery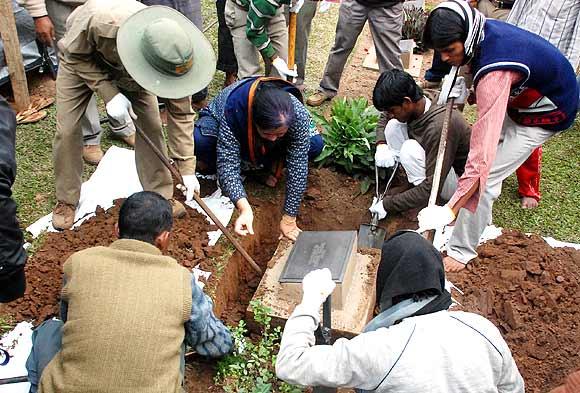 For the first time a war cemetery in India is being dug up to exhume the bodies of soldiers who lost their lives in the Second World War. reports from Guwahati.
From Wikipedia to Darkipedia: Protest against anti-piracy law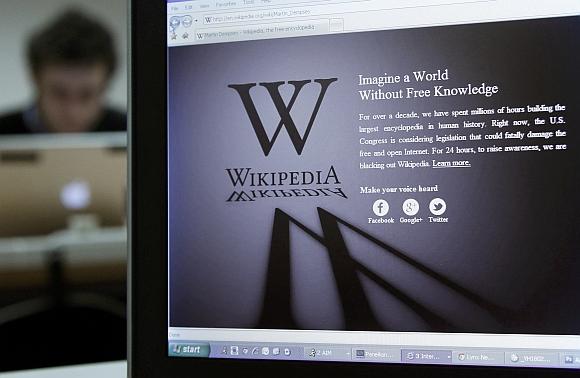 Wikipedia, the online encyclopedia, and other popular websites went dark on Wednesday as search engine Google blotted its logo as part of protests to stop Internet piracy legislation being considered by the United States Congress.
Open to working with India on missile shield: US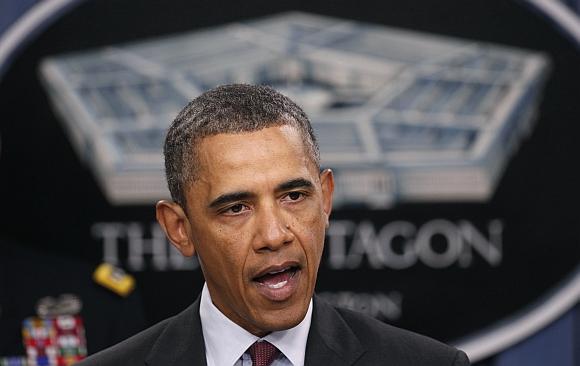 Weeks after offering to sell its F-35 fifth generation fighter jets, the United States on Wednesday said it was open to work with India on joint development of a ballistic missile shield.
Army chief going to SC not a healthy precedent: Govt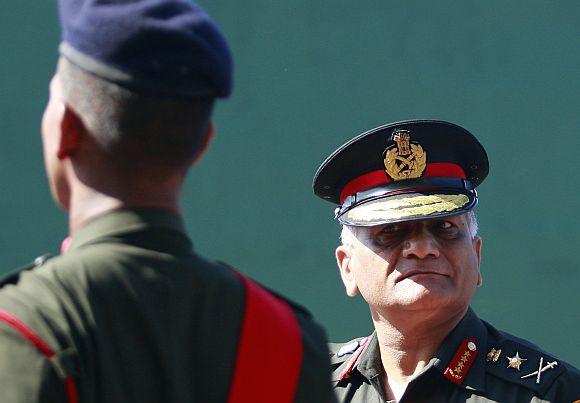 Government on Wednesday termed the action of Army Chief Gen V K Singh going to the Supreme Court for settlement of his age issue as an "unfortunate development" and "not a healthy precedent".
Maya must think before slamming EC order, retorts Quraishi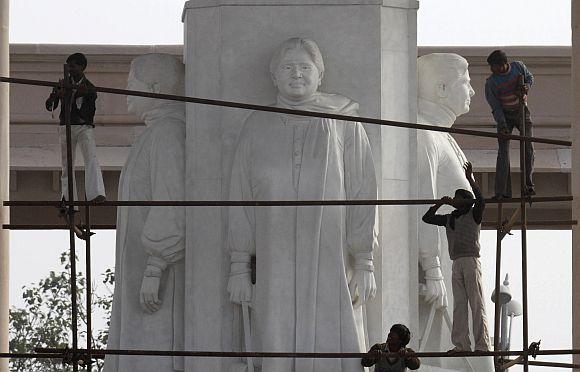 Talking tough, Chief Election Commissioner S Y Quraishi on Wednesday said Uttar Pradesh Chief Minister Mayawati should think before criticising the EC order to cover her statues and Bahujan Samaj Party's poll symbols in government parks.
IN PIX: A ringside view of Tamil Nadu's Jallikattu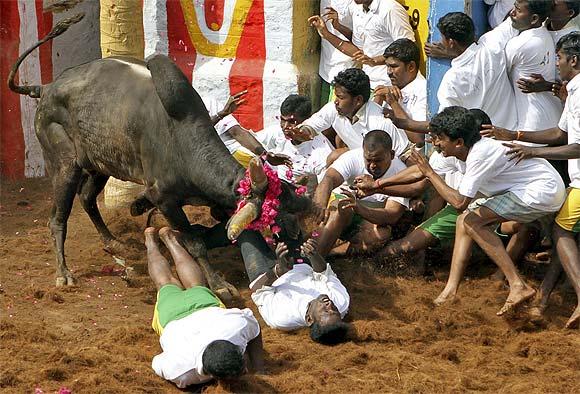 Rediff.com's shares his experience after witnessing Tamil Nadu's annual bull-taming festival, which is celebrated as part of the harvest festival of Pongal.
Setback for Modi: HC upholds Lokayukta's appointment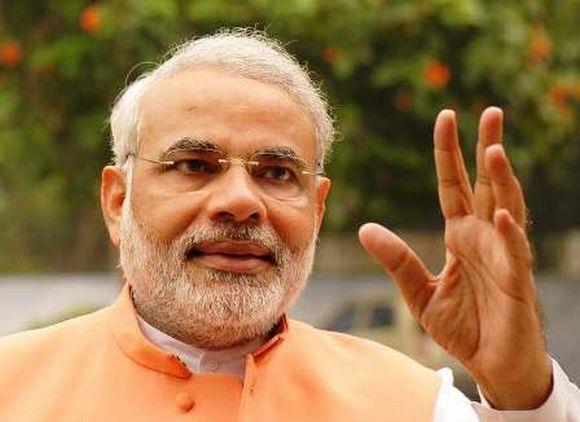 In a setback to the Narendra Modi government, the Gujarat high court, in a majority decision, on Wednesday upheld the appointment of Lokayukta by the Governor while dismissing the plea of the state challenging it.
10 spectacular PHOTOS to brighten up your day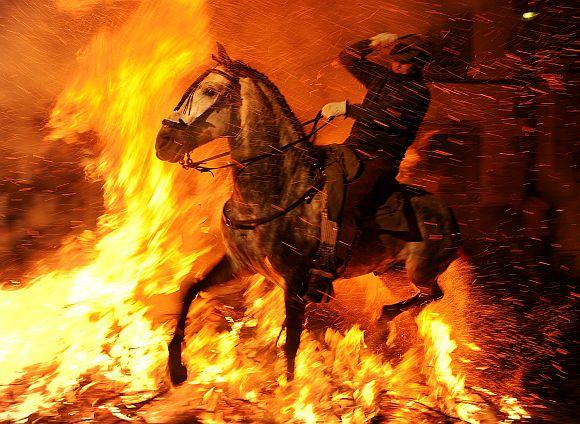 A collection of some of the best photos from the around the world
PIX: White House shooter indicted for bid to kill Obama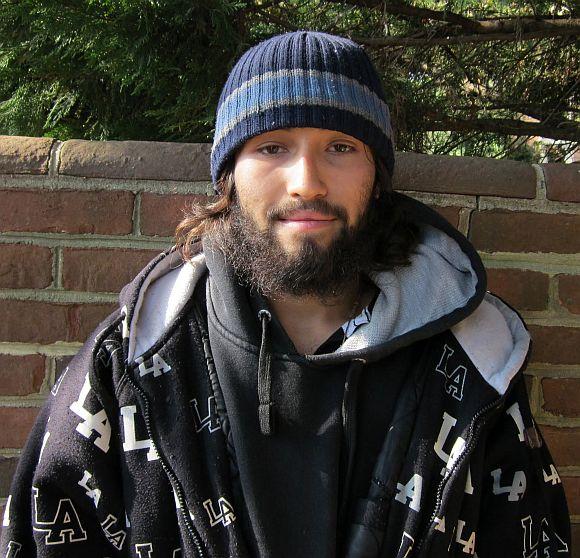 A 21-year-old youth accused of firing shots at the White House last year has been formally charged by a federal grand jury with attempting to assassinate United States President Barack Obama.
Priyanka's entry throws open poll equations in UP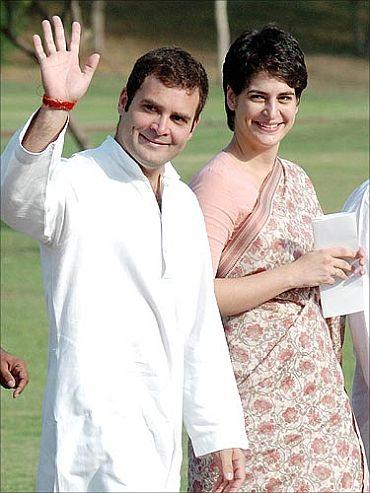 on why Uttar Pradesh has a significance all its own when it comes to politics.
Smoke bomb tossed over White House fence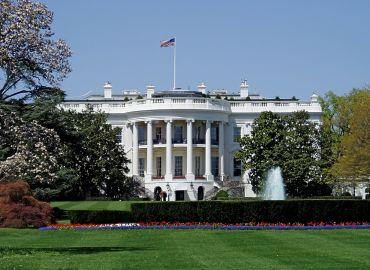 A smoke bomb was thrown inside the White House compound on Wednesday while an "Occupy" movement rally was going outside, forcing Secret Service to temporarily lock it down.
China's latest stand: Take down tensions with India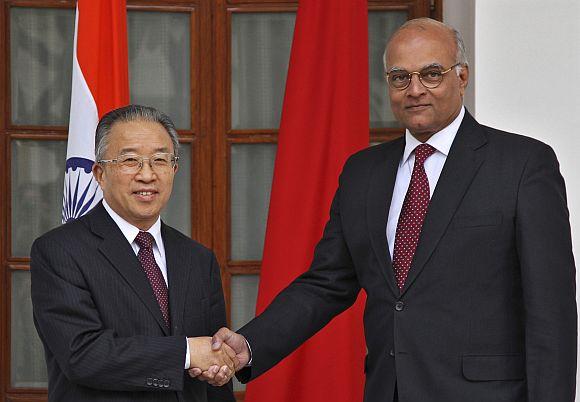 It appears India and China have decided to step back and take a deep breath, writes .
MUST SEE: NIA releases India's MOST WANTED list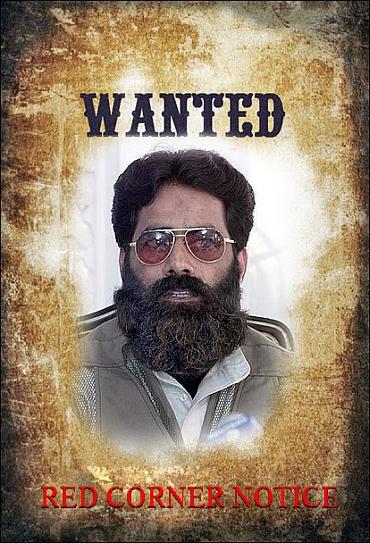 After facing embarrassment because of errors in the most wanted list that was handed over to Pakistan in May, the National Investigation Agency has prepared a new list of 28 wanted criminals that includes al-Qaeda-linked terrorist Illyas Kashmiri, and Lashkar founder Hafiz Muhammed Saeed.
January 17, 2012
New power troika trying to dislodge Zardari govt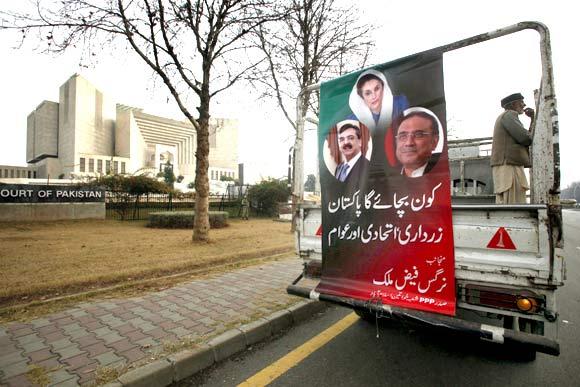 The army chief, the chief justice and the Opposition leader is bent upon dislodging the Zardari government which is apparently not going to back down without a fight this time, reports from Islamabad.
UK cop leaves 'secret' London Olympics dossier on train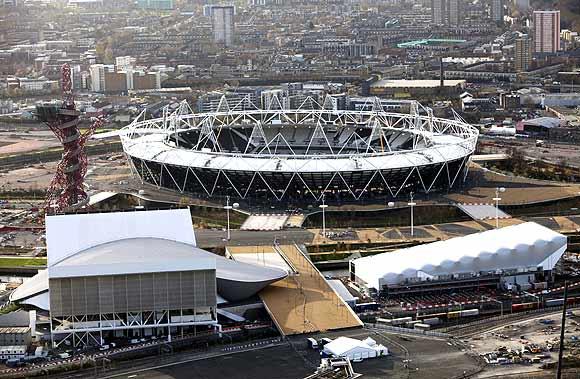 In a security faux pas, a high-ranking Scotland Yard officer reportedly left a "secret" dossier, containing policing plans during this year's London Olympics, on a train.
Throw BJP out, get Cong to power: Sonia tells Uttarakhand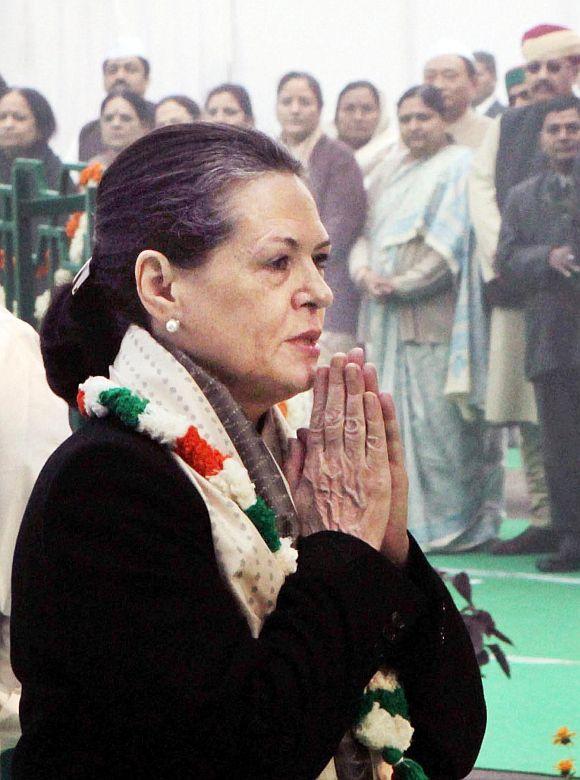 Alleging "loot" of natural resources and corruption in implementation of central schemes in Uttarakhand, Congress President Sonia Gandhi on Tuesday asked people in the hill state to recognise the "fraud" being played with them and oust the BJP government from the state.
Pak media warns Gilani: 'This is your LAST lifeline'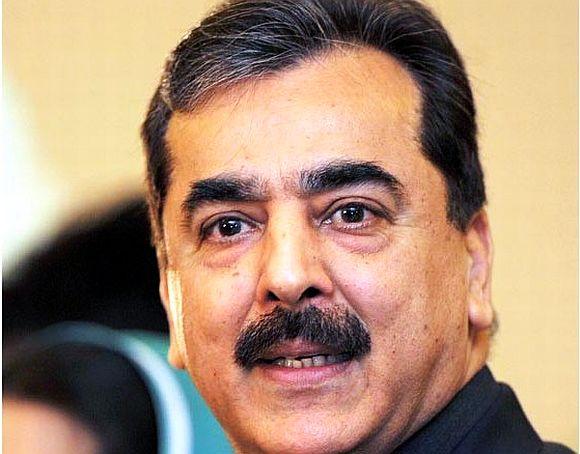 Pakistani media on Tuesday warned beleaguered Prime Minister Yousuf Raza Gilani-led government that it has been granted a "last lifeline" by the Supreme Court to end its confrontation with the judiciary as the nation can ill-afford another spell of military rule.
IN PIX: Valley remains cut off, flights to resume soon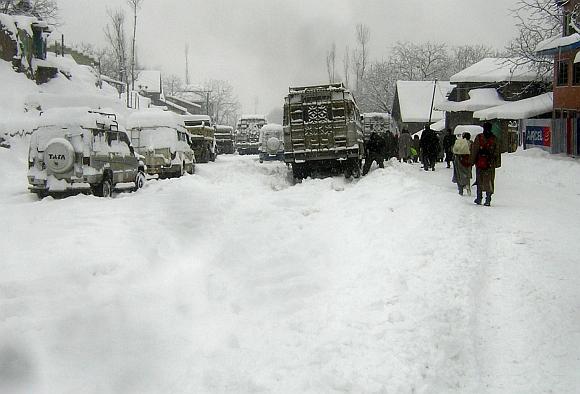 Kashmir remained cut off from rest of the country for the third consecutive day on Tuesday as the Srinagar-Jammu National Highway was blocked due to snowfall even as authorities were trying to operate flights to the Valley in view of improving weather.
NIA alone can't be blamed for its dismal performance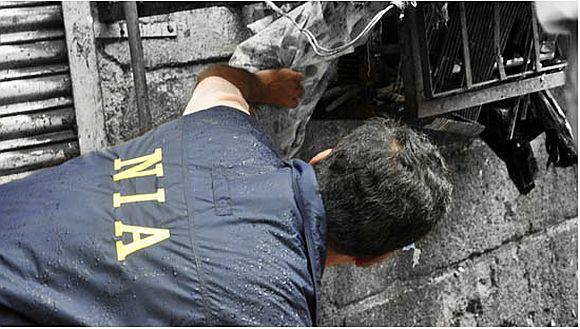 Although three years have gone by since the National Investigation Agency was formed, the report card for India's premier agency probing cases of terror does not look all that good. But the bigger question that we must ask is whether the agency has been allowed to function in a manner that it ought to have, reports .
13/7 blasts: How police rivalry let mastermind slip away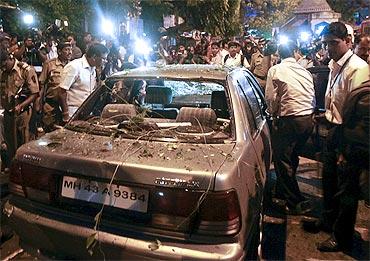 Toral Varia Deshpande brings you the details of how rivalry between India's two of the most recognised agencies, the Maharashtra Anti Terrorism Squad and the Special Cell of Delhi Police, has cost India one it's most wanted terrorist and 13/7 Mumbai serial blasts mastermind -- Yasin Ahmad Siddibappa alias Yasin Bhatkal.
Desi attorney raises record $1.2 mn for US Congress bid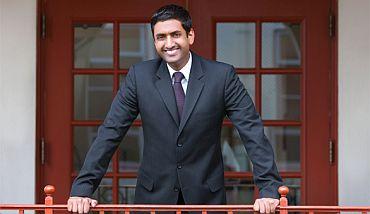 Indian-American attorney Ro Khanna, who served for two years in a senior position in the Obama administration, has raised a record $1.2 million (around Rs 6.24 crore) in one single quarter for his Congressional bid in 2014.
Indian-origin Sikh elected mayor of historic US city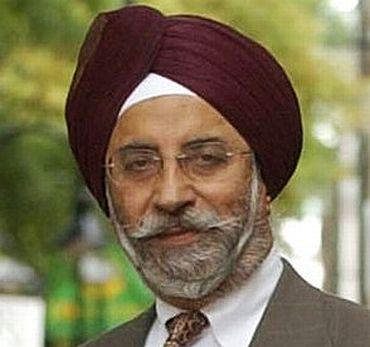 Satyendra Singh Huja, a Sikh American, has been unanimously elected as the mayor of Charlottesville, a historic city in Virginia.
'The Pakistan army would be quite happy with Imran Khan'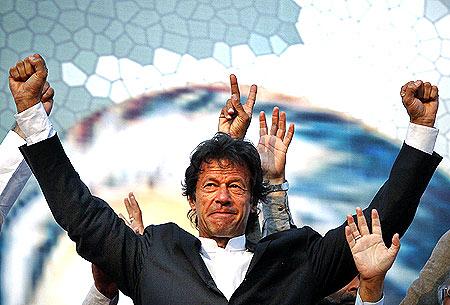 'Whether he wins or he doesn't win, one thing is for sure: Imran Khan is making an impact, especially with the youth in Pakistan,' former RA&W chief A S Dulat tells Sheela Bhatt.
Will Rushdie visit Jaipur Fest? Organisers say YES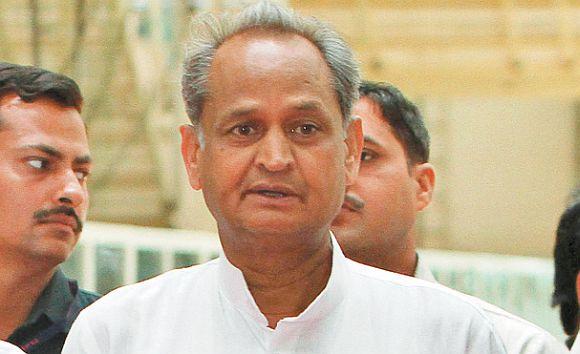 Author Salman Rushdie's visit to India to attend the Jaipur Literature Festival is clouded in uncertainty even as Rajasthan Chief Minister Ashok Gehlot said his trip might lead to security problems.
31 years on, AFSPA still a poll issue in Manipur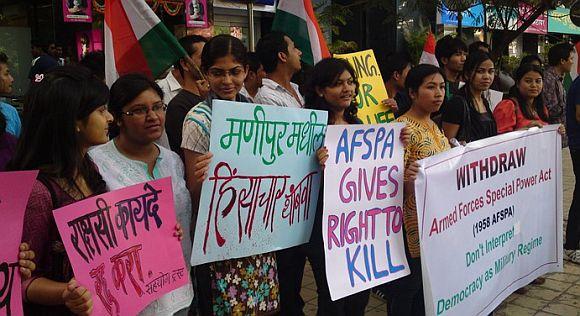 Three decades after it was imposed in Manipur to deal with insurgents, the controversial Armed Forces Special Powers Act (AFSPA) is still an issue used by parties during electioneering for the January 28 assembly poll in the state.
Tomorrow, no Wikipedia! Do your homework early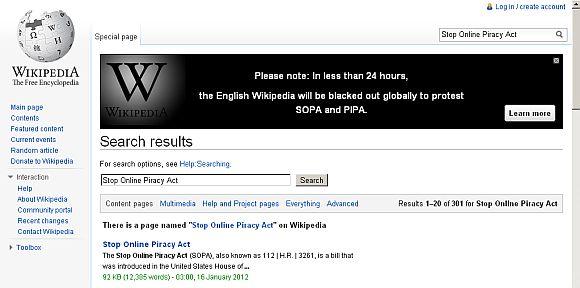 Online encyclopedia Wikipedia will black out its website Wednesday for 24 hours to protest anti-piracy bills under consideration in the US Congress, saying if passed, the "destructive" legislation will "endanger" free speech and impose censorship on international websites.
Sushmita, Nagma to glam up UP poll campaign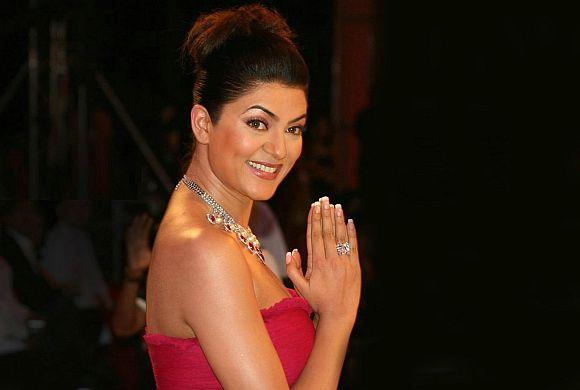 The Uttar Pradesh assembly polls will see a sprinkling of star dust with political parties planning to rope in a bevy of Bollywood personalities to canvass for them.
IN PICS: Kashmir comes to a STANDSTILL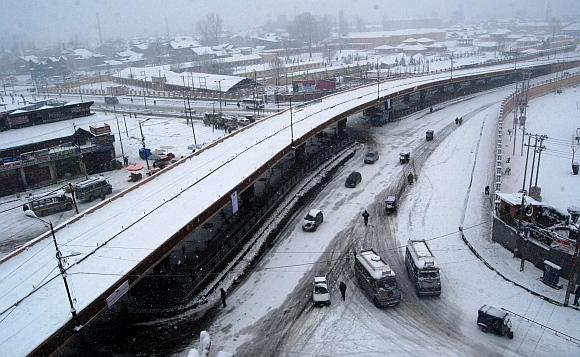 Kashmir valley continued to remain cut-off from rest of the country for the second consequetive day, running in view of the incessant snowfall that has frozen normal life across the valley. Mukhtar Ahmad reports.
Shocking! An acquitted 'Maoist' speaks out
Branded a Maoist by the Maharashtra police Arun Ferreira was released on bail on January 5. At his first press conference after his release he spoke about his ordeal and how the State has been muffling the voice of dissent.
A terrifying night on the Costa Concordia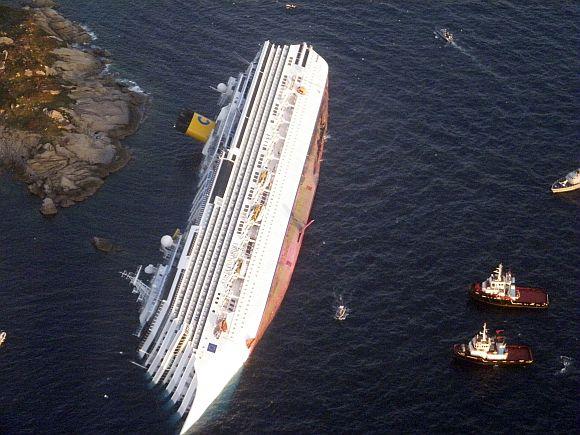 A South African Indian family of four was among hundreds of lucky survivors when a gigantic luxury cruiser ran aground off the coast of Italy last week, describing their ordeal as chaotic, scary and like the Titanic film they had seen earlier.
India among the LEAST nuclear safe nations in the world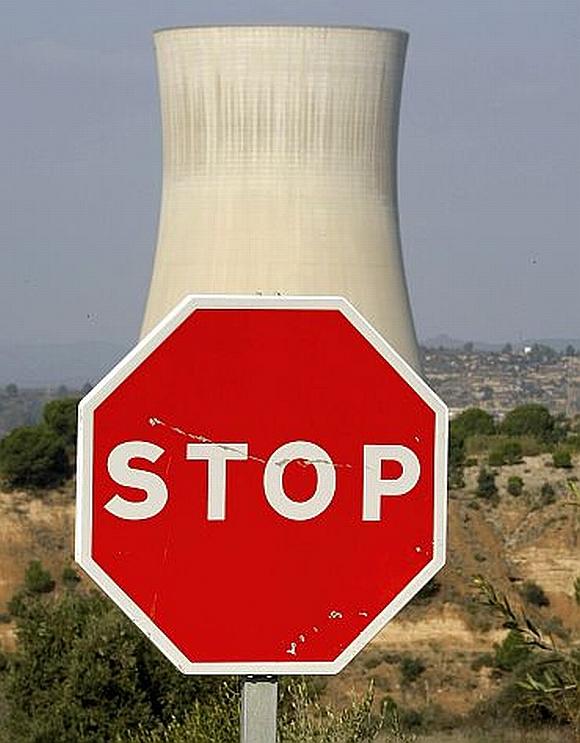 According to the first-ever index of security of nuclear materials, India is among the last just above Iran, Pakistan and North Korea.
Will the next Army chief be appointed by quotas?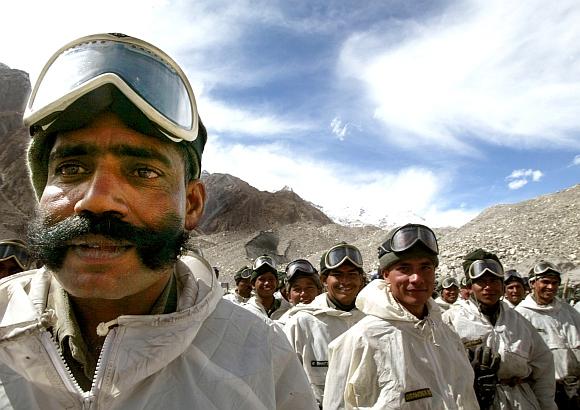 Quotas rule promotions in a "Mandalised" army, finds Ajai Shukla
January 16, 2012
'We will form govt or be a part of ruling coalition in UP'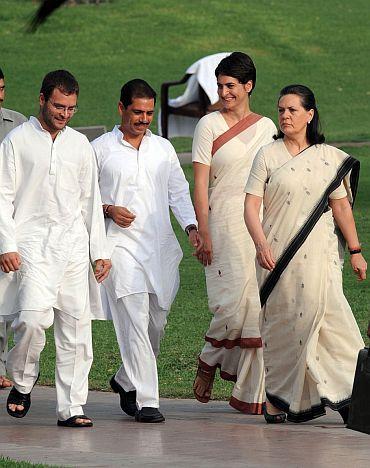 Party functionaries at Amethi, who met Priyanka Vadra said that she was upbeat and exuded confidence about a spectacular performance by the Congress party in the Uttar Pradesh polls. reports from Amethi.
Rahul's 'Mission 85' to focus on reserved seats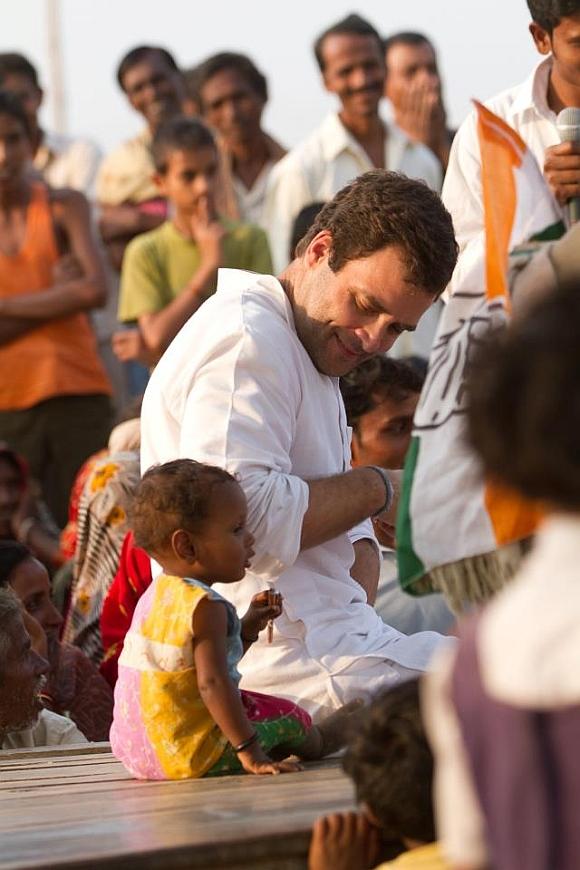 Congress leader Rahul Gandhi wants Congressmen to concentrate on the reserved constituencies of Uttar pradesh and on the area where Muslim votes make a crucial difference. He has formed teams to send all the Dalit constituencies, and this exercise is being called 'Mission 85'. Sheela Bhatt reports.
I for once hope the PM says 'to hell with the allies'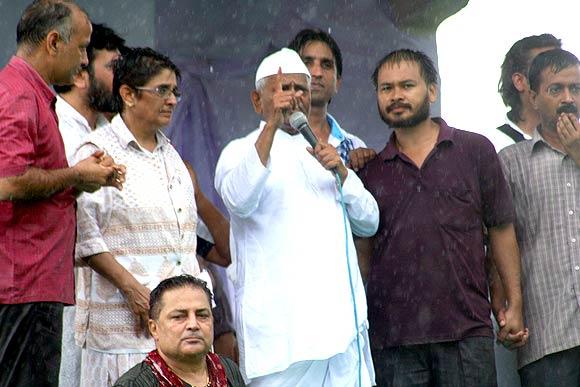 'I am sick of hearing the prime minister parrot the 'compulsions of coalition government' line, says . 'I for once hope he says, "This is what I will do. You have a problem, go hang!"'
PIX: Remembering Thyagaraja, the legend of Carnatic music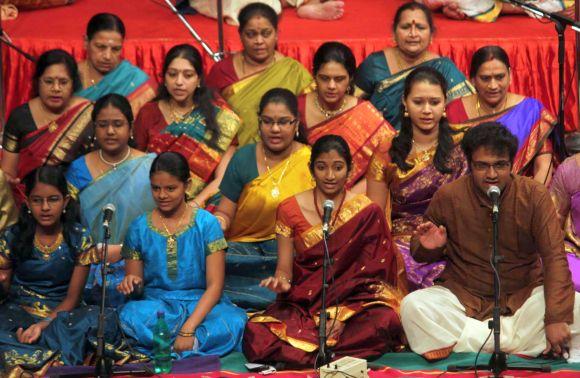 Over 100 Carnatic musicians from all over Mumbai converged at the Sri Shanmukhananda Chandrasekharendra Saraswati auditorium on January 13 for a rendition of the Pancharatna Kritis of Saint Thyagaraja in chorus.
Why BlackBerry will NOT help Pakistan in memogate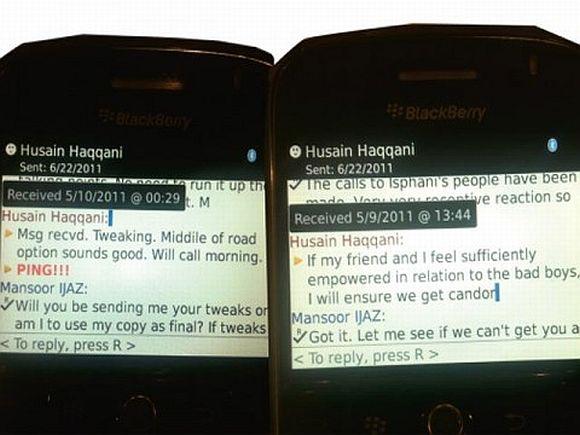 RIM had informed the Pakistan government that under its privacy policy, BlackBerry data could be released only if a request was made by customers who were involved in the communications.
Pak PM offers to quit ahead of crucial parliament session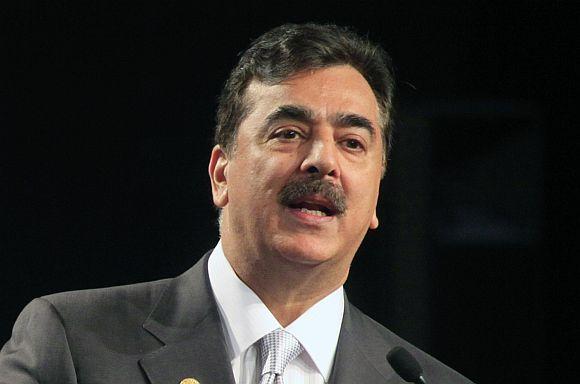 Beleaguered Pakistan Prime Minister Yousuf Raza Gilani on Monday offered to resign, after holding a meeting with President Asif Ali Zardari and the top leaders of the country's ruling coalition ahead of a crucial Parliament session, TV reports claimed.
Turmoil in Islamabad: Where will the buck stop?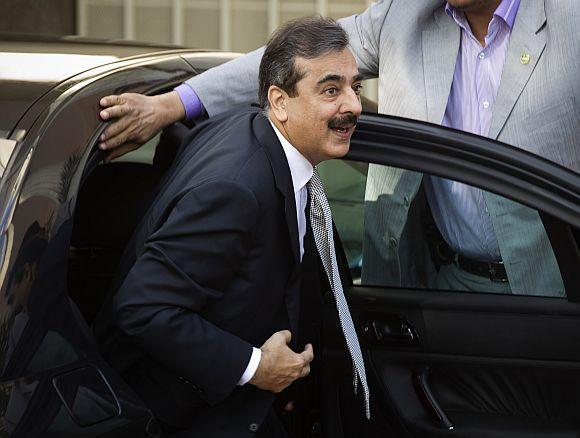 Strategic analyst 's take on the latest developments in Islamabad that have further cornered the Pakistani government.
Mayawati boots out nearly half of sitting MLAs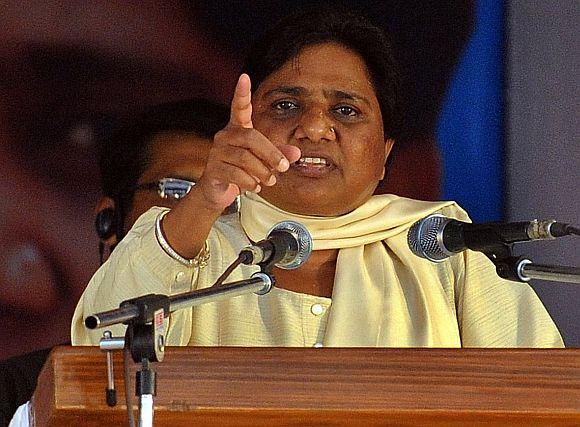 Under attack from opposition parties over the corruption issue and to present a clean image before voters, the Bahujan Samaj Party has denied tickets to nearly half of its sitting MLAs for the coming Uttar Pradesh assembly polls.
'There is nothing illegal in evangelisation'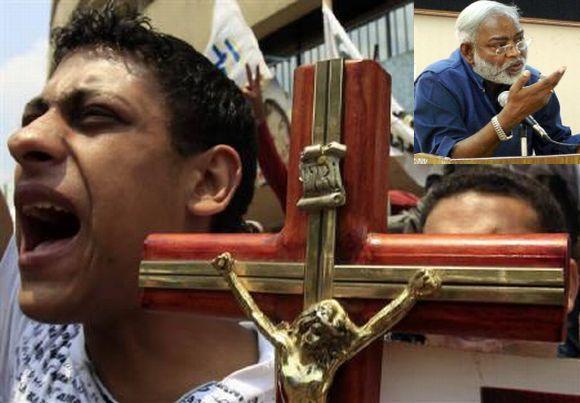 n an interview with rediff.com's Vicky Nanjappa, Dr John Dayal, member of the national monitoring committee for minority education, Government of India, and secretary general of the All India Christian Council, says that the Constitution gives the community the right to practice, profess and propagate its faith.
As NCP plans Karnataka entry, BJP's hard-talk tames BSY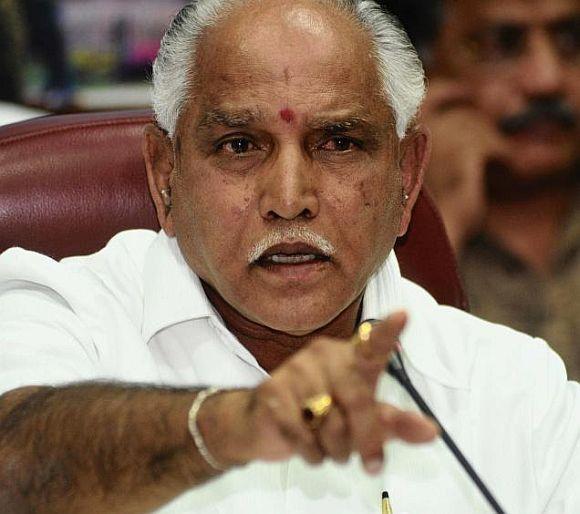 Although Former Karnataka Chief Minister B S Yeddyurappa has gone quiet for now, it's still not a complete relief for ruling Bharatiya Janata Party as they know it's only a momentary calm, reports .
'Mansoor Ijaz was working for the ISI'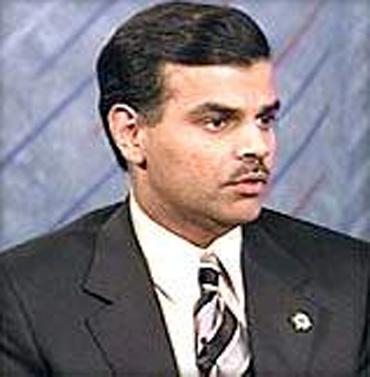 'Mansoor Ijaz is a smooth operator. I am not surprised he has fooled us or anybody, says former R&AW chief A S Dulat in conversation with Sheela Bhatt.
MORE TROUBLE: Now Pak SC pulls up Gilani for contempt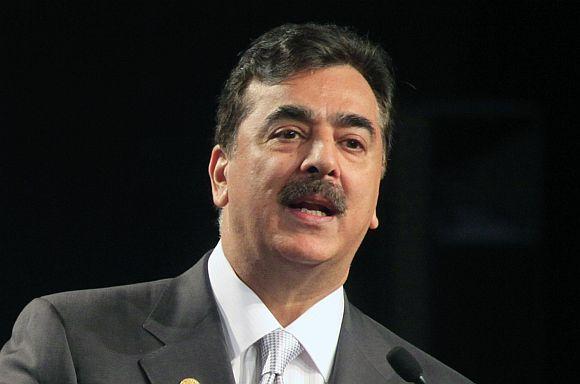 Pakistan's Supreme Court on Monday issued a contempt notice to Prime Minister Yousuf Raza Gilani for failing to reopen graft cases against President Asif Ali Zardari and asked him to appear before it on January 19.
Priyanka Gandhi returns to campaign in Amethi, Rae Bareli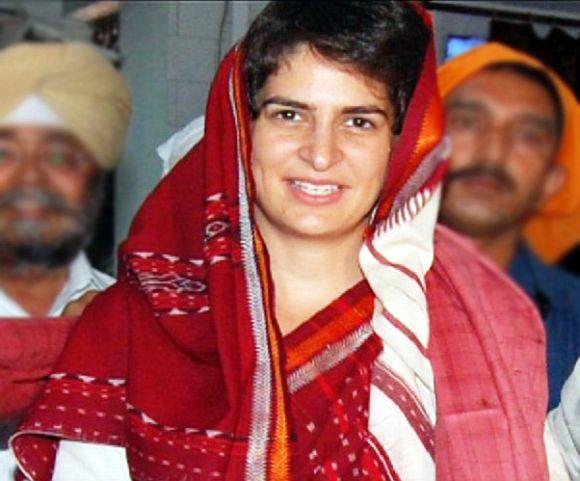 After taking a long break from grassroots politics, Priyanka Gandhi, the charismatic daughter of Congress president and United Progressive Alliance chairperson Sonia Gandhi, is back into campaigning where her brother Rahul is busy moving heaven and earth to put the Congress back on its feet at next month's assembly elections in Uttar Pradesh.
FLASHBACK! The world through the lens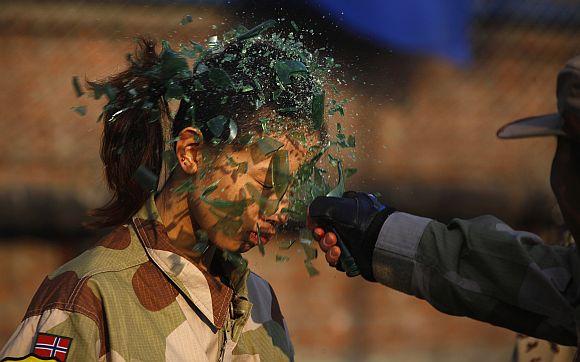 We present some of the best photographs from across the globe in the week gone by.
In PHOTOS: Kashmir cut off from rest of India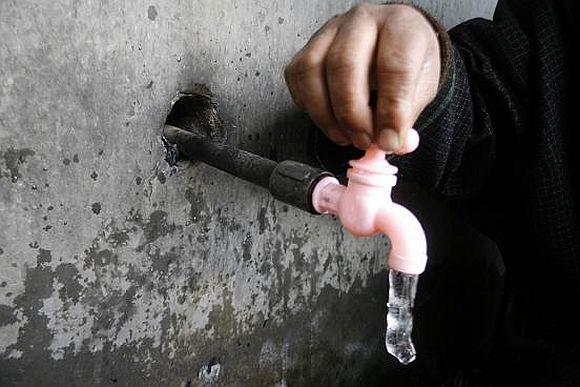 Kashmir remained cut off from the rest of the country for the second day on Monday as snowfall blocked the vital Srinagar-Jammu National Highway and delayed all scheduled flights to the Valley.
In PHOTOS: China's female bodyguards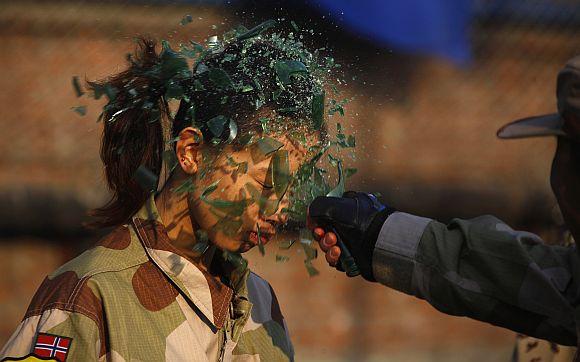 Chinese media sites have reported that demands for female bodyguards have surged and that a security firm has even announced a competition among the candidates for the challenging position. The winner will receive a fitting prize -- security training in Israel.
Have US Predators finally killed Hakimullah Mehsud?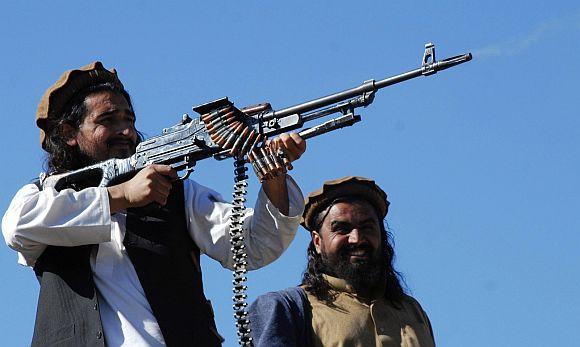 A year ago, Tehreek-e-Taliban Pakistan commander Hakimullah Mehsud was reported to have been killed in a US drone strike. But the most-wanted fugitive emerged unscathed. On January 12, reports emerged of his killing in a US Predator drone strike. But is it true? reports from Islamabad.
In Memoriam: Homai Vyrawalla, India's first woman photographer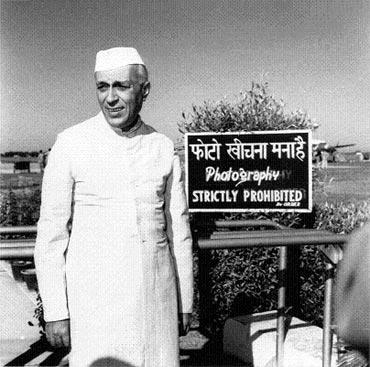 Homai Vyrawalla is 97 and shares her rich treasure trove of anecdotes about India's tallest leaders with Rediff.com's Sanchari Bhattacharya.
How PC tried to emulate US counter-terrorism centre and failed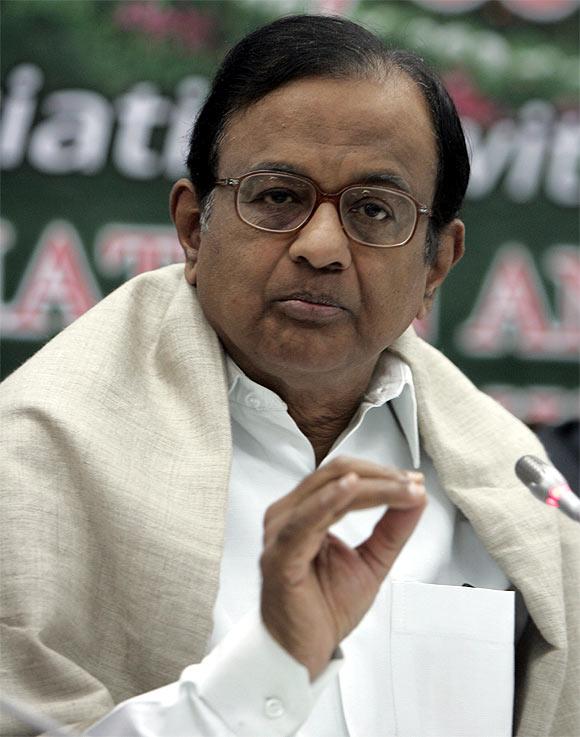 With the National Counter-Terrorism Centre getting a nod from the government, Home Minister P Chidambaram has fulfilled his dream of becoming India's counter-terror czar. But his efforts to pattern this body on the lines of the one in the United States, which was formed after 9/11, has failed and how! B Raman analyses
Romney, the man who's set to take on US President Obama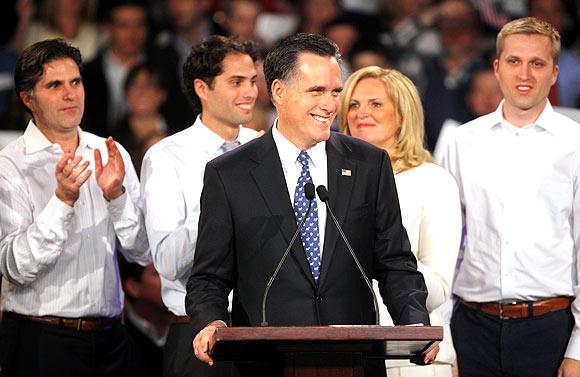 Mitt Romney, a millionaire venture capitalist, on Wednesday emerged as a clear favourite to take on President Barack Obama in the November elections, scoring a stunning victory in the New Hampshire primary by turning back a ferocious assault from his Republican pack of rivals.
January 15, 2012
PHOTOS: Snowfall in Srinagar affects normal life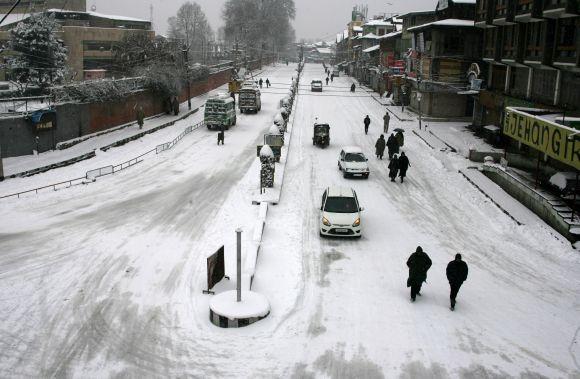 Kashmir valley on Sunday received another snowfall, second in the past ten days disrupting road and air connectivity with rest of the country and affecting normal life.
PHOTOS: Devotees throng Gangasagar on Makar Sankranti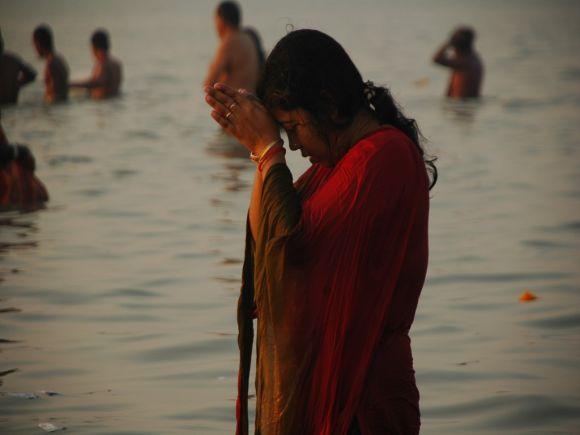 Over eight lakh devotees from all over the country have so far taken the holy dip in the Ganges on the auspicious occasion of Makar Sankranti on Sunday, officials said.
'EC diktat of veiling statues shows casteist bias of UPA'
Uttar Pradesh Chief Minister Mayawati claimed that while the Election Commission acted on the complaints made by the Congress and BJP, it did not pay any heed to objections raised by the Bahujan Samaj Party. reports.
Congress indulging in communal propaganda for votes: BJP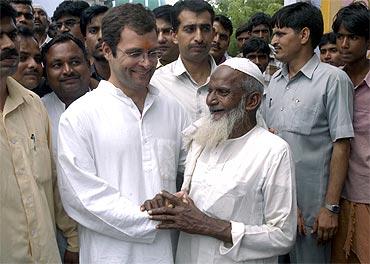 The war of words on sub-quota for minorities further flared up on Sunday with Bharatiya Janata Party accusing Congress of indulging in worst forma of communal propaganda to garner votes in poll bound Uttar Pradesh and other four states.
January 14, 2012
Corrupt UPA government is in TROUBLE: Modi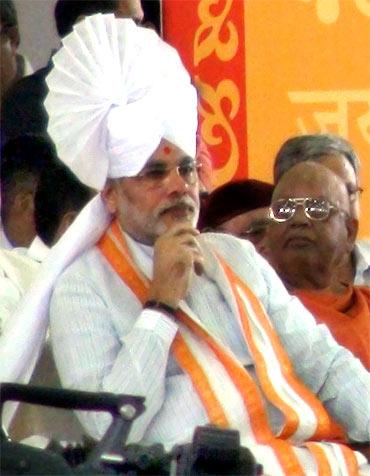 Mounting a scathing attack on the ruling United Progressive Alliance coalition at the Centre, Gujarat Chief Minister Narendra Modi on Saturday said it was the "most corrupt" government after Independence and there was a "lack of direction and leadership at the central level". The UPA government is neck-deep in trouble, owing to its explicit greed for power and position. It is least concerned about consolidation and expansion of the economy," he said.
MUST SEE: The FROZEN beauty of Kashmir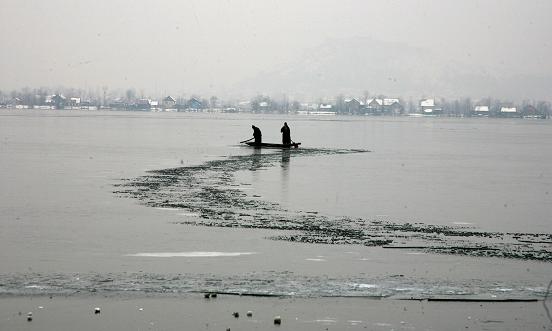 The world famous Dal Lake was completely frozen on Saturday when the night temperature dipped to minus 7.8 degrees Celsius in Srinagar.The plummeting mercury intensified the cold wave conditions in the Valley.
Corruption stain CAN'T be washed away: Hazare on Ramdev attack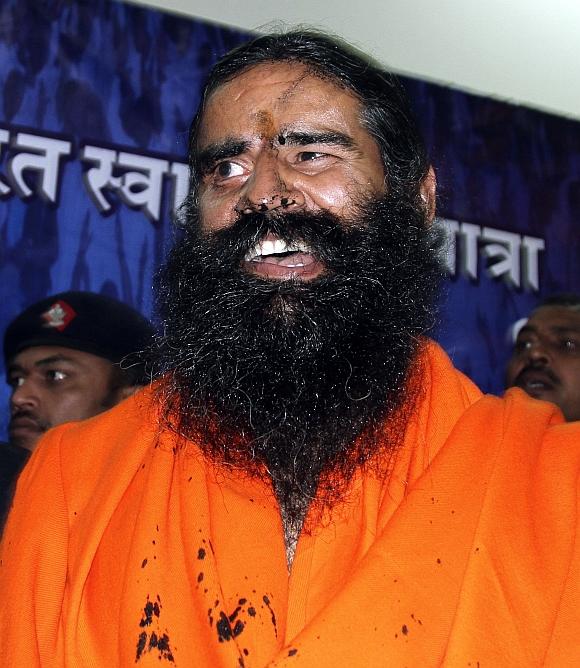 Anna Hazare on Saturday denounced as an attempt to "blacken democracy" the incident in which Swami Ramdev's face was smeared with ink and said such attacks will not deter "people's movements". "This is not an attempt to blacken the face of Swami Ramdev. This is an attempt to blacken democracy," Hazare said in a statement from his village where he is convalescing after a bout of bronchitis.
Attack on Ramdev a conspiracy, RSS behind it: Digvijay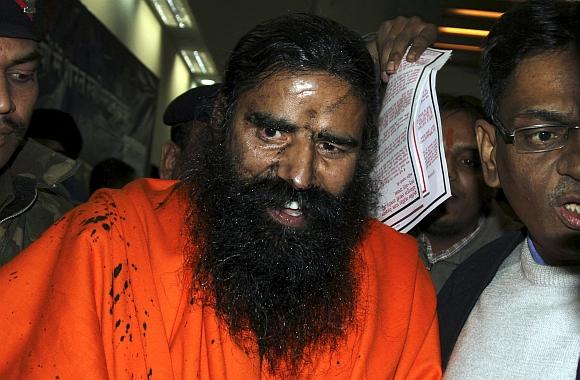 Congress leader Digvijay Singh on Saturday alleged that there was a "well-orchestrated conspiracy" by the Rashtriya Swayamsevak sangh behind the ink attack on yoga guru Ramdev. He further claimed that the NGO activist who carried out the attack was "anti-Congress" and has links with the Bharatiya Janata Party.
Ramdev ink attack: BJP hints at UPA hand, Cong denies it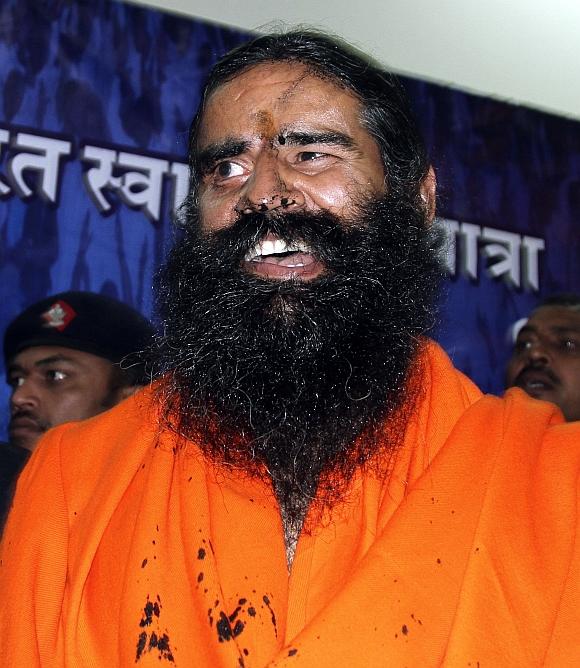 Political parties were quick to condemn the attack on yoga guru Ramdev but also used the opportunity to score points over each on the increasing frequency of such incidents and the issue of black money and corruption.
IMAGES: Srinagar freezes at -7.8 deg C on its coldest day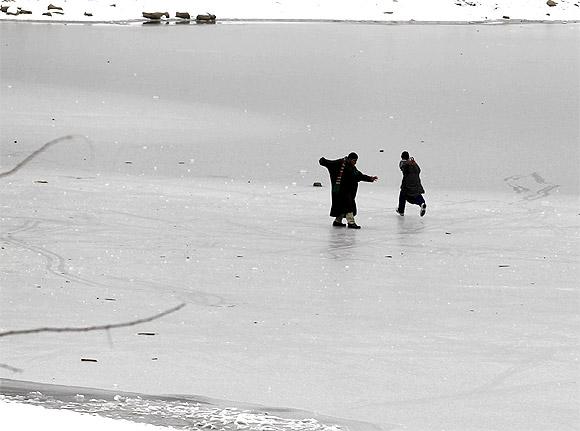 Srinagar, the summer capital of Jammu and Kashmir recorded the coldest night of this winter at minus 7.8 degrees Celsius as mercury across Kashmir Valley plunged by several degrees.
'Lodhi sacked as Pak defence secretary in national interest'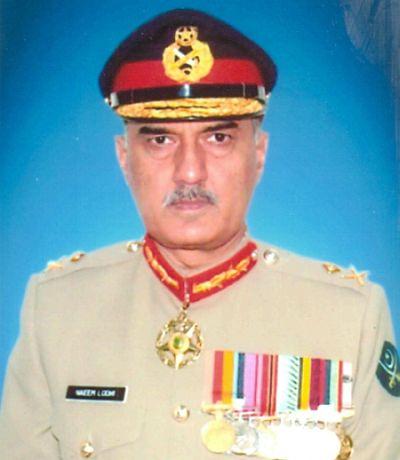 The Pakistan government has rejected former defence secretary Lieutenant General (retired) Khalid Naeem Lodhi's claim that he was sacked on charges of misconduct without being given a hearing, saying he had been fired in the "national interest".
Man throws black ink at Ramdev, roughed up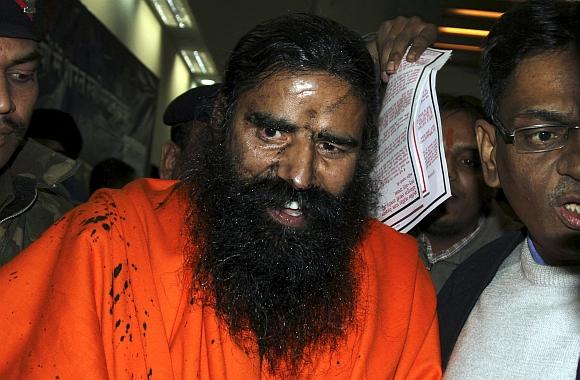 Yoga guru Ramdev was on Saturday the target of an attack by a man who threw black ink on his face at a press conference he was addressing on his plans to campaign against black money in the coming assembly elections.
Prepared to take risk of life to return to Pak: Musharraf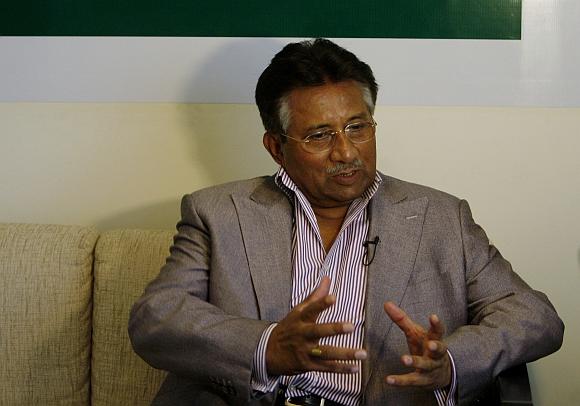 Claiming that people of Pakistan need a viable alternative in this hour of crisis, former military ruler General Pervez Musharraf has said that he is "prepared to take risk" of his life to return back home from a self-imposed exile.
Is Obama already threatened by Mitt Romney?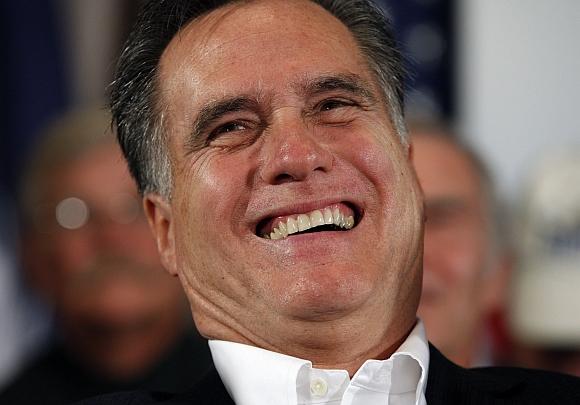 The Obama camp has launched a withering attack on Mitt Romney, who is leading the race to bag the Republican nomination to challenge incumbent Barack Obama in the presidential elections, labeling him "a corporate raider" who profited from the termination of average workers.
Shocking! Arun Ferreira's account of prison life
A weekly round-up of the most interesting videos on Rediff iShare.
Charan Singh's legacy: The pursuit of power and policy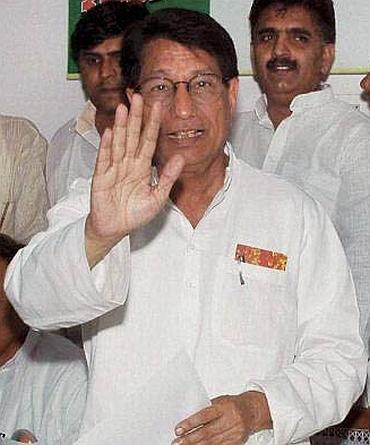 Chaudhuri Charan Singh was both a politically ambitious man and a man with dear policy proposals. An extract from 's fascinating, new, biography.
Pakistan PM tries to make peace with powerful army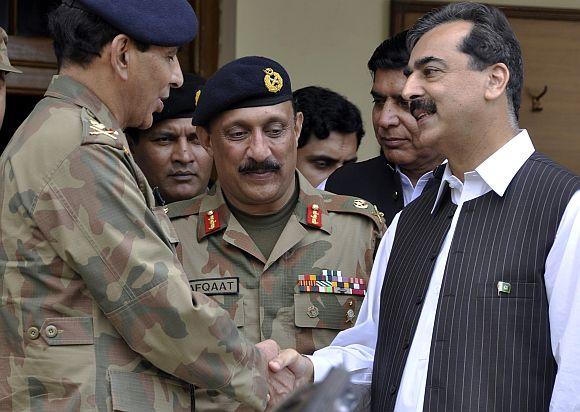 Prime Minister Yousuf Raza Gilani and Pakistan Army chief Gen Ashfaq Parvez Kayani will come face to face for the first time since they crossed swords over the memo issue, when a cabinet committee meets on Saturday to discuss crucial issues related to national security and relations with the US.
EC creates history in UP; nets unaccounted Rs 27 crore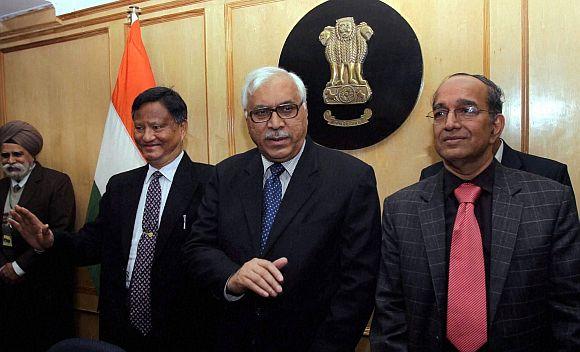 The seizure of about Rs 40 lakh from two places in poll-bound Uttar Pradesh on Friday took the recovery of unaccounted money to the tune of Rs 27 crore, thereby creating a record of sorts in the run up to the forthcoming state assembly elections
January 13, 2012
BJP's UP poll promise: Inquiry into Mayawati's corruption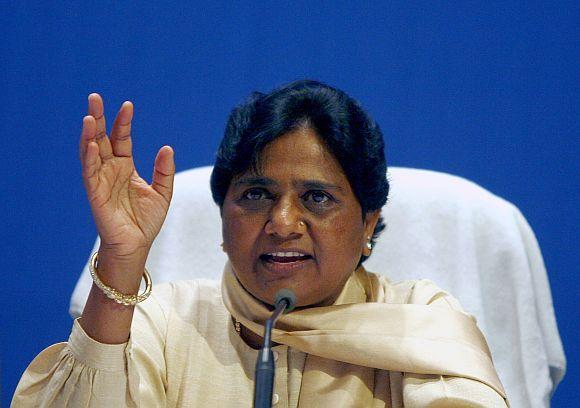 Instituting an inquiry commission to probe the corruption in Mayawati government and providing rice and wheat at Rs 3 and 5 per kg to the poor are among Bharatiya Janata Party's poll promises in its vision document for Uttar Pradesh.
Did Narendra Modi play a role in worsening Gujarat riots?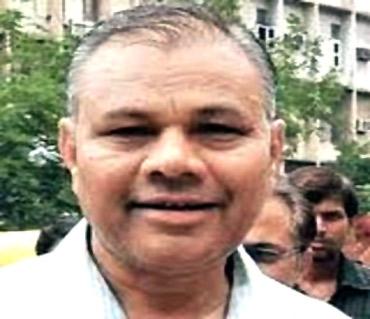 Former Gujarat minister of state for home Gordhan Zadafia on Friday told the Nanavati Commission that the decision to bring back bodies of the victims of the 2002 Godhra train burning incident to the city "could have" been taken by Chief Minister Narendra Modi. Bringing dead bodies back to the city is believed to have worsened the violence that followed. Zadafia was on Friday cross-examined for nearly three hours by the riots-probe panel.
Anti-Muslim article: Delhi HC spares Swamy from immediate ARREST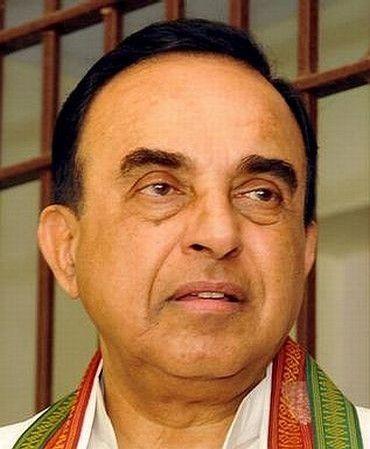 Janata Party chief Subramanian Swamy was on Friday granted interim protection till January 30 by the Delhi high court against his possible arrest for writing an allegedly "inflammatory" article. Justice M L Mehta granted interim protection to Swamy and asked him to give an undertaking that he would not write such articles in the future. The court also issued a notice to the Delhi police, seeking its response to Swamy's anticipatory bail plea.
IMAGES: Fire at Mumbai's office hub; no casualties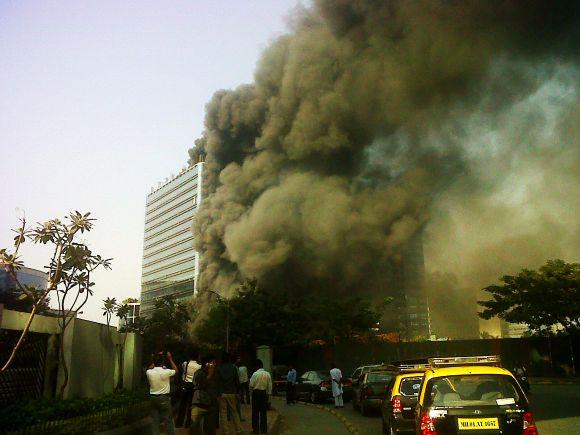 Rediff.com's reports from the site of a fire which engulfed parts of a building at Bandra Kurla Complex in Mumbai.
Why IM chose sleepy Udupi to set up its terror base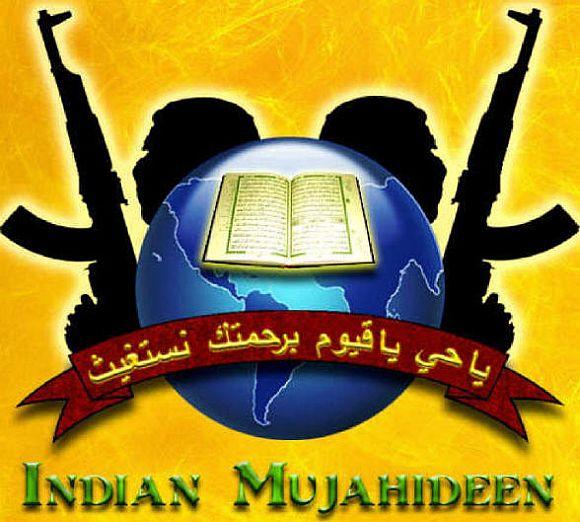 When the Indian Mujahideen first made its appearance on the Indian stage in early 2008, the Delhi police came hunting for leads in the coastal town of Udupi in Karnataka. And they did go back with some clues. reports
FIRST IMAGES: Major fire breaks out at building in Mumbai's BKC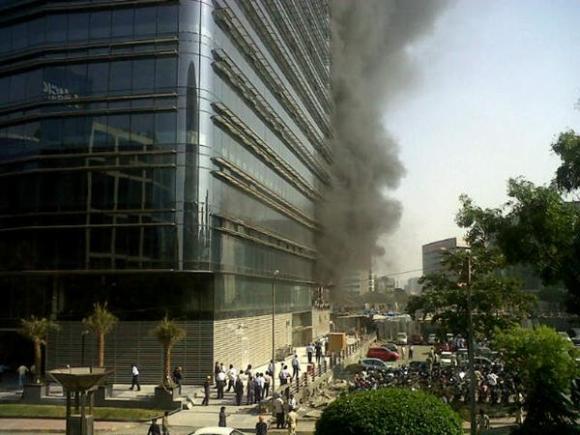 A major fire broke out at an under-construction building in Mumbai's Bandra Kurla Complex on Friday afternoon.
Democracy or dictatorship? YOU decide: Pakistan PM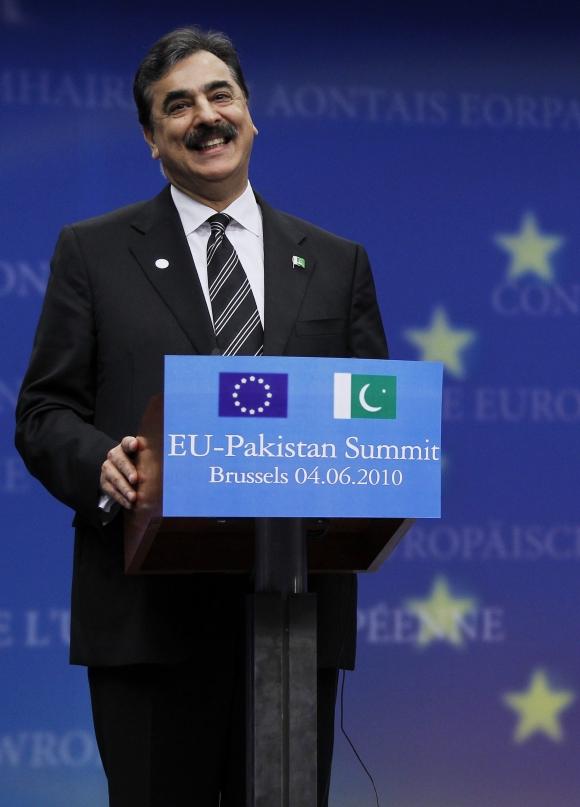 Prime Minister Yusuf Raza Gilani on Friday said he would not seek a vote of confidence from parliament against the backdrop of an escalating row with the judiciary and military as his government did not want any clash between state institutions. "I have no need for a vote of confidence," Gilani told a special session of the National Assembly or lower house of parliament that was convened by the ruling coalition after the Supreme Court warned action could be taken.
READERS' PHOTOS: It's snowing and they are loving it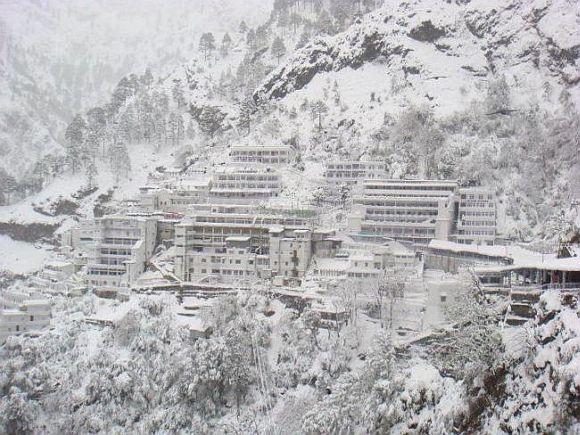 We had asked our readers to send photographs of the snowfall in their region Here is the fourth batch
PHOTOS: 10 moments you wished you were there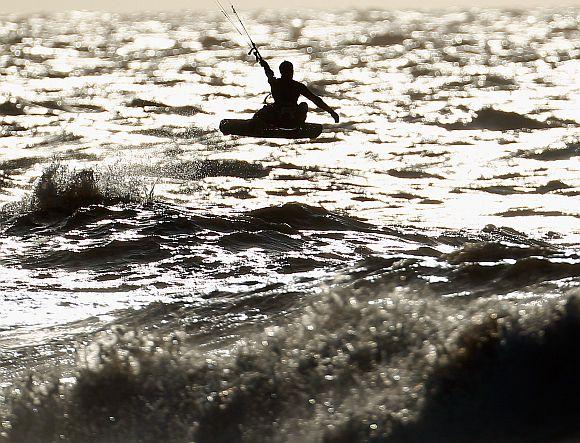 A collection of some really eye-catching photographs from around the world in the last few days
Chidambaram gets his Counter-Terrorism Centre but a toothless one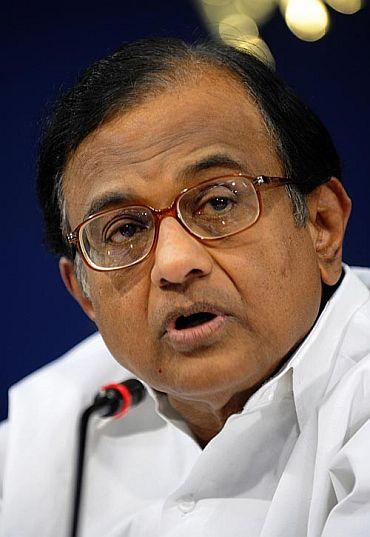 The National Counter-Terrorism Centre, a pet project of Home Minister P Chidambaram since he took over after the 26/11 terror attacks, has finally taken shape as an apex-coordinating agency but without its own sleuths or investigation wing to probe the terror activities.
Zardari cuts short visit; returns to Pak from Dubai
Pakistan President Asif Ali Zardari returned home from Dubai early on Friday, hours before Parliament reconvenes for a special session to discuss SupremeCourt's warning that it could take action against him and the Prime Minister for failing to reopen high-profile graft cases.
IN PICS: A wintry morning on Mumbai's Marine Drive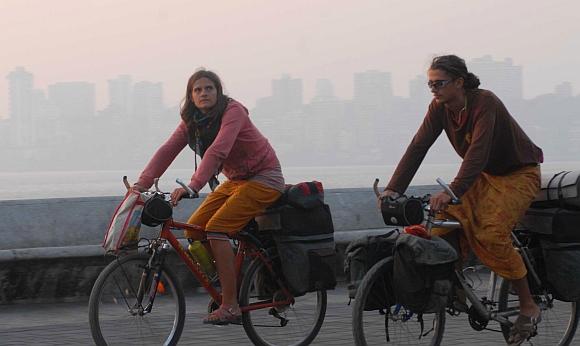 It is turning out to be quite chilly in Mumbai, thanks to the cold wave that has gripped most of India. And if weather officials are to be believed, the temperature may plunge to 10 degrees.
Kayani and his troops won't fall into Gilani's trap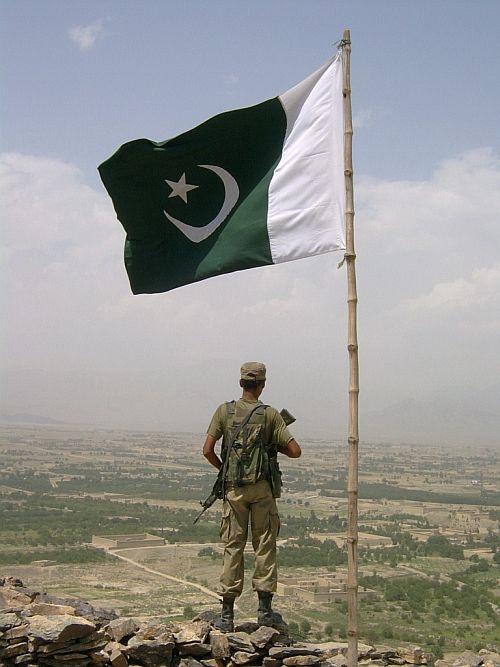 Seema Mustafa believes that Pakistan Army chief Ashfaq Kayani would not march his troops into Islamabad for it would only play to the advantage of an unpopular Yousaf Raza Gilani's government.
UP poll outcome will DECIDE UPA's fate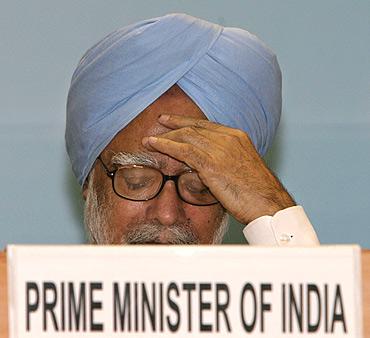 As befits India's largest and most complex state, the UP assembly elections will be as transformative as a Lok Sabha election
Rewind: BEST images in the last 24 hours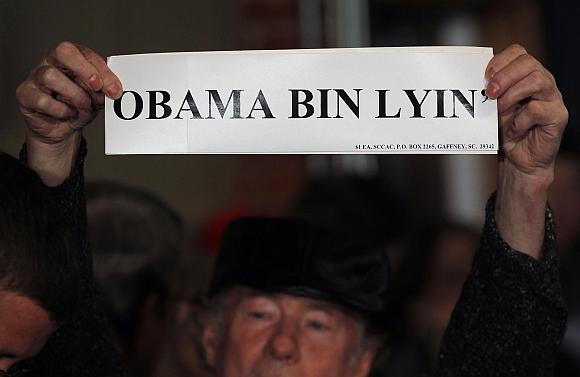 Presenting some of the most scintillating pictures from around the globe in the last 24 hours.
Infant mortality rate declines in India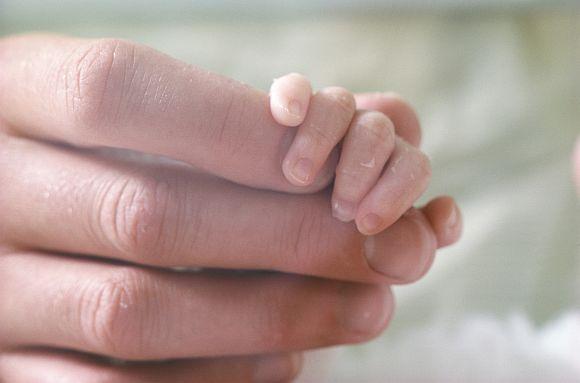 As per the latest Sample Registration Survey data, Infant Mortality Ratio (IMR) has reduced to 47 in 2010 from 58 in 2005 and maternal mortality ratio (MMR) had declined from 254 in 2004-06 to 212 in 2007-09.
'Marines urinating on dead Taliban fighters deplorable'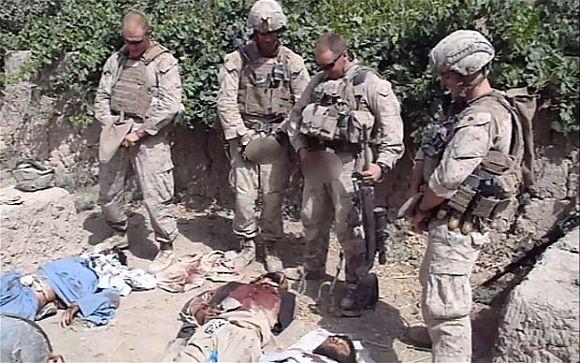 US Secretary of State Hillary Clinton on Thursday joined Defence Secretary Leon Panetta in deploring the video in which US marines are seen urinating on the dead bodies of the Taliban fighters.
January 12, 2012
Batla House encounter fake? Digvijay says yes, PC says no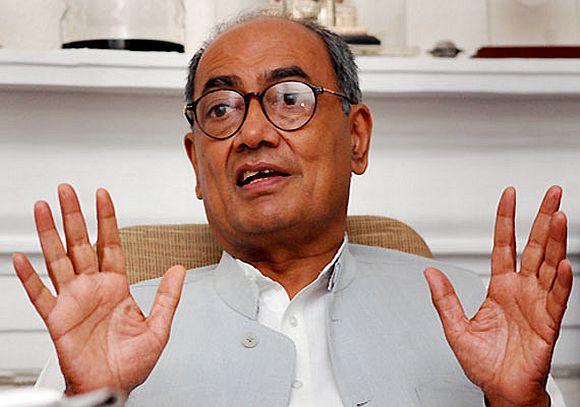 Congress general secretary Digvijay Singh on Thursday stuck to his claim that the the Batla House encounter in New Delhi was "fake" even as Home Minister P Chidambaram insisted that the gunfight between security forces and terrorists was "genuine".
Not another coup PLEASE, Pakistani leaders told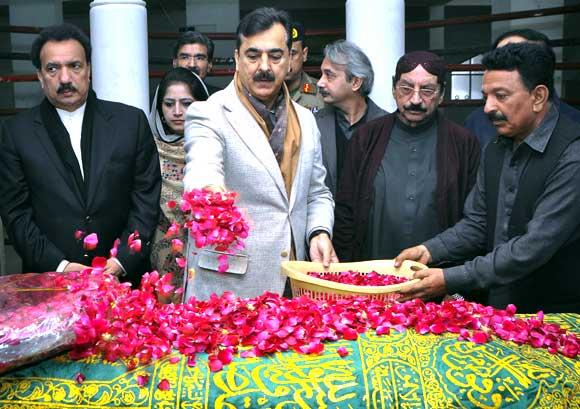 'Not another coup, please', was the advice given by the Pakistani media on Thursday to the powerful military, which is engaged in a major stand-off with the weak civilian government over the memo scandal.
Imran Khan will hold street protests in Pakistan IF...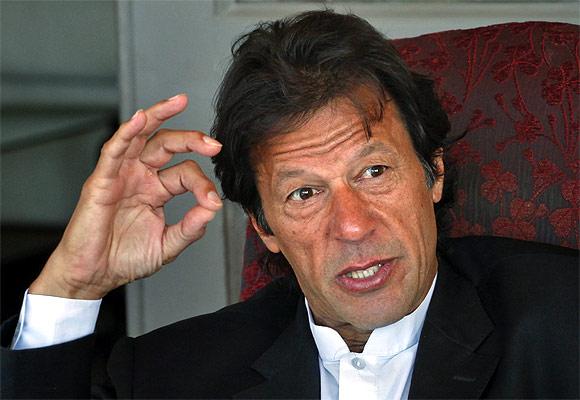 Raising the political stakes, cricketer-turned-politician Imran Khan on Thursday warned that his party would come out on the streets if the judiciary is "ambushed" by the civilian government in Pakistan on the issue of reopening graft cases against President Asif Ali Zardari.
Statue cover-up: 'EC should object to SP cycle, BJP lotus'
The Bahujan Samaj Party on Thursday claimed that Election Commission decision of covering statues of Uttar Pradesh Chief Minister Mayawati and party symbol elephant is one-sided and unjustified and was a violation of Article 14 of the constitution.
Amid Pak govt-army crisis, Zardari leaves for Dubai
President Asif Ali Zardari on Thursday departed on a one-day private visit to Dubai amidst a standoff between the civilian government and the powerful military on the memo scandal.
Dilli Tales: Ticket seekers find novel way to woo Rahul!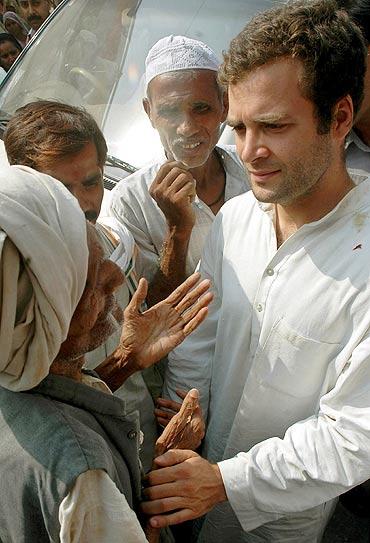 Text messages for Rahul; Uma Bharti gets cold feet; Mamata snubs Jairam; Congress find its Lokpal...Tales from Raisina Hill, a new column from New Delhi's political power hub.
Presidential elections: Obama warns of a TOUGH race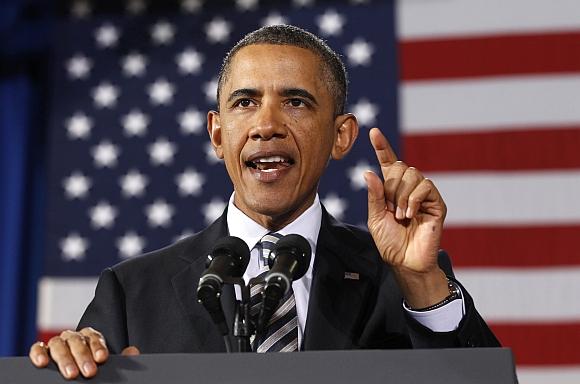 United States President Barack Obama, who came to power riding a wave in 2008, has cautioned his supporters that four years later it is not going to be the same and warned donors of a close race in the November 2012 presidential elections.
India complains to BBC about 'cheap, tasteless' show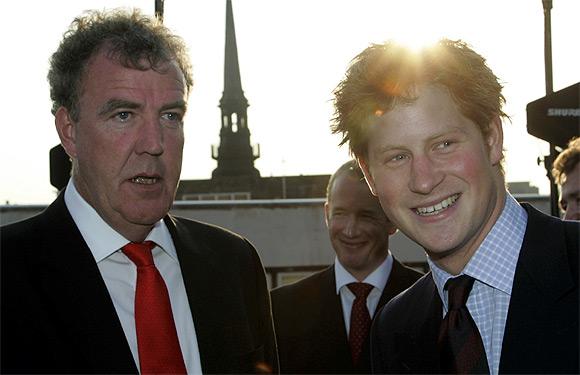 Controversial TV personality Jeremy Clarkson has once again been accused of racism after mocking Indian culture in a 'Top Gear' Christmas Special on BBC.
Mayawati has Rs 87.27 crore, Manipur CM has Rs 6.09 lakh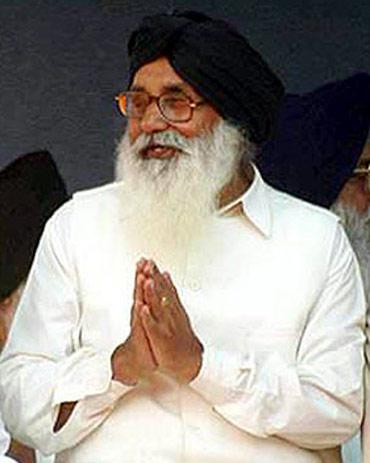 Uttar Pradesh Chief Minister Mayawati has assets worth a whopping Rs 87.27 crore, according to the National Election Watch, which has analysed the affidavits filed by the chief ministers of the five poll-bound states.
The BIG 4 behind Pak crisis: Gilani, Kayani, SC and China!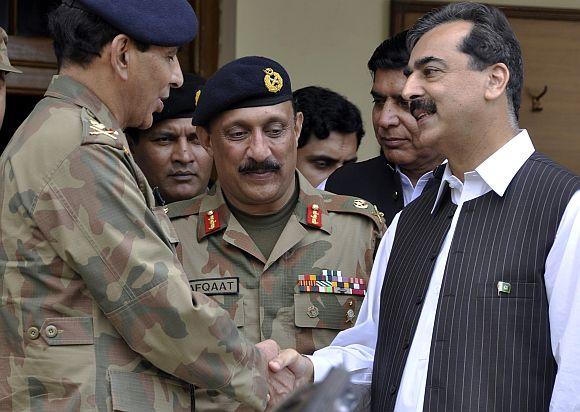 The Pakistan government and its military are at loggerheads today and with the possibility of a military coup resurfacing. Pakistan Prime Minister Yousuf Raza Gilani, Pakistan Army chief Ashfaq Parvez, its Supreme Court and China have contributed to the crisis that the country is battling today, says senior analyst B Raman.
How Swami Vivekananda won over America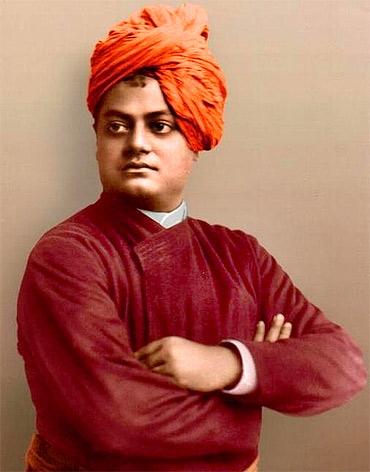 Swami Vivekananda's famous speech in Chicago at the Parliament of Religions played a key role in spreading Hindu philosophy in the West. On Swami Vivekananda's 149th birth anniversary, reconstructs the Indian spiritual leader's nearly decade-long stay in the US from a collage of original newspaper clippings that give a first-hand account of impressions of his life and teachings while in America.
Pak army 'will not cooperate' with new defence secretary
In what could add to the growing confrontation between Pakistan's civilian and military leadership, army officials have warned that the army will "not cooperate" with the new defence secretary who was appointed by Prime Minister Yousuf Raza Gilani after he sacked Lt Gen (retd) Naeem Khalid Lodhi.
PIX: This Soviet nemesis in Afghan war may come to India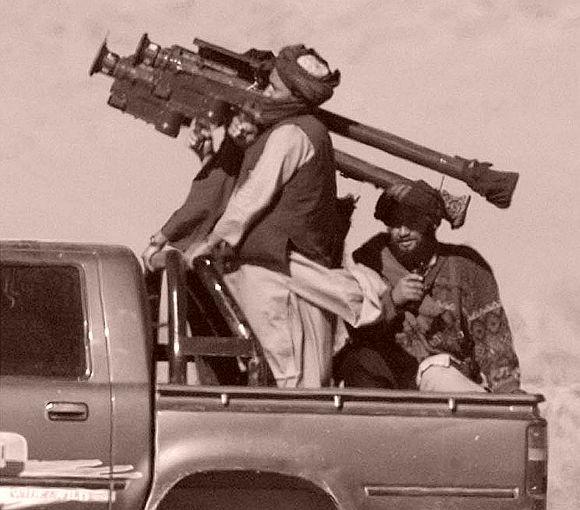 The United States has offered the air-to-air version of its famous Stinger missile to India as part of the weapons package proposed for the 22 attack helicopter deal of the Indian Air Force.
'CHILLING' PHOTOS: It's a white winter for readers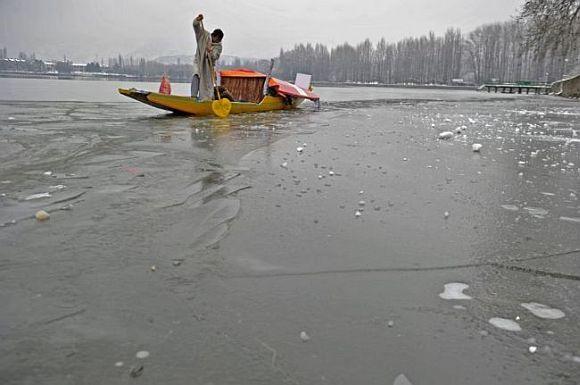 We had asked our readers to send winter pictures they had taken. Here is the third batch
FATWA FACTORY: No Yoga, TV, jeans, working women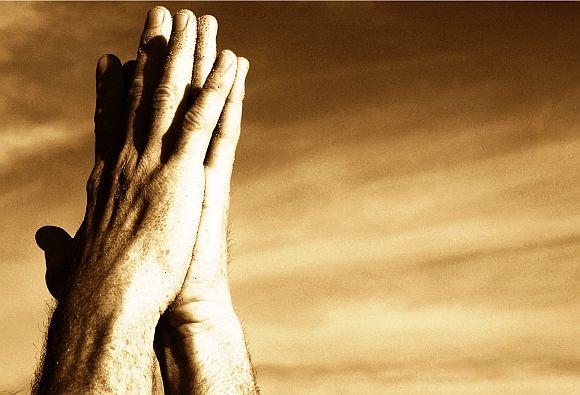 A collection of some of the recent controversial fatwas
No assurances against military coup in Pakistan: US
Amid growing tension between the civilian and military leadership in Pakistan, United States has said it had not sought or received any assurances from the Pakistani army that it would not stage a coup.
January 11, 2012
Congress on shaky ground in UP? Rahul thinks it is!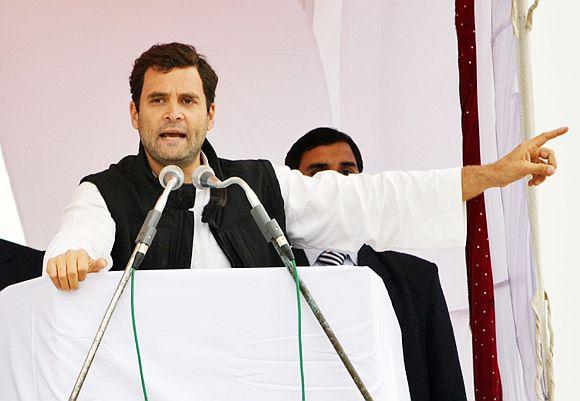 Congress General Secretary Rahul Gandhi is likely to take a mid-campaign review of the party's poll strategy on Thursday in the Congress war room in New Delhi. He has called a meeting of the various Congress committees set up for Uttar Pradesh, including the manifesto committee, the publicity and media committee and the campaign committee.
The new international caste system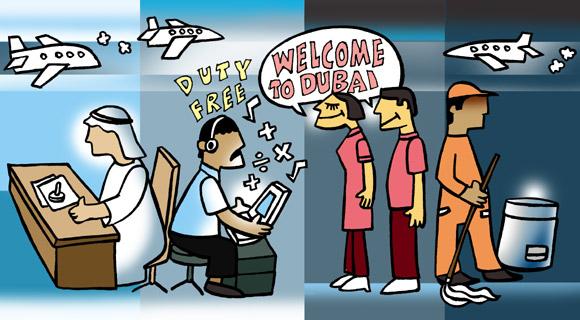 'But where were the majority of my cousins from South Asia, the multitudes from Pakistan and Bangladesh and my own compatriots,' wonders B S Prakash.</P> <P>'They were the service class: Cleaning, pouring, clearing, wiping, sweeping and getting rid of the rubbish.'
Who will strike first in Pak: Army chief or prime minister?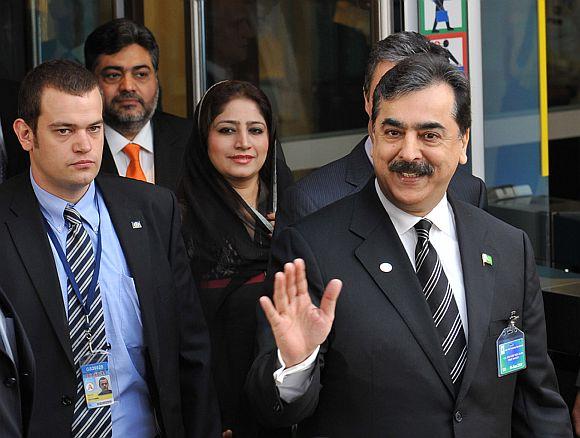 Pakistan is abuzz with rumours that the country's all-powerful military may topple the fragile government in Islamabad within next 48 hours.
'It is not Anna Hazare's movement'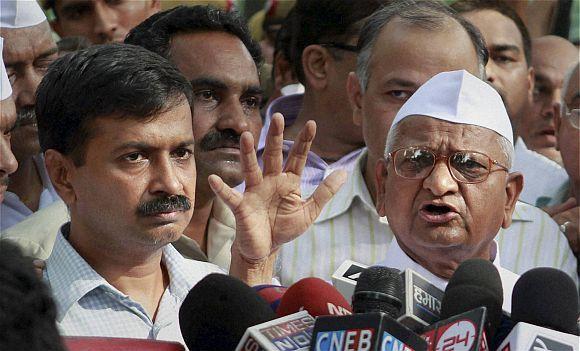 'We are confused because the UPA government has cheated us. The question before us is, should we request the people to not vote for the UPA or should we not? Shall we not hit the streets again at all? There are many options before us. Each option has many implications for our movement,' Arvind Kejriwal confesses to Sheela Bhatt.
Army, ISI attack Gilani: A coup in the making?
A confrontation between the army and the government came to a head in Pakistan on Wednesday with the powerful army chief warning the prime minister's critical remarks against him and the ISI chief over the memo scandal could have "very serious ramifications" for the country.
Like Shastri, you too can rise to the occasion Mr PM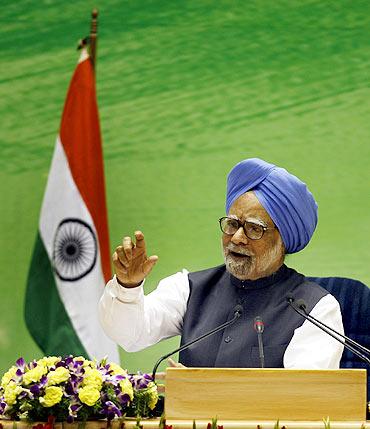 Taking a cue from former prime minister Lal Bhadur Shastri, Dr Manmohan Singh should break free of the inhibitory shackles that bind him to fulfill the expectations reposed in him by the people of India, says .
Zardari-quitting buzz gets louder, spokesman says NO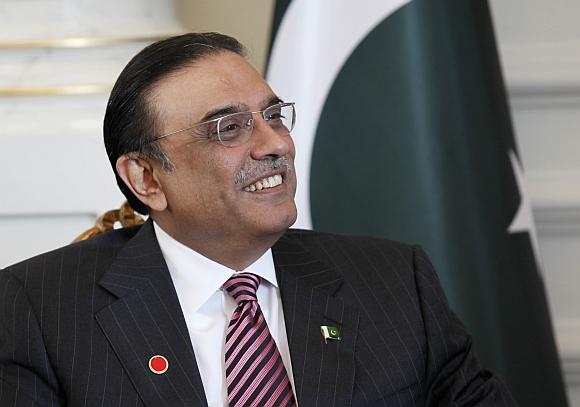 Pakistan's beleaguered President Asif Ali Zardari is ready to resign and call an early general elections if parties in the ruling coalition wanted him to take such a step, according to a media report on Thursday.
Dalai uses suicides for political gains: Chinese media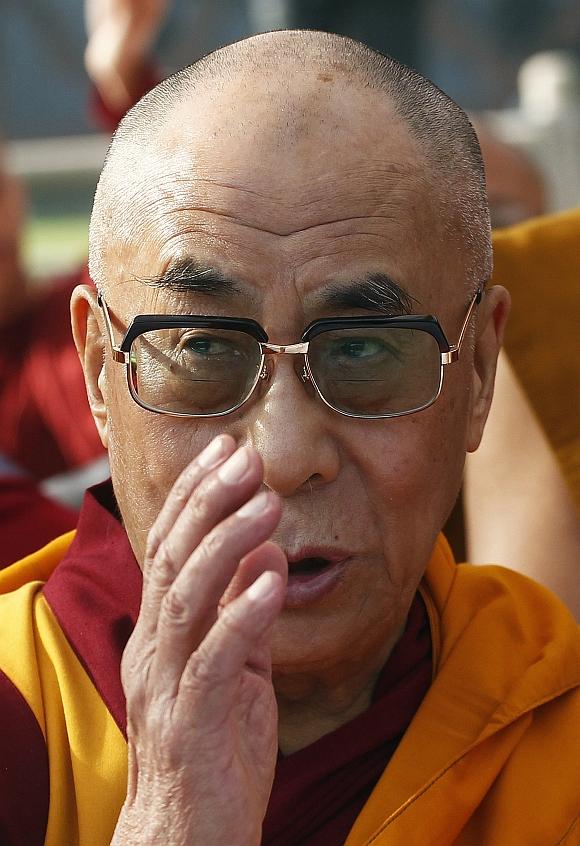 As China grappled to deal with recurring suicides of Tibetan Buddhist monks calling for return of The Dalai Lama, its official media accused the spiritual leader of trying to build a cult similar to that of "Falun Gong", which Beijing managed to contain years ago.
400 killed in Syria since arrival of Arab League monitors: UN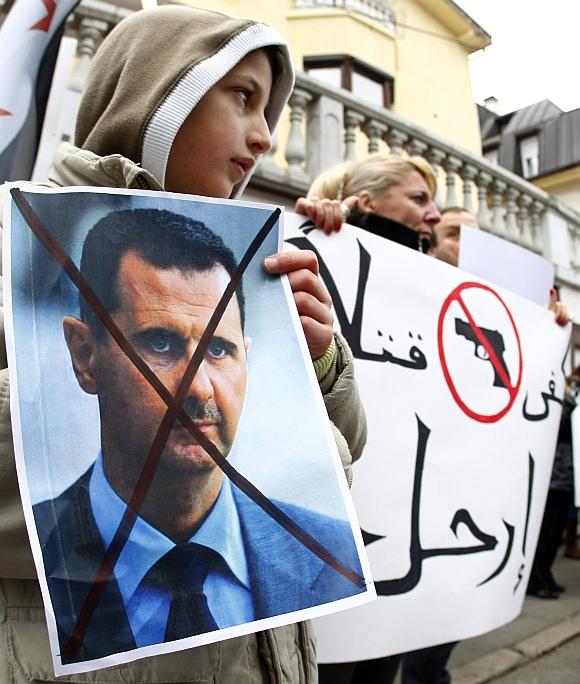 An estimated 400 people, an average of 40 a day, have been killed in Syria in the days following the arrival of the Arab League monitors in the country, a top United Nations official has said.
Mumbai suburb with deadliest 'track' record: 160 killed in 2011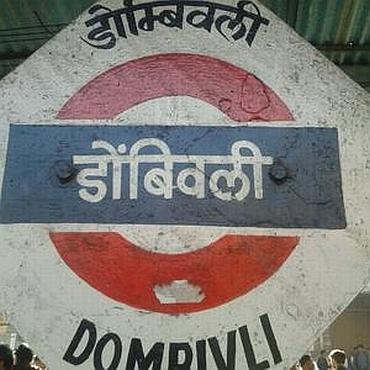 Accidents on the railway tracks in Dombivali, a suburban Central Railway section, killed as many as 160 persons and left 173 injured in 2011, a railway police official said on Wednesday.
As Army bares its artillery might, Bofors gun is the star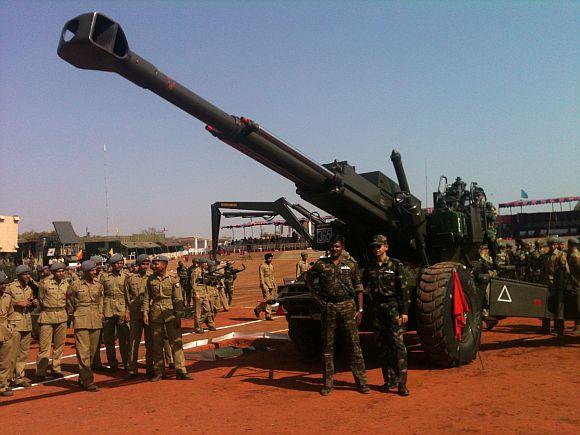 A peek into the Indian Army's Exercise Topchi exercise at the School of Artillery in Deolali
S Asia spent FIFTY per cent more in last 10 years: Report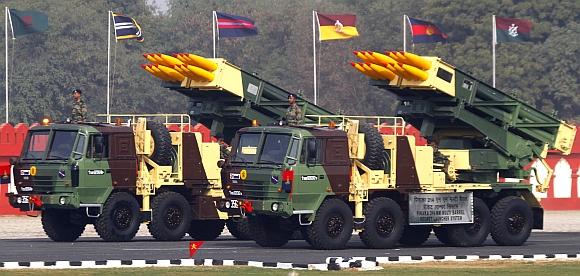 In 10 years from 1995 to 2005, the military expenditure in South Asia increased by 50 per cent, and one in every 10 military personnel in the world are in this part of the globe, a United States report has said.
From Gulmarg to Germany, readers' snow PHOTOS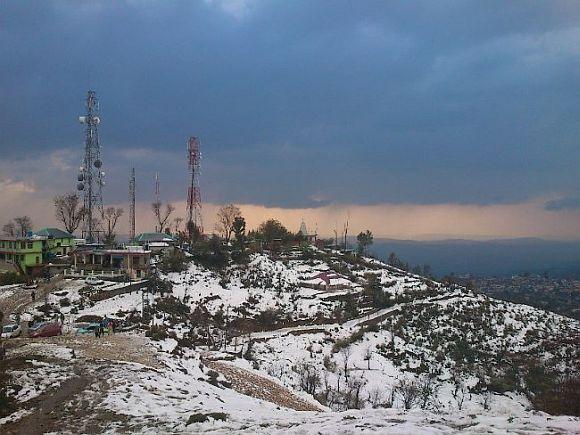 Rediff.com had asked our readers to send winter pictures they had taken. Here is the second batch
US presidential polls: Obama running out of ideas, says Romney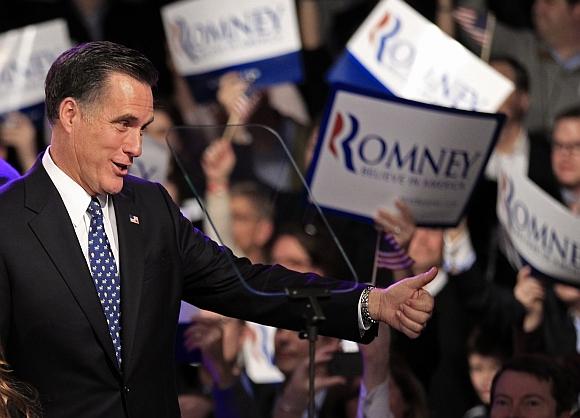 United States President Barack Obama has run out of ideas and excuses, White House hopeful Mitt Romney has said as he claimed victory in the crucial New Hampshire Republican primary after early results showed him taking 36 per cent of the vote.
GITMO IN PHOTOS: A decade of American 'hell' on earth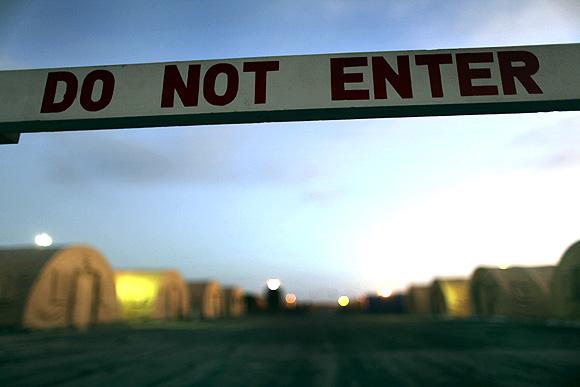 Despite widespread efforts to shut it down, Guantanamo Bay, the infamous extrajudicial detainment and interrogation facility of the United States located in Cuba, completes a decade of existence on Wednesday.
Uttar Pradesh has the most criminal, richest MLAs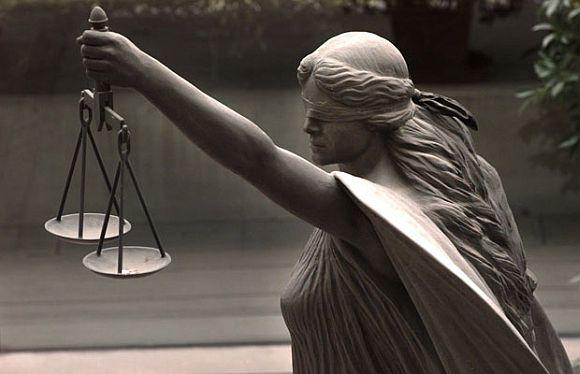 Here are some thoughts for the voter to ponder over
January 10, 2012
The Tibetans who fought the 1971 war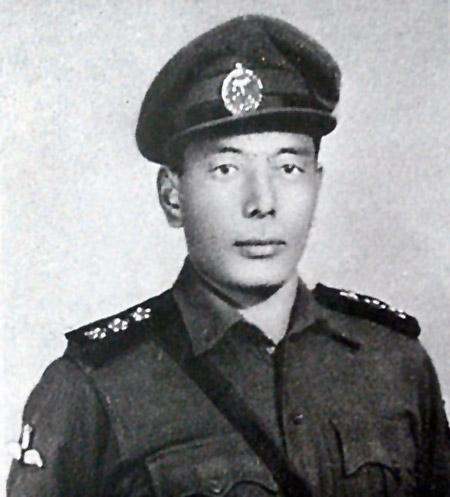 Little is known about the Tibetan Forces' role in the Bangladesh operations in 1971. Dapon Ratuk Ngawang, now 84, speaks to about being a part of the Tibetan guerrilla outfit which fought against Chinese rule and played a key role in the Dalai Lama's escape to India in March 1959.
Missing Indian youth Gurdeep found dead in Manchester
The body was found in River Medlock in the city centre of Manchester yesterday and was identified on Tuesday as that of Gurdeep, who was missing since January 2.
I don't need a visa to visit India: Salman Rushdie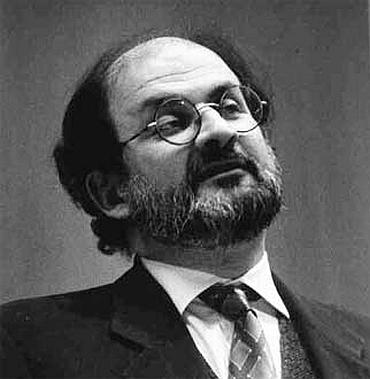 Reacting sharply to the demand made by various Muslim outfits in the country that author Salman Rushdie should not be allowed to enter India, Rashtriya Swayamsevak Sangh spokesperson Ram Madhav has described it as outrageous as it seeks to curtail Rushdie's right to travel, as the celebrated author is not visiting India to take part in a political event. Onkar Singh reports.
'Michelle Obama's Mumbai dance stage managed'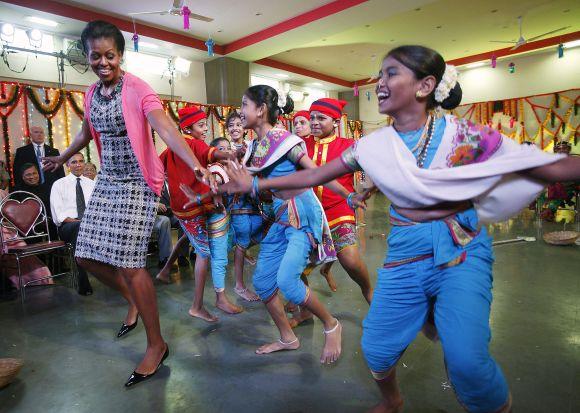 The impromptu dance that First Lady Michelle Obama did at a school in Mumbai when she accompanied President Barack Obama on his India trip in 2010 was stage managed by the White House staff so as to send a positive image throughout the world, a new book has claimed.
Hyderabad: Chandrababu Naidu, top party leaders detained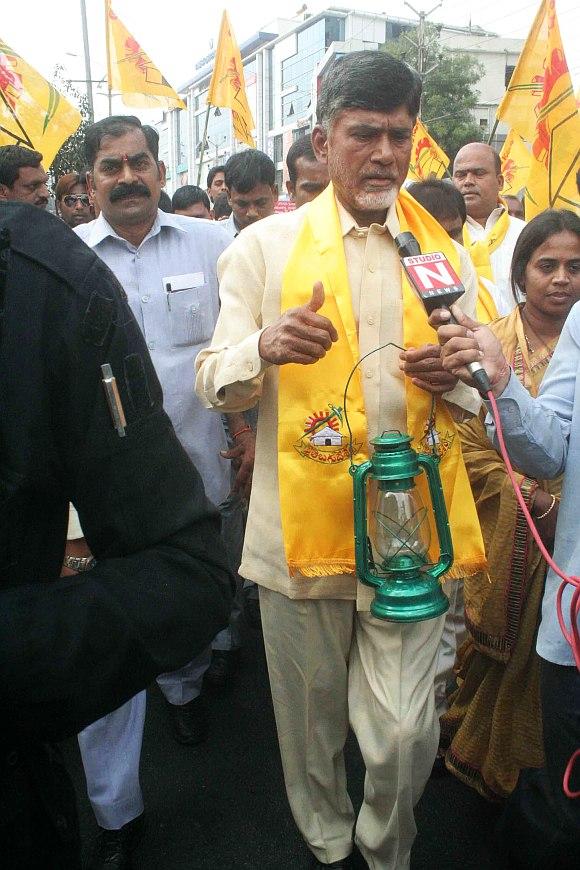 Telugu Desam Party president N Chandrababu Naidu and top leaders of the party, including over 25 members of Legislative Assembly, were on Tuesday taken into preventive custody as they were proceeding in a rally to the electricity office here to protest hike in power charges and erratic supply.
We WILL finish what we started in 2008: Obama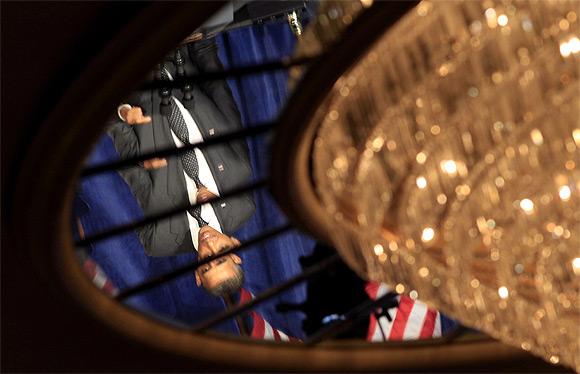 United States President Barack Obama on Tuesday launched his re-election campaign by asking people to vote for him and promising that he would continue to deliver on "big change" in a second term.
SNOWFALL: Readers send in their pictures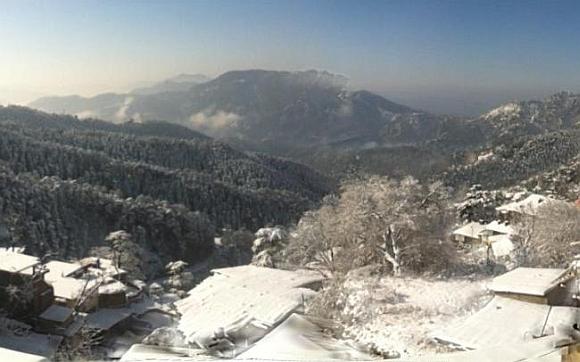 We had asked our readers to send winter pictures they had taken. Here is the first batch:
TOP 10 PHOTOS that would lighten your mood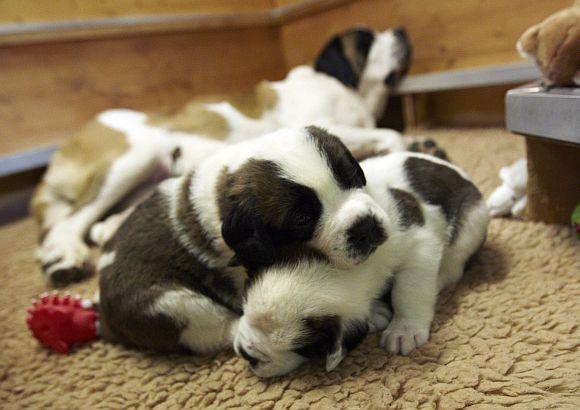 A collection of some of the best photos from around the world in the last 48 hours
'India-China face terrorism in their shared neighbourhood'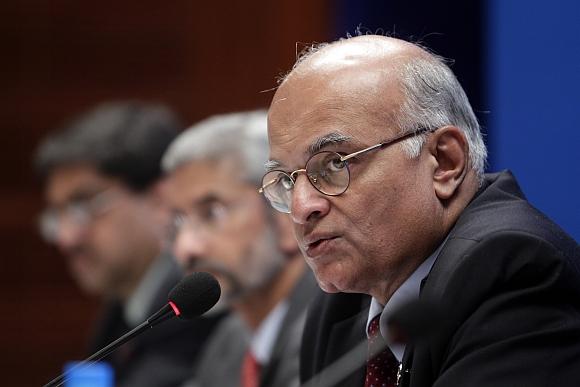 'Some observers say India and China are bound to be strategic adversaries. I find such determinism misplaced,' says National Security Advisor .
IN PHOTOS: A holy shrine that teaches the spirit of peace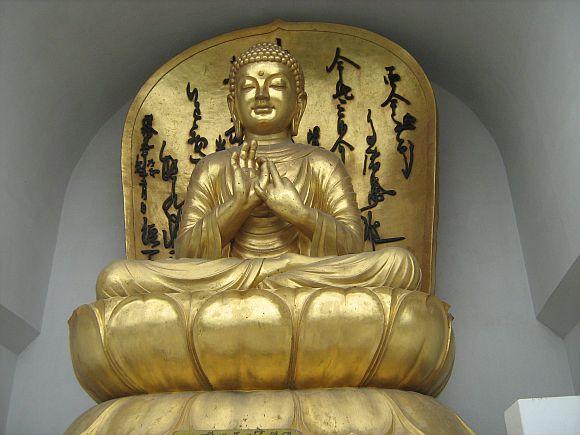 visits the Peace Pagoda of the World at Vaishali in Bihar and gets spellbound by the message of peace and tranquility.
Mulayam trying to evoke sentiments on Babri issue: Digvijay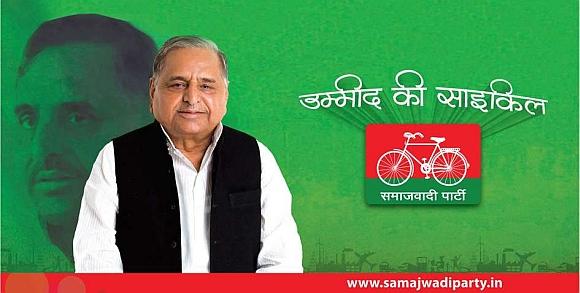 Congress general secretary Digvijay Singh has lashed out at Samajwadi Party chief Mulayam Singh Yadav, accusing him of trying to evoke Muslim sentiments on the controversial Babri Masjid demolition issue, to garner votes.
In PHOTOS: Delhi SHIVERS as bitter winter rages on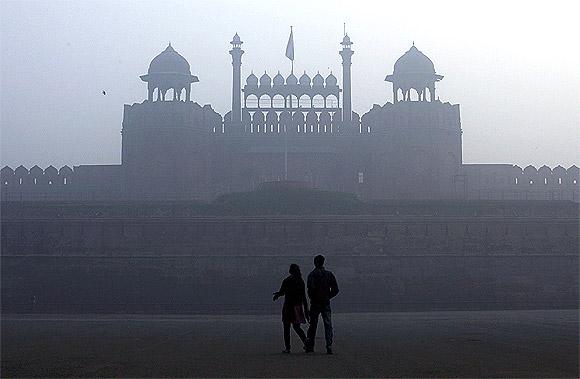 Icy winds blowing from mountains on Tuesday gave no respite to Delhiites from winter chill as it brought down mercury to below five degree Celsius.
READERS SPEAK: 'Why cover elephants? They are better than Maya'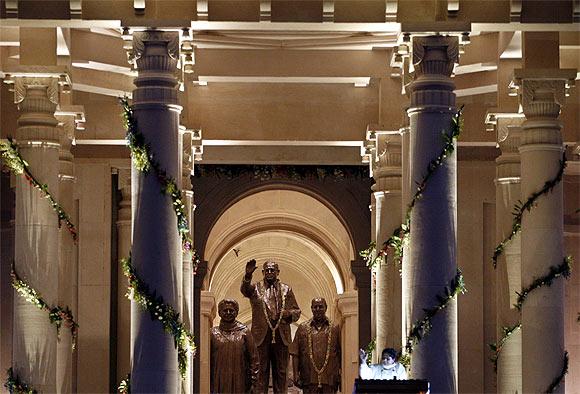 We had asked our readers to share their views and reactions to the Election Commission's recent directive to the Uttar Pradesh government. The EC had asked the state administration to cover all statues of Chief Minister Mayawati and elephants -- the symbol of Bahujan Samaj Party -- across the state. Here are some responses by our readers:
FAQ: Can Pakistan Army topple the unstable government?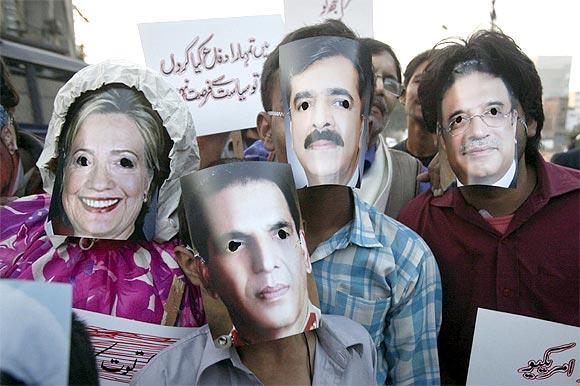 The Pakistan Army chief will not like to place himself in a position where he has to overthrow the elected head of state and the supreme commander of the armed forces, says B Raman
China's emerging navy, the next wave of WORRY for India!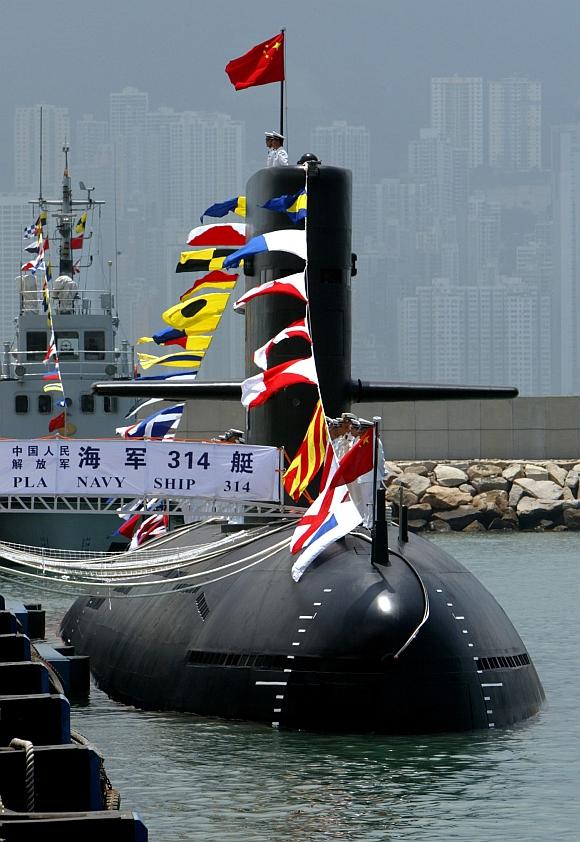 China is emerging as a naval entity and India cannot turn a blind eye to this, says West Bengal governor and former National Security Advisor M K Narayanan
BIG CHILL: Snowfall in HP throws life out of gear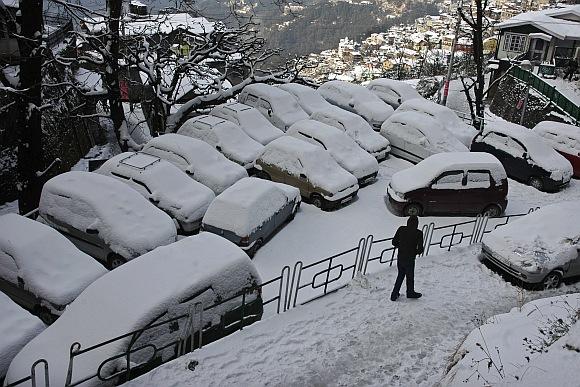 Several areas were cut off on Monday and vehicular traffic came to a halt as frsh snowfall in Shimla, Kinnaur, Chamba and some other areas threw normal life out of gear.
Pakistan keeps jail cell ready for Musharraf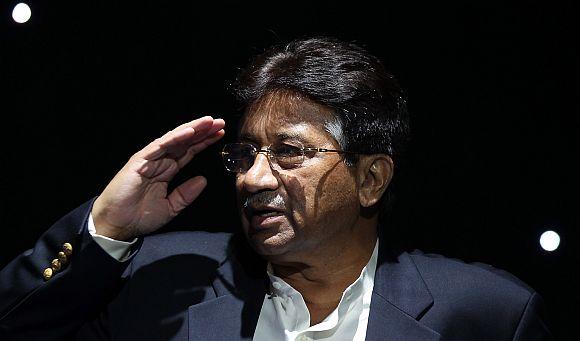 While former dictator Pervez Musharraf packs his bags to take a flight back home, his country is all ready to escort him straight to jail. Rediff.com's Amir Mir's analyses the volatile political scenario that Pakistan is staring at.
Punjab = Badal... Akali Dal hopes it stays that way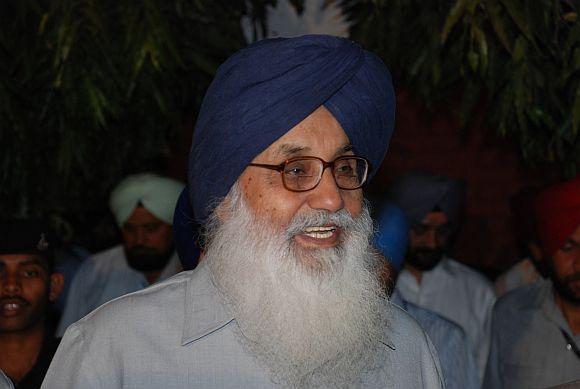 Badal has been a constant in Punjab. Will his party survive the next Assembly elections? Aditi Phadnis examines
In PHOTOS: 15 overseas INDIANS who made INDIA proud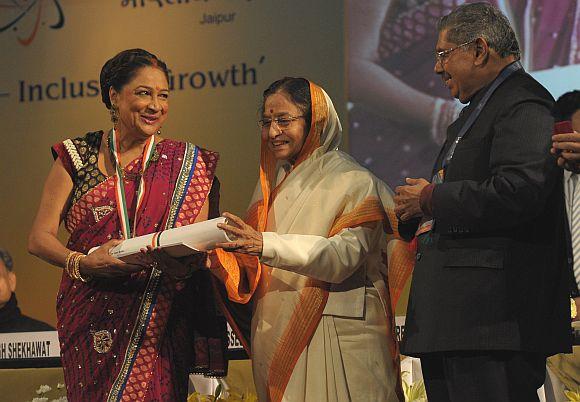 President Pratibha Patil on Monday conferred the Pravasi Bharatiya Samman awards to 14 eminent overseas Indians, including Trinidad and Tobago Prime Minister Kamla Persad-Bissessar, and a Canada-based institution, for their outstanding contributions in enhancing India's image globally.
January 09, 2012
IN PHOTOS: Biting cold freezes life in Kashmir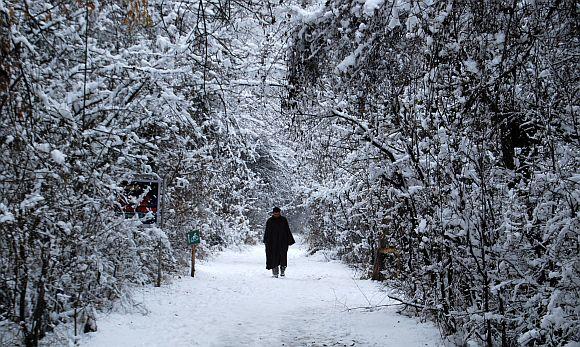 Kashmir Valley continued to remain in the grip of a severe cold wave even as the authorities claimed to have restored power supply in the entire valley on Monday evening, reports .
Expect a Chinese attack by June/July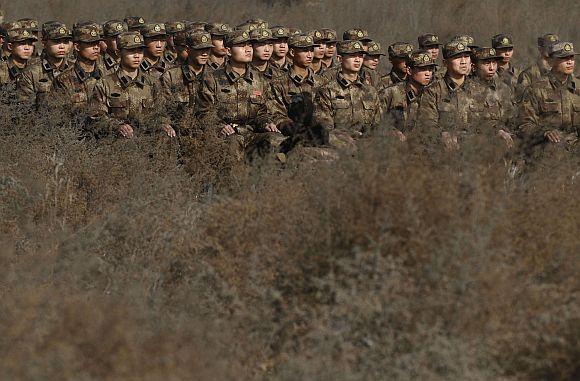 'One is not talking of an all-out war,' says Colonel Anil A A Athale (retd). 'What we must accept is a short, sharp, attack by the Chinese, more in the nature of a slap!'
Gadkari, Modi, and the BJP's gymnastics on corruption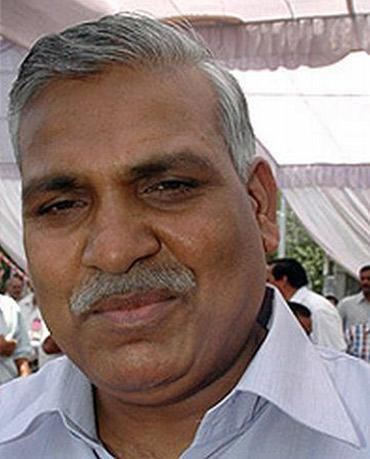 The induction of former Bahujan Samaj Party leader Babu Singh Kushwaha is a sign of the Bharatiya Janata Party's nervousness on the Uttar Pradesh battlefield. It is also the result of the BJP's intra-party tensions, analyses Sheela Bhatt
Aarushi murder: Talwar to stay on bail till Feb 4
Giving a breather to dentist Rajesh Talwar, the Supreme Court on Monday directed that he will remain on bail and not be arrested till February 4 when he will appear before a Ghaziabad court to face trial along with his wife, Nupur, in the twin murder case of his daughter Aarushi and domestic help Hemraj.
Impossible for Rahul to become PM: Thackeray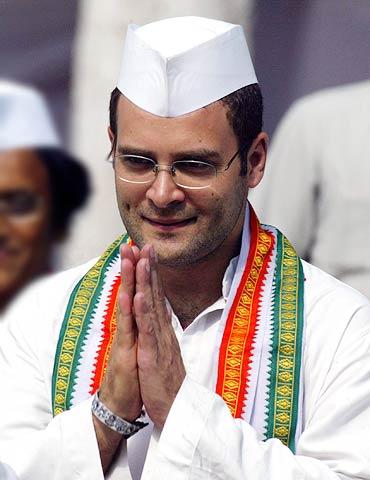 Targeting All India Congress Committee general secretary Rahul Gandhi, Shiv Sena chief Bal Thackeray said the Congress leader has no prospects of becoming prime minister of the country.
BJP banks on Vajpayee, Modi's image for UP polls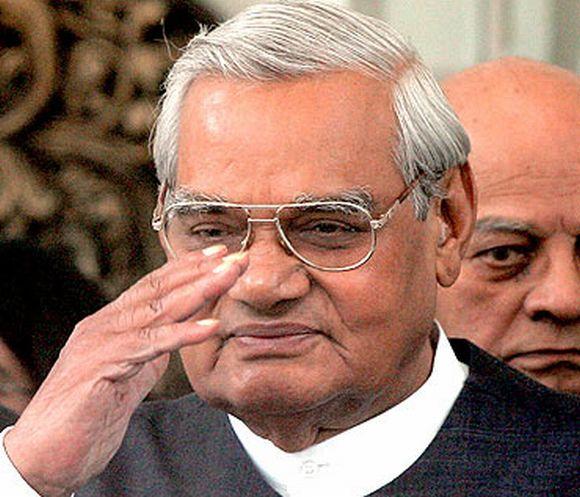 Former Prime Minister Atal Bihari Vajpayee, who is seriously ill for the past two years, and Gujarat Chief Minister Narendra Modi, who did not canvas in the Bihar polls due to objections from ally Janata Dal-United, figure in the Bharatiya Janata Party's list of election campaigners.
At PBD Modi dumps his speech, says Oppn-ruled states neglected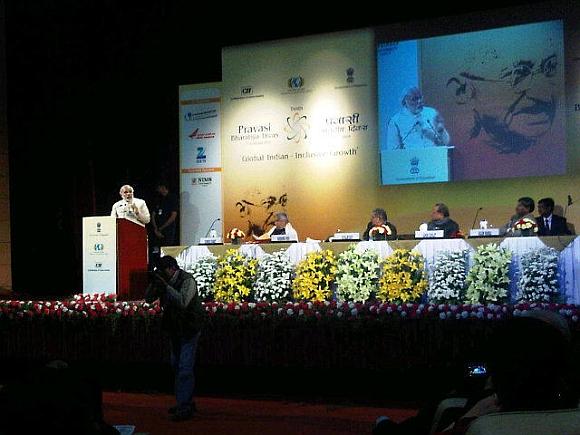 Using the Pravasi Bharatiya Divas platform to attack the Centre, Gujarat Chief Minister Narendra Modi on Monday suggested that states ruled by Opposition parties do not have its "blessings" and said whatever his state has achieved on the development front was on its own resources.
'Introducing religion in school syllabus is UNTHINKABLE'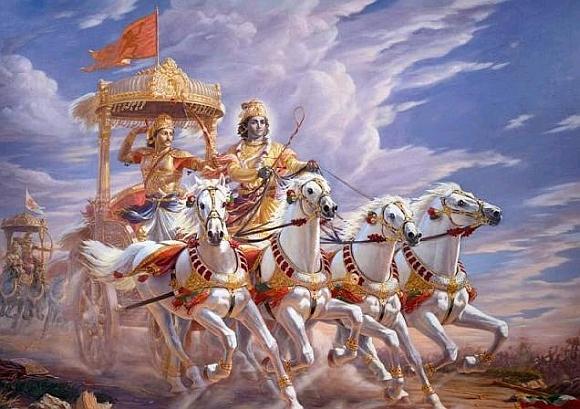 The Bharatiya Janata Party in Karnataka appears to be readying itself for a big fight, and this time it is over the Bhagavad Gita. A statement by Karnataka Chief Minister D Sadananda Gowda, in which he said that the government was considering introducing the Gita in primary and secondary standards in school has drawn appreciation as well as flak in the state. Vicky Nanjappa reports.
PHOTOS: Meet the world's YOUNGEST dictator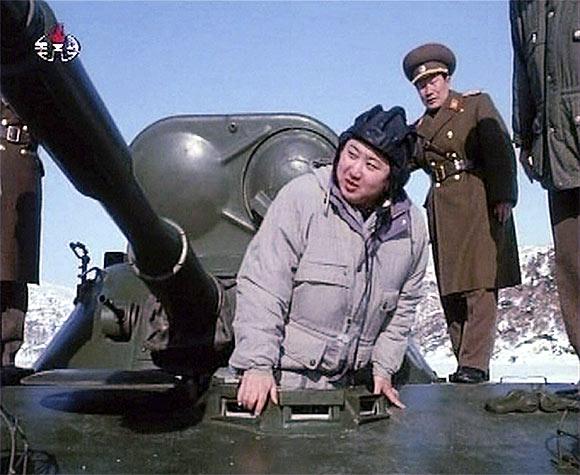 The birthday of Kim Jong-Un, the dictator of North Korea, was celebrated by airing a documentary on the country's "supreme leader" on state television.
'This government is LYING to the common man'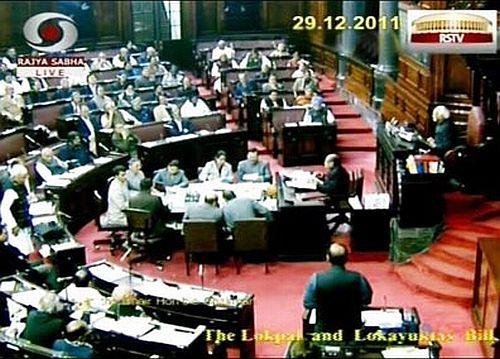 The global crisis has presented India with a historic opportunity to grow faster, but according to Pratap Bhanu Mehta, head of a leading independent think tank, the country is unable to capitalise on it owing to political and macro-economic mismanagement. In an interview with Santosh Tiwari, Mehta strongly criticises the Congress for ineptitude. Edited excerpts:
For young NRIs at PBD, it has been a bitter-sweet visit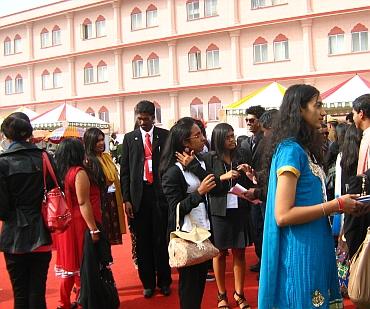 For the 40 young non-resident Indians, who participated in the Pravasi Bharatiya Divas in Jaipur, their visit to the country has been a bitter-sweet one. They were floored by the vibrant culture and impressed by e-governance projects, but disturbed by corruption and other scams plaguing India, says
In Photos: Who will the NRIs VOTE for in Indian elections?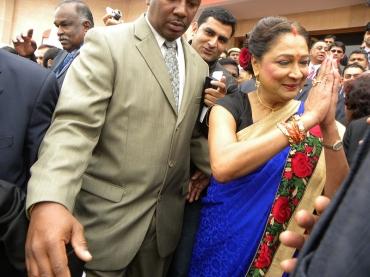 Prime Minister Manmohan Singh on Sunday told the ongoing Pravasi Bharatiya Divas at Jaipur that Non Resident Indians should be allowed to vote and participate in the election process. Some NRIs at the event tell what the PM's statement means to them
Should the statues of Mayawati and elephants in UP be covered?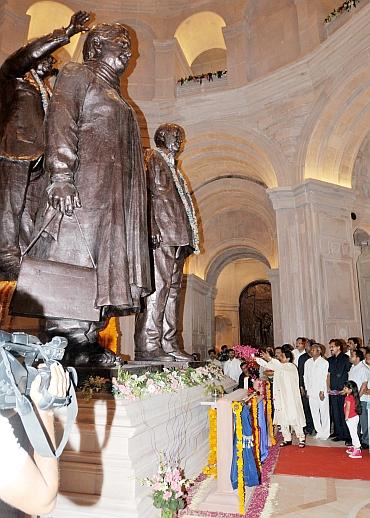 The Election Commission has asked the Uttar Pradesh government to cover all the statues of Chief Minister Mayawati and elephants, the Bahujan Samaj Party's poll symbol, installed in public places across Uttar Pradesh. Do you think the statues can influence voters?
The White House PHOTO ALBUM 2011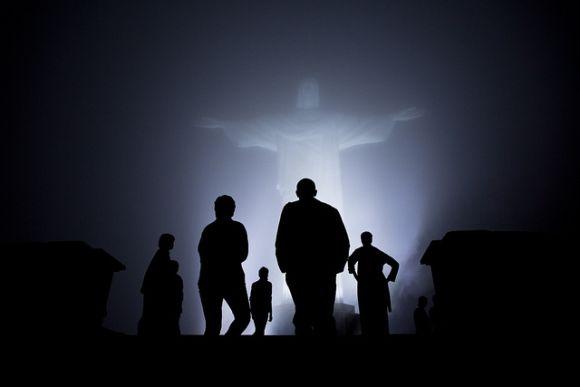 Official White House photographers offer glimpses into the life of the President of the United States of America, Barack Obama.
Is Team Anna's popularity shrinking? Not at all!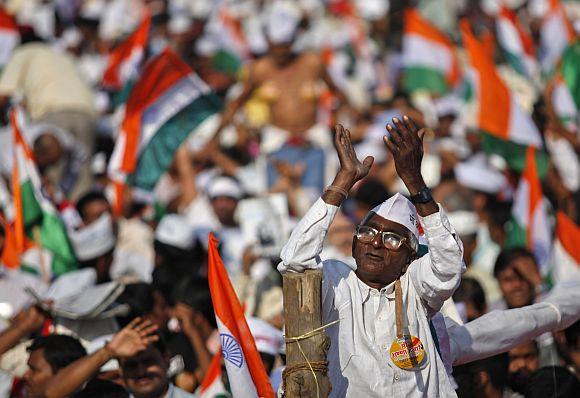 After the so called flop show in Mumbai, if one thought that the Anna movement was on the wane, one needs to be careful. In fact Anna Hazare remains top recall in people's mind and irrespective of what happened in Mumbai, they still believe the Gandhian is right and his Lokpal will successfully combat corruption.
January 08, 2012
Pix: After 48 dark hours, power restored in parts of Kashmir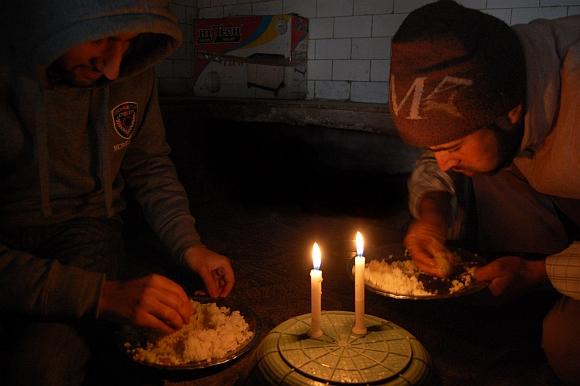 Power supply in Kashmir was partially restored on Sunday evening after it was cut off following heavy snowfall, which started on Friday.
Cong reaches out to Mamata, says trust can be rebuilt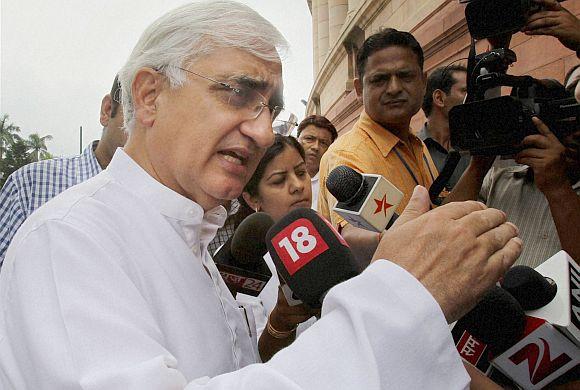 A day after West Bengal Chief Minister Mamata Banerjee's attack, the Congress on Sunday reached out to its ally saying there was need for "better communication" with Trinamool Congress and the two could rebuild trust by ironing out "disagreements" within closed doors.
In PHOTOS: Defying all odds, Stephen Hawking turns 70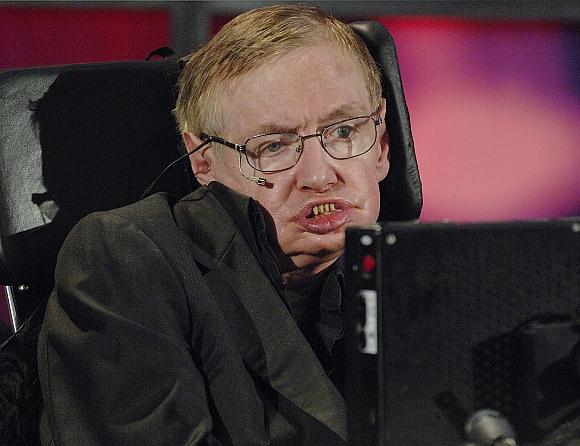 Defying the odds of medicine, Stephen Hawking, widely regarded as one of the most brilliant theoretical physicists, celebrated his 70th birthday on Sunday.
India going through tough times, GDP to slip to 7 pc: PM at PBD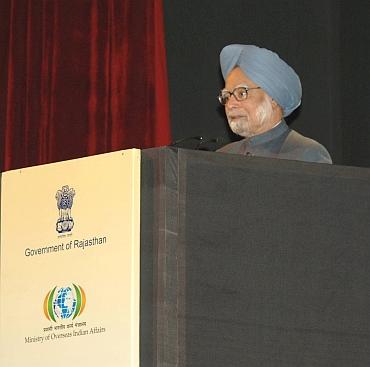 Prime Minister Dr Manmohan Singh spoke at the tenth Pravasi Bharatiya Divas in Jaipur on Sunday. Following is the text of the prime minister's address:
In PHOTOS: Kashmir battles with power crisis, extreme cold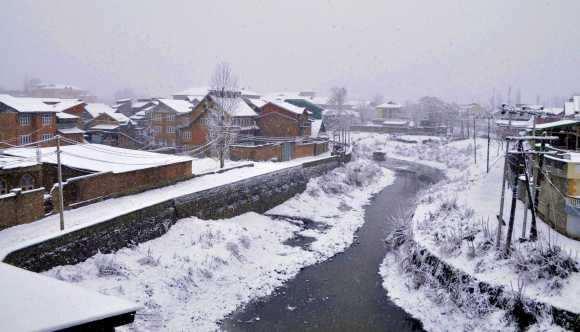 A day after receiving heavy snowfall, Kashmir Valley shivered in intense cold as mercury across the region plunged by several degrees with the summer capital and Gulmarg skiing resort recording the coldest night of this winter so far.
MUST READ: Ten things you didn't know about Stephen Hawking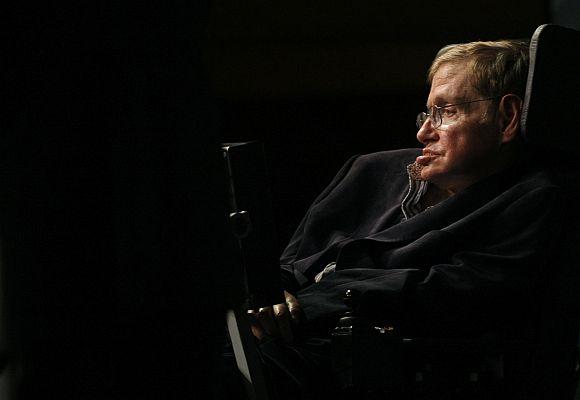 HowStuffWorks, a popular edutainment website, in a recent feature brought forth some rare aspects related to Hawking's life and work. We present a report:
'Sadhvi Pragya conspired to strike terror in Malegaon'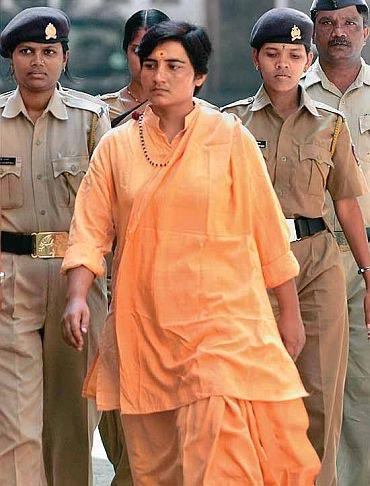 The National Investigation Agency on Saturday opposed the bail plea of Sadhvi Pragya Singh Thakur, a key accused in the Malegaon blast case, in the special Maharashtra Control of Organised Crime Act court. The agency said that she aided and abetted the other accused with the full knowledge of the terror strike and had offered all support to them. On November 18, Thakur had filed a bail application in the special MCOCA court for the third time.
January 07, 2012
2G scam: 'Chidambaram GUILTY of breach of trust'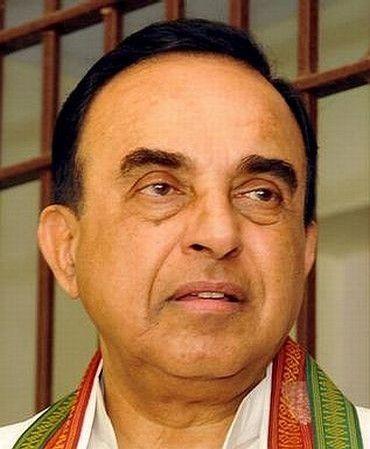 Janata Party president Subramanian Swamy on Saturday sought the prosecution of Home Minister P Chidambaram in a Delhi court for alleged offences of corruption and breach of trust in 2G spectrum allocation.
STUNNING IMAGES: Heavy snowfall whitewashes Kashmir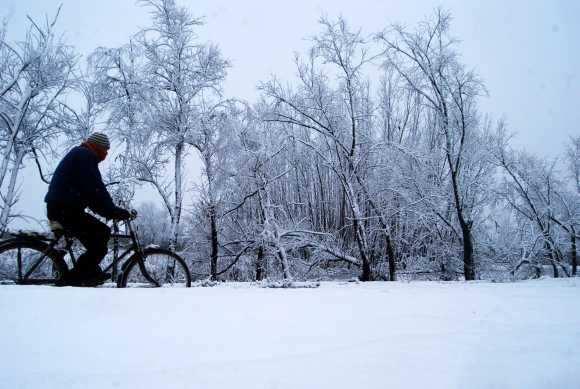 Kashmir valley has received the season's first overnight snowfall, bringing cheer to locals and tourists alike.
Pakistan's radical groups slam 'Indian and American terrorism'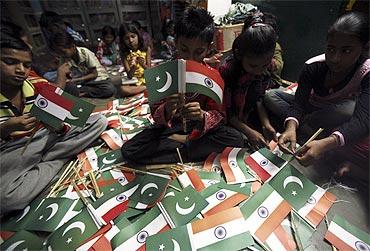 An alliance of religious and extremist groups on Saturday said Pakistan should settle the Kashmir issue and differences over sharing river water before it normalises trade relations with India and gives it Most Favoured Nation-status. The Defence of Pakistan Council, which includes the Jamaat-ud-Dawah and Ahl-e-Sunnat Wal Jamaat, made the demand in a joint declaration adopted at a meeting of the top leaders of the various groups.
Intel input warns of attack on Dalai Lama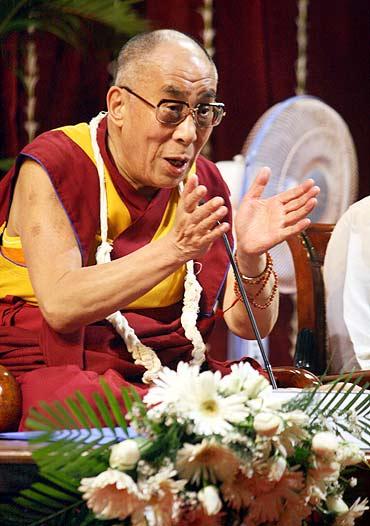 Tibetan spiritual leader the Dalai Lama may be harmed by six Chinese nationals who are likely to sneak into India, intelligence inputs received by the Mumbai police have warned. According to police sources, the inputs reveal the name of one Chinese national of Tibetan origin -- Tashi Phuntsok -- who was waiting to sneak into India with the intention of gathering intelligence on the Tibetan administration in exile and to cause harm to Dalai Lama.
Statues of Mayawati, elephants to be COVERED for UP polls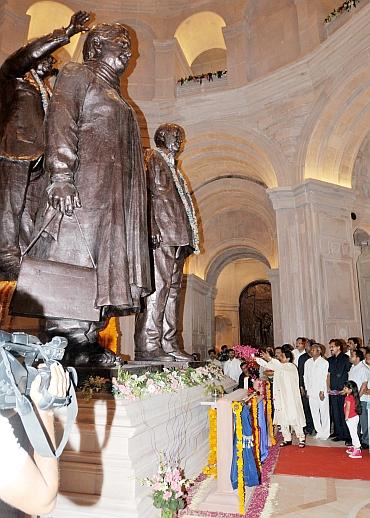 The Election Commission on Saturday said that statues of Chief Minister Mayawati and elephants, the Bahujan Samaj Party's poll symbol, installed at a number of places in Uttar Pradesh would be covered during the state assembly elections. "The commission has decided that statues of the CM and elephants will be draped," Chief Election Commissioner S Y Qureshi told reporters.
Exit door is open for Congress. It can walk out: Mamata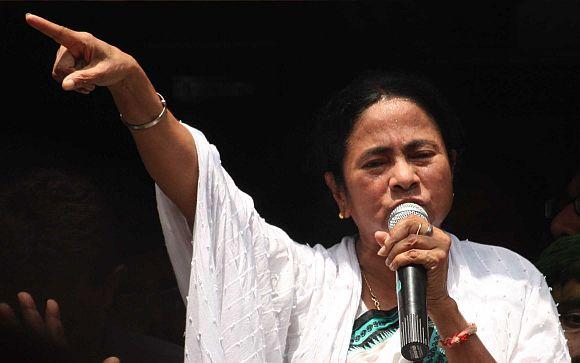 The widening rift between Congress and Trinamool Congress came out in the open on Saturday with West Bengal Chief Minister Mamata Banerjee lashing out at her ally at the Centre and said it was free to quit the alliance.
Out of 'coma' Sukh Ram sent to jail in ambulance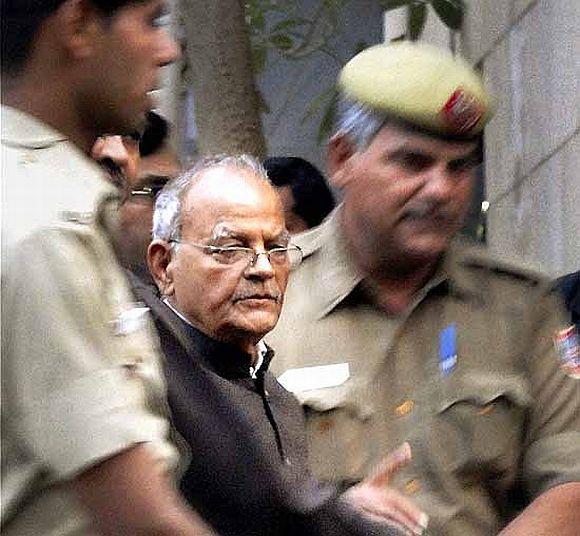 n a U-turn, the 86-year-old's counsel Anil Nag told the court that the former minister was not in a state of coma and would surrendering before the court on Saturday.
The other Michelle Obama in the White House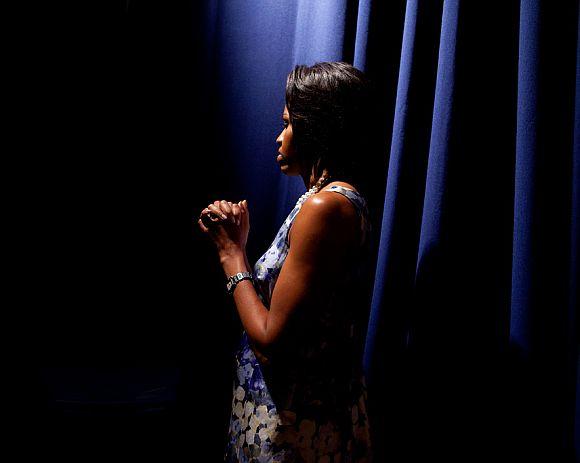 All has not been well between Michelle Obama and her husband's close aides, according to a new book which claims tension grew so severe at one point that then Press Secretary Robert Gibbs even "cursed" the First Lady behind her back in an outburst during a staff meeting.
Video: Kingfisher's HOTTEST girl; Sensual Sonakshi
Video: Kingfisher's HOTTEST girl; Sensual Sonakshi
By endorsing Gita, Gandhi condoned violence: Desai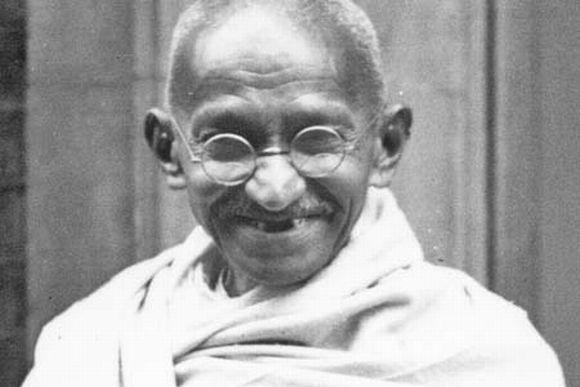 Economist and professor emeritus at London School of Economics, Lord Meghnad Desai on Friday questioned Mahatma Gandhi's philosophy of non-violence in view of his endorsement of the Bhagvad Gita.
January 06, 2012
Pix: Shutdown in Kashmir to protest student's killing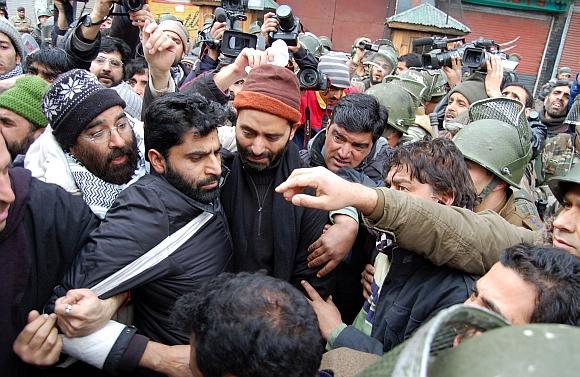 The police on Friday afternoon detained pro-independence Jammu and Kashmir Liberation Front chairman Yasin Malik along with five of his associates in Srinagar where life was paralysed by a protest shutdown.
Tip of iceberg? 77 criminal candidates for UP polls so far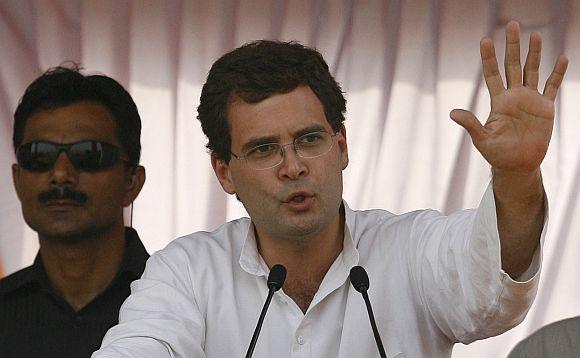 The first list put out for the Uttar Pradesh assembly elections has a total of 77 candidates with a criminal background. Topping this list are both the Congress and the Bharatiya Janata Party who have 13 candidates each with serious criminal charges against them.
'Our world's finished; we thought UK is the safest in the world'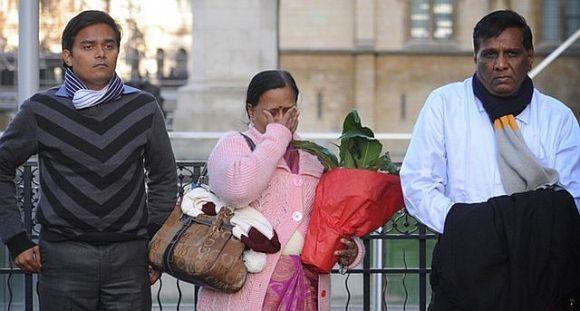 Shattered by what they called was an incomprehensible loss, the parents of slain Indian student Anuj Bidve hope that the man responsible for the "senseless" killing of their only son would be brought to justice.
213-yr-old Hawa Mahal loses colour after wash!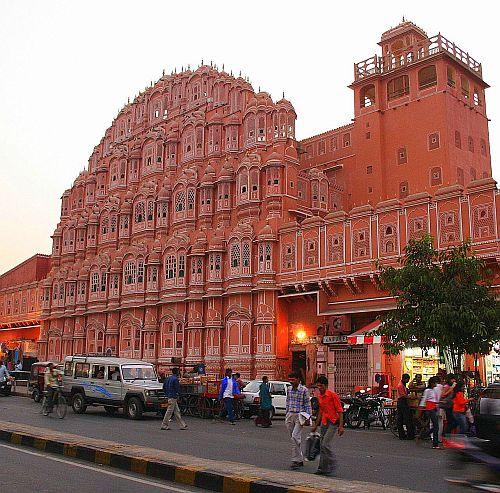 Jaipur's historic landmark Hawa Mahal has turned a shade lighter in some corners after enthusiastic civic authorities used water pressure hoses to clean the 18th century monument ahead of Parvasi Bhartiya Divas.
The cyclone brought tragedy but also grace and unity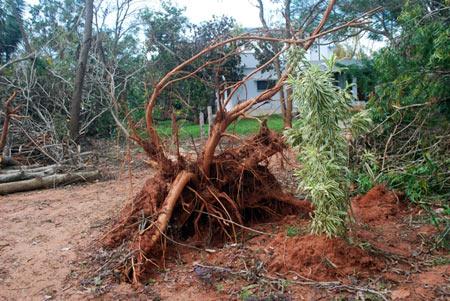 To live 'normally' again will take weeks, but fortunately our area, which includes 7 villages, witnesses no death, not even a serious injury. But Auroville forests will take decades to recover. They were our pride and protection against the South Indian heat, they are no more! on the devastation in Auroville after Cyclone Thane.
Aarushi Talwar murder case: Parents to stand trial
A bench of justices A K Ganguly and J S Khehar dismissed the couple's plea to quash criminal proceedings against them in the sensational 2008 case involving the killing of Talwars' domestic aide Hemraj and their teenaged daughter in Noida on Delhi's outskirts.
Universe's ONLY mystery that Stephen Hawking can't crack!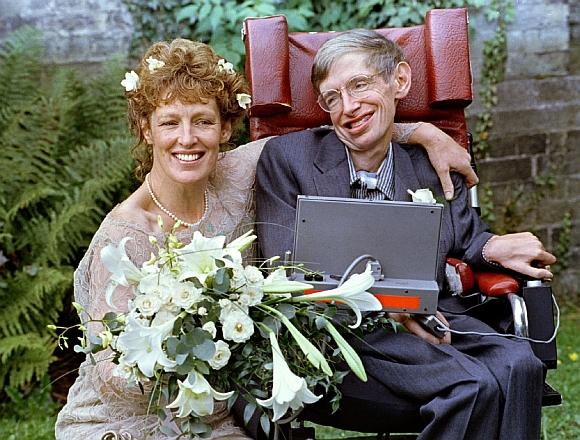 Stephen Hawking, who has decoded some of the most puzzling secrets of the universe, has revealed that for him women are the only enduring mystery of the universe he has found impossible to crack.
CBI digs up mining baron Reddy's dirty secrets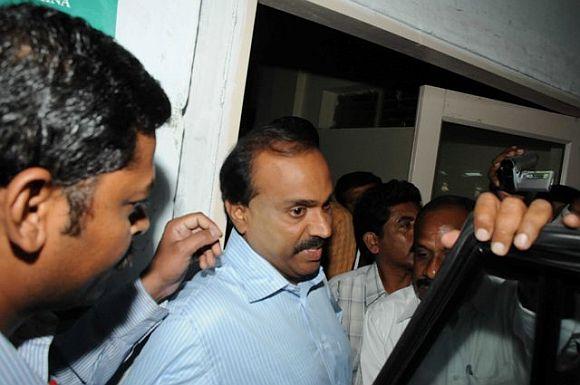 Karnataka's mining baron, Janardhan Reddy is in trouble. The chargesheet filed by the Central Bureau of Investigation has suggested that Reddy earned Rs 4,300 crore through illegal mining.
Pakistan heading for elections in 2012?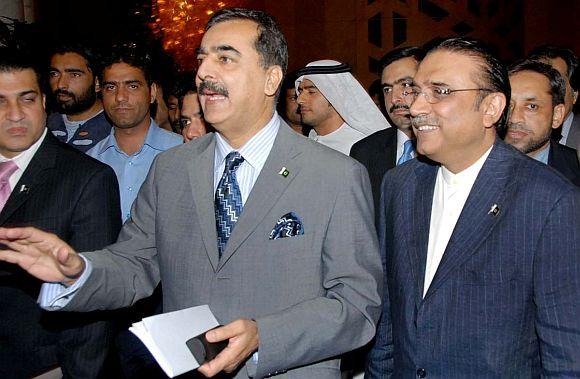 The ruling Pakistan People's Party has decided to hold the general election and the polls to the Senate ahead of schedule against the backdrop of rampant speculation that the government may not be able to complete its tenure, according to media reports on Friday.
MEET Qamar Hashim, the 8-year-old photographer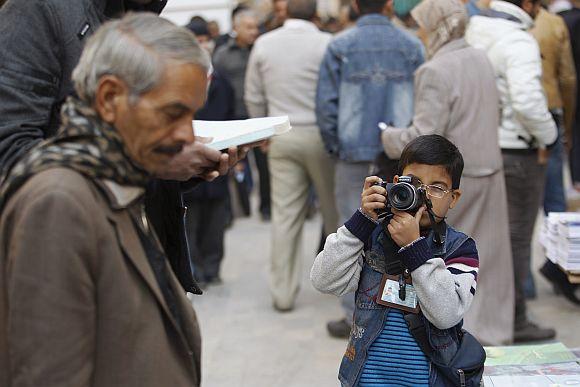 Eight-year-old Qamar Hashim is a celebrity in his country. Holding his SLR camera close to his chest, Hashim wanders in the streets of Iraqi capital Baghdad shooting dramatic landscapes of country trying to resurrect itself.
Again, US terms India as a 'challenge to deal with'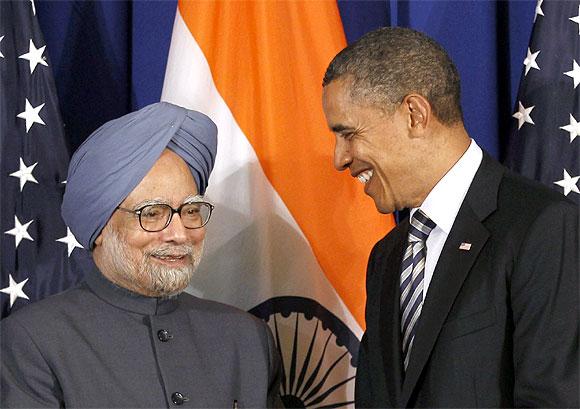 For the second time in less than two months, United States Defence Secretary Leon Panetta has said that the country is facing challenges from rising powers in Asia -- China in particular and India -- in the 21st century.
Digvijay should join RSS to imbibe some morals: BJP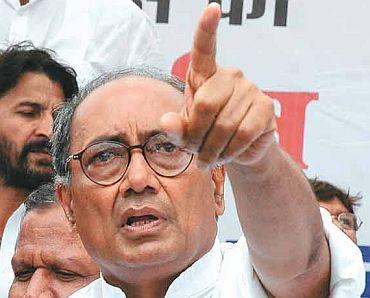 A day after a photograph of Congress general secretary Digvijay Singh was published in a Hindi daily with the leaders of the Rashtriya Swayamsewak Sangh, Bharatiya Janata Party leader Prakash Javadekar mockingly advised the former to join the Sangh.
10 top PHOTOS that would lighten your mood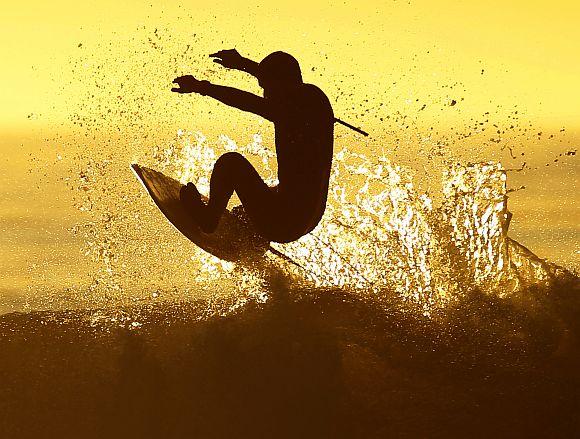 A collection of some of the best photos from around the world in the last 24 hours
In PHOTOS: Spectacular ice marvels of Harbin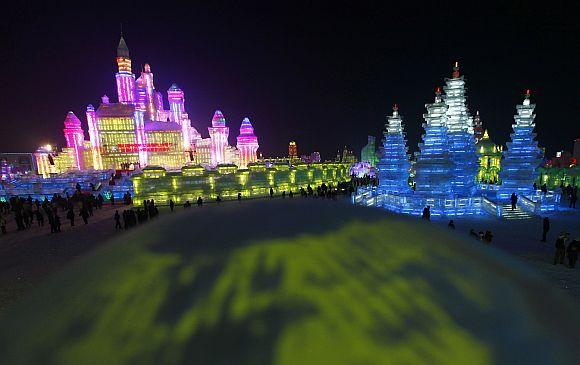 Glimpses from the Harbin International Ice and Snow Festival, which was officially launched on January 5
Singapore PM salary is 45 times more than Dr Singh's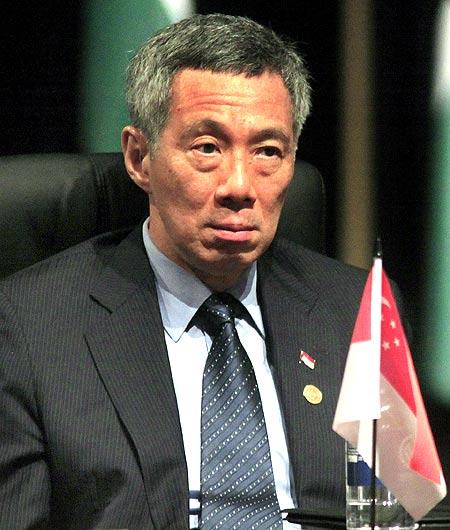 Despite a whopping salary cut of 36 per cent, Singapore's Prime Minister Lee Hsien Loong remains the highest paid leader in the world, who takes home a salary of $1.69 million (about Rs 8.9 crore) per annum.
FLASHBACK! Highs and lows of India's foreign policy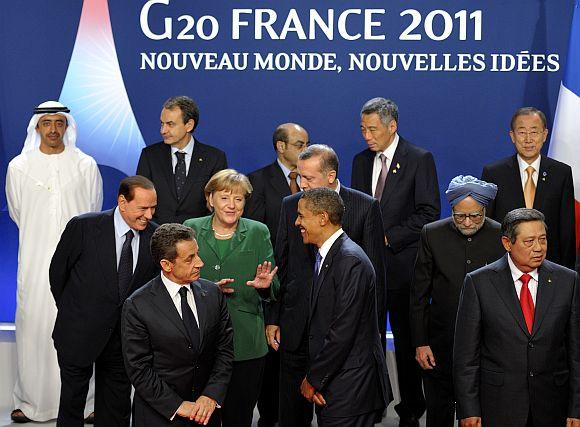 The year 2011 saw various events -- the Arab Spring, anti- corruption protests, Europe's sovereign debt crisis -- transform countries and reshape the world order. Gateway House, a leading Mumbai-based think tank on India's foreign policy, takes a look at what these events mean for India, and presents India's top foreign policy cheers and jeers for the year.
China gets a 'giant' to reach out to inaccessible highlands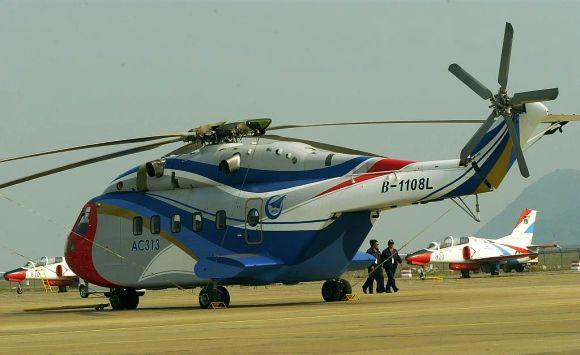 Asia's largest helicopter, built by China and weighing about 13 tonnes, on Thursday received the stamp of approval from the Civil Aviation Administration of the country.
January 05, 2012
CBI grills Jagan aide Vijay Sai Reddy on financial dealings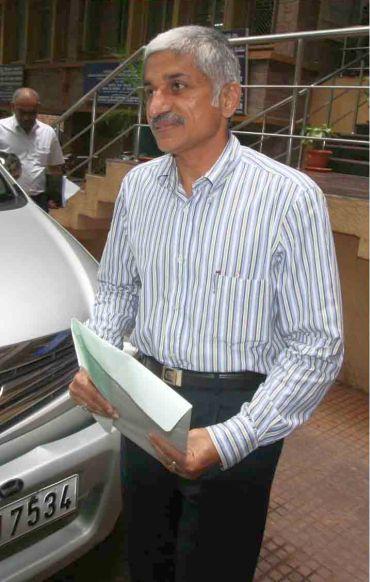 Vijay Sai Reddy is facing serious charges, which include cheating and money laundering. reports.
No axe to grind with govt over age issue: Army chief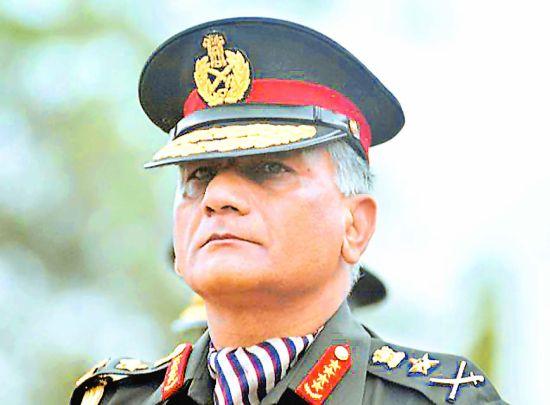 Dismissing reports of rift with the Defence Ministry on the age row, Army Chief General V K Singh has said he has not thought of approaching the courts yet on the issue.
The Andhra battle: It's Jagan vs TDP! Cong to take backseat?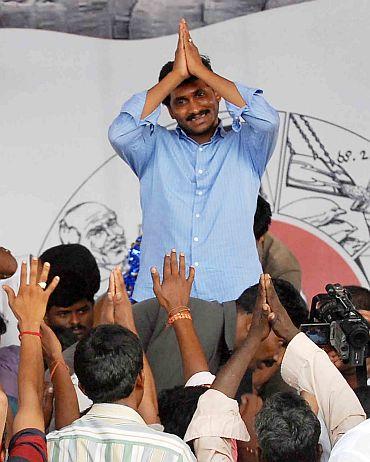 The Congress in Andhra Pradesh has chalked out a new strategy to fight the force of Jaganmohan Reddy. Sources say the party has decided to take a backseat while the Telugu Desam Party ups ante against the YSR Congress president.
BJP cries foul before President; wants Lokpal session reconvened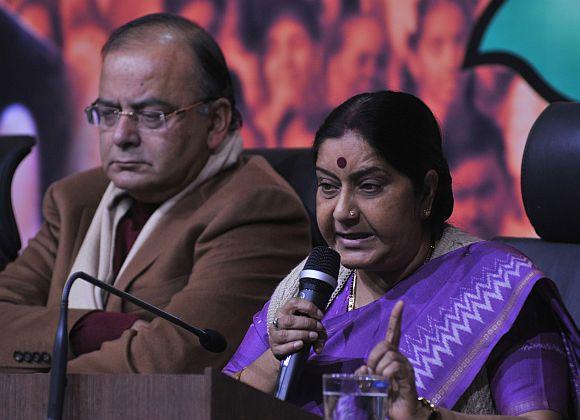 Bharatiya Janata Party leaders met President Pratibha Patil on Thursday to complain about "subversion" of Parliament over Lokpal issue and sought her intervention to re-convene the House to enable voting in Rajya Sabha on the crucial bill.
70 and counting: Why are Naxals bombing mobile towers?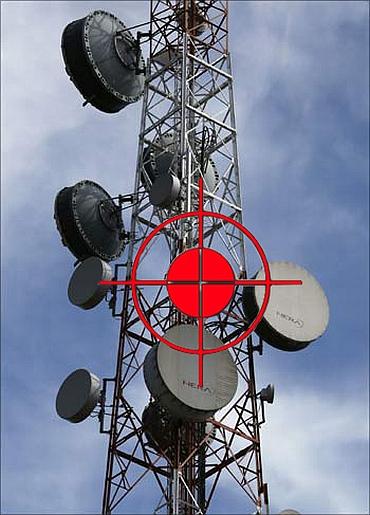 In the past one-and-a-half years, Naxals have destroyed nearly 250 mobile towers across the country. The incidents have occurred in Bihar, Chattisgarh, West Bengal, Odisha Andhra Pradesh and Maharashtra. But there seems to be a method to the madness. reports.
CAUTION! The top global risks of 2012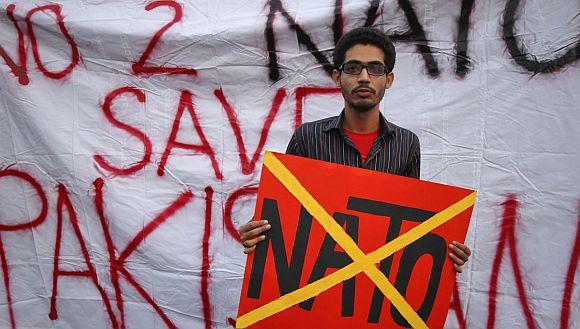 The new year comes with its share of risks across the globe. The Eurasia Group, world's largest political risk consultancy, in its latest report chalks out the biggest risks the world will encounter in 2012. We take a look:
Rewind: BEST images in the last 24 hours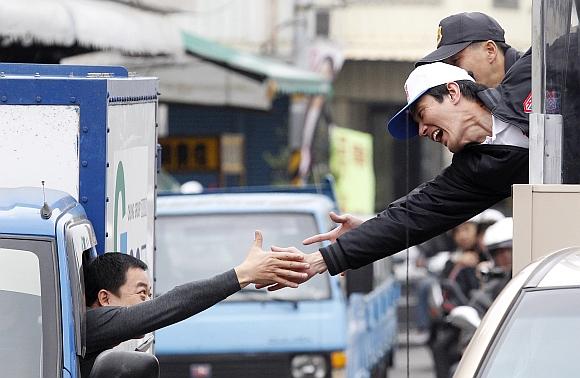 Presenting some of the most scintillating pictures from around the globe in the last 24 hours.
New missiles for IAF's 51 Mirage 2000 fighters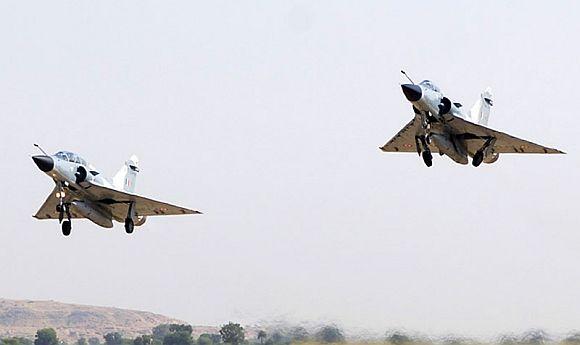 A Cabinet Committee on Security meeting chaired by Prime Minister Manmohan Singh on Wednesday cleared the deal to procure 490 MICA missiles manufactured by French firm MBDA for Euro 950 million, Defence Ministry sources said in New Delhi.
'New dam is NOT an answer to Mullaperiyar row'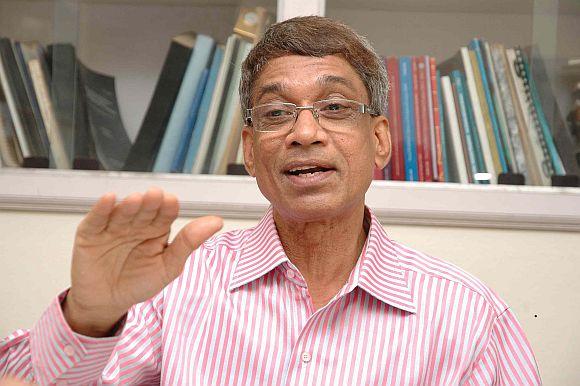 In this interview with Rediff.com's , Prof Janakarajan speaks about the win-win situation for both Tamil Nadu and Kerala while strongly maintaining that a new dam will be an environmental disaster.
The Year of Justice in Gujarat: Ishrat, Godhra and more...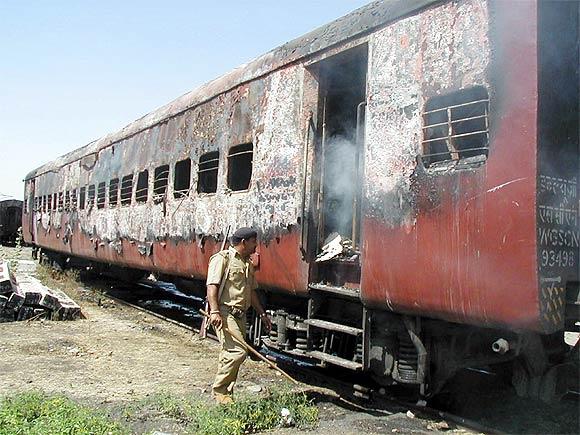 The year 2011 will be remembered in Gujarat for verdicts related to the Godhra train burning incident and the riots that followed.
US to unveil new defence strategy today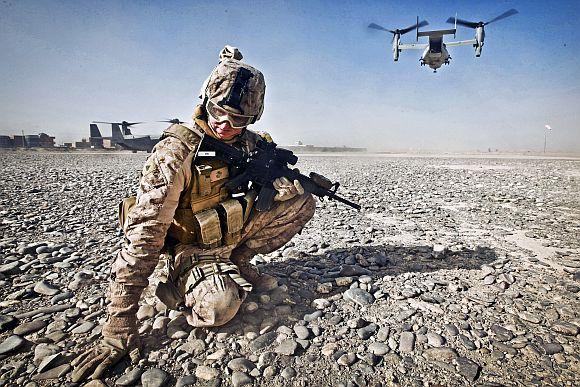 The United States is set to unveil its new defence strategy on Thursday that will guide Pentagon budget cuts in coming years and is expected to end the decade-old policy of maintaining a force capable of fighting two wars at once.
Why Advani is upset with Nitin Gadkari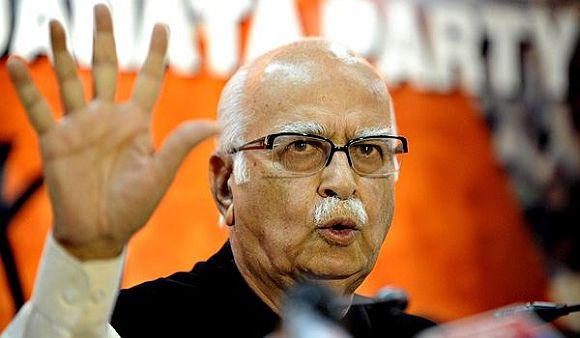 The induction decision, it turns out, was solely the party head's. And that has sowed seeds of discomfort in its top brass.
McCain backs Romney as Republican prez nomination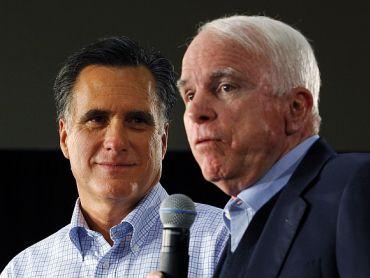 Top Republican Senator John McCain on Wednesday endorsed former Massachusetts Governor Mitt Romney in his race to seek party's presidential nomination for the November 2012 elections.
January 04, 2012
'Trinamool Congress acting like B team of the CPM'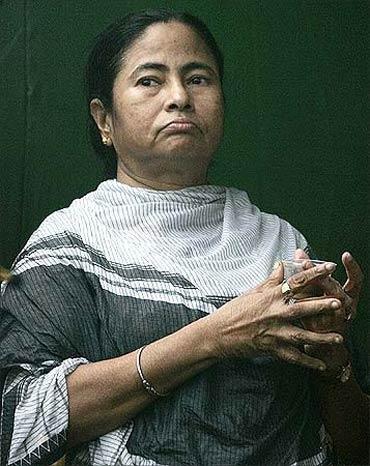 Congress MP Deepa Dasmunshi's remarks on Wednesday that Trinamool Congress is acting as the 'B' team of the Communist Party of India (Marxist) threatened to further pull apart the two uneasy allies, seven months after they formed the government in West Bengal.
Which way will the Muslim vote go in Uttar Pradesh?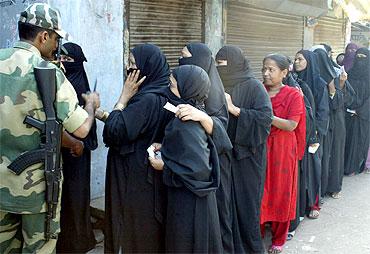 An interesting phenomenon of the UP assembly elections 2012 is the emergence of many small Muslim political outfits, says Dr Mohammad Sajjad
BJP gives CBI raid on Kushwaha political hue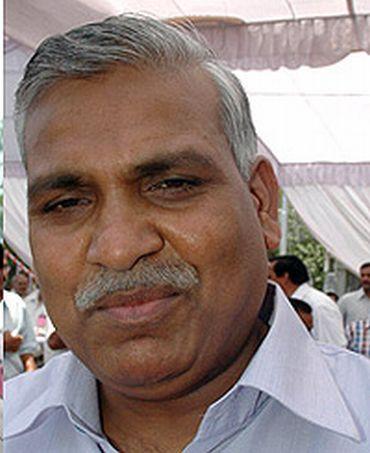 State BJP president Surya Pratap Shahi has alleged that the raids on Babu Singh Kushwaha were guided by the central government.
Is Lashkar training women for suicide bombings in India?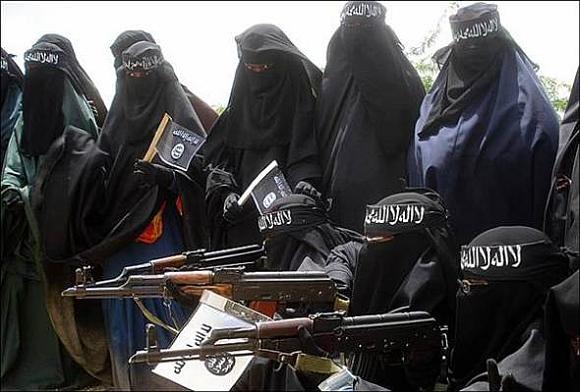 According to a military intelligence report, it appears that the Lashkar-e-Tayiba is readying itself to carry out an all-women attack in India. reports.
Inhouse survey puts Congress as LARGEST PARTY in UP elections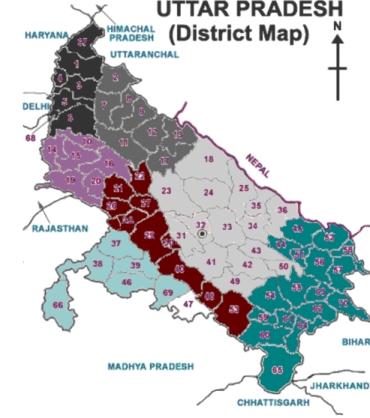 The combine of the Congress and the Rashtriya Lok Dal will emerge as the single largest party in the forthcoming Uttar Pradesh assembly elections, according to yet another survey commissioned by the party. The survey also indicates that the real battle will be between the Congress and the BJP, with the latter making considerable gains since the last election and winning in 113 constituencies.
In PHOTOS: Winter chill sends shivers across north India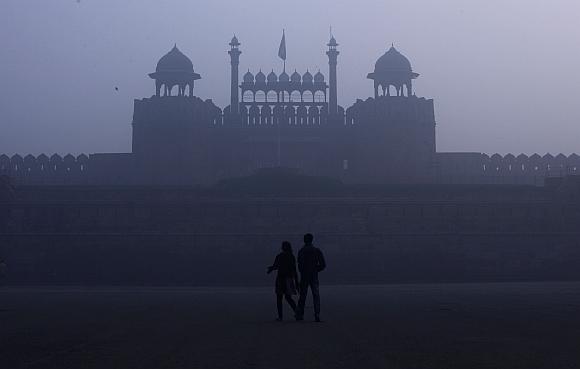 Biting cold has already claimed 135 lives this winter and the dip in mercury continues to freeze north India. There has been no respite for locals, as dense fog continues to disrupt normal life. Traffic snarls, flight cancellations have become the order of the day. Clearly, the worst hit are the homeless.
NYC: Man confesses to attacking Hindu temple, Islamic centre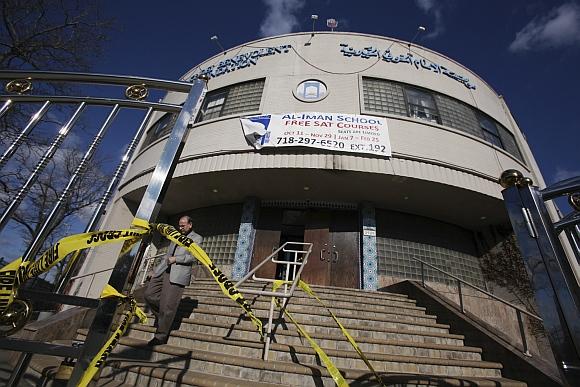 A New York man arrested for attacking an Islamic centre and a Hindu place of worship with firebombs has confessed to his role in the incidents, citing personal grudges with people at the targeted locations. The 40-year old, whose identity has not been released yet, was arrested on Tuesday after the police tracked down his car that was seen at the site of the attacks through surveillance cameras, Police Commissioner Raymond Kelly said.
Race for Obama's post starts in Iowa; Romney wins Round 1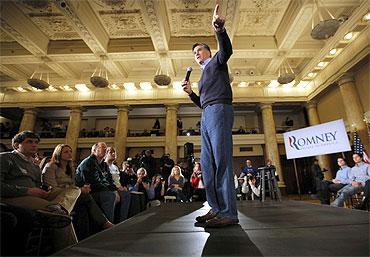 The Iowa vote to pick a challenger for the 2012 presidential poll is turning out to be a three-way contest between Mitt Romney, Ron Paul and Rick Santorum, with the three Republican hopefuls locked in a close race in the first state to go for a nomination ballot.
Poor aam admi will be a loser in the year ahead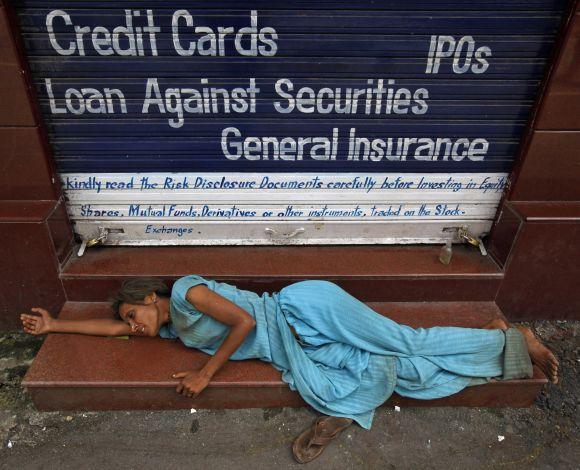 World over the condition of the poor continues to worsen. The new year will be no different. In India, scam and scandal ridden regime of the Congress-led UPA coalition has been exemplary in its cruelty towards the poor and the common man, writes .
January 03, 2012
PIC: New India map on US website sparks controversy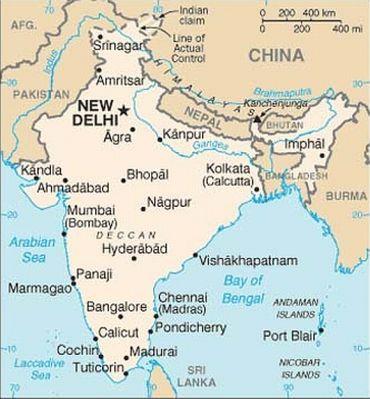 Triggering a fresh controversy, the US State Department has now posted a new map of India which reflects the Line of Control in Jammu and Kashmir with dotted lines, thereby projecting it as a disputed territory.
BJP laps up tainted ex-ministers discarded by Mayawati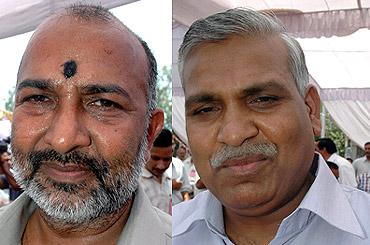 After taking on Mayawati on National Rural Health Mission irregularities, the Bharatiya Janata Party in a surprise move on Tuesday, inducted into the party Uttar Pradesh chief minister's former confidant Babu Singh Kushwaha, who is facing Central Bureau Investigations inquiry in the scam.
'Anuj wanted to see Christmas, to see Manchester United play'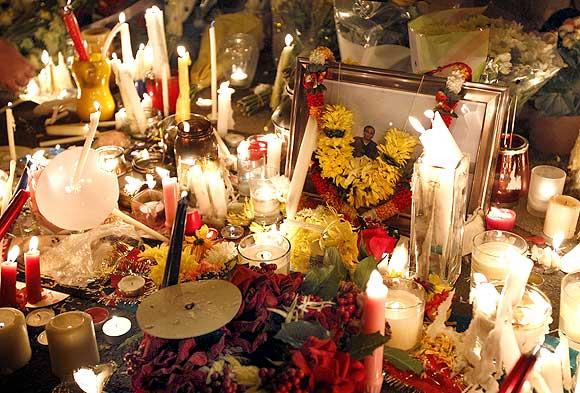 The United Kingdom police is carrying out the second post-mortem of Indian student Anuj Bidve, who was shot dead in an unprovoked attack in Salford.
Congress's new strategy on Lokpal: 'Reach out' to BJP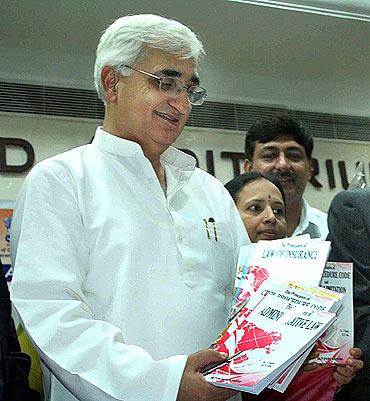 Law Minister Salman Khurshid has favoured reaching out to the Opposition and the ruling coalition's allies on Lokpal and other issues and dismissed suggestions that Trinamool Congress leader Mamata Banerjee was a 'difficult customer'.
Jagan's close aide Vijay Sai arrested, is he next in line?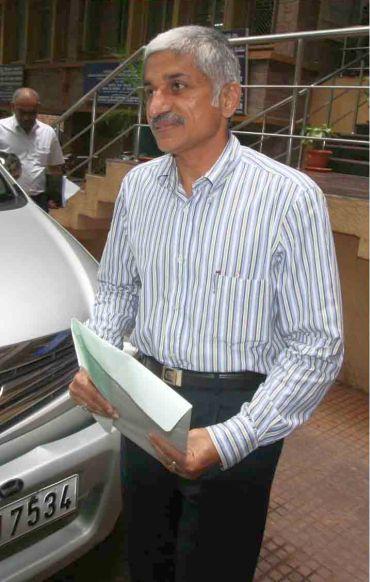 While the arrest will put the YSR Congress chief on the back foot, the CBI has decided not to take any hasty step and mess up the case, reports .
IN PICS: Security stepped up in NY after firebombing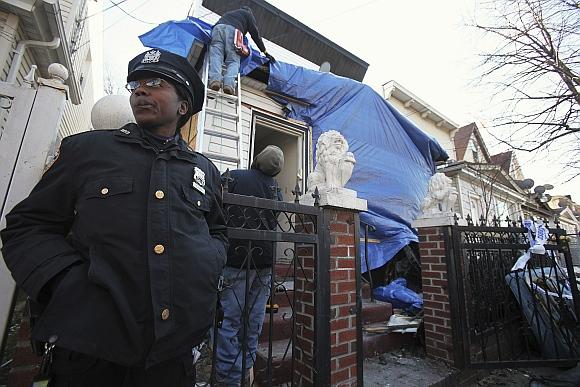 The American police on Tuesday erected a security tower and stepped up surveillance around an Islamic centre and a Hindu temple that were among four sites fire-bombed in New York arsonist attacks termed by authorities as hate crimes and also released the sketch of a suspect.
New year, old worries for P Chidambaram in 2G scam case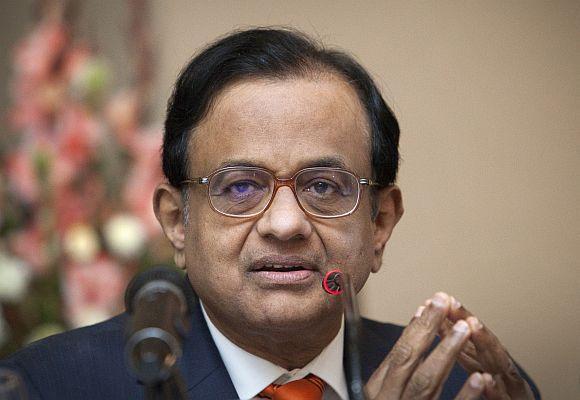 With important judgments in the 2G spectrum scam case expected this year, neither the government nor Home Minister P Chidambaram will be able to rest easy.
Was Hazare's timing completely OFF this time?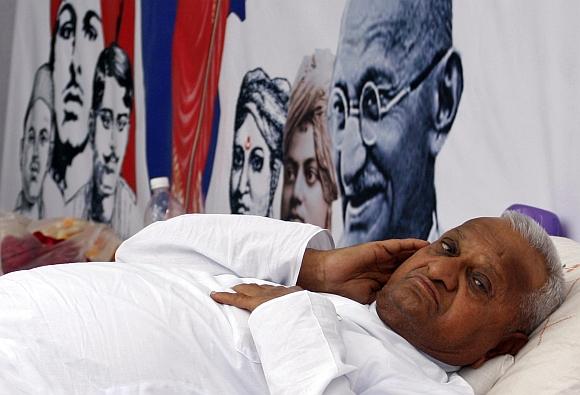 wonders if Kisan Baburao Hazare get his timing wrong, or is Finance Minister Pranab Mukherjee trying hard to get his timing right?
Jagan Reddy's U-turn to save himself from CBI probe?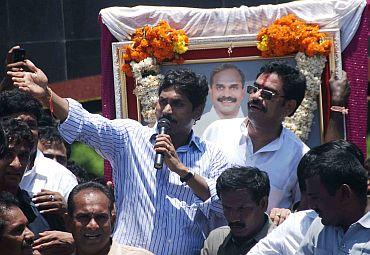 Jaganmohan Reddy might not realise it, but he has presented a clinching argument for the urgent need to free the Central Bureau of Investigation of political control. Over the weekend, the Congress rebel sent out feelers for a merger of his fledgling YSR Congress with the party he left just over a year ago.
Why the food security bill is fatally flawed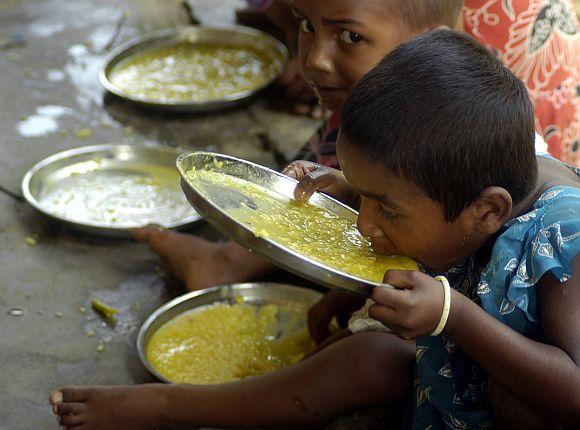 It should be called the food insecurity bill. It is too weak and mean to fight hunger, says
DON'T MISS: Photos of the month, December 2011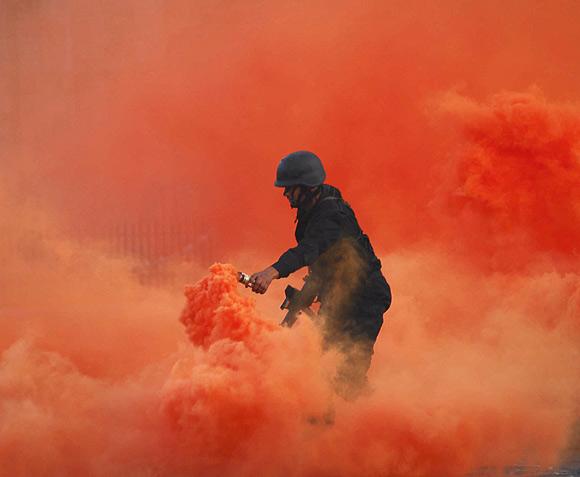 We bring you a presentation of some of the best photos from around the world in the month gone by
Rewind: Best PHOTOS in the last 48 hours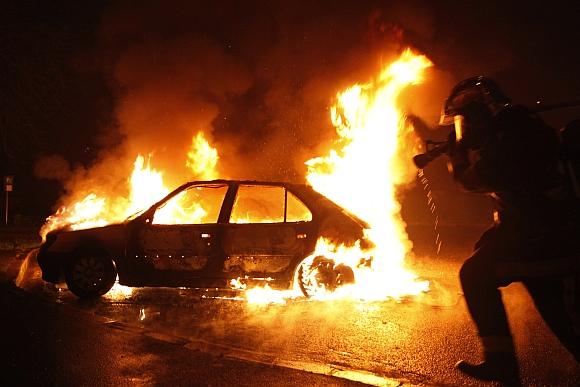 Presenting some of the best PHOTOGRAPHS from around the globe in the last 48 hours.
Islamic centre, Hindu worship place attacked in US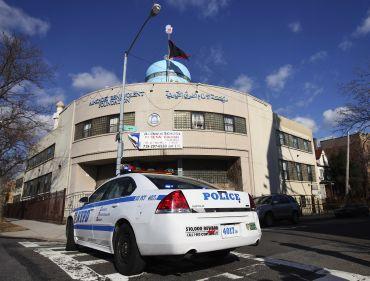 Authorities are investigating bias crime attacks at four locations in New York, including an Islamic centre and a Hindu place of worship, in which Molotov cocktails were hurled at the sites damaging property.
January 02, 2012
Cong rules out mid-term polls; hopes to get allies onboard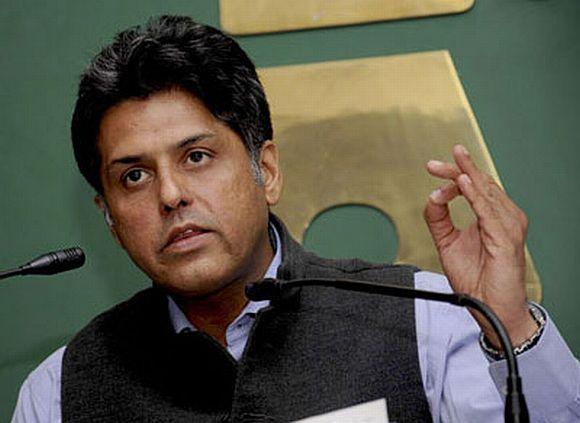 Despite allies striking discordant notes and virtually vetoing key decisions, Congress on Monday ruled out mid-term polls in the new year expressing confidence that it would find a middle ground through talks.
Why should I dislike Chidambaram?: Swamy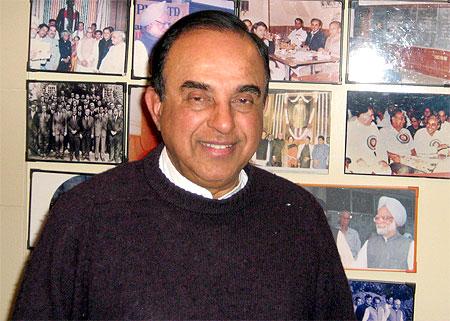 'He has said he was my student at Harvard. I don't recall that. I guess he must have been a poor student. If he had been a good student, I would have remembered him.' Dr Subramanian Swamy, outspoken and controversial, as always.
PM, Pranab watched helplessly as Congress lost the plot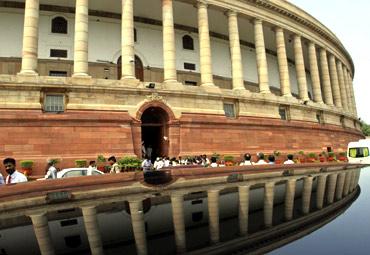 One of the problems that besieged the Lokpal Bill was that it was being considered against the backdrop of the forthcoming assembly elections, which dictated the stand of several parties, reveals
'Cong spreading incorrect, malicious allegations against BJP'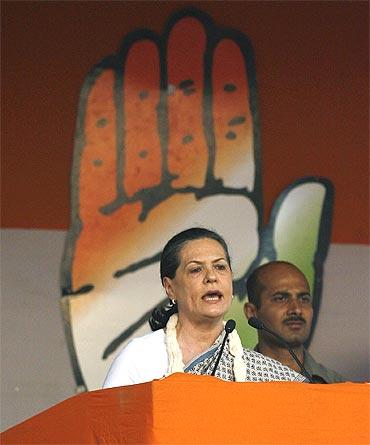 The Bharatiya Janata Party on Monday hit out at the Congress on the Lokpal Bill fiasco in Rajya Sabha, alleging it was spreading baseless and factually incorrect views about the Opposition's role in the Upper House's failure to pass the proposed legislation.
10 days, 10 ministers sacked: Maya behenji out on image makeover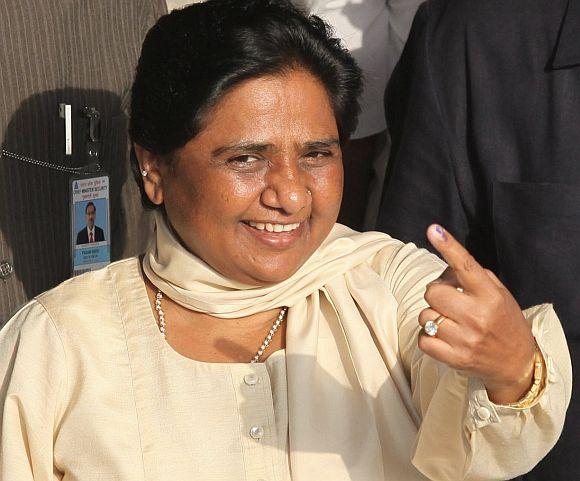 The sacking of 10 ministers over the past 10 days by Uttar Pradesh Chief Minister Mayawati has not only created a record of sorts, but more importantly, it is now being seen as her image makeover exercise ahead of the state assembly elections next month.
Lakhs attend Dalai Lama's discourse in Bodh Gaya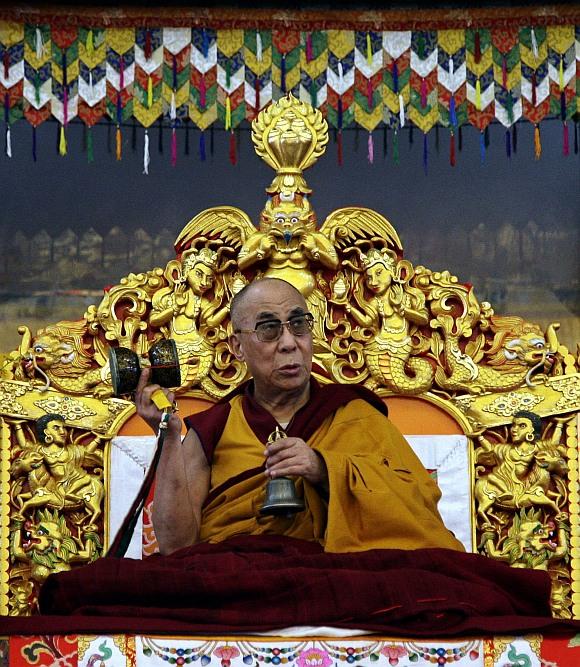 More than two lakh people from across the globe are attending the 32nd Kalachakra puja led by exiled Tibetan spiritual leader the Dalai Lama at the Buddhist holy site of Bodh Gaya in Bihar amidt tight security arrangements. reports.
MUST READ: Shivering and hungry, on the streets of Delhi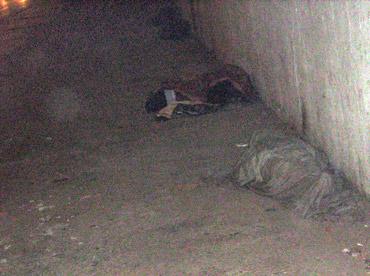 While most of us huddle in our beds with multiple woollens during the wintry night, there are people struggling to survive on Delhi's bitterly cold streets. A Ganesh Nadar and Priyanka report
2011 Special: Odd PHOTOS of the year - II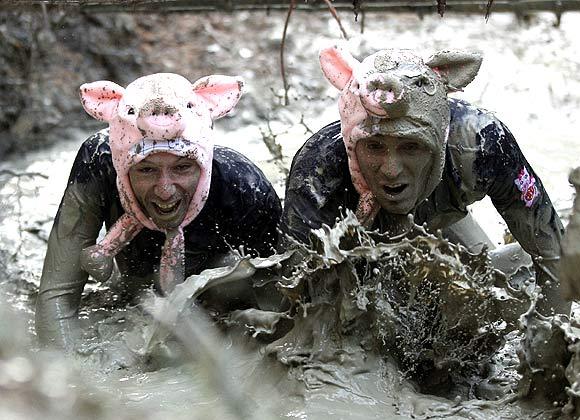 Part II of the series on odd moments from around the world in 2011
PM: No outside control imposed on media, but...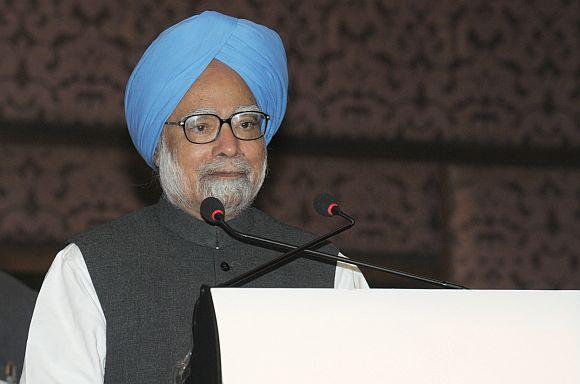 Ruling out any outside regulation of the media, Prime Minister Manmohan Singh on Monday said that the media in the country can itself take care of the 'ills' like paid news and urged it to reduce sensationalism in coverage.
EXTREME Weather PHOTOS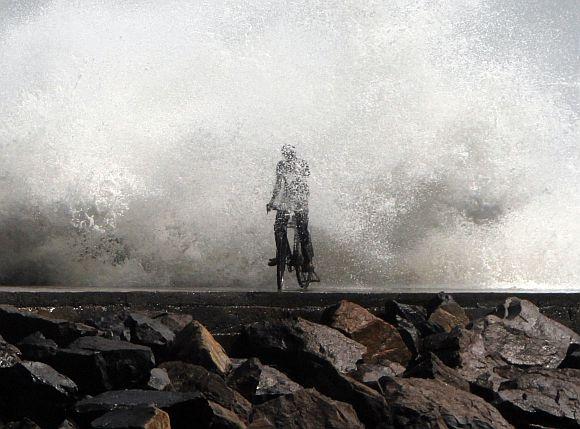 A collection of weather patterns from across the globe
Imran Khan takes guard for Pakistan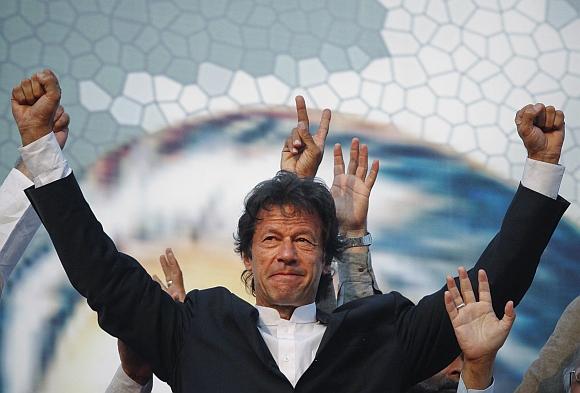 Former cricketer Imran Khan's December 25, 2011 rally at Bagh-e-Qaid, Karachi which was attended by some 1,00,000 people, a bigger crowd than any political rally in the last two decades. reports.
Antony MISLED Parliament on India's next-gen battle tank!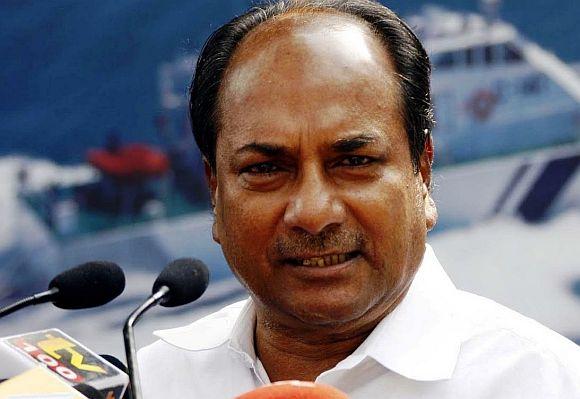 India's Future Main Battle Tank, the backbone of the army's strike power into the mid-21st century, languishes while the army continues an extended debate over its specifications.
IN PICS: Kashmir reels under severe cold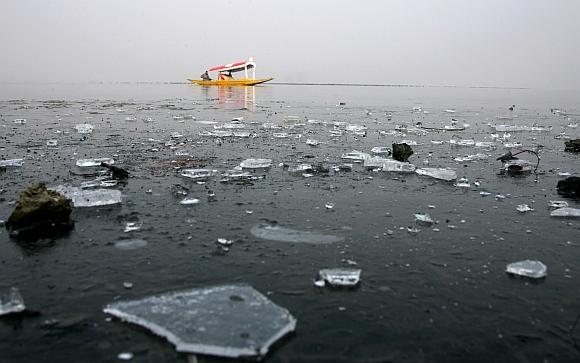 Kashmir is reeling under intense cold wave with minimum temperatures dropping to five degrees below the freezing point. The effect of the cold wave is compounded by equally severe power cuts and freezing of pipes carrying portable water. Mukhtar Ahmen reports.
UPA govt's next battle... against its army chief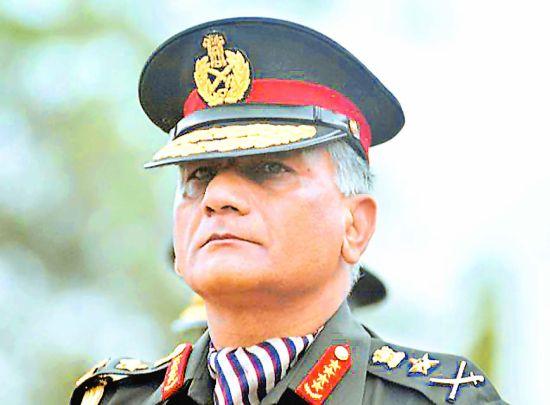 The Indian Army chief, General VK Singh, will petition the Supreme Court on Monday against the MoD's ruling that his date of birth will not be corrected in the official record
In Pictures: How the world ushered in 2012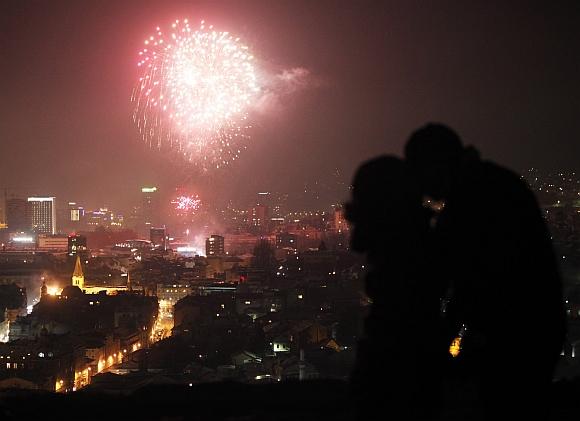 A collection of PHOTOS on New Year celebrations from around the world
January 01, 2012
Why 2012 will be no different for security agencies
The year 2011 was a mixed year for security agencies fighting terrorism. There was a great deal of calm at first and then a spate of incidents which included attacks and also major bids being foiled.
7.0 magnitude quake rocks Tokyo, no tsunami warning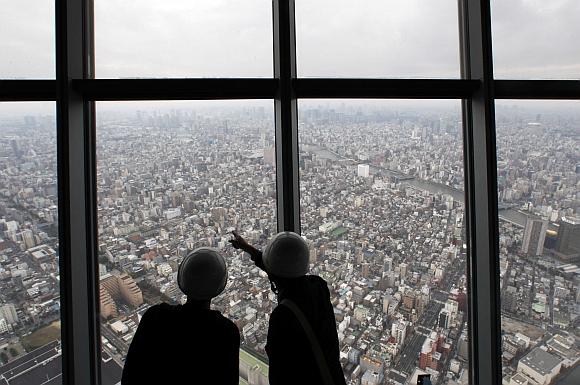 A magnitude 7.0 earthquake shook wide areas of eastern and north-eastern Japan on Sunday, shaking the ground in Tokyo, agencies have said. There were no immediate reports of damage or injuries. No tsunami warning has been issued yet.
Archives
December 2011
|
November 2011
|
October 2011
|
September 2011
|
August 2011
|
July 2011
|
June 2011
|
May 2011
|
April 2011
|
March 2011
|
February 2011
|
January 2011
|
December 2010
|
November 2010
|
October 2010
|
Sepetember 2010
|
August 2010
|
July 2010
|
Jun 2010
|
May 2010
|
April 2010
|
March 2010
|
February 2010