August 31, 2011
PHOTOS: Heavy rains slow down Mumbai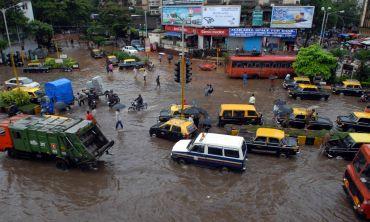 Mumbai city witnessed heavy rains for the second day on Sunday.
Over 9 lakh newborns die annually in India: Study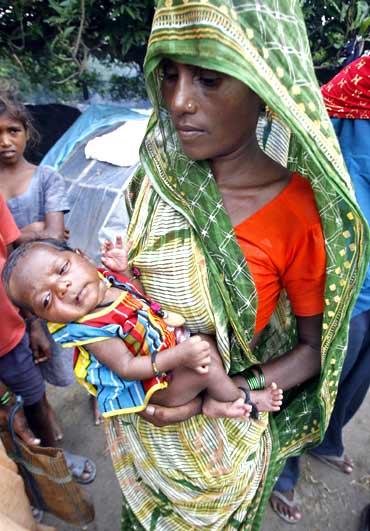 Despite a significant increase in women and child healthcare in India, more than nine lakh children in the country still die every year before becoming one-month-old, says a new global report.
View: MPs have to justify that people are wrong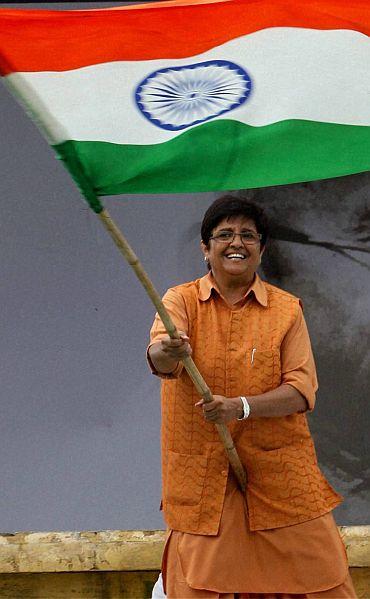 If what is said about them is only a perception, then lawmakers ought to bother about it and correct it by deeds, writes
PHOTOS: Eid ul Fitr celebrations around the world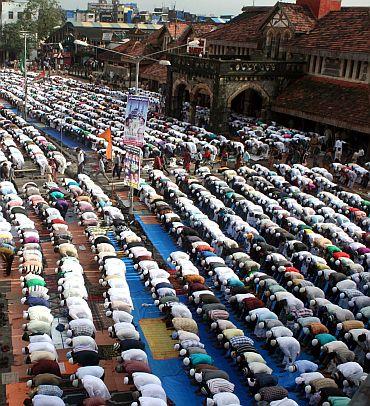 A look at Eid ul Fitr celebrations around the world.
68 kg gold,435 kg silver on this Lord Ganesha idol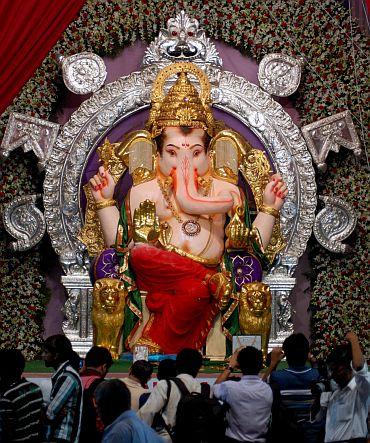 As the veil lifts across big and small mandals during Ganeshotsav, pandal-hoppers are expected to throng certain venues, partly owing to their lavish themes or simply their wish-fulfilment quotient.
Ganesh Chaturthi: Protection for Lalbaugcha Raja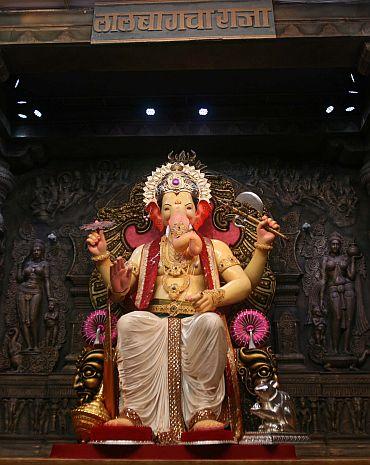 Mumbai's famous Lalbaugcha Raja Ganesh mandal will this time witness heightened security and an increased insurance cover of Rs 14 crore, in wake of the triple blasts in Mumbai on July 13.
Delhi: Of fake lal battis and few corrupt cops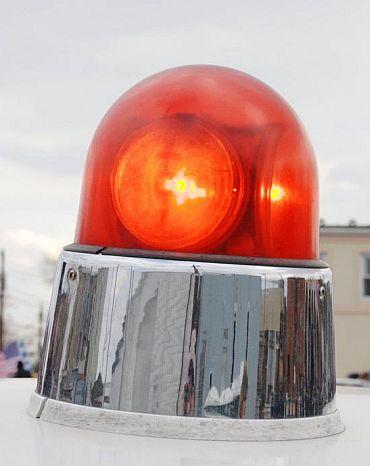 According to Delhi Police statistics, a total of 299 people were prosecuted this year till July 31 for illegal use of beacons on their vehicles. Around 50 Delhi Police personnel were caught taking bribes
In PHOTOS: How the Gaddafis lived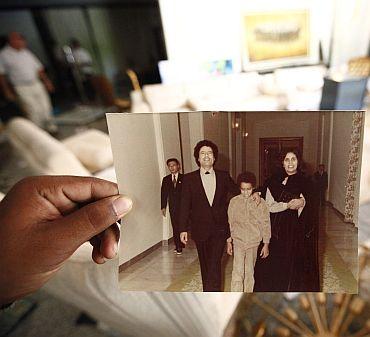 With Libyan leader Muammar Gaddafi on the run and his family taking refuge in Algeria, their palaces and assets have been pillaged by the rebels.
Wikileaks: Did India support Pakistani Taliban?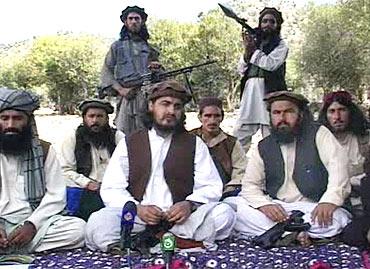 Rediff.com brings you a series of leaked Wiki cables, which point towards some startling revelations. Read on
August 30, 2011
Why Maken was asked to rework the Sports Bill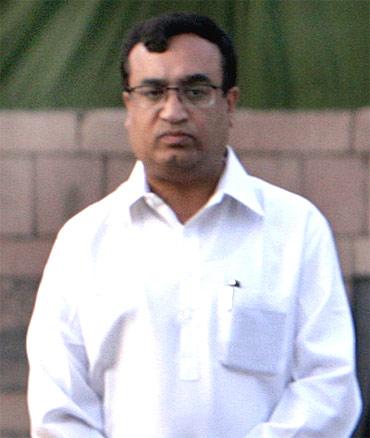 Powerful union ministers ganged up to scuttle the draft Sports Development Bill 2011, which sought to increase transparency in all sporting bodies and federations. The Bill could not be passed in the just-concluded cabinet meeting. explains why
PHOTOS: Srinagar busies itself in Eid shopping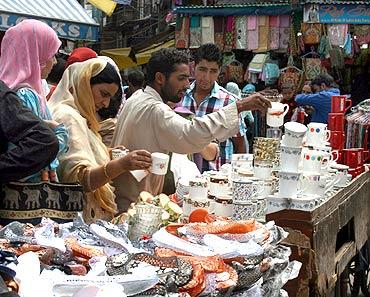 Kashmir witnessed brisk Eid shopping on Tuesday with vehicular and pedestrian traffic clogging the roads in capital Srinagar.
In PHOTOS: Russia's action-packed PM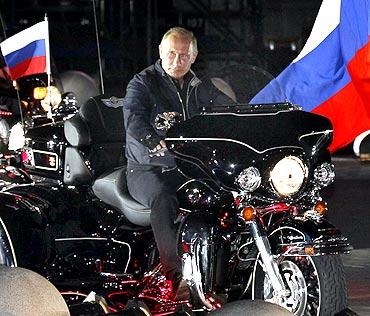 Russian Prime Minister Vladimir Putin reached out to the politically indifferent younger generation by making a spectacular entrance on a three-wheel Harley Davidson at a motorbike festival ahead of the December parliamentary polls.
RSS, NGOs, media ran Anna movement: Arundhati Roy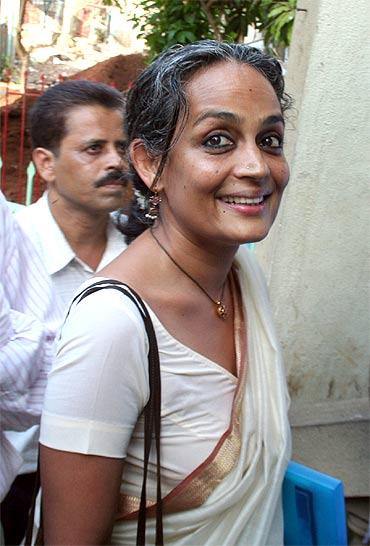 In an interview with CNN-IBN, author and activist Arundhati Roy outlines the reasons why she strongly opposes Anna Hazare's movement for the Jan Lokpal Bill
Ganesh Chaturthi: Mumbai preps for 11-day fanfare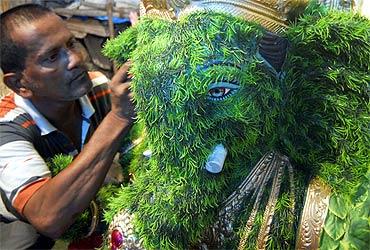 With only 48 hours to go for Ganesh Chaturthi, the festive spirit as gripped every nook and cranny of the city. Pandals have been erected and streets are being adorned, as Mumbai gears up the welcome its most favourite deity -- Lord Ganesha.
Why Muslim leaders are angry with Andhra CM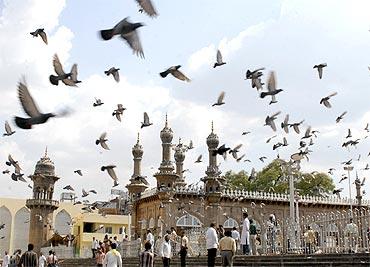 The Muslim community in Hyderabad has accused Chief Minister Kiran Kumar Reddy of failing to keep the promises he made about helping the men and women wrongly accused of the Mecca Masjid blasts.
Get well soon, Dr Singh tells Hazare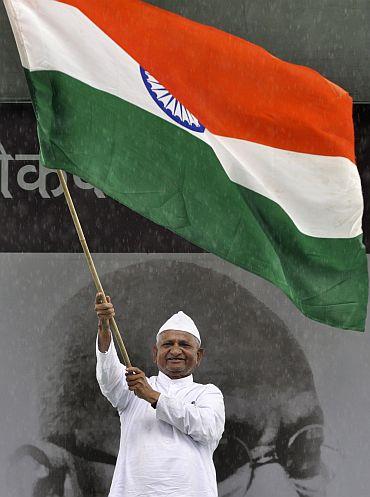 Anna Hazare, who has been hospitalisd after his 12-day fast, on Tuesday received a 'get well soon' message from Prime Minister Manmohan Singh.
Our govt doesn't work without pressure: Sri Sri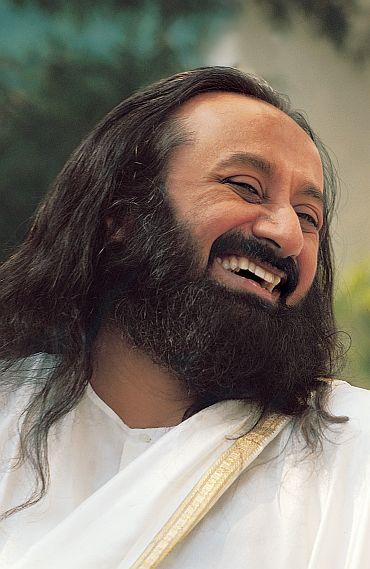 talks to Sri Sri Ravi Shankar, founder of the Art of Living foundation, on the Lokpal Bill and why Gandhian Anna Hazare's movement against corruption was lapped up by the common man
TN resolution on Rajiv killers not binding: Govt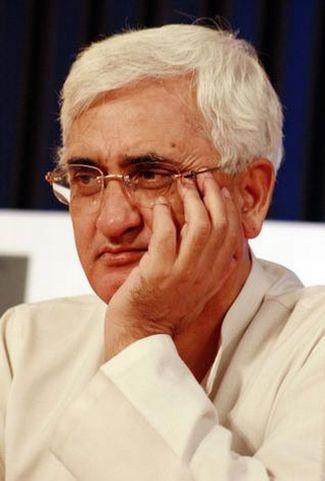 The Tamil Nadu Assembly has passed a resolution demanding that the three killers of former Prime Minister Rajiv Gandhi should not be hanged. The execution was to take place on September 9.
Rajiv killers spared noose for 8 weeks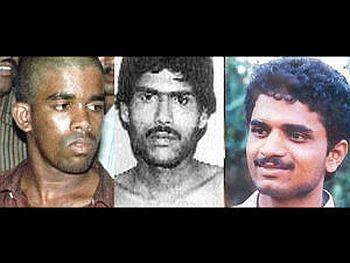 Granting the interim stay, a bench comprising justices C Nagappan and M Sathayanarayanan observed there had been a delay of over 11 years in the disposal of the mercy petitions filed by the convicts to the President seeking clemency.
Advani leads BJP protest against Gujarat Lokayukta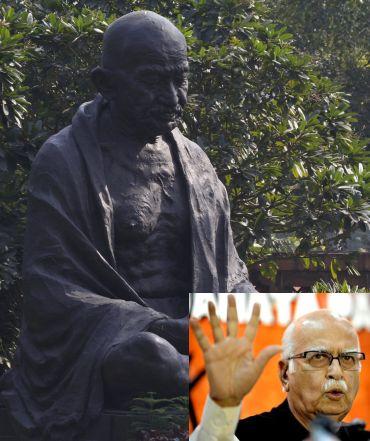 Senior Bharatiya Janata Party leader L K Advani on Tuesday led party MPs from Gujarat protesting outside Parliament House against the appointment of R A Mehta as Lokayukta by state Governor Kamla Beniwal without consulting the Narendra Modi government and demanded her removal for "bypassing" established norms.
India's jewel in the Arabian Sea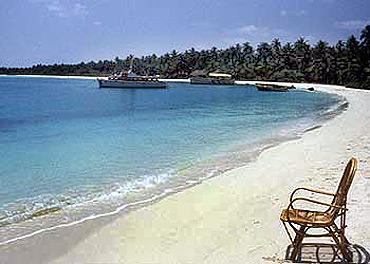 In our special series on the India You Didn't Know, the youngest MP in Parliament talks about a unique dance form from the pristine Minicoy island in Lakshwadeep.
Shanti Bhushan CD genuine: Delhi Police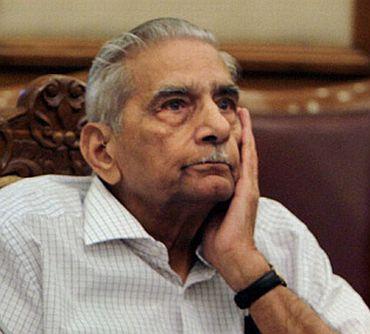 Sources said investigators are filing a closure report soon following probe into a complaint filed by Bhushan that the CD was fabricated. A case under section 469 of Indian Penal Code (forgery for the purpose of harming reputation) was registered in mid-April.
Ganesh Chaturthi: The Lalbaugcha Raja in PHOTOS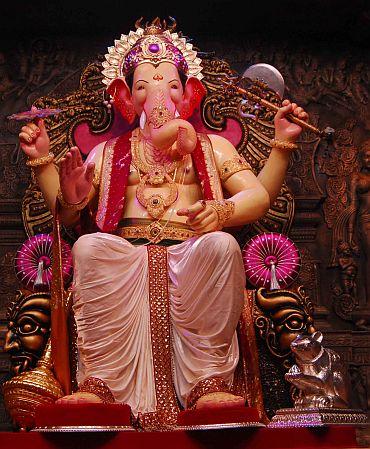 Lalbaugcha Raja is truly a King in all respects and it pays to seek his audience.
In PHOTOS: Eid Mubarak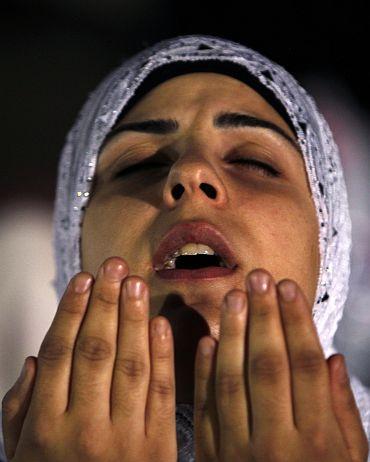 Eid ul Fitr or the 'festival of fast breaking' is the most celebratory of all Muslim festivals.
Anna Hazare's movement: A case study in management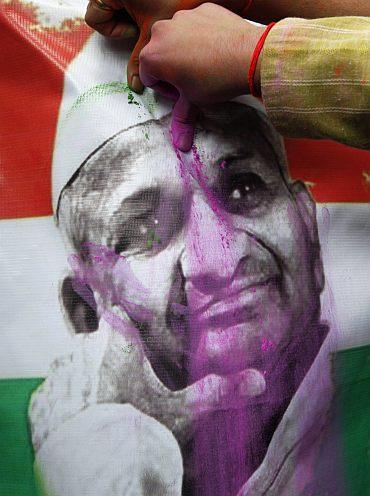 There is an underlying reason as to why India's anti-corruption movement has garnered immense support in such a short span of time: it is a highly-efficient management model. The right mix of marketing, motivation, operations and service is spearheading the process, reports Gateway House.
August 29, 2011
PIX: Hurricane Irene not as disastrous as expected
Losses from Hurricane Irene are estimated to total about $7 billion, much less than what was feared from the massive storm that battered the United States east coast over the weekend, initial estimates say.
Om Puri, Kiran Bedi face lawmakers' fury
Members in both Houses of Parliament have given Privilege notices against actor Om Puri and civil rights activist Kiran Bedi for using "derogatory and defamatory" language against politicians and the matter is under consideration of the Chair.
In PHOTOS: Lord Ganesh is back
We bring you snapshots of the many forms of the elephant-headed deity
Delhi could have anti-missile shield by 2014
India's defence establishment is taking the new Chinese threat seriously, as also that posed by Pakistan's nuclear-tipped MRBMs -- like the Ghauri-2 and the Shaheen-2 -- which can strike targets 2300 kilometres away.
REWIND: The best PHOTOS of the week gone by
We bring you a presentation of some of the best photos from around the world in the last week
In PHOTOS: Incessant rain cripples Mumbai
Heavy rains continued to lash Mumbai for the third consecutive day on Monday, disrupting rail and air traffic.
I regret calling politicians uneducated: Om Puri
In an interview with CNN-IBN, actor Om Puri explains the controversial statements he made against politicians at Ramlila Maidan, while expressing his support for activist Anna Hazare.
Terror's new avatar: Unorganised fringe elements
Terror attacks over the past nine months -- the Jama Masjid firing, the Varansi blasts and 13/7 bombings -- have left security agencies and investigators clueless. The reason? Today, the threat is not from outfits like the Indian Mujahideen or the Students' Islamic Movement of India, but fringe elements that may strike anytime. Vicky Nanjappa reports
In PHOTOS: Bull run in Maharashtra
Bail Pola, celebrated August 28 across Maharashtra, is a fashion parade for bulls
Mumbai rain: Citizens' woes in PHOTOS
We bring you glimpses of what Mumbai is going through.
Inside story: How Anna Hazare and his team won
Sneha Kothawade, a young member of Team Anna, credits great team management and organisation for the victory of 'people power' at Ramlila maidan.
August 28, 2011
Pix: Meet the tots who made history with Anna
Eight-year-old Ikrah and five-year-old Simran took centrestage at the Ramlila Maidan on Sunday when they gave a glass of tender coconut water to Anna Hazare for ending his fast on the Lokpal issue after 12 days.
Pix: India erupts in celebration of Anna's victory
From Ramlila Maidan to Ralegan Siddi -- Anna Hazare's village, celebrations at full blast replaced days of protests as the Gandhian broke his fast on Sunday with his supporters marking "people's victory" with dancing, waving of tri-colour and handing out of sweets and flowers.
Don't expect a miracle: Hegde on Lokpal
Team Anna member N Santosh Hegde on Sunday saluted Parliament for rising to the occasion and giving its nod to key elements of Jan Lokpal Bill, but cautioned that people should "not expect a miracle" as enacting the legislation will "take its own time".
Joyous Ralegan jigs to 'It Happens Only in India'
Victory flags were put up in almost every house in Anna Hazare's village where celebrations erupted as the Gandhian broke his fast in Delhi on Sunday.
Anna's next agenda: Electoral, educational reforms
After securing Parliament's nod on key elements of Jan Lokpal bill, Anna Hazare on Sunday ended his 12-day-old fast declaring that electoral reforms will be next on his agenda.
Anna breaks fast after 288 hours, nation rejoices
A Team Anna member said the 74-year-old Gandhian will now head to Medanta Medicity in Haryana's Gurgaon for a check-up. Hazare had lost at least 7.5 kg since August 16 when he sat on a hunger strike for a strong Lokpal Bill. He now weighs 64.5 kg
EXPLAINED: How our MPs took Team Anna for a ride
In this Team Anna versus Parliament tussle, Parliamentarians have registered a considerable victory, believes Sheela Bhatt
August 27, 2011
With your permission, I will end my fast: Hazare
Anna Hazare will break his fast at 10 am on Sunday, according to his close associate Kiran Bedi.
Anna is the real hero, I am not: Aamir Khan
"I am not the biggest hero, Anna (Hazare) is the real hero," said superstar Aamir Khan on Saturday as he pledged support to the activist's fight for a strong anti-corruption law.
Anna should end fast NOW, says govt and Oppn
The government and opposition on Saturday appeared to be on the same page in Lok Sabha during the debate on the Lokpal issue with both sides emphasising that Anna Hazare should end his fast.
Centre has BETRAYED us, says Team Anna
Fresh signs of trouble emerged on the Lokpal issue on Saturday with activist Anna Hazare and his aides terming as a "betrayal" the government's refusal to pass a resolution over the issue, response that the Parliament after the debate will not pass the resolution, which is their prime demand.
The Anna wave not ready to stop
The Anna wave not ready to stop
How Parliament agreed to Anna Hazare's demands
Anna Hazare's fast entered into the 12th day on Saturday as Parliament is all set to discuss the Lokpal issue which could lead to the Gandhian calling off his hunger strike.
Hurricane Irene: 250,000 evacuated in NY
In unprecedented preparations to brave out the Hurricane Irene, New York authorities evacuated a quarter of a million residents and ordered complete shutdown of the mass transit system as Blackhawk and Chinook helicopters were placed on stand by for a weekend of torrential rains and massive storms
August 26, 2011
Spat over Anna's fast: Hegde, Agnivesh vs others
As Anna Hazare's fast entered Day 11 on Friday, the split in his team widened. It's now Swami Agnivesh and Justice Hegde versus the rest! The duo feel that Hazare should have called off the fast on Thursday and that protesting out the prime minister's residence was uncalled for.
Ralegan to Ramlila: Anna Hazare's long journey
Prasanna D Zore reports from Ralegan Siddhi on the journey of an ordinary man from a modest village in Maharashtra to the Ramlila Maidan in Delhi, where his indefinite fast has brought the government to its knees.
Congress is playing dirty games, says Medha Patkar
In an interview with rediff.com's social activist Medha Patkar said that Team Anna expected a deadlock between the Congress and BJP when the BJP took a stance on the matter.
I support the spirit of Jan Lokpal: Varun Gandhi
Bharatiya Janata Party member of Parliament Varun Gandhi, who proposed to move the Jan Lokpal Bill as a private member's bill, believes that as a parliamentarian this was the best way he could help Anna Hazare's movement.
'You can't put a gun to govt's head to pass a law'
Justice A P Shah, former chief justice of the Delhi high court, shares his thoughts on the current situation surrounding the Lokpal bill and Team Anna with rediff.com's Toral Varia.
It's the leadership vacuum that Anna has filled
The tremendous response, especially from the youth of the country to a 74-year-old Gandhian, has put paid to many political dreams. It is the leadership vacuum that Anna Hazare has filled, write Col Anil Athale
Anna and govt are killing democracy: Hegde
Member of the joint drafting committee on Lokpal bill, N Santosh Hegde, on Friday strongly disapproved of Anna Hazare's insistence on "having his way" in Parliament and sought to make out a case for ending his fast even while continuing the anti-corruption fight.
In PHOTOS: Gaddafi's secret underground city
Fallen Libyan dictator Muammar Gaddafi had virtually built an underground city under the capital Tripoli, with a vast maze of well-hidden reinforced tunnels fanning out for miles in different directions.
The various versions of the Lokpal Bill
All four formulations of the Lokpal Bill have a common feature that addresses a major obstacle to anti-corruption legislation. However, the four versions differ on several aspects.
In India, you use nepotism or corruption: Murthy
In an interview with CNN-IBN, Infosys founder Narayana Murthy urges activist Anna Hazare to end his indefinite fast for the implementation of the Jan Lokpal Bill
'Anna Hazare WILL NOT end his fast'
Team Anna on Friday made it clear that a mere discussion in Parliament will not serve any purpose and the Gandhian will not call off his fast till Parliament passes a resolution that the cleared Lokpal Bill will include the three contentious points raised by them.
Lokpal alone can't combat corruption: Rahul
All India Congress Committee General Secretary Rahul Gandhi, addressed the Parliament on Lokpal issue on Friday during the Zero Hour. Addressing, the Lok Sabha, the Gandhi scion said, "the fight against corruption needs a strong political will." Rahul Gandhi also thanked Anna for creating awareness on the issue of corruption.
Team Anna's 'political' moves upset government
Hectic political activity is on in New Delhi with the government upset with what it terms as Team Anna's attempts to seek political consensus on its Jan Lokpal Bill. There is also uncertainity surrounding the scheduled debate in Parliament over the draft bill.
Readers' take on Anna: 'Govt's intention unclear'
Rediff.com had asked its readers to suggest ways to end the impasse between the government and Team Anna over the Lokpal Bill draft.
IN PICS: New York braces for Hurricane Irene
A state of emergency has been declared in New York as the United States East Coast geared up for hurricane Irene which is expected to make its first landfall over the weekend and dump about 15 inches of rain in the area.
Sonia world's 7th most powerful woman: Forbes
Congress president Sonia Gandhi figures as the seventh most powerful woman of the world in the Forbes list which is topped by German Chancellor Angela Merkel and US Secretary of State Hillary Clinton.
Govt regains grip over Anna issue, thanks to PM
I applaud him. I salute him, said Prime Minister Manmohan Singh in Parliament on Thursday while speaking on Anna Hazare and the issue of corruption.
August 25, 2011
Anna's message to folks back home
For decades villagers of Ralegan Siddhi in Maharashtra's Ahmednagar district have been venerating Kisan Baburao Hazare, lovingly called Anna.
Anna's demand met; LS to discuss Jan Lokpal
Anna Hazare's major demand is set to be met with the government on Thursday deciding to have a discussion in the Lok Sabha on Friday on the Jan Lokpal Bill.
Agree to my 3 demands, will end fast: Anna
Reacting to Parliament's appeal to end his fast, Anna Hazare on Thursday demanded that Parliament discuss from Friday three key issues on Jan Lokpal and create an agreement, failing which he will not end his fast.
Anna writes to PM; supporters held near PM's home
Amid continuing deadlock between government and Team Anna Hazare on Lokpal, the Gandhian on Thursday wrote to Prime Minister Manmohan Singh on the issue.
When charges are leveled against me, it hurts: PM
Taking exception to personal attack on him, a "hurt" Prime Minister Manmohan Singh on Thursday said he may have "made mistakes" but he firmly repudiated charges of conniving with corruption and asked the Opposition to verify his assets.
Deshmukh meets Hazare with appeal to end fast
Following a meeting of Congress Parliamentary Party, where some members felt that leaders from Maharashtra should be roped in to talk to the 74-year-old Gandhian, Deshmukh drove to Ramlila Maidan to meet Hazare but maintained that it was "in his personal capacity."
'Unity of political parties on Lokpal dangerous'
The biggest problem today is that all political parties have become united, which is disastrous to the cause, says Justice Santosh Hegde.
Anna is embodiment of people's disgust: PM
On the tenth day of Anna Hazare's fast, Lok Sabha on Thursday unanimously appealed to him to end his hunger strike as his life was "much too precious", with Prime Minister Manmohan Singh saying he has "registered his point" and that Jan Lokpal would be considered by Parliament.
'Gandhiji would not have approved'
The Ramlila Maidan becomes a safe haven for eve-teasers and late night revelers, reports .
I will not die till Lokpal Bill is passed: Anna
"Nothing to worry, I will not die till the Lokpal Bill is passed," social activist Anna Hazare on Thursday said as worries over his health mounted on the 10th day of his fast.
2,730 bodies found in Kashmir's unmarked graves
In its 'Inquiry Report of Unmarked Graves in North Kashmir', the SHRC states that the unidentified bodies had been buried in 38 sites in north Kashmir's Baramulla, Bandipora, Handwara and Kupwara districts.
What some Muslims think of Anna Hazare's campaign
spoke to Muslims in the national capital to get a sense of what they think about Anna Hazare's anti-corruption campaign.
'Anna should allow doctors to administer a drip'
Rediff.com's Toral Varia, who has been covering Anna Hazare's fast at Delhi's Ramlila Maidan, spoke to prominent civil society member Swami Agnivesh on the way ahead for the team Anna.
We are victims of Cong's politics: Kejriwal
As social activist Anna Hazare's fast entered the 10th day on Thursday, his team accused "some strong elements" in the government of nullifying the entire dialogue process and said they have become victims of Congress' "internal politics".
Hype over Lokpal stir has blinded Team Anna: Aruna
Aruna Roy
, prominent member of civil society, chairman of the National Campaign for People's Right to Information, and an alternative voice in the ongoing debate on the Lokpal Bill, speaks to Rediff.com
Let Anna live to lead the movement
The whole nation is watching TV visuals from the Ramlila Grounds and other places in India, with a mix of feelings regarding the epic anti-corruption struggle being waged by social activist Anna Hazare and his followers from different age groups and different strata of society. And, it is not the Arab Spring, or a Jasmine Revolution, writes .
View: Anna Hazare is NO Mahatma Gandhi. Here's why
Any people's movement without a well-defined ideology and organised structure will always lead to chaos and anarchy, says Dr Abhijit Vaidya, founder of Arogya Sena
It's a mini kumbh for us: Anna supporters
As Anna Hazare's fast entered tenth day today, thousands of his supporters organised mass prayers for the well being of the Gandhian leader. A large number of Anna supporters stayed at the Ramlila ground whole night singing patriotic songs and chanting anti government slogans.
Team Anna distorting my remark over fast: Pranab
Union Finance Minister Pranab Mukherjee late on Wednesday night rebutted the charges by Team Anna that he had told them the Gandhian's health was not government's concern, saying the remarks were "distorted."
Split in Team Anna over continuing fast
There seems to be a split within Team Anna over whether or not the Gandhian should continue his fast in the backdrop of his deteriorating health.
Apprehending arrest, Hazare calls for 'Jail Bharo'
Apprehending arrest, Anna Hazare late on Wednesday night gave a "Chalo Delhi" call to people all over the country and filling up of jails by gheraoing Parliament, demanding passage of Jan Lokpal Bill.
August 24, 2011
Delhi Police gear up to take Anna to hospital
Though officially the Delhi Police maintained that the move was to 'ensure the safety of Hazare and his supporters', rediff.com has learnt that the law enforcement agency fears a law and order situation that may arise if and when Hazare is shifted to the hospital
Always favoured PM's inclusion in Lokpal: Dr Singh
Admitting that the government was in a "bind" from which it has to come out, Prime Minister Manmohan Singh on Wednesday night said that "practical and pragmatic" solutions have to be found to the Lokpal issue.
Govt bill trashed; Anna's bill has no takers too
The all-party meeting convened by the government has seen some interesting position being adopted by political parities on the issue of the Jan Lokpal bill with nine parties asking the government to trash its bill, which is with the standing committee. However, there are no takers for Anna Hazare's Jan Lokpal bill either.
PM's statement in the all-party meeting on Lokpal
The text of Prime Minister Manmohan Singh's opening remarks at the all party meeting on Lokpal Bill
Indian MP among hostages at Tripoli 5 star hotel
A day after rebel militia stormed his Bab al-Azizya compound in Tripoli, Libyan ruler Muammar Gaddafi is on the run. But the war in Tripoli though is far from over. Gaddafi loyalists, outnumbered but active, have been taking on the rebels in pockets of the Libyan capital.
Team Anna, government engage in talks over Lokpal
Hectic efforts to break the deadlock over Lokpal were on for the second day on Wednesday as Team Anna presented a fresh draft for consideration by the government.
'Without Sonia Gandhi this government is in coma'
The second part of lawyer and brain behind the Anna Hazare campaign, Prashant Bhushan's interview to rediff.com's .
REVEALED: How govt FINALLY reached out to Hazare
Politicians, legislators and bureaucrats from Maharashtra played a major role in facilitating talks between Team Anna and the government, reports Toral Varia
PIX: Cops nab 'America's Most Wanted' Indian
An Indian fugitive from Canada, who was featured in 'Americas Most Wanted' was finally arrested in California by the California highway patrol, and the police departments in Santa Monica, El Monte, and Los Angeles Homeland Security Investigators agents. The United States Immigration and Customs Enforcement released the news on Tuesday.
I will fight till my last breath: Anna Hazare
Anna Hazare is awaiting a written assurance from the government on the Lokpal Bill issue before ending his indefinite fast which entered its ninth day on Wednesday.
'Mr PM, Anna Hazare's demand CAN'T be denied'
In an inclusive democracy, every section of civil society, and every individual, has a participatory role in governance, including policy-making, says former chief justice of India J S Verma
'Hazare's simplicity draws masses to him'
Social thinker and political commentator Ashis Nandy spoke with rediff.com's on a range of topics surrounding one man - Anna Hazare.
Kabul not an easy target for Taliban any more?
The 19 August attack on the British Council compound in Kabul had the necessary SIR elements -- Surprise, Intricacy and Retribution.
Readers suggest: How to end stand-off on Lokpal
We had asked our readers to suggest ways to resolve the stand-off between the United Progressive Alliance government and Team Anna Hazare on the proposed Lokpal Bill draft. The responses.
PHOTOS: Ramzan @ Mumbai's Mohammad Ali Road
The Minara Masjid in Mohammad Ali Road, Mumbai is the centre of activity during the holy month of Ramzan. Rediff.com's Akhtar Sheikh captures the festivities...
Karat's take on Anna: Govt must bow down to public
Communist Party of India-Marxist General Secretary says that the time has come for the 'corrupt' government led by Manmohan Singh to bow down to public pressure over the Lokpal impasse.
US judge drops sex crime charges against DSK
A US judge on Tuesday dismissed all sex crime charges against former International Monetary Fund head Dominique Strauss-Kahn, a move that could bolster his plans to contest the next French presidential elections in 2012.
PIX: How 'Brand Anna' prospers near Ramlila Ground
and Rajesh Karkera visit Ramlila Maidan in New Delhi and find that Anna Hazare is the new brand being marketed by street vendors.
Braving rains, thousands join Anna's Ramlila stir
Amidst speculations that the number of protestors at the Ramlila Ground in Delhi will dwindle at the end of the extended weekend, people turned up in large numbers on Tuesday to support Anna Hazare who is on an indefinite fast to press for a stronger Lokpal Bill.
August 23, 2011
'Arundhati Roy doesn't know anything about Hazare'
Prashant Bhushan is a lawyer and one of the senior leaders and brains behind the Anna Hazare-led anti-corruption movement for a stronger Lokpal bill. The movement is set to add a historic, new chapter in India's parliamentary democracy.
PM writes to Hazare, urges him to end fast
Directly reaching out to Anna Hazare on the eighth day of his fast, a concerned Prime Minister Manmohan Singh today appealed to the Gandhian to end his hunger strike with a promise that his version of Lokpal Bill could be referred to the Parliamentary Standing Committee if rules permit.
PHOTOS: Traders in Guwahati rally for Anna Hazare
All business establishments in Guwahati on Tuesday downed their shutters for the day to express solidarity with Team Anna's agitation against corruption and to demand the adoption of the Jan Lokpal Bill.
View: The fascist streak of Team Anna
Mobs are being unleashed on politicians. The element of spontaneity is being used by organised groups as an excuse to defend and rationalise these acts. It would really be sad day for Indian democracy if the parliamentarians fail to resist this onslaught, says Apoorvanand.
Somali pirate-LeT tie-up is BIG threat for India
The coming together of Lashkar-e-Tayiba and southern Somalia-based Al-Shahbab poses new maritime protection issues for India.
2G: Kanimozhi shifts blame on PM, FM
Prime Minister Manmohan Singh and then Finance Minister P Chidambaram were fully in the loop on the 2G spectrum license allocation and had decided along with then Telecom Minister A Raja not to auction them, jailed Dravida Munnetra Kazhagam member of Parliament Kanimozhi told a Delhi court on Tuesday.
Hectic talks on as Anna's fast enters 8th day
Grappling with the situation arising out of Anna Hazare's fast, the government on Tuesday held hectic consultations to find a way out of the logjam with Team Anna demanding that it mandate somebody officially for opening a political dialogue on the Lokpal issue.
Rahul Gandhi vs Nitish Kumar in 2014?
There is evidence that the United Progressive Alliance II, under Manmohan Singh's leadership, is winding down even though it has not crossed its halfway mark yet.
Day 8: Concerns over Anna's health grow
Concerns over Anna Hazare's health grew on Tuesday as the Gandhian entered the eighth day of his fast even as doctors said he was fine but advised the Gandhian not to venture out in the sun.
Why did riots torch London?
walks around the affected parts of London, a week after it was burned by the riots.
Hazare sticks to Aug 30 deadline for bill passage
Anna Hazare on Tuesday stuck to his August 30 deadline for passage of Jan Lokpal Bill and asked his supporters to intensify the protest by gheraoing the houses of Parliamentarians if government failed to do so.
Gaddafi still in Libya, says Pentagon
Libyan leader Muammar Gaddafi is still believed to be inside the country, even as the rebel forces have entered the capital Tripoli, the Pentagon has said. =
IN PICS: Wing walker plunges 200 feet to his death
A wing walker at an air show in Detroit fell close to 200 feet to his death on Sunday, while he was trying to climb onto an helicopter while performing a stunt.
View: Bring media and NGOs too under Lokpal
Strangely, the Lokpal Bill drafted by all sides is silent on these two powerful sections of our society that continues to shape, reshape and de-shape public opinion. Is that why the media and the NGOs are vociferously supporting the Lokpal Bill? Asks .
August 22, 2011
While Anna fasts, govt silently drafts new bill
In an apparent answer to crusader Anna Hazare's team mobilising the masses suffering corruption of the lower level bureaucracy, the government has quietly kicked of drafting of a Bill for creating a mechanism for the public services grievance redressal.
AP Congress welcomes Chiranjeevi into fold
It was supposed to be a momentous day for the ruling Congress in Andhra Pradesh with formalities related to the merger of Praja Rajyam Party getting completed on Monday.
'Anna didn't fast for Muslims after Gujarat riots'
Contending that communalism was a bigger a threat to India than corruption, Syed Ahmed Bukhari, Imam of Delhi's Jama Masjid, on Monday asked Anna Hazare why he and his campaign managers did not do more to involve Muslims in their anti-graft movement.
Photos: Mumbai celebrates Janmashtami in style
Janmashtami, which marks the birthday of Lord Krishna is being celebrated with much fanfare across the country.
In PHOTOS: The six-month battle for Libya
After six months of struggle, the battle to oust Libyan ruler Muammar Gaddafi from his throne is nearing its end.
Short takes: Why Imam Bukhari is SO wrong
It is the era of short messages, and in keeping with the times we kick off a new feature where our writers tell it like it is, in just a few words. Today, Faisal Kidwai tells us why Imam Bukhari is wrong
WHERE is Muammar Gaddafi?
The whereabouts of Libyan strongman Muammar Gaddafi, who has ruled the oil rich nation uninterrupted for 42 years, remained a mystery as rebel forces swept into the capital Tripoli to jubilant crowds.
'Government underrated Anna's movement'
In yet another indication of the growing discomfort in sections of Congress with the handling of the Anna Hazare crisis, a senior party leader on Monday said that the government underestimated the Gandhian's movement against corruption and asked it to enter into dialogue with him.
Readers Pix/Videos: Joining Anna from Singapore
As Anna Hazare's fast against corruption and the Lokpal Bill continues, his movement is raging like wildfire in the rest of the country and abroad.
'Some are scared of the support for our movement'
As Anna Hazare's fast entered its seventh day on Monday, his aides alleged that efforts are being made to disrupt the movement as "certain people" are scared about the massive support enjoyed by the Gandhian.
PHOTOS: Anna, Rani and India glam up New York city
The overflow of energy and enthusiasm from the youth for Anna Hazare and the movement against corruption was the highlight of the India Day Parade in New York City.
No single solution to tackle corruption: PM
With Team Anna stepping up the heat on the corruption issue, Prime Minister Manmohan Singh on Monday said the government was open to reasoned debate on the Lokpal Bill but made it clear that there was no single solution to tackle the problem.
Is this the end of Gaddafi's 42-year regime?
We take a look at Libya's Colonel Muammar Gaddafi, who has been Africa's and the Arab world's longest-ruling, most erratic leader, presiding for 42 years over this desert republic with vast oil reserves and just 6 million people.
'Madrassas in India are not schools of hate'
Dr Arshad Alam, who teaches at the Centre for Jawaharlal Nehru Studies at the Jamia Millia Islamia, it is essential that madrassas are brought under the control of the state so that education imparted there is modernised
26 Jagan loyalists resign, AP Cong in trouble
The political crisis and uncertainty for the Congress government in Andhra Pradesh further deepened on Monday, with 26 members of legislative assembly (of the party) deciding to submit their resignations in support of beleaguered YSR Congress president and member of Parliament YS Jaganmohan Reddy. reportS.
Send your representatives for talks: Hazare to PM
Anna Hazare's fast to demand a strong Lokpal Bill entered the seventh day in New Delhi on Monday with his team asserting that they have no intention to topple the government.
Which word should be in Oxford Dictionary? TELL US
In fact, the centenary edition of the esteemed Concise Oxford English Dictionary now contains some 400 new entries, some of which are a testament to the continuing evolution of language especially in the time of the Internet.
IN PHOTOS: It's an odd world out there!
We bring you a collection of some of the odd moments from around the world in recent weeks.
'Rahul will err if he turns Congress into an NGO'
It is good to be brave. But you also have to be wise, advices Rahul Gandhi
ENDGAME: Gaddafi loses grip on Tripoli
As Libyan rebels surged into Tripoli, in a seemingly final drive to drive out Muammar Gaddafi, thousands of residents poured into the streets to welcome them, assembling into the square which is now being called the Martyr's Square.
August 21, 2011
Anna issue: Cong fears losing the battle of minds
The team that is forming the strategy to take on Anna Hazare is so confused and incoherent that in spite of Team Anna's few missteps, the UPA government is unable to counter them. Says a senior minister and a leader with political sense, "We are worried about losing the battle for minds." reports.
Get the Lokpal Bill passed or go: Hazare to govt
Anna Hazare on Sunday warned of "unprecedented revolution" in the country if Lokpal Bill is not passed by August 30 and said the government will have to "either get the bill passed or go."
'Anna is the inspiration of my paintings'
There is no doubt that anti-corruption crusader Anna Hazare has legions of followers. And they are all contributing their might to his movement for a stronger Jan Lokpal Bill.
Dialogue the key, says Anna on 6th day of his fast
Anna Hazare on Sunday said his campaign has not closed the door of dialogue with government, a day after Prime Minister Manmohan Singh stated it was open for discussion.
August 20, 2011
Anna Hazare broadens scope of agitation
At about 2 pm on August 20, anti-corruption crusader Anna Hazare completed 100 hours of his indefinite fast. The 74-year-old Gandhian chose the moment to address the mammoth crowd gathered at the Ramlila Ground who had come from different parts of the country to express their support for Anna Hazare's cause.
In PIX: Possessed by gods, men perform Deodhani
The annual Deodhani dance festival that dates back centuries is held for three days every year where 'Deodhas' (temple dancers) dance like men possessed by a spirit. reports.
There is scope for give and take on Lokpal: PM
Affirming that there was a "lot of scope for give and take" on the Lokpal Bill, Prime Minister Manmohan Singh has said that the government was open to "discussion and dialogue" on the issue.
Wet, hungry, sleepless night @ Ramlila maidan
Poori-subji at 3 am, performance for TV cameras and chanting of slogans amid rains Ramlila Maidan witnessed a flurry of activity on the first night of Anna Hazare's anti-corruption protest.
Bill changes: 'Govt must take Anna's permission'
As Anna Hazare's fast entered the fifth day, his team on Saturday demanded early introduction of the Jan Lokpal Bill in Parliament and said government can get it passed in days if it has the will.
'As an MP and social worker, I feel ashamed'
Amid a strong anti-corruption campaign led by Anna Hazare, senior Bharatiya Janata Party leader Mukhtar Abbas Naqvi on Saturday said Parliament should set aside all business and pass a strong Lokpal Bill at the earliest so that questions raised over the credibility of Legislature are answered.
Fast Day 5: Team Anna awaits govt call for talks
Anna Hazare's fast demanding a strong Lokpal entered the fifth day on Saturday with his Team saying they were ready to talk to the government but no such communication channels have been opened.
Readers' Take: Anna's stir goes across borders
As Anna Hazare's fast against corruption and the Lokpal Bill continues, his movement is raging like wildfire in the rest of the country and abroad.
August 19, 2011
Mumbai's dabbawalas join Anna's protest
For the first time in their 120-year-old history, Mumbai's famous dabbawalas, who deliver tiffins to over two lakh customers daily, on Friday took a break to support social activist Anna Hazare in his fight against corruption.
Exposed: Intellectual hollowness of our politics
This moment would be remembered as the lowest to which the collective intelligence of a people can descend to, says
'Anna alive or not, don't put out this torch'
Anna Hazare on Friday launched his protest fast at the historic Ramlila Maidan giving indications that it will be a prolonged one when he declared that he will not quit the venue till the Jan Lokpal bill is brought.
'Lokpal is no magical bullet against corruption'
Nandan Nilekani, the chairperson of Unique Identification Authority of India and former Infosys CEO, has said that activist Anna Hazare's protest was unjustified when the Lokpal Bill was before Parliament for consideration.
'Anna's bill will lead to floodgate of complaints'
People from all walks of life took to the streets in Bihar to express their support for activist Anna Hazare and his demand for the Jan Lokpal Bill.
PHOTOS: Atmosphere is electric at Ramlila maidan
Rediff.com's reports on the hectic activity at the Ramlila maidan in New Delhi where anti-corruption crusader Anna Hazare's mammoth protest is going on.
Anna's on indefinite fast not fast until death
Anna Hazare's 15-day fast for a strong Lokpal Bill may go beyond the period depending upon the government's response to the agitation.
'A single law cannot remove corruption'
The very people whom you would imagine to be supporters of Anna are against him for being exclusivist, high handed, and a stooge for right wing parties, writes
Fewer attacks but India's still terror-afflicted
India experienced lesser number of deaths due to extremism last year, but still it remains one of the most terrorism-afflicted nations in the world, a US report said.
From Tihar to Ramlila maidan: Anna and co march on
Looking fit on his fourth day of fast, the 73-year old Gandhian came out of the jail premises and made a brief address to the waiting supporters that the "second freedom struggle" has started.
'Anna is fighting for people like me'
Here's how four dots -- a migrant seller of papads from Uttar Pradesh's Pratapgarh, an first year BCom student from Punjab's Jalandhar, an BSc Honours student from Delhi's Hauz Khas and a student of commerce from Haryana's Gurgaon -- connect with each other in a neat circle outside the footpath that abuts Delhi's Ramlila Maidan.
'We have awakened the public against corruption'
Justice Santosh Hegde has become a very popular face at the protests against corruption at Freedom Park in Bengaluru.
Detecting cancer before it becomes deadly
Dr Bharati Bapat is among the handful of female scientists worldwide with insight into how epigenetics influences our risk of cancer, an emerging field in cancer research.
READ: Jaya Jaitly's open letter to Anna Hazare
Annasaheb, I have known of your good work in Ralegaon Siddhi in Maharashtra for the past 30 years. Most Maharashtrians know you well, but this generation of youth has not been fed much information of 'good works' by the media.
Jagan Reddy won't give up without a fight
Though the CBI raids may not dent his popularity, Jagan Mohan Reddy may need to rethink his strategy in Andhra Pradesh politics, opines Vicky Nanjappa
'We wanted to see the man who took on the govt'
Anti corruption crusader Anna Hazare surprised everybody at the Ramlila Grounds when he landed at the place at 2 pm even while a couple of India Against Corruption speakers kept telling his followers that he would be at Rajghat at 2 pm. reports.
August 18, 2011
Anna: 53 hours inside Tihar Jail, and counting
Social Activist Anna Hazare has been continuing his fast from inside the Tihar Jail in New Delhi. recaps the last 53 hours.
READ: Terms that Team Anna agreed to
Social Activist Anna Hazare and his team have signed an agreement with the government to abide by certain conditions on the basis of which they will go ahead with the fast at Ramlila Grounds starting from Friday. reports.
Delhi top cops who will oversee Hazare fast
The Delhi police will adopt a 'wait and watch' approach to social activist Anna Hazare-led anti-corruption protest at Ramlila Ground from Friday.
WATCH: Anna speak from Tihar Jail
Hazare's message to the people of India from Tihar Jail, as recorded by Dr Kiran Bedi.
PIX: Floods wreck havoc in Assam; 55,000 homeless
The flash floods triggered by swirling waters of Gai-Nadi and Jiadhal rivers have left a trail of devastation in Dhemaji district of eastern Assam.
Bogged down by raids, the long road ahead of Jagan
With Central Bureau of Investigation raids continuing unabated against YSR Congress chief Jagan Mohan Reddy in both Andhra Pradesh and Karnataka, the road ahead does not look easy for the leader who has been threatening to erode the Congress base in Rayalseema and Andhra.
Gadkari on Hazare's fast: We wish UPA good luck
Extending support to Anna Hazare's anti-graft crusade, Bharatiya Janata Party president Nitin Gadkari on Thursday claimed that it was his party that brought corruption and black money issues to the forefront and it will firmly stand with the Gandhian in his agitation.
MUST SEE: Hazare to fast at this mud pit?
Rediff.com's and photographer Sanjay Sawant reach Ramlila Ground in Delhi to take stock of the preparedness ahead of Anna Hazare's indefinite fast against corruption at this historic venue.
EXCLUSIVE: Team Anna sets terms to end impasse
Anna Hazare's team would end the confrontation if the government agrees to 'modify substantially' its stance on several clauses of the Lokpal bill. reports from New Delhi.
How Pakistan became THE capital of suicide attacks
Tahir Ali looks back at the disturbing history that has made suicide attacks a nightmarish part of Pakistan's present reality
Writ against Modi govt's failure to name Lokayukta
Bhikhabhai Jethwa, father of slain RTI activist Amit Jethwa, is filing a writ petition in the Gujarat high court on Thursday against the Narendra Modi government's failure to appoint a Lokayukta.
'As long as he can, Hazare will continue the fast'
Arvind Kejriwal, a close aide of Anna Hazare, said on Thursday morning that it may not be possible for thr activist to launch his protest from the Ramlila Ground as the venue was full of mud and needed to be cleaned up.
Why government must propose a unified Lokpal Bill
Democracies also need to be wary. They are not immune to public ire. Elected governments cannot remain complacent with the nominal trappings of a democracy or seek refuge in constitutional jargon but must conform to the spirit of the concept if they do not wish to be swept aside by the rising tide of public fury, says .
Stalemate ENDS: Hazare to leave Tihar Jail at 3 pm
In a late night breakthrough in the deadlock between Anna Hazare and Delhi police over the duration of his anti-corruption protest, the Gandhian accepted the offer for 14 days of hunger strike beginning on Thursday at the Ramlila Maidan.
When Anna's men and cops shared the same dais
It is very rare when the police has to resort to take help from the leaders of the agitators to calm their supporters. The late evening of August 17 outside Jantar Mantar in New Delhi was one such moment that surprised one and all. reports from New Delhi.
August 17, 2011
India's youth and Anna's drive against corruption
Kargil 1999. Mumbai terror attacks 2008. And now, social activist Anna Hazare's campaign against corruption and enactment of a strong Jan Lokpal law. Very few moments in recent Indian history have been as electric as these three in bringing Indians of all hues together. reports from New Delhi.
'Foreign' hand behind Anna's stir, doubts Cong
Suspecting a 'foreign' hand behind Anna Hazare's anti-graft movement, Congress on Wednesday raised questions on the US' statement that India would exercise 'appropriate democratic restraint' in dealing with peaceful protest and asked the government to inquire how a 'lone' civil rights activist is drawing support.
Lokpal war: Govt gives in; Team Anna not happy
Bowing before public pressure after Anna Hazare's arrest, the Delhi police on Wednesday withdrew virtually all pre-conditions for the hunger strike by the activist and his team in the national capital.
IMAGES: India ups the tempo of protests for Anna
Ever since veteran social activist Anna Hazare has been lodged in Tihar on Tuesday, India has been on the boil, with country witnessing widespread protests. Rediff.com presents comprehensive reports of nation-wide protests on Day 2 of Anna's fast.
'Govt will pay a heavy price for their arrogance'
Rediff.com's and Sanjay Sawant report from outside Delhi's Tihar Jail, which has turned into the epicentre of anti-corruption protests ever since Anna Hazare has been lodged there.
I'm the sacrificial lamb to cleanse judiciary: Sen
Justice Sen appeared before a 'bar' "posted" at the gate of the central aisle of the upper house facing the Chairman as CPI-M leader Sitaram Yechury moved motions against him.
PM statement on Anna, a 'bundle of lies': BJP
Angered over the arrest of Anna Hazare, Opposition on Wednesday dismissed as a "bundle of lies" Prime Minister Manmohan Singh's statement on the issue, noting that the arrest of the Gandhian has brought people on the streets all over the country.
Stand up and take a bold decision: BJP to PM
Arun Jaitley, leader of Opposition in Rajya Sabha, on Wednesday termed the statement of Prime Minister Manmohan Singh about Anna Hazare's detention "disappointing". The Bharatiya Janata Party leader said that the Opposition "rejects" the explanation given by Dr Singh on the events leading to the arrest of Hazare and his aides.
'I'll wear a shirt when Jan Lokpal is a reality'
The street outside Tihar Jail has become the protest capital for supporters of activist Anna Hazare, finds Prasanna D Zore
Anna can't impose his Bill upon Parliament: PM
Following is the text of the statement by Prime Minister Manmohan Singh in the Lok Sabha
A comic book that gets inside Ravana's head
Ravanayan, a graphic novel created by comic book writer Vijayendra Mohanty and artist Vivek Goel, attempts yet another re-telling of the timeless Ramayana, this time from Ravana's perspective, says Sanchari Bhattacharya.
Anna set to step out of Tihar jail, resume protest
Despite being offered release, Anna Hazare spent the night in Tihar Jail refusing to come out insisting on an unconditional release and permission to launch his fast at Jai Prakash Narain Park.
REVEALED: How the govt did everything to stop Anna
explains the many twists and turns before the decision to arrest Anna Hazare on Tuesday morning.
August 16, 2011
Anna's arrest sends UPA in a tizzy
It was a day of high drama beginning with the arrest of Social Activist Anna Hazare on early Tuesday morning, when he was taken in preventive custody by the Delhi police. By late night, he was to be released from Tihar jail where he was lodged, after a magistrate ordered him to be in judicial custody for seven days when the same Delhi police moved an application. reports.
Hazare's arrest: UPA scores a self-goal
While tackling the differences over the Lokpal Bill with social activist Anna Hazare and his team, the Manmohan Singh government has landed in a bigger mess by sending Hazare to Tihar jail. explains why.
IN PHOTOS: When India hit the streets to back Anna
India erupted in protest on Tuesday morning as soon as the news of Anna Hazare's arrest in Delhi broke out. Rediff.com presents comprehensive reports from across the country.
Sibal justifies detention: We are on Anna's side
In a clear indication of a change in strategy in tackling Anna Hazare's protest over the Lokpal Bill, the government on Tuesday refrained from making any personal attack on the activist but justified his arrest, saying defiance of police order was not acceptable in democracy.
Now Anna refuses to come out of Tihar
Veteran social activist Anna Hazare refused to come out of Tihar jail on Tuesday evening saying he wants an unconditional release and unconditional permission to go ahead with his indefinite fast at Jai Prakash Narayan Park in New Delhi.
Why the govt cannot put down Anna's movement
The government should accommodate Anna's suggestions on the Lokpal Bill, says Ram Madhav.
Remains of Netaji brought back from Japan?
Were the remains of Netaji Subhash Chandra Bose brought back from Japan to India under intimation of Prime Minister Manmohan Singh in 2006?
What Team Anna vs govt case in SC will look like
A legal tussle between Team Anna and the government of India now seems certain after the social activist's proposed indefinite fast against corruption was forcibly curbed by the might of the government. explains the nitty-gritty of such a case before the apex court.
Lady activist shot dead in broad daylight
The motive and details of the killing are awaited
'This movement is not Anna's personal fiefdom'
Activist Anna Hazare has to give up his irrationally anti-political stance for the movement against corruption to succeed, K Govindacharya says
'Delhi Police has become a puppet in UPA's hands'
Slamming the government for the police action against the Gandhian and his team, political parties accused the government of stifling the legitimate rights of the people and described it as a "sad day for Indian democracy".
Anna Hazare fasts in police detention
The Hazare Team said the Gandhian was on fast and was not even taking water after he was taken to a police facility in north Delhi.
Poll: Is Anna's detention valid? Rights violated?
We ask you, our readers, about your reactions to the high drama in New Delhi.
WATCH: Anna's message to people before his arrest
Anna Hazare, perhaps, knew that the police may be waiting for him at the doorsteps of his East Delhi residence on Tuesday morning to prevent him from undertaking his second fast against the government's version of the Jan Lokpal Bill. He recorded a message for his supporters at his resident hourse before he was detained and taken to an undisclosed location
IN PICS: Meet the women who RULE the world
Let's take a look at some other women who continue to make waves in world politics.
High drama in Delhi; police detain Anna, aides
Activist Anna Hazare was on Tuesday detained by Delhi Police ahead of his scheduled fast at the Jai Prakash Narain Park in the city.
August 15, 2011
IN PIX: India celebrates 65 years of independence
Independence Day functions in Srinagar were held under tight security across Kashmir Valley where a complete shutdown crippled normal life on Monday.
This Independence Day is incomplete, says Ramdev
Yoga Guru Ramdev on Monday described the Independence Day as "incomplete".
Modi marks I-Day with veiled attack on Rahul
In a veiled attack on Congress general secretary Rahul Gandhi, Gujarat Chief Minister Narendra Modi on Monday said that it is a shame that political leaders still visit homes of the poor for a photo-op.
PIX: Kangna dazzles at India Day parade
Actress Kangna Ranaut was the special guest at the India Day parade at New Jersey on Sunday.
Anna calls for 'Jail Bharo' agitation
Anna Hazare is all set for a full blown confrontation with the government on the Lokpal bill, giving a call to his supporters to fill up jails across the country if he is arrested on Tuesday after being denied permission to hold fast in Delhi and prohibitory orders clamped.
Team Hazare slams PM's 'insensitive' comment
Reacting strongly to Prime Minister Manmohan Singh's statement that hunger strikes were not a way to solve the problem of corruption, activist Anna Hazare's team on Monday called him an "insensitive" person.
We WILL tackle corruption, PM promises India
With his government facing scathing criticism over multiple scams, Prime Minister Manmohan Singh on Monday promised a strong Lokpal to end corruption and asserted that hunger strikes will not help address the problem, in an apparent reference to Anna Hazare's agitation.
August 14, 2011
Team Anna and Congress in a war of words
Two days before Anna Hazare sits on his second round of indefinite hunger strike on August 16 to press for his demand for total acceptance of Jan Lokpal Bill, an all-out war has broken out between the Congress, United Progressive Allince government and Team Hazare. reports.
The govt's dilemma over Hazare's Aug 16 fast
The announced plans of social activist Anna Hazare to go on a fast unto death from August 16 in support of the demand of the anti-corruption movement headed by him for a stronger Jan Lok Pal Bill than the one introduced by the government in Parliament poses an executive and moral dilemma to the government of Prime Minister Dr Manmohan Singh, says .
This I-Day, a new journey starts for Rahul Gandhi
With just one move, the highly anticipated shift of power to the next generation of the Nehru-Gandhi family has come about, albeit silently, explains Sheela Bhatt
Dr Singh turns down Hazare's request
A fresh stand-off appears to be brewing between Anna Hazare and the government with the Gandhian seeking Prime Minister Manmohan Singh's intervention over the strict conditions imposed for his indefinite fast from August 16. But he was sternly told by the PM to approach the Delhi police.
August 13, 2011
UPA trying to destabilise my govt: Modi tells PM
Gujarat Chief Minister Narendra Modi on Saturday shot off a letter to Prime Minister Manmohan Singh, complaining against Home Minister P Chidambaram's comment on the issue of IPS officers, alleging that the United Progressive Alliance government was trying to destabilise his government.
Won't accept Delhi police's conditions: Hazare
Activist Anna Hazare and the government seem to be headed for a confrontation with the Gandhian on Saturday deciding to go ahead with his indefinite fast from August 16 for a "strong" Lokpal.
Anna writes to PM: Govt is murdering democracy
Peeved at being denied permission to hold an indefinite fast from August 16 on a venue desired by him, Anna Hazare on Saturday wrote to Prime Minister Manmohan Singh, accusing the government of "crushing" the fundamental rights of people.
PIX: To back Anna, Indians demonstrate outside UN
India Against Corruption volunteers demonstrate in front of the UN headquarters in New York in support of Anna Hazare's fast.
PHOTOS: A month after 13/7, it's business as usual
A month after three blasts ripped through south and central Mumbai's business districts, takes a tour of the blast sites.
August 12, 2011
Will SC end 8-year-old foster father-son kinship?
Twelve-year-old Akbar is unwilling to go back to his mother forsaking his foster father, Aiku Lal, with whom he has spent eight long years.
Govt can stop Anna from fasting again, but...
The government is still looking at all the pros and cons of the issue and is not yet definite that permission is being given to the social activist to go ahead with the fast
Mumbai blasts: 30 days and 27 deaths later
One month and several cold leads later, the Mumbai Anti Terrorism Squad officials are finally somewhat hopeful of having a clear insight into the case. reports.
Photos: India, the One and Only
A collection of photographs that depict various facets of the wonder that is India.
In IMAGES: Meet Asian heroes of UK riots
People with roots in the Indian sub-continent were some of the worst affected when riots rocked London and other cities in England, but their resilience and determination to thwart trouble-makers was soon hailed as examples of the "best of Britain."
Anna's August 16 fast is unjustified: Chidambaram
Union Home Minister P Chidambaram on Thursday said activist Anna Hazare's plan to go on fast from August 16 on Lokpal issue is "unjustified" at this stage, when it is moving forward on the passage of the bill.
Deepika Padukone on her beloved India
Travelling through India, says actress Deepika Padukone, is the best way to discover this loveable country.
Aug 15, FIRST I-Day for these 41.25 L families
For 64 years now, India has been celebrating Independence Day, but without Bihar's 41.25 lakh Mahadalit families. But this August 15 will be different. Thanks to initiatives by the Nitish Kumar-led government Mahadalit hamlets across the state are gearing up for D-Day and how! M I Khan captures the fervour in Phulwarisharief near Patna, where the Tricolour will be unfurled for the first time in six decades.
Yeh hai India meri jaan!
Corruption won't cease as long as we keep paying Rs 50 to escape prosecution for jumping a signal. Our governments are a reflection of what we are. If the roots are rotten how can one expect the fruits to be sweet? on the flaws that corrode our vibrant country.
IN PIX: 1 more dead as London rises to its feet
As peace returned to the streets of London and other riot-hit cities, a 68-year-old man who was critically injured in the violence has died, taking the death toll to five in Britain's worst unrest in decades.
'Attacks against Indians in Australia NOT racist'
A study that is bound to trigger controversy has claimed that the spate of attacks against Indians in Australia in 2009 were not racist in nature
Why Indian royals still have a peculiar hold on us
The idea of India is documented by its 4,500-year-old history and as much as its tryst with freedom, was its tryst with princely states. And we are the richer for it, says .
13/7 victim's 14-year-old son speaks
Abhishek Das, 14, lost his father Baburam Das in the Zaveri Bazar bomb blast in Mumbai on July 13. He reveals how he and his family are coping with their loss.
The lull after storm in Birmingham
Bikash Mohapatra strolls through the deserted streets of Birmingham, as it very slowly comes into terms with violent riots and lootings that rocked the city earlier this week.
In PHOTOS: Ramzan, the month of fasting
During Ramzan, the holiest month in the Islamic lunar calendar, the Muslim community fasts, abstaining from food, drink, smoking and sex between sunrise and sunset.
UK riots: Sharma's world came crashing in 20 mins
The damages following the riots in United Kingdom run into millions of Pounds. For many like Sham Sharma from Wolverhampton, the traumatic experience will last their lifetime. reports
Drones killed 468 in Pak, but will the US stop?
Despite Islamabad's strong objection, American drones carried out 53 strikes in 2011 that killed 468 people in Pakistan's tribal belt. Though a Lahore court has directed the Pakistani government to take measures to stop these attacks, the US does not seem to be letting up any soon. reports.
August 11, 2011
Go home, don't seek revenge: UK riot victim's dad
Tariq Jahan, whose 21-year-old son was among three victims during a hit-and-run in the Birmingham riots, has been hailed as a hero in the United Kingdom after he appealed to the people to go home and not to seek revenge.
Prez rejects mercy plea of Rajiv Gandhi's killers
President Pratibha Patil has rejected the clemency petitions of three killers of Rajiv Gandhi whose death sentences were confirmed by the Supreme Court in 2000.
On TEST today: A weapon faster than any missile
The project nicknamed Falcon HTV-2 being developed by the Pentagon and the Defence Advanced Research Projects Agency has the capability to reach anywhere in the world in less than 60 minutes.
PIX: Cameron vows strong remedial action
An uneasy calm prevailed over Britain's cities on Thursday after four days of rioting and looting, with security being beefed up and a stern warning from Prime Minister David Cameron that law and order will be restored at any cost.
'It's easy to belong and be accepted in India'
Rocky Singh feels India's real beauty lies in its amazing culture of acceptance.
Pakistan sheltered Osama for Saudi cash?
Al Qaeda leader Osama bin Laden was protected by elements of Pakistan's security apparatus in return for millions of dollars of Saudi cash, an American security analyst has claimed.
In PHOTOS: Inside the fascinating White House
For two hundred years, the White House has stood as a symbol of the Presidency, the United States government, and the American people.
'There was no need for police to open fire'
Bullets don't seem to have dented the intent of residents of Maval taluka, protesting against land acquisition. In fact, the killing of four of their fellow agitationists in the police action has only made their resolve stronger. reports
'Indians and Pakistanis should be allowed to meet'
Eighty-one-year-old BM Kutty is a Pakistani citizen from Kerala. He is a staunch communist and has been associated with political developments in Pakistan for over six decades.
10 DEADLIEST quakes that shook the world
Earthquakes have rocked our planet several times over the years. While many quakes have gone unnoticed, some have wrecked havoc, wiping out villages, towns and destroying cities.
CBI probe against Jagan; YSR Congress in disarray
Andhra Pradesh high court's order for a Central Bureau of Investigation inquiry into the massive assts of YS Jaganmohan Reddy has plunged his fledgling YSR Congress party into confusion. The latest development may even lead to desertions from Jagan's camp.
August 10, 2011
'The stink at Gandhiji's birthplace angered me'
In our Independence Day Special on the India You Didn't Know, Kiran Bedi remembers the time she had to go to court to get Kirti Mandir, Gandhiji's birthplace in Porbandar, cleaned.
PIX: Gang violence scorches UK, 3 Asians killed
Three British Asians became the latest victims of Britain's ongoing unrest, as the country simmered under one of its worst waves of violence, with 'copycat' riots spreading from London to central and northern cities, where hooded youths ransacked stores and torched cars.
Videos: Cutest renditions of the National Anthem
Videos: Cutest renditions of the National Anthem
Advani complains to Pranab about Chidambaram
Agitated over the police action against protesting Bharatiya Janata Party youth wing activists in New Delhi on Tuesday, senior BJP leader L K Advani on Wednesday complained to Finance Minister Pranab Mukherjee that the orders seem to have come directly from Home Minister P Chidambaram.
China's first aircraft carrier begins sea trials
Expected to be renamed "Shi Lang," after the Qing Dynasty admiral who conquered what is now known as Taiwan in 1681, the carrier has been undergoing modernisation work at the port of Dalian since 2002.
Pix: Sikhs wield swords to protect gurdwara in UK
Armed with swords and hockey sticks, over 700 Sikhs took to the streets to protect the Guru Singh Sabha gurdwara in Southall as the police in United Kingdon were stretched to maintain law and order in London.
P C Alexander: The skillful trouble shooter
Known as a man for all seasons, P C Alexander made a mark as the political adviser, conscience keeper and administrative trouble-shooter to former Prime Minister Indira Gandhi who heavily relied on him to tackle tricky situations.
Red Fort case: SC rules death for LeT's Mohd Arif
The Supreme Court on Wednesday confirmed the death sentence for Lashkar-e-Tayiba terrorist Mohammad Arif alias Ashfaq in the 2000 Red Fort attack case in which three people, including two army jawans, were killed.
Photos: The colours of India
Akhtar Sheikh captures the myriad moods of enchanting India.
In PHOTOS: On adventurous tiger trail in Kaziranga
The 20 per cent increase in the tiger population in India is certainly good news, but the big cat is still in danger. In its efforts to conserve the national animal, Aaranyak, a prominent society for bio-diversity conservation, carried out a camera trap survey in Assam's sprawling Kaziranga National Park. Here are some interesting findings.
It's Sindhu, not Sindh, in the anthem, says prof
A retired professor from Mumbai has challenged in Bombay high court the reference to 'Sindh' in the national anthem. According to Shreekanth Malushte, it should be Sindhu and not Sindh, reports N Ganesh
Pix: Obama's solemn salute to Afghan crash victims
United States President Barack Obama paid his last respect to the soldiers killed in Afghanistan when the helicopter that were carrying them exploded mid-air after being reportedly hit by a rocket propelled grenade.
When Dr Alexander spoke to Rediff
'You can identify an Indian in any group, anywhere in the world by just talking to him. His reflexes, his reactions to problems, his value system are the same, whatever region or religion he may belong to.' Dr P C Alexander in an eloquent interview to Rediff.com on the 50th anniversary of India's Independence.
Don't move out temple wealth: Astrologers' panel
The 'Deva Prasnam' at Sree Padmanabhasway temple in Thiruvananthapuram, being conducted to ascertain the divine will through astrology, has found that the huge riches found in the shrine's vaults should not be moved out.
Pix: Yet another bandh paralyses life in Telangana
Andhra Pradesh was paralysed by yet another bandh on Wednesday, as rival organisations called for strike in Telangana and Andhra-Rayalseema regions on the issue of their share in government jobs in Hyderabad.
Pix: Calm in London, trouble erupts in new towns
After a fourth consecutive night of violence that convulsed most parts of London, the scene before dawn Wednesday was largely calm, a tentative calm enforced by 16,000 policemen.
PIX: Mumbai ROARS in support of Anna's battle-cry
What Delhi does, Mumbai can do better, a mammoth gathering of activist Anna Hazare's supporters proved recently
London riots: Asians live in fear
With rioters looting shops and then burning it down, Indians who own stores in London are a worried lot, reports .
August 09, 2011
In PHOTOS: Bloodshed on the Mumbai-Pune expressway
Trouble broke out after about 400 agitators held a rally against a dam water pipeline project along the Mumbai-Pune expressway, blocking the busy vehicular traffic and refusing to disperse despite police request.
In Birmingham, miscreants wait till night dawns
Rediff.com's has been covering India's cricket tour of England. On Tuesday, he witnessed the mayhem that has enveloped the nation following the killing of a 29-year-old man in police firing during a protest march.
'I have no bank balance, so what will govt find?'
Anna Hazare on Tuesday alleged he is being targeted by the government, claiming his records in the Army were being checked and people sent to his village in Maharashtra to check on his organisation.
PIX: BJP men protesting against govt lathicharged
The clash erupted between thousands of protesters and police after the Yuva Morcha's march from Ramlila Maidan reached Jantar Mantar on Tuesday evening leaving at least 61 people injured, including 23 policemen, a press photographer and two women journalists.
In PHOTOS: Hazare leads bike rally in Mumbai
Social activist Anna Hazare on Tuesday began his protest against the government for putting forth a "weak Lokpal bill" before Parliament, with a bike rally from Dadar to Azad Maidan in south Mumbai
REVEALED: Terror strikes not the only forte of LeT
answers the big question: what are the bigger groups, such as the Lashkar-e-Tayiba, doing during this period of lull and calm?
Why PM and judiciary must not come under Lokpal
There are alternatives that are preferable to the octopus like Jan Lokpal being proposed. Extremism, whether the Gandhian excess of non-violence or obsession with environment at cost of everything else is dangerous in the long run, says Colonel Anil Athale (retd).
'There is an India we don't wish to know'
In our Independence Day Special on the India You Didn't Know, Carnatic vocalist Sikkil Gurucharan looks at the dark side of India, one that has forgotten its physically challenged.
Cameron vows to crush riots; 16,000 cops deployed
With violence spreading to cities across London and other major cities, British Prime Minister David Cameron has vowed to unleash the full force of law on "thugs" and ordered the deployment of 16,000 police personnel in riot-hit areas to maintain law and order.
13 stunning PHOTOS that you won't see daily
To draw attention to a particular element in a scene, the photographer will often focus in on a certain detail.
Why BJP's woes in Karnataka are still not over
Despite a new chief minister, the BJP's troubles in the state are not over. They are just beginning, writes
August 08, 2011
Photos: Yeh Hai India!
Uttam Ghosh's captivating Independence Day Special captures an India we rarely see.
Indifference, not corruption, is our worst malady
'As long as millions of our poorest, hungriest, youngest and oldest citizens continue to get the short end of the stick, we will remain nothing but a hollow version of a democratic nation,' says .
Oppn whips Govt on CWG, Govt blames media, CAG
The government on Monday firmly rejected the Opposition's contention that the CAG had indicted the Prime Minister's Office on the Commonwealth Games issue and insisted that constitutional processes must be followed before blaming anyone.
Reddy brothers kept out of new Karnataka cabinet
Twenty one legislators from the Bharatiya Janata Party in Karnataka were sworn in at the Raj Bhavan on Monday. While the new cabinet looks more or less the same, the most important exlusion is that of the Reddy brothers and their close aide B Sriramulu.
In PHOTOS: Oil spill threat to Mumbai shoreline
The oil spill from cargo vessel MV Rak off the Mumbai coast has decreased in quantum as compared to Sunday even as the authorities continued their efforts to neutralise resultant environmental pollution.
Rahul most popular choice as next PM: Poll
The findings of the CNN-IBN & CNBC-TV18 'State of the Nation Poll', conducted by the Centre for the Study of Developing Societies, Delhi reflects the popular mood of a number of issues such as the popularity of political leaders, the economy, corruption and terrorism. The results of the poll on the theme 'Personalities and Leadership' shows that Congress General Secretary Rahul Gandhi is the preferred choice as prime minister.
'The world has come to know India better'
Renowned Chef Hemant Oberoi on the astonishing transformation of the Indian palate.
Lobsang Sangay sworn in as Tibet's PM-in-exile
Harvard scholar Lobsang Sangay was on Monday sworn in as the new prime minister of the Tibetan government-in-exile, succeeding the Dalai Lama as the movement's political leader.
PIX: Rioting mobs take over the streets of London
Several instances of looting and clashes were reported across London on Monday as several mobs, angry over the killing of a man in north London combined and the harsh economic conditions, attacked police personnel in the second consecutive night of violence.
Kerala CM in the dock again over palmolein case
In a setback to Kerala Chief Minister Oommen Chandy, a vigilance court in Thiruvananthapuram on Monday ordered a probe to ascertain if he had any role in the 1992 palmolein oil import deal as the then finance minister in the K Karunakaran government.
'The credit is in India's roots and its stories'
In our Independence Day Special on the India You Didn't Know, Member of Parliament Kalikesh Narayan Singh Deo marvels at the architecture of a 9th century temple complex in Orissa.
Raid ended in worst tragedy for US Special Forces
The mission that left 30 American soldiers, including 22 Navy Seals, dead on Saturday morning in eastern Afghanistan was just one of the dozens of operations carried out by United States Special Operations Forces every week in Afghanistan.
In PHOTOS: Our crowded planet
A glimpse of our crowded planet.
PIX: Eight dead as gunman goes berserk in Ohio
Seven people, including an 11-year-old child, were shot and killed in a small town in northeastern Ohio in the United States on Sunday in a rampage that ended when police killed the suspected gunman, CNN reported.
All you wanted to know about the govt Lokpal Bill
The much-awaited and debated Lokpal Bill was finally introduced in the Parliament on Thursday. While Anna Hazare and team burnt copies of the bill calling it 'anti-poor', 'anti-Dalit', the Bharatiya Janata Party raised several objections to the proposed bill, mainly objecting to exclusion of prime minister from the purview of the proposed legislation.
August 07, 2011
PHOTOS: Sunken carrier MV Rak leaks oil
An oil leak was on Sunday reported from the Panama-flagged cargo vessel MV Rak which sank off the city coast earlier this week due to ingress of water in the cargo hull, officials said.
Fatal police firing sets off riots in north London
In one of the worst instances of public protest in the United Kingdom in recent years, an irate mob went on a rampage in north London, setting vehicles on fire and indulging in looting to protest against the killing of a 29-year-old local man in police firing.
August 06, 2011
US 'ready with plan to snatch' Pak's nukes
Plans have been drawn up for dealing with worst-case scenarios in Pakistan, NBC news reported quoting current and former US officials, who say that ensuring security of Pakistan's nuclear weapons has long been a high US security priority even before 9/11 terrorist attacks.
A venomous glee over the Internet
People, who indulge in spreading hatred and venom through the world wide web, constitute a small minority, but that is not a valid argument for ignoring their activities, writes B Raman
Must watch: Hottest ad ever; Rakhi's new butt
Must watch: Hottest ad ever;Rakhi's new butt
In PHOTOS: Juno takes off to Jupiter
Juno's detailed study of the largest planet in our solar system will help reveal Jupiter's origin and evolution.
August 05, 2011
AICC gets overhauled; media cell sees new faces
Chief spokesman of the Congress party, Janardan Dwivedi, on Friday announced changes made in the All India Congress Committee by Congress President Sonia Gandhi before going abroad for surgery.
IN PICS: Flash floods wreak havoc in Guwahati
Flash floods triggered by heavy raifall have thrown life out of gear for thousands of families since the last two days in several parts of Guwahati city. reports.
STUNNING PHOTOS: 'Streams of water' on Red planet
Pictures taken from NASA's Mars Reconnaissance Orbiter spacecraft showed finger-like features which may be flows of salty water spilling over the rims of craters
Why secrecy over Sonia's surgery is okay
believes that Congress party and the Gandhi family are well within their rights to keep the news regarding the health of Sonia Gandhi under wraps.
Delhi CM seeks time to read damning CAG report
The Delhi government on Friday said Chief Minister Sheila Dikshit has not been indicted by the Comptroller and Auditor General on corruption charges for dubious Commonwealth Games projects and the auditor has only pointed out certain "procedural wrongdoings".
'Indians have a sense of humour'
V R Ferose, MD, SAP Labs India, sums up India's dichotomy, and laughs at its funny side.
Wary Pakistan moves warships away from Karachi
The navy sent its warships away from the main base in Karachi as a "precautionary measure" after the 16-hour siege of PNS Mehran airbase on May 22, The Express Tribune reported on Friday, quoting navy sources.
'If we start giving colours to terror, we lose'
Author and journalist Shishir Gupta addresses questions about the terror threat facing India, the Jihadi network and the Indian Mujahideen
A Sufi shrine which shows what makes India work
'The Hindu couple praying at an Islamic shrine illustrates what makes India work,' says writer Mayank Austen Soofi.
Sonia Gandhi recovering in ICU after surgery
Congress President Sonia Gandhi is recovering in the Intensive Care Unit of a US hospital where she underwent successful surgery for an undisclosed ailment.
EXPOSED: Power abuse in the republic of Bellary
explores Justice Santosh Hegde's report on illegal mining in Karnataka and finds out a shocking case of abuse of power and guidelines in Bellary
PHOTOS: Girls strip in Moscow for Russian Prez, PM
Inspired by 'Putin's Army', two women stripped down to bikinis in central Moscow to pledge their support for Russian President Dmitry Medvedev ahead of the 2012 polls.
REVEALED: Secret spy games between US, Pakistan
Amir Mir unravels the complicated web of spy games and covert manoeuvring that United States and Pakistan are playing against each other
PIX: The men who MATTER in the Congress
Rediff.com takes a look at the men who have found a place in the Congress team and those who have been left out in the cold.
Why Jayalalitha will lead our national discourse
The question is not when but who after Dr Manmohan Singh? Will an alternative to Dr Singh emerge from within the Congress? Or will a government be formed by regional parties supported by the BJP or Congress from outside? Or will India have mid-term elections? Whatever be the combination, Jaya has emerged as a crucial player in the current political context, says .
August 04, 2011
PIX: The men who MATTER in the Congress
Rediff.com takes a look at the men who have found a place in the Congress team and those who have been left out in the cold.
Sonia's illness a big blow for the Congress
Party President Sonia Gandhi left for the United States on Wednesday and is reported to have undergone a major surgery in a New York hospital on Thursday morning local time, which is being described as 'successful.'
Indian terror module may be behind 13/7 blasts: PC
Home Minister P Chidambaram on Thursday said there are indications of the involvement of an Indian module in the Mumbai blasts on July 13 that killed 26 people.
Team Anna insulting the Parliament, says Sibal
Slamming Team Anna for burning copies of the Lokpal Bill, government on Thursday said actions of the civil society members was an insult to Parliament and posed a danger to democracy.
For Kolkata's kids, the promise of a better future
Jaya Basu, the founder of Promise World Wide, a United States non-profit organisation that helps poor children in the suburbs of Kolkata, is ecstatic that a boy from her centre passed his high school exams with flying colours.
'Give reasons for exclusion of PM under Lokpal'
Leader of Opposition in Lok Sabha Sushma Swaraj on Thursday justified her objection to exclusion of prime minister from the purview of the Lokpal bill saying the government has given no reasons for his exemption and insisted that nobody was above criminal law.
Photos: Independence Day - We, the people of India
Photos: Independence Day Special - We, the people of India
Exclusive: Gowda's first interview as K'taka CM
Sadananda Gowda, who assumed charge as Karnataka chief minister on Thursday, has a tough task ahead. Ironically, that task is not the administration of the state, but to keep the Bharatiya Janata Party flock in Karnataka together.
In PHOTOS: Dramatic rescue of crew of sinking ship
On Thursday morning, Coast Guard officials rescued as many as 30 crewmembers from the cargo vessel MV RAK, even as 3/4th of the 225 meter-long vessel had sunk into the choppy waters of the Arabian Sea. MV Rak was carrying 60,054 meteric tonne of coal. Toral Varia, brings you a blow-by-blow account of the rescue operation.
Lokpal Bill: 'Why is Cabinet not agreeing with PM'
The much-debated Lokpal Bill was introduced in the Lok Sabha on Wednesday amid objections from the Bharatiya Janata Party and its allies of the National Democratic Alliance over the exclusion of the prime minister from the purview of the proposed legislation.
How a 'freedom movement' severs China-Pak ties
As China accuses separatists trained in Pakistani terror camps of being behind the recent bomb blasts in Xinjiang province, Islamabad comes under mounting pressure, throwing serious question marks over its relationship with China, reports from Islamabad
Burn govt's version of Lokpal Bill: Anna Hazare
Social activist Anna Hazare and his supporters on Thursday burned copies of government's version of the Lokpal Bill in Ralegaon Siddhi in Maharashtra. The Lokpal Bill was tabled in the Parliament on Thursday. reports.
IN PICS: Obama turns 50th birthday into fundraiser
United States President Barack Obama has turned his 50th birthday celebration into a 2012 election campaign fundraising drive after weeks of damaging debt showdown with Republicans.
K'taka: Gowda set to take oath, rival camp somber
D V Sadananda Gowda is all set to assume charge as new Karnataka chief minister on Thursday even as there was disquiet in the rival camp which lost out in the bitterly fought secret ballot.
Rewind: Best PHOTOS in the last 24 hours
Presenting some of the best PHOTOGRAPHS from around the globe in the last 24 hours.
Solar power to light up lives in Bihar's schools
For years, students in Bihar have been sweating it out in classrooms, quite literally because of acute shortage of electricity. But the dim and dreary lessons will soon be a thing of the past. Schools in Bihar are all set to bring solar energy into the classroom, which means no more power cuts and computer classes will be a routine, reports MI Khan.
'They looked African, but spoke Gujarati!'
'Their forefathers were brought as slaves from Africa, but when I learnt that they aren't treated very well and live in poverty, it broke my heart.' Filmmaker on the Siddi tribe.
'See Varanasi's Ganga aarti at least once in life'
Writer on a spectacular tradition that dates back a thousand years.
26/11 and today: Coastal security, same old story
Tall claims of improvement in coastal security post 26/11 have been exposed once again, as the Panama-flagged crewless MT Pavit drifted to the Mumbai shore without being detected. Analyst B Raman says it the poor human reflexes to blame.
IN PHOTOS: The most DISASTROUS air crashes!
Rediff.com takes a look at some of the most disastrous air crashes that have shaken the world.
India, US, UN face BIGGEST cyber attack
In the biggest ever series of cyber attacks uncovered to date, hackers were found to have broken into the networks of the Indian government, the United Nations and United States defence companies.
'Pakistan must stop wasting water, blaming India'
Gitanjali Bakshi, who recently authored a report titled 'The Indus Equation' for the Strategic Foresight Group, states that water shortage problems in Pakistan are not a case of obstruction by external forces but rather a case of wastage and unequal distribution by internal forces.
August 03, 2011
Behind-the-scenes: Negotiations to elect K'taka CM
All's well that ends well - that is the picture you get when you look at what transcribed in Bharatiya Janata Party's crucial meeting on Wednesday.
'Dalits still live as the wretched of the earth'
Mumbai-based Anand Teltumbde is a leading scholar-activist who has written extensively on issues related to caste, class, imperialism and globalisation. In an interview with Yoginder Sikand, he reflects on the Dalit movement in the era of globalisation.
PIX: In a cage, Mubarak faces trial for murder
Five months after a popular uprising ousted him from nearly three decades of absolute power, deposed president Hosni Mubarak was flown into Cairo on Wednesday to face trial for murder and corruption.
PHOTOS: Sadananda Gowda is new Karnataka CM
A Member of Parliament, representing the Udupi Chikmagalur constituency, Gowda was pitch-forked into the reckoning as a chief ministerial candidate following the resignation of B S Yeddyruppa as he was seen as a non-controversial candidate.
'Americans breached Pak airspace twice on May 2'
It seems Pakistani military was caught off guard not once but twice by the Americans who not only breached its airspace during the May 2 raid to kill Al Qaeda chief Osama bin Laden, but also flew in back from Afghanistan hours later with his body on way to his sea burial.
'Pakistan Army's focus on India will destroy it'
Lauding the Indian leadership's willingness to engage Pakistan despite its failure to bring the perpetrators of 26/11 terror attacks to justice, a leading United States daily has said that the Pakistani Army's use of militants to counter Indian influence in Kashmir is "self-destructive."
PHOTOS: The best battle tanks in the world today
The obsolescence of the tank has been asserted from time to time, but recent history suggests that the MBTs are still necessary.
PHOTOS: World's most AWESOME presidential palaces
Rediff.com takes a look at some of the most awesome presidential palaces in the world:
REVEALED: The case that did Yeddy in
After a lot of stormy talk-session with his party high command, acting Chief Minister of Karnataka B S Yeddyurappa, who stepped down from his post, was eventually done in by the Lokayukta's report on illegal mining. explains the exact case against the chief minister, which forced the top leadership of the Bharatiya Janata Party to seek his resignation.
IN PHOTOS: Bengalis bond in the US
For three days during the July 4 weekend holidays in United States, the Baltimore Convention Centre in Maryland was transformed into a mini Kolkata.
August 02, 2011
BJP targets Gandhis on Gurgaon land acquisition
In an apparent attack on the first family of the Congress, the Bharatiya Janata Party on Tuesday alleged that rules were bent to acquire 1,400 acres in Gurgaon's Ullawas village by the Rajiv Gandhi Charitable Trust and asked the ruling party if its stand was the same on farmers' land everywhere.
READ: Anna's open letter to all MPs
Social activist Anna Hazare on Tuesday issued an open letter to all members of Parliament, appealing them to prevent introduction of the 'anti-poor' Lokpal Bill passed by the Cabinet last week.
Will Chiranjeevi join the Congress on August 7?
All India Congress president Sonia Gandhi has invited Praja Rajyam Party president and Tirupati Member of Legislative Assembly Chiranjeevi to New Delhi to meet her anytime between August 7 and 10 to formally take primary membership of the Congress party.
MUST READ: Yeddy's plea to quash Hegde's report
Not willing to give up easily, B S Yeddyurappa has moved the Karnataka high court against the mining report by Lokayukta Santosh Hegde indicting him. Vicky Nanjappa reports on the outgoing chief minister's latest move
Reconsider mining report: Yeddy's plea to Hegde
Hours before Karnataka Lokayukta Santosh Hegde demitted office, outgoing Chief Minister B S Yeddyurappa on Tuesday filed a petition before him seeking reconsideration of his report indicting him in the illegal mining that cost him the top post.
I had an eventful 5 years: Santosh Hegde
N Santosh Hegde on Tuesday retired as Karnataka Lokayukta after an "eventful" five years in office and said effort by some ministers to discredit his mining report that cost B S Yeddyurappa his chair was not unexpected as he has brought out a 'bitter truth'.
'Most Dalit groups remain fixated on reservations'
Mumbai-based Anand Teltumbde is a leading scholar-activist who has written extensively on issues related to caste, class, imperialism and globalisation. In an interview with Yoginder Sikand, he reflects on the Dalit movement in the era of globalisation.
'Kalmadi appointed CWG OC chairman by NDA govt'
The government on Friday sought to drag in the National Democratic Alliance regime into the Commonwealth Games mess.
I don't want to become super CM: Yeddyurappa
In an apparent bid to reject criticism that he wants to rule by proxy by installing D V Sadananda Gowda as his successor, B S Yeddyurappa, who resigned from post for Karnataka chief minister on Sundat, asserted he did not want to become "a super CM".
Michelle thinks I'm still cute: Obama
America's first President of African origin Barack Obama, who will turn 50 this Thursday, says that even though he has got "a little greyer", his wife Michelle still thinks he is 'cute'.
With MLAs locked up, Lingayat mutts are kingmakers
reports on the changing mindset of the dominant Lingayat community in Karnataka with regard to who their new chief minister should be.
In PHOTOS: Around the word in the last 48 hours
Here are some of the most spectacular images from across the world in the last 48 hours.
Meera Shankar given warm send off in the US
India's outgoing ambassador to the United States, Meera Shankar, was showered with praises as the US administration gave her a warm send off, with Secretary of State Hillary Clinton lauding her role in strengthening the partnership between the two countries.
A dark shadow over Indo-US nuclear deal
After the second US-India strategic dialogue, finds growing concern about the civilian nuclear deal trapped in limbo.
PHOTOS of the month: July
We bring you a presentation of some of the best photos from around the world in the month gone by.
CHILLING! A blow-by-blow account of killing Osama
The US Navy SEALs pumped two 5.56-mm bullets to kill an unarmed Al Qaeda chief Osama bin Laden in Pakistan's garrison city Abbottabad, a media report said on Monday, providing new insight into the covert operation.
Mother of all weapon deals is set to get costlier
For years, India's proposed purchase of 126 medium multi-role combat aircraft has been valued at Rs 42,000 crore. Now that valuation is set to rise dramatically
'Netaji would've done his best to stop partition'
Netaji grandnephew Sugata Bose appeared on Rediff chat on Friday and he answered question the Netaji's role in the Indian National Congress, his relationship with Mahatma Gandhi and Jawaharlal Nehru, cleared the air around the leader's mysterious death and more.
IN PHOTOS: It's an odd world out there!
We bring you a collection of some of the odd moments from around the world in recent weeks.
Adarsh scam: Why Deshmukh in under CBI scanner
A team of five Central Bureau of Investigation officials from Mumbai are camping in New Delhi to further the investigations into the Adarsh Co-operative Housing society. After months of anticipation, the CBI has finally questioned the Union Power Minister Sushilkumar Shinde. The man next in line is former Maharashtra chief minister and newly-appointed Science and Technology Minister Vilasrao Deshmukh. What is stated in Deshmukh's affidavit?
Pakistan: The world capital of suicide bombings
As things stand, it appears that the suicide bombers who were originally designed by the Pakistani establishment to rip apart the 'enemies of Islam and Pakistan' are now exploding themselves inside their own country. In short, it appears that the Pakistani chickens have finally come home to roost. reports from Islamabad.
August 01, 2011
More bad news for Kalmadi, Raja, Kanimozhi
At a time when scam-tainted politicians, bureaucrats and corporate honchos are lodged in jails due to their alleged involvement in massive scams, the finance ministry has shot down a proposal on prison reforms, claiming it has no money to spare.
Gadkari to Sonia: How will you act against PM?
As Bharatiya Janata Party's war of words with the government intensified, party chief Nitin Gadkari on Monday asked Congress president Sonia Gandhi what 'action' she intends to take against Prime Minister Manmohan Singh and Home Minister P Chidambaram, who have been dragged in the 2G scam by jailed former Union minister A Raja.
Congress dares Hazare to contest LS polls
The Congress on Monday dared social activist Anna Hazare to contest from the Chandni Chowk Lok Sabha seat in New Delhi after the latter released findings of his team's survey in Union Minister Kapil Sibal's constituency on the Lokpal issue
'Bengalis committed atrocities during 1971 war'
Sarmila Bose
's book on the 1971 Bangladesh War -- Dead Reckoning -- has triggered a heated debate about the myths and realities of the conflict that had engulfed East Pakistan, West Pakistan and India.
Stung by PM's skeletons remark, BJP vows revenge
Stung by his 'skeletons in cupboard' remark, the Bharatiya Janata Party on Monday stepped up attack on Prime Minister Manmohan Singh on the 2G issue alleging that he was aware of the minutest of details in the matter and will have to answer Opposition charges in Parliament.
Is an 'honest' person like PM lying, wonders Anna
Hazare questioned the government's intentions on the Lokpal Bill and said he was ready to go to jail if he was not allowed to demanding a strong anti-corruption law.
Kalmadi admitted to AIIMS after five-hour wait
The 67-year-old MP from Pune, who arrived at around 10 am on Monday, was admitted to the cardio neuro-sciences department of the hospital in a private ward.
We are shocked: Fai's friends
Aides of prominent Kashmiri separatist leader Ghulam Nabi Fai express disbelief over his arrest and his links with Pakistan's Inter-Services Intelligence. reports.
Corruption in IB, RAW: How govt plans to tackle it
The United Progressive Alliance government has decided to make its intelligence agencies accountable to Parliament for scrutiny in the wake of several goof-ups, failures and misuse of the unlimited funds placed at their disposal.
Shocking! Rs 12,228 cr lost in illegal ore exports
goes through Karnataka Lokayukta Justice Santosh Hegde's explosive report on illegal mining in the state and reveals damning figures of corruption.
What is the ISI chief doing in Beijing?
Inter-Services Intelligence chief Lt Gen Ahmed Shuja Pasha has embarked on a secret visit to China that is being seen as part of Pakistan's efforts to reduce its dependence on the United States in the wake of strained military and intelligence ties.
PIX: Meet NAK Browne, India's new air force chief
Air Chief Marshal NAK Browne has taken over as the 23rd Chief of the Air Staff from Air Chief Marshal PV Naik, who retires after 42 years of illustrious service.
In PHOTOS: Besharmi morcha in New Delhi
Cutting across age and gender, protesters marched to the Jantar Manter under the 'Slutwalk Arthaat Besharmi Morcha' campaign to raise their voice against the attitude of blaming rape or sexual harassment on any aspect of a woman's appearance.
The flipside: World's most DANGEROUS prisons
Rediff.com takes a look at some of the most dangerous prisons in the world, where, come what may, you would never, never like to end up in!
Magasaysay: India's perfect present, glorious past
Rediff.com takes a look at all the Ramon Magsaysay awardees who have made India proud since 1958.
Archives
July 2011
|
June 2011
|
May 2011
|
April 2011
|
March 2011
|
February 2011
|
January 2011
|
December 2010
|
November 2010
|
October 2010
|
Sepetember 2010
|
August 2010
|
July 2010
|
Jun 2010
|
May 2010
|
April 2010
|
March 2010
|
February 2010