April 30, 2012
Blunt feedback from party workers leaves Rahul STUNNED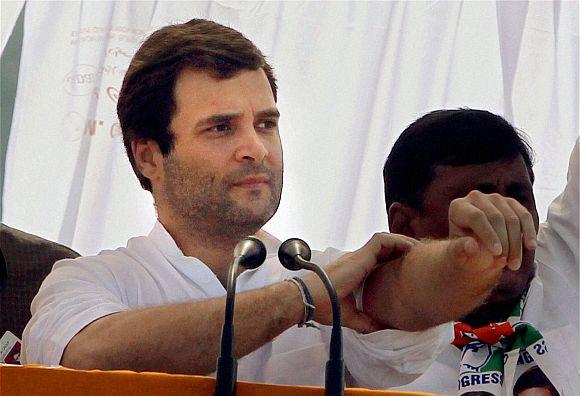 Congress General Secretary Rahul Gandhi's first visit to his own parliamentary constituency in Amethi after the party's devastating debacle, not only all across Uttar Pradesh but also in the family bastions of Amethi and Rae Bareli, openly displayed the simmering discontent and disillusionment of his own party insiders with him. reports.
'It's an over-reaction to ask Kudankulam to shut down'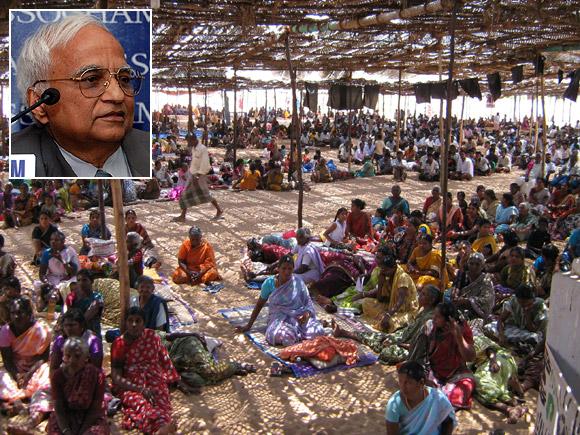 In this exclusive interview, Dr Srinivasan talks to Shobha Warrier about nuclear energy in general, the Kudankulam nuclear power plant in particular and India's energy needs.
Aarushi case: Nupur Talwar jailed, bail verdict on Tuesday
Nupur Talwar, mother of murdered teenager Aarushi, was on Monday jailed after a special Central Bureau of Investigation court rejected her bail application in the case of murder of her 14-year-old daughter and domestic help in Noida four years ago.
India spent Rs 15,433.01 cr on defence purchases in 2011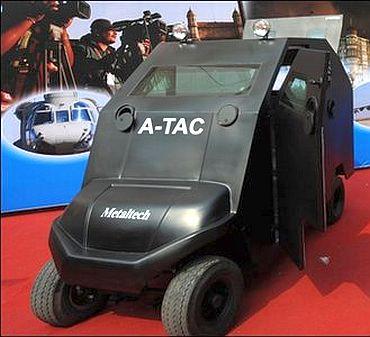 India spent Rs 15,443.01 crore during 2010-11 to import arms and ammunition marking an increase of Rs 5,266.93 crore as against the defence expenditure in 2007-08, the government said on Monday.
India's murky stories that refuse to go away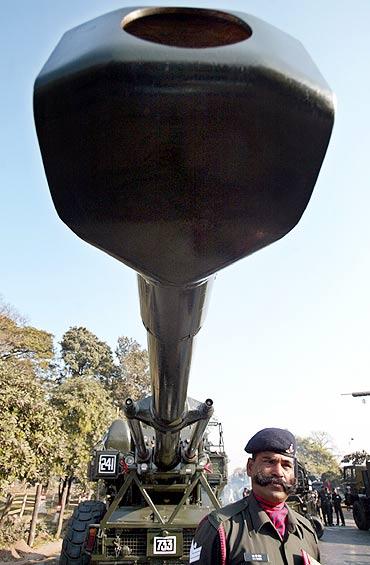 The public prefers thrillers that carry the threat of knocking down governments, derailing election campaigns and seeing ministers and officials go to jail, says .
Won't quit Cong to form new party: Suspended Telangana MP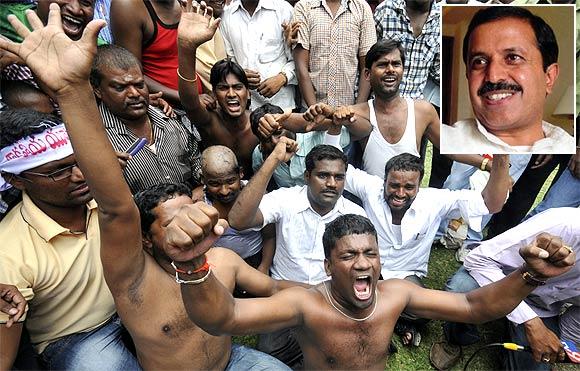 Madhu Yashki, one of the suspended MPs from the Telangana, said that it made little sense to quit the Congress and form a new party because only a national party can ensure the formation of Telangana.
'NO evidence that mobile phones can cause cancer'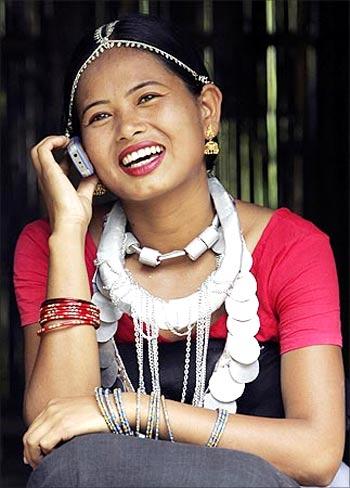 Long-term use of mobile phones may cause cancer, although there is "no convincing evidence" to suggest that, claims the biggest ever review of the subject.
Congress govt 'killed' the Bofors case, says Jaitley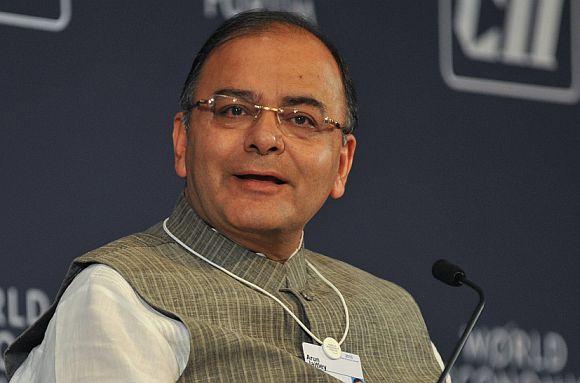 The National Democratic Alliance government made all efforts to bring the alleged Bofors scam guilty to the book, but the successive Congress-led governments tried to "kill" the case, Leader of Opposition in the Rajya Sabha Arun Jaitley tells Karan Thapar on CNN-IBN's Devil's Advocate show.
'Muslims in Europe discriminated at study and work'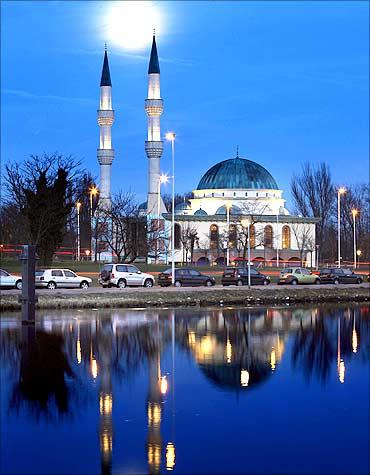 Amnesty International has released a report on discrimination against Muslims in Europe, which has highlighted cases of prejudice in education and employment sectors against the community.
What the Communists MUST do to win elections again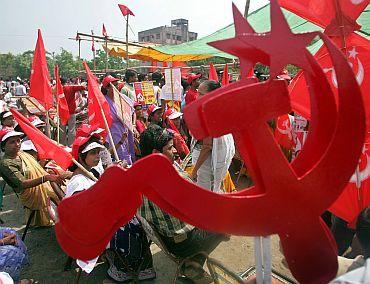 Building grassroots people's movements is the only way forward for the Left, says
In PHOTOS: World famous personalities THEN and NOW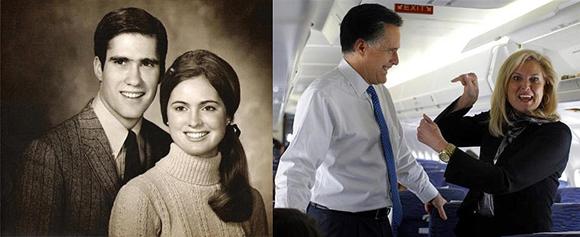 Here are a few images of some renowned personalities who were captured much before they became world-famous.
Why Bofors scam is similar to the Titanic tragedy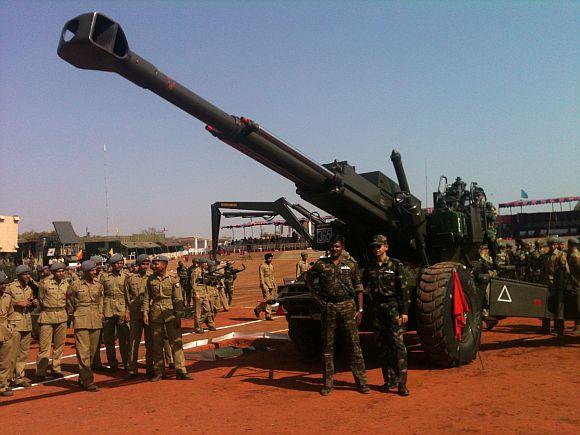 Notoriety is a key component of scandals that possess a long shelf life, says Sunil Sethi
April 29, 2012
A year later: Al Qaeda refuses to die with Osama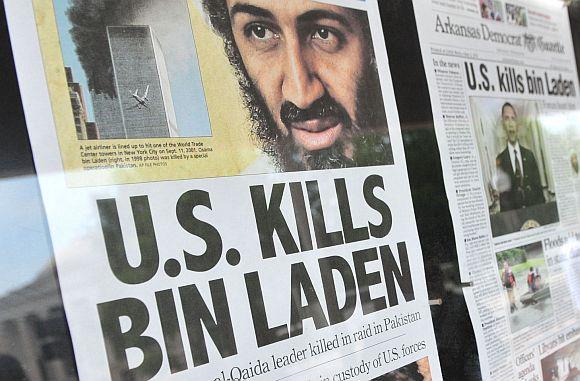 Al Qaeda is no more a cohesive organisation with a lucid structure and has splintered over the years, giving rise to lots of other groups, both inside and outside Pakistan writes
April 28, 2012
Swamy's charge: Govt comes to Chidambaram's rescue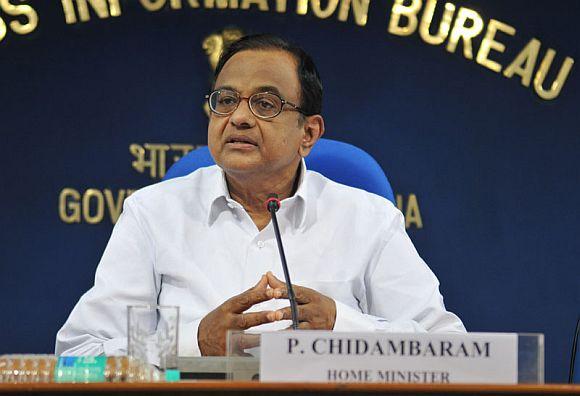 The United Progressive Alliance government has rejected Janata Party chief Subramanian Swamy's allegations against Home Minister P Chidambaram in the Aircel-Maxis equity issue saying they were "totally baseless".
Ramdev SLAMS Sachin's nomination to Rajya Sabha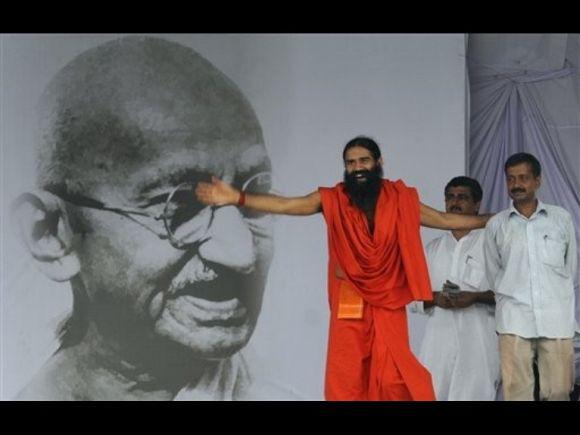 Yoga guru Ramdev on Saturday sought to find fault with the Rajya Sabha nomination to Sachin Tendulkar, alleging that the "sinking" Congress might have pressured him to accept the honour to enhance its prestige.
Why this brouhaha over Bofors scam AGAIN?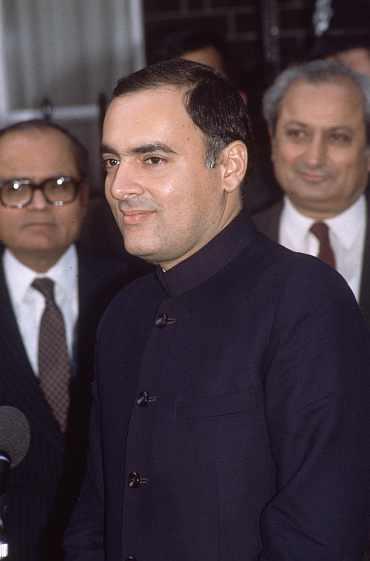 When Sten Lindstrom, who led the investigation in Sweden, says there was no evidence that Rajiv took the money, he is saying something established long ago, says T N Ninan
Mr PM, states CANNOT deal with global threats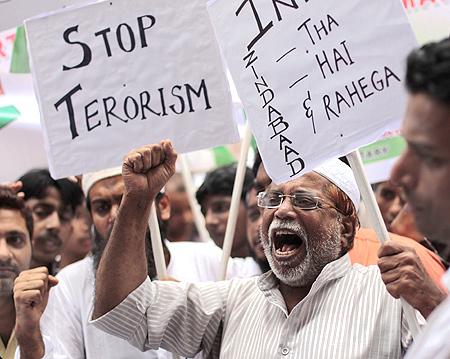 Terrorists and insurgents are increasingly acting together at the regional, national and global level. But we in India are not, points out
After Hindus, Pakistani Christians forced into conversion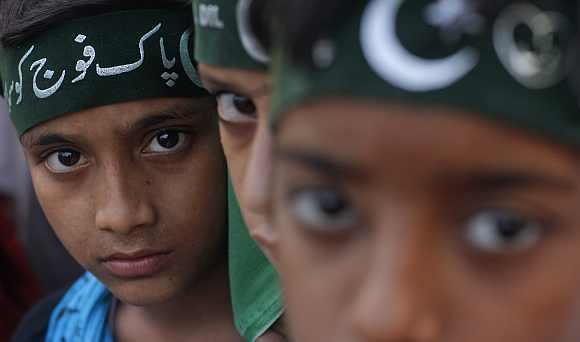 Victims of forced conversions are often girls from poor backgrounds who are unable to defend themselves against extremists because their community is deprived, defenceless and marginalised, reports
Videos: Bofors, Bip,s Singularity and making a Silly Point
Videos: Bofors, Bip's Singularity and making a Silly Point
April 27, 2012
Looking ahead at a Syria through the ballot box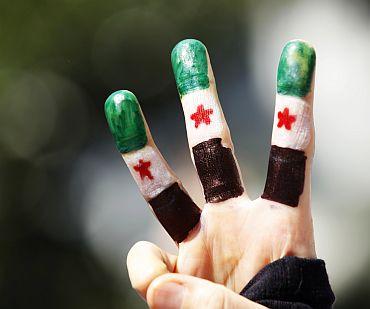 The Assad government has overcome the first flush of crisis by getting the support of all sections of the people ahead of the country's first parliamentary elections. reports
IN PHOTOS: London hostage drama ends after 3 hours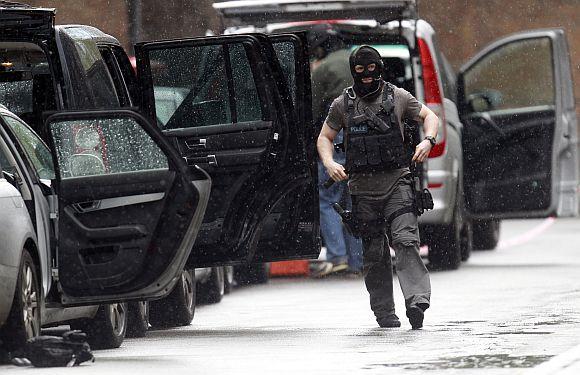 In a dramatic incident, a 50-year-old man who created ruckus in central London today, after taking four people hostage in a building and threatening to blow himself up, has been arrested by Scotland Yard.
Mumbai: Rahul digs deep to set Cong's house in order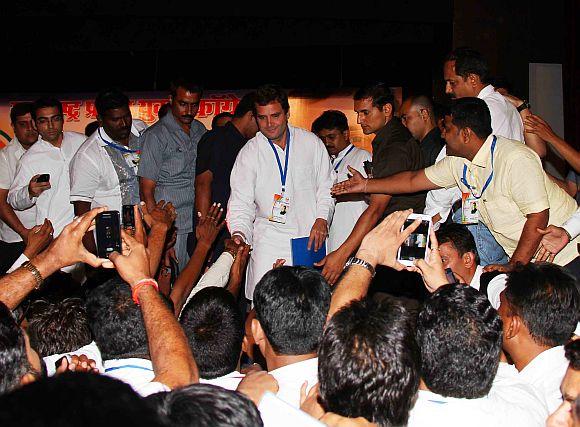 A series of meetings attended by Congress general secretary Rahul Gandhi with block and district presidents in Mumbai threw up several criticisms against the incumbent Congress government in Maharashtra and its ministers, reports .
'People take pride in being called a Bihari'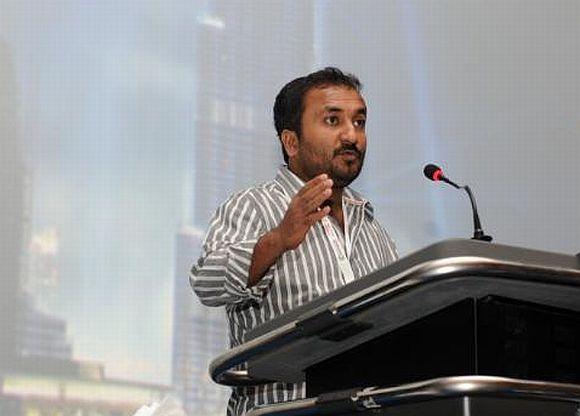 Asserting that Bihar's soil has "tremendous power", Math wizard and 'Super 30' founder Anand Kumar on Friday said the people from the state have proved their mettle in every field due to their ability to work hard and perform.
INS Teg joins Indian Navy today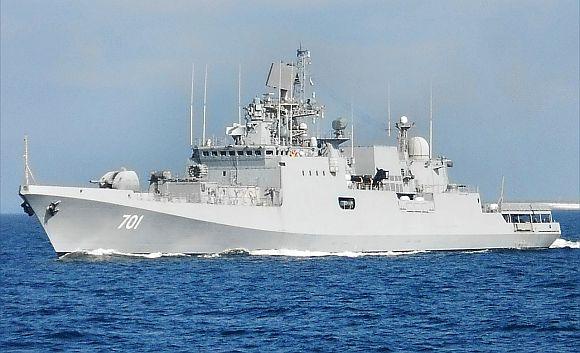 Armed with the surface-to-surface BrahMos supersonic cruise missile, a medium range gun and anti-submarine rockets, guided missile frigate INS Teg will be commissioned into the Indian Navy on Friday at the Yantar shipyard in Russia.
Aiyar on Bofors: Accusing Rajiv is tantamount to treachery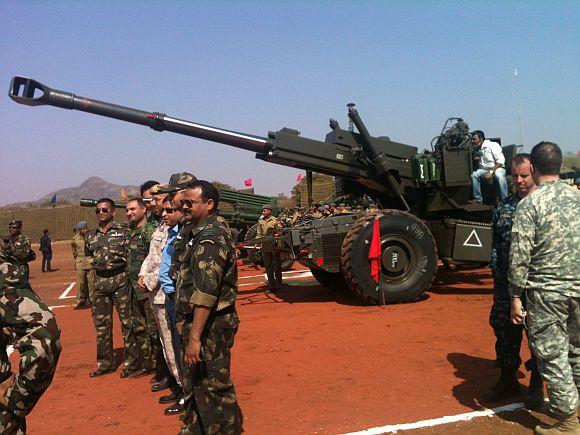 Congress member of Parliament Mani Shankar Aiyar says the Bofors case must be treated as closed and the Bharatiya Janata Party should learn that truth cannot be unveiled by resorting to "character assassination and downright lies".
Why the euphoria over the Agni-V missile is misplaced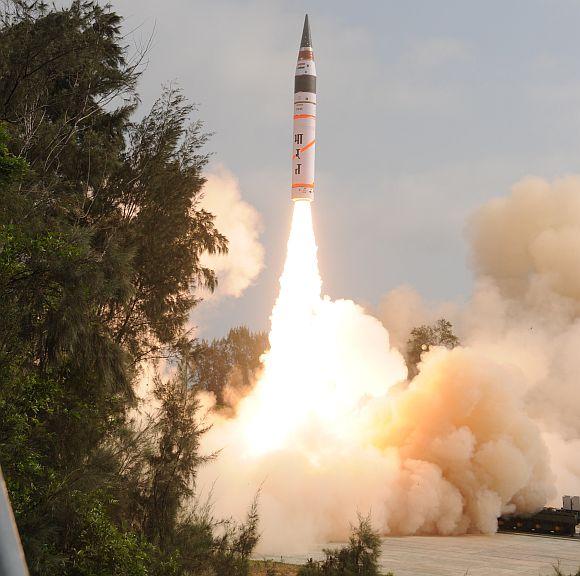 Nuclear-tipped missiles don't give security, says
In PHOTOS: Moon pays a visit to New Delhi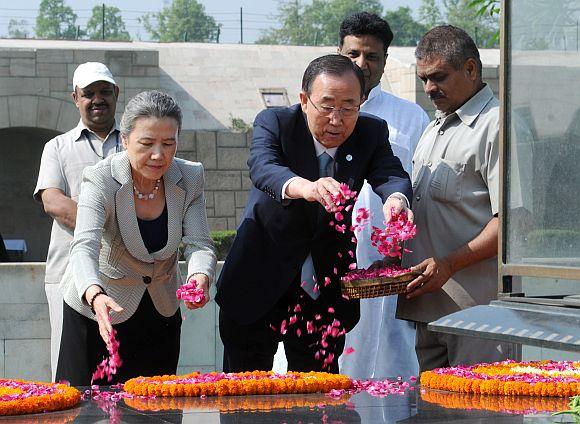 UN Secretary-General Ban Ki-moon hoped that India would find a way to build and strengthen partnerships of common ground with its neighbours and encouraged it to do "even more" in advancing peace and security.
In pics: The piece of paper that ENDED bin Laden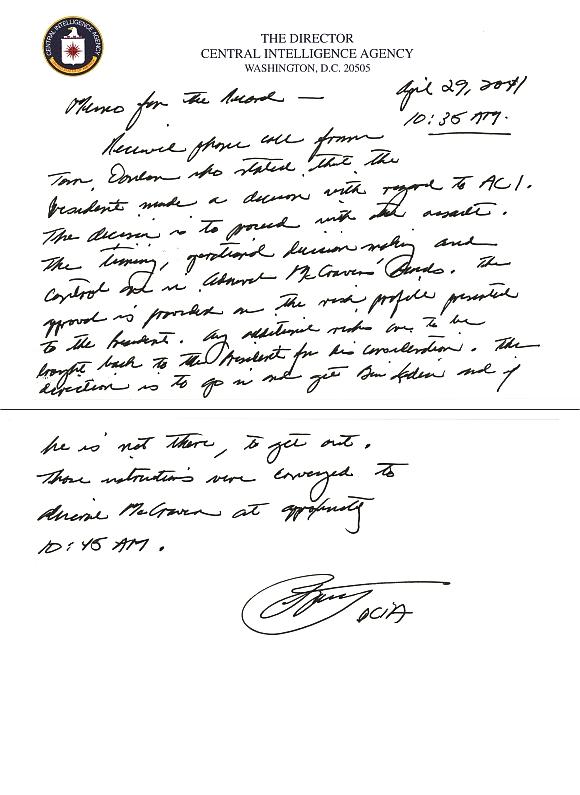 A hand-written memo in which United States President Barack Obama authorised the Navy SEALs team to "go in and get (Osama) bin Laden" at his hideout in Pakistan one year ago has been made public.
MUST READ: The terror transporters of India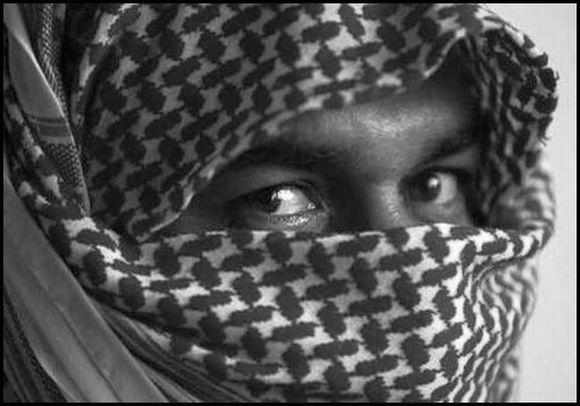 Rs 200 -- That's all that terrorists have to shell out to infiltrate into India. Along the border area of Bihar and West Bengal, the business of transporting terrorists is flourishing at a menacing pace.
In PHOTOS: Remembering world's WORST nuclear disaster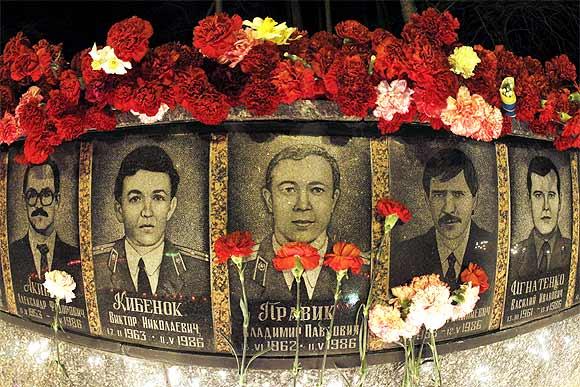 Belarus, Ukraine and Russia marked the 26th anniversary of the Chernobyl disaster, the world's worst civil nuclear accident, on Thursday.
Al Qaeda: A year after Osama bin Laden's death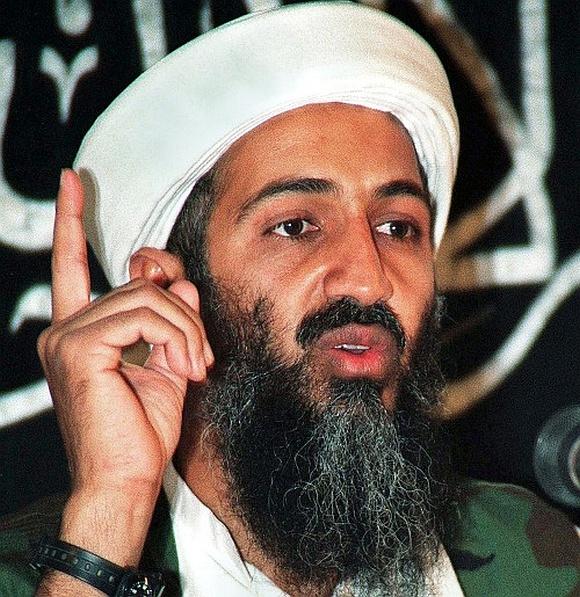 There is an air of nervousness all over the world where there is a strong United States presence regarding the dangers of Al Qaeda-inspired attacks on US nationals and interests coinciding with the first anniversary of the killing of Osama bin Laden by US Navy Seals during a clandestine raid into his hide-out in Abbottabad in Pakistan on May 2 of last year, says security expert
Abduct, demand and thrive: The new Maoist mantra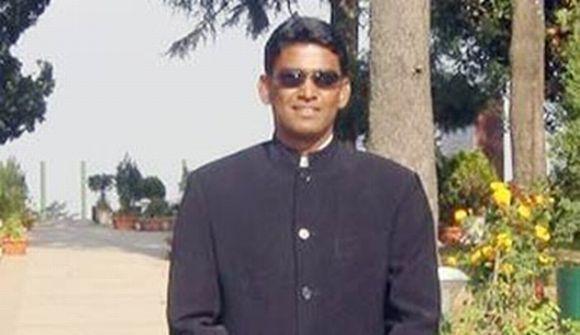 Philosopher George Santayana's prediction that those who forget history are condemned to repeat it is coming eerily true in the jungles of east and central India, where state governments have encouraged Maoist terror by succumbing to serial hostage deals.
Why the Bofors scandal CANNOT be forgotten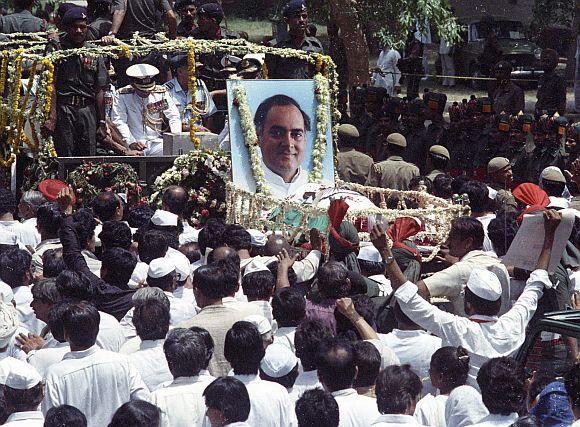 To many who remember the politics of the late 1980s, this is a worryingly familiar moment for India. The two periods have several common features: a rudderless government, an insurgent anti-corruption movement, and weakness on the external economic front.
Rahul in Mumbai: Will he clean up Cong's Maha mess?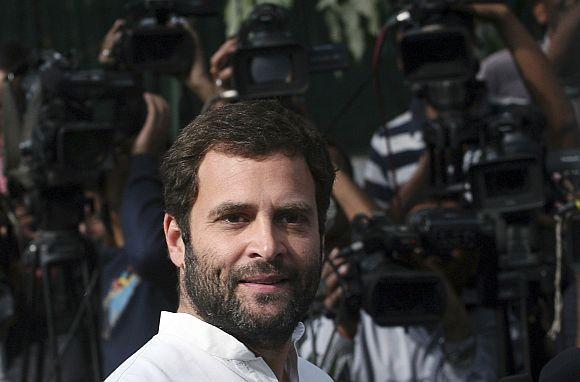 With ally Nationalist Congress Party surging ahead of Congress in the recent local body elections in Maharashtra, All India Congress Committee general secretary Rahul Gandhi's one-day visit to Mumbai on Friday is being viewed in party circles as a move to put the state unit into a pro-active mode and retrieve lost ground.
Rajya Sabha's CELEB quotient over the years
Rediff.com lists a few celebs who have donned the role of a politician in the Rajya Sabha.
April 26, 2012
Will Sachin in RS put an end to his cricketing career?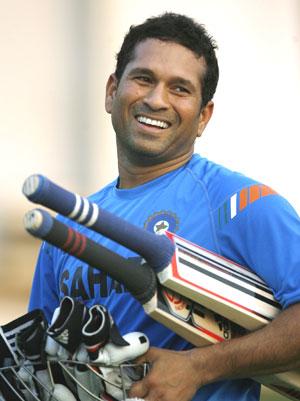 There is a buzz that Sachin Tendulkar's nomination to the Rajya Sabha was masterminded by the Board of Control for Cricket in India. reports.
Why Gilani's conviction is a soft constitutional coup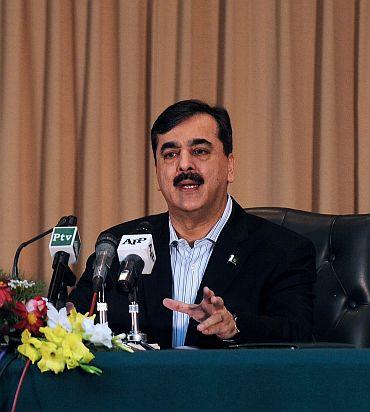 With its judgment against Prime Minister Yusuf Raza Gilani, the Pakistan judiciary has in the name of rule of law ensured that there is neither any law nor any rule in Pakistan, says
Rare honour: Ambassador Rao to address US varsity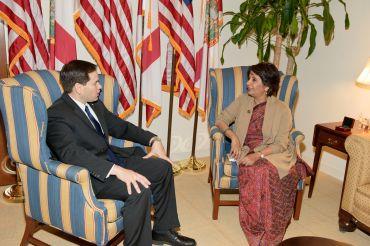 In a rare honour, and perhaps unprecedented in the annals of Indian diplomacy in the United States, Ambassador Nirupama Rao will travel to Gainesville, Florida, on Friday to deliver the graduation address to the University of Florida's Doctoral Degree Commencement Ceremony.
Team Anna divided over Hazare's praise for MNS chief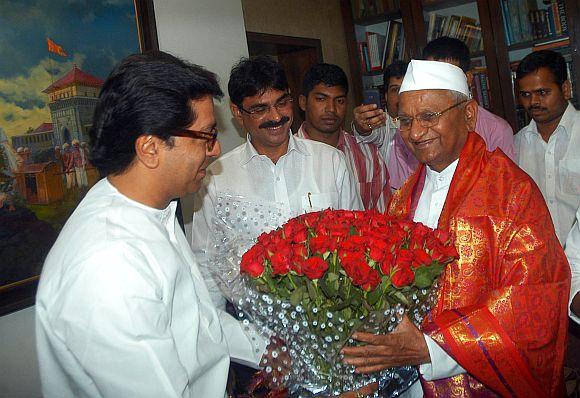 Team Anna appeared to be divided on Raj Thackeray on Thursday with Anna Hazare praising the Maharashtra Navnirman Sena chief Raj Thackeray saying his work "appeals" to him and its key member Prashant Bhushan disapproving his politics.
What issues should Sachin take up in Rajya Sabha? Your SAY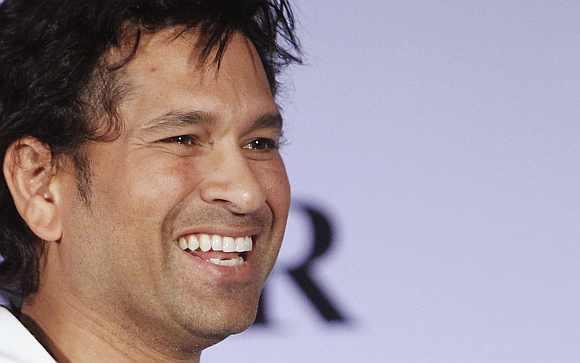 On Thursday, cricket icon Sachin Tendulkar joined the league of celebrities who have turned politicians. President Partibha Patil accepted Tendulkar's nomination as a member of the Rajya Sabha making him the first active sportsperson to be a representative in the Upper House.
Why Gilani will remain Pak PM despite conviction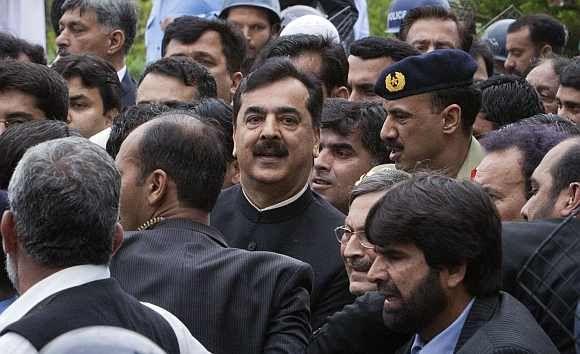 Despite being convicted by the Pakistani supreme court on contempt of court charge, Prime Minister Syed Yousaf Raza Gilani will stay in his office as the chief executive of the country given the fact that conviction in itself is not enough to send him home, reports .
Sachin, Rekha accept Rajya Sabha nomination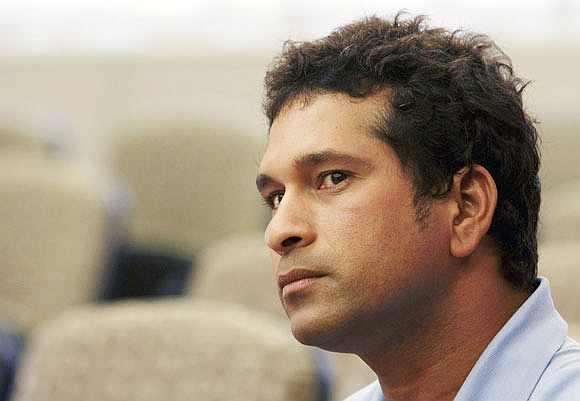 Cricket icon Sachin Tendulkar and actress of yesteryear Rekha are among four eminent persons who have been recommended for nomination as members of Rajya Sabha.
FAQ: All you wanted to know about the army-Tatra scam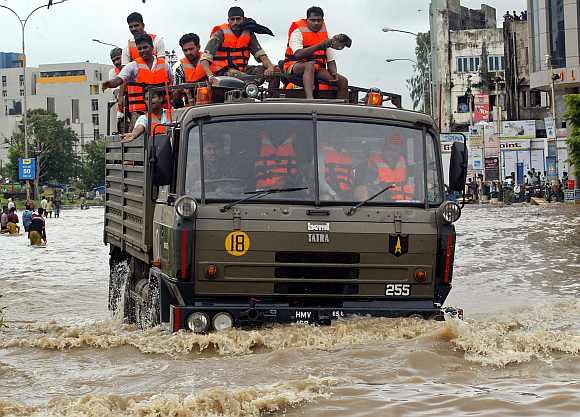 The Central Bureau of Investigation is inquiring into the irregularity, if any, in the purchase of the all-terrain Tatra vehicles by the Indian Army from the Bharat Earth Movers Limited.
Contempt of court: Demand for Gilani's resignation grows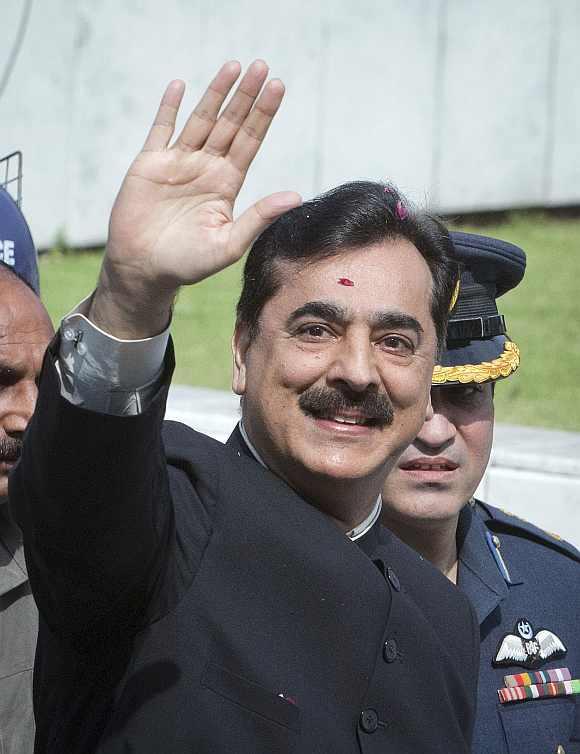 As the Pakistan People's Party plans to file a review petition against the Supreme Court verdict on Pakistan Prime Minister Yousuf Raza Gilani, experts say that the premier should step down on moral grounds before the country plunges into another political crisis. reports
MUST READ: Bofors saga - The cover-up of a cover-up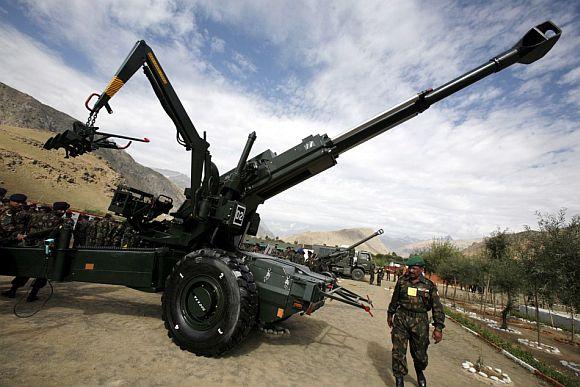 One of the biggest gaps in the Bofors saga is the absence of an objective and full-fledged enquiry into the role played by the intelligence and investigative agencies in the entire saga under Rajiv Gandhi as well as V P Singh, writes .
India NEEDS Agni 5, but not to attack China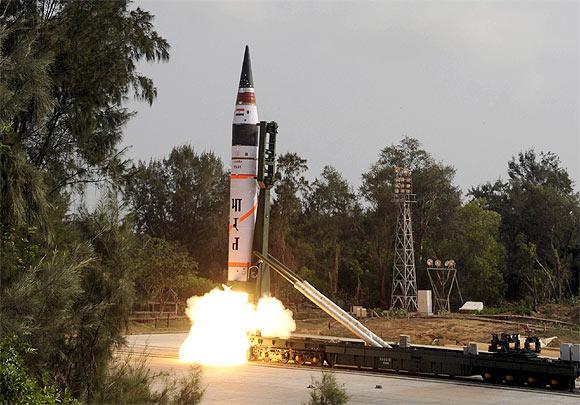 Agni 5 is not China-specific, as some have claimed. It is essential to India's overall security and should be followed by a submarine-launched version, says Premvir Das
After 67 years, Hitler's Mein Kampf to return to Germany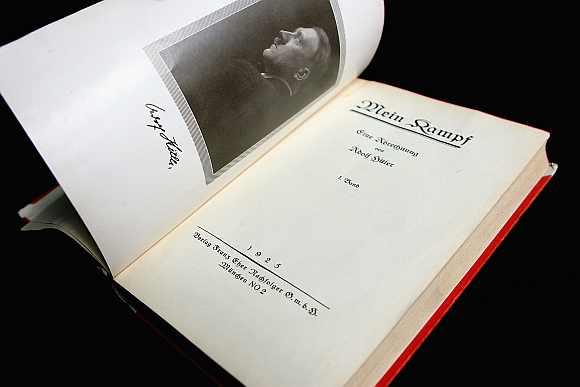 Adolf Hitler's autobiography Mein Kampf, not printed in Germany for the last 67 years amid fears that it might promote Nazism, is set to return to the country's schools.
Al Qaeda presence in Syria has government worried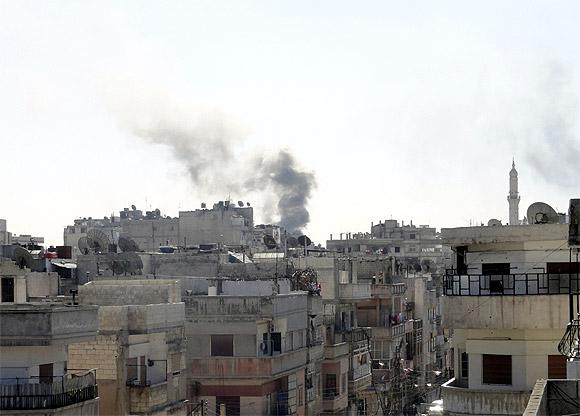 Although the Al Qaeda is not present in large numbers, they are lethal and very determined, says Syria's Vice Foreign Minister Faisal Mekdad. reports
In PHOTOS: India launches new satellite RISAT-1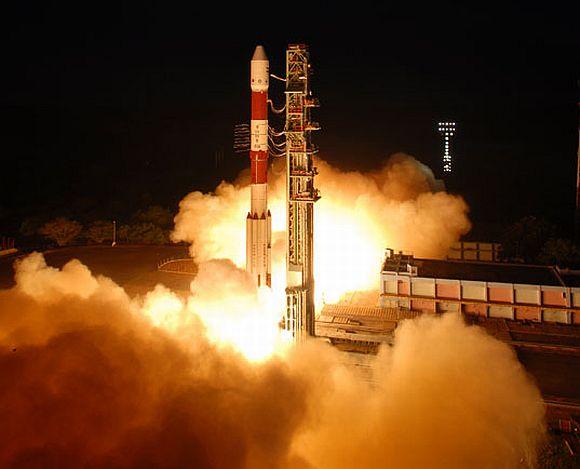 The perfect launch of the satellite catapulted India into a select band of countries having indigenous radar imaging technology
Pak PM Gilani held GUILTY, spends 30 seconds in jail
On Thursday morning, Gilani appeared before a seven-judge bench that is hearing a contempt of court case initiated against the premier for refusing to act on orders to reopen graft cases against President Asif Ali Zardari.
IN PICS: Mystery object punches Saturn's ring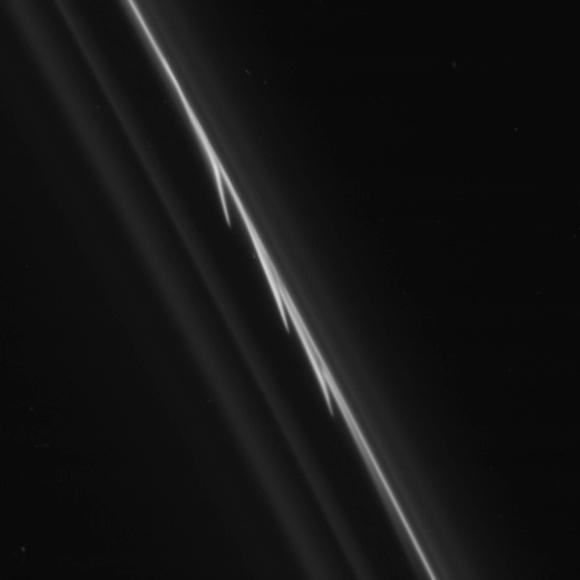 New images from National Aeronautics and Space Administration's Cassini spacecraft show rogue kilometre-sized objects punching through Saturn's F-ring and leaving glittering trails -- dubbed 'mini-jets' -- behind them.
In PHOTOS: PSLV, India's trusted satellite launcher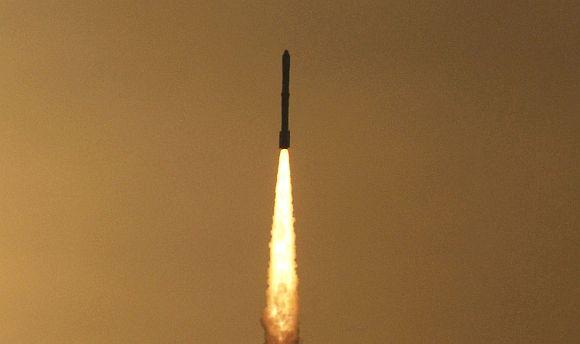 The placing of four satellites into orbit on October 12, 2011 is yet another milestone in the glorious career of Indian Space Research Organisation's trusted Polar Satellite Launch Vehicle.
April 25, 2012
IN PHOTOS: Prowling tiger TRAPPED near Lucknow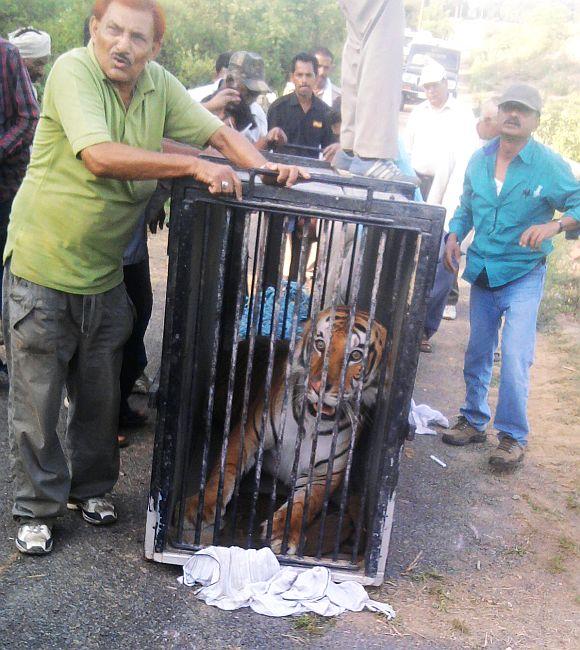 A full-grown tiger was trapped on Wednesday after being on the prowl in the neighbourhood of Lucknow for exactly 108 days.
Big B on Bofors clean chit: 'They lost ultimately'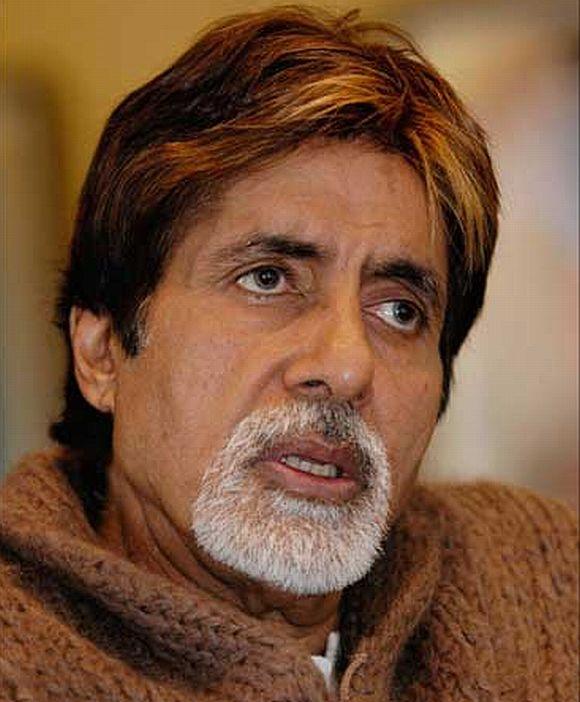 With the Swedish whistle-blower in the Bofors case giving him a clean chit, megastar Amitabh Bachchan Wednesday said truth had prevailed but nobody could fathom the anguish he had to go through because of the "petulant blame".
Bofors: 'Rajiv Gandhi watched cover-up, did nothing'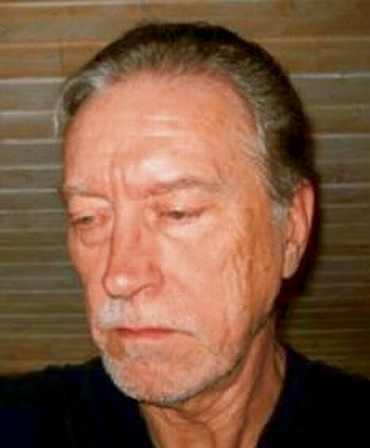 "I knew what I was doing when I leaked the documents to you. I could not count on my government or Bofors or the Government of India to get to the bottom of this." Sten Lindstrom, former head of Swedish police who led the investigations into the Bofors-India gun deal, explains why he chose to turn whistleblower to , in an interview published on the website hoot.org
Rajiv Gandhi tried to SAVE Quattrocchi: BJP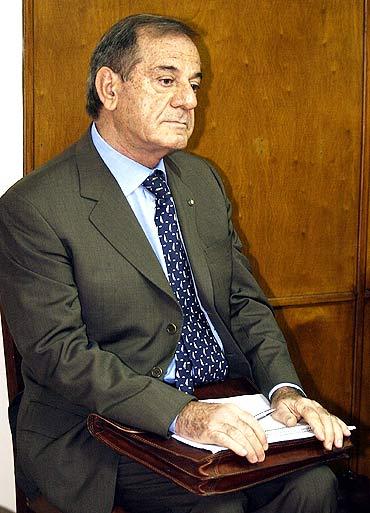 The Bharatiya Janata Party's parliamentary body on Wednesday decided to rake up the Bofors pay-off issue in Parliament in the wake of fresh allegations that then prime Minister Rajiv Gandhi may have 'soft-pedalled' the probe to protect Italian businessman Ottavio Quattrocchi.
'Churches promote miracles to bring in people, money'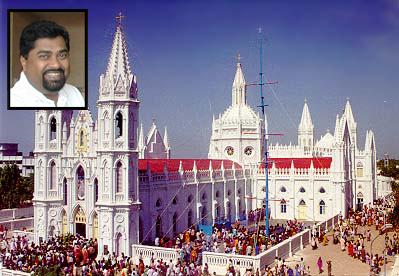 In this interview with rediff.com's , Sanal Edamuruku says he has sought to exercise his constitutional right to develop scientific thinking, while lashing out at churches, Sathya Sai Baba and Baba Ramdev for the miracles and so-called magic theories they promote
'There's danger of Islamic radicalism in the Maldives'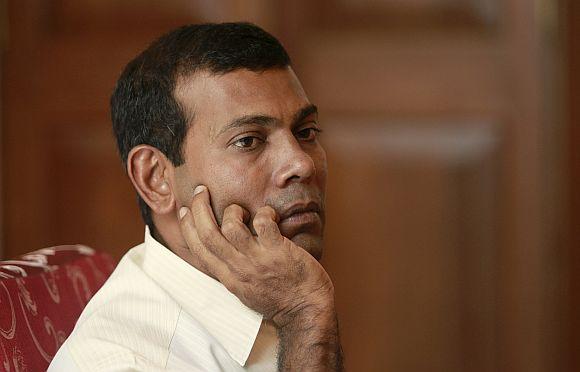 Former Maldivian president Mohamed Nasheed who is in New Delhi for the last five days trying to drum up support for his demand for establishing a popular government in Male, met Prime Minister Manmohan Singh on Monday and discussed the political situation in the Maldives and its future.
The women who chose to be different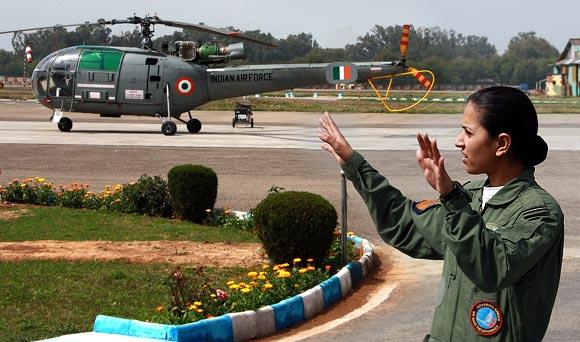 Lady officers in the Indian Air Force have become trendsetters, carving a prominent place for themselves in diverse IAF stations across the country. This year, for the first time, the IAF contingent was led by a young lady officer at the Republic Day parade. Rediff.com's meets some dynamic IAF lady officers who make India proud.
Indo-Pak nuke war may set off global FAMINE: Study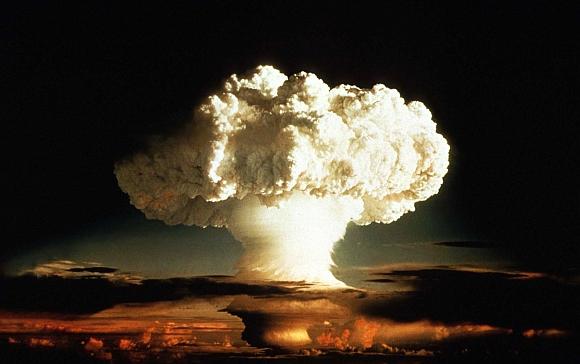 More than a billion people around the world could face starvation if a nuclear war breaks out between India and Pakistan, according to a new report which said the "nuclear famine" will be an "unprecedented" disaster that would bring an end to modern civilisation.
ODD PHOTOS: Meet one-ounce Beyonce and 26-feet Marilyn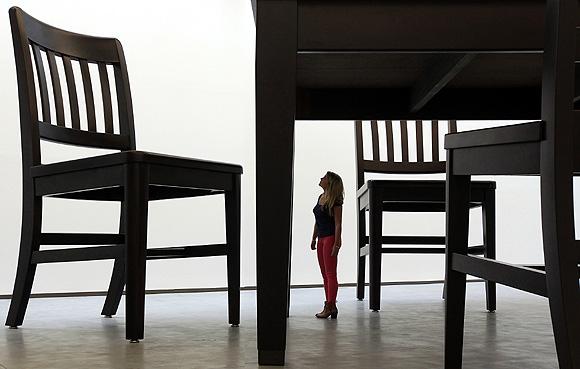 We present some of the most unusual photographs from across the world
India MOST important country for Maldives: Nasheed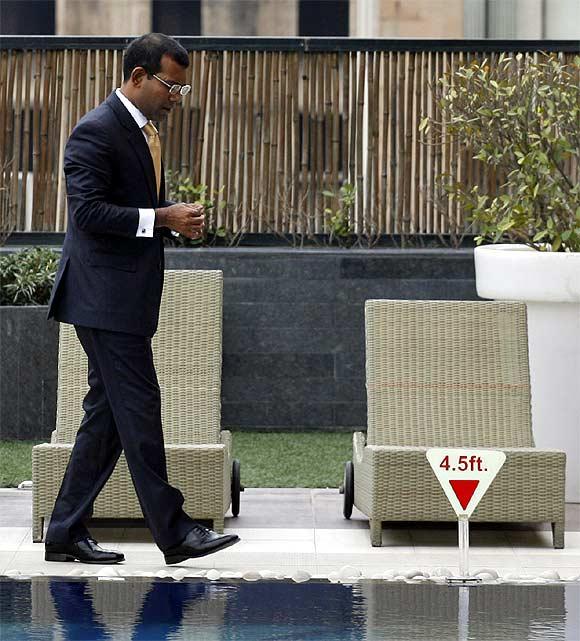 Mohamed Nasheed, 45, the first democratically elected president of the Maldives who was ousted in a coup in the early hours of February 7, has been in Delhi for the last few days. He is lobbying the Indian government for support to hold elections in the Maldives by the end of 2012, instead of 2013 when elections are due anyway. He tells Jyoti Malhotra that India should take a leadership role in the Indian Ocean
PIL on new army chief's selection, what's the motive?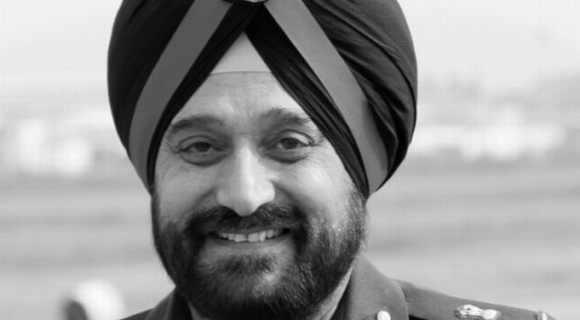 The public interest litigation filed in the Supreme Court against the selection of Lt Gen Bikram Singh as the next chief of the Indian Army has been dumped by the court.
What is the best CONTRACEPTIVE in India? Development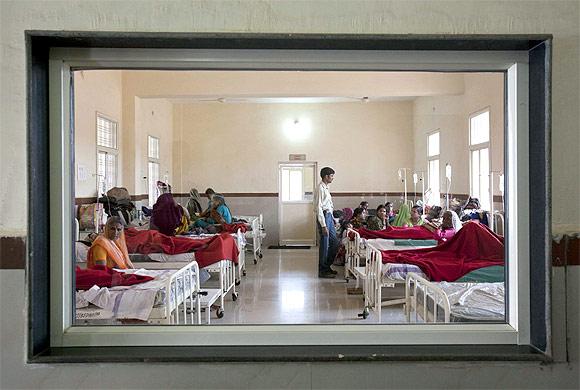 Gender empowerment rather than hard-core 'family planning' lies at the heart of India's population stabilisation efforts, says Amarjeet Sinha
Guess who's Narendra Modi's latest chela?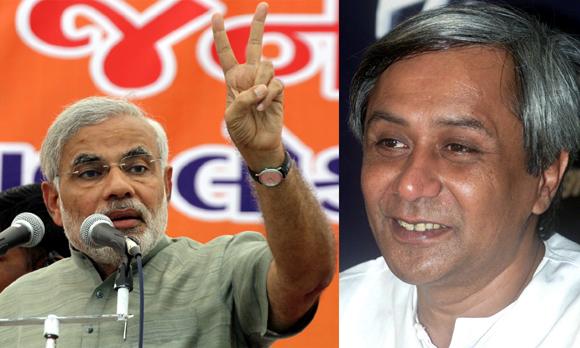 It's not been a great week for the prime minister. Manmohan Singh has been blamed for the UP debacle. The UPA government's third anniversary is coming up and it has barely any achievements to showcase. And the UPA has discovered why it can no longer depend on the Muslim vote. All this and more in this week's Dilli Gupshup.
Yeddyurappa NOT the only corrupt leader in Karnataka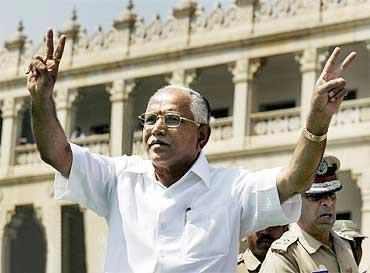 Several developments in the Supreme Court over illegal mining of iron ore in Karnataka indicate that only the first chapter of a long-running story has been brought to a satisfactory end. The whole story offers a valuable insight into practices of governance and ways of doing business in India.
In PHOTOS: 6 most SHOCKING US scandals in Afghanistan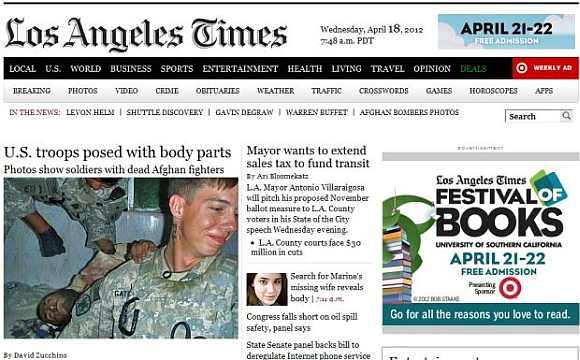 The already strained Washington-Kabul ties took a further jolt after recent photographs showed American soldiers posing with the mangled remains of suspected Taliban suicide bombers.
Debate over Prez candidate picks up, no consensus yet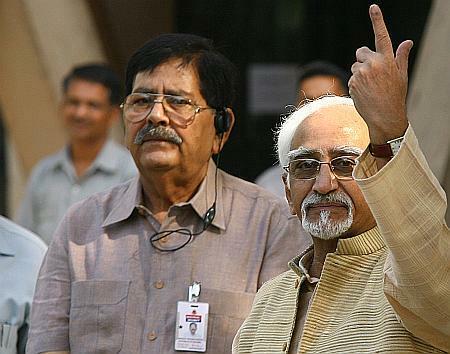 The debate over Presidential candidate picked up further momentum with Rashtriya Janata Dal chief Lalu Prasad pitching for Vice President Hamid Ansari while other parties kept the cards close to their chest.
April 24, 2012
Hafiz Saeed shoots down Pakistan plea to lay low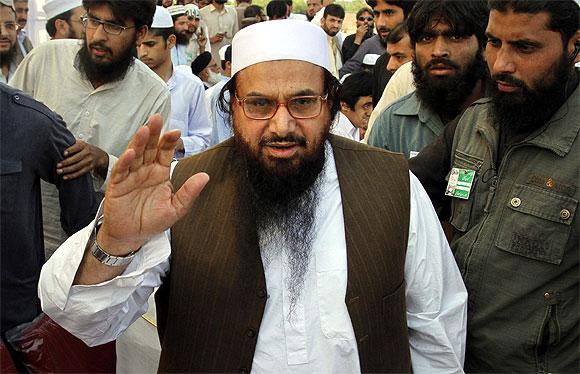 Lashkar-e-Tayiba founder Hafiz Mohammad Saeed has turned down a "request" from the Pakistan government to limit his public appearances and activities after the US announced a $10-million bounty for him, according to a media report on Tuesday.
Centre-state row: What the PM told Nitish Kumar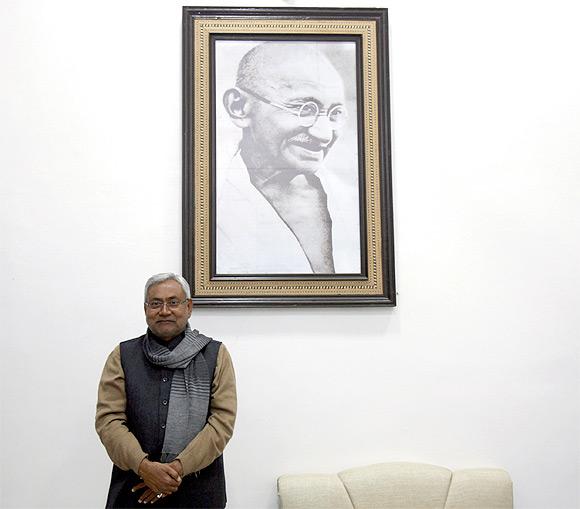 "Delhi should let the states decide what they should do," Bihar Chief Minister Nitish Kumar tells Aditi Phadnis
Exclusive! Release my husband, says Alex Paul's wife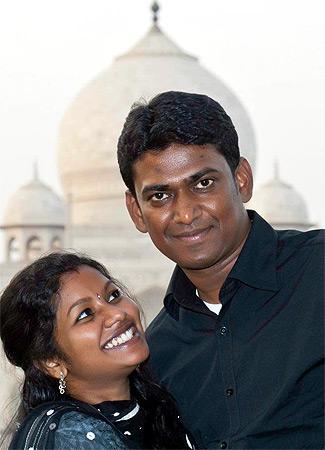 Kidnapped collector Alex Paul Menon's wife Asha, in an exclusive first person account, gives glimpses of her husband's softer side, and requests the Maoists to release him.
SHOCKING PIX! Journalists in the line of fire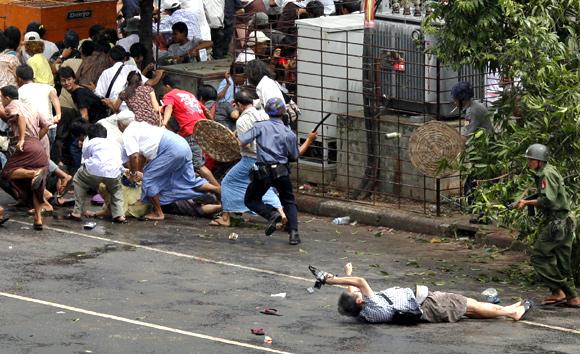 Rediff.com presents some pictures to show how journalists put to risk their lives to dig out that inside story.
How China MOTIVATES its youth to join the army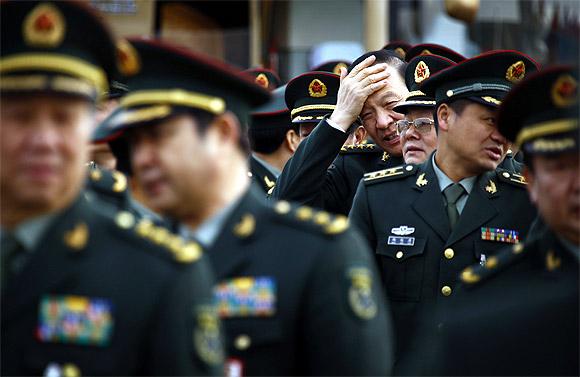 China has announced a slew of policies to encourage more youths to join its People's Liberation Army, the world's largest military organisation, which has a strength of 2.3 million personnel.
Wanted! VIP treatment for ordinary Indians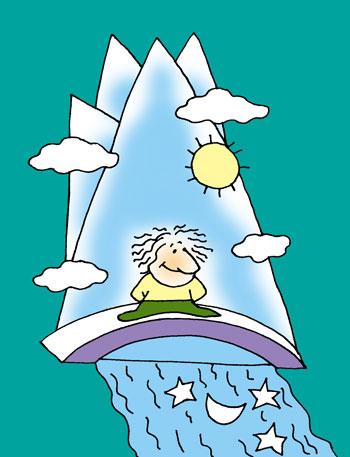 When the government has been so vociferous in demanding an apology from the US for Shah Rukh Khan, may I ask for an apology from my own government for not even bothering to inform me and other 'ordinary' citizens that our passports have been revoked, asks Harsh V Pant.
Secret Service sex scandal: What happened in Colombia?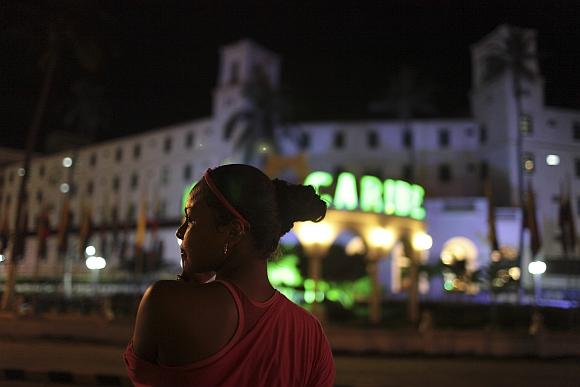 The United States Secret Service prostitution scandal has now grown to include a 12th member of the elite security agency, even as the Pentagon has suspended clearances of all implicated military personnel. Rediff.com takes a look at the chain of events.
AMAZING PIX: The many shades of Queen Elizabeth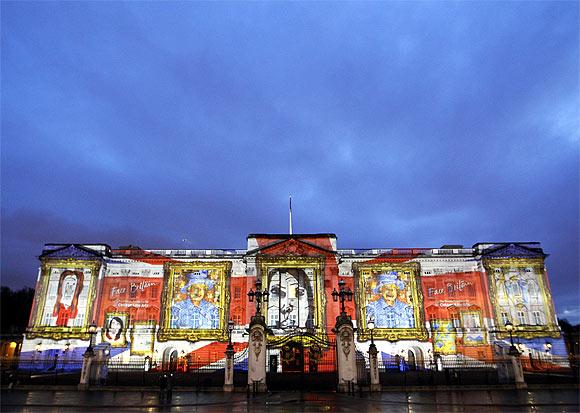 Rediff.com brings you a collection of the many colourful sides of Queen Elizabeth
To minimise chances of rape, DON'T use public toilets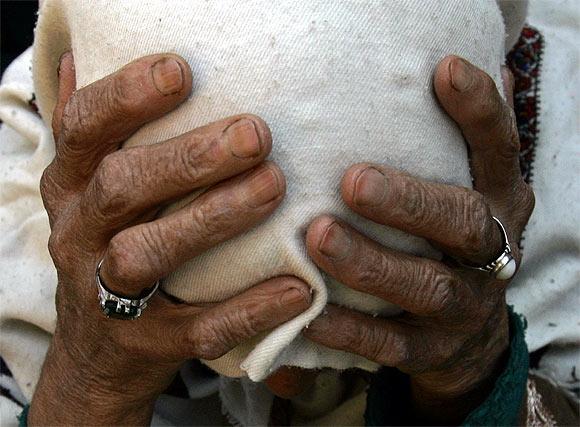 There is an unwillingness to articulate what the statistics scream since the data indict holy cows like family and society, says Devangshu Datta
REWIND: Best images in the last 24 hours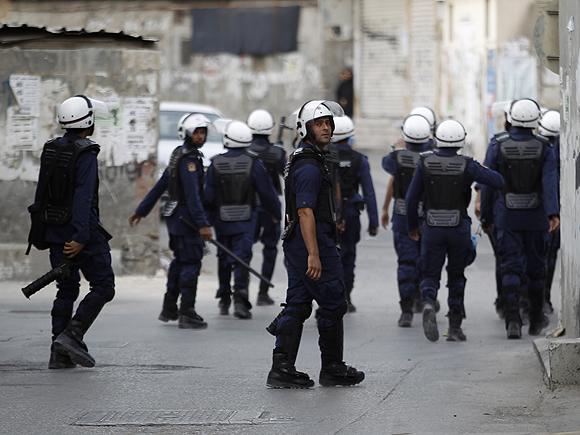 We bring you some of the best pictures from around the globe in the last 24 hours.
Pakistan: Fabled pond in Hindu temple runs DRY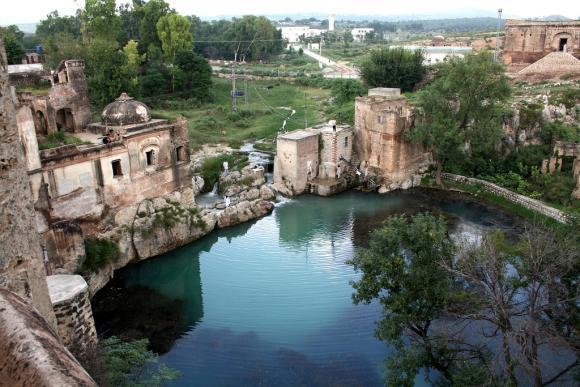 The water level in the sacred pond that lies in Chakwal district of Pakistan Punjab has been dropping at an alarming rate due water being supplied to nearby cement factories and towns. reports
April 23, 2012
Pak ready to resolve all issues with India: Gilani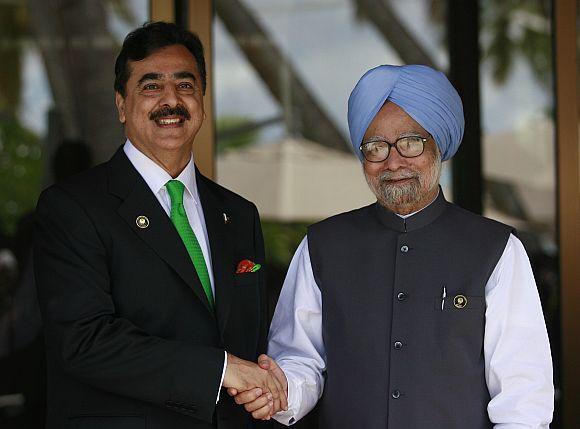 The era of wars has ended and Pakistan is prepared to resolve all outstanding issues with India, including the Kashmir dispute and terrorism, through talks, Prime Minister Yousuf Raza Gilani said on Monday.
'Govt should release Maoists immediately to free Alex'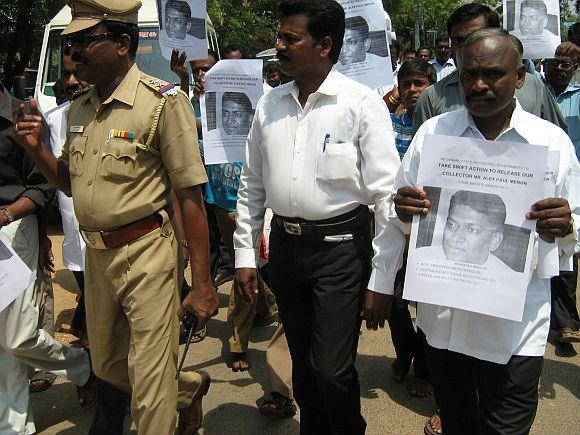 visits Tirunelveli where there's unrest following Saturday's Maoist abduction of Alex Paul Menon, the collector of Sukma district in Chhattisgarh, who belongs to this district.
Why India DID NOT tell China about Agni 5 launch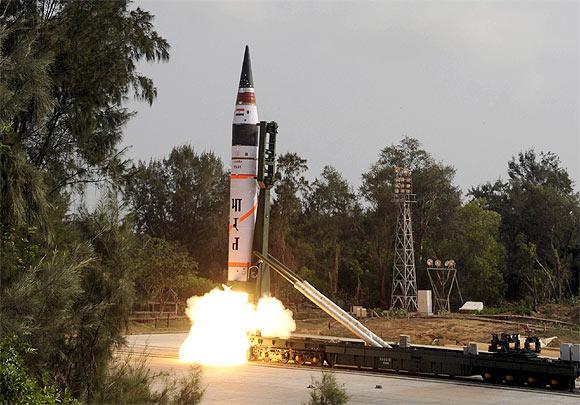 Delhi's refusal to beat its chest is part of its recent pragmatic approach to foreign and security affairs, says Jyoti Malhotra
Sarkozy trails, Hollande frontrunner for French presidency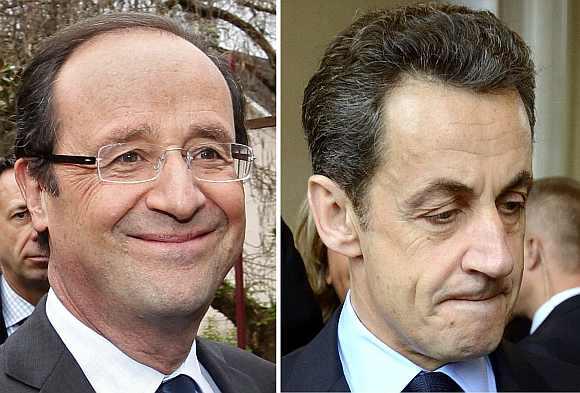 Socialist champion Francois Hollande stamped his authority on the French presidential race on Monday, winning the first round of polling and setting up a May 6 run-off with incumbent Nicolas Sarkozy.
'Kashmir's azaadi inevitable, won't accept anything else'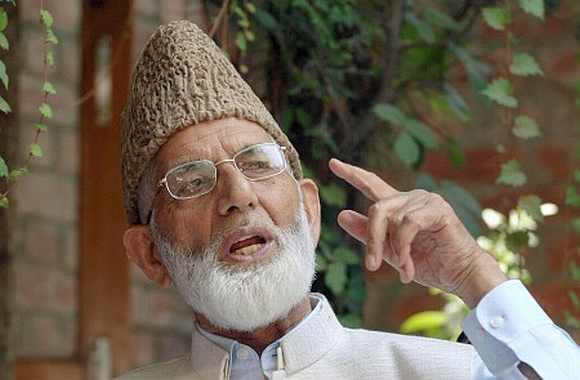 Demanding that Jammu and Kashmir be considered a "disputed territory", hardline separatist leader Syed Ali Shah Geelani on Sunday said that people there should be given the right to "self determination".
Ousted Team Anna member SPEAKS OUT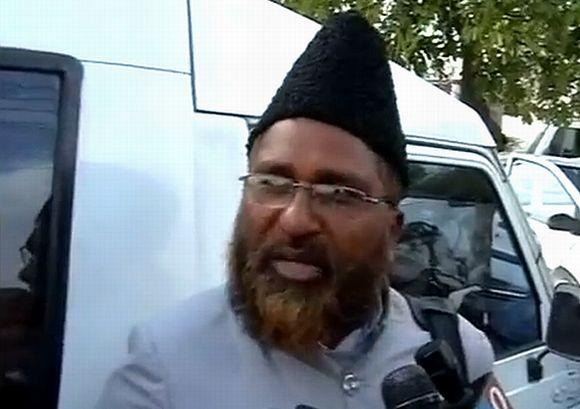 At the Team Anna meeting in New Delhi, Mufti Shamoon Qasmi, a member of its core committee, stormed out and announced his resignation. In an exclusive interview with Rediff.com, Qasmi blasts the Team Anna leadership.
India CUT Agni 5 range under NATO pressure: China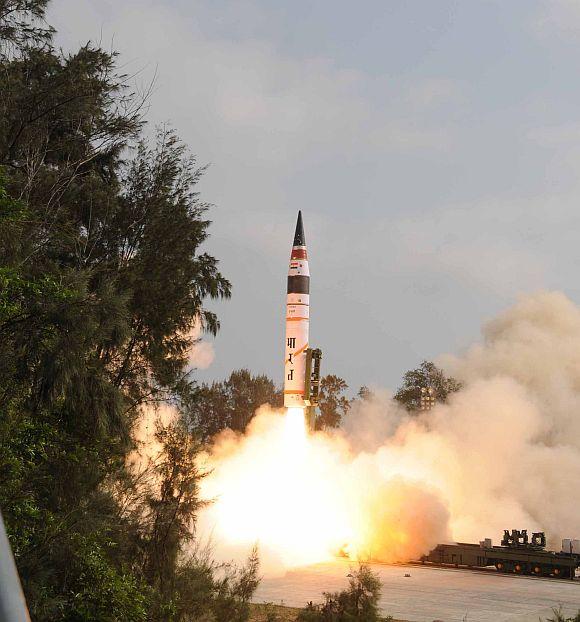 Continuing its tirade against the successful launch of Agni V, Chinese state media has again accused New Delhi of buckling under pressure from the North Atlantic Treaty organisation to cut down the missile's range from 9,000 km to 5,000 km.
DON'T MISS: Tarantula, Pacman that NASA spotted in space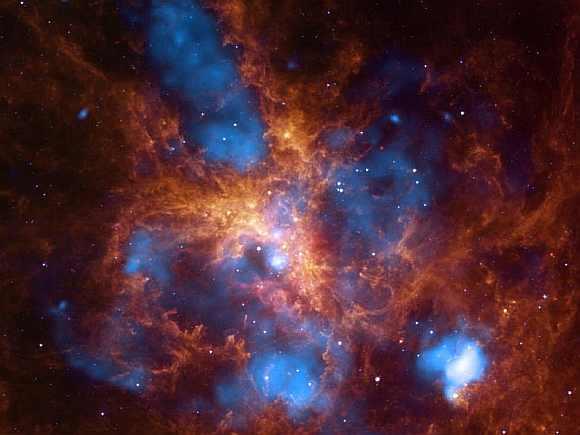 Rediff.com brings you a collection of never-seen-before pictures released by the National Aeronautics and Space Administration of some of the most massive and magnificent stars in our galactic neighbourhood.
PHOTOS: IRRESISTIBLE tulips, Kashmir's latest pull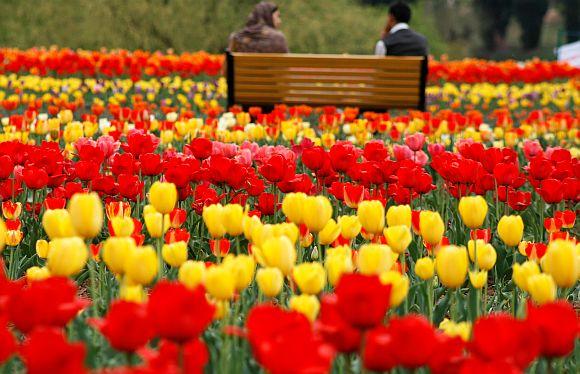 Kashmir tulip garden, billed as Asia's biggest, has had a bountiful of visitors crossing over a lakh in just three weeks after it was thrown open to public on March 29.
April 22, 2012
Drama at Team Anna meet; Muslim member storms out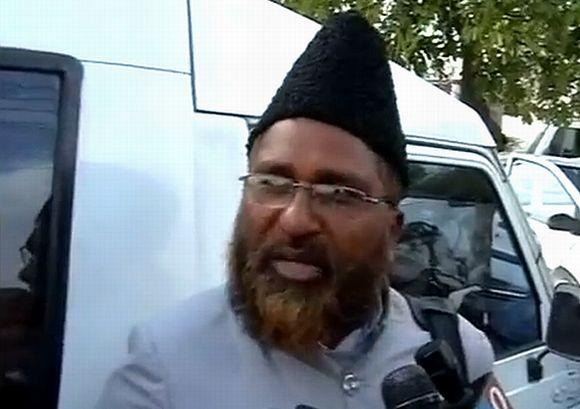 High drama was witnessed at the Team Anna core committee meeting in Noida on Sunday with the group expelling one of its members Mufti Shameem Kazmi for allegedly recording its proceedings even as he claimed that he quit the movement as it was turning anti-Muslim.
Sarkozy's fingers crossed as polls begin in France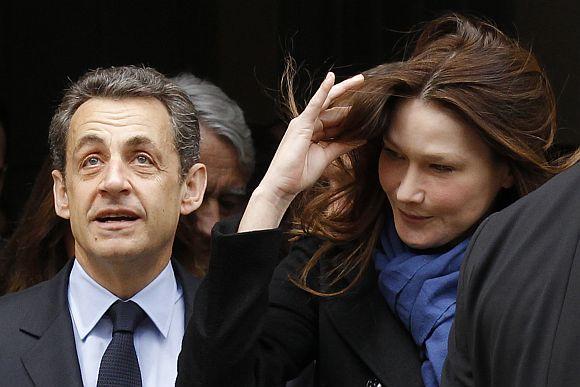 The first round of the 2012 French presidential election officially kicked off in mainland France on Sunday morning.
Dealing with Maoists: Wanted cool thinking, not bravado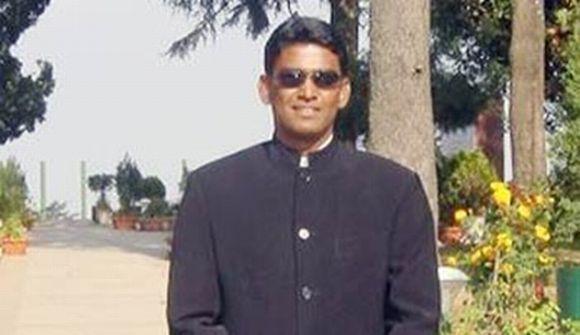 It is an occupational hazard for the authorities having to deal with terrorism or Maoist insurgency. The authorities should act according to their best judgement unmindful of the brickbats that might follow, says .
April 21, 2012
The PM is in office but NOT in power: BJP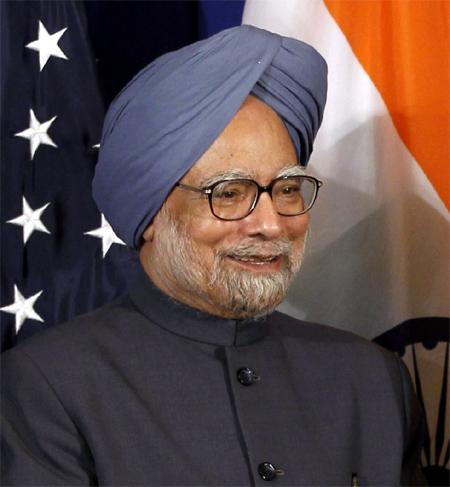 The Bharatiya Janata Party on Saturday took a dig at Prime Minister Manmohan Singh for exhorting bureaucrats to take bold decisions, saying the comments come as a "surprise" as there is "policy paralysis" in the government and "indecisiveness has become its hallmark".
Chhattisgarh: Naxals kidnap collector, kill his bodyguards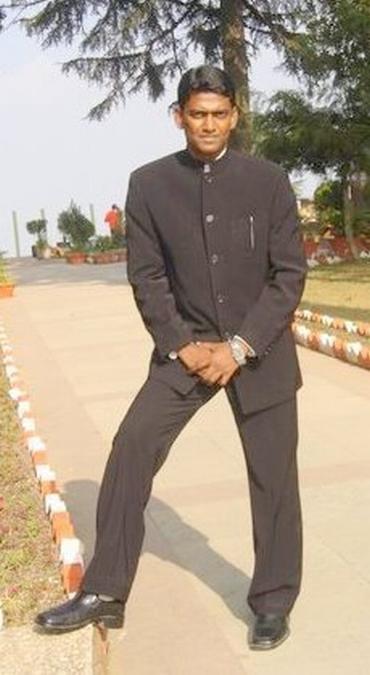 Maoists on Saturday kidnapped the collector of Sukma district in Bastar area of Chhattisgarh after killing two of his bodyguards.
'It is no more safe living in America'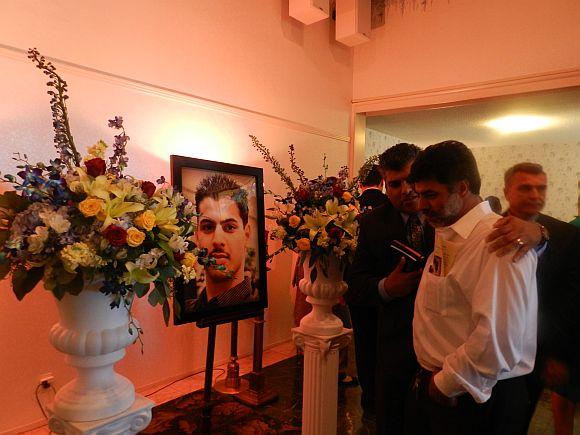 Garbed in black T-shirt bearing his photo in front, more than a dozen friends of Rahul Sharma gathered at the funeral service on Friday, April 20 at the Fremont Chapel of the Roses and Fremont Memorial Chapel in the San Francisco Bay Area in California, US.
Team Anna blasts Ramdev for his Friday stunt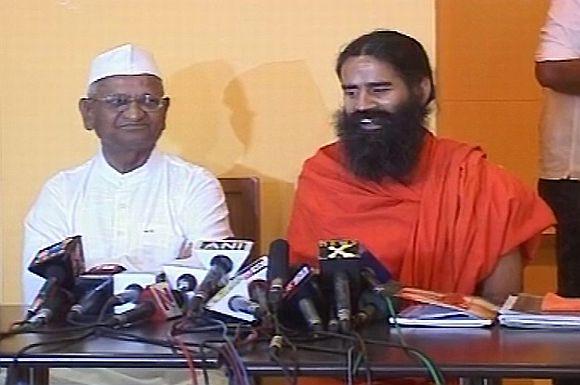 Within a month of stitching an alliance to fight corruption, Team Anna is now fuming at yoga guru Ramdev for his "one-upmanship" and "not taking into confidence" Anna Hazare while announcing the future course of action.
Does Agni-V have 8,000-km range? The Chinese think so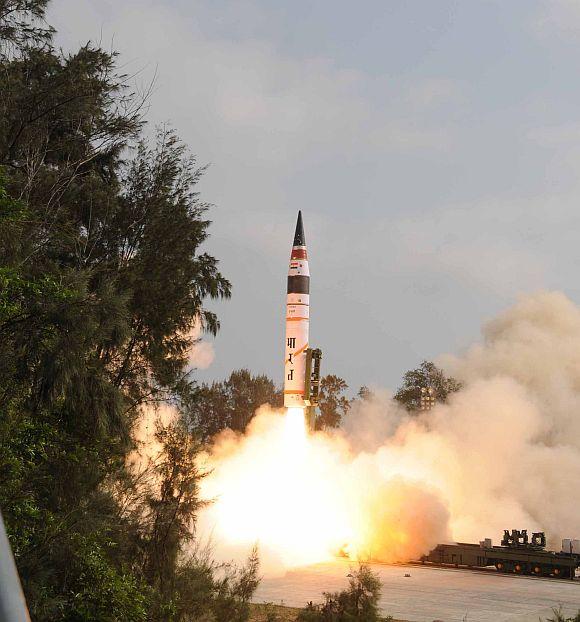 Chinese strategic experts have said that India's Agni-V missile has a potential to strike targets 8,000 km away and the launch of the long-range weapon shows that India is making concrete efforts to become a world power.
PHOTOS: No survivors in horrific Pakistan plane crash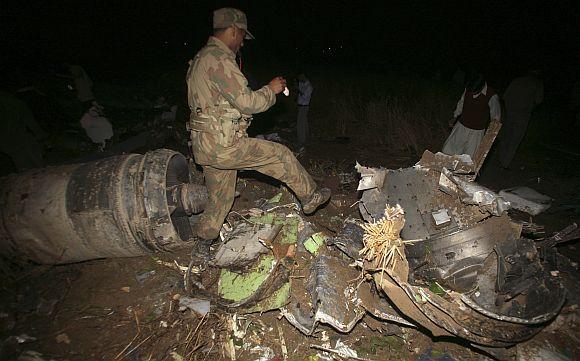 A total of 127 people were killed when a Boeing 737-200 of Bhoja Air crashed a short distance from the international airport in the Pakistani garrison city of Rawalpindi, the second such accident in less than two years.
Must Watch: Agni 5 launch; Veena gets Dirty
Must Watch: Agni 5 launch; Veena gets Dirty
April 20, 2012
'You, Mr Bachchan, are really a champion'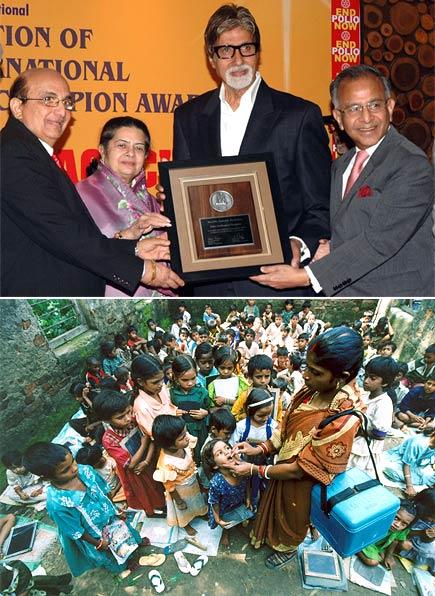 Here's what makes Amitabh Bachchan the epitome of humility and a great human being.
Militants gun down cop at bunker removal site in Srinagar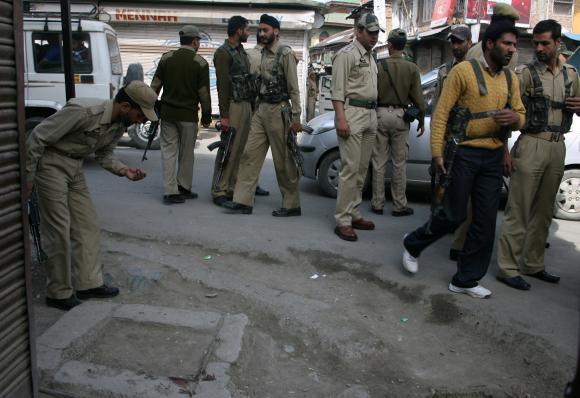 Militants struck in the heart of summer capital Srinagar on Friday morning killing an assistant sub-inspector of the state police.
PIX: PM visits Assam, ULFA shuts it down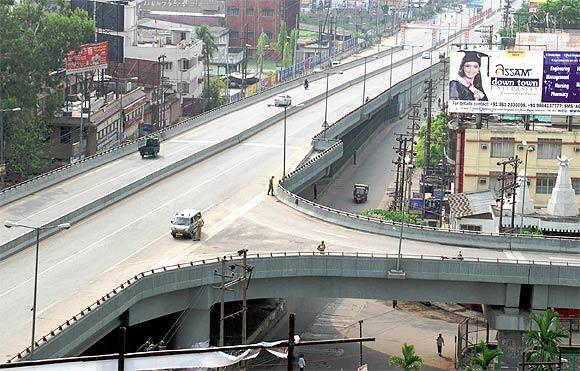 Prime Minister Manmohan Singh on Friday arrived in Guwahati for a day-long visit amid tight security arrangement.
Afghanistan: Cometh the Spring offensive?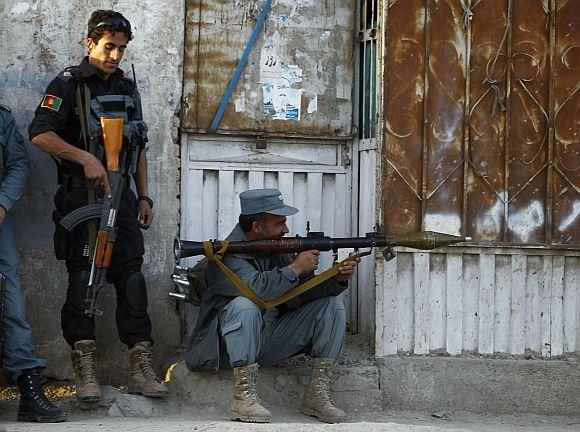 The Taliban once again made their intentions clear on Sunday, with spectacular coordinated attacks which resulted in an 18-hour battle with North Atlantic Treaty Organisation and Afghan forces. With the looming political uncertainty, whispers of a civil war, the insurgents are well positioned to fill in the vacuum.
The India that is not Bharat...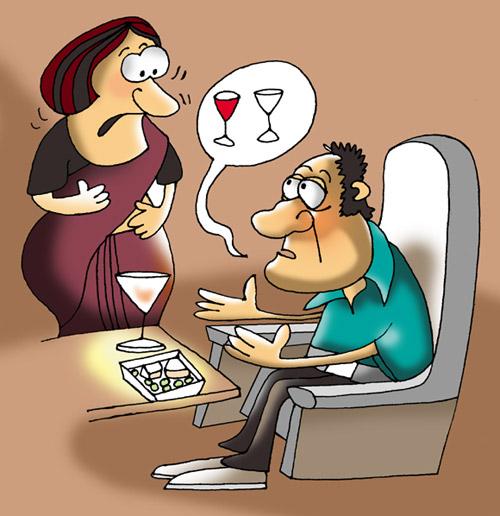 A battle for a glass of red wine ends happily when an Air India traveller magnanimously accepts whiskey instead, reports B S Prakash.
Will Zardari, Singh go where no men have ever gone before?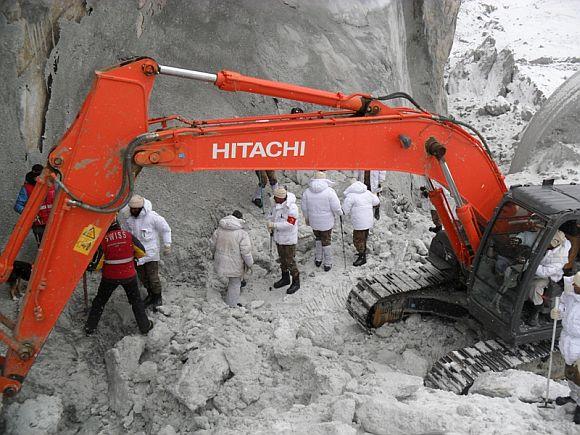 Will India and Pakistan transform the crisis at Giari into an opportunity? analyses
Why Kayani's Siachen overtures should be resisted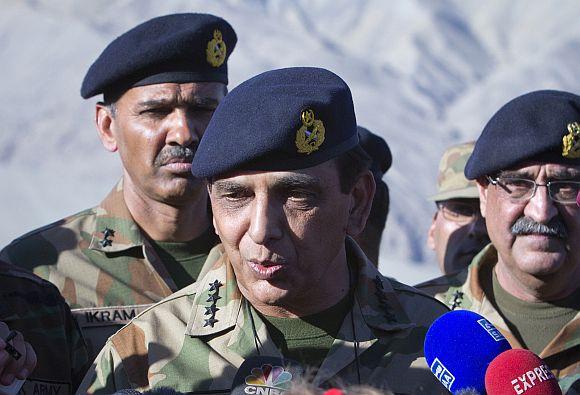 It needs to be underlined that Pakistan army chief Gen Kayani's pleasant remarks should not be interpreted as indicating a change in the hostile mindset of the Pakistan army towards India, argues .
In unequal and elitist India, we NEED the RTE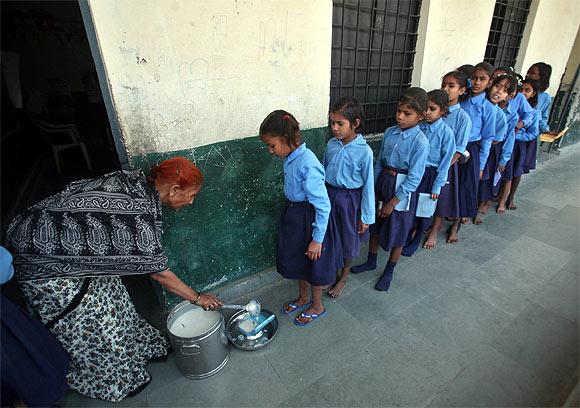 In all our discussions of quotas and reservations and affirmative action, we need to remember that they aren't just for the disadvantaged. They are for all of us, says Mihir S Sharma
Special: 'Real situation in the army is a lot WORSE'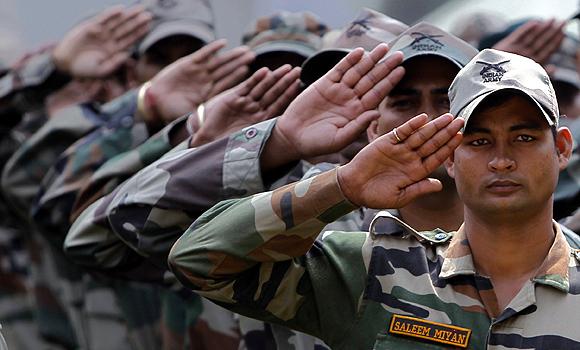 In recent weeks, the civil-military cold war in India has thrown into the public domain alarming facts -- from corruption to lack of preparedness. In the third and the final part of the series, defense expert and Jane's Defence Weekly Special Correspondent minces no words in outlining the problems the country's armed forces face
Coming soon: ISRO's mission to Mars!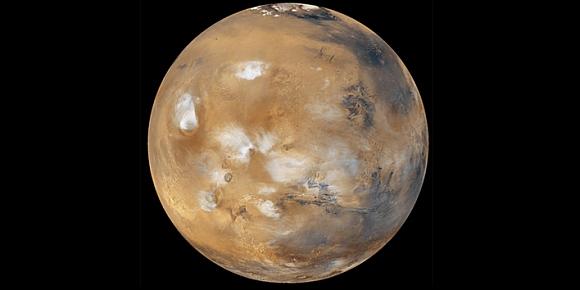 India has completed a significant amount of work on next year's planned Mars mission for which scientific payloads have been short-listed, with formal government approval for the ambitious venture expected soon.
April 19, 2012
Commuter speak: The nightmare called Mumbai locals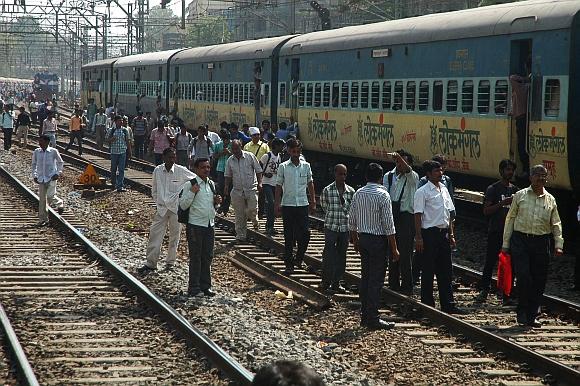 Commuters who braved the city on Tuesday taking on a broken down railway system share their experiences
'India has ALREADY arrived'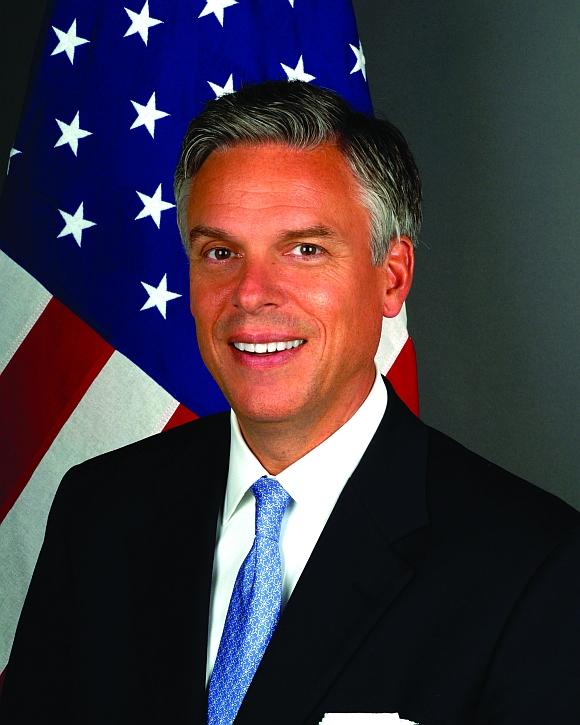 Jon M Huntsman, the cerebral Republican leader discusses Beijing, the November elections, and more, in a conversation with
Agni 5: 'India SHOULD NOT overestimate its strength'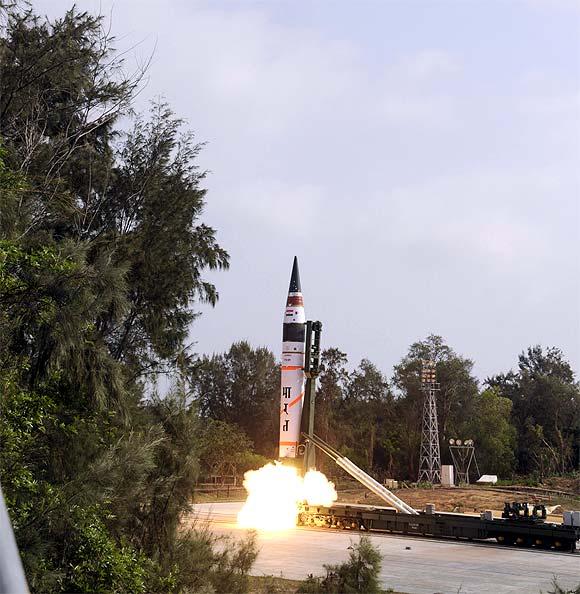 Reacting cautiously to India's test of the Agni 5 missile, China on Thursday said the two countries are not rivals and enjoy "sound" relations.
Opposition party leader goes missing in Bangladesh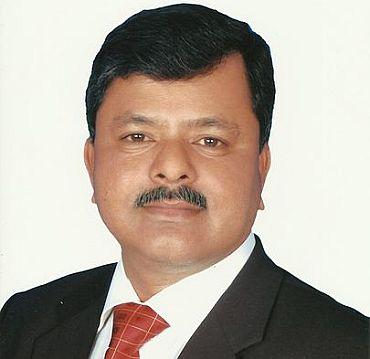 A senior leader of Bangladesh's main opposition Bangladesh Nationalist Party has gone missing since Tuesday night, prompting the authorities to order a massive manhunt.
Delhi MCD elections: Is Congress losing urban India?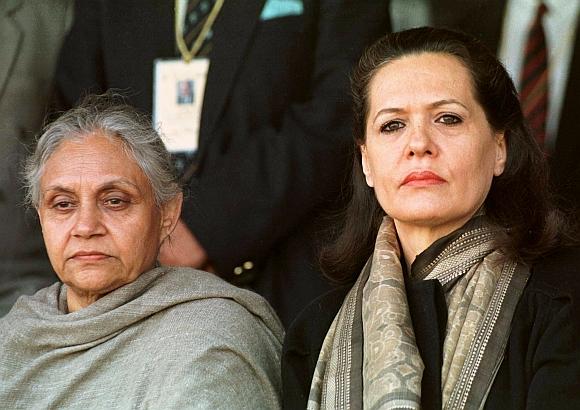 After Bengaluru, where the Congress lost out to the Bharatiya Janata Party after five decades of dominance, and Mumbai where it failed to wrest the cash rich Brihanmumbai Municipal Corporation from the Shiv Sena, it is now the turn of New Delhi to show its disenchantment with the Congress, writes
PIX: 'Production of Agni V to begin in a year's time'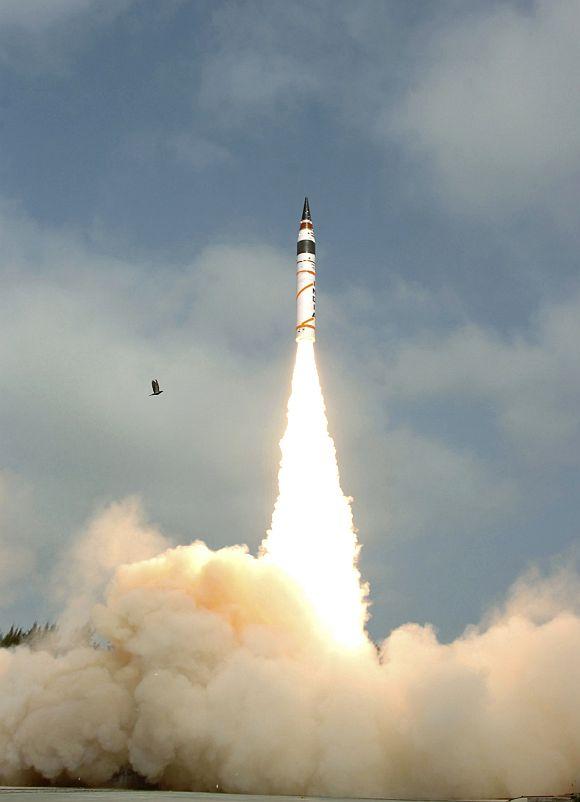 Surface-to-surface Agni V missile is launched from the Wheeler Island off Odisha coast on Thursday
'Hafiz Saeed's FREEDOM is an indictment of Islamabad'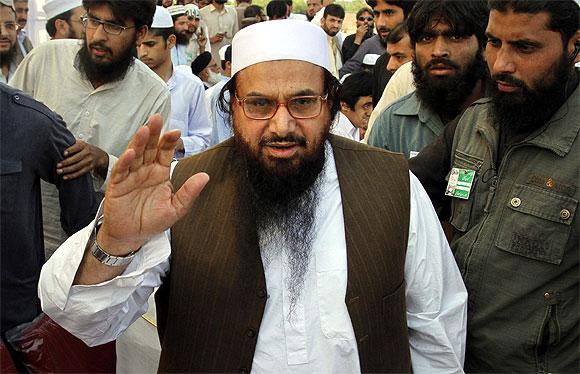 Congressman Ed Royce, an influential Republican lawmaker, has slammed Pakistan for not shutting down the Deobandi schools that indoctrinate and brainwash people to engage in jihad.
Special: The Bo Xilai I Met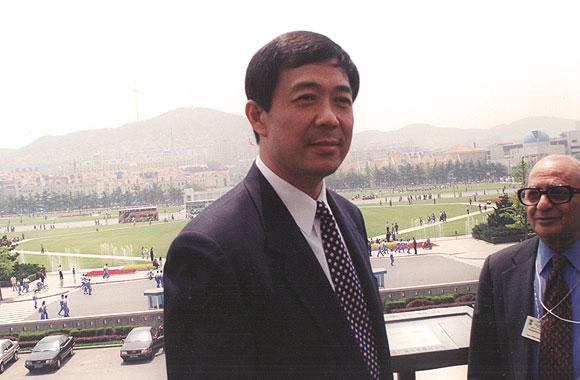 He was once tipped to be one of China's NextGen leaders, someone who would guide the Middle Kingdom's future for the next decade, once the present leadership retired. In a dramatic saga, unparalleled in contemporary China, Bo Xilai suddenly fell from grace these past weeks, his wife now accused of murder. , who met Bo a few times, recounts those encounters with a Chinese politician like none other.
Mumbai: 2 killed after falling from overcrowded trains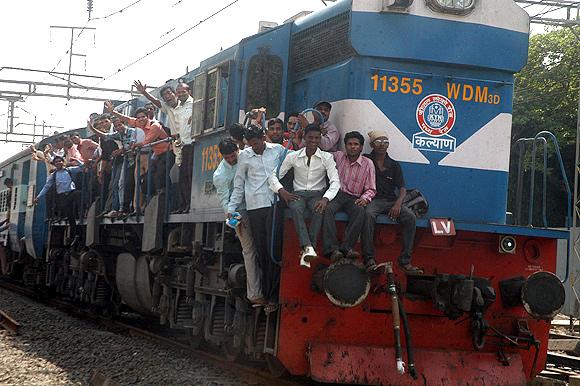 Lakhs of commuters traveling on the Central Railway line in Mumbai are likely to get some relief on Thursday, with authorities trying to restore disrupted services.
In PHOTOS: Bigger, better Agni missile takes off
India on Thursday conducted the maiden test of its indigenously developed nuclear capable Agni V ballistic missile with a strike range of over 5,000 km, from the Wheeler Island off Odisha coast.
The man who killed 77 says he was inspired by Al Qaeda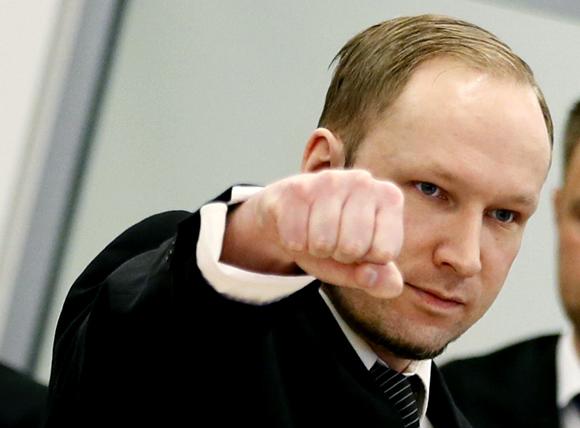 The man who killed 77 says he was inspired by Al-Qaeda
April 18, 2012
Soldier, State and society: The ever-growing imbalance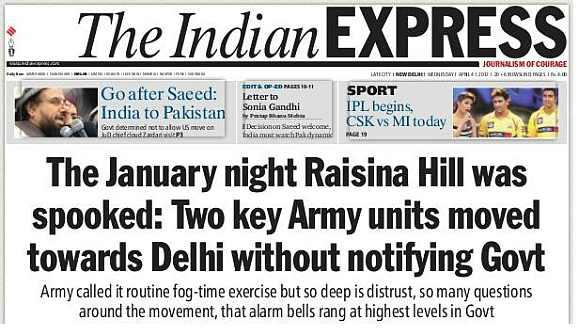 State and society are apathetic. But military contempt for civilian authority is a real danger, too, says
Mamata among Time's 100 most influential people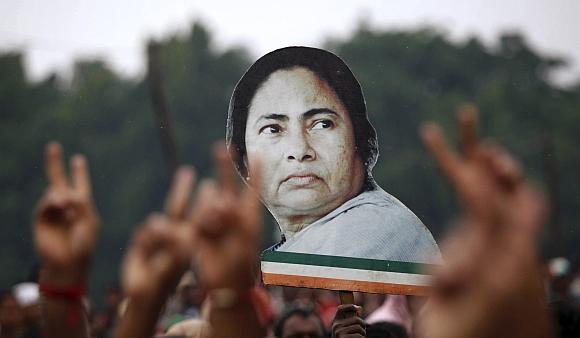 West Bengal Chief Minister Mamata Banerjee has been named by Time magazine as one of the 100 most influential people of the world.
Apology for SRK, NOTHING for these wronged men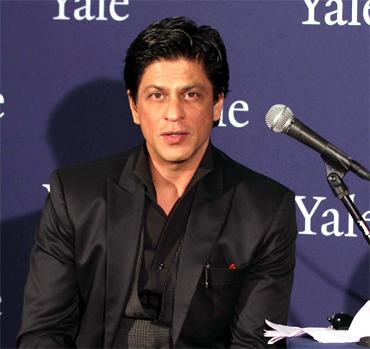 Rediff.com's presents the case of three young men who have been to hell and back. An apology by the Indian government will not be enough to make up for the lost years of their lives. But a sorry from those who wronged them is long overdue.
MUST SEE: Final Voyage of Space Shuttle Discovery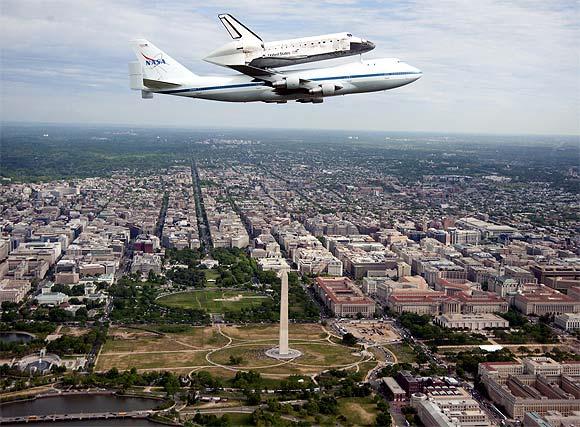 The Space shuttle Discovery, mounted atop a NASA 747 Shuttle Carrier Aircraft, flies over the Washington skyline as seen from a NASA T-38 aircraft in this NASA handout photo.
BITTER TRUTH: World on the verge of chocolate crisis!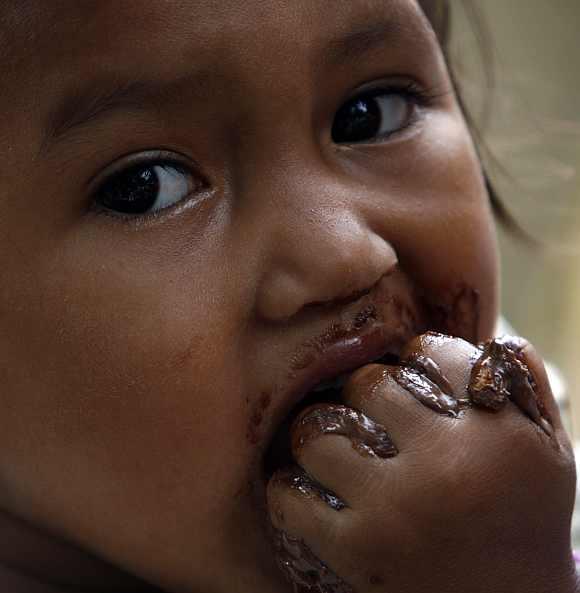 The world is on the brink of a chocolate supply crisis owing to the instability in cacao growing areas and soaring demand in developing countries, an expert has warned.
Pssst! Will Waheeda Rahman be India's next President?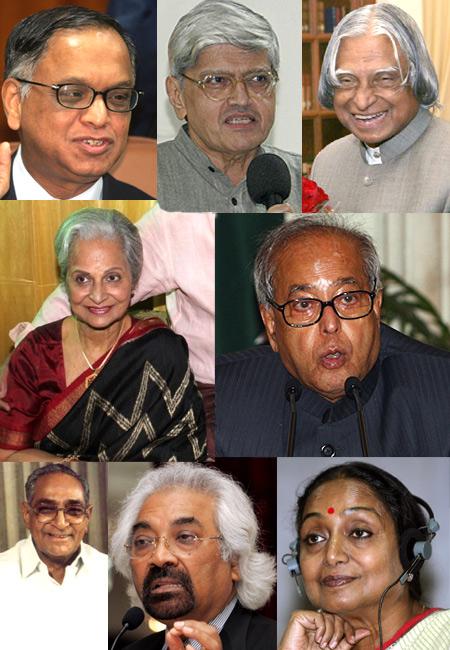 From Presidential battles to prime ministerial ones... From Mamata Banerjee's shenanigans to Kapil Sibal's true passion... All this and more in this week's edition of Dilli Gupshup.
Army decision-making: Antony is one of the major hurdles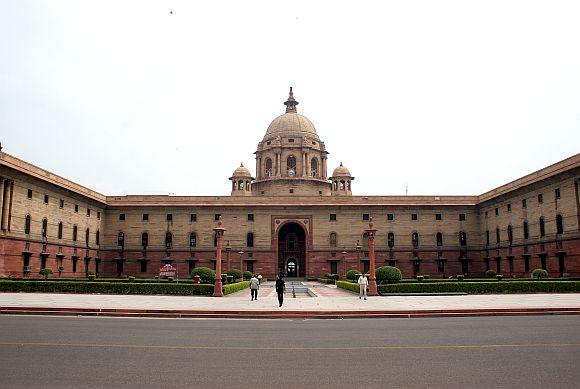 In recent weeks, the civil-military cold war in India has thrown into the public domain alarming facts -- from corruption to lack of preparedness. In a three-part series, defense expert and Jane's Defence Weekly Special Correspondent minces no words in outlining the problems the country's armed forces face.
In PHOTOS: Mumbai's LIFELINE hit, many stranded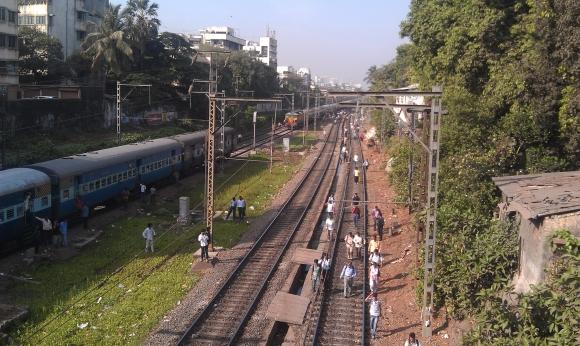 Thousands of commuters were left stranded on Wednesday morning after local trains on the Central and Harbour lines in Mumbai were severely affected due to a fire that broke out at suburban Kurla station on Tuesday night.
IN PICS: Angelina Jolie is UNHCR's special envoy
Hollywood star Angelina Jolie has been appointed as Special Envoy of the United Nations refugee agency.
REWIND: Best PHOTOS in the last 48 hours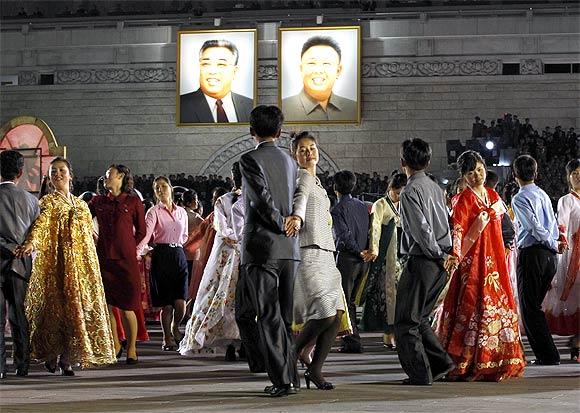 Presenting some of the best PHOTOGRAPHS from around the globe in the last 48 hours
Pakistan-US ties take another beating after Kabul blitz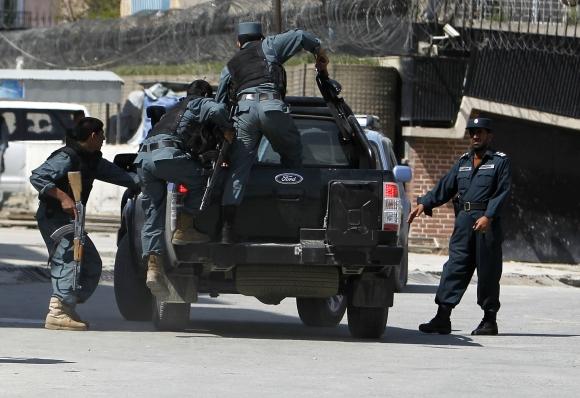 The United States is likely to turn up the heat on Pakistan following the alleged involvement of the Haqqani network in the Kabul attacks, says .
MOVING IMAGES: Life inside a refugee camp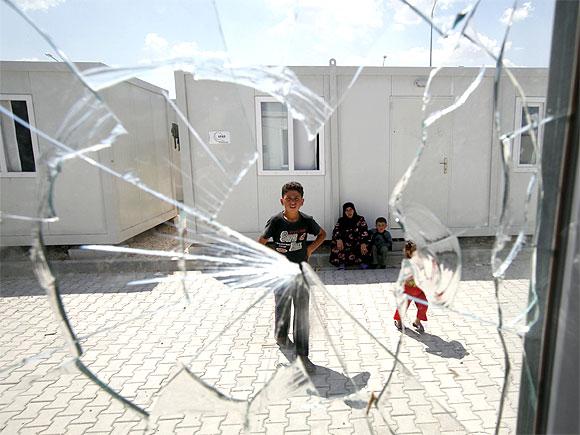 Rediff.com presents some haunting images of Syrian refugees -- trapped between armed rebels and the brutal government who are trying to put together their lives in a Turkish refugee camp.
Special: The Indian Army's greatest tragedy!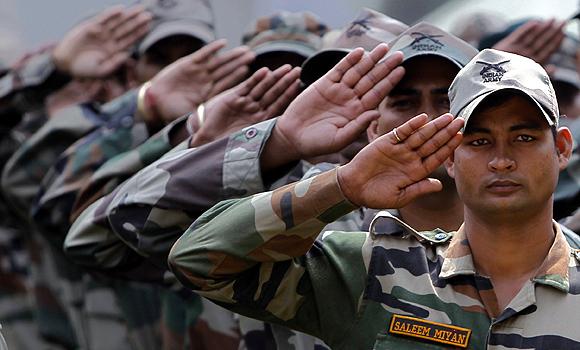 In the mad race to boost our circulation and viewer ratings, we may have, in one go, started the process of demolishing one of the last institutions that has stood rock solid in defence of idea that is India, says .
April 17, 2012
Influential Indian Americans embroiled in lawsuit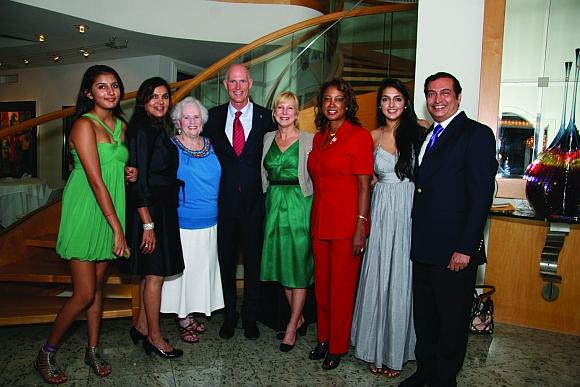 Dr Zach Zachariah, longtime Republican Party stalwart and major raiser of funds, has sued his one-time protege, Dr Akshay K Desai, another leading GOP activist who was recently named finance chairman of the Republican Party in Florida.
PIX: Security beefed up in Guwahati ahead of PM's visit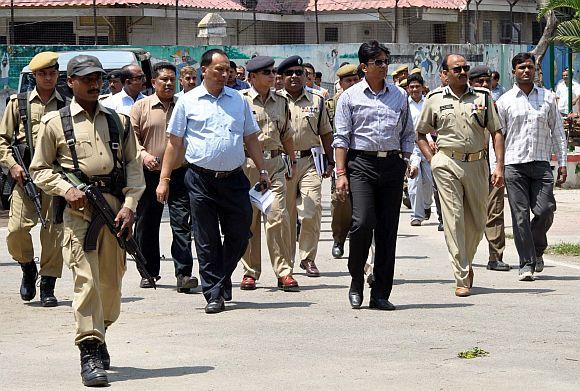 Security measures have been tightened as the anti-talks faction of the outlawed United Liberation Front of Assam has called for Assam bandh on April 20 in protest against the visit of Prime Minister Manmohan Singh to Guwahati to kick-start the platinum jubilee celebrations of Assam assembly.
Are we buying into notions and not military strategy?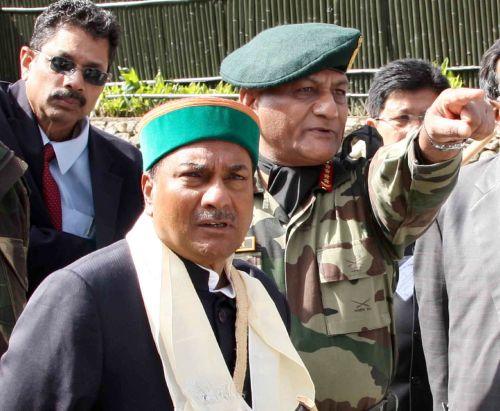 The chief cause of the unpreparedness of India's armed forces is a lack of reform in defence procurement. To change, some long-held beliefs must be abandoned, says
Saving Ganga: Time is not on our side, says PM Singh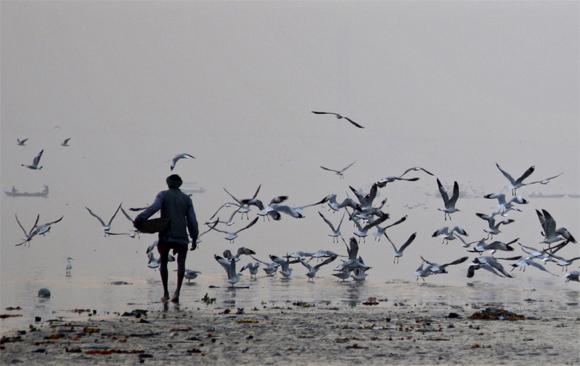 Speaking at the third meeting of the National Ganga River Basin Authority on Tuesday, Prime Minister Manmohan Singh voiced concern over the discharge of 2,900 million litres of sewage in the Ganga every day.
In a nation short of heroes, let's celebrate a real one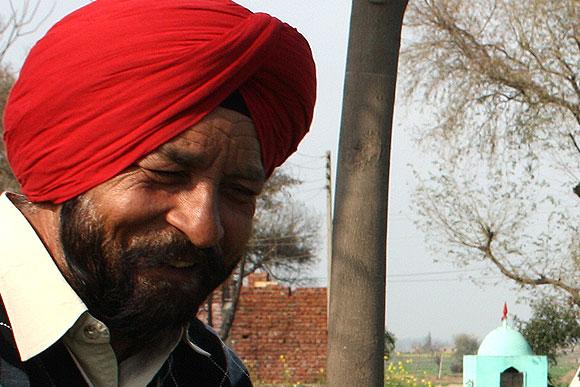 Honorary Captain Bana Singh won the Param Vir Chakra, India's highest ranking gallantry award, for recapturing a Pakistani post on the Siachen Glacier. Living a retired life in a quiet village in Jammu & Kashmir, he makes you feel that his act of phenomenal courage was part of a soldier's day at work.
'State funding will enhance black money in elections'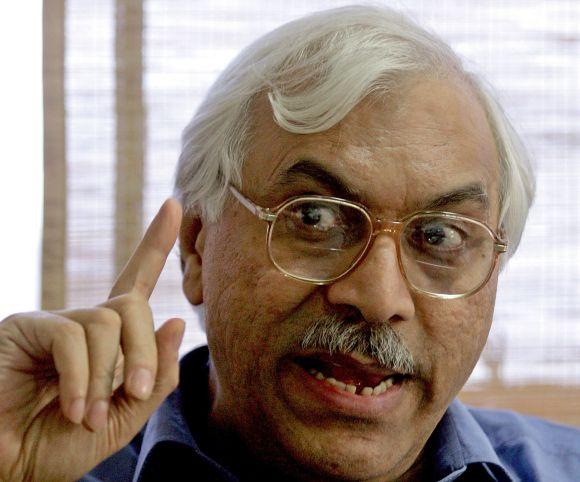 Chief Election Commissioner S Y Quraishi talks to on the need to speed up electoral reforms.
What did Bilawal and Rahul discuss over lunch?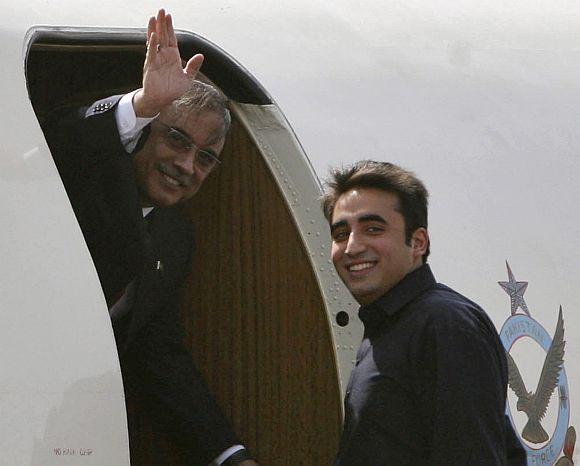 Other than an exchange of pleasantries and a series of banal tweets from Bilawal Zardari, it is hard to know what the scions of India and Pakistan's most prominent and enduring political dynasties talked about when they met for Sunday lunch in New Delhi.
Adarsh housing society DOES NOT belong to the army!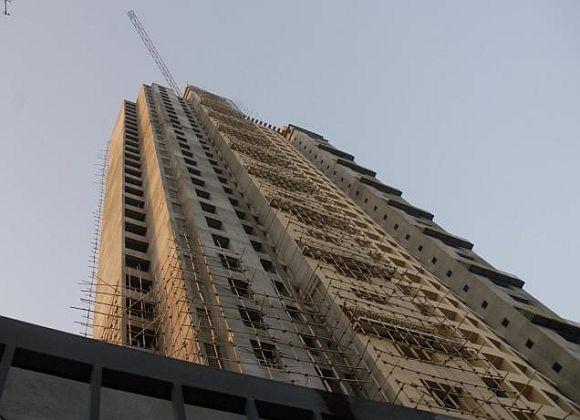 The two-member panel, which had submitted its interim report to the government last Friday, has also held that the building was not reserved for war heroes and Kargil widows.
LIVE RESULTS: BJP beats Congress in Delhi civic polls
'Start packing your bags, Mr Obama'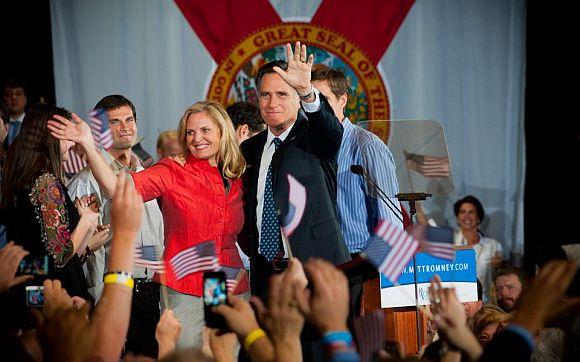 Presumptive Republican nominee Mitt Romney has asked United States President Barack Obama to "start packing", showing confidence that he would be able to defeat the incumbent in the November presidential elections.
PHOTOS: India's Charlie Chaplin hits the streets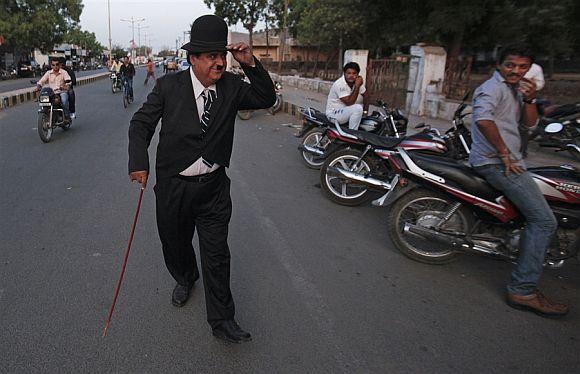 Every year, on April 16, a 63-year-old Ayurvedic doctor in the small town of Kutch in Gujarat relives the life and times of his hero, Charlie Chaplin.
MUST READ: The shocking truth about India's armed forces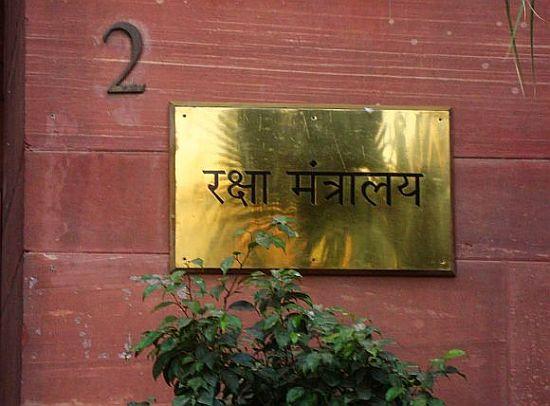 In recent weeks, the civil-military cold war in India has thrown into the public domain alarming facts -- from corruption to lack of preparedness. In a three-part series, defense expert and Jane's Defence Weekly Special Correspondent minces no words in outlining the problems the country's armed forces face.
In PHOTOS: Meet Obama's No 1 fan
Obama may have many fans, but without doubt, his biggest fan is from Columbia.
DON'T MISS: Even at Myanmar's punk show, Suu Kyi's a hit!
Punk is alive and well in the once-isolated land of Myanmar. Here's proof of that
April 16, 2012
'There's no such thing as a Muslim vote bank'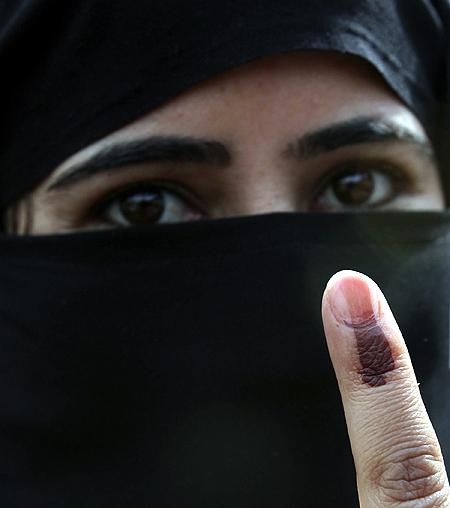 'Muslims are divided on caste, class, region, language and even religious lines. It is almost impossible to club all these Muslim communities into one category to identify some kind of political pattern,' says Hilal Ahmed, associate fellow, Centre for the Study of Development Societies, New Delhi.
Non-Cong CMs tear into Centre over internal security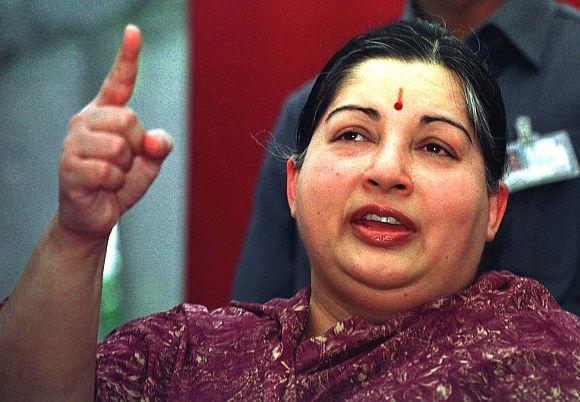 Chief ministers of non-Congress states on Monday accused the Centre of not consulting states on key security issues wherein the state's powers are "abrogated" while United Progressive Alliance ally Trinamool Congress opposed National Centre for Counter Terrorism as it "upsets" the federal structure.
Beef controversy new ploy to dent Telangana stir?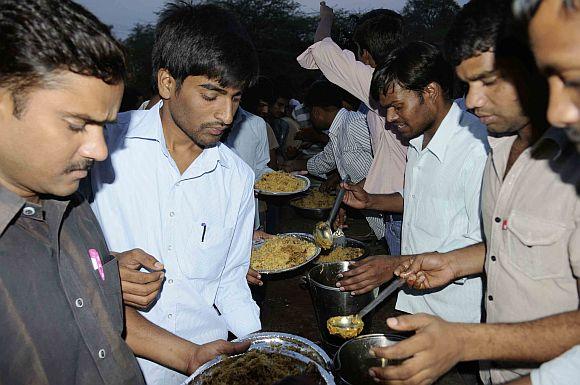 An ugly incident over a beef festival that was to be held at the Osmania University in Hyderabad has become a talking point in Andhra Pradesh as the development is being seen as a ploy to divide the students who have been very united in fighting for the Telangana cause so far, reports .
It's time to decrease military footprints in J&K: Omar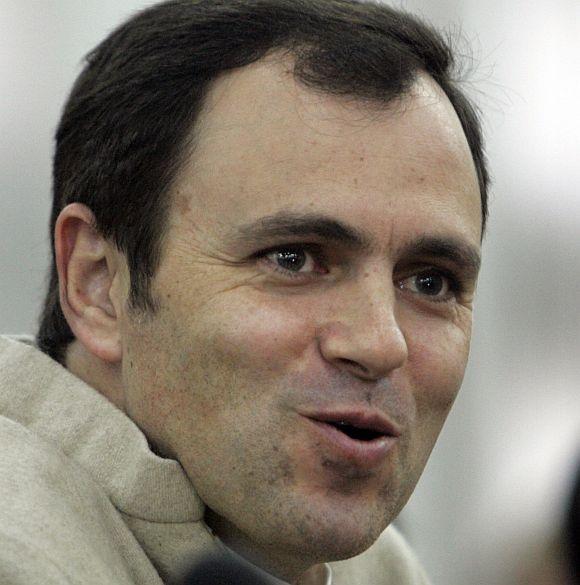 Stressing on "progressively" decreasing the footprints of security forces in Jammu and Kashmir, Chief Minister Omar Abdullah on Monday said conciliation and dialogue will always remain the best medium for seeking a solution to all contentious issues.
Centre has no respect for state govt: Jaya at CMs' meet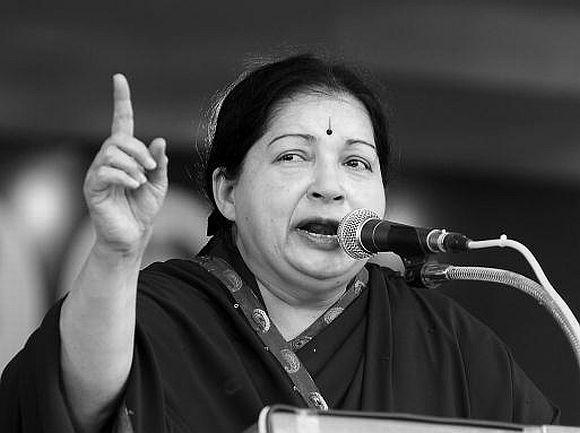 Tamil Nadu Chief Minister J Jayalalithaa on Monday warned against an "emerging pattern" wherein the state's powers are "abrogated" by the Centre through passage of bills and accused it of showing "scant respect" for state governments.
5000 km-range Agni-V test likely on Wednesday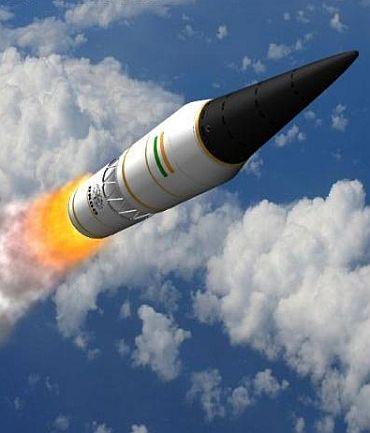 Range preparation for the maiden test of India's indigenously developed nuclear capable 'Agni-V' ballistic missile with a strike range of over 5,000 km is "near complete" and the trial is likely to be held from Wheeler Island off Odisha coast this Wednesday.
Put Pakistan on a genocide watchlist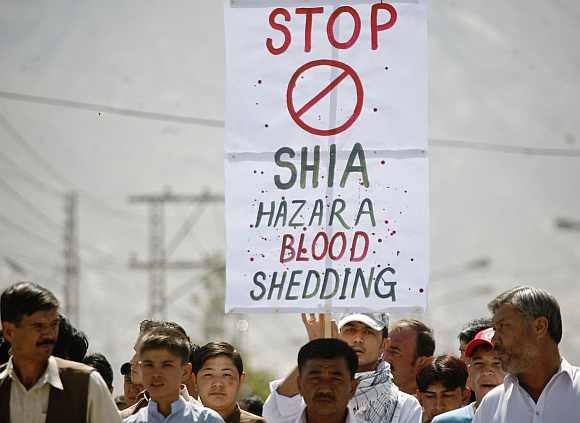 Pakistan's religious and ethnic minorities are under attack; the number of mass murders have escalated and how! At this time it is already a human tragedy that is unconscionable for Indians to ignore, emphasises Nitin Pai
Taliban attack on Kabul ends after 18 hours, 47 killed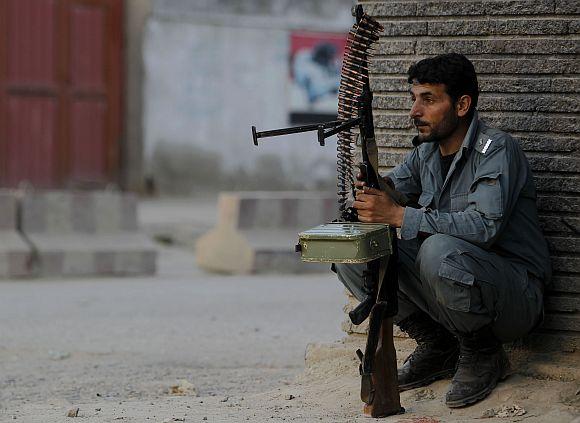 Afghan security forces have killed all the Taliban attackers who unleashed a wave of coordinated suicide attacks targetting diplomatic area, NATO bases and the Parliament in Kabul, a top official said on Monday.
PHOTO ALBUM: Wargames in the Indian Ocean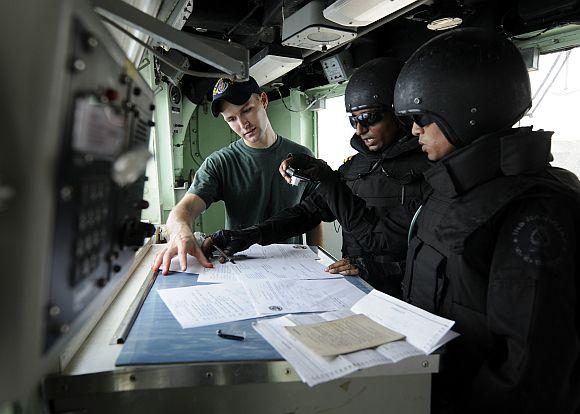 The 2012 edition of the annual Indo-US naval exercise codenamed Malabar will conclude on Monday. Rediff.com brings you glimpses of the joint exercise.
SNAPSHOTS: Inside the secret kingdom of North Korea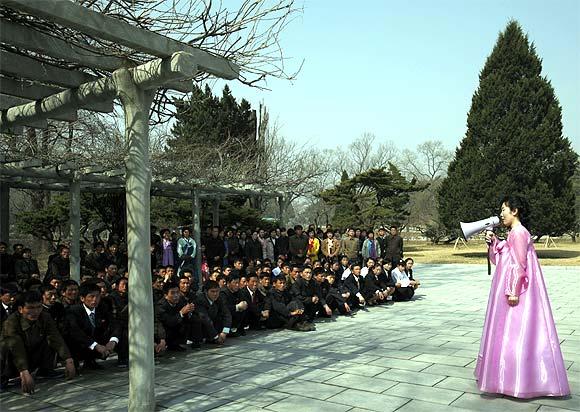 We present some snapshots of the nation that -- with 2.5 crore people and the world's fourth largest army -- remains one of the world's best guarded secrets.
Congress CMs in CRISIS: Chavan, Reddy, Chandy and more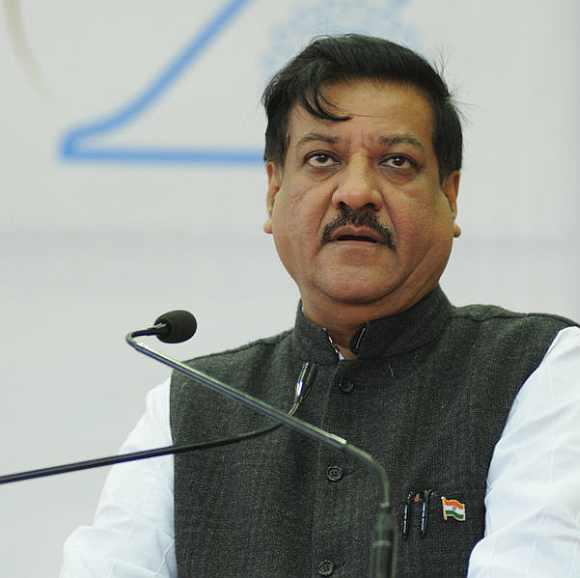 After the debacle in Uttar Pradesh, the Congress is now facing the problem of some of its chief ministers being in a state of crisis, due to "decision deficits" and dissidents.
April 15, 2012
IMAGES: Remembering the MAGIC and tragedy of Titanic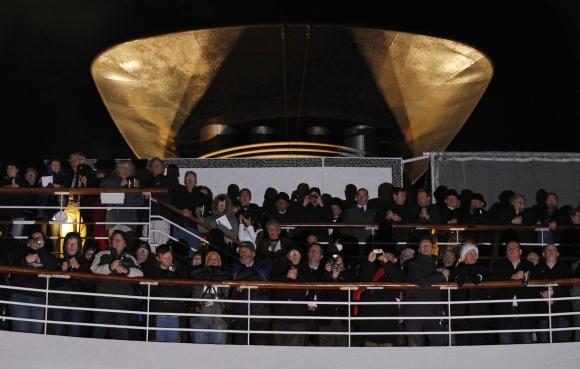 A cruise carrying relatives of some of the more than 1,500 people who died aboard the Titanic 100 years ago on Sunday visited the location where the doomed ship sank.
In PHOTOS: Taliban militants launch ATTACK in Kabul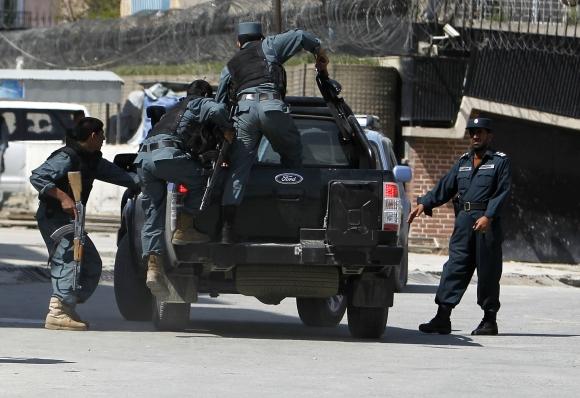 Heavily-armed Taliban suicide attackers on Sunday struck Afghanistan capital Kabul, with several explosions and gunfire rocking the diplomatic enclave as the militants took over a hotel and tried to enter the parliament.
Economic ties with Pak: Beware of these THREATS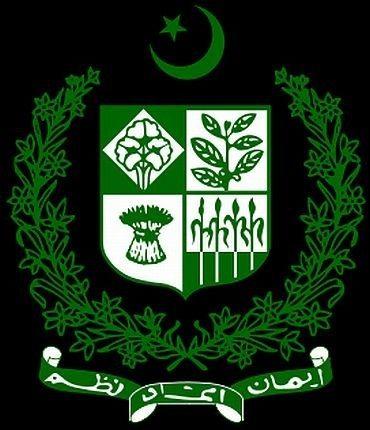 After receiving many queries from readers asking for his comments on the security implications of normal economic relations with Pakistan, categorises them.
Shah Rukh Khan's detention 'need NOT have happened'
India has taken up with the United States administration the issue of actor Shah Rukh Khan's detention at a New York airport, conveying its "deep concern" over the incident.
April 14, 2012
Mamata cartoon row: 4 held for assaulting prof, given bail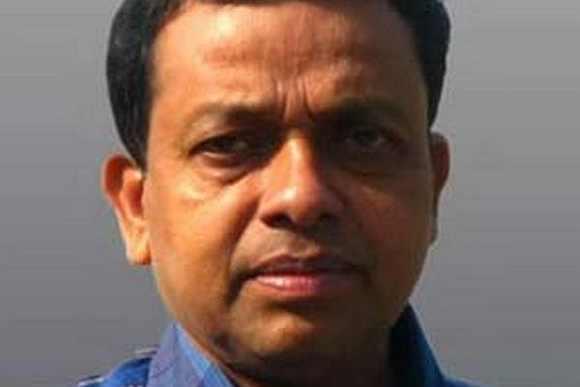 Four persons were arrested on Saturday following a complaint of assault lodged by a Jadavpur University professor who posted a cartoon on the Internet allegedly showing West Bengal Chief Minister Mamata Banerjee in poor light.
Do not make changes to memorials, parks: Maya warns SP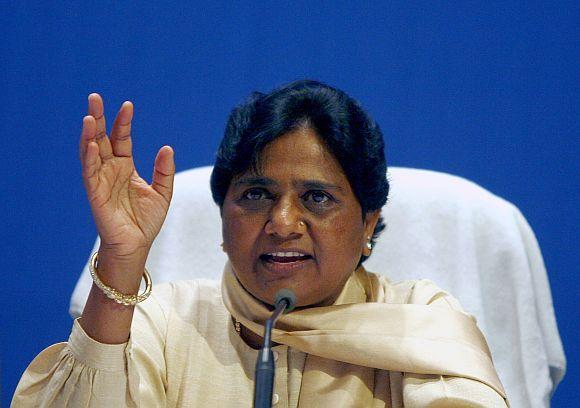 Bahujan Samaj Party chief Mayawati, who had drawn flak from the Supreme Court for wasting taxpayers' money by building parks and installing her statues, on Saturday warned the ruling Samajwadi Party in Uttar Pradesh that any move to make changes in the memorials erected during her regime could create law and order problem.
Akhilesh meets PM, seeks smooth transfer of funds for UP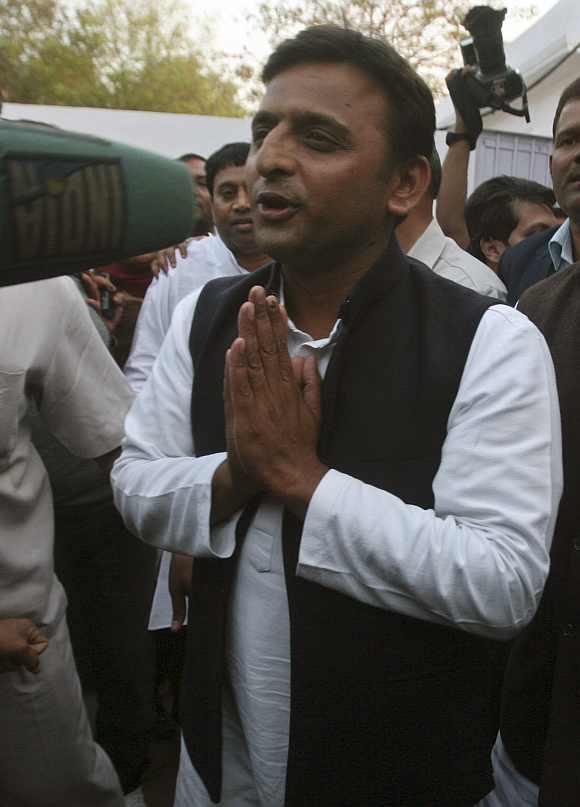 Uttar Pradesh Chief Minister Akhilesh Yadav on met Prime Minister Manmohan Singh and demanded smooth transfer of funds for Central schemes like Mahatma Gandhi National Rural Employment Gurantee Act and asked for help in holding the forthcoming Kumbh festival, cleaning of the Ganga and coal supply to the state.
SRK's detention unfortunate; all well in the end: Yale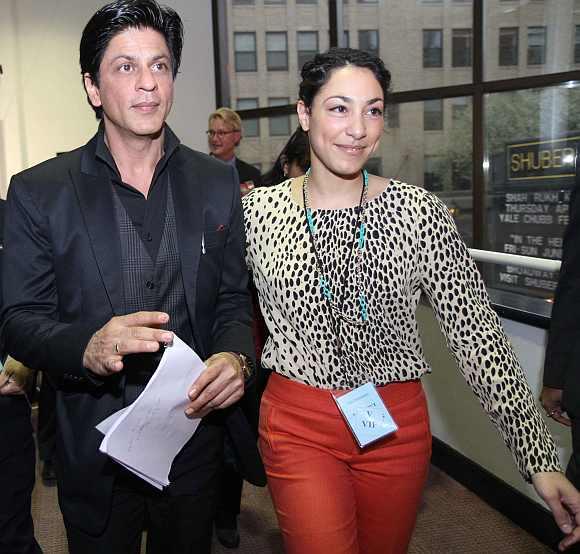 America's prestigious Yale University, which had invited Bollywood actor Shahrukh Khan, on Saturday, said that his detention was "unfortunate" but things were sorted out in the end.
How civil-military tension fast-tracked defence buying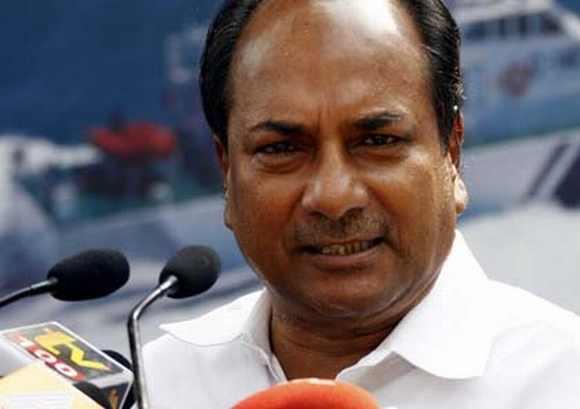 The raft of prompt decisions by the usually sluggish Ministry of Defence have been triggered by the simmering row between army chief General V K Singh and Defence Minister A K Antony. reports from New Delhi
Images: Limited edition Titanic stamps unveiled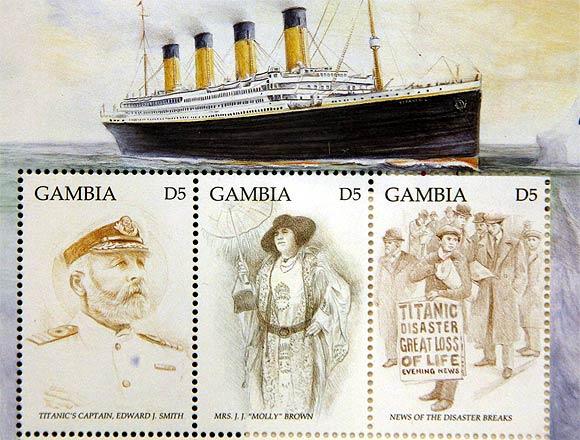 Images: Limited edition Titanic stamps unveiled
April 13, 2012
Mamata defends arrest of professor over cartoons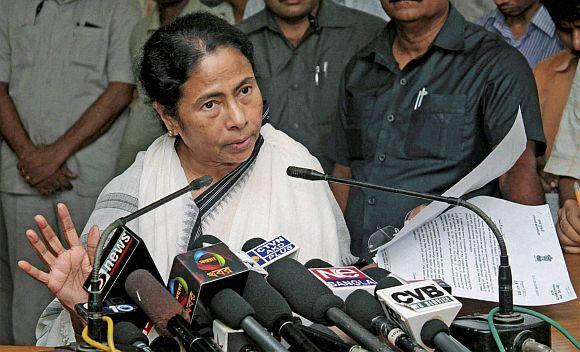 West Bengal Chief Minister Mamata Banerjee on Friday defended the arrest of a Jadavpur University professor over his cartoons on the internet putting her in poor light and she blamed Communist Party of India-Marxist for raising trivial issues to "malign" her.
PHOTOS: Sikhs celebrate Baisakhi in Pakistan
The three-day colorful Baisakhi festival popularly known as Vaisakhi Mela in Hassan Abdal, the historic town in northern Punjab, Pakistan peacefully concluded on Friday. reports.
PIX: Mount Etna erupts yet again, puts on a fiery show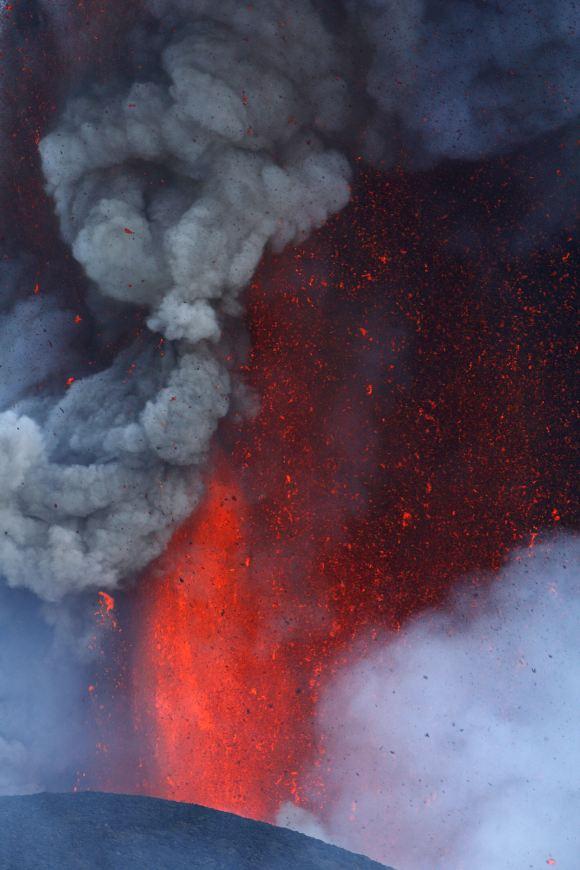 Europe's most active volcano -- Mount Etna in Italy -- erupted for the sixth time this year on Thursday. Mount Etna is an active stratovolcano on the east coast of Sicily. Thursday's eruption is the 24th in a series of volcanic eruptions since January.
Prof arrested for posting anti-Mamata cartoon gets bail
A professor of chemistry of the Jadavpur University was arrested on Friday along with his neighbour for allegedly posting a cartoon on a popular social networking site involving West Bengal Chief Minister Mamata Banerjee, Railway Minister Mukul Roy and former Railway minister Dinesh Trivedi. He was later released on bail.
IN PICS: Rongali Bihu begins in Assam
Assam's most important and popular festival Rongali Bihu or Bohag Bihu which heralds the Assamese New Year began in Guwahati on Friday amid traditional revelry and gaiety.
Won't protest against Bihar CM's Mumbai visit: Raj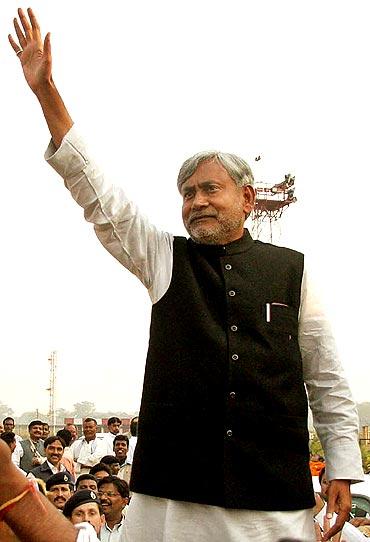 Bihar Diwas celebration is a socio-cultural event, it has nothing to do with politics, says Bihar Chief Minister Nitish Kumar. reports
US detention drama: Featuring SRK, Kalam, Fernandes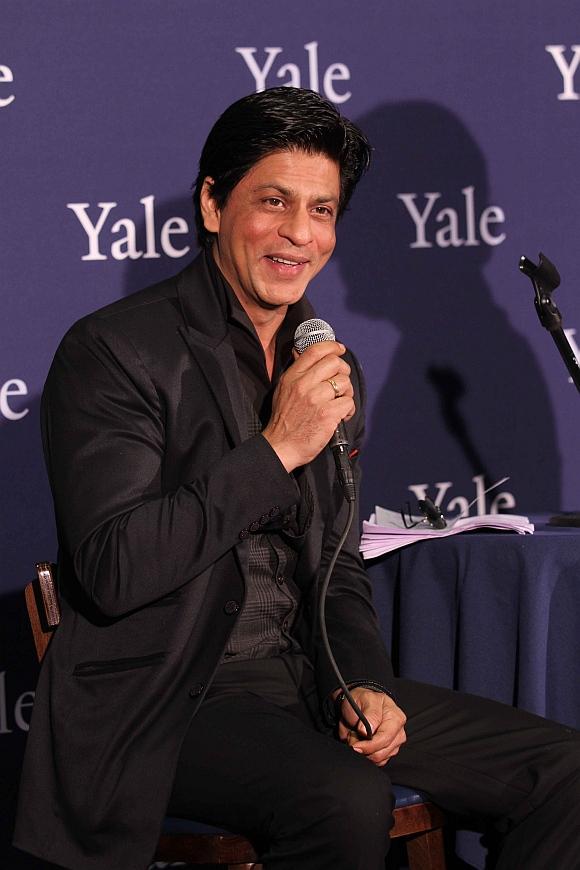 From former President A P J Abdul Kalam to a defence minister and an Indian ambassador in United States -- Shahrukh Khan has the company of the noted personalities who were detained or underwent a pat-down search while passing through an American airport.
Detention and then apology a habit: Krishna on SRK episode
Reacting strongly to the detention of Bollywood superstar Shah Rukh Khan at a New York airport, India on Friday asserted that "mechanical apology" from the United States side in such cases was not "adequate" and that it will take up the issue with the highest authorities in that country.
Uncertain times ahead for the Chinese leadership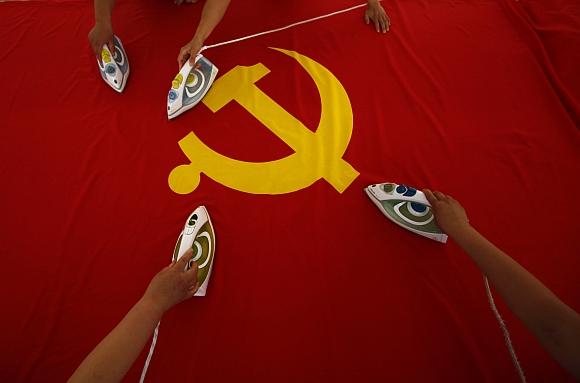 Developments in the disgraced party official Bo Xilai case have engulfed China's top leadership. Was Bo's ouster part of a well-planned conspiracy? Security expert takes a look at the intriguing incident.
Special: From Russia with Love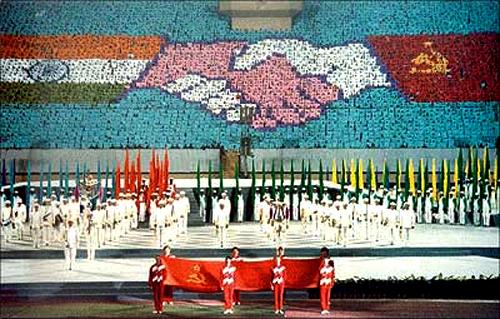 Everyone is adjusting to the new realities of the decline of American power, China's rise and the birth pangs of a new world order. To arrest the India-Russia relationship at this transitory phase is both unrealistic and unnecessary, says .
DISCOVERED: Tomb where Jesus may have been buried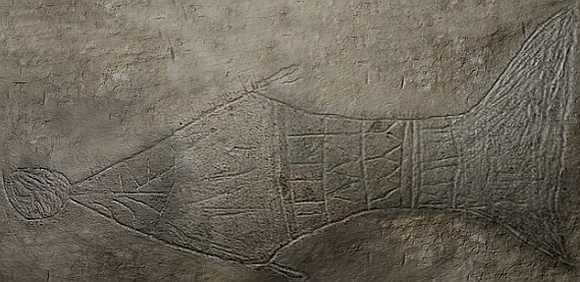 The 'Jesus Tomb' debate has gone a step further with archaeologist working in Jerusalem finding human bone boxes and inscription on an ancient coffin lid that says 'Divine Jehovah, raise up'.
In PHOTOS the Titanic tale: How it all began and ended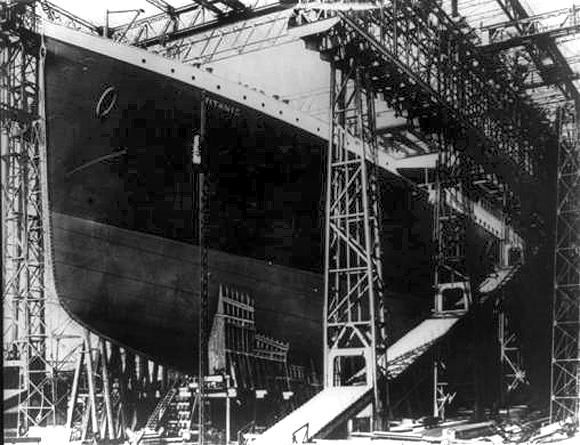 On the 100th anniversary of the Titanic disaster, rediff.com showcases some rare photographs of the ship and the tragedy it suffered.
Video: Shah Rukh detained at New York airport
Bollywood actor Shah Rukh Khan, who arrived a New York to visit the Yale University, was detained for over two hours at a New York airport.
IMAGES: North Korea rocket launch FAILS
Defying warnings from the international community, North Korea on Friday launched its long-range rocket but its neighbours say the rocket failed shortly after take-off.
April 12, 2012
Mamata's antics: Congress obliges, government suffers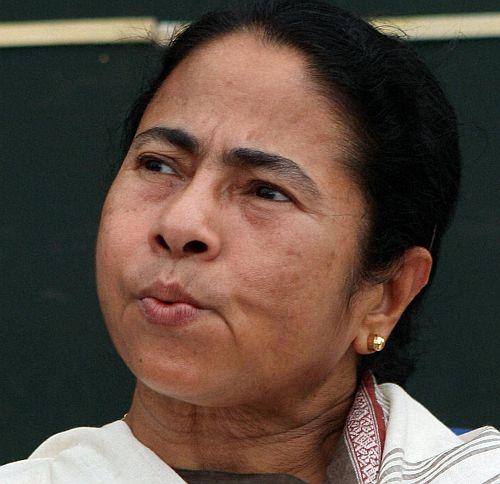 Despite getting a bigger-than-sought package from the central government for West Bengal and despite the Congress refraining from putting up a candidate in the Rajya Sabha elections from the state, Chief Minister Mamata Banerjee has made up her mind that she will continue to oppose most of the central government bills, projects and schemes.
'There's enough land in Pune to build soldiers' homes'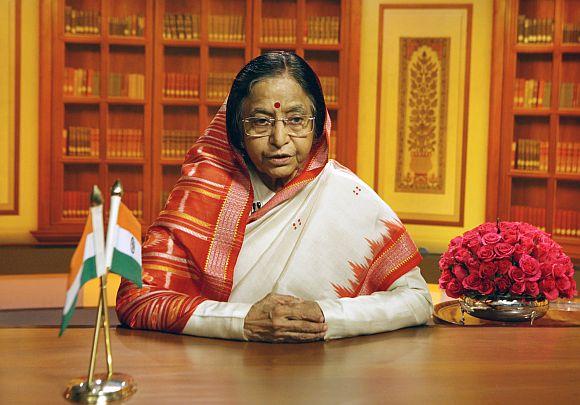 Rubbishing the alleged reports of President Pratibha Patil 'grabbing' land much in excess of her entitlement to build her post retirement home in Pune, the Rashtrapati Bhavan on Thursday night issued a detailed statement terming the media reports as factually incorrect and malicious.
Influential Indian American friends turn foes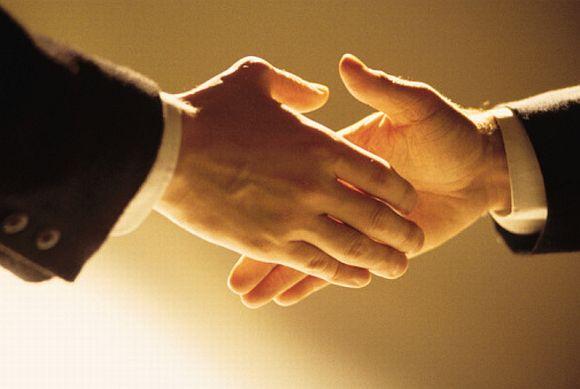 Newspapers in the sunshine state have dubbed it as a nasty legal battle between titans in Republican fundraising circles, with tens of millions of dollars at stake.
Centre should SCRAP Koodankulam: Swami Agnivesh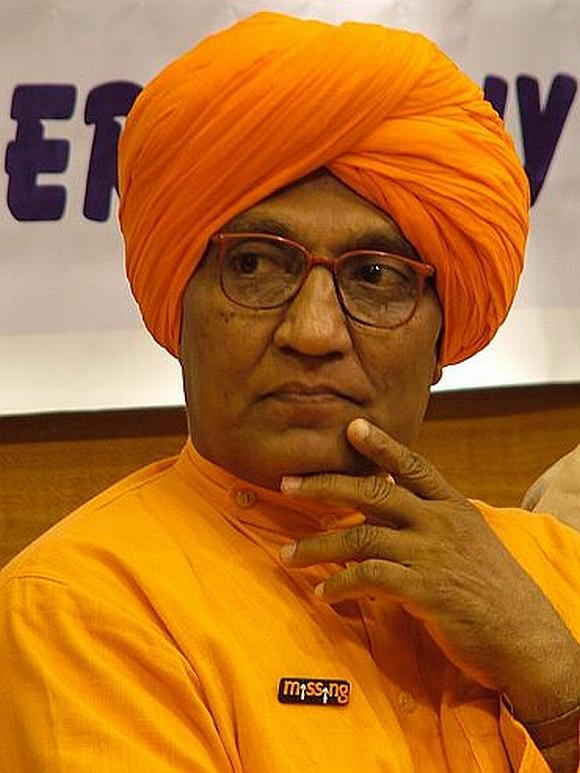 Demanding that the Centre immediately scrap the Kudankulam Nuclear power project, social activist Swami Agnivesh on Thursday sought a high-level enquiry and public hearing to 'expose' corruption in the energy sector.
India willing to talk Kashmir with Pakistan: Mathai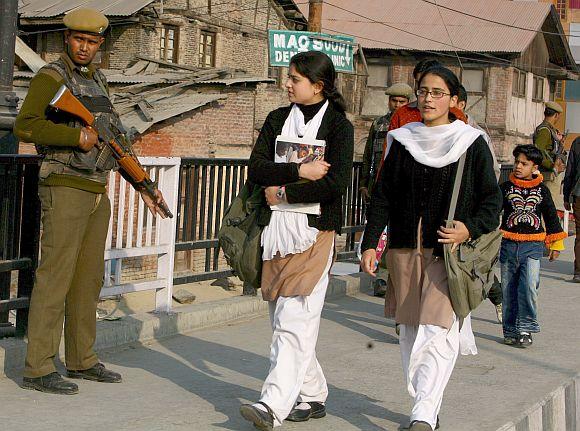 India is willing to advance its peace talks with Pakistan and discuss the Kashmir issue, but the main stumbling block is Islamabad's failure to clamp down on militant groups, Foreign Secretary Ranjan Mathai has said.
PM played SAFE to make Zardari's visit a hit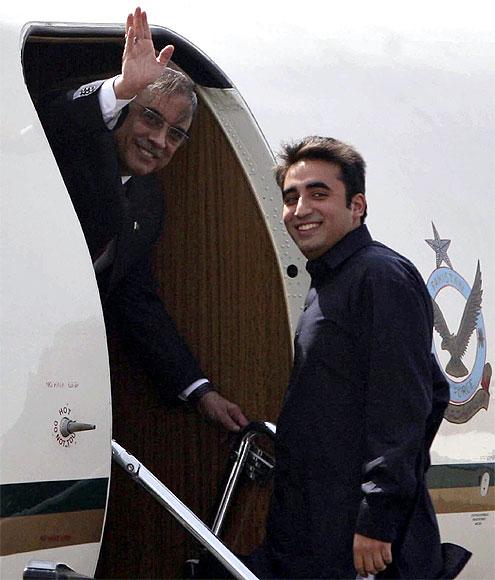 Dr Singh would like to be remembered by history as the PM who achieved a breakthrough in India-Pakistan relations, believes
To all the mothers who lost their sons for India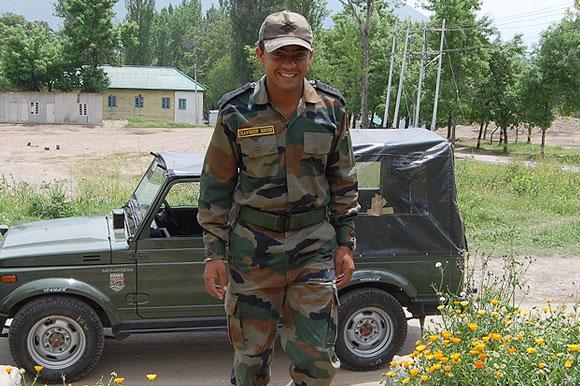 Lieutenant Navdeep Singh sacrificed his life fighting a heroic battle against terrorists at the Line of Control. Twelve terrorists were killed that night, four by Navdeep himself. The daring officer, who was just 26, was awarded the Ashok Chakra, the nation's highest gallantry award in peace time. Every year soldiers die battling infiltrators on India's borders in actions that are testaments to military courage. How often are they remembered?
Aarushi case: SC to hear Nupur Talwar's plea on Friday
Nupur Talwar, facing arrest in the twin murder case of her daughter Aarushi and domestic help Hemraj, on Thursday moved the Supreme Court seeking stay on the non- bailable warrant issued against her by the trial court.
Italian hostage Paolo Bosusco released by Maoists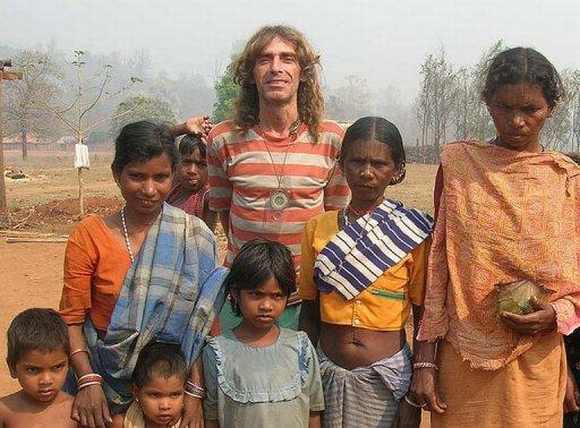 Italian hostage Paolo Bosusco was released by the Maoists on Thursday, 29 days after he was abducted along with his countryman Claudio Colangelo by the Naxals in Odisha's Kandhamal district.
Unlike 2004, India is today READY to face a tsunami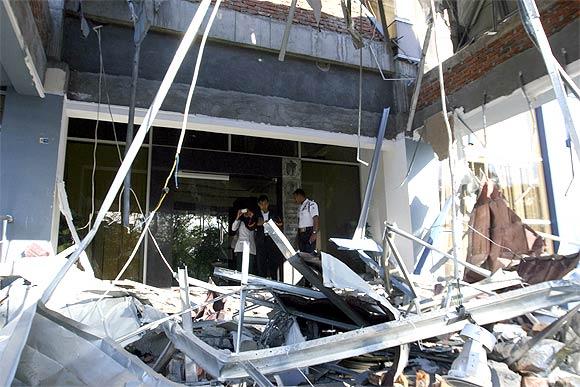 The early warning system gives Indian authorities sufficient time for action, says Gyan Varma & Sreelatha Menon
In PHOTOS: Defiant North Korea fuels rocket for launch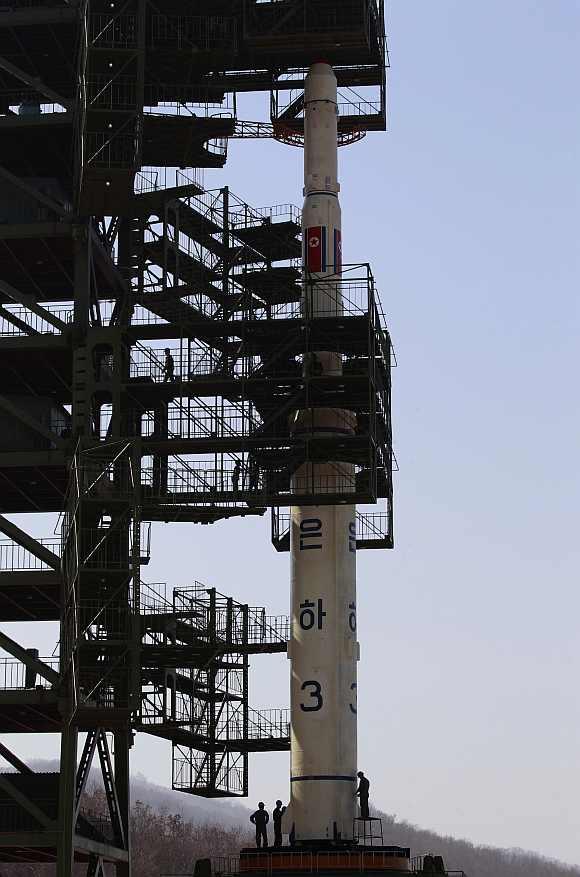 North Korea's planned rocket launch could happen as early as Thursday. The rocket launch window opened at 8:00am (AEST), with North Korea saying Monday is the last opportunity to launch the three-stage rocket.
Rewind: Best PHOTOS in the last 48 hours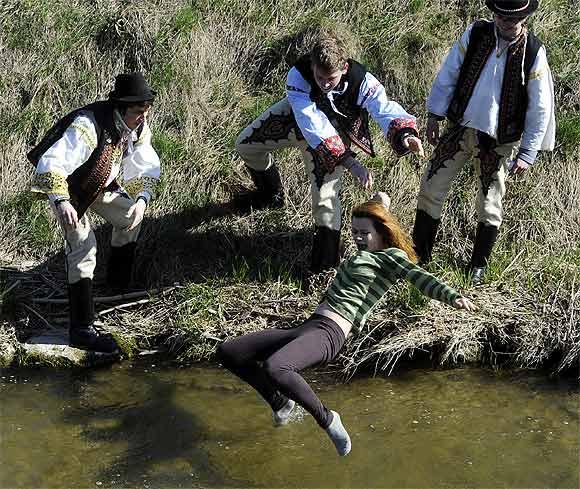 Presenting some of the best PHOTOGRAPHS from around the globe in the last 48 hours
Rare pics: Deadly Siachen avalanche that struck Pak army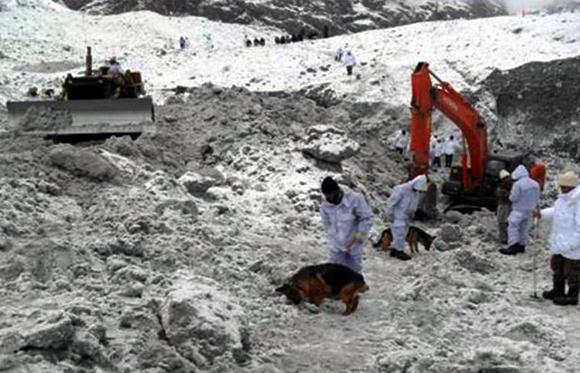 The issue of Siachen is not complicated like the issue of Kashmir; it could be resolved overnight but needs serious consideration, says .
Exclusive: The India-born family aboard the Titanic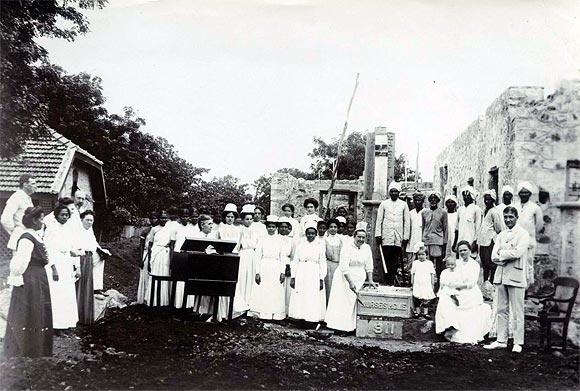 The Titanic had an India connection. Allen Becker's family journeyed from Guntur to London and boarded the Titanic on April 10, 1912.
Suicides killing more Indian soldiers than wars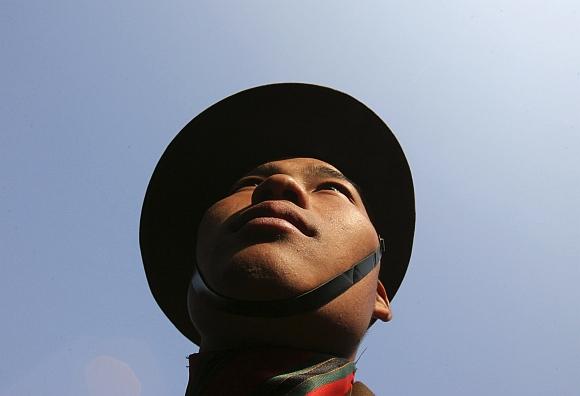 The Indian army has been in the news and off late, and more often than not, for the right reasons. Rediff.com's brings some startling statistics which paint a grim picture the number of suicides in the armed forces is on a steady rise.
VIDEO: Operation Desert Lark in Rajasthan
Indian and American forces had earlier this month carried out a joint training exercise codenamed Operation Desert Lark, during Yudh Abhyas, the annual exercise between the two armies.
April 11, 2012
In PICS: Curfew relaxed in old city area of Hyderabad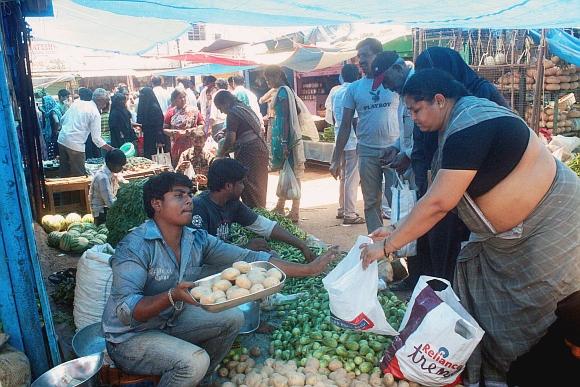 The curfew in sensitive areas of Saidabad and Madannapet in the Old City area has been relaxed for four hours, police announced on Wednesday.
Do NOT use loud language: Court tells Raja, counsel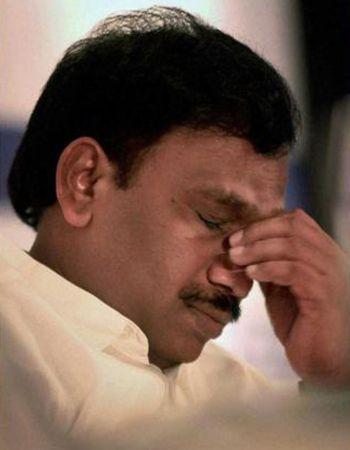 Former Telecom Minister A Raja on Wednesday subjected erstwhile Telecom Secretary D S Mathur to intense questioning during his cross-examination in the 2G case, prompting the court to caution the Dravida Munettra Kazhagam leader and his counsel against raising their voices.
REWIND: 10 DEADLIEST quakes that shook the world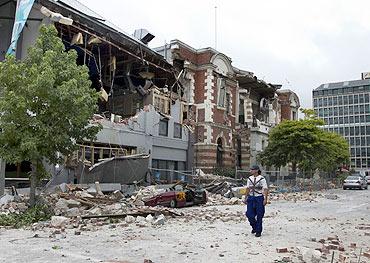 Earthquakes have rocked our planet several times over the years. While many quakes have gone unnoticed, some have wrecked havoc, wiping out villages, towns and destroying cities.
IN PICS: Indonesia shaken by quake aftershocks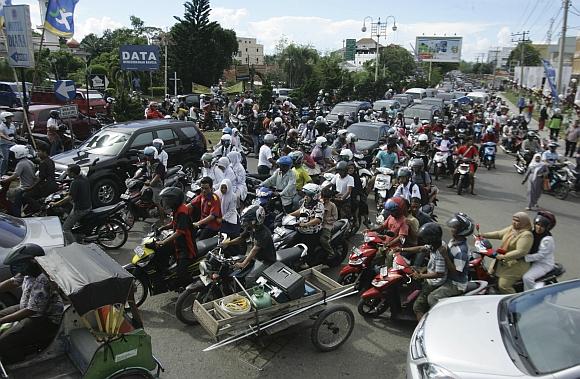 A massive earthquake of 8.7 magnitude hit waters off Indonesia triggering tsunami fears across the Indian Ocean nations, including India, reviving memories of the 2004 devastation that had claimed tens of thousands of lives in the region.
WATCH VIDEOS: Quake rocks Indonesia, tremors in India
A massive quake measuring 8.7 on the Richter Scale rattled northern Sumatra in Indonesia on Wednesday, at around 2:38 pm. A tsunami warning has now been issued by the US Geological Survey after the quake.
Here, Balwant Singh Rajoana is still a HERO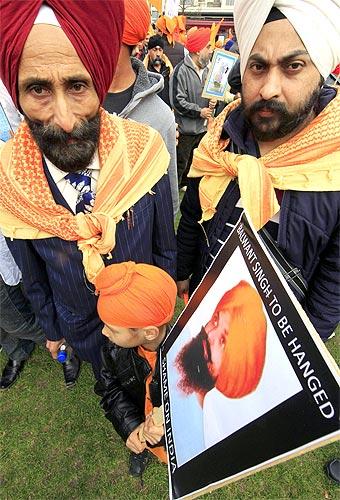 Author Amandeep Sandhu visited Balwant Singh Rajoana's village in Punjab and found that Rajoana Kala stands by the death row convict. She shares her experiences with
America's first lady envoy will make history in India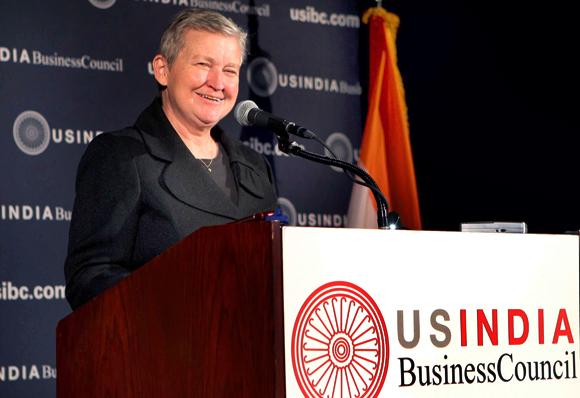 The US's first lady ambassador to India wants to set a new tone for the India-US relationship. reports from Washington, DC.
Modi exonerated in court, but not endorsed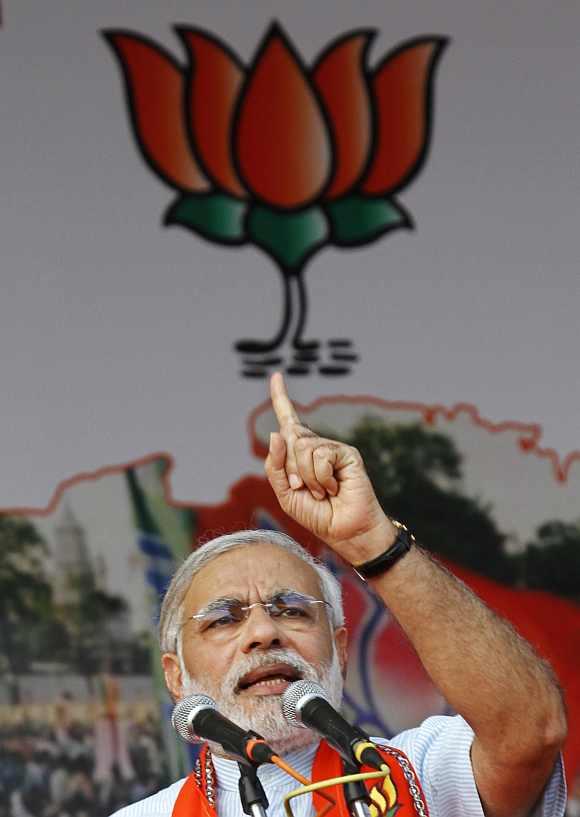 The question of ethical calibre is decided not by SITs or courts. It is decided -- sometimes objectively, sometimes subjectively -- in the minds of the people, says
At battlefield 20,000 feet high, cold is the main killer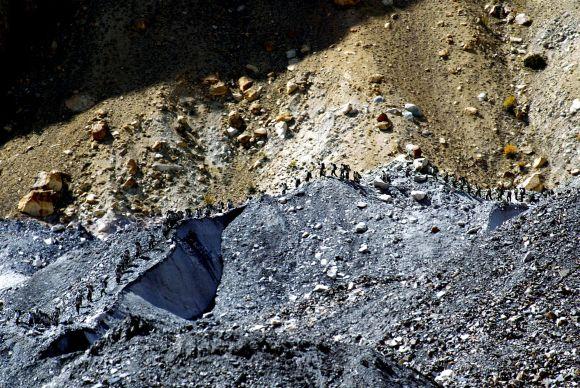 India and Pakistan maintain a permanent military presence at a height of over 20,000 feet, which has led to more deaths due to extreme weather conditions than to each other's military might, reports
China suspends top leader over murder charges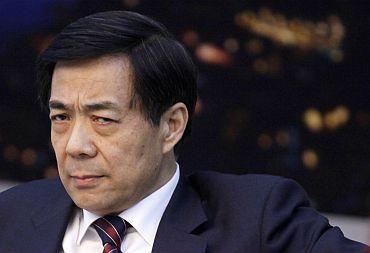 China has suspended Bo Xilai, a top politician who was once regarded as the rising star in the ruling Communist Party of China hierarchy, from all party posts and also detained his wife over the suspected murder of a British national.
'Pakistan has MORE nuke weapons than India'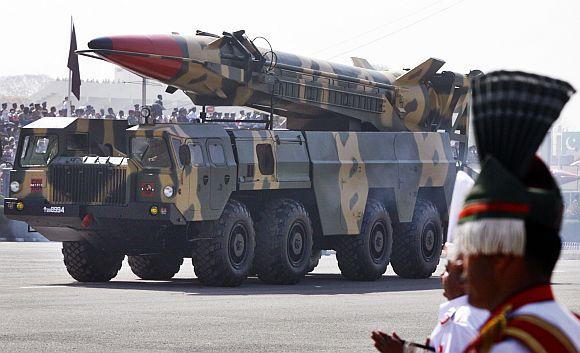 Estimated to have more nuclear weapons than India, Pakistan is rapidly developing and expanding its atomic arsenal, spending about $2.5 billion a year to develop such weapons, a report has said.
MUST SEE: Top 10 PHOTOS of the day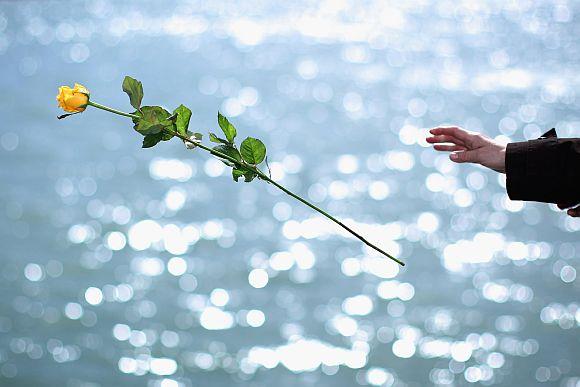 A collection of some of the best photos from around the world in the last 24 hours.
Why we need to respect the SIT report on Modi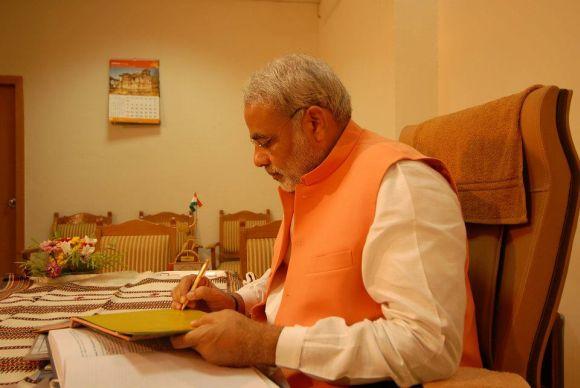 We cannot afford to continue expending our logistic resources on the riots of Gujarat, an exercise that has run its full course. The nation demands closure in the form of acceptance of the SIT report. To do otherwise is to indicate a lack of faith in the institutions of our country, in effect a lack of faith in ourselves, says
April 10, 2012
After clean chit, campaign against Modi MUST stop: BJP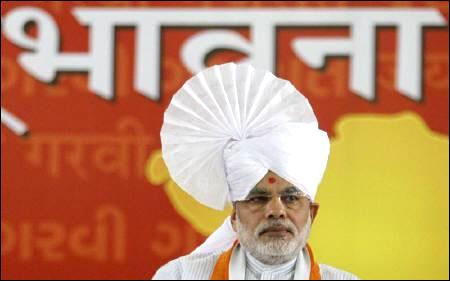 Terming the clean chit by the Special Investigation Team to Gujarat Chief Minister Narendra Modi in the 2002 Gulberg Society case a "big relief", the Bharatiya Janata Party on Tuesday said ten years of vilification against its leader should stop now.
NO evidence against Modi in Gulberg case: Court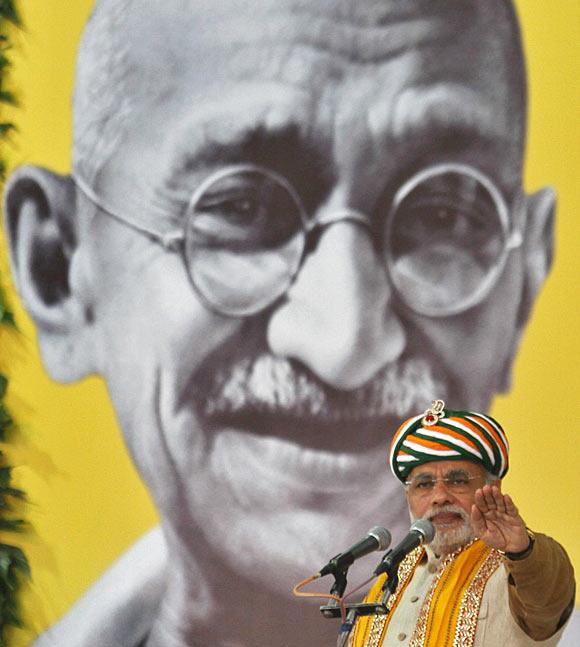 The Supreme Court-appointed Special Investigation Team has found no evidence against Chief Minister Narendra Modi and 57 others in the complaint filed against them by Zakia Jafri in the 2002 Gujarat riots, a magisterial court said on Tuesday.
Khar may lose portfolio for contradicting Zardari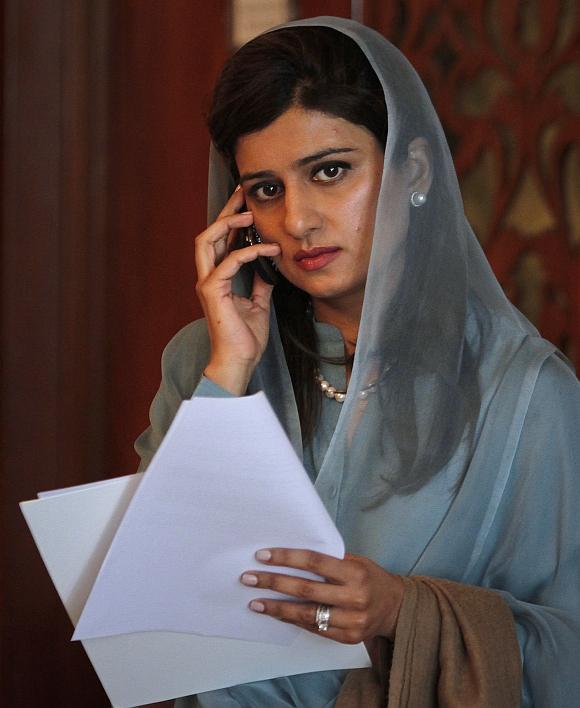 Days after Foreign Minister Hina Rabbani Khar contradicted President Asif Ali Zardari during a meeting with a visiting United States diplomat, speculation is rife that her portfolio may be changed.
Big Brother gets to read your BlackBerry messages, emails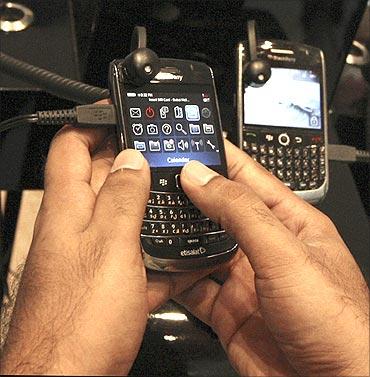 Though millions of BlackBerry users may be worried about the Indian government snooping on them, only the phones of certain terror suspects would be tracked, reports
IN PHOTOS: PM's strategy to quench India's thirst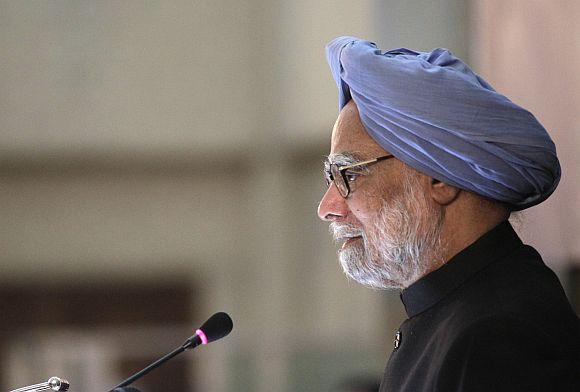 Following is the full text of Prime Minister Manmohan Singh's address at the inaugural ceremony of India Water Week, in New Delhi on Tuesday
Working very hard to improve Indo-Pak ties: China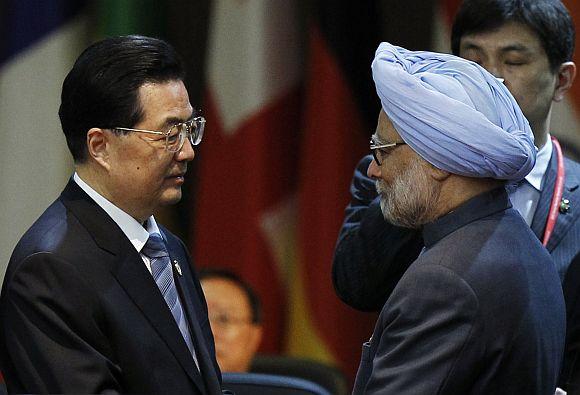 China is "working hard" to improve ties between India and close-ally Pakistan, despite facing heavy criticism from within and its expression of happiness over President Asif Ali Zardari's visit to India is "no hollow diplomatic gesture", a state-run daily said on Tuesday.
Bounty or no bounty, WON'T go underground: Saeed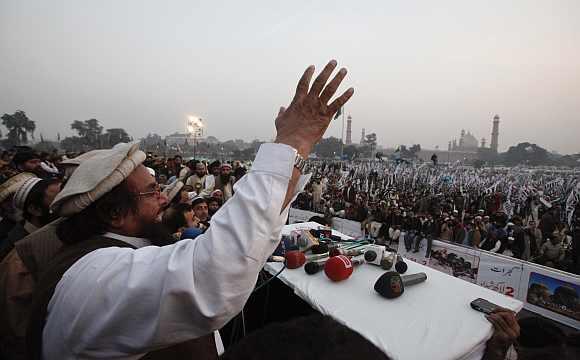 After apparent initial jitters on the United States slapping a $10 million bounty on his head, Pakistan's Jamaat-ud Dawa chief and an alleged 26/11 Mumbai mastermind, Hafiz Mohammad Saeed had decided not to go into hiding.
US: Jindal, Haley may figure as Romney running mate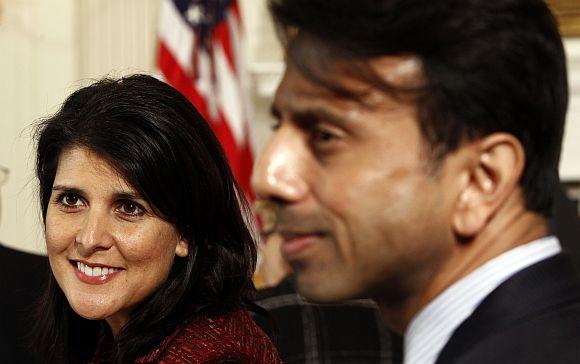 Indian-Americans -- Bobby Jindal and Nikky Haley -- are emerging as possible vice-presidential running mate of Mitt Romney, who is expected to bag the Republican Party's nomination for presidential polls.
India's civil-military relations: The threat within?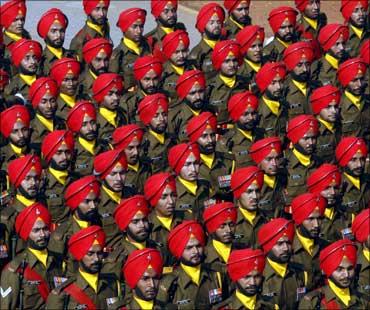 Students and observers of the Indian military and the structure of its relationship with the defence ministry, and the government of India unanimously agree that, over time, the boundaries of "objective control" have been breached says .
PHOTOS: Reliving the TITANIC saga after 100 years!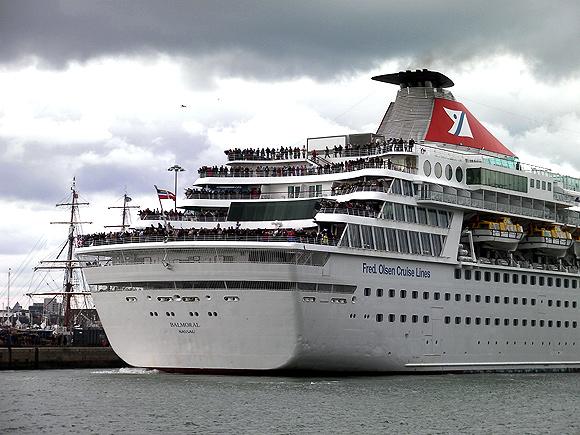 A cruise carrying relatives of some of the more than 1,500 people who died aboard the Titanic nearly 100 years ago, set sail from England on Sunday to commemorate the 100th anniversary of the sinking of the White Star liner.
April 09, 2012
Is India prepared for war in the 21st century?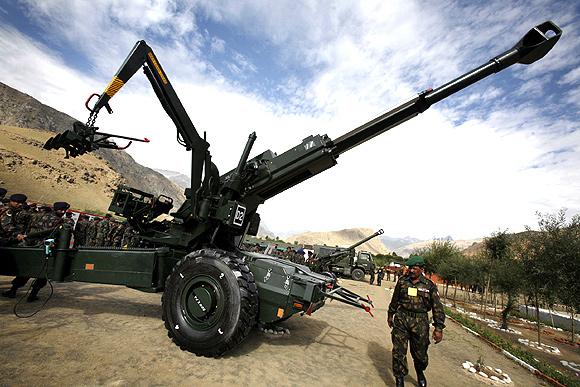 India desperately needs to ugrade the armed forces's war-fighting capabilities and tackle the problem of ammunition deficiency if it is to fight and win on the battlefields of the 21st century, says Brigadier Gurmeet Kanwal (retd).
Imran Khan SLAMS Zardari, Bilawal over India visit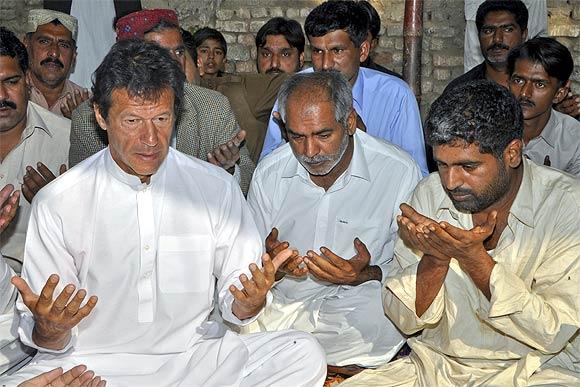 The sudden visit of President Asif Ali Zardari and his son Bilawal to India has invited ire from their political opponents in Pakistan, with cricketer-turned-politician Imran Khan questioning the timing of the tour, while the country was grappling with the tragedy of 135 soldiers missing in an avalanche in Siachen glacier.
ISI/LeT may choose Hafiz Saeed's son to attract jihadis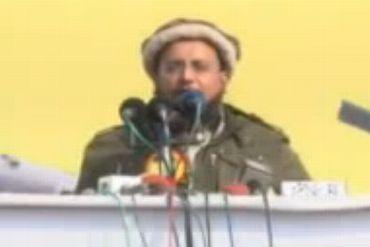 ISI would not allow LeT to go down the drain in case Hafiz Saeed goes low profile following the US announcement of a $10 million bounty on his head. And that's why all eyes are on his son Talha Saeed, who can easily take over the reins from his father to further the jihadi cause, reports .
Will Raj Babbar do what Rahul Gandhi couldn't?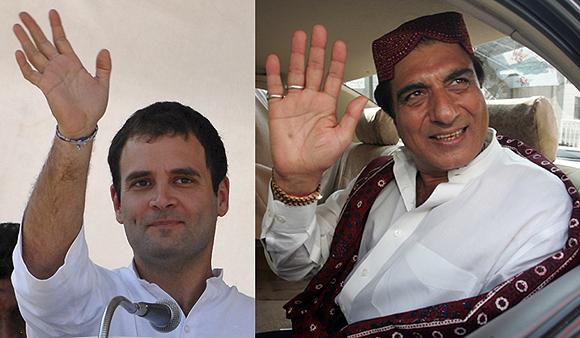 Is Raj Babbar coming to the Congress's rescue? Adarsh scam nets two more Maharashtra CMs... Jairam Ramesh ki mazaak-masti... All this, and more, in Dilli Gupshup.
PHOTOS: Chef Sanjeev Kapoor's trip to White House kitchen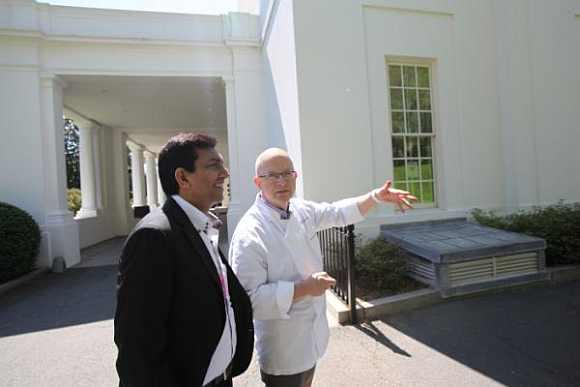 India's celebrated chef Sanjeev Kapoor was given a rare insight into the historic kitchen of the White House, which prepares the food for United States President Barack Obama, his family and the large number of guests invited to the resident of the first family every day.
Why Kashmir and terror shouldn't block Indo-Pak ties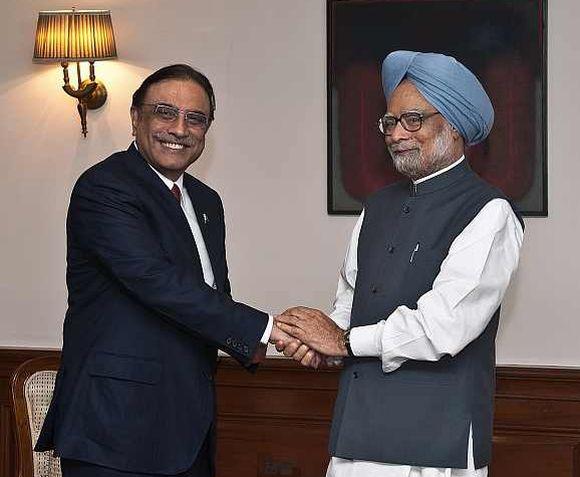 The visit of Pakistan President Asif Ali Zardari was neither a success nor a failure if we look at it from the point of view of finding a solution to the contentious issues of Kashmir and Pak-sponsored terror, argues
Friends from north-east attend Bhutia's funeral in US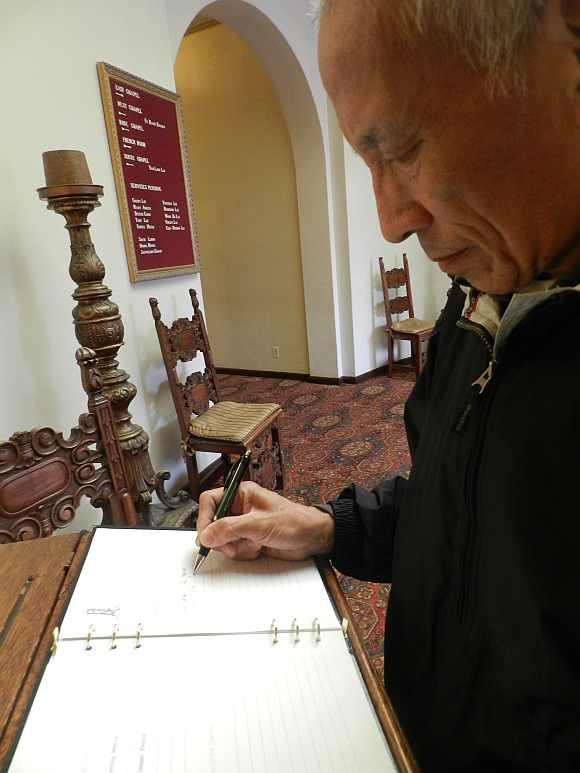 Friends from India's north-east living on the US west coast as well Tibetans attended the funeral of Tshering Bhutia who was killed in a college shootout last week. reports
Dr Singh SHOULD NOT delay visit to Pak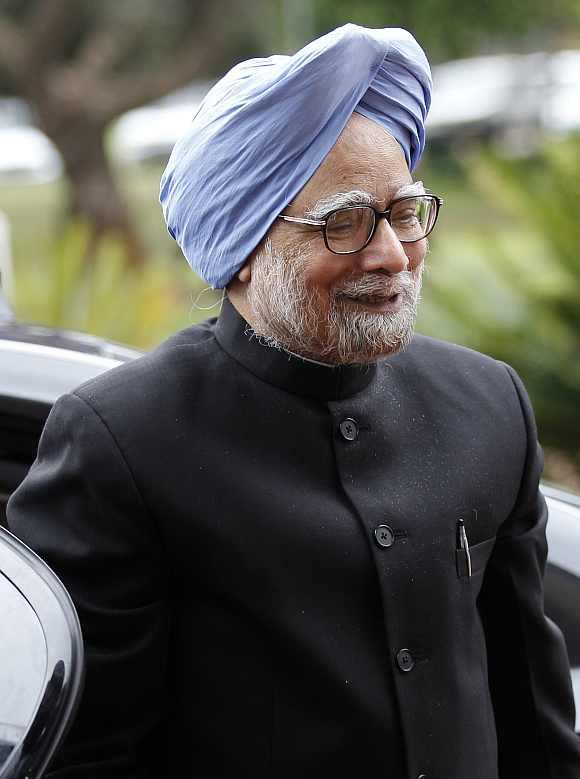 The meeting between Prime Minister Manmohan Singh and Pakistan President Asif Ali Zardari on Sunday could have positive spin-offs
ODD PHOTOS: African snail massage, $3,178 tea and more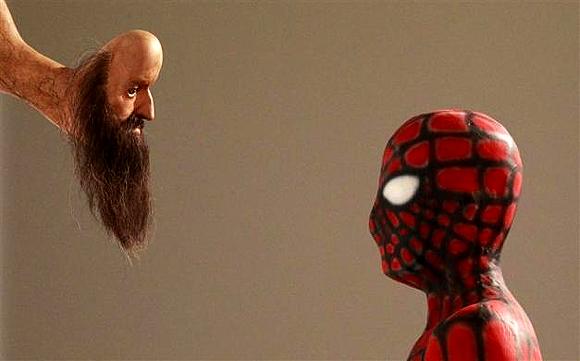 Strange and unusual
Shame we spend money on weapons: Bilawal after India visit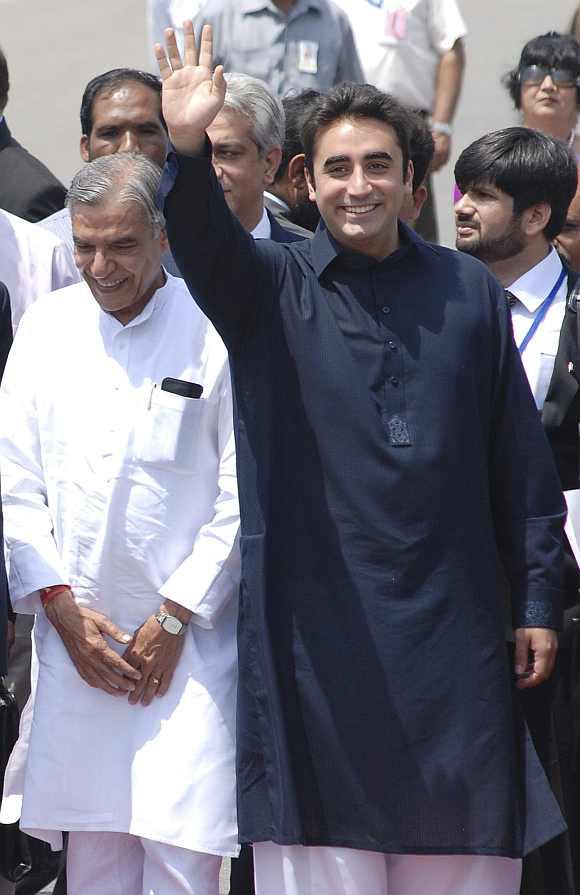 Pakistan People's Party chief Bilawal Bhutto Zardari took to Twitter to express his feelings about his first visit to India, saying it was a "shame" that the two countries were spending money on weapons at a time when many people on both sides of the border were living in poverty.
Pak serious about Saeed but need more evidence: Gilani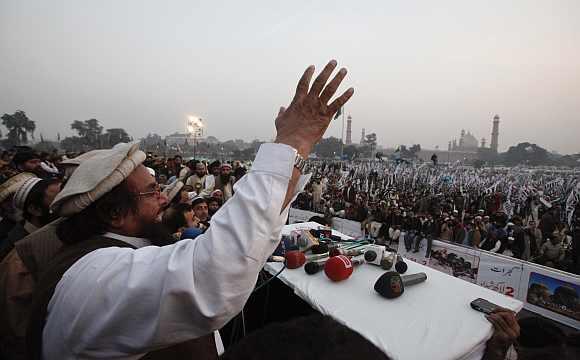 Prime Minister Yousuf Raza Gilani acknowledged that the case of Jamaat-ud-Dawa chief Hafiz Saeed was an "issue" between Pakistan and India but said Islamabad needs "substantial" evidence against him to try him in a court of law.
April 08, 2012
PICS: Zardari offers prayers at Ajmer; donates $1 million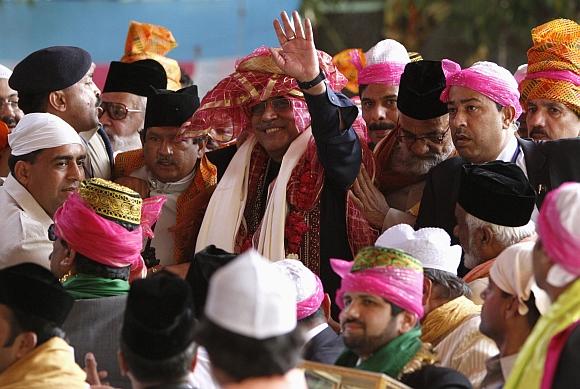 Pakistan President Asif Ali Zardari on Sunday offered prayers at the historic 13th century dargah of Sufi saint Khwaja Moinuddin Chisti in this pilgrim town after which a $1 million donation for the shrine was announced.
VIDEO: Manmohan-Zardari joint statement
Pakistan President Asif Ali Zardari, who arrived at the Palam Airport in New Delhi on Sunday on a day-long visit, said he and Prime Minister Manmohan Singh "talked on issues that matter"
UP poll debacle: Is Congress worried about other states?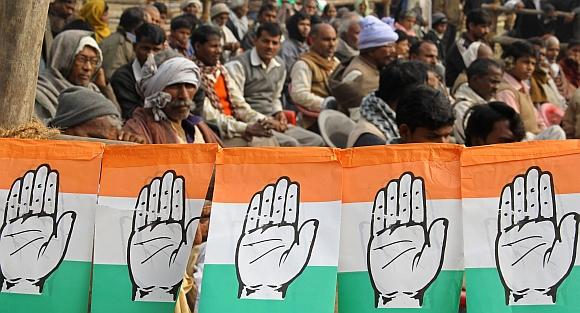 The Congress may have reviewed its poll debacle in Uttar Pradesh and Punjab, but unease is growing in the party in crucial states such as Madhya Pradesh, Bihar, Maharashtra, Rajasthan, Chhattisgarh and Tamil Nadu and Andhra Pradesh, which had returned spectacular results in the last two Lok Sabha elections.
Ready for pragmatic solutions to issues with Pak: PM
Signalling a positive outcome, Prime Minister Manmohan Singh and Pakistan President Asif Ali Zardari on Sunday said that the two countries are willing to find "practical, pragmatic" solutions to a "number of issues" affecting the bilateral relationship.
April 07, 2012
Delicacies await Zardari at Dr Singh's lunch, BUT...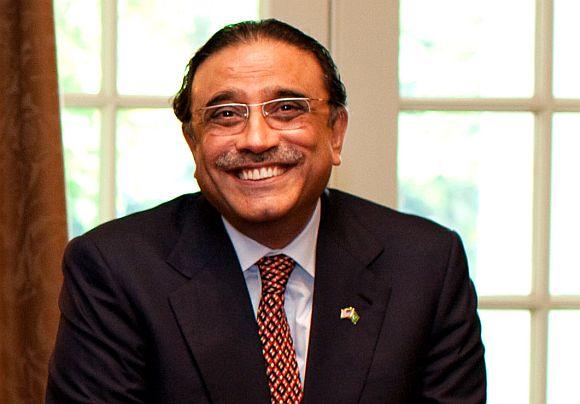 Mouth-watering Kashmiri delicacy Goshtaba are among a spread of delicacies from various parts of India awaiting Pakistan President Asif Ali Zardari at the lunch with Prime Minister Manmohan Singh in New Delhi on Sunday. However, what's not going to be on the cards in the talk on 26/11 mastermind and Lashkar-e-Tayiba founder Hafeez Mohammad Saeed.
MUST READ: Saeed may be an ugly fly at Singh-Zardari lunch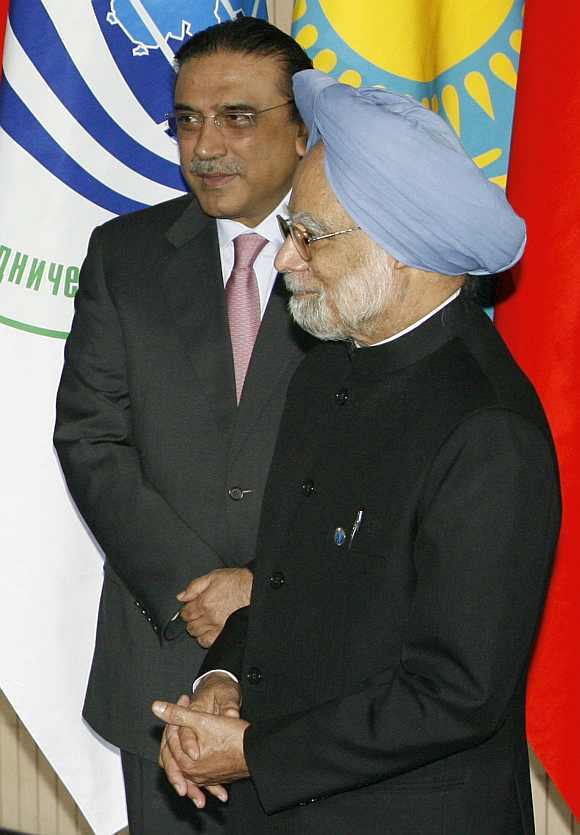 26/11 mastermind Hafiz Saeed may become an ugly fly in the soup at the lunch meeting between Prime Minister Manmohan Singh and Pakistan President Asif Ali Zardari on Sunday. But senior Pakistani journalist hopes that the two leaders will focus instead on smaller issues like Siachen, Kori Creek and water
PHOTOS: US destroyers arrive in India for Malabar 2012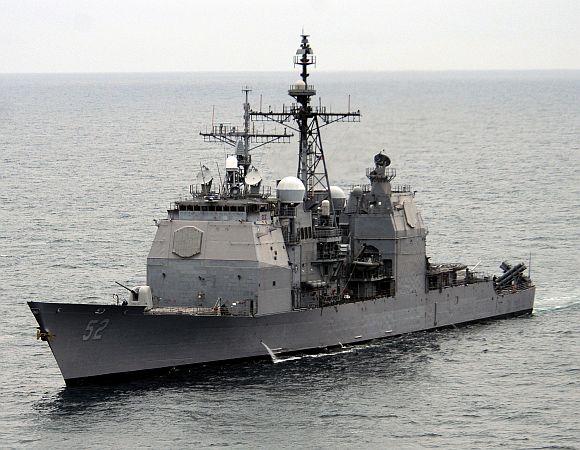 Ahead of the Indo-US military exercise 'Malabar' in the Bay of Bengal from April 9, guided-missile cruiser USS Bunker Hill, one of the vessels in the seventh fleet of the United States Navy, docked at Chennai port on Saturday.
Troop movement routine, no need to notify govt: Army chief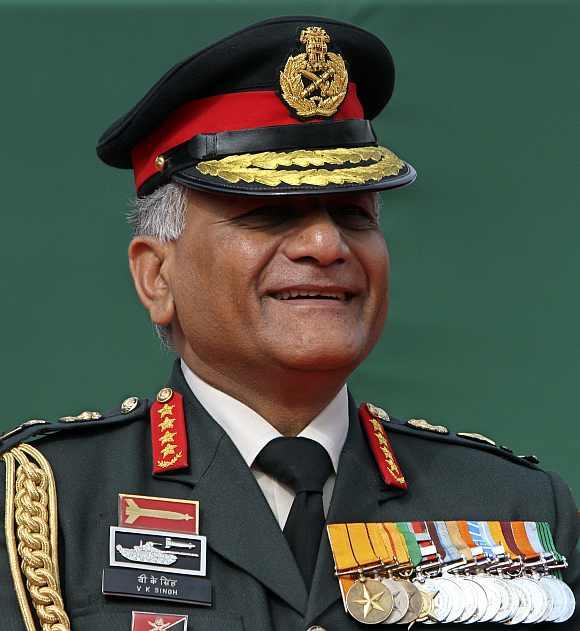 Army Chief General V K Singh has dismissed reports of "unusual" movement of two elite units of army towards the capital in mid-January calling it "routine" for which there was no need to "notify" the government.
PHOTOS: Ajmer all set to welcome Zardari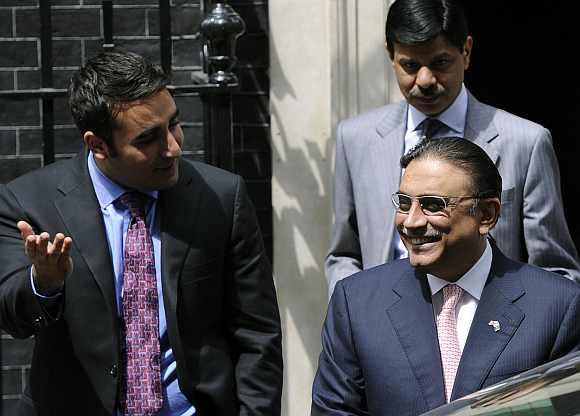 Elaborate security arrangements have been made for the high-profile visit of Pakistan President Asif Ali Zardari, who is scheduled to pay obeisance at the dargah of Sufi saint Khwaja Moinuddin Chishti on Sunday.
Weekend videos: From Hafiz Saeed to Deparment!
Weekend videos: From Hafiz Saeed to Deparment!
April 06, 2012
Mumbai: Double decker bus turns turtle; 1 killed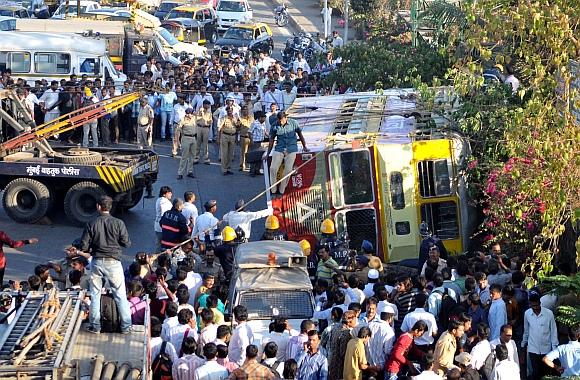 A biker was killed after he was crushed under a double decker Brihanmumbai Electric Supply and Transport Undertaking bus that overturned in Bandra's Kalanagar.
In PHOTOS: BJP's latest ad depicts Modi as Lord Krishna!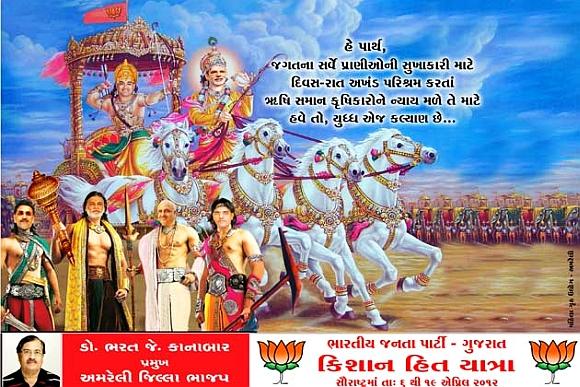 Gujarat Chief Minister Narendra Modi has been depicted as Lord Krishna in a Bharatiya Janata Party advertisement published in a local newspaper on Friday. The advertisement, which is sure to kick up a controversy, has been given by BJP's Amreli district unit President Bharat Kamdar.
Govt-army ties at an all-time low, blogs Advani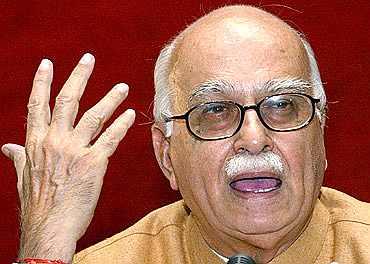 Terming as "extremely alarming" the media report of two army units moving towards Delhi without notifying the government in January this year, Bharatiya Janata Party leader L K Advani on Friday said it shows that the government-army ties are at an all time low and highlights the "trust deficit" in establishment circles.
Hafiz Saeed case is Pakistan's 'internal issue': Gilani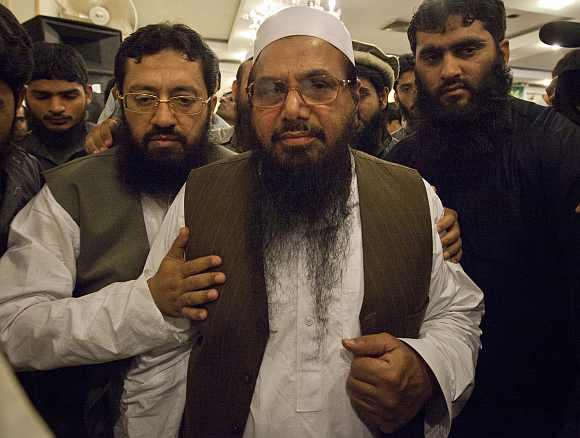 Pakistan Prime Minister Yousuf Raza Gilani has said the matter of Lashkar-e-Tayyiba founder Hafiz Saeed is an "internal issue" and if there is any concrete proof against the outlawed Jamaat-ud-Dawah chief then it should be provided to them.
In PHOTOS: Japan's tsunami 'ghost ship' sinks
The United States coast guard used a cannon to sink a derelict and fuel-laden Japanese vessel that drifted to Alaska after the March 2011 tsunami.
BIGGER, better, faster Agni missile to take off soon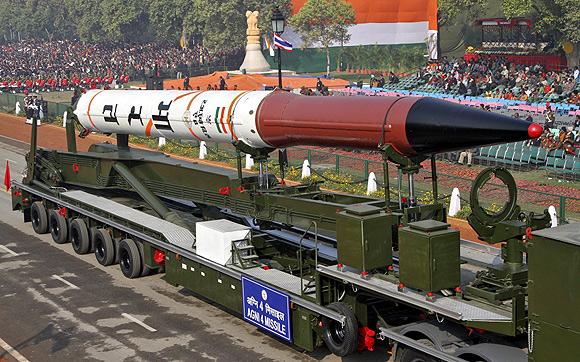 India will join the elite club of nations having ICBM with the Defence Research and Development Organisation planning to carry out the launch of over 5,000 km-range Agni-5 missile in April.
Man 'who killed thousands of Americans' faces death!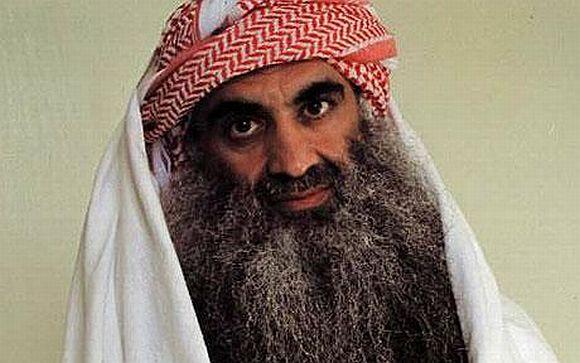 The entire world will be eagerly following the 'trial of the century' in which Khalid Mohammed Sheikh, the alleged mastermind of the 9/11 terror strikes and hoards of other terror plots, faces death penalty if found guilty by a US military tribunal in Guantanamo Bay.
April 05, 2012
Zardari's India visit only to touch base with Dr Singh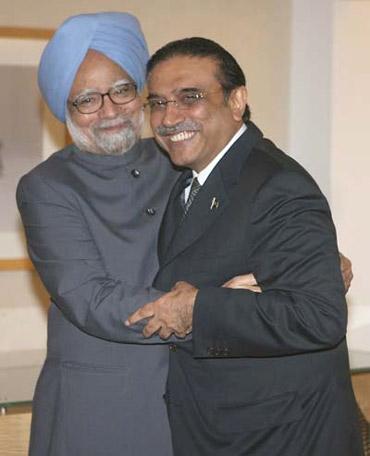 Dr Manmohan Singh is the woolly-headed idealist ready to make any sacrifice to woo Pakistan quite unmindful of its inimical mindset vis a vis India, feels former Deputy National Security Adviser .
Pakistan in no mood to act against JuD chief Hafiz Saeed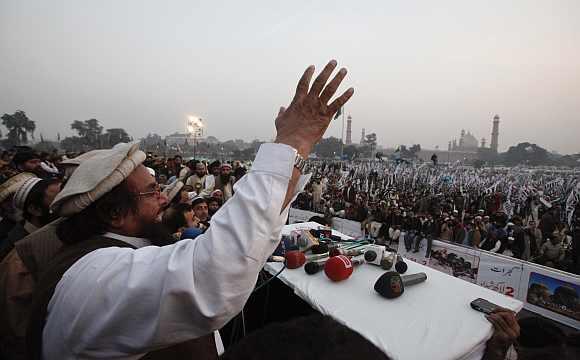 Interior ministry officials in Islamabad say that to act against Hafiz Mohammad Saeed, the government needs actionable evidence. It has also said that a respectable Pakistani national can't be prosecuted on the basis of hearsay and that too just to please India. reports
'LeT has never had to deal with loss of leadership'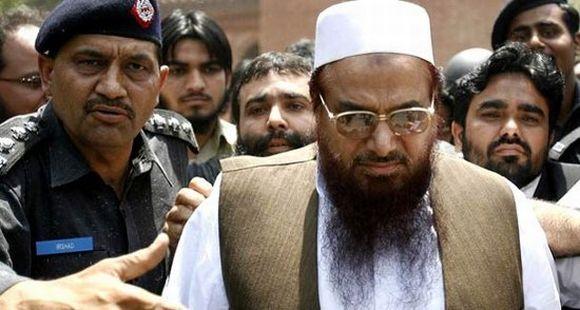 Stephen Tankel, author of the book Storming the World Stage: The Story of Lashkar-e-Taiba, says that the bounty announcement validates India's repeated assertions that the LeT is a dangerous group and that Saeed plays a strategic role in guiding it.
The stone throwing Sri Lankan navy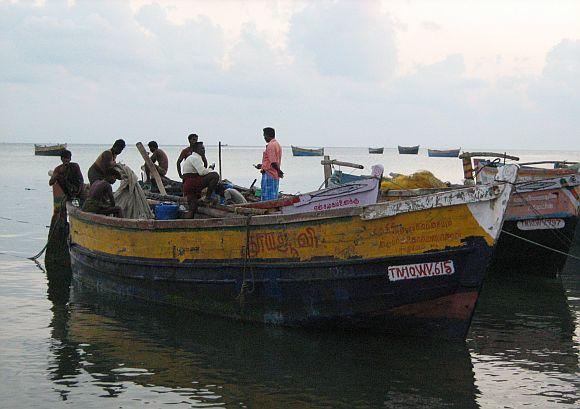 Redif.com's travelled to Rameswaram to meet fishermen harrowed by the Sri Lankan navy, which has been resorting to stone pelting to drive them away from what it claims as its territory
VK Singh: Making up stories against me deplorable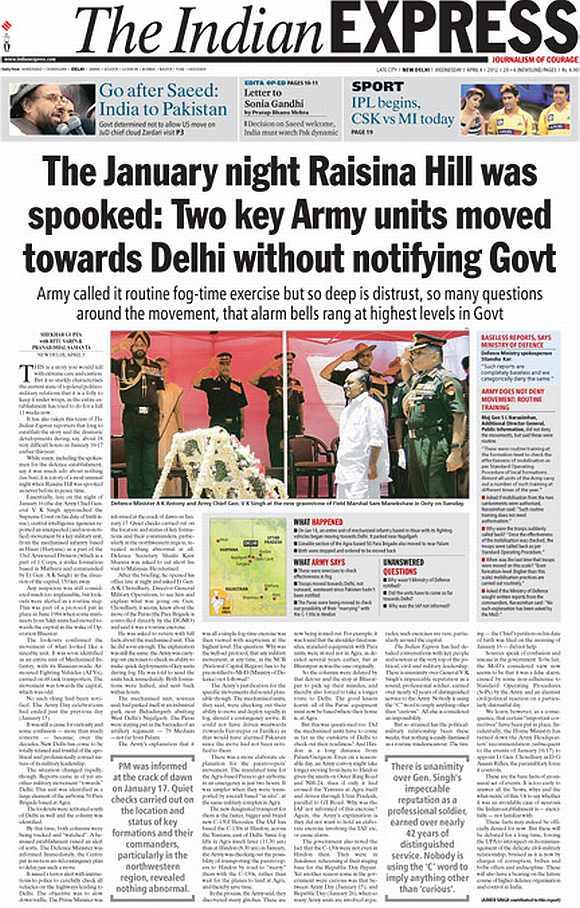 Army Chief General V K Singh on Thursday dismissed as "absolutely stupid" a report that the Indian government panicked for several hours in the face of unexplained troop movements near Delhi in January.
Ayman al-Zawahiri in PoK! Will meet same fate as Osama?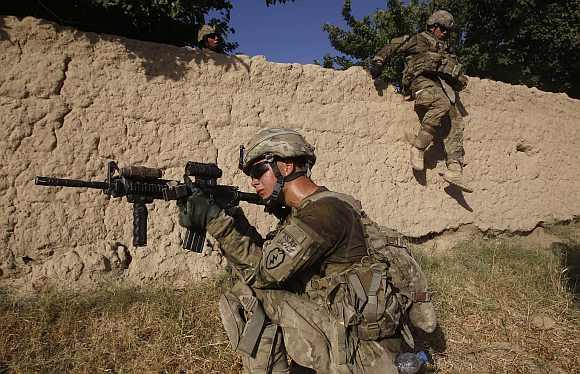 America has cracked the code to penetrating how the Al Qaeda communicates, and they will soon track down Ayman al-Zawahiri, who is operating relatively close to Rawalpindi, says erstwhile Central Intelligence Agency analyst Bruce Riedel.
Is India's defence establishment ROTTING?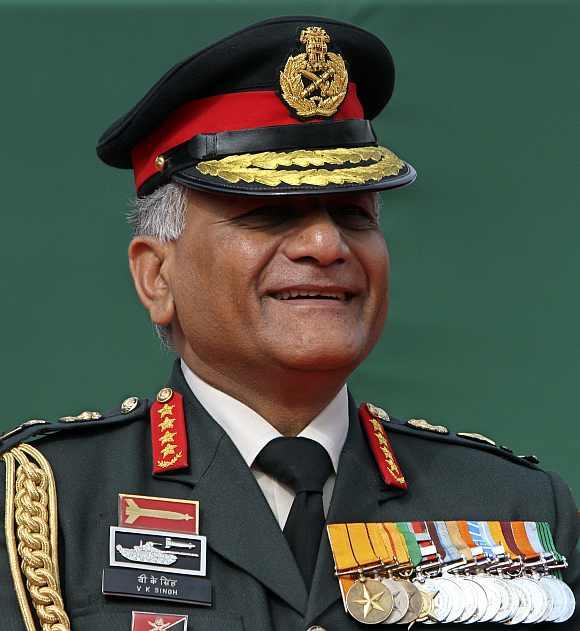 The civil-military confrontation shows that integrating the defence ministry and reforming procurement are overdue, says senior journalist
Bounty on Saeed: US killing two birds with one stone?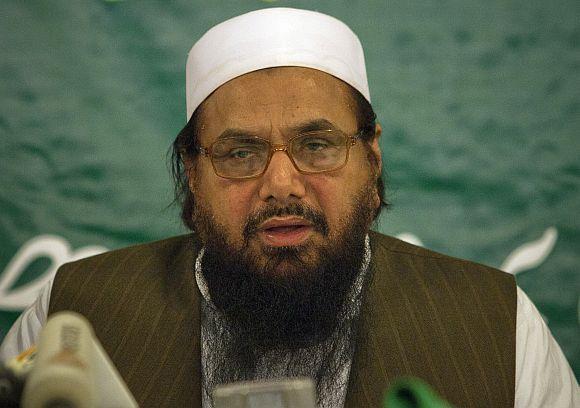 JuD chief and 26/11 mastermind Hafiz Saeed has alleged that United States wants to gain two objectives by announcing the $10 million bounty on his head, reports
Army MUST explain 'troop movement' in the January fog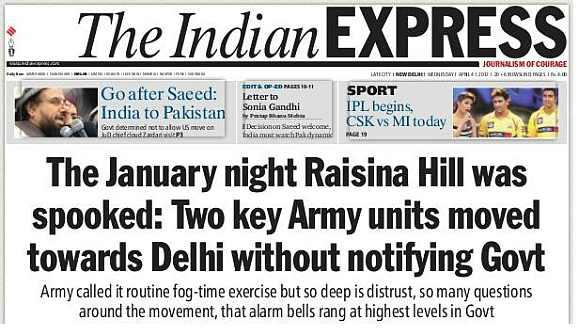 The questions that Wednesday's Indian Express report raises on the movement of two military units towards New Delhi are valid. While civilian authorities have come out in full damage-control mode, it is the army that must explain what happened on the night of January 16-17, and tell India's justifiably concerned citizens what action has been taken to ensure that it does not recur.
MUST SEE! Best PHOTOS from around the world
A collection of some of the best photographs from around the world in recent days
Bounty on Saeed for info leading to his conviction: US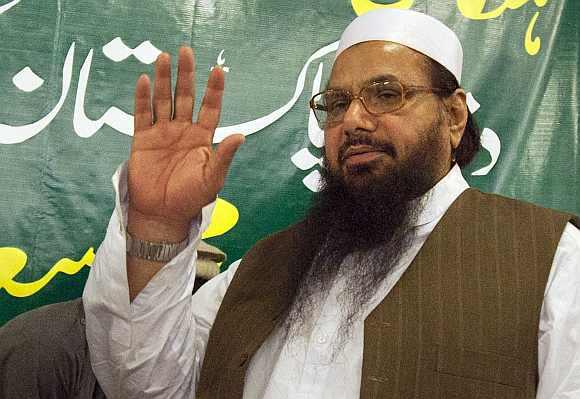 The United States underlined that $ 10 million bounty for Lashkar-e-Tayyiba founder Hafiz Seed is not about finding his location, but to seek information that can convict the alleged mastermind of the 2008 Mumbai terror attacks in a court of law.
'Election manifesto promises can't be implemented easily'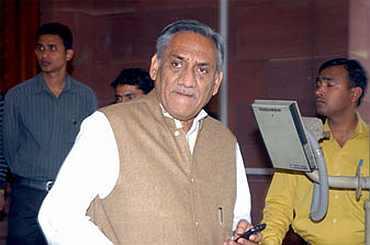 Uttarakhand Chief Minister Vijay Bahuguna tells infighting within the Bharatiya Janata Party is more severe in the state than in the ruling Congress
April 04, 2012
Strike Alert: Autorickshaws to go off roads in Mumbai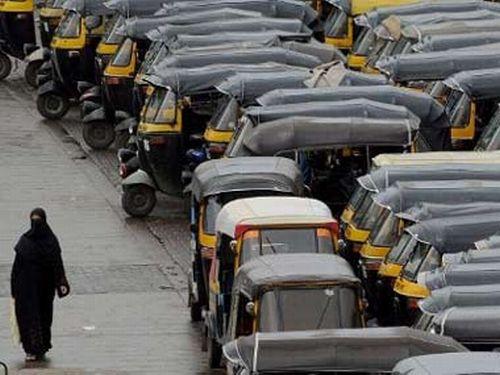 The Sharad Rao-led autorickshaw union on Wednesday announced that 7.5 lakh autos will launch an indefinite state-wide agitation from April 16 for their demands, which include hike in the minimum fare.
In PHOTOS: The Padma awards ceremony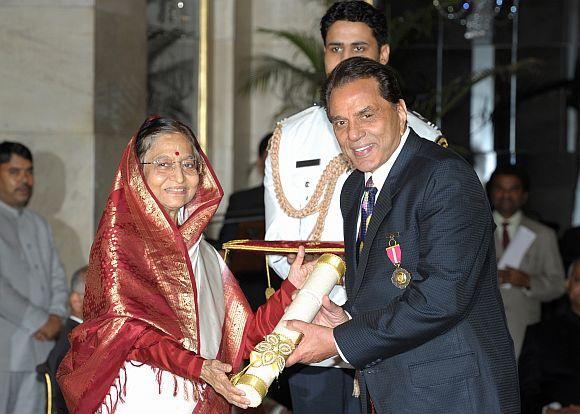 Late cartoonist Mario Miranda, actors Dharmendra and Shabana Azmi, top mathematician M S Raghunathan, former Chief Vigilance Commissioner N Vittal and industry leader B Muthuraman were among those conferred the Padma awards by President Pratibha Patil in New Delhi on Wednesday.
Bounty on Saeed for Mumbai terror attack, US clarifies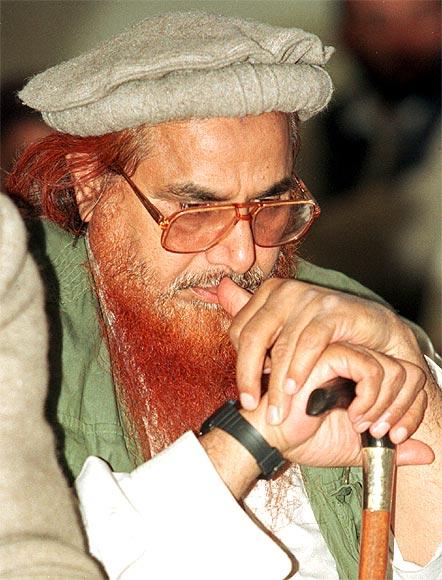 The United States has made it clear that a $10 million bounty on Hafiz Saeed was primarily due to his key role in the 2008 Mumbai terror attacks and said it wants to bring to book the Lashkar-e-Tayiba founder who has been brazenly flouting the justice system.
Exclusive! $20 bn Rafale deal was manipulated, says MP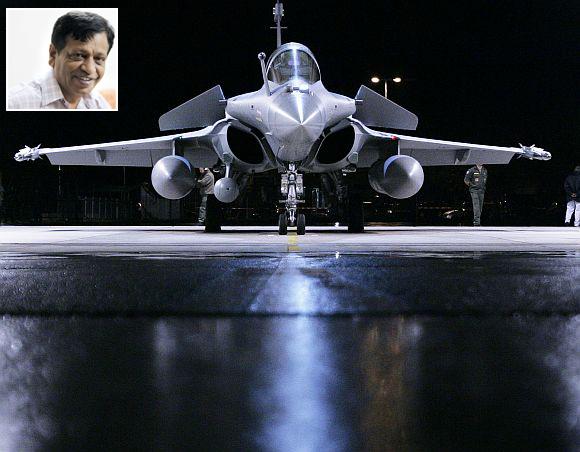 'There is an evaluation committee which is involved in these matters. The committee comprises six persons and there are persons from the armed forces and also the finance wing. My information suggests that two persons in this committee have allegedly manipulated this deal,' MV Mysura Reddy, member of the parliamentary defence standing committee, tells
'An attack on Saeed is an attack on Islam'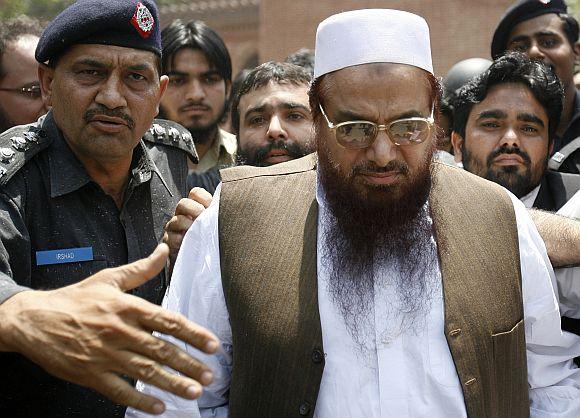 Banned terror outfit Jamaat-ud-Dawa has officially condemned the United States' announcement of a 10 million dollar bounty on its chief Hafiz Saeed, calling it "another attack by the American government on Muslims and Islam".
IN PICS: Nuke-powered 'INS Chakra' joins Indian Navy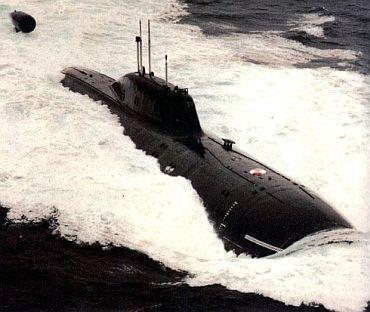 India on Wednesday inducted the Russian-origin nuclear-powered submarine 'Nerpa' into the Navy, joining the elite league of nations having such sophisticated warships.
In PHOTOS: Powerful tornadoes rip through Texas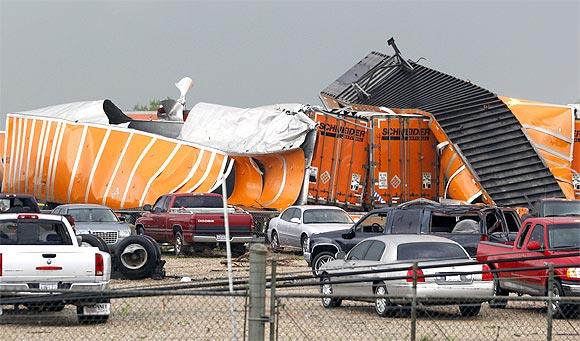 Powerful tornadoes tore through the Dallas-Fort Worth metropolitan area in Texas on Tuesday, ripping apart buildings, tossing tractor trailer trucks into the air and grounding all planes in the region.
Oceans get warmer as climate change WORSENS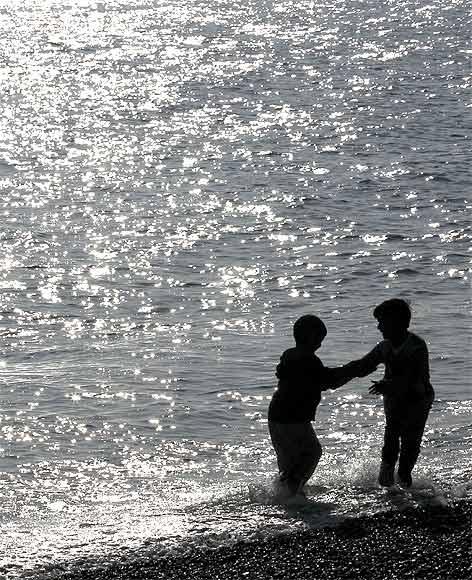 It is believed that global warming is quite a recent phenomenon, but a new study has suggested that the world's oceans began warming more than 100 years ago, much earlier than previously believed.
MOST WANTED Saeed roams around free in Pak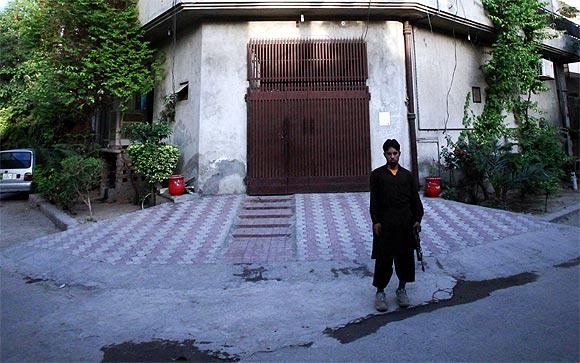 Lashkar-e-Tayiba founder Hafiz Mohammad Saeed, who has been named among the world's five most wanted terrorists by the United States, has re-emerged as a key player in Pakistan's jihadi politics after a brief setback in the wake of the 2008 Mumbai attacks.
WARNING! The DRAGON is silently getting stronger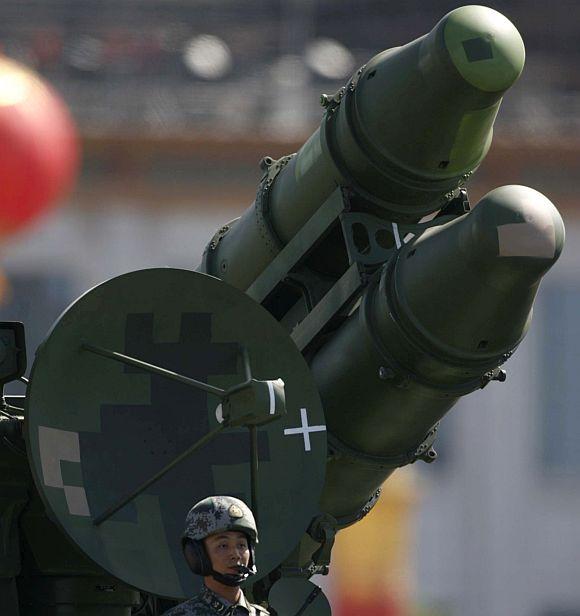 What has been causing concern in Asia and beyond is the opacity that seems to surround China's military build-up, with an emerging consensus that Beijing's real military spending is at least double the announced figure, says .
DON'T MISS: An inside tour of the White House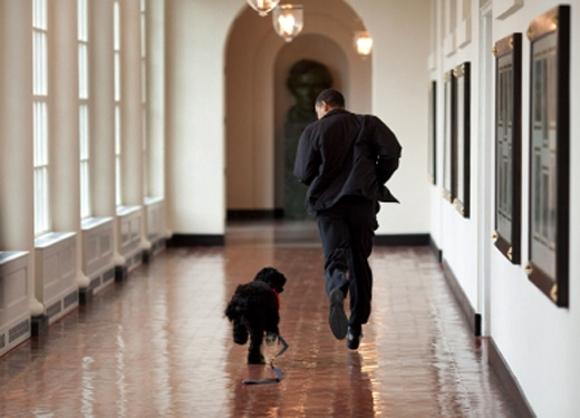 In what the Obama administration is describing an attempt to increase access to the White House, United States President Barack Obama and First Lady Michelle have teamed up with Google to create a virtual 360-degree tour of the historic building's public rooms.
'AFSPA gives politicians the licence to do dirty work'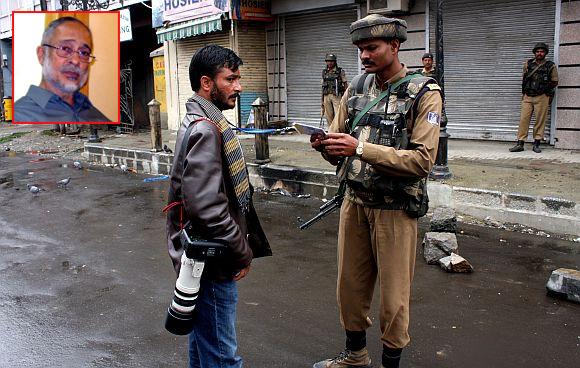 In an exclusive interview, Maj-Gen Sudhir Vombatkere (retd), who was additional director general for discipline and vigilance at the Army headquarters with the human rights cell, tells that the AFSPA should be used only for brief and limited periods and only to facilitate specific missions.
MUST READ: The dirty 'suicide politics' over Telangana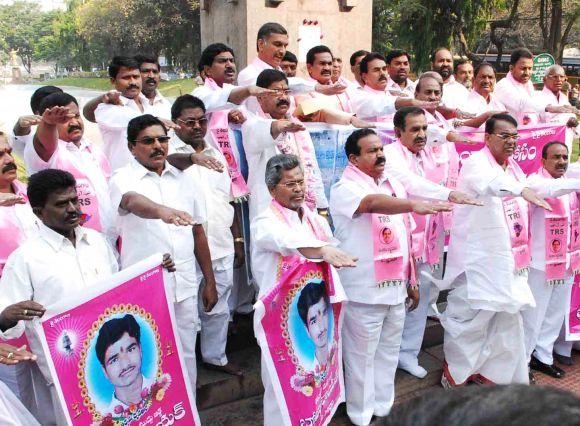 It is turning out to be a clear case of playing dirty politics over the dead in Andhra Pradesh in general and Telangana in particular.
DHISHUM! When parliaments turned to battlefields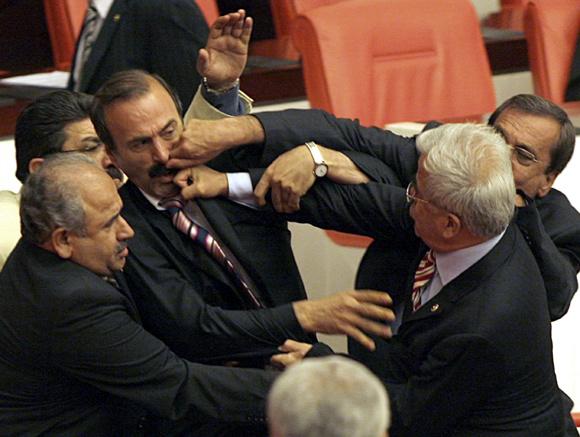 Rediff.com presents some jaw-breaking, tight-slapping, hair-pulling photographs clicked across the globe.
April 03, 2012
Politics, India's greatest reality show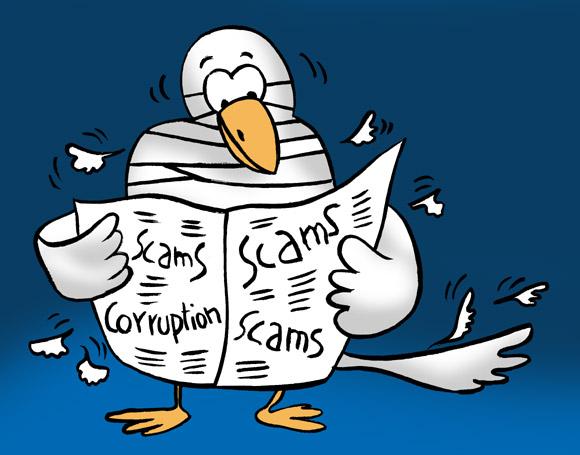 How do Indians react to the political soap operas enacted daily on television screens? Filmmaker likes to believe he's politically challenged, but in the last two decades, even he has picked up a thing or two about the Indian political system.
PIX: Camera traps capture tiger in Namdapha Reserve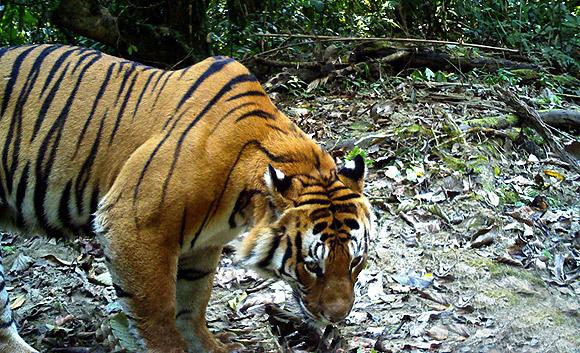 A modern census technique used by Guwahati based bio-diversity conservation and research organisation Aaranyak has produced evidence of the presence of tigers in Namdapha reserve in Arunachal Pradesh.
Jampel Yeshi: 'The day has come to sacrifice your life'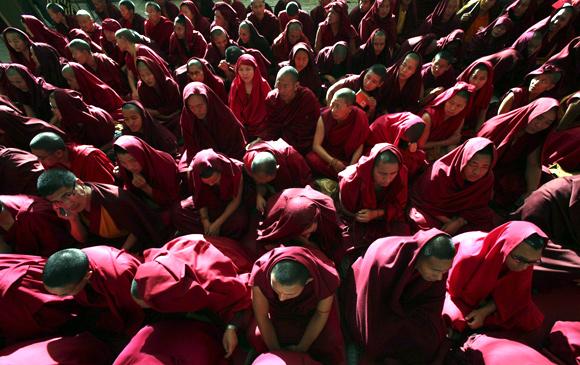 The death of 26-year-old Jampel Yeshi, who immolated himself in New Delhi last week, makes it clear, says , that the regime in Beijing has utterly failed to extinguish the Tibetan fire for freedom.
It's not a joke: Brazil hires BATMAN to fight crime!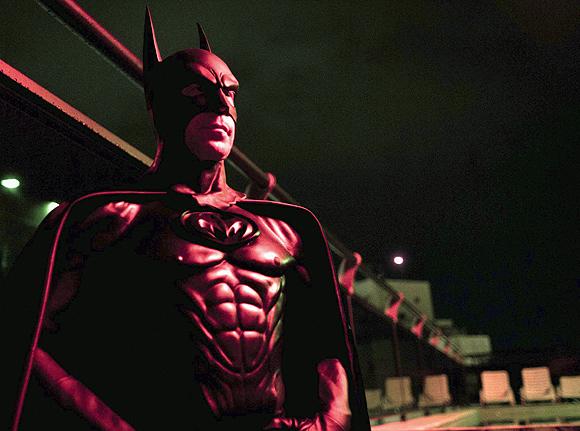 Officials of Taubate city in Brazil have hit upon an unusual idea to fight crime in their neighbourhoods. They have contracted the caped crusader Batman to do the needful.
From a silent hill, these men defend India's skies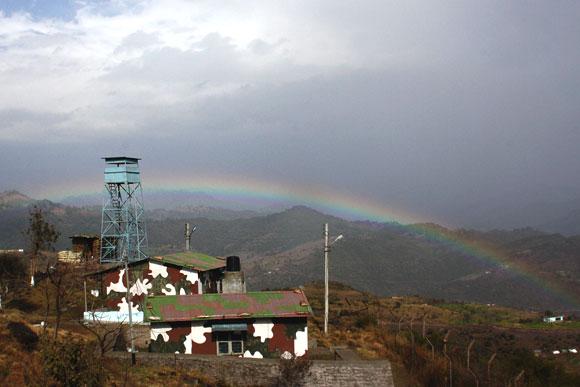 Far from civilian populations, facing the onslaught of weather, terrain and a hostile neighbour lurking in the distance, the band of young men at the Indian Air Force's most strategic radar location near the Line of Control say life is hard, but they would not have had it any other way.
IN PICS: Terror chiefs and the million-dollar bounties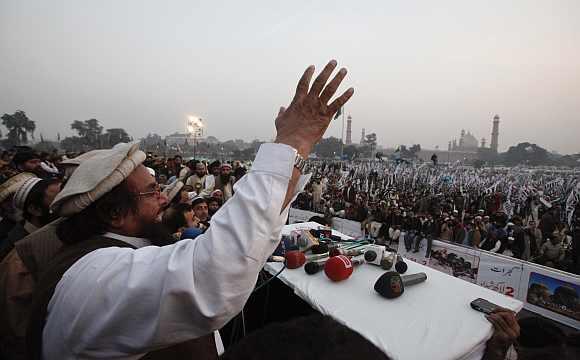 Lashkar-e-Tayiba founder Hafiz Mohammad Saeed has became one of only four terrorist leaders for whom the United States has offered a bounty of $10 million, joining the likes of Afghan Taliban chief Mullah Omar.
Will $10-mn bounty stop LeT chief's war against India? NO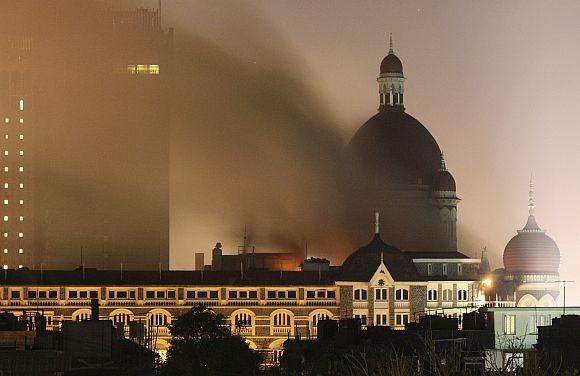 Hafiz Saeed may mellow down his rhetoric against the US, but he is unlikely to curb his anti-India activities, says
What is Suu Kyi's plan for Myanmar after win?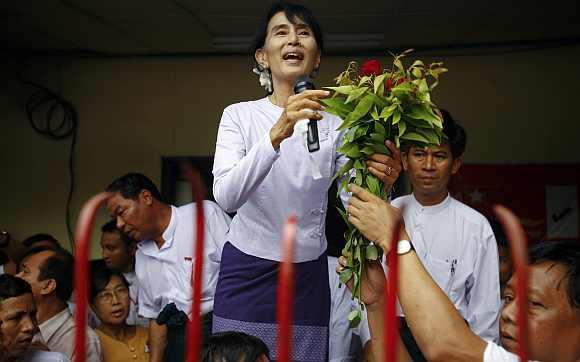 After a landslide victory in the bye-elections will Myanmar's pro-democracy icon play the role of a constructive opposition or will she choose to maintain her political independence by not accepting any role under the present government. Senior analyst raises the big questions
Pakistan is trying to HUSH UP Osama's untold story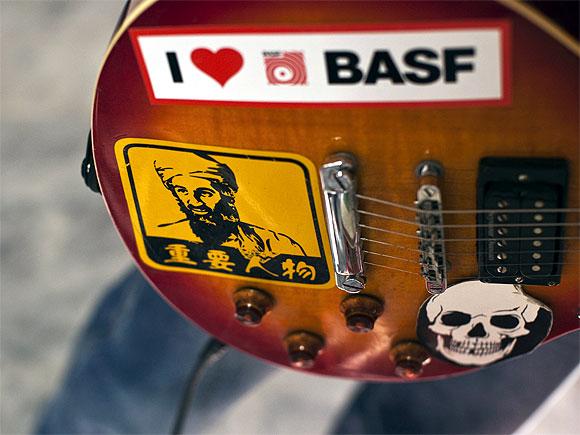 Since Osama's mansion has been leveled to the ground and his family members will soon be deported, the saga of the Al Qaeda chief's Pakistan stint may come to an end, says
Why India must take a proactive Afghan stand NOW!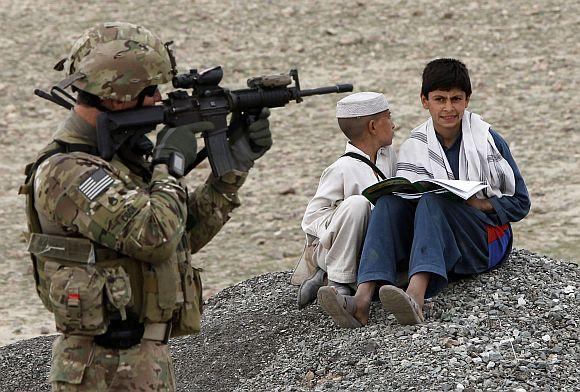 India cannot continue with its ultra cautious stand on Afghanistan for much longer given the faster than expected reduction of the military footprint by the Western powers, says .
'Koodankulam is safer, more modern than Kalpakkam'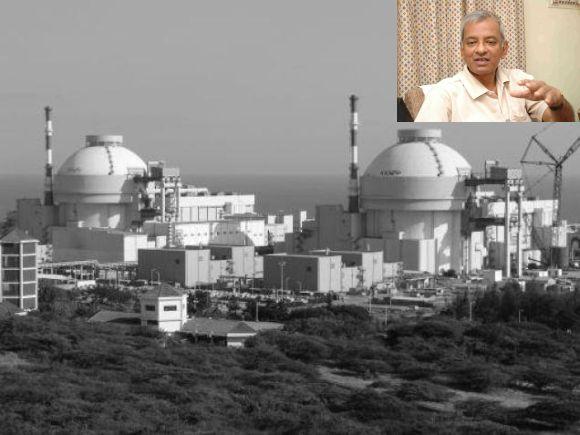 Dr Suresh Moses Lee, who was one of the members of the panel of experts constituted by the Centre to examine the reactors of Koodankulam Nuclear Power Project, talks to rediff.com's about the safety aspects of the controversial plant.
US college shootout: Sikh student, family recall horror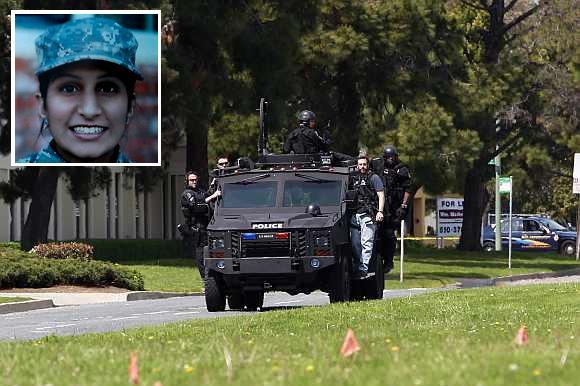 An Indian American student was "lucky enough" to survive after one of her classmates ordered students to stand against a wall and opened an indiscriminate fire, killing seven and injuring three at a religious college in southern California.
PHOTOS: They are ready to take the bullet for Obama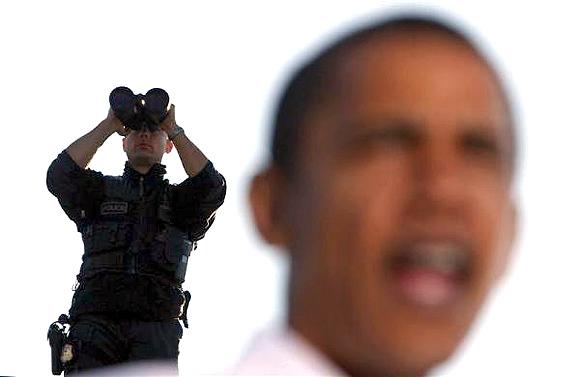 Rediff.com presents some photographs to show how attentively Obama is protected, day and night.
Most wanted: $10-mn bounty on LeT chief Hafiz Saeed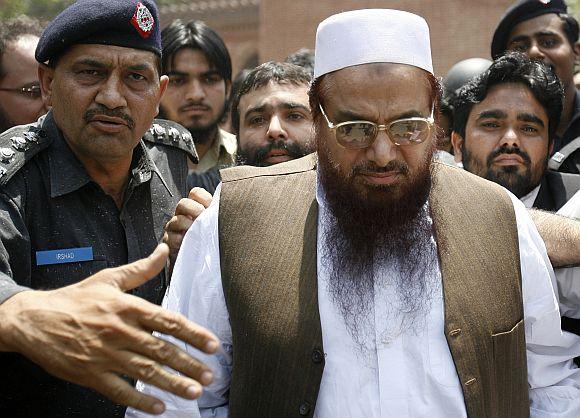 The United States has announced a bounty of $ 10 million for the capture of or information leading to the capture of 26/11 mastermind Hafiz Saeed.
Army war machine: Night-blind, old and unfit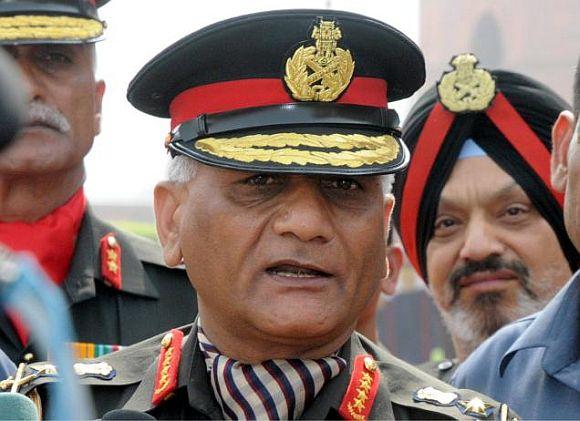 Systematic military intelligence analysis, of the kind that is routine in Rawalpindi and Beijing, would leave Pakistan and China with no doubts about India's military weakness. But the Indian public might miss the broader picture.
April 02, 2012
Pix: 31 dead as Russia plane crashes, breaks into pieces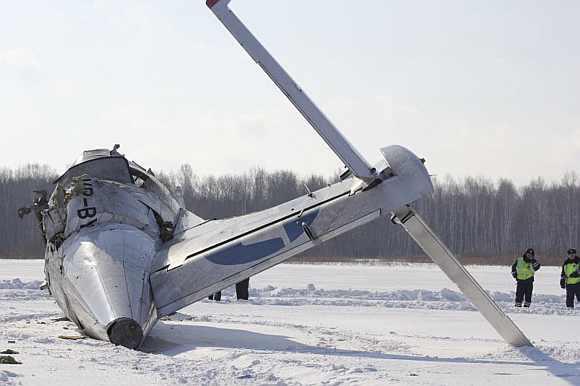 Thirty-one people were killed on Monday when a Russian passenger plane crashed while trying to make an emergency landing shortly after take-off near the western Siberian city of Tyumen, officials said.
Put on hold the NCTC, Jaya tells PM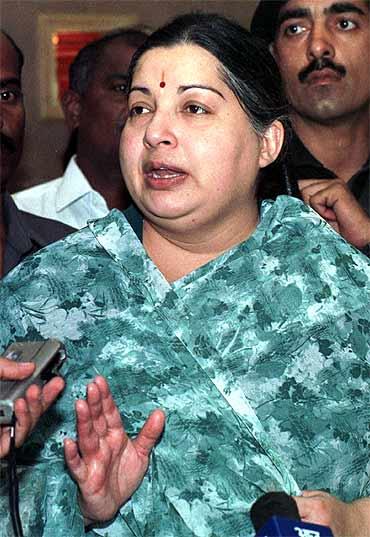 After West Bengal Chief Minister Mamata Banerjee's strong opposition, her Tamil Nadu counterpart Jayalalithaa on Monday asked the Centre to put on hold formation of the National Counter Terrorism Centre, which is sought to be "steamrolled" into existence.
In premier national park, 139 lions die 'accidentally'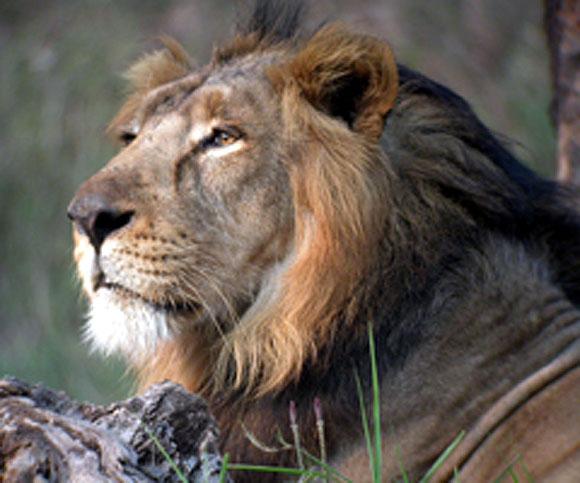 In an ironical situation, the population of lions in Gujarat's Gir National Park has steadily increased in recent years but there has also been an alarming rise in their death toll.
No shaving beards, no mobiles: Taliban 'moral' police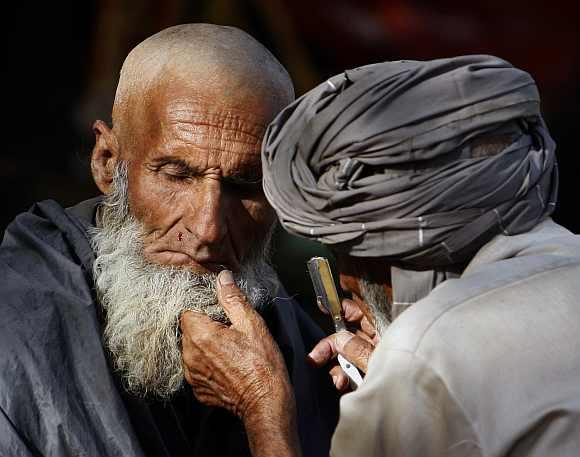 The Pakistani Taliban have introduced "moral policing" in parts of northeastern Afghanistan in a bid to enforce their puritanical version of Islam, Afghan police officials have said.
CBI plays safe; awaits court nod to arrest Jagan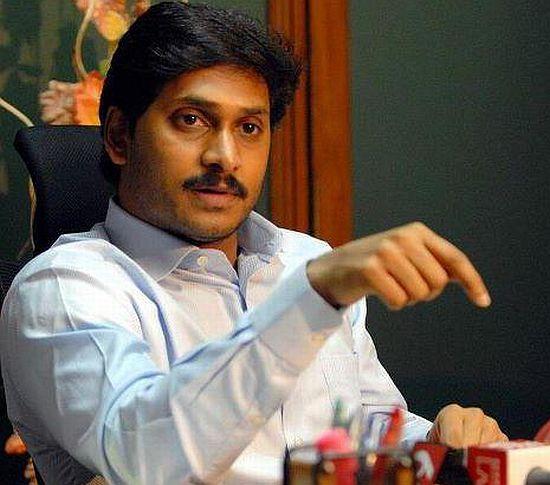 Jagan loyalists and lawyers have been contending that the case against him is very weak and that the CBI has not been able to connect the dots. Moreover, Jagan's primary defence has been that all decisions were taken by the cabinet and hence it becomes a collective responsibility.
Regulating money in politics: India fares BADLY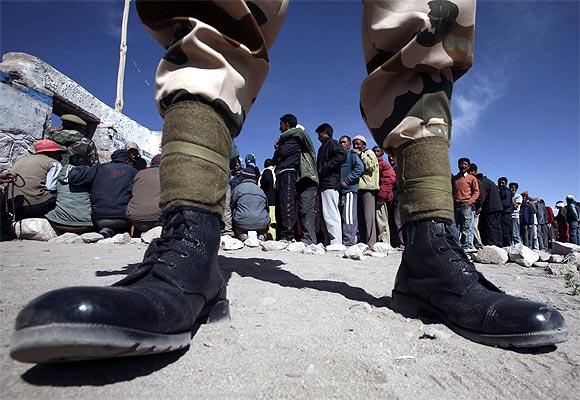 India is among the lowest scoring countries on political finance regulation, according to a new report.
India again falling into COLONIAL TRAP, warns book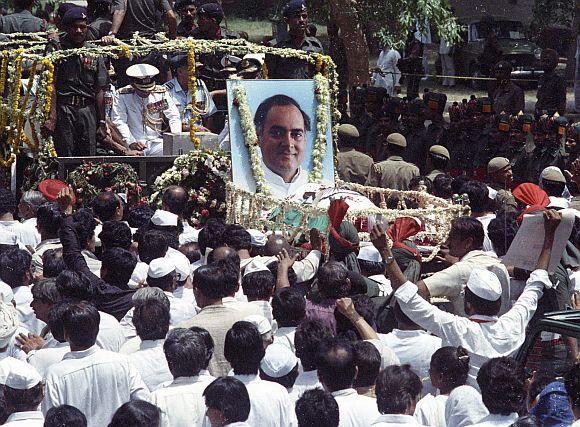 India should have sent its troops back to Sri Lanka to kill or capture Prabhakaran and the Liberation Tigers of Tamil Eelam leadership after the assassination of Rajiv Gandhi, says a new book by a former US diplomat.
Why Antony will NOT sack the army chief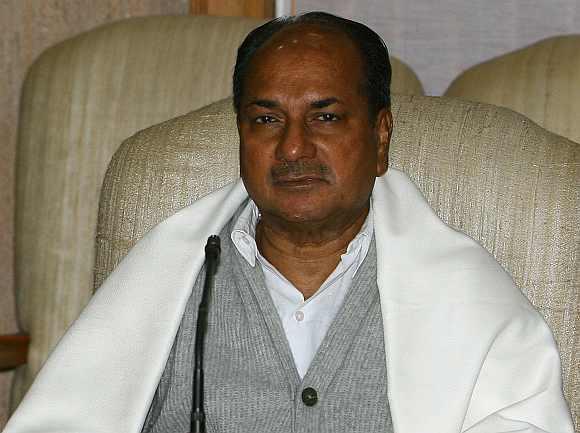 Defence Minister A K Antony has not always been averse to taking tough decisions. What has changed now? Aditi Phadnis analyses
What govt must do when media crosses the Laxman rekha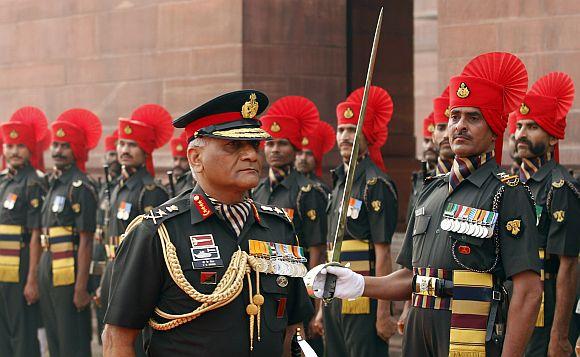 The time has come for the government to institute a defence advisory notice system in India when media crosses the Laxman rekha, argues .
Breathtaking photos of the month: March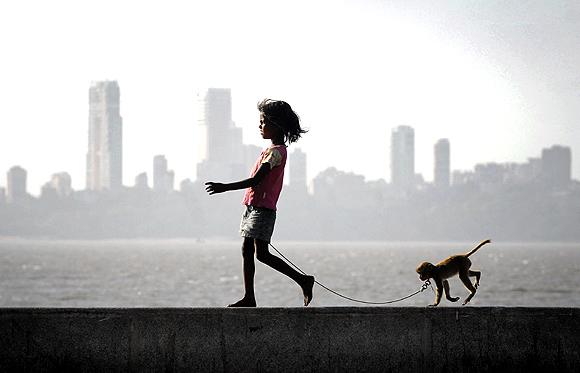 We bring you a presentation of some of the best photos from around the world in the month gone by.
Zardari's Ajmer visit: What Dr Singh is thinking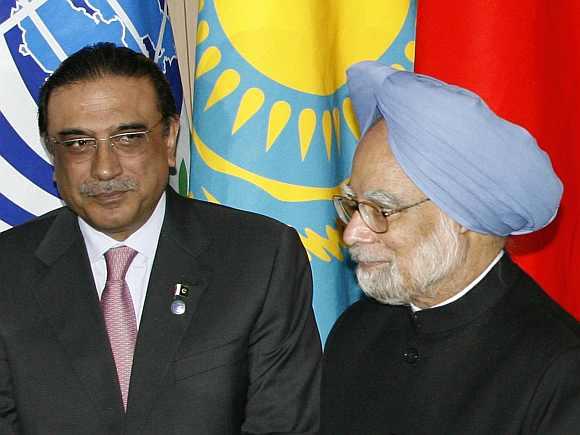 Prime Minister Manmohan Singh wants to encourage what he hopes is beginning of change of the Pakistani mindset towards India.
April 01, 2012
Fire-hit ship with Indian crew reaches Malaysia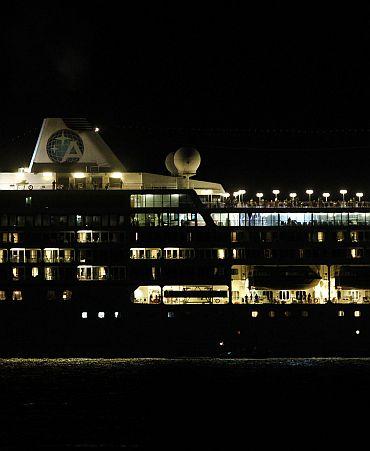 A crippled luxury cruise ship with 1,001 people, including 58 Indians, safely reached a Malaysian port today after drifting for 24 hours following a fire in one of its engine rooms that injured five crew members.
PHOTOS: Aung San Suu Kyi 'wins' in Myanmar by-polls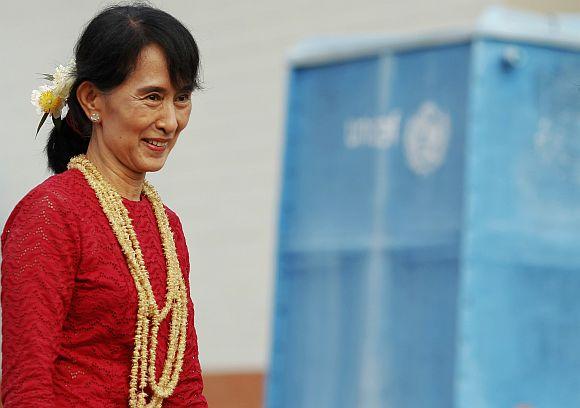 Myanmar's pro-democracy leader Nobel laureate Aung San Suu Kyi won a seat in the country's lower house of parliament on Sunday after defeating her two rival candidates in a by-election in her constituency, the main opposition party said.
MPs raise pitch in slamming Kejriwal; demand apology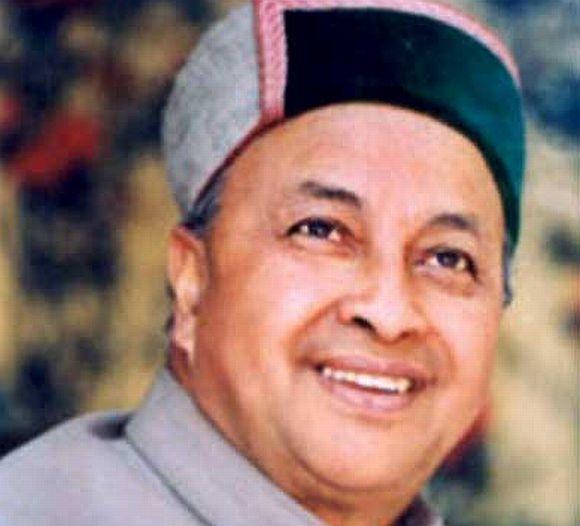 In fresh confrontation with Team Anna, Union Minister Virbhadra Singh on Sunday said he intends to file a criminal defamation suit against Arvind Kejriwal while Congress MP Jagdambika Pal has slapped a privilege notice against the activist for allegedly insulting Parliament.
PIX: GORGEOUS planes, vehicles at Defence Expo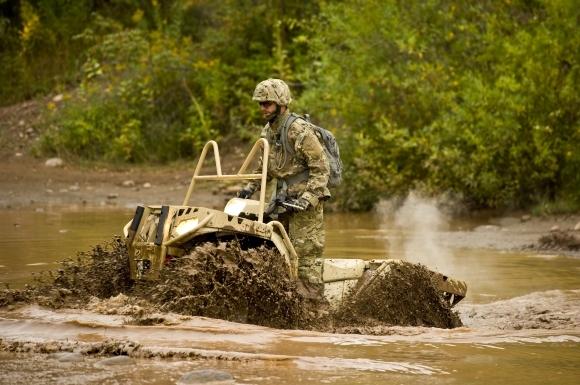 The seventh edition of the International Land and Naval Defence Systems Exhibition -- Defexpo-12 -- is going on in Delhi.
Archives
March 2012
|
February 2012
|
January 2012
|
December 2011
|
November 2011
|
October 2011
|
September 2011
|
August 2011
|
July 2011
|
June 2011
|
May 2011
|
April 2011
|
March 2011
|
February 2011
|
January 2011
|
December 2010
|
November 2010
|
October 2010
|
Sepetember 2010
|
August 2010
|
July 2010
|
Jun 2010
|
May 2010
|
April 2010
|
March 2010
|
February 2010