Home > India > News > First Look


Discuss |
Email |
Print | Get latest news on your desktop


Jodhpur: 150 killed in temple stampede

September 30, 2008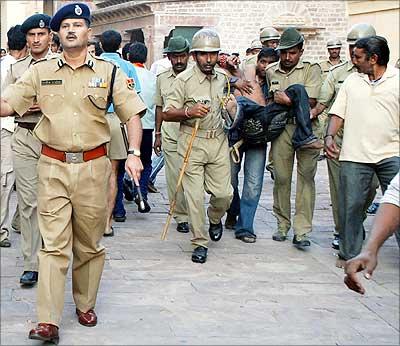 A stampede caused by rushing devotees crushed nearly 150 people to death and injured 100 others in the famous Chamunda Devi temple in a 15th century fort in Jodhpur [Images], Rajasthan, early Tuesday morning on the first day of Navaratri festival.
When holy chants turned into wails
In a virtual repeat of the Naina Devi temple stampede in Himachal Pradesh [Images] on August 3, in which 162 people were killed, as many as 140 devotees, mostly men, died when they were trampled upon by other pilgrims as doors of the temple opened for worship.

There was a scramble on the narrow 2-km path for gaining entry to the hillock shrine in the Mehrangarh Fort run by the family of erstwhile ruler Gaj Singh.
Major temple mishaps in recent times
The casualties occurred in the queue meant for men while that for the women and children was unaffected, officials said.
"At least 140 people have been killed and 60 others are injured. Some of the injured are in a serious condition," Divisional Commissioner, Jodhpur, Kiran Soni Gupta said.

As some devotees slipped on the 75-metre slope on the temple path, others gathered there started falling on each other causing the stampede.

"A majority of those killed died due to suffocation as a result of the stampede," Principal Secretary (Home) S N Thanvi said in Jaipur [Images].

About 15 to 20 people were killed at the stop and the others succumbed to their injuries in Mahatma Gandhi [Images] Hospital, Mathura Das Hospital and Sun City Hospital, among others, in Jodhpur, officials said.

The dead include a large number of young people, they said. The devotees in large numbers, including women, had gathered at the temple from early Monday morning on the occasion of Navratri festival.
Image: Police and volunteers carry a person injured in the stampede.
Text: PTI | Photograph: Getty Images