Home > India > News > First Look


Discuss |
Email |
Print | Get latest news on your desktop


Mumbai citizens form human chains to protest terror attacks

December 12, 2008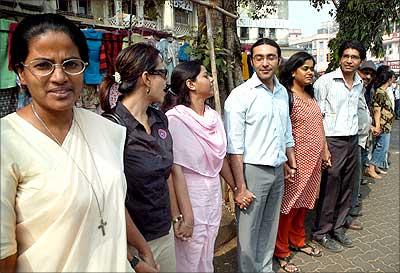 Protesting the terror attacks that brought the city to a standstill last month, Mumbaikars on Friday formed human chains at the spots targeted by terrorists and other key areas to raise their voice against the dastardly strikes.
People expressed the need to establish peace by coming out on the streets and holding hands in unity for fifteen minutes today afternoon.
"We have seen so much of hatred and bloodshed in our city that we will not give in to terror and to those who preach war, violence, hatred and intolerance," activist Jatin Desai said.
"The citizens have come together to keep Mumbai peaceful and united and to build a world based on the principles of tolerance and peace, equality and justice," he said.
The human chain, running across the island city, extended to the eastern and western suburbs.
One route of the chain started from Nariman House and extended to Oberoi Trident Hotels, via 4th Pasta Lane, Free Press Road and NCPA.
The second route was along the west side of Oberoi Trident Hotels to S V Road, via Metro Junction, Kemps Corner, Worli Naka and Mahim causeway.
The third route started from Nariman House to S V Road, via Hutatma Chowk, CST, Crawford Market, Byculla Flyover, Dadar TT, Sion Circle, and Mahim causeway.

Photograph: Arun Patil

Also see:
Light a candle
'Unless you sacrifice, you can't fight terror'
Be united, peaceful and strong
'Indians never get scared, because God is with us'