Home > News > Report

I will stand by Sanjay: Priya Dutt

Vijayendra Mohanty in Mumbai | November 14, 2005 20:08 IST
Last Updated: November 14, 2005 20:45 IST



Congress candidate for Mumbai northwest parliamentary seat Priya Dutt on Monday said she will always stand by brother Sanjay Dutt, whose involvement with Abu Salem, prime accused in the 1993 Mumbai blasts' case, has been dug up following Salem's extradition.

"I will always stand by Sanjay. Just as I have done in the twelve years since the allegations first surfaced," she said.

At a press conference in Mumbai, Priya refused to comment further on the issue and said the matter is still sub judice.

Priya, though, said Sanjay will continue to campaign for her.

Asked if it is proper for her to use Sanjay in her campaign she said, "I haven't roped him in. He is campaigning for me because he is my brother. I don't think the press can convict him.

Congress leader Gurudas Kamat said Sanjay Dutt is a part of the Congress family and is campaigning for Priya by that right.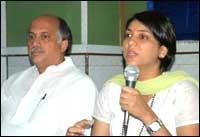 Asked if she will benefit from the sympathy wave due to her father Sanjay Dutt's contribution to the city as a Congress member, Priya said, "I wouldn't call it a sympathy wave. I feel it is the goodwill generated by my father's work that would help me in my campaign."
On why party colleague Sanjay Nirupam is nowhere in Priya's campaign plan, Priya again refused to comment and said, "I can not speak on his behalf. Questions about his decision to change parties must be addressed to him."
Nirupam was previously a member of the Shiv Sena and the late Sunil Dutt had condemned his acceptance into the Congress.
Priya said she hopes the experience she gained while working with her father will prove useful as she steps on the political platform for the advancement of Mumbai.
She said her manifesto includes the protection of slum population and a no tolerance approach towards new encroachments. She also plans to take up the cause of BMC schools' development, women's issues and making the city a more disabled-friendly place, she said.