Home > News > PTI

Priya Dutt readies to take on father's mantle

October 27, 2005 14:47 IST
Last Updated: October 27, 2005 19:04 IST



Congress nominee Priya Dutt Thursday filed her nomination papers from Mumbai North-West Lok Sabha constituency for the by-poll scheduled on November 19.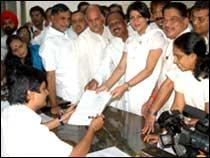 Priya, daughter of actor-turned-politician and late Union minister Sunil Dutt, who had won from that constituency, went to the collector's office in Bandra along with her party workers to file her papers.
The by-poll has been necessitated due to passing away of Dutt in May this year.
After filing her nomination papers, Priya told reporters her objective was to carry forward the legacy of her father and carry on working for the poor and downtrodden.
"I know people will give me support and votes mainly because of the work done in the constituency by my father. But I intend to carry forward that work, especially among slum dwellers. I know that they (voters) will judge me based on my performance if I am elected," she said.
Mumbai Regional Congress President Gurudas Kamat and party legislators from Mumbai Northwest constituency also accompanied Priya.
Actor Sanjay Dutt, Priya's brother, was not present as he was away for a film shooting. However, party sources said he would be actively participating in Priya's poll campaign.
The last date for filing of nominations for the bypoll is October 29. Papers will be scrutinised on October 31 and the last date for withdrawal of candidates will be November 2. Counting will be on November 22.
Meanwhile, the Shive Sena announced that Madhukar Sarpotdar will be the party's nominee from the Mumbai North West seat.
Satpotdar will be filing his nomination papers either on Thursday or Friday, a senior Sena leader told PTI.
Shiv Sen Executive President Uddav Thackeray, who is Pune, is expected to make the formal announcement on
Satpotdar's candidature in Mumbai.
© Copyright 2005 PTI. All rights reserved. Republication or redistribution of PTI content, including by framing or similar means, is expressly prohibited without the prior written consent.