Home > News

December 18, 2003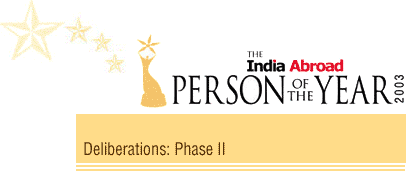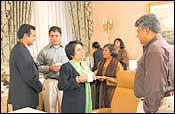 Once the jury realised it was necessary to first define 'achievement,' lists were pushed aside, and the broader topic was discussed at length.
In turn, each juror took three minutes to outline his or her position on the question -- Was outstanding individual achievement sufficient to merit the honour, or did that achievement have to be allied to community interaction and/or involvement? And if yes, what did such 'involvement' consist of, how could it be defined?
Three jurors believed that extraordinary personal achievement was in and of itself sufficient; that by achieving to a very high degree, an individual did contribute to the community at large by providing it with face, recognition, and a role model.
Five other jurors disagreed. Personal achievement, they argued, was well enough, but a community award needed to recognise quantifiable contributions to the community itself, rather than be based on nebulous notions of being inspirational examples.
The chair summed up the deliberations at the end of this phase; it was decided that contributions to the community would receive weightage when selecting the person of the year.
Next: Deliberations, Phase III

Photograph: Paresh Gandhi
ALSO SEE
India Abroad Person of the Year: The complete coverage
The Rediff Specials