Home > News

December 18, 2003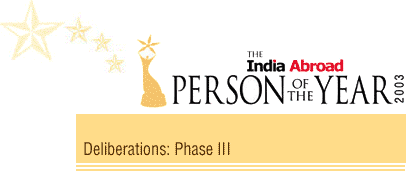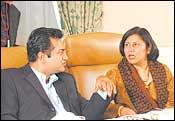 Once the basis to the award had been refined in the minds of the jury, he members got down to considering the names on the expanded shortlist of 14.
Dandekar read out each name on the list; members of the jury discussed their merits, arguing pro and con.
A fascinating aspect of this phase was the insider insights provided by jurors in individual cases. Thus, while discussing a particular name, one or more members of the jury would put their hands up; in their turn, they would state that they personally know the candidate under consideration, and then speak of what they knew of that person, providing insight and information that was not in the public domain.
Once the 14 names had been discussed, Dandekar called on her peers to note down, on individual slips of paper, a short list of three candidates for top honours.
Once the voting slips were in, the various votes were polled; when the results were in, they contained a surprise of stunning proportions.
Much of the heated debate had centred around one individual. During the debate, no one denied that he had, during the year in question, attained a profile that was unprecedented even for a member of a hyper-achieving community -- the only question was whether he had, simultaneously, touched the community in a meaningful fashion.
While opinion was divided on this question, it seemed a sure thing that he would make the cut. In the final tally, however, it turned out that the individual had not made the cut of three -- yet another reminder that there is no such thing as a sure thing.
Having narrowed down the choice to three outstanding individuals, the jury then paused, before resuming the final phase of deliberations.
Next: Deliberations, Phase IV
Photograph: Paresh Gandhi
ALSO SEE
India Abroad Person of the Year: The complete coverage
The Rediff Specials