August 31, 2012
Review: Mugamoodi fails to impress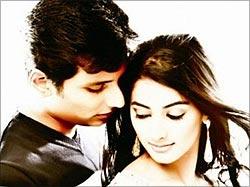 Tamil film Mugamoodi has all the makings of a successful film but ends up disappointing, writes Pavithra Srinivasan.
First Look: Pandiraj's Kedi Billa Kelladi Ranga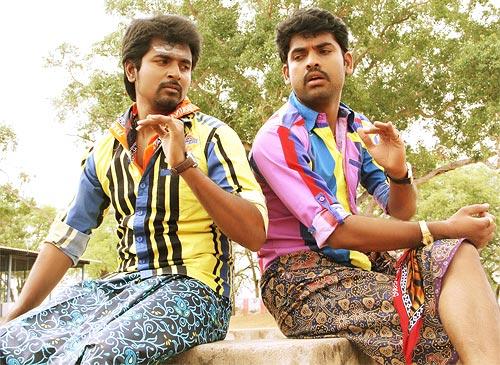 The film stars Vimal, Sivakarthikeyan, Bindu Madhavi and Regina.
First Look: Prabhas in Lawrence's Rebel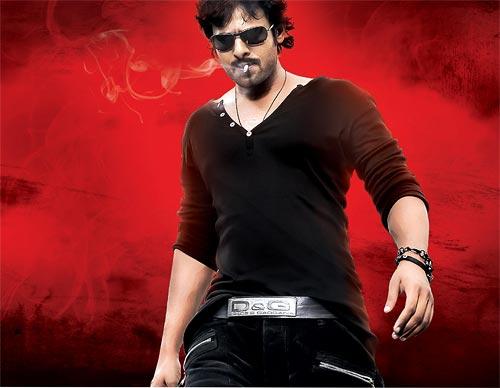 This is the first time the hero is getting together with Lawrence.
August 30, 2012
Review: Srimannarayana fails in execution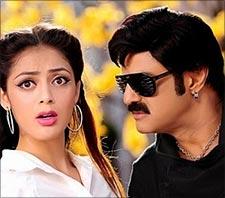 Srimannarayana fails to impress.
Jiiva: Mugamoodi is my first real action film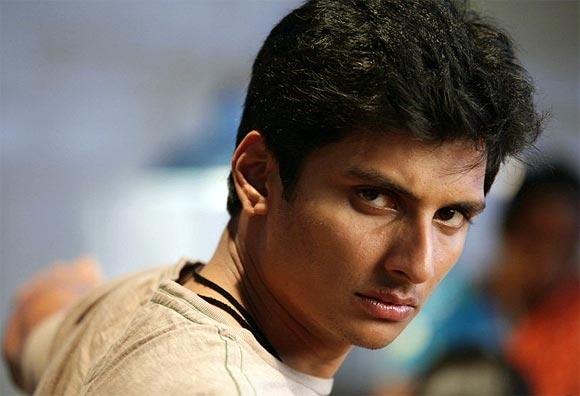 The actor of Nanban and Ko talks about his upcoming film.
Review: Run Baby Run depends on Mohanlal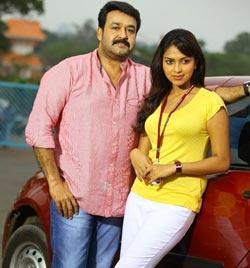 The film is worth a watch for some good performances.
August 29, 2012
Isha Chawla: I still have a long way to go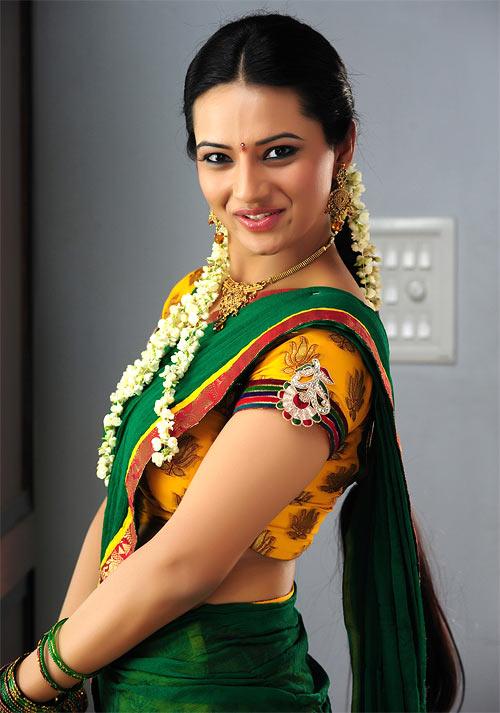 The actress talks about her experience of working in Srimannarayana.
Onam Special: Amala Paul is back home!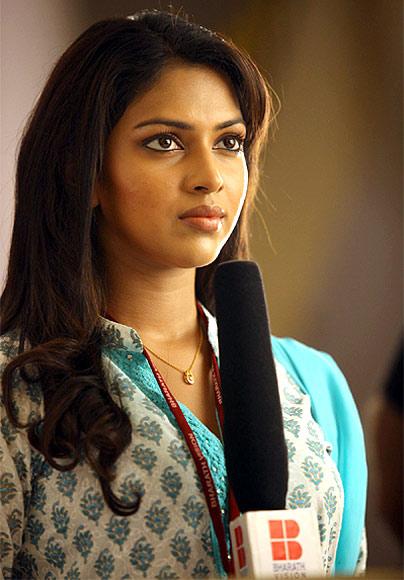 Amala will have her first major Malayalam release, opposite Mohanlal, in director Joshiy's Run Baby Run.
August 28, 2012
FL: Cyberyugadhol Nava Yuva Madhura Prema Kavyam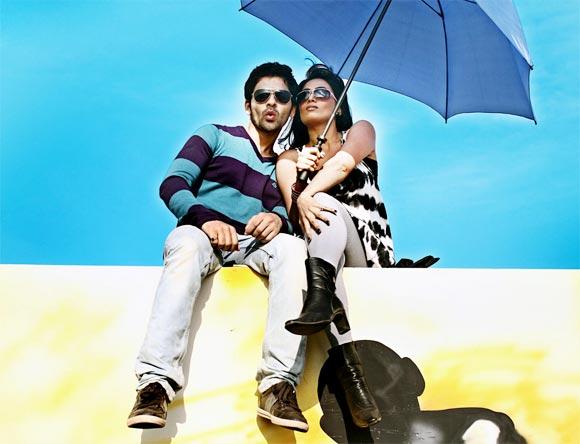 The movies name when translated in English means a new, youthful and a pleasant love story in the cyber age.
Onam Special: Fahadh Faasil talks on his success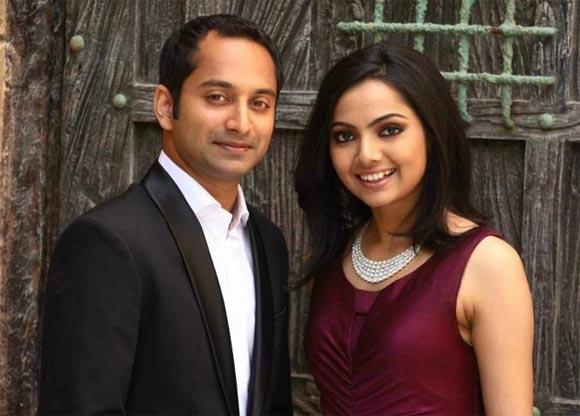 Fahadh Faasil talks about his newfound success.
August 27, 2012
'I never dreamt of being in films'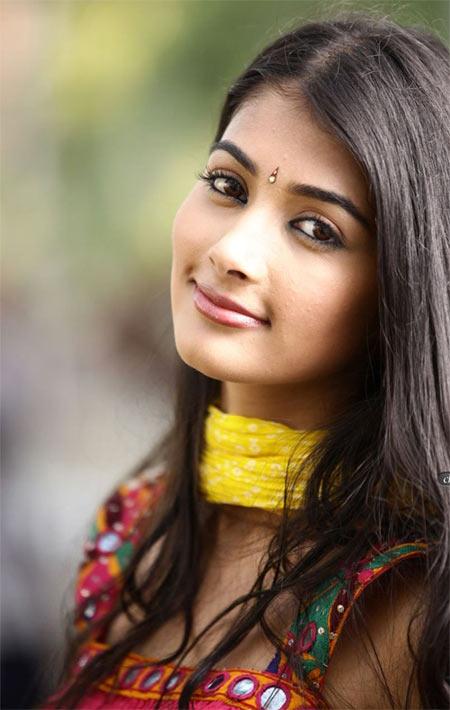 Runner-up in the Miss India 2010 Pooja Hegde talks about her movie debut.
Onam Special: Mohanlal's Run Baby Run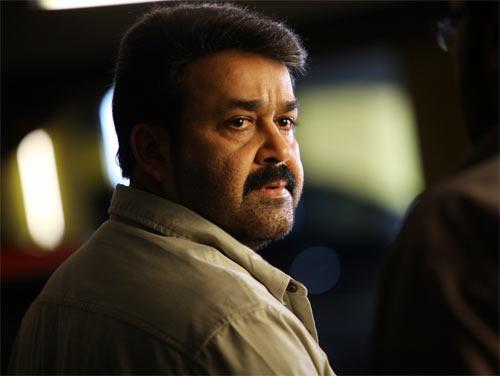 The film has the world of media as a backdrop.
August 24, 2012
Review: Shivaa is for Shivrajkumar fans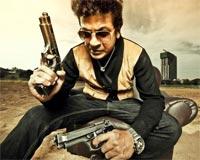 The film is about protagonists avenging their parents death.
Review: Sudigadu is fun unlimited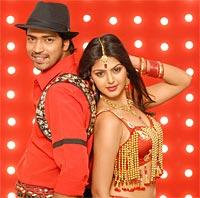 The Telugu remake of the Tamil film Tamizh Padam, is fun even though the climax is a bit of a dampener.
Shalini becomes badmintion champion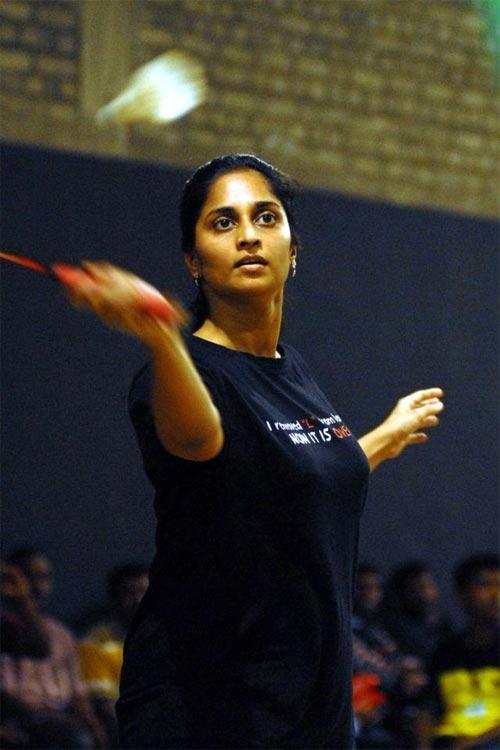 The actress bagged the runners-up position in the women's doubles and mixed doubles at the state level championship.
August 22, 2012
First Look: Dulquer Salmaan's Theevram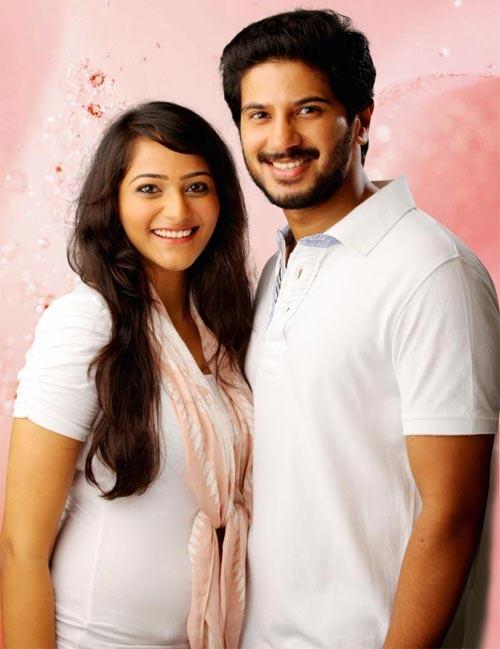 The film has been directed by debutant Roopesh Peethambaran who has also written the film.
'We didn't want to target any stars'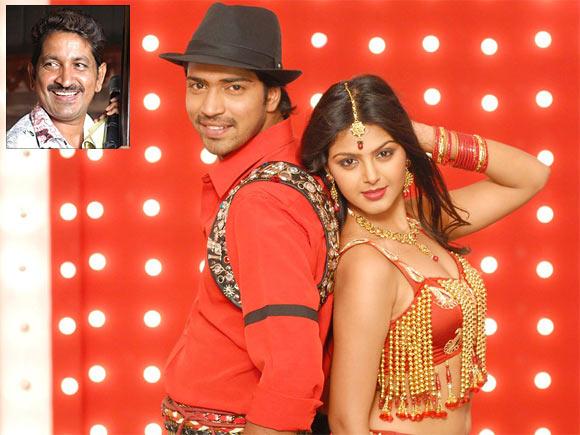 The director talks about Sudigadu, the remake of Tamil film Tamizh Padam which is a spoof on Telugu cinema
August 21, 2012
First Look: Venkatesh and Mahesh together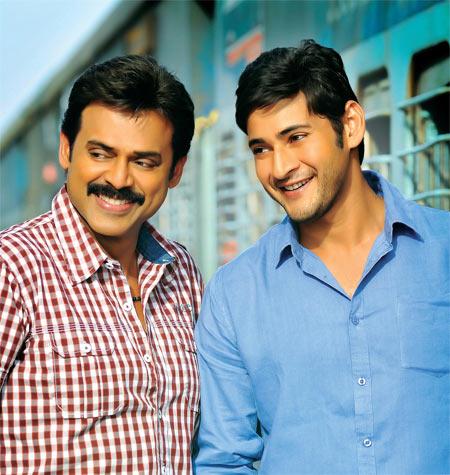 The two superstars will share the screen for the first time in Seethamma Vakitlo Sirimalle Chettu.
Review: Thappana is watchable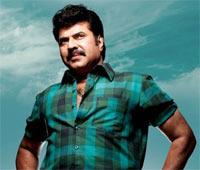 The film has nothing new to offer but it does have the flavour of a typical star film
August 20, 2012
Review: Nothing new about Friday 11.11.11 Allapuzha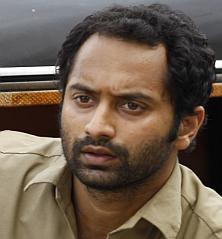 Friday 11.11.11 Allapuzha directed by newcomer Lijin Jose with an ensemble cast is passable
Review: Mr. Marumakan is crude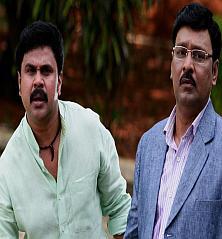 Give it a miss to Mr. Marumakan.
August 16, 2012
First Look: Sana Khan as Silk Smitha in Climax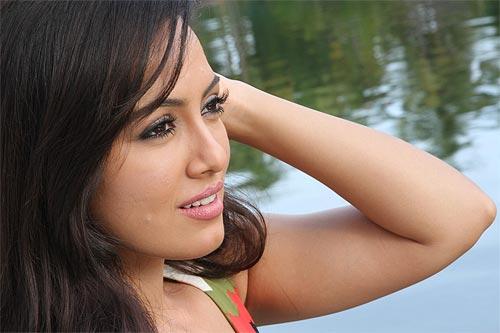 Directed by Anil the film is said to be a more realistic portrayal of Silk Smitha.
Review: Give Devudu Chesina Manushulu a miss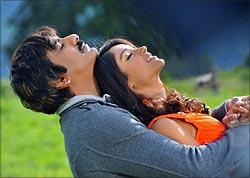 The film has nothing to offer the audience.
August 14, 2012
Puri Jagannadh's next to release on August 15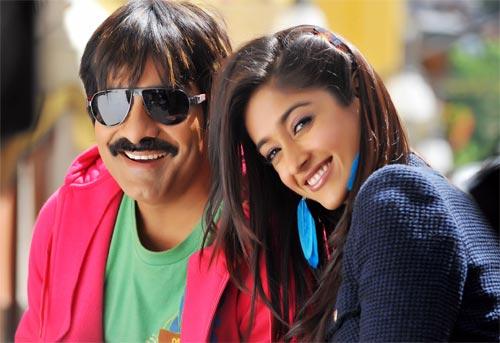 Ravi Teja and Illena will team up for the third time in Devudu Chesina Manushulu
Ajith in a new avatar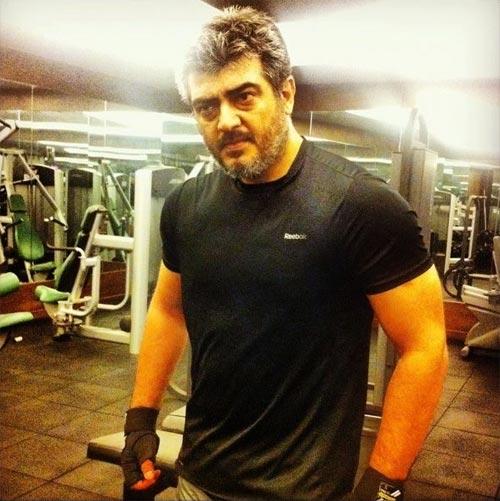 The actor has hit the gym with a vengeance for the new look he has to acquire for the film.
First Look: Rajeev Ravi's Annayum Rasoolum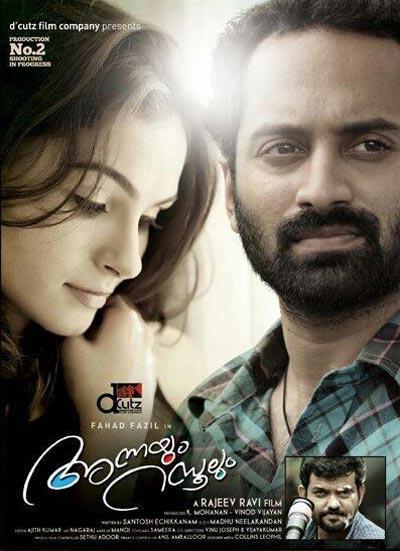 Rajeev Ravi, who filmed The Gangs of Wasseypur, is the director of this love story.
August 13, 2012
Review: Simhasanam is disappointing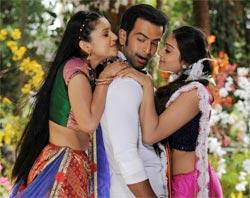 It is high time Shaji Kailas reinvented himself rather than just recycling his old films in the hope of repeating their success.
'Mugamoodi is not a Superman or Batman'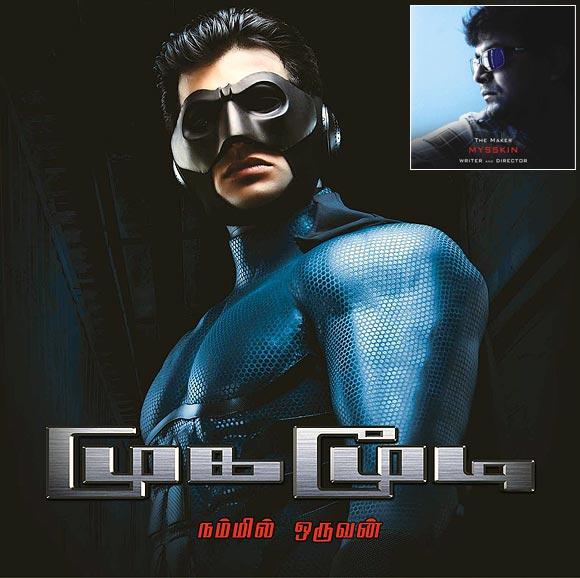 Director Mysskin talks about making his superhero film Mugamoodi.
Review: Julayi lacks logic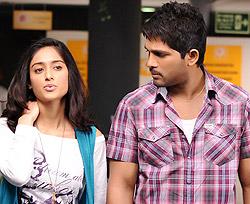 The film is good fun just as long as you don't exercise your brains too much.
Review: Gramam tries to be perfect but fails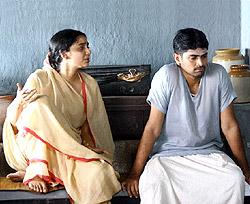 Watching Malayalam film Gramam is like reading something that is grammatically correct but not emotionally stirring, notes Paresh C Palicha.
August 10, 2012
'I have never undergone any directorial training'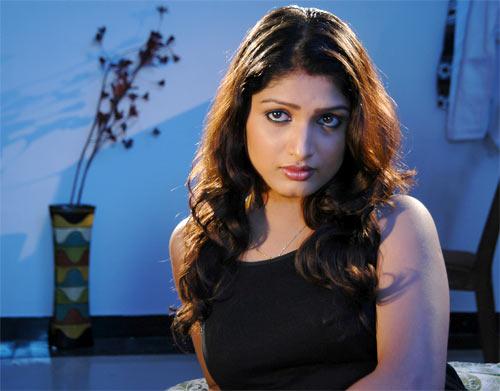 Kashinath talks about the new business model of film-making and the content of the film.
Two Malayalam films will fight it out this weekend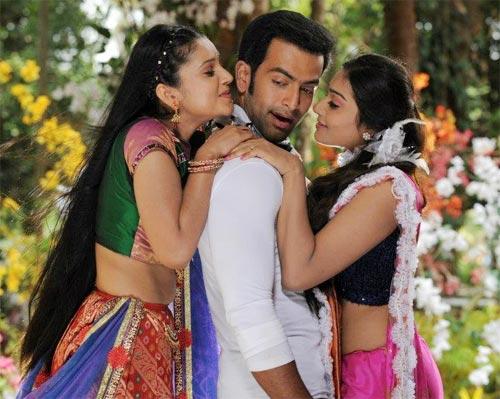 Simhasanam and Gramam going to hit the theaters today.
Review: Panithuli fails to deliver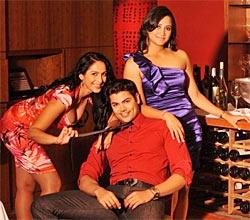 Directed by Natty Kumar and Dr Jay, the film has an interesting premise
August 09, 2012
Bala's Paradesi to release in October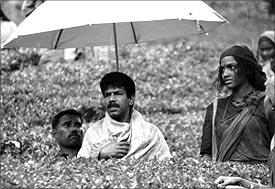 The film is based on the real life experiences of some people in the 1930s in India.
'Sagar is a complete entertainment package'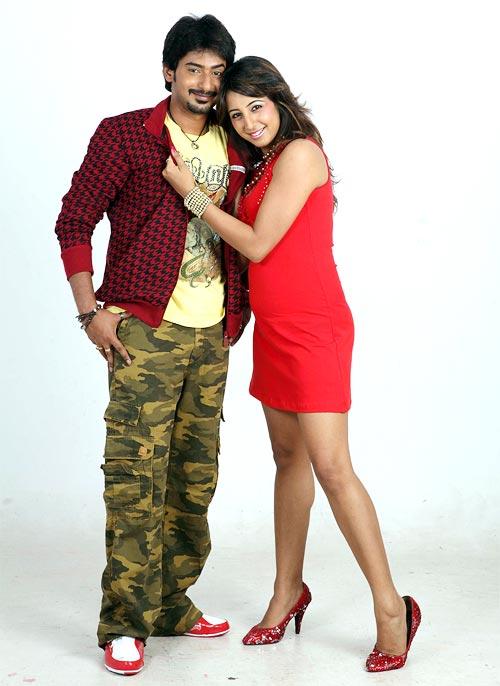 Prajwal Devaraj talks about Sagar his first release of 2012.
August 06, 2012
Review: Last Bench is avoidable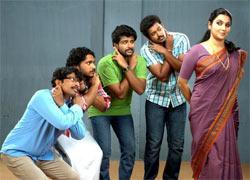 Last Bench is a major disappointment
August 03, 2012
First Look: After Traffic, it's Motorcycle Diaries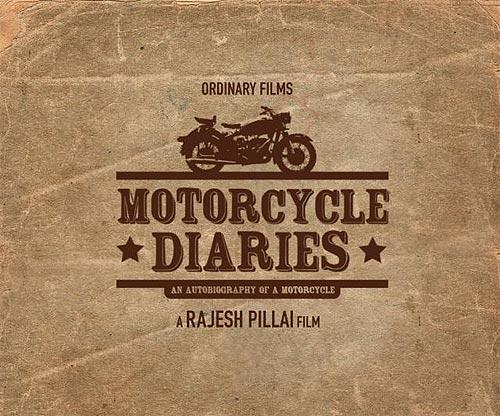 The movie sketches the journey of a motorcycle over a period of time.
August 02, 2012
Review: Mirattal is a waste of time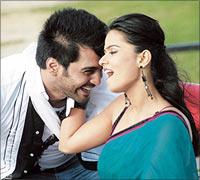 A remake of the Telugu hit Dhee, Mirattal is full of cliches and has nothing to offer.
August 01, 2012
'Kuch Kuch Hota Hai changed my life'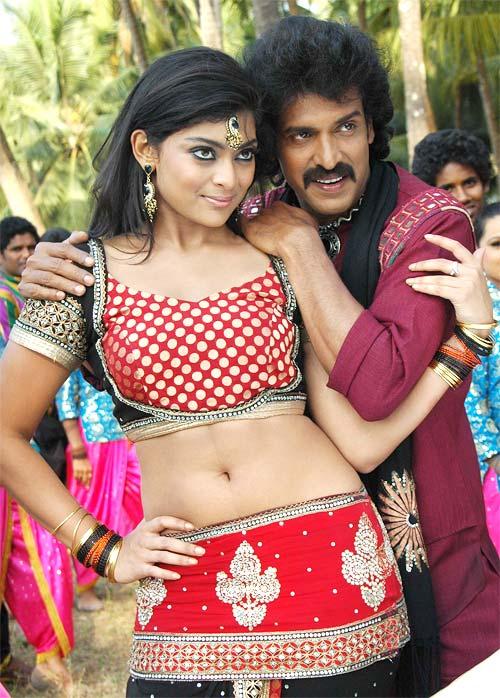 Soundarya, daughter of actress Jayamala talks about making her debut in films.
July 31, 2012
First Look: Shafi's 101 Weddings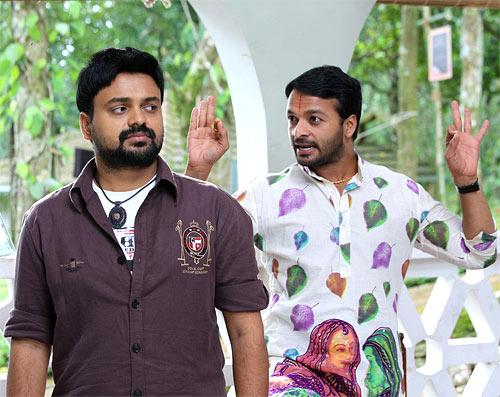 Kunchacko Boban, Jayasurya and Biju Menon play the lead role
Ramya teams up with Prajwal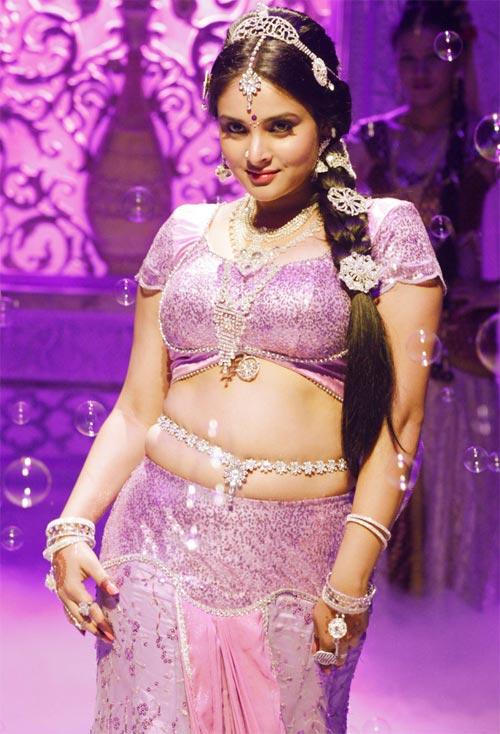 Get your lowdown of what's happening in Kannada cinema.
July 30, 2012
Review: Cinema Comapny is average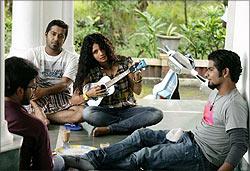 Malayalam film Cinema Company leaves a lot to be desired, writes Paresh C Palicha.
Review: Mugamoodi's music is interesting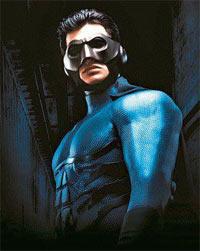 Mugamoodi's numbers grab your attention and carry you with them
July 27, 2012
Review: Godfather is only for Upendra fans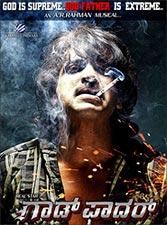 Everything about the film, right from direction to the music, is average.
Mamas' Cinema Company releases today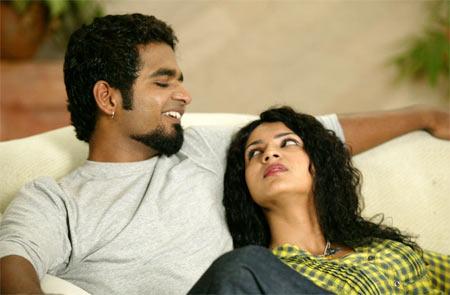 Director Mamas cast nine new faces in the film.
Review: Ivan Megharoopan has soul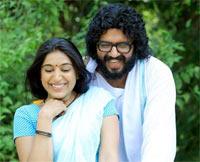 The film deserved all the recognition that has come its way, writes Paresh C Palicha.
July 26, 2012
Meet the new heroine of Sathyan Anthikad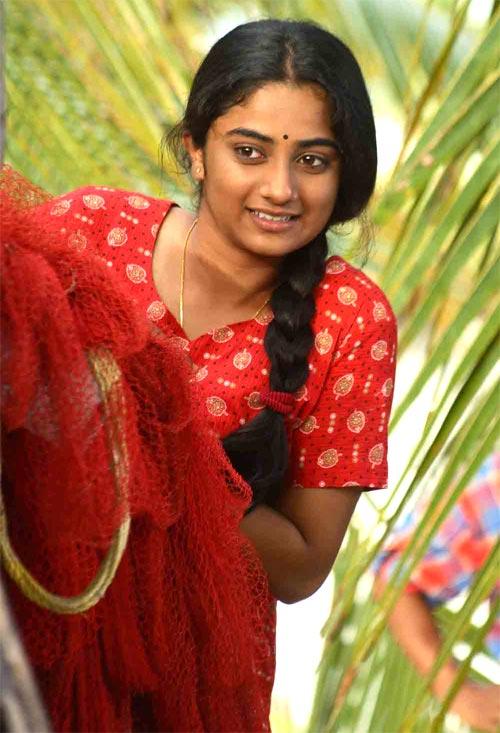 Namitha Pramod talks about making her debut in Kannada films.
Sudeep: I am not competing with anyone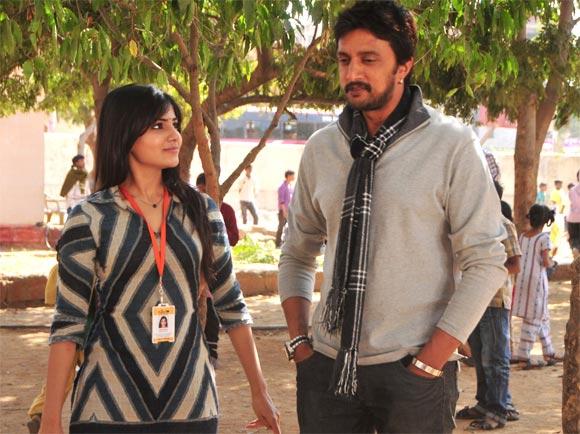 The actor talks about the success of Eega
July 25, 2012
Priya Mani to play conjoined twins in Charulatha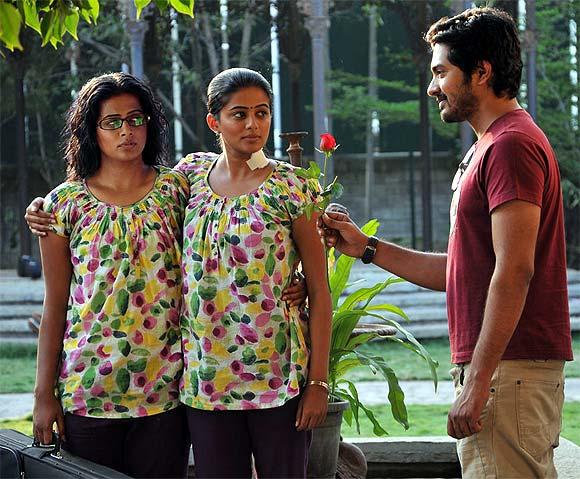 While one of the characters is tomboyish, the other is innocent, sweet and girlish.
Ivan Megharoopan set to release ths week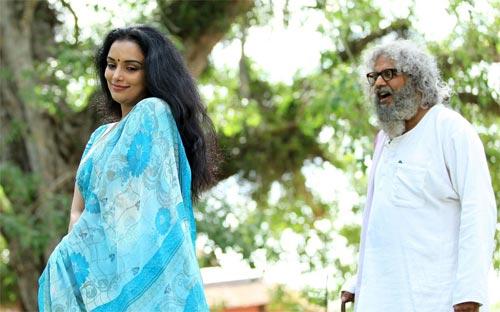 The film was recently awarded as the second best film at the Kerala State film awards.
July 24, 2012
Mugamoodi-Tamil's first superhero film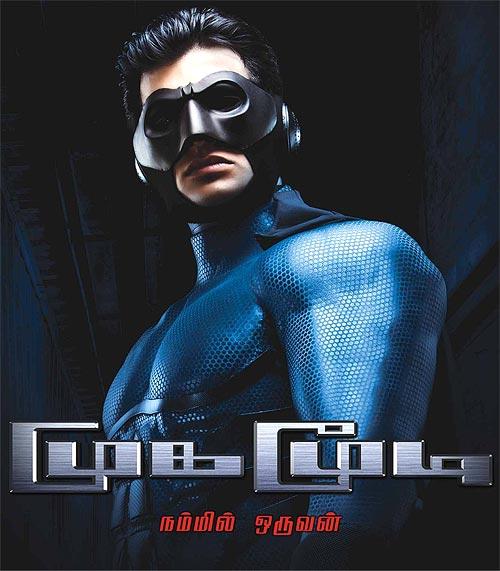 Jiiva plays the lead role in the film.
July 23, 2012
Review: Akashathinte Niram is silently attractive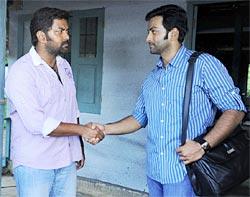 It is visually grand and meditative in nature.
Review: Perinoru Makan is average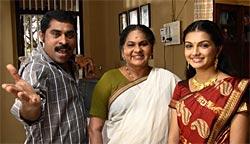 The film belongs to Innocent.
First Look: Director Lal Jose's Ayalum Njanum Thammil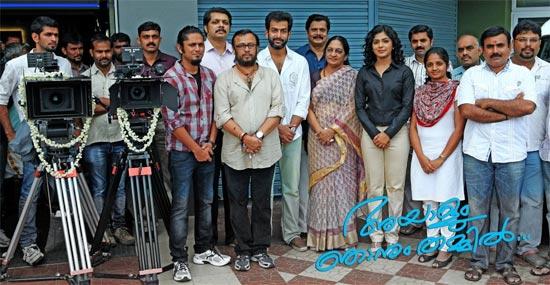 The film is being shot in Kochi, Kottayam and Munnar.
July 20, 2012
The only Indian film at Shanghai film festival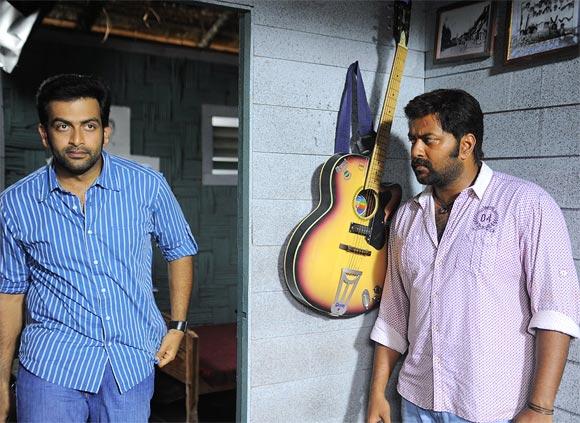 Writer-director Dr Biju's Aakashathinte Niram, was recently shown in the competition section at the festival.
'I don't look at actors as competitors'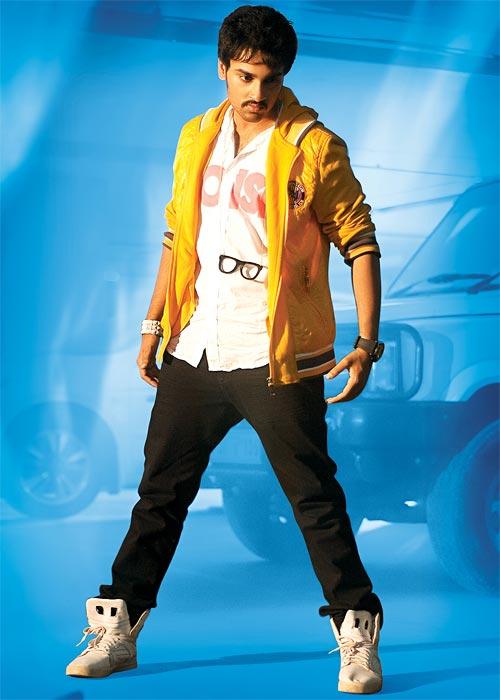 Sumanth Ashwin talks about makeing his debut in Tuneega Tuneega.
July 18, 2012
'Eega was the most difficult film of my career'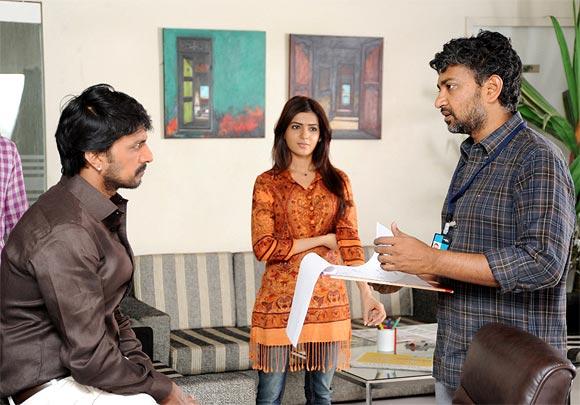 S S Rajamouli talks about the success of Eega
July 17, 2012
Nagarjuna dons a new avatar!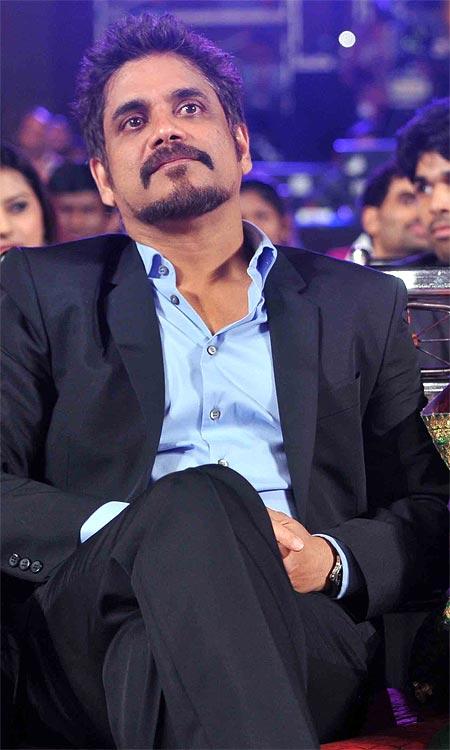 Get your lowdown of what's happening in Telugu cinema.
Sathyan Anthikkad starts shooting for his next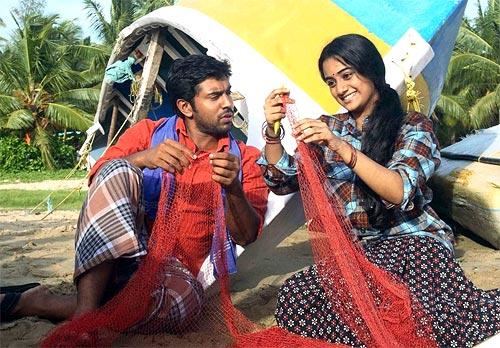 Nivin Pauly along with Nedumudi Venu and Namitha Pramod will be seen in the film.
July 16, 2012
Review: Indrajith shines in Mullamottum Munthiricharum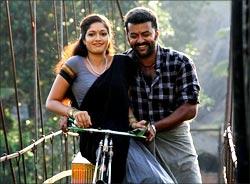 The film tries to be good but remains just average.
July 13, 2012
Review: Billa 2 fails to meet the expectations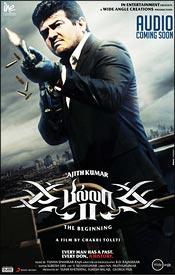 It is difficult to find a riveting screenplay, characterisation or much logic in the movie.
Suriya to play conjoined twins in Maattrraan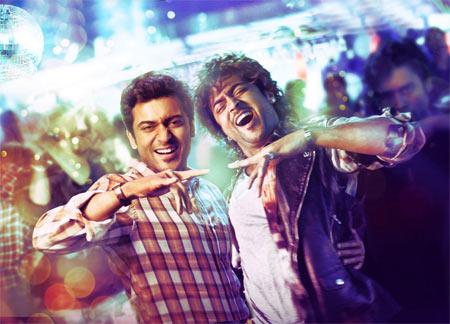 The film is directed by K V Anand.
July 12, 2012
'Making Billa 2 was a fascinating experience'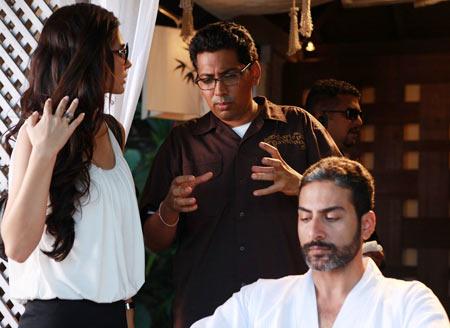 Director Chakri Toleti talks about the making of Billa 2.
July 11, 2012
Asif Ali is Amitabh Bachchan in Ustad Hotel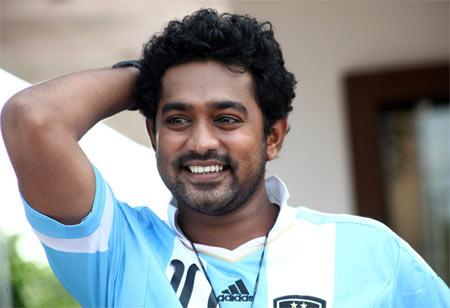 Get your lowdown on what's happening in Malayalam cinema.
'Doing Shirdi Sai was a spiritual experience'
Nagarjuna, who plays the Sai Baba, this will be his third devotional film after Annamayya and Sri Ramadasu.
July 10, 2012
First Look: Mammootty plays a Jawan in his next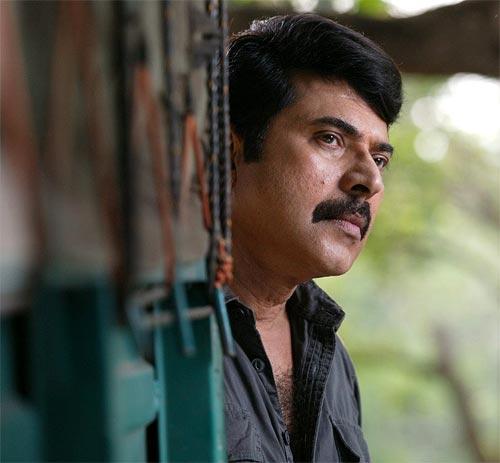 The actor plays an ex-jawan working as a pump operator in Jawan of Vellimala.
'I didn't dream of a career in films'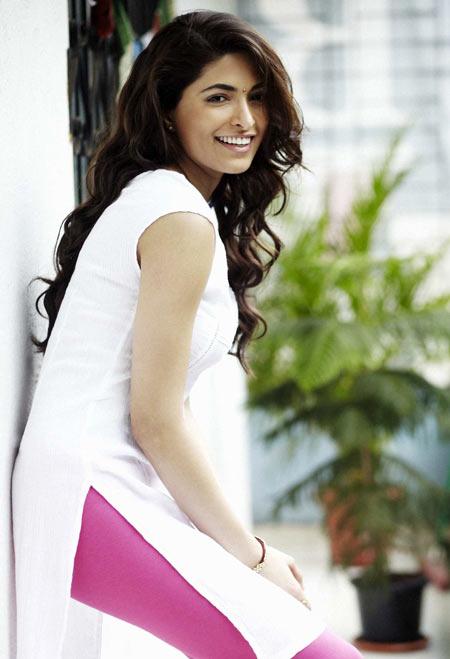 Parvathy Omanakuttan talks about making her debut in films.
July 09, 2012
PIX: Stars attend the 59th South Filmfare awards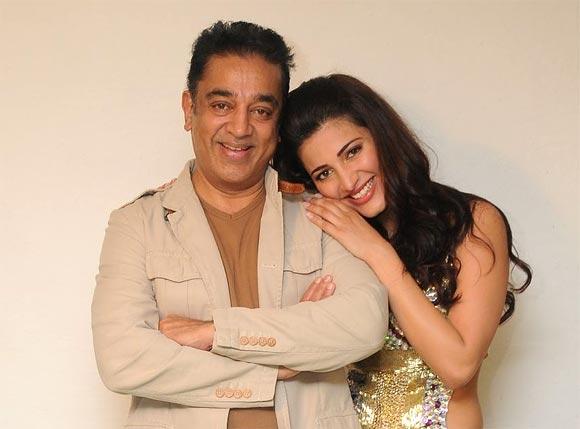 A look at the stars who made it to the gala evening.
Sharan and Tabla Nani team up for Rambo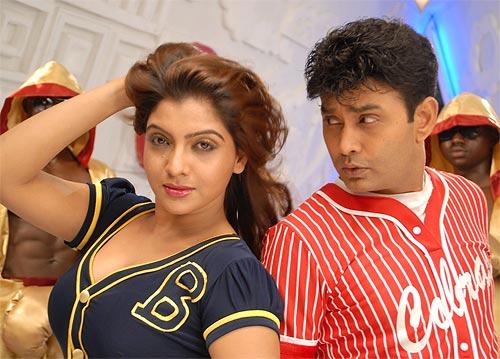 The film stars comedians Umesh, Rangayana Raghu, Sadhu Kokila, Kurigalu Pratap, Chandrakala and Sanket Kashi.
Review: Thattathin Marayathu lacks intensity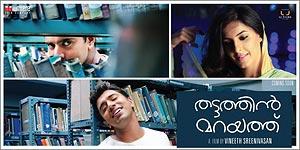 With a Hindu Muslim backdrop, the film lacks intensity expected from such films.
July 06, 2012
Review: Romeo is a family entertainer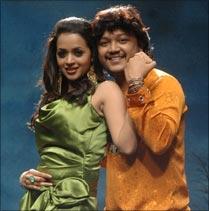 The first half is hilarious, but in the second half the film becomes slow and boring.
Review: Eega is brilliant cinema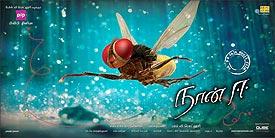 The computer graphics are top-notch. Sudeep is excellent in his portrayal of the antagonist.
Review: Naughty Professor is crude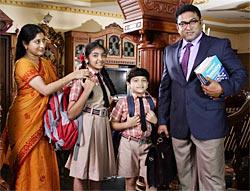 Naughty Professor, acted and written by Baburaj and directed by Harinarayanan is a crude comedy.
Kannada film shot in two hours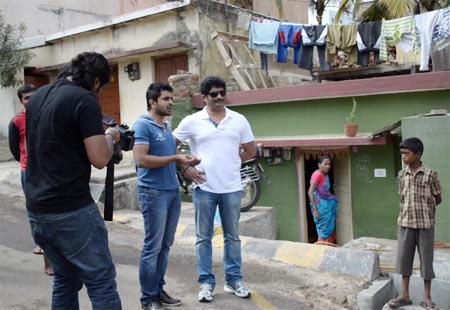 The film titled Namma Arealli Innondu Dina and is directed by Aravind Kaushik.
July 05, 2012
'Eega is one of the most difficult films I have shot'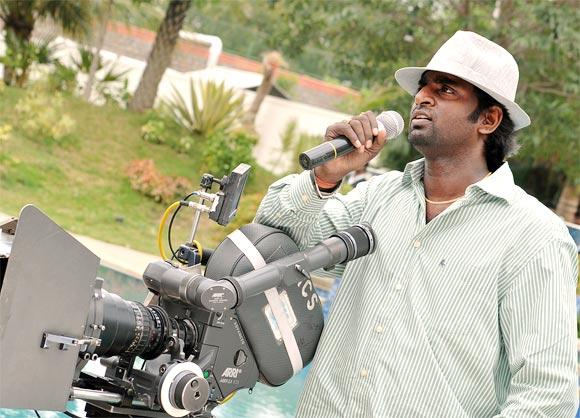 Cinematographer K K Senthil Kumar talks about the challenges of shooting Eega.
Sudeep: There is no hero in Eega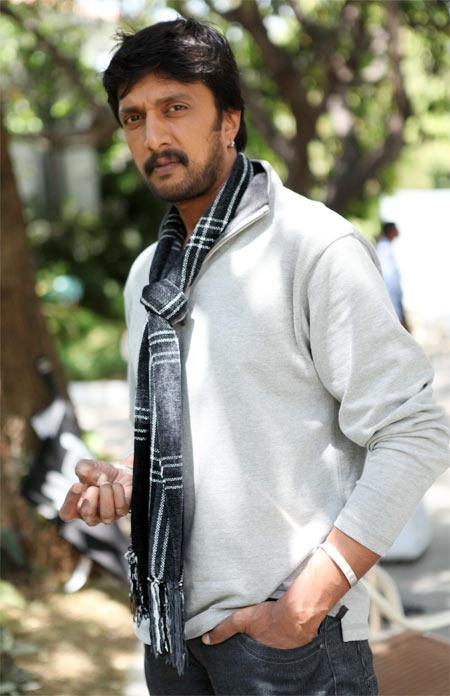 Sudeep who will be seen playing the antagonist in Eega talks about his experience of shooting for it.
Triple treat for Malayalam movie goers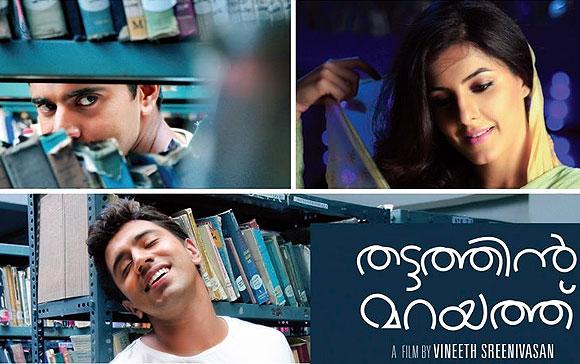 Audiences will have three film-Thattathin Marayathu, Simhasanam and Naughty Professor to choose from this Friday.
July 04, 2012
Nani: I am proud to be a part of Eega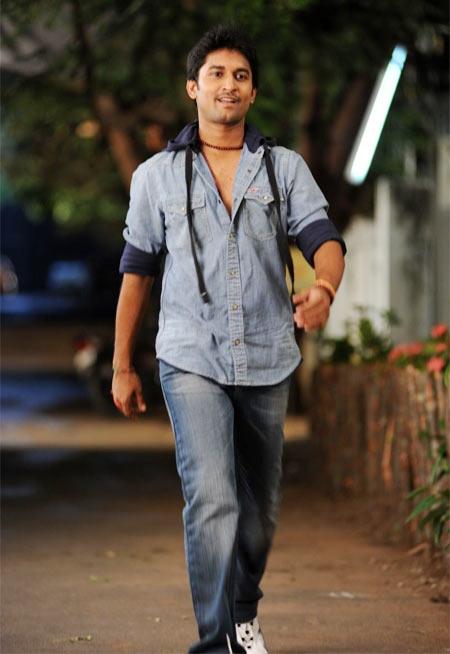 Nani talks about his experience of working in Eega
July 03, 2012
Dileep to play Sathya Sai Baba in new film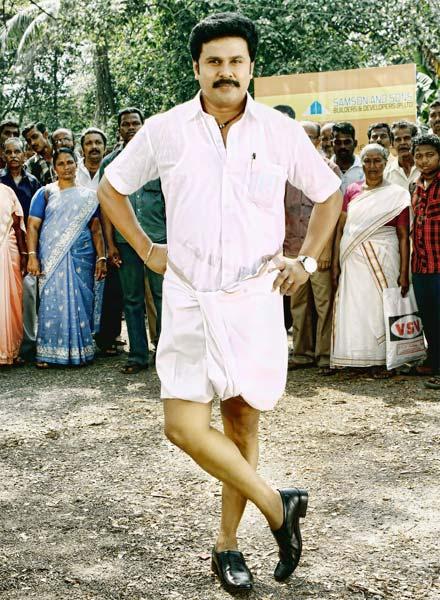 Get your lowdown on what's happening in the world of Malyalam cinema, right here!
Eros to present Rajinikanth-starrer Kochadaiyaan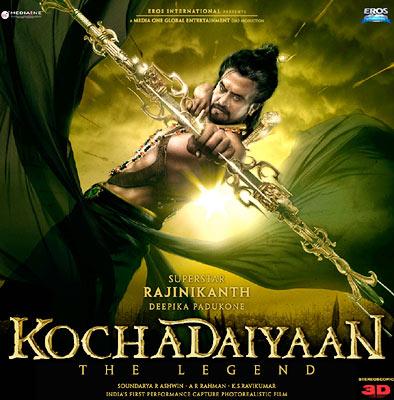 The film is set to release this December, coinciding with the superstar's birthday.
July 02, 2012
Review: No. 66 Madhura Bus is disappointing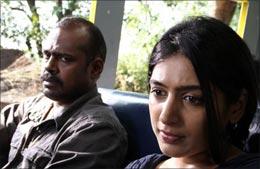 No.66 Madhura Bus turns out to be a disappointment considering that it had promising actors and a director with a good reputation and track record.
Review: Ustad Hotel offers a delicious meal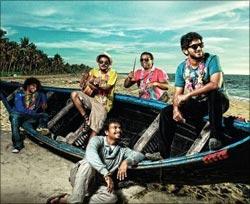 Paresh C Palicha feels that director Anwar Rasheed serves us a delicious meal with Ustad Hotel
Review: Namukku Parkkan is just average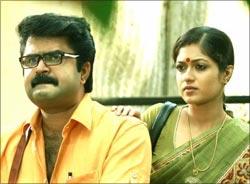 Paresh C Palicha feels that stories like Namukku Parkkan are done to death.
June 29, 2012
Review: Give All the Best a miss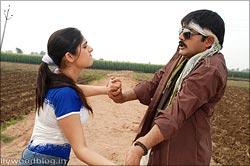 J D Chekravarthy's All the Best is pedestrian and lacklustre fare.
Review: Dandupalya tells a spine chilling story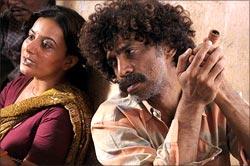 Dandupalya, which is based on a dreaded gang, is a spine chilling film.
Mammootty's son Dulquer Salman vs veterans this Friday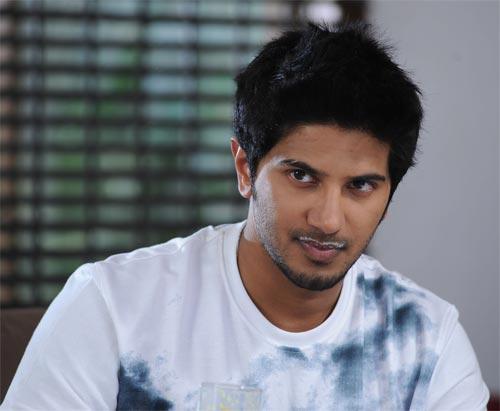 Mammootty's son Dulquer Salman's second film, Ustad Hotel releases today along with M A Nishad's No 66 Madurai Bus and Aji John's Namukku Parkkan.
Dandupalya gives a new dimension to the crime genre'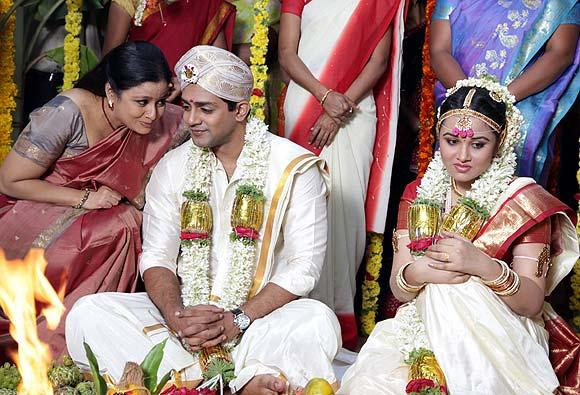 Director Srinivasa Raju talks about his new Kannada film.
June 26, 2012
'Bhageerathi is about a woman's forced sacrifice'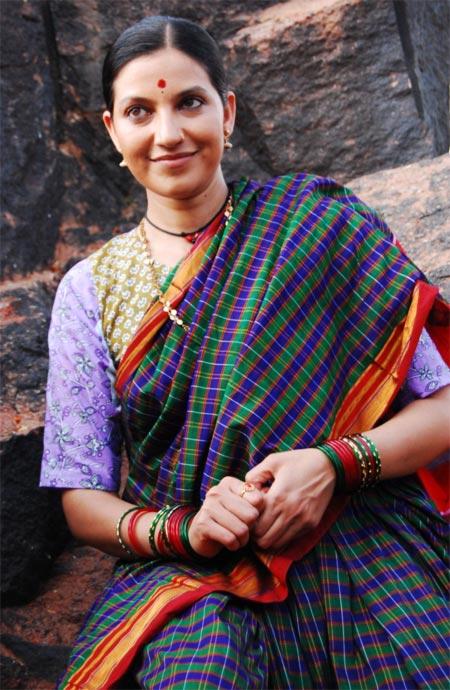 The filmmaker talks about his new film -- the critically acclaimed Bhageerathi.
First Look: Nara Rohit and Nithya Menen in Okkadine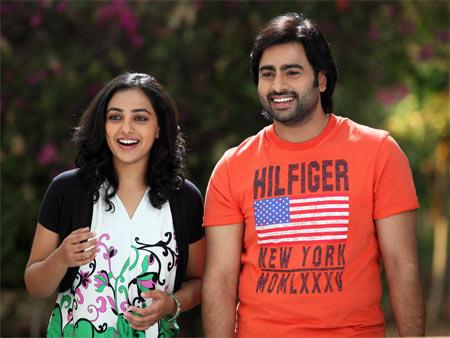 The film is all set to release in theatres.
June 25, 2012
First Look: Revathy Varma's Mad Dad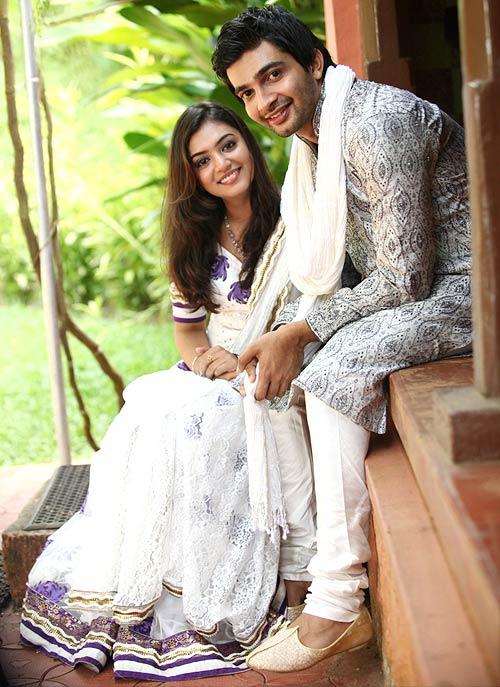 Director Revathy S Varma, who directed June R in Tamil, makes her debut in Malayalam with Mad Dad.
June 22, 2012
Review: Saguni is a commercial entertainer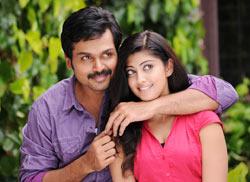 Starring Karthi and Santhanam, Saguni is a mass masala entertainer with precious little logic.
June 18, 2012
Review: Bachelor Party is unbearable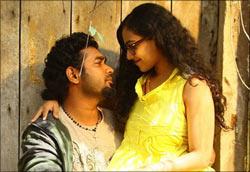 Director Amal Neerad has streched his style of filmmaking to unbearable and disappointing levels.
June 15, 2012
Review: Adhoori is engaging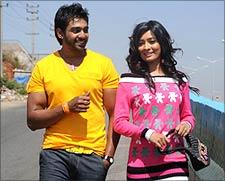 Adhoori, with good performances by Dhruva Sarja and Radhika Pandit, lives up to its name.
Review: Mohanlal shines in Spirit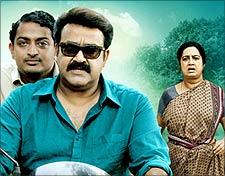 Directed by Ranjith, Spirit deals with alcoholism. It is recommended for Mohanlal's acting.
June 14, 2012
Amal Neerad: I believe in show business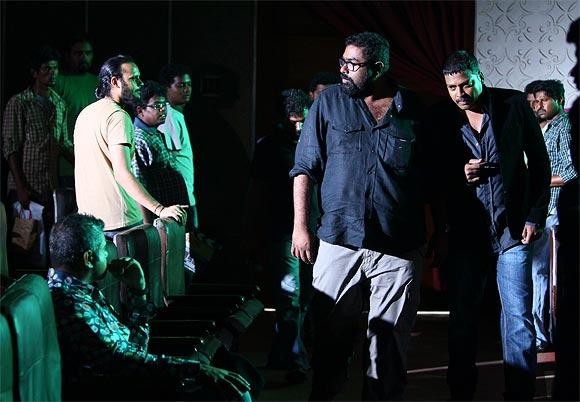 Amal Neerad gets candid about his upcoming film Bachelor Party
'I was making a bigger film than Dabangg'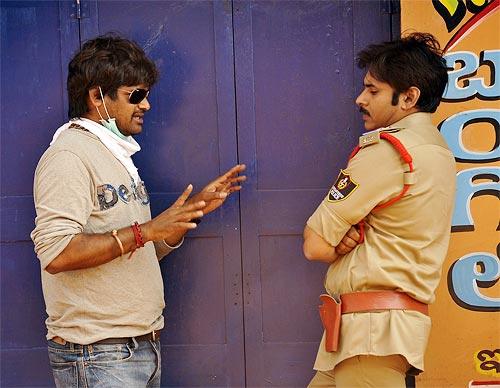 Pawan Kalyan's Gabbar Singh which a remake of Dabangg has broken all the records in Telugu industry. Director Harish Shankar S talks about the success.
June 13, 2012
Big weekend for Malayalam films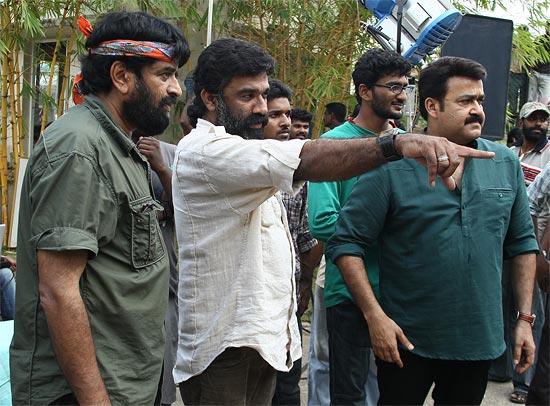 Two films Spirit and Bachelor Party will release this weekend.
June 12, 2012
First look: Allu Arjun in Julayi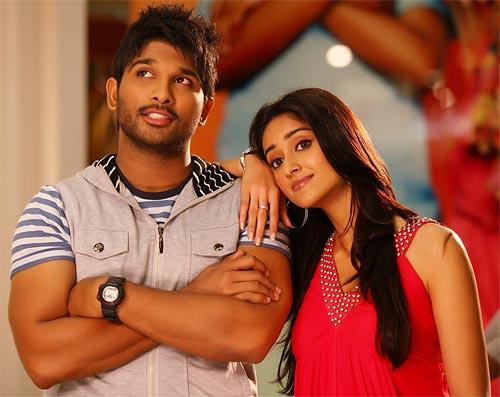 The film is said to have a dubbed release as Gajapokkiri in Malayalam
Review: Bhageerathi is worth a watch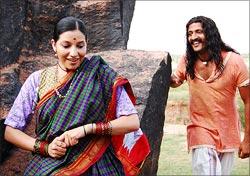 Bhageerathi rides on excellent performances by its lead actors Bhavana and Kishore
Jayasurya goes back to school for Vadhyar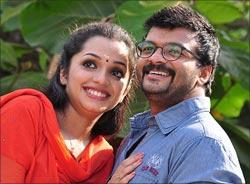 The actor plays the role of a school teacher in Vadhyar
June 08, 2012
Review: Crazy Loka is a youthful film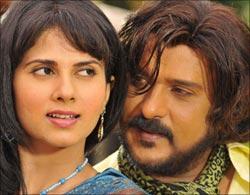 Crazy Loka: Kavitha Lankesh has made a youthful film and has tried to include a message to the youth along with entertainment.
Review: Krishnaveni Panjaalai fails to impress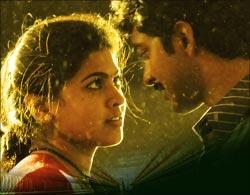 Despite a good cast and interesting premise, Krishnaveni Panjaalai fizzles out on-screen
Review: Endukante Premanta disappoints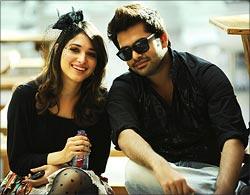 Ram and Tamannaah Bhatia shine in Karunakaran's Endukante Premanta. Otherwise, the film has an unrealistic story which is hard to imagine.
'I want to make Crazy Loka in Hindi'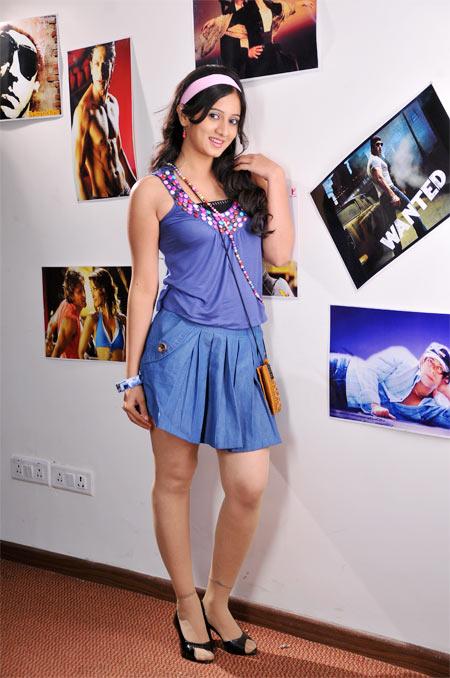 Kannada director Kavitha Lankesh discusses her latest film.
June 06, 2012
Ram: Endukante Premanta is a sweet love story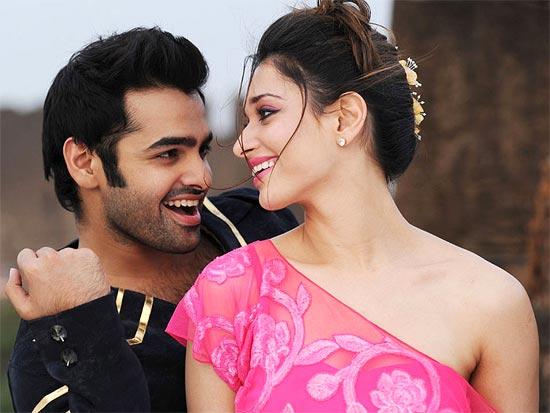 The actor talks about his experience of working in Endukante Premanta
Review: Saguni's music is pretty ordinary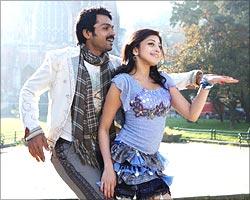 Saguni's tunes, except for certain moments, are mundane
First Look: Revathy and Prithviraj in Molly Aunty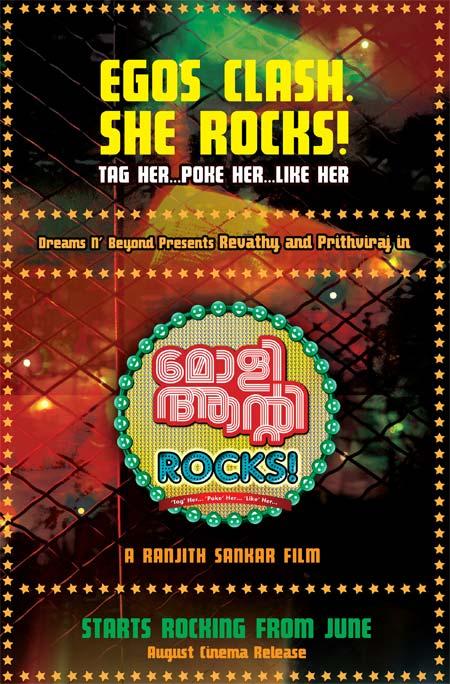 The film is about a woman who will do only what she feels is right.
June 04, 2012
Review: Veendum Kannur is lacklusture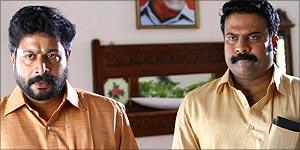 Veendum Kannur with Anoop Menon in the lead is billed as a political thriller, but it is a boring effort that does not excite or move us
June 01, 2012
Review: Jaanu is and average fare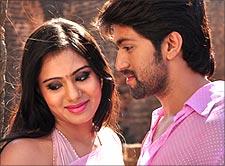 The Kannada film is an average entertainer with a rather tame ending.
Review: Adinayakudu is for Balayya's fans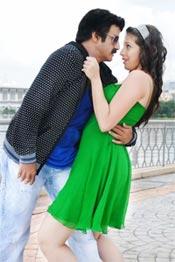 This potboiler with political overtones has nothing much to offer.
'I wasn't serious about pursuing a career in films'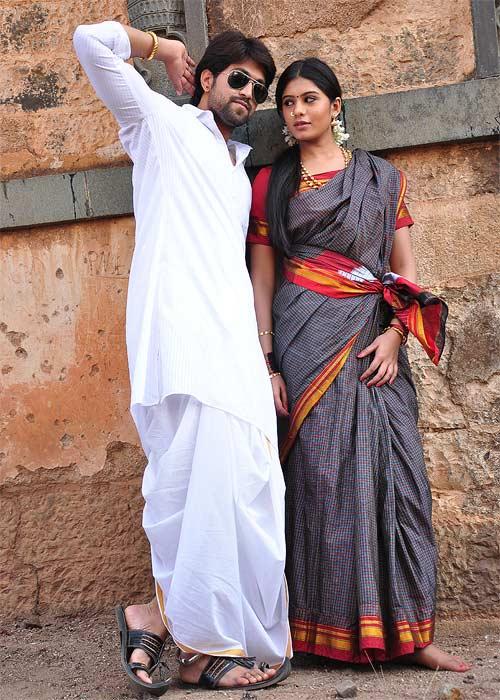 Deepa Sannidhi talks about her career and upcoming film Jaanu
May 29, 2012
First Look: Nagarjuna's socio-fantasy film Damarukam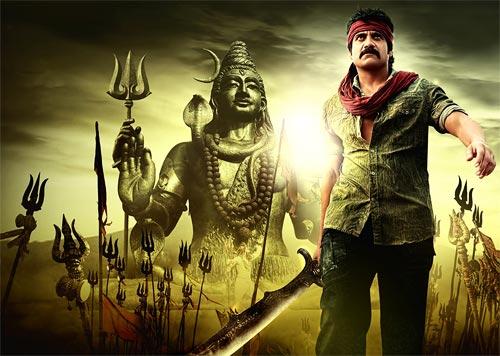 Nagarjuna plays an asura who gets up after a deep sleep of 1000 years and wants to fight the gods.
May 28, 2012
Ajith: I am never afraid of failure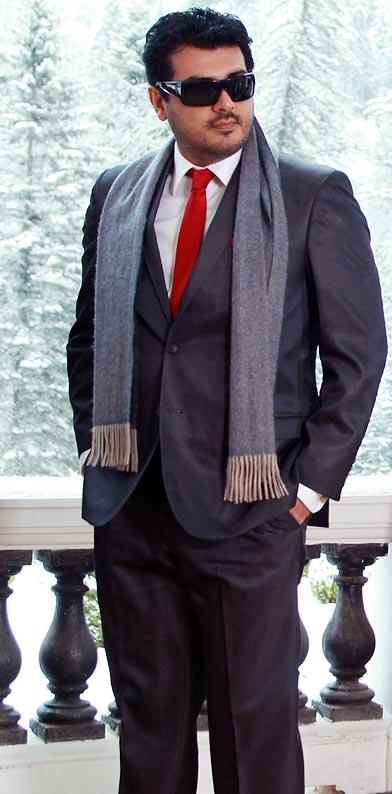 In this interview the actor looks back at his career and shares his experience of working in films.
Review: Nothing unusual about Hero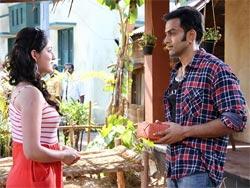 The film tries to be different but ends up as the usual action film in the 'cinema within cinema' format.
Review: Thiruvambady Thamban fails to impress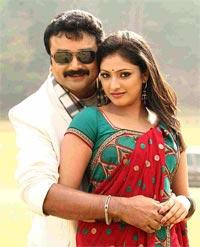 The film cuts a sorry figure as a mass entertainer, mixing up various genres, and lacks cohesion
May 25, 2012
Review: Daruvu is more sound than substance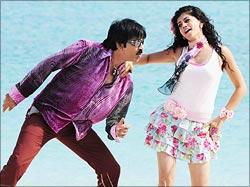 Daruvu may be lapped up by Ravi Teja fans but others may find it pretty dreary.
Review: Villian is run-of-the-mill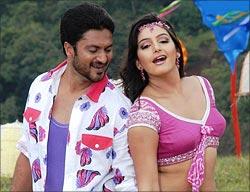 The film features those hackneyed local 'villains' yet again.
'I want to play a real hero on screen'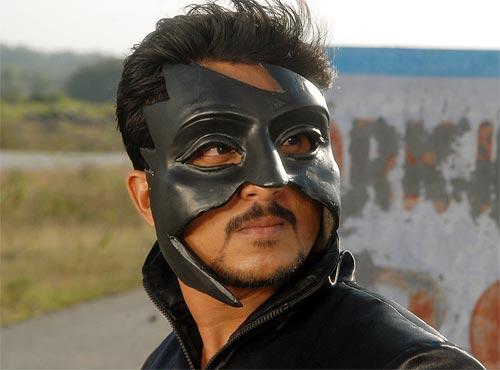 Ajay Rao talks about his experience of working on Breaking News
First Look of Viswaroopam at IIFA, Singapore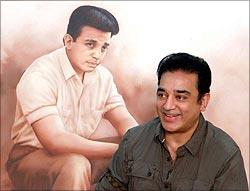 The film is made in both Hindi and Tamil.
May 24, 2012
'I play a Bharatanatyam dancer in Daruvu'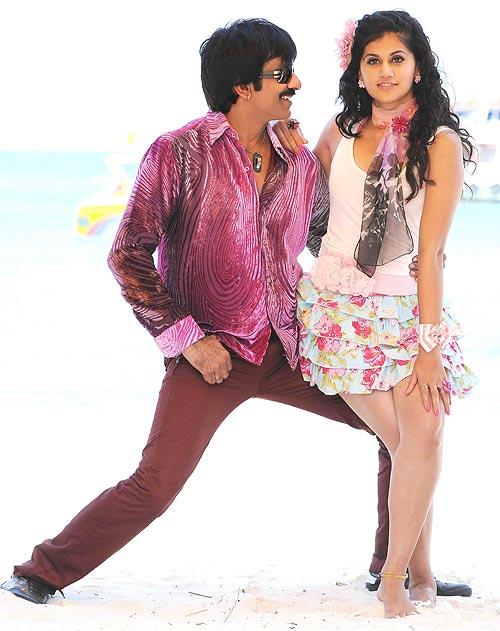 Taapsee Pannu talks about her upcoming film Daruvu.
'I do action films to satisfy my fans'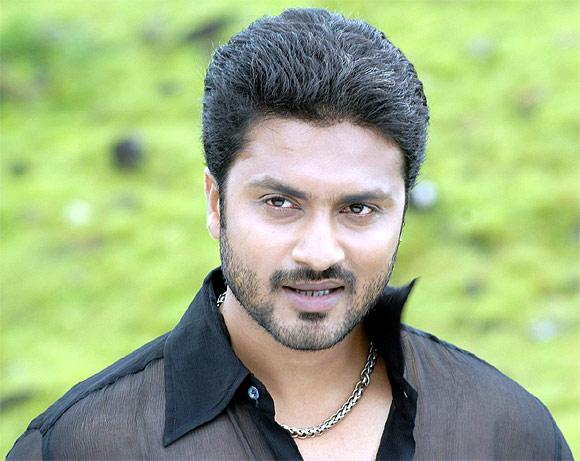 Aditya is back after sabbatical. The action hero will be seen in his next Villian which releases tomorrow.
May 23, 2012
Siva: Daruvu is my best attempt so far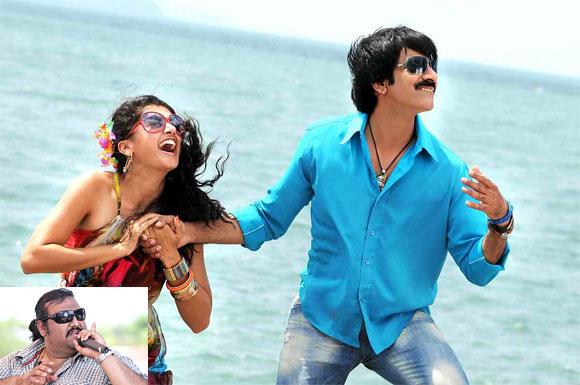 Cinematographer turned director Siva talks about his upcoming film.
Exclusive: Mohanlal to play Sathya Sai Baba?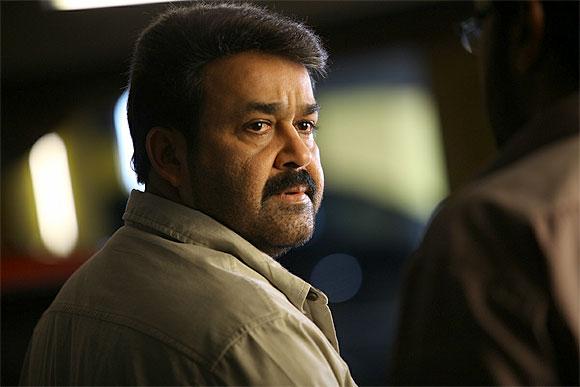 Get your lowdown on what's happening in Malayalam cinema.
May 22, 2012
First Look: Vishnu Manchu's Denikaina Ready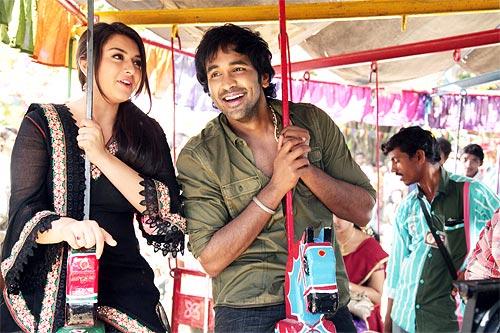 The film is a family entertainer and also stars Hansika Motwani.
Srinagar Kitty: I cannot digest heroism in films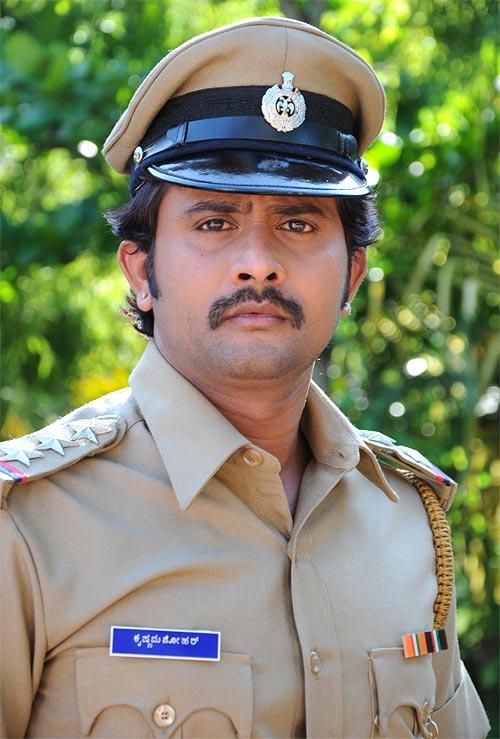 Srinagar Kitty talks about playing his first comical role in Kiladi Kitty.
May 21, 2012
Review: Manjadikuru is enchanting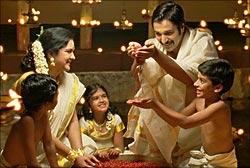 The film give us a charming view of the adult world seen through the eyes of a child.
First Look: Lenin Rajendran's Edavappathy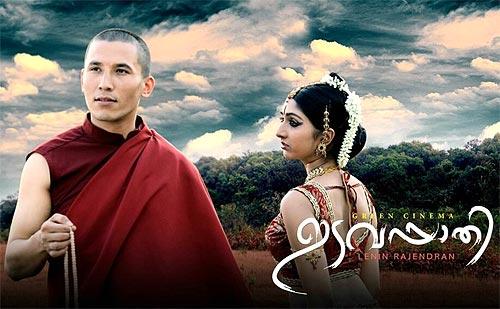 The film also stars Manisha Koirala.
Review: Arike is a must watch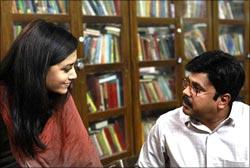 With Arike, director Shyamaprasad tries to look at love from a different perspective and shows what it can really mean for human beings.
Review: Breaking News has no soul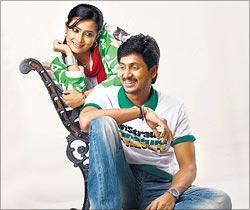 Kannada film Breaking News is an average entertainer.
May 16, 2012
'I have grown up watching Malayalam cinema'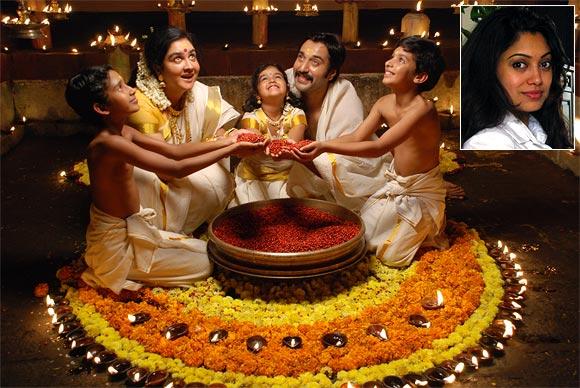 Anjali Menon talks about her experience of directing her first film Manjadikuru.
May 15, 2012
'There is no heroism in any of my films'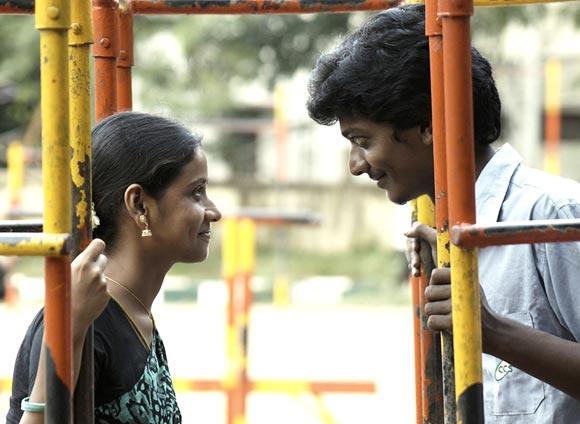 Director Balaji Sakthivel talks about the success of his film Vazhakku Enn 18/9
First Look: Dileep and Mamta in My Boss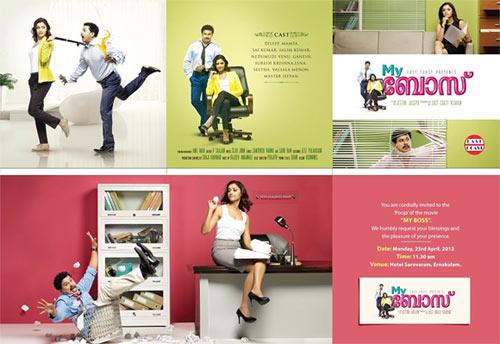 The film has been produced by East Coast Vijayan and will be directed by Jeethu.
May 11, 2012
Review: Kalakalappu fails to impress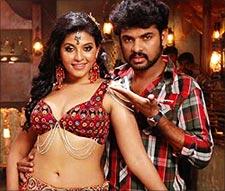 Kalakalappu does have its funny moments but only a few of them work.
Review: Gabbar Singh is Pawan Kalyan show all the way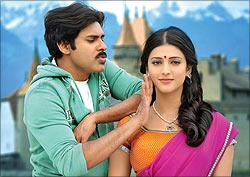 Gabbar Singh is a Pawan Kalyan film filled with his histrionics. It's an adaptation rather than a remake of the Hindi Dabangg.
Delhi Belly remake to be called Naughty in Tamil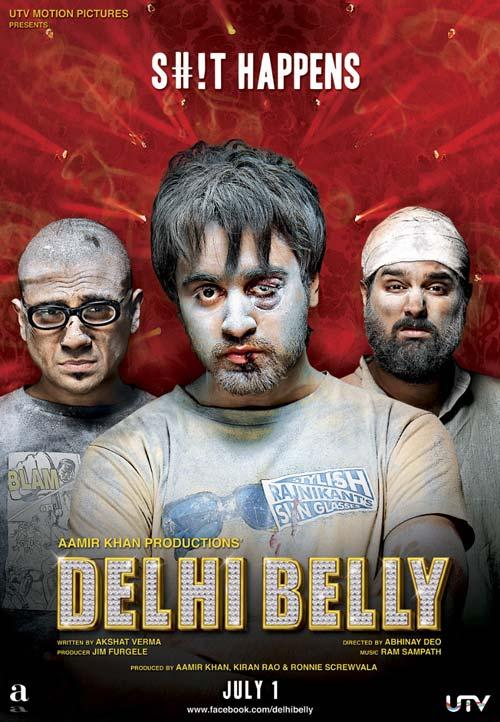 The Tamil remake is set to release early next year.
Rana Daggubati to produce Hindi films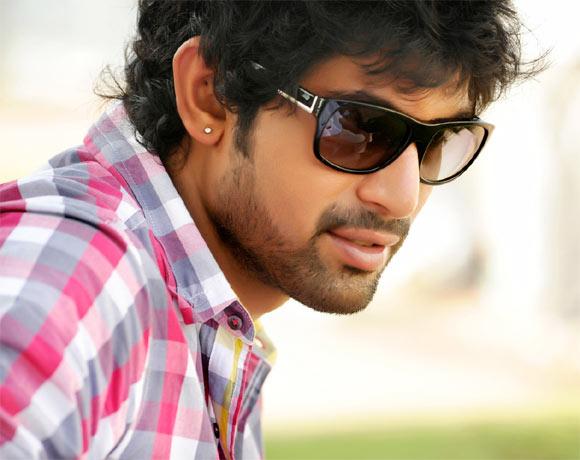 Get your lowdown on whats happening in Telugu cinema.
May 10, 2012
Review: Katari Veera Sura Sundaraangi is a winner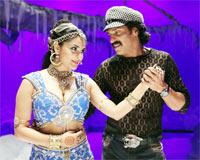 Producer Munirathna Naidu needs to be commended for investing in a 3D film.
Shruti Haasan: I am not a method actress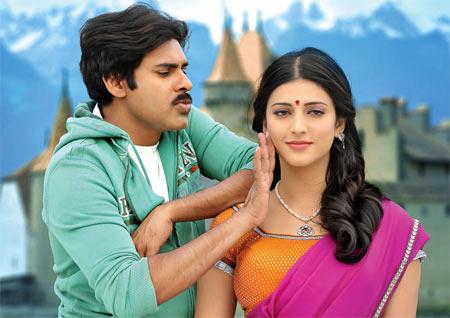 The actress talks about working in Gabbar Singh, the Telugu remake of the Hindi film Dabangg.
Yami Gautam to star alongside Prithviraj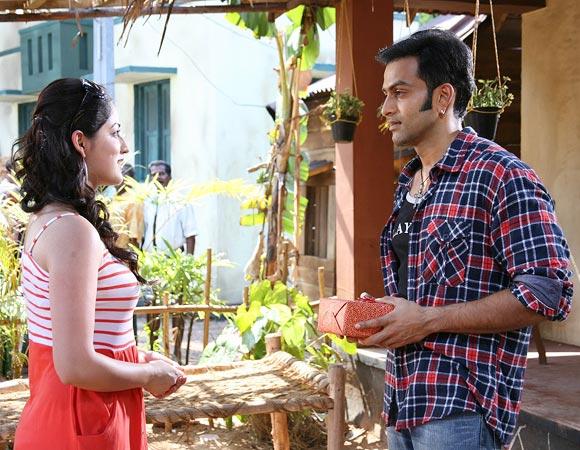 While Prithviraj plays a stunt artiste in Heor, Yami will be playing a south Indian sensation star.
May 09, 2012
'Feels great to be part of India's first capture motion film'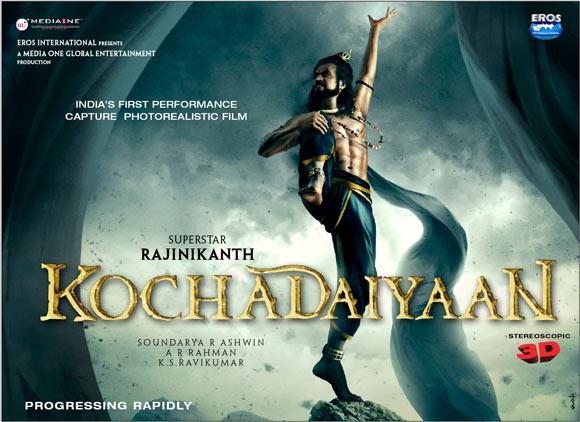 Actor Aadhi talks excitedly about his small but impactful role in Kochadaiyaan.
'Katari Veera Sura Sundaraangi is total fun'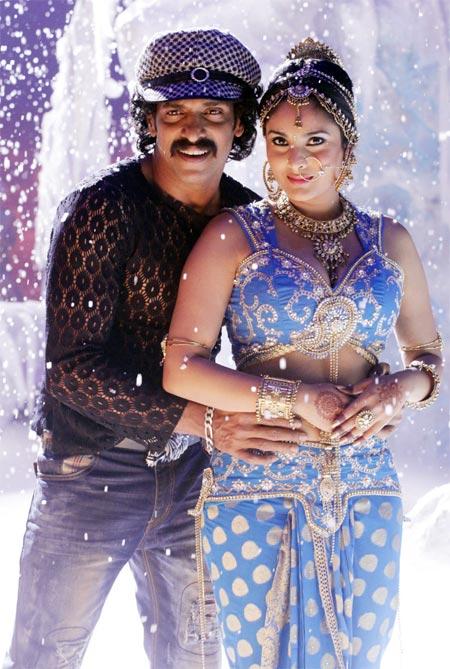 Upendra talks about his experience of working in first 3D mythological film.
May 08, 2012
'I feel lucky to be a part of first 3D mythological film'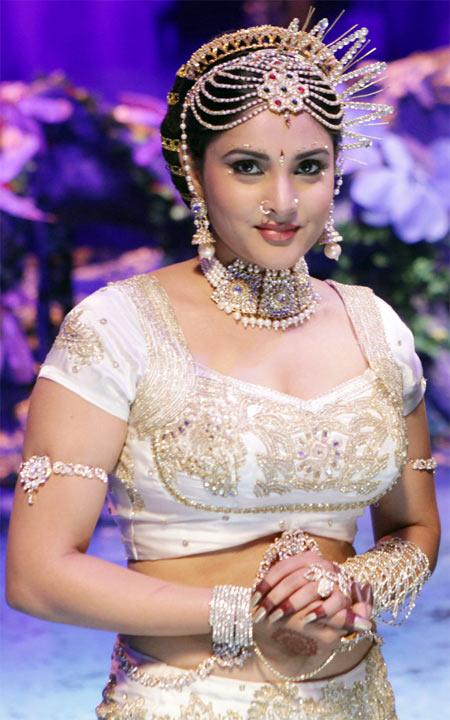 Ramya talks about her experience of working in first 3D mythological film.
A Biligual film on Godavari floods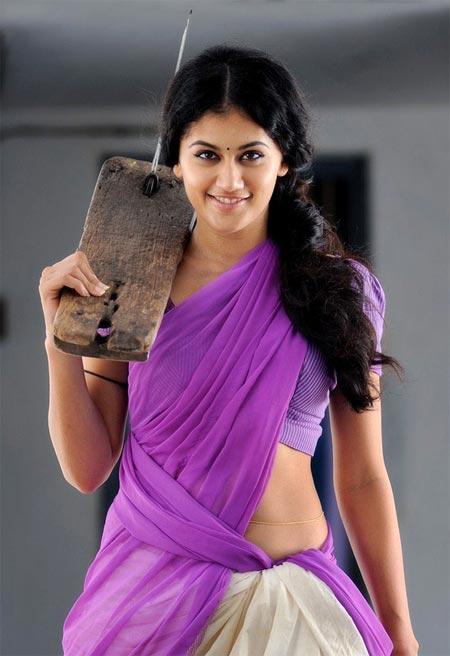 The film is directed by debutant director Kumar Nagendraand will be made in Tamil and Telugu.
May 07, 2012
Review: Nothing original about Mallu Singh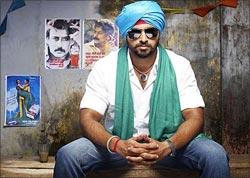 Director Vyshakh tries to do a Dappan Koothu on Bhangra beat and virtually falls on his face.
Why Rajinikanth can't romance Deepika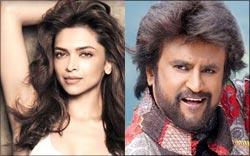 The superstar was apparently finding it difficult to romance his Kochadaiyaan leading lady Deepika Padukone.
Special: The A to Z of Telugu Cinema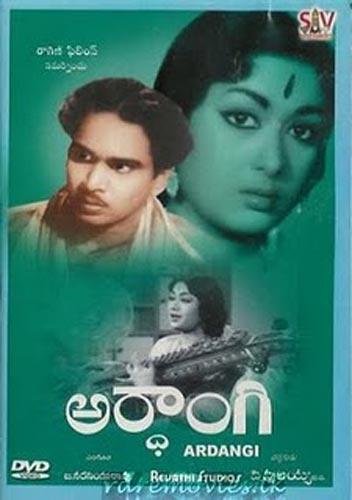 A look at the Telugu films which best symobolise the letters of the alphabet!
Anoop Menon and Jayasurya team up for Trivandrum Lodge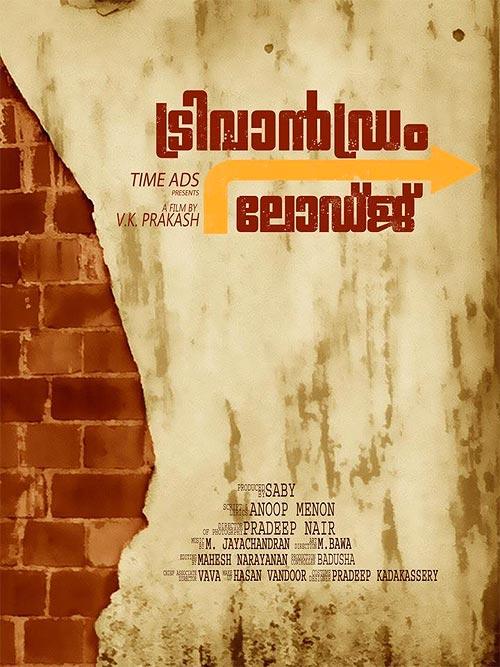 Director V K Prakash along with Anoop Menon and Jayasurya come together for the third time for Trivandrum Lodge.
Review: Don't miss Diamond Necklace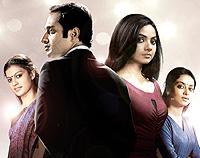 There are images throughout the film that portray the transformation a character goes through very well without being preachy or pedantic.
May 04, 2012
Review: Vazhakku En 18/9 is a must-watch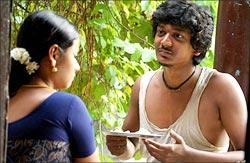 If there is a minus, it could be that the leads lack spark; so much of the story revolves around too many characters that their tale is sidelined at times.
Photo: Tamil actor Vijay dances with Akshay, Prabhu Deva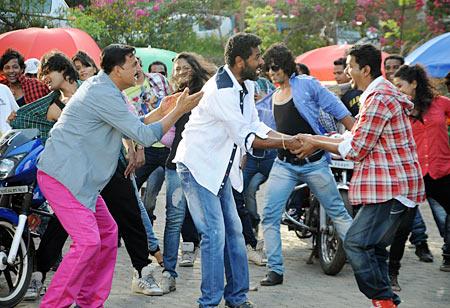 Here's an exclusive look at the dancing trio!
Review: Billa 2 music is quite promising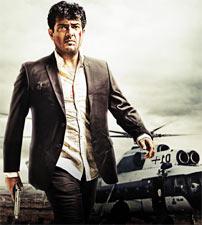 The film has an interesting mix of songs.
Review: Mohanlal excels in Grandmaster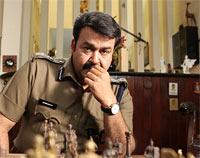 Mohanlal's performance keeps the audience engrossed to the film.
May 03, 2012
Making waves with Leelai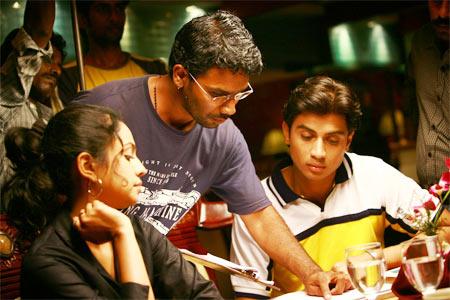 Debutant director Andrew Louis talks about the success of his film Leelai.
May 02, 2012
Review: Anna Bond is strictly for Puneeth fans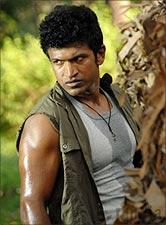 Anna Bond is Puneeth's film all the way. Cinematographer Satya Hegde's frames are superb and tight.
Triple delight for Malayalam moviegoers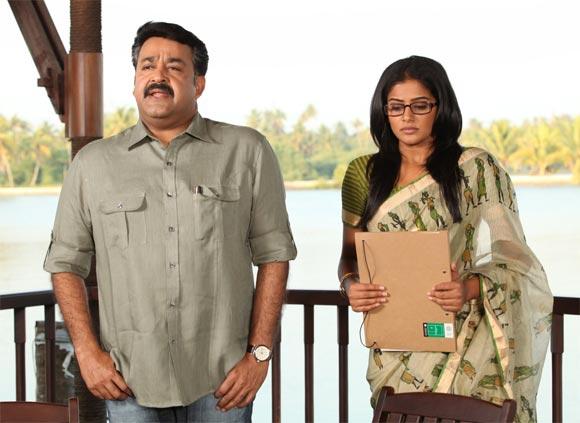 Grandmaster, Mallu Singh and Diamond Necklace will hit the screens this week.
Sreejith Vijay to play young Sathya Sai Baba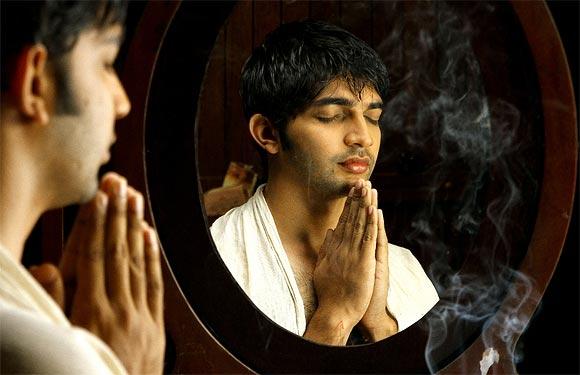 Directed by Kodi Ramakrishna, the film will be called Baba Sathya Sai.
May 01, 2012
Jayaram's next is Thiruvambady Thamban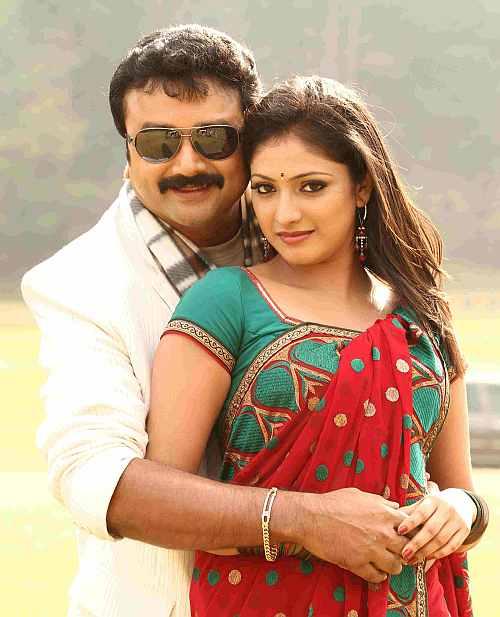 The story is about a Christian family who is invited erstwhile ruler of Cochin to do business.
Archives
January - April 2012
|
September - December 2011
|
July - August 2011
|
July - August 2011
|
May - June 2011
|
March - April 2011
|
January - February 2011
|
November - December 2010
|
September - October 2010
|
July - August 2010
|
May - June 2010
|
February - April 2010