Home > India > Movies > Interviews


The Rediff Interview / Mohinder Amarnath

'Dancing is tougher than cricket'

March 31, 2009



For once, 'hockey' seemed to win over 'cricket'!

Shilpa Shukla -- best known for her Chak De! India role as a hockey player -- beat former cricketer Mohinder Amarnath on the dance floor during a face-off round in Sony Entertainment Television's Jhalak Dikhhla Jaa. The result: Amarnath was voted out of the show.

He spoke to Rajul Hegde about his experiences:

Firstly, what prompted you to be a part of this dance show?

I had some doubts when I was offered the show. But all of us dance at parties and family functions. So there was no harm in trying it out. Life is too short, so why not have some fun?

What was your family's reaction?

They were sceptical, and thought I was crazy. Then they realised that I am here to learn and not to compete.

How was your Jhalak experience?

It was a wonderful, challenging, new experience. Dancing used to be shaking hands and legs for me. But this show taught me that it's much more than that. I never thought about the results. I just believed in giving by best. It required lot of hard work and I enjoyed every moment of it.

I used to rehearse four to five hours a day. So I've lost weight, and am a fitter person now. Dancing had a great impact on my health. I have learnt the basic forms of dance like salsa, rock 'n' roll, jive, samba, rumba and Bollywood style. I have also learnt to match my steps with the rhythm and beat. The most important thing I learnt is that you can learn anything from anyone regardless of age.

Did you expect to get eliminated?

Every week someone has to go and this week, it was my turn. I don't particularly believe in the face-off round. I feel that the person who gets the least number of votes should be eliminated.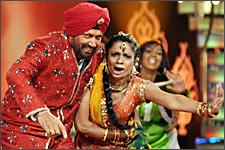 Which is tougher: cricket or dance?
I've played cricket all my life so I know everything about it. Dancing, on the other hand, is a new experience to me. At the moment, it is definitely tougher than cricket [laughs].
Did you ever break any rules of the Jhalak house?
Being a sportsman, I believe in discipline. So I didn't break any rules.
Is there any particular song that you would love to dance to?
If it's a Punjabi song, dance comes naturally to me [laughs]. If I know the lyrics and the song well, it becomes easier to dance with feeling.
What was you equation with your choreographer Lilian Mendes?
Lilian is brilliant, and graceful. I would take time to pick up the steps but she was extremely patient. She has a bright future.
Who do you think deserves to win the competition?
Hard Kaur is fun and my favourite. She has an edge to win because she is energetic, has excellent footwork skill and rhythm. Her expressions are good too. She is hard working and rocks the dance floor.
Are you open to more reality shows?
Everything will depend on my commitments. Yes, I would love to take on more challenges [smiles].