It has been a while since we've seen Bhagyashree. So we were quite excited when we heard that she was one of the contestants of the third season of the reality dance show, Jhalak Dikhla Jaa.
Unfortunately, the Maine Pyar Kiya actress was the first to be eliminated from the show after a face-off with contestant Shilpa Shukla. Juhi Chawla [Images], one of the judges, gave the deciding vote against Bhagyashree, ending the actress' dancing saga.
Rajul Hegde caught up with Bhagyashree to find out what went wrong.
Are you sad that you were the first to be eliminated from the show?
No. My motive of coming on the show was not to win or lose but to have fun. I am glad that I got to learn different dance forms. I don't think I have to prove my status to anyone. I had a different perspective about reality shows. This competitiveness between contestants is not what I can do. Basically, I'm a bad reality material. I'm not comfortable with the camera during our rehearsals. They have even told us to go to other contestants' rehearsal rooms and gossip about them. I'm not comfortable with that.
Did you expect to be eliminated?
No.
You were eliminated despite having a partner and choreographer like Toby Fernandes, who is the winner of the first season of Jhalak with Mona Singh. What could be the reason for your elimination?
I have no idea of how reality shows work. When I signed Jhalak, a different brief was given to the judges and me. I think the judges were looking at the typical Bollywood type of dance and we were doing something else. 
Another reason could be that the channel had told us to go to the different rehearsals and gossip. They must have told us to do it to spice up our conversation during the rehearsals.
What have you learnt from this show?
It was a wonderful experience and I always wished to learn the intricacies of various dance styles. So when I got the opportunity, I took it up. I tried to do something new. I did a lot of dancing and have become flexible. I have also learnt the basics of different forms of dance. I met different people from various fields. So it was fun. Everyone told me that I am a positive person and that was the best compliment I've got. But most of all, I know how reality shows work now [laughs].
Juhi was in tears when you were eliminated even though it was she who voted you out.
All I can say is that she was impartial.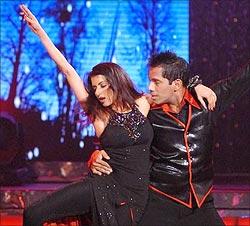 How was Toby as a choreographer?
It was a pleasure working with him. It's nice to have someone who knows the real flavour of dance. I am interested in salsa so I might take salsa lessons from him.
 
If given a chance, would you like to come back on Jhalak through a wildcard entry?
They have been telling me that. But I'm not sure. If they want me to come back, they have to change the format. I don't like gossiping and creating unnecessary drama. If they change the format, I may give it a thought.
Who do you think deserves to win?
Shilpa Shukla, without a doubt. I told her that all my votes will go to her as she is hard working and an amazing dancer.
Are you open to more reality shows?
I don't have a problem in doing another reality show. But next time, I'll make sure there is clarity in whatever they say before I sign on.
 
What next?
I have just finished a film called Red Alert, based on the naxalite movement. I am open to acting in more films, provided the roles suit my image. But I have drawn a line with the kind of scenes and outfits that I would do or wear for a film.