Bollywood's chirpy actress Juhi Chawla [Images] is back. After a brief role in Luck By Chance [Images], the bubbly actress is all set to make her television debut as a judge in the third season of Jhalak Dikhala Jaa, the dance reality show which kicks off later this Friday on Sony Television.
Juhi spoke to Rajul Hegde about her new role and much more. Excerpts:
You are known for your naughtiness and comic on-screen portrayals. Are you going to change the public's perception about you in your new role?
People perceived that I cannot be harsh and judgmental about others. Saroj Khan and Vaibhavi Merchant [co-judges] will take care of the technicalities. I am not going to be a Cadbury chocolate. But I intend to make the show interesting. I will have a humane point of view. My comments will be based on the attitude of participants because dance is not their forte and they will be nervous. You have to basically motivate the participants and have fun on the show. I am quite excited about it.
How do rate yourself as a dancer?
Good, but then we all have our strengths and weaknesses. There are certain forms of dance that I am good and bad at. I danced more six to seven years ago. That was the time when movies had a different style of dancing. Now it is more modern, more hip-hop. And I admire people who can do it because I know how difficult it would be for me.
Have you ever been subject to judgment and criticism?
I was very new when I had to do a dance sequence with a co-star whom I wouldn't like to name. He just couldn't get the steps right. Since I was a newcomer myself, I couldn't tell him to dance well. I was patiently bearing with him. Despite that, an assistant choreographer blasted me saying, "You want to become an actress and yet you can't even do a step correctly. I will give you one slap, and then you will learn the step properly." I broke down and did not want to continue after that.
Why are you making your television debut so late?
Offers to host celebrity talk shows were coming for the past two years. But I always deferred taking a decision as I was not sure of doing TV. I felt there is too much pressure and expectations. Film stars doing television were viewed differently -- as if their film career is over. But now times have changed and film stars are accepted on television. After doing television shows, they have moved on successfully to their respective fields
What prompted you to take up this show apart from the hefty cheque (your joke)?
[Laughs]. Like I said, offers have been coming in but I wasn't very sure of doing TV. But I gave Jhalak Dikhlaa Jaa a go as it is a good brand and most importantly, I know that I will enjoy it.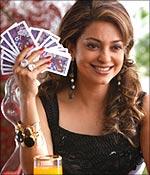 Do you watch television?
With my kind of crazy days, I don't get to watch much TV. The only time I get to watch is when I am on a treadmill. I watch shows like Indian Idol [Images], Comedy Circus and Laughter Challenge.
Are you rooting for any of the contestants?
It's too early to name one particular contestant. Gauhar Khan [Images] is an amazing dancer but it would be equally amazing to see someone who is not a good dancer but surprises you by improvising. And as they say, Indians are emotional people. They start rooting for contestants who are growing.
Does that mean that even you will get emotional when judging a contestant?
Everyone has been telling me this. I have given up. If you think that I will be an emotional judge then fine, that is how I will be on the show [smiles].
Reality shows have a drama element. Are you prepared for it?
Drama chahiye to karenge kyun nahin? [smiles].
Have you ever been scolded by Saroji [choreographer Saroj Khan] during your acting career?
I was always on my best behaviour [smiles]. Saroji has always been a sweetheart. She's an amazing dancer and has never scolded me.
Who among your co-stars have you had a bad time dancing with?
Sunny [Deol]. Other than that he is a sweetheart. And the best thing is that he knows it. The audience knows it too and they love him for the other things he is good at [smiles].
Who is your favourite dancer in Bollywood among the current actors?
I am amazed at Hrithik [Roshan]. I wonder how he moves to every beat. Shahid [Kapur] is another person who dances really well.
Tell us something about your look and styling for the show?
Hemant Trivedi [fashion stylist and choreographer] will do my styling. You will see a lot of sparkle and glitter on my clothes. The production house of Jhalak... wanted me to look glamorous as I represent Bollywood. They looked around for a suitable designer and eventually zeroed on him.
What was the reaction to your role of Minty in Zoya Akhtar's [Images] Luck By Chance?
I thought people were going to ask me what I was wearing and doing in the film. You never know what kind of response you get when you try something new. But I got an overwhelming, amazing and pleasant response for my role. I envy Rishi Kapoor's [Images] role also. It was a cute roly-poly role tailor-made for him. It was an amazing experience shooting for the film.
How do you maintain yourself despite your hectic work and growing kids?
I do make time to pamper myself and go on a holiday. These days I don't work as much as I used to. So I have all the more time to look after myself. Earlier, I used to work day in and day out but now I work for 2-3 weeks and then I take a break of one month.
Are we going to see you on the field now that the IPL has started [Indian Premier League [Images]]?
It really didn't strike me when I agreed to do this show. I now realised that IPL is going to come up half way through this show. Let's see how I am going to manage everything.
Anything in the pipeline?
For the next three months I will concentrate on Jhalak Dikhlaa Jaa. After that I am doing a Punjabi film with Manjeet Mann.