Home > Movies > Interviews

The Rediff Interview

'It is sad but Malayalis don't support serious cinema'

Vijay | June 12, 2007


| | |
| --- | --- |
| Navya Nair in Saira | |
| | |
| | |
| | |
| | |
| | |
| | |
After returning from the Cannes film festival, where his film Saira was screened, Dr Biju appears relaxed. The film has been selected for quite a few prestigious film festivals across the world and the filmmaker has reason enough to be excited.
A homeopath by profession, Dr Biju began his love affair with films as an avid film lover of foreign and Indian classics screened at film festivals. He has also made a campus film and published short stories.
Saira, starring Navya Nair, is about a journalist who becomes a victim of terrorism. An interview with a terrorist changes her life, as false charges are leveled against her. When communal violence erupts, she gets gangraped. Nedumudi Venu plays her foster father, Hindustani musician Ustad Ali Hussain.
In an interview with Vijay, the director talks about his Cannes [Images] experiences, Saira and much more.
What was the Cannes experience like?
Thrilling! Saira was the inaugural film for the Indian section and had a packed audience with some of the top dignitaries in attendance. There were six other Indian films like G Vasanta Balan's Veyil, Mridul Toolsidass and Vinay Subramaniam's Missed Call, Bhavna Talwar's Dharm, Mani Ratnam's Guru, Raj Kumar Hirani's Lage Raho Munna Bhai and Rituparno Ghosh's Dosar. Indian cinema was given due importance, since the country produces one of the largest numbers in films in the world every year.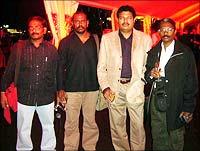 You have watched world cinema as a viewer at various film festivals. How different was it this year at Cannes, since you had gone there with your own film?
The enthusiasm of a serious film buff is always there when you are at a film festival (laughs). I was fascinated with Michael Moore's Sicko, which was received in a heartening fashion by the audience. The director received a fantastic response. Though I could not watch some of the films which I wanted to watch as I was busy marketing my film, the selection of my film to certain other prestigious film festivals has been a great achievement.  
How do you connect medicine and films, considering you are a homeopathic practitioner?  
(Laughs) Well, there is not much of a connection between the two. I have been watching films all along and my experience of watching some splendid films at the festivals prompted me to make Saira. I was often amazed by the variety of subjects dealt with in the films. I am a government doctor and my working hours are until noon, which gives me time. I had taken leave to make the film.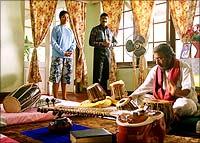 Which films have made a lasting influence on you? 
There are too many, like Roman Polanski's The Pianist for one. The experiments done by the eminent filmmakers with the wideranging subjects has always attracted me. Alejandro Gonzalez Inarritu's Babel [Images] is among my recent favourites.
What was the focus of Saira?
Saira shows how the threat of terrorism has crept into our society. We may not be part of it, but still can be drawn into its effects quite easily.  
How did Malayalis accept a serious attempt like Saira? 
It is a sad fact but the Malayali audience do not support serious cinema the way they did some years back. My film has been received well in other places but not as well in Kerala [Images]. Remember, we have been noted for our liking for serious movies in the past. I think now Malayalis have this notion that serious films are slow paced and are tough to digest. It is not very easy to make and market serious films in Malayalam now.  
Do you think this situation will change and there will be an increased liking for serious films? 
Of course, it's only a matter of time. The new generation filmmakers are making eminently watchable films which can attract any group. Once the audience realises this and are back to the theatres to watch such films, things will start changing. Most of the Indian languages are experimenting with newer subjects and are meeting with success at the box office as well. It will happen in Kerala too. But there has to be a dedicated effort on these lines. There should be a supportive attitude from various segments, like screening the films by the government owned theatres in the state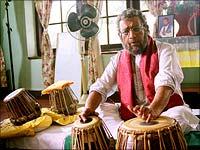 What next?
I am planning a film which will deal with colonisation by the superpowers and its impact. The US has certain countries under its control using the military and is trying to apply their control on other countries like India in other ways.
Has the acceptance for Saira helped you in planning the new project? 
Yes. I am planning the film with some stars in it and hopefully, it may also make things easy to market it as well.