Home > Movies > First Look

Spotted: Saif, Rani's new film!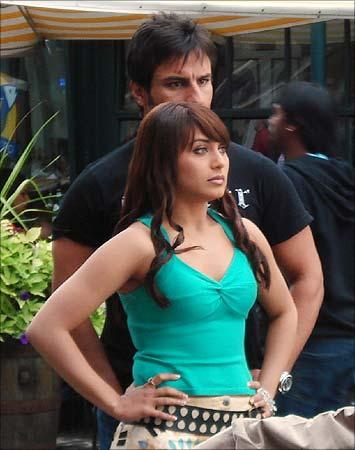 Reader Ashish Chandak sent us an exclusive.
The 23-year-old is currently working in the US, and last week came across the shooting of Siddharth Anand's Tara Rum Pum, produced by Aditya Chopra.
Starring Saif Ali Khan and Rani Mukerji, the new film from the Salaam Namaste director is completely hush-hush so far, and so this picture from the sets was quite a surprise.
Ashish was passing by New York's South Sea Port, and just stumbled onto this shooting. Being a huge Bollywood fan, he was amazed and just had to capture the moment.
Ashish has promised us more pictures, but for now we must say we're very impressed. And grateful.
If you encounter/meet/see film or television personalities and photograph them, please scan the photographs and mail the pictures to us. We will feature the best images right here on Rediff Movies.
Also check out: Amitabh in New York | SRK, Saif & Akshay | Aamir | Ajay | John | Abhishek | Kareena | Shah Rukh Khan | Bipasha | Amitabh, Rani | Yash Chopra | Ram Gopal Varma


What do you think about the story?








Read what others have to say:





Number of User Comments: 13








Sub: very nice look

Rani performance is extradonary


Posted by siva









Sub: rani

sachin


Posted by ranjit









Sub: chaa gaye bhai....

good brother ... chaa gaye magzine ke panno par ....rediff movies...nice ...now u 'll remember the trip of ur new york for ever .na.... isi ...


Posted by Arpit Chandak









Sub: kudos to rani !!

If SRK is the king of the bollywood then rani mukherjee,no doubt,is the queen of it.She is one of the most talented and gifted actress ...


Posted by YUGGAURAV CHAUDHRY









Sub: Film Should be just like HumTum

Hey Both are looking very cute i hope film will be just like Hum - Tum.


Posted by vaidehi






Disclaimer