Advertisement

  

Advertisement

'Nobody's secure in the US'
A Ganesh Nadar March 16, 2009


Rajkumar Mohanram has been in the United States for close to a decade now. He did his Masters in Computer Science from University of Illinois, Urbana-Champaign, in the US after he did his BE from College of Guindy, Anna University, Chennai. Here he talks about the hard times in the US and how people are dealing with it.

"Though my job is pretty secure, I feel nobody is totally secure in the US today. There is an employment crisis in the US and you cannot expect anyone to be 100 per cent secure. Even government servants are not secure," says the 31-year-old who has been with Microsoft for the last nine years as a senior test engineer.

He says salaries in the United States have not been keeping up with inflation and on a comparative scale salaries in India have been increasing faster than in the US.

"Increasing salaries in India are making outsourcing difficult. Today it is cheaper to get things done in the US than here. Outsourcing's no longer viable."

According to him, a lot of IT jobs are moving back to the US because it's cheaper there.

"At the moment there is no government policy on this issue. The economy is so bad that politicians are looking for reasons and excuses."

There is a just passed bill that any company receiving government aid should not hire HI-B visa holders. US policy has always been to hire the most qualified. Hire the best talent. Due to the present state of the economy politicians are putting pressure on companies to hire US citizens even if they are not the best suited for a particular job.

The country has been built by migrants, everyone knows that including President Obama [Images]. If you see the number of people graduating in engineering colleges in the US, it pales in comparison to the number of people graduating in India and China.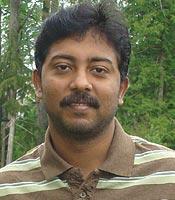 Having said that, Rajkumar believes that the job crisis is more intense in the US and China than in India. "You do not know how many Americans are losing their jobs, how many Chinese are losing their jobs. Everyone is losing jobs there."

"You are looking only at the IT sector where there are a lot of Indians. The manufacturing sector is the worst hit. Many more have lost their jobs there. But you don't write about it because there are not many Indians in that sector."

The IT sector in the US mostly comprises Asians. 30 to 40 per cent of employees in Microsoft are Asians. People are bound to come back as the IT sector gets worse. Right now the Indian economy is much better than the US's.

Rajkumar says anyone looking short term at the next three years or the next five years will see that the situation is much better back home. They will think it's a wise decision to move back here even if they are not sacked. They can always go back when the economy improves.

An interesting impact of the jobs crisis in the US, feels Rajkumar, is the fall in the number of Indian engineers moving to the US.

"I have data which shows that the number of IIT engineers going for higher studies to US has dropped. Earlier they came there to study because they were assured of a good job. Now that jobs are drying up they don't want to spend money studying there."

Earlier education in the US would cost less due to scholarships. You could work your way through college. Now you cannot. So you have to pay, and education there is very expensive, Rajkumar adds.

"As a result college professors are losing jobs. Schools are closing down and students are being moved to other schools which need students. As fewer students are there the number of schools and colleges is coming down."

As the US schools are completely funded by the government they are bringing down the number of schools to cut costs.

"My personal opinion is that things will get worse before they improve. It will be bad for the next three to five years. Getting back to boom time will take another ten years," feels Rajkumar.

Rajkumar's advice to students graduating out of engineering colleges: If you are looking at short term gains for three to five years then stay back in India. If you are looking for long term prospects then you can try your luck in the West.