June 30, 2008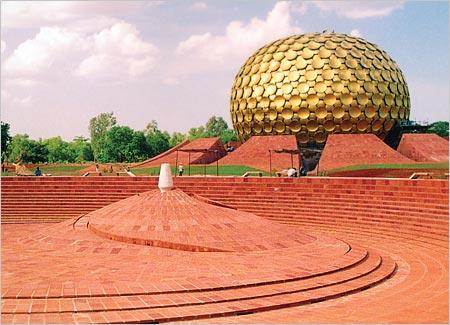 We launched our special series on some of India's best spiritual locations with Sri Ramanasramam. This is the concluding part of the series recommended by Yoga acharya Shameem Akthar:
Sri Aurobindo Ashram
Pondicherry
Sri Aurobindo Ashram has rightly acquired-cult status amongst serious yoga lovers and meditators. To a large extent, barring the strict code of behaviour to be maintained inside the Matrimandir and the meditation hall, the rest of Auroville (the township of Sri Aurobindo devotees from across the globe) is a free-spirited enterprise. That gives the entire experience a completely different temper and flavour from the rest of the spiritual centres across the country.
For the spiritual tourist there are the usual must-see halts: Matrimandir, the ancient banyan tree, the Golden Globe looking so much like a large lotus with its gold-leaf petals lighting up the skyline, the unbelievably aesthetic (my daughter instinctively and impulsively later told me she felt 'this must how heaven looks like'!) meditation hall with its large crystal globe as it strategically catches the sun's rays, the amphitheatre holding the urn with earth from 124 countries across the world to highlight Sri Aurobindo's idea of 'integral yoga', and the Samadhi of the founders (Sri Aurobindo and the Mother, his spiritual companion) surrounded by well-manicured gardens.
A few awkward cases of assault have shown that Auroville residents must take precaution. To meditate before the crystal globe you have to have stayed for a minimum number of days at Auroville. You also cannot casually walk into this unbelievably beautiful hall, but must book your intention a few days in advance. These precautions have been taken to discourage casual, or noisy people who disturb serious meditators.
Previously in the series: Sivananda Kutir: A step back in time
The Auroville arranges various community activities, including 'spa-treatments' like reflexology sessions or massages, by its visitors or residents. There is a swimming pool which you may access, provided you know the limited number of hours it is open to guests. The details are locally available. Apart from this, you are on your own to follow your spiritual instinct. That can be rather liberating, for a serious seeker.
Reasonably priced international cuisine, tasting genuine, is a great part of Auroville's charm. The large, jungle tracts with its exotic flora and fauna, the sense of being on your own within an internationally-connected community, the occasional glimpse of unusual architecture of its residents, all make this place an unusual experience.
Accommodation: The link http://www.sriaurobindoashram.org/visitors/guesthouse/ghlist.php is where you click, to locate the guest houses, check out availability and rates. Booking in advance is a must, since Pondicherry is hugely popular with serious yoga lovers and seekers. Some of the guest houses are also rather expensive, as they should be, for offering exclusivity in terms of surroundings, accommodation facilities. Food charges are usually separate. While choosing your guest house, keep in mind that travel within the sprawling Auroville community can be tough unless you have your own transport. Hiring vehicles, two-wheelers are easy. But with the latter you must factor in the fact that roads are mostly raw tracks. Also you must have an ability to follow maps since you will be covering large stretches through pure jungle tracks often on your own.
Address: Sri Aurobindo Society
Pondicherry 605 002
Phones:
Academy House: (0413) 2226276
Beach Office: (0413) 2336396 to 2336398
Society House: (0413) 2334382
Also: (0413) 2330331 or 2336396
Fax: (0413) 2334447
E-mail: bureaucentral@mailroom.com, info@sriaurobindosociety.org.in
Web site: http://www.sriaurobindoashram.org/index.php
Photograph: Courtesy Sri Aurobindo Ashram
Earlier in the series: Vipassana: The path to Nirvana  | A journey to spiritual ecstasy
Share YOUR travel stories and pix! | More Travel features