June 25, 2008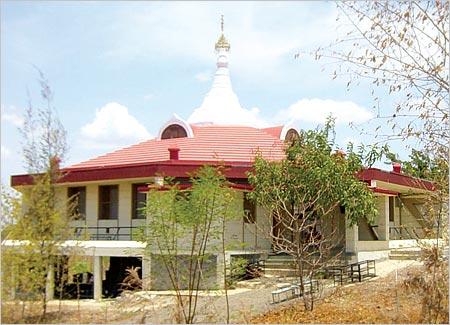 We continue our special series on some of India's best spiritual locations recommended by Yoga acharya Shameem Akthar.
Vipassana centre, Dhammananda
Markal, Maharashtra
I chose this centre entirely based on personal experience, since I have revisited it twice. As much as I love this centre, the reason I am writing about it is to share the Vipassana experience itself.
I am sure all other Vipassana centres across the country are just as organised, peaceful and conducive to serious meditation. This description may, therefore, be taken as only a representative. Since the Vipassana experience is the same everywhere: I'd advise you to choose a centre that works out closest.
Of course, everybody wishes to visit the main centre at Igatpuri (also in Maharashtra) but booking for the course here is a long drawn-out affair (e-mail correspondence). Often, the courses you are looking for may not be available since there are several trainers' programmes, executive sessions, etc. Also, even though it can accommodate over 300 people, since it attracts people from all over the world, you may be relegated to a queue.
Markal is a phut-phutee village. It hugs the hugely popular pilgrimage centre of Alandi, referred to fondly as Devachi Alandi (God's Alandi) due to its association with Sant Dnyaneshwar. Alandi is only 25 km out of bustling Pune but once you enter Markal you leave everything behind as you walk that raw, uneven road that leads into this peaceful centre. The Dhamma centre is so organized that everything falls in place as soon as you finish your interview with the trustees and volunteers.
A gentle river flows by. Purple Purple bougainvillea light up the stark landscape. The Dhamma hall makes the entire scene postcard pretty, as its chimes softly announce another life, when monks walked this country more commonly than they do now. Birds you have never seen surprise swoop by. The pretty centre and peaceful environs don't quite convey what is common knowledge: the Vipassana experience is not for the faint-hearted.
Next in the series: Sivananda Kutir: A step back in time
It is an extremely tough course. You are required to meditate continuously or engage only in related activity (such as listening to Dr S N Goenka's lectures and songs) throughout the day, starting right from 4.30 am onwards up to nine. You sit cross-legged most of the time, on cushions on the floor. Three times during the course of the day you up the challenge further: you are required to sit unmoving till the end of meditation is announced. This can be extremely tough physically. The body can develop excruciating aches, even in the most fit. For those who are physically unfit -- obese, with knee problems or lower back ache -- this can worsen existing symptoms.
Whether winter or searing summer, when the meditation starts, the fans are put off, so even as you melt in the heat you sit unmoving, absorbed watching your mind.
You have to make do with a tiffin early morning, a heavy lunch mid-morning and a light Bhel sort of snack in the evening. If you are repeating the course, you get only lime juice in the evening. The male and female quarters are far apart. The sleeping quarters, usually two to a room, are sparse, with cement beds, mosquito netting, a tiny fan, and bare cement shelves. A plastic mirror to check if your face is in order is all the vanity you will be allowed. The toilet is bare: Hot water may be collected from taps outside.
You leave your cell phones in a locker. You cannot talk to anybody else during the entire course, avoiding even eye contact. You cannot read. There is a strict lights-off alert at ten. You are not to exercise vigorously or indulge in yoga or any other pet physical activity. Walking is the only luxury allowed.
Though Tantric Buddhism is very ritualistic and full of symbolism, Goenkaji's Vipassana experience offers the other extreme: The most austere aspect of Buddhism, shorn of all frills.
This shows how demanding the course is. Yet, all this austerity is indeed part of a powerful meditative experience that completely defies definition. I also firmly believe it may not be shared. But those of us who have experienced it do choose to return to it again and again. Because, somewhere the coin drops.
Accommodation: It is free. You may, however, pay a donation which is welcome since that pays for future participants' attendance. You must contact the individual centres, download the form available on the Internet, sending the filled form to concerned centre by fax or post. Always ensure you carry your acceptance letter with you when landing up on the day of registration. For Vipassana centres across India, visit http://www.dhamma.org/
Address: Dhammananda
Pune Riverside Vipassana Centre
District Pune
Village Markal
Maharashtra 412 105
Registration Address: Pune Vipassana Samiti
Opposite Nehru Stadium
Near Anand Mangal Karyalaya
Pune
Maharashtra 411 002
Phone: (020) 32920465
E-mail: info@ananda.dhamma.org
Web site: http://www.ananda.dhamma.org/
Photograph: Courtesy Vipassana Centre, Dhammananda
Earlier in the series: A journey to spiritual ecstasy | A magnet for meditators
Also see: Top spots to destress | India's top spas
Share YOUR travel stories and pix! | More Travel features