October 13, 2007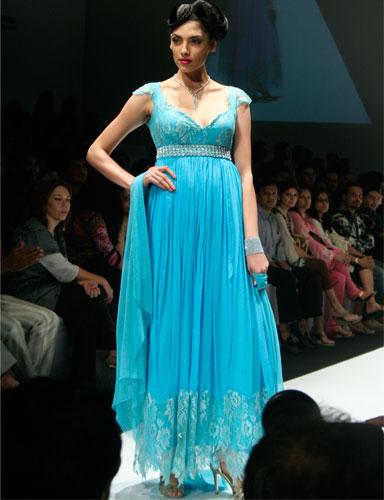 L
akme Fashion Week commenced with a bang this year. Celebrated Indian designer Neeta Lulla showcased a stunning collection of both Western and Indian wear.
The focus of her showing, however, was Gitanjali Lifestyle Jewellery's specially crafted line by Italian jewellery designer Stefan Hefner. In true Italian fashion, two dancers kicked off the showing with a few rhythmic moves to the movie soundtrack of 'The Godfather'.
Then followed Neeta's muses, each in a creation more stunning than the previous one. Seen here is a sky-blue full length Empire line gown, with a belt of crystals below the bust-line and flowing beautifully outward.
A single diamond necklace (and what a necklace it is!) highlights the plunging neckline and lace fabric -- the absence of any other jewellery only emphasizes the neckpiece.
Photograph: Uttam Ghosh