October 12, 2007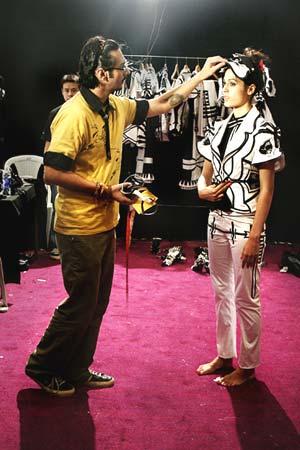 Nitin Bal Chauhan, a 28-year-old Delhi-based designer succeeds his previous showing at Lakme Fashion Week with a collection christened 'I cannot see my content face...Part II' this season.
Far from flippant fashion, Nitin's line is inspired, as he himself puts it, by "sadism, pain, suffering and anguish". He draws his inspiration from the misery of the world, which he believes does not permit him, as an artist, to showcase happiness and contentment. According to Nitin, one cannot, in good conscience, enjoy life while millions around the world suffer -- hence the title 'I cannot see my content face'.
The collection is entirely in black and white, with stark black lines and panels juxtaposed against a white background, much like pain and sadness casting a shadow upon the joys of life. Expect to see sharp-cuts jackets, waistcoats, skirts and pants, complimented by matching headgear and shoes from Nitin's own line of footwear, titled 'Schuh'. Despite the weighty theme of the collection, all the outfits are not only wearable but attractive.
Nitin's creations will be something to look out for at Lakme Fashion Week -- an audio-visual presentation will precede his showing and band Tatva Kundalini will be playing live music when his models take to the ramp.
Photograph: Uttam Ghosh