June 26, 2007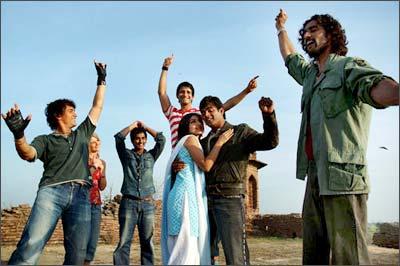 Rang De Basanti is an MTV Youth Icon nominee because it awakened the nation's youth and helped them open up and express their views.
This is an example of a film that awakened the Indian youth. RDB, a representation of the youth and their present day lifestyles, created a sense of belonging.
The four college boys were the perfect example of who the youth were really were -- rebels without a cause, content in their masti ki paathshala!
Nominating a film was not worrisome because the Indian film industry has been a constant influence on youth; it would be negligent of us not to include the one of the most popular entertainment mediums in India today.
No movie has ever inspired an entire demographic to fight for a cause. The Jessica Lall case, the candle lit vigils all came after Rang De Basanti [Images]. It was a film that awakened the nation's youth, helping them open up and express their views, showcasing the power of good cinema.
Anyone who has seen the film will vouch for the feelings it elicits.
The reaction to the nomination has been overwhelming, although there still exists stiff competition from the other nominees.
VJ Cyrus Sahukar has always been quite vocal about his opinions, whether or not they are politically correct. He best represents what Rang de Basanti stands for -- standing for what you believe in as well as taking action when necessary.
Research has shown that youth today are not only influenced by people. It can be trends, events, objects -- which form a part of their everyday life, are indispensable and form their world.
Other nominees
Abhishek made beards cool