June 21, 2007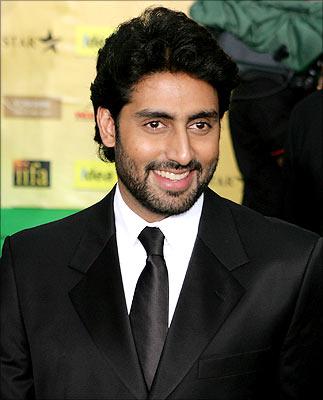 Abhishek Bachchan has a unique honour. He is the only human nominee for the MTV Youth Icon Award, 2007.
This is what MTV had to say about his nomination:
Abhishek Bachchan [Images] has come a long way from being a star-son to becoming a superstar in his own right, and on his own terms. Tall, dark and definitely handsome, he's the guy who made beards cool again.
The star son and potential youth icon has finally come of age. Abhishek stands high among his peers, as an outstanding actor, who stepped out of his father's legendary shadow and carved a niche of his own as one of most talented and influential icons of his generation. There is no other personality/ star in the last year that has dominated the Indian youth's mindspace like Abhishek has.
It was easy to see which of our veejays was going to campaign for Abhishek -- it's more like she wanted to do it.
VJ Sophie has her pulse on Bollywood and knows what kind of influence Abhishek has on his co-workers, friends and youth alike. She feels that one should vote for AB not only because of his movies and talent, but also because his individual style.
He brought hip hop to the masses and made it look way cool. He also made hair bands the accessory for the men than women.
He made it to our list of nominees based on research conducted in cities across India amongst 15 to 24 year olds.
The reactions to the nominees have been mixed with some people thinking that Abhishek Bachchan will win hands down. Others say one of the other nominees might win.
To vote, log on to mtvindia.com.
Photograph: Christopher Furlong/ Getty Images