July 31, 2007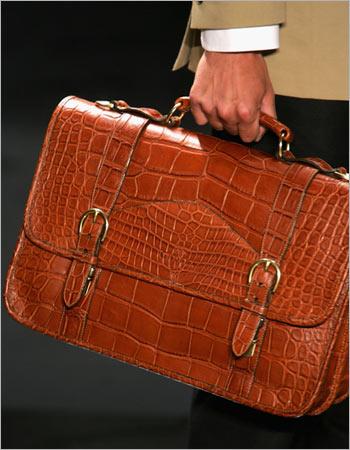 When dressing for work, a stylish briefcase can make as much of a style statement for a man as a well coordinated purse does for a woman.
Most office-goers carry a simple black or brown suitcase for their documents, but if you really want to stand apart, pick up a case with a never-out-of-style snake or crocodile print.
These combine good looks with utility, and usually have enough space for your laptop and other important paperwork.
A bag like the one in the picture could cost you about Rs 800 to Rs 1,000 and go up to Rs 2,500 depending on the brand and quality of leather.
Photograph: Frazer Harrison/Getty Images
Do you want to see your fashion fundas on rediff.com? If so, mail a pic of your favourite fashion accessory, along with a brief description of where you got it and how much you paid for it, to getahead@rediff.co.in. Make sure to include your name, age, occupation, and contact details, and we'll feature the best entries!