July 30, 2007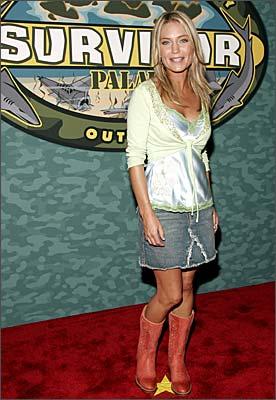 The denim skirt has made its much-awaited comeback. Minis, knee-length or ankle-length -- it doesn't matter as long as its blue.
Great for semi-casual and casual wear, you can match your skirt with a bright coloured top and flip-flops to complete the outfit. If you looking to add a touch of glamour, wedge-heels or boots do the trick.
These skirts flatter every figure, and since any length is in, you don't have to worry if you don't have the legs of a supermodel. Not only are they chic, but they are also a extremely comfortable.
And if you'd prefer the bling look, pick up one with some leather, sequin or embroidery detail.
Easily available, a denim skirt shouldn't be too heavy on the wallet -- Rs 500 to Rs 1500 -- depending on the detail, fit and brand.
Photograph: Fernando Leon/Getty Images
Do you want to see your fashion fundas on rediff.com? If so, mail a pic of your favourite fashion accessory, along with a brief description of where you got it and how much you paid for it, to getahead@rediff.co.in. Make sure to include your name, age, occupation, and contact details, and we'll feature the best entries!