July 27, 2007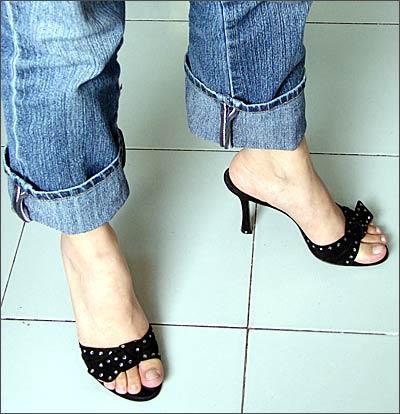 Stillettos are a great way to add a touch of glamour to your outfit.
A dainty pair with a thin toe-strap and fine embellishment like sequins or stones, are feminine and ultra chic!
Pair these up with your favourite pair of fold-up jeans or cargoes (that lace up at the end), and you've got the perfect mix of comfort and glamour.
Needless to say, these can be coupled with more formal trousers and skirts, if your heading for a night on the town.
Available in every colour under the sun, you'll never run short of options. Almost every shoe store has them and an unbranded pair could be yours for just about Rs 700. A branded pair could go up to Rs 2000.
Do you want to see your fashion fundas on rediff.com? If so, mail a pic of your favourite fashion accessory, along with a brief description of where you got it and how much you paid for it, to getahead@rediff.co.in. Make sure to include your name, age, occupation, and contact details, and we'll feature the best entries!